Giiiiiiiirl. I got your new favorite summer spaghetti right here.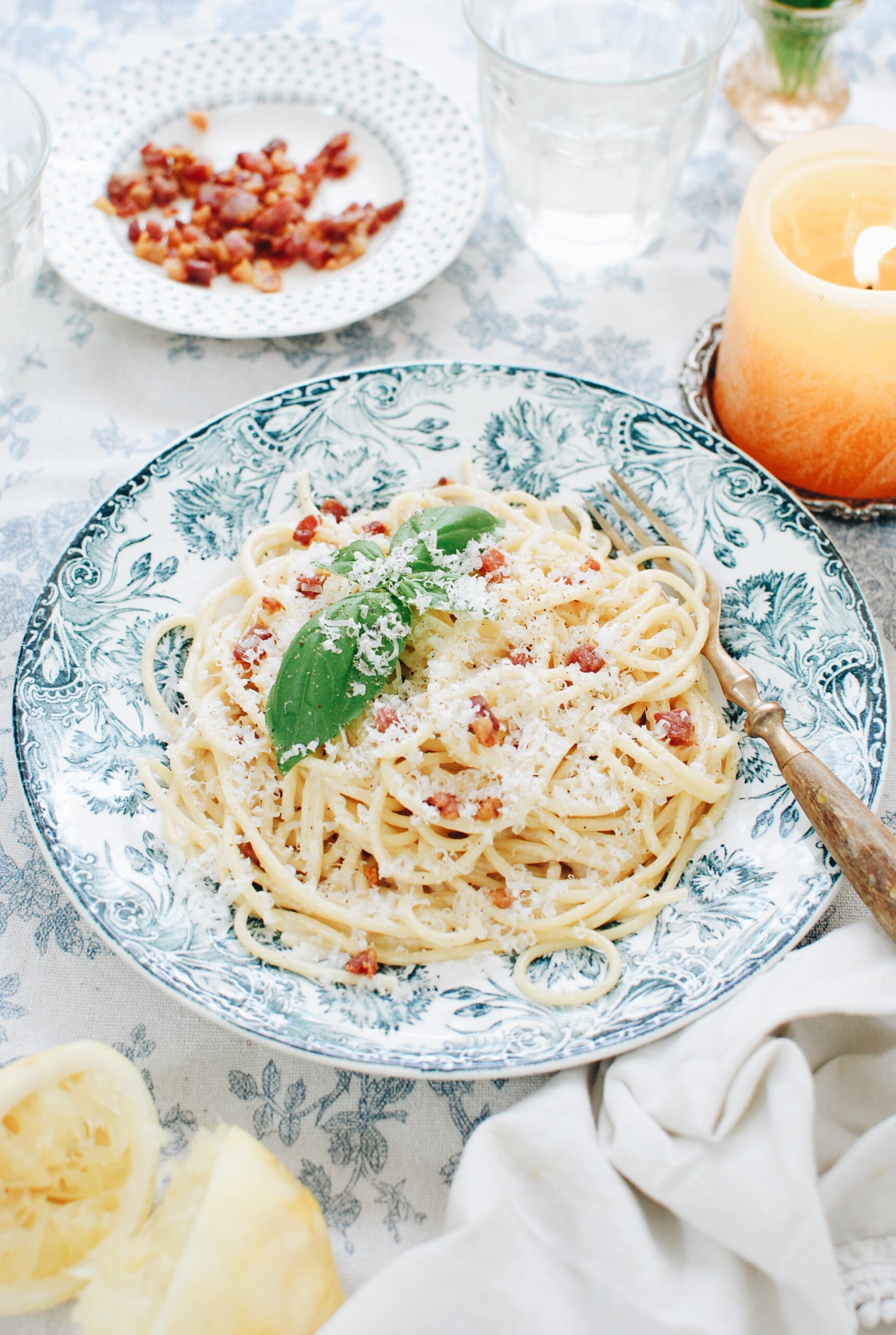 Complete dreamboat situation. Lemony, garlicky, creamy, crisped pancetta! It's the type of pasta that feels like you're in another country. But in reality you're actually just shoveling it into your pie hole over the stove in pajamas after a hot day at the pool like a normal human.
But one can pretend!
Let us peepeth.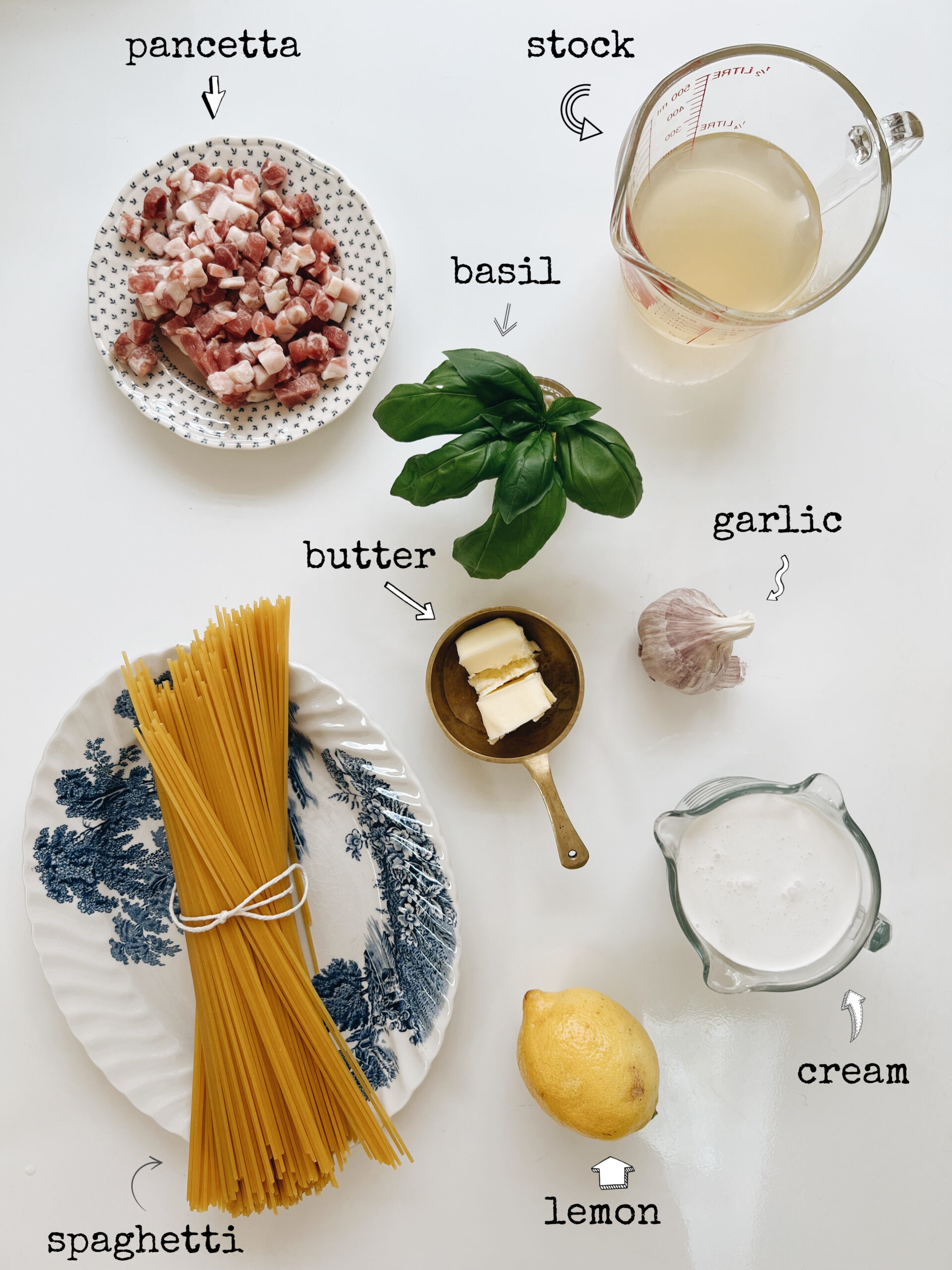 The diced pancetta – I bought it that way. And yes, it might have been more economical to buy a slab and dice it myself, but this was such a time saver, and the pieces were the exact same size, and sometimes we just need a little help. So if you do find it pre-diced, try it! Also bacon works juuuuust fine.
The spaghetti – I went with the regular size, but thin or thick or bucatini or anything else you have on hand will be fabulous.
Cream and lemon and garlic – natch.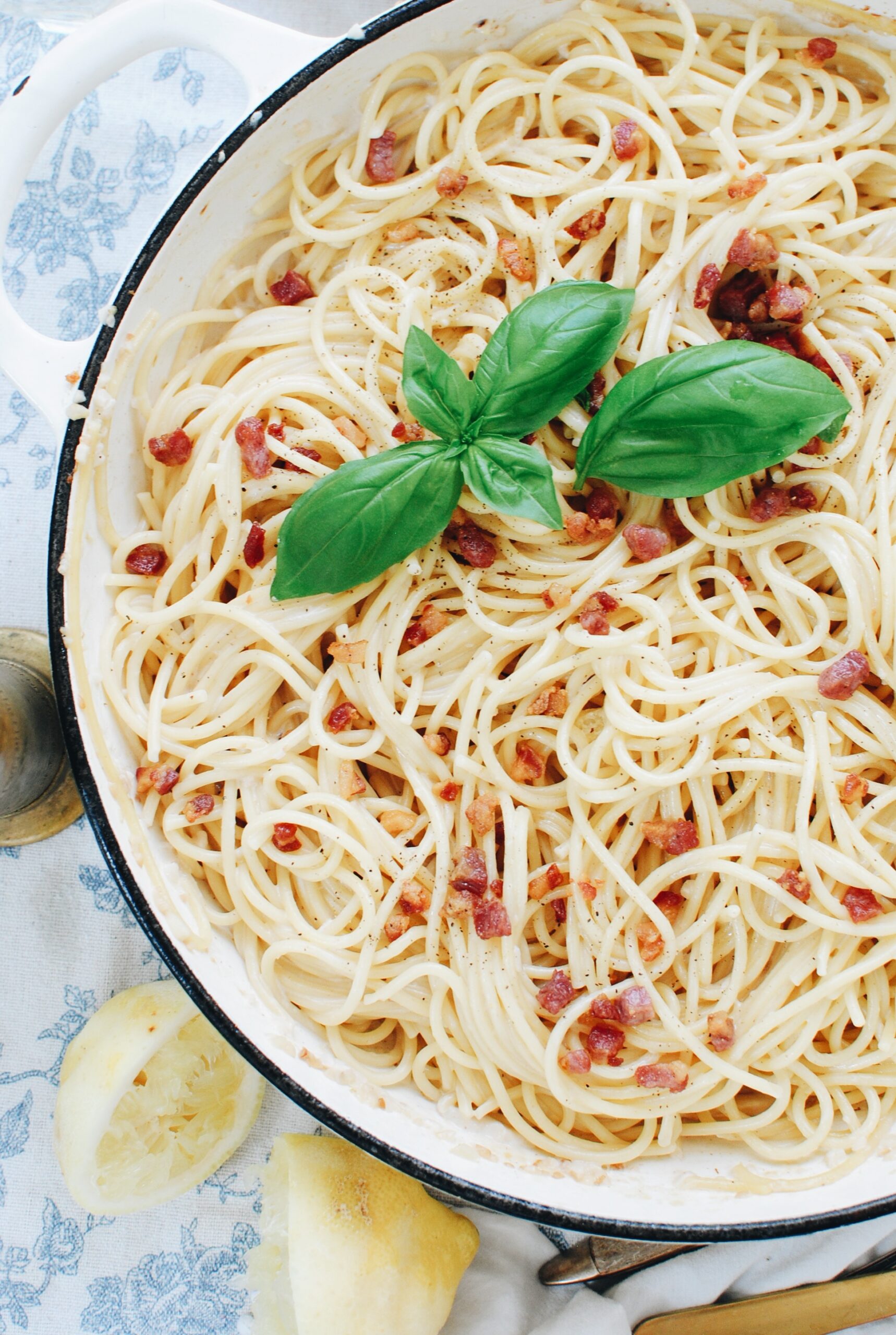 So this is what happened. I took zero photos of the process because I was getting video instead. We'll be okay, though, don't ya think?
It's very simple. You cook the spaghetti in a large pot of salted water while you make the sauce. But start with browning the pancetta! Get that done first and then move it out of the pan while you get the sauce good and going.
And the sauce is just butter, the minced garlic, lemon zest, the cream, stock, a pinch of salt. Let that simmer on a low heat until the pasta is juuuust shy of al dente. Tong it over into the sauce to finish cooking.
It's getting good.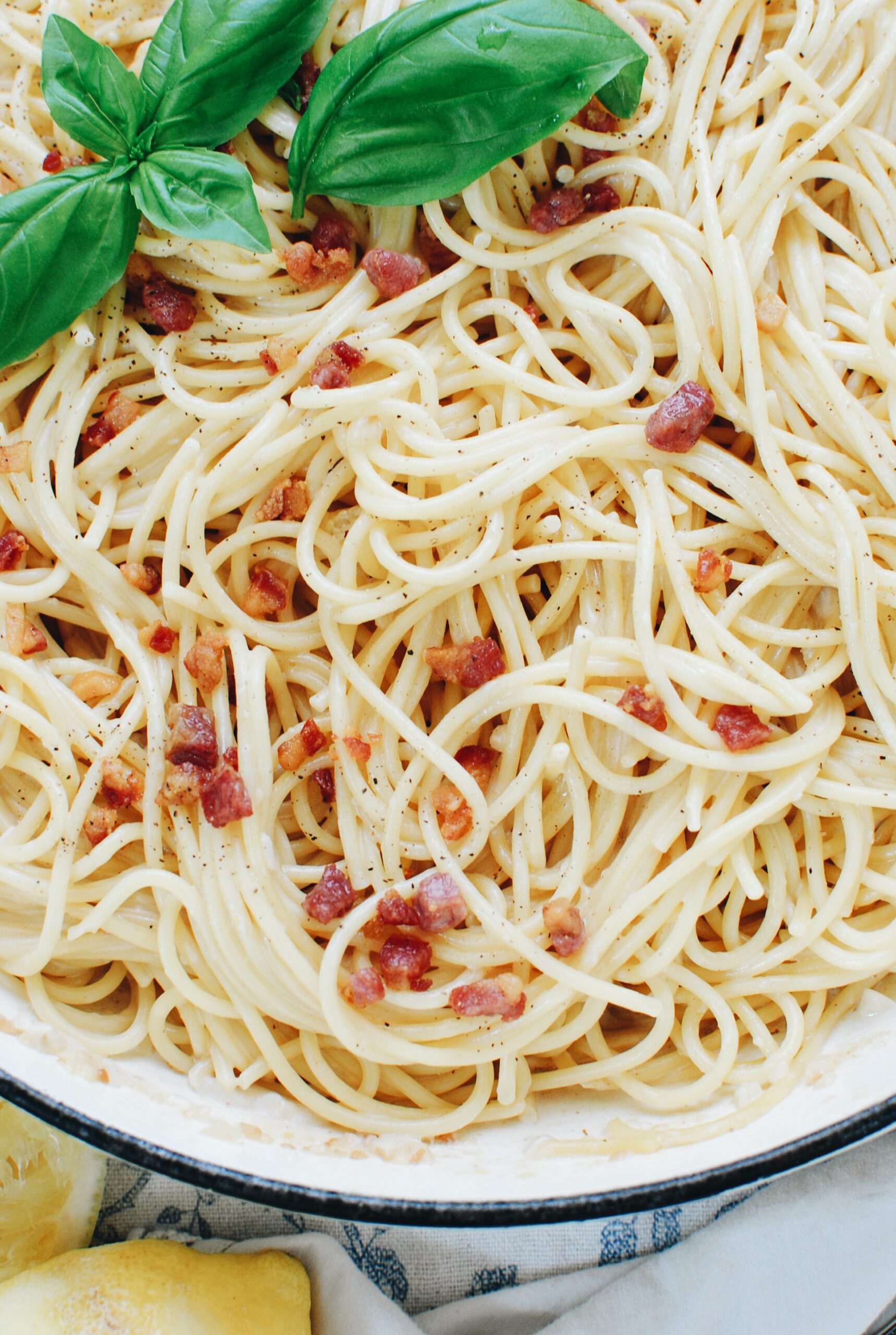 And then you'll squeeze in the lemon juice and give it all a stir. Before you serve, garnish her with the crisped pancetta, fresh basil, a good crack of black pepper!
Look at how gorgeous that thing is.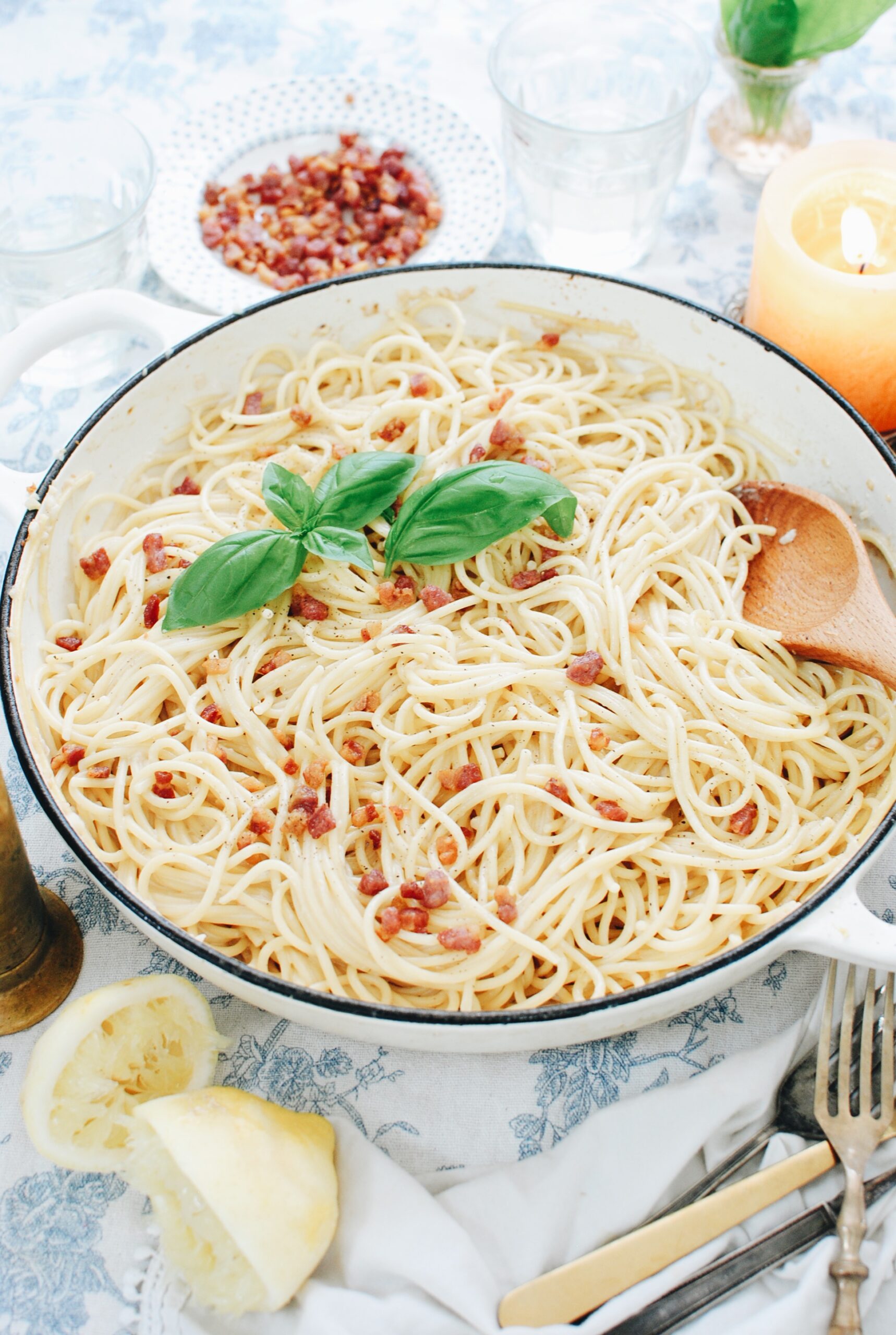 You can get after it with the parmesan cheese at this point, or just garnish the individual servings. You know this pasta drill.
It is absolutely luscious, I tell you. The pancetta adds so much savory depth, you may never fully come back from it. The garlicky lemon sauce is troublesomely perfect.
And remember how creamy it is?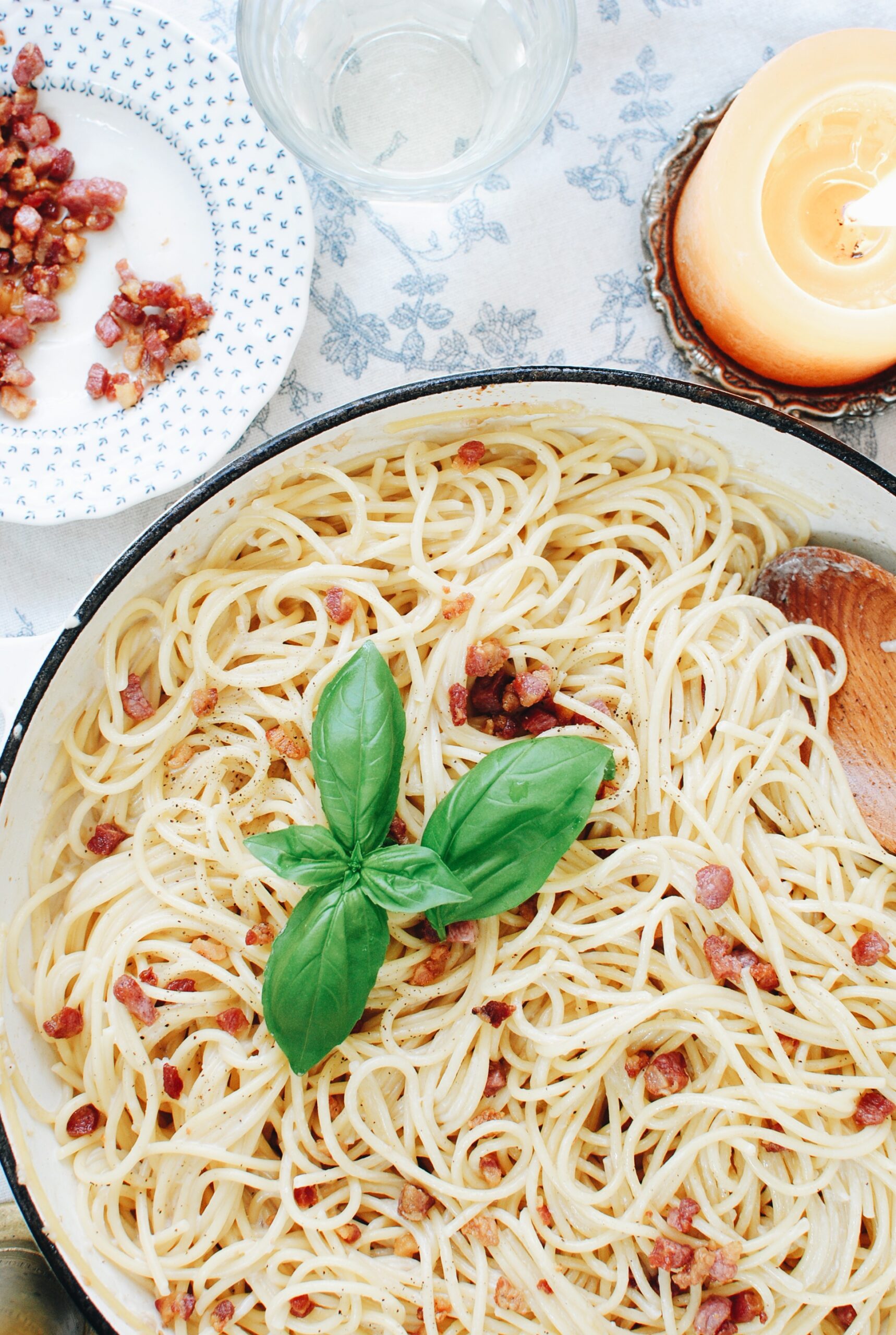 It is so, so creamy. Which might not seem so summery at this point, but once you take that first bite, everything goes out the window. Every.last.bit.of.anything. Gone. You're now owned by this pasta.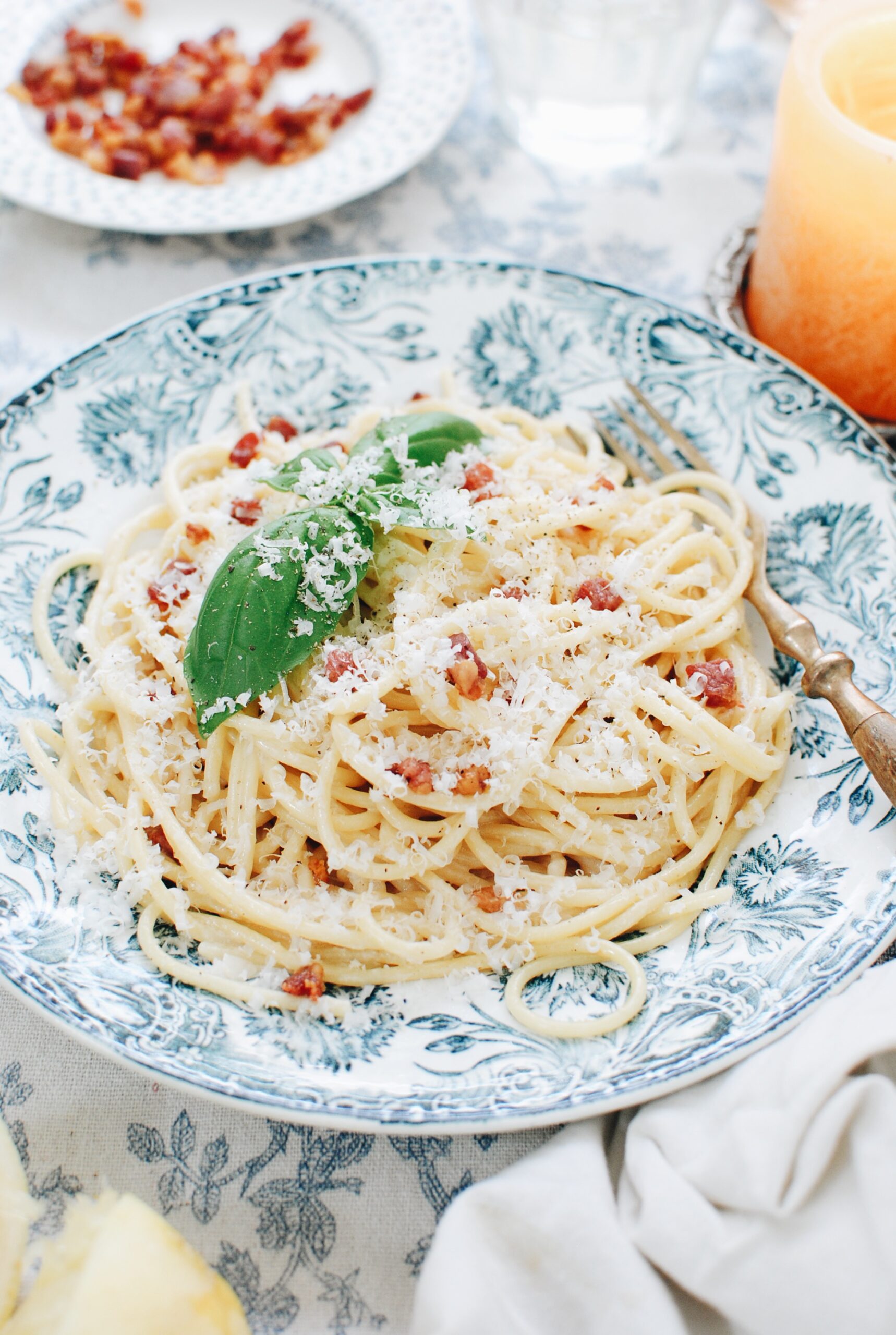 This is your cue to surrender. Like, tonight.
Creamy Lemon Spaghetti with Pancetta
Ingredients
1 pound spaghetti
5 oz diced pancetta
2 Tbs. Butter
2 large cloves of garlic, minced
1 cup heavy cream
1 cup chicken stock
1 lemon, for the zest and juice
Fresh basil and parmesan, for garnish
Coarse salt
Instructions
Bring a large pot of salted water to a boil. Add the spaghetti and cook while you make the sauce.
In a wide skillet, brown the pancetta all over, about five minutes. Remove the pancetta from the skillet with a slotted spoon and let cool for a minute. Back in the skillet, add the butter. Let it foam up and melt completely, then add the garlic. Sauté roughly 30 seconds, until wildly fragrant. Then add the lemon zest and give it a stir. Add the cream and stock, plus a pinch of salt. Let this simmer on low until the pasta is just shy of al dente (according to package directions). Using tongs, transfer the pasta to the sauce to finish cooking.
Add the lemon juice at this point, and give it all another stir.
Garnish with the crisped pancetta, fresh basil and parmesan cheese. Maybe a crack of black pepper? Yes.
Serves four.
7.8.1.2
648
https://bevcooks.com/2023/07/creamy-lemon-spaghetti-with-pancetta/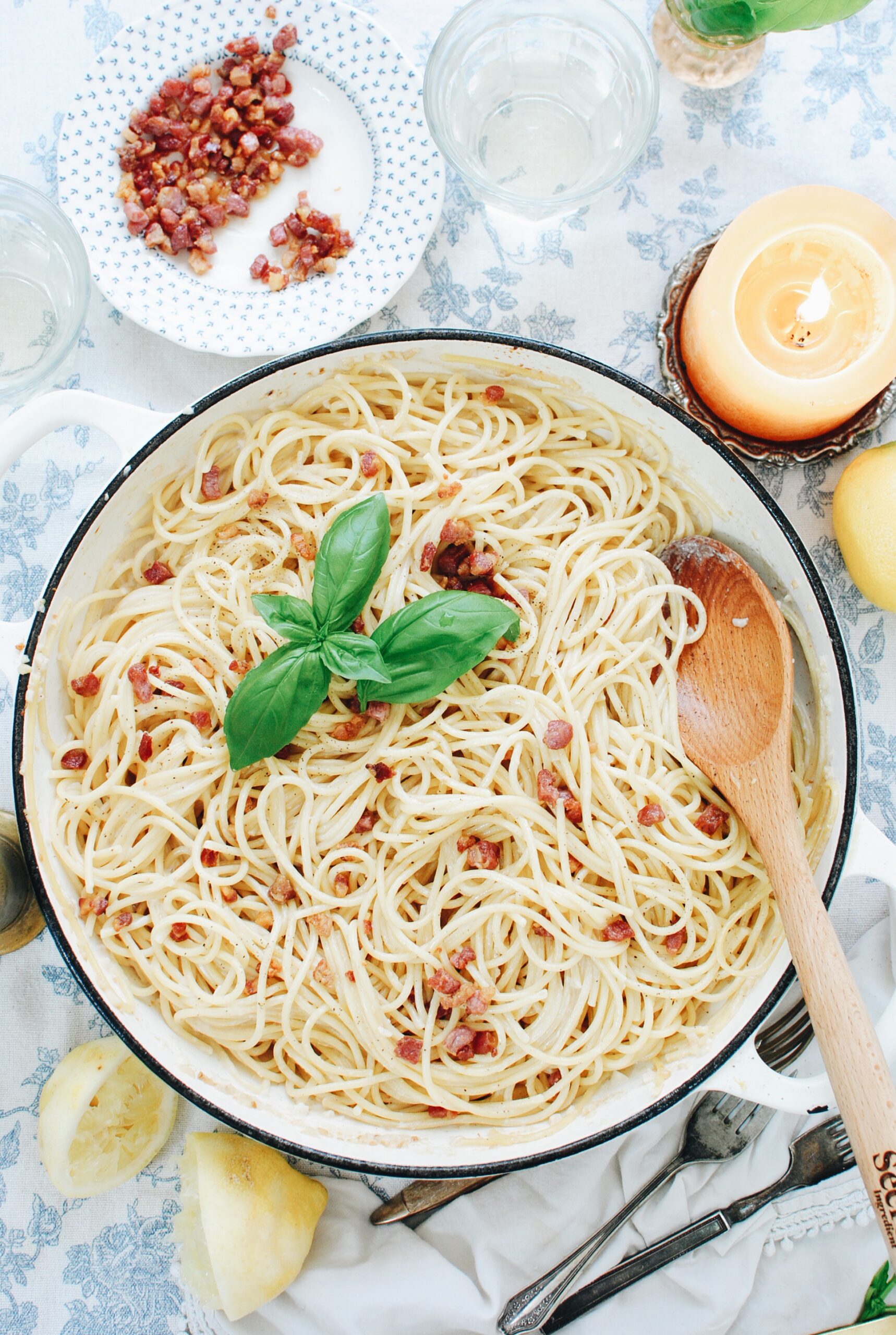 Absolute heaven on earth. Just get yourself ready.