My final post about Israel! And I think I narrowed down the photos to only 57 hundred billion photos this time. Ya. . . yay?
First up, if you've not read Part One and Part Two, you should! It was such a surreal trip, with a group of fantastic women, some great blazers and a decent stash of stretchy pants. Vibe Israel, you were too good to us.
The last two days! Let's jump in.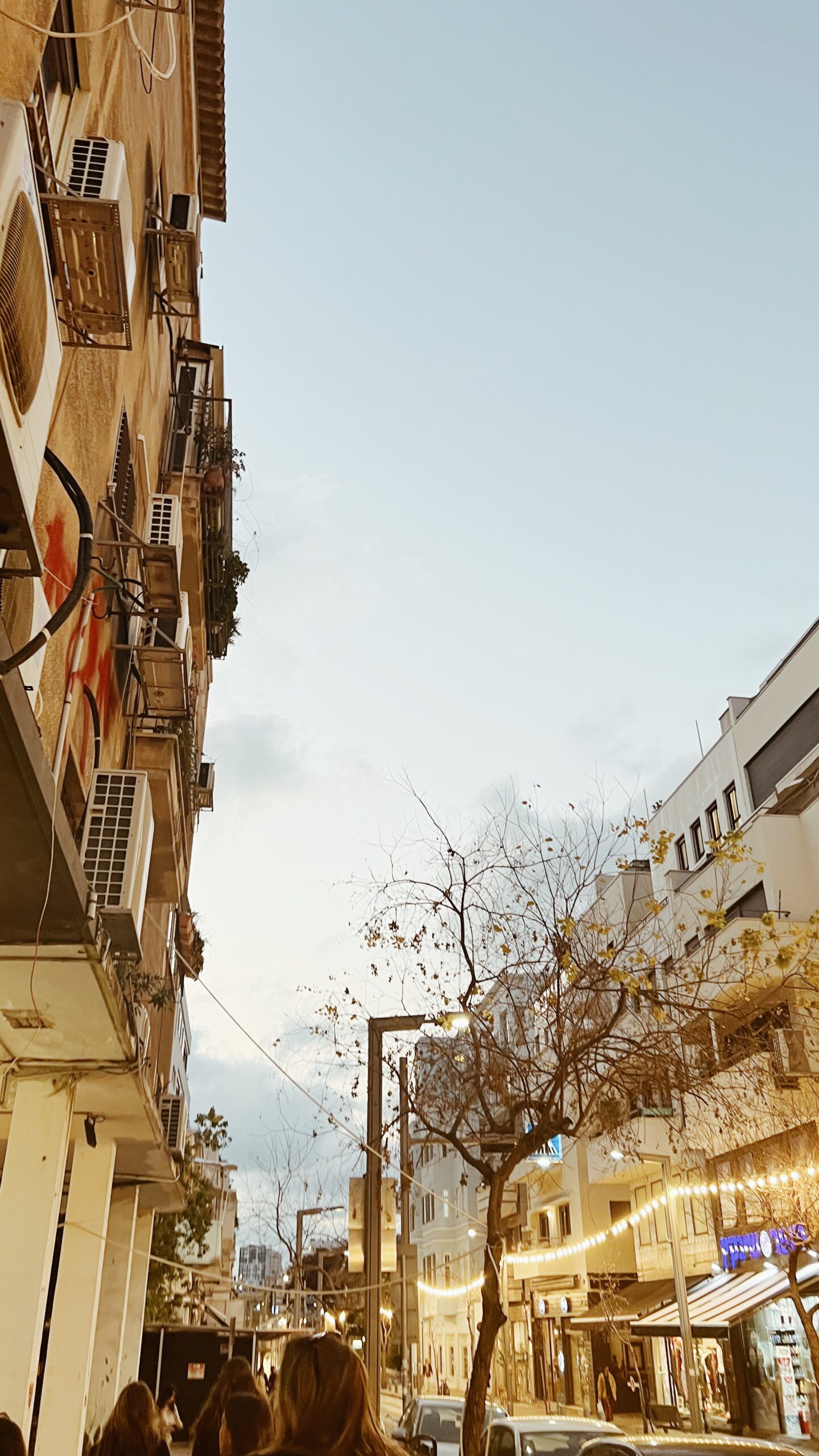 Our second to last day we started off the morning at Chunk Foods, a high tech company that specializes in plant-based whole cuts that look and act like meat. It was pretty fascinating! Also the moment we walked in they offered us shots and cocktails. At 9:30am. When in Israel!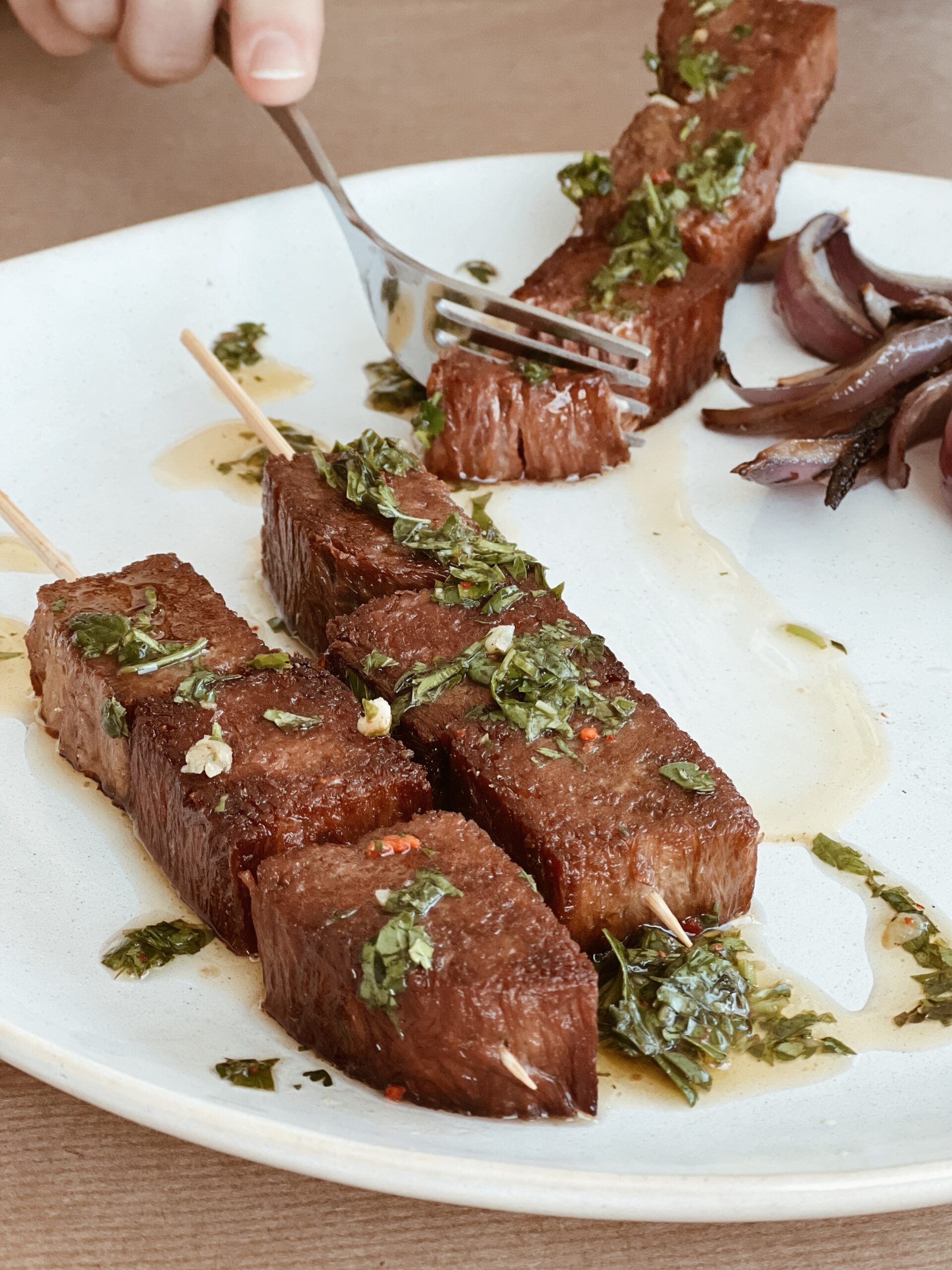 Would you believe that is NOT meat. Isn't that bizarre? They served it to us like kebabs, and sliced over hummus. The flavor was similar to meat, but not entirely. It's mostly served in NYC restaurants for now, but keep an eye out for the spread across the US, if you're into this kind of thing!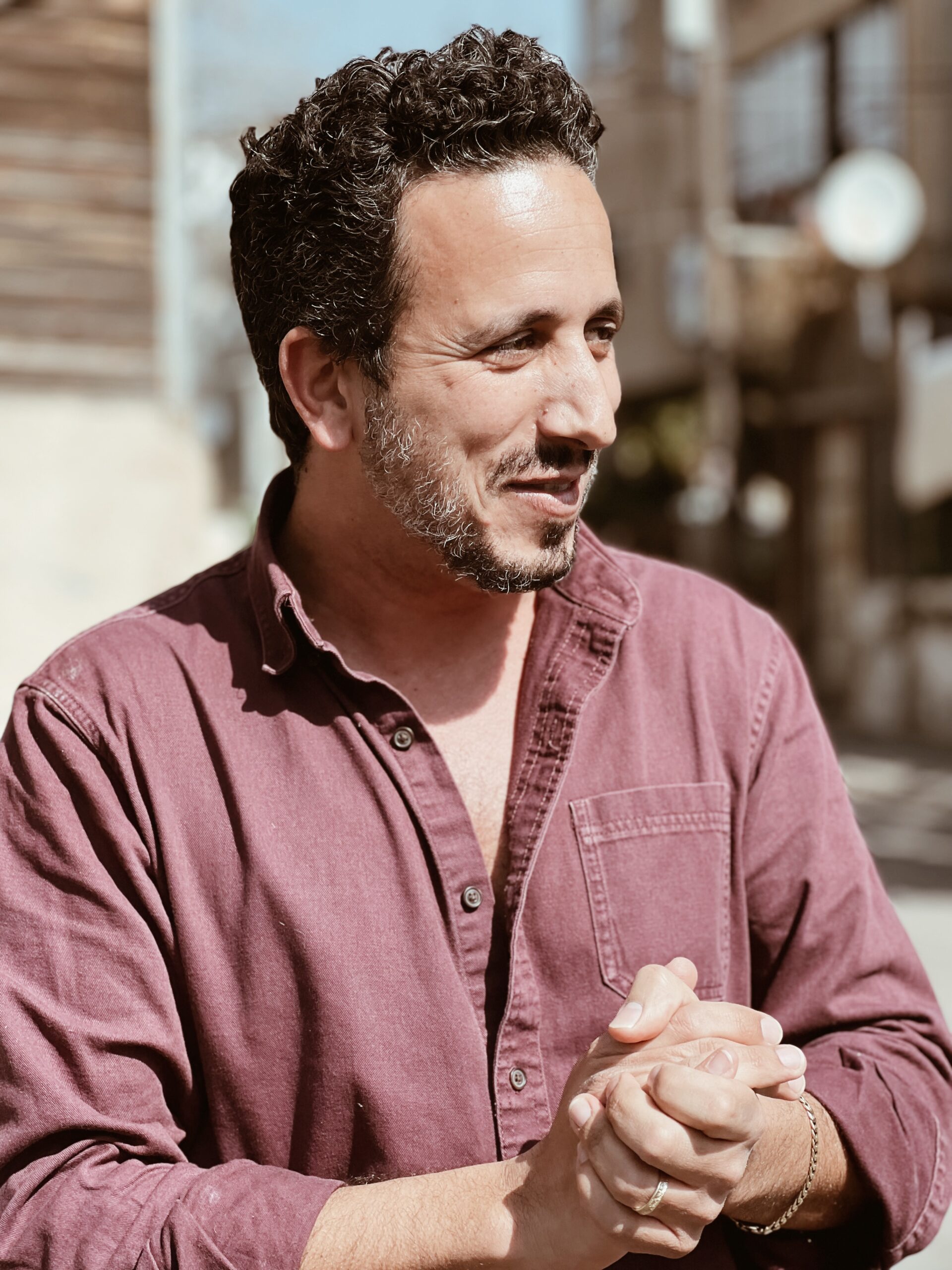 Next up would become a definite highlight of the trip. We drove a short stint over to the Hatikvah Market where we met the utterly charming Moni Kahlon with Bhuka Tours. Yes, he's absolutely the Israeli Adam Sandler. Everyone tells him. He knows it. Dresses up like Adam at parties. He was hilarious! And what I loved most was approximately .7 seconds into meeting him he leans over into a WINE CART and brings out a few bottles of white wine and plastic tumblers for us all.
He is my people.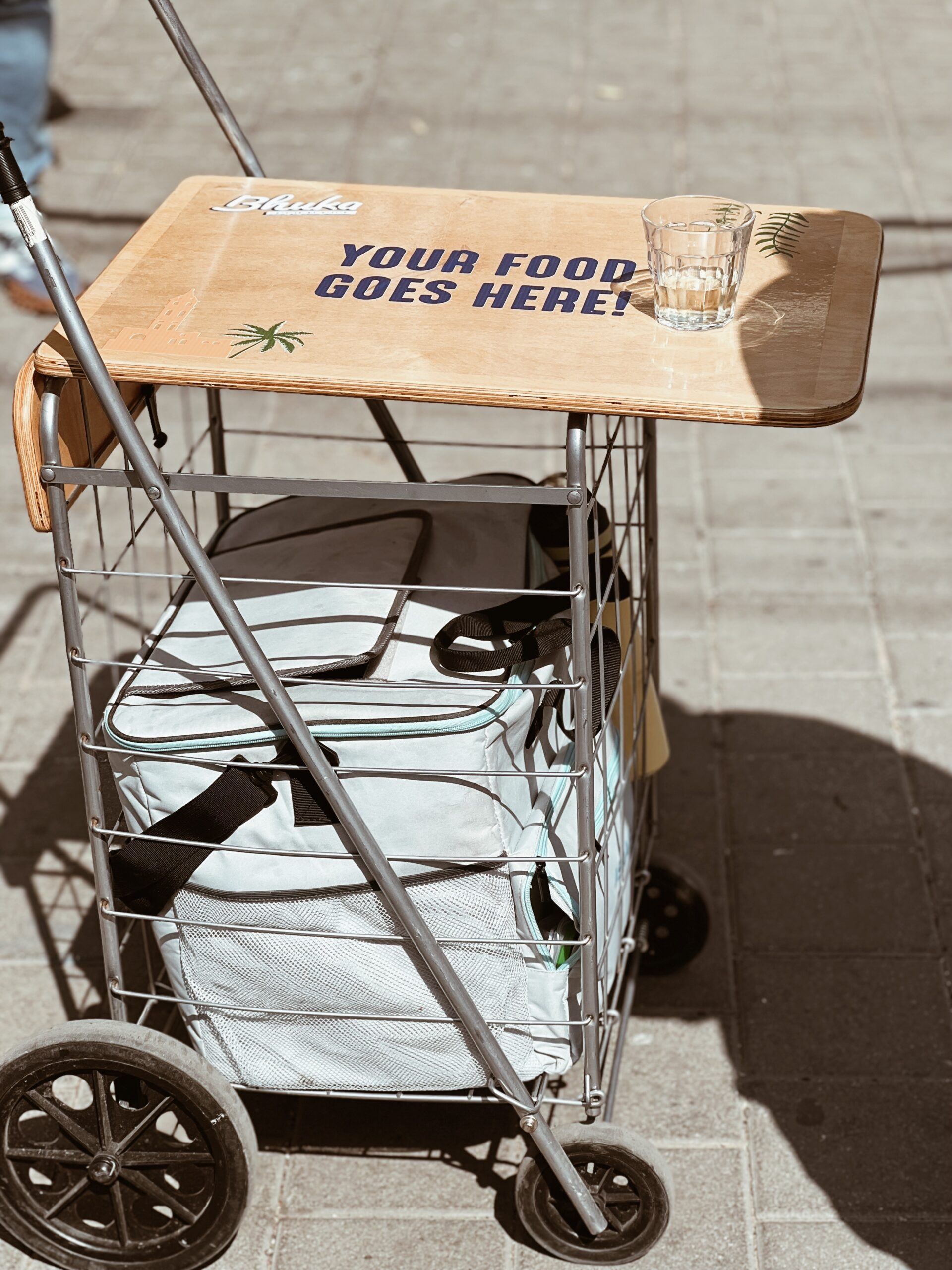 Why do I not have this cart?
I need this cart.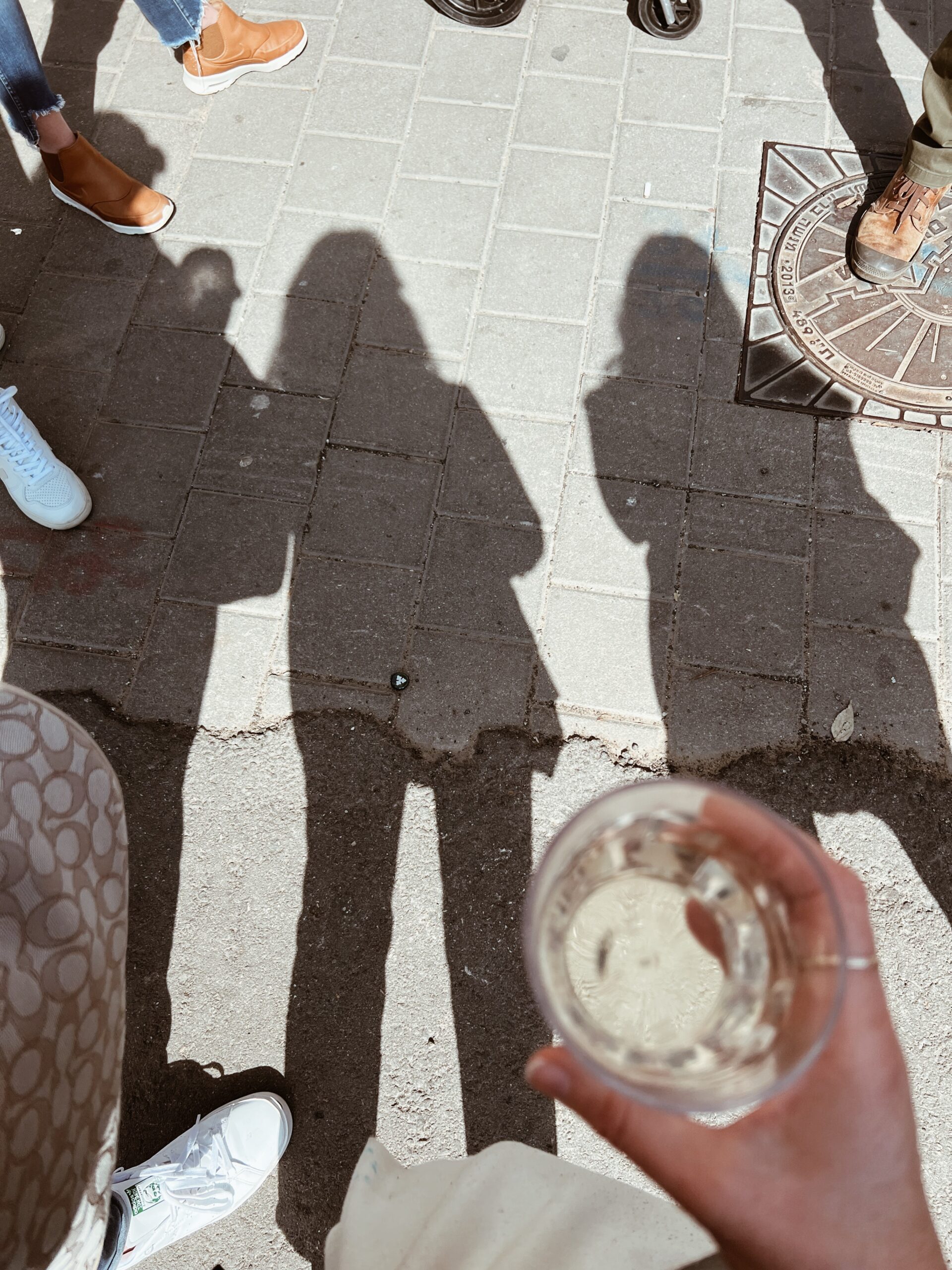 Yeah, this was like 10:05am. Don't tell anyone.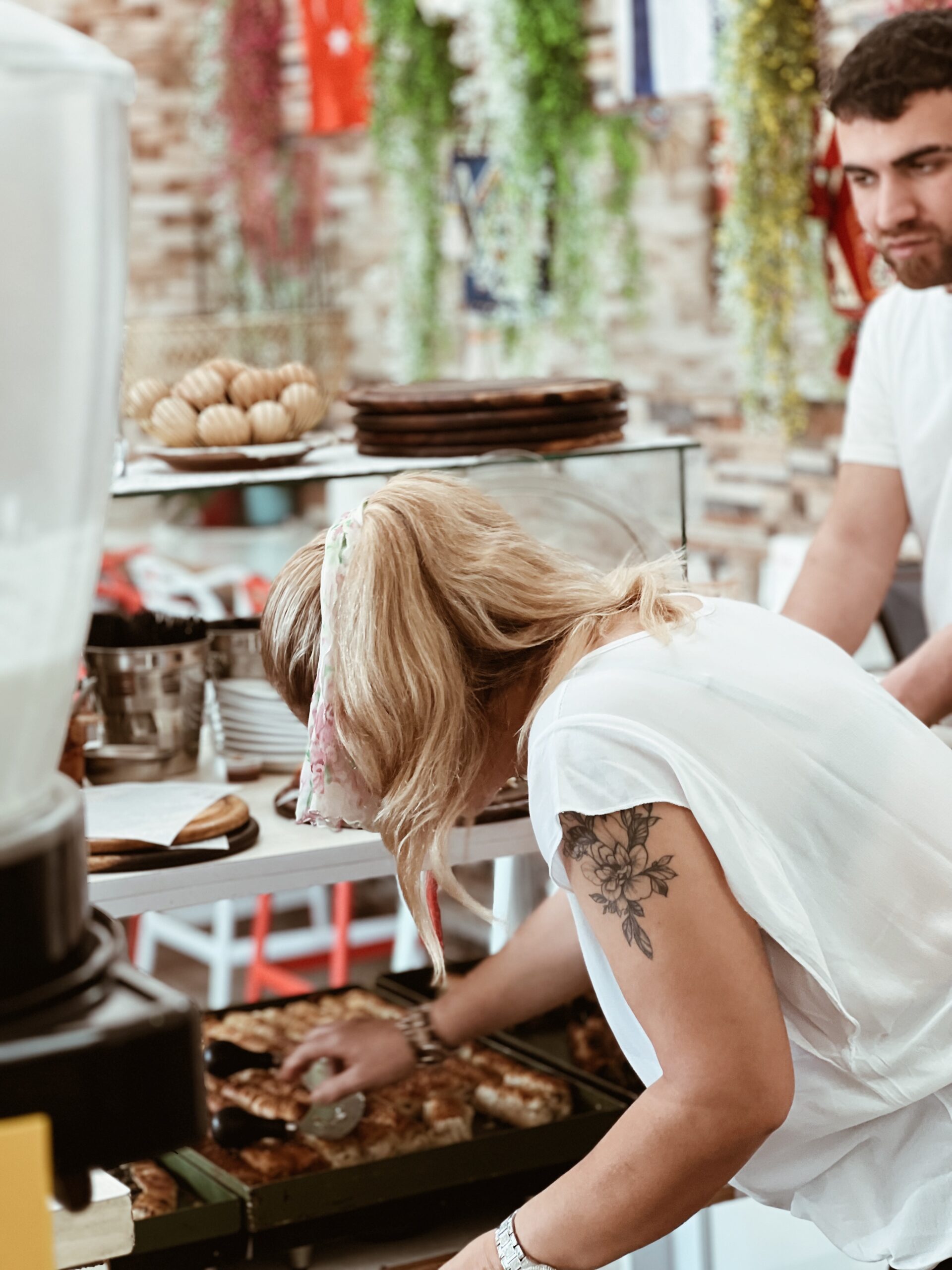 We popped into this tiny little restaurant two steps away and watched them prepare different cheesy type breads. I just loved the plants, the light, all those carbs.
*see stretchy pants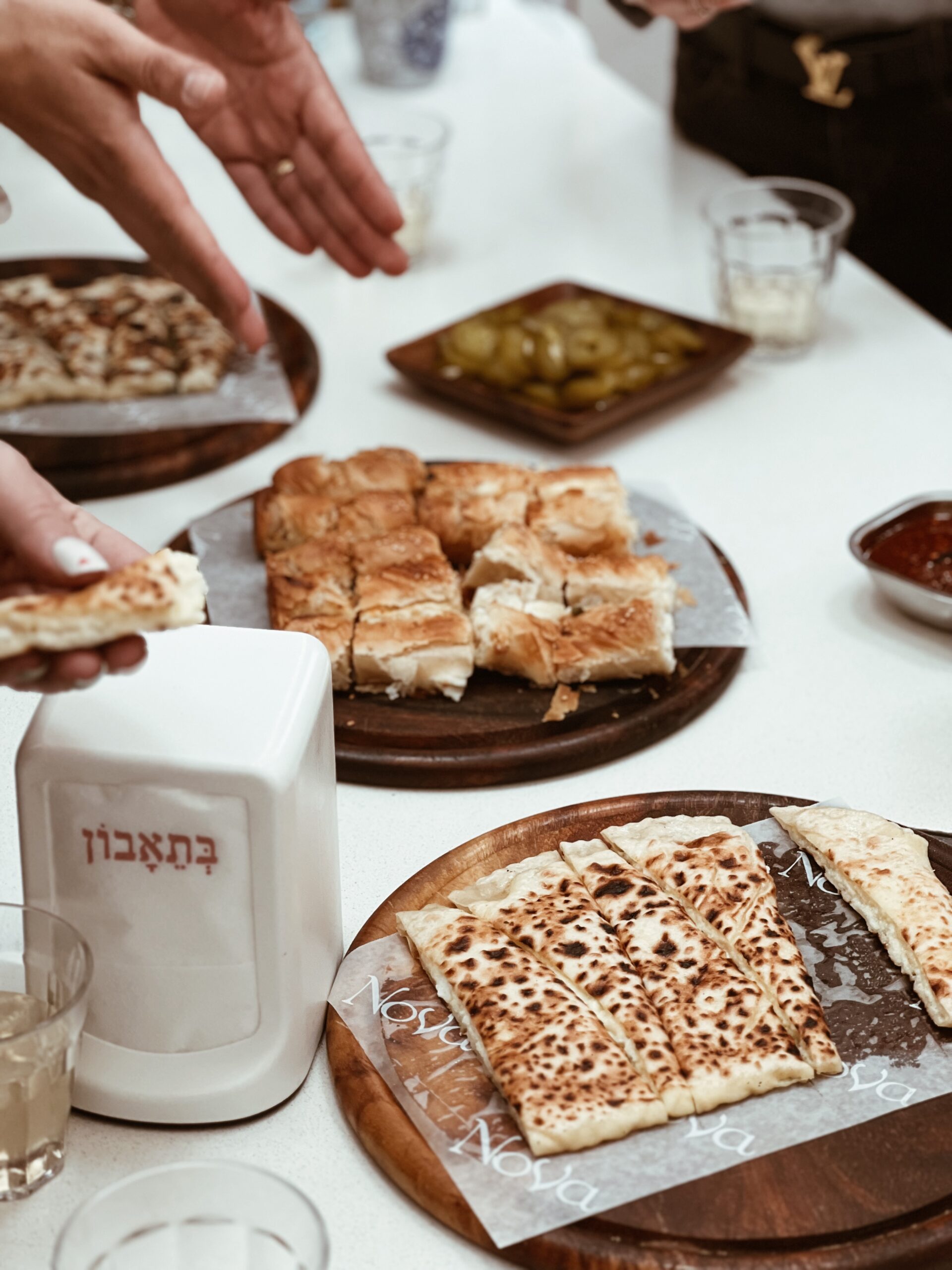 Don't ask me what any of this was. But do you see that cheese melting out? Yes. Yes you do.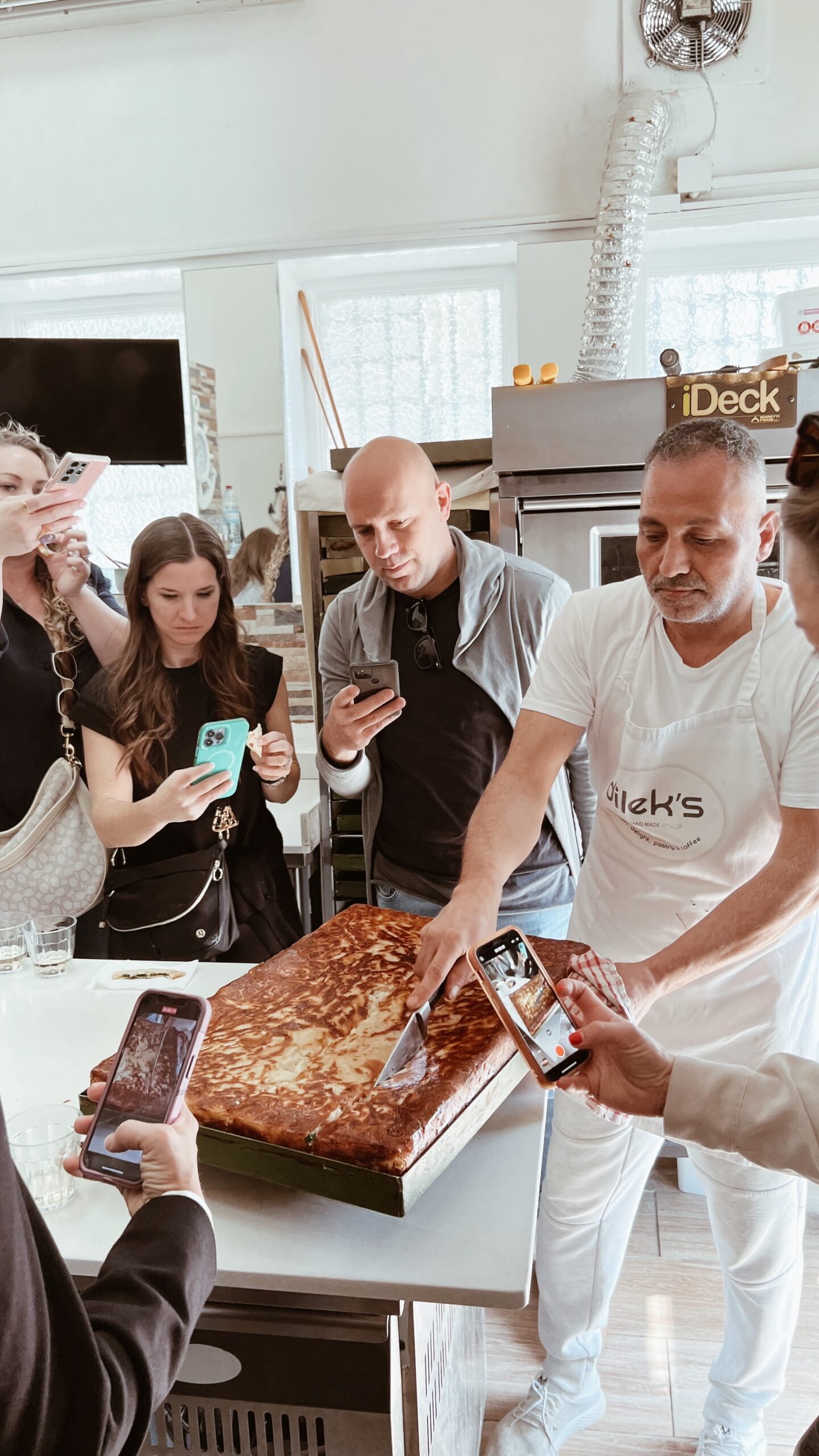 This was a fun moment. The chef brought out this ENORMOUS tray of baked carbs and spinach and cheese and I wish I could remember the actual name of it, but I was in a coma from my eyeballs exploding.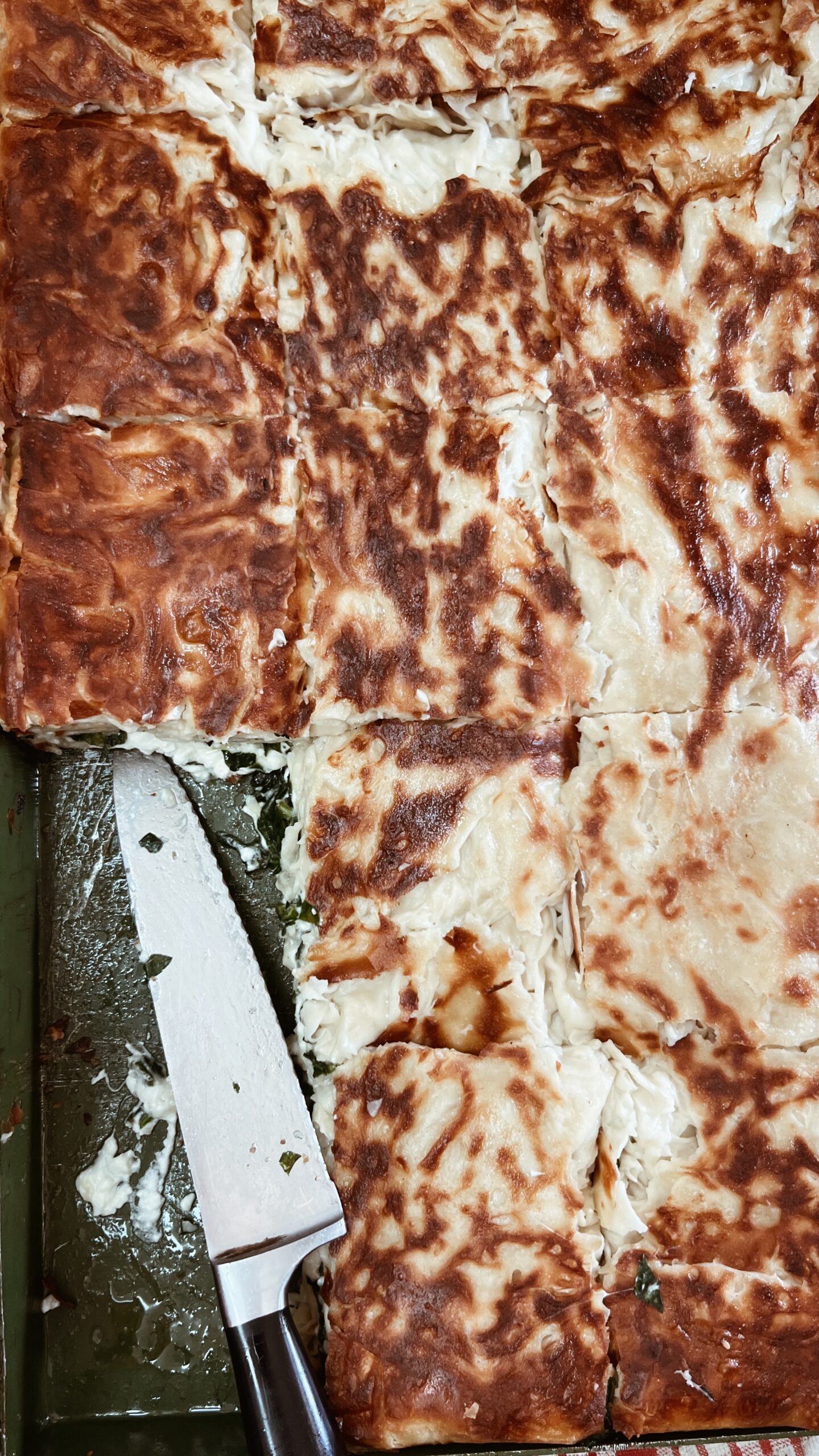 Piping hot. So cheesy. So creamy. Loaded with spinach. We'll never recover.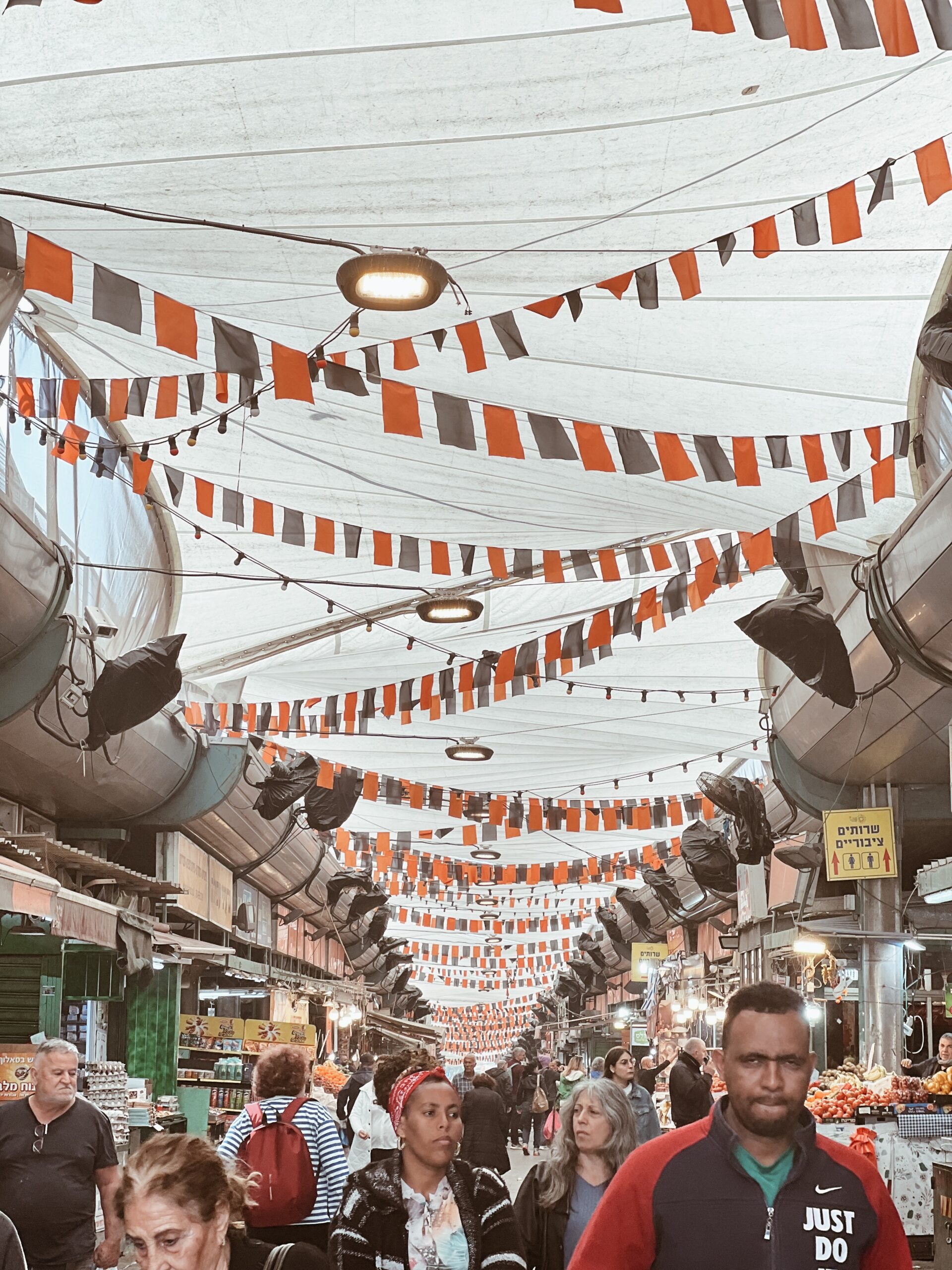 Then we blorbily strolled over through the main Hatikvah market nearby. It's the lesser known market in the area, but one that boast flavors from all the world – Yemen, Iraq, Libya, Iran and Central Asia. It was wild! So much to see and hear and smell and taste and drink.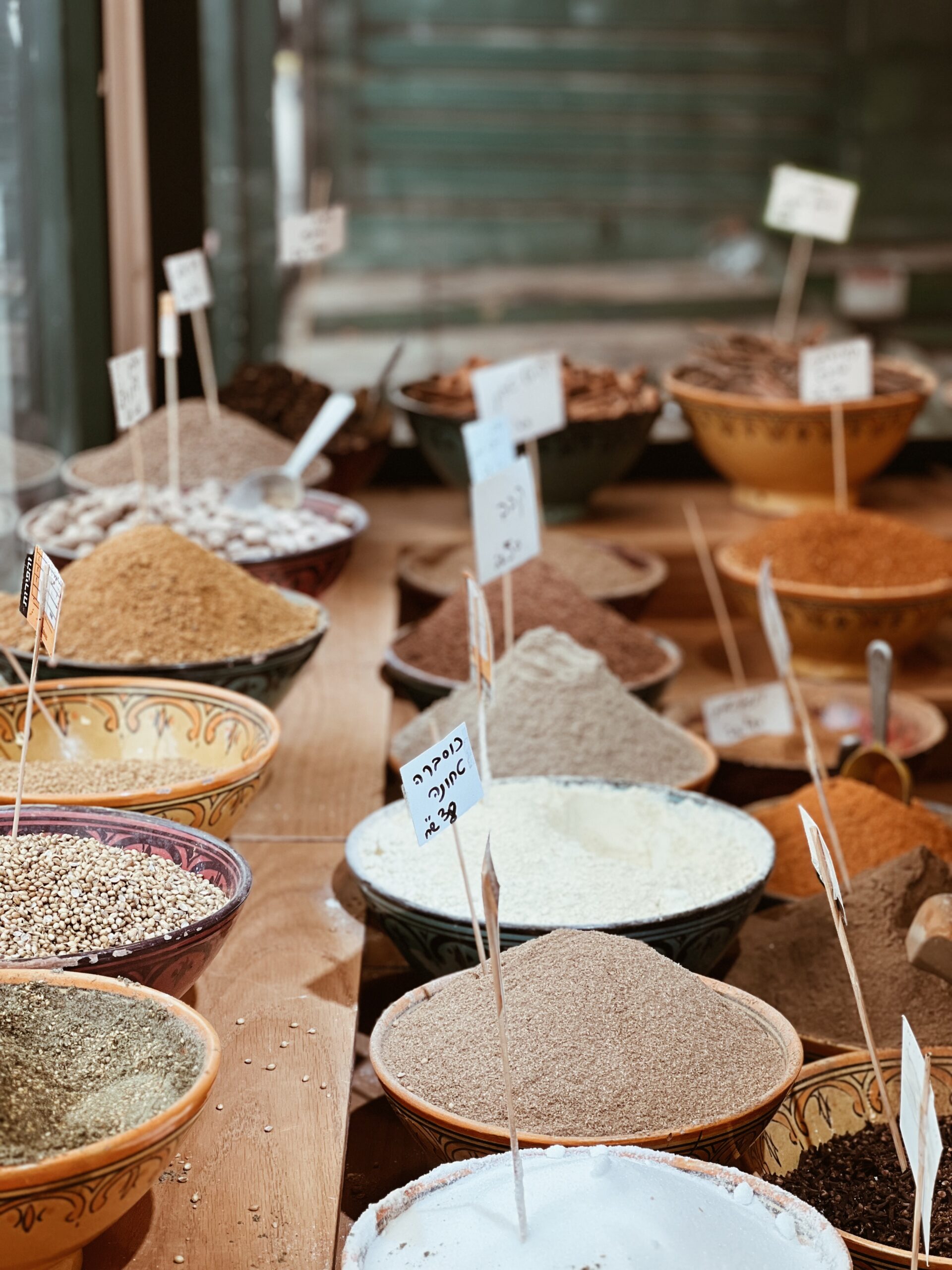 Here's a smell example. Your nose just cannot wrap itself around these tantalizing fragrances.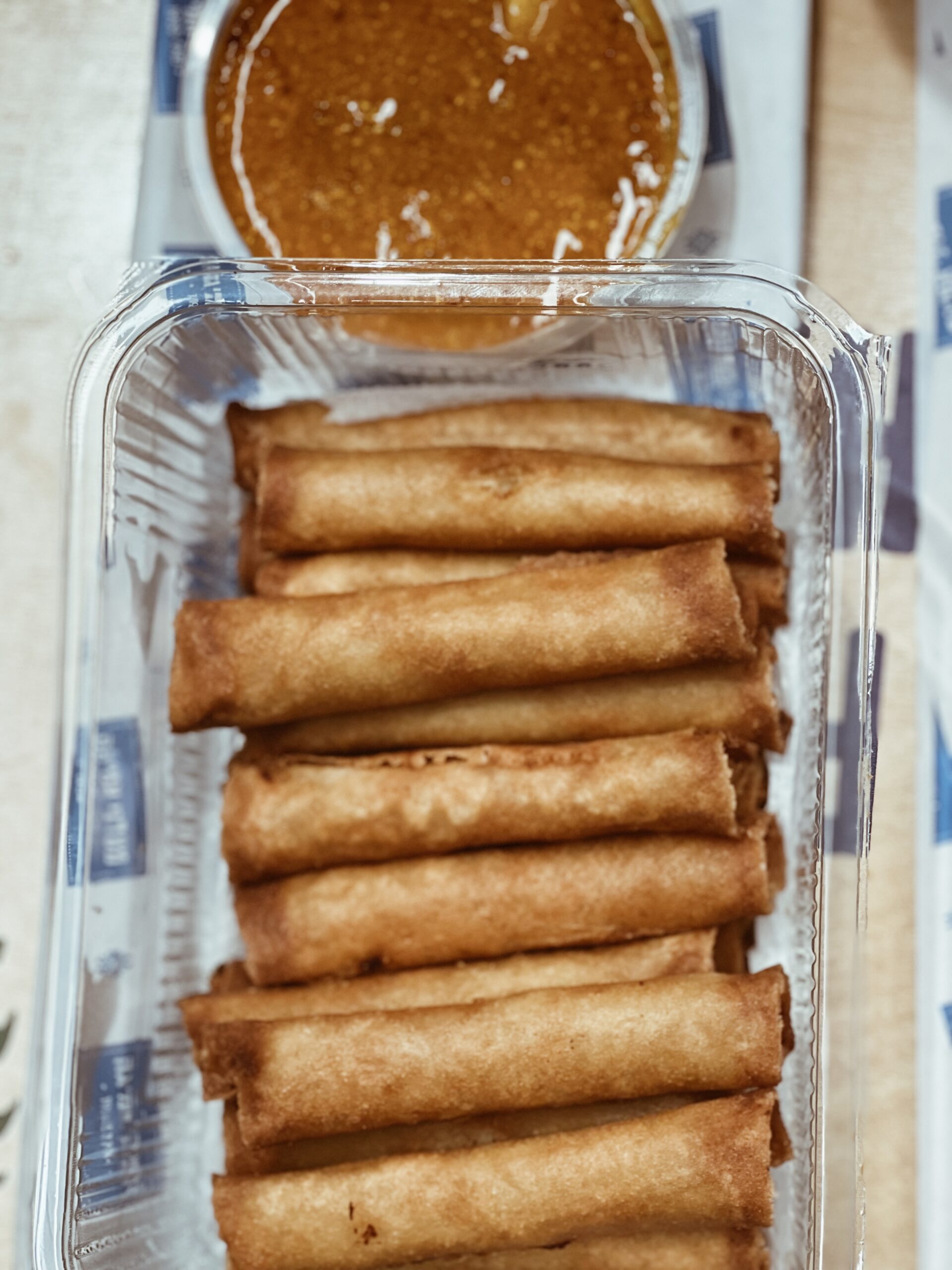 Here's a taste example. It's blurry yes, but I was still in a coma. But these had a taquito-ness to them that we all went bananas over. And with that spicy sauce to dip them in? YES.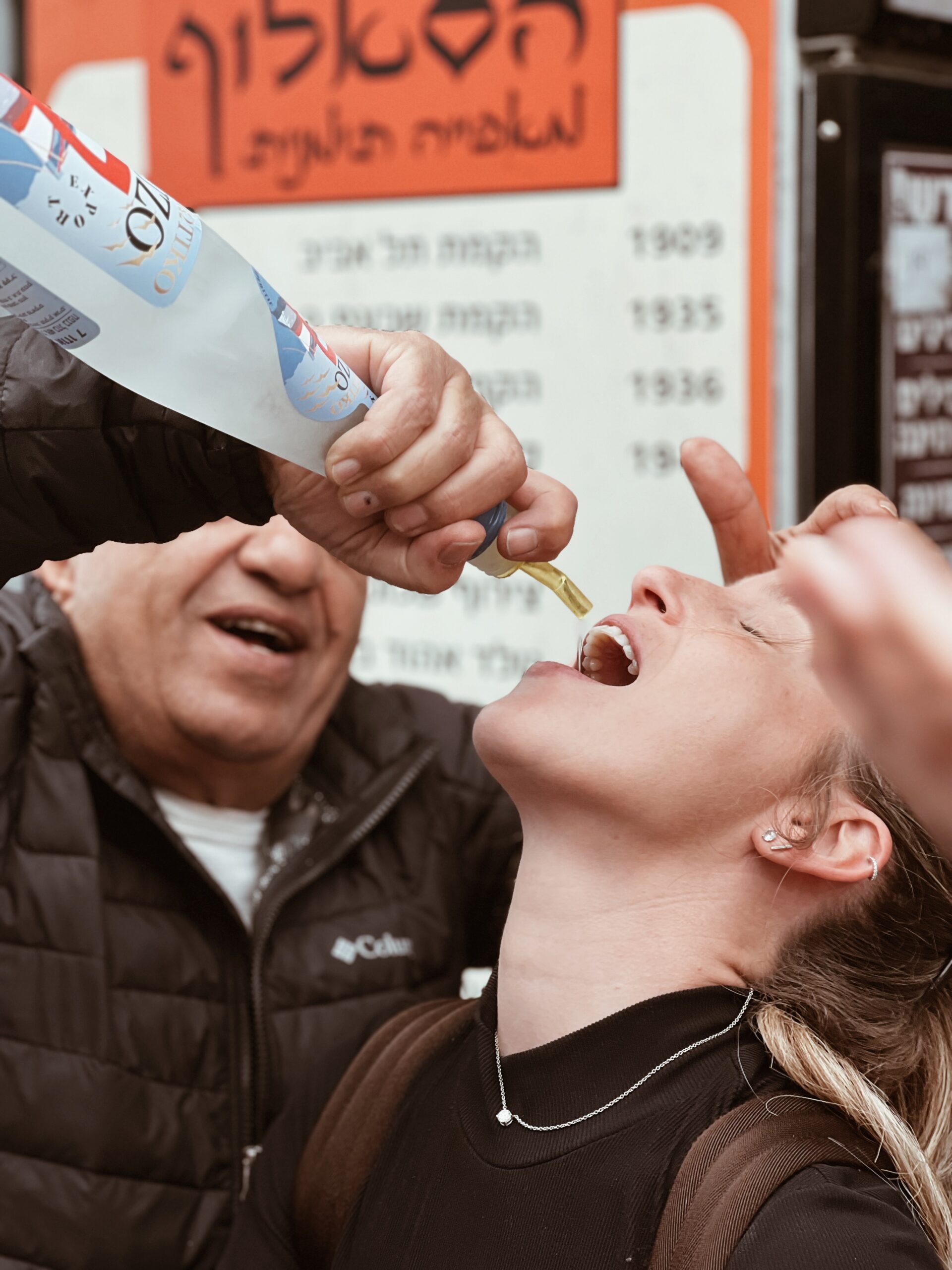 Aaaaand here's a drink example. I'm telling you, at every turn – "Arak! You need Arak! L'chaim! Cheers!" Why are you on the floor?" (don't tell Romi I posted this.)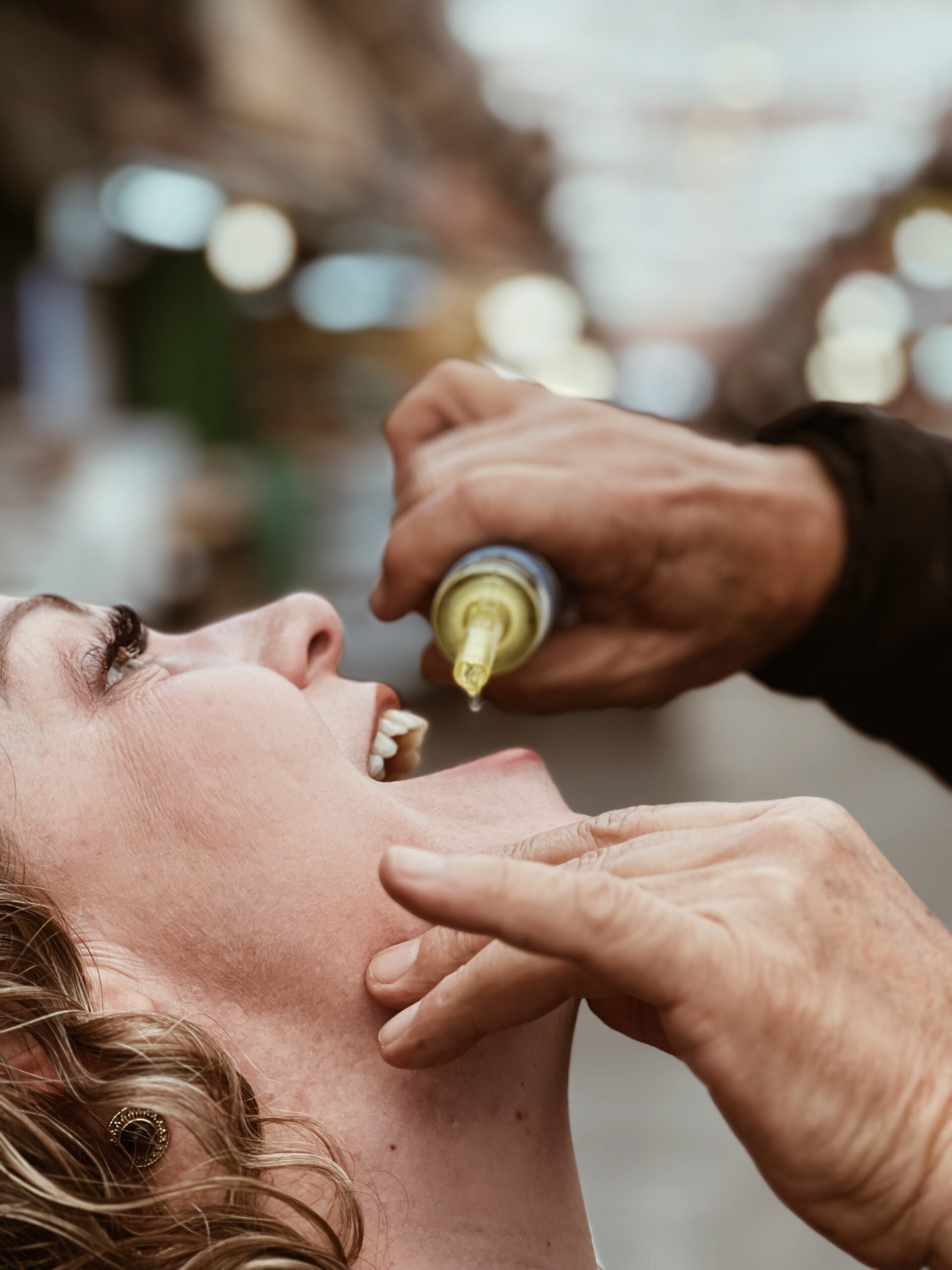 Don't tell Aubrey I posted this.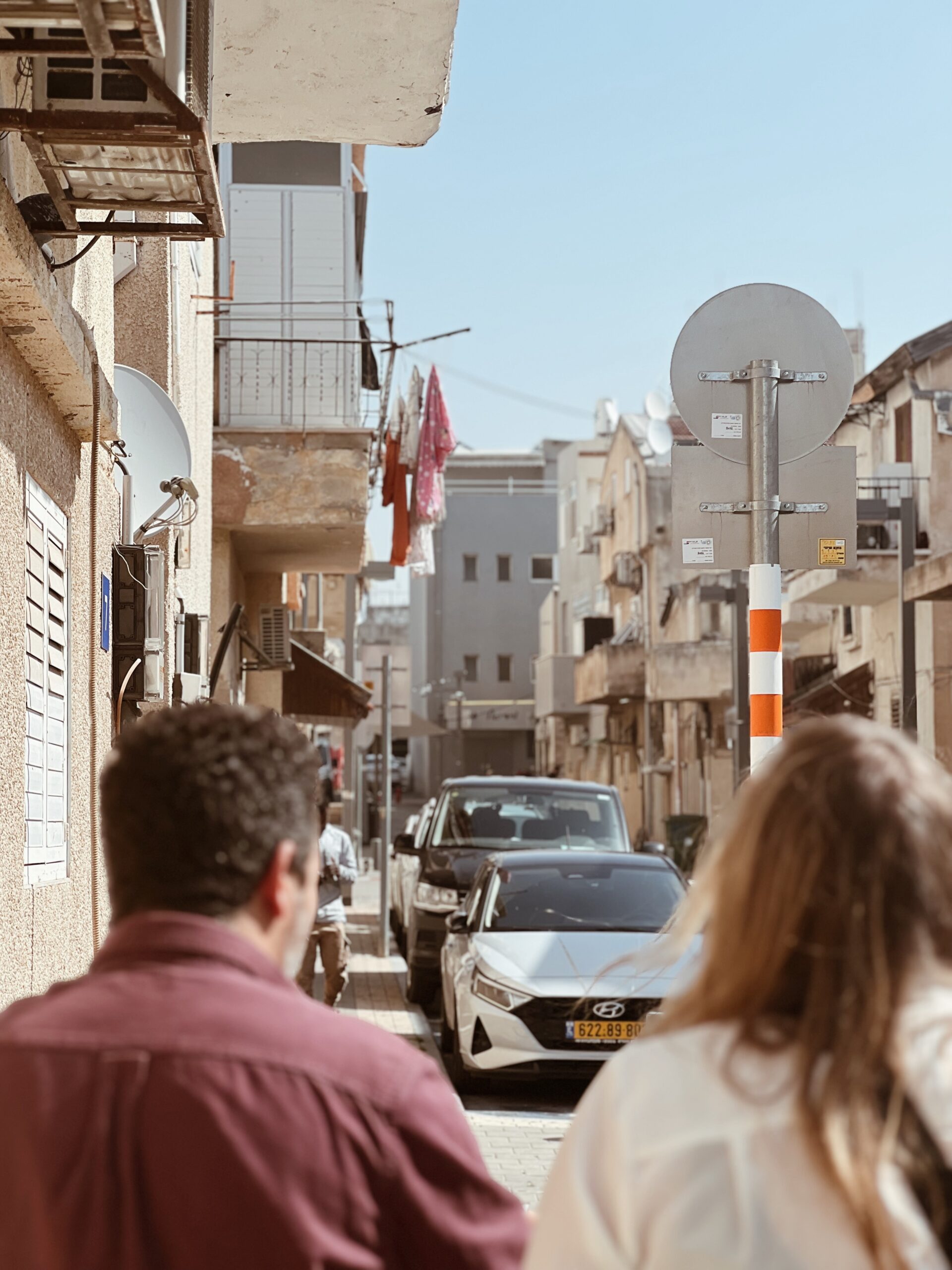 We continued our stroll through the ancient streets and took in the scenes. We're nice and full.
We're not eating for a while, right?
Right?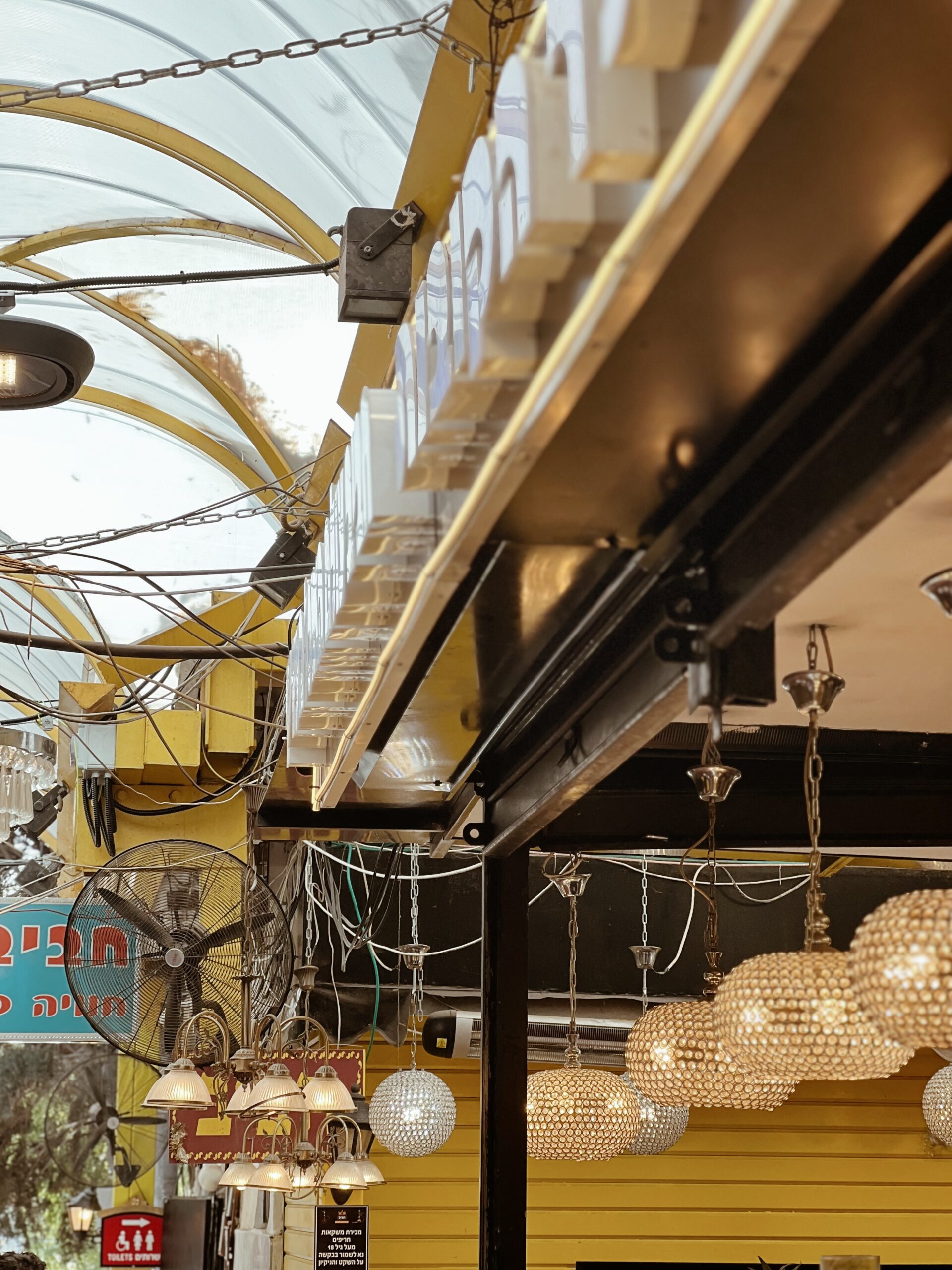 Wrong.
Then we landed in this other area of the market for yet ANOTHER SNACK.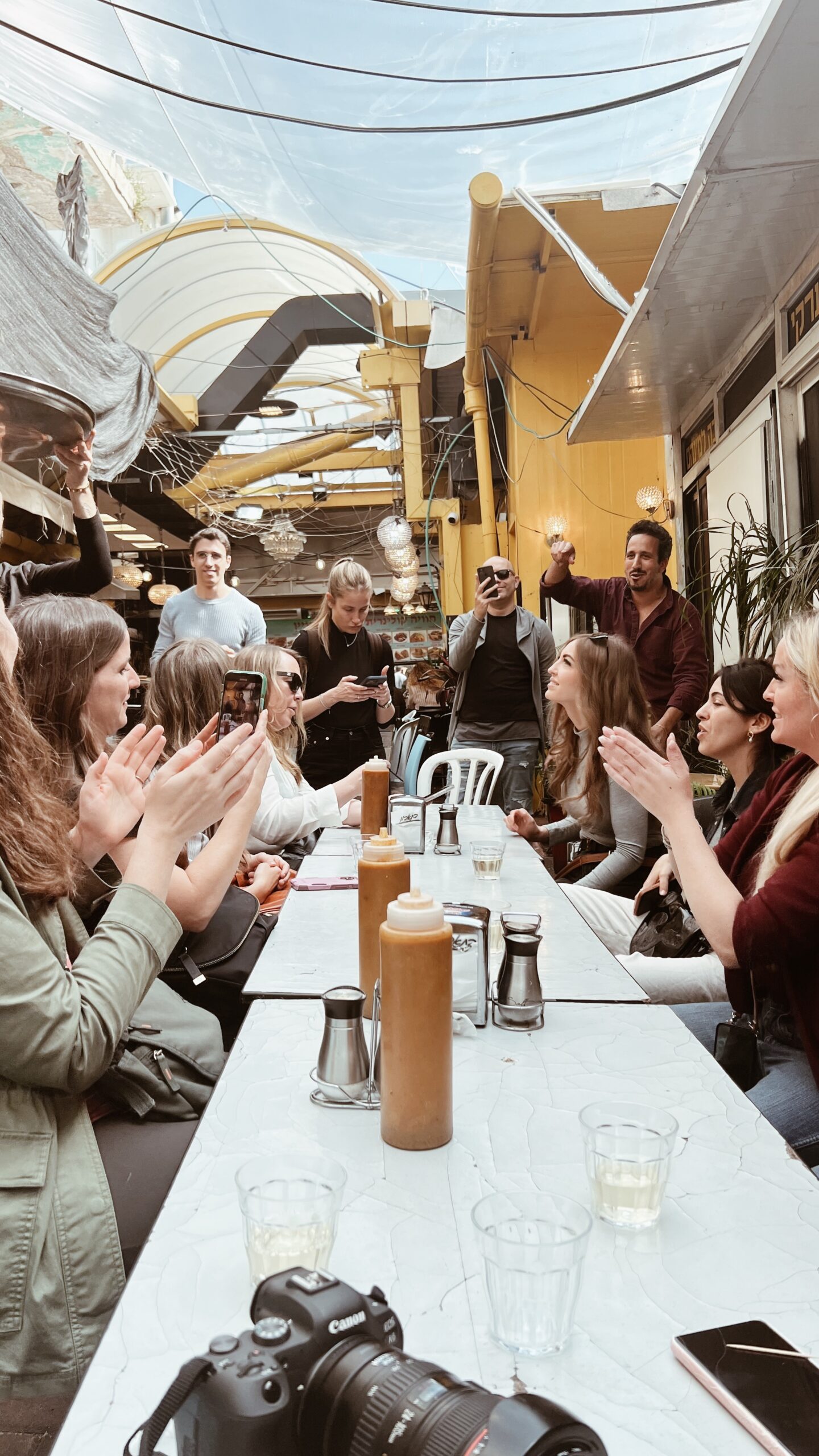 I think the wine is setting in. (Yes, the Mormon girls were giving us their wine. Bonus!)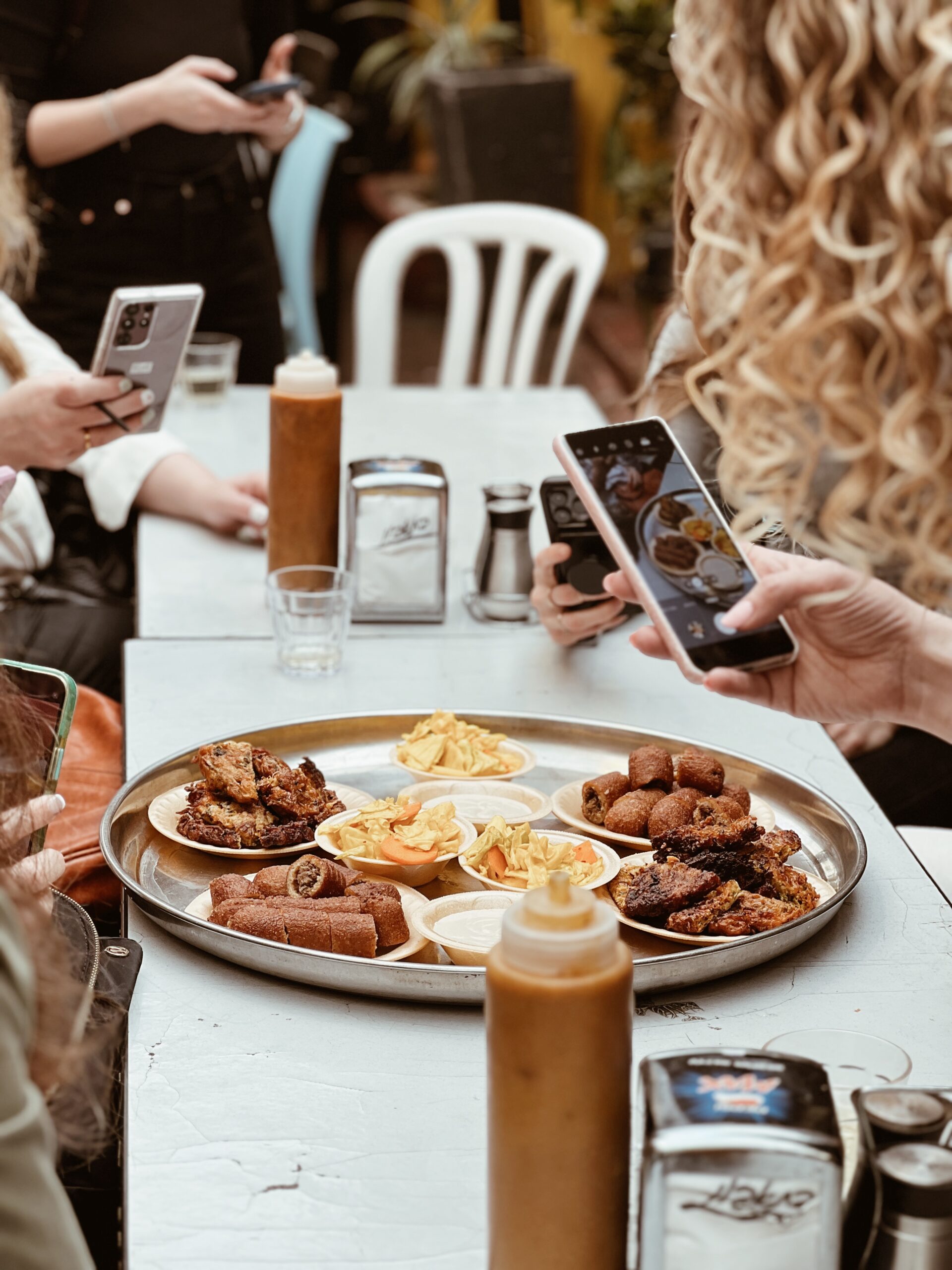 It's a feast at every turn. *see stretchy pants again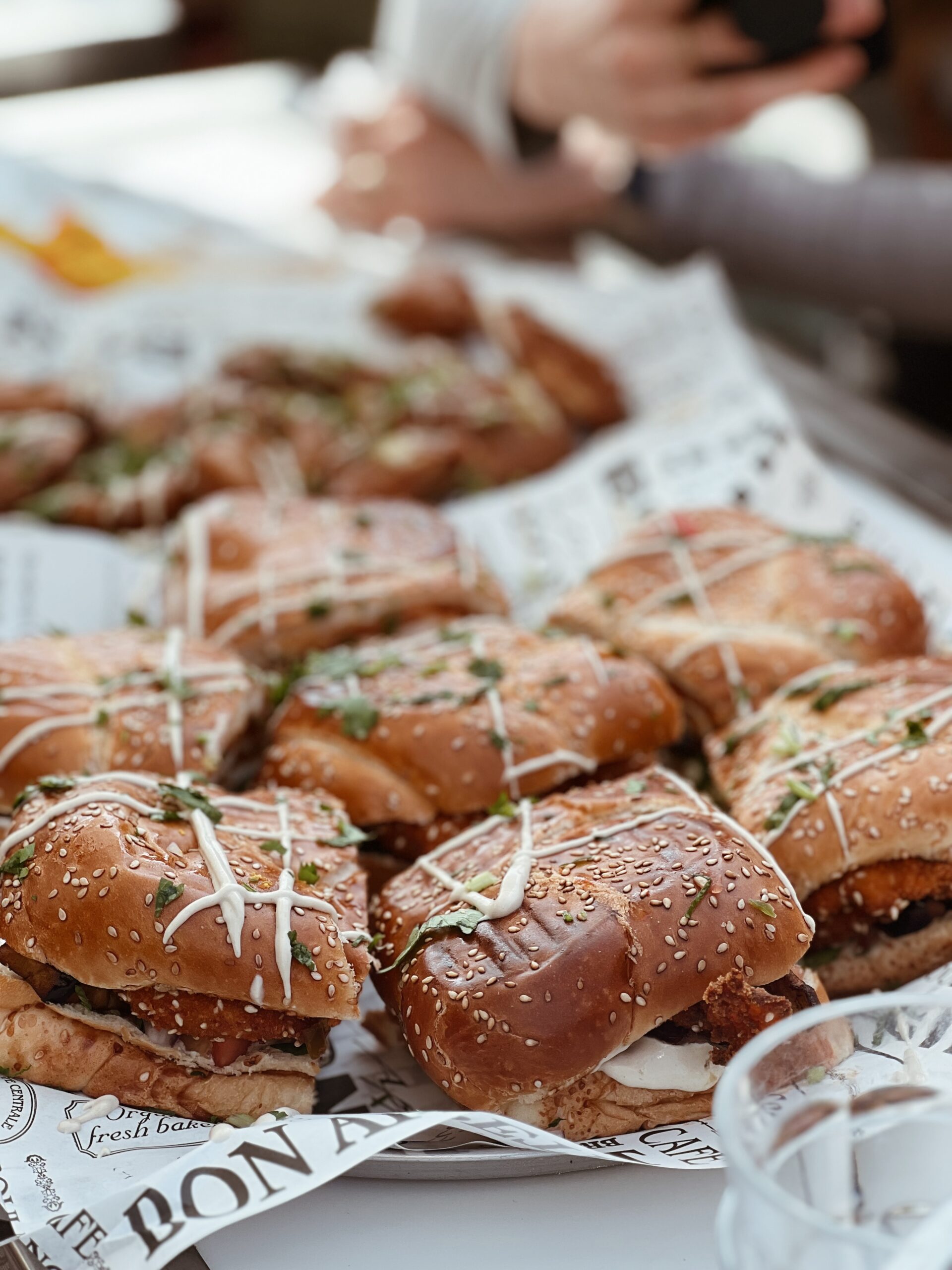 OH AND THEN THIS.
I'm dead serious. After another five second stroll we landed at this street side patio for giant schnitzel sandwiches. And more arak.
…When in Israel!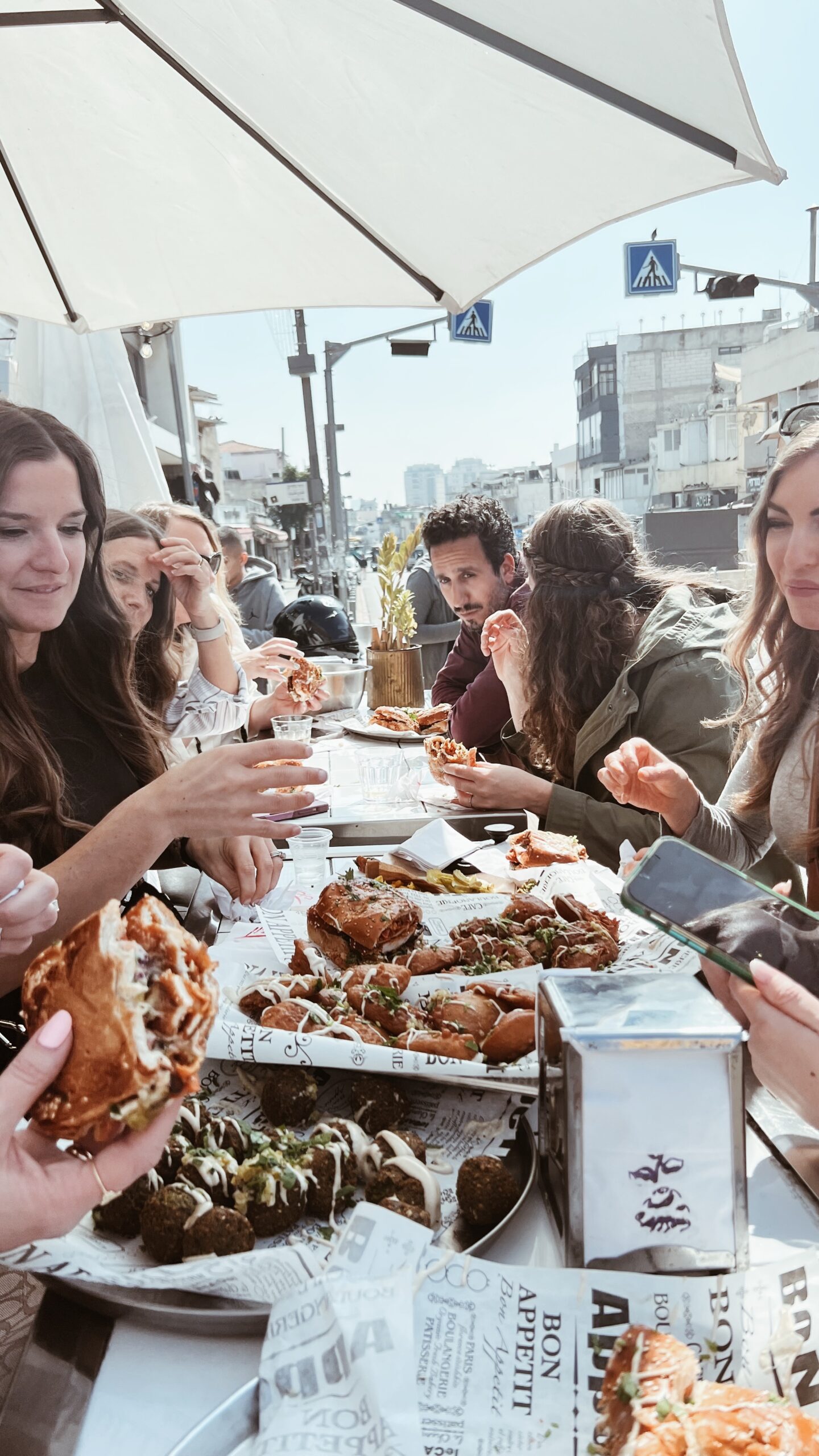 I'll dream about that falafel for the rest of time.
Also during this meal there was dancing. Don't believe me? Here's the video!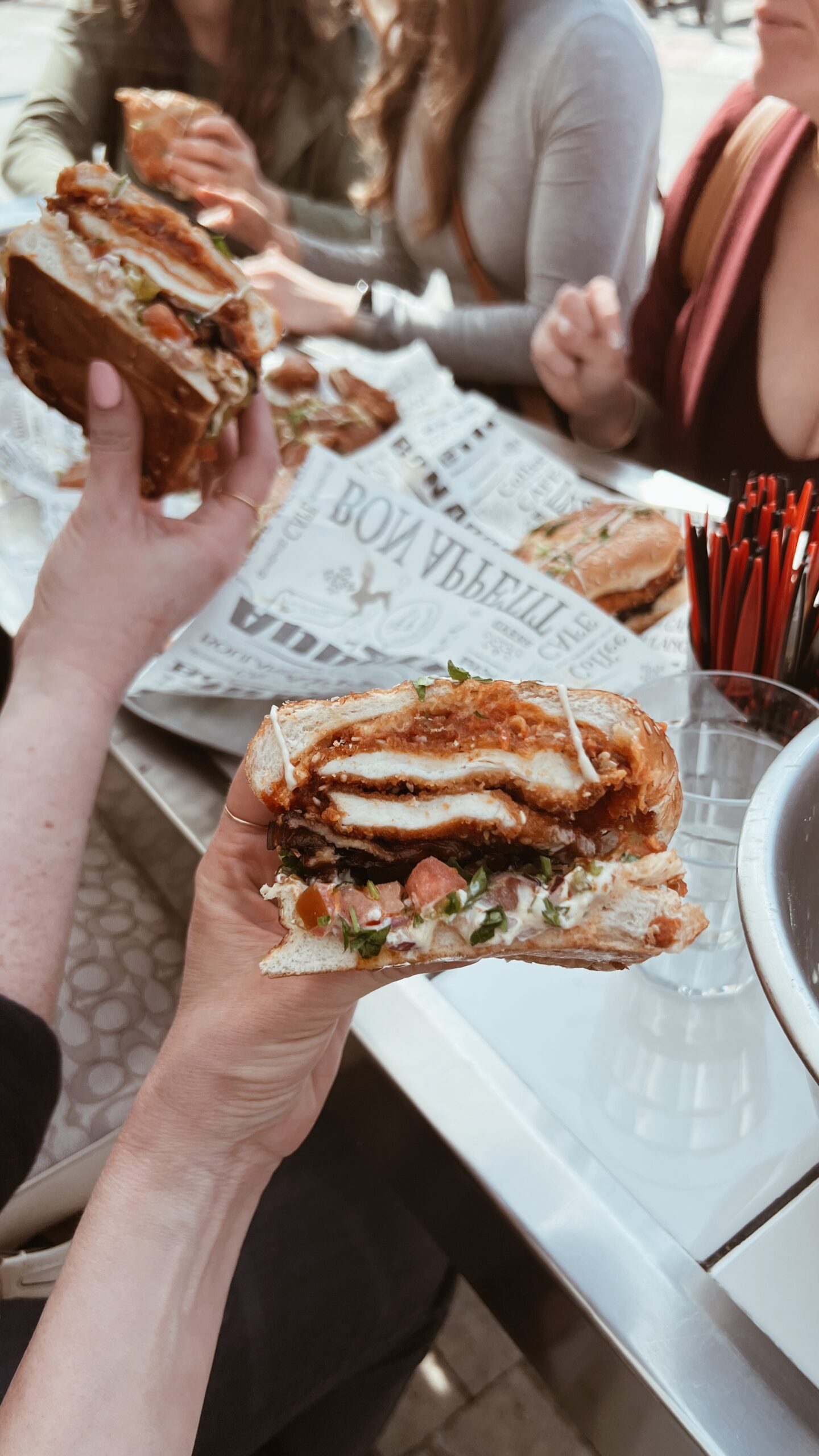 Why yes I absolutely upped my runs the moment we got back.
RUNS LIKE RUNNING.
Ya freak.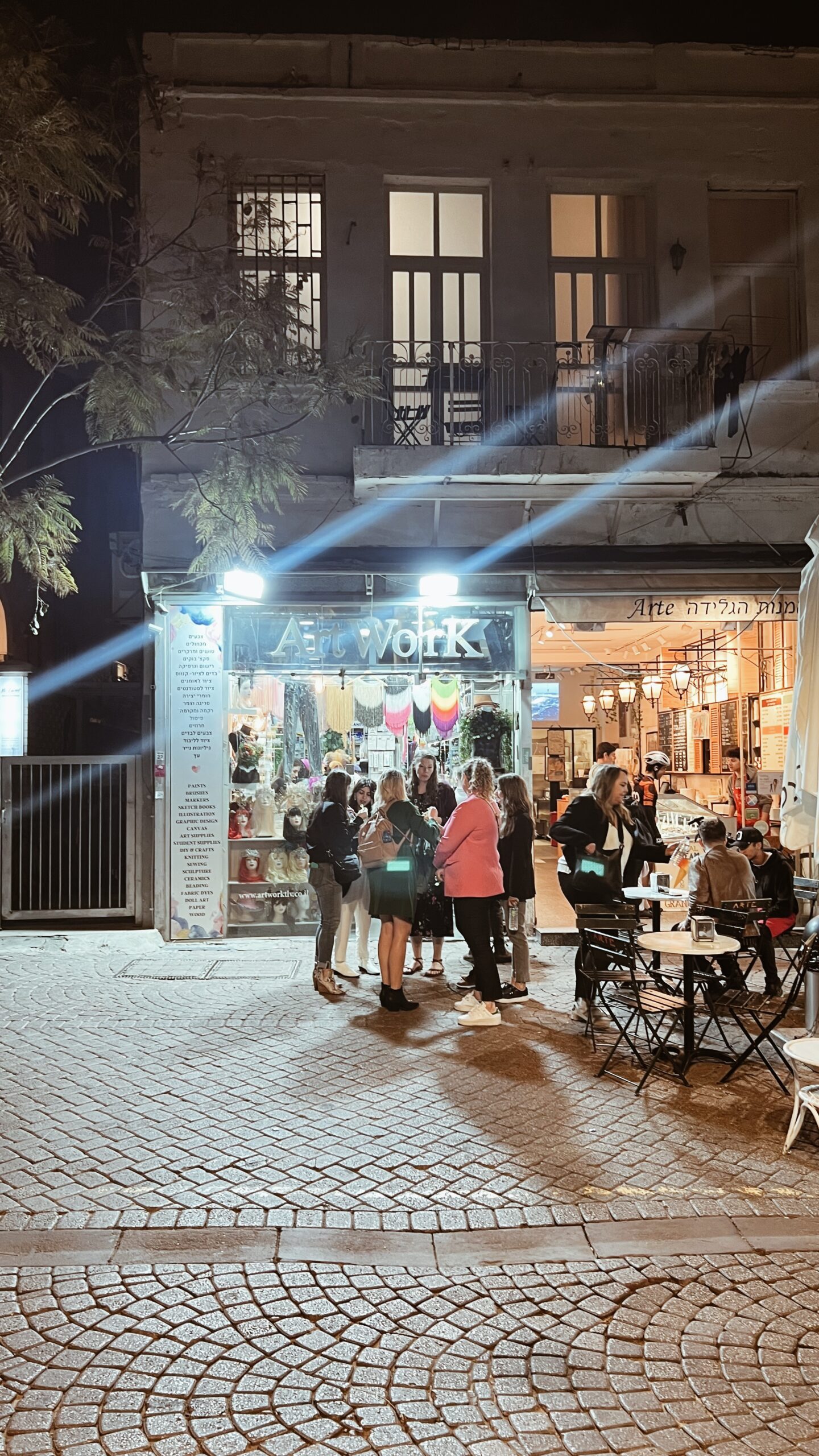 After a (hello) big snooze in the hotel rooms for a good part of the day, we set off to finish our night at a happy hour where we hung with nearly everyone we met that week. We perused the lively streets, took in the night life scenery, and tried to walk off half a falafel.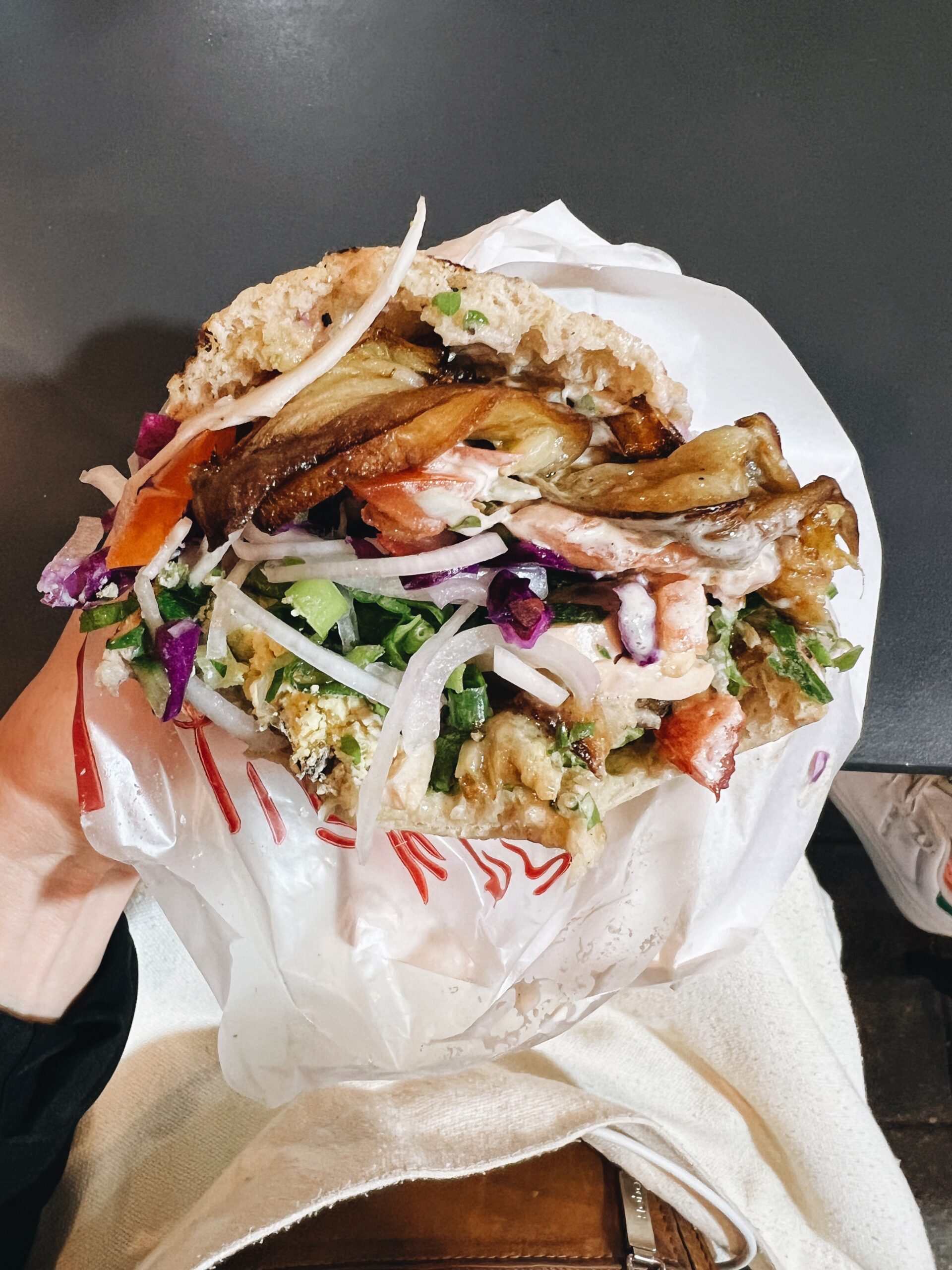 Do not ask me how I had the room for this sabich. This was the most delicious street food I've probably ever had. LOOK at that.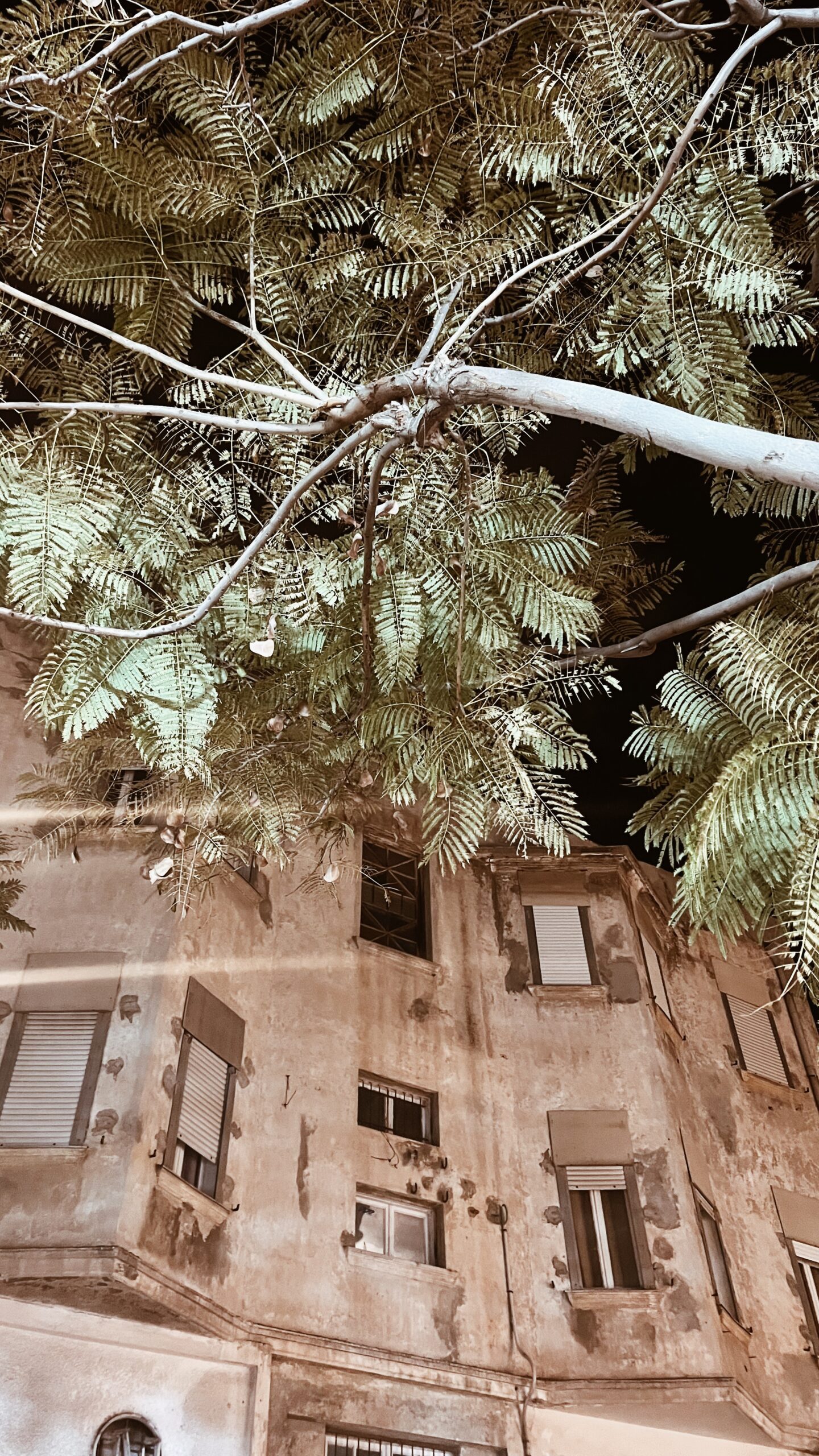 These old buildings stole my heart.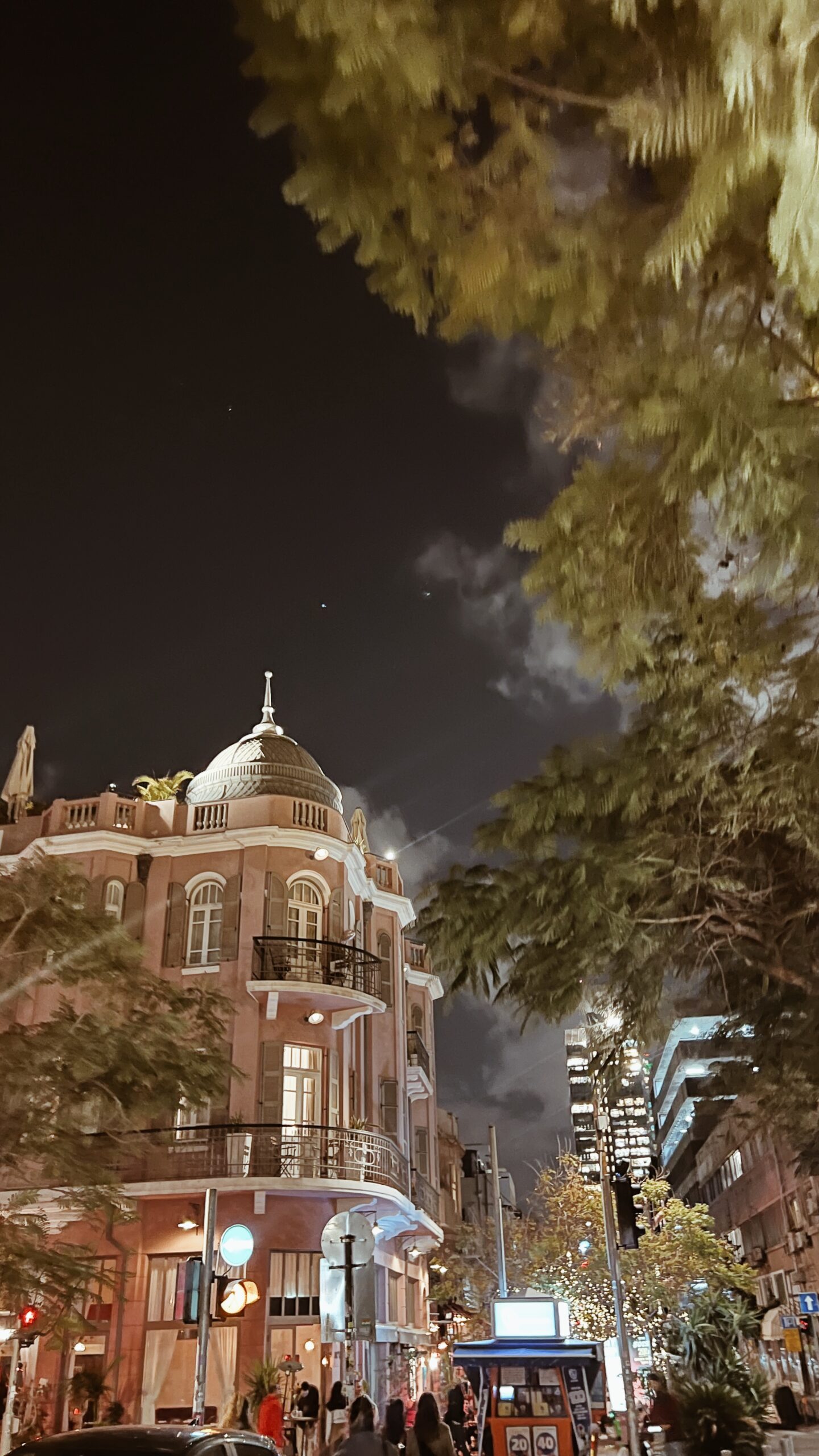 This is us attempting to walk off the sabich.
We're morons.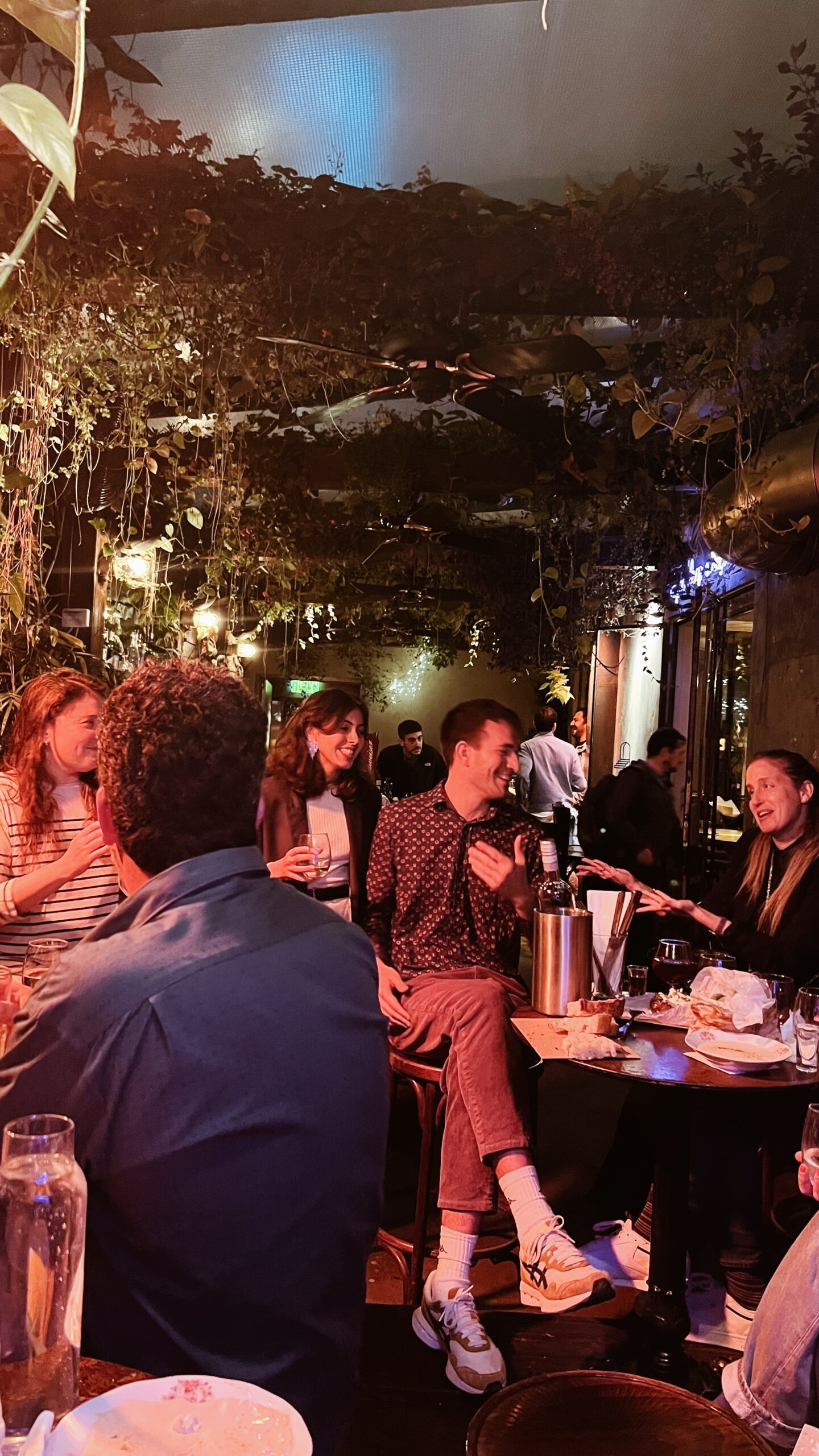 We ended the night at Abraxas, a moody, plant-filled dive bar with an edge.
No one could touch the food. Ha!
Well, almost.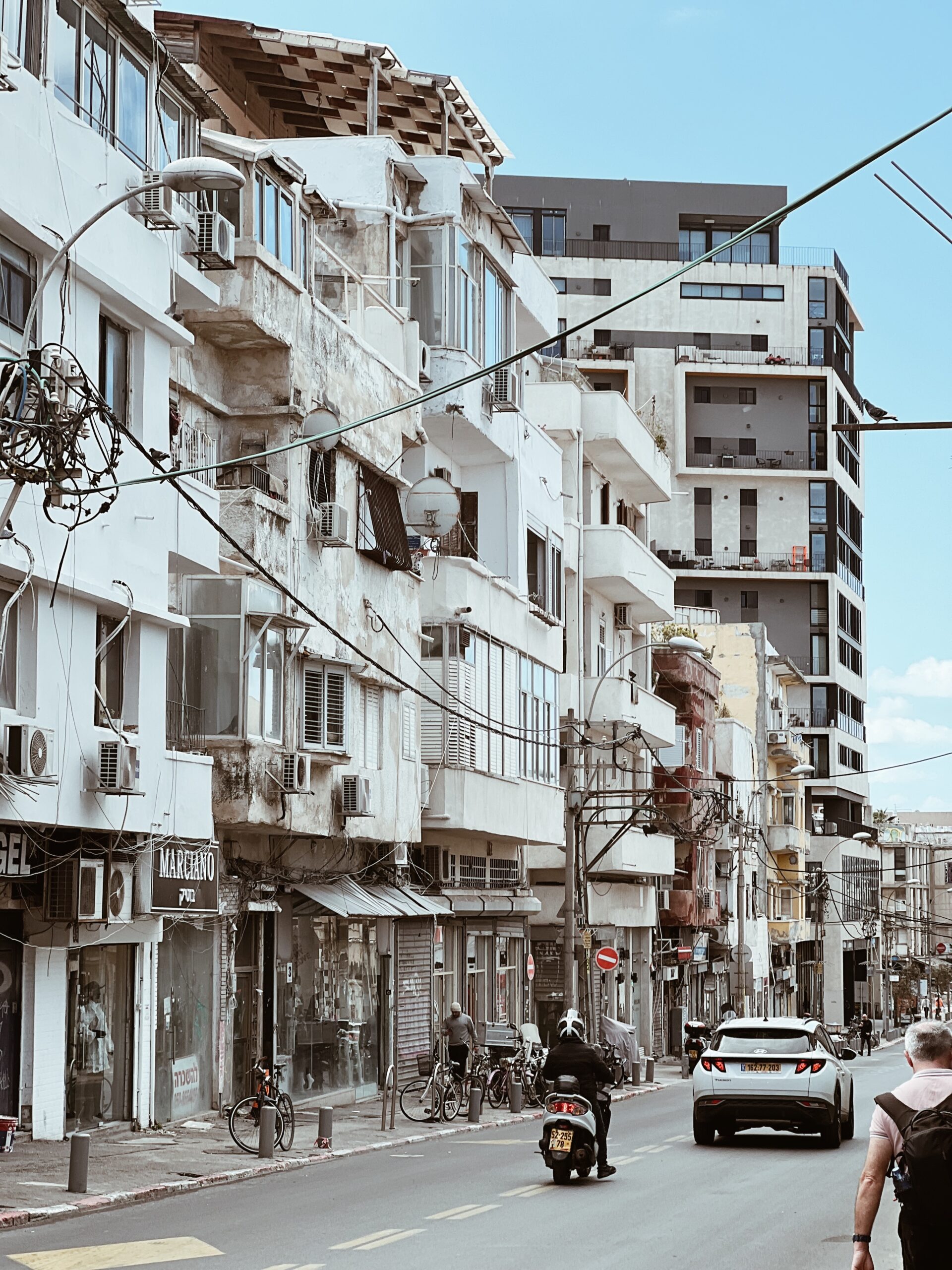 The final day we mainly had to ourselves. After a farewell brunch in the hotel lobby, and looking at eight hours to kill before our bus arrived for the airport, we took to the streets for some intense walking and souvenir shopping. So, back to Jaffa we went!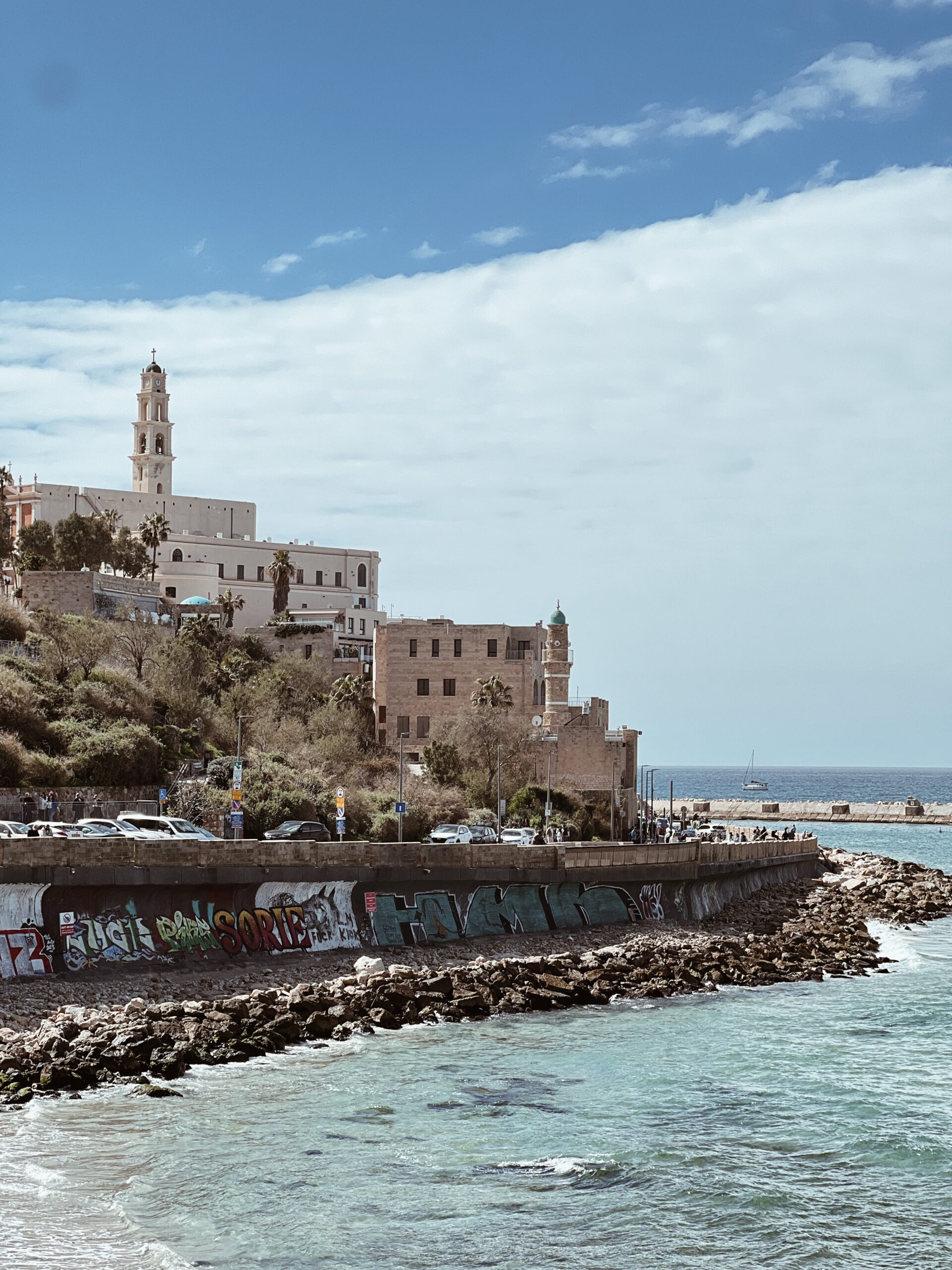 It was just gorgeous: the water, the sun, the conversation, the pace we all kept trying to burn off calories. Ha! Ha?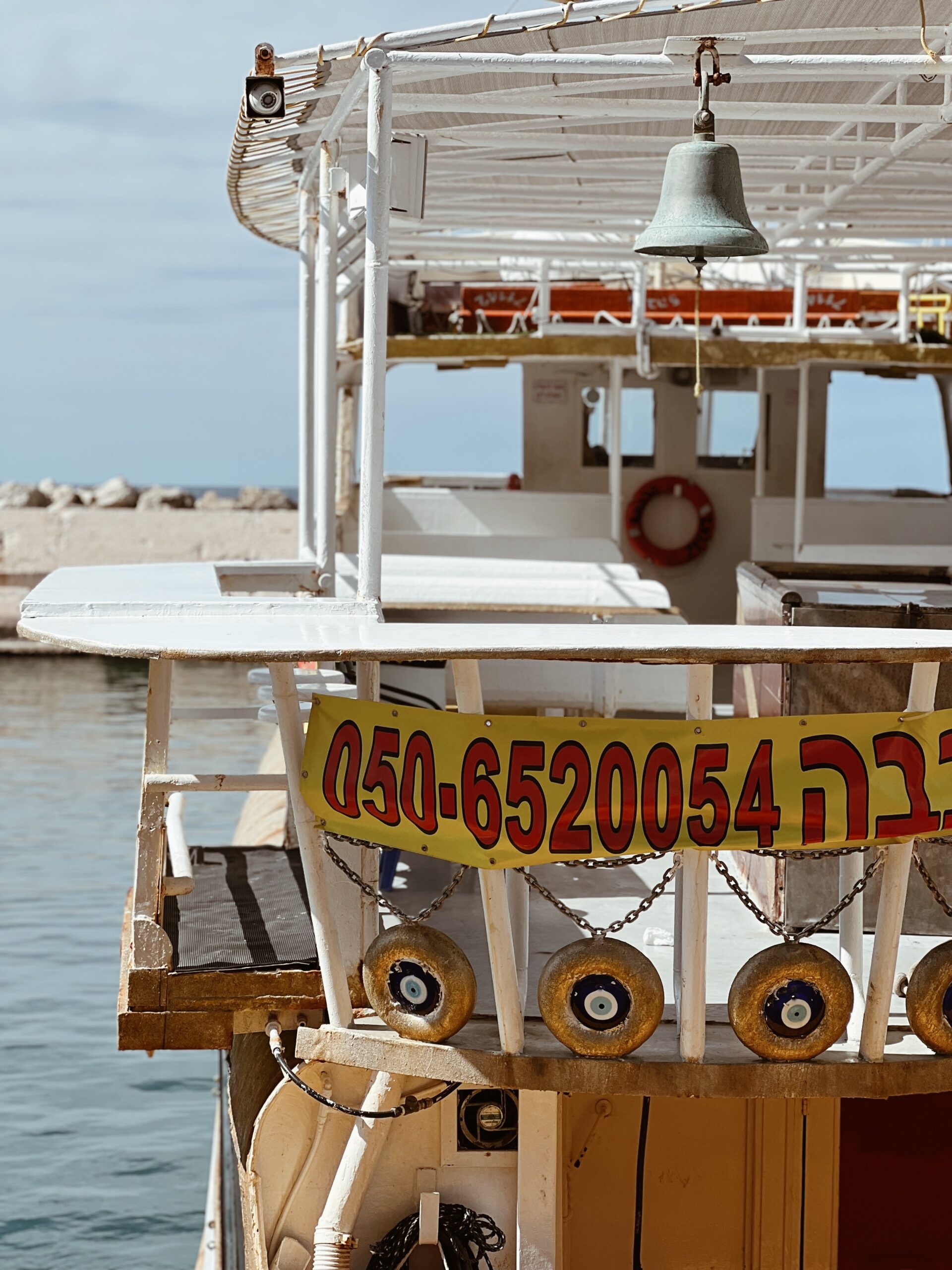 Lots of pretty boats along Jaffa port. I wanted to get on that one.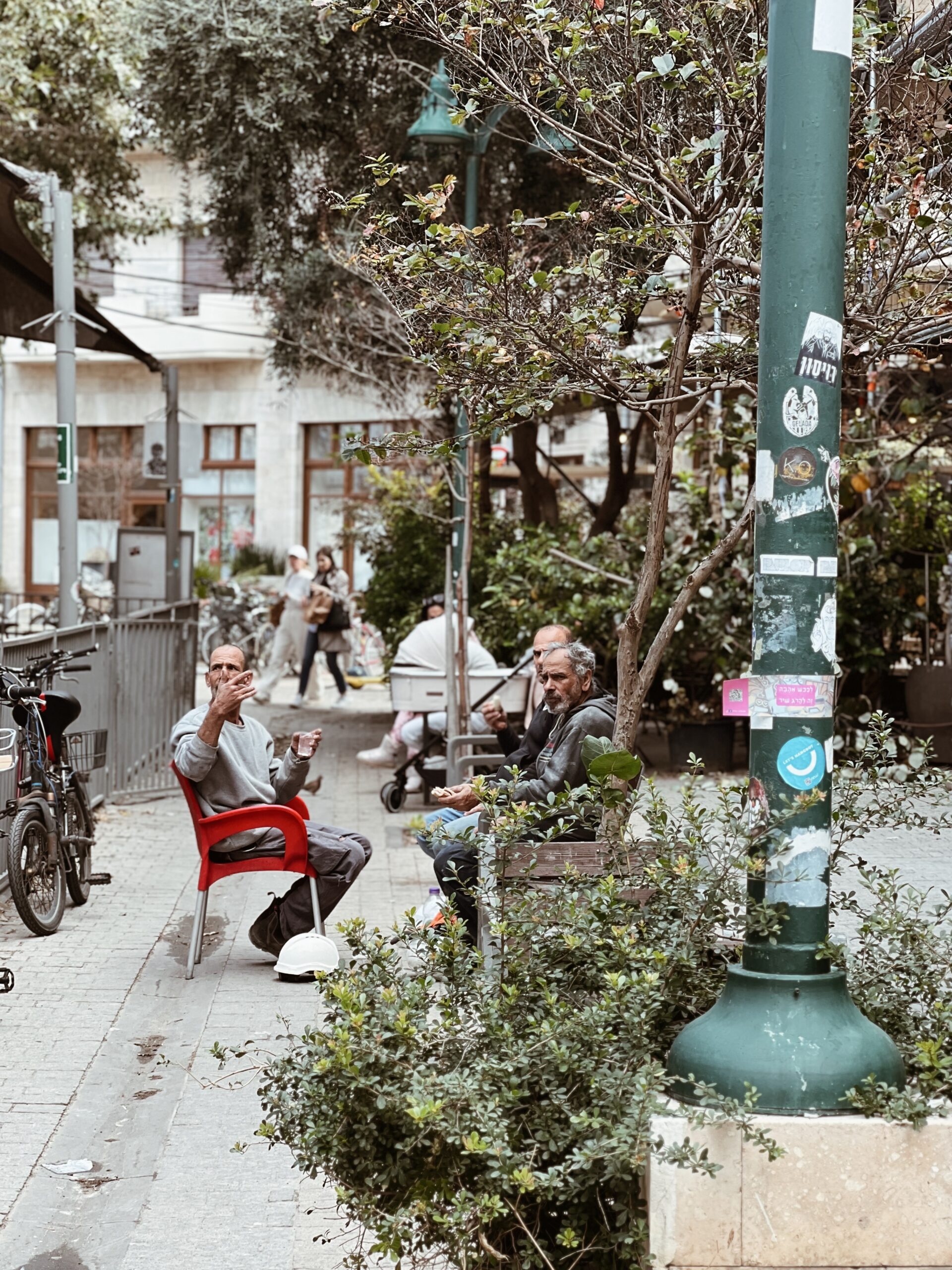 Lots of incredible people watching. I needed to know what they were talking about and if it was about my hair.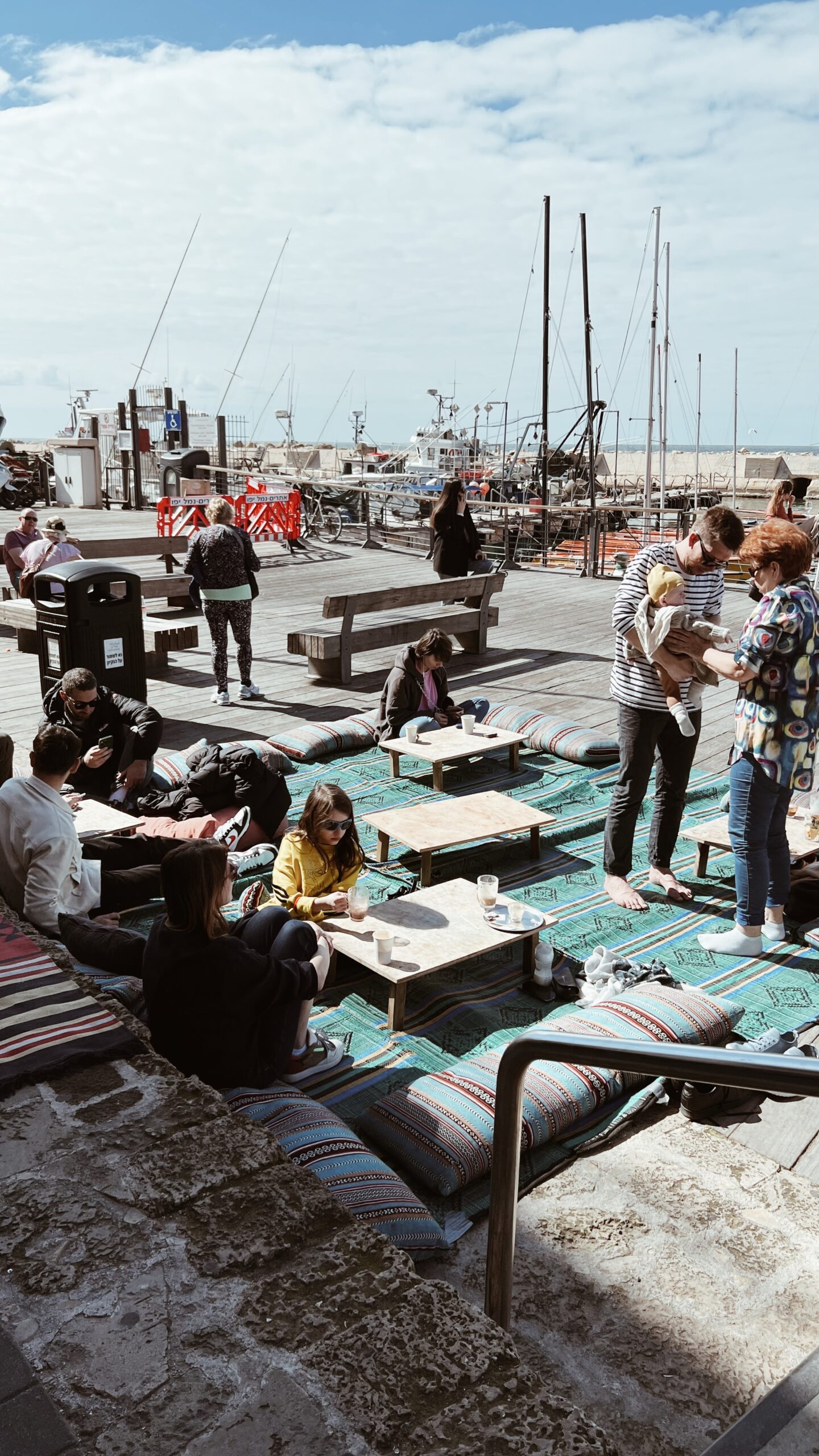 I'm going to take a bit of this vibe for my patio style this summer.
Also I invited myself to sit with them but they just stared at me.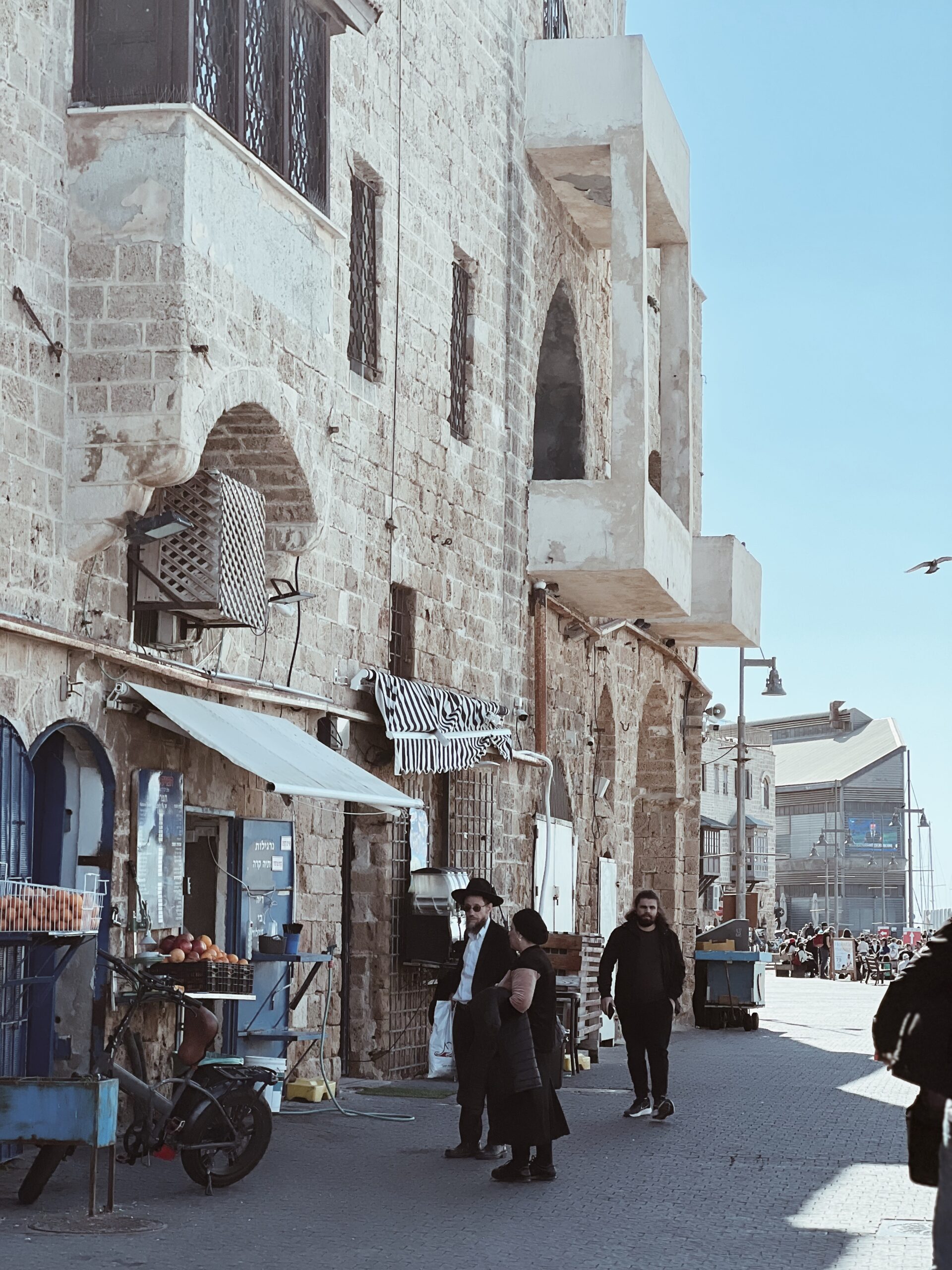 Just take it all in.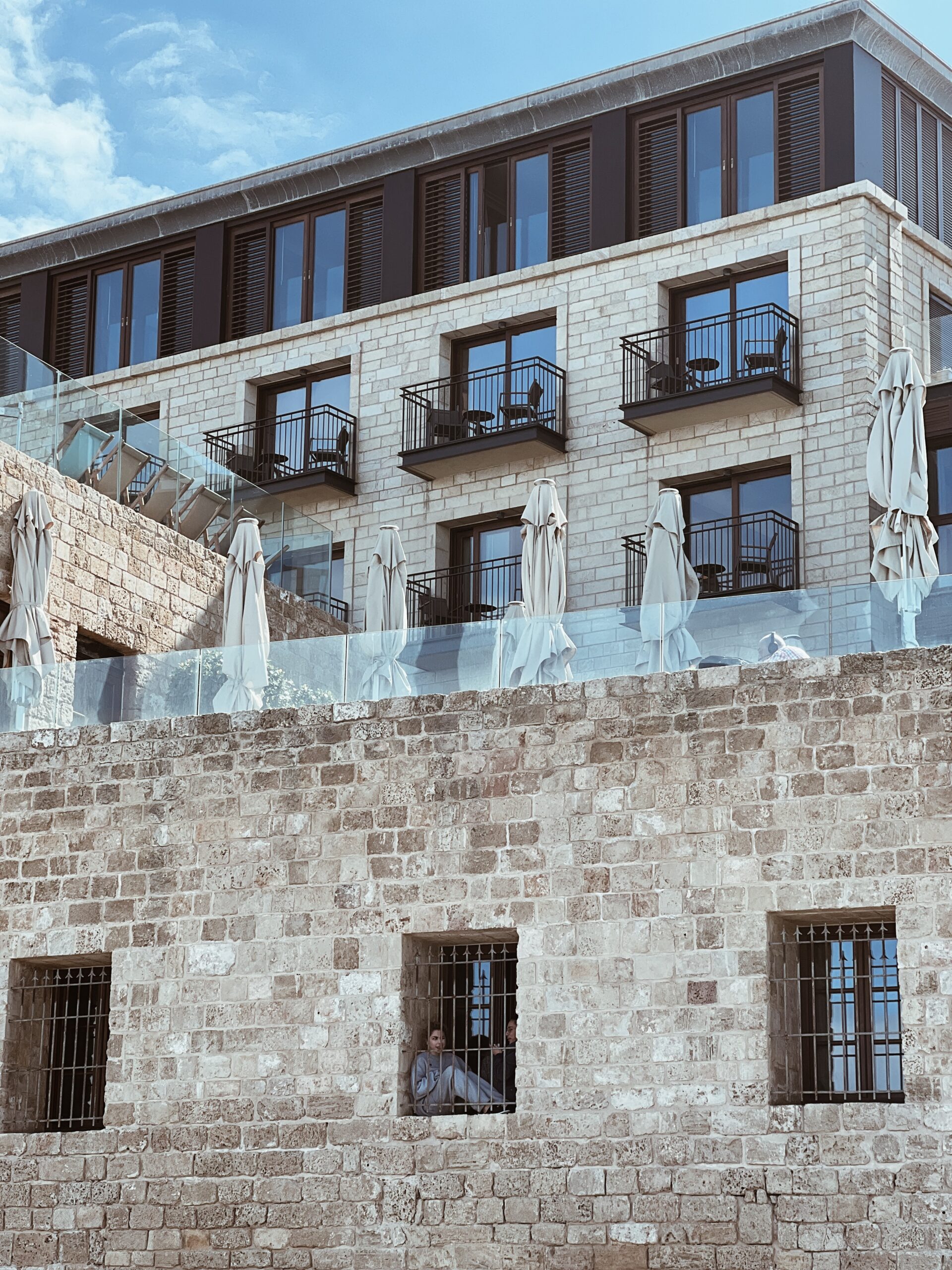 That girl sitting in the window with her beau made my heart go pitter patter.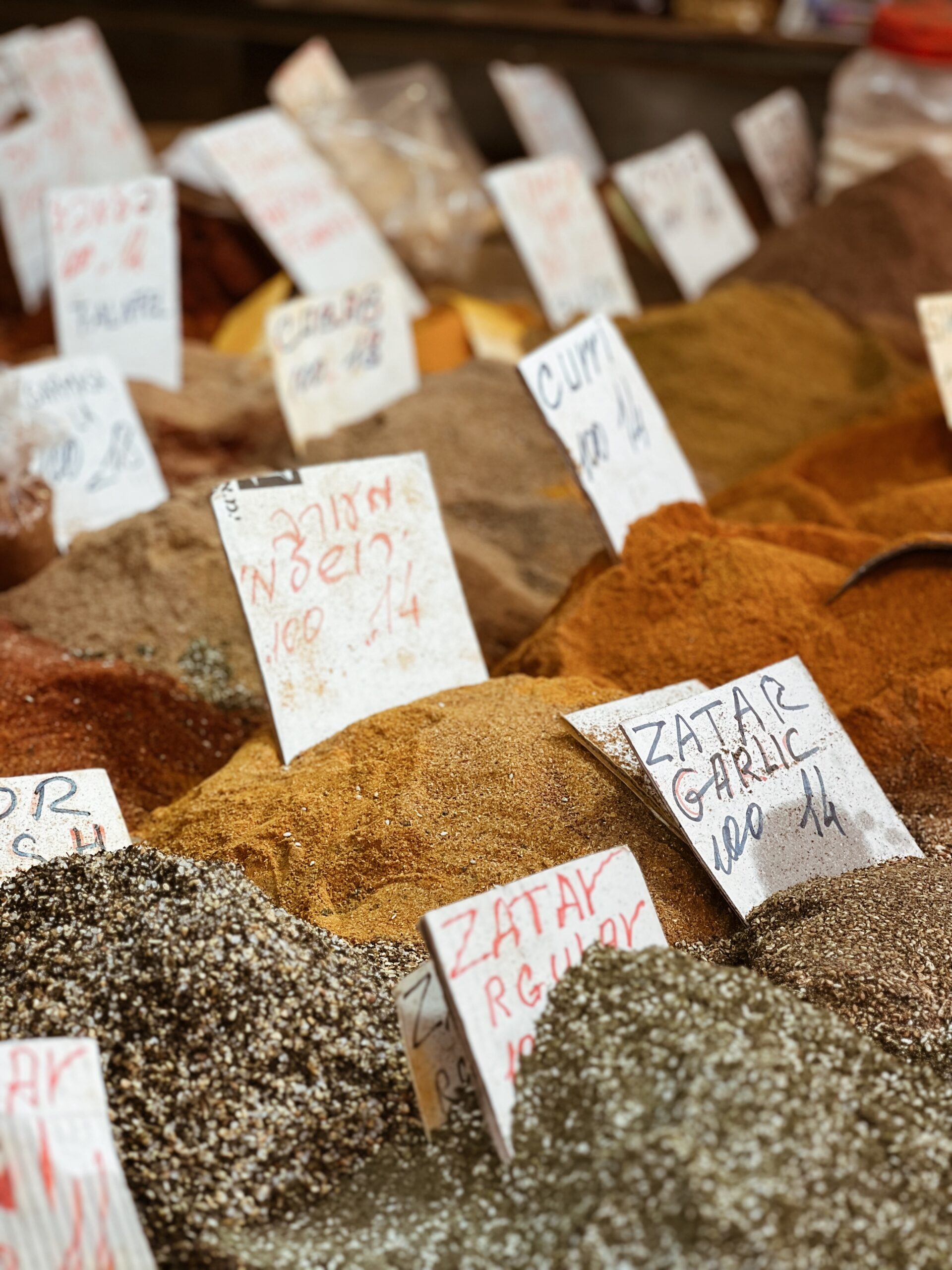 Spices.
For.
Days.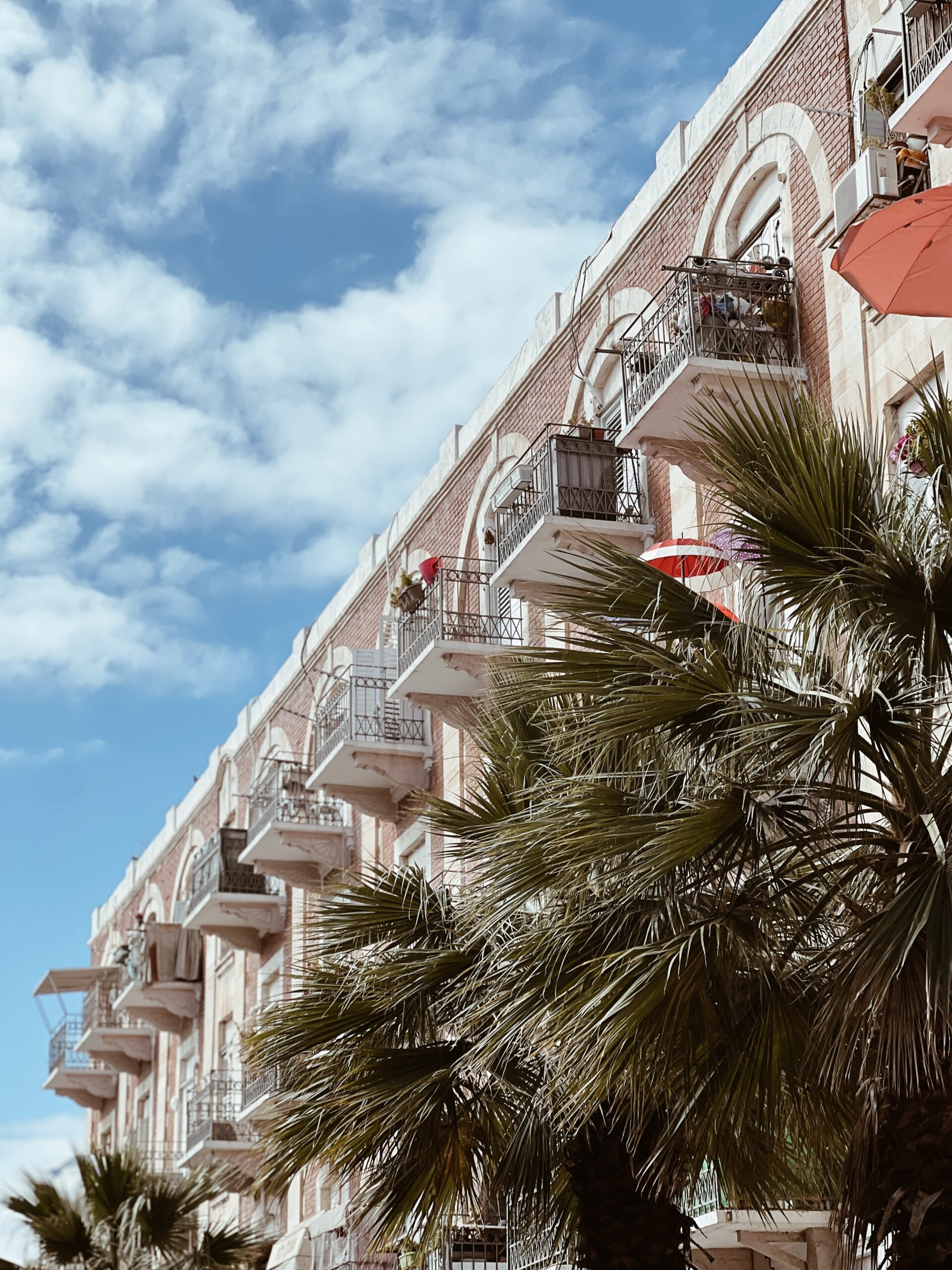 Windows.
For.
Weeks.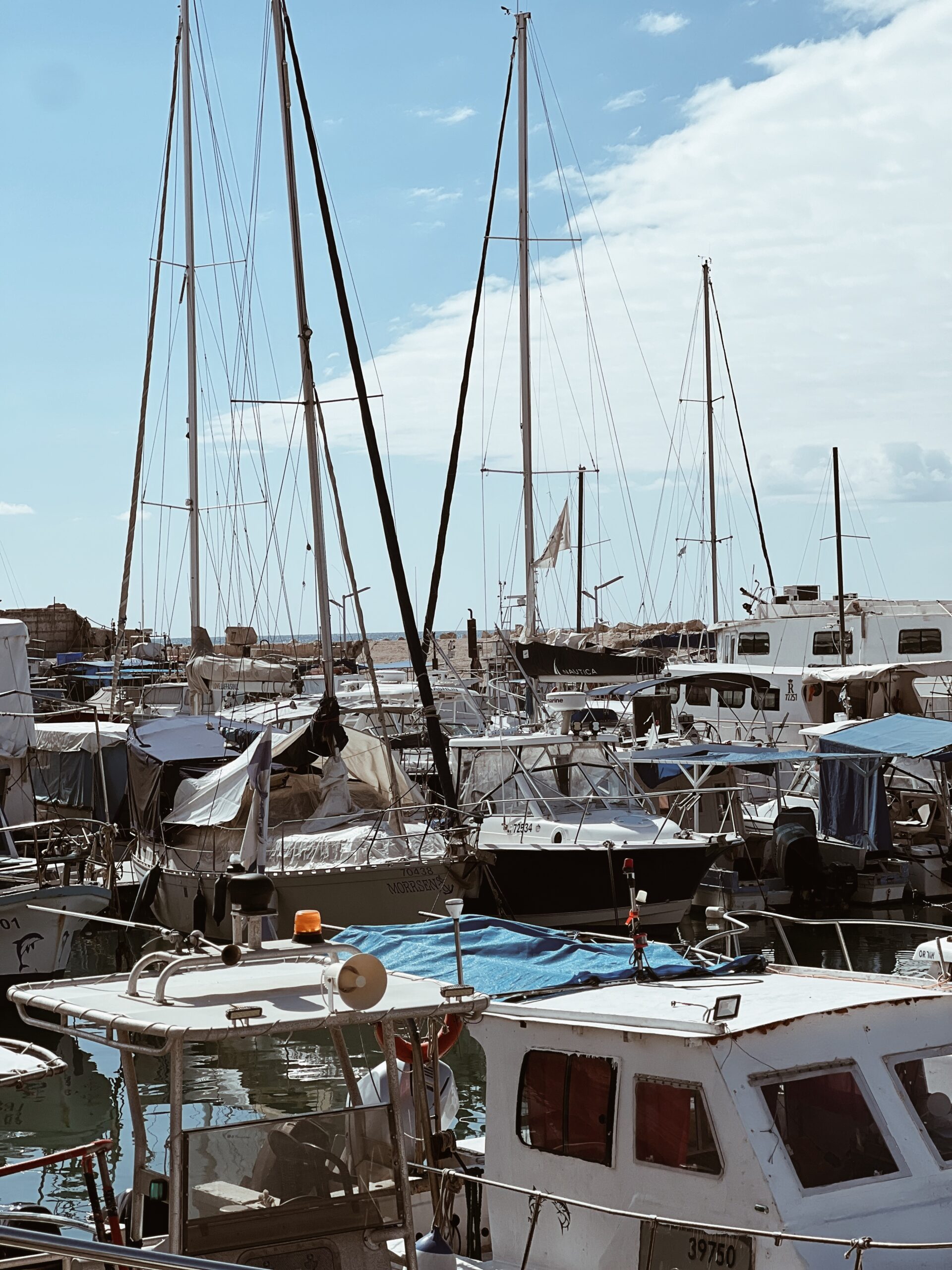 Boats.
For.
Months. (I'm trying to wrap this thing up for you.)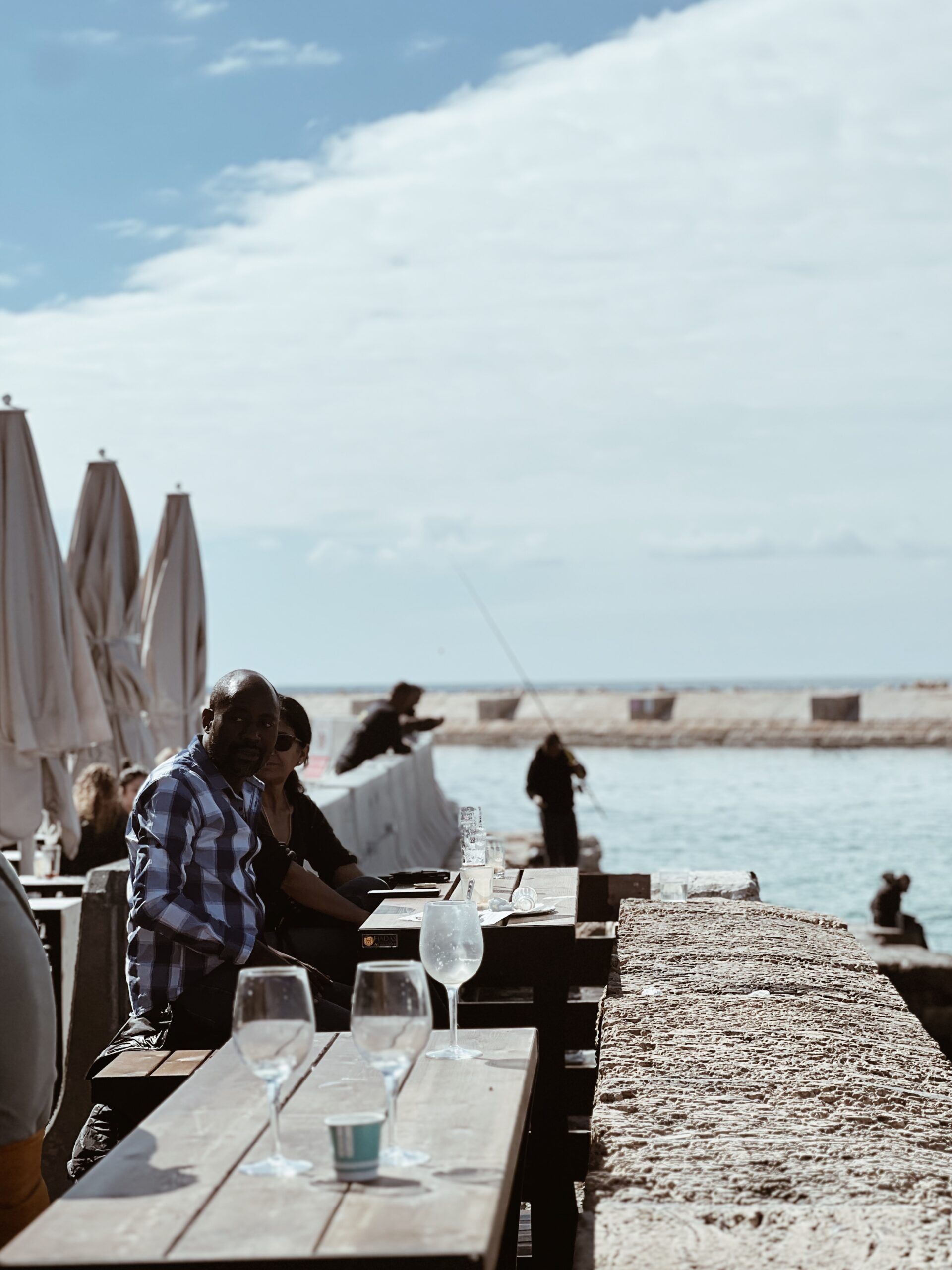 I invited myself to sit with them but they just stared at me.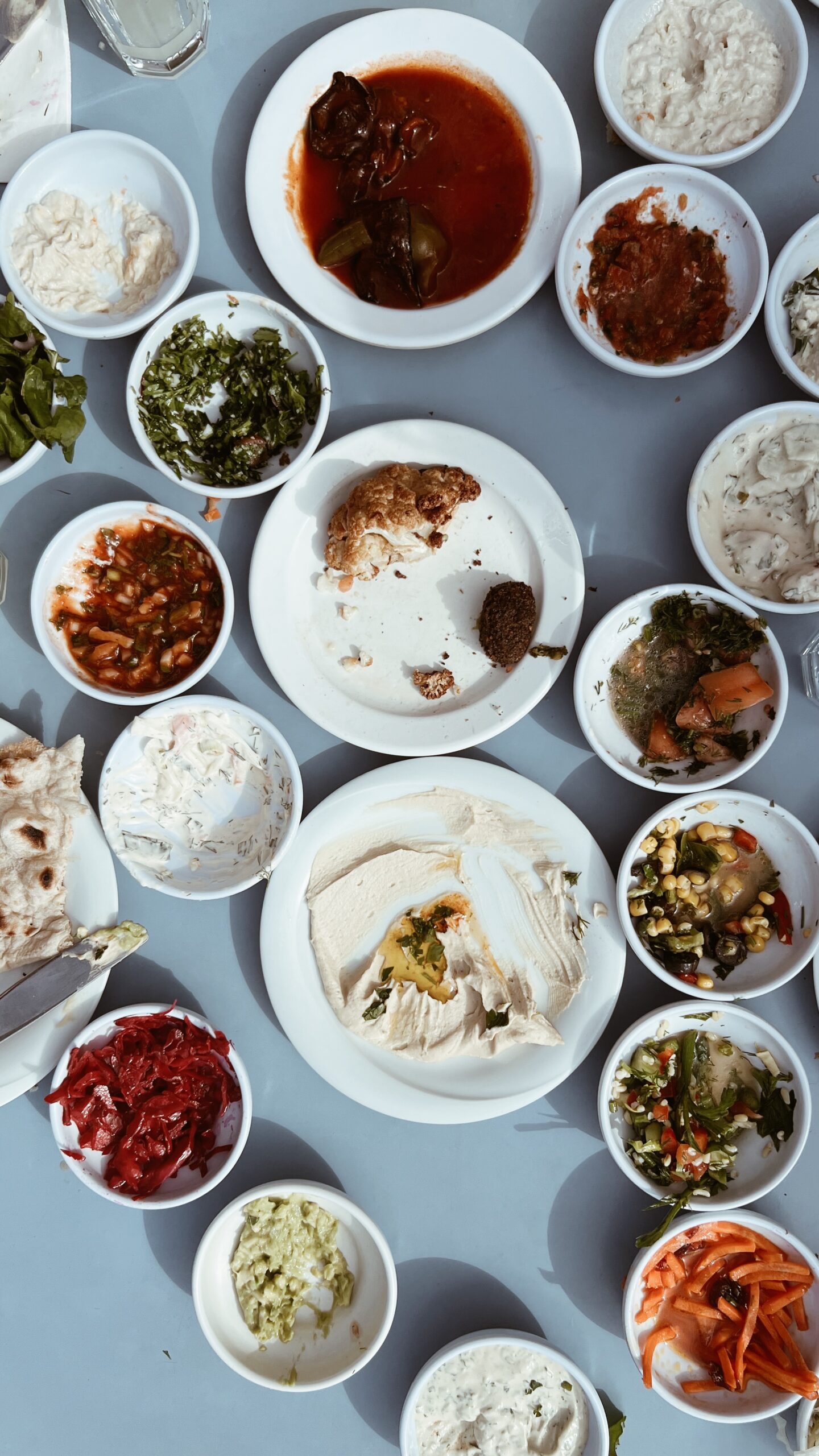 Our final lunch! Let us take a moment to think of the dishwasher.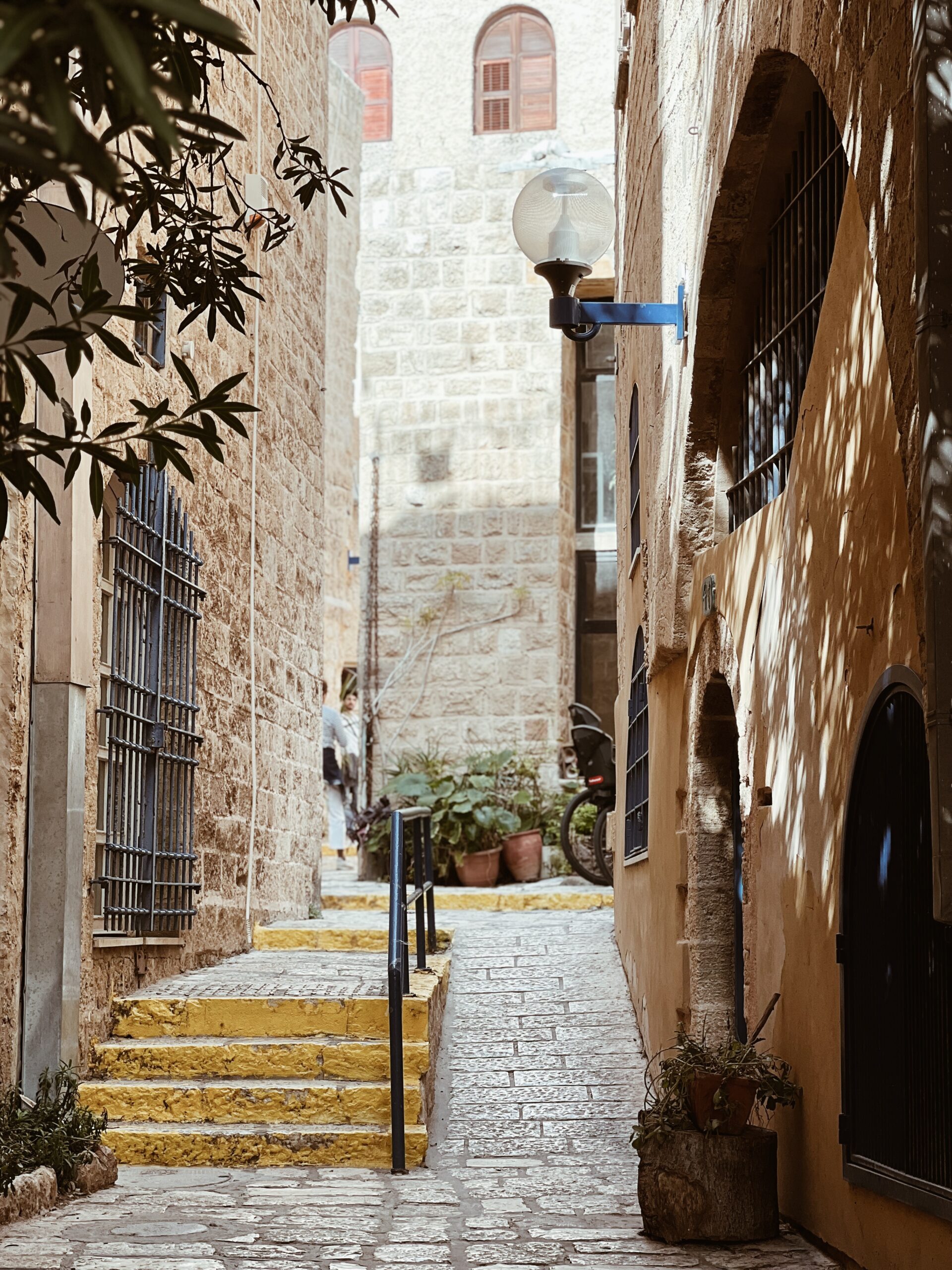 Also definitely pulling some of this energy into my patio vibes this summer.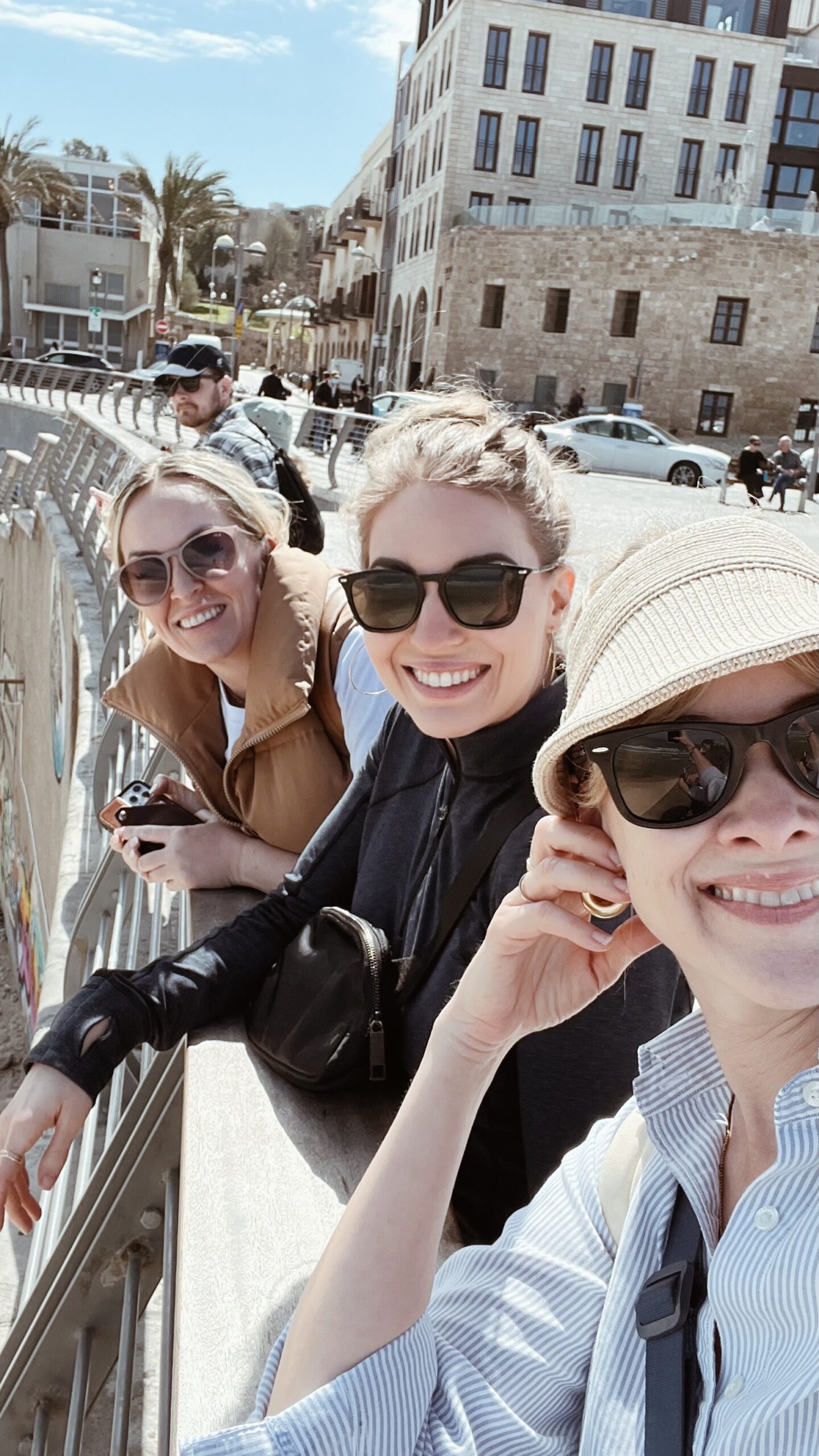 Oh! I forgot about this selfie. Hi, girls!
…hey, bro?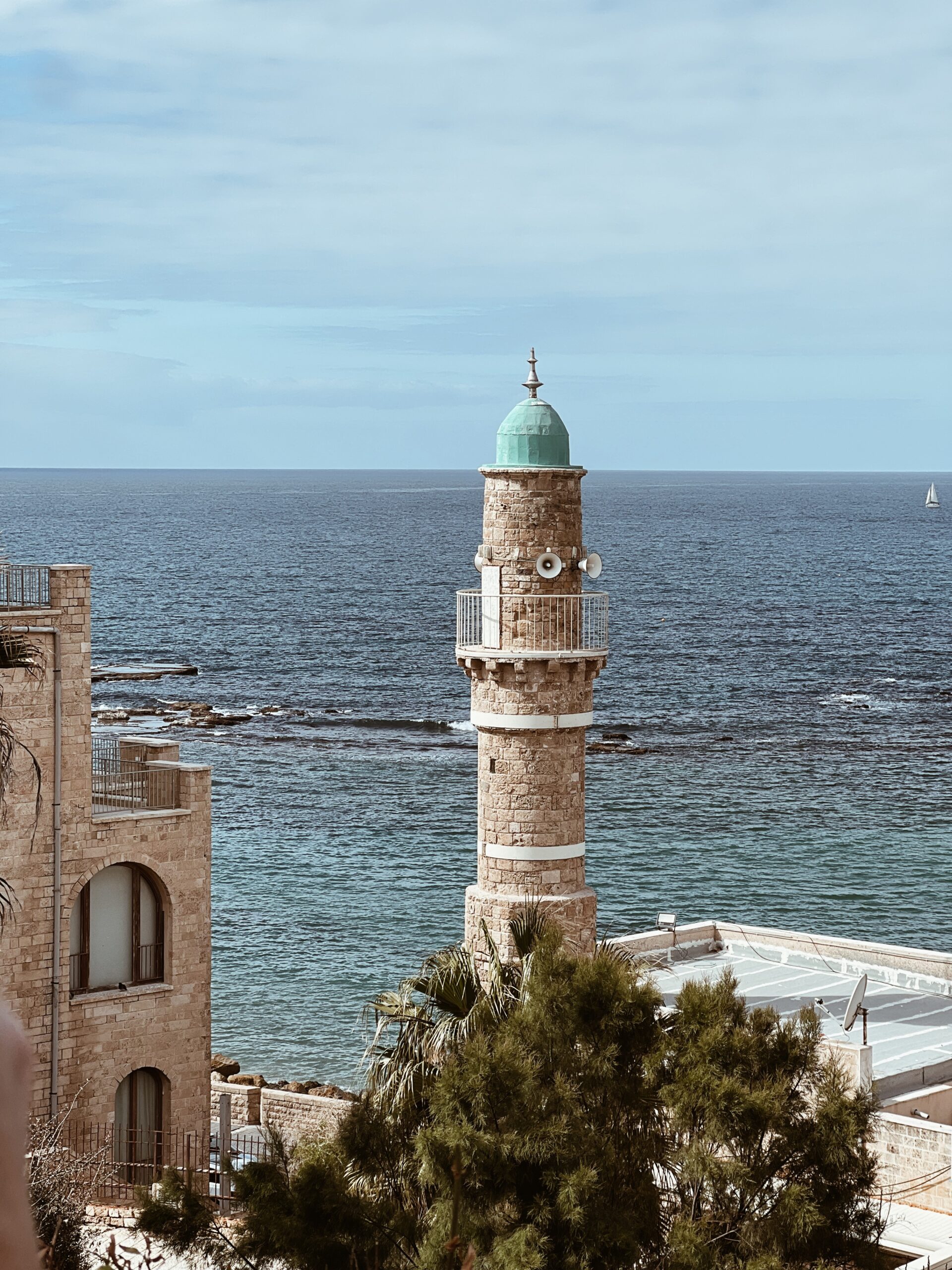 Two more photos, we can do this.
The buildings, the architecture, the history, the people. It was such an enchanting experience.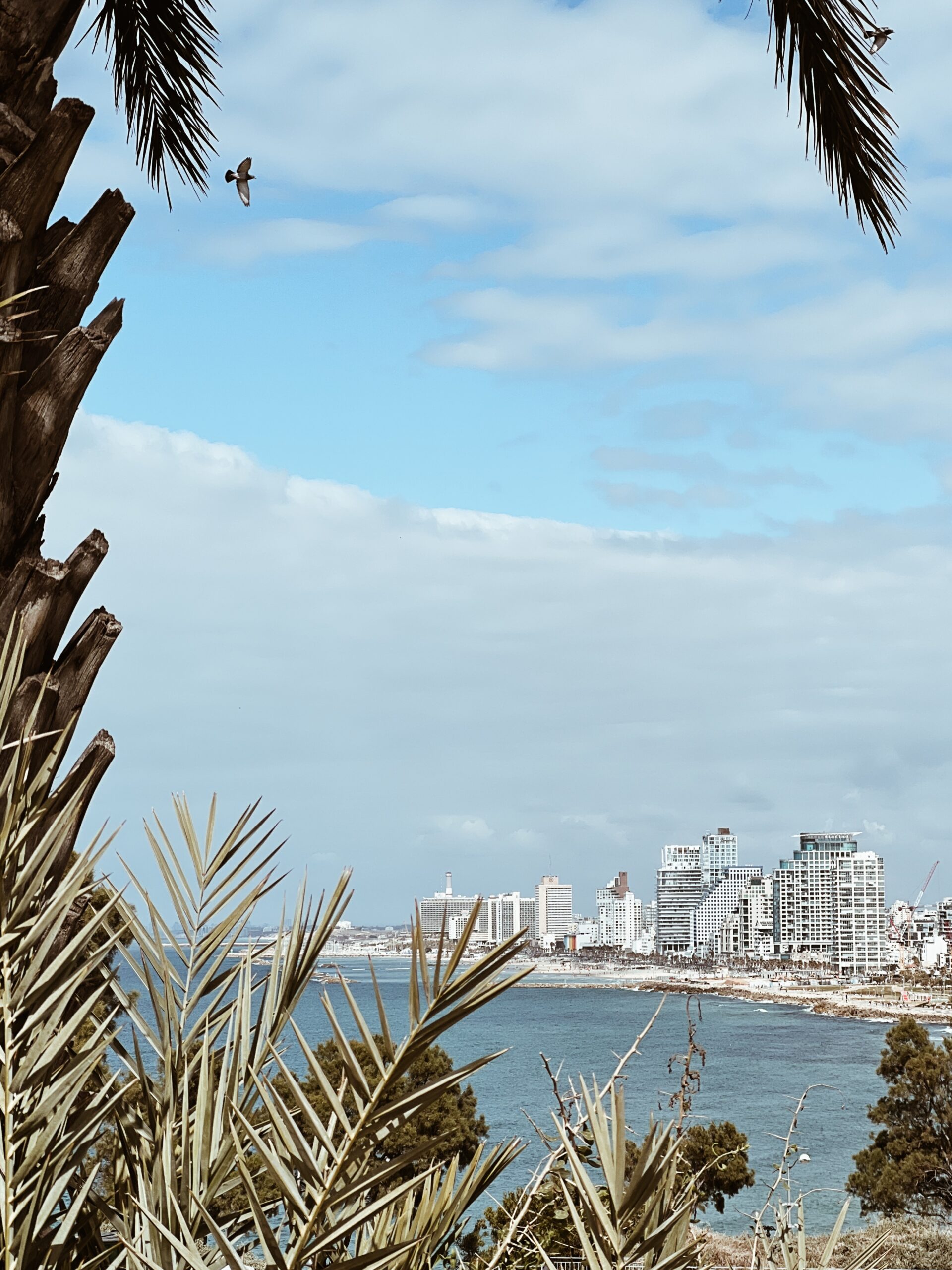 One I'll absolutely never forget.
Thank you again, Vibe Israel! I'm still full. Here are more videos, if you missed them! Here, here and here. Oh, and here.
*burp*