A road trip through Missouri, at last! Even better, it was in autumn while the leaves were changing and she was showing off all of her gorgeous colors.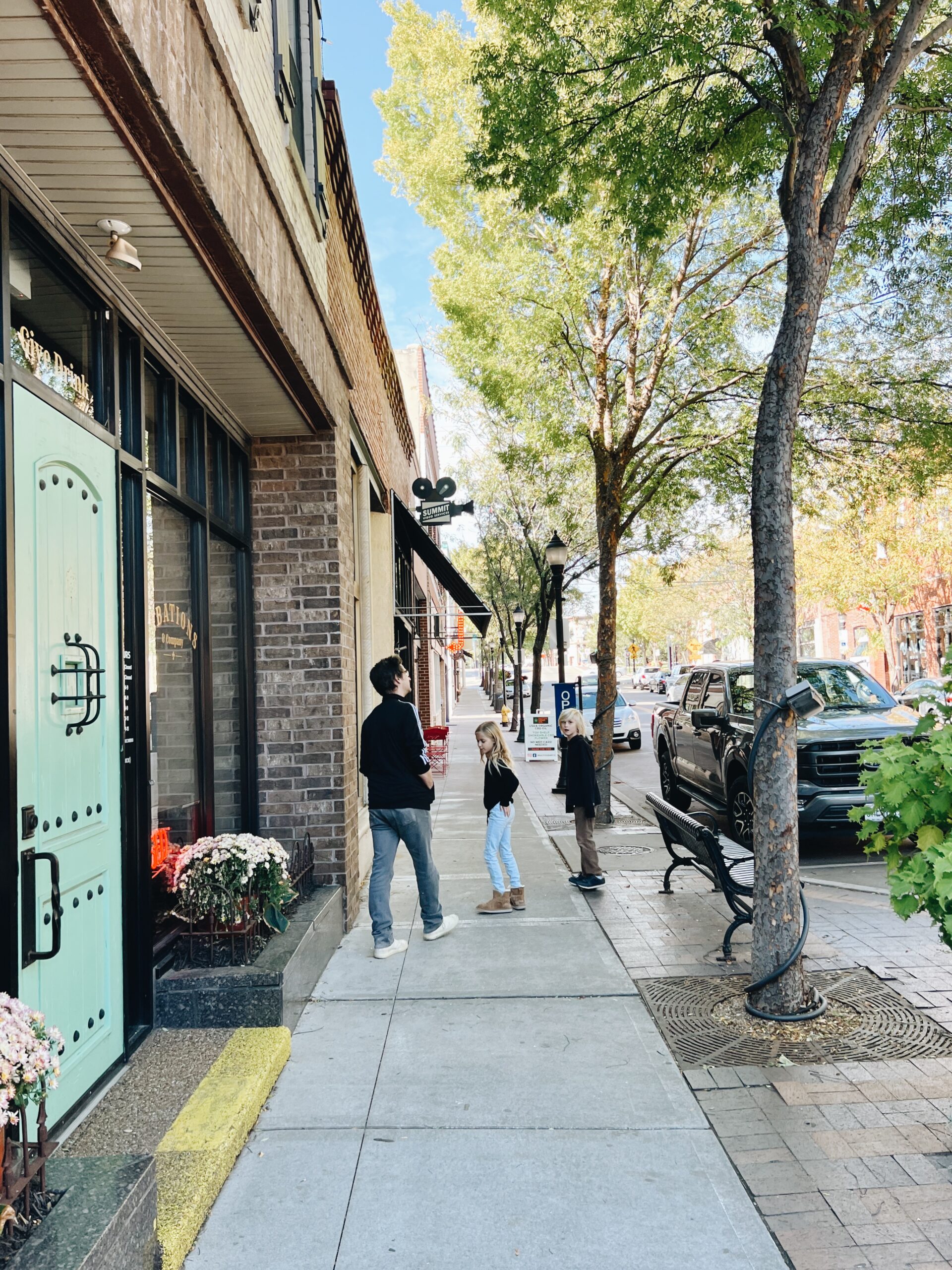 So, okay, we basically had three days to do 87 million (fun!) things across my neighboring state, and did we achieve it? Heck yeah, we did. Missouri is GORGEOUS in the fall, so we got our party hats on and moseyed our way across the land and saw all the things. All of them. Almost all of them. And I want to show ya!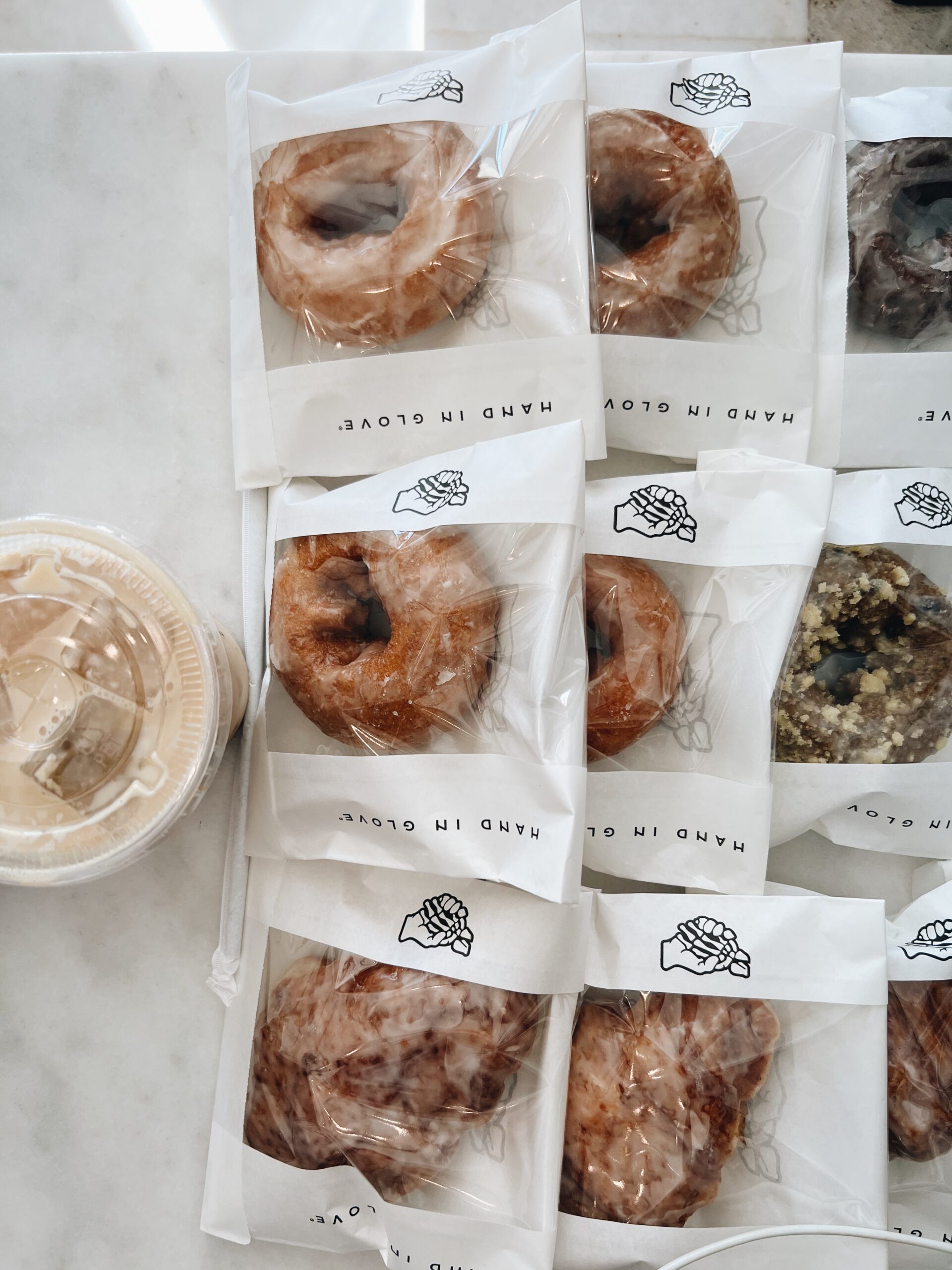 First up, the town of Lee's Summit. You guys, I had no idea Lee's Summit was a thing. It's hip! Who knew?! Their little downtown area is so, so cute. The Amtrak train crosses through downtown, the quaint streets are tree-lined, and the shops are local and bustling. We had just enough time to pop into Hand in Glove for a donut and an iced coffee. Sleek and modern, yet adorable, this place is coffee by day, drinks by night. And very stylish. Well done, Lee's Summit!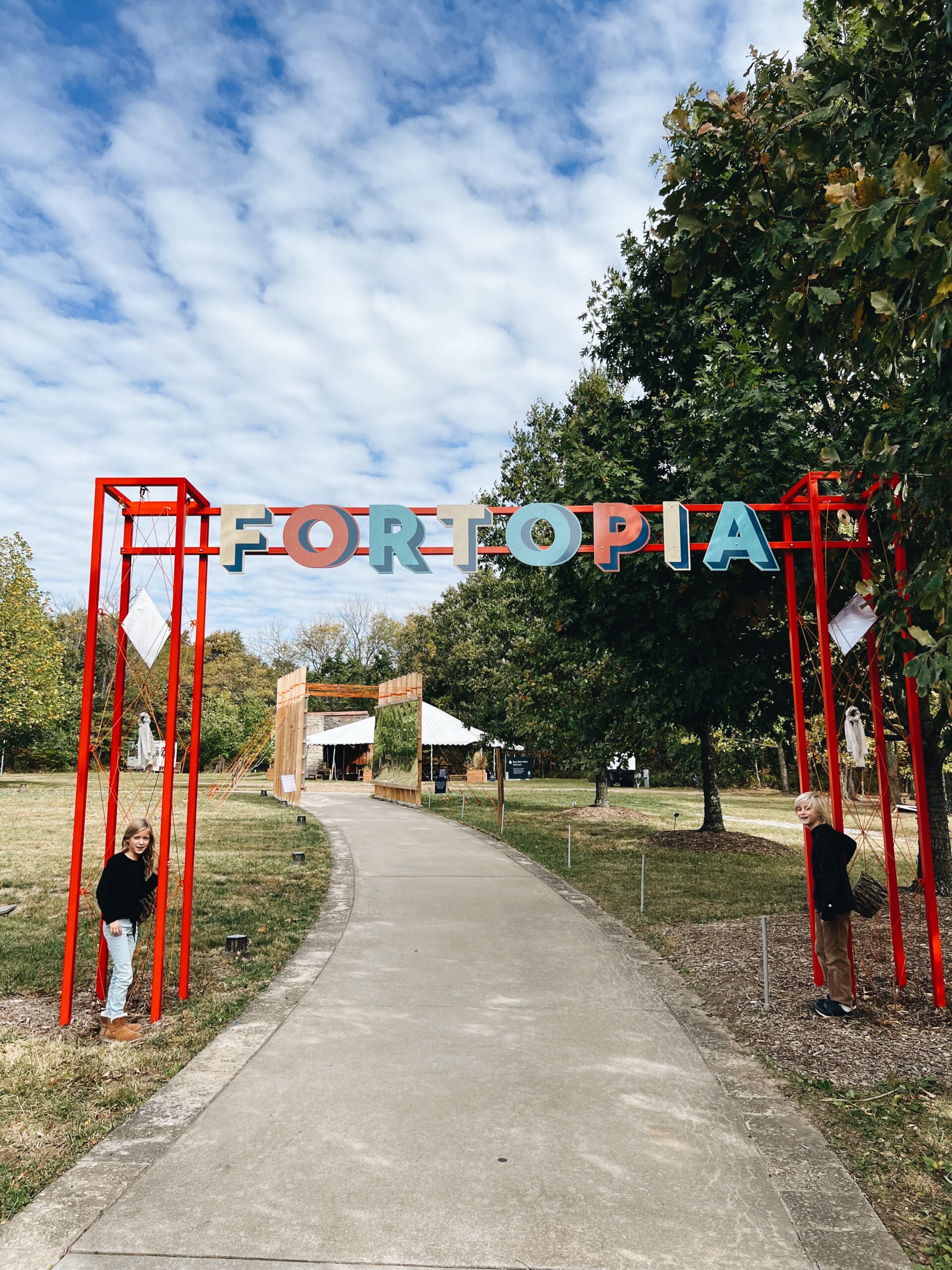 Next up, Powell Gardens! This botanical garden is a nature-lover's dream. It's filled with surreal landscapes near a pond, beautiful trails and walkways. Oh, and Fortopia, a special exhibit of forts that the kids just loved! The gardens do exhibits throughout the year, and we were lucky enough to swing through during this one.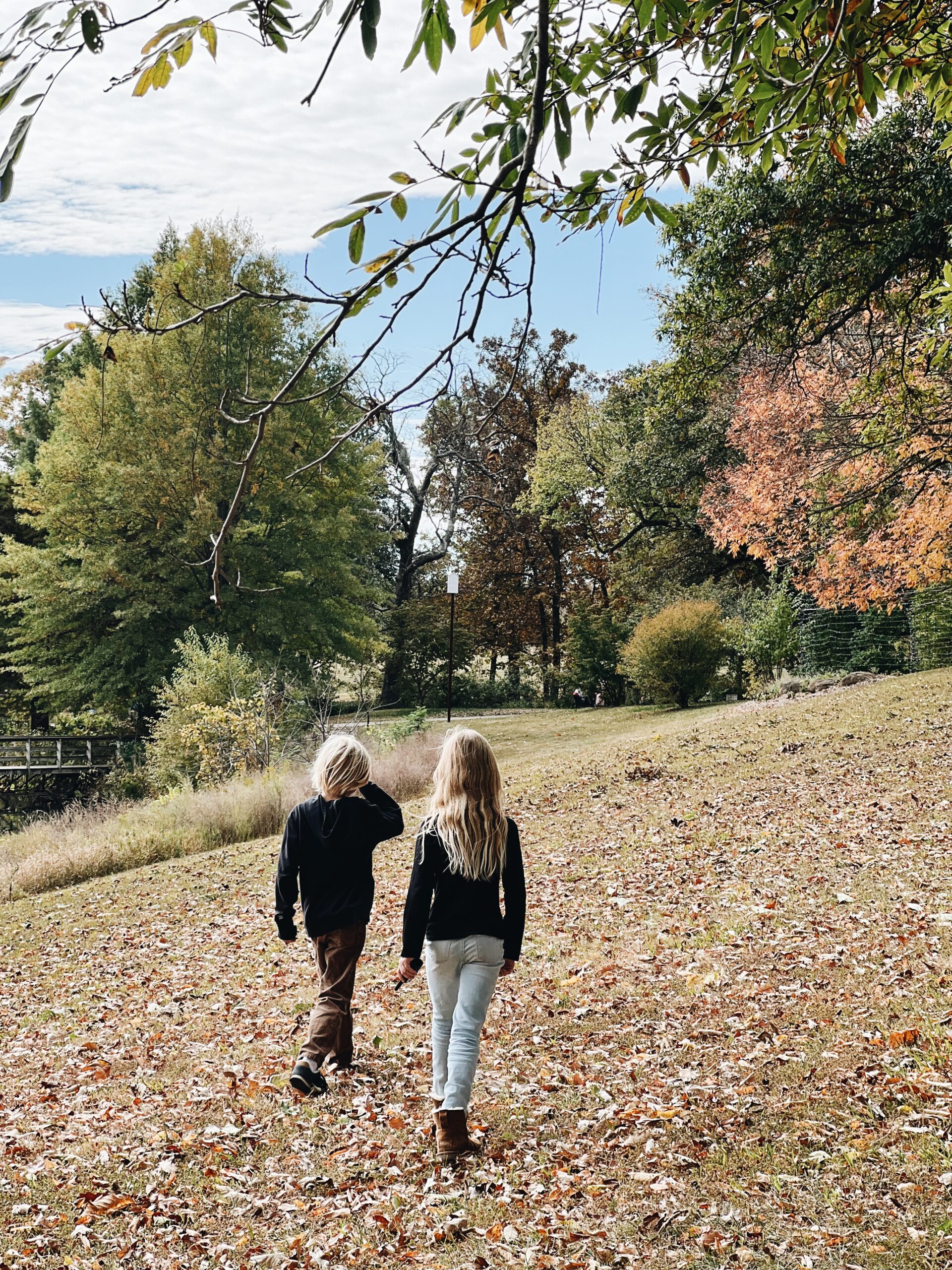 There were tents, mazes, a ship thingy, and so many gorgeous, leafy hills that I kept screaming to them, "Hold on, this is VERY When Harry Met Sally! Let me get a photo! Hold still!"
They loved that.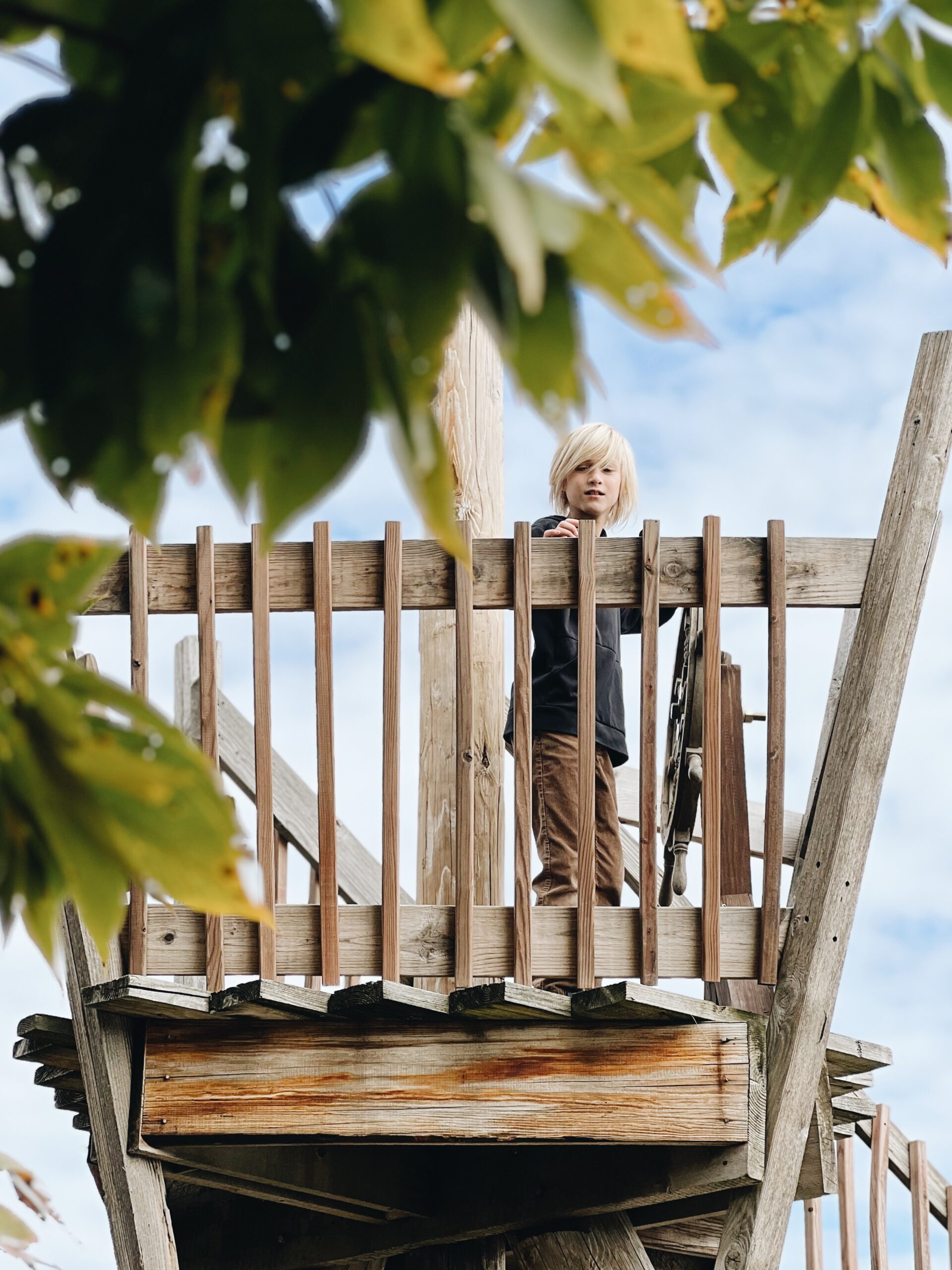 Hey, Will! Don't fall, okay?
Will?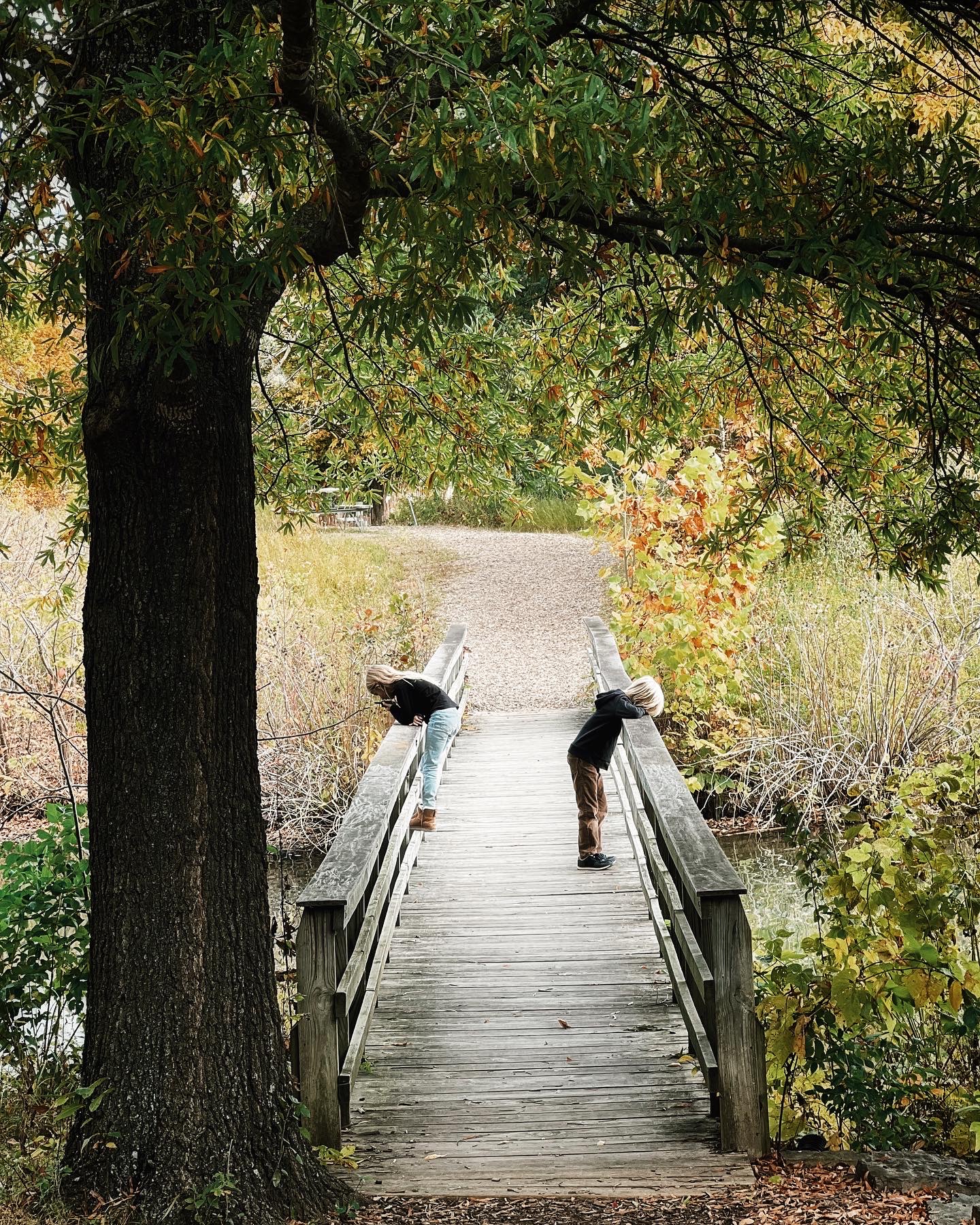 You cannot tell me that is not When Harry Met Sally. Sort of?
It is!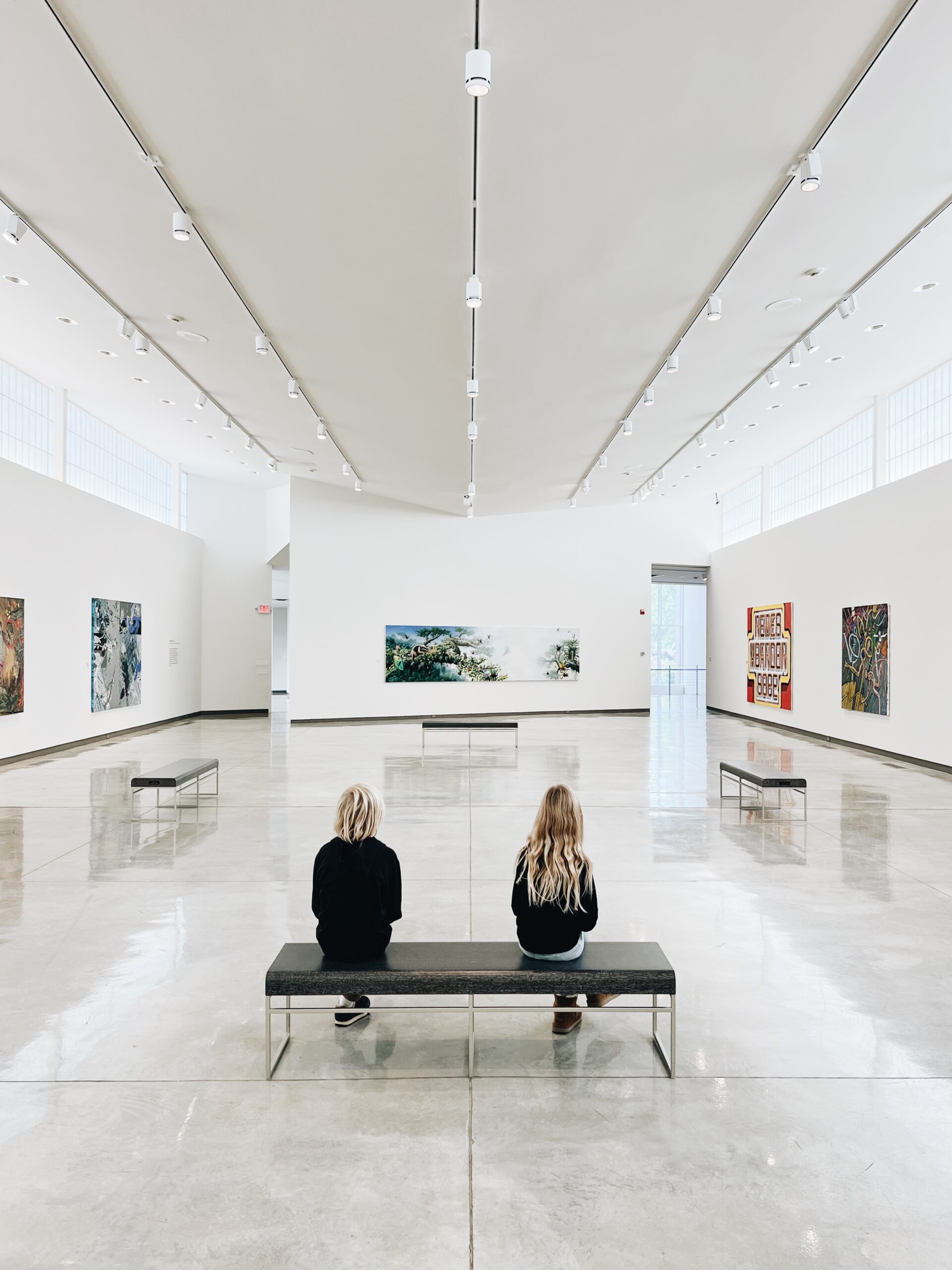 Next up, the Daum Museum of Contemporary Art! Right in the heart of Sedalia, this three-story art gallery in an unassuming building is nothing short of showstopping for contemporary art lovers. It even had a Chihuly! His "Cathedral Violet Chandelier" – a giant, squiggly purple glass sculpture – fit right into the museum aesthetic.
But we were hangry, so let's skedaddle.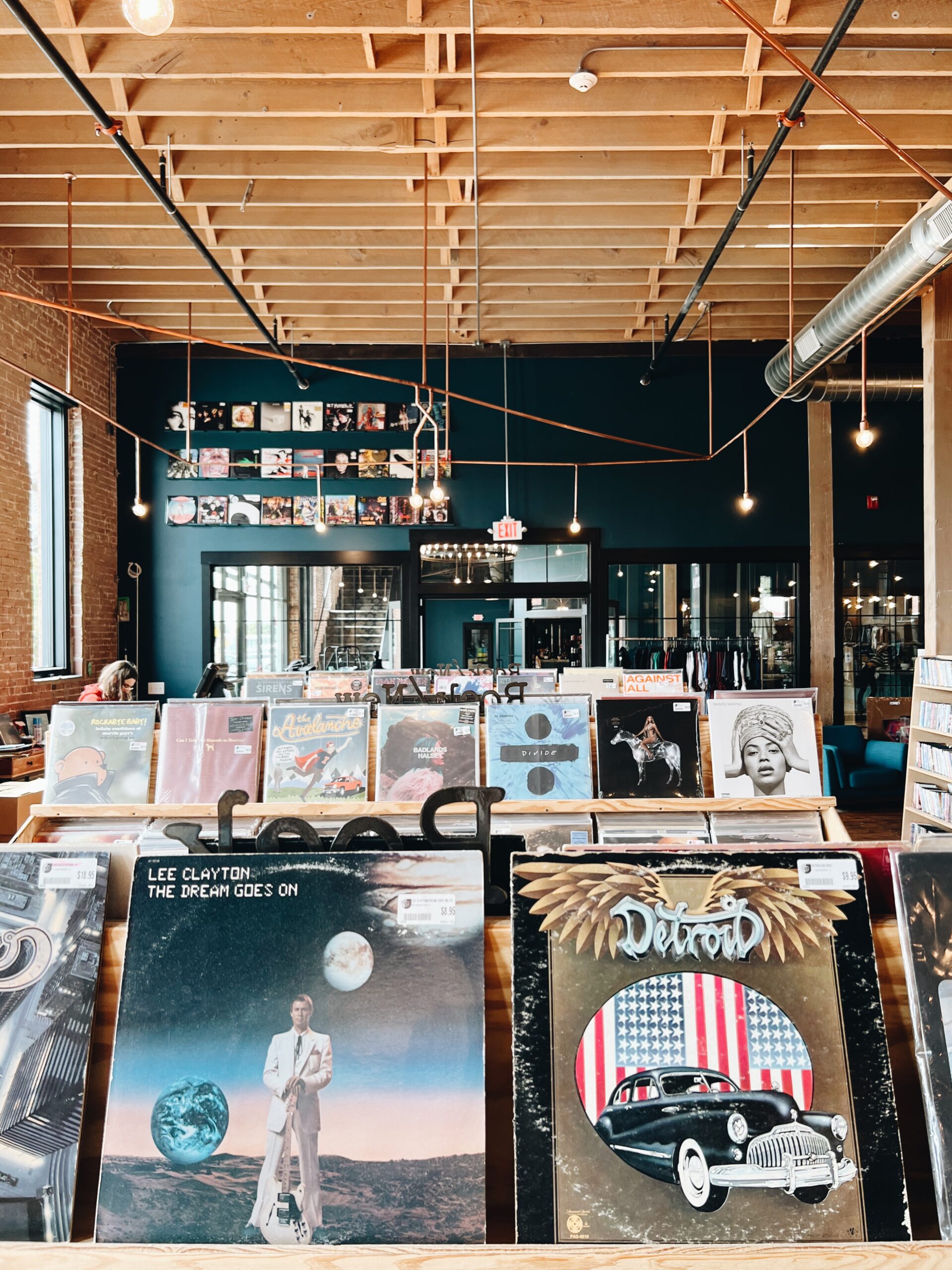 You guys, the very hip No. 5 Bistro & Bar was located in an old Levi's factory, and I almost died. It's HUGE and vintage and filled with beloved denim history. It also shared the building with Josey Records, a spacious book and vinyl store, so again, I almost died.
AND GET THIS, their NEW ZEALAND Sauvignon Blanc was only $5.50. Don't ask me how they pulled that off. I was like, "Will you let Kansas City know about this, please?"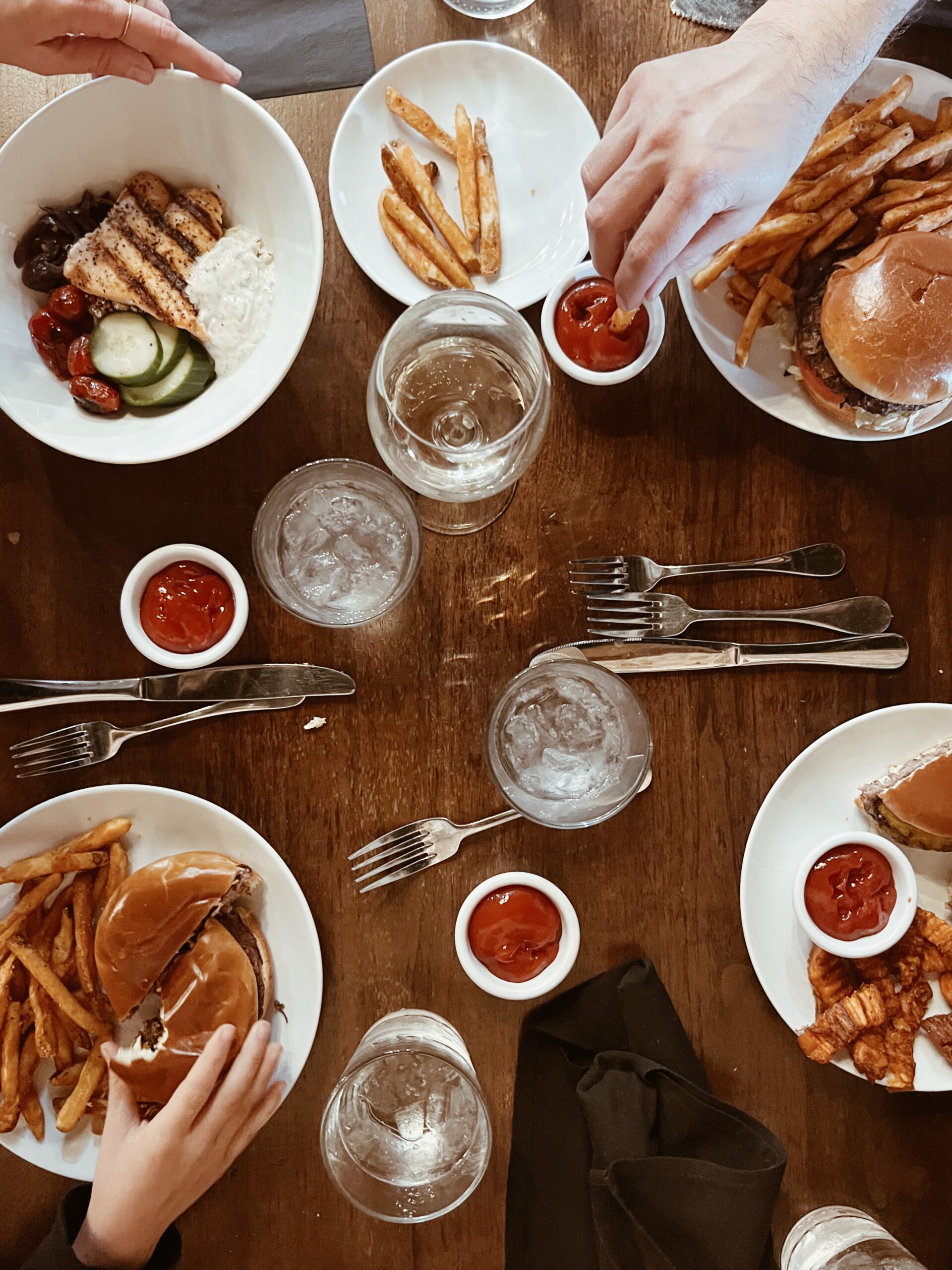 Burgers and salmon and wine, oh my!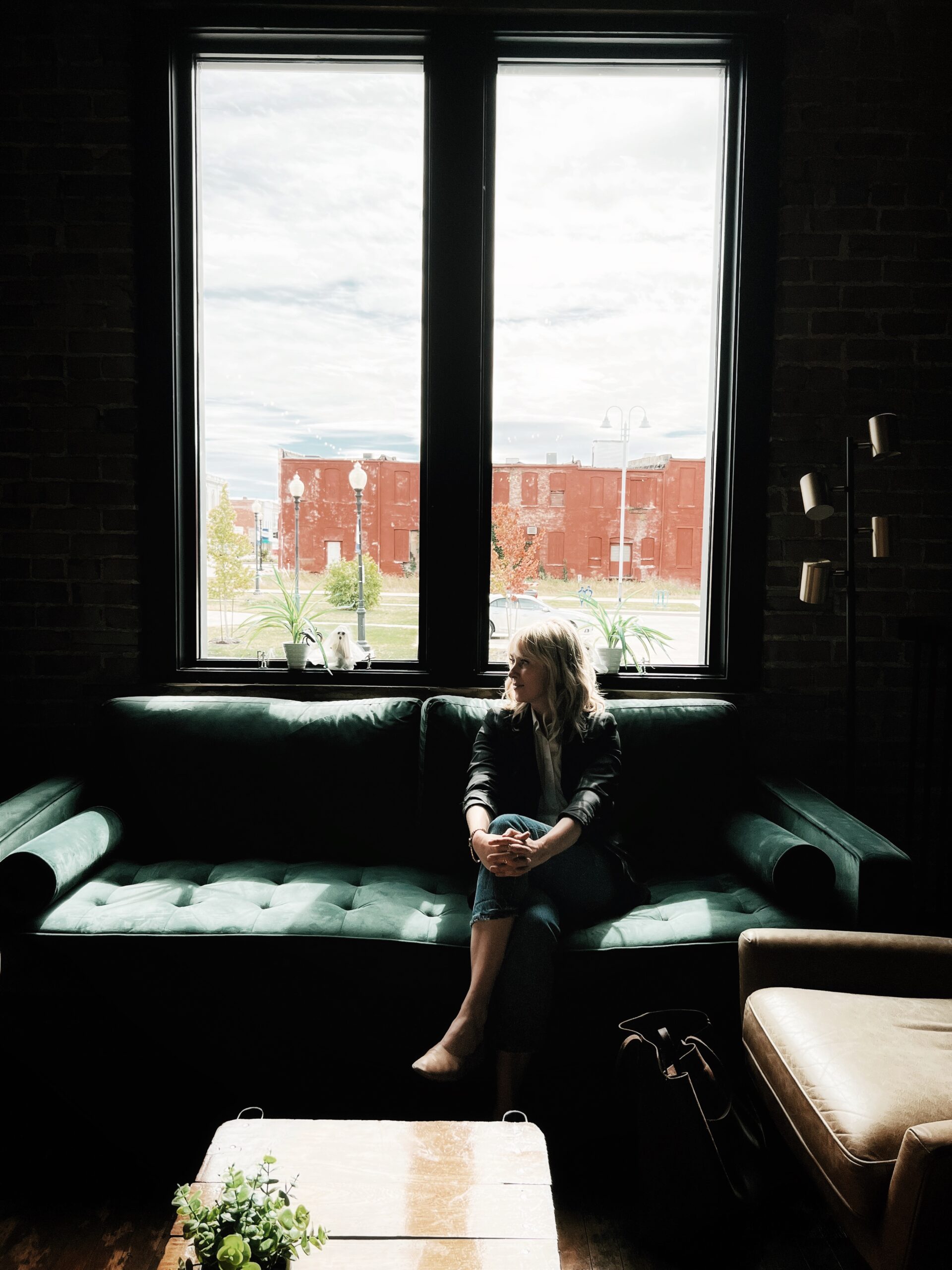 And a moody mom photo (the photo, not the mom – maybe) because why not.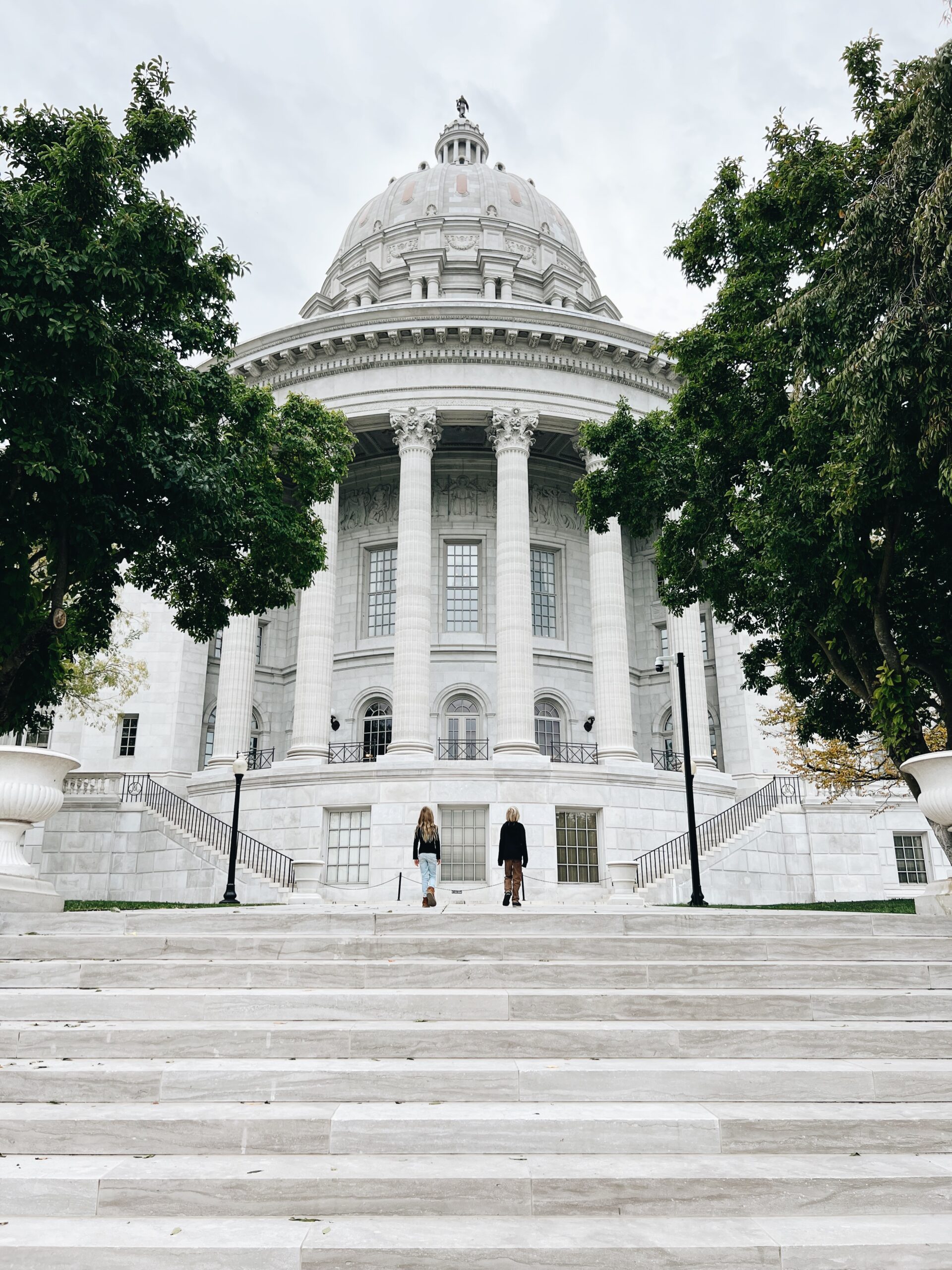 An hour down the road from Sedalia landed us in Jefferson City for the night! If you didn't already know, Jefferson City is the Missouri state capital, as the oh-so-wise eight year olds in the car reminded us.
Any Capitol building has a certain awe to it, don't you think? It's very Mary Poppins! "FEEEEEED THE BIIIIIIIIRRRR- oh."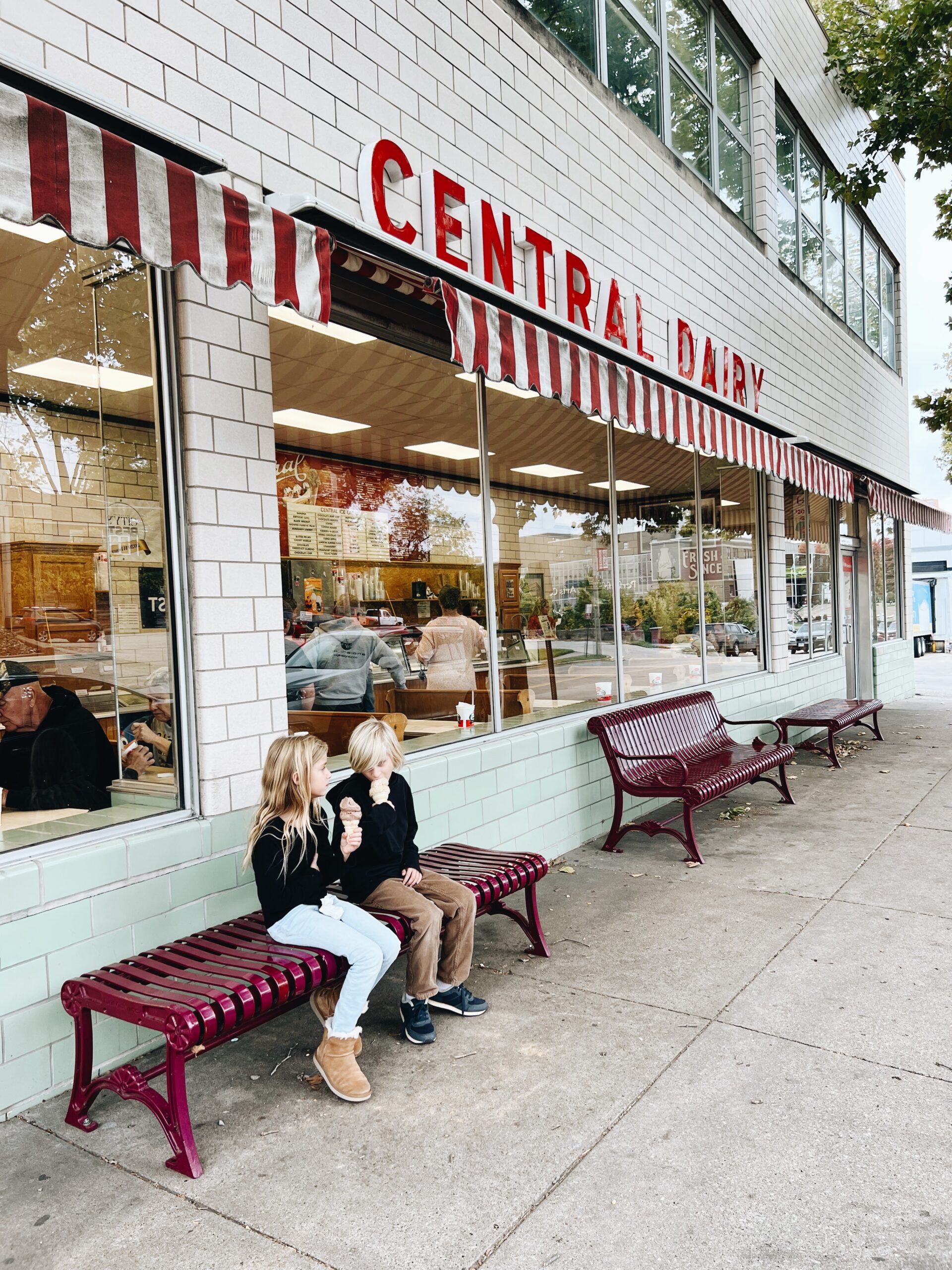 We obviously needed ice cream after all this travel today. Central Dairy Ice Cream Parlor hit the spot for the whole crew. Inexpensive ice cream, generous servings and oh-so-delicious flavors – the kids gave it a thumbs-up.
I managed to snag one lick.
Thanks kids. Thanks.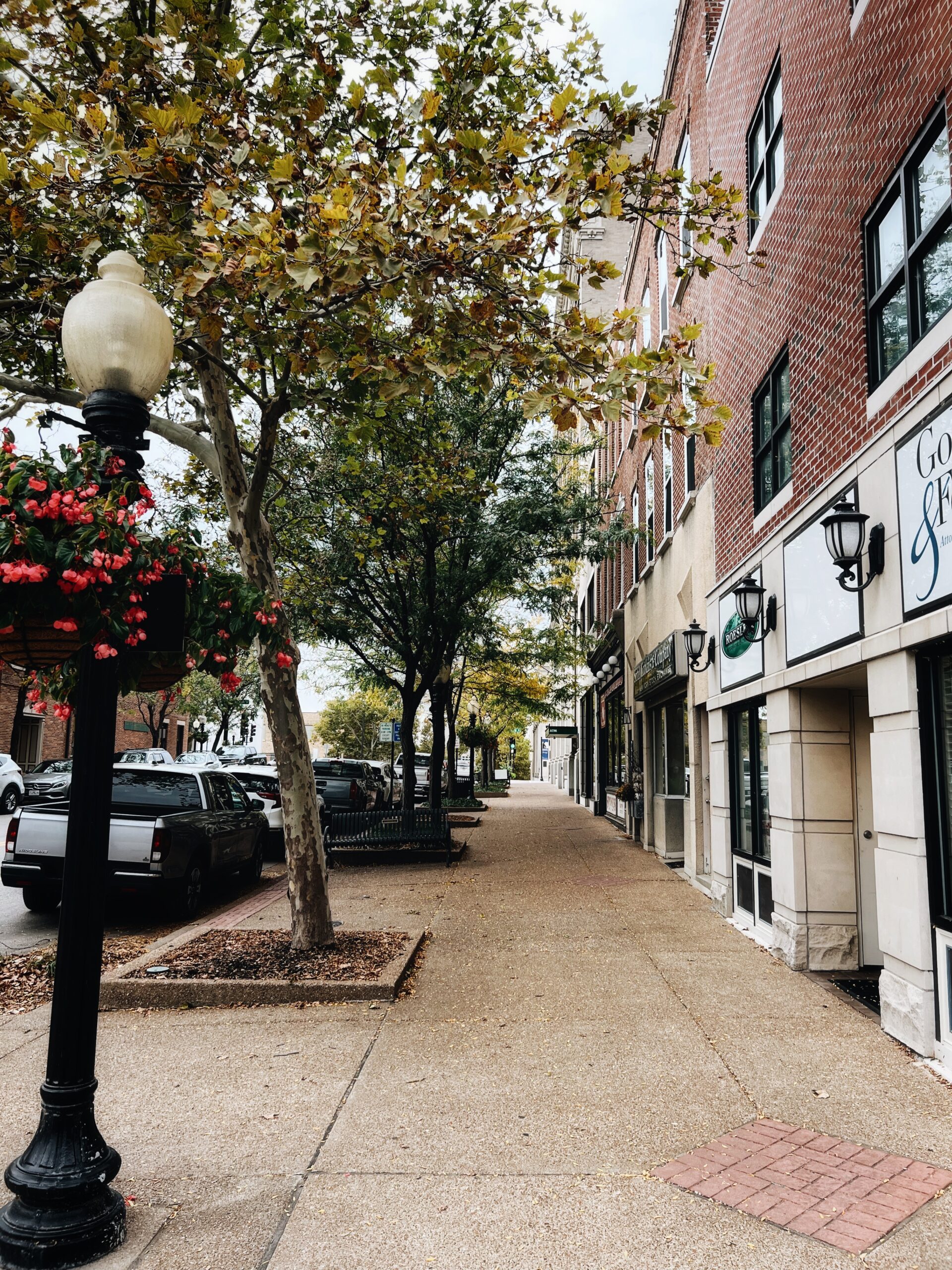 After that we perused the quaint streets near the Capitol building. We found some rustic Italian for dinner, paired with a glass of wine for the grownups. Not surprising, we went straight to bed at like 7:24 p.m. because we had the one and only Hermann to hit the next day!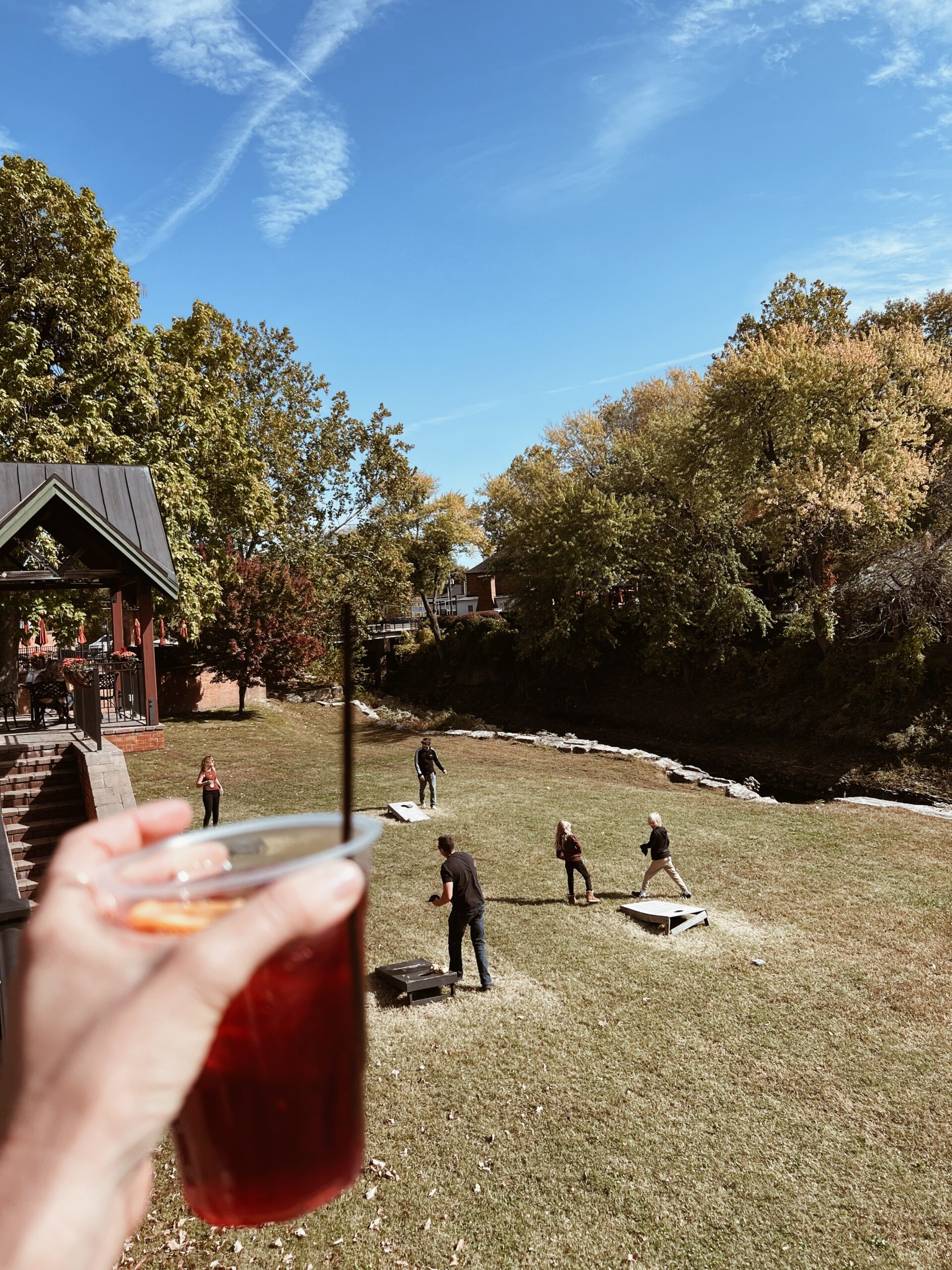 Oh, I just love Hermann. Only another hour down the road from Jeff City (that's what they call it apparently), you land in a funky, charming, German wine town that is eclectic, lovable andquirky. Naturally, I'm obsessed.
First up, I needed to try the Ruby Red cocktail from Black Shire Distillery while the fam played some cornhole. Er, Baggo. Whatever.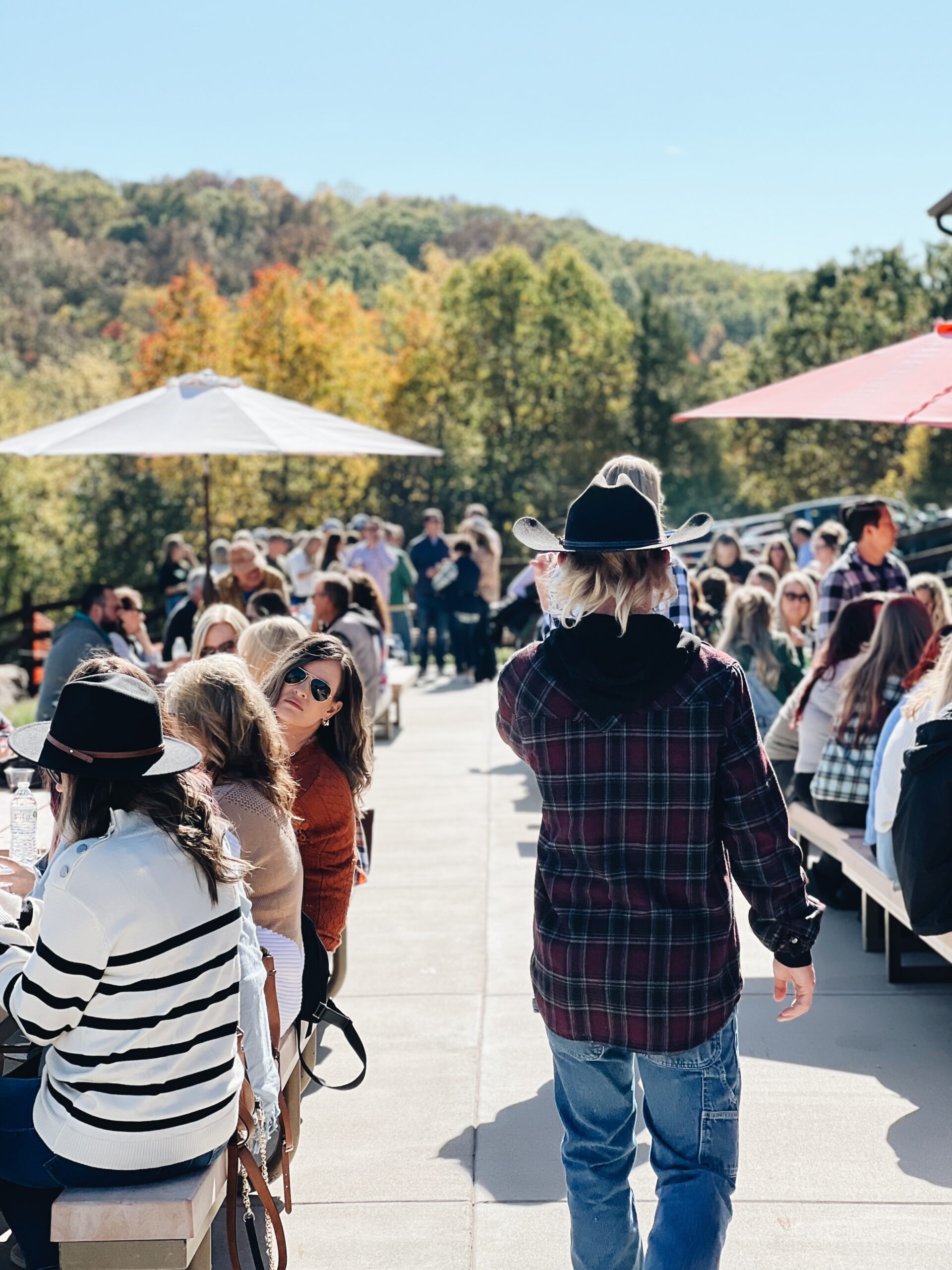 Okay, it was Oktoberfest (why the k, anyone know?) and the whole town was JAM-PACKED with party animals. In the best way. We popped into the OakGlenn Winery, where the views are stunning, the people-watching is thrilling, the moods are boosted and the wine is affordable and fun. It's a Hermann must.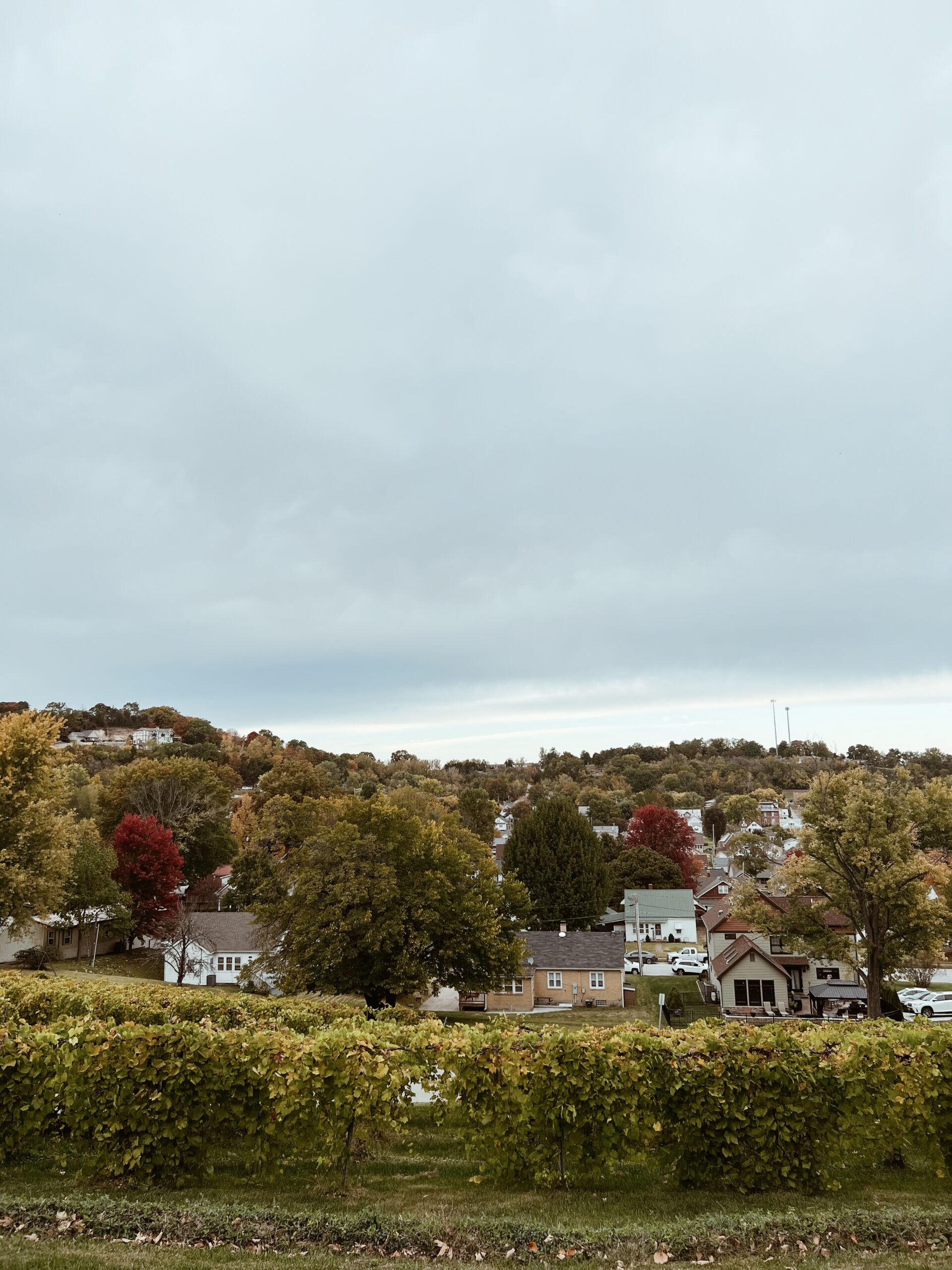 In years' past I've taken the trolley around, but given the crowds during our trip, my husband Aaron was our designated driver. (He doesn't drink, so it worked out perfectly for me, ha!)
The view at Stone Hill Winery is another must. The whole crowd that day was loose and festive. Hermann just does that to ya.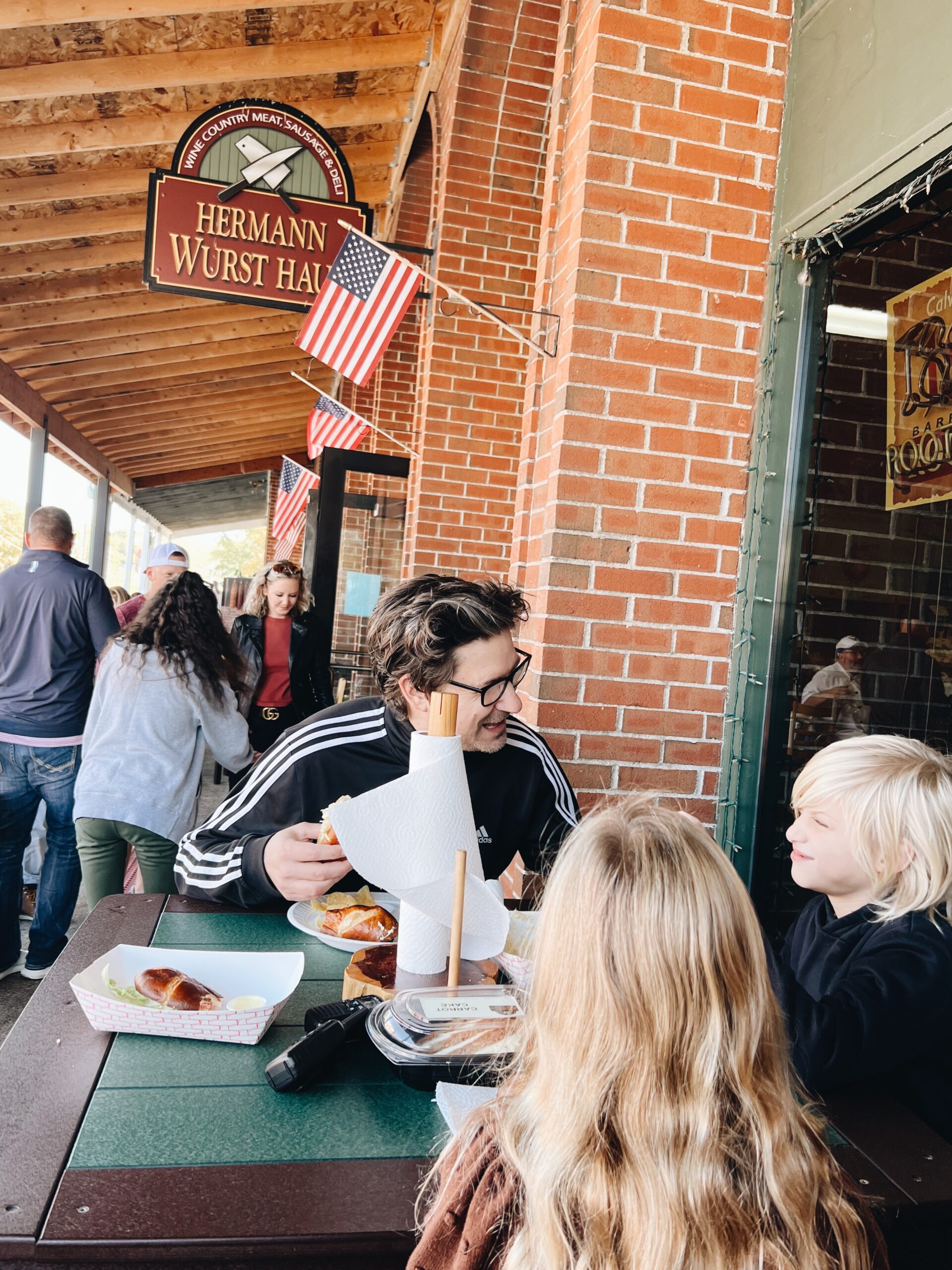 Love brats? How about sauerkraut? You won't find any better than at Hermann Wurst Haus. Plus, it gives you the opportunity to run the "wurst" joke into the ground with your kids.
"Wow, this is THE wurst place I've ever been."
I guess you had to be there.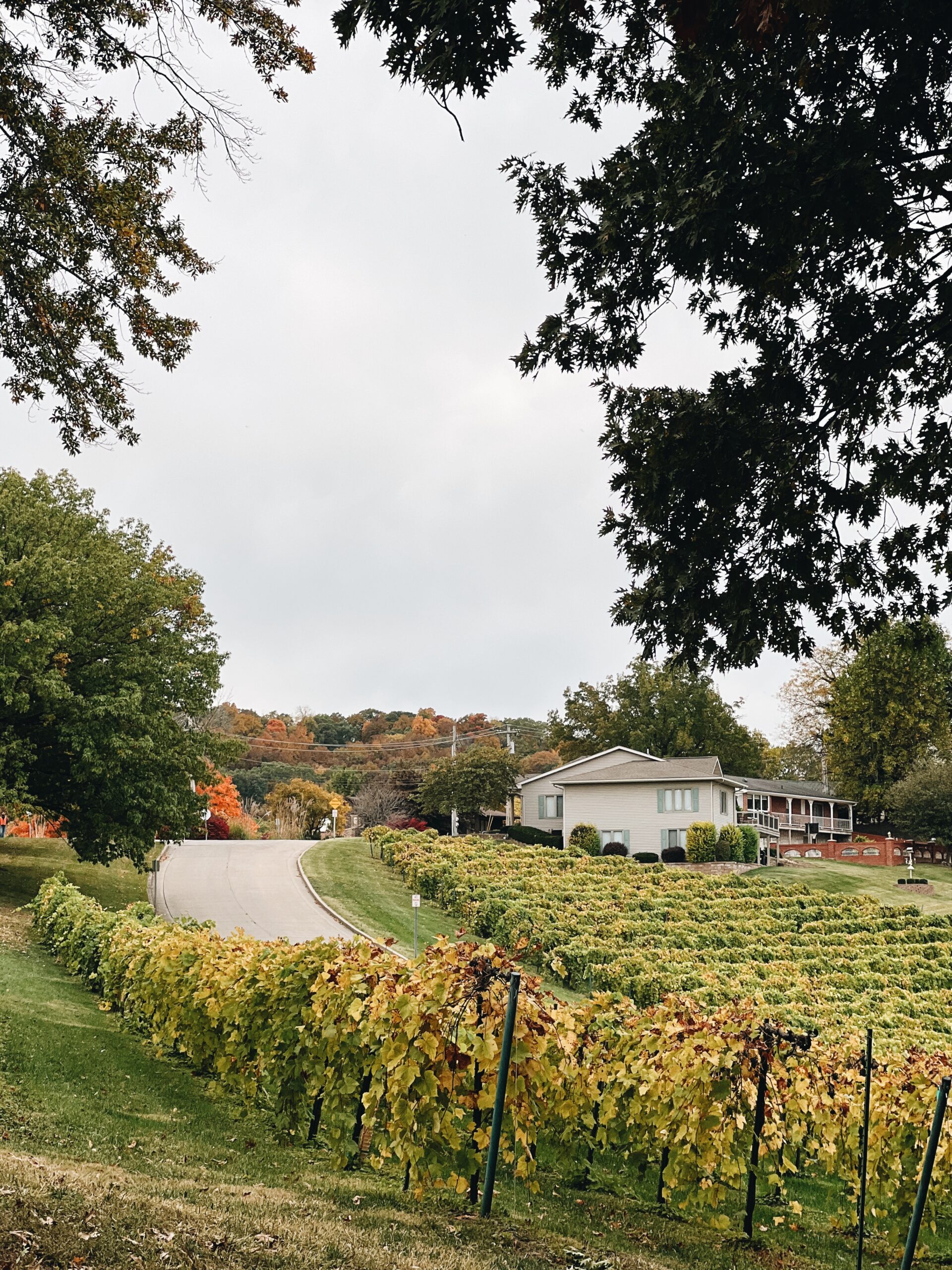 Just another quaint Hermann view!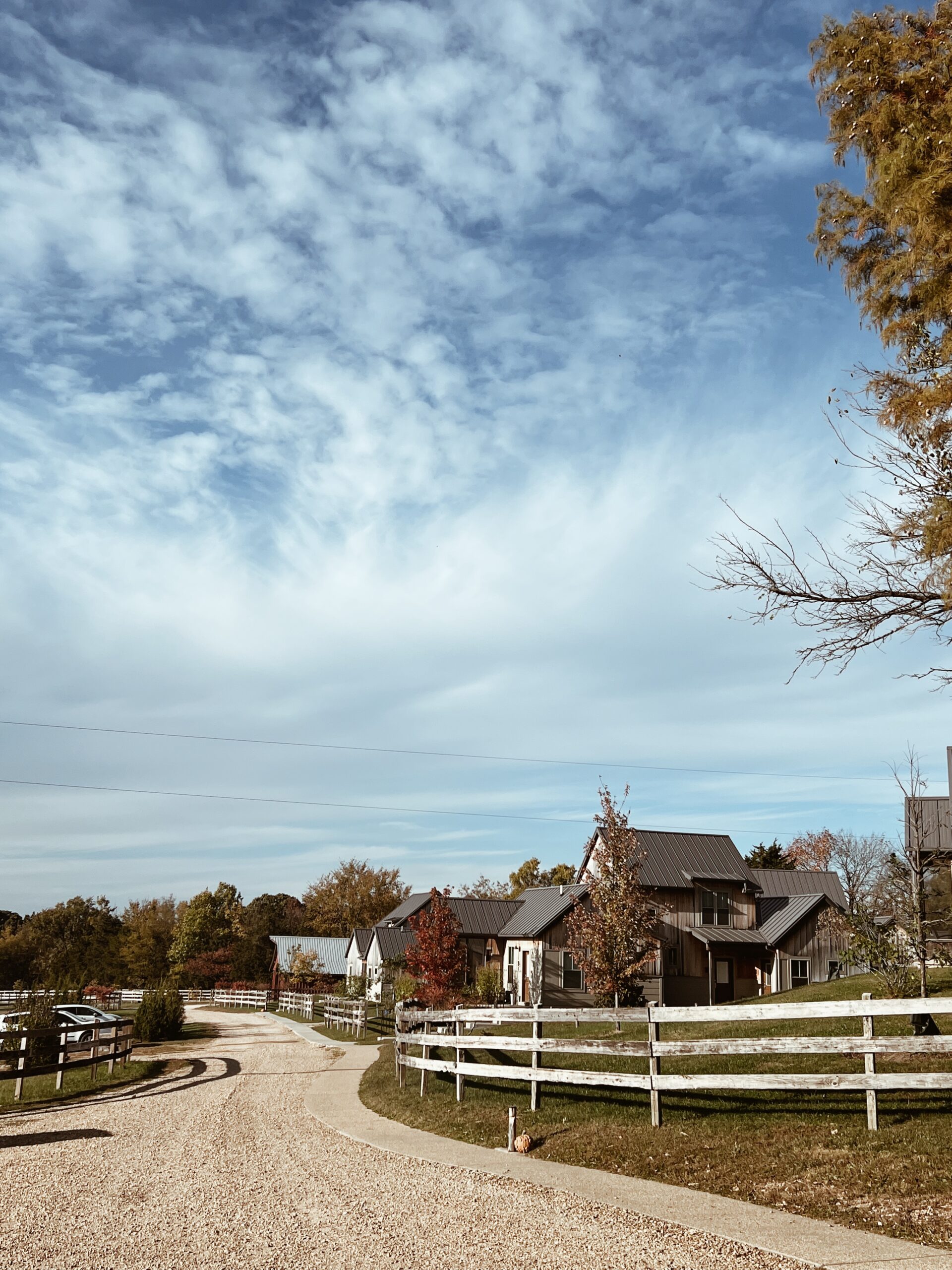 We stayed in THE MOST ADORABLE cottage-style "hotel" in New Haven called Cedar Creek Hotel & Event Center (click on that link and feel your eyes bug out of your head), which is about 15 minutes down the road from Hermann. Seriously, you walk up to the registration lobby via a canopied boardwalk with twinkle bistro lights, for crying out loud. The cutest.
Fence-lined cottages dot the property, and the little communal area in the center includes a '70s-style vintage pool and an old "Wild West" city street.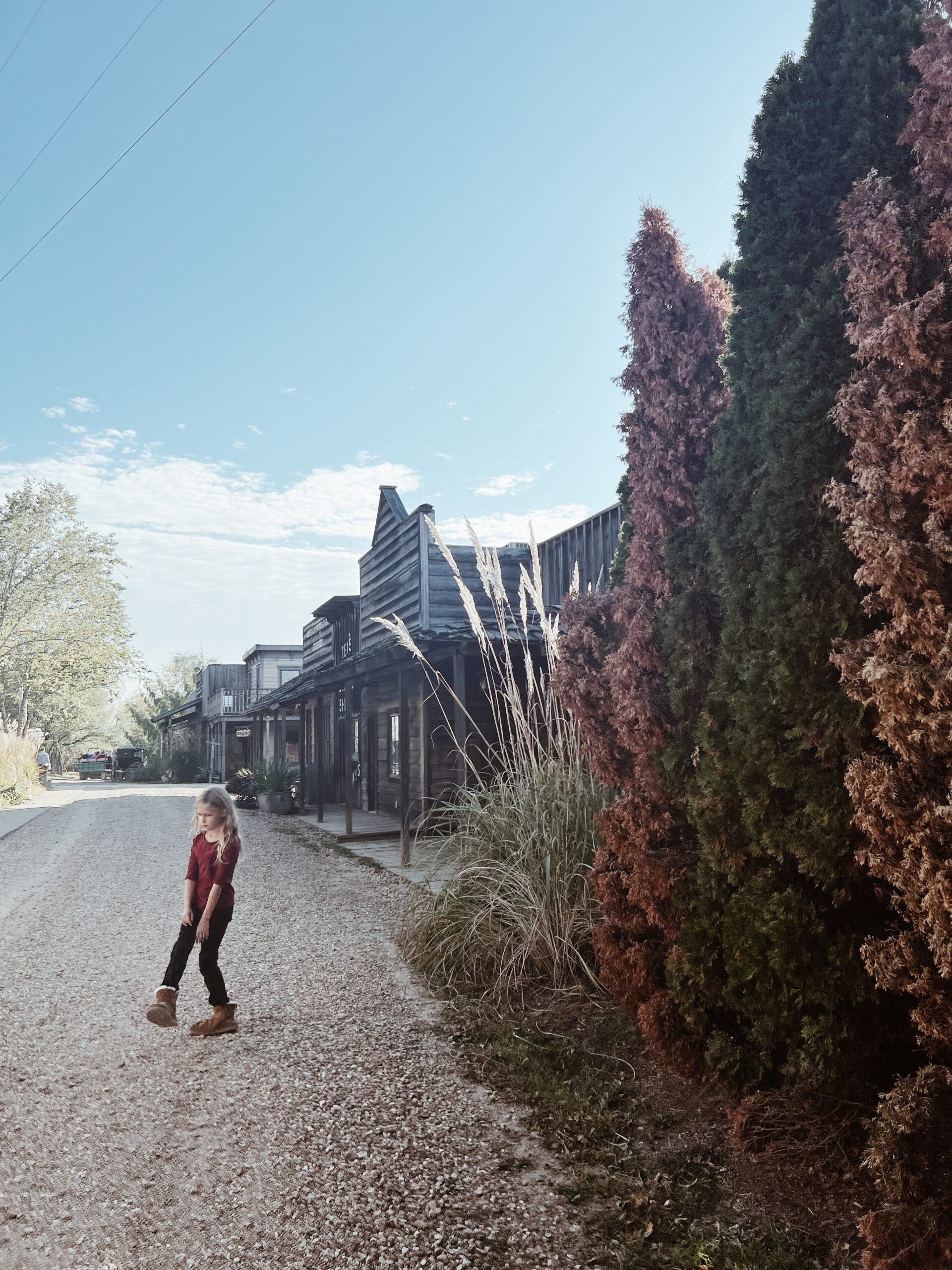 Look at that! There was a wedding that weekend, so we couldn't thoroughly explore (read: snoop), but I could tell it was darling.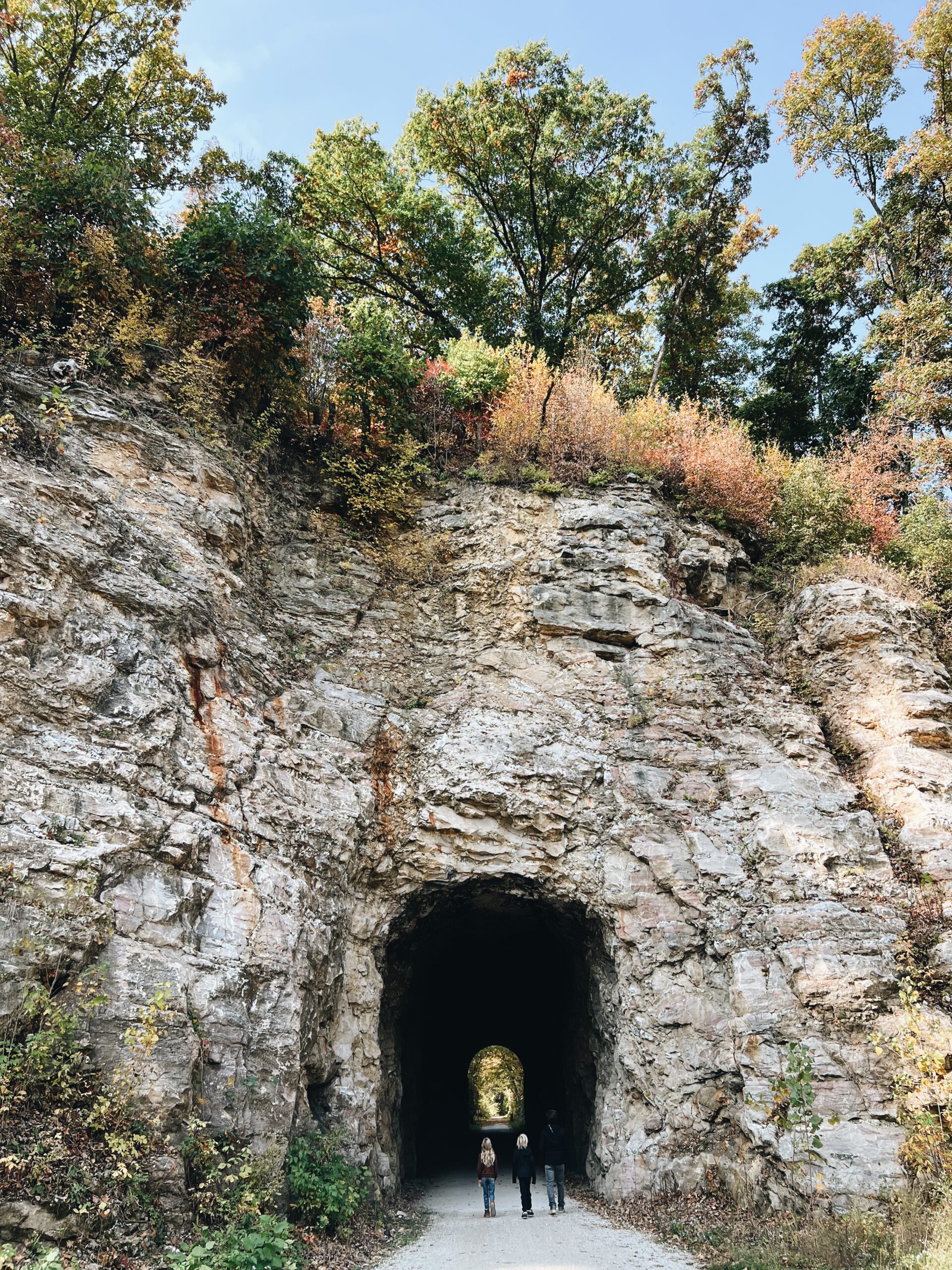 Our last (and cutest!) stop was ROCHEPORT. Hooooooow have I never been? How?
About an hour and a half outside of the KC city limits lies this ridiculously quaint town with a winery, a couple of restaurants, a smidge of local shopping and scenes to die for.
What on earth is this, "The Goonies" tunnel? And do not make me go in there.
(I went in there.)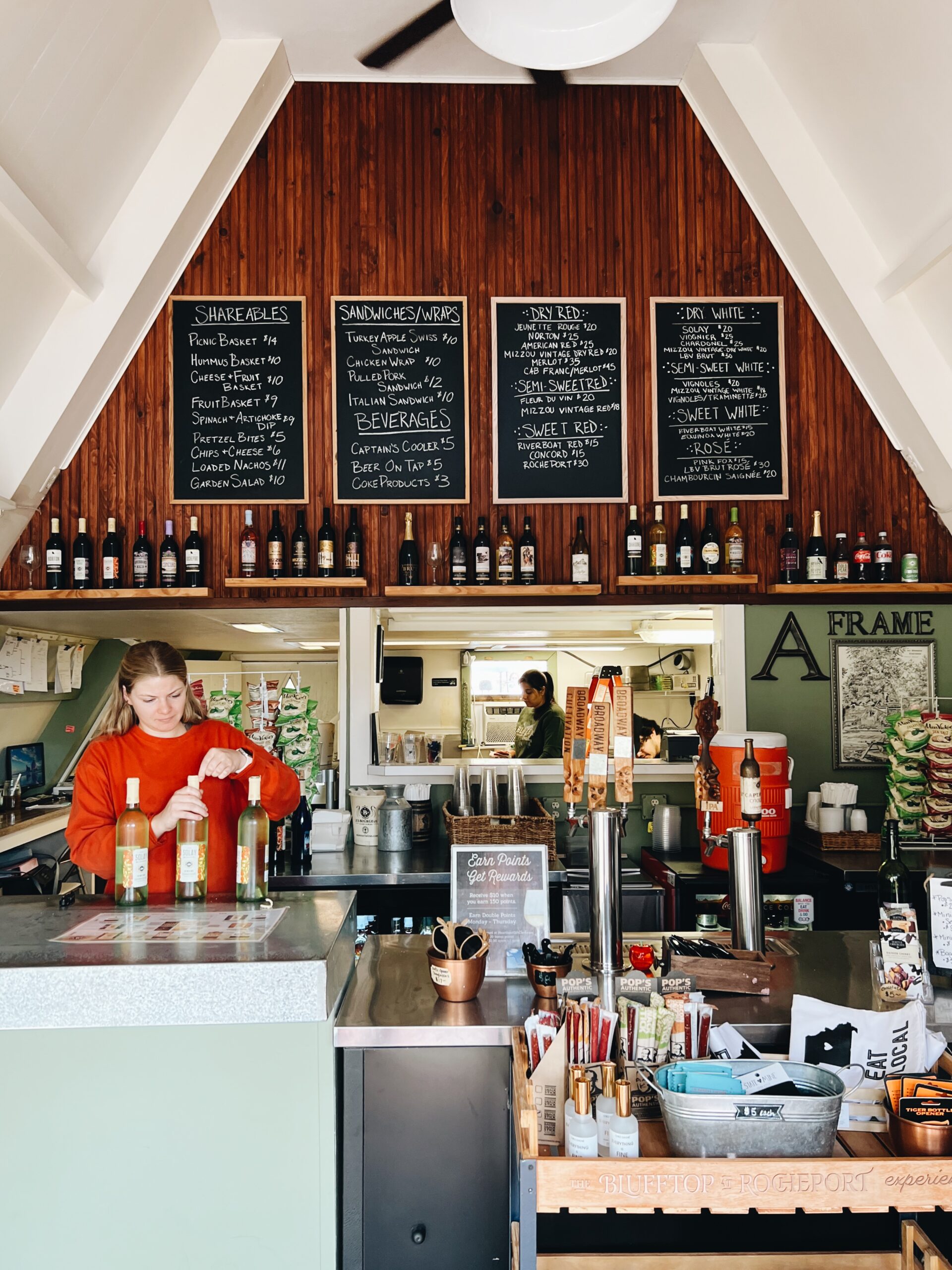 The very best part was this A-Frame Winegarden at The Blufftop at Rocheport, where you walk up and order picnic-style baskets, drinks and bottles of wine. You then sit out on the multi-tiered deck, take in the views and just breathe. There's a river. There's a telescope. There's even a shipwreck! (no really – like way down there.)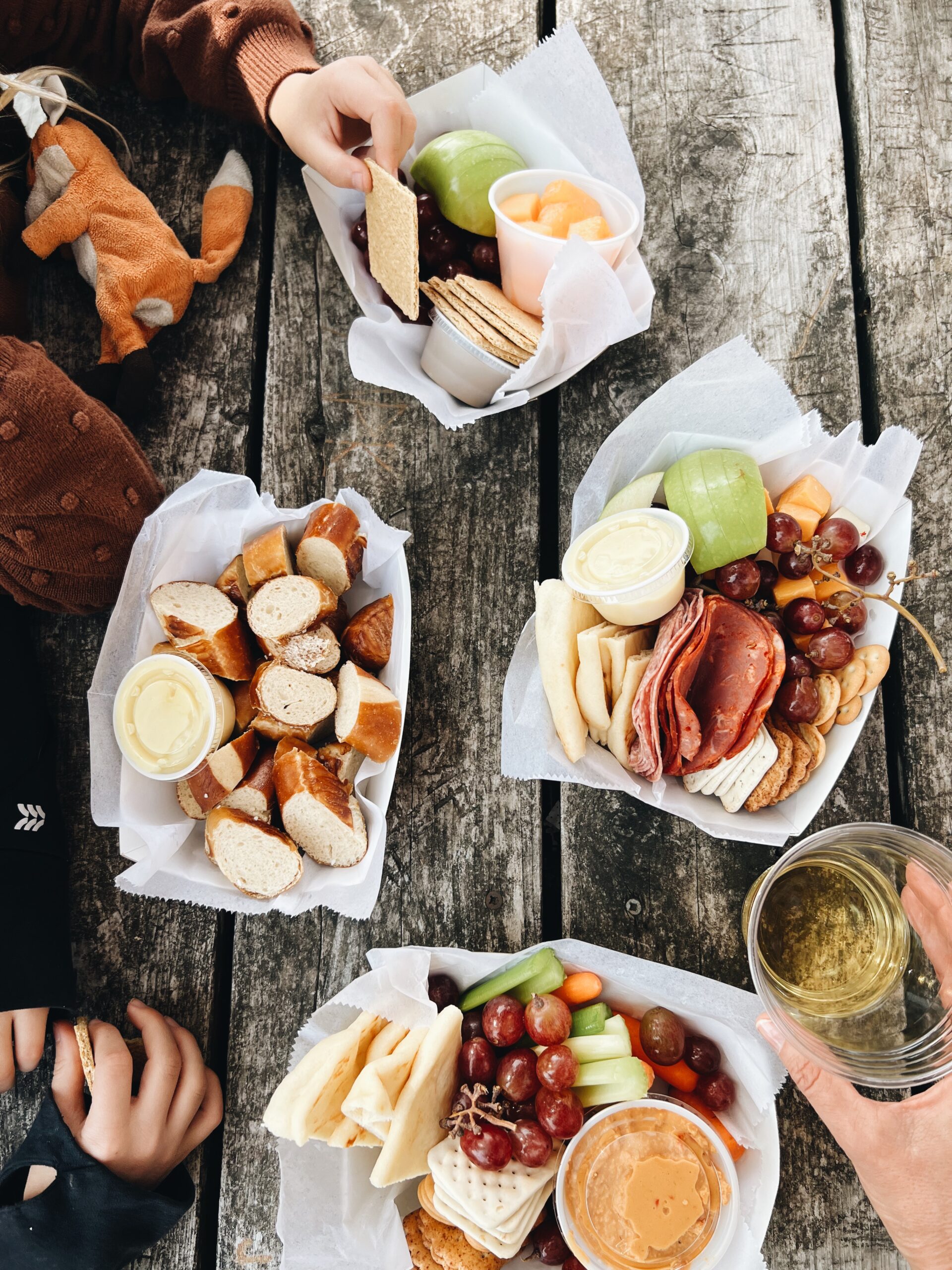 Look at this! My favorite type of nosh eating. Plus a raggedy stuffed animal that Nat's had since she was a baby. We'll be fine.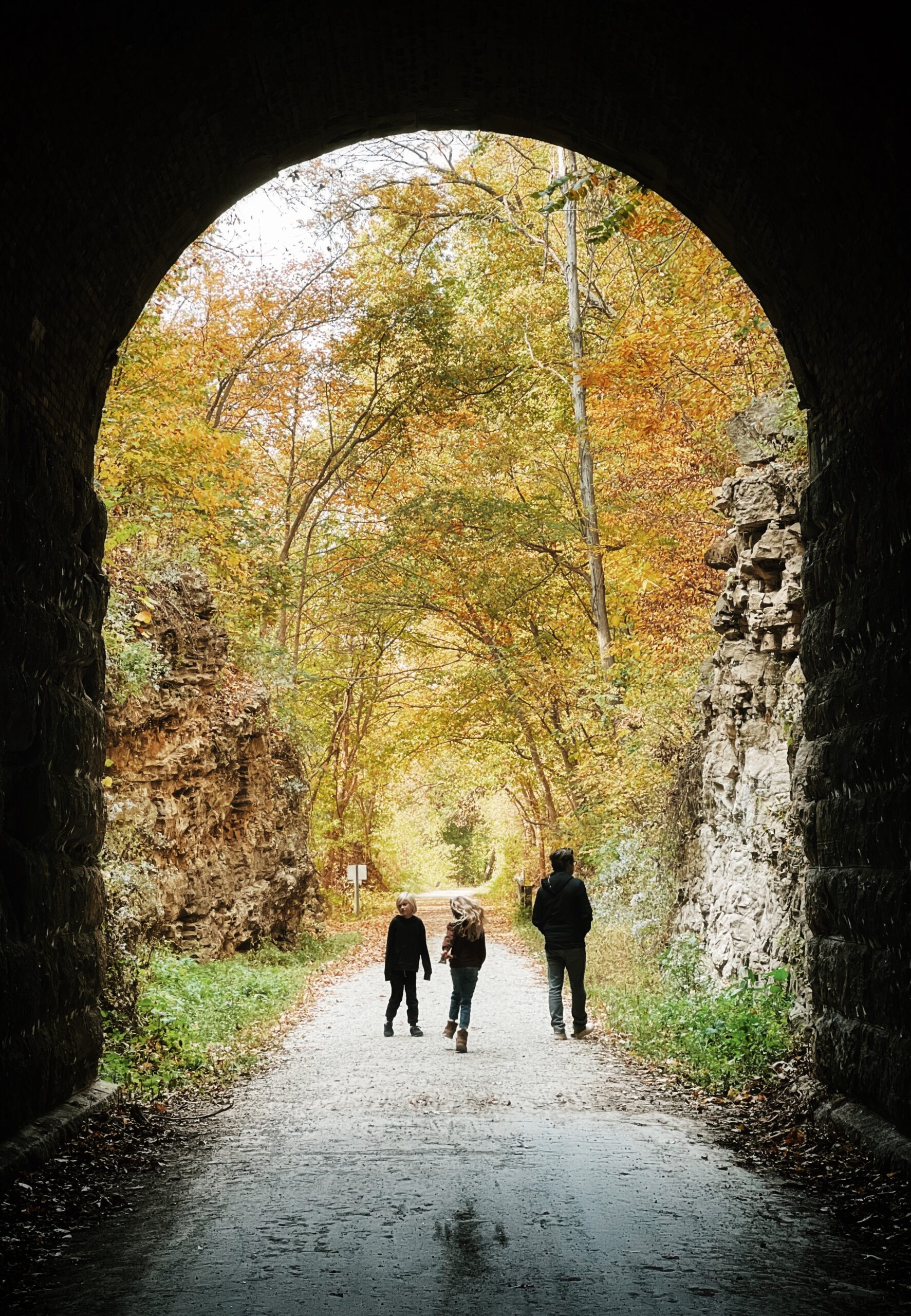 Proof that I went in "The Goonies" tunnel. 🙂
Thank you endlessly, Visit Missouri, for sponsoring this whirlwind of a fall road trip! It was an absolute blast. Kid-friendly, but filled with wine and food and culture and FUN. I'll never forget it.
If you have any questions, do holler!
#ThatsMyMO #ShowMeState