Okay, we might have a bit of a Dr. Seuss situation on our hands here. Because these meatballs are green, bruh. And in the best way.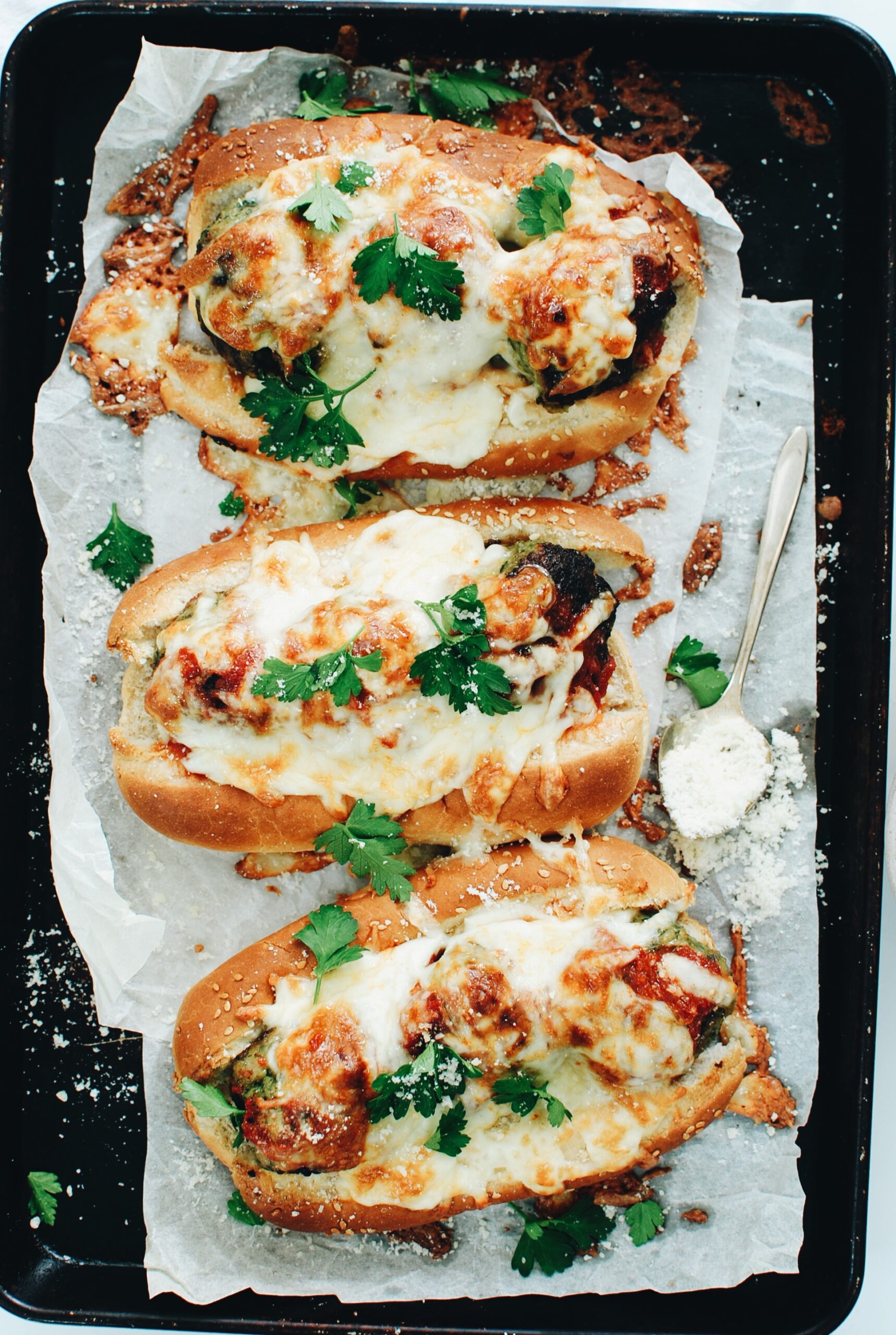 I wanted something substantial. Something with guts. And blanketed under 13 mountains of cheese.
And what I came up with was meatball subs. But with pork. And so much green the earth may just shatter. We've got spinach. We've got parsley. We've got basil. We're unhinged and it's wonderful.
Let us peepeth.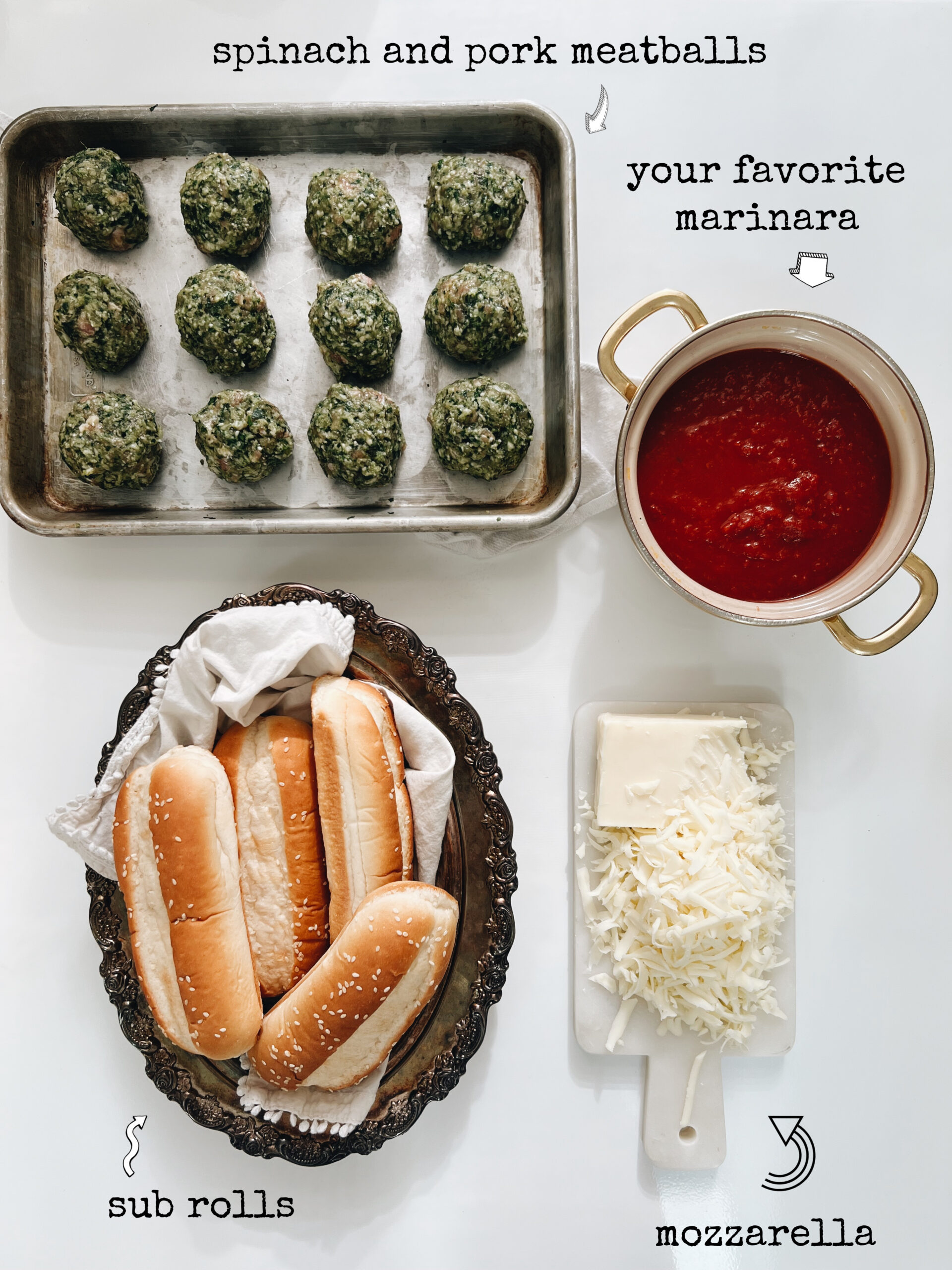 I'll walk you through the meatballs of course, but this is what we've got going on.
Also let me tell you, I went to do a top split on these buns and they were already cross split! Oops. So really, any sub or hoagie bun/roll works. You might have a style in mind, so find a bun that works for your soul. I like them with sesame seeds but you FLY, little bird.
Mozzarella for the cheese, and any jar or can of marinara that you dig is going to be lovely. We'll not use a specific amount, even though I have a cup(ish) in the recipe. Just drape the sauce over your subs however you please and we're good.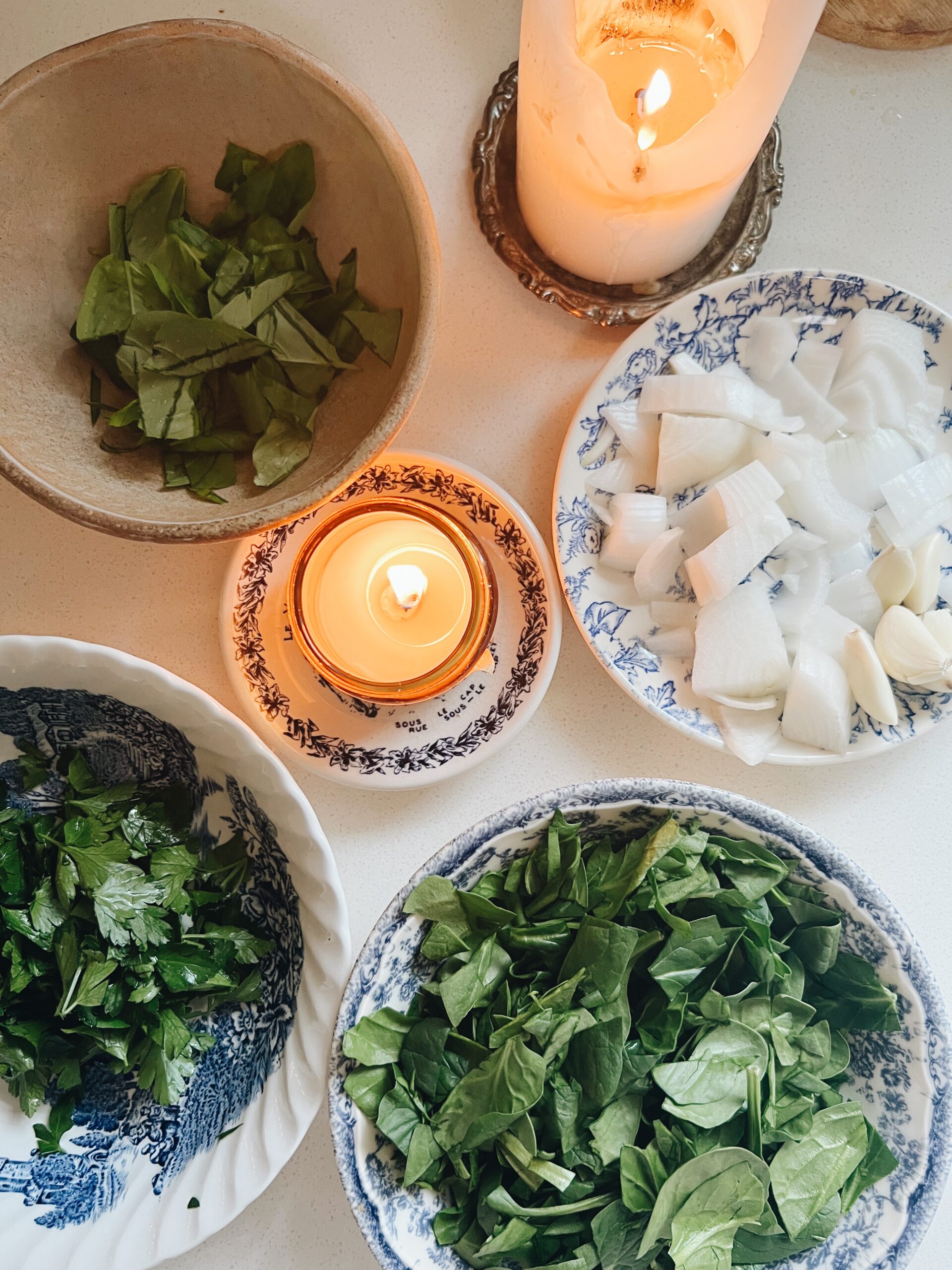 Onion and garlic – check.
Some loosely chopped baby spinach – on it.
Parsley leaves and roughly chopped basil leaves – we got it.
Into a food processor it all goes for a quick pulse to get it all finely minced. You can mince with a knife of course, this just goes by quicker. You'll see it in the reel!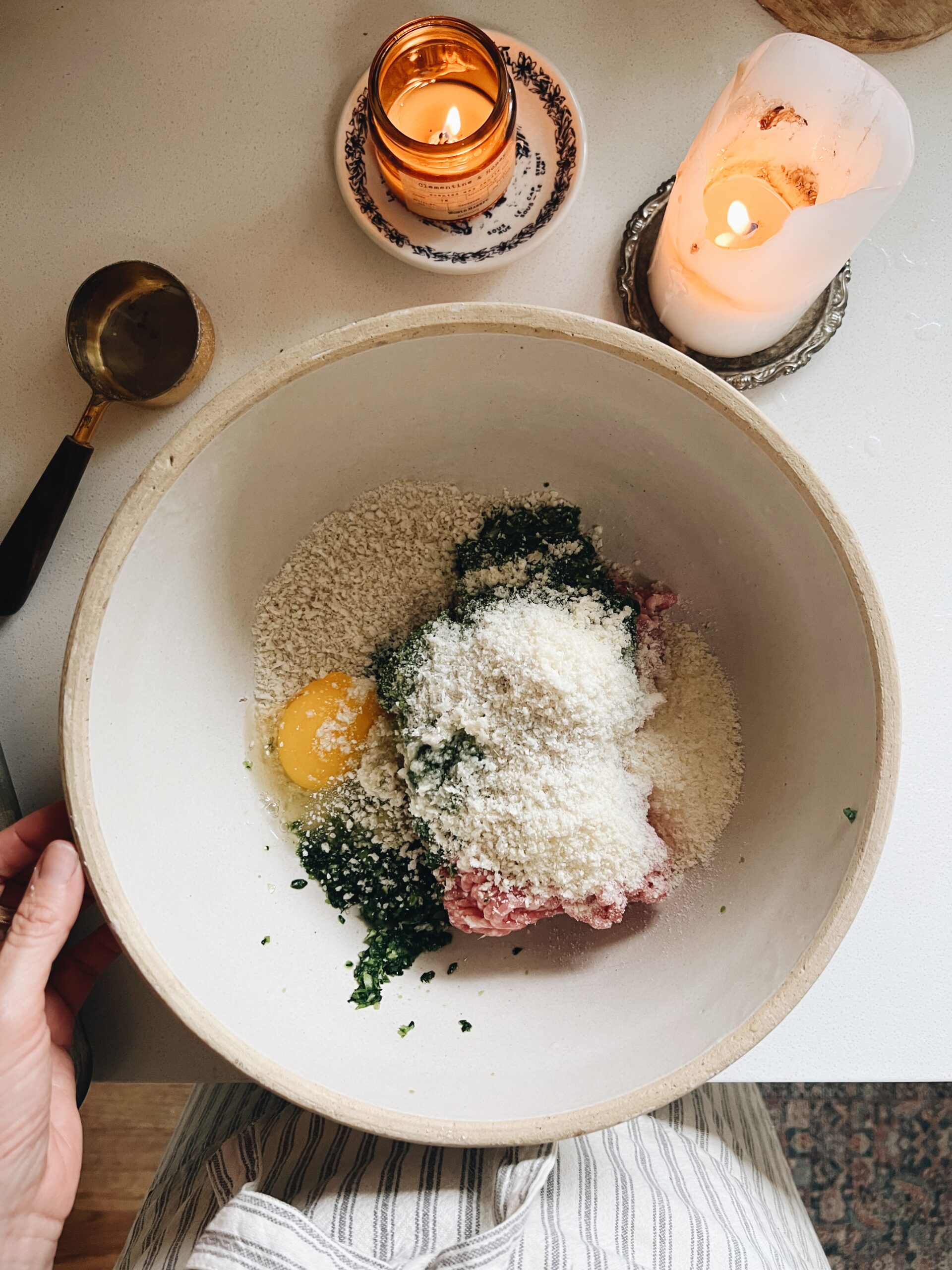 Now, to a bowl let's add the ground pork, minced herbs and aromatics, an egg, panko, parmesan cheese and a good pinch of salt. Use your hands to get everything well combined, then form some 2-inch meatballs! Easy enough.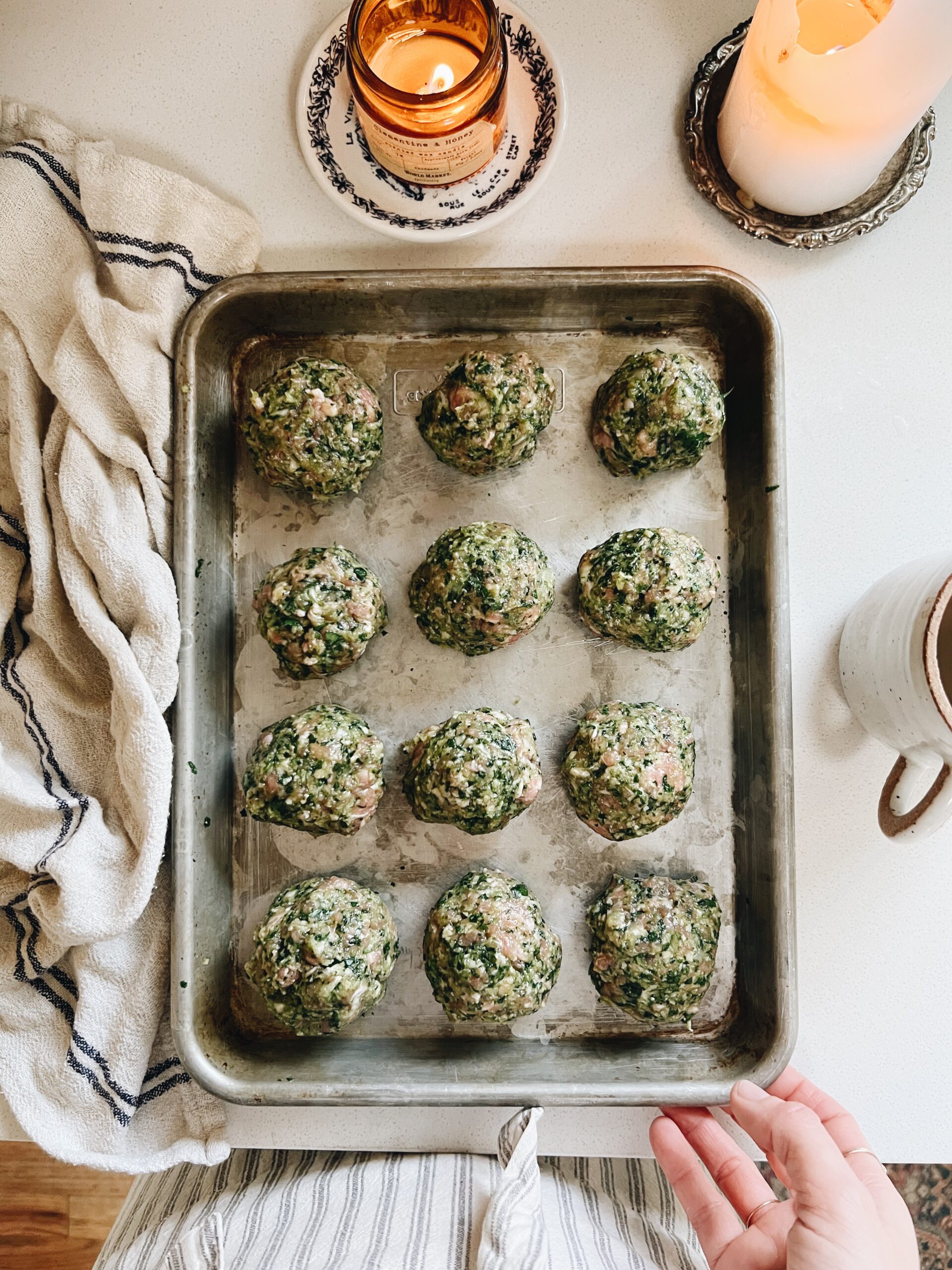 Look how green they are! It's basically a salad.
Don't quote me on that.
I put these in the fridge for a bit, just to chill and firm up, but it's not totally necessary.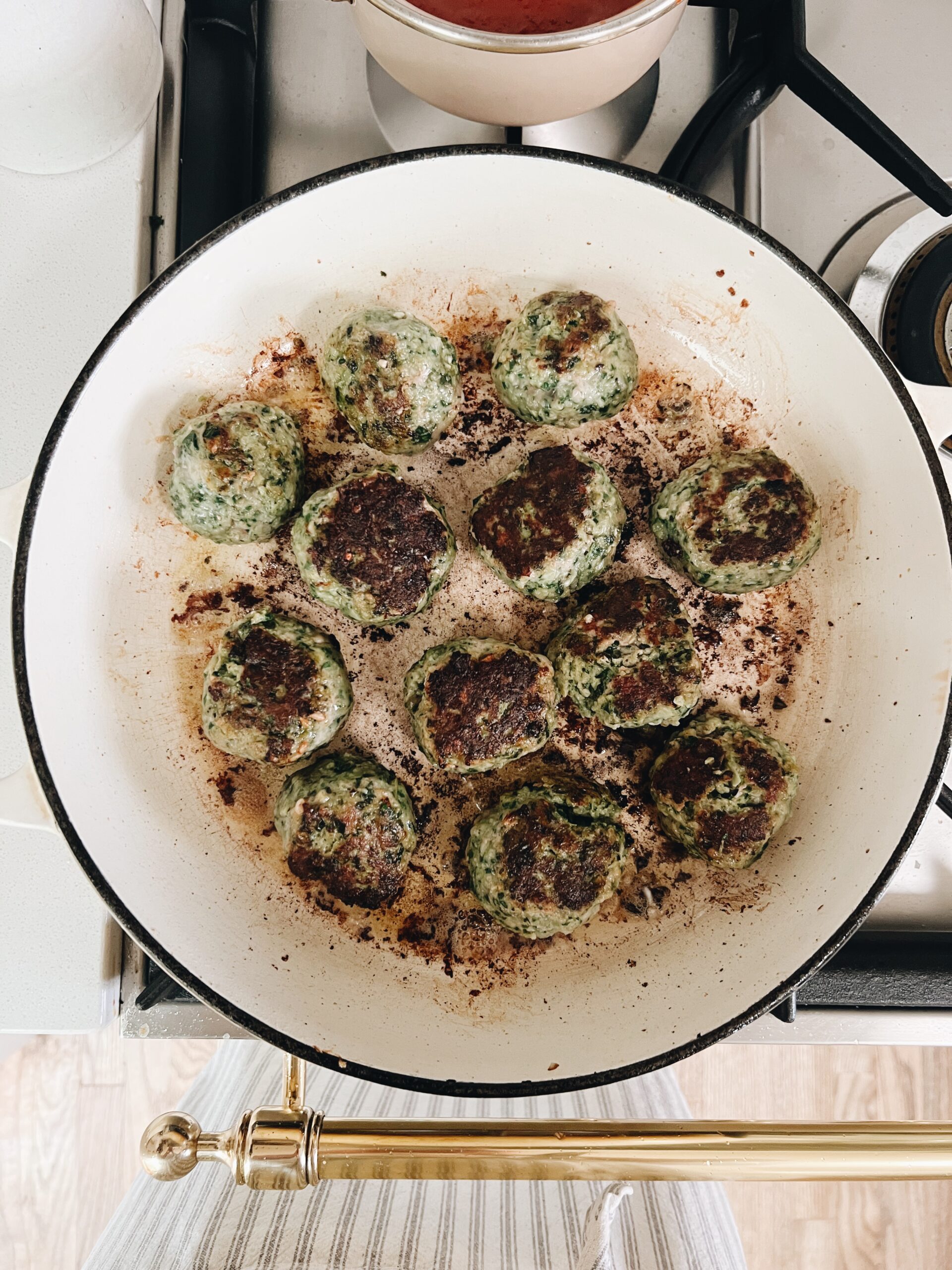 Also, you've preheated an oven to 400, while you lightly simmer your marinara sauce and get a good sear all over the meatballs. This takes under ten minutes, so take your time and turn each meatball carefully in the pan to get some browning all over. (You'll drizzle just a little bit of olive oil to get her going.)
Then you'll assemble the subs (my photo never loaded!) and get them in the oven.
Theeeen we have this…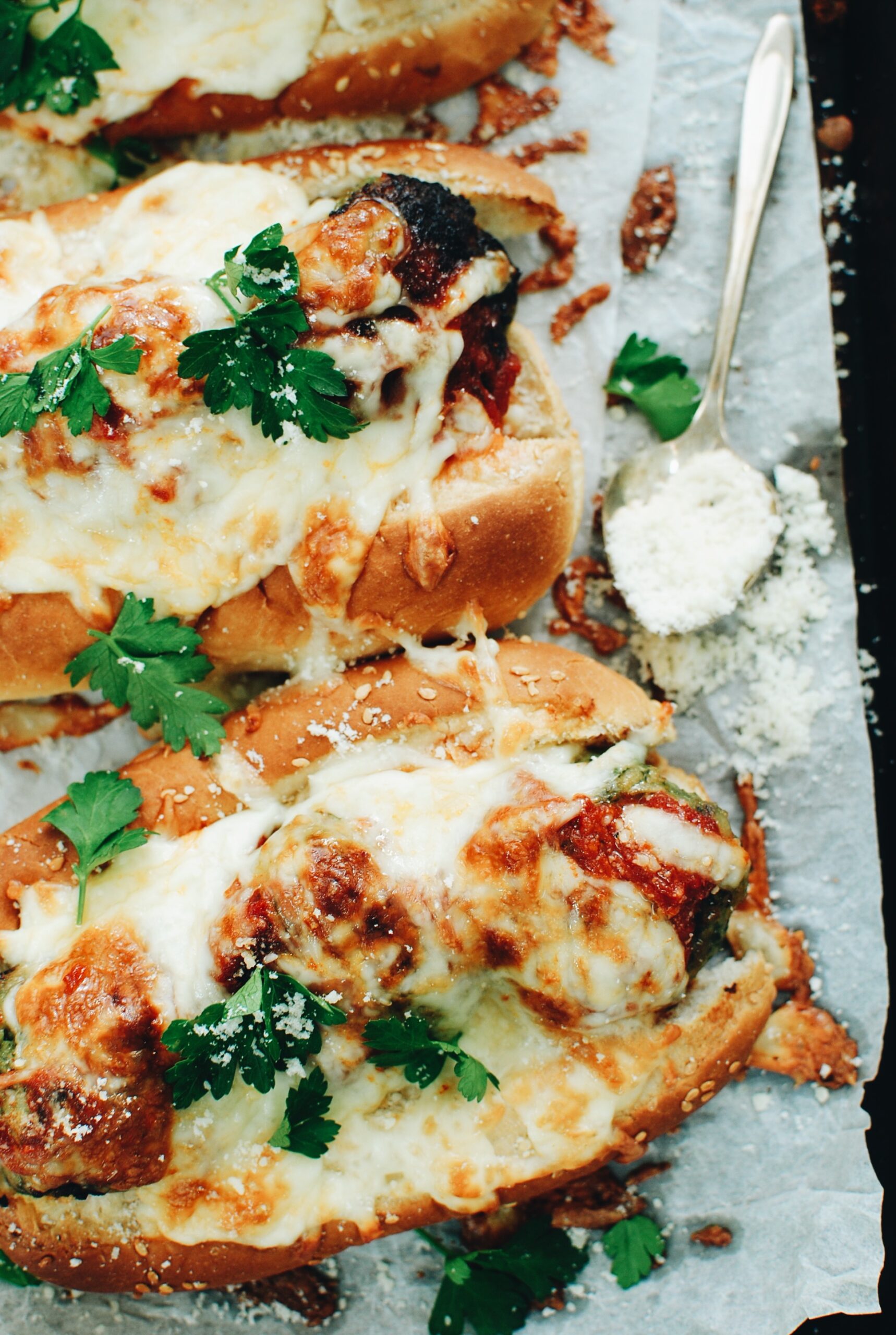 UM, hi. Toasty subs o' glory. We want that cheese browning and bubbly. We want the rolls toasted but soft when biting in. The meatballs are now deliciously drenched with a tangy marinara and we'll violently throw extra parsley to garnish.
And parm! Sprinkle some parmesan to finish it out.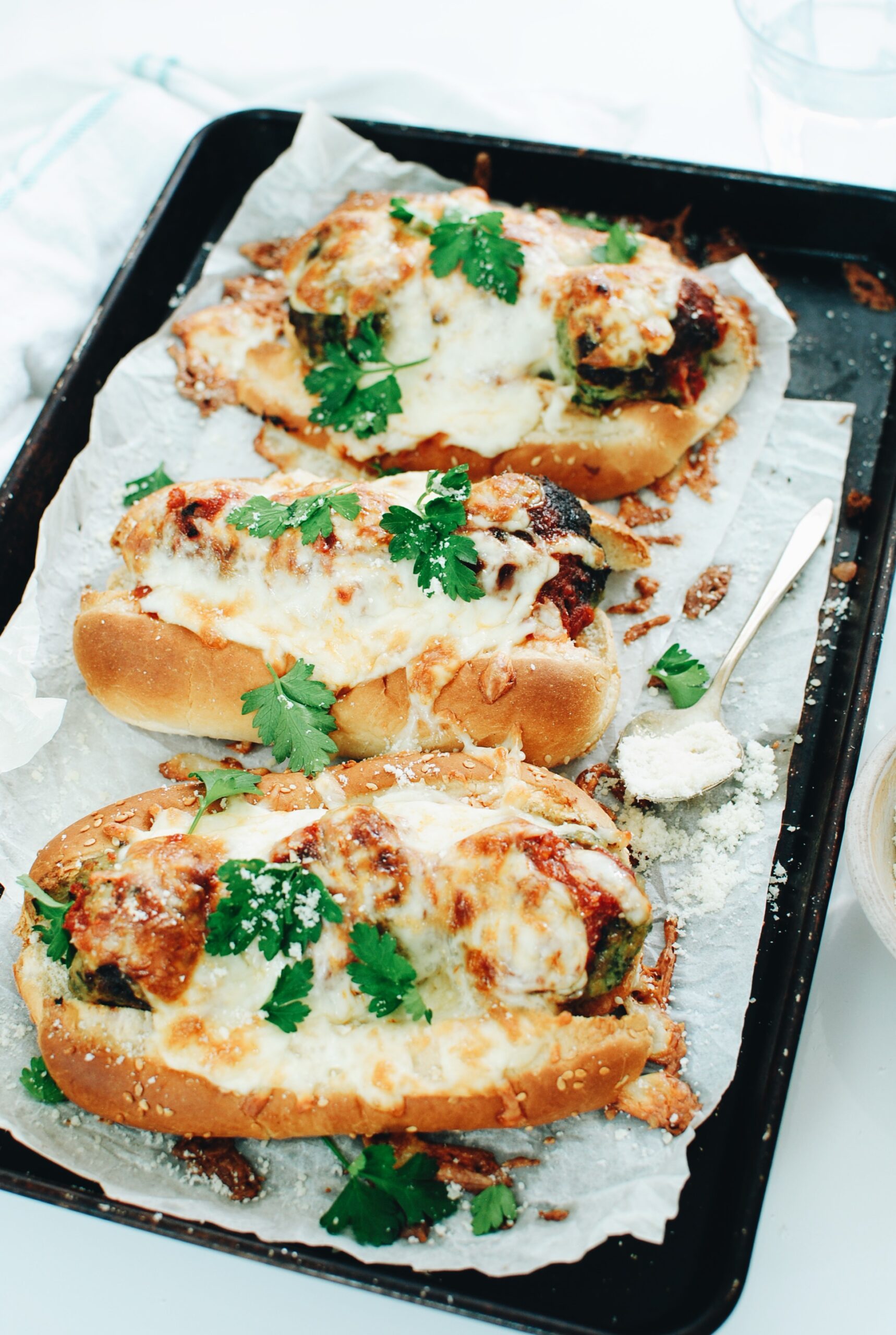 My word these are good. The meatballs are WILD with flavor. Herby, earthy, tender, such a fun twist!
I highly highly recommend these for Sandwich Night at your house. Of course you could use beef or turkey for the meat. Pork is a nice switch up, I will say. I will proclaim. Ha! Proclaim.
Get on in that.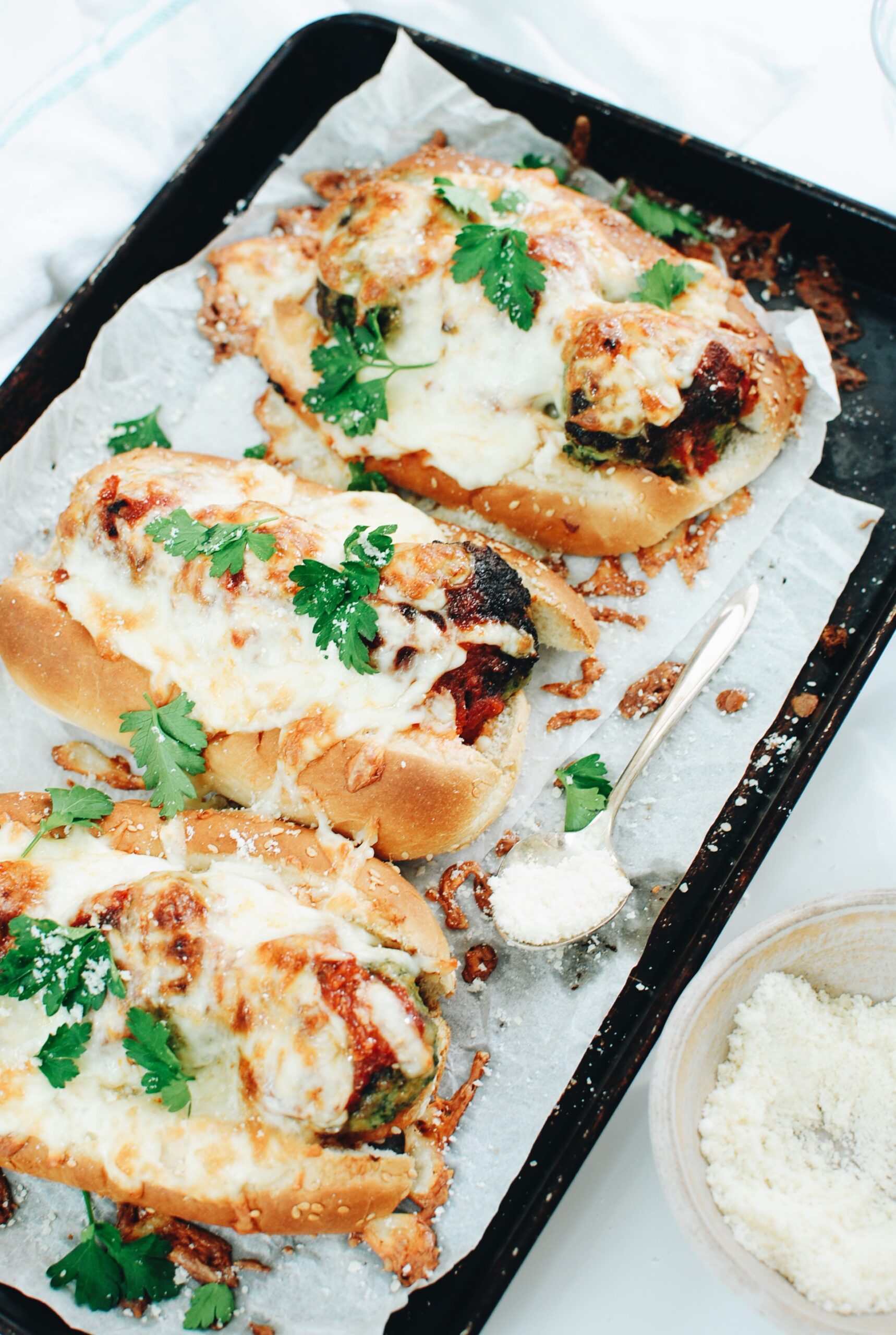 Extra parmesan. Forever.
Spinach and Pork Meatball Subs
Ingredients
1/2 white onion, cut into chunks
4 cloves garlic, out of their skins
2 cups baby spinach, very loosely chopped
1 cup parsley leaves
1/2 cup loose basil leaves, roughly chopped
1 pound ground pork
1/2 cup panko breadcrumbs
1 egg
1/4 cup parmesan cheese
Pinch of salt
1-2 cups favorite marinara
8 oz block of mozzarella cheese, grated
4 sub rolls
Extra parsley for garnish
Instructions
In a food processor, combine the onion, garlic, spinach, parsley and basil. Give it a pulse until everything is finely finely minced. Perfect.
Now to a bowl, add the ground pork, herby spinach mix, panko, the egg, parmesan cheese and a good pinch of salt. Mix well with your hands until everything is incorporated, forming two-inch meatballs. Place them on a baking sheet and either chill until firm, or go ahead and start cooking!
Preheat your oven to 400. (Do this earlier if you start cooking right away.)
In a small saucepan, simmer your marinara on low so that it's nice and warm. *this may not be entirely necessary since we're baking the subs. I'm just an over planner.
In a medium skillet, drizzle 2 Tbs. Extra-virgin olive oil over a medium high heat. Add the meatballs to the skillet, searing all over until you get some nice browning. Let the meatballs stick to the pan for about two minutes, then gently flip once the sticking releases. You might have to gently pry them, but it'll work out. Trust in yourself.
Place the meatballs in your sub rolls, drape with marinara and top with grated mozzarella. Bake roughly 15 minutes, until the cheese is melty and starting to brown and bubble. Garnish with extra parsley and parmesan cheese! Divine.
Serve immediately.
Makes four subs if you use three meatballs each.
7.8.1.2
623
https://bevcooks.com/2023/01/spinach-and-pork-meatball-subs/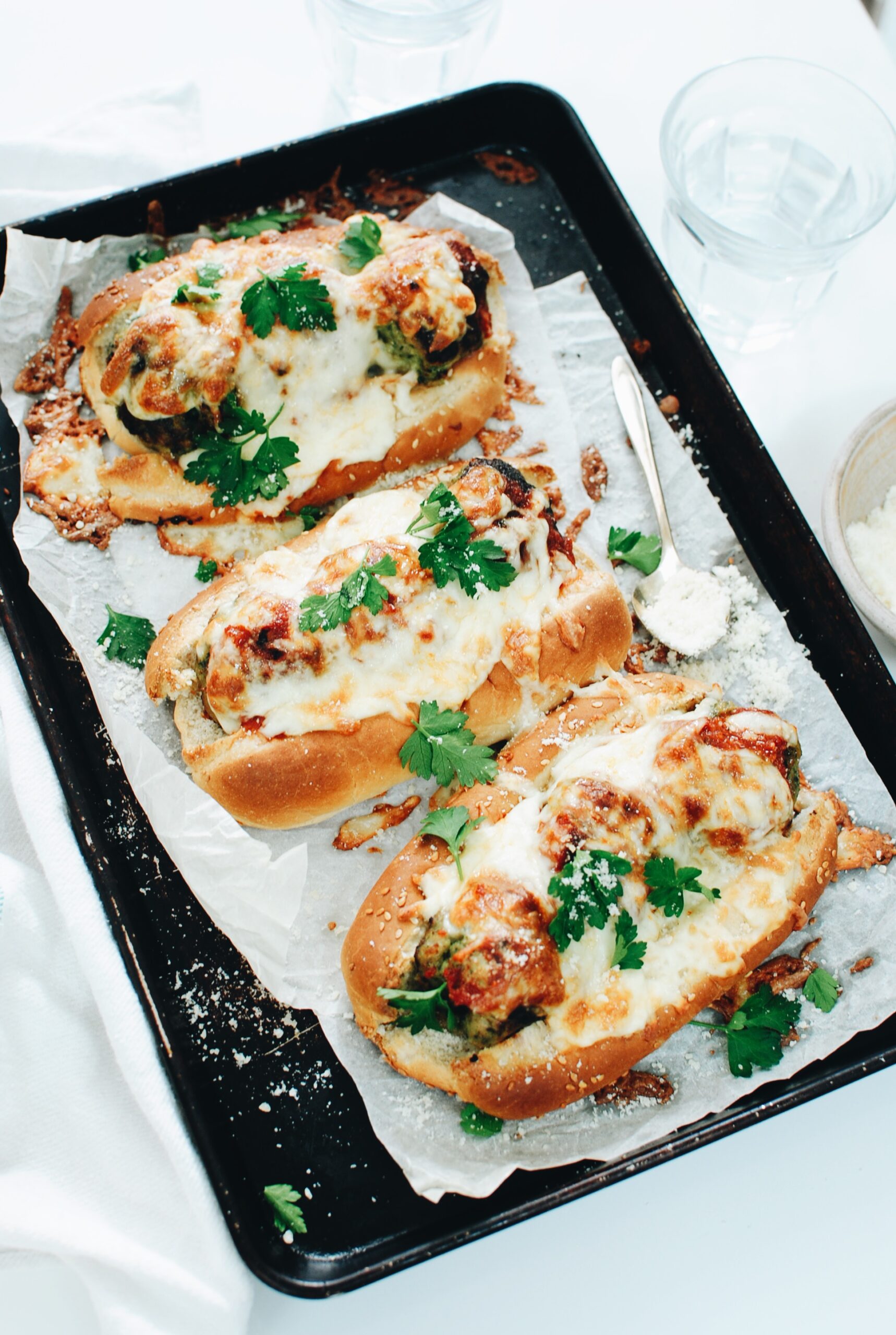 Yeah. I mean, yeah.