Soup! The ultimate throw-together slurpy sitch.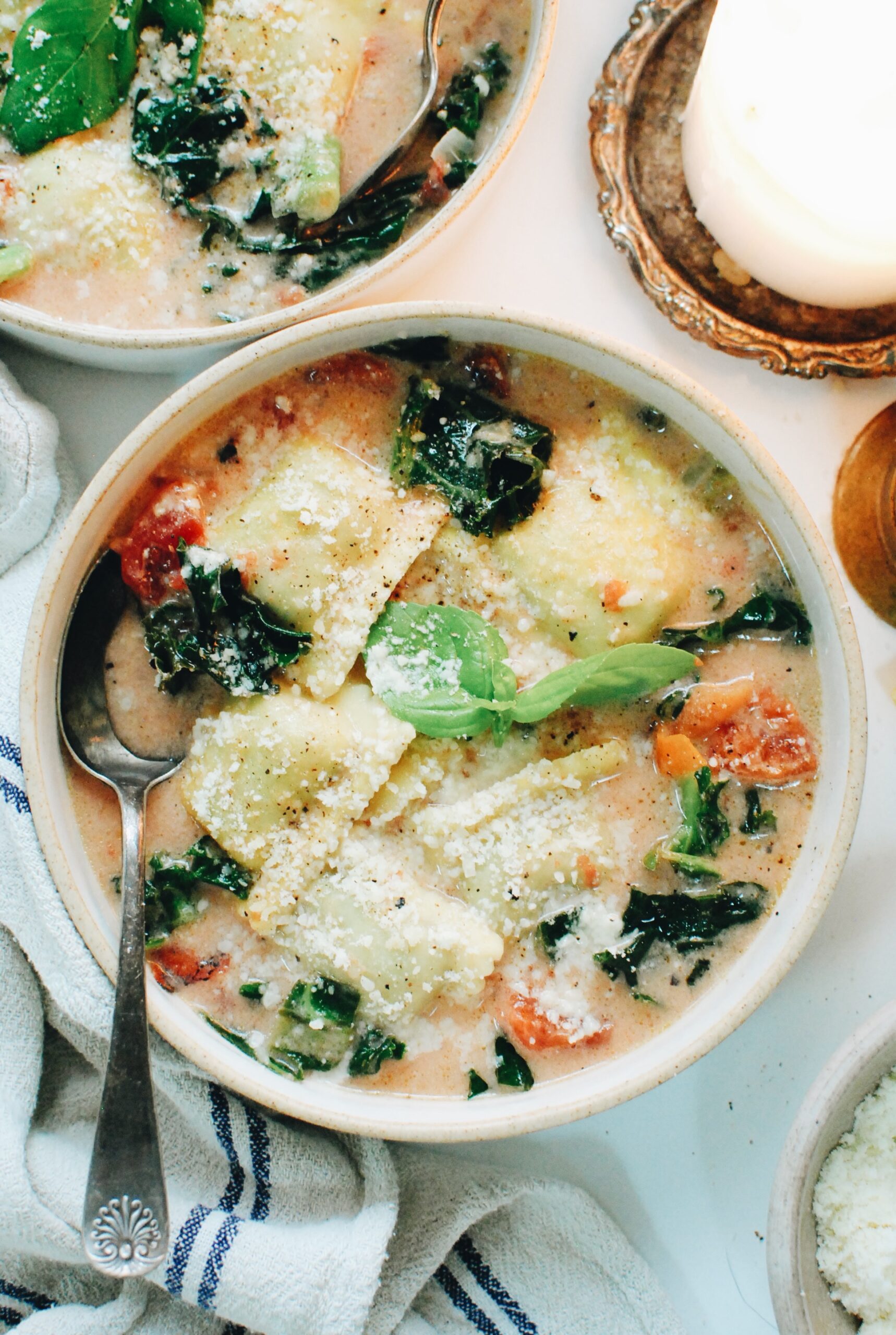 This one here is going to do you so, so right. Savory beef ravioli meets silky kale meets a luxurious creamy fire-roasted tomato base. Hulz yuz. (<–not cool?)
But listen, this isn't just a bag-ripping, can-opening operation. We're dicing some onion and garlic so simmer down.
Also, let us peepeth.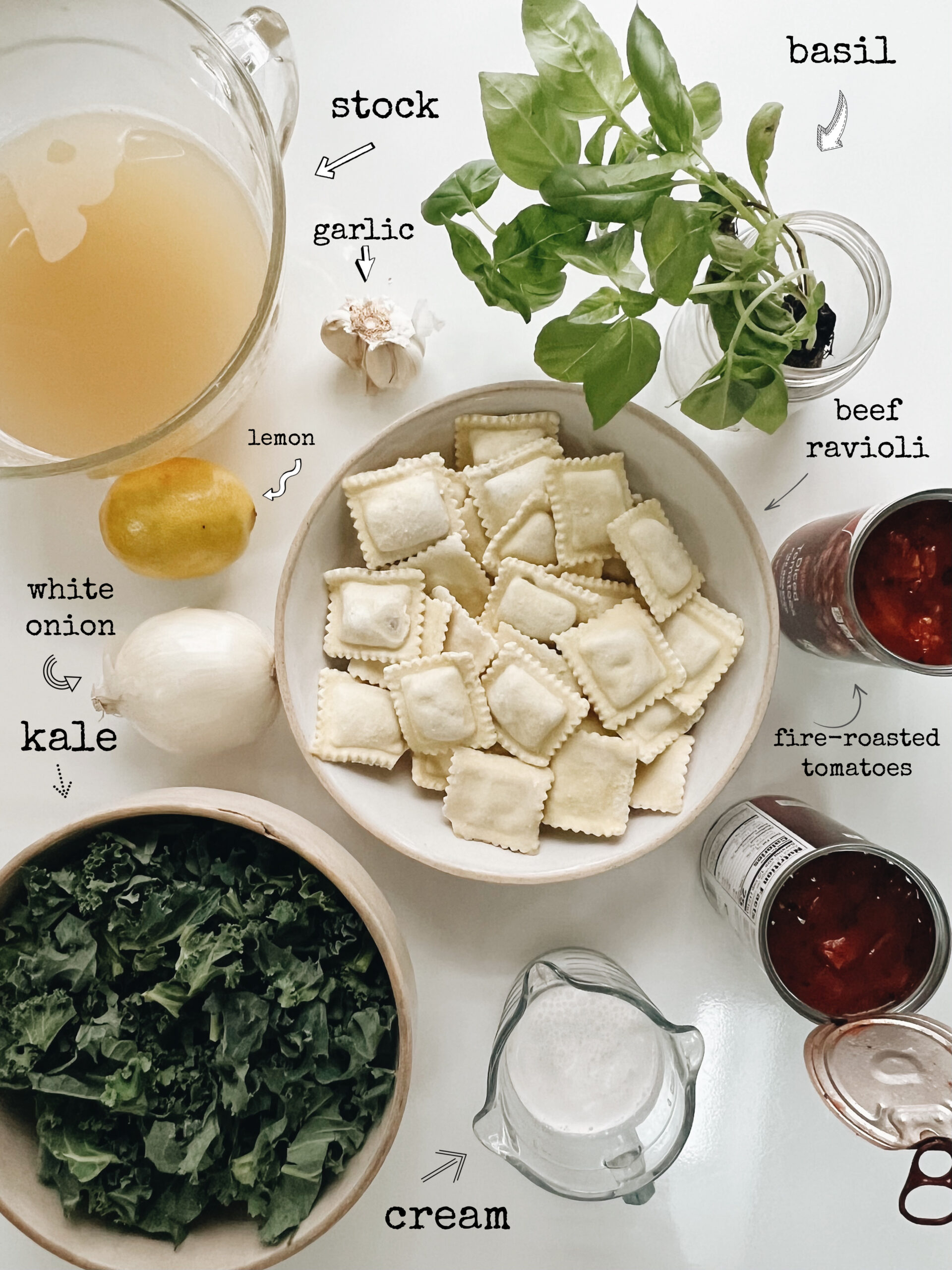 Pretty simple! However, if you'd rather have a cheese ravioli in this, that absolutely works. Tortellini is great, too. I went with beef only because of the aliens living in my house, but find any fun purse pasta pocket and throw her in!
Also that cream – use milk if you'd rather. What I'm using is actually that Silk brand, since Aaron is lactose intolerant. And it's really good! I was shocked. Silky shocked.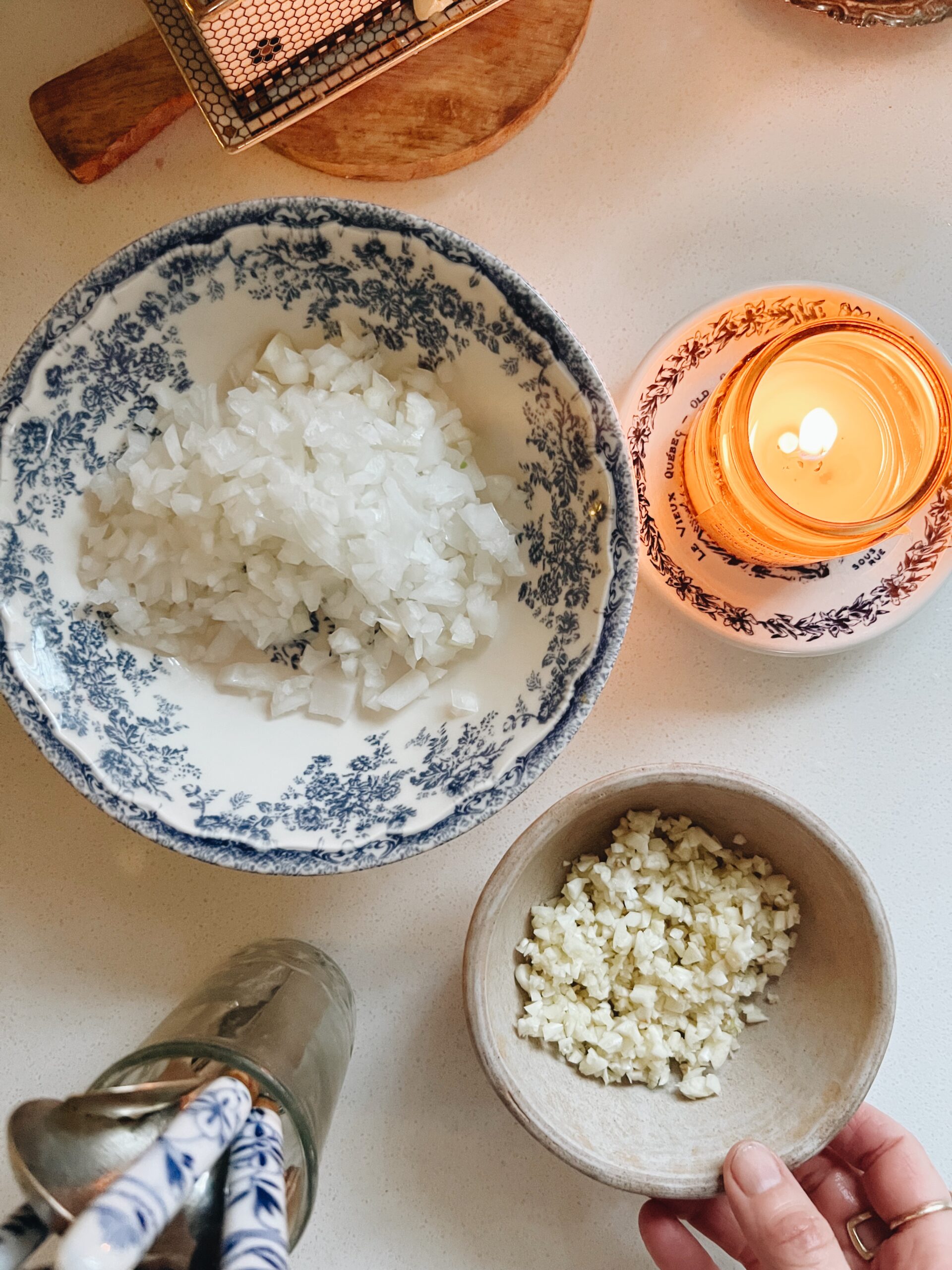 Let's get half an onion diced and a few garlic cloves minced. I honestly minced around 5 cloves, so if that seems over the top to you (ya weirdo), go with less. I'm garlic obsessed, so this was a no-brainer for me.
Make sure you light a candle while you're dicing, or else the whole thing is royally messed up.
By the way, this was a DARK and stormy day. I was working with like, zero light, but I'm still a good person.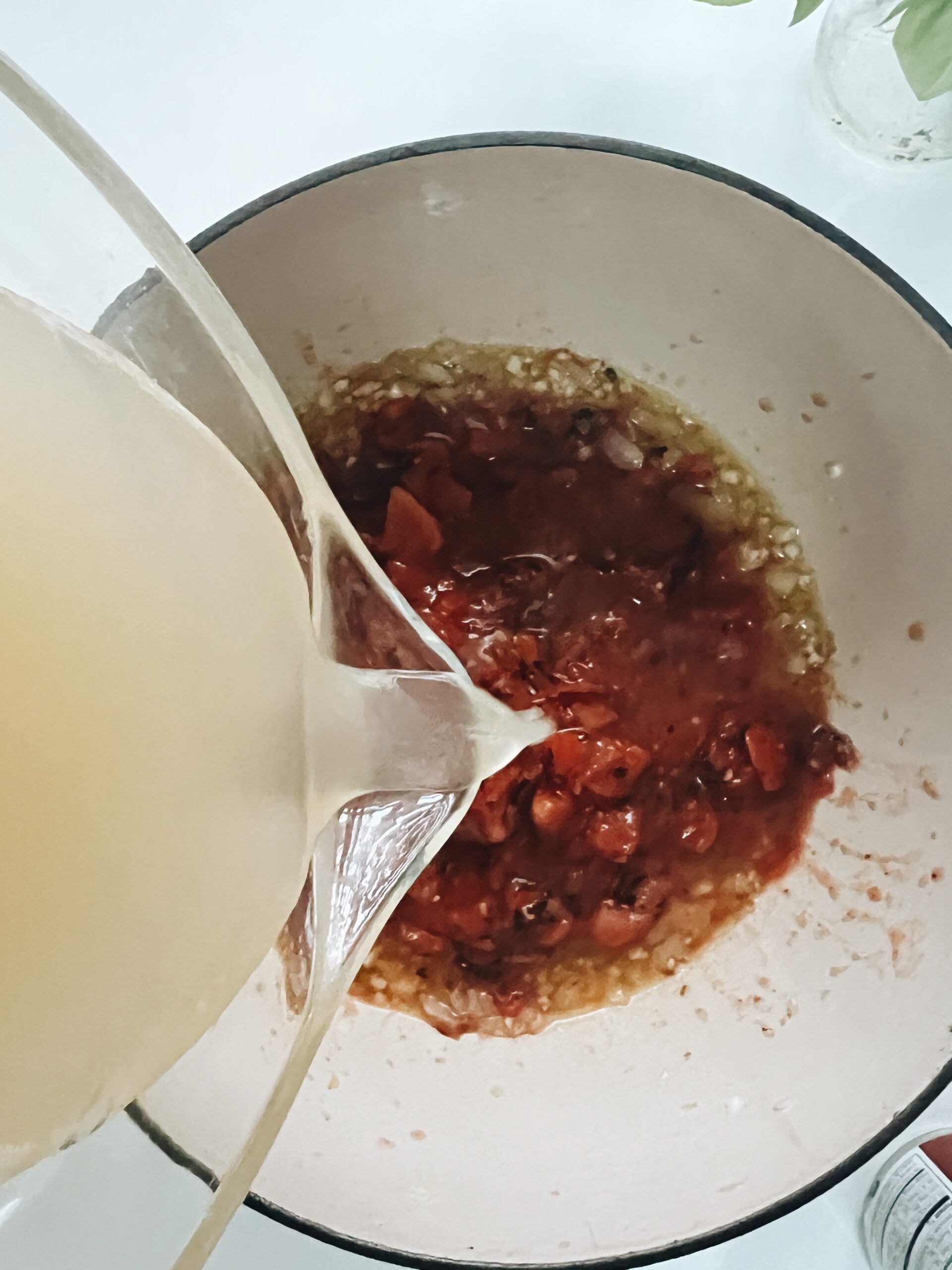 We've sautéed our onions and garlic, bruh. We're adding in our tomatoes, stock and cream. Pop the heat up and bring it to a boil, then reduce the heat and let it simmer, while you wilt the kale and let the ravioli cook and get tender. This truly takes less than five minutes.
And look at this gorgeousness.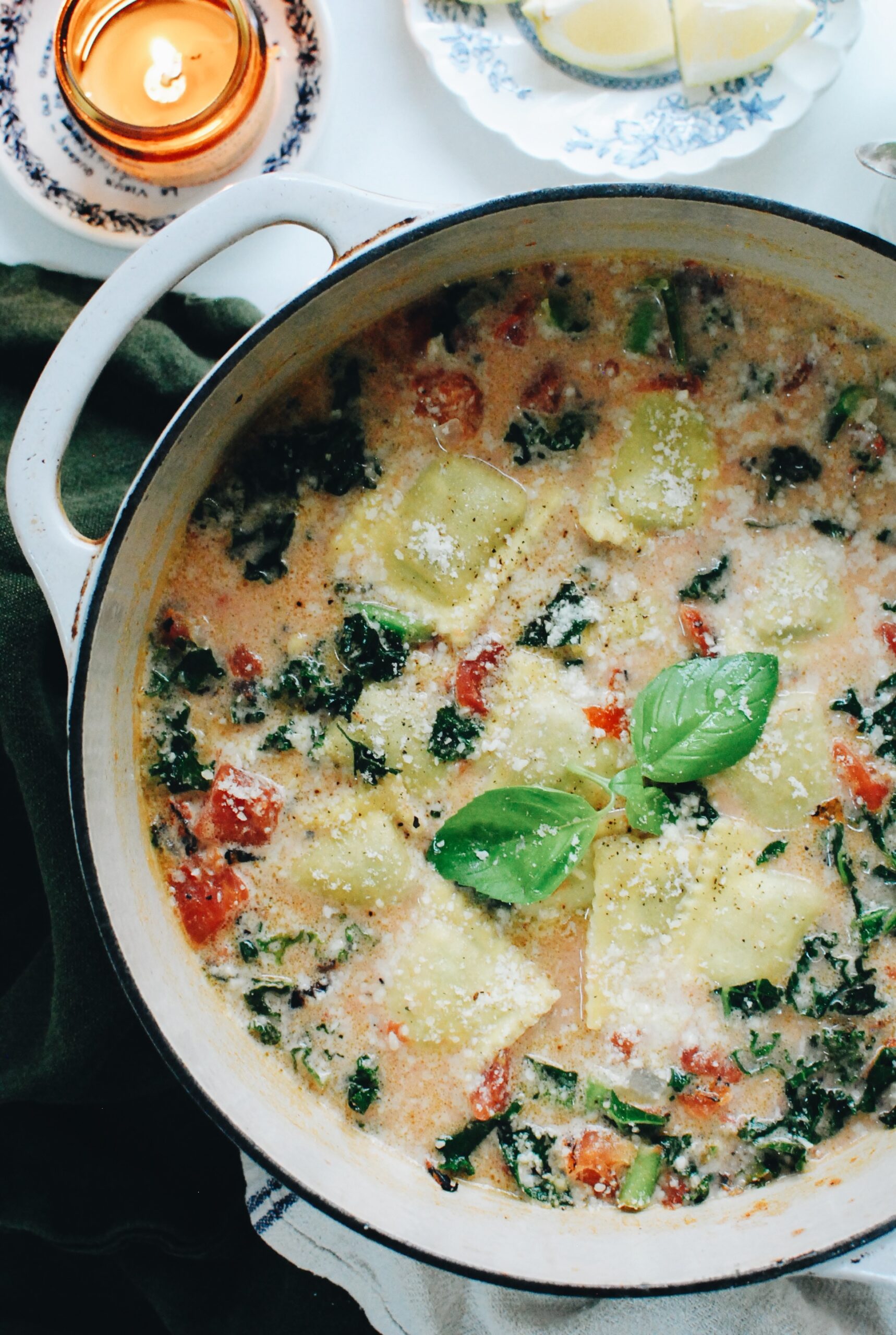 Bury me in that, please.
Remember, we only used a half cup of cream, so if that seems like a lot (it's not), reduce it (don't though). It's soooo silky and velvety, you will sob a river. Plus all that kale basically makes it a salad.
Don't quote me on that.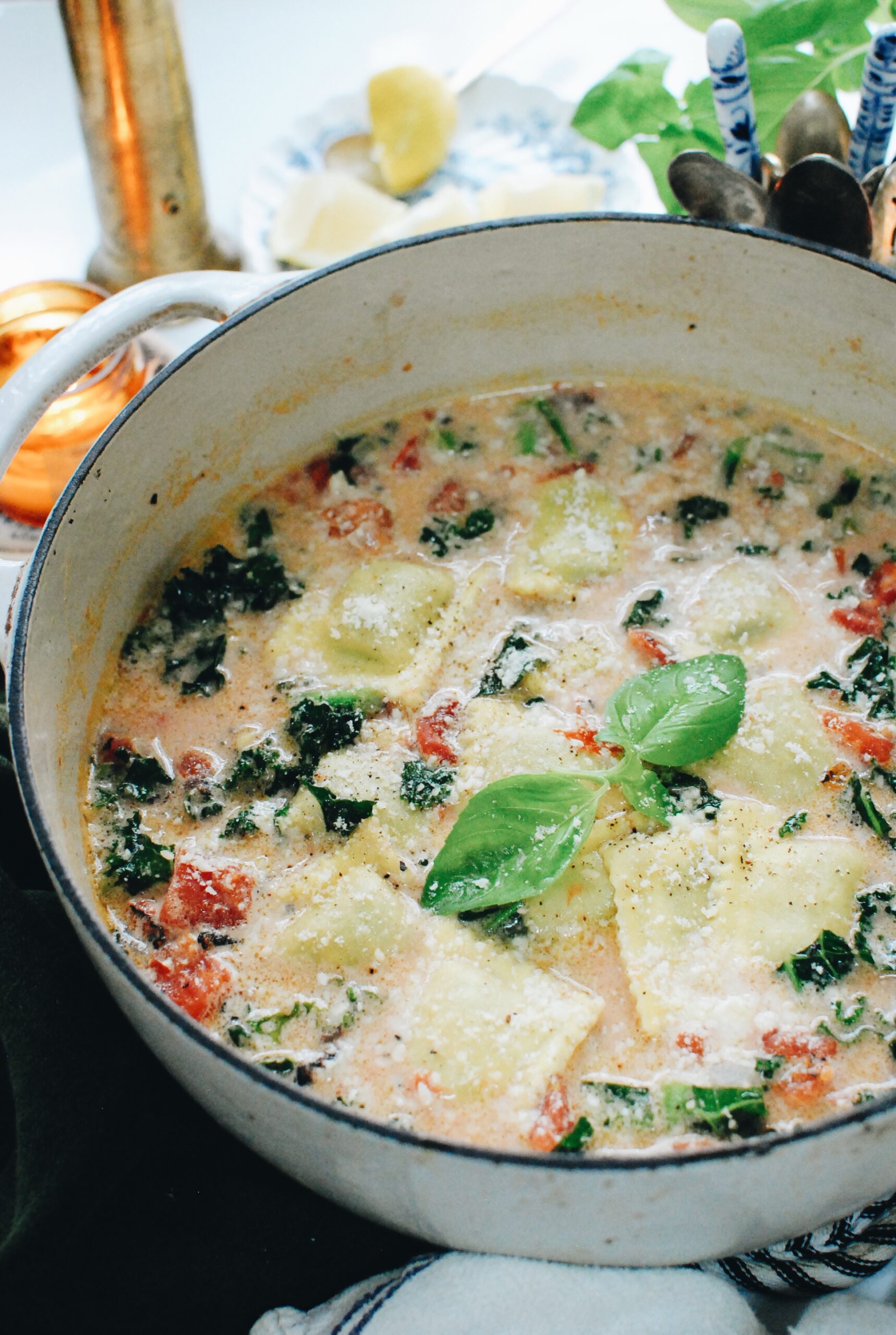 Obviously we've squeezed in some fresh lemon juice and garnished with fresh basil and parmesan cheese. That's where it all comes together. The jushing. Which I know there are 15 kazillion different spellings for that word. I'm choosing jush. Jushing. Fancy it up right at the end.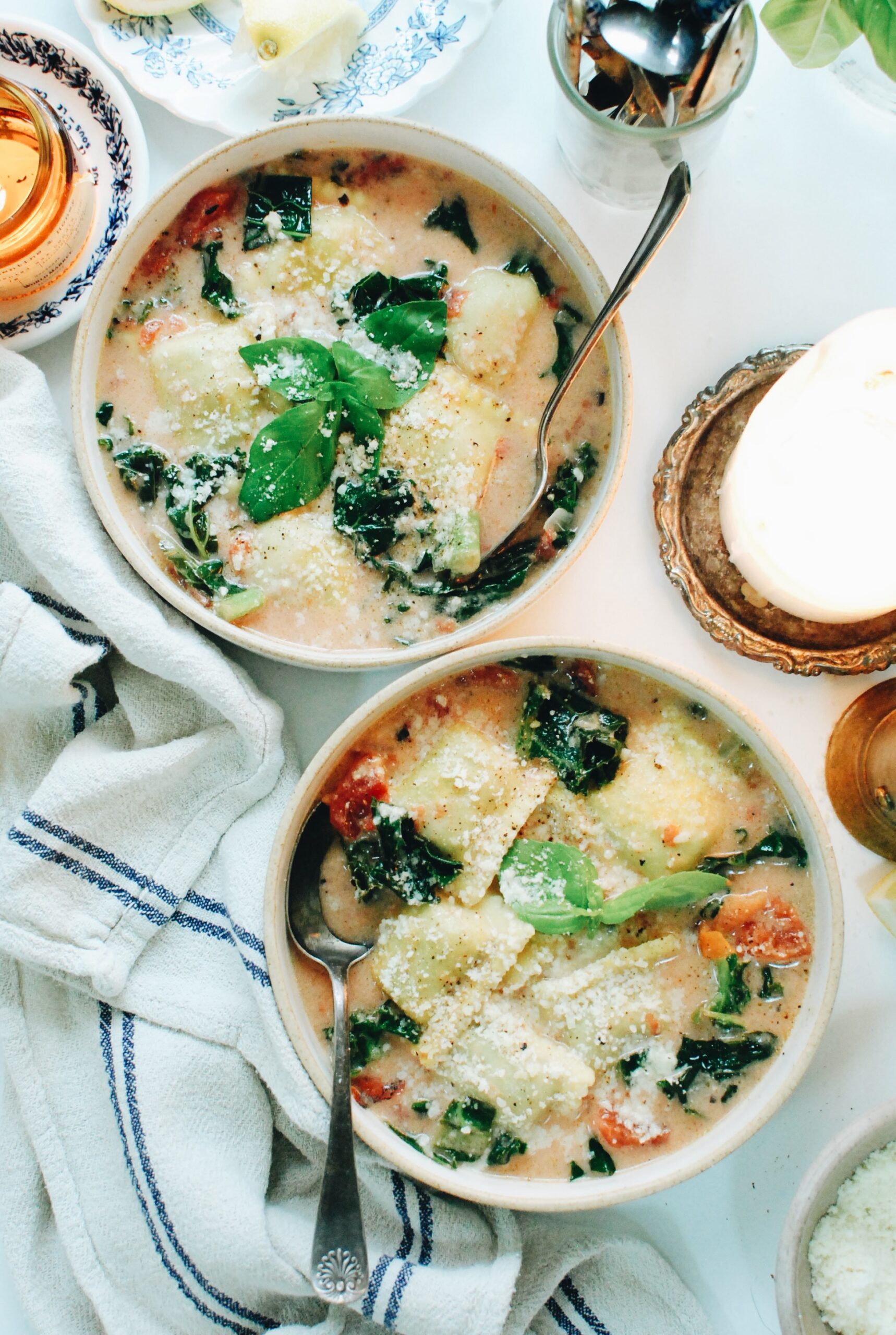 Filling, vibrant, simple to whip up, versatile with different swap-ins. This is going to be your new winter go-to slurp fest, I tell you.
You definitely don't have to call it slurp fest though.
You can if you want.
I'm not here to judge.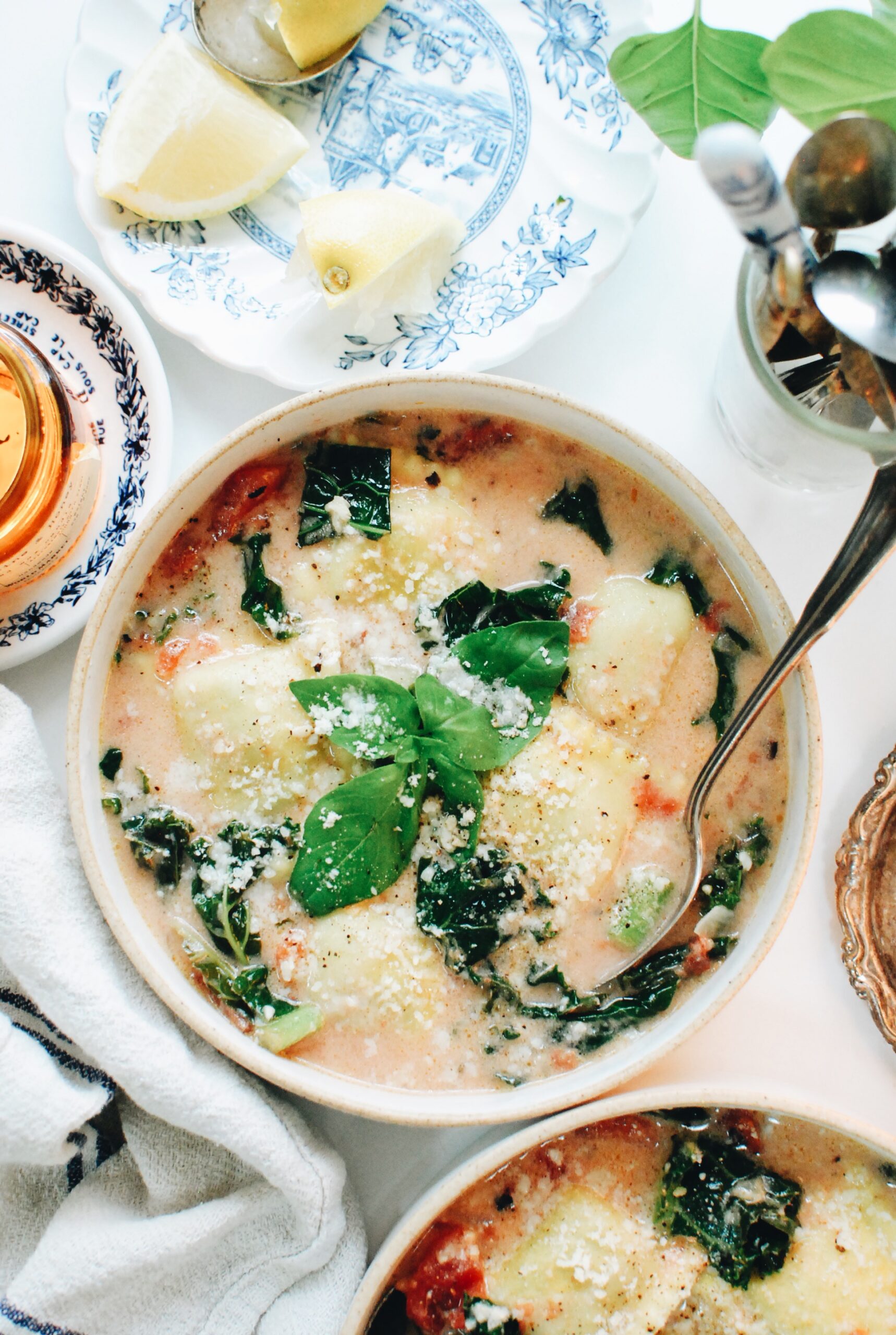 Slurp!
Creamy Beef Ravioli Soup with Kale
Ingredients
1/2 white onion, diced
5 cloves garlic, minced
5 oz chopped kale
2 (14.5 oz) cans fire-roasted diced tomatoes
4 cups chicken stock
1/2 cup heavy cream
20 oz beef ravioli
1 lemon
Basil leaves, for garnish
Parmesan cheese, for garnish
Instructions
Heat a large pot with a couple Tbs. Extra-virgin olive oil over a medium high heat. Add the onions and sauté for about three minutes, until you get a little color. Add the garlic and sauté another thirty seconds to a minute, until fragrant. Add the canned tomatoes, stock, cream and a small pinch of salt. Bring this to a boil, then reduce the heat to a simmer; then add in the kale and ravioli. Let this cook about five minutes, until the kale is wilted and the ravioli is tender and cooked through.
Off the heat, add the juice from half the lemon and stir, waking the whole thing up! Garnish with basil leaves and parmesan cheese. Divine.
Ladle into soup bowls and dive in.
Serves 4-6.
7.8.1.2
622
https://bevcooks.com/2023/01/creamy-beef-ravioli-soup-with-kale/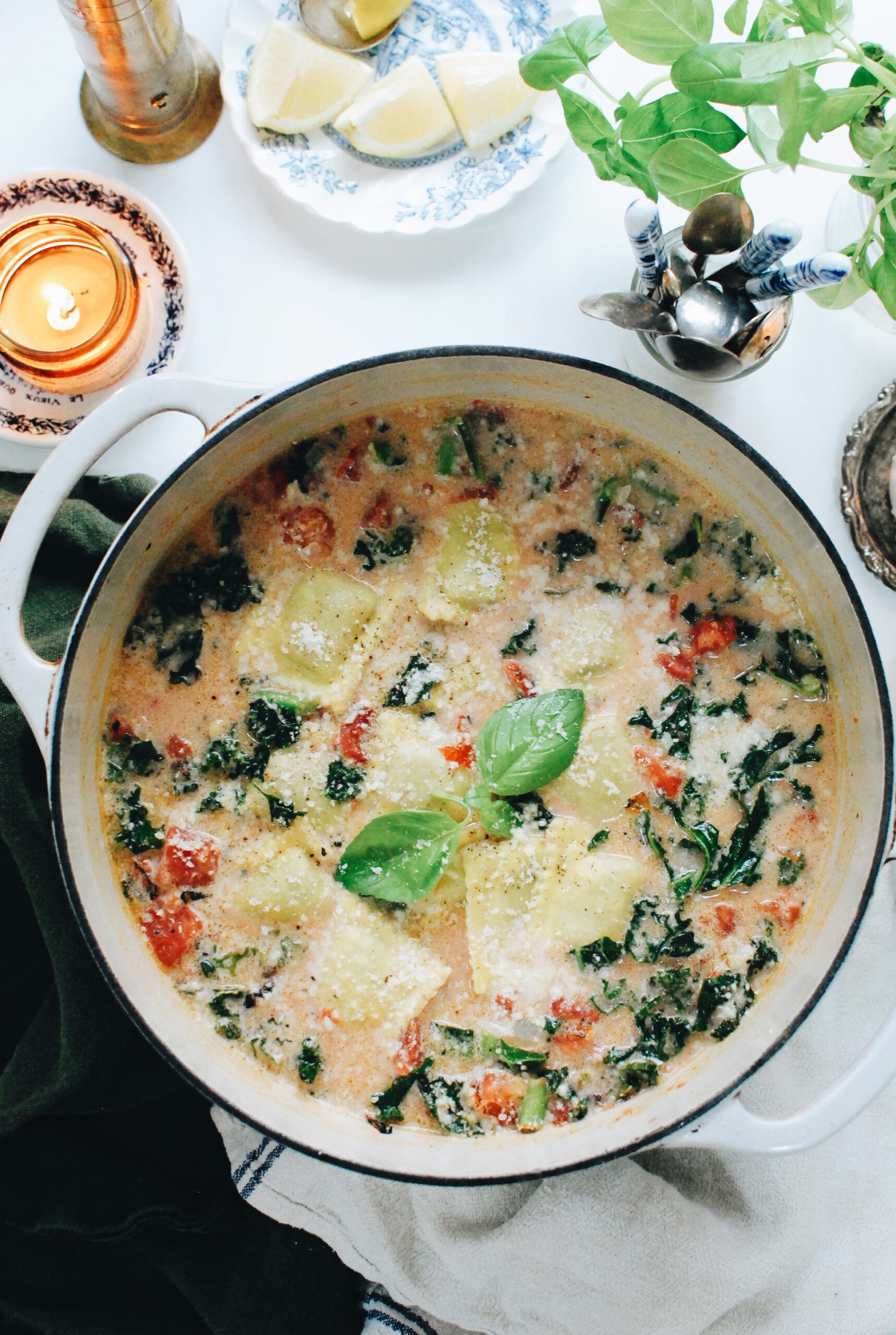 Don't tell me you won't completely obsess.