First recipe of the year! And it's a salad. Bahahahah.
oh.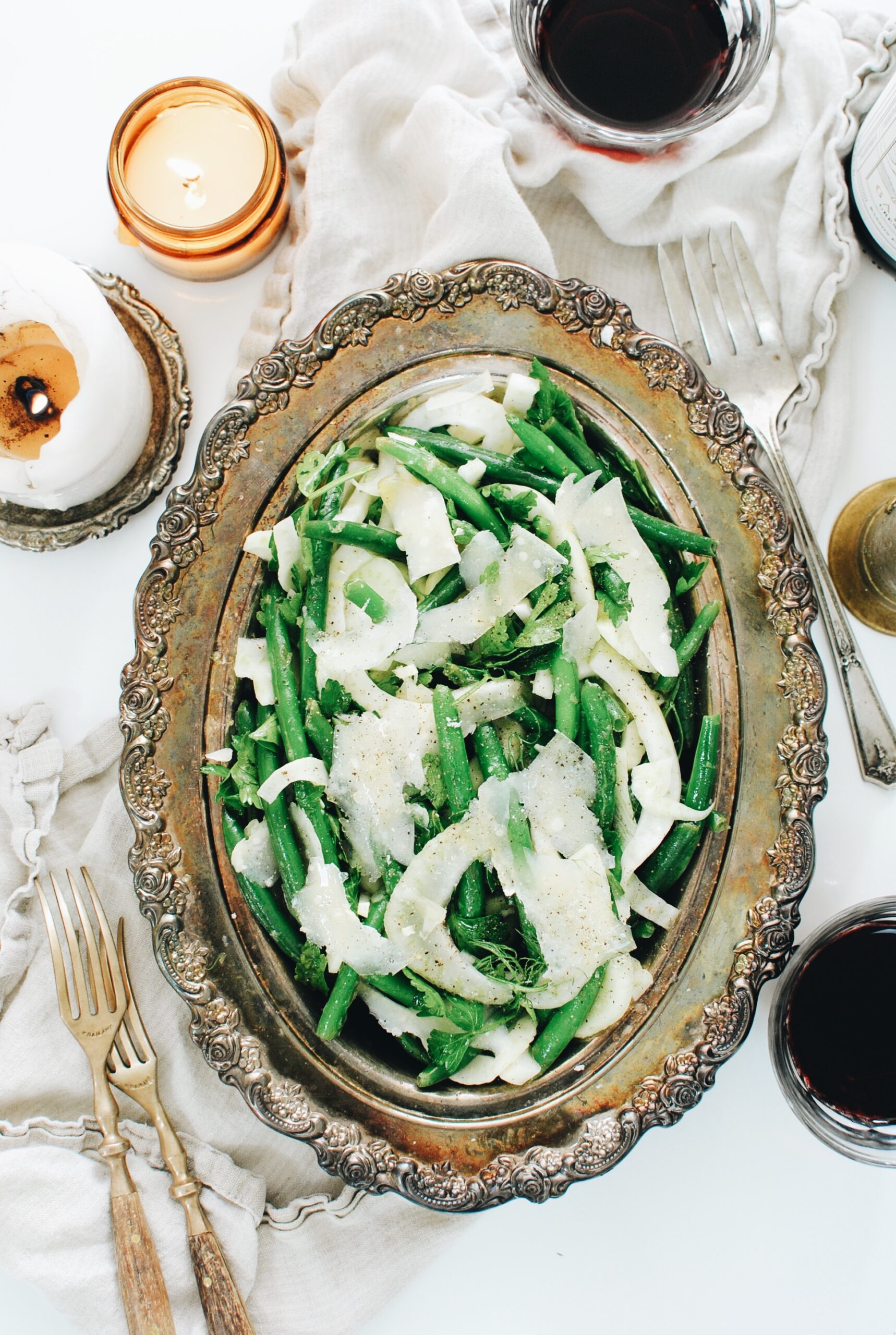 But listen, the crunch in this thing is enough to convert anyone. It is alive, I tell you. A lot happening in here. And don't get weird at the word fennel. We thinly slice it, so it's not like you're madly chomping into licorice. Cool, crunchy and vibrant. That's the name of the game today.
AND this is super throw together. I'm thinking of starting a new series on this website of throw-together meals. Ultra simple, tons of flavor, minimal effort. Do you dig?
Let us peepeth.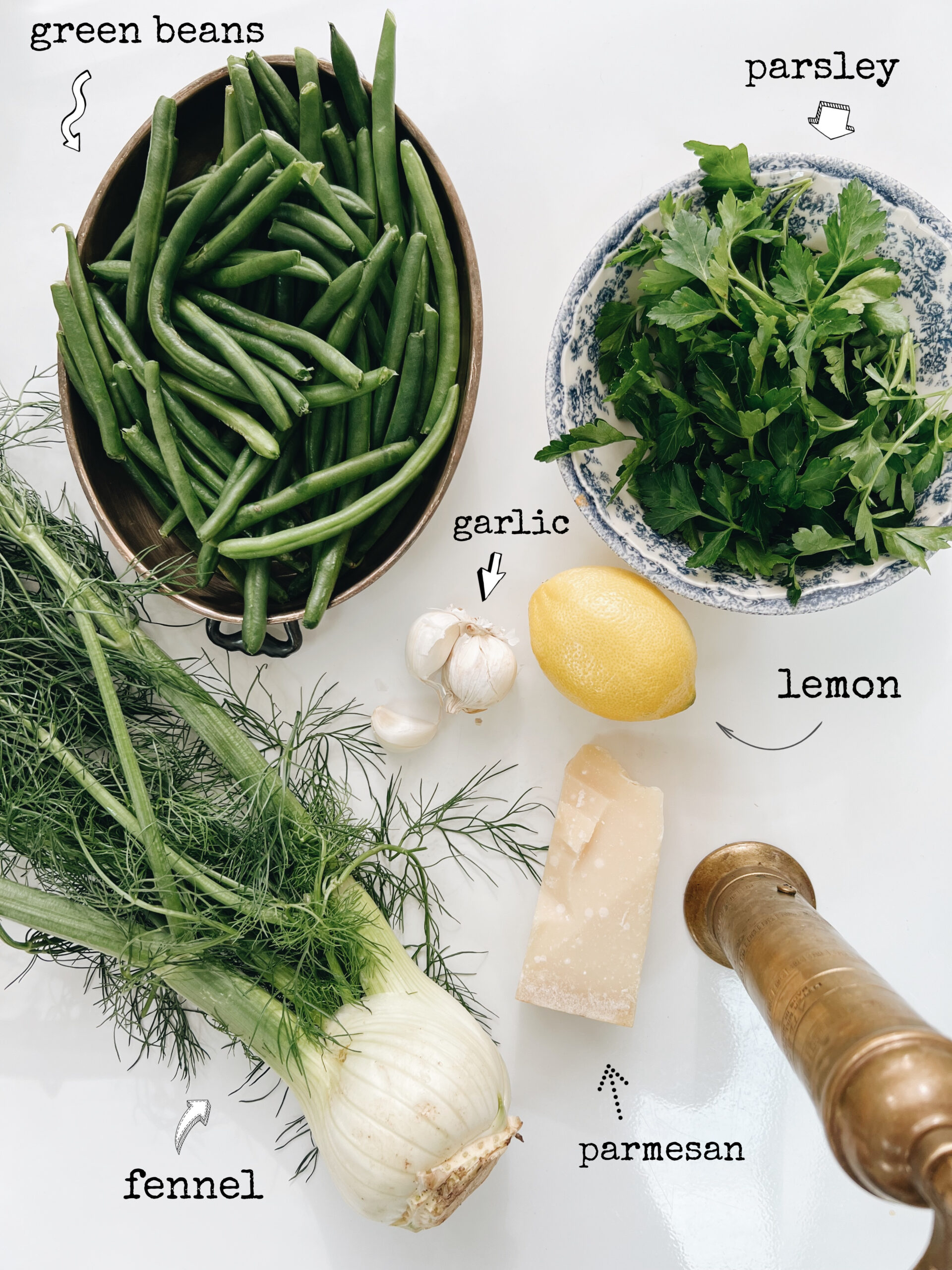 Lots of green. Which is key for January survival, right? I need to post more HERBY salads. I'm always so satisfied when I make them on my own for dinner, but I feel like they're too simple for the blog. I'm changing that. You're getting some dang herby salads this winter.
So yeah, fennel bulb! Just one. That's all you need. A good handful of green beans (or haricot verts from Trader Joe's if you're nearby! Look at you all fancy.) Some parmesan for shaving, a bit of garlic, lemon and olive oil. That's it.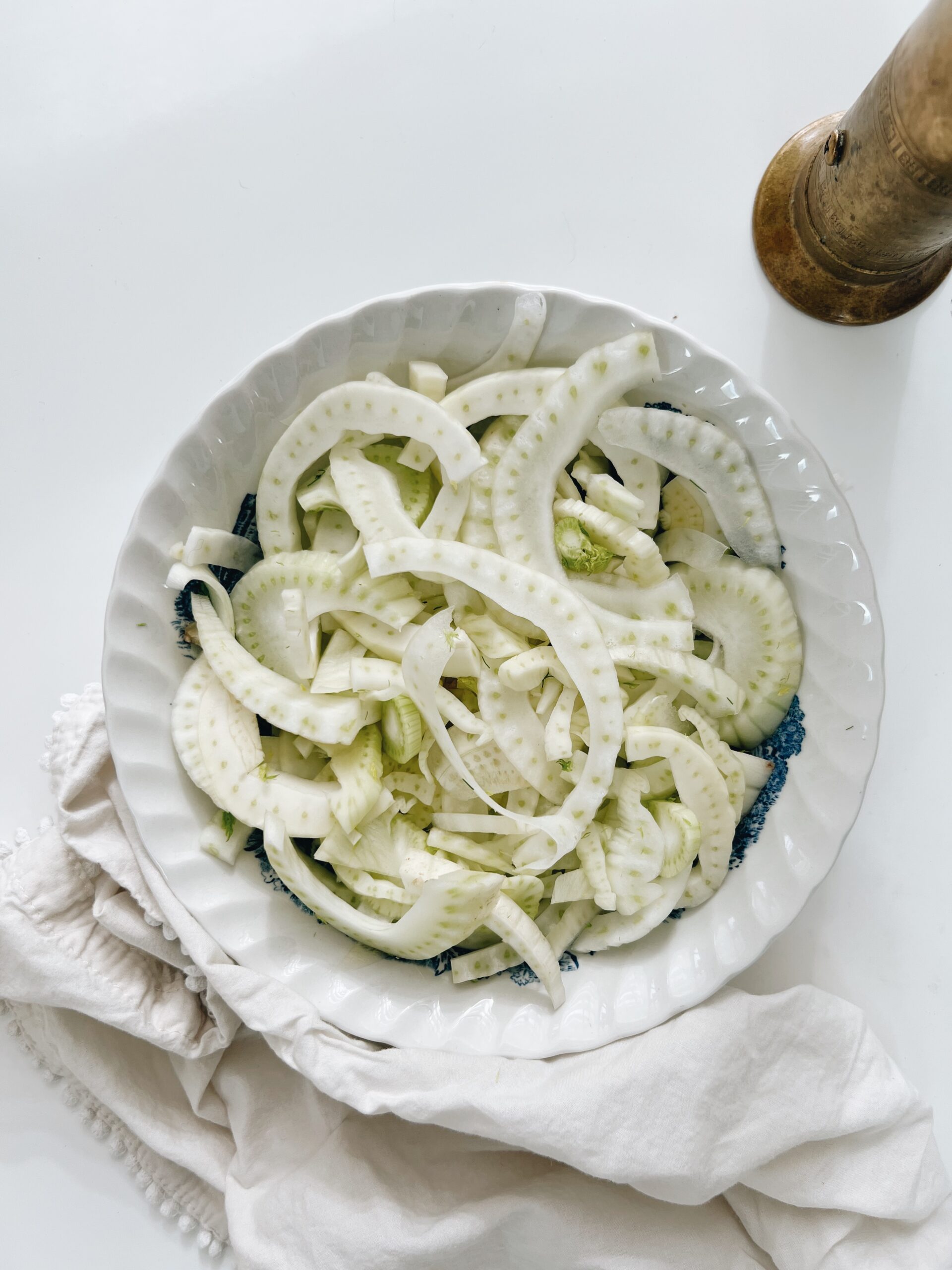 Okay what I SHOULD have done (my brain is still recovering from the holidays) is use a mandolin on this fennel. That would have been sublime – those thin shavings! But I thinly sliced it with a knife, which isn't quite the same. So my advice, use a mandolin! You want paper thin shavings.
Which this is clearly not. But I'm still a good person.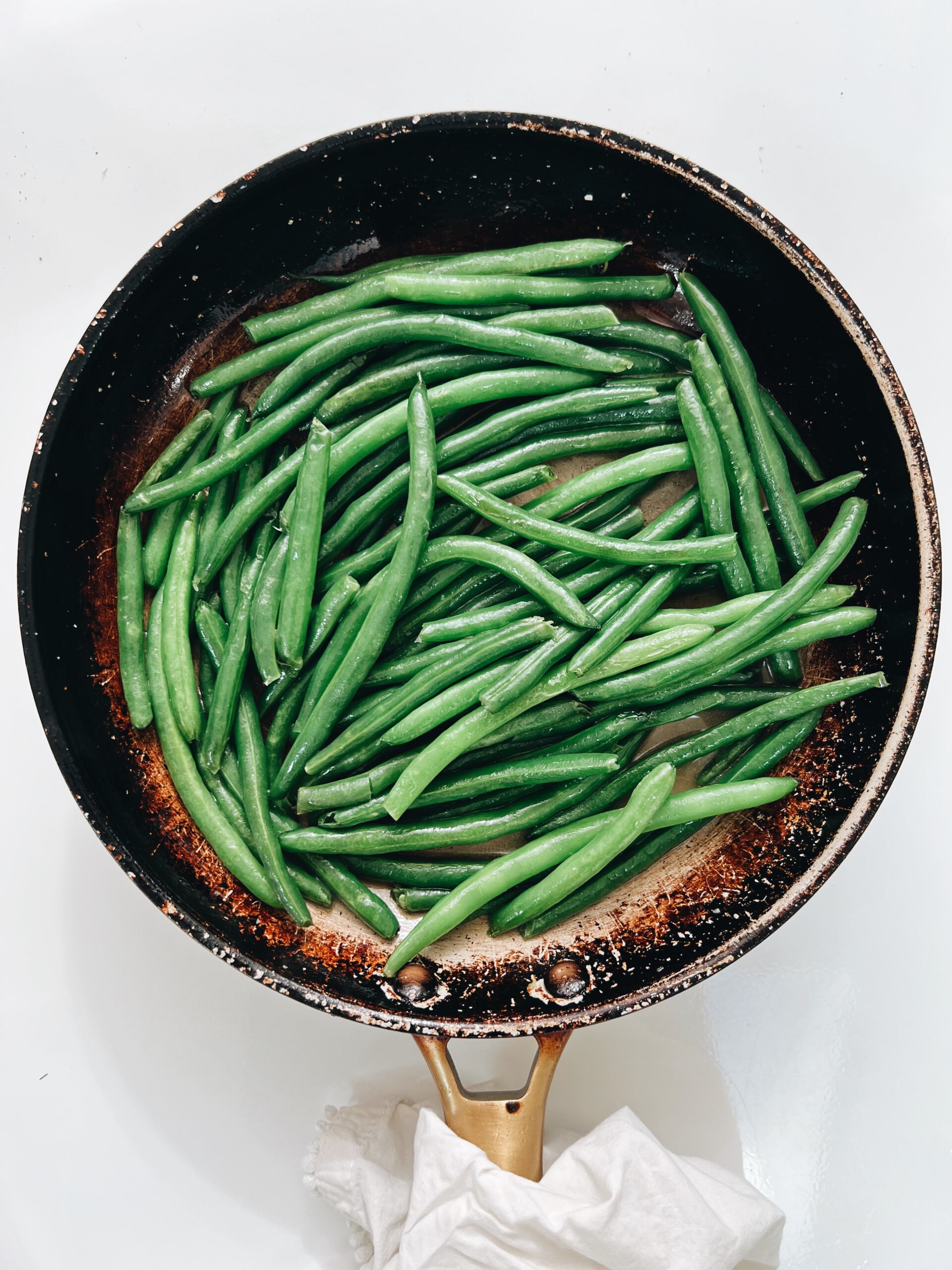 In a pan we'll just heat a drizzle of oil and add our beans. Maybe thirty seconds in you'll sprinkle a little salt over them, along with a splash of water. It'll bubble up, make some noice, you'll jump, it's all good.
Once the beans are crisp tender and bright green (like 2-3 minutes, if that), tong (not thong) them into a big bowl to cool for a second, while you make your lemony garlic dressing. Which is simply extra virgin olive oil, minced garlic, lemon zest, juice, salt and pepper. You'll see it in the reel!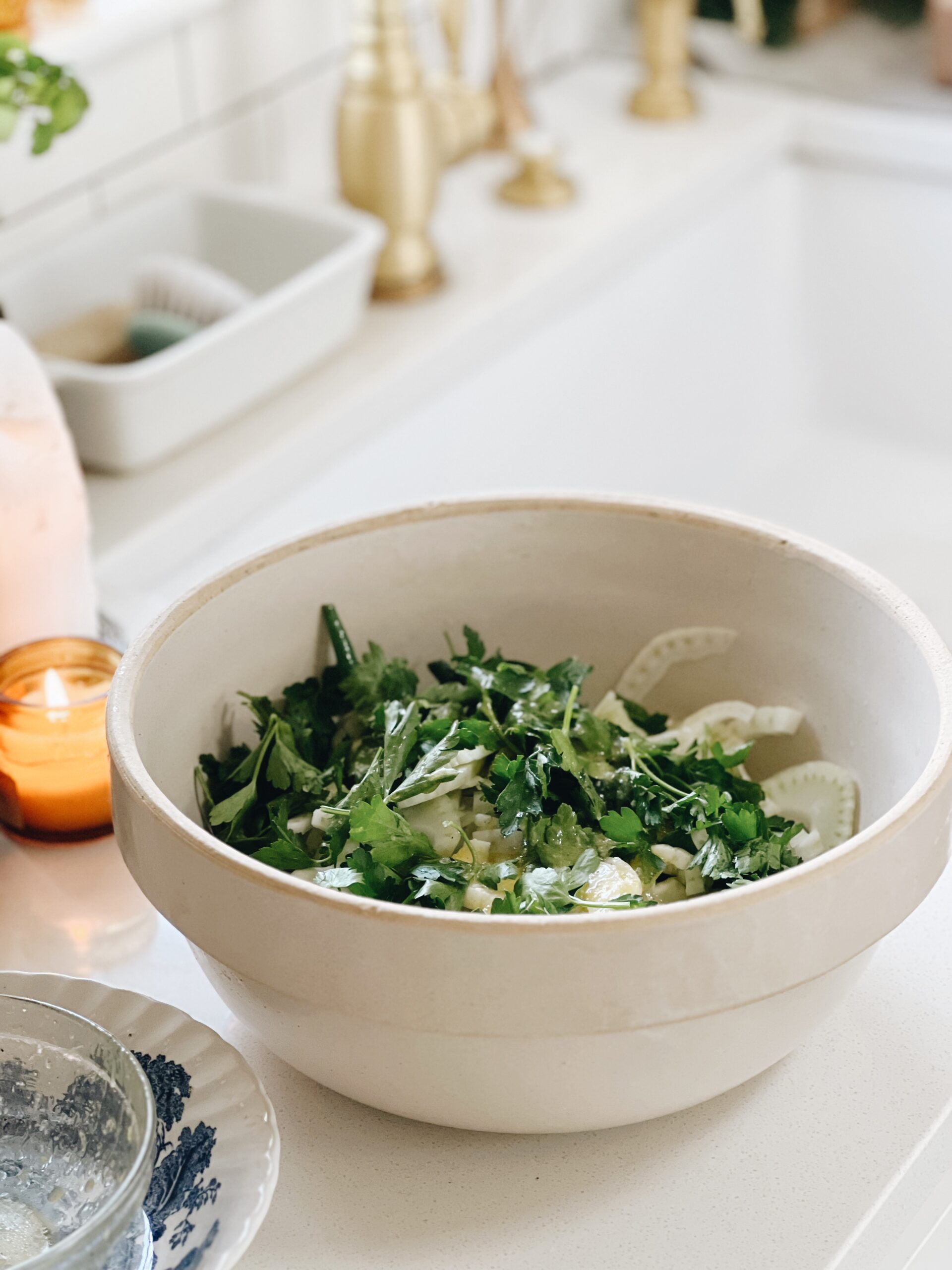 Then we just add everything to that green bean bowl. The dressing, the fennel, the washed parsley leaves (discard the stems!), a few reserved frilly fronds and a slice of your soul.
You'll use salad forks (I feel like that's the wrong word. Salad tongs? Salad spoons? Salad tossies?) and just toss it all together until the dressing coats all the things. Every last nook and cranny. Get her tossed.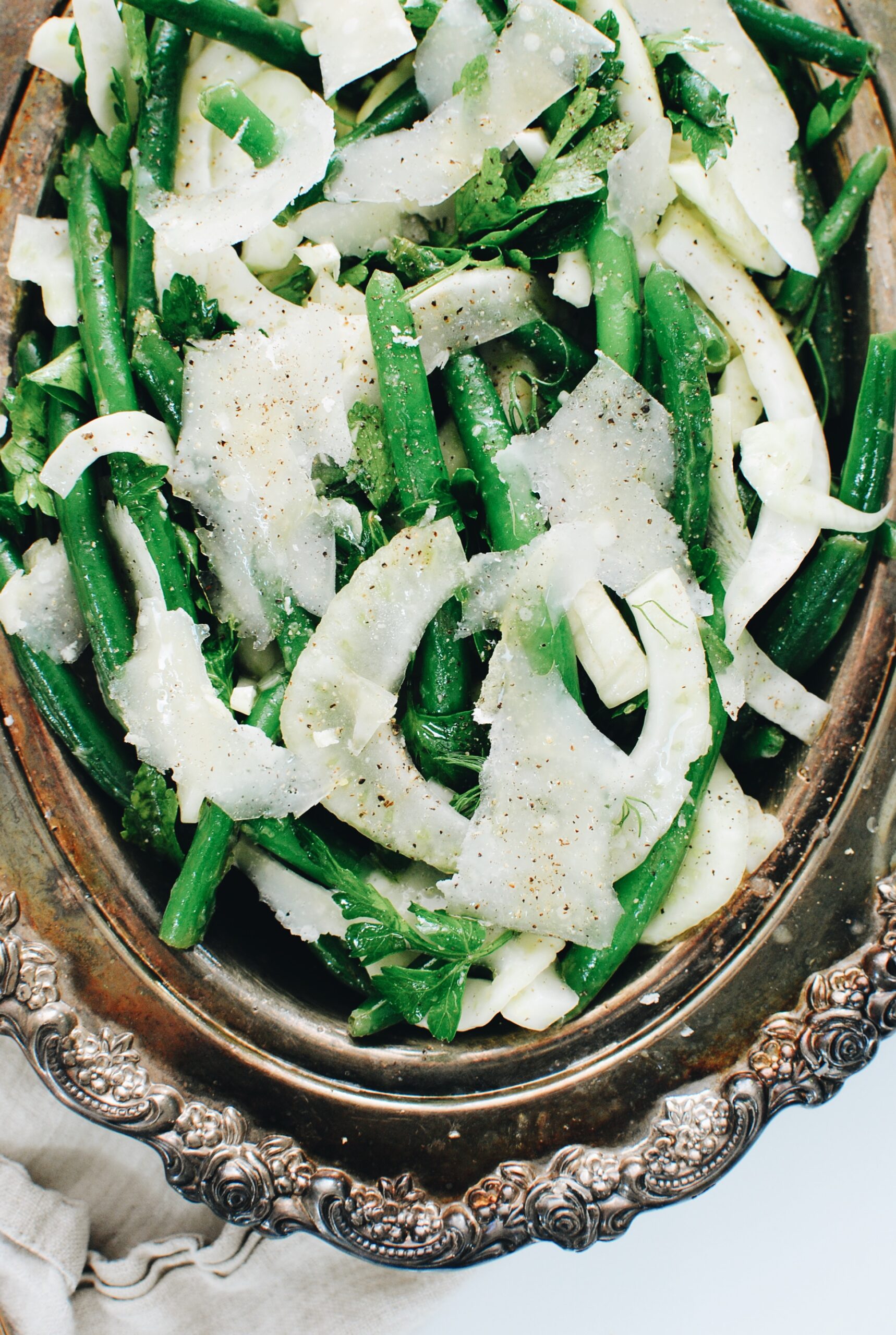 Top with parmesan shavings and LOOK at that pretty thing. It's a stunner! I know this will excite health enthusiasts, but truly everyone should be pretty jazzed about now.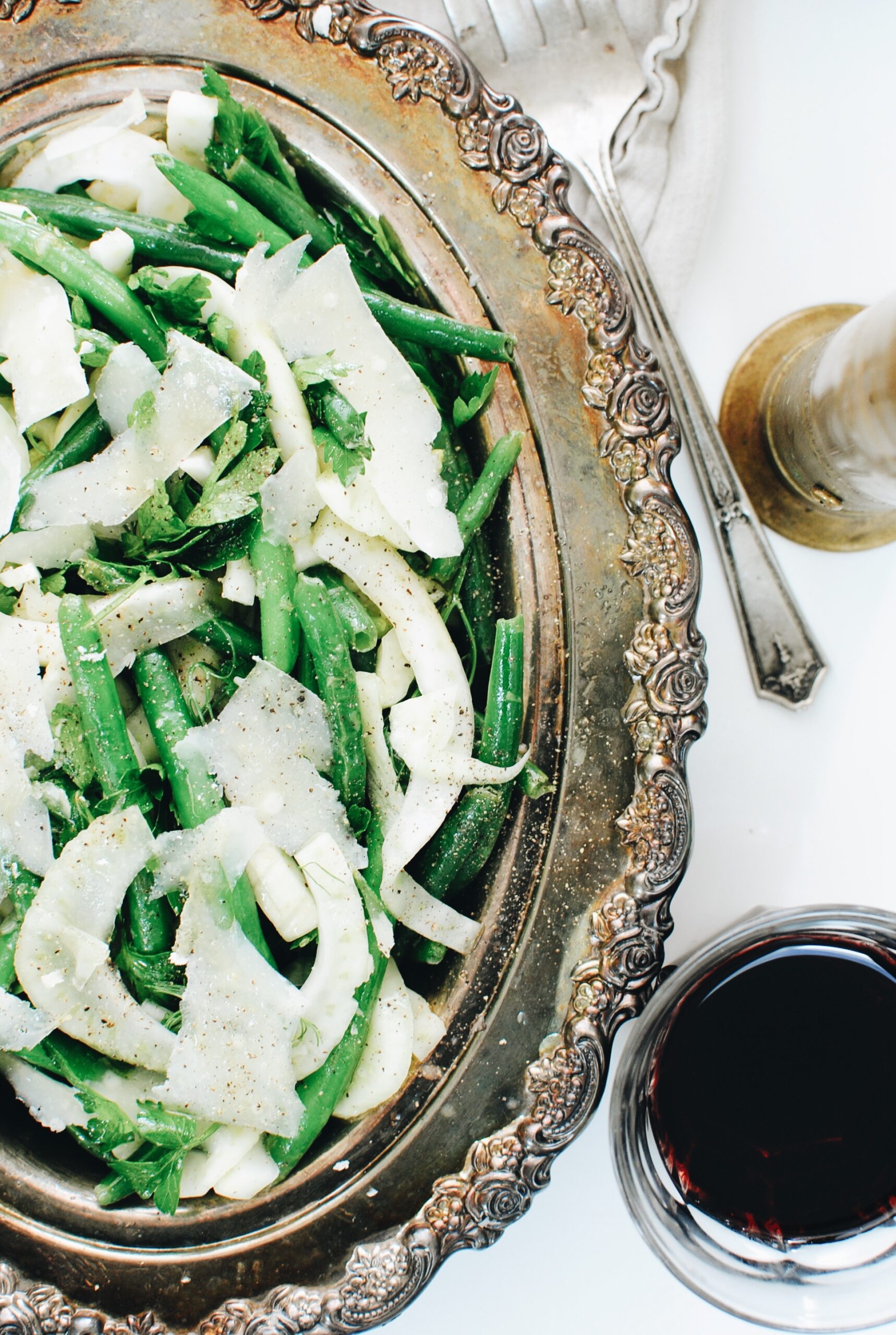 Get out your black pepper grinder and give the top a little dusting, for extra attractiveness and flavor.
Also did you know parsley is super medicinal? I can't remember exactly what it does, but we put quite a bit in there. You saw that right? That was a lot of parsley. Look at us. Just look at us.
The fennel has divine flavor mixed in with the crisp tender green beans. The dressing wakes it all up, and the parmesan adds that unbeatable nuttiness that every salad just needs.
Try this! It took about twenty minutes to pull together, and makes a fantastic side salad to a roast chicken. Or even steak! Cool and crunchy, filled with flavor, and gorgeous to look at. I dare you to add this to next week's menu.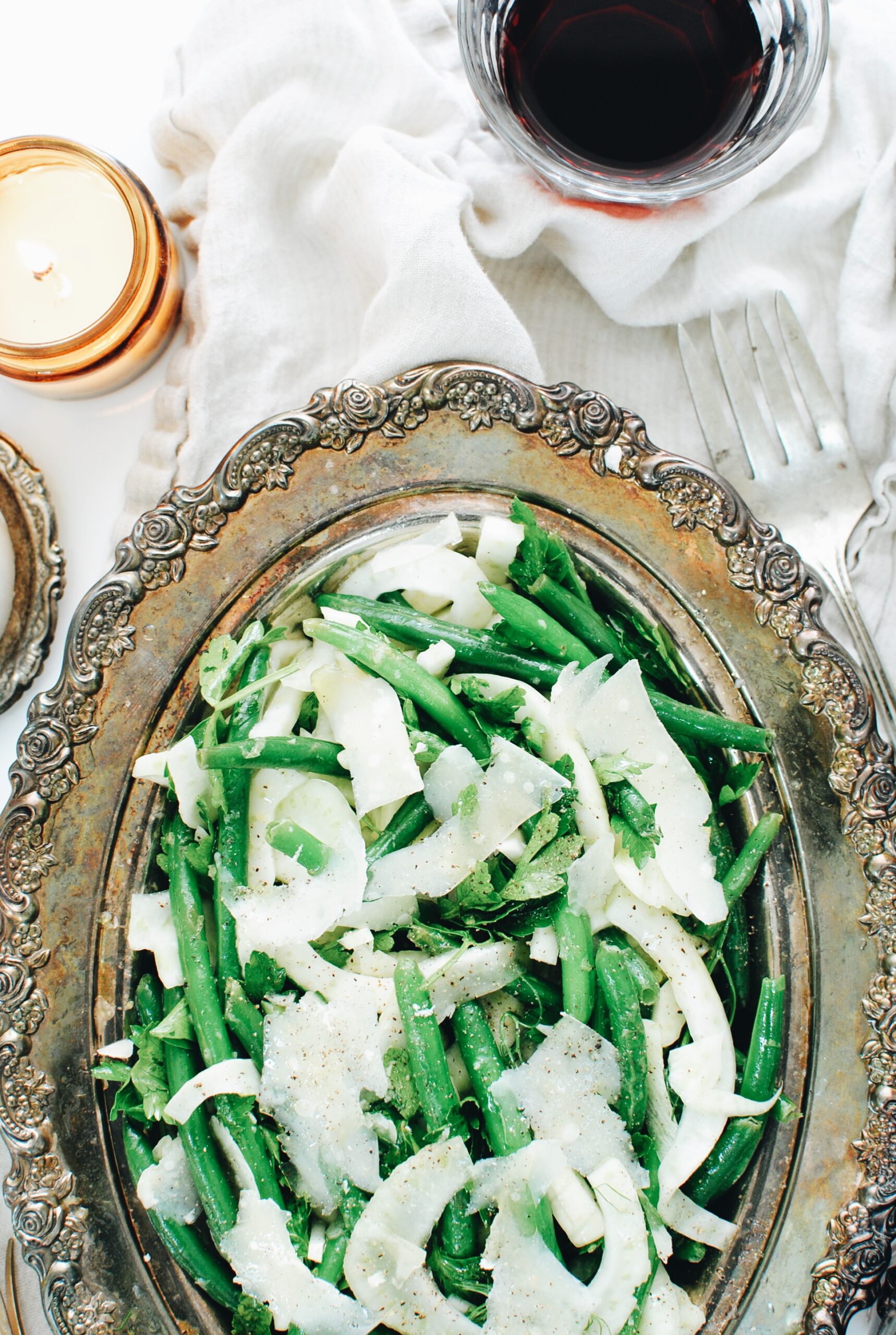 Get on in that!
Green Bean and Fennel Salad with Parsley
Ingredients
12 oz green beans
1 medium fennel bulb
1 cup parsley
1 clove garlic, grated or minced
1 lemon
4 Tbs. Extra-virgin olive oil
Coarse salt
Freshly ground pepper
Parmesan shavings, for garnish
Instructions
Slice the root off the fennel bulb, along with the wispy stems. (Rinse and save 1/2 cup fronds for garnish!) Slice the fennel down the center, revealing the root. Cut the core out, creating a little triangle in the fennel bulb, then thinly slice the bulb. Use a mandolin if you have one! Get the slices as paper thin as possible. Place in a bowl until ready.
Heat a medium skillet over medium high. Add a small drizzle of oil, along the with green beans. Season with a pinch of salt and sauté the beans about a minute. Add a splash of water and let them sizzle and steam in the skillet another minute. Once bright green and crisp tender, tong the green beans out and transfer to a large bowl.
In the meantime, make your dressing. In a small bowl, whisk together 4 Tbs. extra virgin olive oil, the grated garlic, zest of the lemon, juice from half the lemon (save the other half!), and a good pinch of salt and pepper. Whisk until emulsified, just about thirty seconds. Taste it. Need more lemon? She good? Good.
Add the fennel, parsley, and the reserved frilly fronds to the big bowl and drizzle the dressing all over. Toss toss toss really well until everything is coated. Beautiful. Transfer to a serving dish (or not! Keep it simple.) and serve with anything you want. Roast chicken, steak, anything.
Garnish with parmesan shavings and a few cracks of black pepper. Save the lemon half for extra squeezing if you feel like. Divine!
Serves 4.
7.8.1.2
619
https://bevcooks.com/2023/01/green-bean-and-fennel-salad-with-parsley/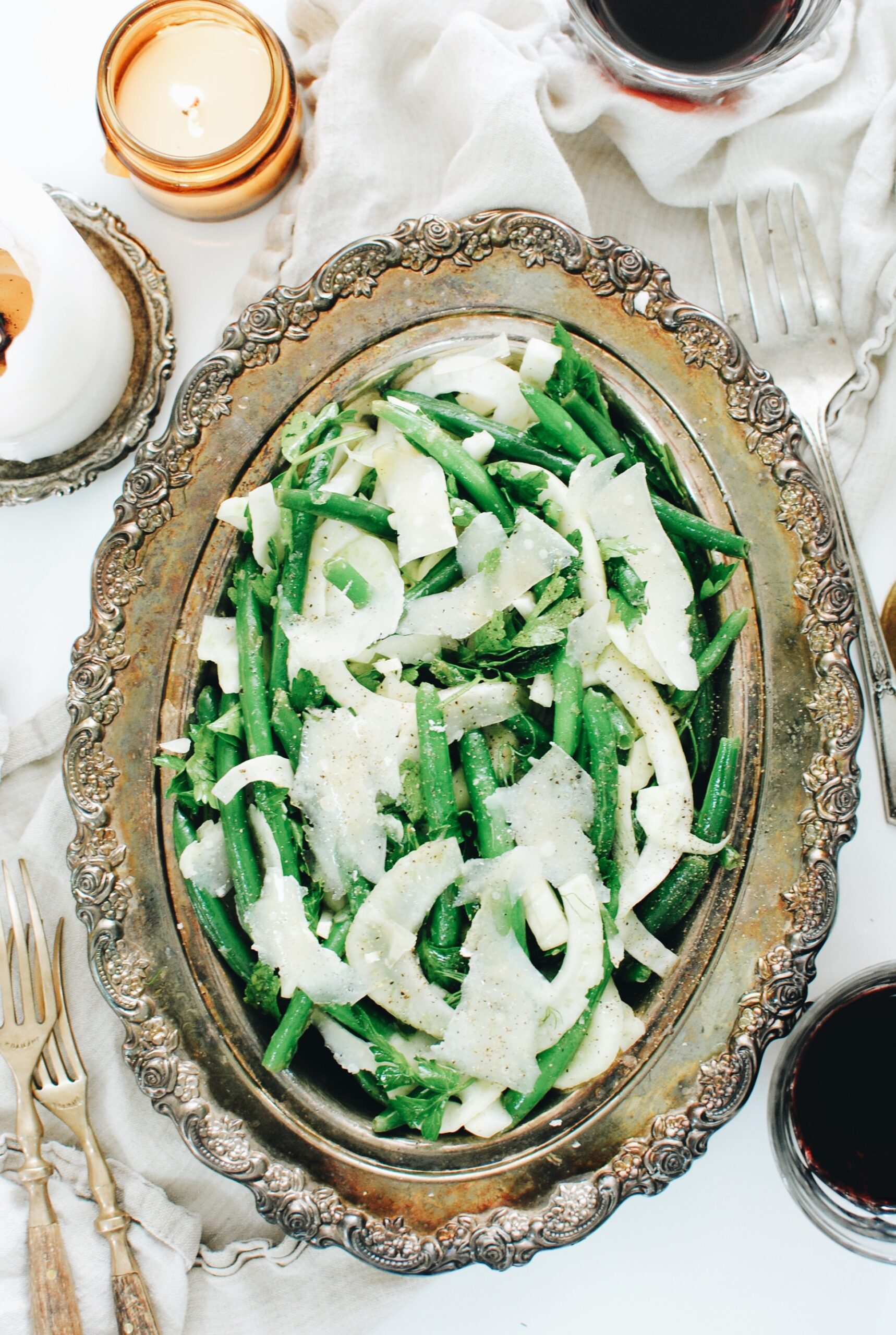 Extra parmesan wouldn't hurt either.