Let's call this a salad in a trench coat.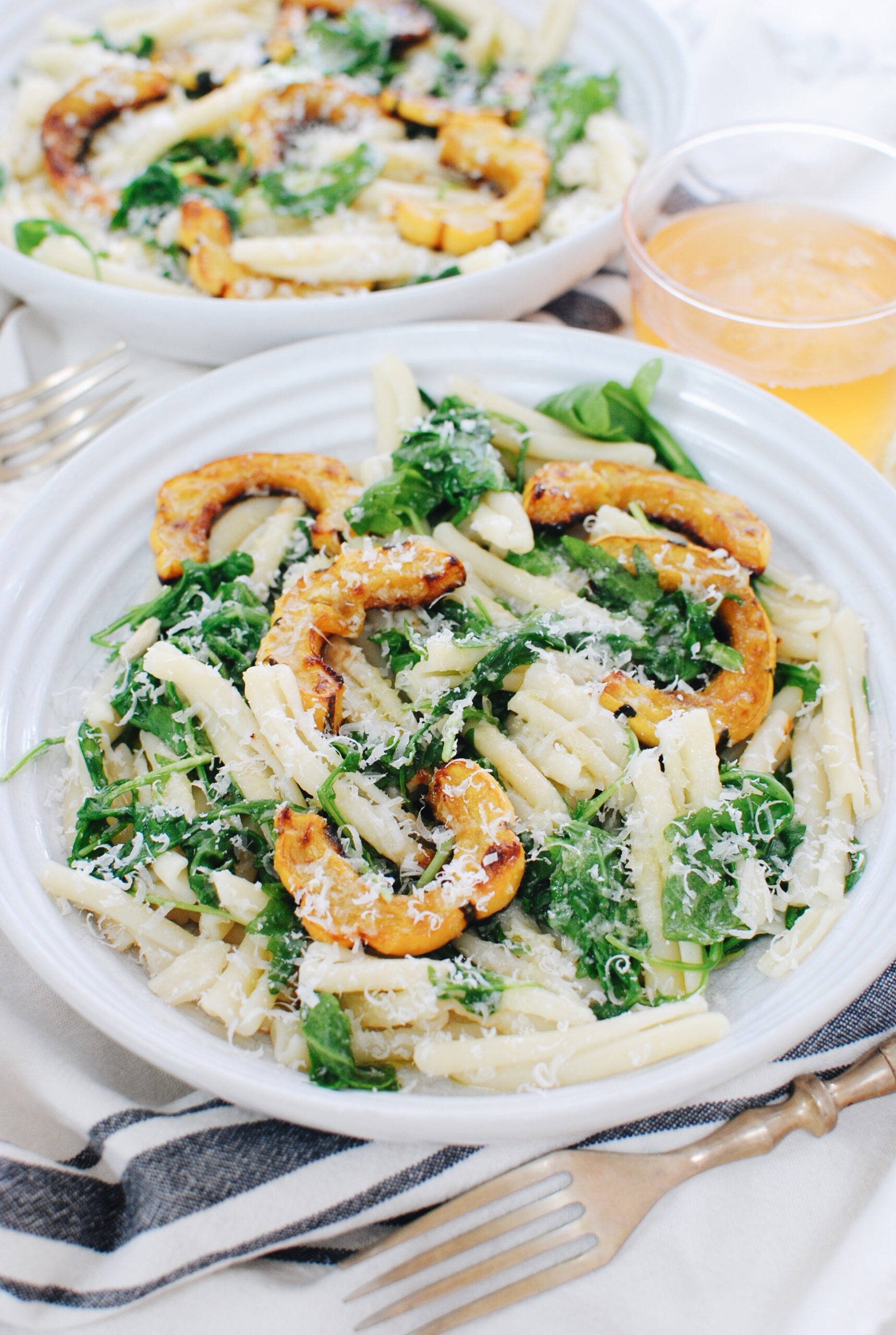 Or pasta. Either way. But it's roasted garlicky delicata squash with loads of peppery arugula and the brilliant zing of lemon. So right, basically a salad.
In a trench coat.
See how we do this?
Let us peepeth.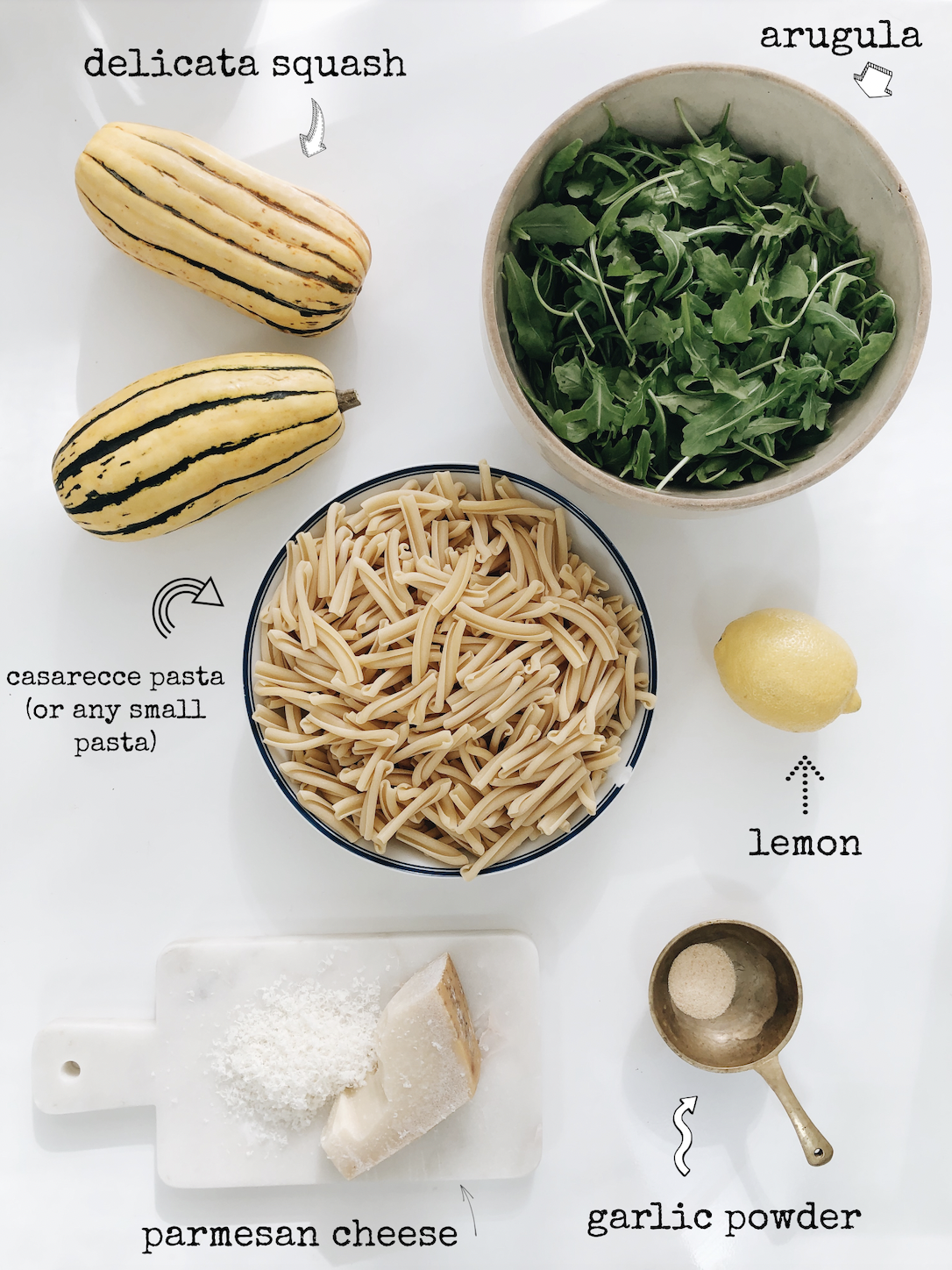 Six ingredients! I do feel an exclamation point is all but necessary.
And listen, if you'd like add a little more to this, like crushed red pepper, onion powder, or any other vegetable, fly. But I've received a slew of "omg give me the most simple recipes in winter or else I'll rip my own head off!" comments, so here we go.
Also, this is the pasta I used, but grab something small or spirally and away you go.
To prep the delicatas, all you'll do is slice them down the center lengthwise, then scoopy scoop the seeds out. THAT'S where the little half ring shapes come into place. Which I'm sure you know already because you're a human being on planet Earth.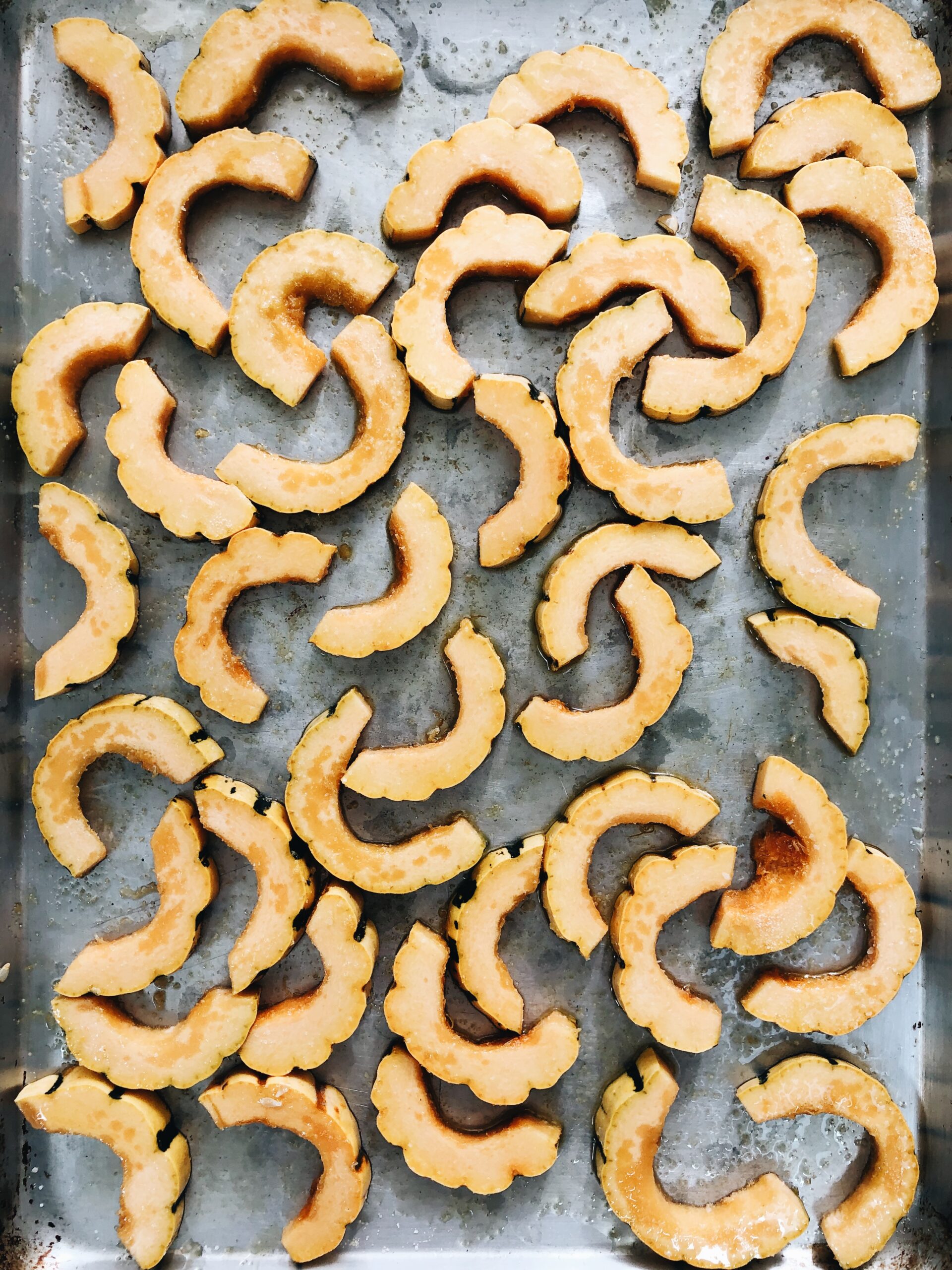 They are attractive little boogers, aren't they?
Let's sprinkle with garlic powder and coarse salt, plus a drizzle of extra virgin olive oil. Roast them for just a little bit. Go ten minutes, flip and go another 10-15. They don't need too long, surprisingly!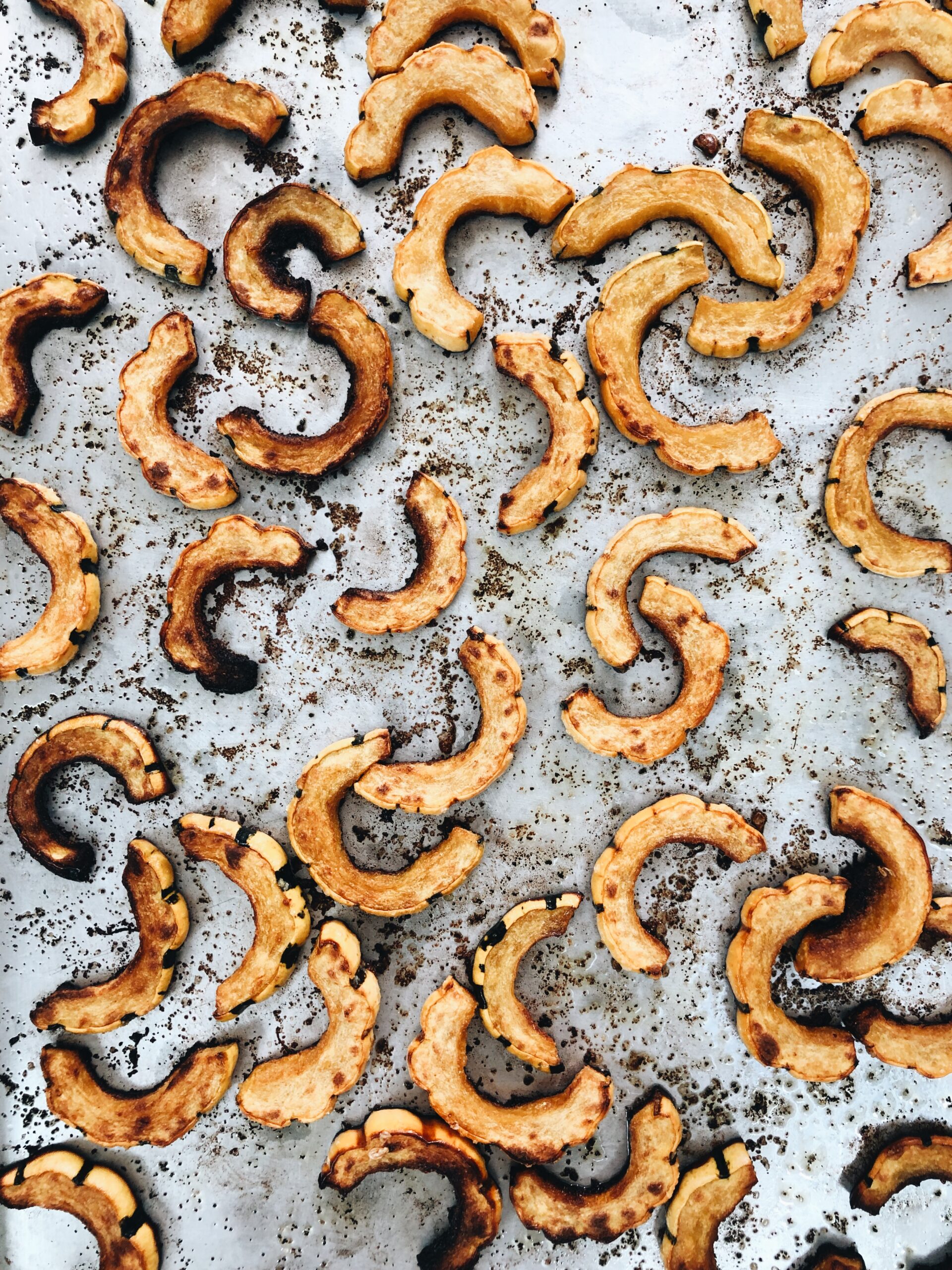 Yeah I went a little too long OKAY?
I'm still a good person.
And they still looked good.
And tasted phenom.
We're okay.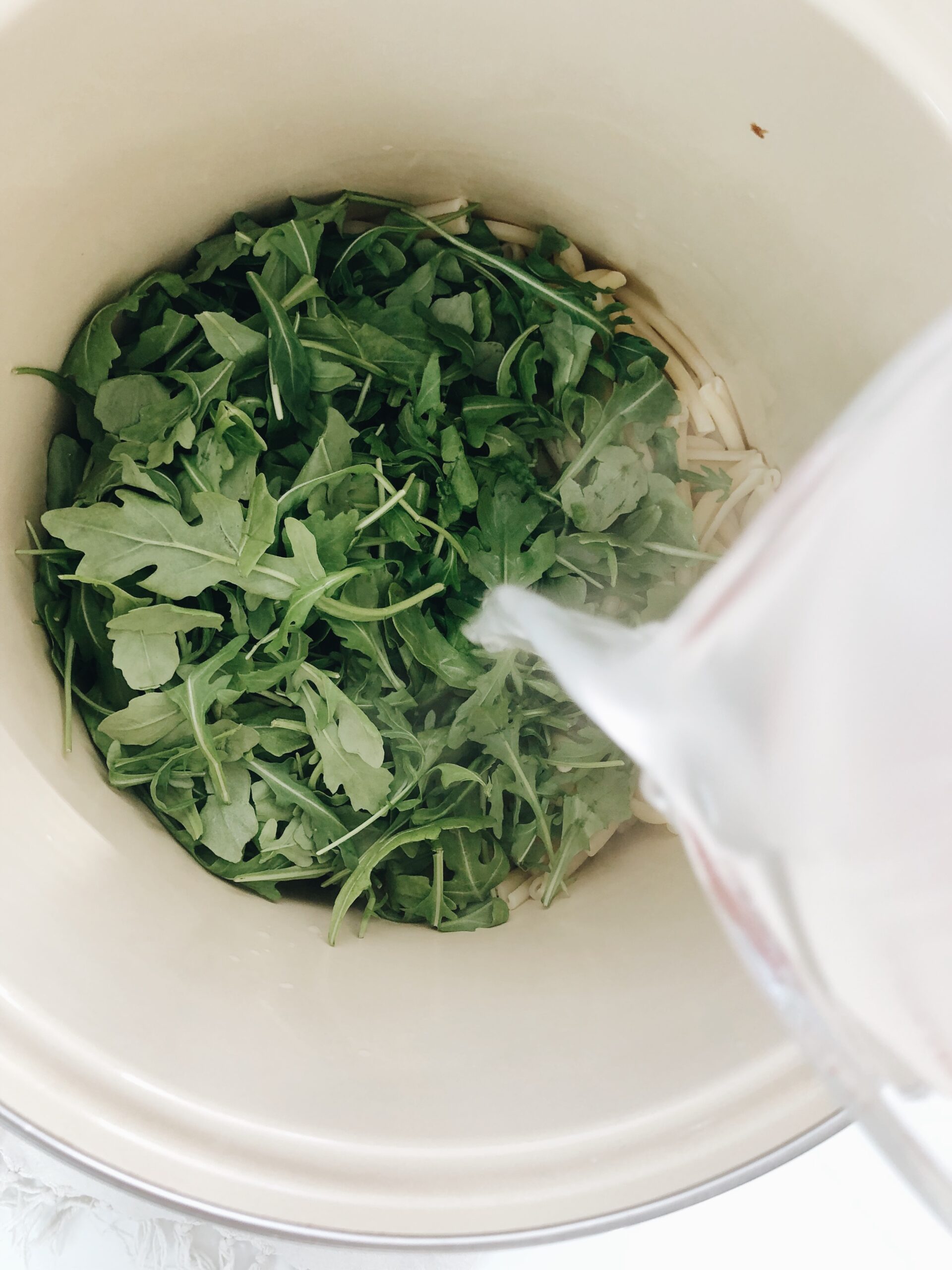 Next up, the pasta! I mean salad.
SAVE YOUR PASTA WATER. I'll say it again: SAVE.YOUR.PASTA.WATER.
After you've boiled your pasta, scoop or ladle out about two cups of that magical liquid. And I do mean two full cups. It will be there if you need it, and you will need it.
The arugula gets violently dumped on top of the cooked pasta, and the starchy pasta water goes right on top. A) this helps wilt the arugula, and B) the pasta will drink it up and turn it into a little sauce. That plus the lemon juice! Don't forget that. Squeeze half the lemon down over the pasta and save the other half for wedge serving.
Wedge serving?
Wedge serving.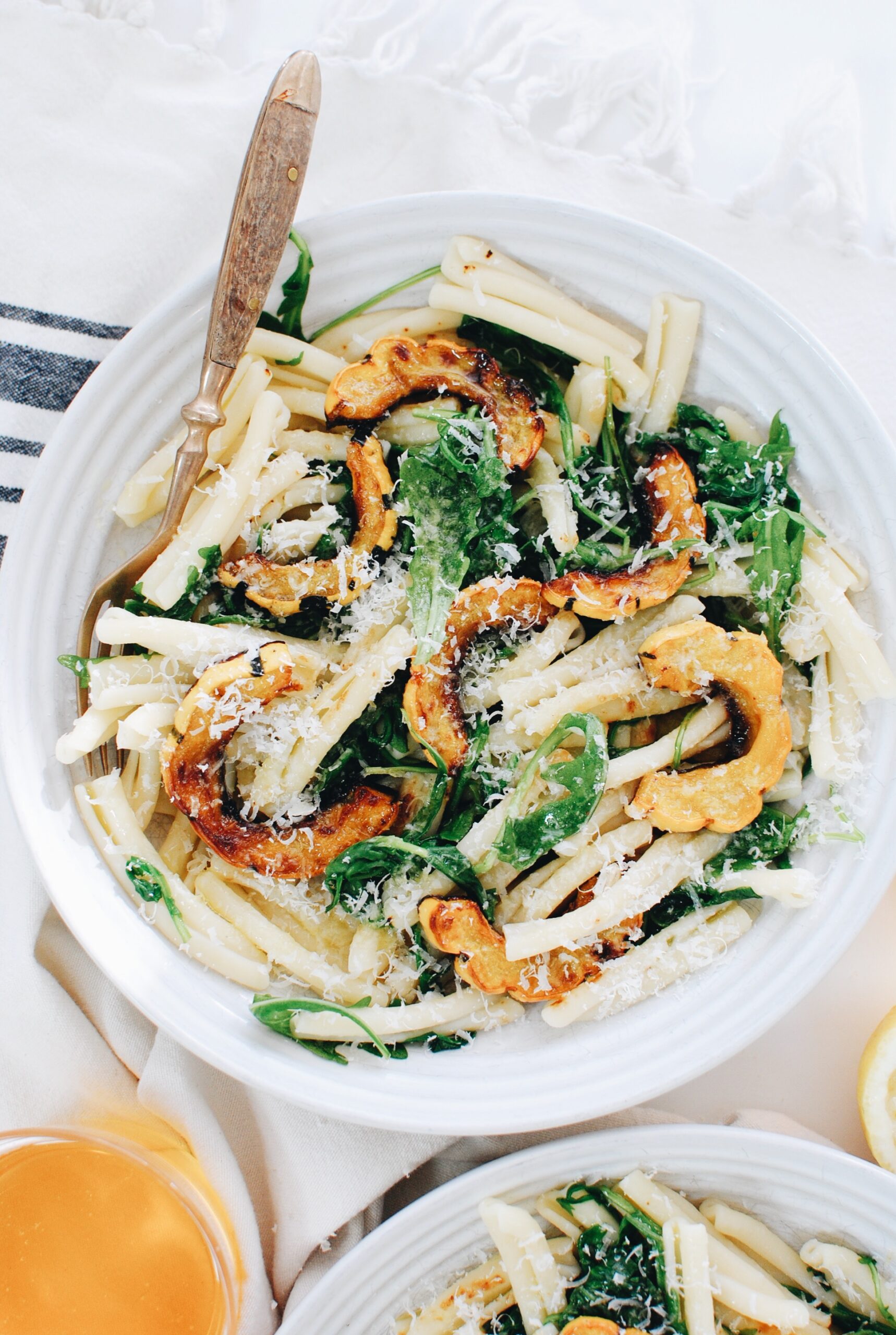 And that is how it comes together, mah dears. A barely-there lemon sauce, beautifully bitter arugula, the savory tenderness of the roasted squash, a dusting of good parmesan. It is all of winter in one toothy, delicious bite.
And vegetarian, would ya look at that!
Have some cracked black pepper and coarse finishing salt at the ready, and it's just spectacular.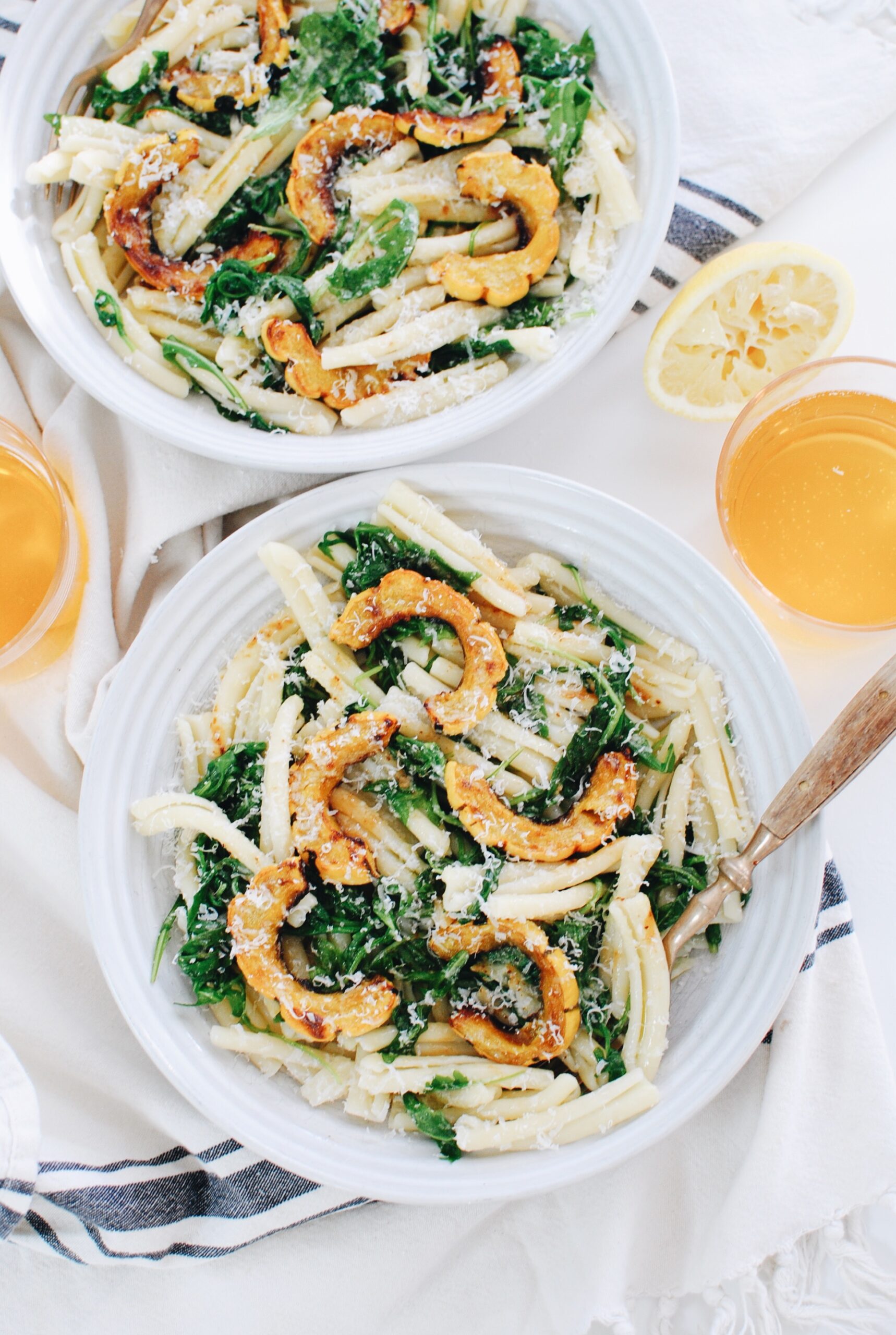 See? Totally a salad. (don't quote me on that.)
Pasta with Roasted Delicata Squash and Arugula
Ingredients
2 delicata squash
1 tsp garlic powder
2-3 Tbs. extra virgin olive oil
1 pound casarecce pasta (or any small pasta)
3 ounces arugula
1 lemon
Parmesan cheese, for garnish
Coarse salt and freshly cracked pepper
Instructions
Preheat your oven to 400.
Slice the squash down the center lengthwise, then scoop out the seeds. Cut the squash into half rings and place on a rimmed baking sheet. Season with the garlic powder and a pinch of salt. Drizzle the oil over the squash and toss with your fingers, to coat. Roast for ten minutes, flip the squash and roast another 10-15 minutes, until soft and browning in places. If you need a couple more minutes, keep going until it's perfect!
In the meantime, bring a large pot of salted water to a boil. Add the pasta and cook until al dente, according to package directions. Save about two cups of the pasta water and drain the rest. To the pot, add the pasta back, the arugula, half the lemon juice and the pasta water. Stir it all so the arugula wilts.
Divide the pasta and arugula among shallow bowls and top with roasted squash, a good dusting of parmesan cheese, a drizzle of your best oil, a crack of black pepper and a little coarse salt to finish. Serve with extra lemon wedges! Simple and perfect.
Serves four to six.
7.8.1.2
548
https://bevcooks.com/2022/01/pasta-with-roasted-delicata-squash-and-arugula/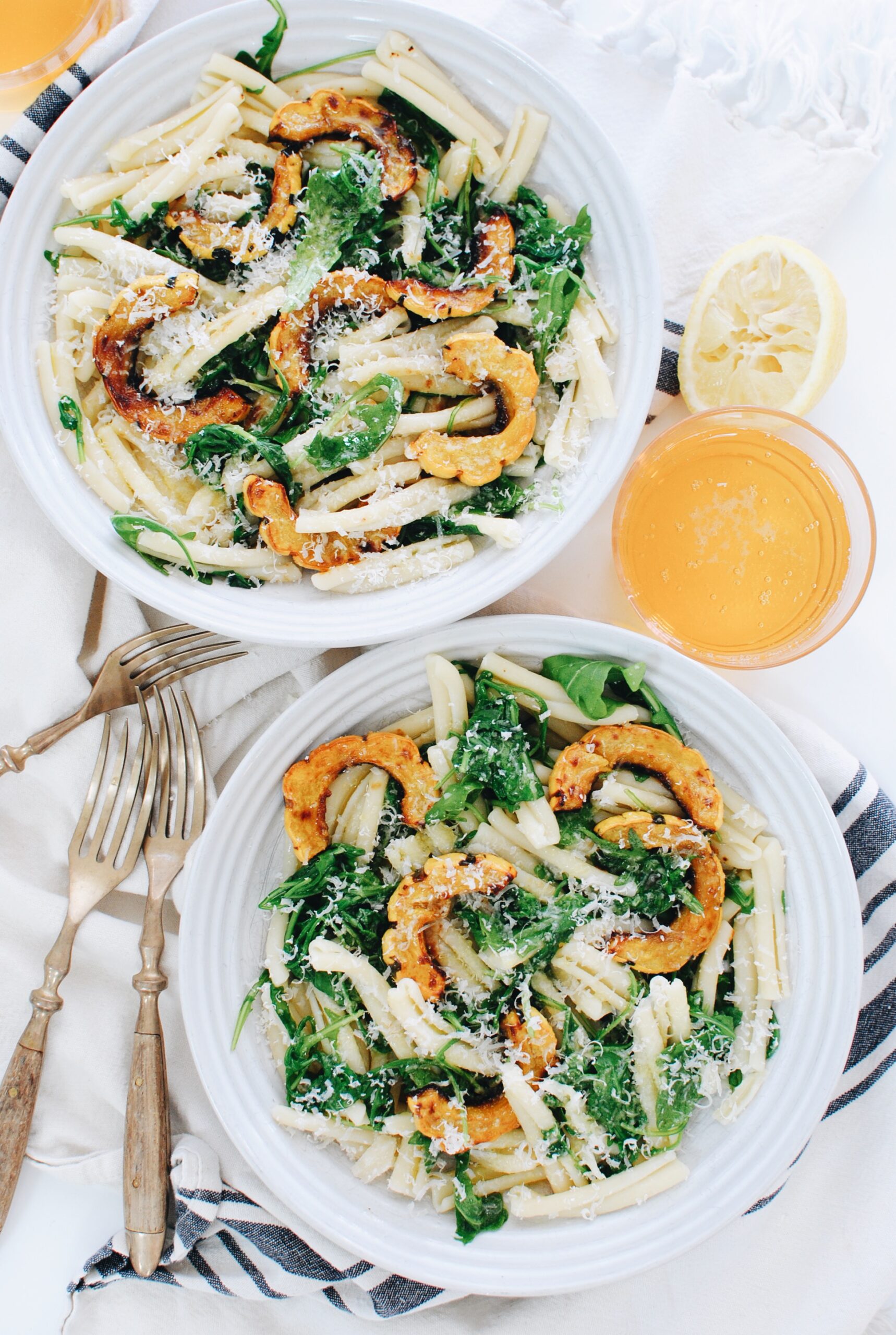 This is my idea of nesting.