As in, QUICK quick. The quickest. Blink your eyes and boomsy. Done.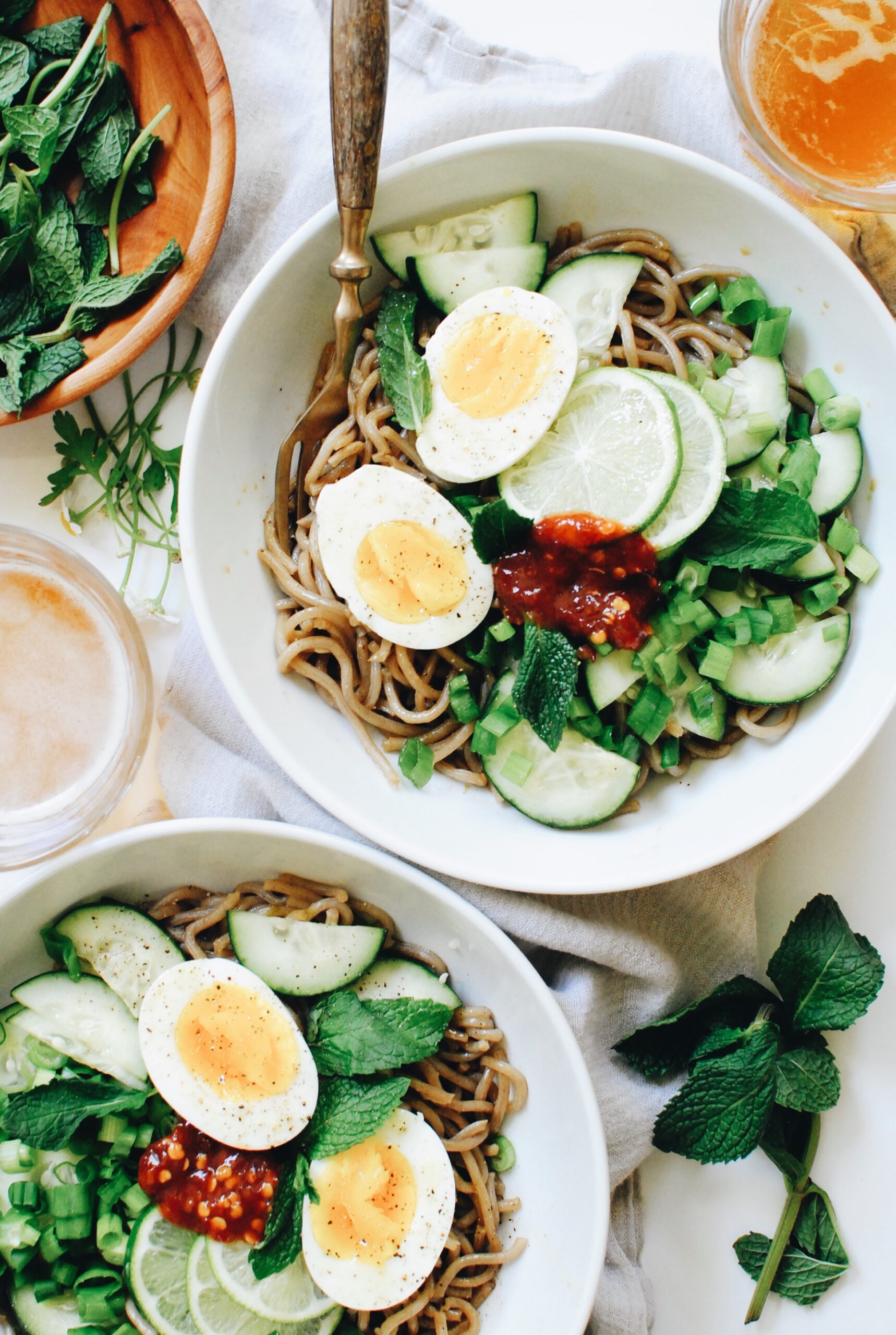 Well I mean, it takes as long as it takes to jammy boil an egg. Which for me is like, a five minute egg. Plus the time it takes for the water to simmer. So ten? Ten-ish? Around nine? Something like eleven or twelve?
And see, while you're simmering your eggs, you can slice the scallions and cucumbers. And make your lil' sauce. And boil your soba! So many fifteen. Fifteen-ish.
In other words, so quick.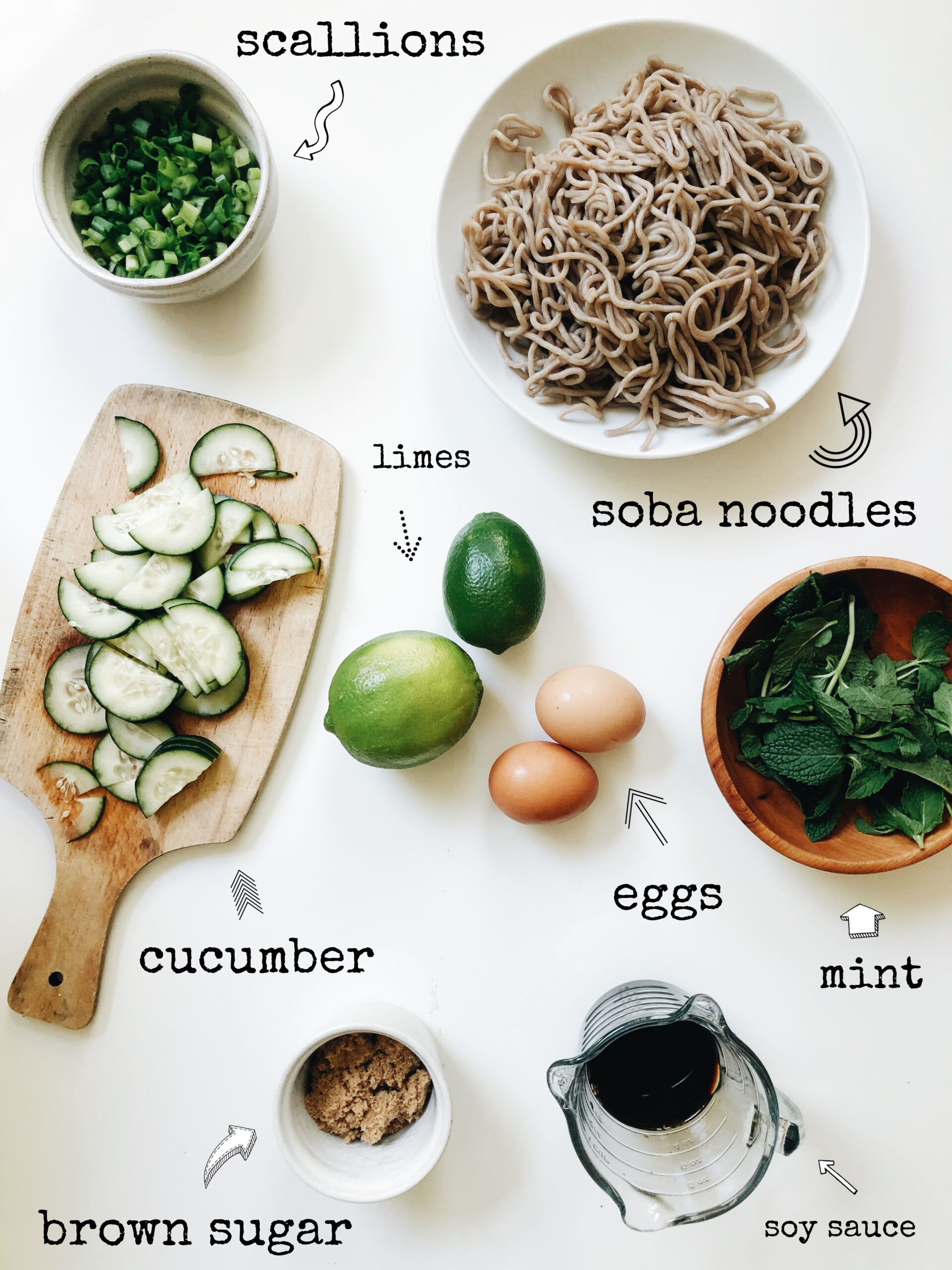 The soba noodles – let's discuss this. I normally buy dried soba noodles, that come in a package like regular pasta. But they were out. What I DID find though was already-cooked soba noodles that just needed a quick skillet nuke. (We're starting a band called Skillet Nuke.)
So what I DID was whisk together the soy sauce, brown sugar and lime juice in a little bowl. Then added the tiniest drizzle of sesame oil (regular oil works if you don't have sesame) to a hot pan and loosened the noodles in the pan. Then off the heat I added the soy dressing and tossed it. Let it come to room temp and that's it.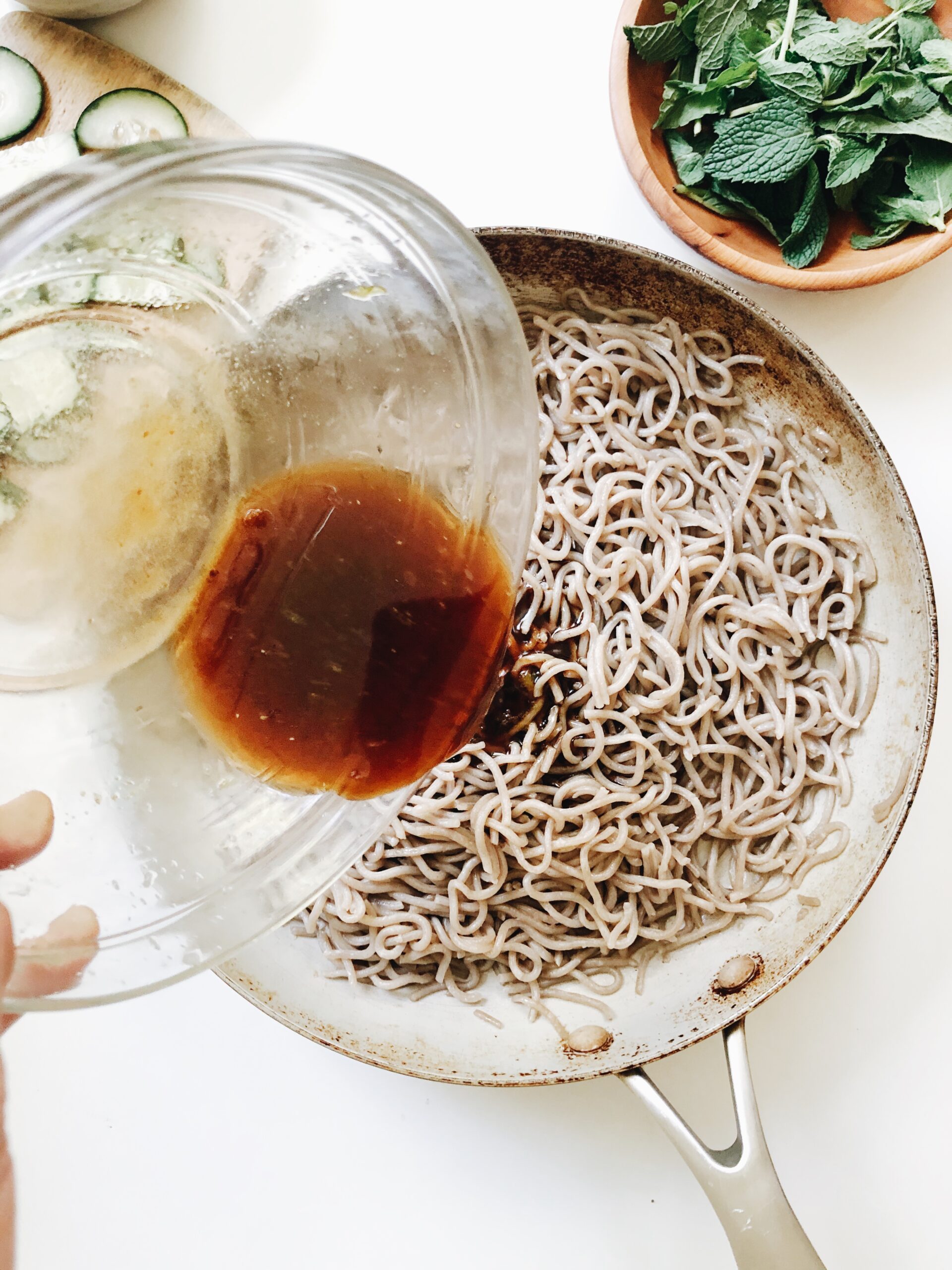 See, just like this. But if you have the kind of noodles that you need to boil, that's totally normal life AND YOU KNOW WHAT – I honestly feel like the texture of the noodles is better than this already-cooked business. The soba tended to break a little easier during the loosening. Which is an uncomfortable way of phrasing all that.
Bottom noodle, whatever you have is great. Soften your noodles in any way you know how. Then add the soy dressing. I'm making this much harder than it needs to be.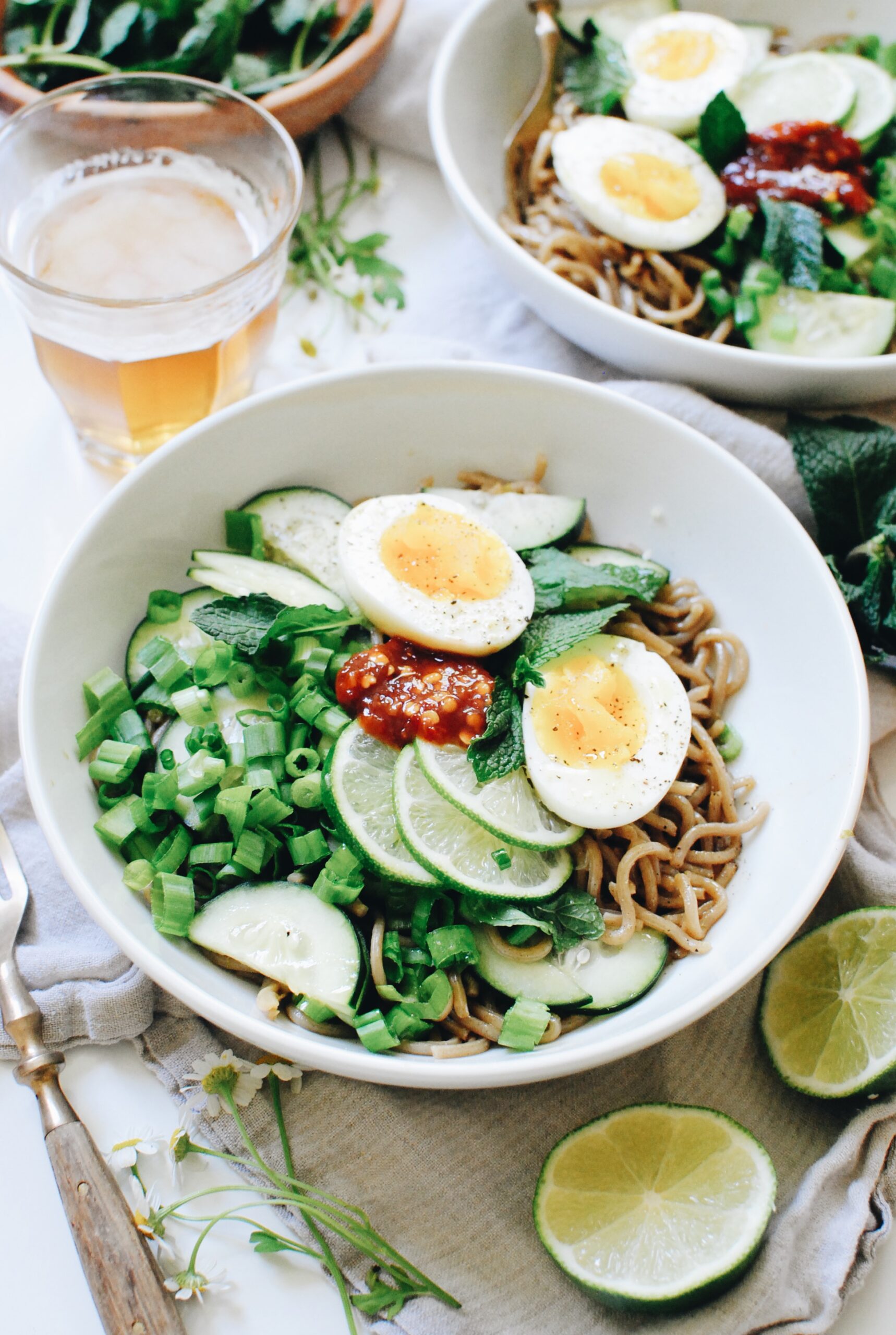 What makes this soba noodle salad so fantastic is that it can be served warm, room temp, or even right out of the fridge. Your warm, jammy eggs on top with a little crushed black pepper will round it all out with a touch of protein. And the freshness of that mint and scallions, please.
I should also mention that the crunch of the cucumber is to die for in this. It's that satisfying marriage of cool crunch and vibrant herbs meets the nutty, savory, slick soba noodles underneath. It's nothing more than perfect.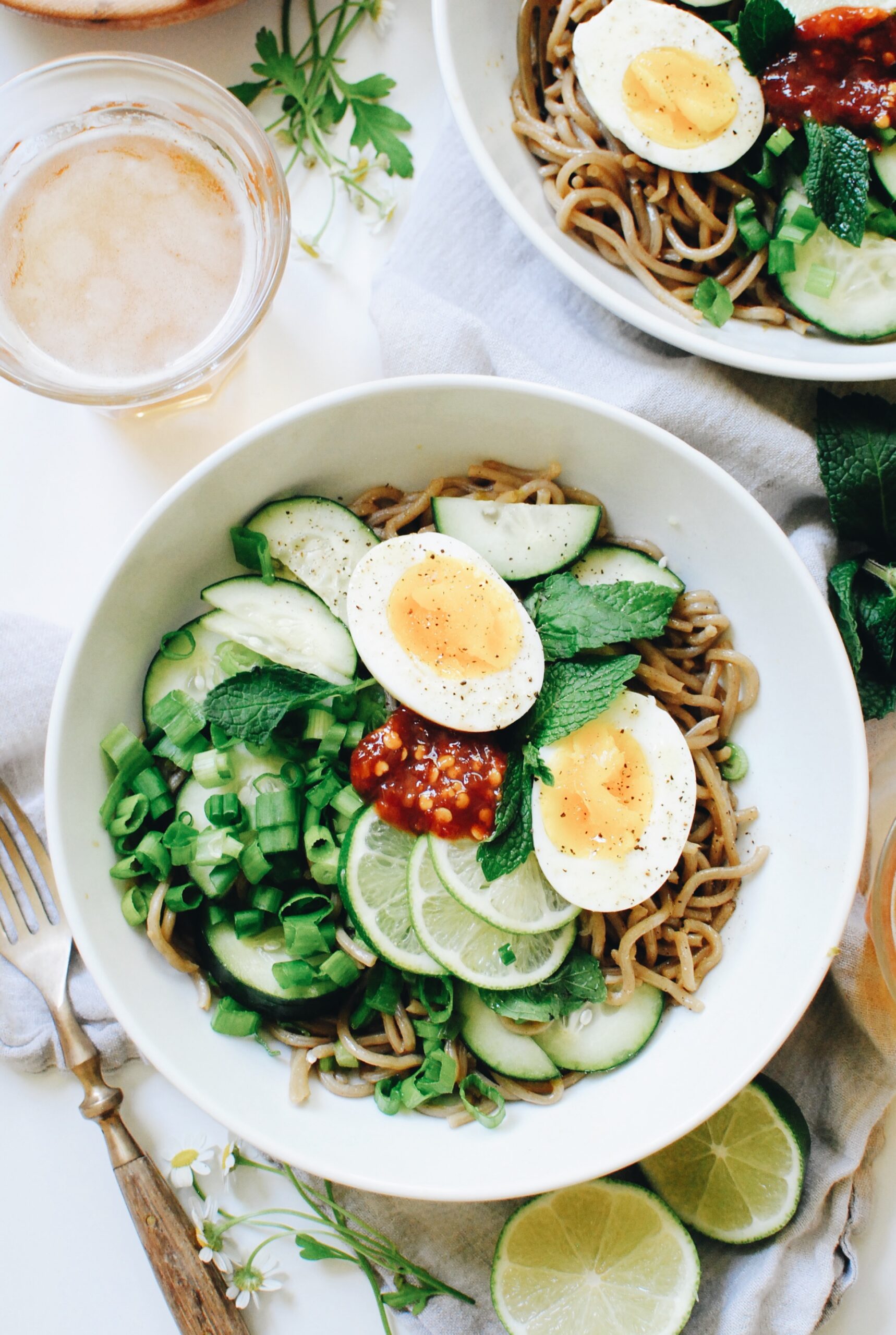 And that bright red blob of seedy spice? Sambal Oelek. Which so many of you know is the secret key to life. But anytime I mention it in a post I do get a hefty amount of side glances all, "do what now?" So yes, seek it out. It's this. And then add a little dollop on top for that bright spice that punches you in the face right when you need it most.
I try to keep soba noodles on hand for those nights when I have zero clue what to do for dinner. Because if you have a bell pepper in the fridge with no purpose, and some frozen shrimp in the freezer, you're set. Add in different herbs or keep it simple with a classic pairing of mint and scallions like I did. No regrets.
AND THOSE JAMMY EGGS, BRUH.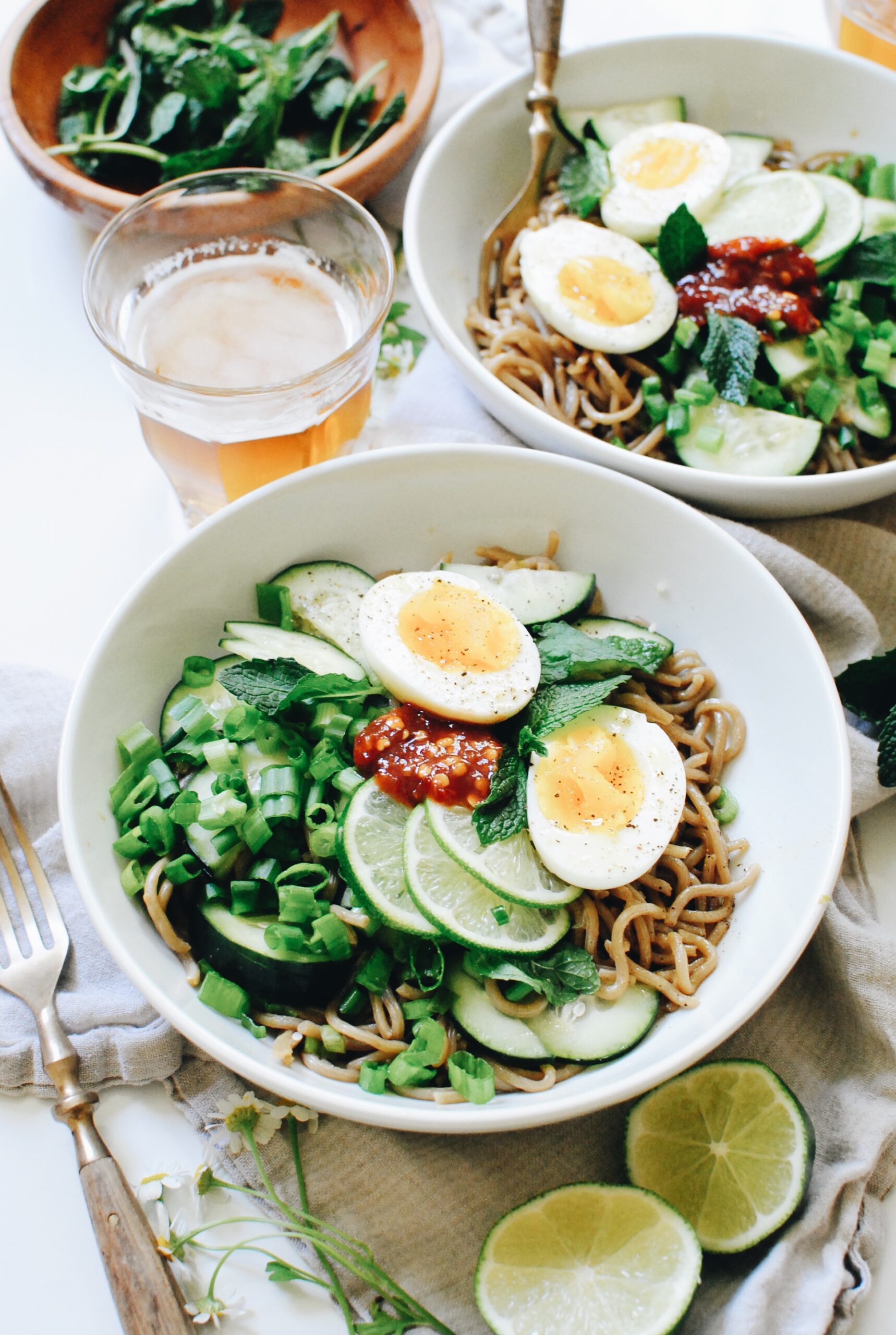 It's a party for your mouth.
Ingredients
1 (14.2 oz) package soba noodles (get more if you're feeding more than two people)
1/2 large cucumber, thinly sliced
1 cup fresh mint leaves
3 scallions, thinly sliced
1-2 limes
1/4 cup soy sauce
2 Tbs. brown sugar
2 eggs, soft boiled (about five minutes) and peeled
Freshly ground pepper
Sambal oelek, for garnish
Instructions
While your eggs simmer, cook your noodles in a pot of boiling water (or use the egg water once they're finished cooking!) until al dente, just a few minutes. Alternatively, if you have the noodles that are already cooked, loosen them in a hot skillet with a tsp of sesame or olive oil.
In a small bowl, combine the soy sauce, brown sugar and the juice from one lime. Whisk and pour over your cooked soba noodles. Let this slightly cool for a couple of minutes.
Ladle the soba noodles into shallow bowls, and garnish with mint, scallions, cucumber, the jammy eggs and a dollop of sambal oelek, for heat! That's it. So simple and perfect.
Serve two-three.
7.8.1.2
502
https://bevcooks.com/2021/05/quick-soba-noodle-salad/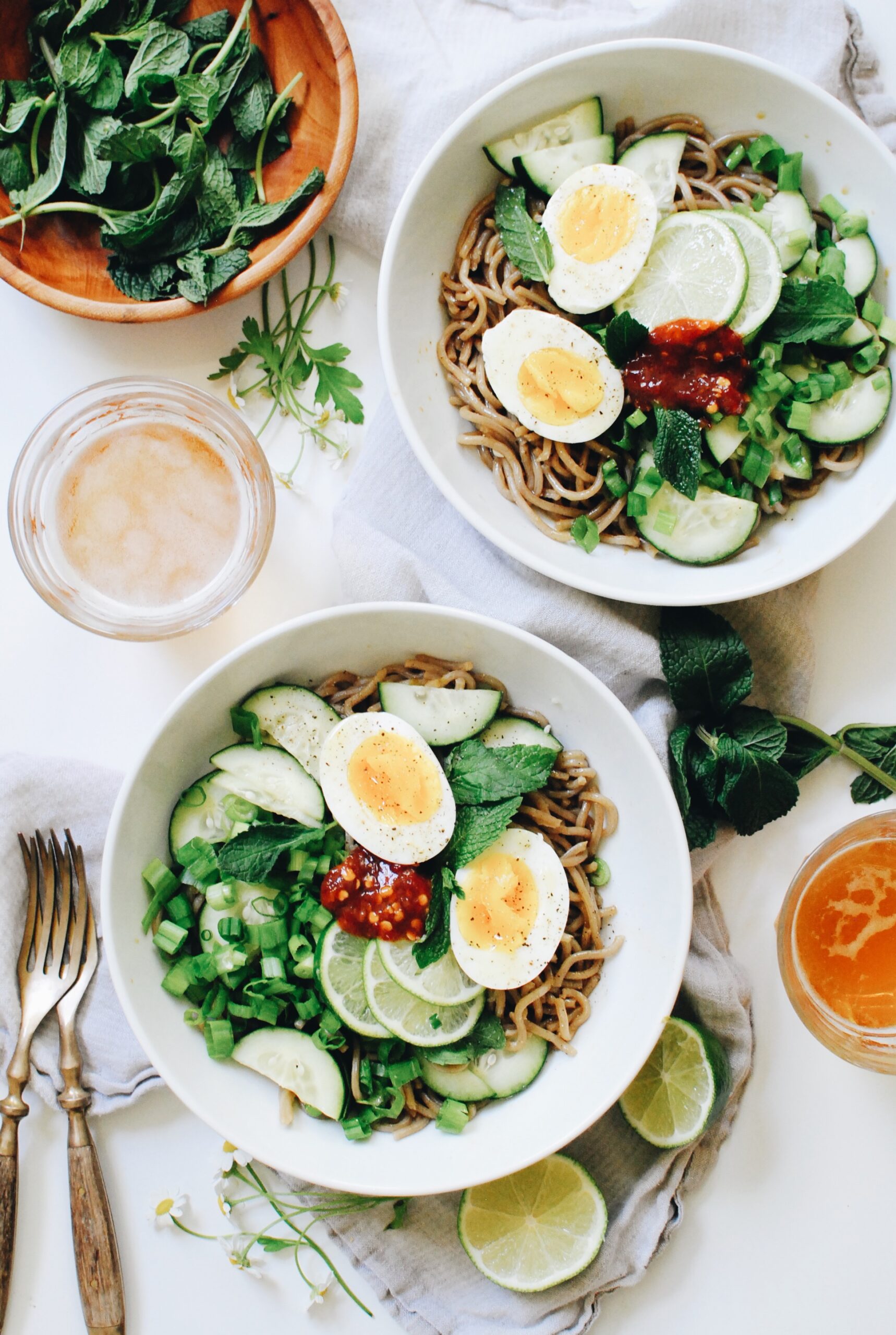 Am I invited?