Why yes, this is so happening today.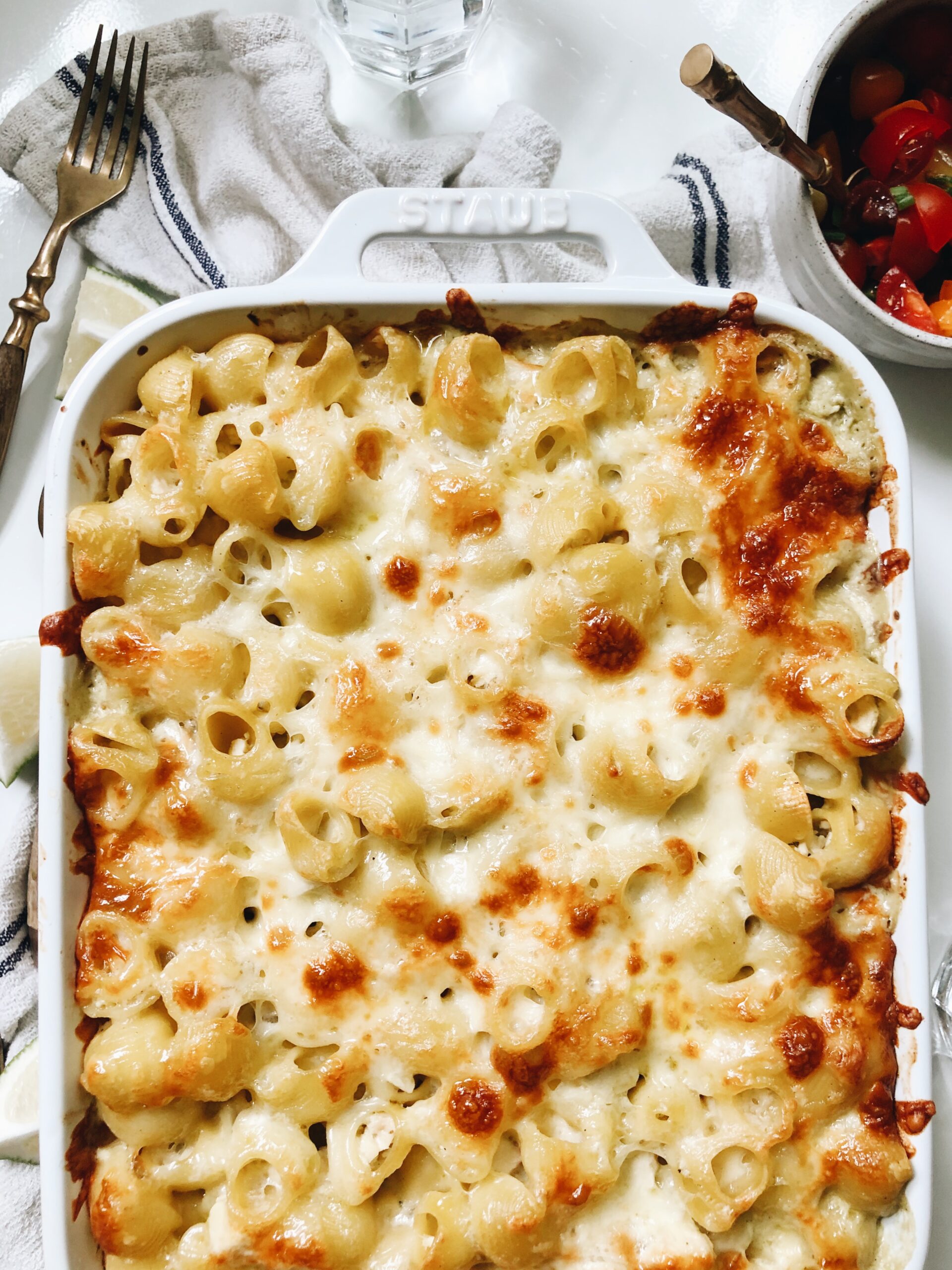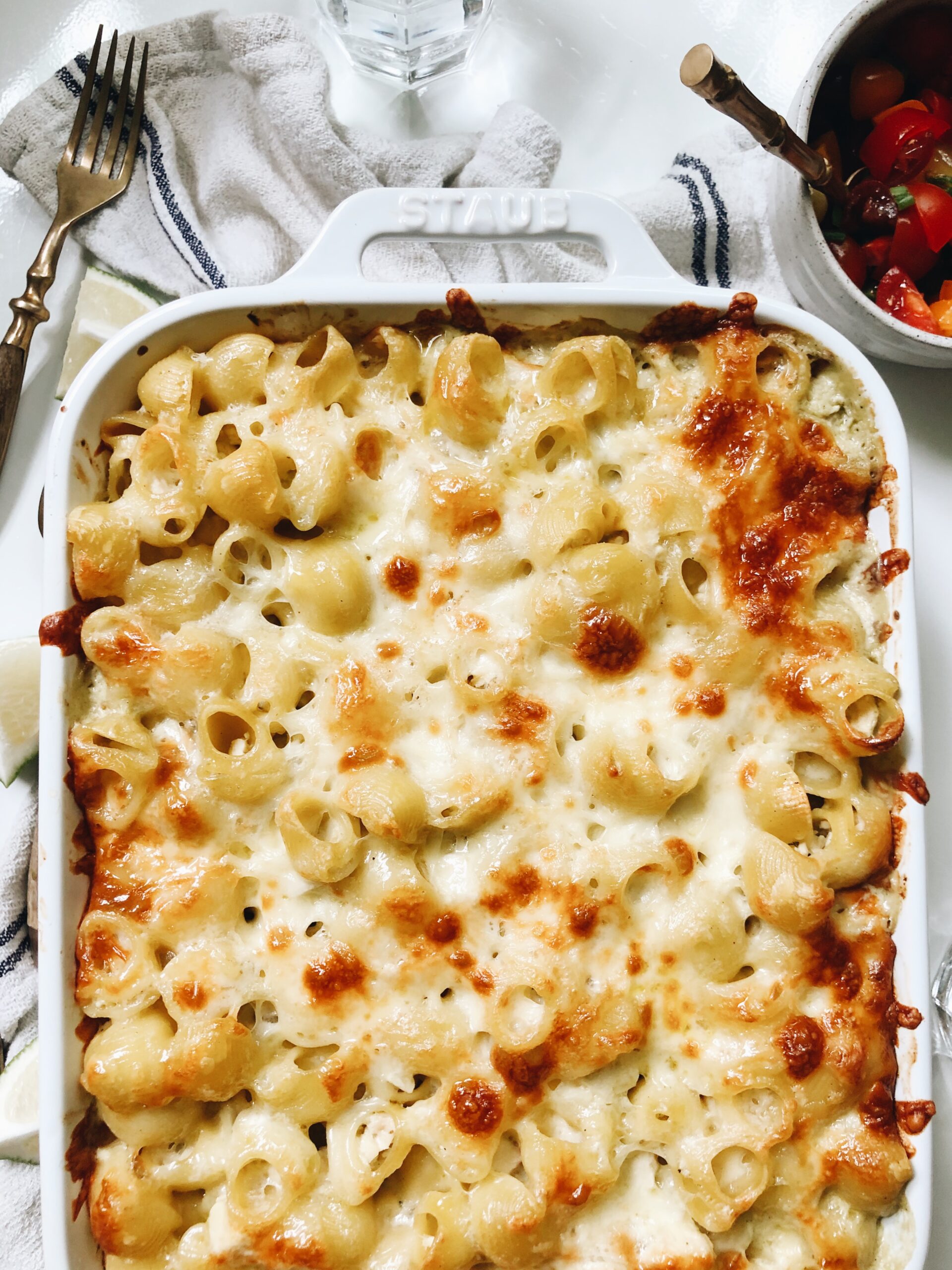 We've had enough light recipes for now, let's shovel some melty cheese and carbs!
You did read the title of the recipe, right? Go back up there and read it. I'll wait. Just let me know when you're back.
ENCHILADA AND PASTA AND CREAMY AND BAKE. It's all true, but I don't want you to freak out because it's quite simple. And if you want to go about it a different way, you're still a good person. But let me show you a quick hack that might blow your eyes right out of your head and face.
First up, the cast of characters.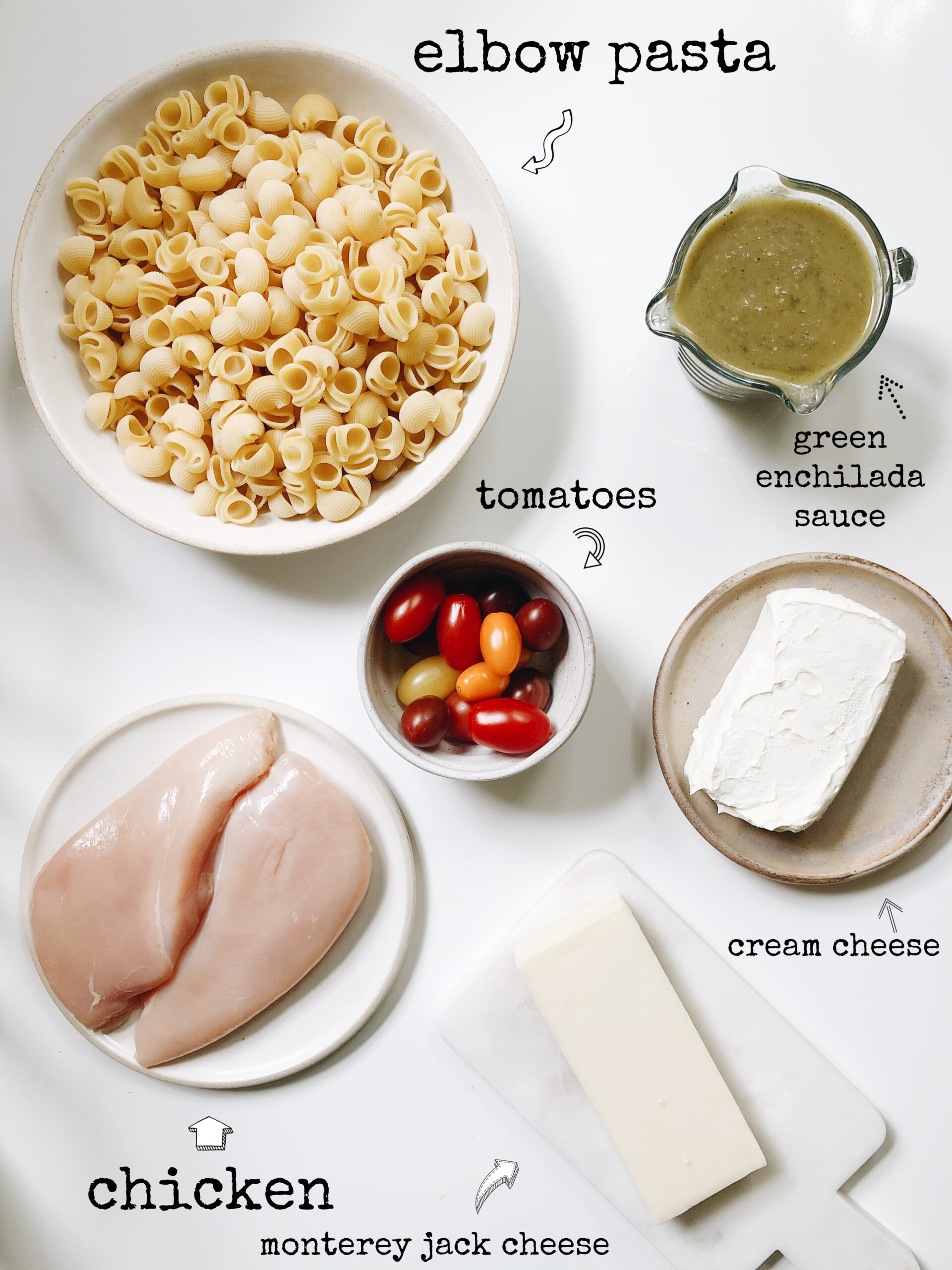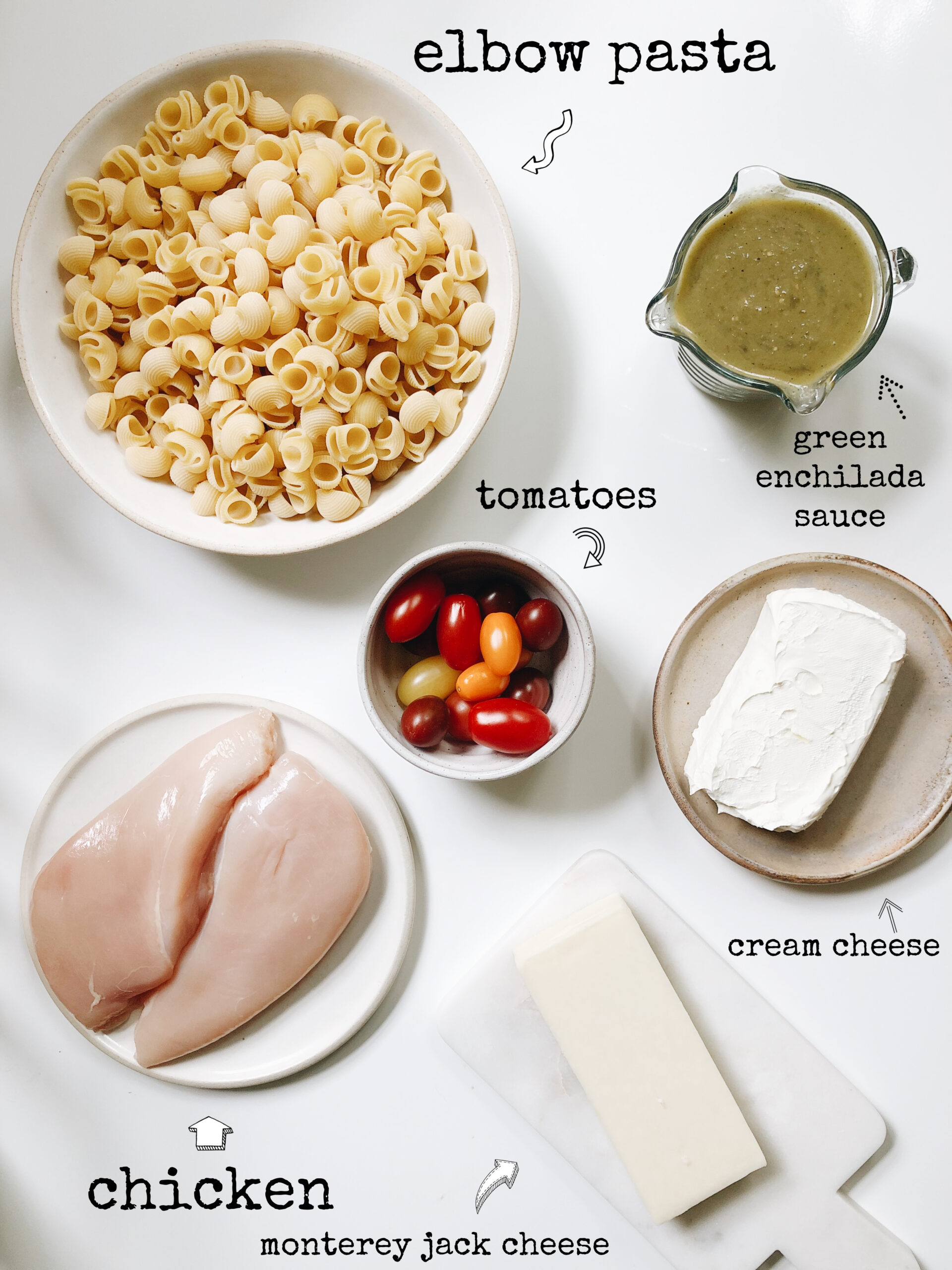 Plus a cup of pasta water, but we'll get there.
ALSO, you might be like, "Bev why is your green enchilada sauce textured like that?" Well babycakes, the store was all out of those 10-oz cans of green enchi sauce, but right above it were packages of 8-oz green enchi sauce. So I bought that one. And then poured two ounces of salsa verde right on top to make it a full 10 ounces. A magical wonder, I tell you. But that's not the hack.
It could be, though.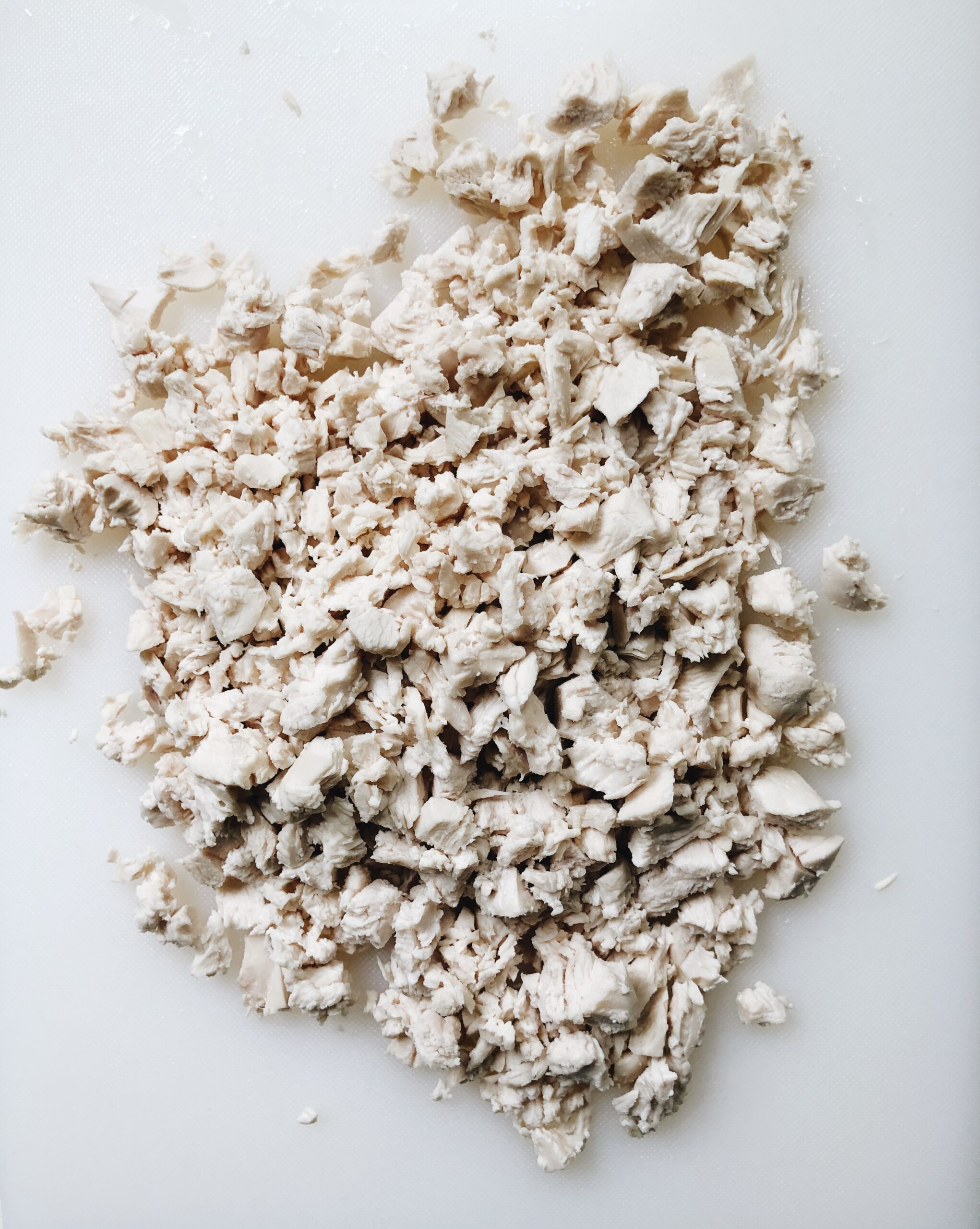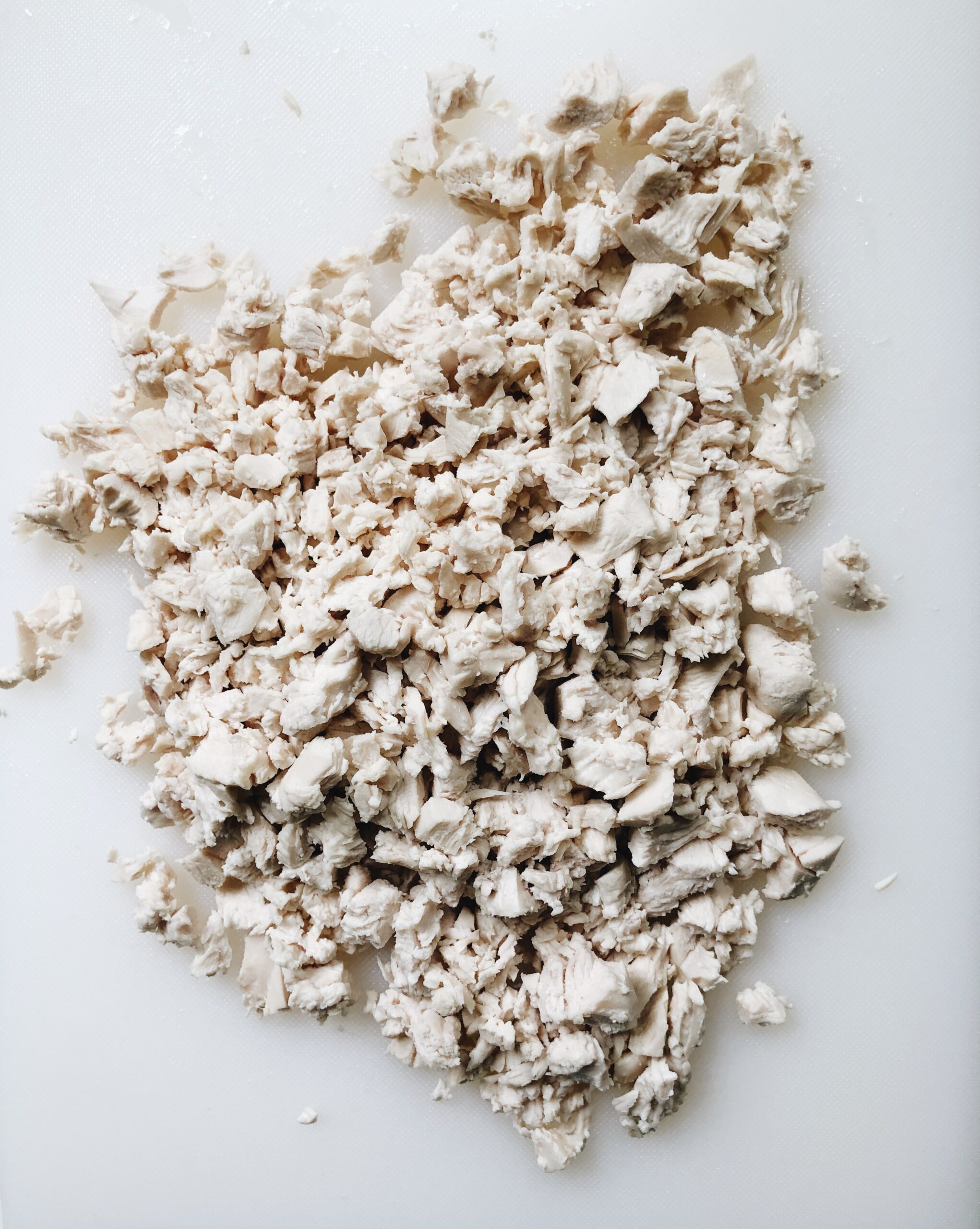 I boiled the chicken. I boiled it and let it cool WHILE THE PASTA COOKED IN ITS WATER (that's the hack, but hold on) and then shredded it with my fingers and gave it a final chop. The hack is, instead of using a pan to sear the chicken and a pot of water to boil the pasta, I used the same water for both. Boil your chicken, let it cool while the pasta reaches just shy of al dente, and it all comes together at the same time. And it's less to clean. Boom.
Save a cup of pasta water! We'll add it to our sauce to make it silky and luscious.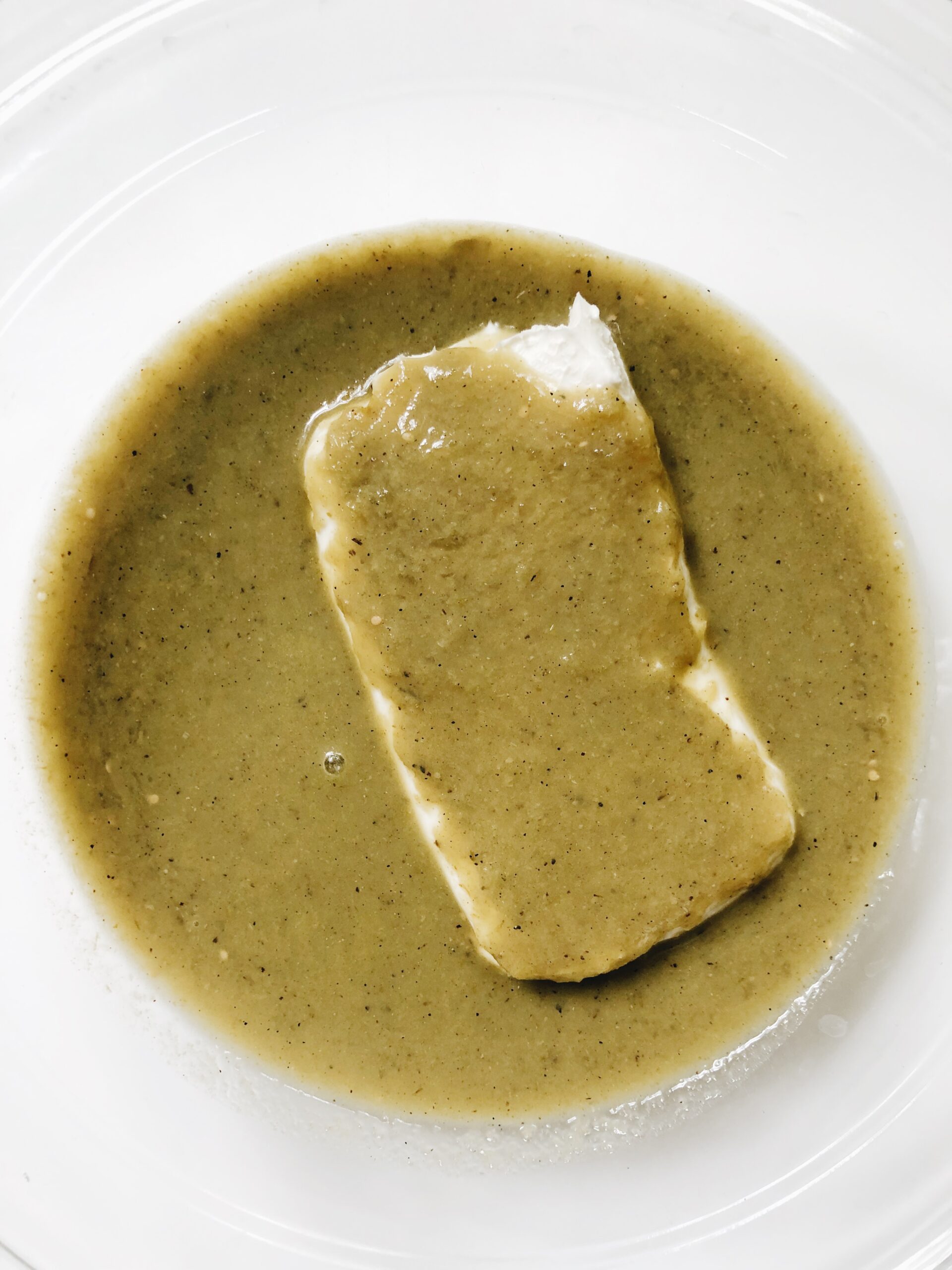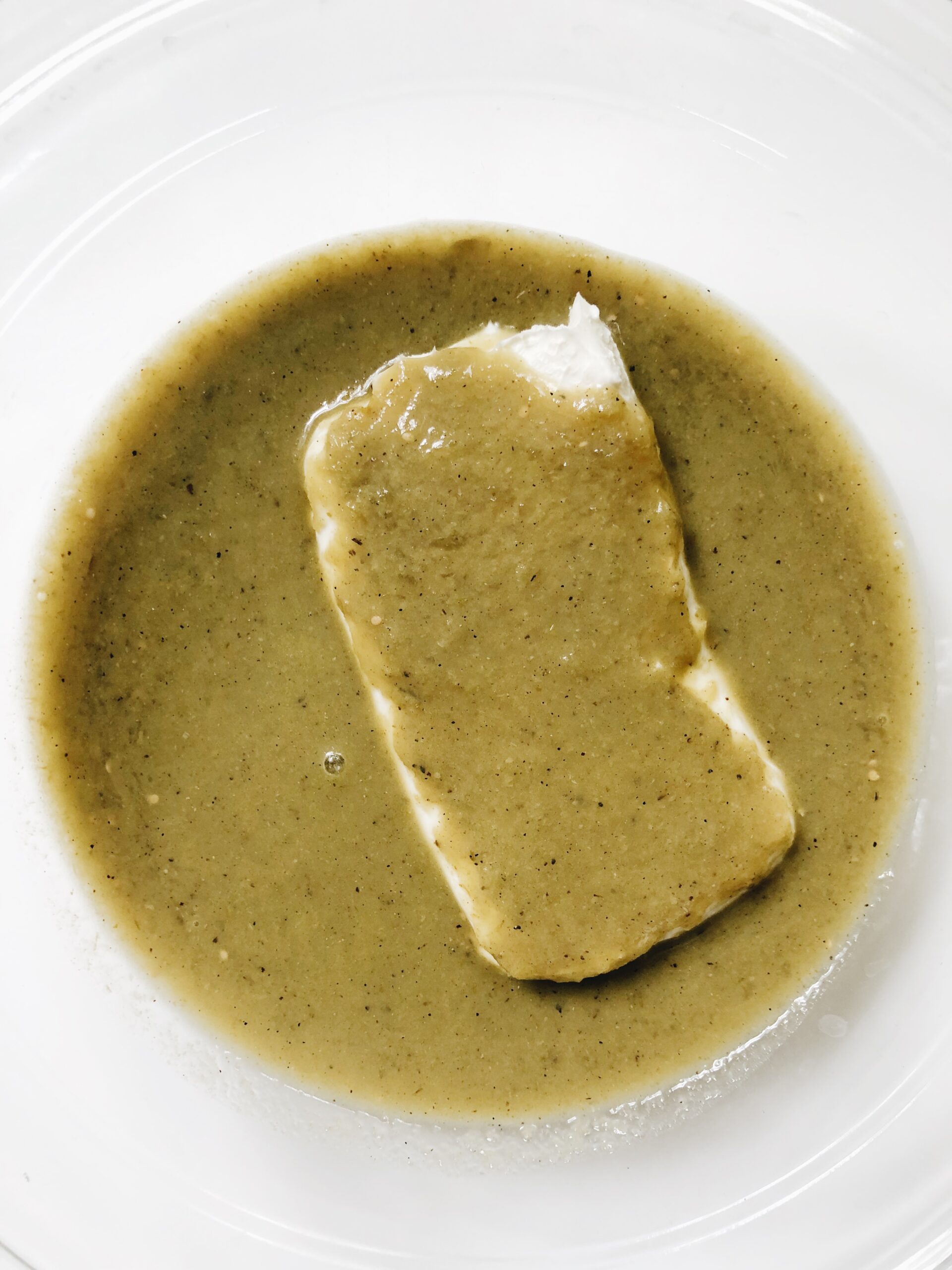 So, the cream cheese – make sure it's softened. I even nuked mine to get in on the warm side because you'll add the enchilada sauce to it and whisk it together. The cream cheese will clump. It will. But once it bakes in the oven it alllllll comes together in a smooth sauce and it is crazy good.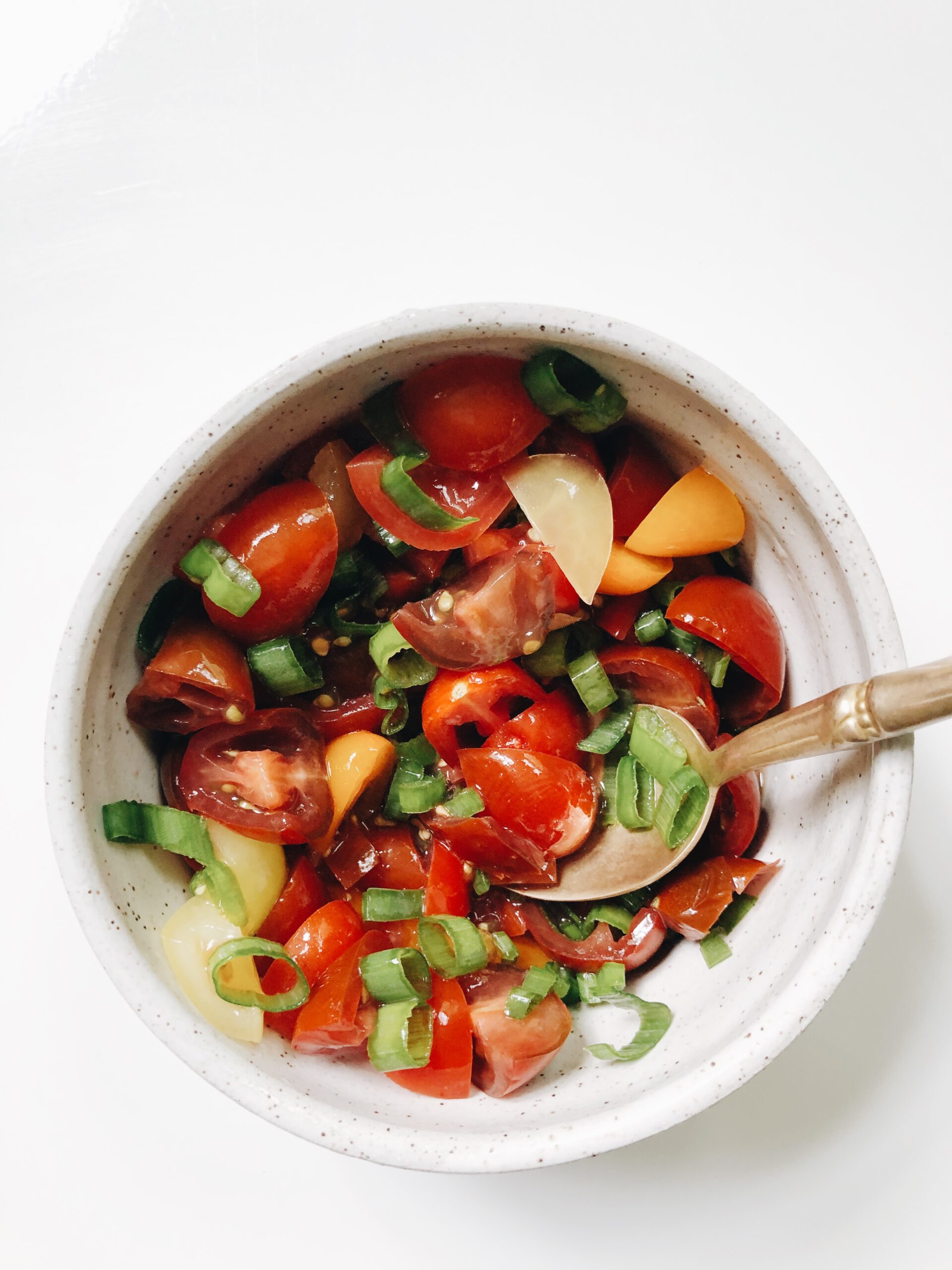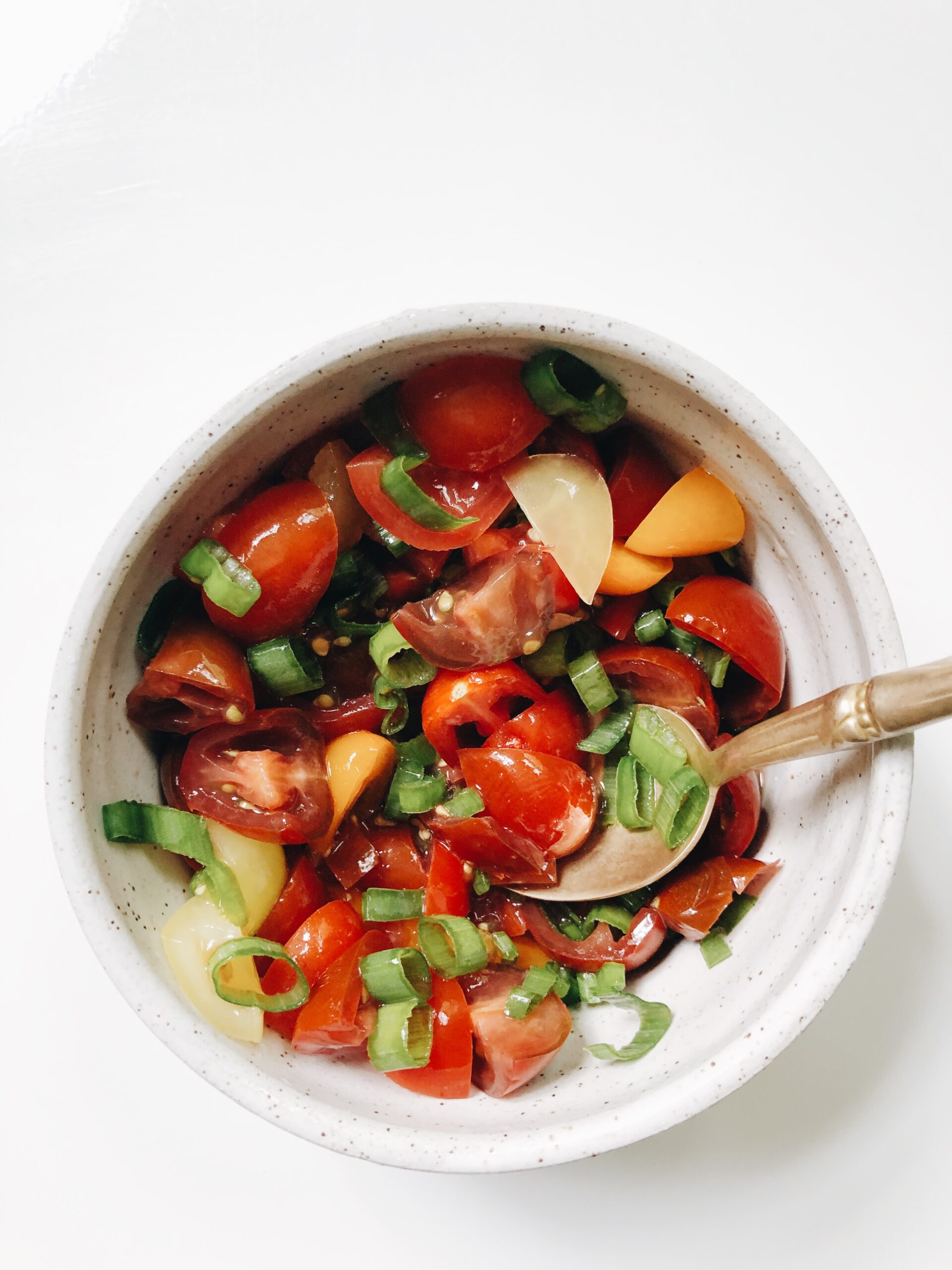 In the meantime, you're absolutely allowed to marinate some cherry tomatoes with a few chopped scallions and a pinch of salt. Don't let me stop you.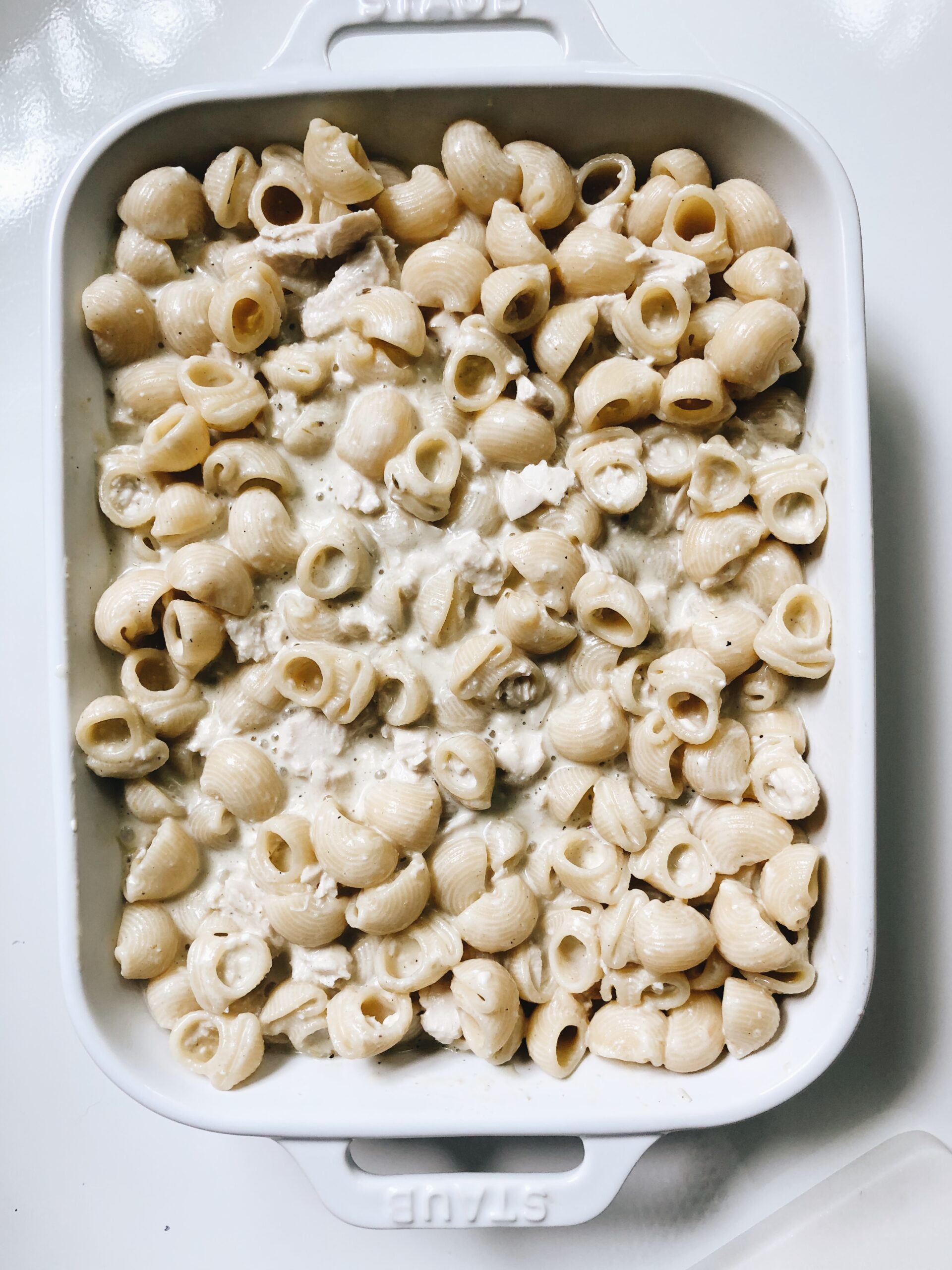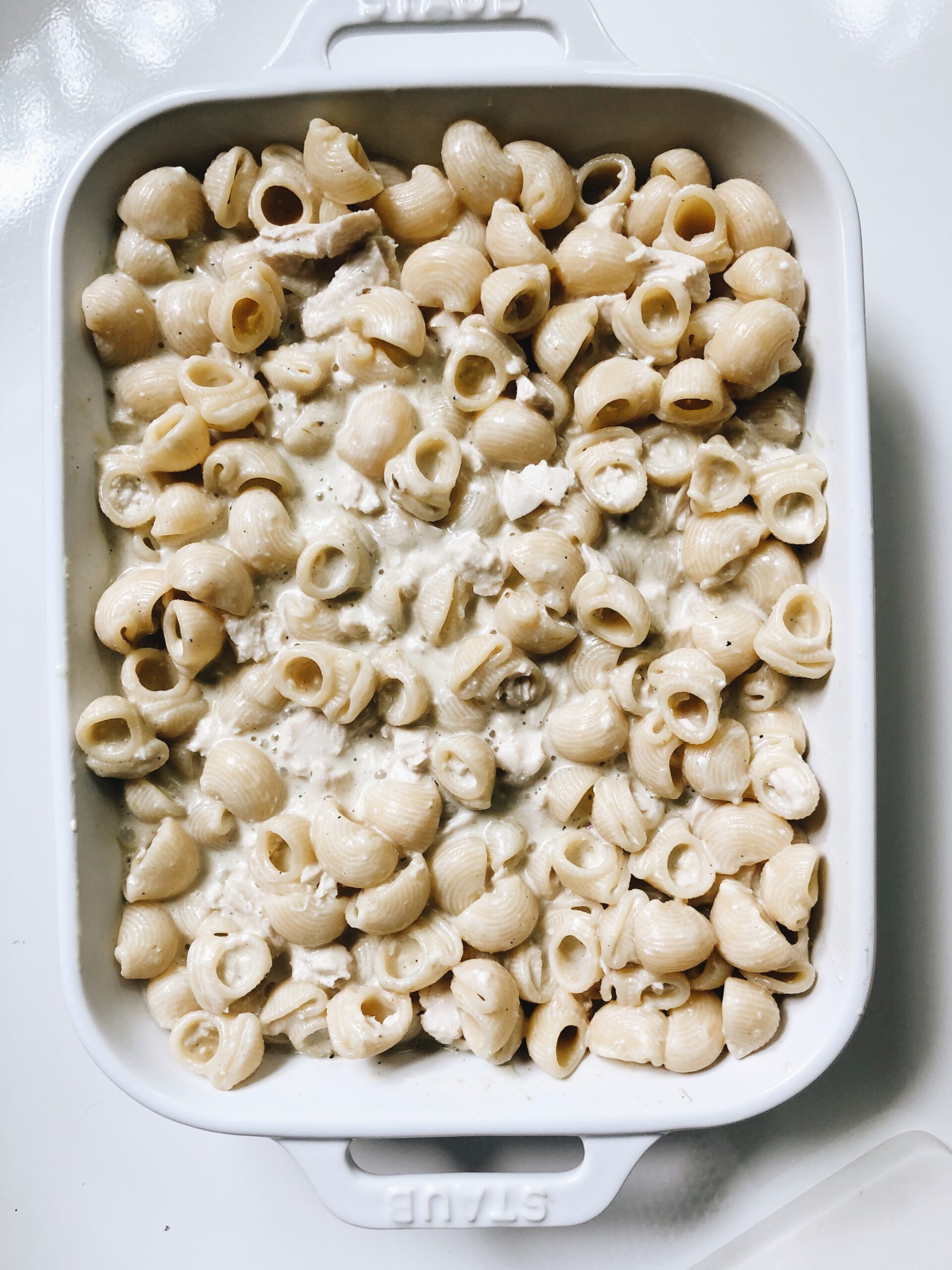 You've added your pasta water to the sauce. You've added your shy-of-al dente pasta (I'm using this one specifically) to the sauce. You've added your chopped chicken to the sauce. You've stirred it all up. You've poured it into a casserole dish. You've watched the Friends Reunion trailer thirty three times.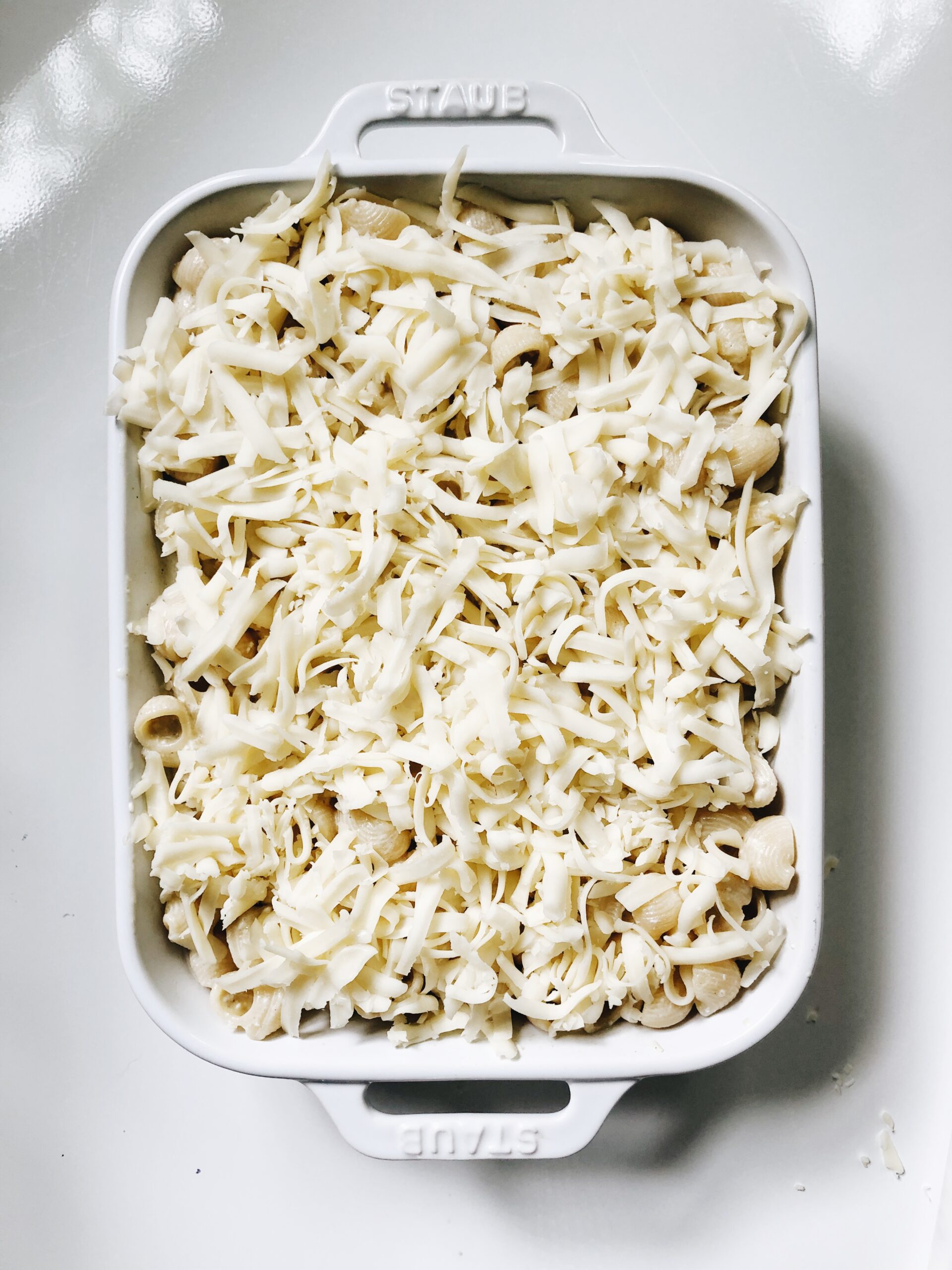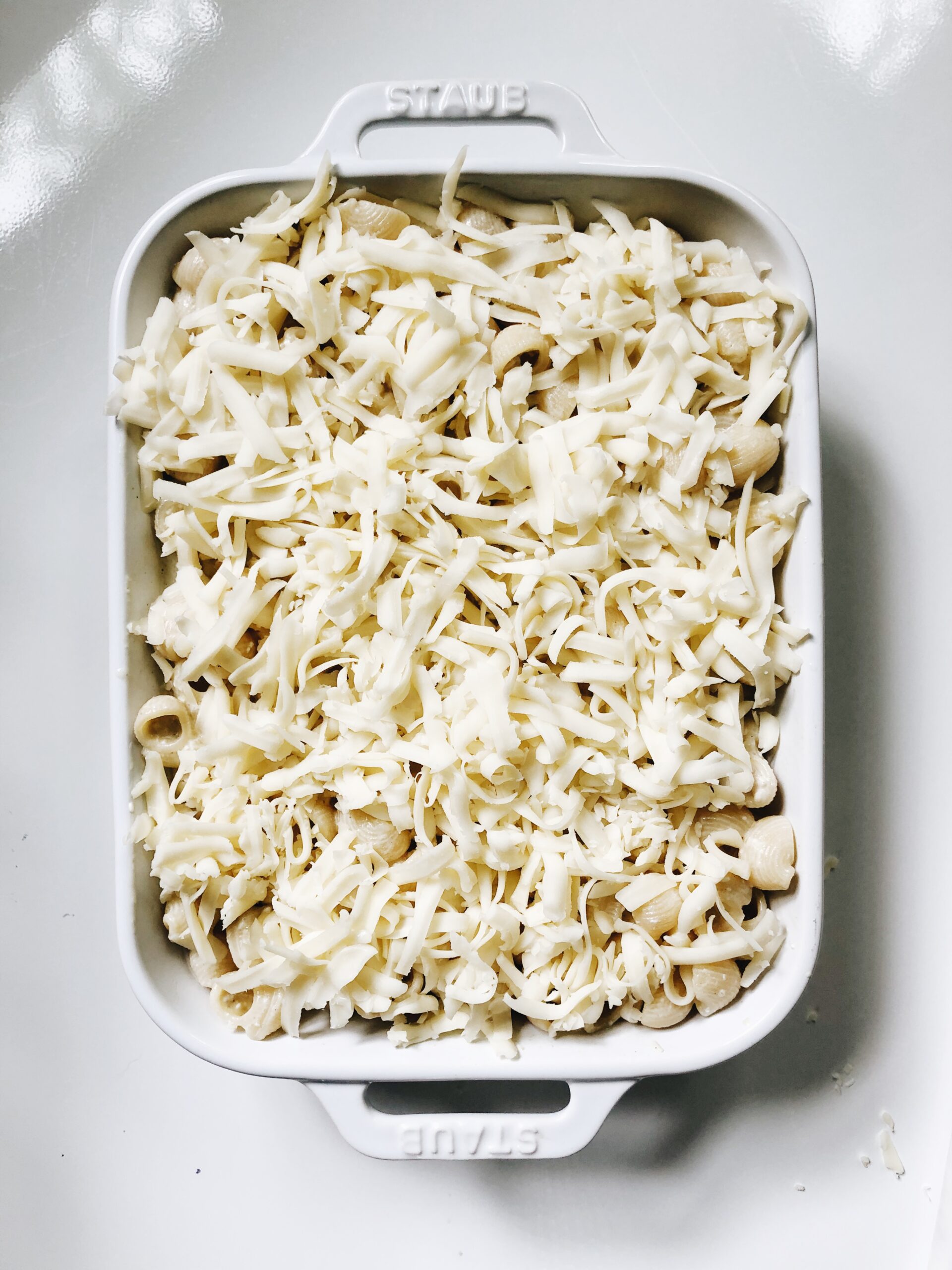 And then you've grated an entire block of Monterey Jack cheese over the whole mess and swallowed down a sob.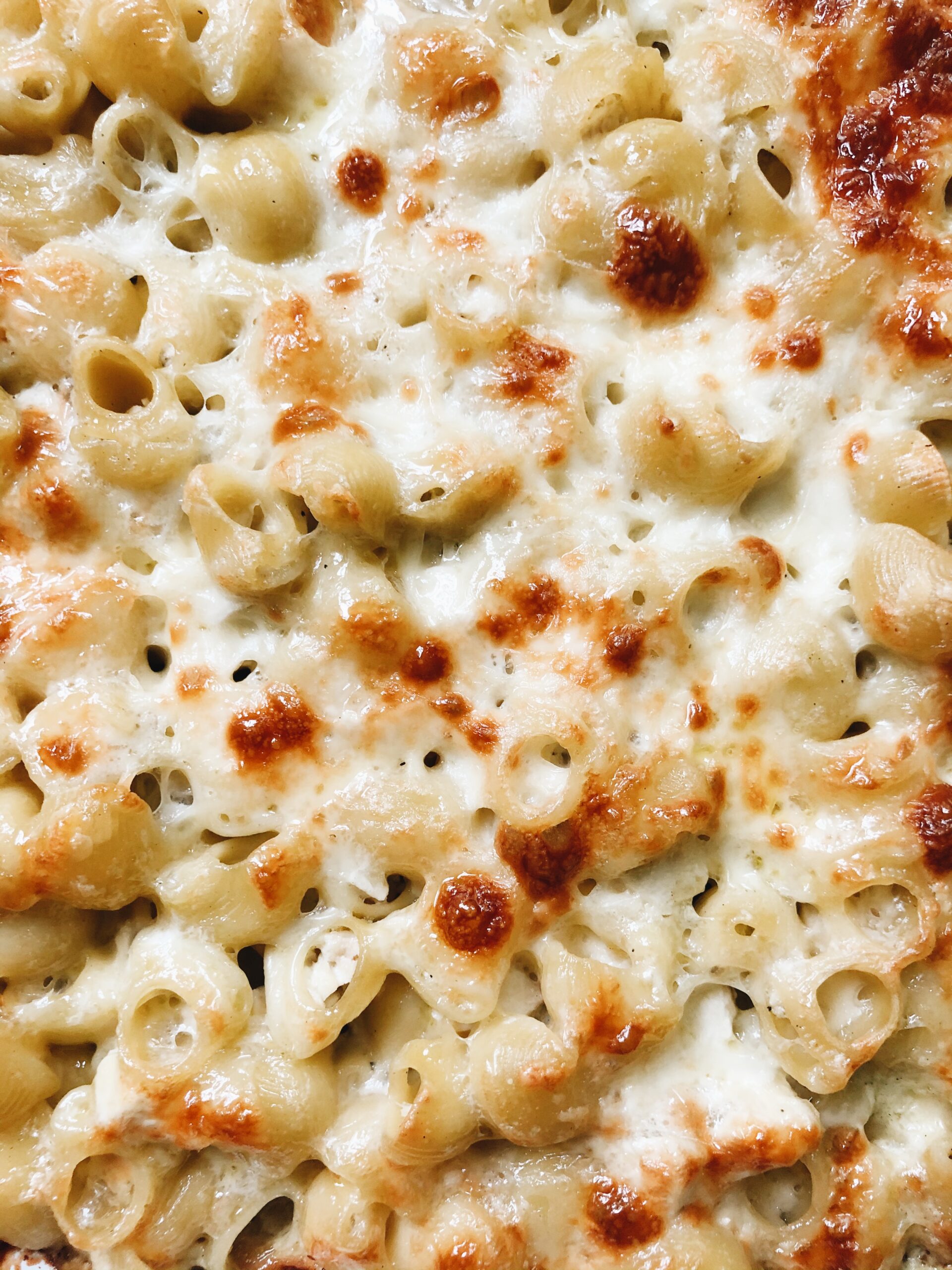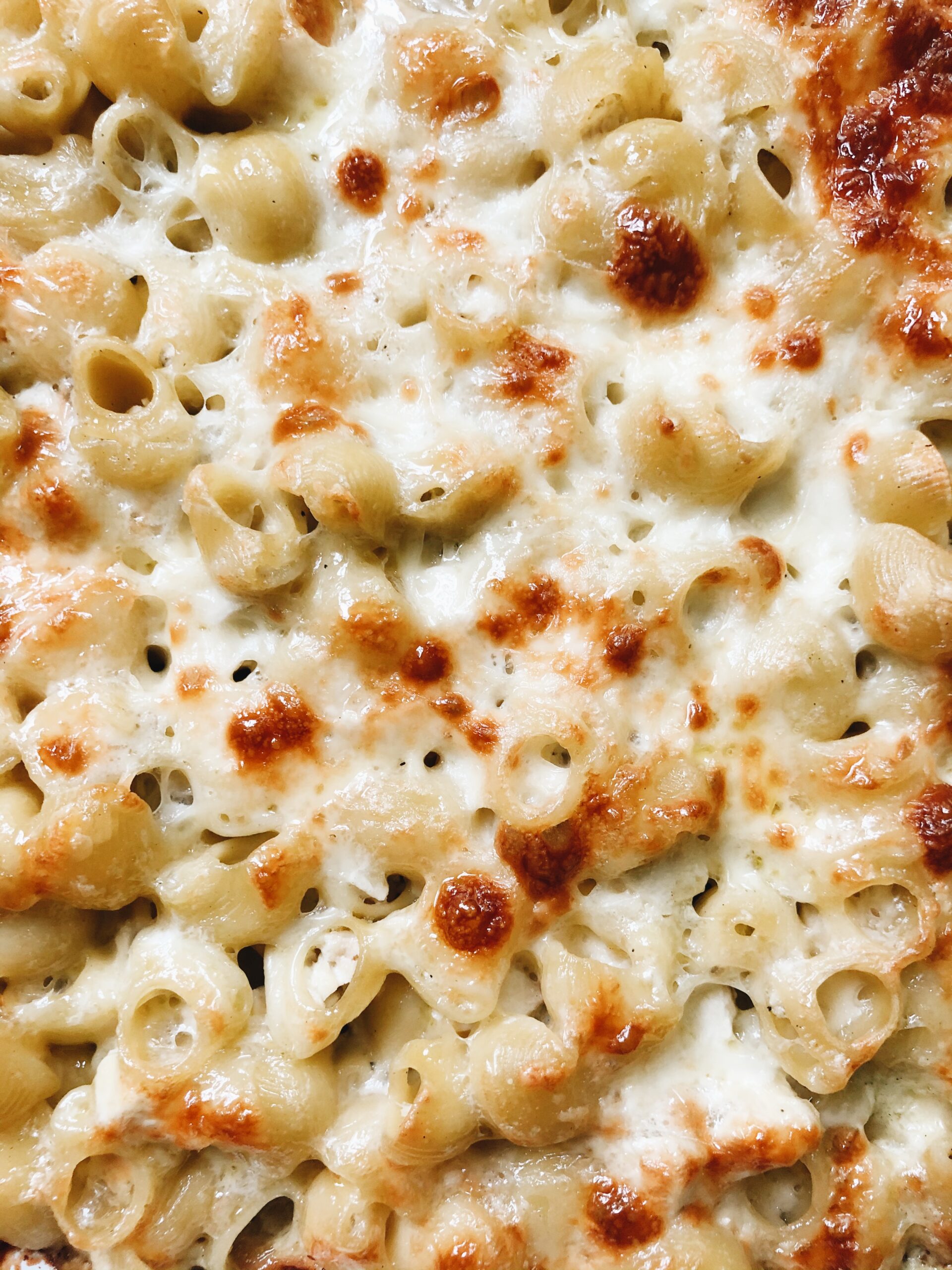 Girl please.
The pasta finishes cooking, it soaks up the sauce, the cheese becomes a blanket of blistered bliss and there's really nothing else in life that can remotely compete. Don't even try me.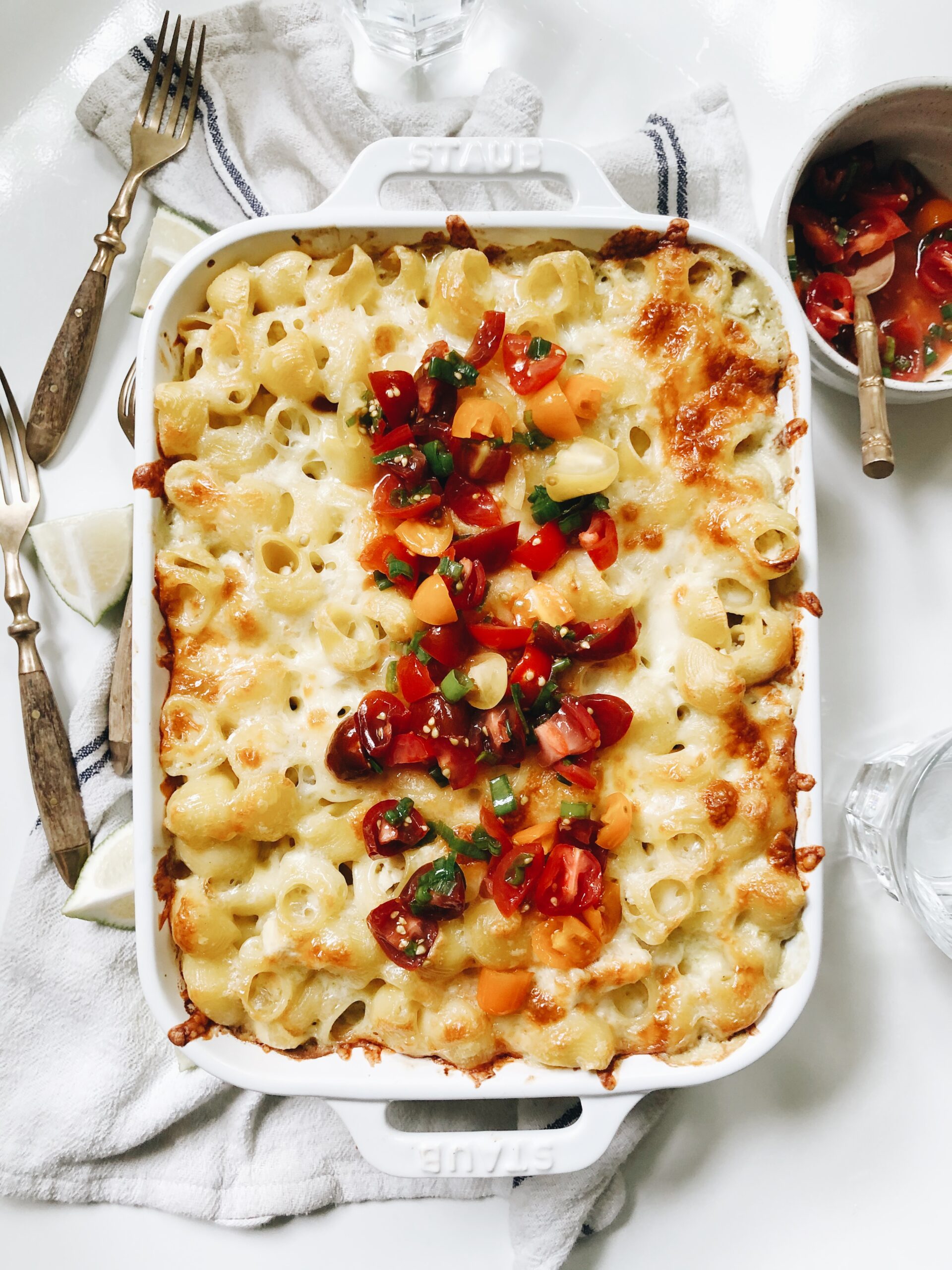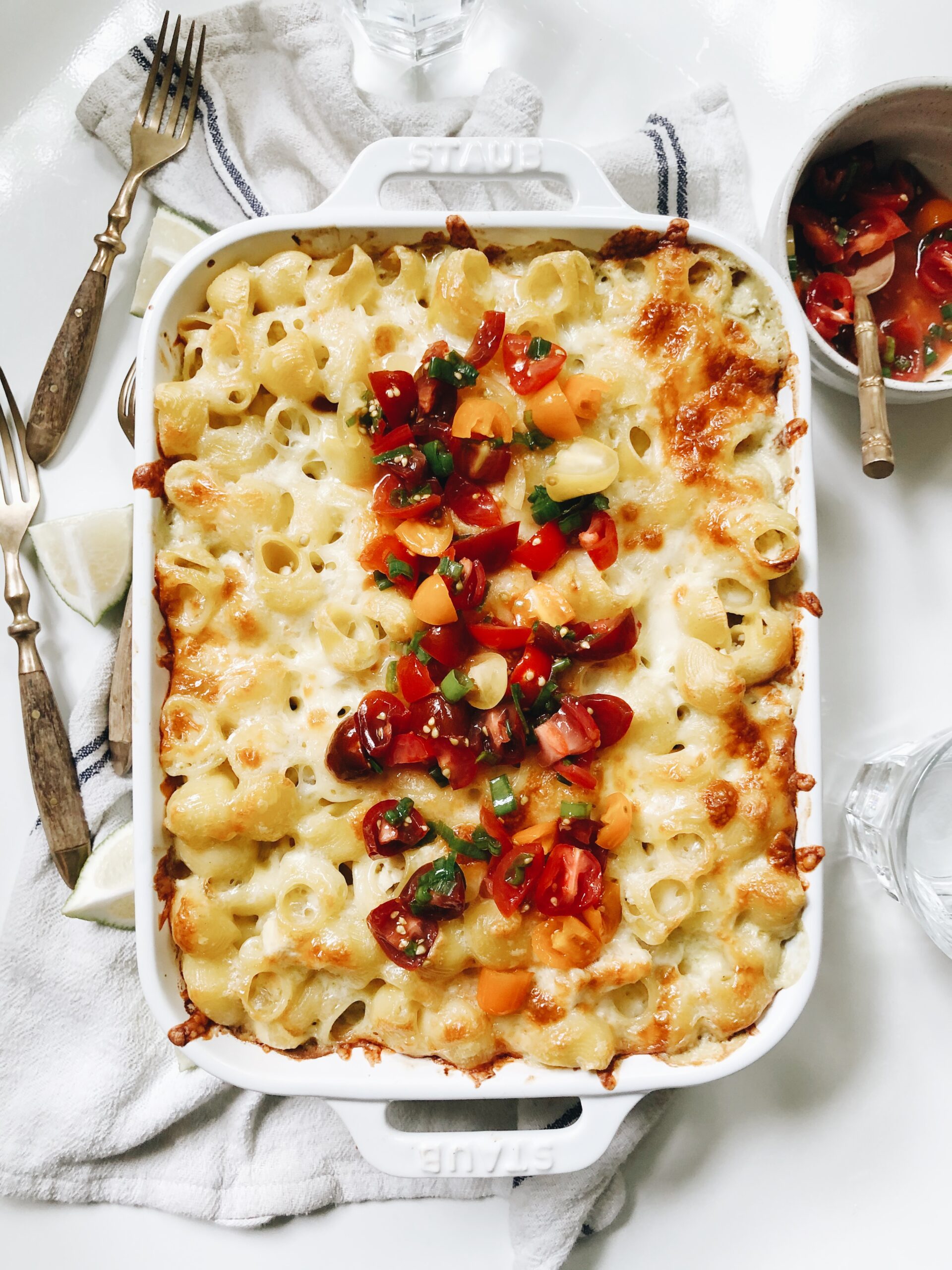 You can top it with your tomatoes, if you like! Which I like. You can leave it as is if you prefer to gaze longingly into bubbling cheese eyes. Which makes you a genius, if you ask me.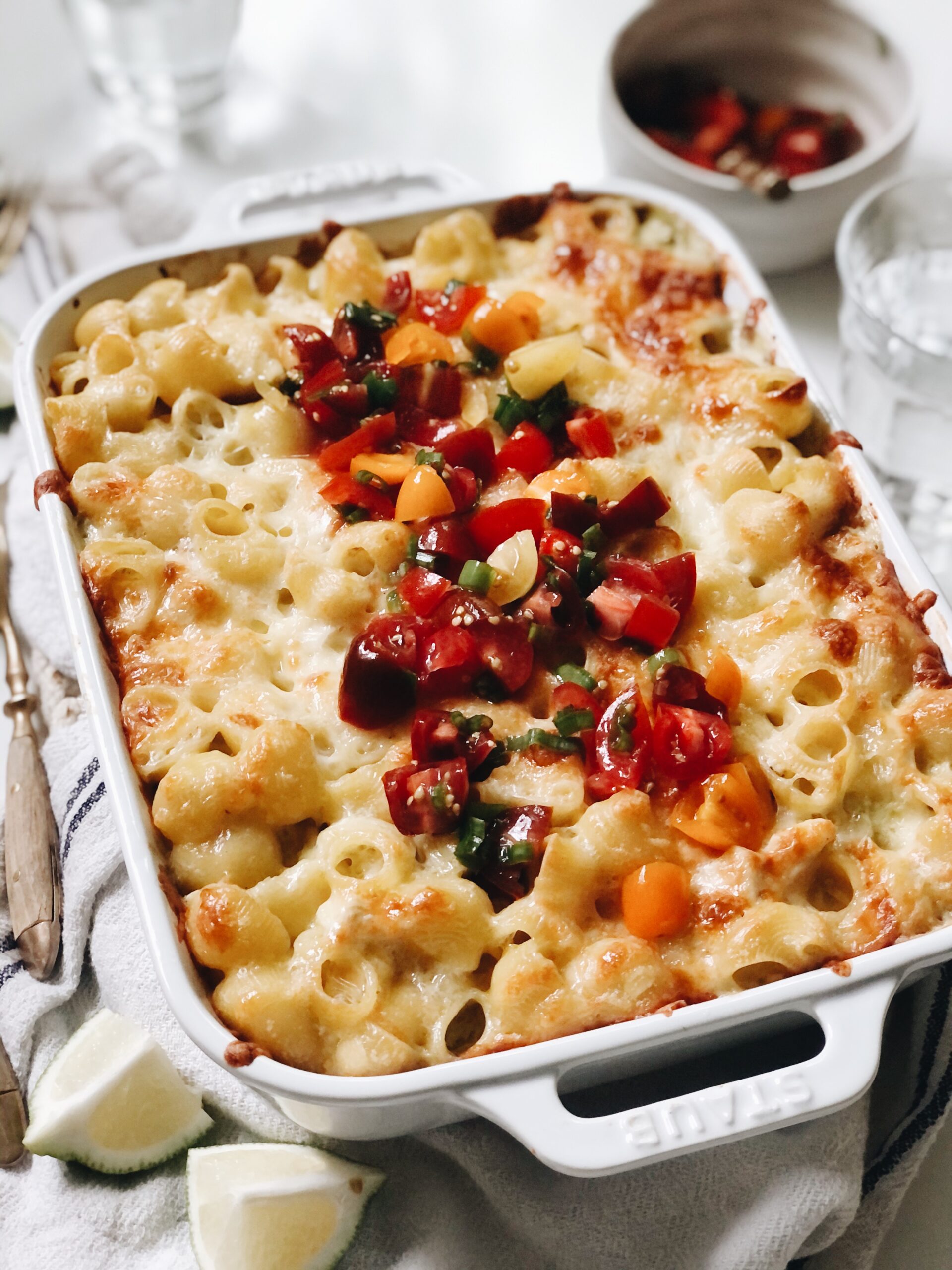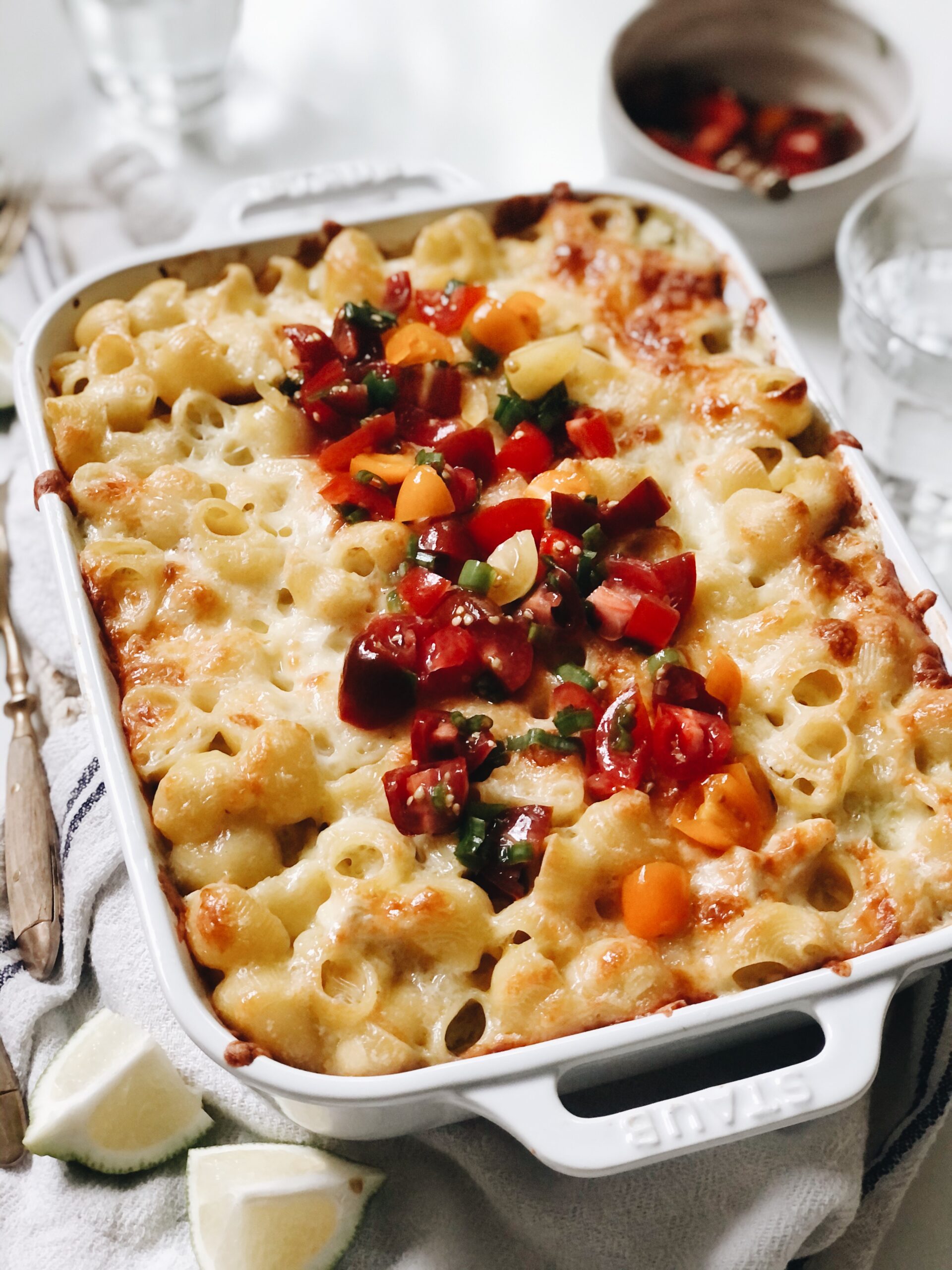 It's absolute heaven. And satisfies your craving for enchilada flavors, but slipped into a creamy pasta bake.
And you do remember the cream cheese under and in all that, right? It yields this subtle tanginess that I find irresistible in heavier dishes like this. Matter of fact I think I read something that if there's a tanginess in a dish, then it cancels out the calories. But don't try to double check me because I think the internet's down.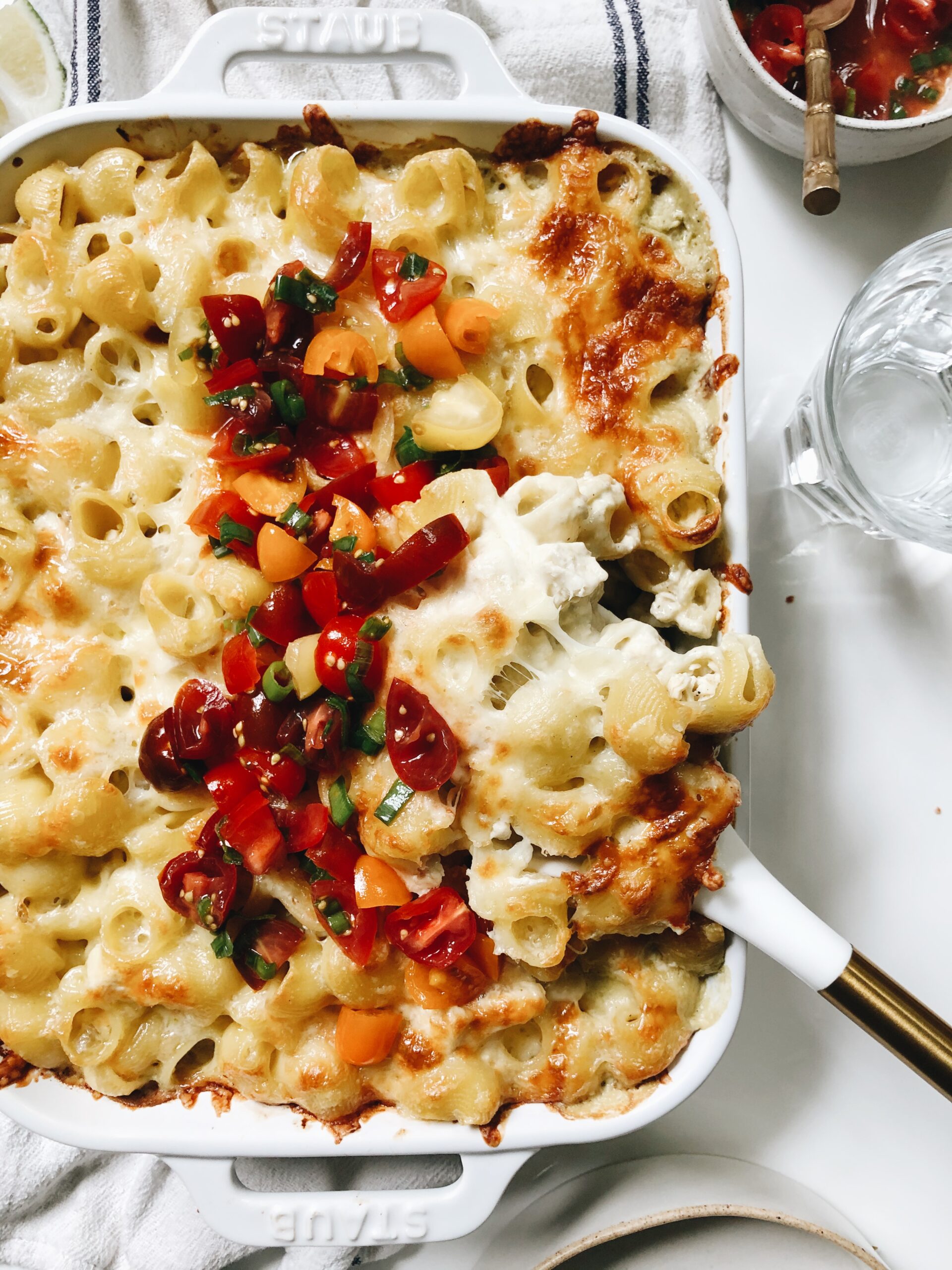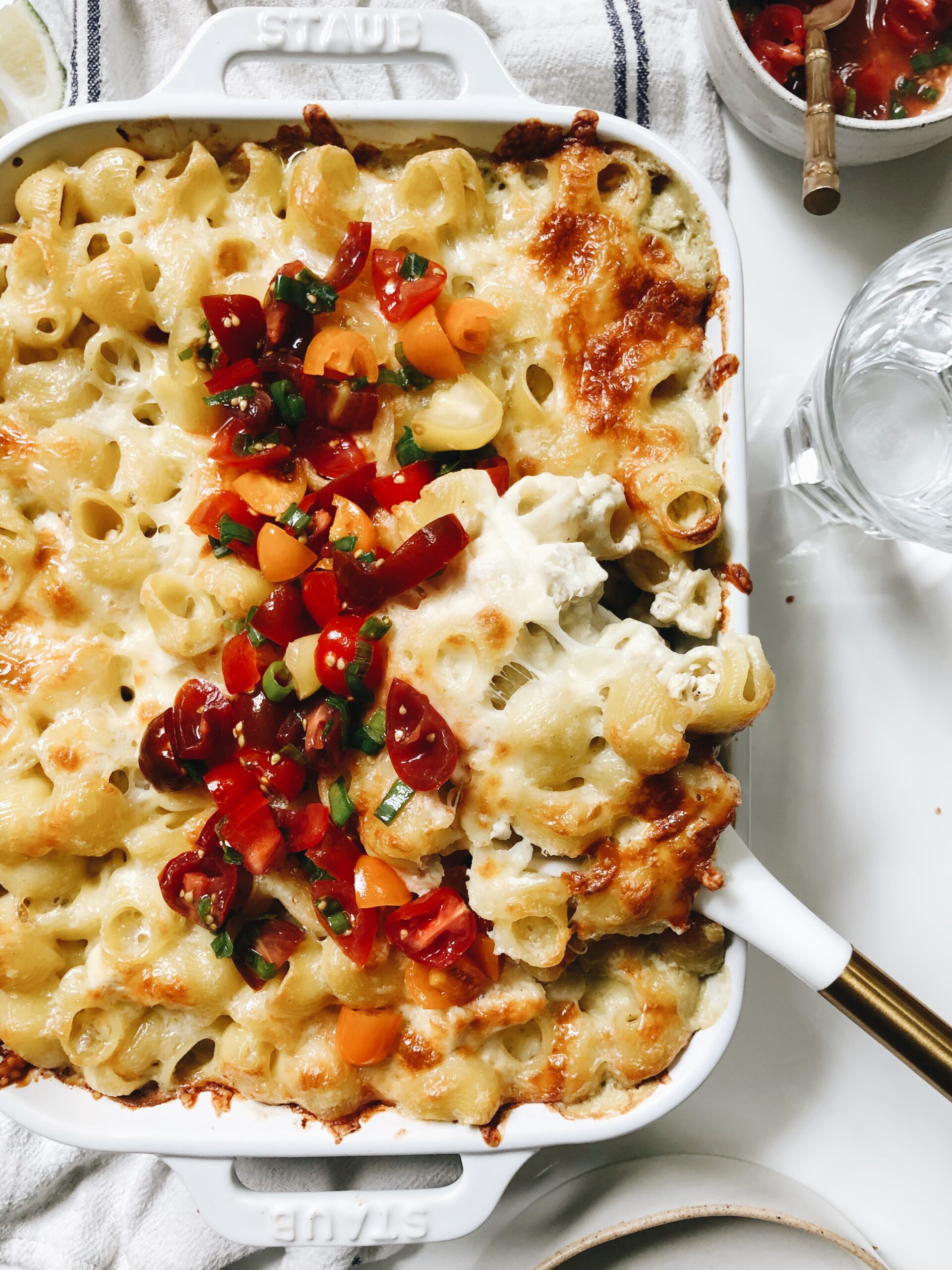 It's so simple. And so succulent. And so savory. And weeknight friendly. Or anytime friendly. Now friendly. Look I don't make the rules.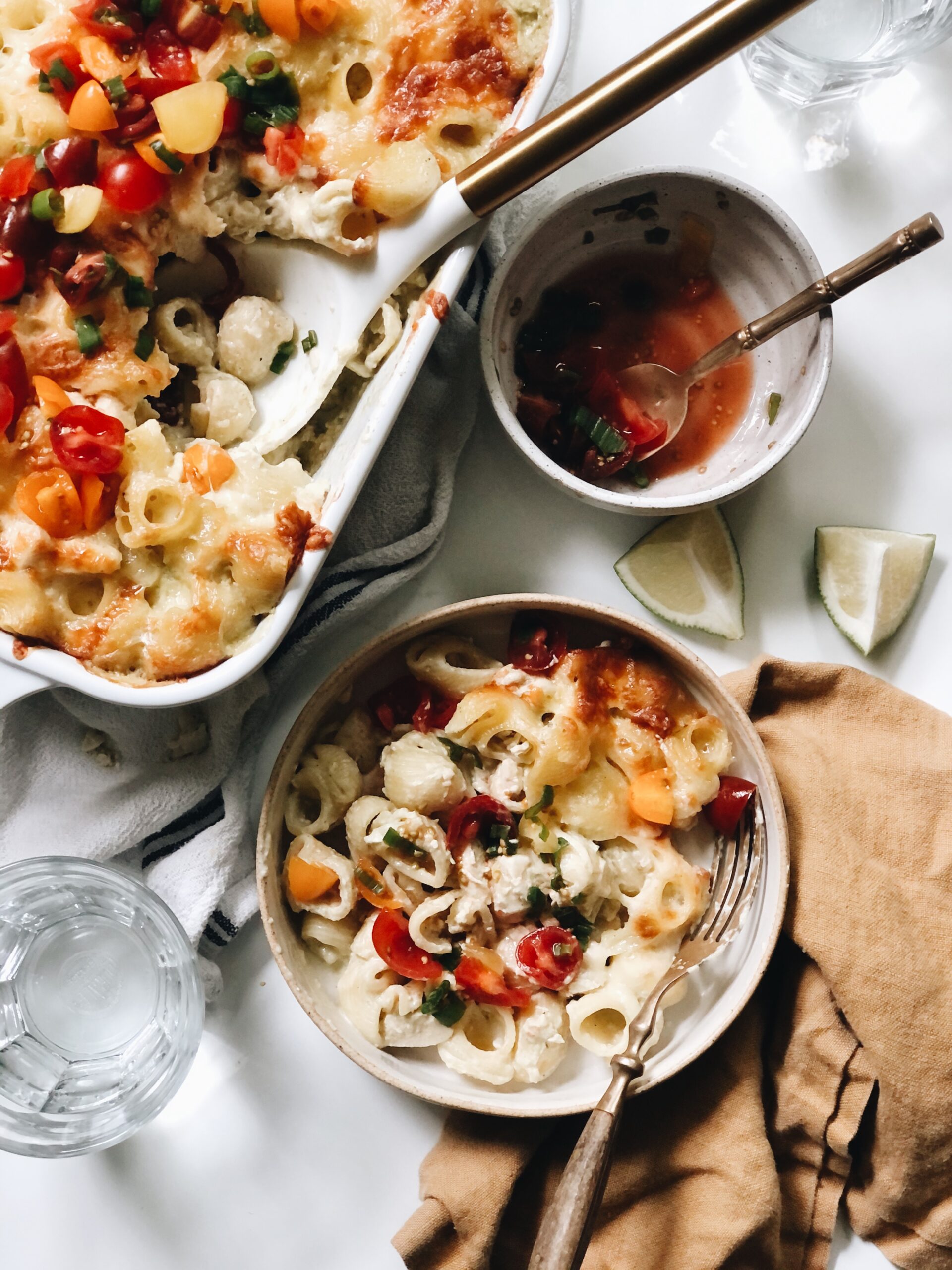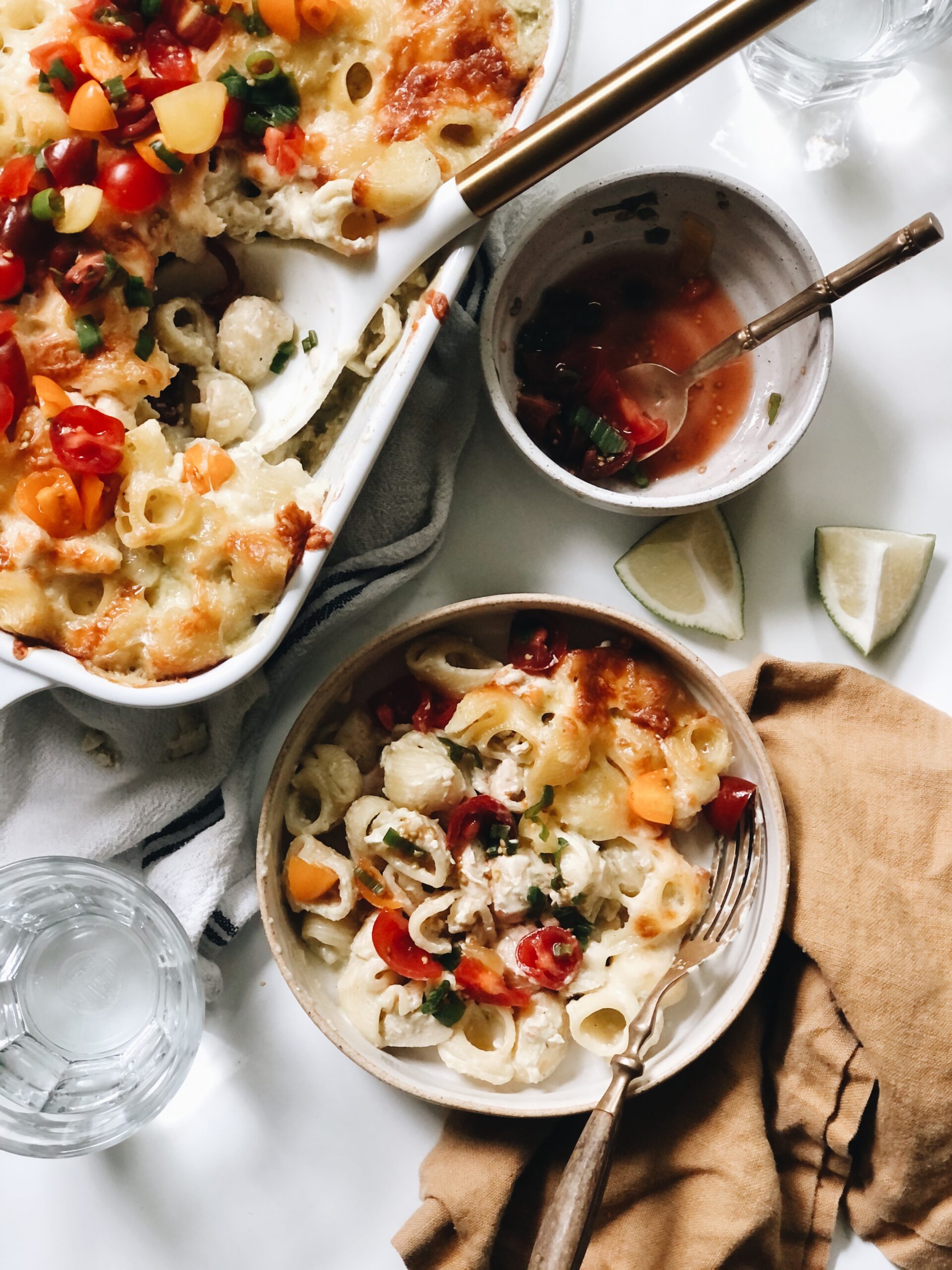 Also, the fresh tomatoes and scallions on top really do take it to an 11.
Creamy Chicken Enchilada Pasta Bake
Ingredients
1 pound elbow pasta
1 pound chicken breasts (two breasts)
1 (10 oz) can green enchilada sauce
1 (8 oz) block cream cheese, softened
1 (8 oz) block Monterey Jack cheese, grated
1 cup cherry tomatoes, cut into quarters
3 scallions, chopped
Coarse salt
Instructions
Bring a large pot of salted water to a boil, and preheat your oven to 350.
In a small bowl, combine the tomatoes, scallions and a pinch of salt. Let this sit while you prepare the rest.
Boil the chicken until cooked through, 10-15 minutes. While it's cooling on a cutting board, use the same water to boil the pasta, until just shy of al dente, about eight minutes.
In a large bowl, whisk together the softened cream cheese and the enchilada sauce. Once the pasta is cooked, whisk in about a cup of the starchy pasta water. It will seem thin now, but the casserole absorbs it all in the oven. Add the pasta and chicken to the sauce, then transfer it to a casserole dish. (8x13 is fine) Sprinkle the grated cheese over the casserole, and bake for 30 minutes, or until the cheese is browned and bubbly.
Garnish with your marinated tomatoes and scallions and serve immediately!
Serves 4-6.
7.8.1.2
503
https://bevcooks.com/2021/05/creamy-chicken-enchilada-pasta-bake/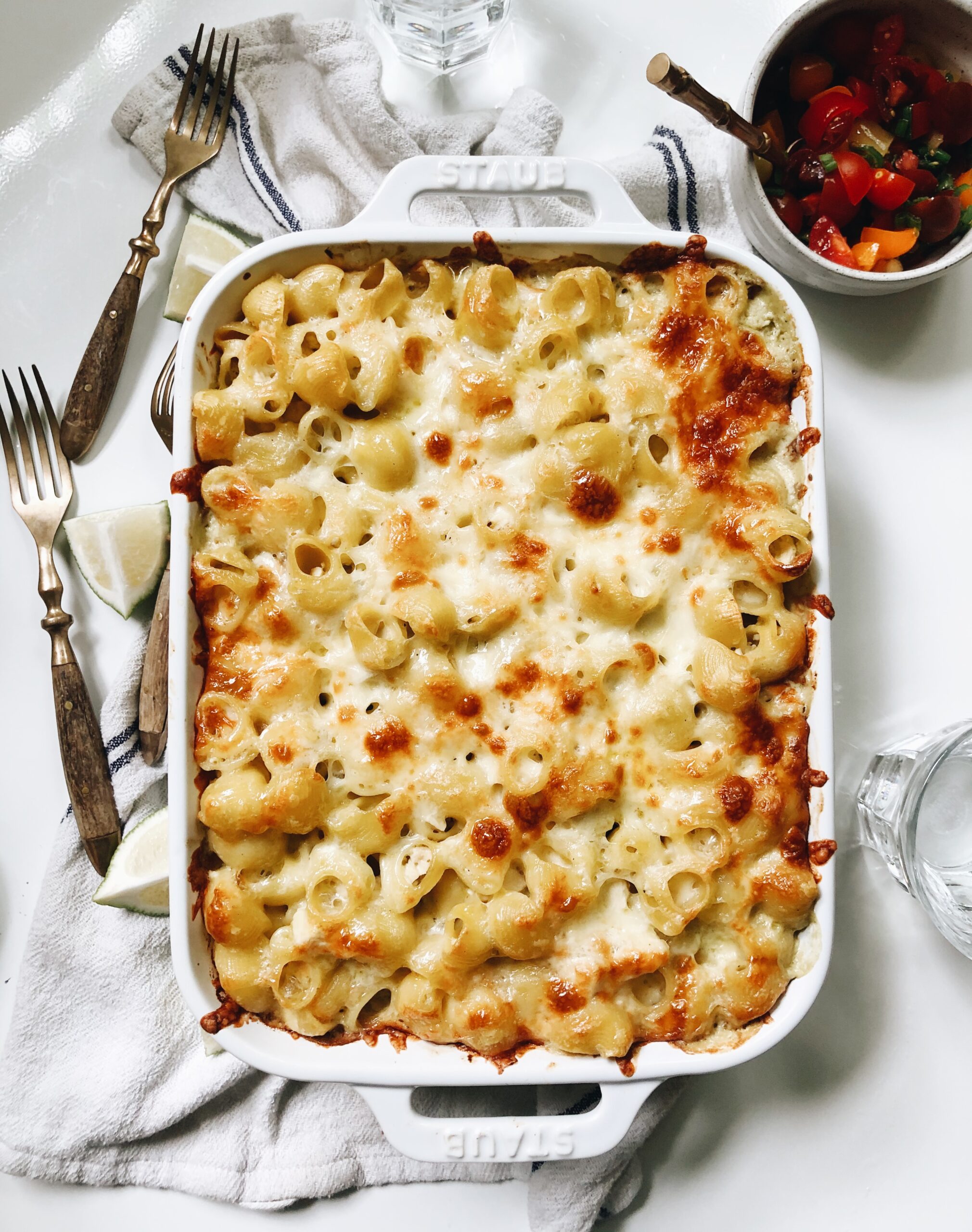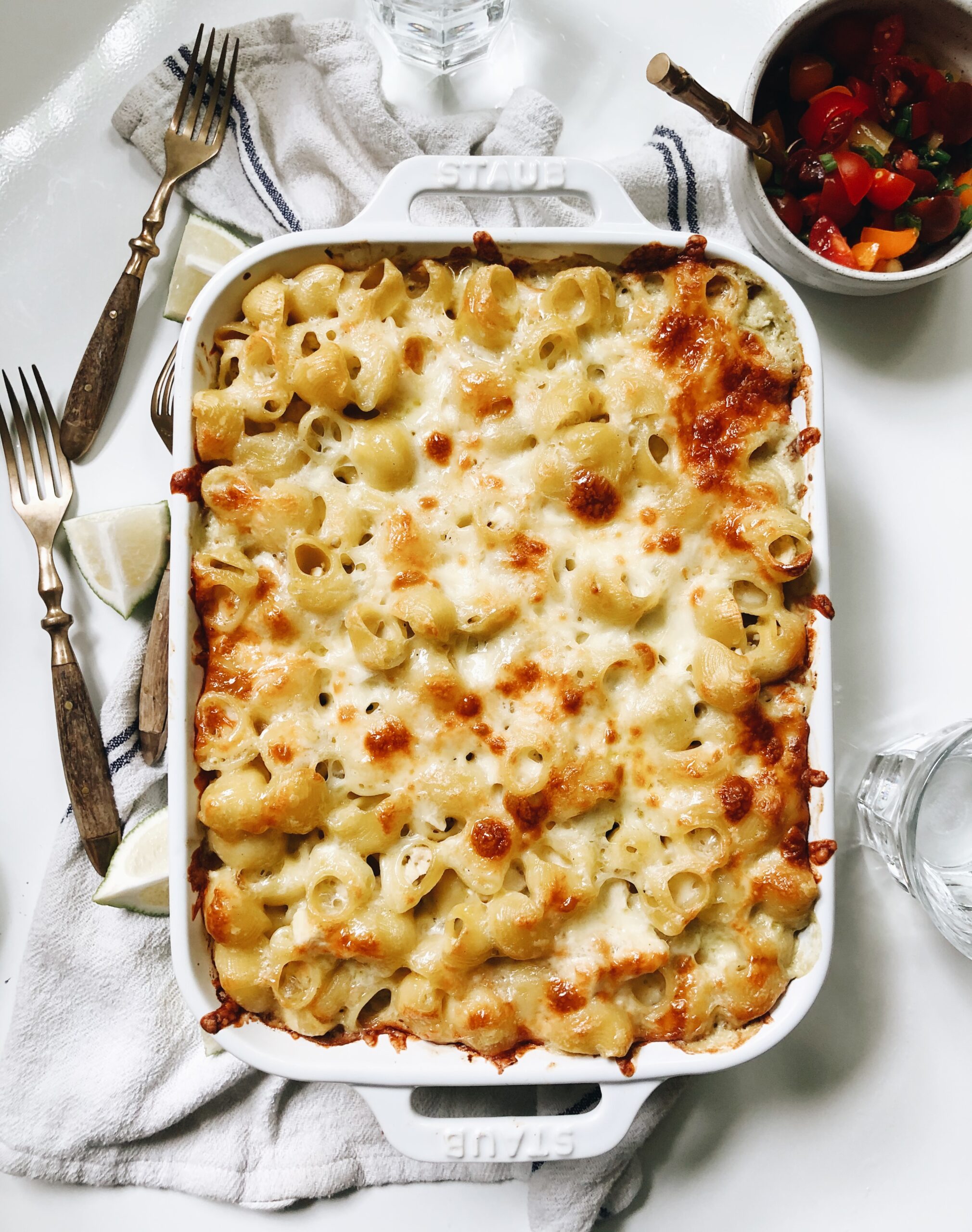 See you never.