My brain is full-on picnic mode. From here on out. Blankets and flowers and grass and snackies. You in?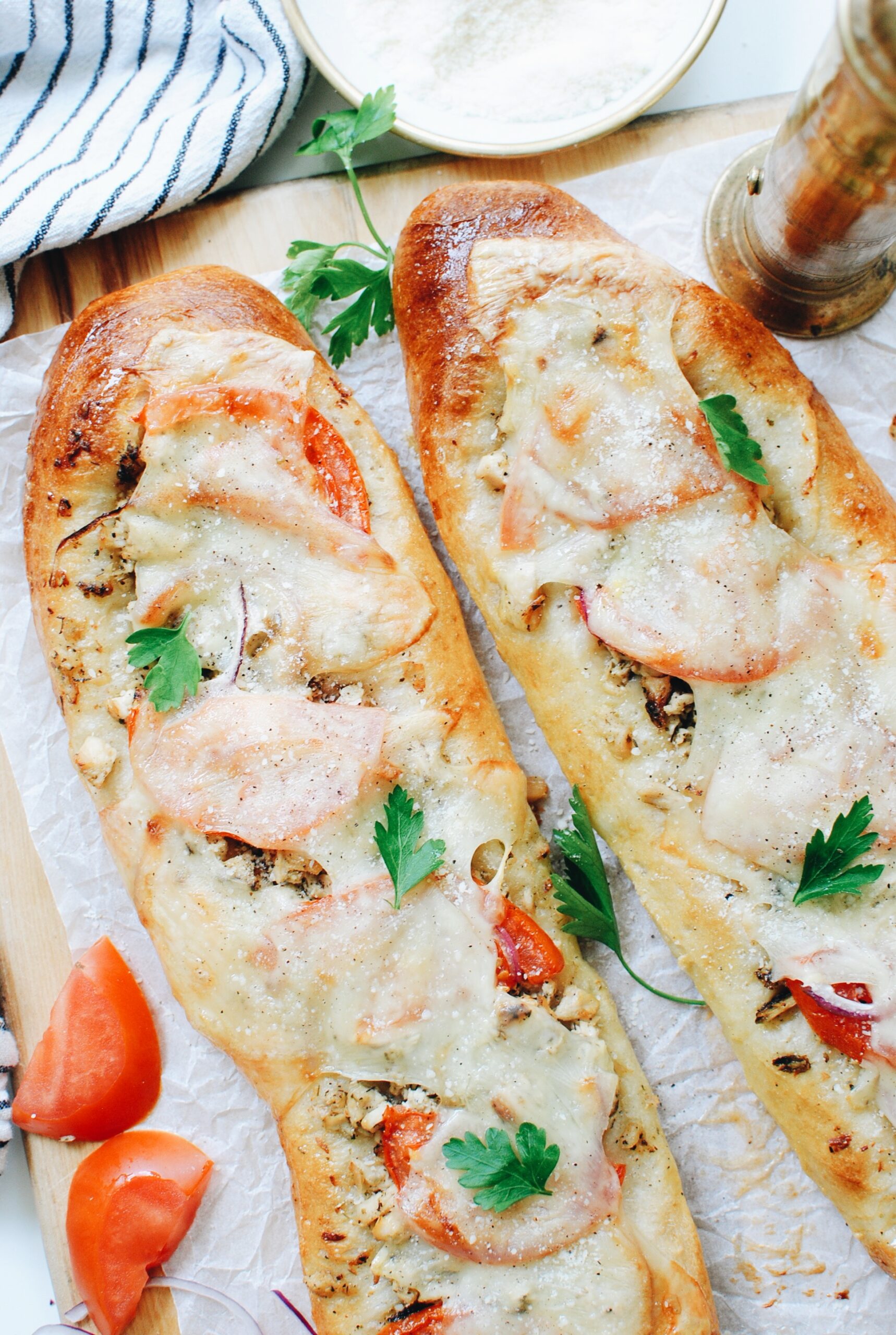 You don't have to make this Italian Chicken French Bread (I almost typed Bench Fred.) for a picnic, but I feel like it's giving off major outside vibes. Yet it still has melty cheese on top. Don't ask me how I make this happen, you guys.
Also, I had a completely different vision for these. At first I wanted to seal up the bread, flip them over and twist them together, like with this Buffalo version and this Taco version. Buuuut when I assembled them all and layered that cheese, I was like, there's no way we're sealing. Open faced it is. Plus I'm lazy, heeeeey-oh.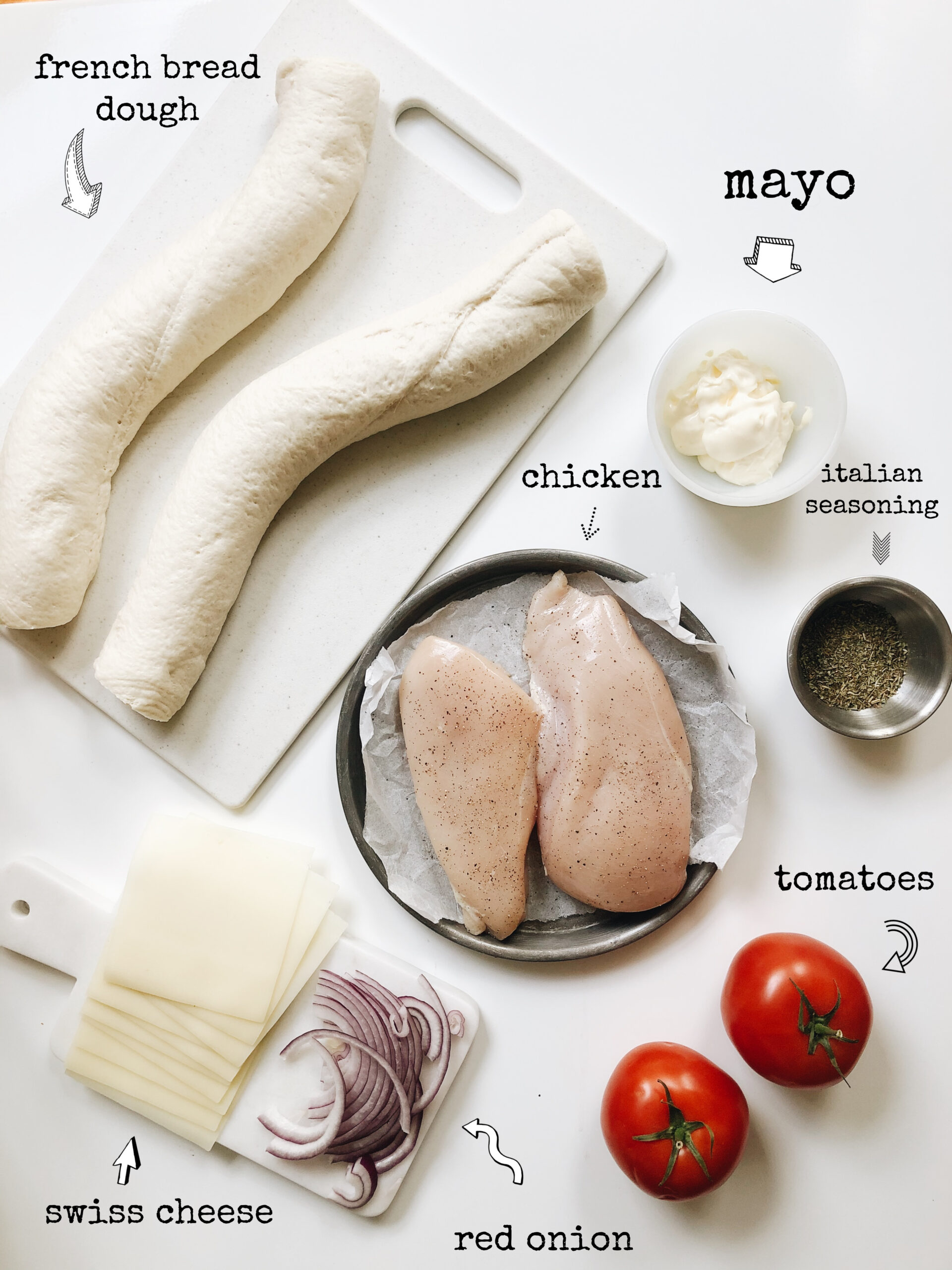 It's really simple. (yes I say this every single post) See? Nothing weird, all pantry and fridge staples. I mean, you might have to pick some refrigerated Bench Fred dough, but you've got the rest, I'm sure of it.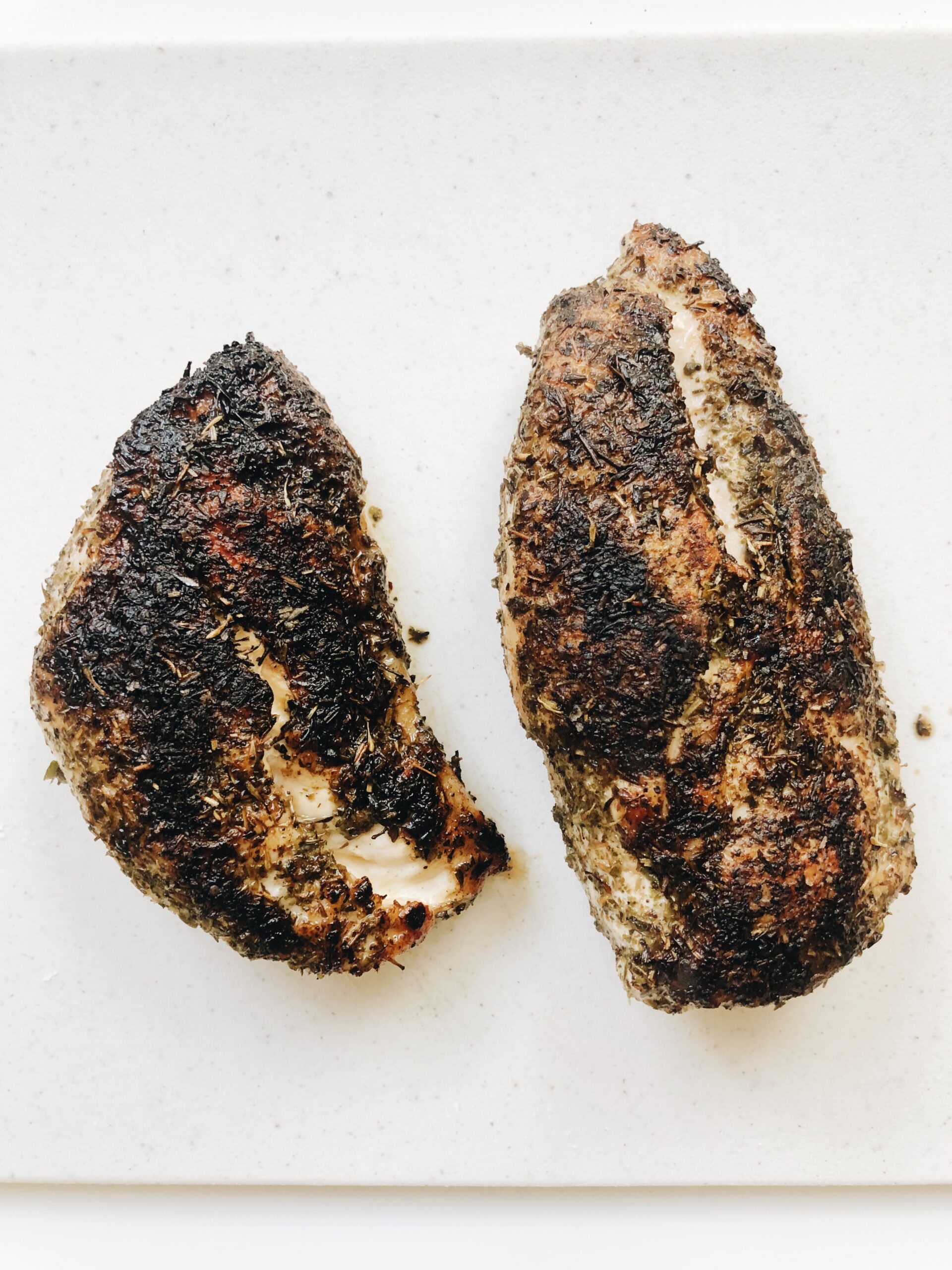 So we've just seared our two chicken breasts. Heavily coat them with that dried Italian seasoning, and get them nice and blackened on both sides. A short cut here would be to buy chopped chicken, whatever that looks like in your life. But if you do, just make sure to toss it with the Italian seasoning. I prefer searing my own because of that nice crust, man! Look at that. That's all flavor, and you want it on your side. And in your mouth.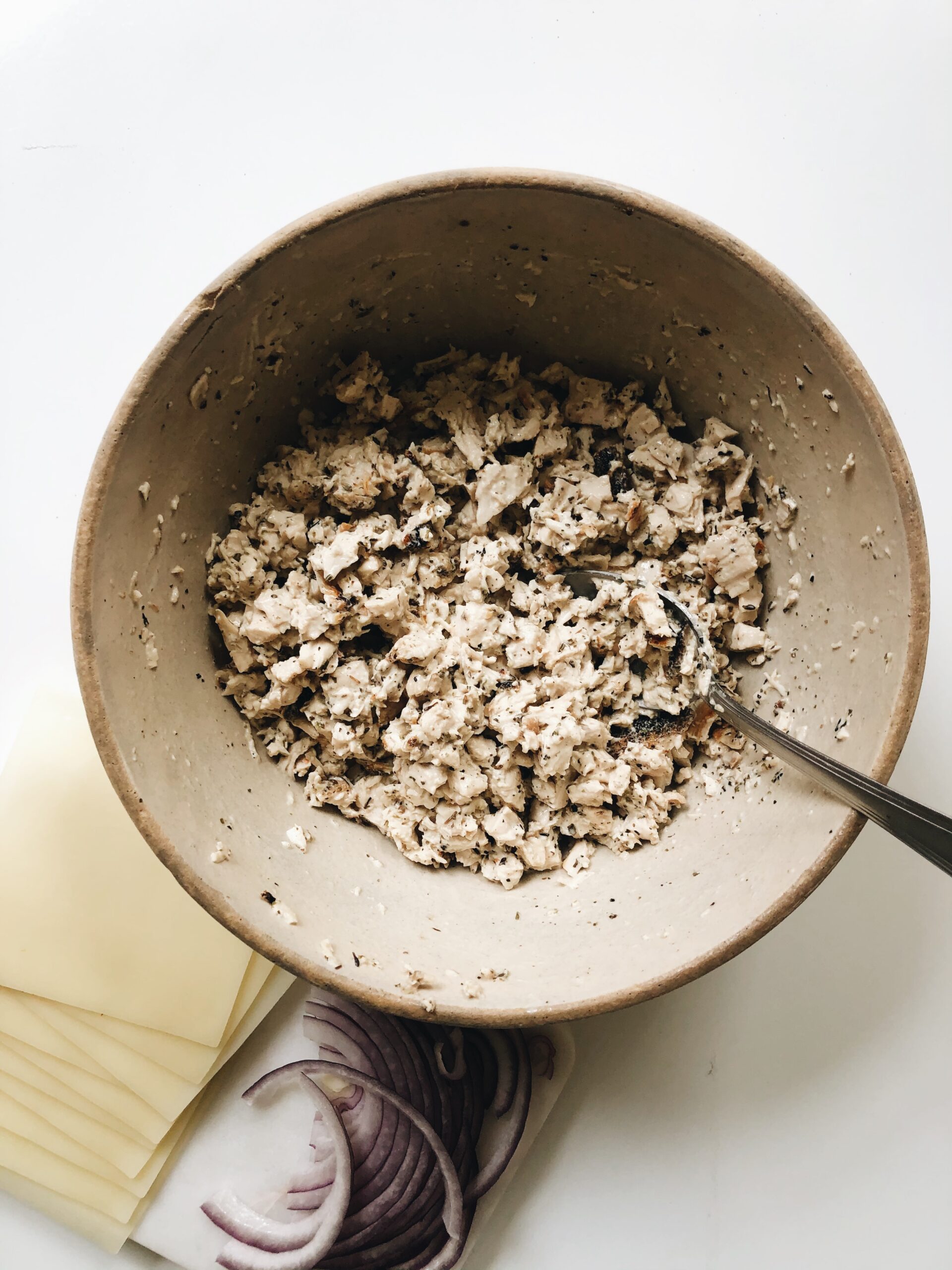 So then you just violently chop the chicken and stir in the mayo. THAT is where the chicken salad-ness comes in. The mayo. You and the mayo together.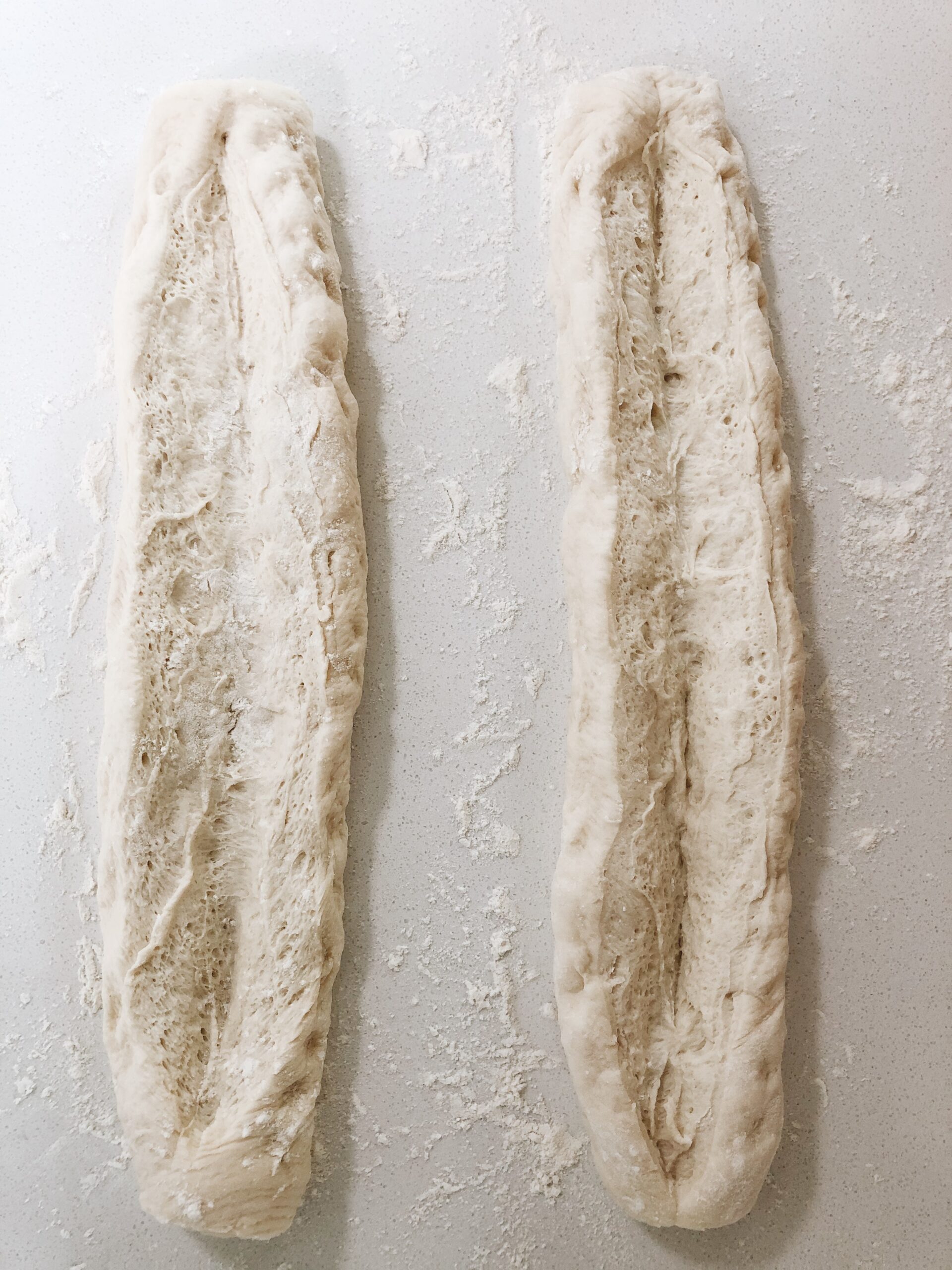 So, this is what you'll do with the Bench Fred. Take a sharp knife and run it down the center, scoring as you go. You might have to go over it twice, to really cut it. Get it near the bottom of the dough. And then just sort of press the dough into a long canoe shape, like that. It might (will) be a little sticky on the inside, but if you dust your fingertips with flower, you won't ick out as much. If that type of thing icks you out. Which it may not. In which case, never mind.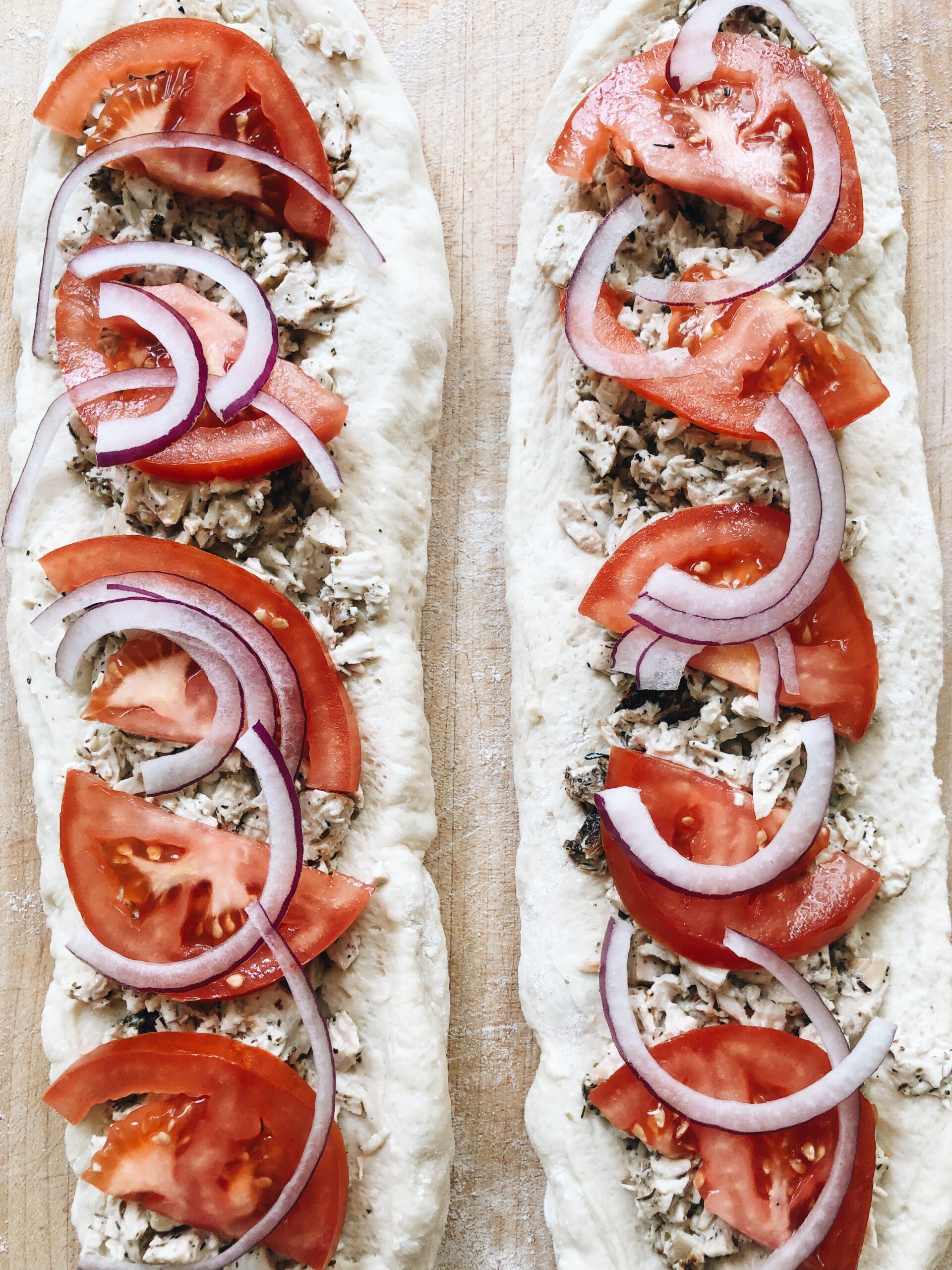 Spoooooon that Italian chicken salad down the center of each bread canoe, and top it with sliced tomato and onion. Just like a sandwich! But not. Tiny sprinkle of salt over the top is never a bad idea.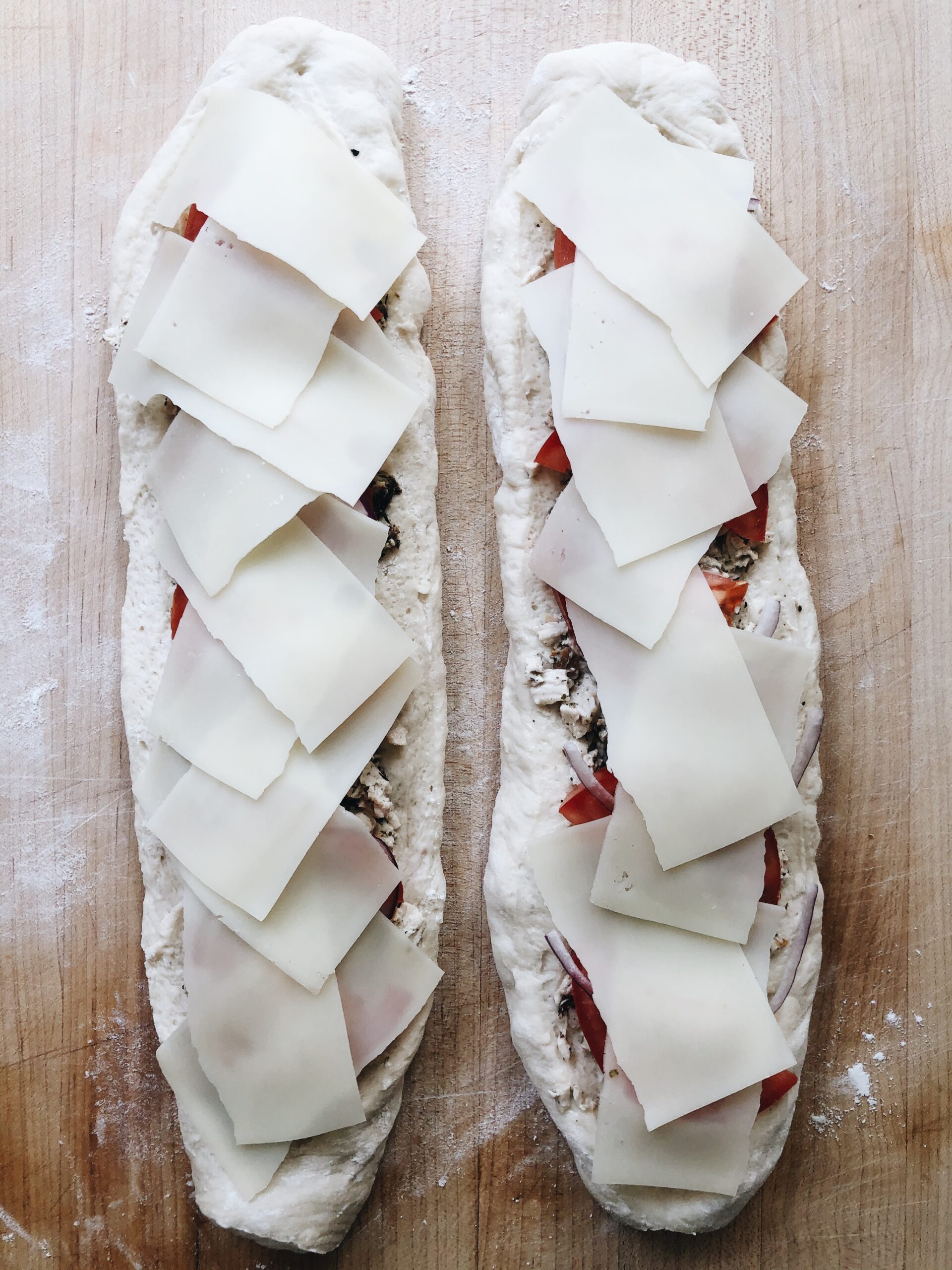 Then just layer your cheese. And listen, this is where ours may differ. I had some thinly sliced Swiss cheese in the fridge, so I used that. You might have a block of mozzarella. Grate it and go for it. You might have thick slices of Provolone. By all means, jump in. Whatever happens at this point, make sure it involves some sort of cheese. For the love.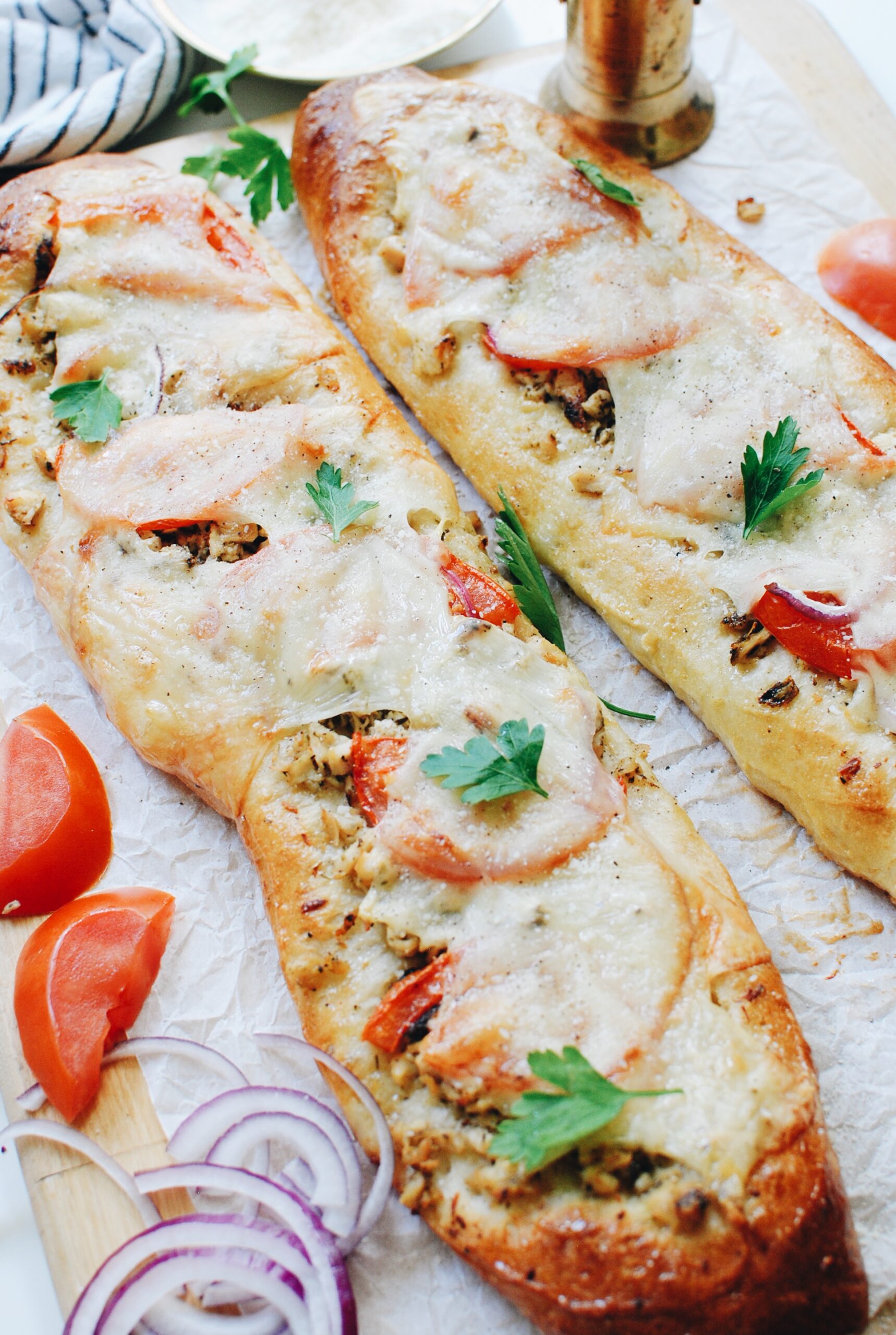 Hellooooooo baked and bubbly and browned and beautiful. This is 30 minutes, tops. I did put an egg wash on the outer bread corners, so that it would crust up and shine, so make sure you do that! Or else your hair follicles will be haunted by cave crickets the entire summer.
Look, I don't make the rules.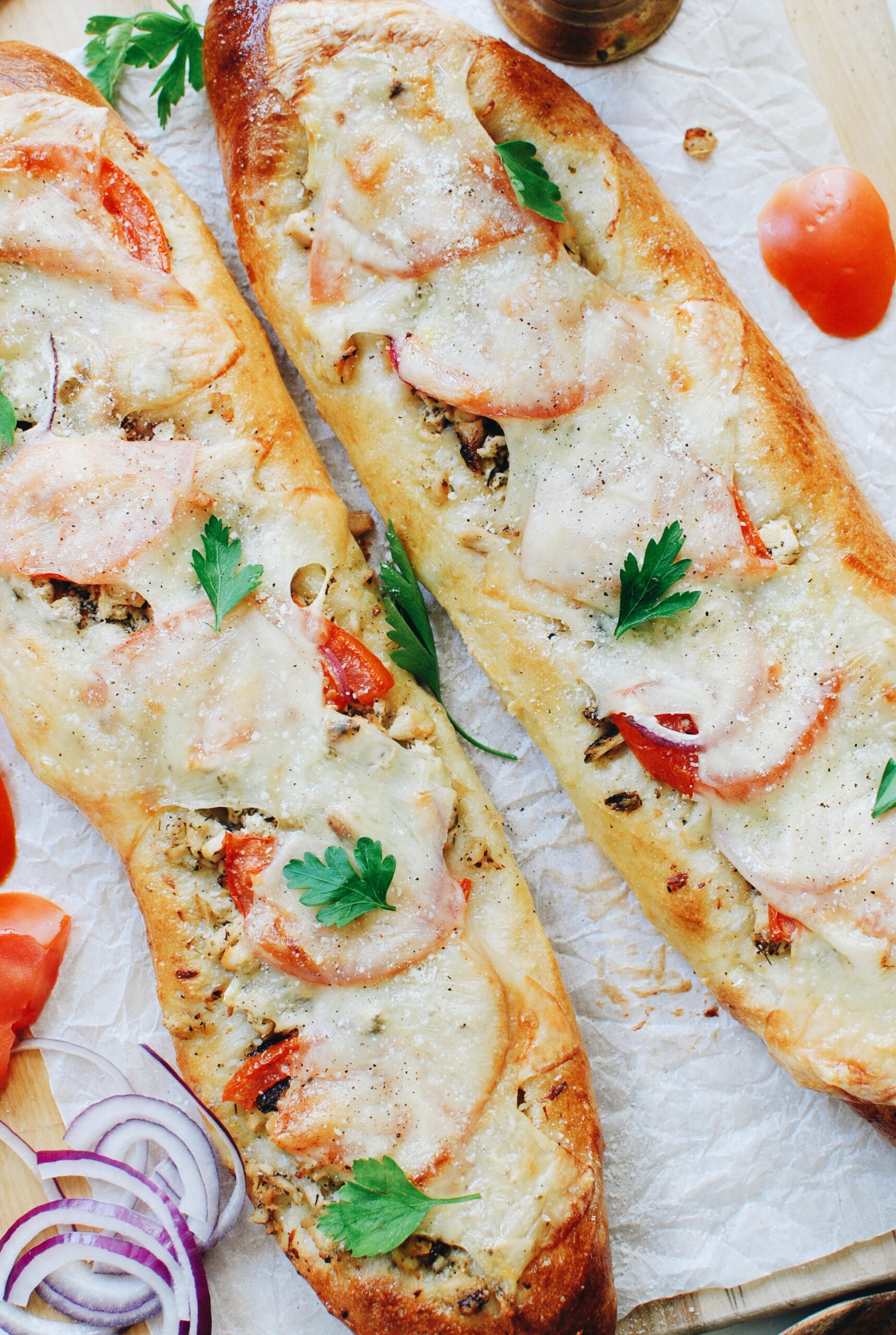 Look how festive! It's a weird mix of pizza meets sandwich meets salad meets boats meets whatever.
Oh, and those onions and tomatoes get oh so slightly wilted and it's fabulous. Absolutely perfect under that blanket of melted chAYse.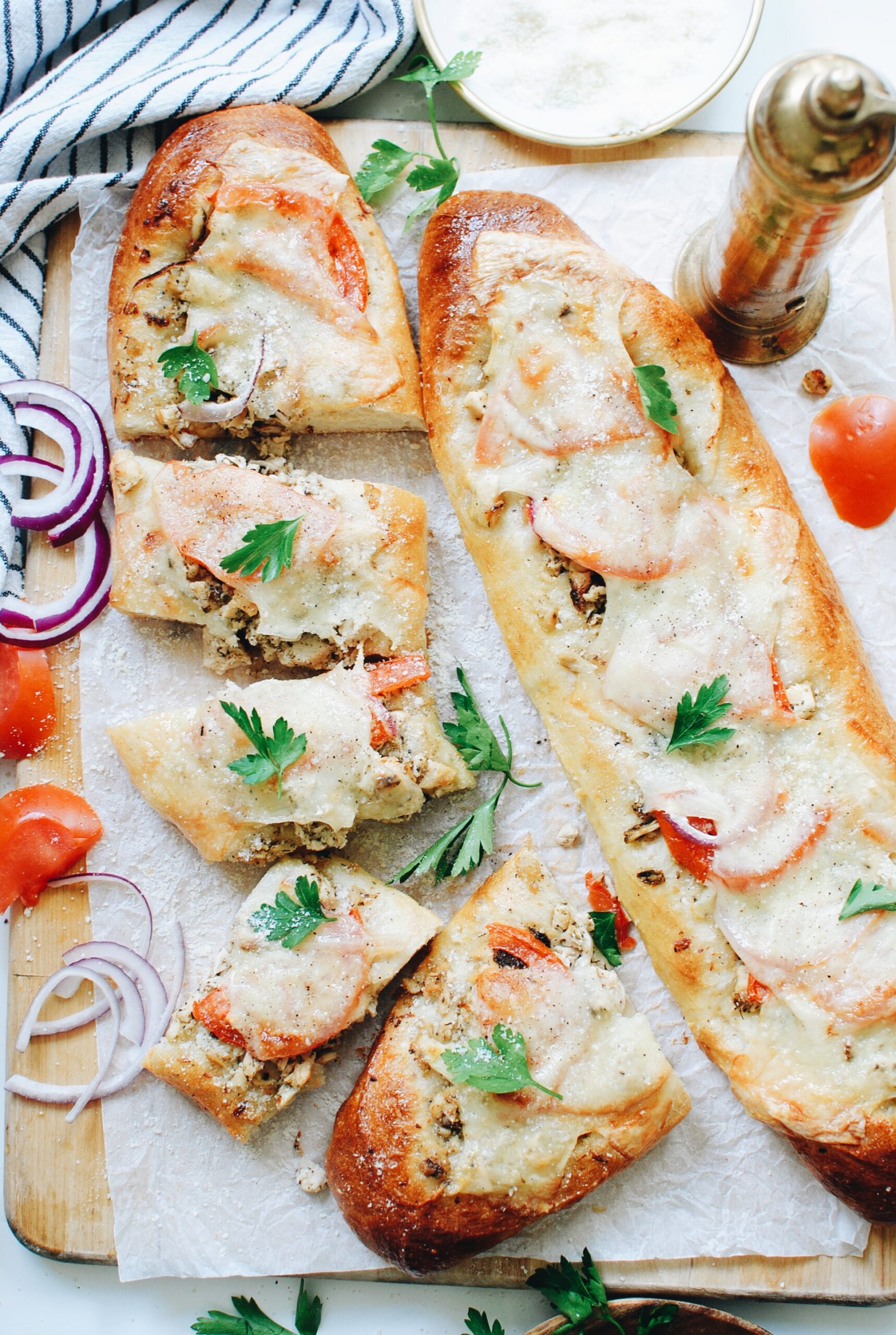 And see, this is what happens when you slice it. Immediately ready for its picnic closeup. These are totally fine at room temp, too. Warm is great, room temp works, just make sure they make their way to your face hole somehow.
And ALSO, you can swap in and out the ingredients. Pepperoni, black olives, different cheeses, maybe a little sauce? Go nuts. This is your one life.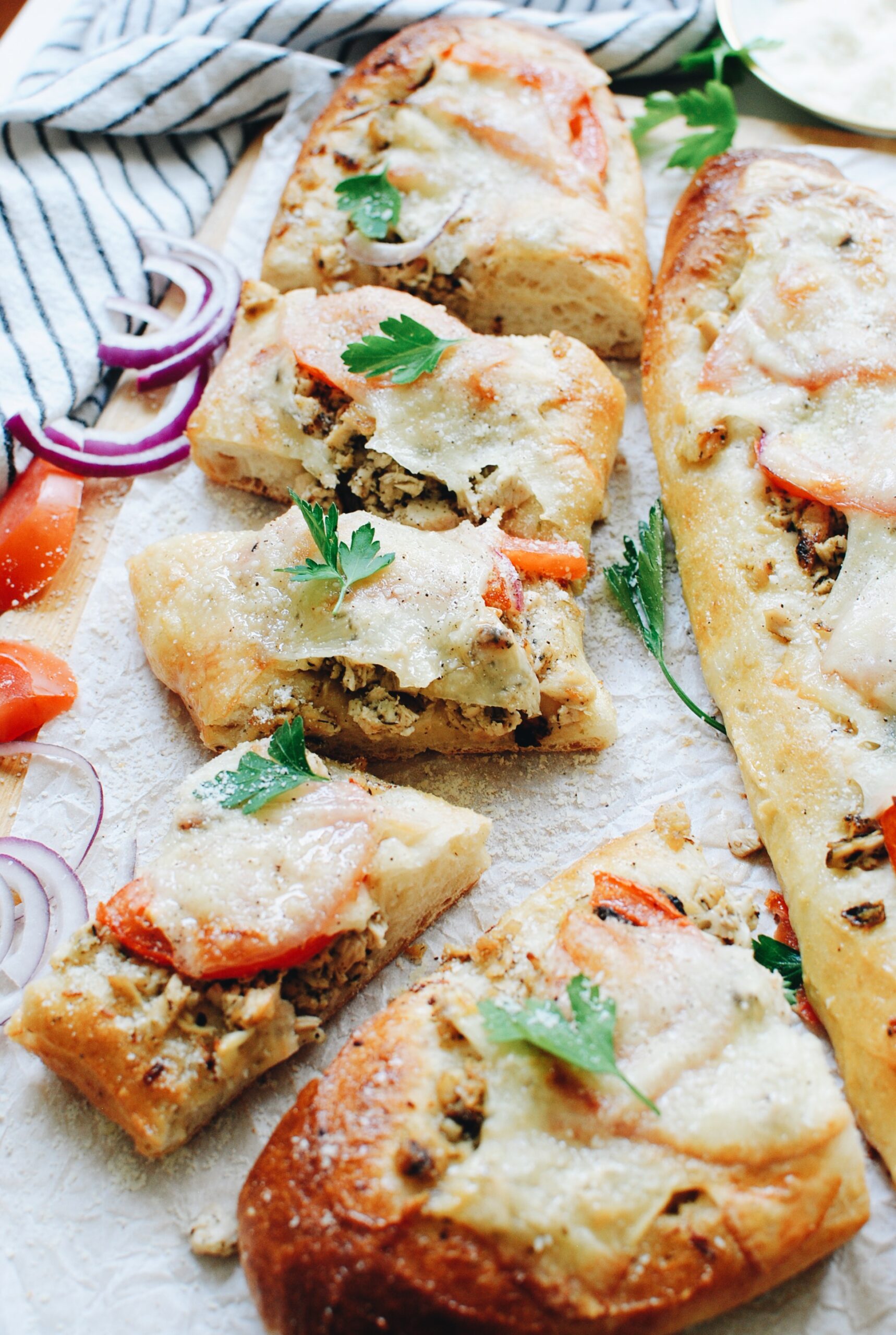 Dinner outside tonight? Well yeah!
Italian Chicken Salad French Breads
Ingredients
Two chicken breasts
2 Tbs. dried Italian seasoning
3 Tbs. Mayonnaise
2 (11 oz) refrigerated tubes French bread
1-2 tomatoes, thinly sliced
1/3 cup thinly sliced red onion
10 slices Swiss cheese (or whatever cheese you want!)
1 egg, lightly beaten
Coarse salt and freshly ground pepper
Instructions
Preheat your oven to 350.
Heat a Tbs. of oil in a medium skillet over medium. Season the chicken all over with a good pinch of salt and the Italian seasoning. Sear in the pan for five minutes per side, until cooked through and blackened all over. Let the chicken rest for about five minutes before chopping up as finely as you can.
Once chopped, stir in the mayonnaise.
Place the French breads on a rimmed baking sheet. Take a sharp knife and score it right down the center. Using your fingers, sort of pull the bread away from itself, creating a canoe-like well down the center. Spoon the chopped chicken down the center of each French bread, then top with sliced tomato and onion. Layer the cheese over the veggies. Brush the egg wash over the exposed dough, to help create a shiny golden crust. (I said "down the center" like thirty times.)
Bake for 30 minutes, until the cheese melts and starts to brown in places, and the dough is slightly puffed and golden brown.
Slice and serve immediately!
Makes two loaves.
7.8.1.2
497
https://bevcooks.com/2021/04/italian-chicken-salad-french-breads/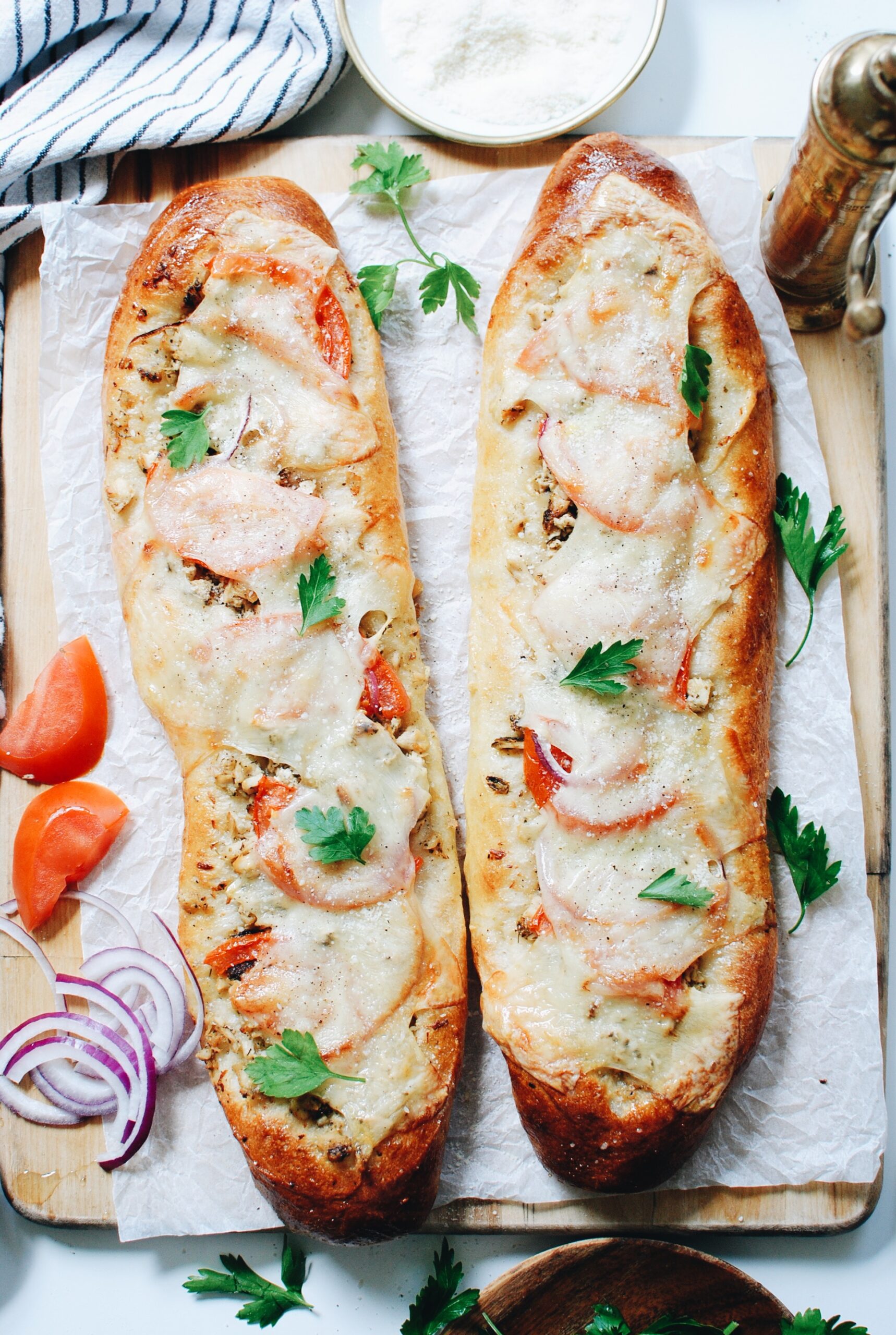 Can I come?