Yep.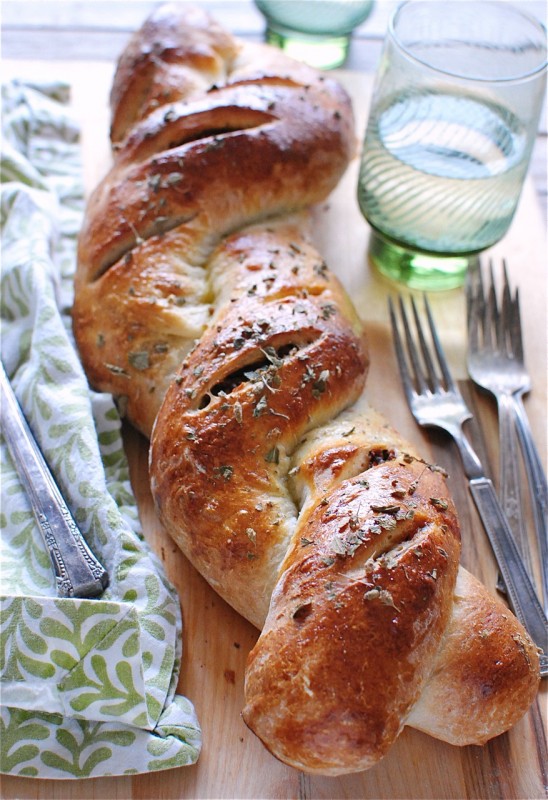 Pretty obnoxious, isn't it?
And I don't even have an excuse. So embarrassing! One minute I was craving tacos (shhhhocker) and the next I was stuffing two French breads with this spicy chicken taco mixture with cheese and beans and chipotle peppers. And then I started twisting it up all like some harebrained villain on the loose in the wild wild west, and then before I knew it into the oven it went with a silky egg wash and crushed Mexican oregano on top and OH.
Nothin' I could do to stop it.
These next few horribly orange photos due to late rainy afternoon kitchen light are me showing you how to stuff this monster. Because one might be thinking, "How on patinky dink did she get all that chicken taco mixture insawd thawt thar bread!" Well, this is how, pigeons. This is how.
1) Slice 'em open, tip to tip.
2) If you have one of those roller thingies, not a huge rolling pin, but something smaller, I have no idea, use that. Or your fingers! Just kind of pull the dough open until it's about 4 inches across in diamaradius or whatever.
3) Sprinkle a little cheese in the well (I call it a well because it makes me feel at peace), and then sprinkle the entire chicken mixture on top. You'll be like, "Whoa, chachi, this is a lot of stuffing, I don't rightly know about this." But keep at it, little train.
4) Then you peeeench peench peench (actually, I call it pinch, but my little sister calls it peench and it makes me a smidge postal) that whole love canoe right up, tip to tip. Peench it tight.
Then you just flip them over, seam side down onto a baking sheet, and twist the two around each other, like lovahs.
Actually, it kind of looks like a lady crossing her legs, ya know? Like at a fancy ball, sitting at her little round table with a glass of champagne, waiting to be asked to dance, glancing around the room with lashes longer than cattails in an open meadow on a breezy day.
Oh you don't see that? Oh okay.
Ohmygaaaaawwww23l4jkd sdf9084jls s sdlfjslf;sjdf ajs .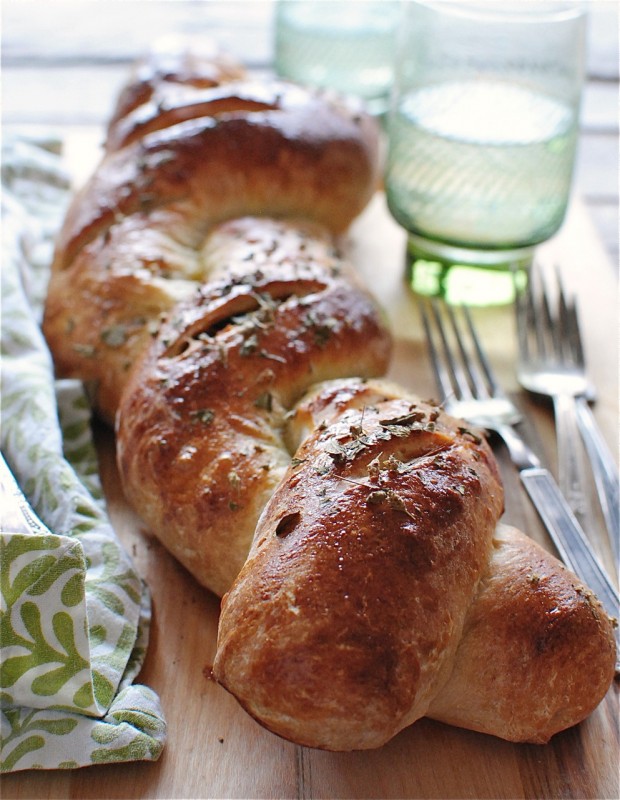 I'm not even going to attempt to warn you what's going to happen to your motor skills, circulatory system, neurological transmissions, and overall ability to breathe or see anything at all.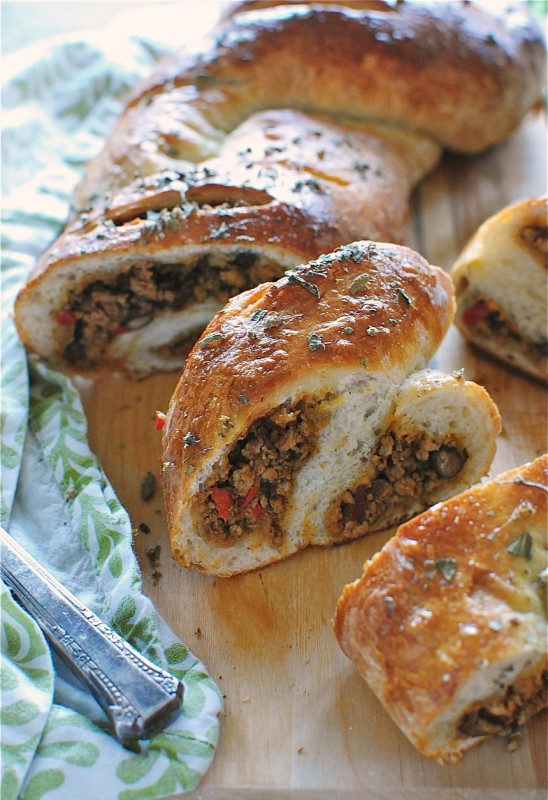 Do the twist.
Chicken Taco Twist:
What it took for 4:
* 1 pound ground chicken (go dark meat!)
* 2 Tbs. favorite taco seasoning
* 1/2 red bell pepper, diced
* 2 chipotle peppers, diced
* 3 tsp adobo sauce
* 1/3 cup black beans
* pinch of salt and pepper
* 1/2 cup chopped cilantro
* 2 (11 oz) tubes refrigerated French bread
* 1 cup cheddar cheese
* 1 egg, lightly beaten
* 1 tsp Mexican oregano
Preheat oven to 375.
Heat a large sauté pan over medium-high, and add the ground chicken. Brown all over until cooked through, about 5 minutes. Add the taco seasoning, red bell pepper, chipotle peppers, adobo sauce, black beans, a pinch of salt and pepper, and the cilantro. Toss to combine and sauté another 3 – 5 minutes. Remove from heat.
On a clean and lightly floured work surface, arrange the french breads. Using a serrated knife, lightly score each loaf from tip to tip. Using either a roller, or your fingers, spread the dough until you get a 4-inch well in the center.
Lightly sprinkle some of the cheese along each well. Fill the wells with the chicken taco mixture. Get it all in there. It will work. Then, sprinkle the remaining cheese on top of the chicken mixture. Using your fingers, pinch the dough tightly, closing the mixture inside the bread. Continue until both loaves are pinched all good like.
Lightly coat a baking sheet with cooking spray.
Carefully transfer each loaf to the pan, and place them seam side down. Twist each loaf around each other, creating a . . . well . . . twist. Make sense?
Lightly brush the twist with the egg wash. Using a small paring knife, lightly score little slits across the top of the twist, allowing for ventilation. Lastly, sprinkle the Mexican oregano on top of the twist.
Slide that thing in for 30 minutes, or until the top is golden brown and the bread is cooked through.
Let sit for a few minutes (riiiiiiight), slice and eat the entire thing before anyone can catch you.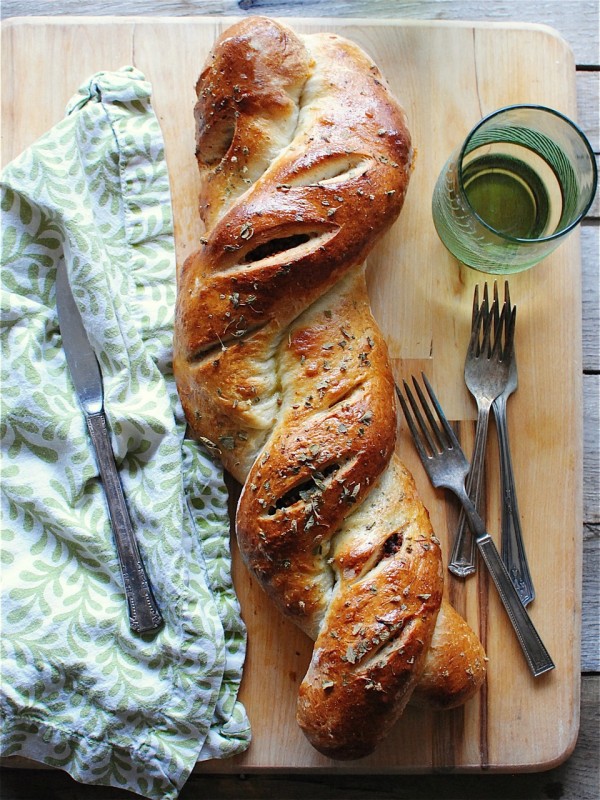 Or what about two lover caterpillars lost at sea with only each other to survive on this carving board raft! No? Okay.