Beans! Braised beans. On toast. We're so British right now.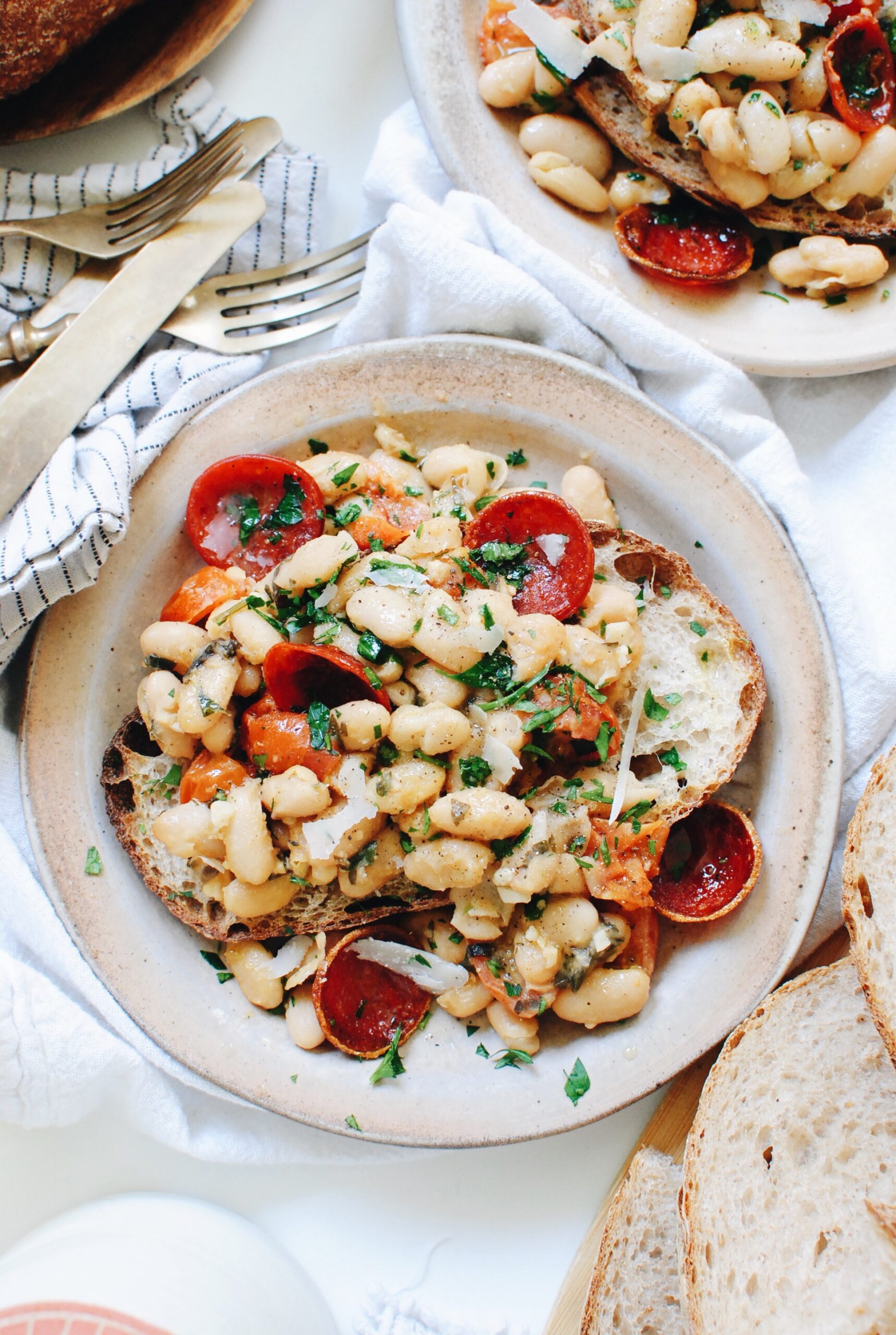 But like, look at that crisped up pepperoni. We're going places, you guys.
First of all, you should know that this was surprisingly a total hit at my house for my kids on my street in my town in this state. Complete shock to me. Sometimes I make recipes for the blog that only *I* love to eat. Sometimes I make recipes for the blog that I'm sure *you'll* fall apart over. And then sometimes I make recipes for the blog that are "sort of kid friendly if you squint your eyes just right." And this was one! Completely delighted, I tell ya. I feel like you'll be on board because I made this one for the both of us, you see.
Let us peepeth.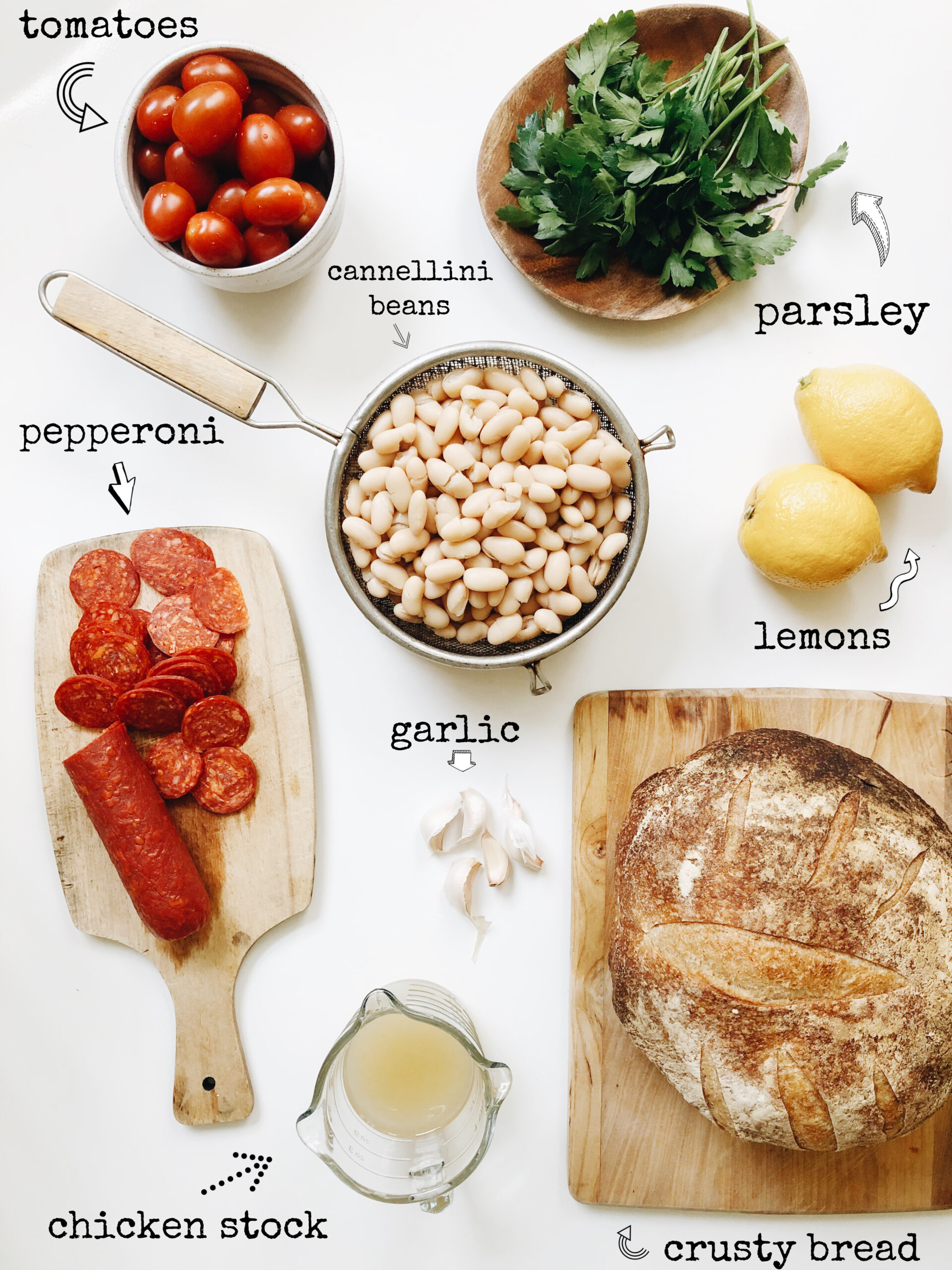 Nothing whack. And tell you what, if you don't have a log of pepperoni in the fridge, the pre-sliced will work. DeLallo gave this me one and I like the smaller rings it makes. They're not mini, nor are they the domestic size. They cute! But use what you have.
And the crusty bread, if you already have some good grainy sliced bread, or half of a homemade round that you're needing to finish up before it stales, this is perfect. I went straight French Farm, but any delicious bread you have cut thick will do the trick. I'm telling you, you'll flip over this. It's so simple. Watch.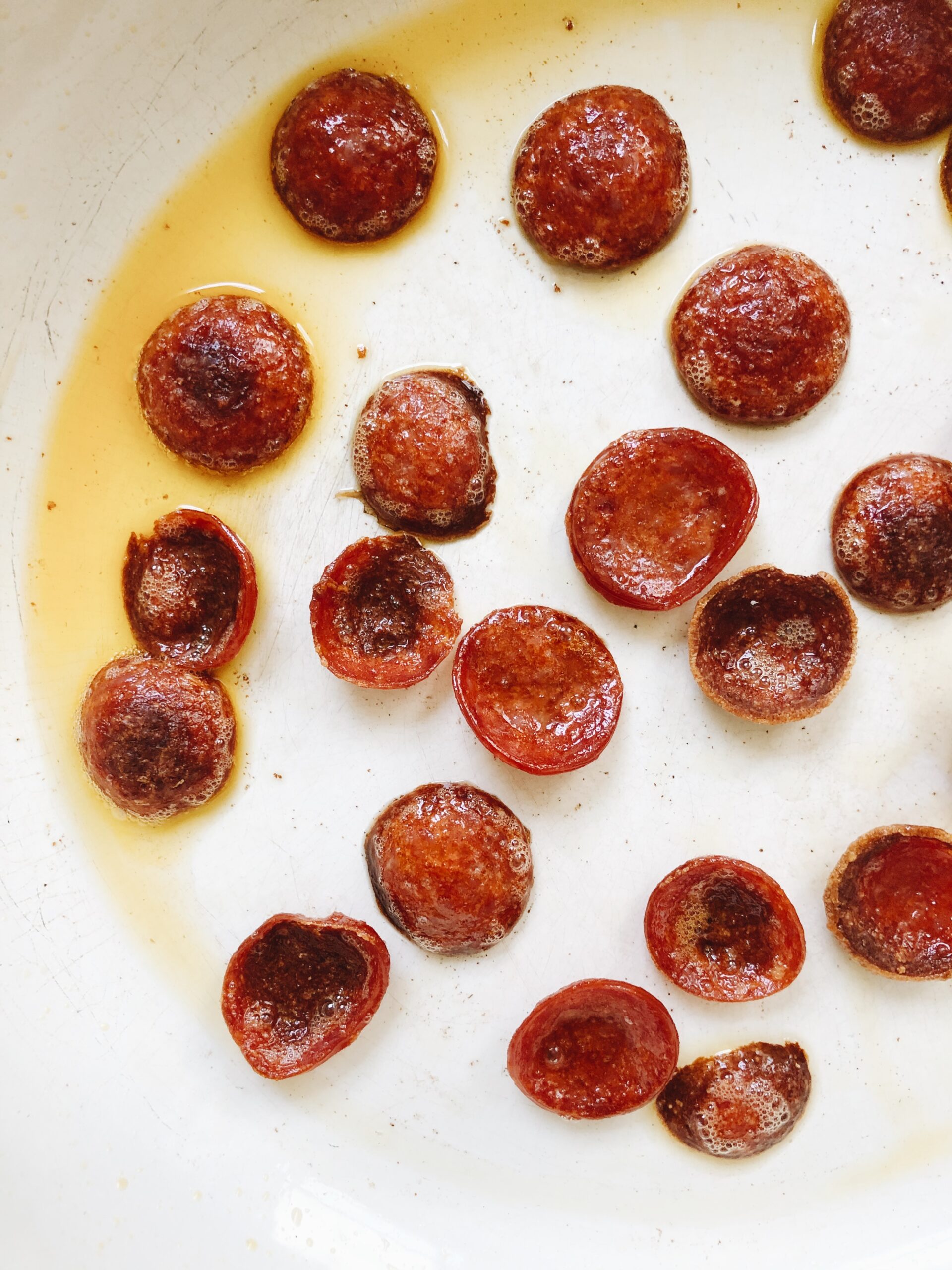 Crisp up your 'roni, bruh. And listen, if you need to snack on a few while the beans braise, it means you're headed the right direction in life.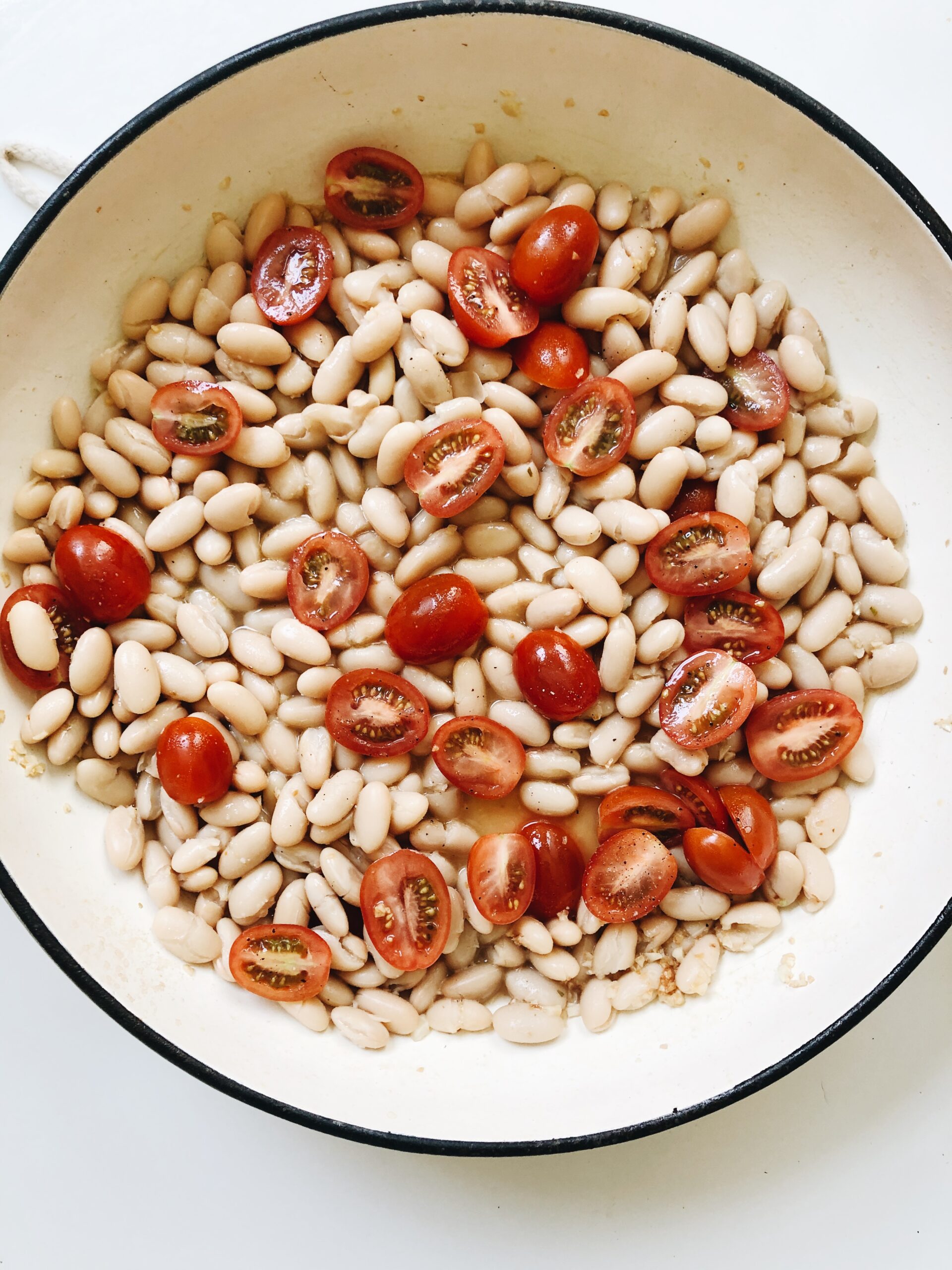 This is what the garlicky beans and tomatoes look like right when you start. I sautéed thirteen truckloads of minced garlic in the leftover pepperoni oil and cartoon birds busted through my new windows and swirled around my head in flittery singsong.
You'll add two cans cannellini beans, a cup of chicken stock, halved cherry tomatoes, and a bit of fresh lemon juice. And parsley! Chop up some parsley and violently throw it in.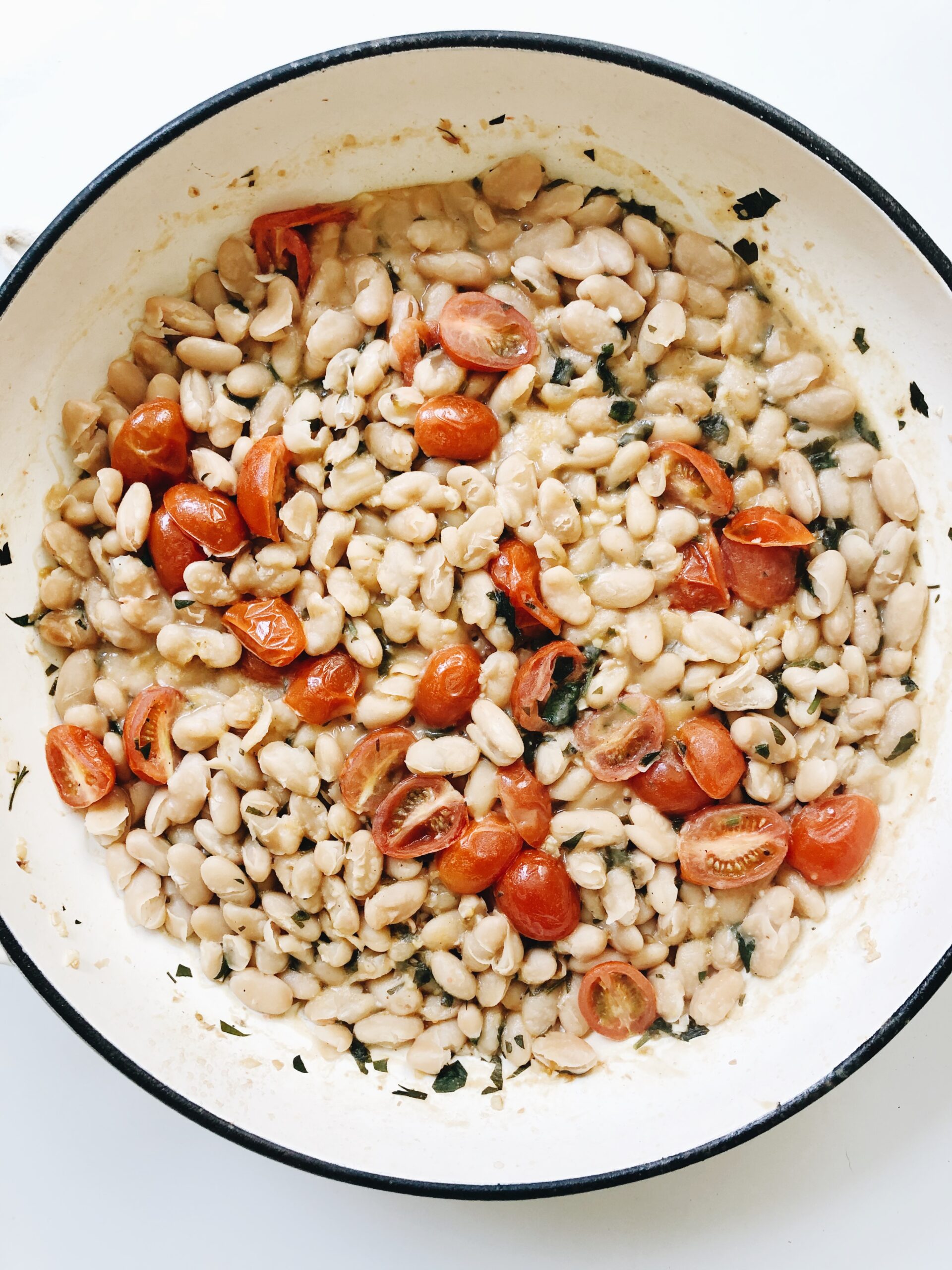 Hello, gorgeous. (said like Barbra Streisand.)
This is about 10 minutes later at a medium heat. The beans have absorbed the stock. The tomatoes have wilted. The garlic and lemon have infused the whole mess and those flavors are rustic and homey and slurpy and WE STILL HAVE THE PEPPERONI TO ADD.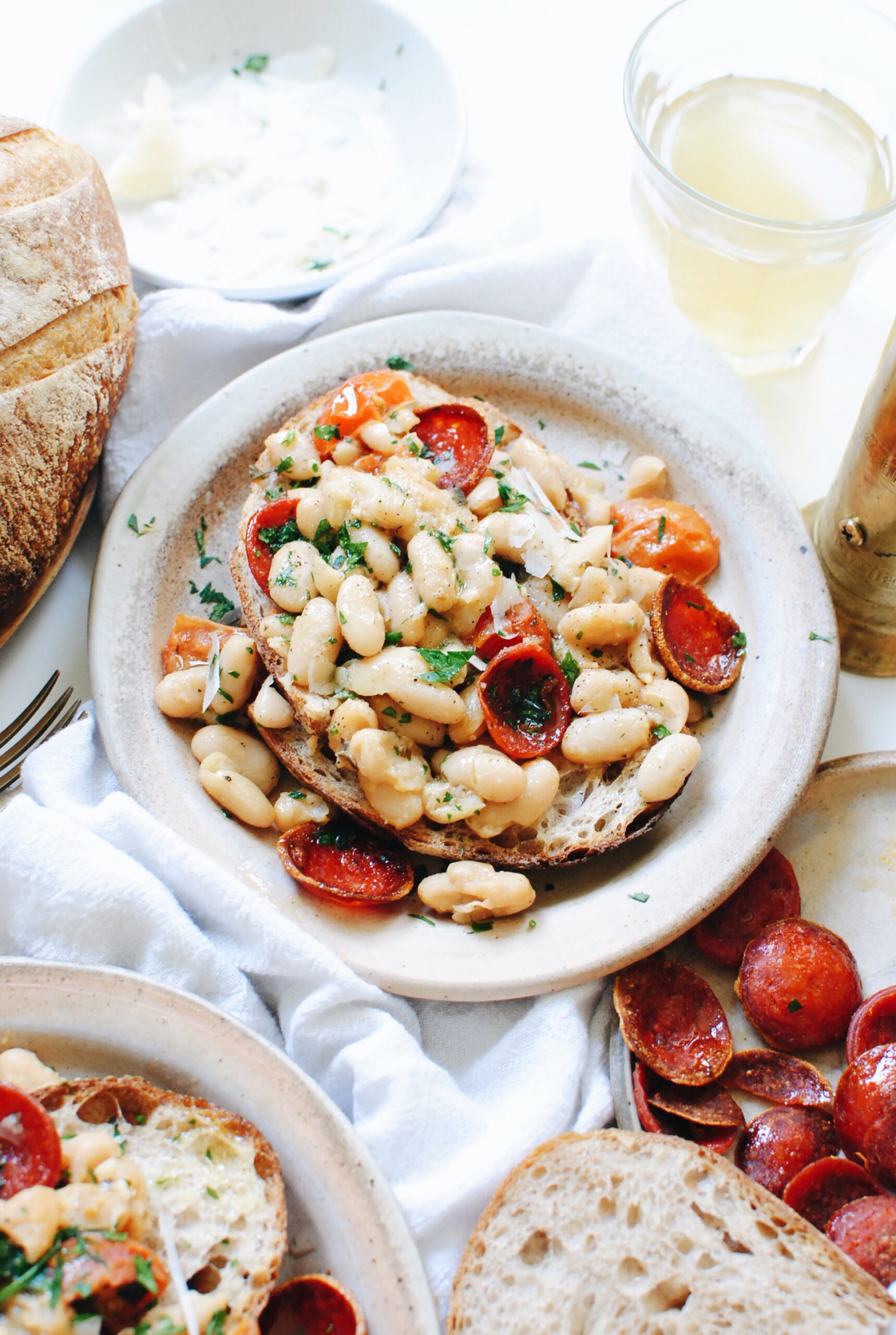 Honestly, though.
You'll toast your bread. You'll spoon the braised beans over the toast. You'll nestle the crisped pepperoni here and there. You'll squeeze more fresh lemon juice over it. You'll drizzle your best extra-virgin olive oil over it. You'll scatter a few parsley leaves over it. You'll sprinkle some parmesan shavings over it. I'm basically seeing how many times I can say "over it" before you are, in fact, over it.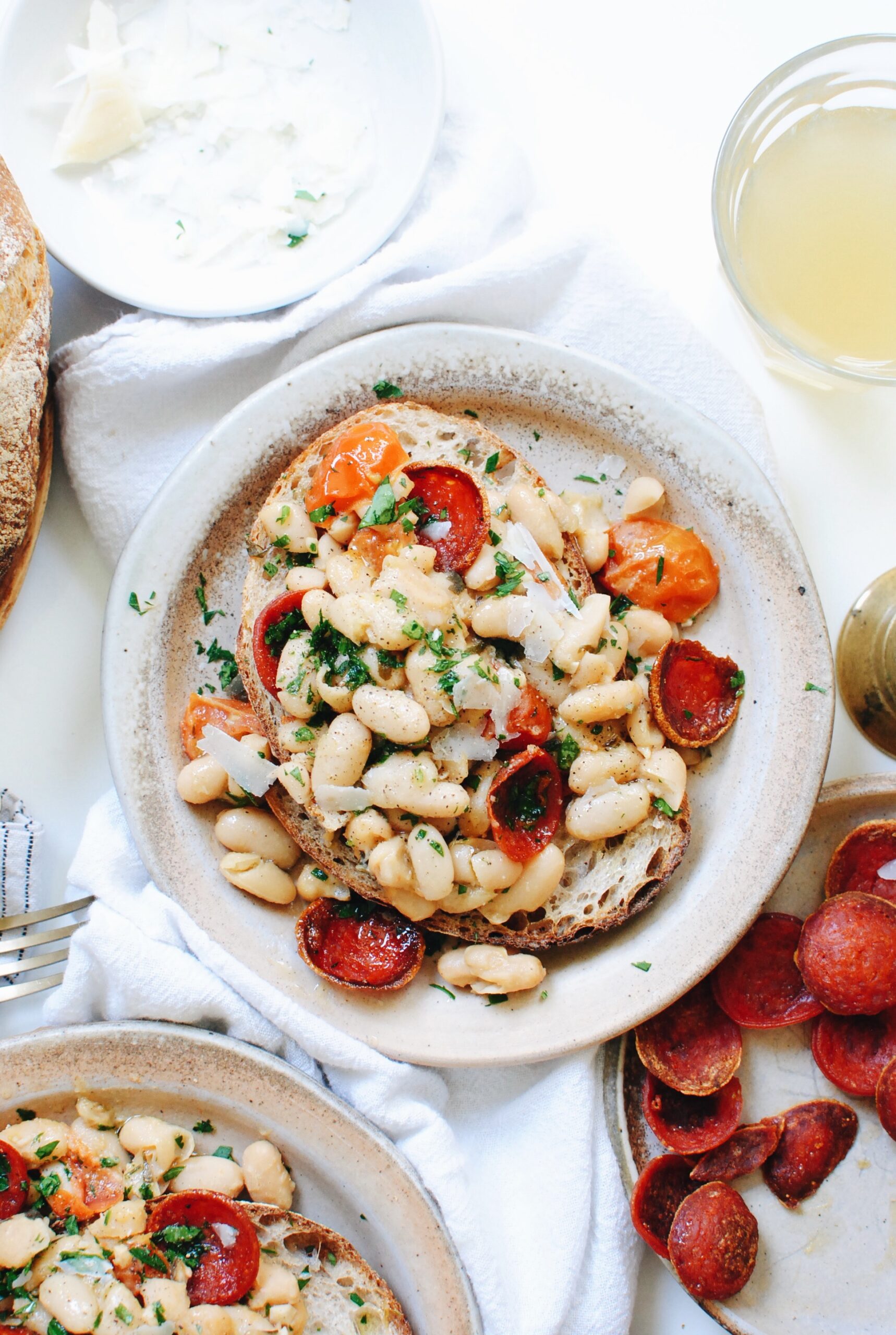 This is an absolute treat. A different take on casual supper, but with comforting flavors that are simple yet have a nice depth. (hi, garlic)
It also makes a nice side dish next to a roast chicken and green salad, if you need more on the table.
And you remember that crisped up pepperoni, right? Right. Make more of that.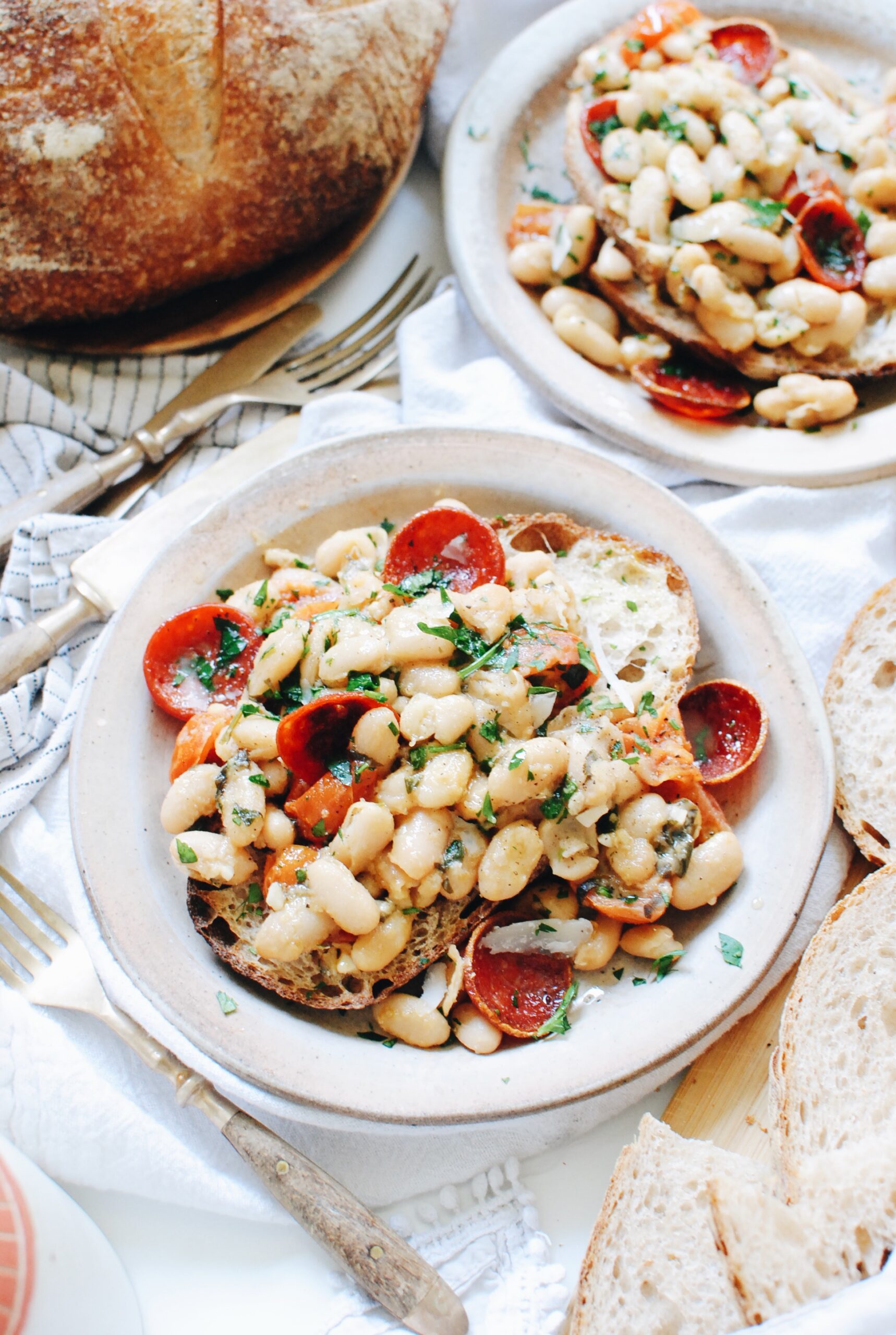 Your new go-to quick meal. I put brain money on it.
Braised Beans with Tomatoes and Pepperoni over Crusty Bread
Ingredients
3 oz pepperoni, thinly sliced (or about 1/2 cup)
2 (15 oz) cans cannellini beans, drained and rinsed
4-5 garlic cloves, minced
1 cup parsley, chopped
1 cup chicken stock
1-2 lemons
1 cup cherry tomatoes, halved
Crusty bread, sliced and toasted
Coarse salt
Instructions
In a large pan, add a Tbs. extra-virgin olive oil and sear the pepperoni slices on both sides, until they crisp up nicely, just a few minutes total. Remove and set aside. Don't get rid of that pepperoni oil!
To the pan, add the minced garlic and sauté for 30 seconds, until the fragrance punches you in the face. Add the beans, tomatoes and a pinch of salt. Toss that gently, then add the cup of stock, juice from half a lemon, and most of the chopped parsley. Let this simmer on a medium to medium low heat about ten minutes, until the beans soak up the stock and the tomatoes begin to blister and soften. And if they're still a little soupy, that's great!
Serve the braised beans with the tomatoes over the toasted crusty bread. Add the pepperoni to each toast, along with a little more parsley for garnish. Squeeze more fresh lemon over the top. Hey, add some parmesan shavings if y'awnt! You'll want.
Makes four to six toasts.
7.8.1.2
495
https://bevcooks.com/2021/04/braised-beans-with-tomatoes-and-pepperoni-over-crusty-bread/
See if your kids like this. I just feel like they will. But don't tell me if they don't. Bye!