HAYEALTH! This is the conundrum with food blogging. Let me tell you. I'm going to tell you. Hold on, let me refill my coffee. And froth my milk. You know this has to be done a certain way. One sec.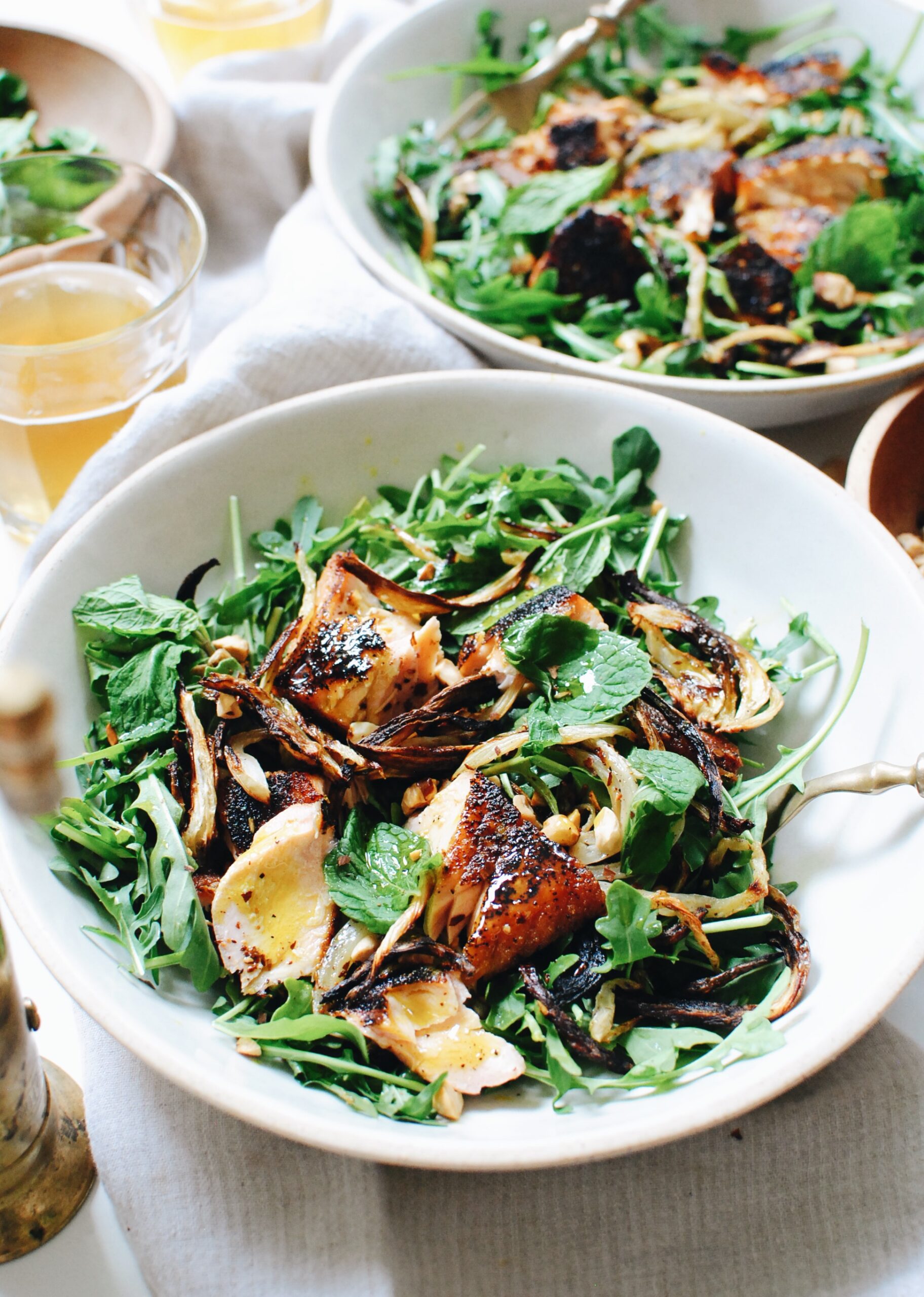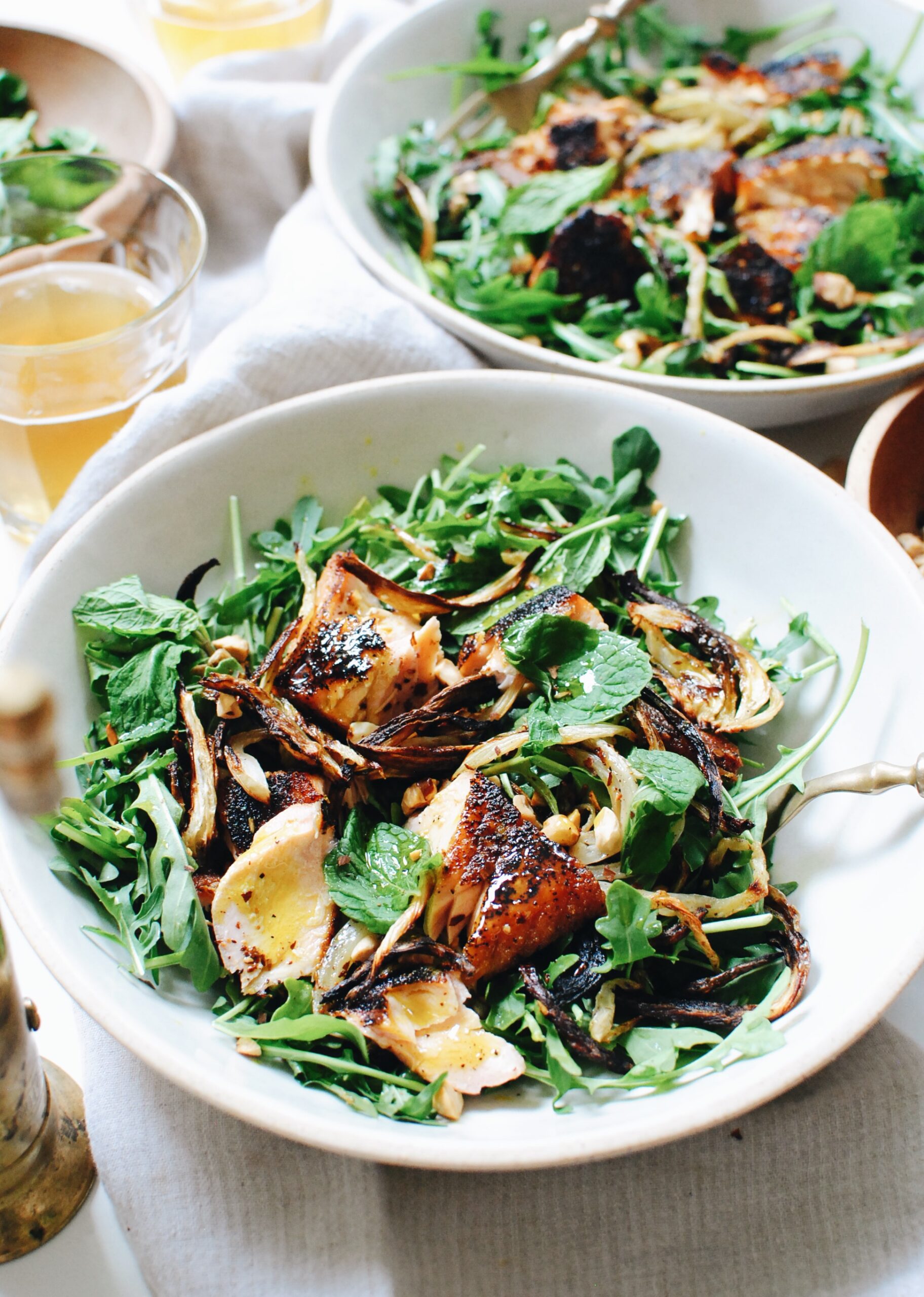 Okay! This is the conundrum with food blogging in this world. So often I get these messages:
"How can you eat like this all the time? Give me something light!"
"This is going to destroy my Whole30. Give me something healthy!"
"Wish I could eat like this. Give me something waistline friendly!"
Sure, sure! You got it. Light, healthy, waistline friendly. On it.
So then I develop, cook, shoot, write and post it.
. . . C R I C K E T S . . .
You say you want the light, but what you really want is the ooey gooey carby casserole avalanched with bubbling melted cheese. I know how this works, you see.
That SAID, here's a light, healthy, waistline friendly for those of you who actually got this far in the blog post (wait, we're still at the beginning) and wish to change up salad night with something a little earthy, pungent and vibrant! It's a good one. Saddle up.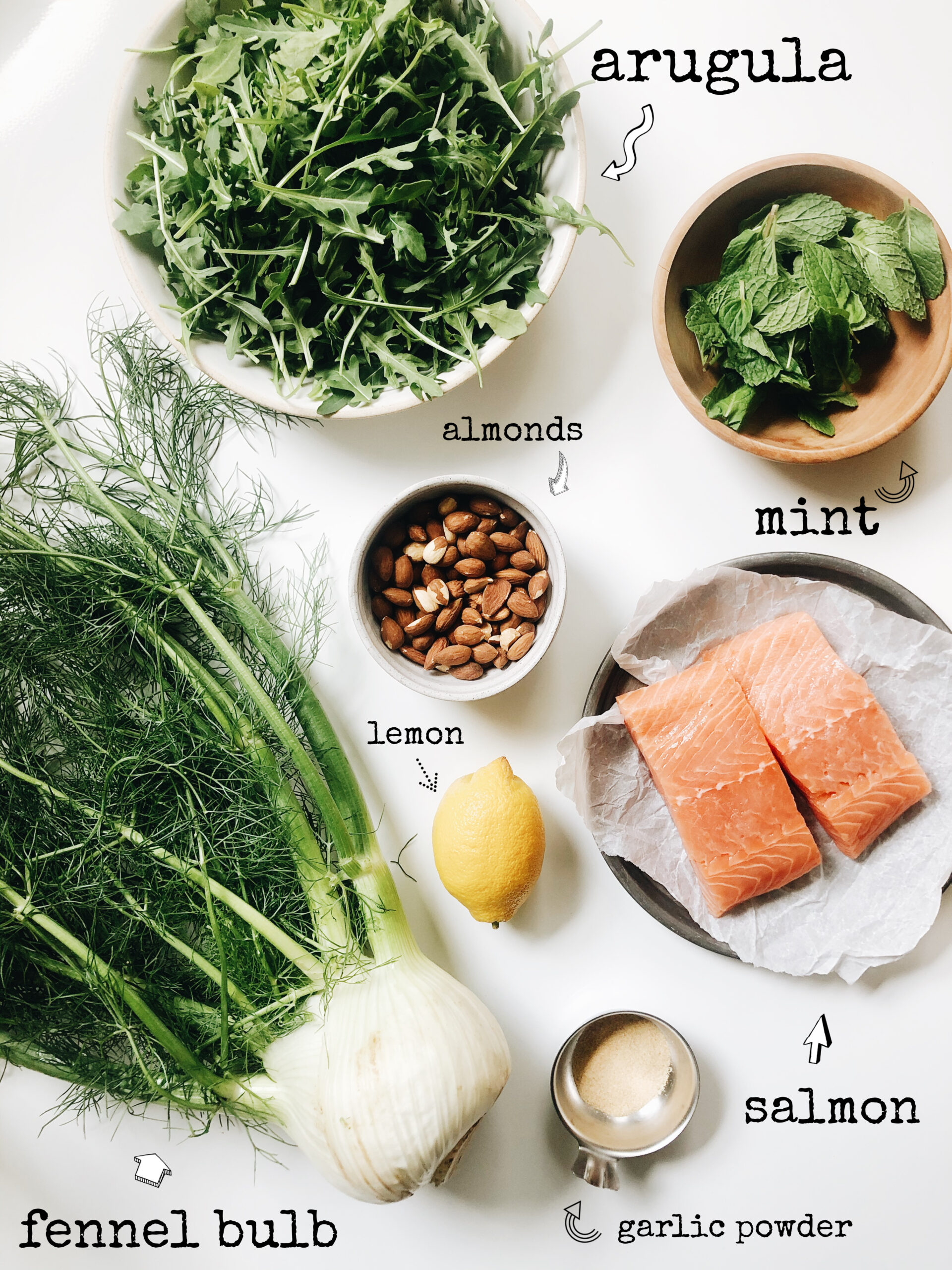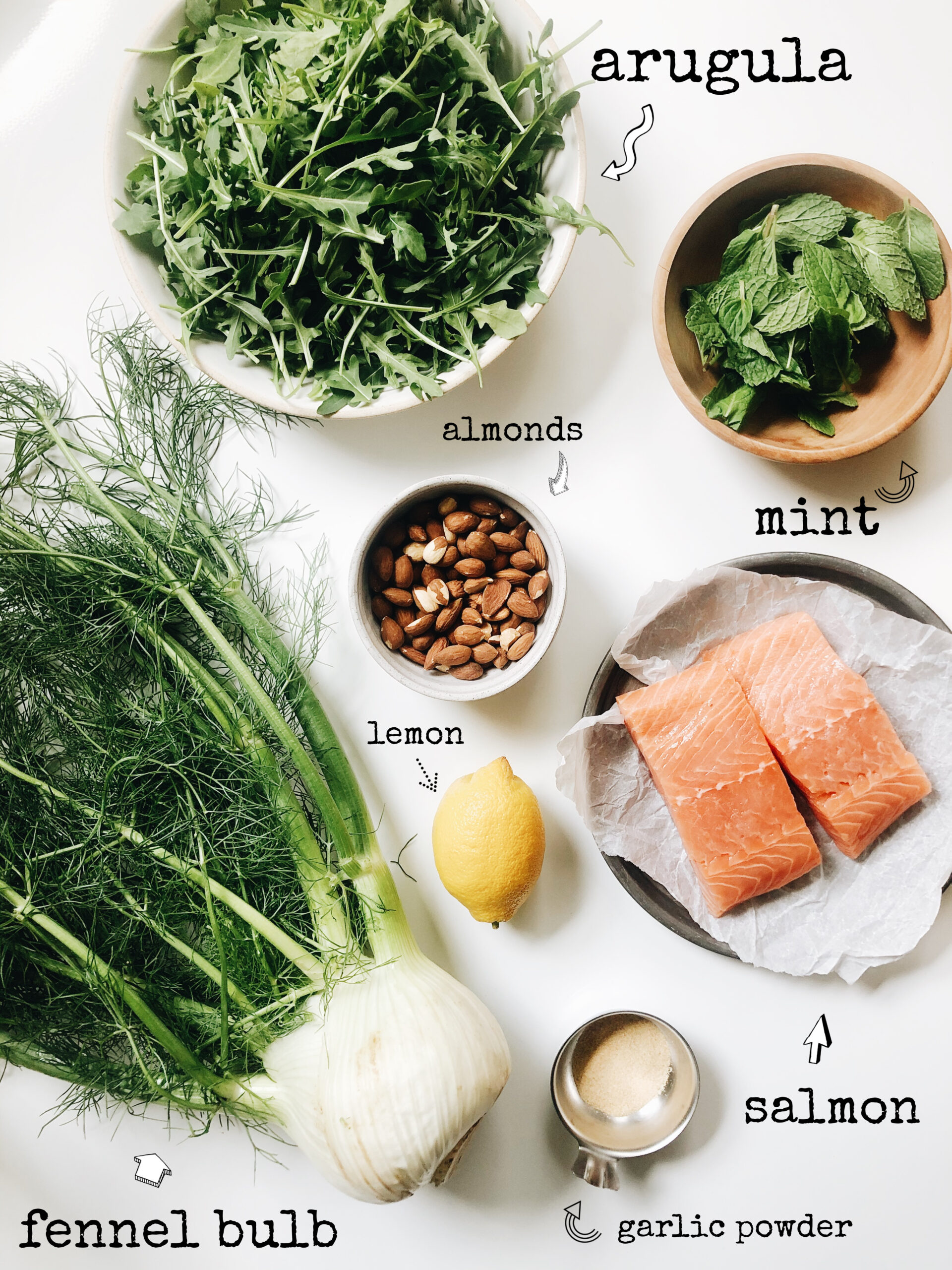 The fennel might throw you, I get it. It's definitely licorice-y, but once roasted it's a completely different game. And everything else is simple. See how I take care of you?
Don't answer that.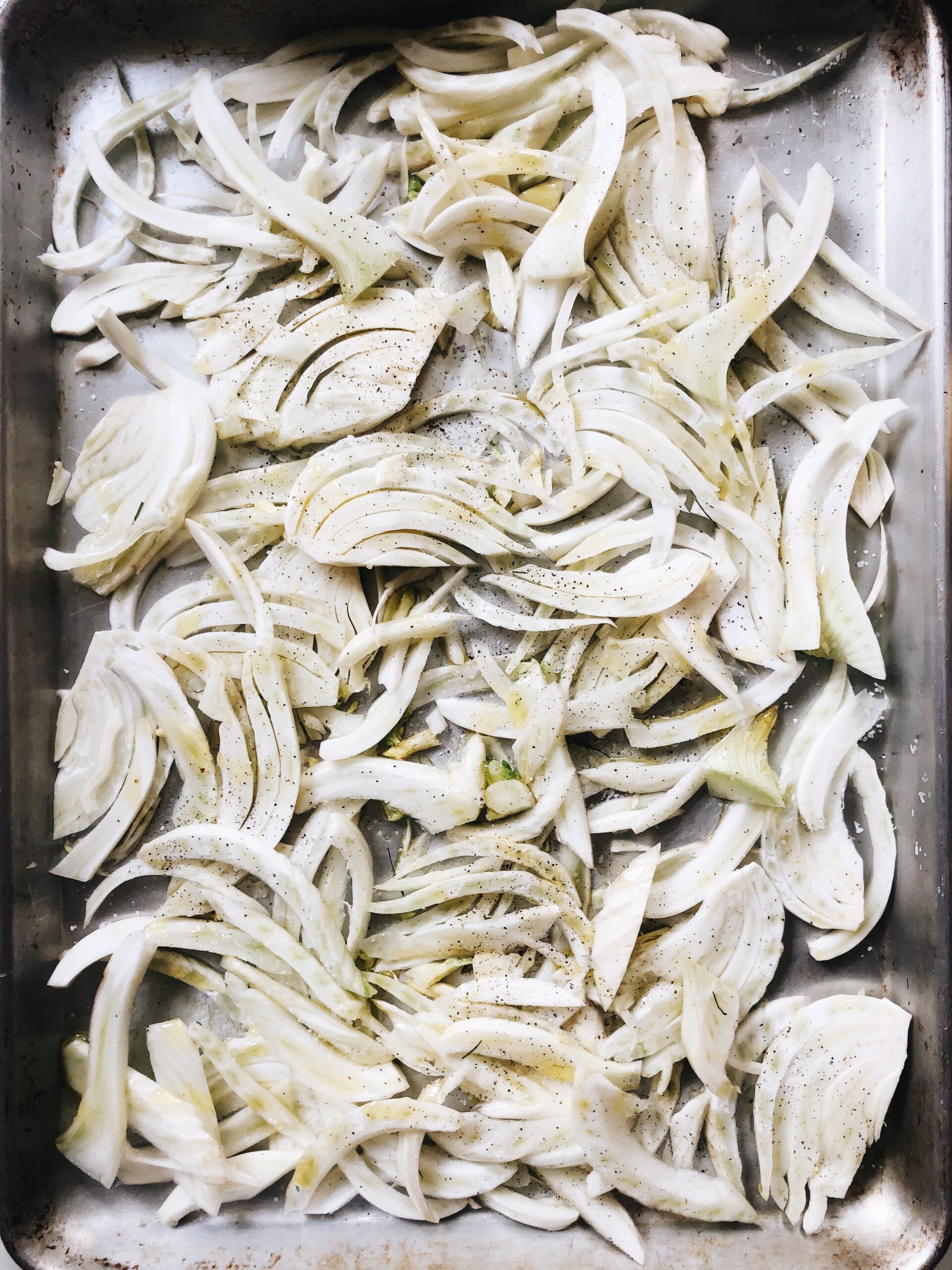 Roasted fennel reminds me of New England. Remember when we had that cute house in Lord's Point, CT, nestled between Mystic and Stonington? GAH, I miss that summer. That whole area. That whole feeling. One day once we've retired we're moving to Mystic. You just watch.
Anyway, roasted fennel reminds me of that little beach house, because we got in this little dinner habit of roasting a couple bulbs (if they were on the small side), boiling some wild rice and adding tons of lemon to it. I can't remember what the protein was. Chicken sausages maybe? I just remember the fennel and the rice. And would you believe the kids INHALED it every time. The fennel! The roasted fennel! It's a loop hole, I tell you.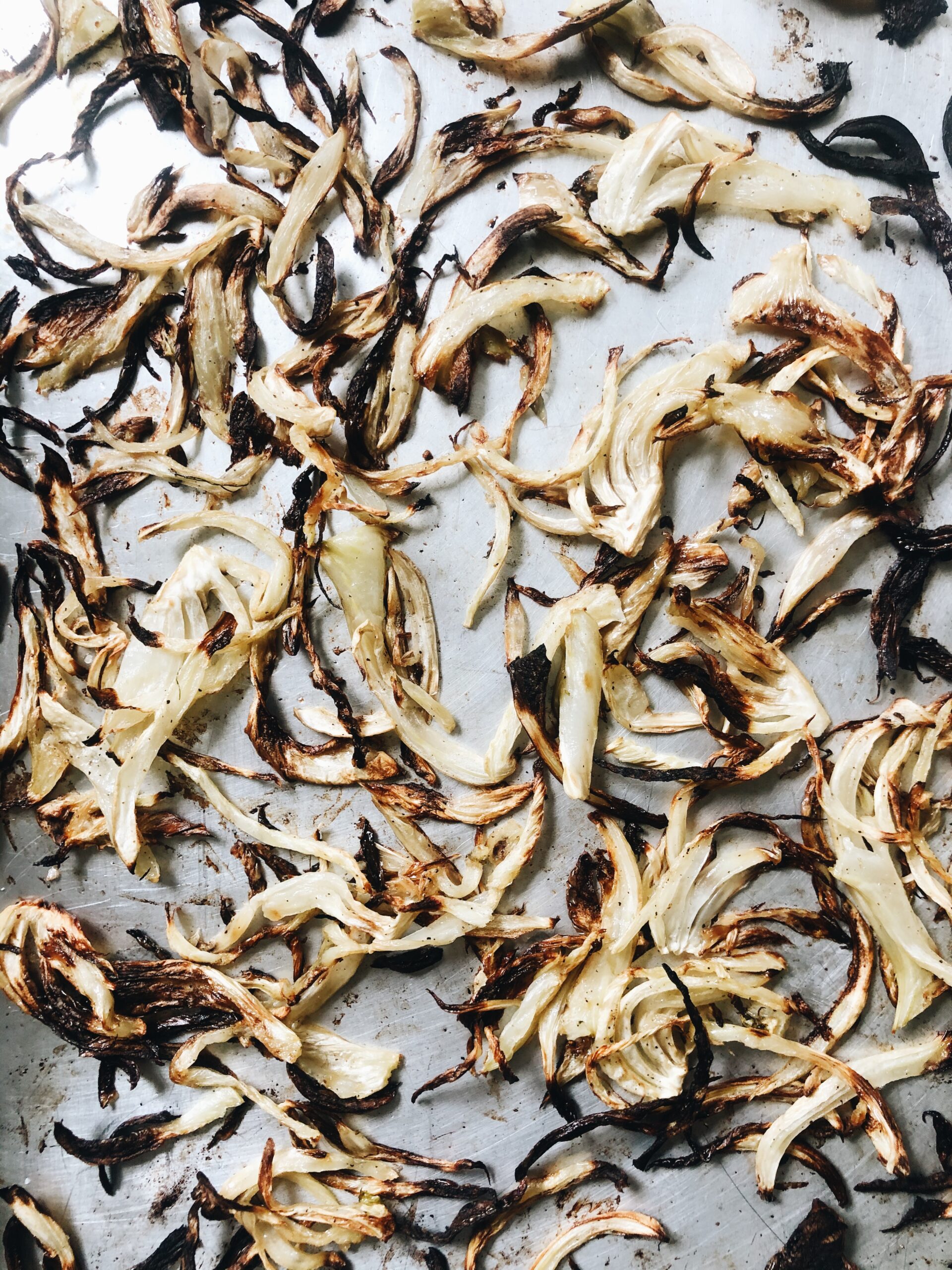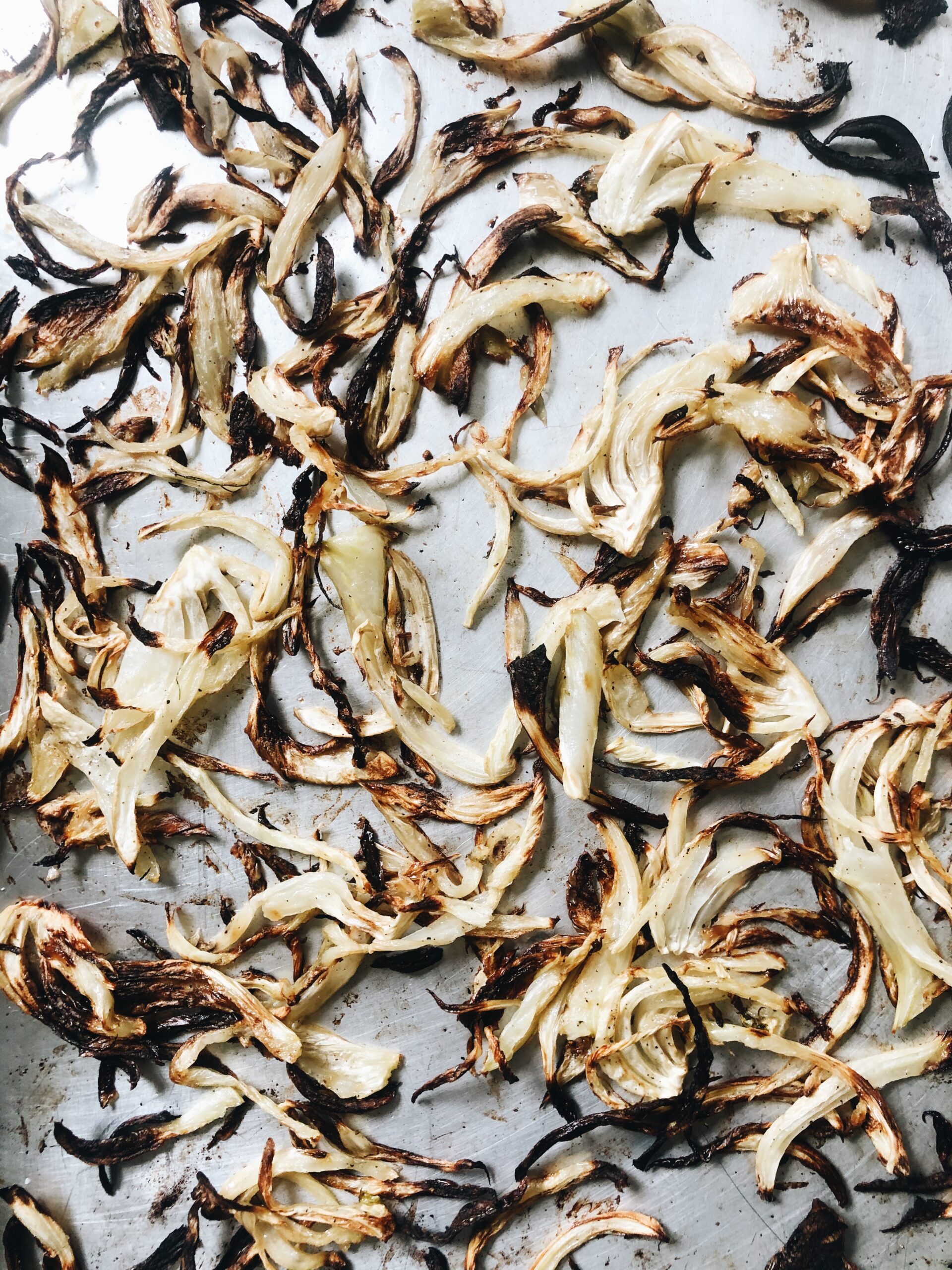 I've had better looking roasted fennel before, but you get the point. Little tip: I like to cut it so that the root stays in tact, so that looks like little heads of hair. Can you see that? Know what I mean, Vern?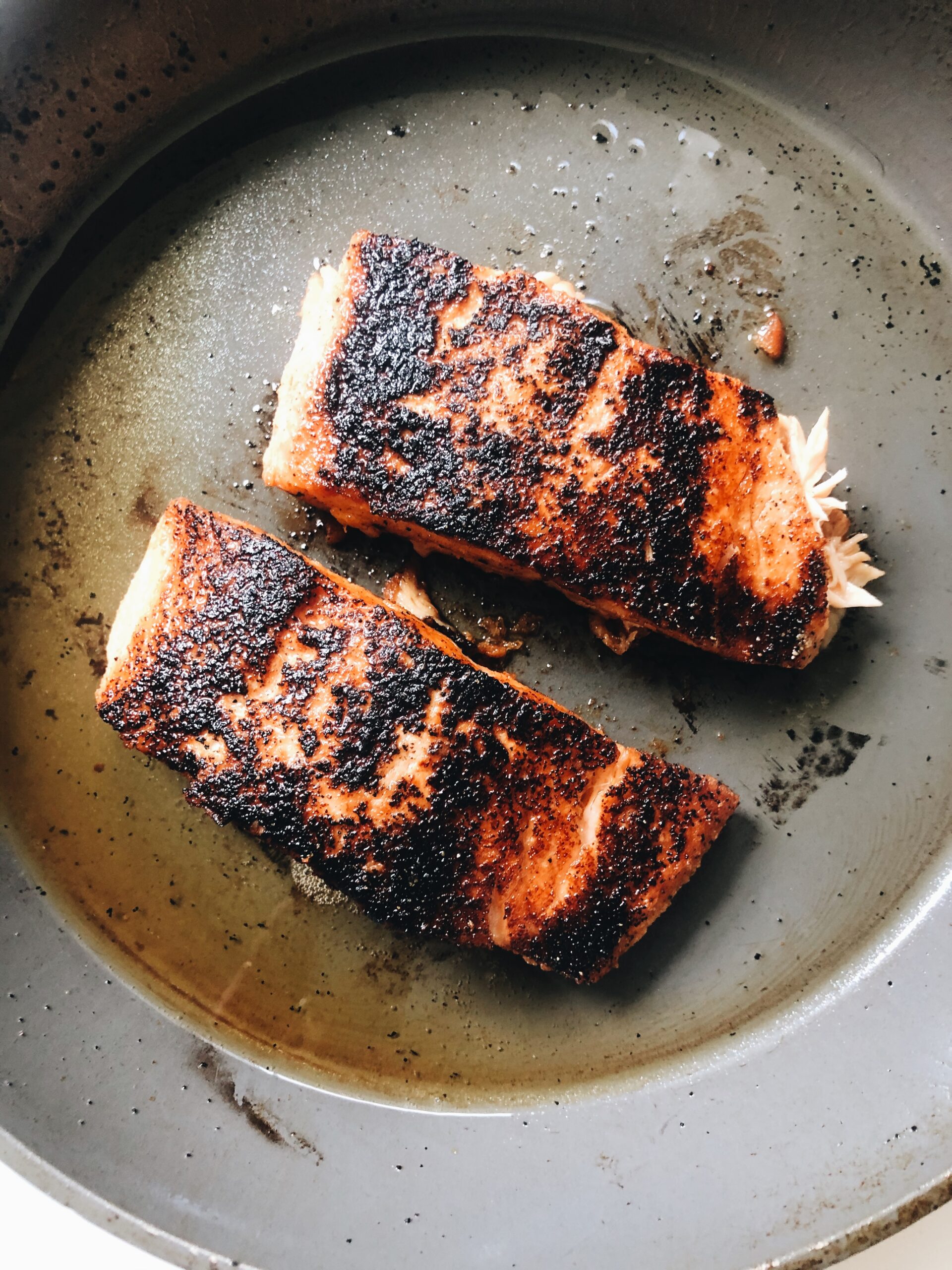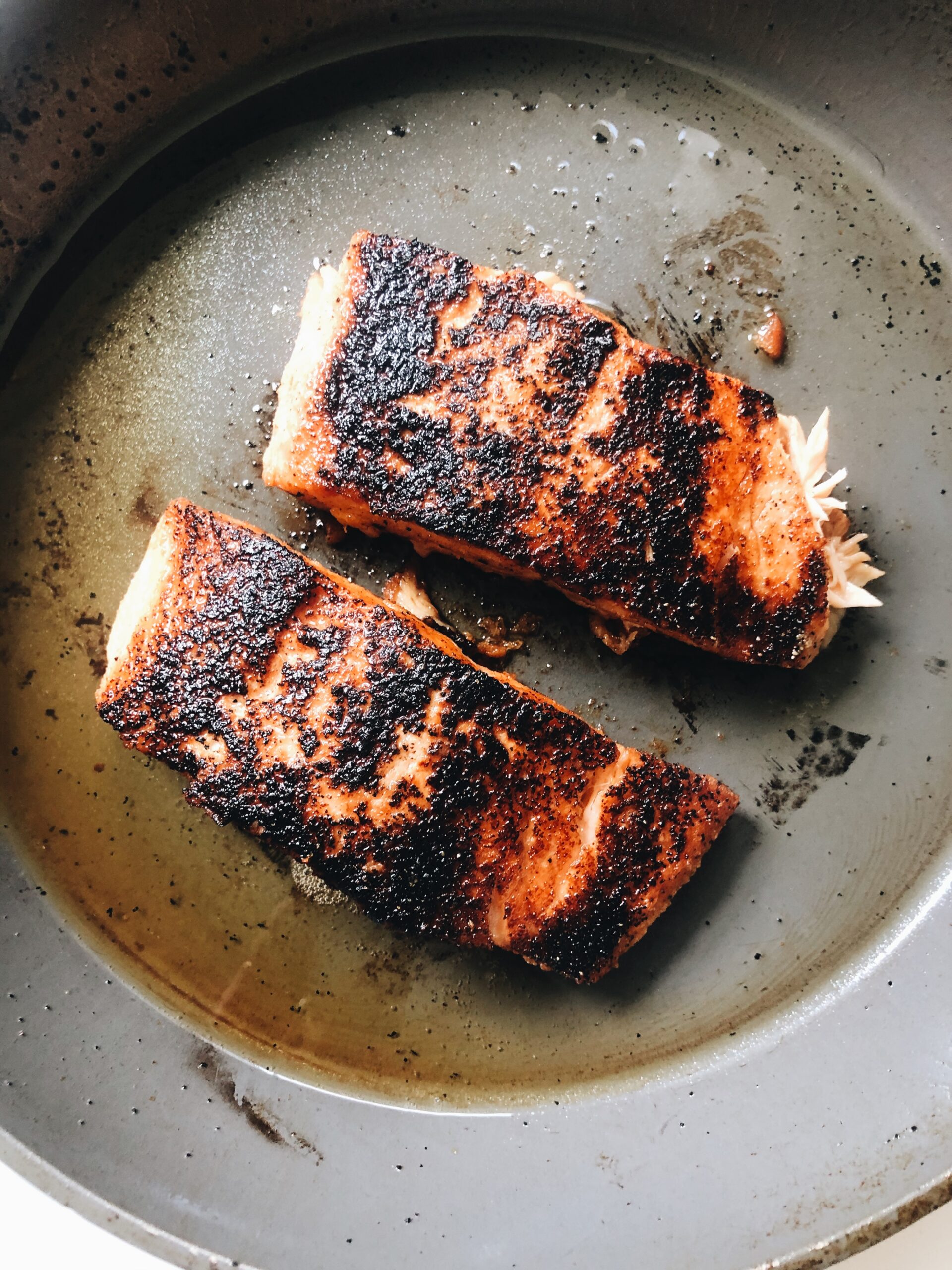 The salmon – this is so simple. Coarse salt + garlic powder. Seared in a pan. Both sides, almost to the point that it looks blackened. That nice crust. See that nice crust? That's a nice crust.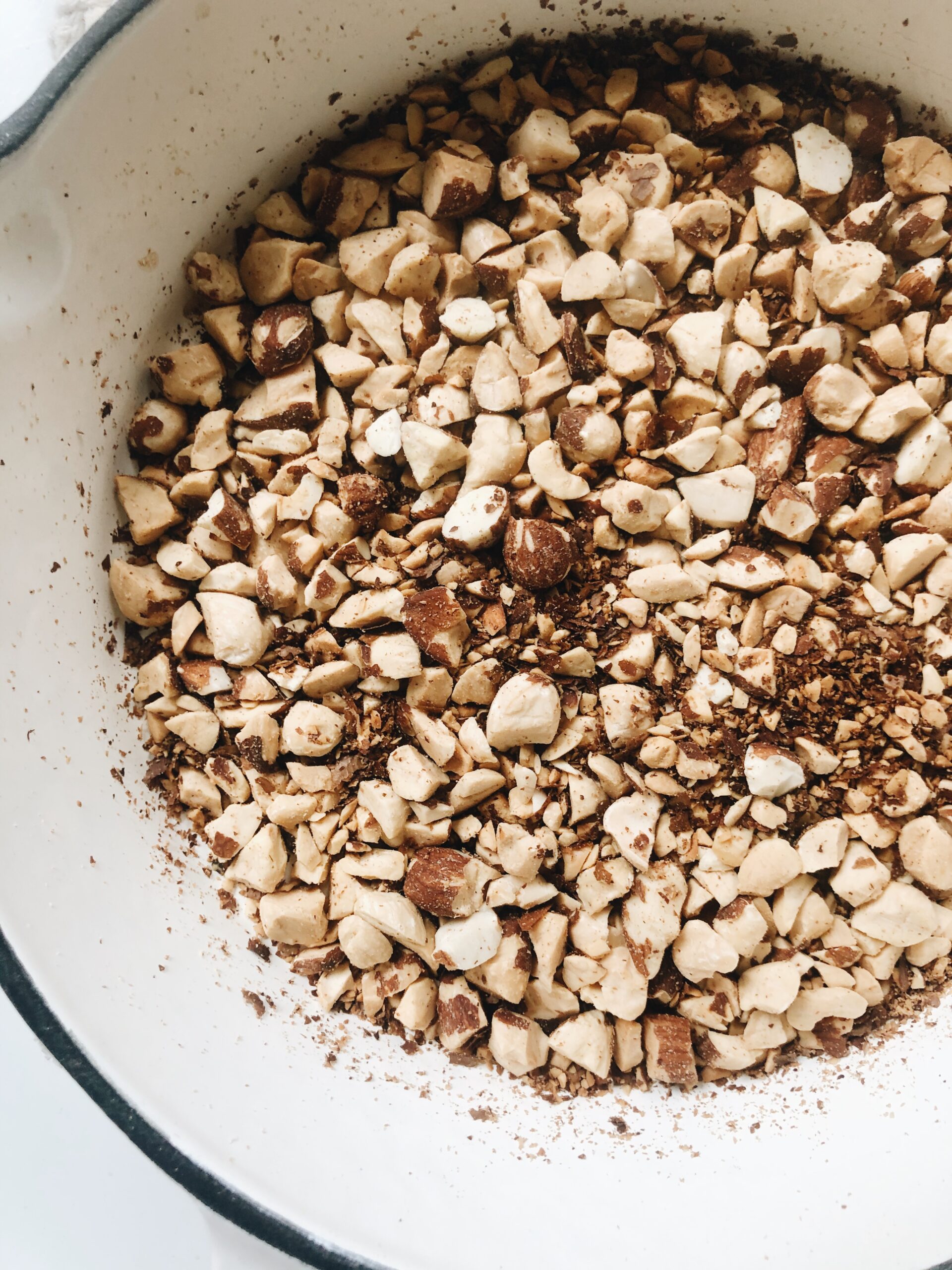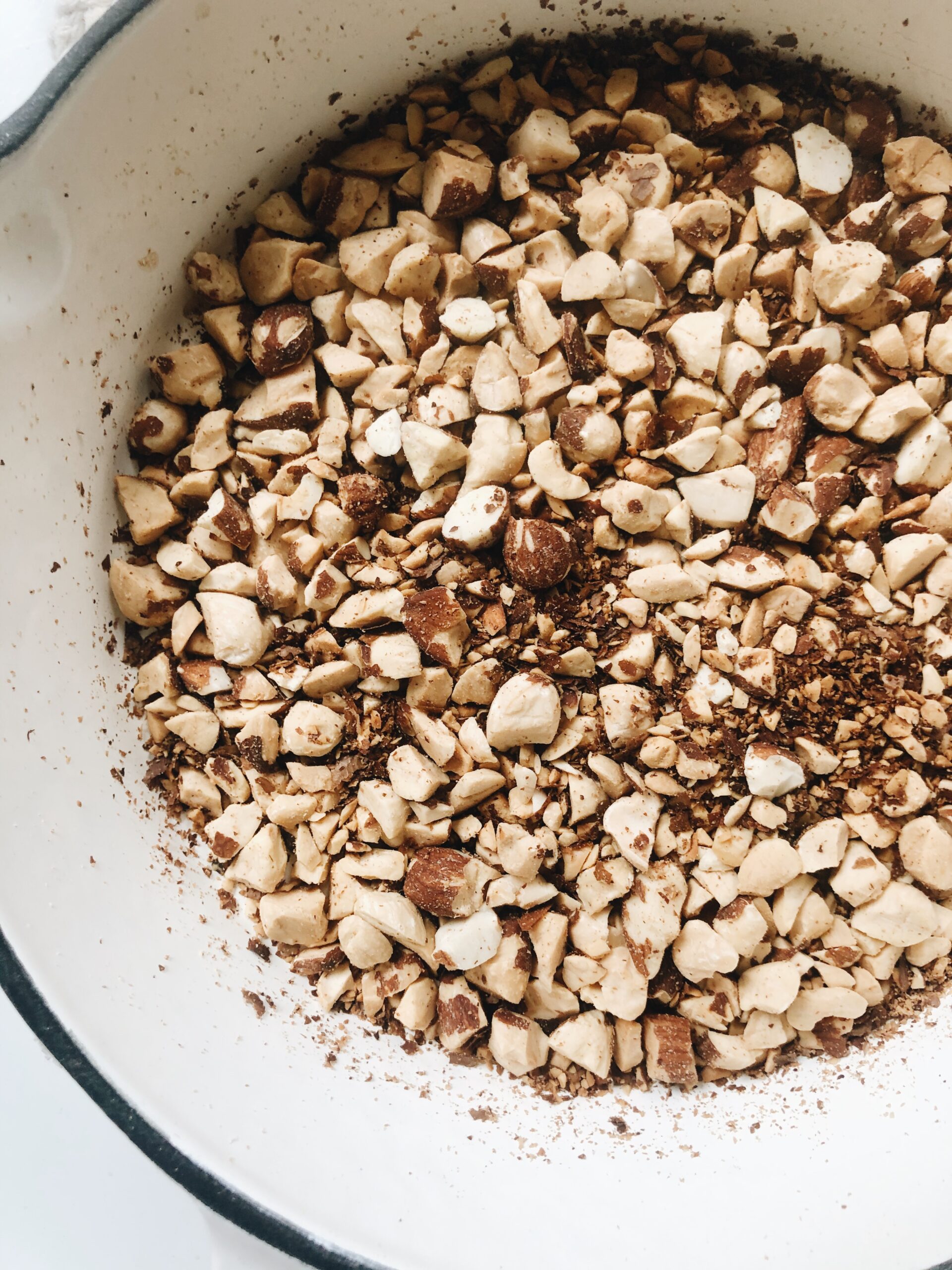 And the almonds, I threw those in for some nutty texture. Chopped and toasted, bruh. You think it's an annoying step, but that little crunch and pops of toasted nuttiness will surprise your mouth and you will be thankful. To me and to yourself for chopping and toasting. But mostly to me. (a bag of slivered almonds totally works.)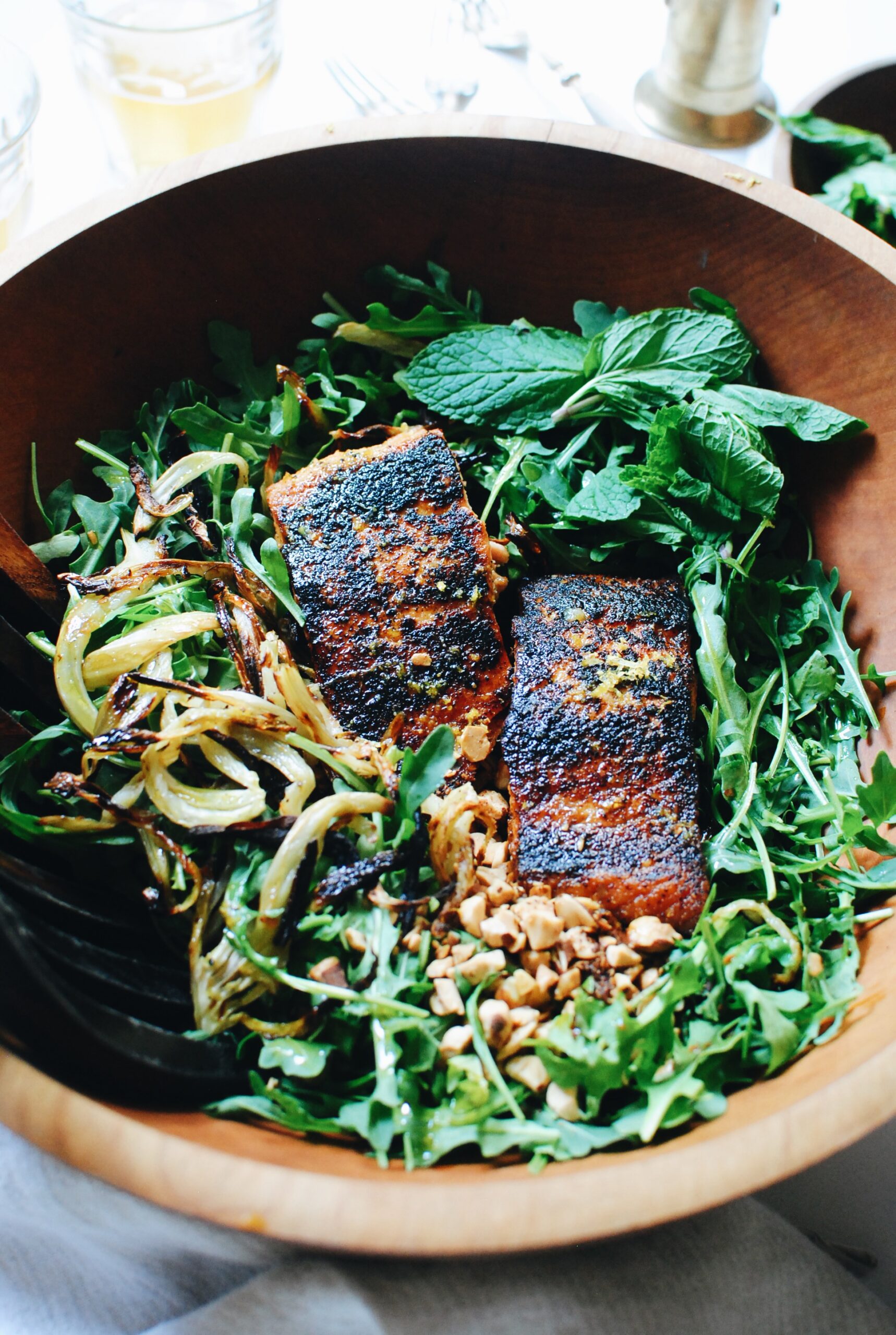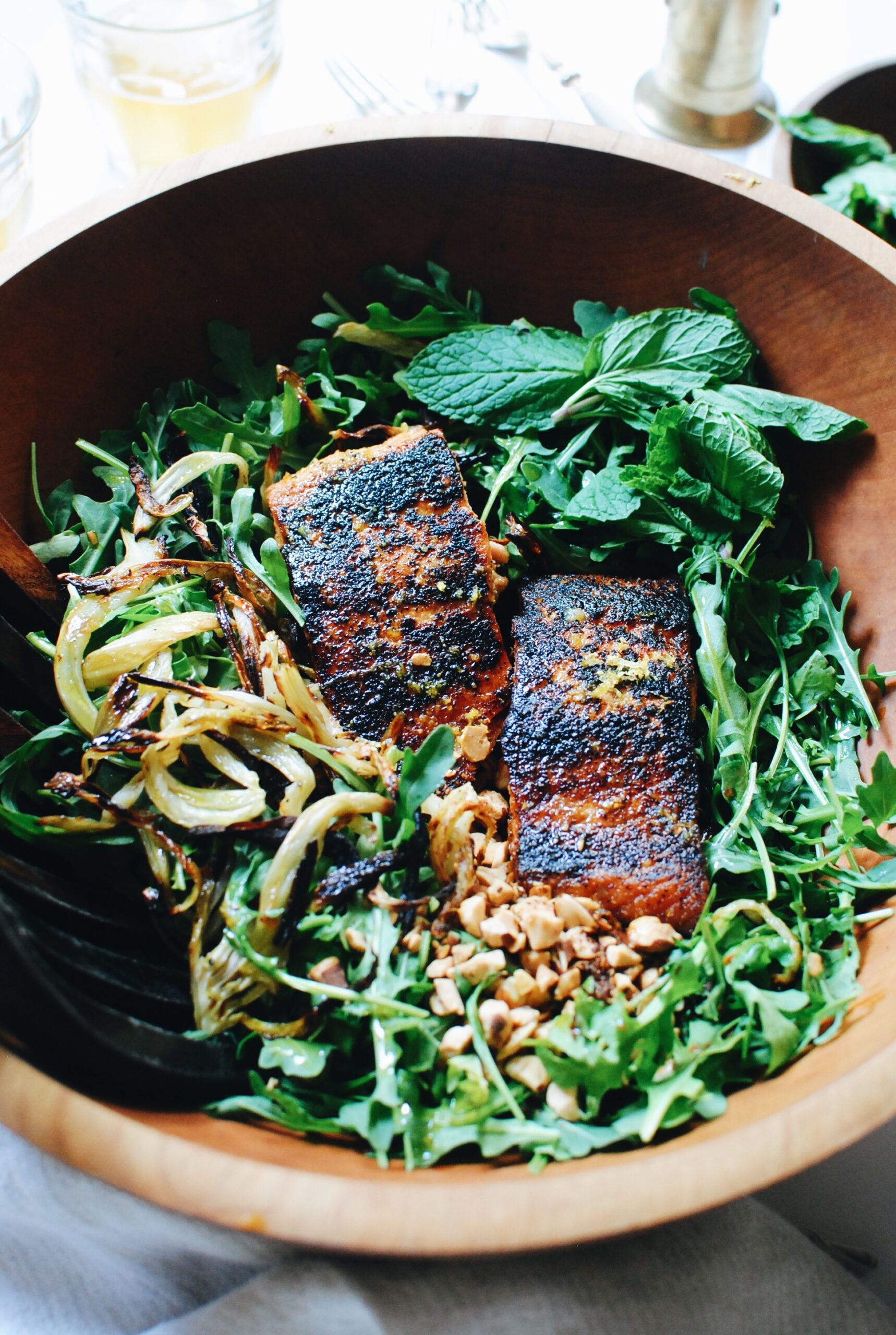 That's it! The dressing is very simple – evoo + lemon zest + lemon juice + garlic powder + salt and pepper. Whisk together, drizzle and toss with the arugula.
I will say, this isn't overly coated because I shot it earlier in the day and wanted to eat it for dinner, so I didn't want the wilting ya know. Yours will be perfectly and evenly coated and you.will.love.it.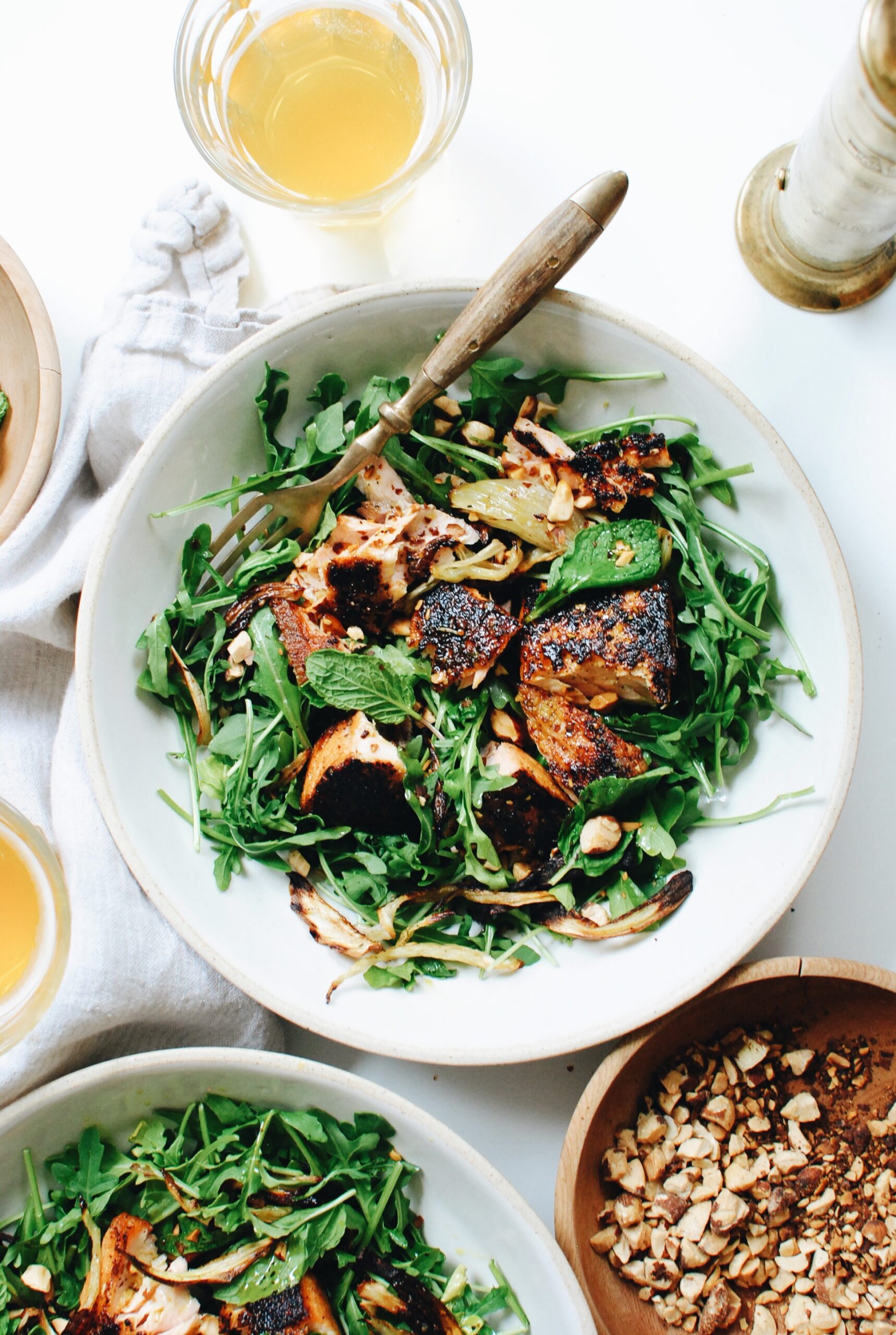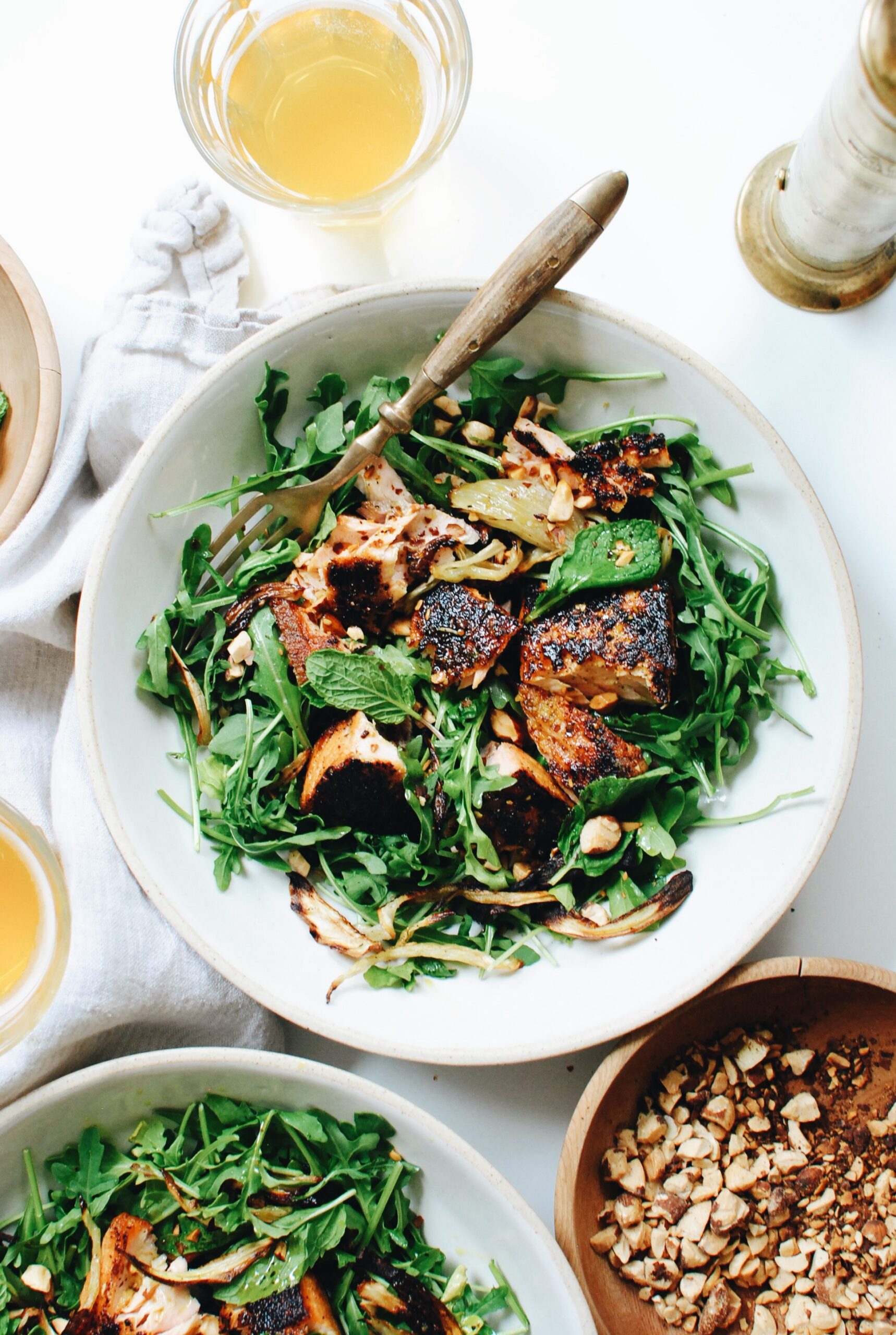 Flake the salmon, sprinkle the crunchy almonds over top, nestle the roasted fennel, and you're good to go. Some fresh parmesan shavings maybe? Good gosh yes.
Oh! The mint! I nearly forgot about the mint! We add mint and it's a delightful garden-y pop in your mouth. Don't skip the mint. Matter of fact, Aaron was like, "I love the mint in this." To which I said, "Right?"
No mint dissing, okay?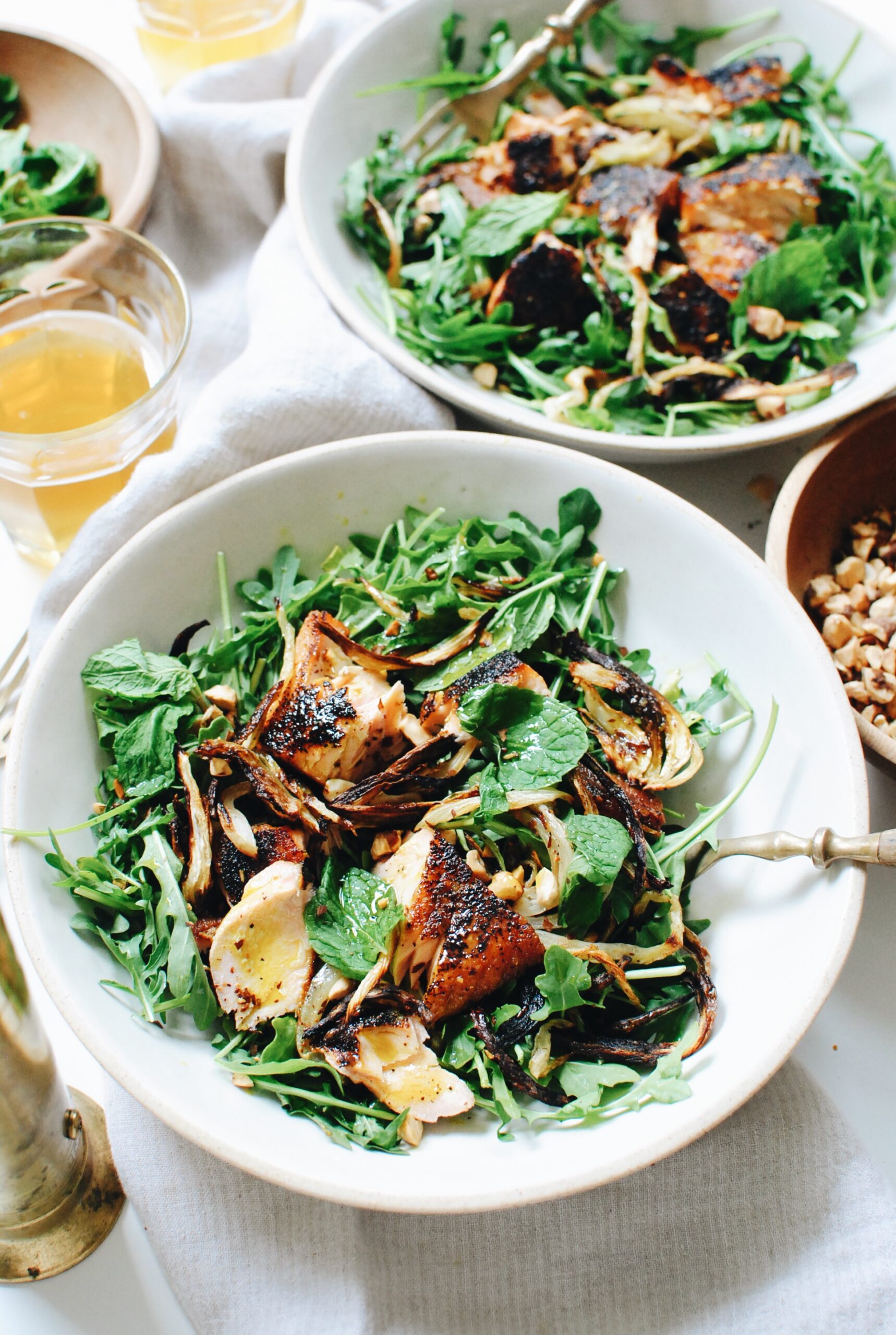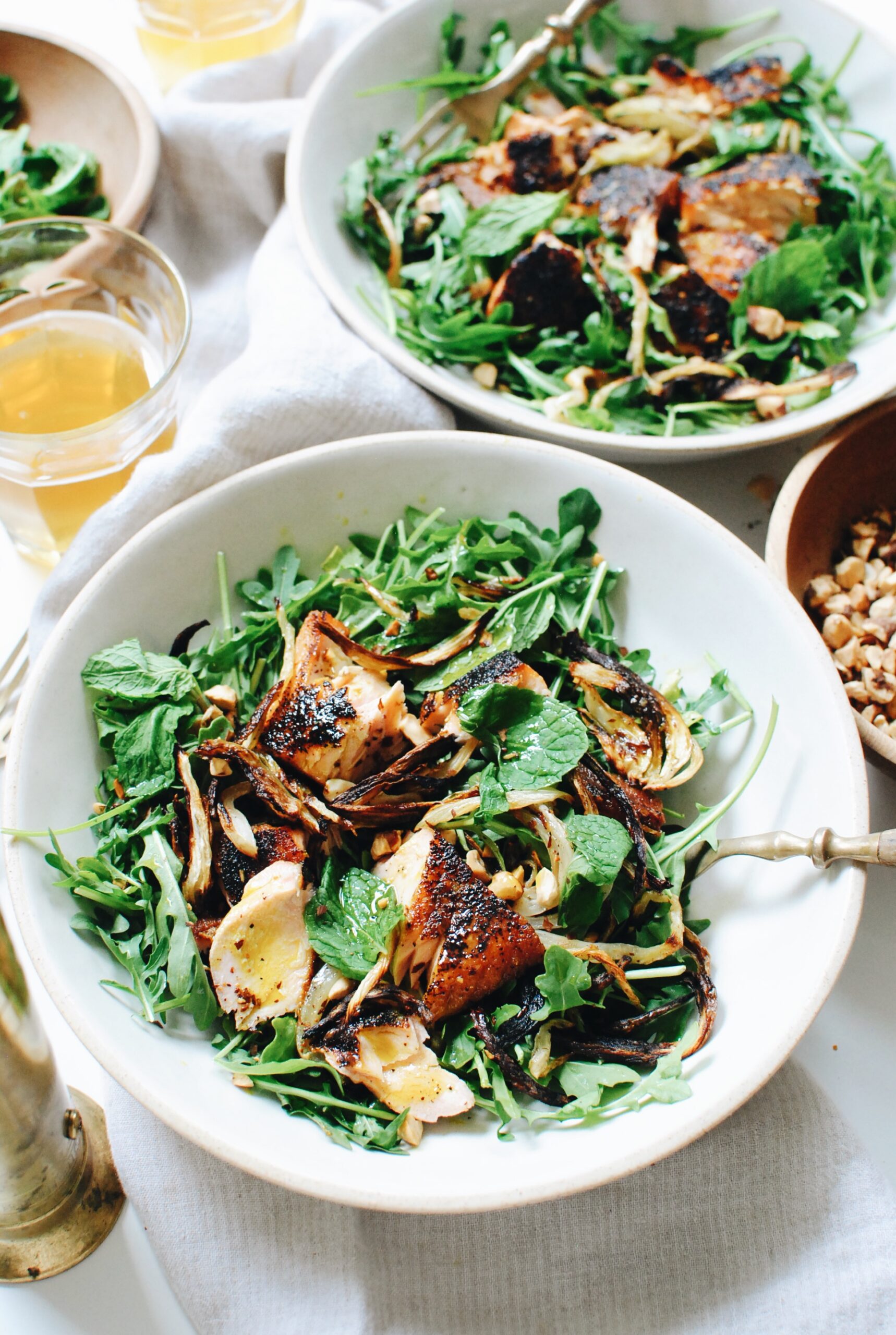 So you've got crunch, flake, tang, earthy, peppery, roasted and nuttiness. WHAT ELSE ARE WE EVEN HERE FOR?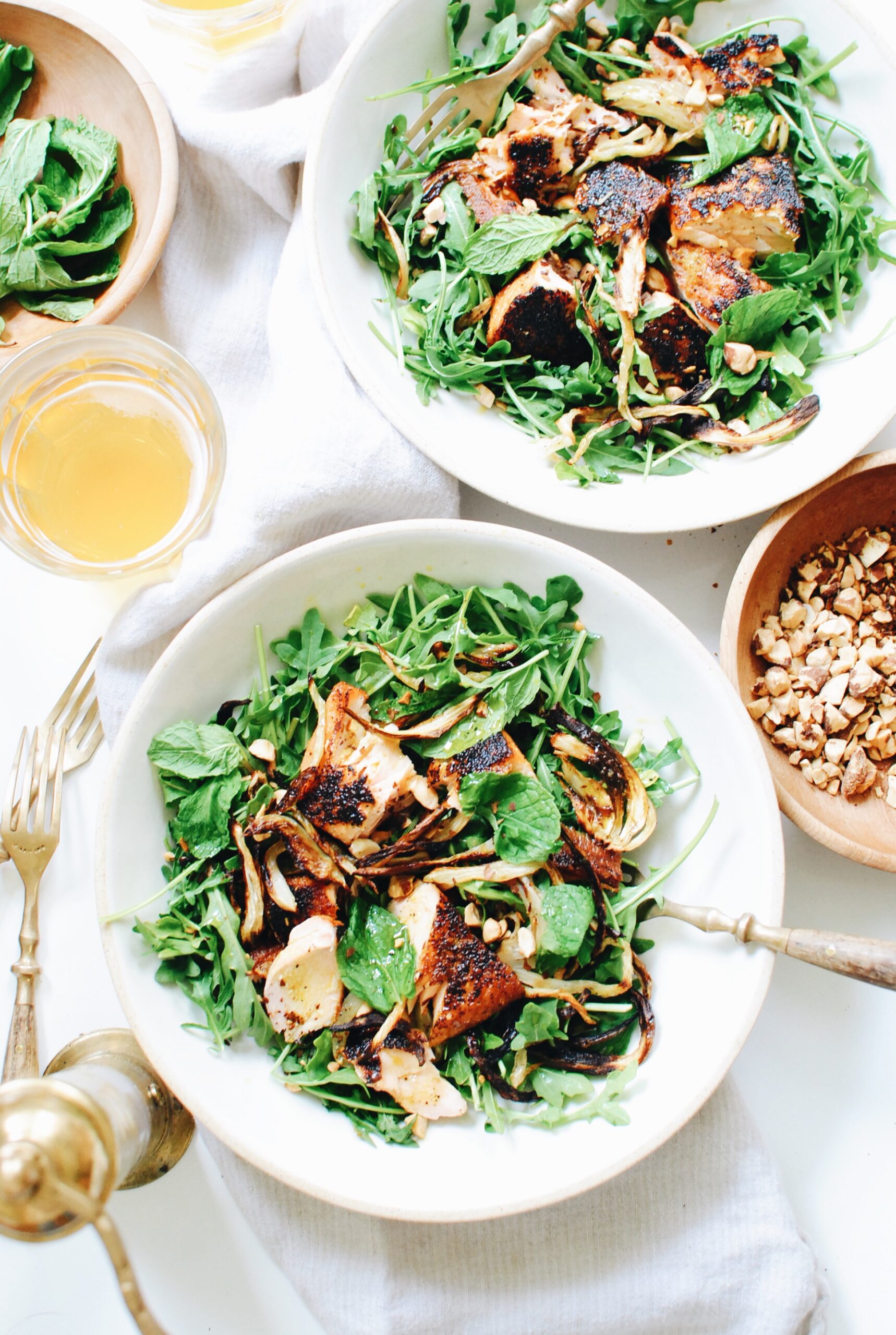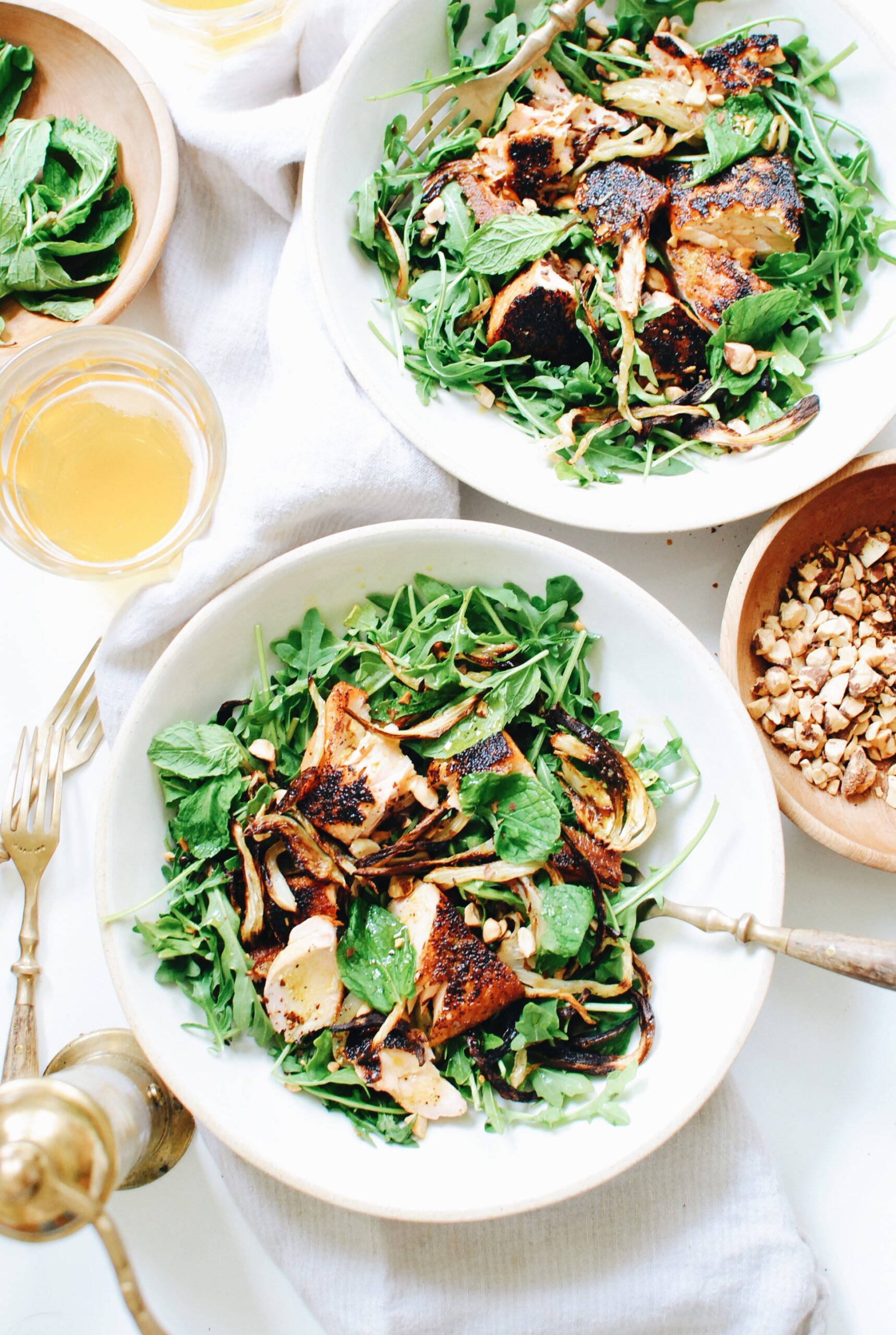 I got your light, healthy, waistline friendly right heeeeere.
Arugula Salad with Roasted Fennel and Seared Salmon
Ingredients
Two (5 oz) salmon fillets
1-2 tsp garlic powder
1 large fennel bulb
5 oz arugula
1/2 chopped almonds, chopped and toasted
1/3 cup mint
3 Tbs. extra-virgin olive oil (plus more for roasting and sautéing)
1 lemon
Coarse salt and freshly ground pepper
Instructions
Preheat your oven to 400.
Cut the stems off the fennel, then turn it upright and slice it down the center. You'll see the core right the base. Take your knife and just cut that sucker out. You'll form a triangle with your knife. It's easy, you'll see it. Then slice the fennel bulb into thin strips. Place on a rimmed baking sheet, drizzle with a Tbs. or two of extra-virgin olive oil, a sprinkle of salt, and roast for 30-40 minutes, until browned in places and shriveled.
In the meantime, heat a couple Tbs. of oil in a medium pan over medium-high heat. Sprinkle a tsp garlic powder over the salmon fillets, along with a pinch of salt. Sear the salmon on each side for four minutes, until the skin is blackened and the fish is flaky.
In a small bowl, whisk together 3 Tbs. oil, the rest of the garlic powder, zest from the lemon and the juice from half. Maybe the whole thing. Taste it and get it just right. Add a pinch of salt and pepper and whisk again.
Toss with the arugula with the dressing, and top with roasted fennel and seared salmon. And the mint and almonds!
Serve it up.
Makes two big salads.
7.8.1.2
496
https://bevcooks.com/2021/04/arugula-salad-with-roasted-fennel-and-seared-salmon/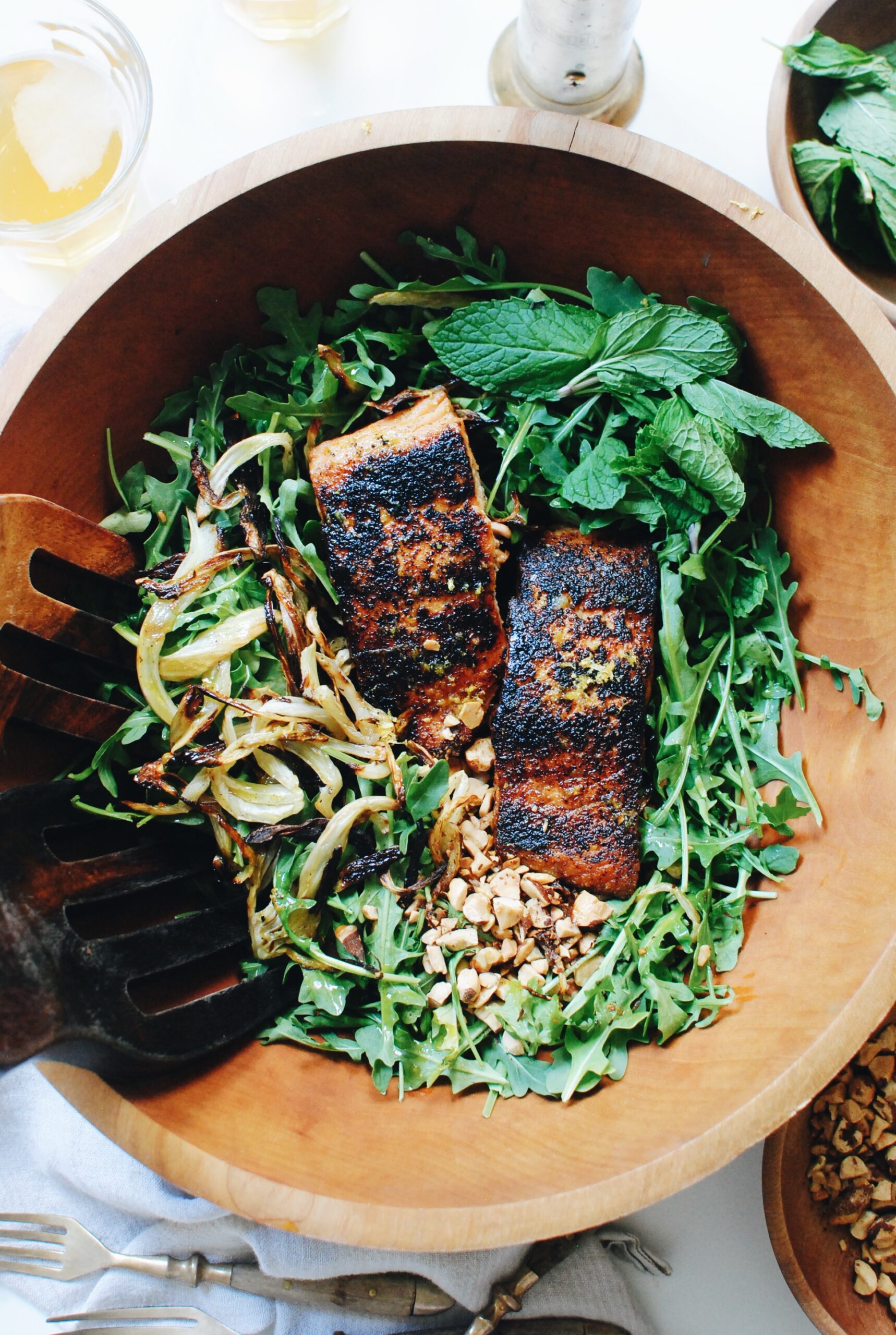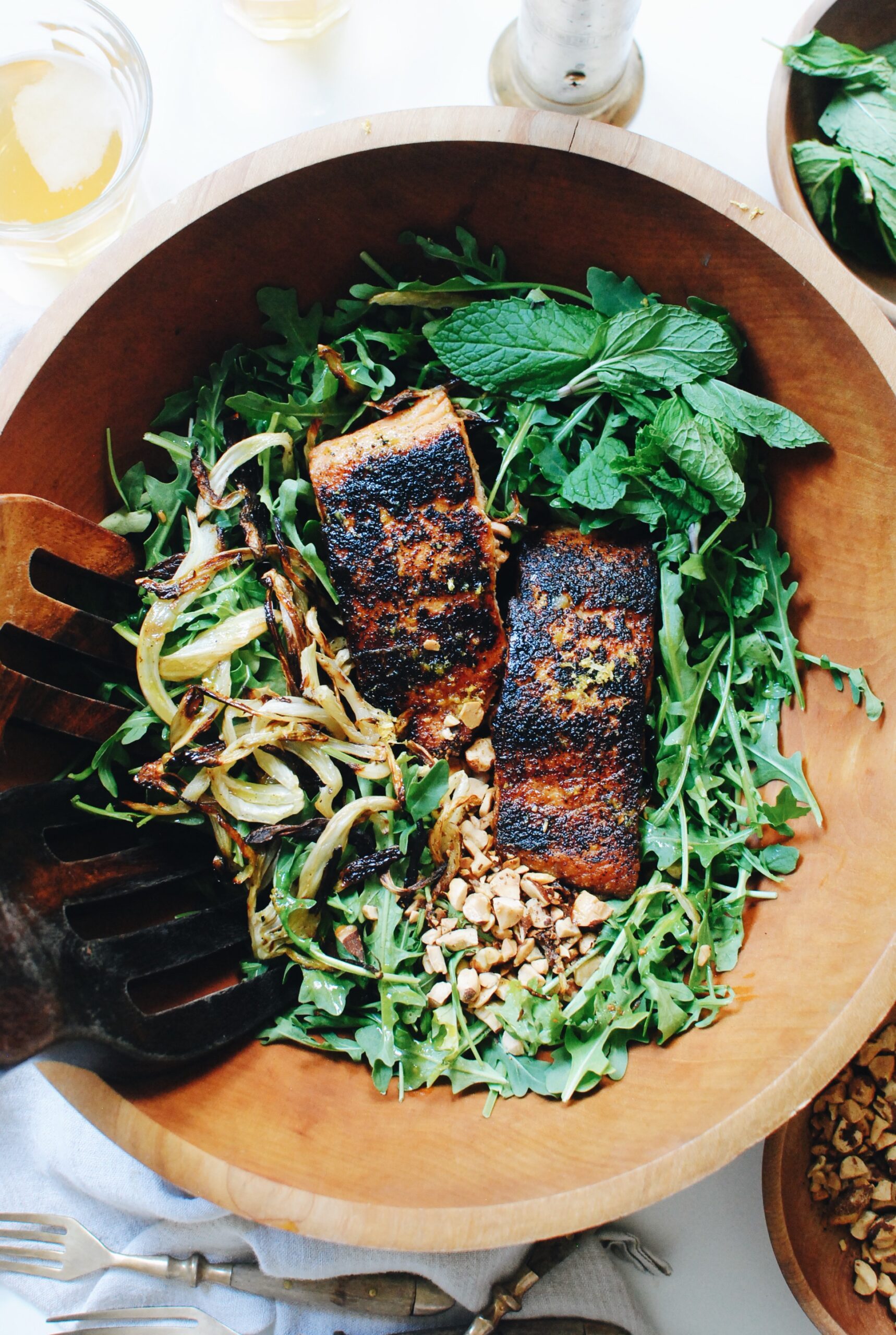 FINE I'll post carbs next week.