You know when people ask you what you could eat every day forever and ever? For me, it's this. It is this white bean salad on toast. Right here. This.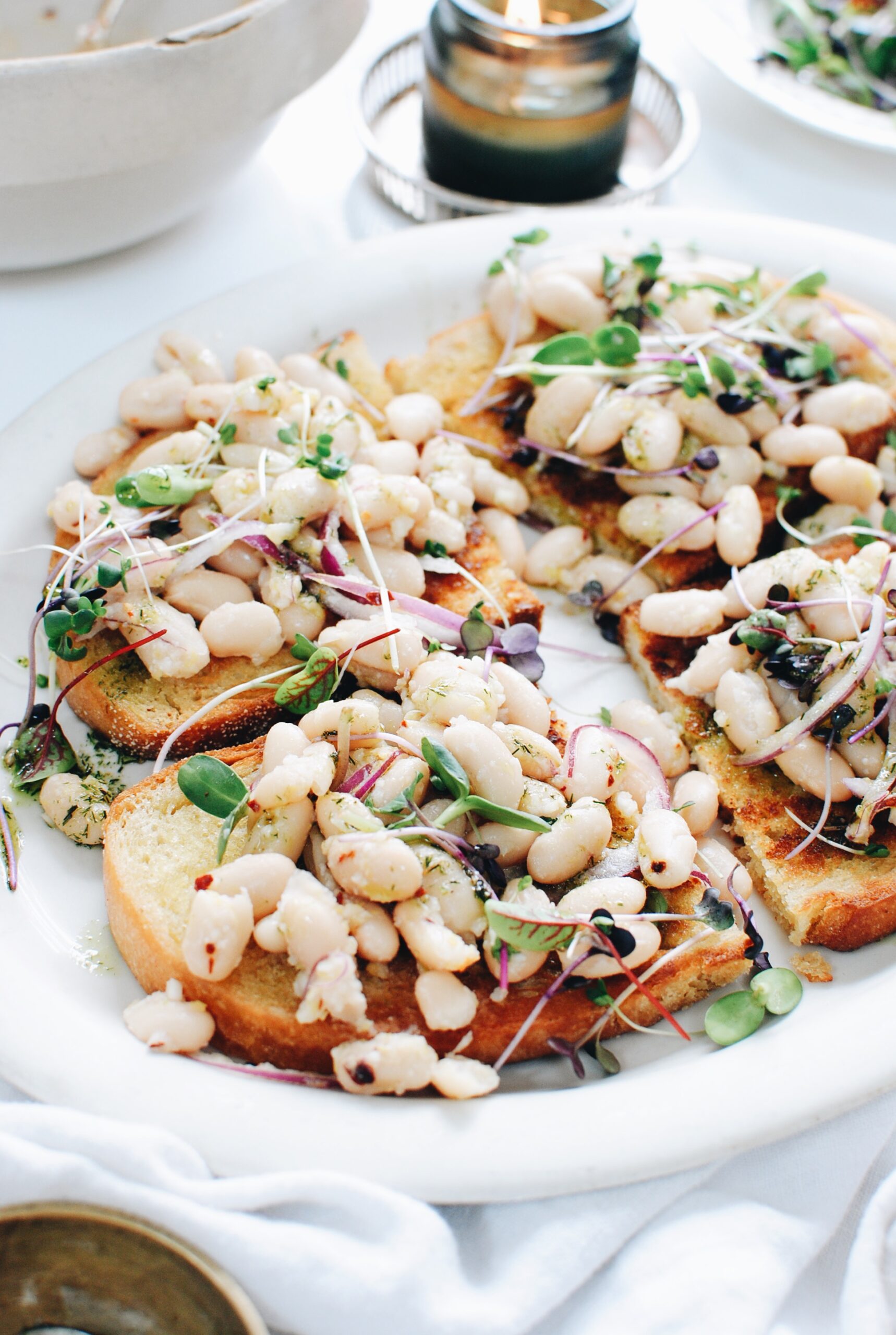 On one hand, it's embarrassingly simple. And is precisely why it should be happening this shy of all the time. On another, there's no real science to it. It's throw-together and all finesse based. Yes, I give measurements in the recipe, but it's not locked in. You can play with it. Less heat, more acid, more aromatic, less cheese (less cheese?! never!) – you get the idea.
Let us peepeth.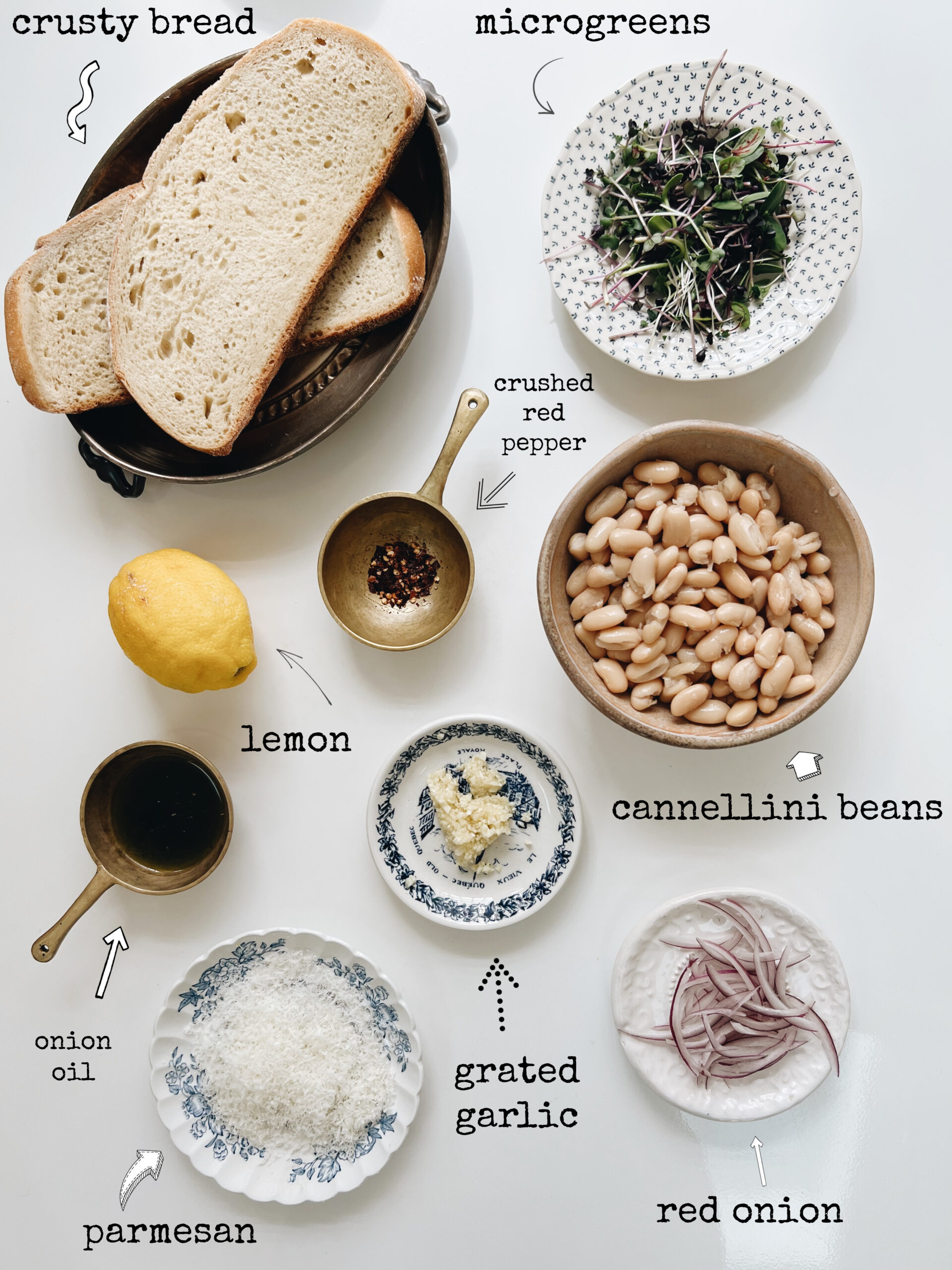 This is pretty much a photo of all my favorite ingredients. I'm red onion obsessed, grated garlic goo goo, maniacal over micro greens, orbital over onion oil (we'll come back to this), possessed by parmesan, a lover of all things lemon, hot for heat, and crushing on cannellini beans.
Did I miss anything?
The toast! Coo coo for carbs.
Watch how quickly this comes together. You'll see it in the reel!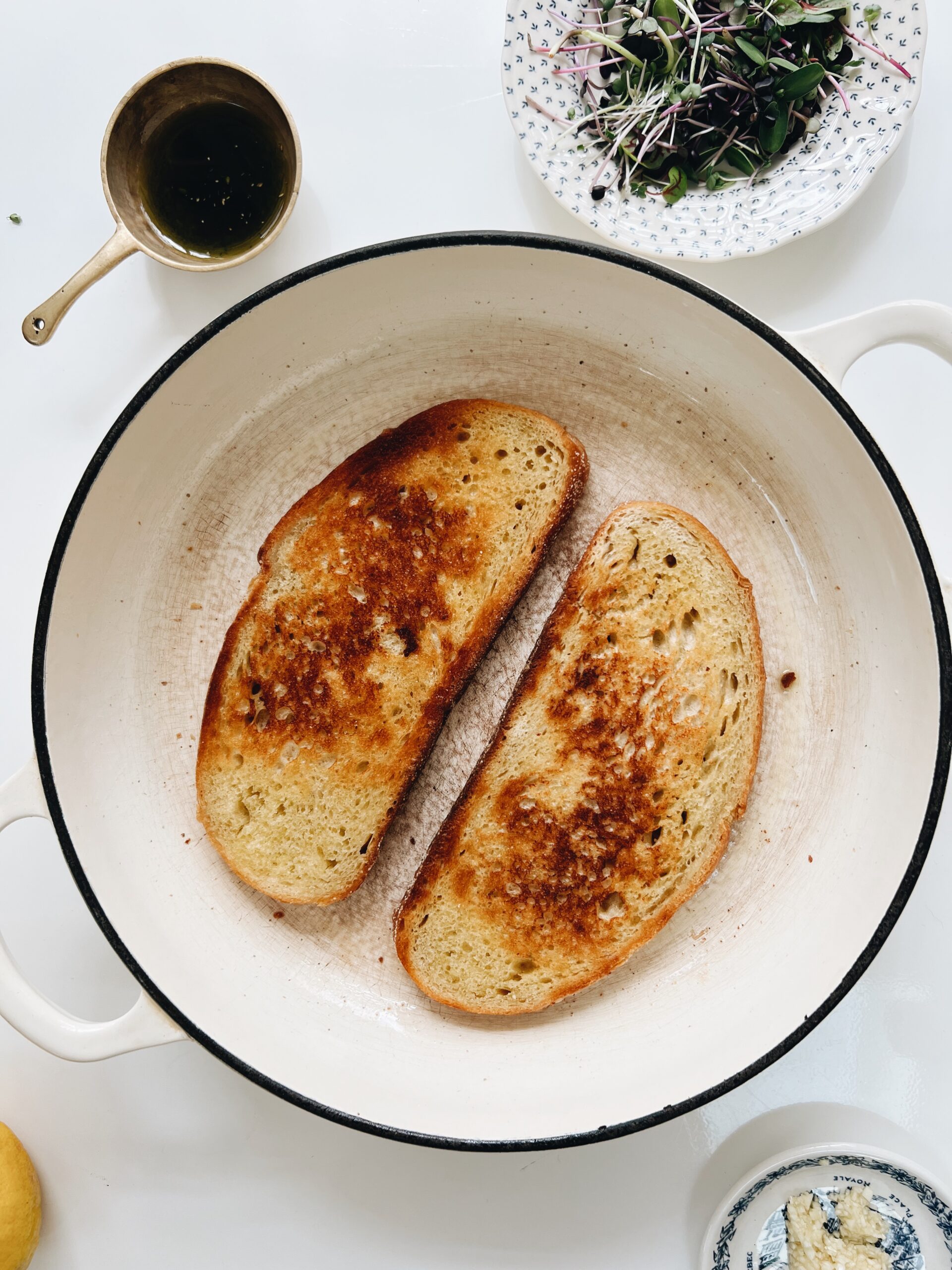 The sliced bread. Get yourself something delicious and rustic. Glug some oil in a skillet and get the bread on in. You'll want some gorgeous browning on both sides, so keep an eye on it. No burning on my watch, okay?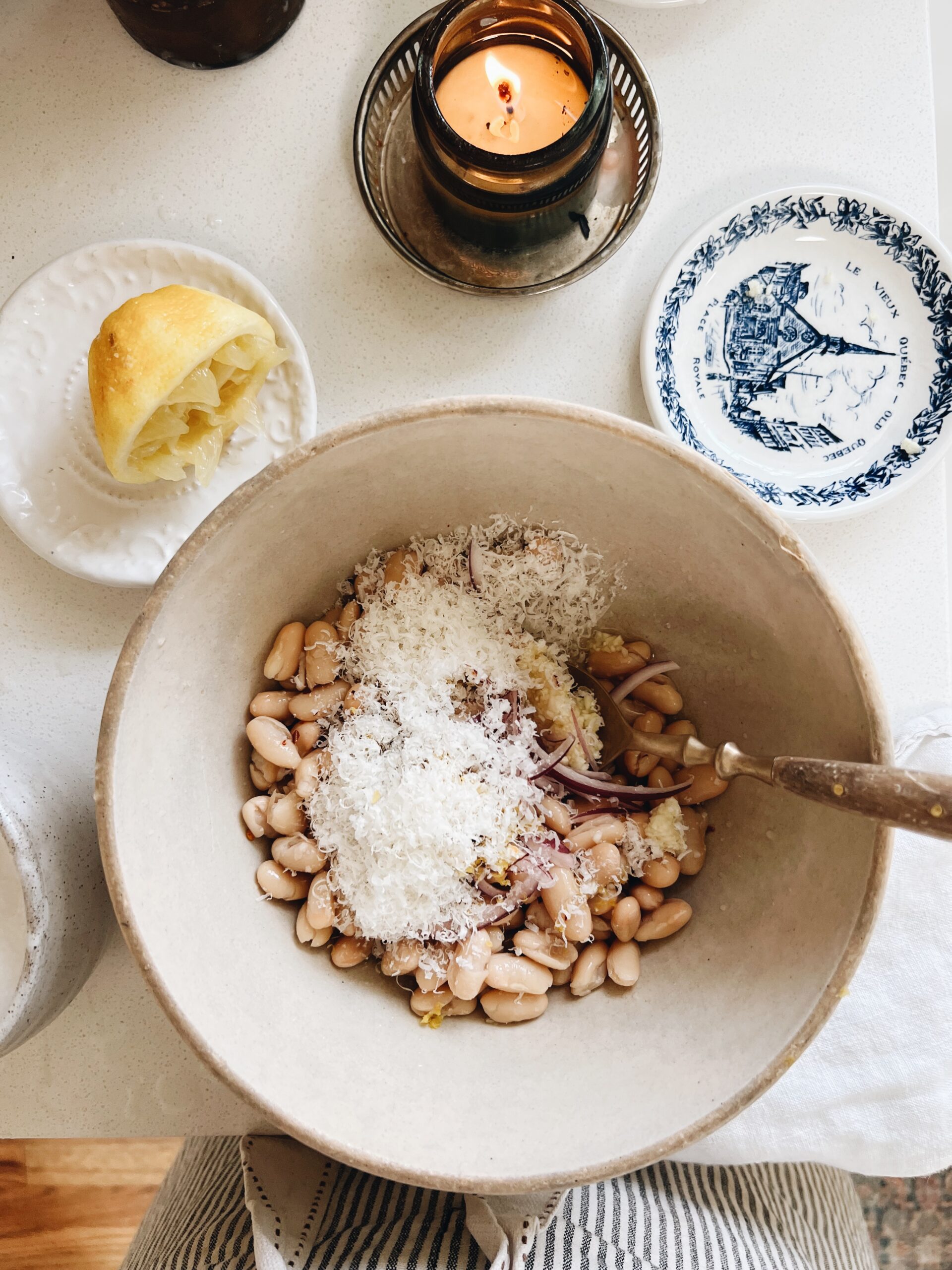 Then you truly just violently combine everything in a medium bowl until coated and glorious. It will have some grit to it. A bite from the garlic. A nuttiness from the cheese. An acidity from the lemon. It's freaking delicious and I beg you to make it.
You see there's zero cooking, right? Just the toast. The beans and everything – all fresh. All raw. Get it together now.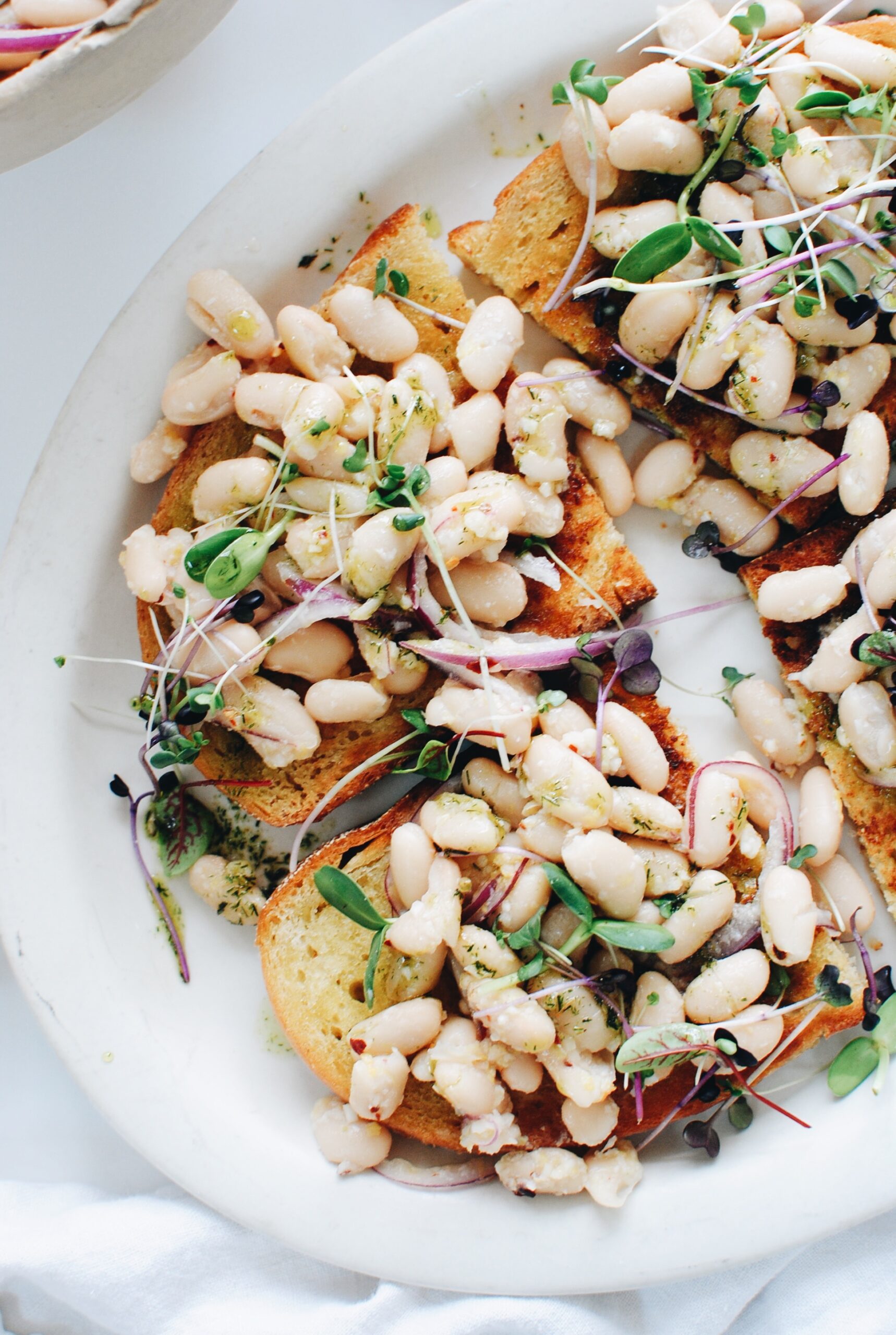 The micro greens will go on last as a garnish. They're also called sprouts. You knew that. But just in case you didn't, I'm telling you. Micro greens = sprouts. They come in little packages at the store next to the herbs. Or your garden!
Also the onion oil. I HAVE to do a dedicated post on this for you. It's worth it. You take onion grass from the yard, dehydrate it in the oven, grind it down and add oil. But I'll get the specifics to you soon, I SWEAR. It's too good not to have it in your life.
But for now, just drizzle it with your best extra-virgin olive oil! Something light and flavorful.
Beans need a lot of oil. This salad needs a good glug, so do it right.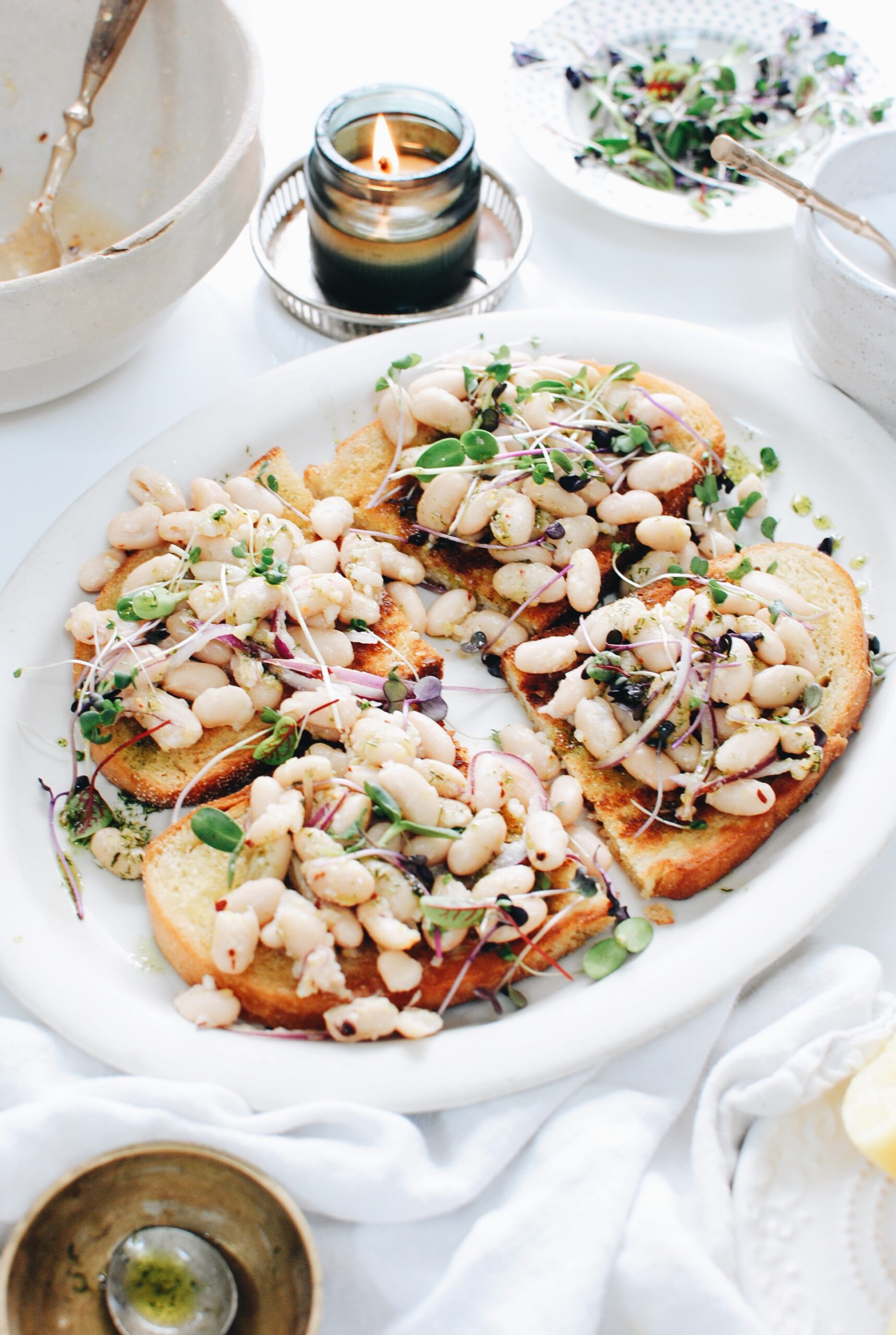 Remember the finesse thing I talked about?
Salt. Lemon. The garlic. Plenty of oil and a good hit of crushed red pepper. Eyeball it for your liking. It's absolutely phenom.
I had mine for lunch, but served with a roast chicken at dinner time would be stellar.
If you make anything of mine, pa-leaaaaaase give this an absolute and immediate go.
Like today.
White Bean Salad on Toast
Ingredients
2 large slices crusty bread
2 Tbs. Olive oil
1 (15.5 oz) cannellini beans, drained and rinsed
2 cloves garlic, grated or minced
1 lemon, zested and juiced
1/4 cup thinly sliced onion
Pinch of crushed red pepper
1/3 cup freshly grated parmesan cheese
Handful of micro greens for garnish
A drizzle of your best olive oil (I used onion oil which I'll show you soon!)
Coarse salt
Instructions
Heat the olive oil in a wide skillet over medium high. Add the sliced bread and toast on both sides until golden brown, flipping as you go to make sure you get even browning.
In a medium bowl, combine the beans, garlic, red onion, crushed red pepper, parmesan, lemon zest and juice, along with a pinch of salt. Stir to coat. That's it!
Spoon it over your perfectly toasted bread, and garnish with micro greens and drizzle with your best oil. Serve immediately! I had mine as a lunch, but it would be fantastic with a roast chicken for dinner.
Serve 2-4, roughly.
7.8.1.2
635
https://bevcooks.com/2023/04/white-bean-salad-on-toast/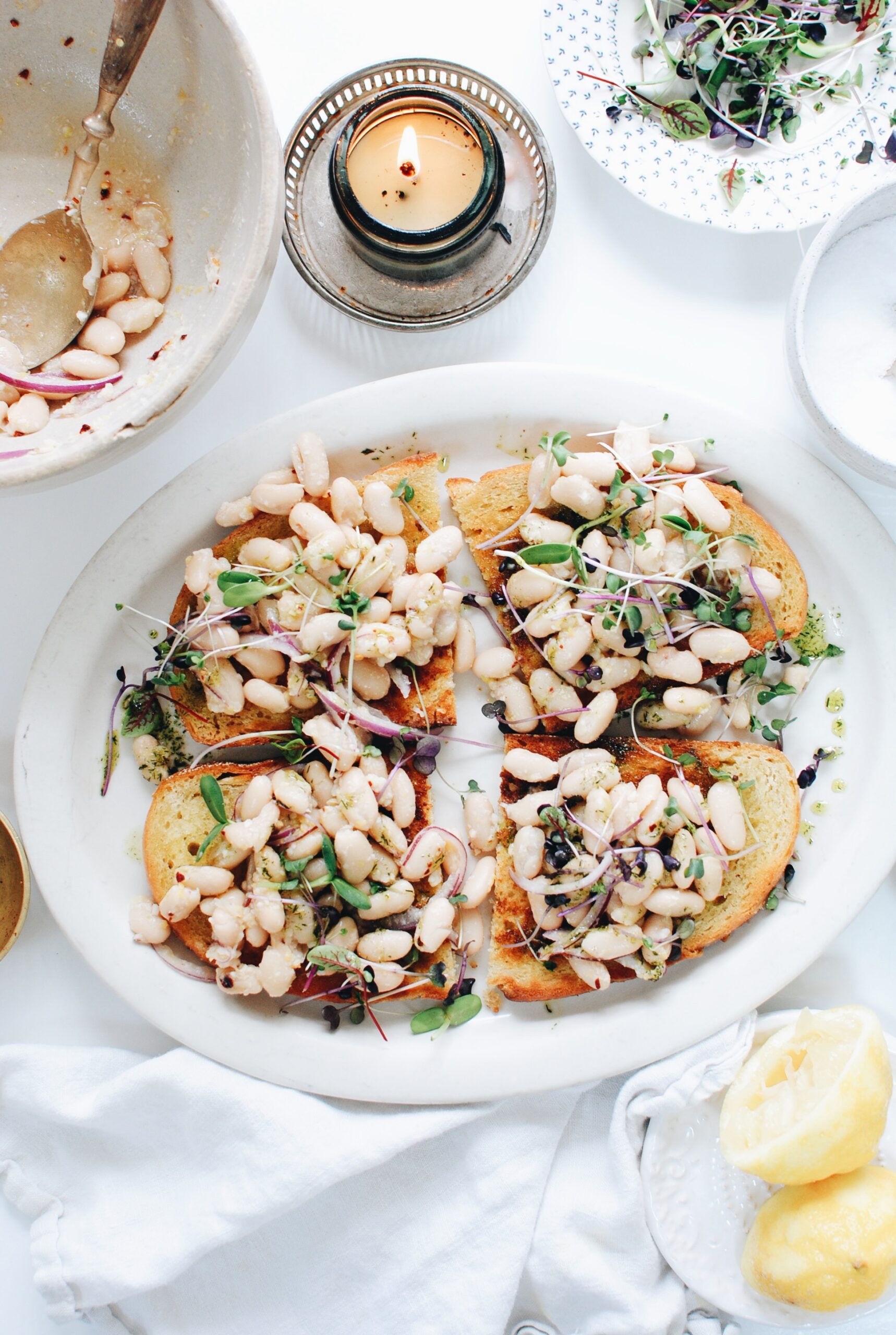 Enjoy your new life.