Remember that whole trendy tomato and feta bake thingy from all those few days ago? This isn't that.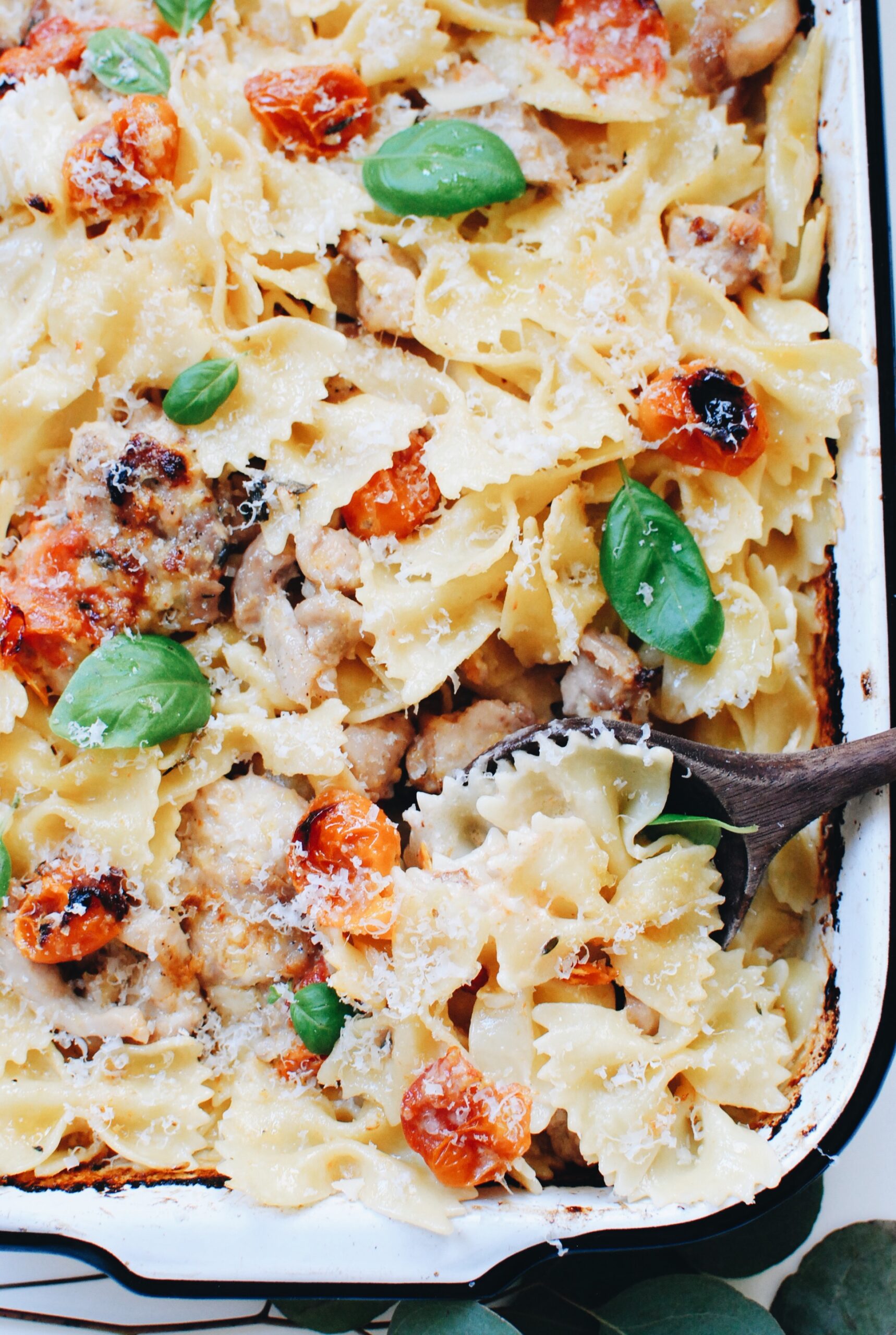 But! It's kind of like it. Except there's no feta in it, and it has chicken and cream added. So, exactly the not same. Wait, what?
This is sort of a reverse bake. But so not complicated, so don't give me that stink eye. And I'll tell you why I did it like this, so that in the future when you're at a crossroads with tiny faces, you can be like, "Oh I remember that weird reverse bake thing on Bev's blog. I'll do it like that." And then we're friends again. What a wonderful wooooooorld.
Let's peep this.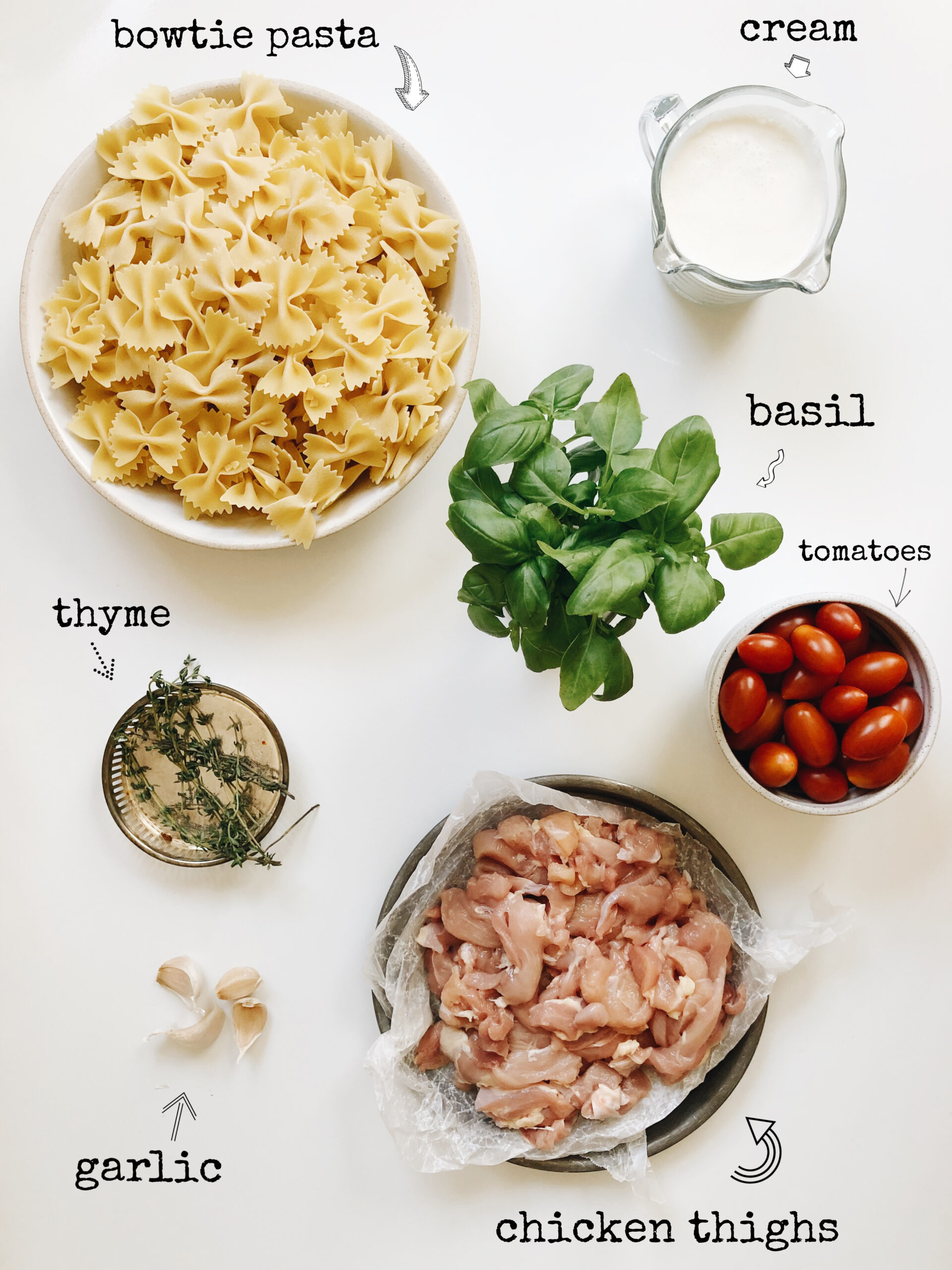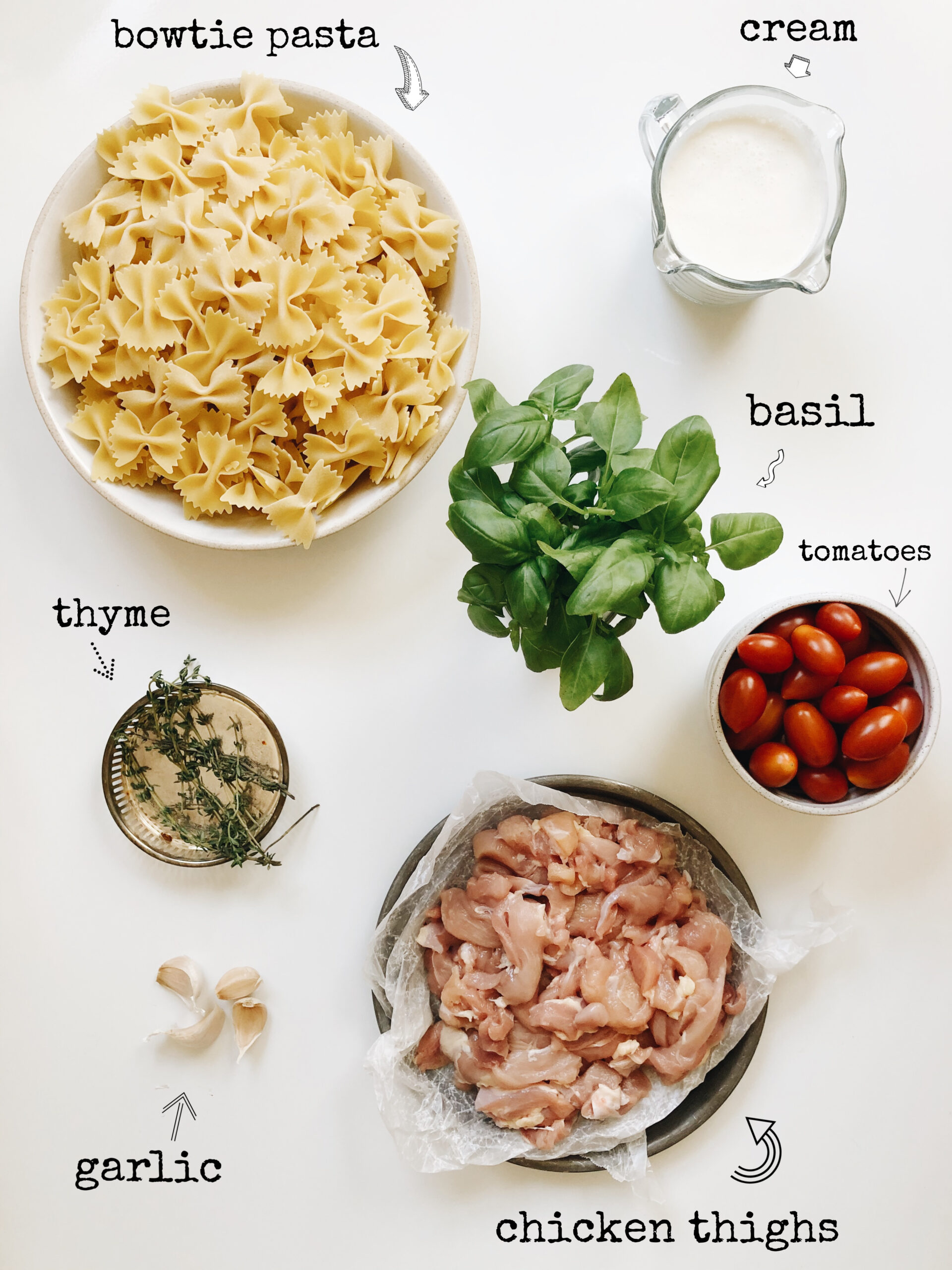 Very simple. And all I did with those thighs was slice them up into little strips. You can absolutely use breasts or tenders here. I prefer dark meat, but just let your inner soul fairies guide this movement.
Okay, watch what we do. I already can't wait.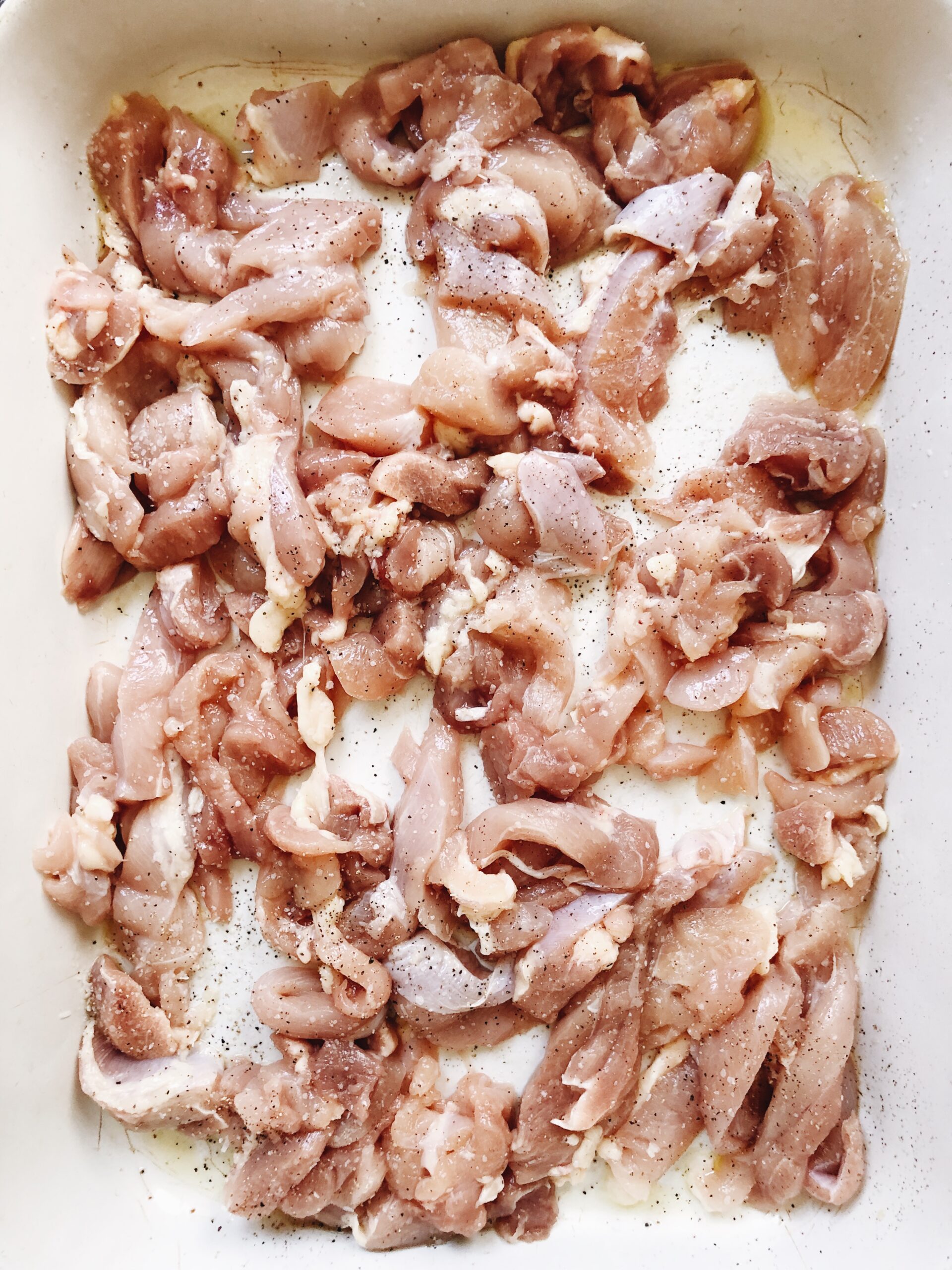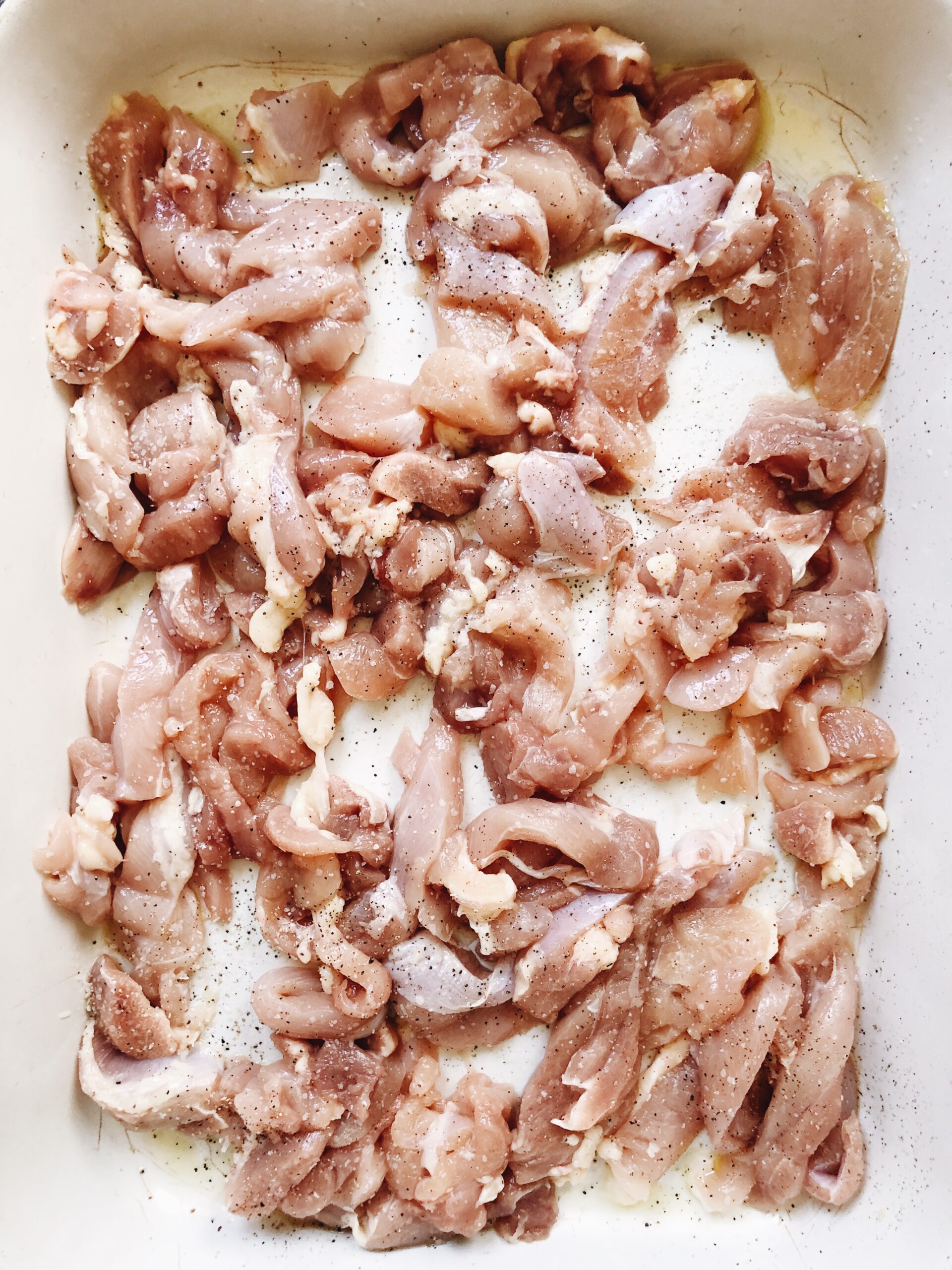 Just plop your chicken into a baking dish. I drizzled a little oil across the bottom because it's who I am.
Kind of spread it out like that. Little arrang-y rangy. (sorry)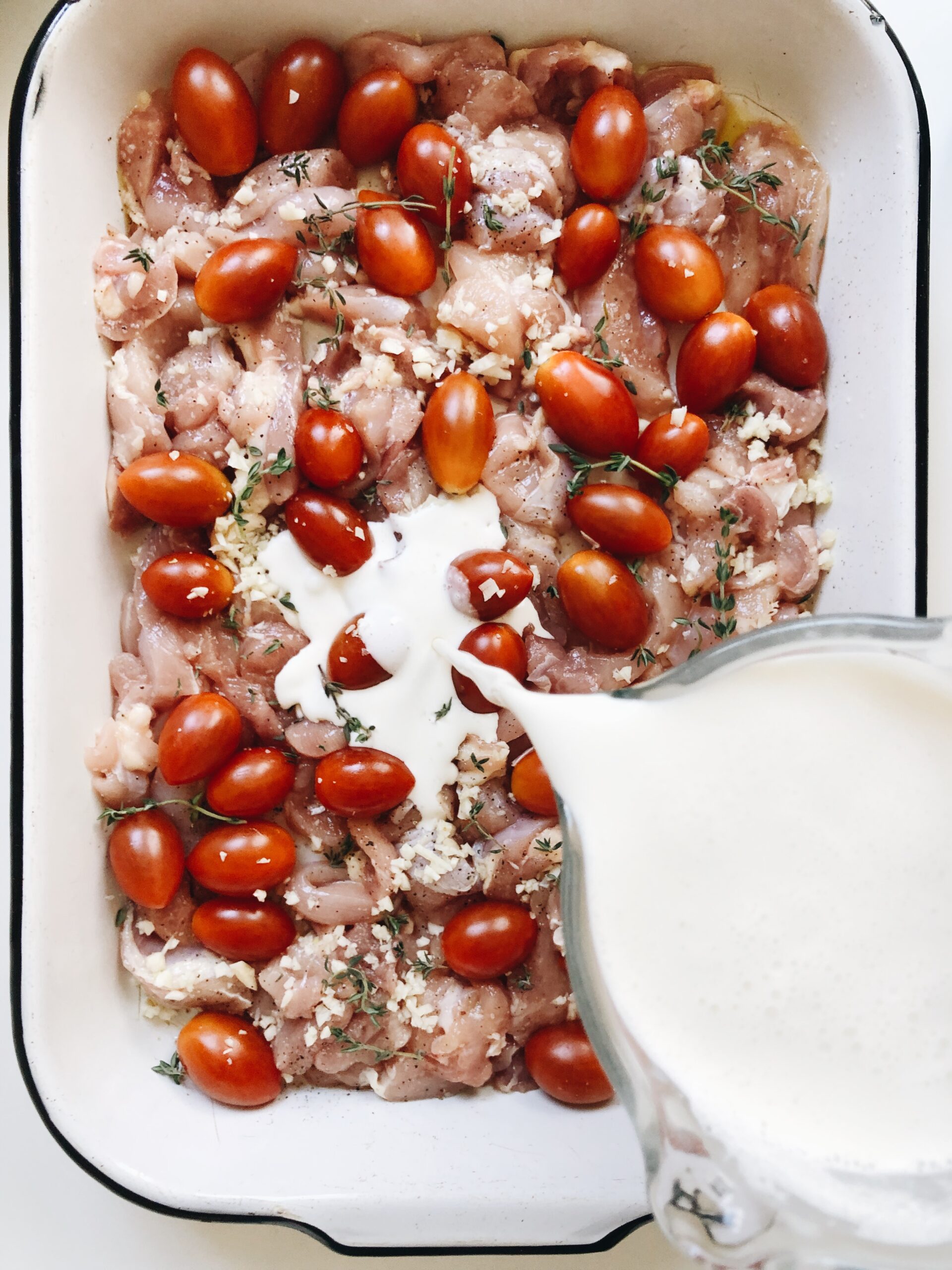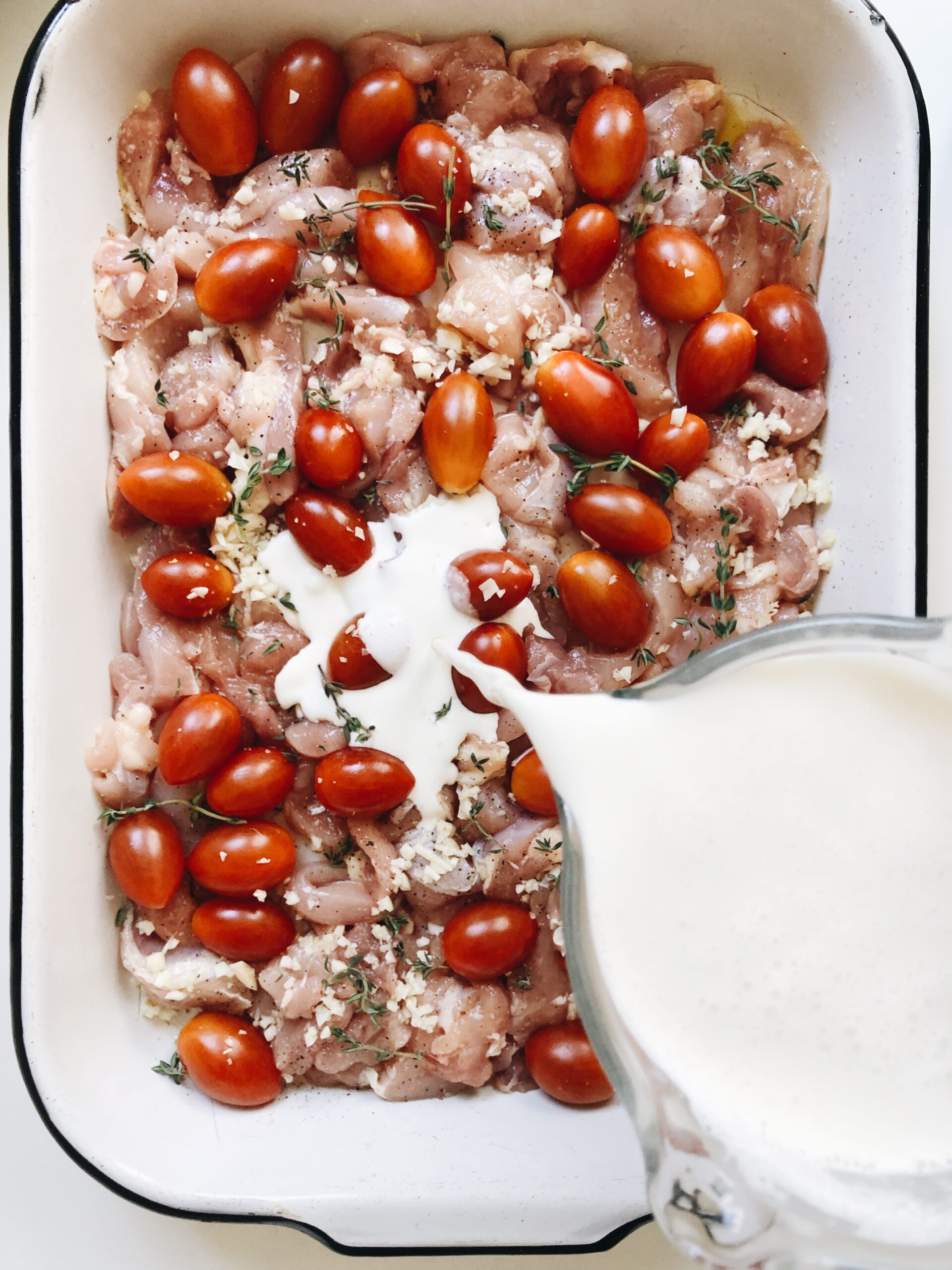 So then just add your cherry tomatoes, whole, right on top. Sprinkle some minced garlic over everything, and scatter a few thyme leaves all willy nilly. Season with salt, you know. Now add the cream.
See how this is kind of like the feta bake? But not at all? Right!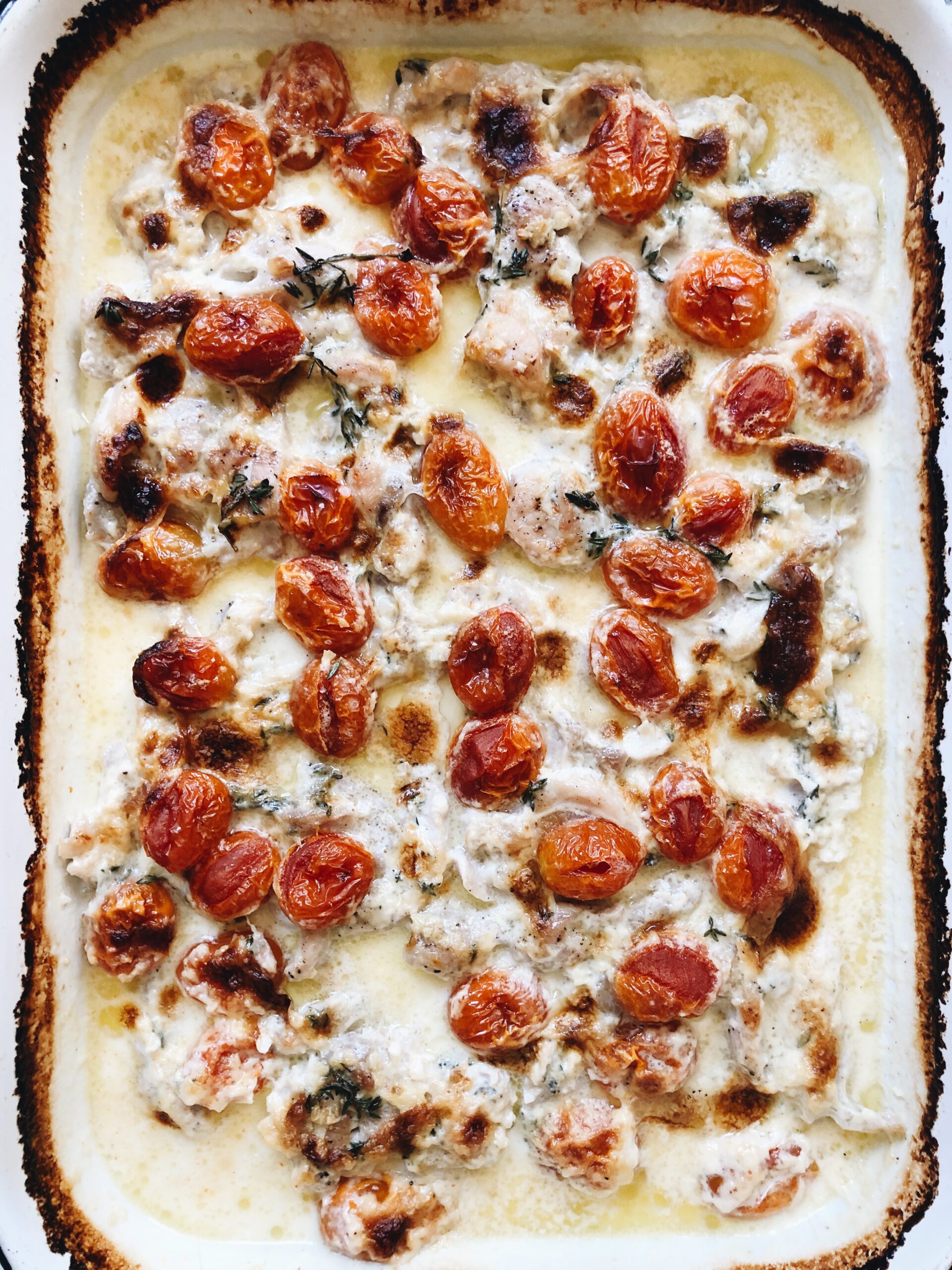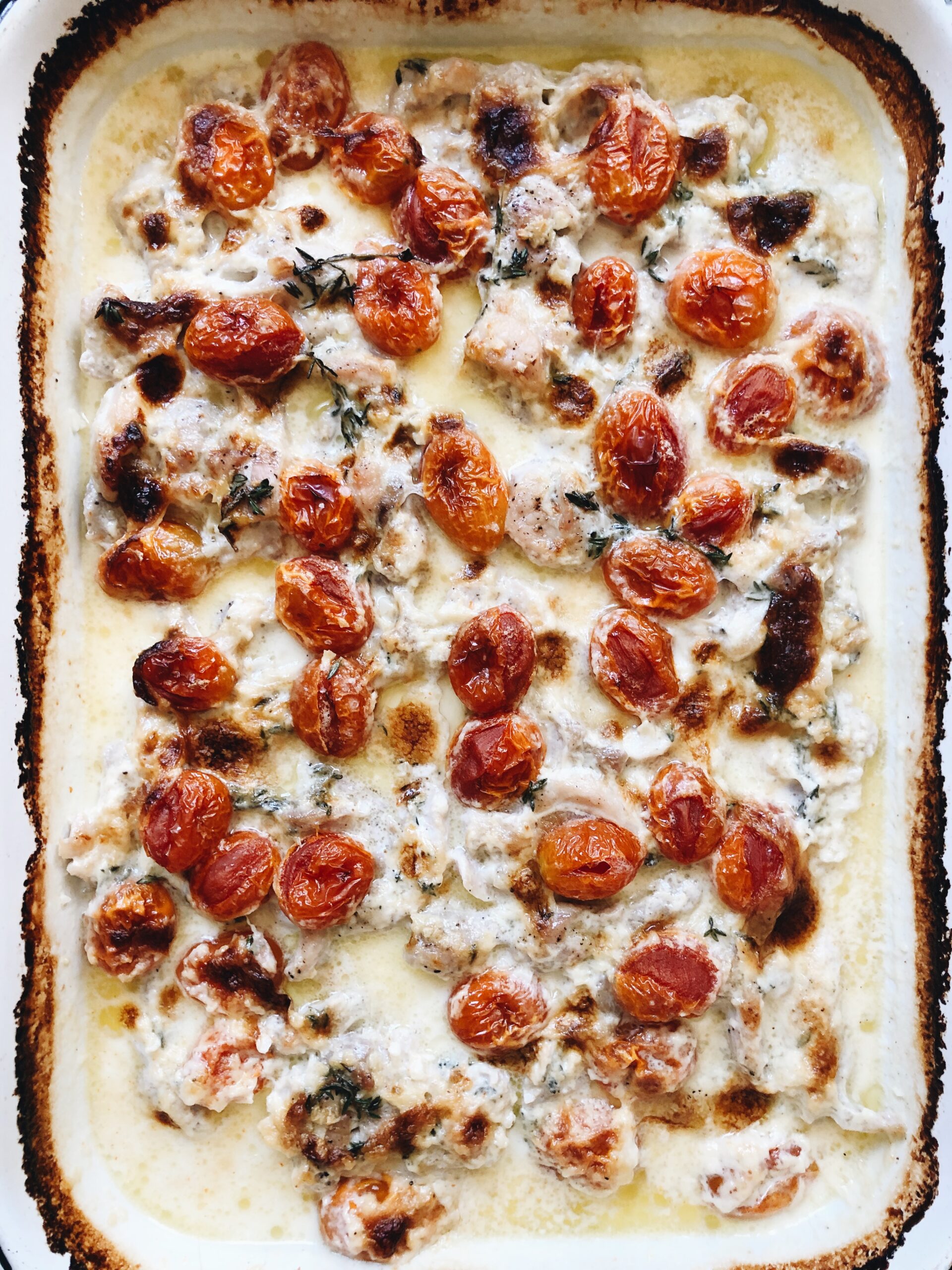 Well heavens in my face. This is after 40 minutes in a hot oven. LOOK AT THAT. You could honestly dunk some bread straight up in that and call it.
But we're not done.
And this is why I call it a reverse bake.
Children.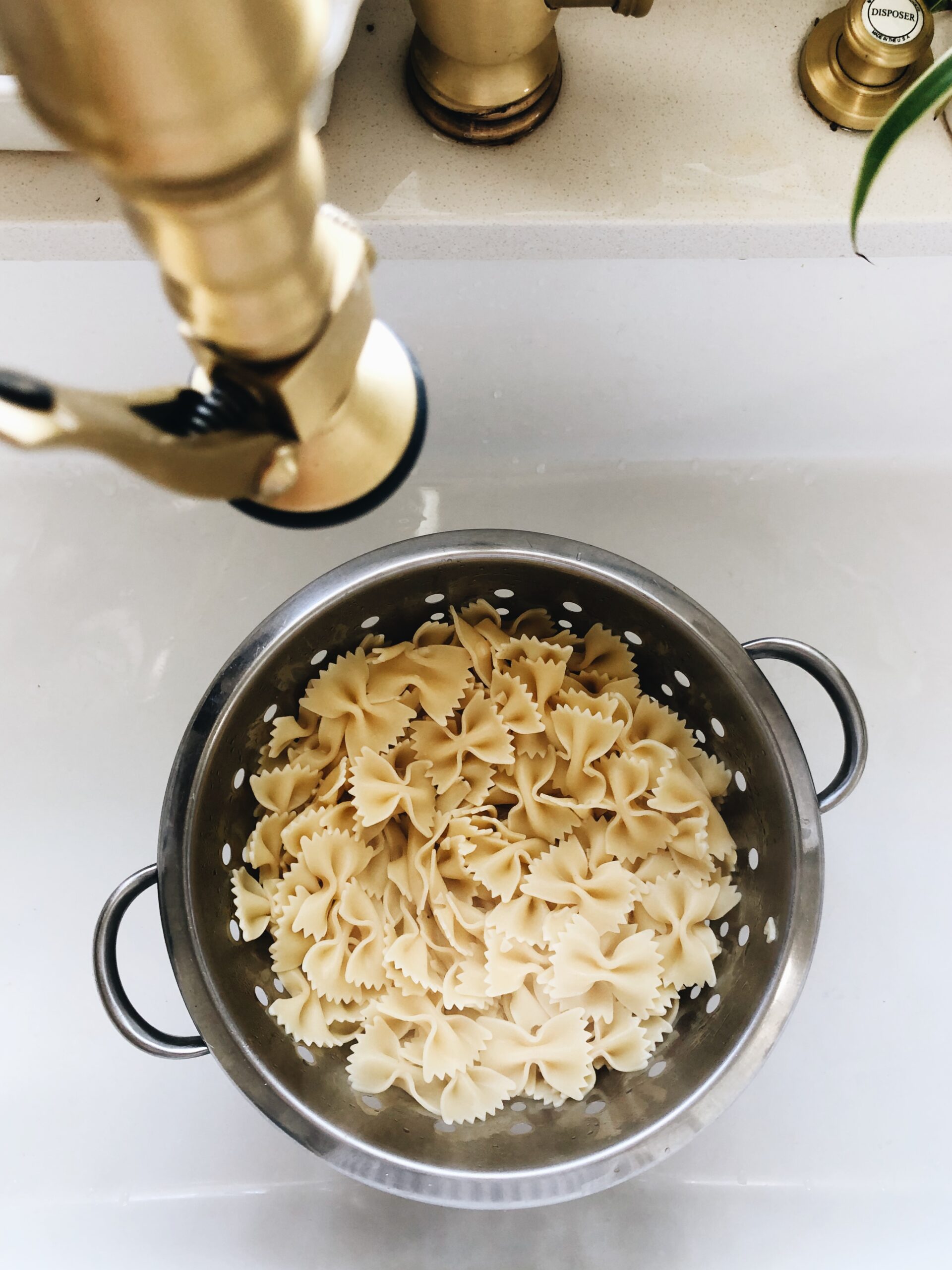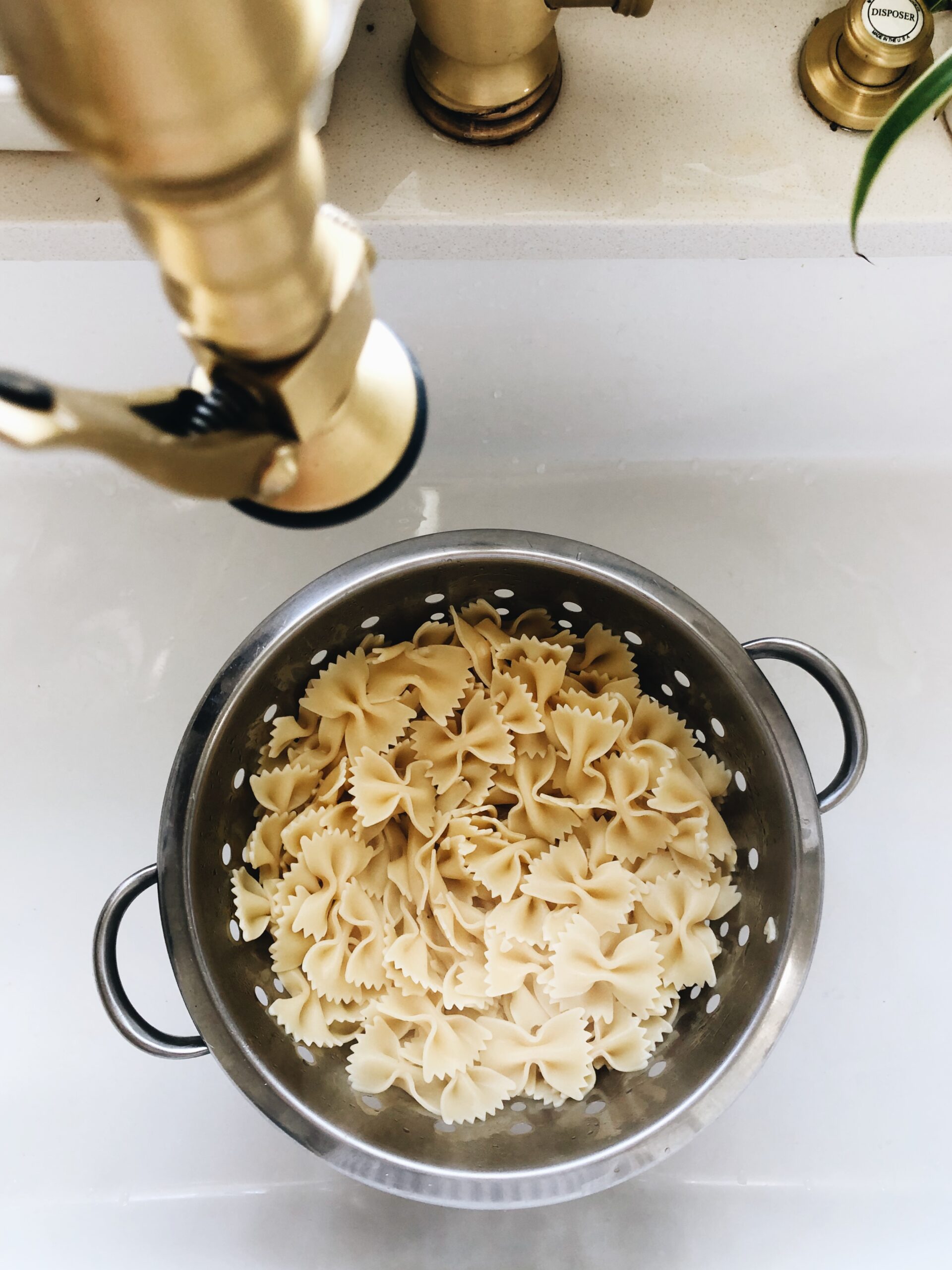 What I did was boil some bowtie pasta, a whole pound, because I know they'll eat it plain if all goes to hayell.
And then I just added a little over half, maybe three/fourths of the pasta to the baking dish and just stirred it in. Simple as that. Coat the pasta in that sauce, mix it all in until your tear ducts can barely take a second longer.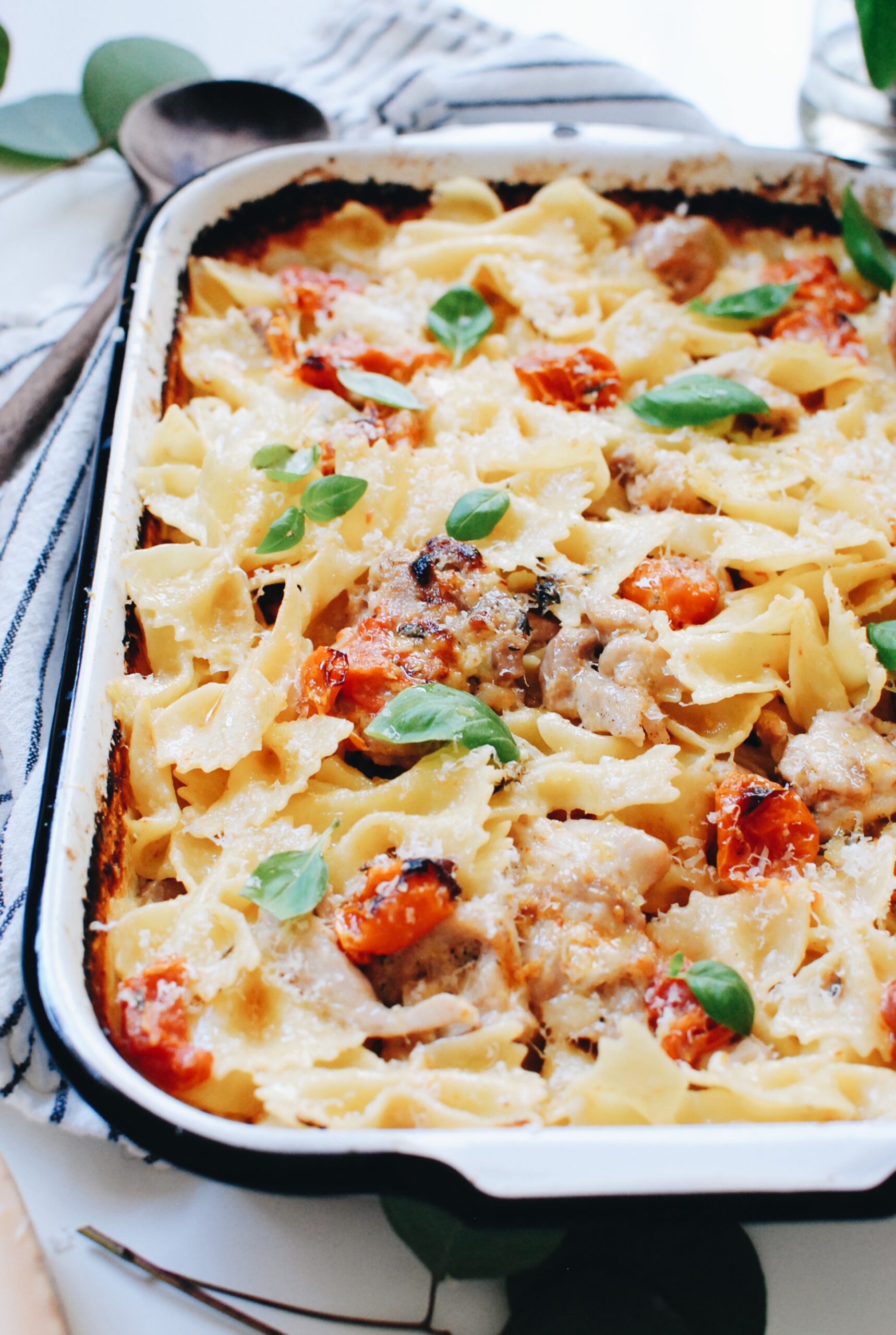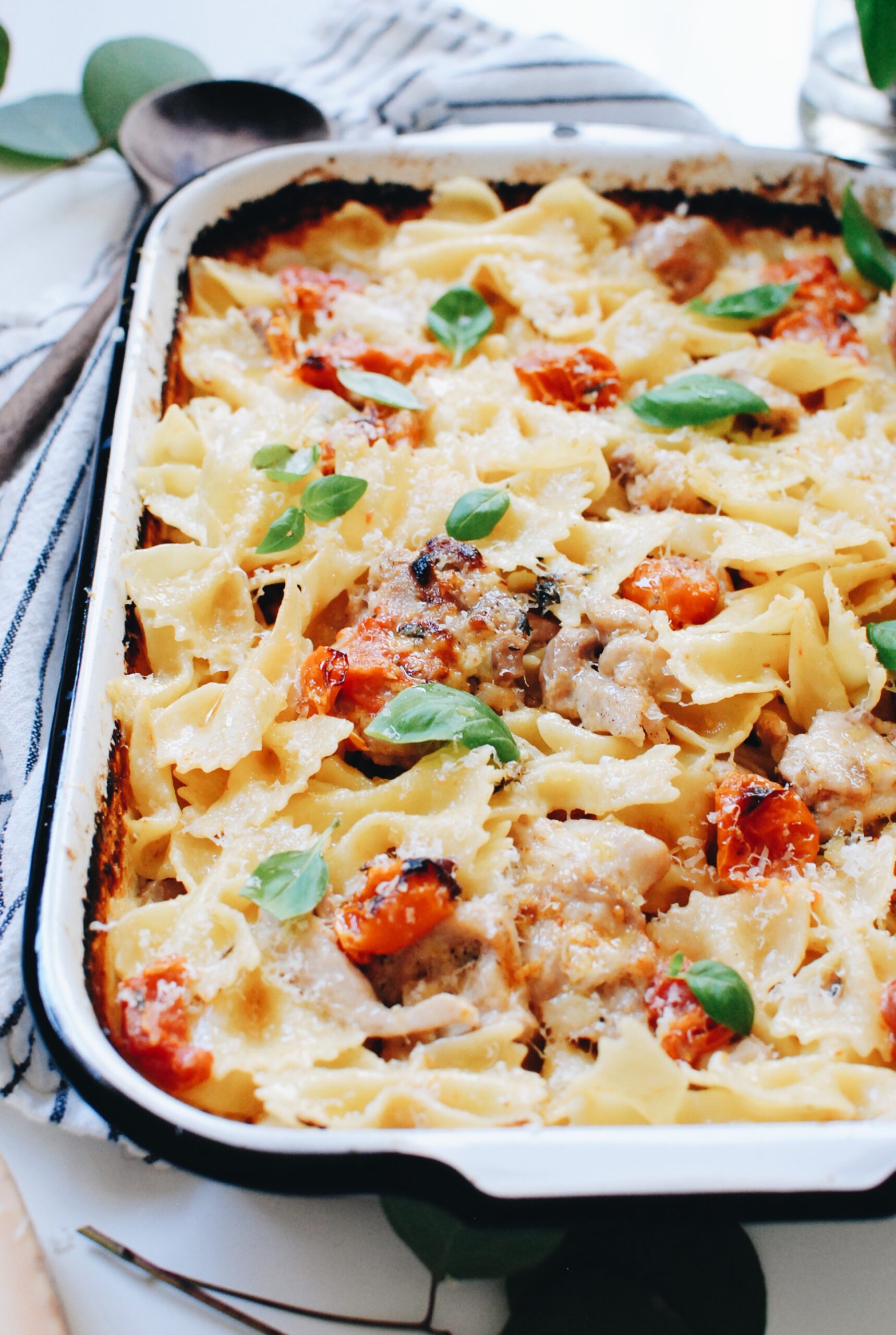 Hi.
NOW, I will say, I threw this under a broiler for maybe two minutes for a little marriage. It's not 100% needed, but sprinkle some parmesan on top and broil it for a little bit of fun in pandemic life.
Before you're like, "Why can't this just be a regular pasta bake with the bowties added at the beginning?" – Well, it can. But think of how much time we saved! While the pasta boiled, the chicken and tomatoes were baking in that luscious cream. Boom. Mixy. Done.
And this way you can add as much pasta as you want, and freeze the rest.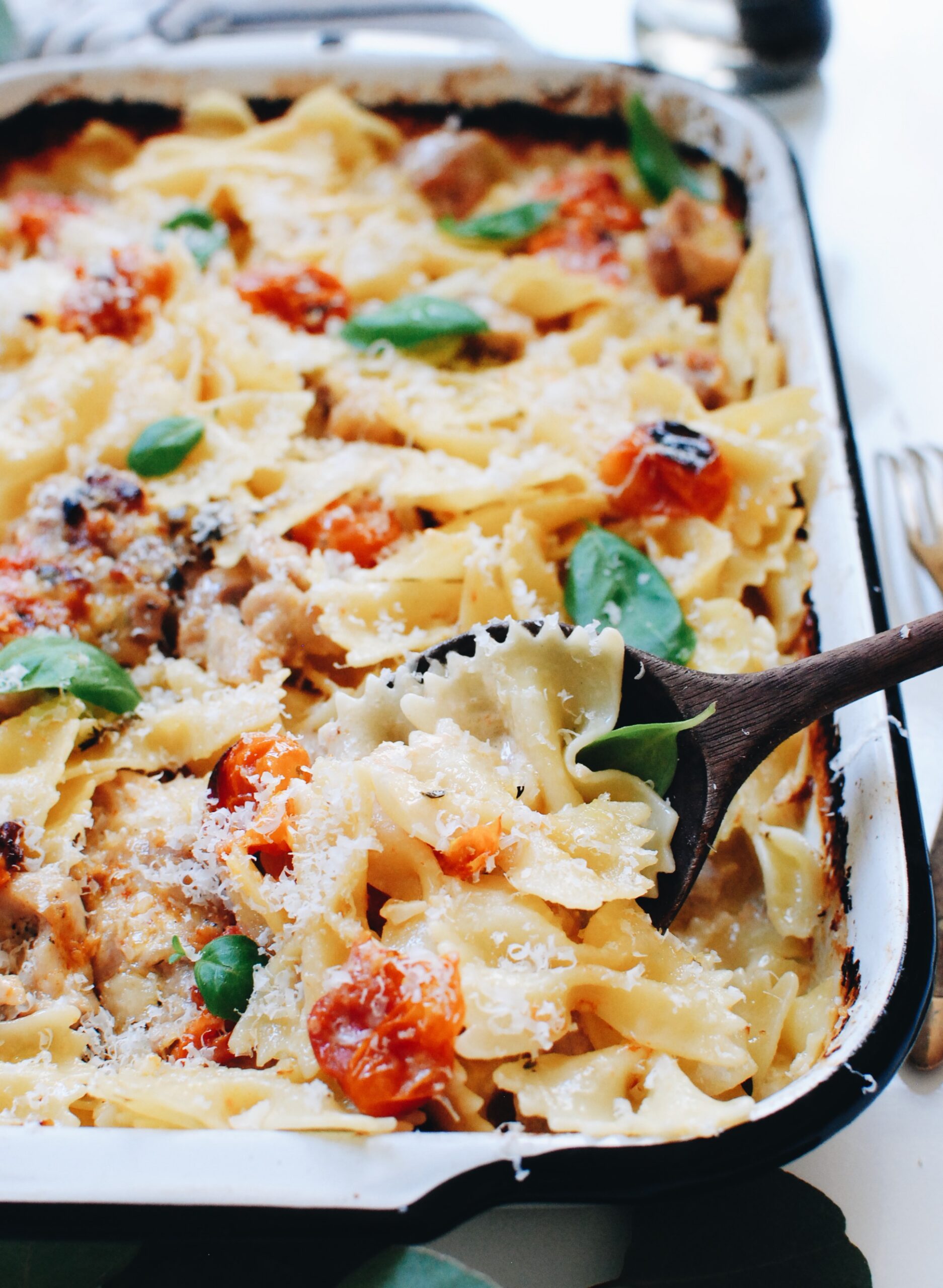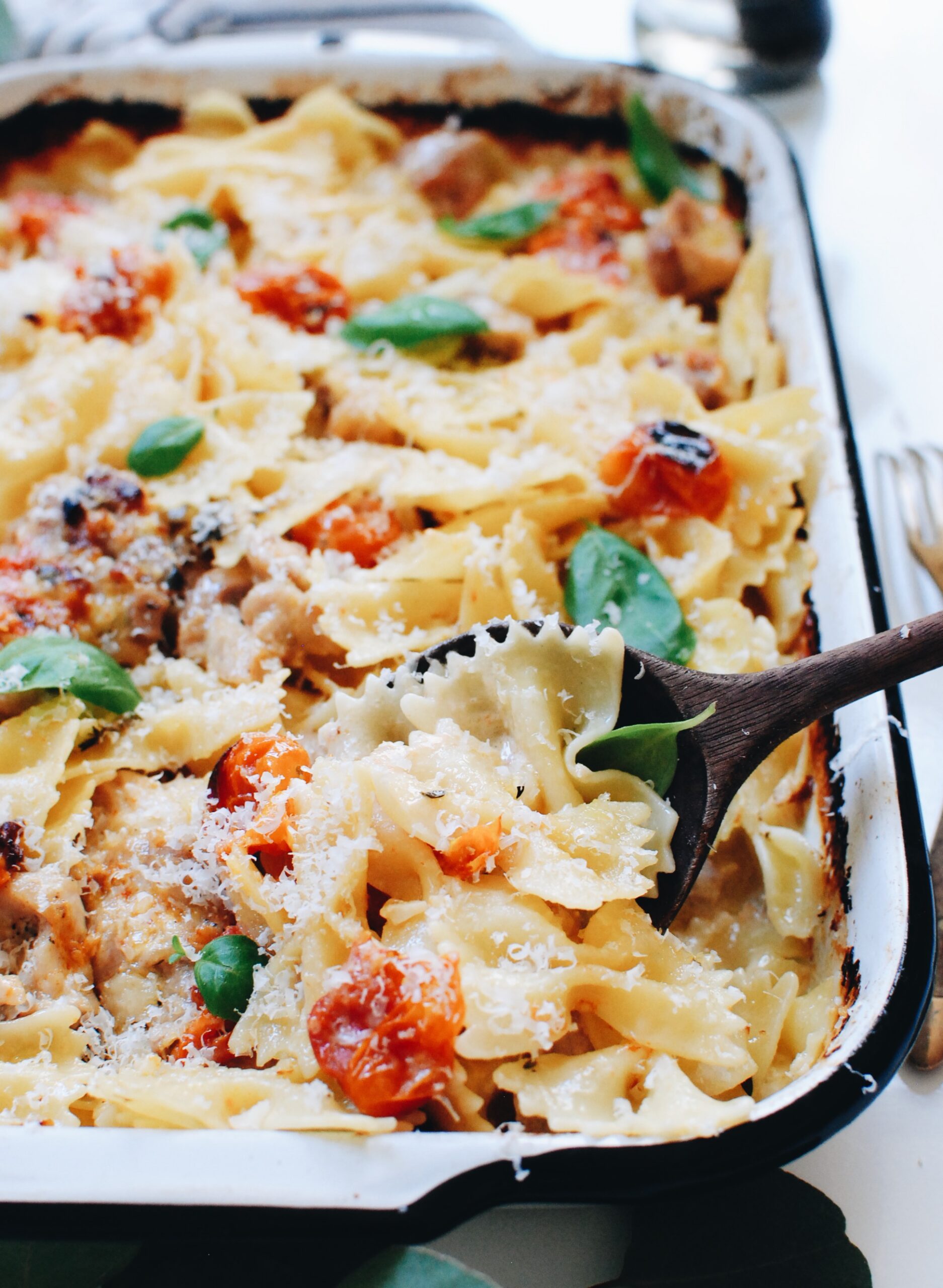 It is soooooooooo good. The tomatoes blister and burst, the garlic enhances the cream, the chicken crisps up in places under that heat, and the basil is there for a bit of fresh. Guys I think we can officially call this a hack. DARE I SAY IT?
I mean it's no frozen peanut butter, but.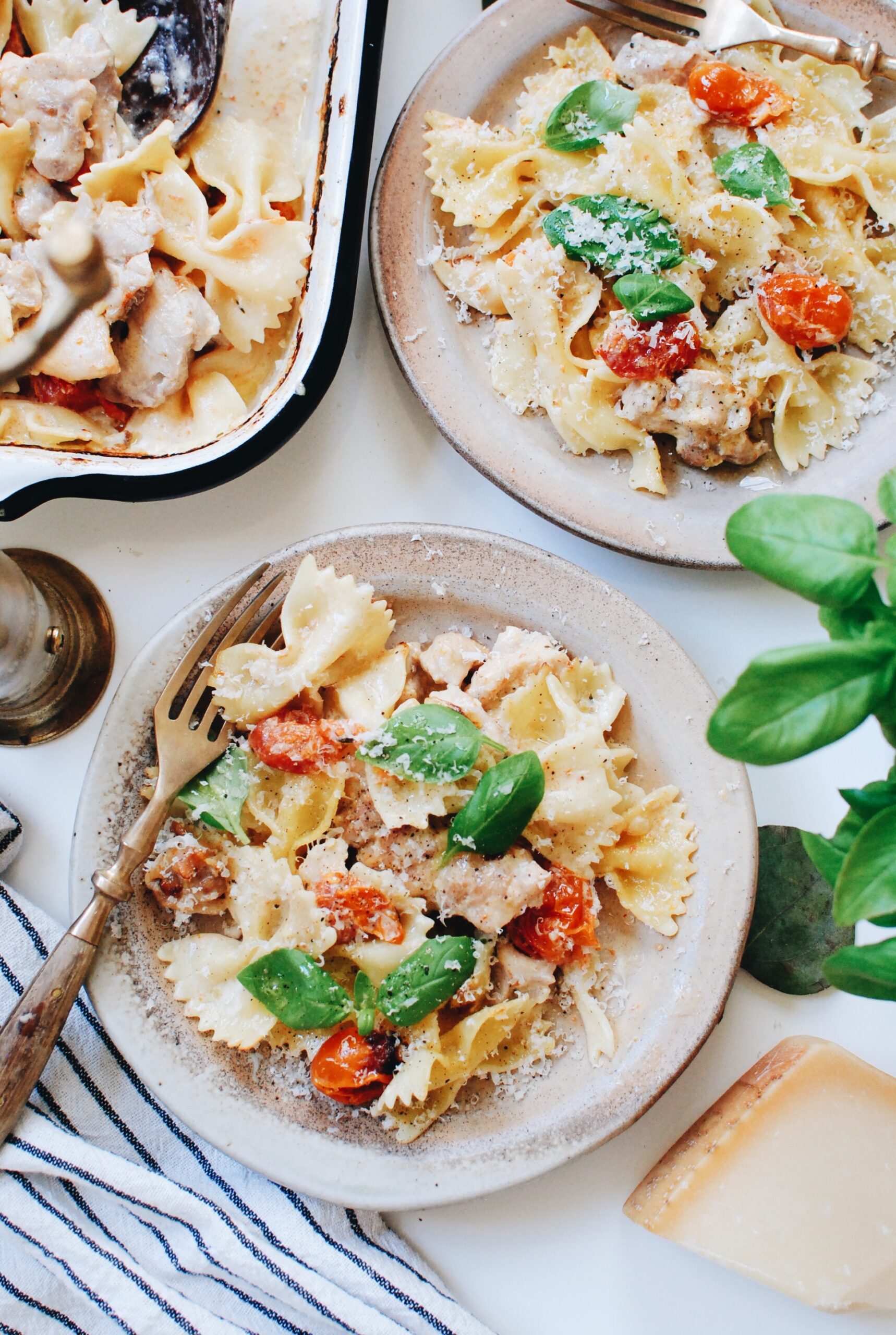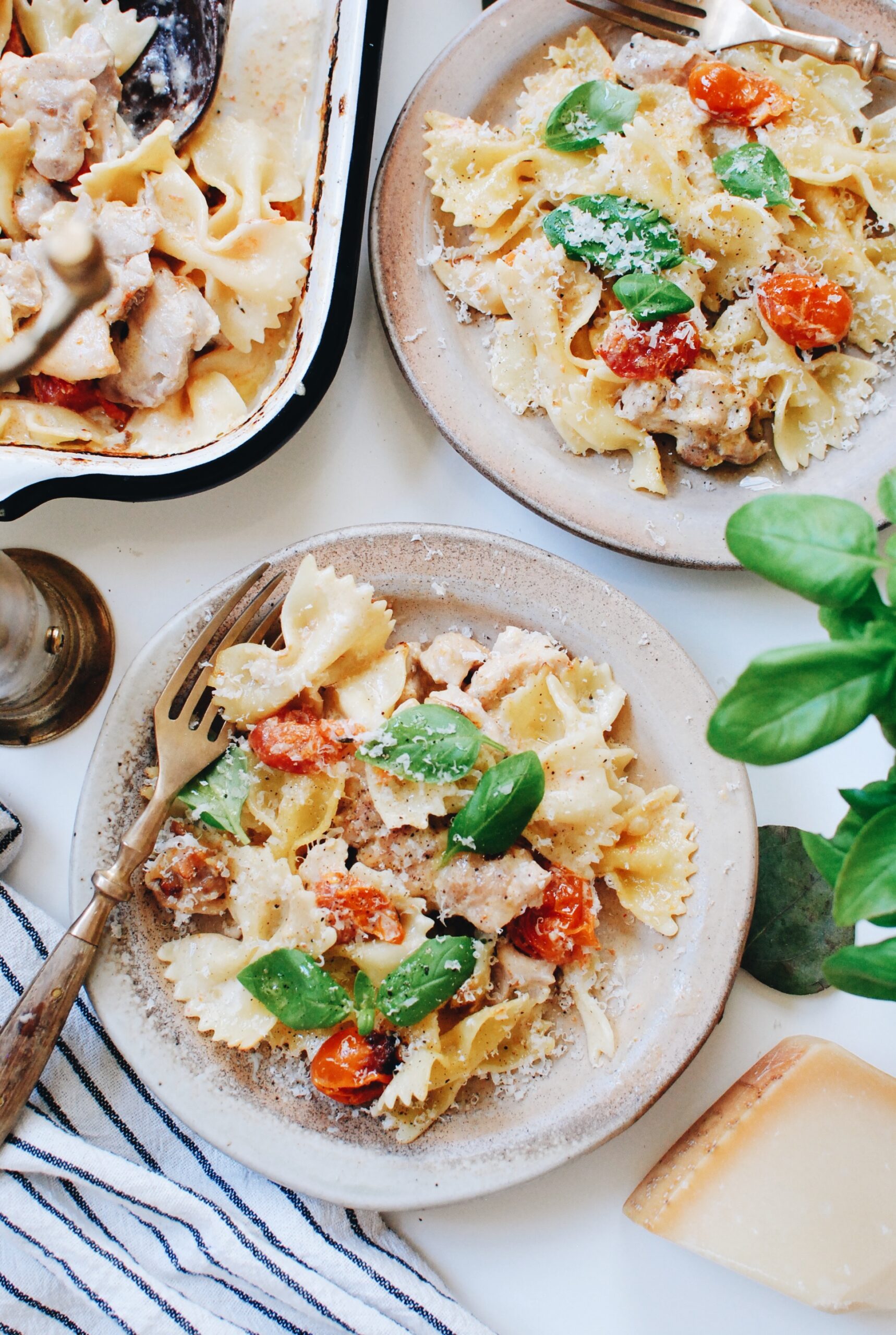 Springy, but comforting. Simple, but has all the layers your soul needs. Vibrant, but warm.
TELL ME THIS ISN'T EVERYTHING.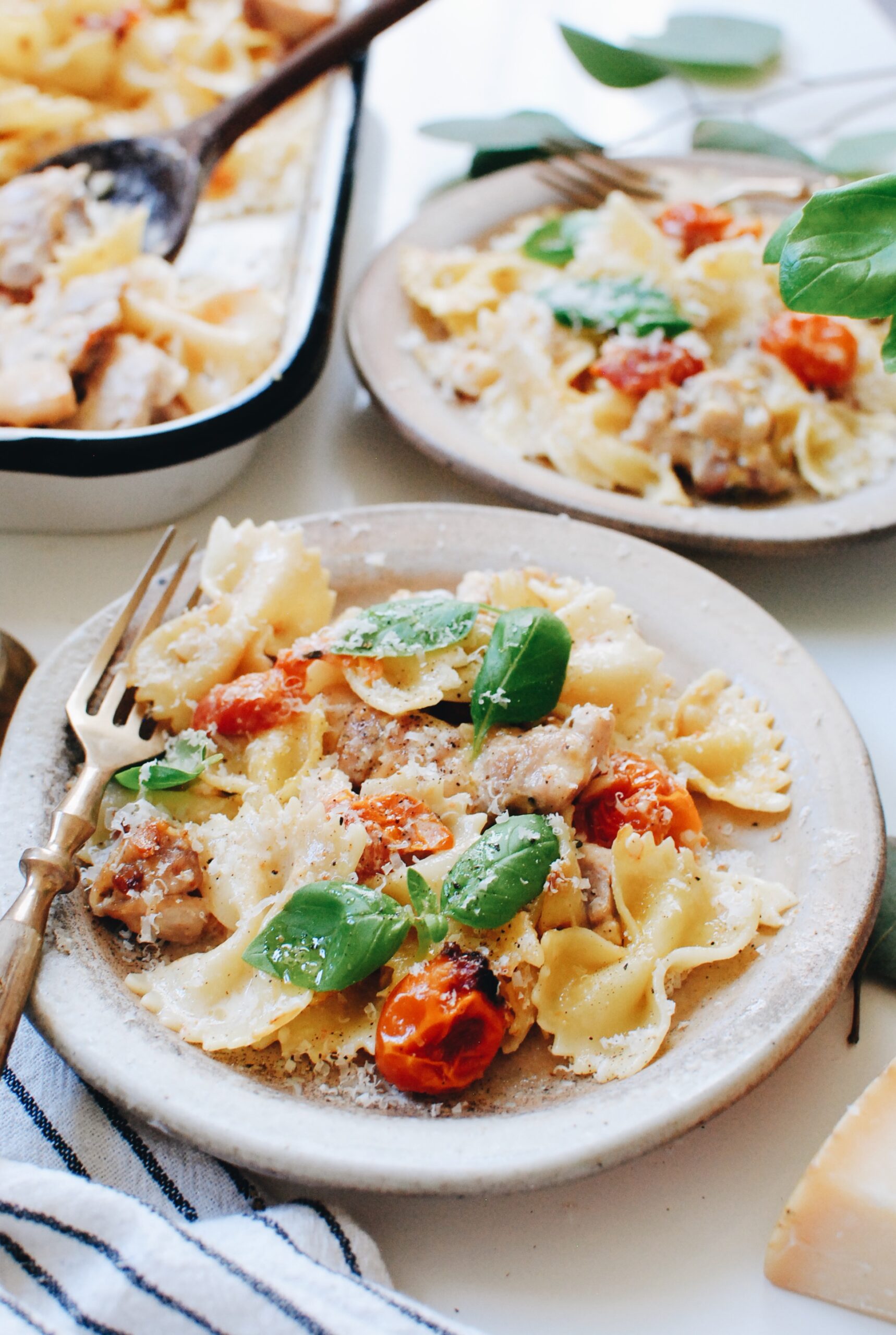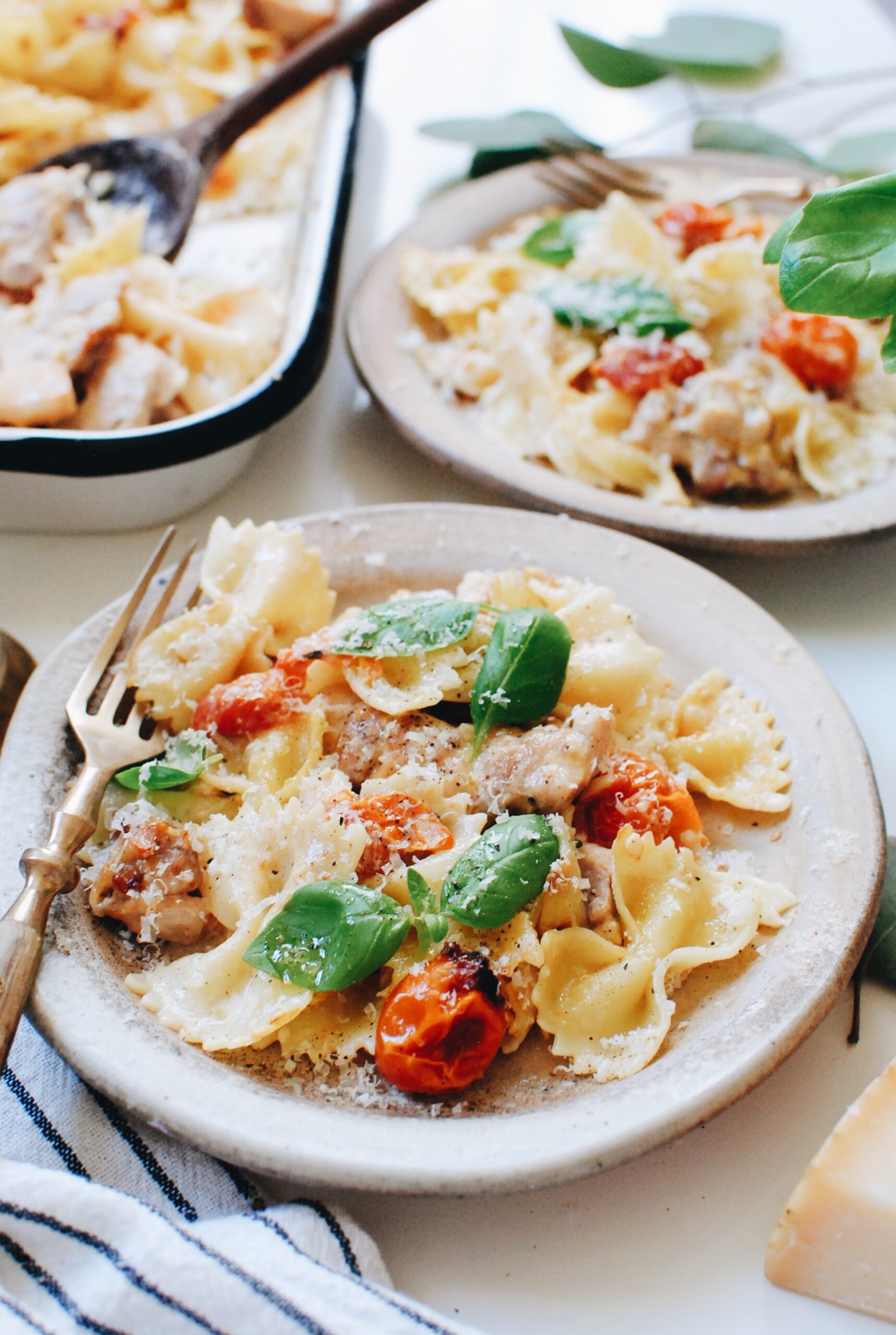 Tonight? Well yeah.
Creamy Bowtie Pasta with Chicken and Tomatoes
Ingredients
1 pound chicken thighs (three large ones), thinly sliced
10 oz cherry tomatoes
4 garlic cloves, minced
4 sprigs of thyme
1 cup heavy cream
1 pound bowtie pasta
Fresh basil, for garnish
Parmesan cheese, for garnish
Coarse salt and freshly ground pepper
Instructions
Preheat your oven to 375.
In an 8x13 baking dish, drizzle a little bit of oil in the bottom. Arrange the sliced chicken, cherry tomatoes, minced garlic and fresh thyme leaves in the casserole dish. Season with a pinch of salt, and pour the cream over everything. Bake this, uncovered for 40 minutes. The cream will bubble, the tomatoes will blister and burst, the chicken cooks through and crisps in places.
In the meantime, boil your bowtie pasta until it reaches al dente, according to package directions. SAVE A CUP OF PASTA WATER - sorry to scream. Drain the rest.
Now, add as much pasta as you want/can to the baking dish. Add a little pasta water to extend the sauce, if needed. I always love the starchy water to help with the sauce. It's perfect. Save the remaining pasta for later in the week, or freeze! Stir the creamy chicken with the pasta and you're done. Sprinkle with parmesan cheese and broil for a couple of minutes, if you want.
Garnish with basil and serve immediately!
Serves four - six.
7.8.1.2
486
https://bevcooks.com/2021/03/creamy-bowtie-pasta-with-chicken-and-tomatoes/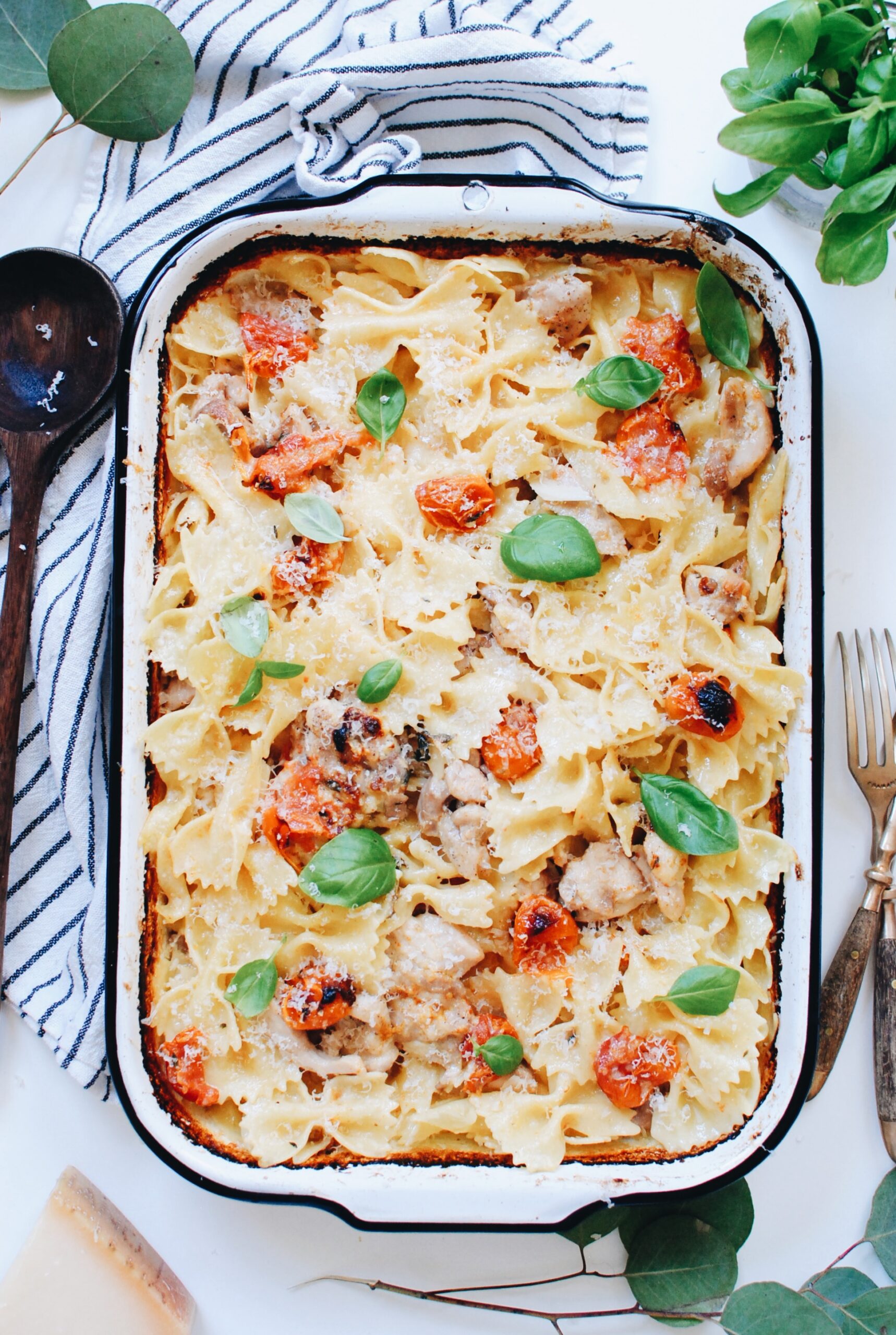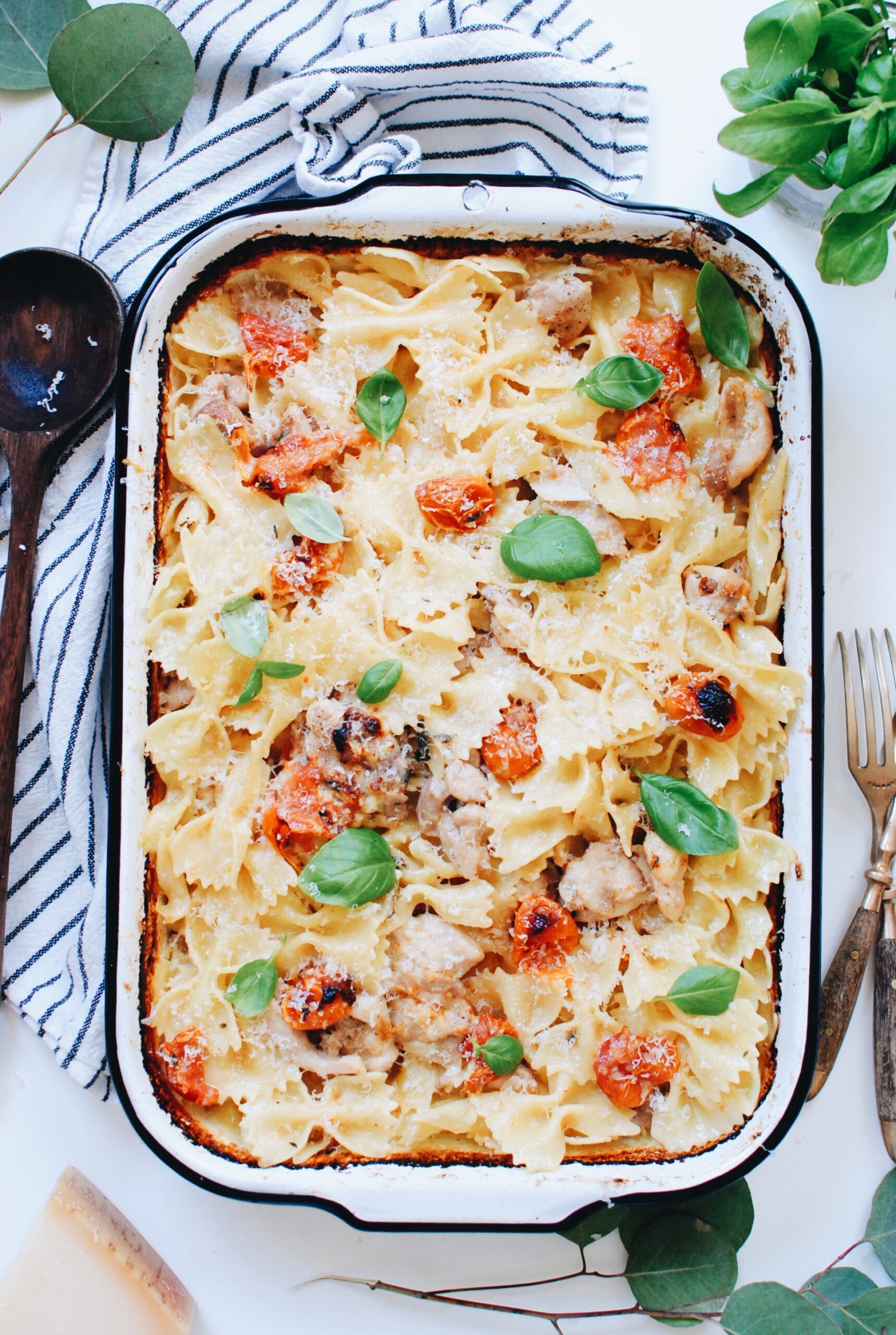 Pasta hack of the year! (don't quote me on that.)