I'll understand if you need a moment.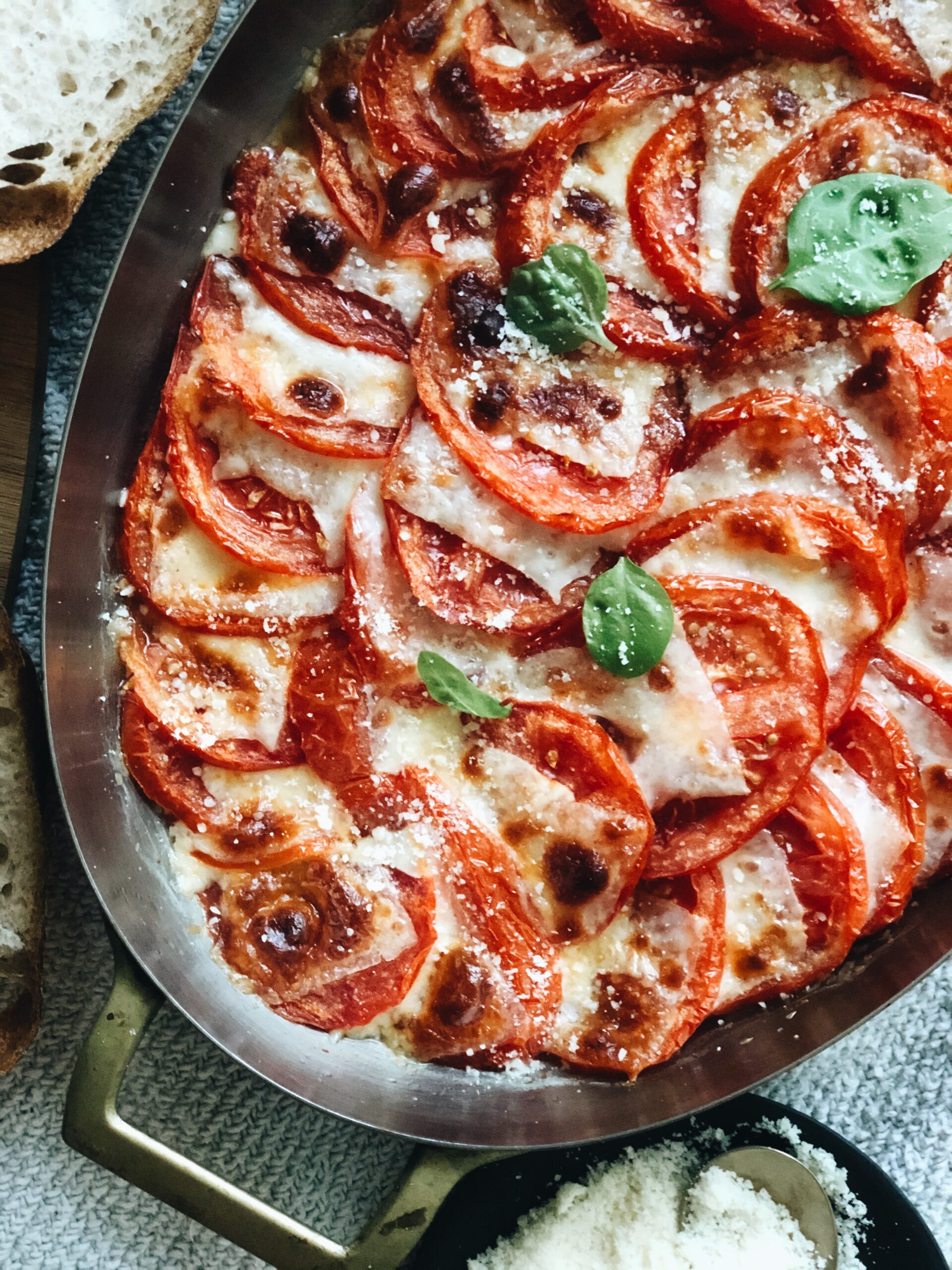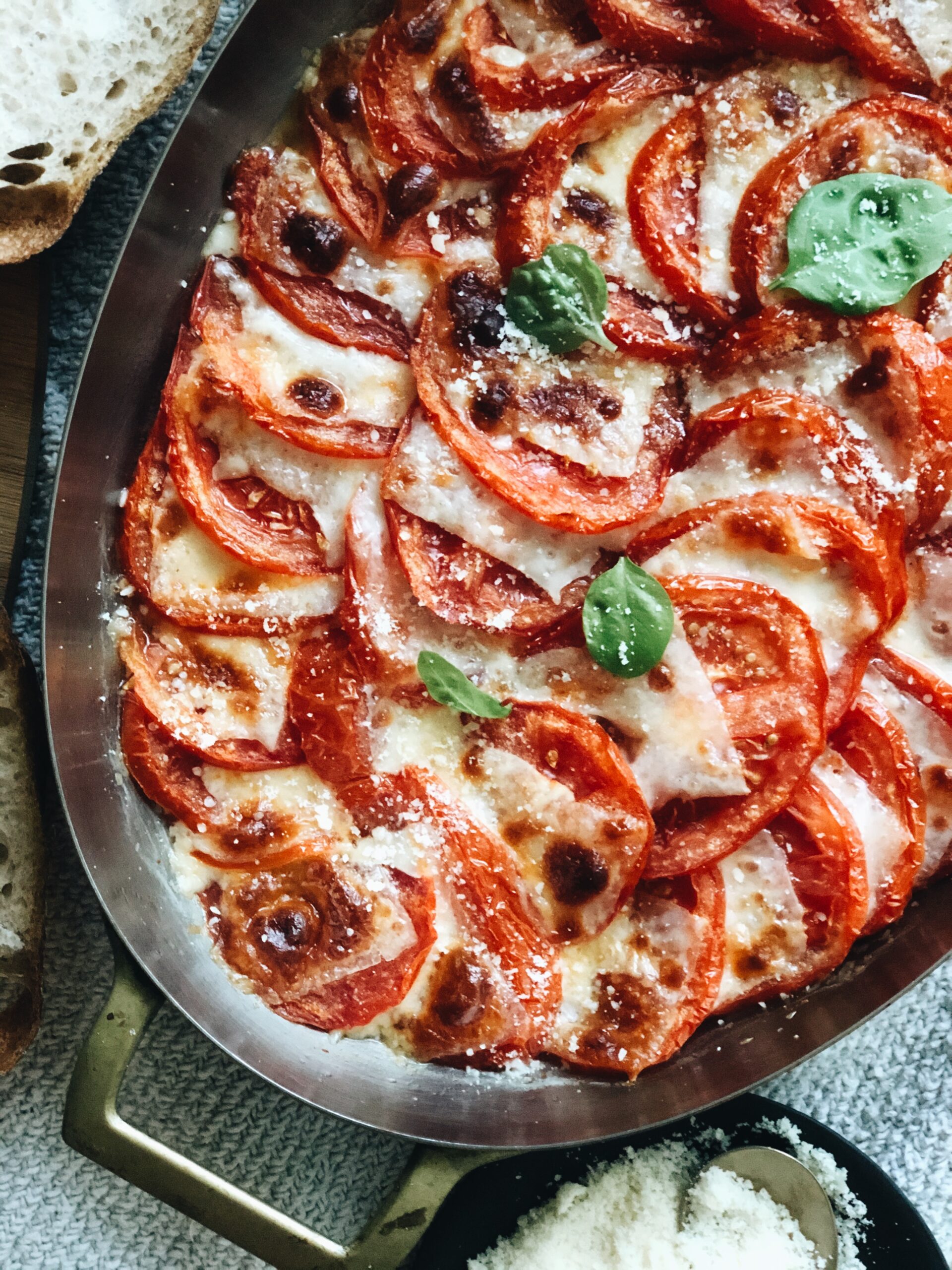 And yes, that is a delicious summer gratin punching you square in the face right now. LOOK AT THAT. WOULD YOU LOOK AT THAT.
I also might want to mention that there are only five ingredients. Which makes this all the more awesome and less of an ordeal for you. It's not even an ordeal at all, besides the tomato slicing. Which is a fun ordeal.
I don't know what my deal is with ordeal (ha) lately, but I said it yesterday to Aaron, "I just need this to be a simple ordeal." And he said, "Well that's an oxymoron." And I said, "Your face is an oxymoron."
We're fine.
But look!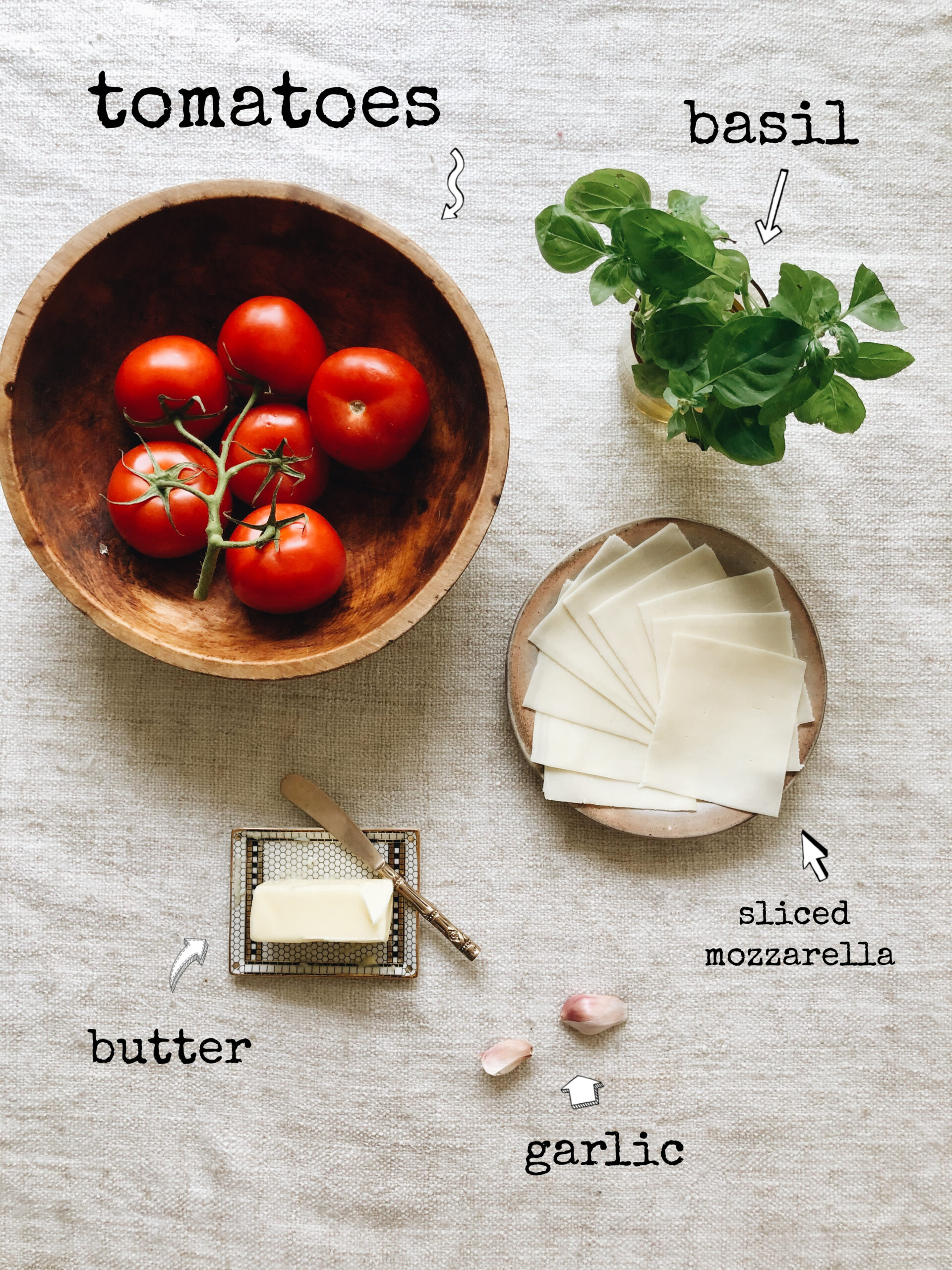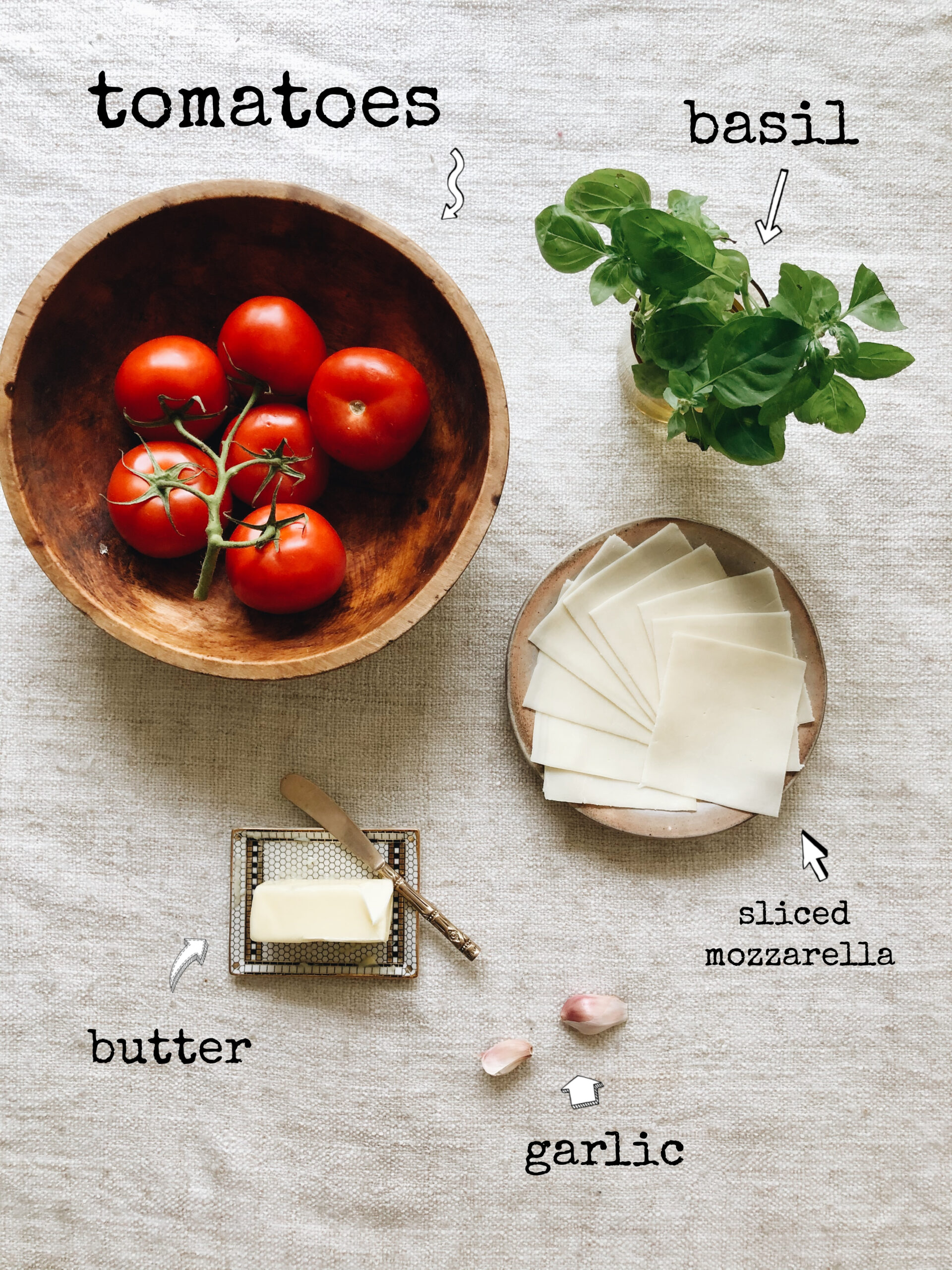 Five ingredients, all of which make your heart leap. And I know this to be true, so don't argue with me.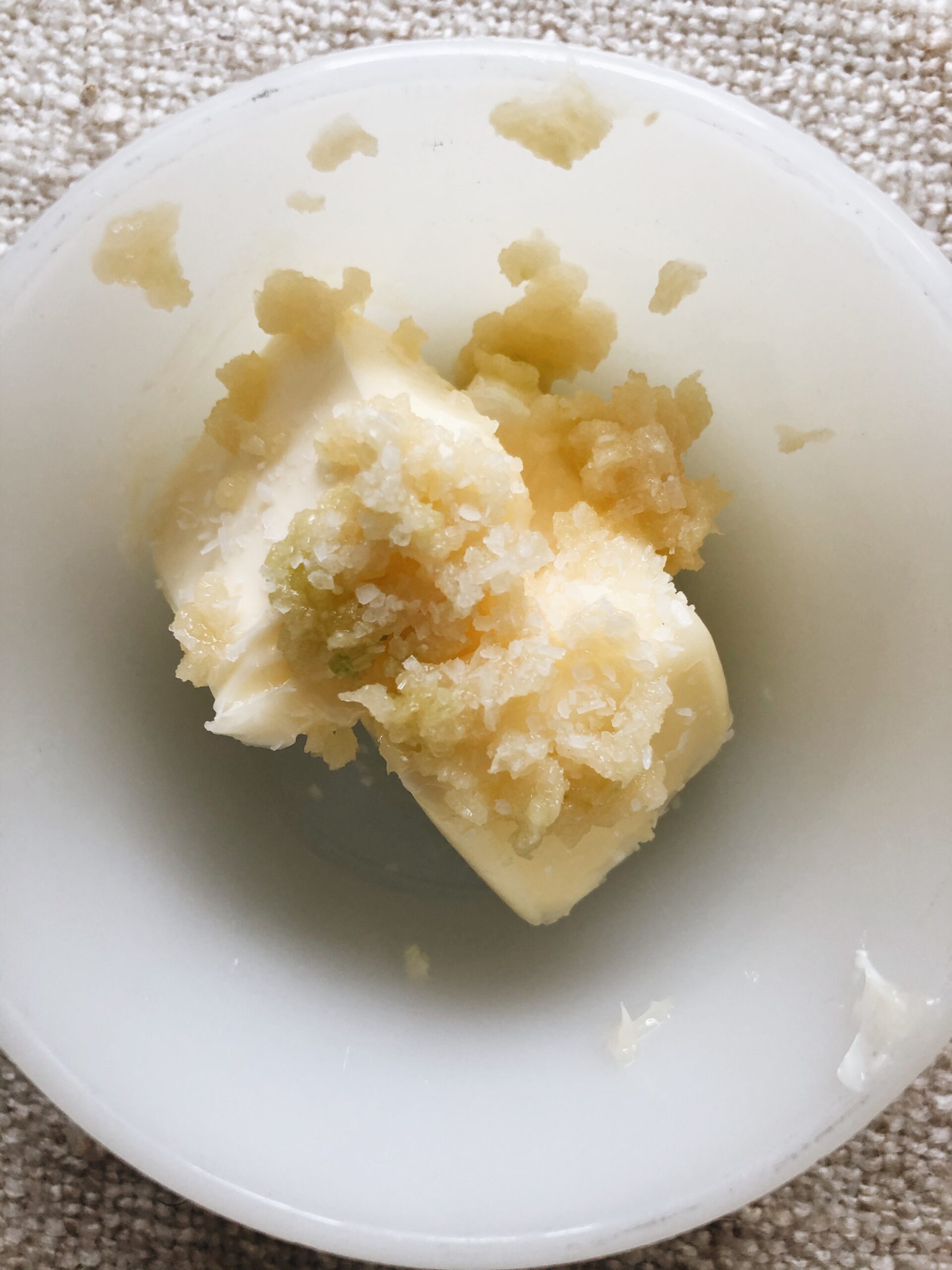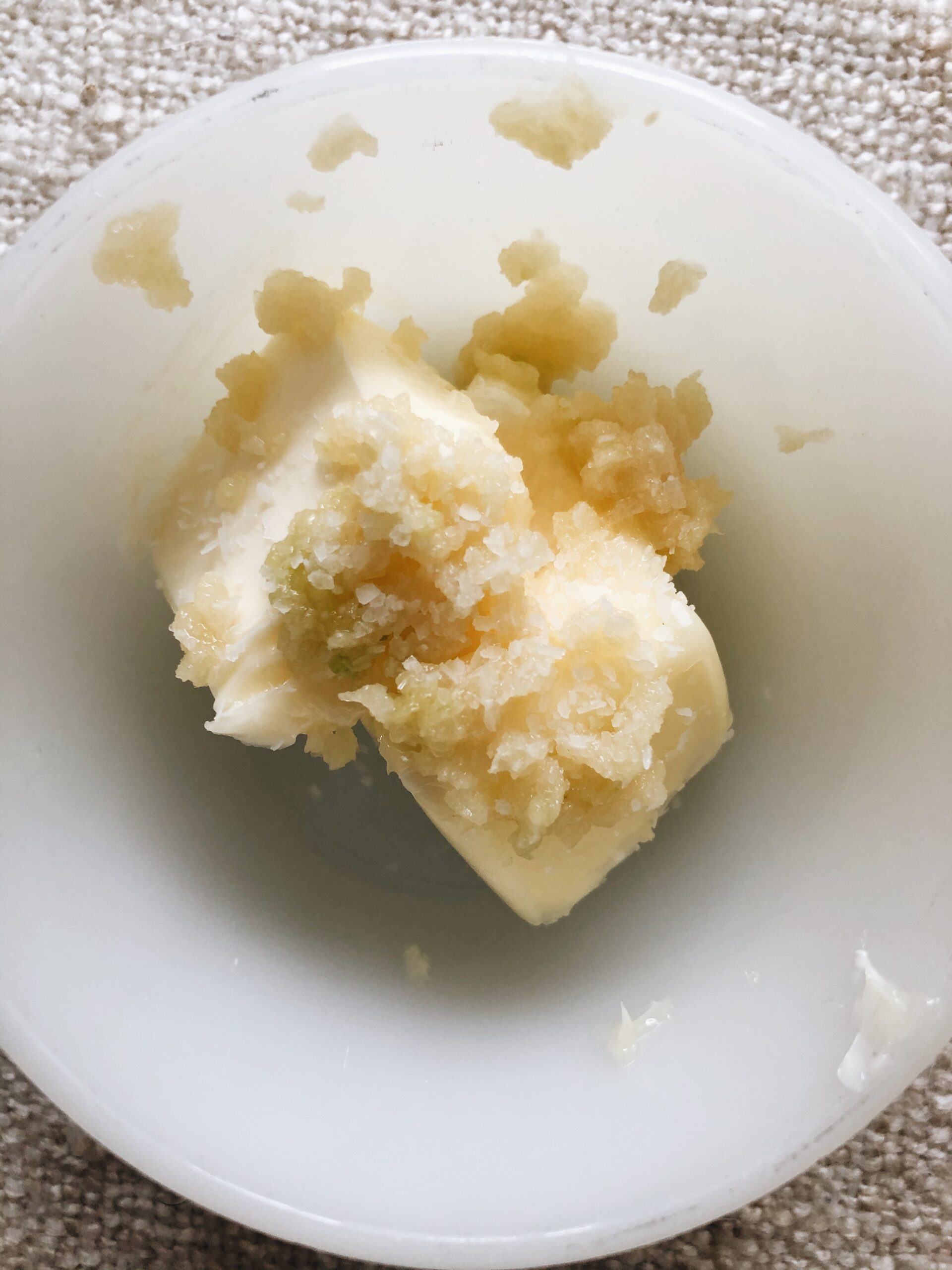 The butter – you want room temp and salted! If all you have is unsalted, you're still a good person. Just throw a tiny sprAnkle of coarse salt in with it.
Take 2-3 Tbs. of butter and grate two cloves of garlic right in.
I know I talk a lot about "grating garlic" and by that I mean, take your microplane or mini grater and just grate grate grate the garlic right into the butter. The garlic will be MORE than minced, you know. Finely finely grated, so that it's teensy tiny chunks of pungent.
We're starting a band called Chunks of Pungent and I already hate it.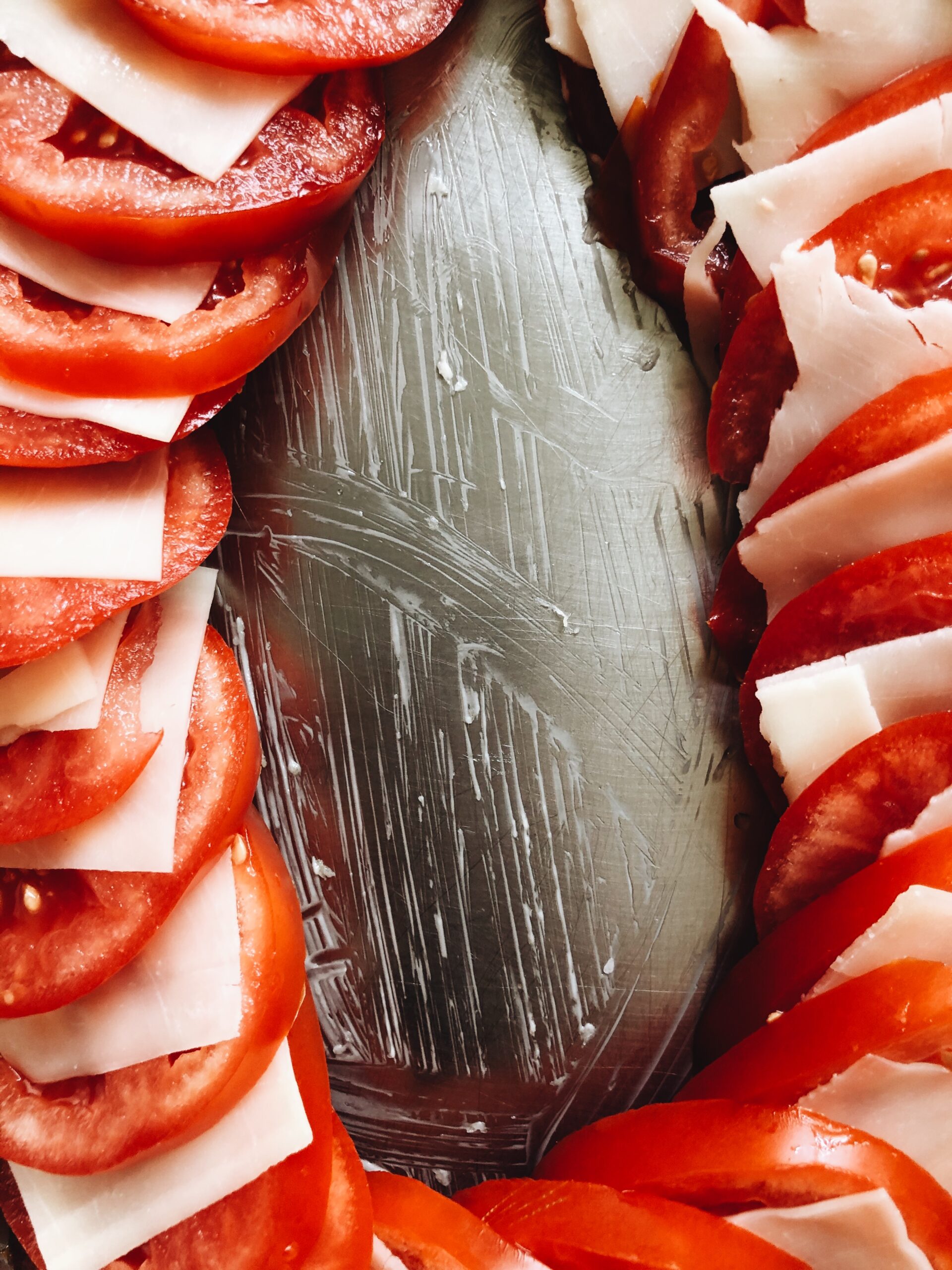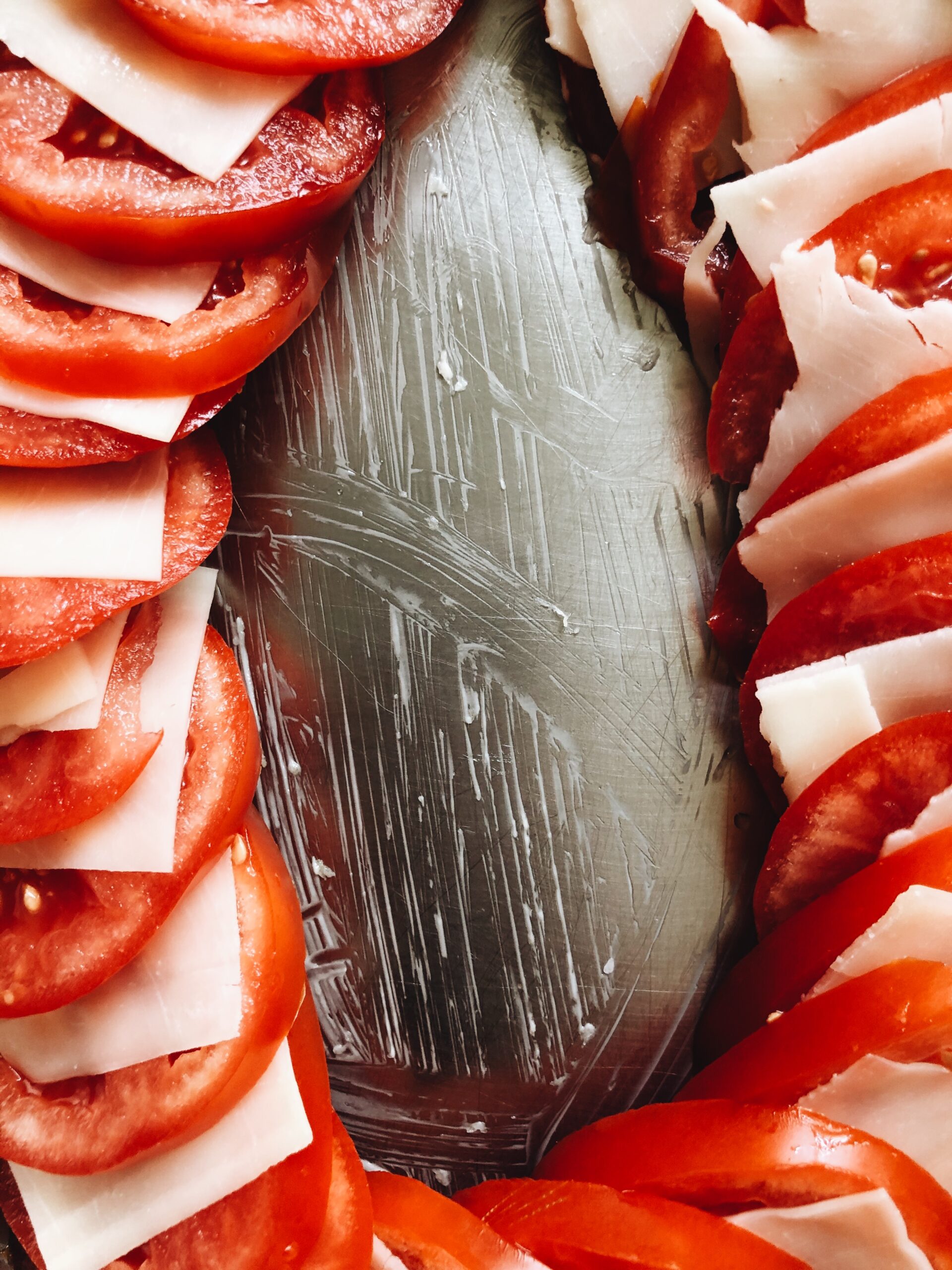 Take that butter and pop it in the microwave for ten seconds, just so it can really melt. Then brush it along the bottom of any gratin or shallow casserole dish. This means garlicky flavor will be on the BOTTOMS of the tomatoes, too. And this is solid living.
Slice the tomatoes thinly, sort of like what I've done here, and overlap tomato/cheese/tomato/cheese/tomato/cheese. I mean, you have eyes, you can see that.
And honestly, you can throw in any cheese you want. I like these super thin slices of mozzarella because they're cute and delicate. But if you have thicker slices of havarti or even provolone, fly.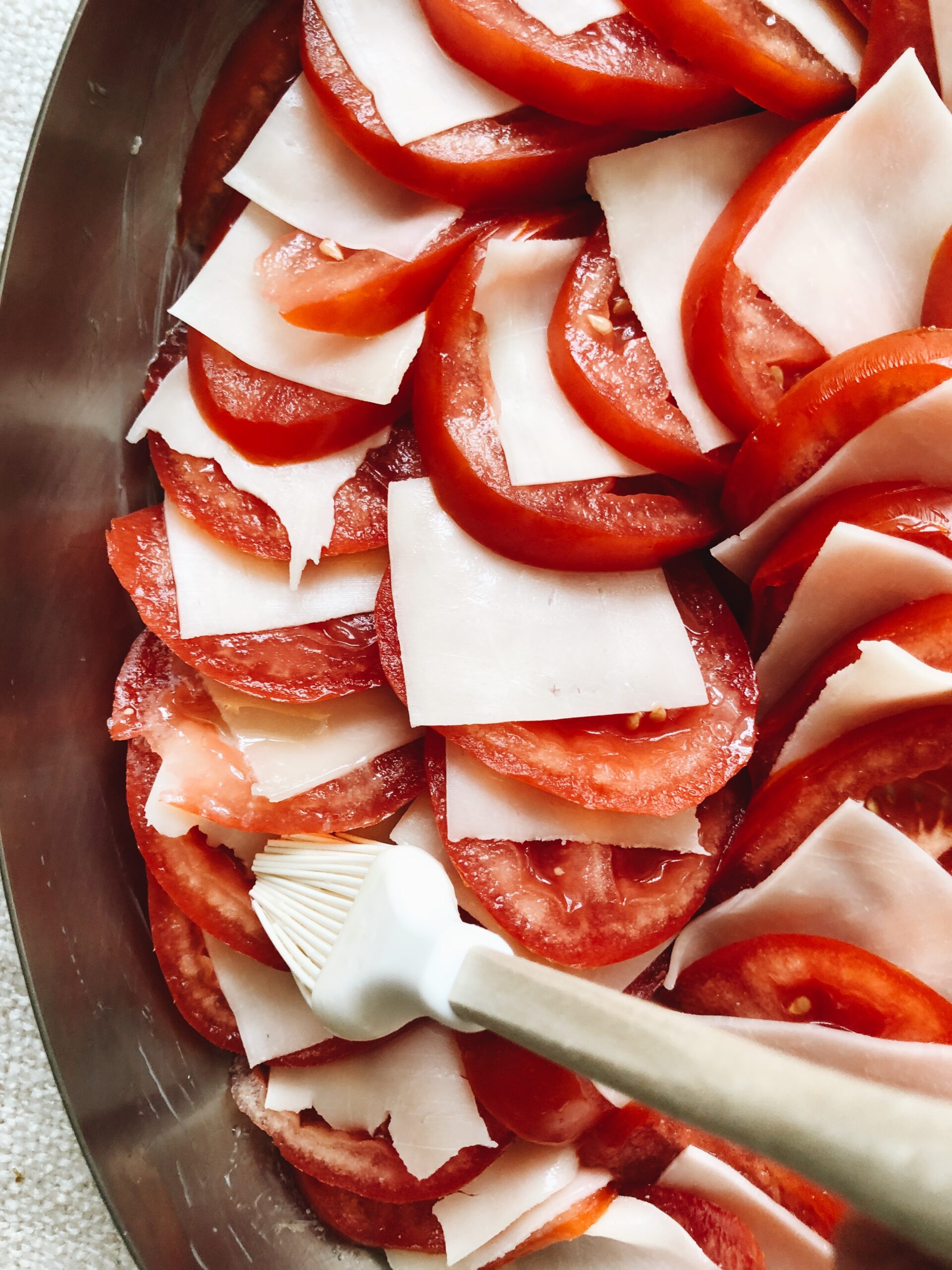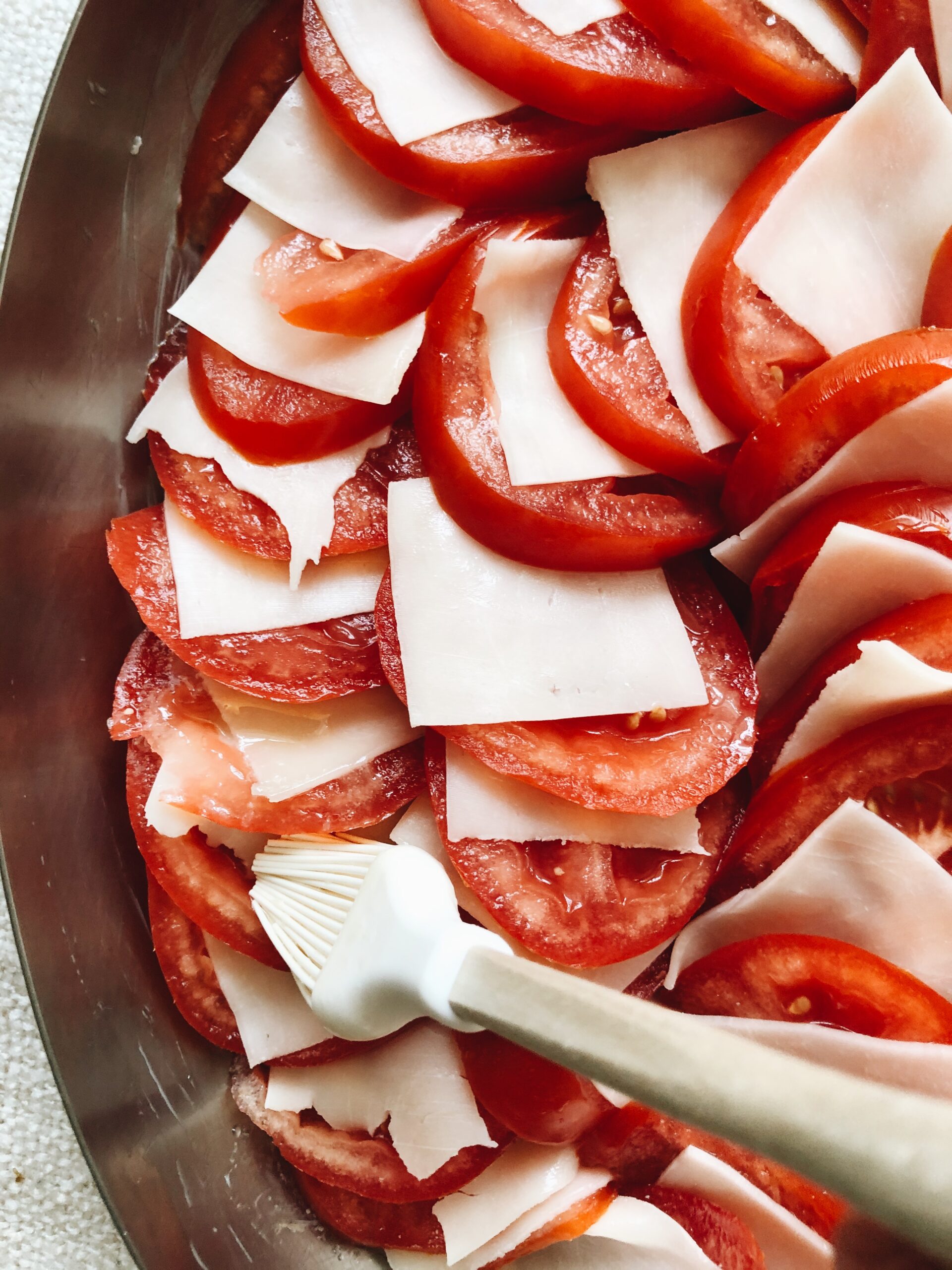 Theeeen what you'll do is brush that garlic butter over the T O P S of the tomatoes and cheese. You cannot begin to imagine what will happen to the tomatoes and cheese at this point. So much garlic flavor. So much buttery bliss. Also, you'll most likely have leftover garlic butter, so just throw your little cup in the fridge and save it for bread later in the week. I can feel that collective head nod.
Into the oven she goes.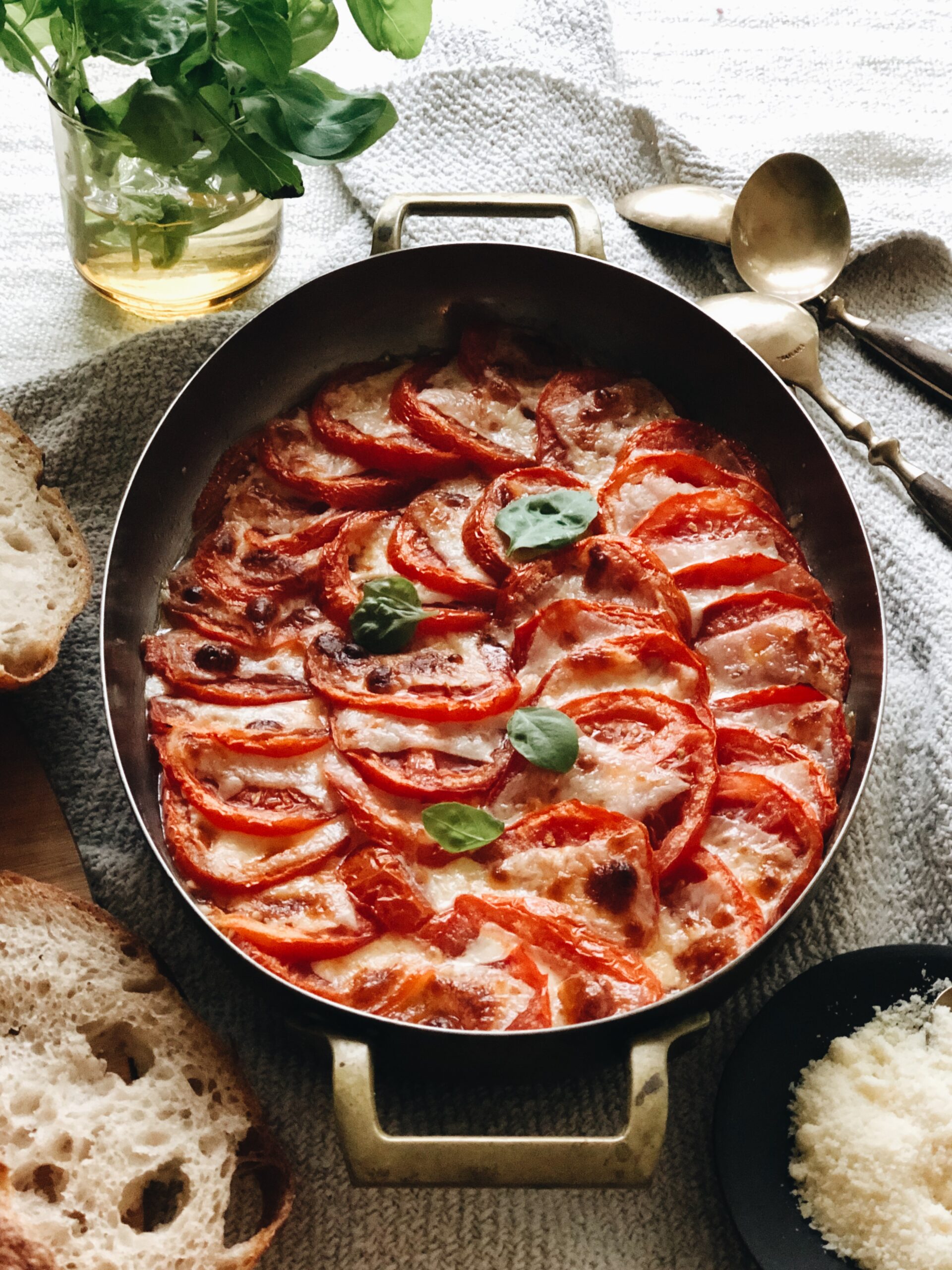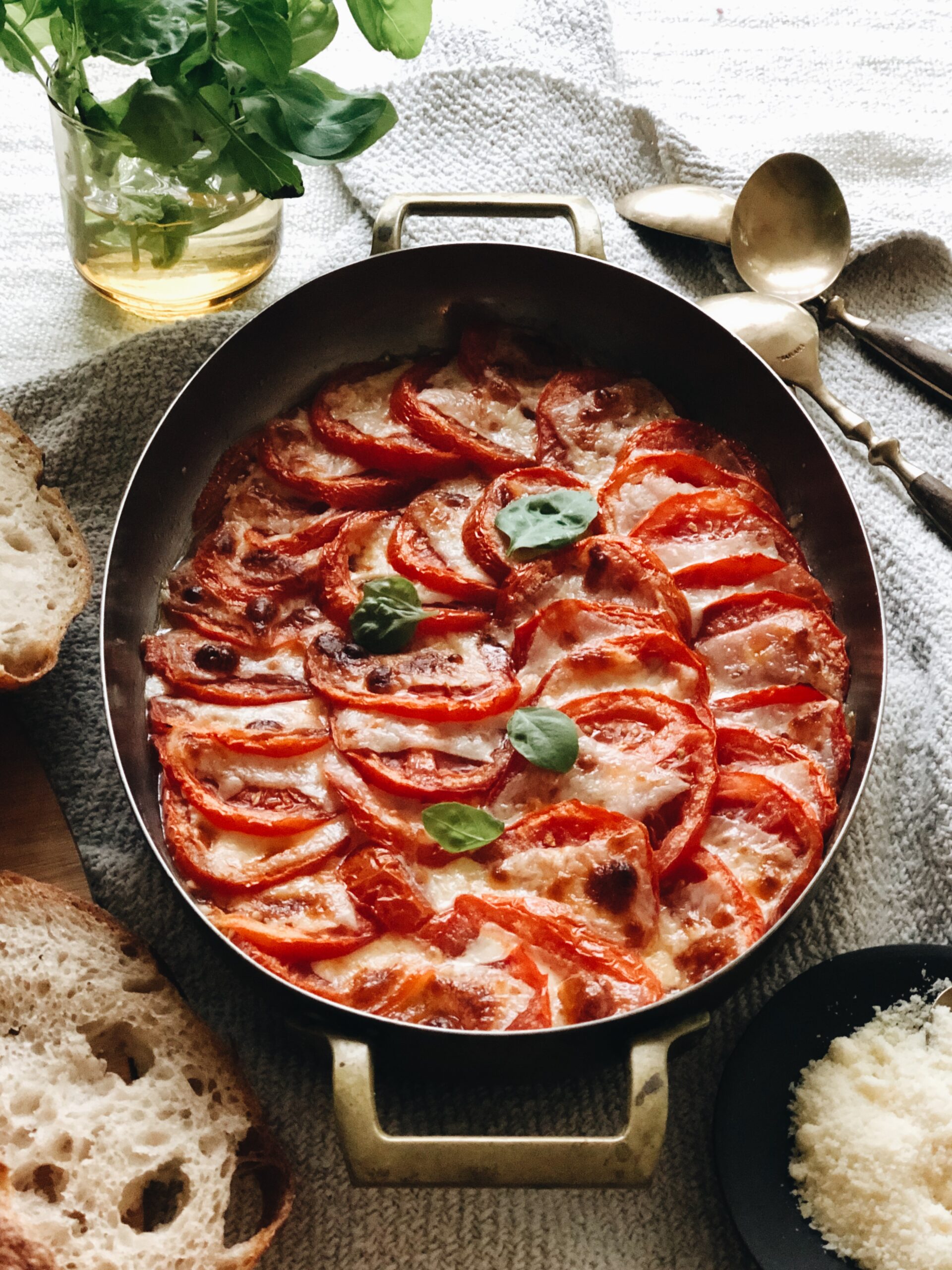 If your face has fallen off your head, you've done it right.
It's bubbly and browned and cheesy and tangy and rustic and – hold on. I think we need a closer look.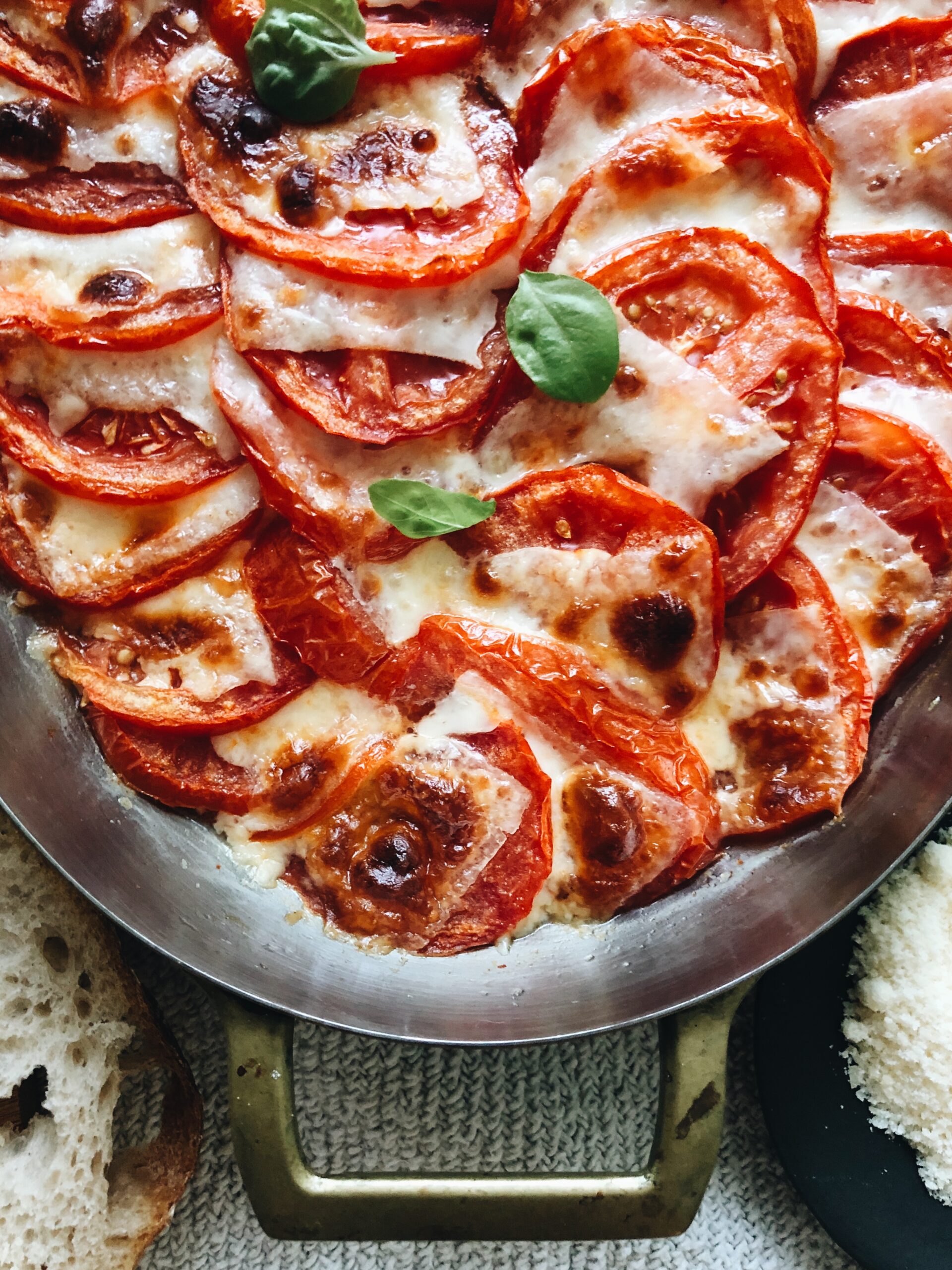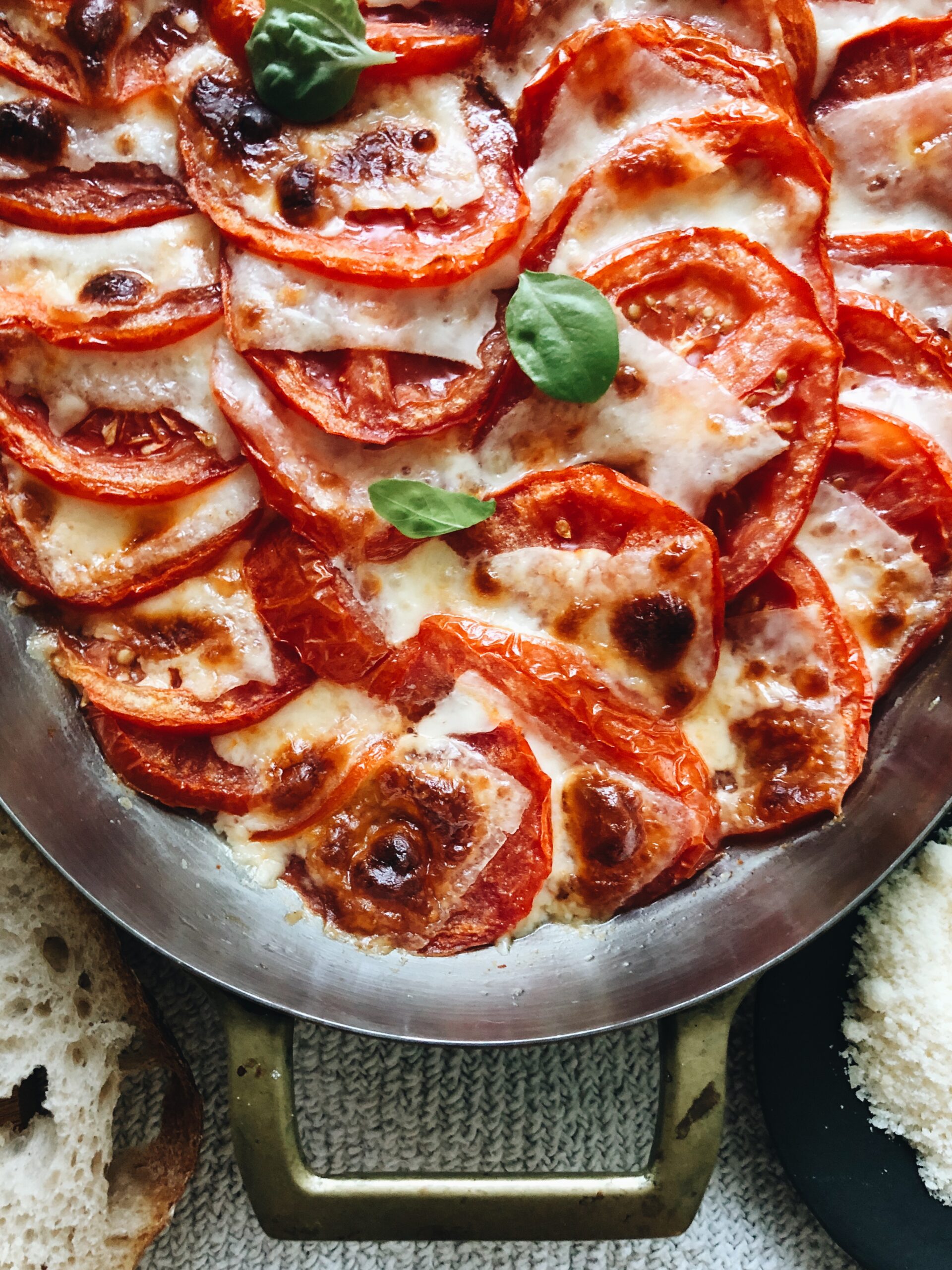 No no. Let's get even closer.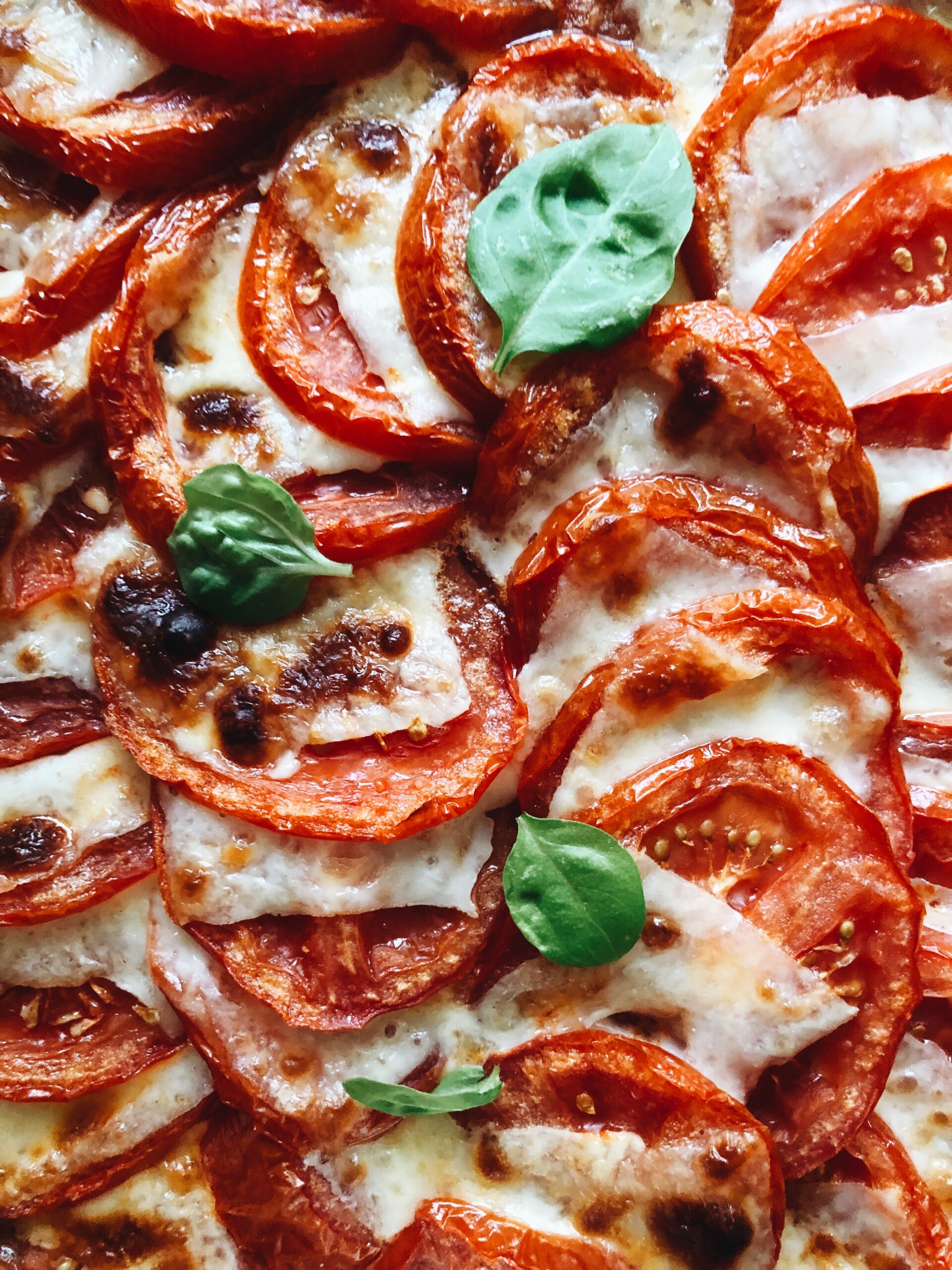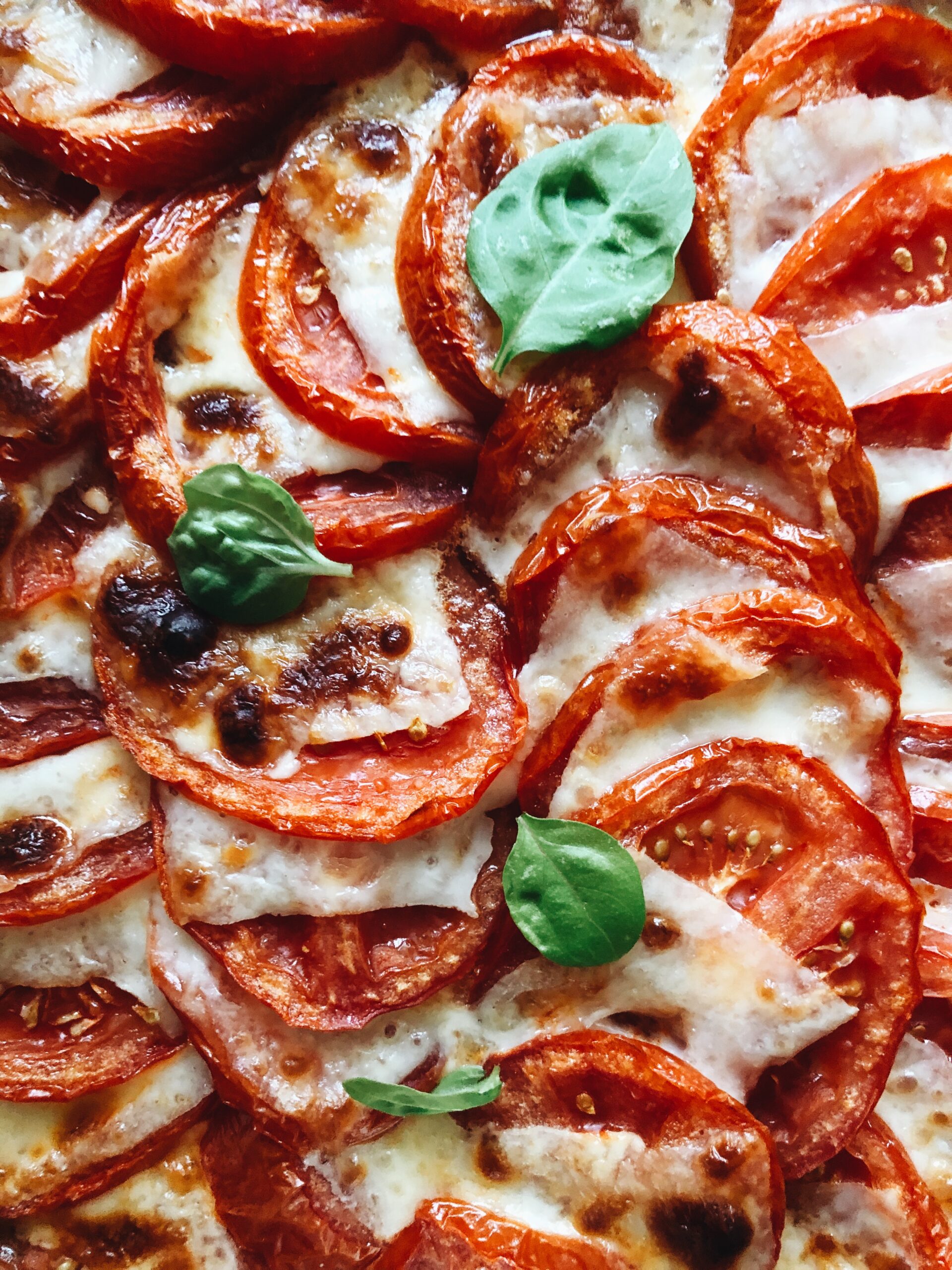 H
O
L
D
M
E.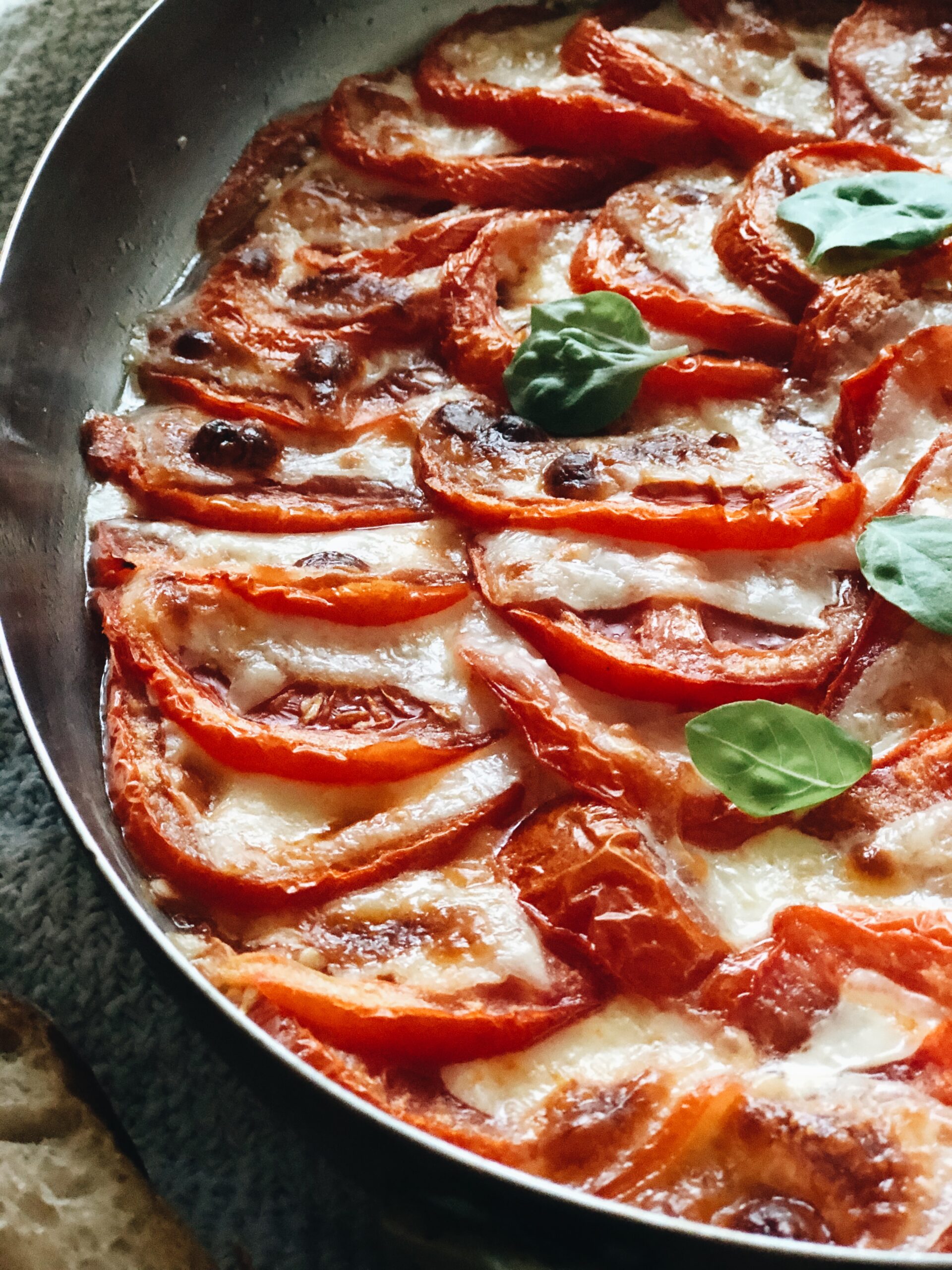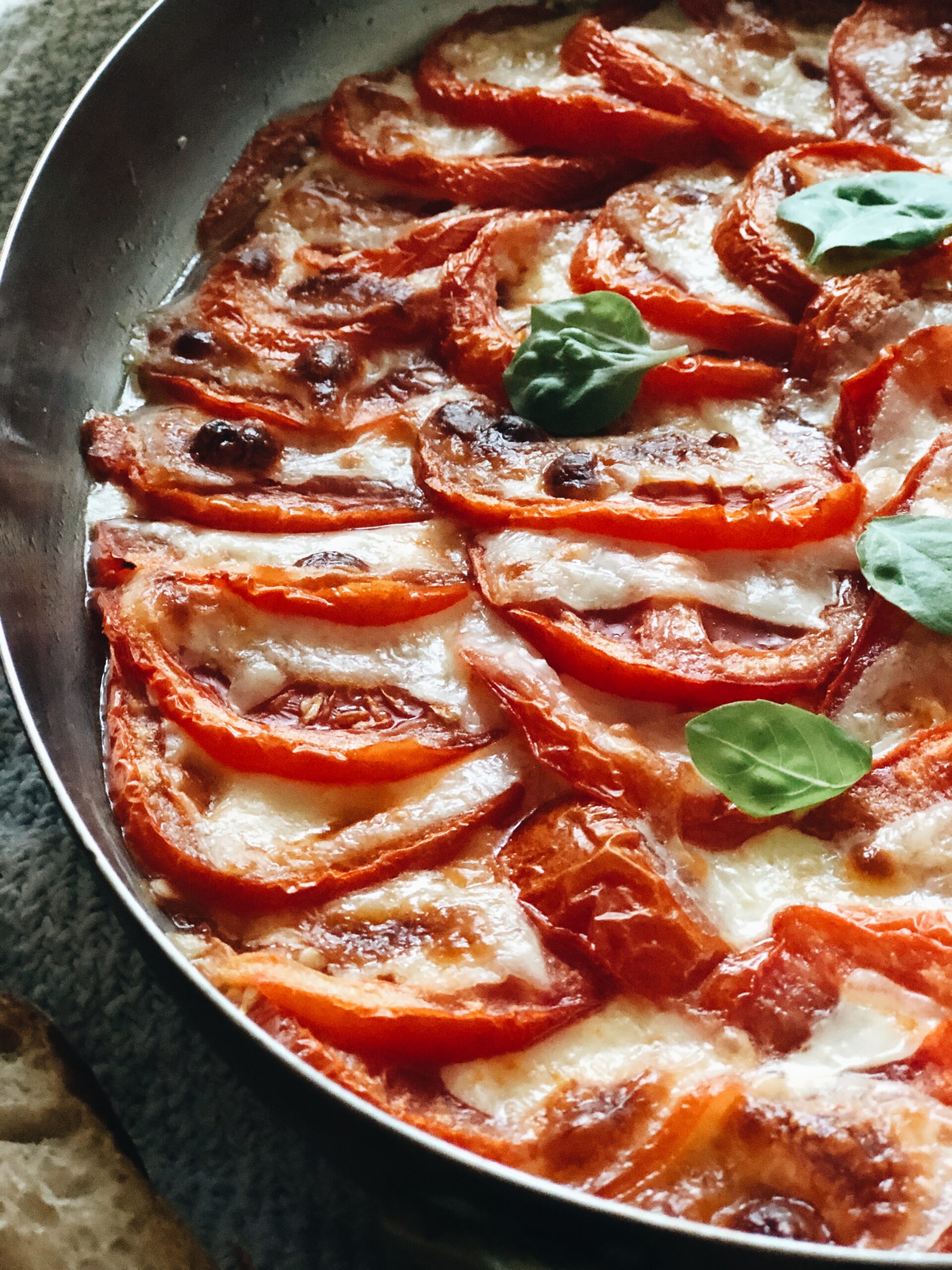 You're probably like, "But Bev, tomatoes are very juicy. Is it like soup under there?" I mean, a little bit. But you'll let it sit and settle for about five minutes before diving in face first. And when you scoop up the tomatoes, the residual juices stay behind, so nothing gets soggy or weird. It's actual perfection, I tell you.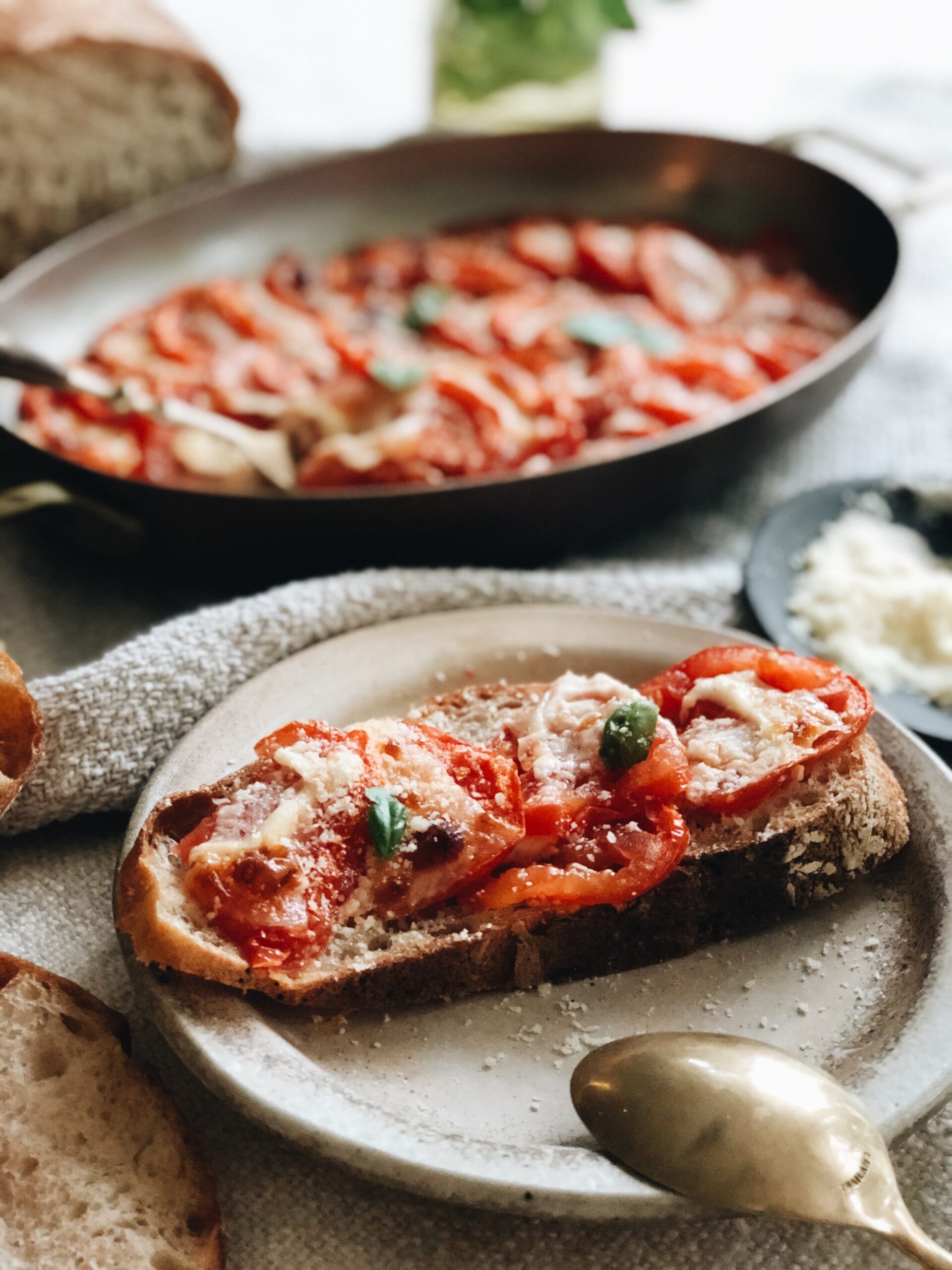 For the love, slice up and toast/grill some crusty bread and pile this on. A tiny sprinkle of parmesan cheese on top? Well absolutely.
The flavors are certifiably insane, you guys. This makes the most show-stopping side dish, or addition to a fabulous weekend brunch. Any way you look at it, this is going to knock you over and back up again. Rustic, vibrant summer flavors for days.
I cannot wait for your mouth rapture.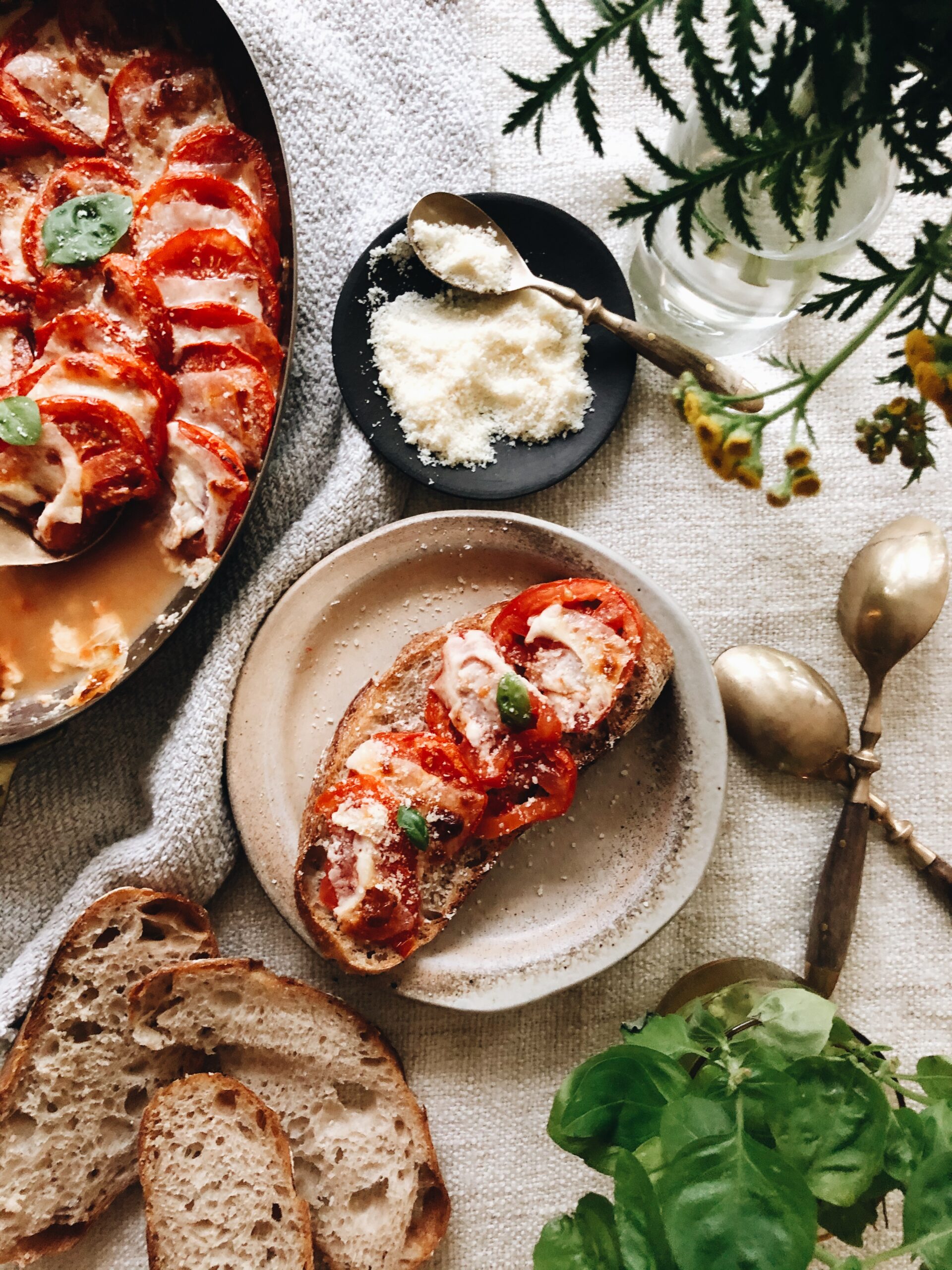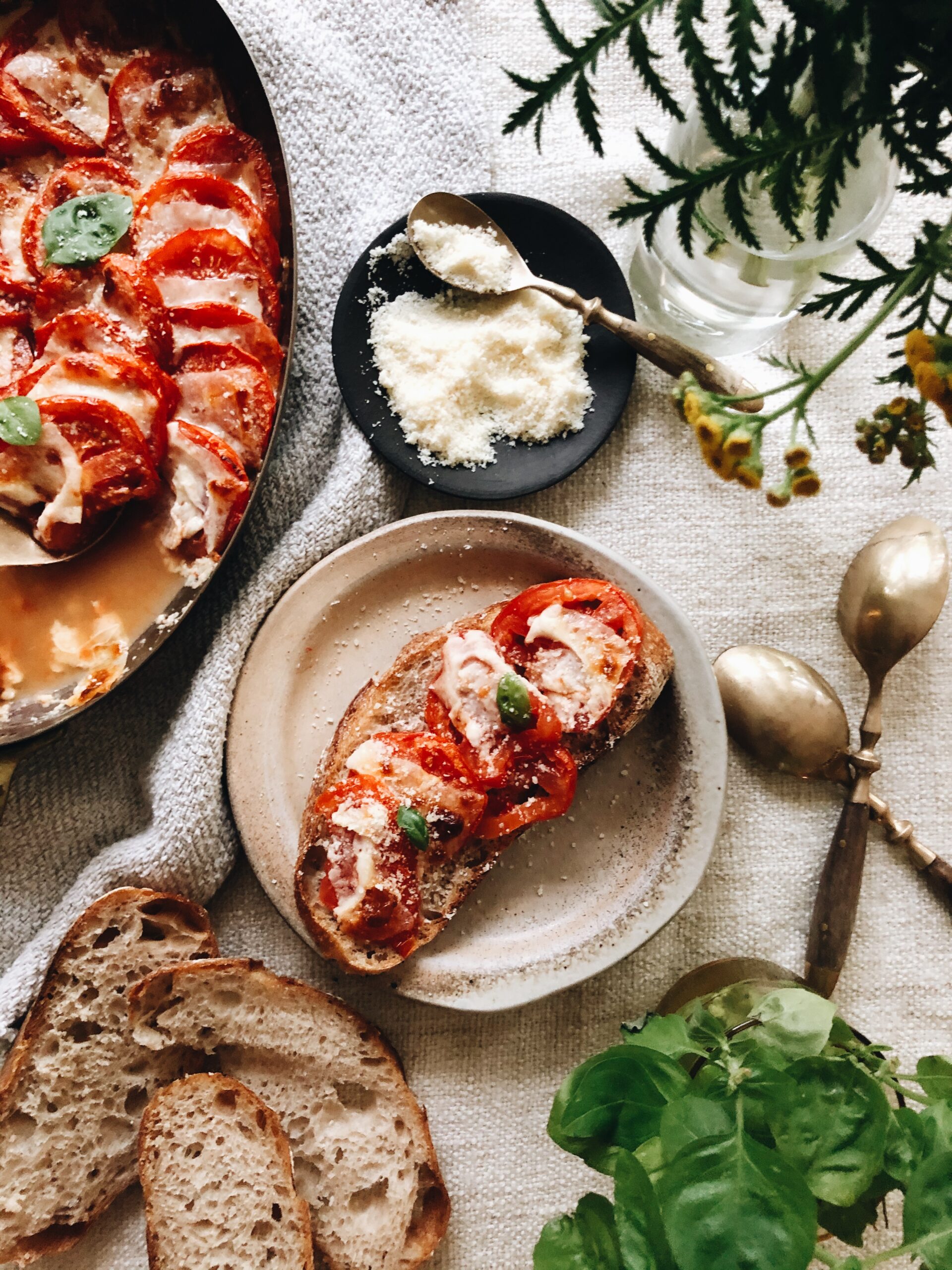 I'll never stop tomato-ing.
Ingredients
Six medium tomatoes, thinly sliced
2-3 Tbs. butter, room temperature (salted, if you have it!)
2 garlic cloves, grated
10 slices thin mozzarella, cut into quarters
Basil for garnish
Coarse salt
Instructions
Preheat your oven to 400.
In a small bowl, combine the butter and grated garlic, along with a tiny pinch of salt. Melt the butter and brush the bottom of a gratin or shallow casserole dish with it, lightly coating. Overlap the tomatoes and cheese in a circle, filling the gratin dish in a cute pattern. Brush the tops of the tomatoes and cheese with the garlic butter, along with a tiny pinch of salt.
Bake for 30-40 minutes (depending on your oven), until the cheese is browning and bubbly, and the tomatoes have softened and shriveled in places.
Let sit for 10 minutes, allowing to cool and settle. Garnish with basil and parmesan cheese. Serve with crusty bread!
Serves 4.
7.8.1.2
441
https://bevcooks.com/2020/07/cheesy-tomato-gratin/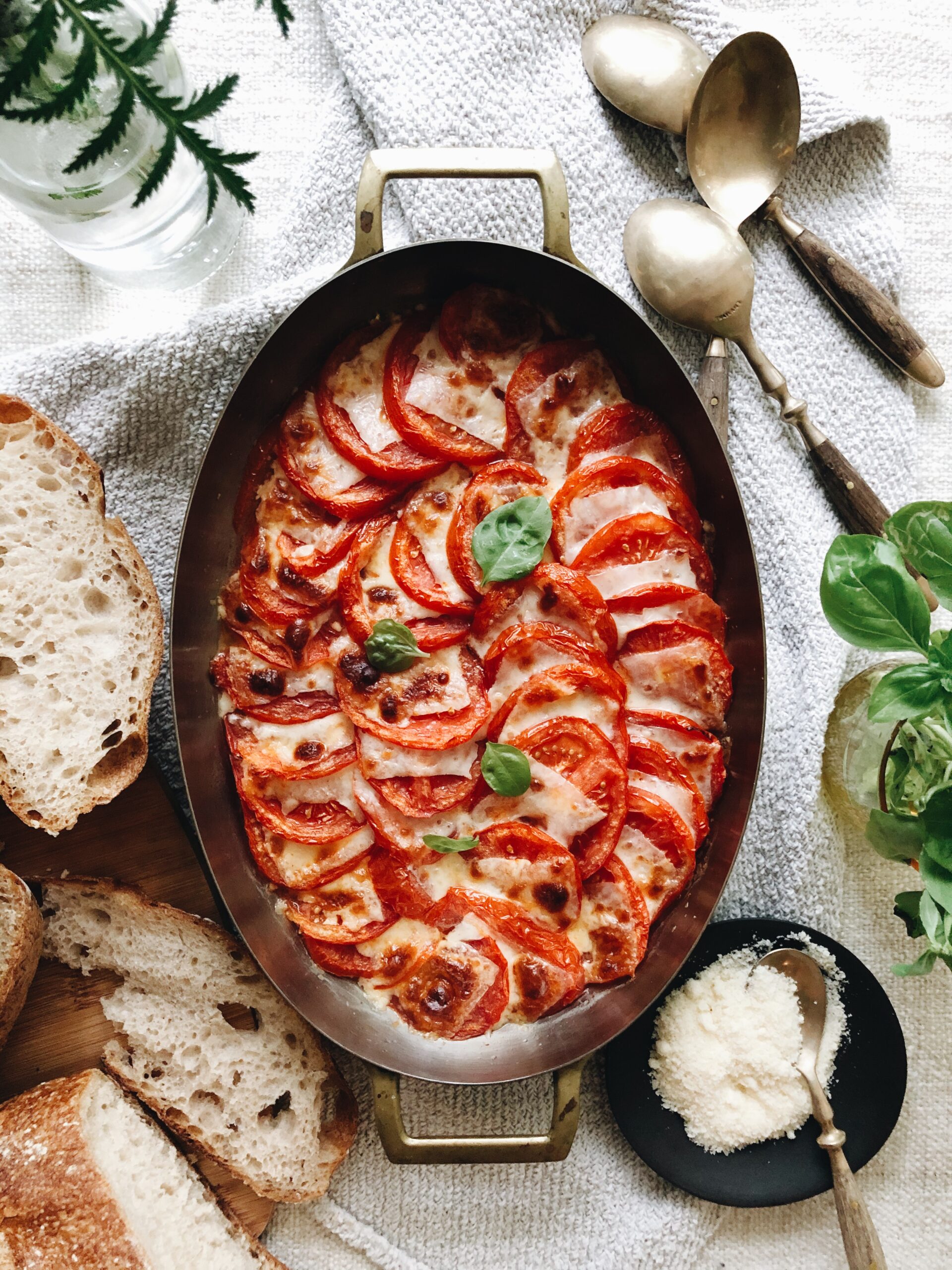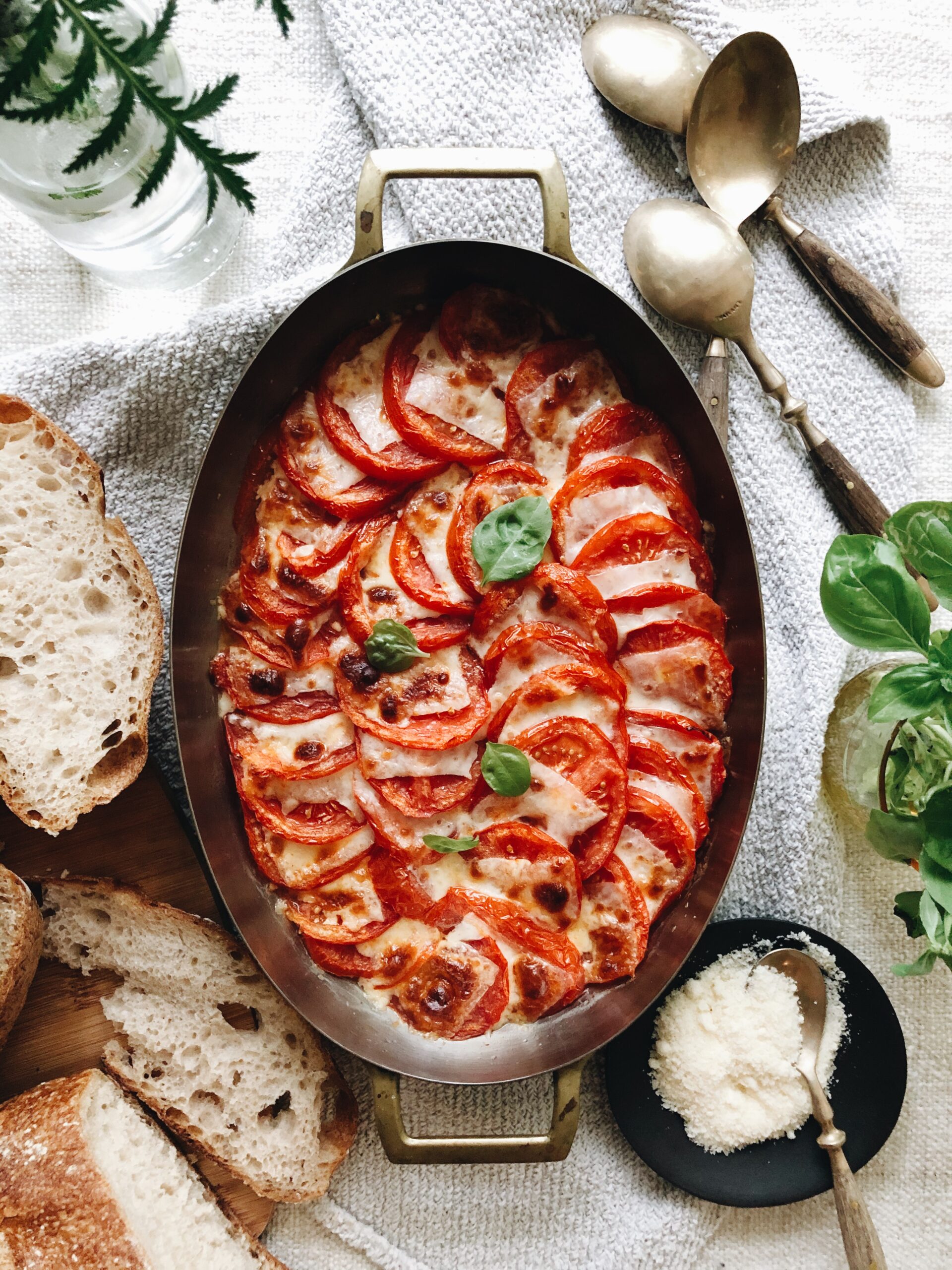 I MEAN.