MOOD FOOD, am I right?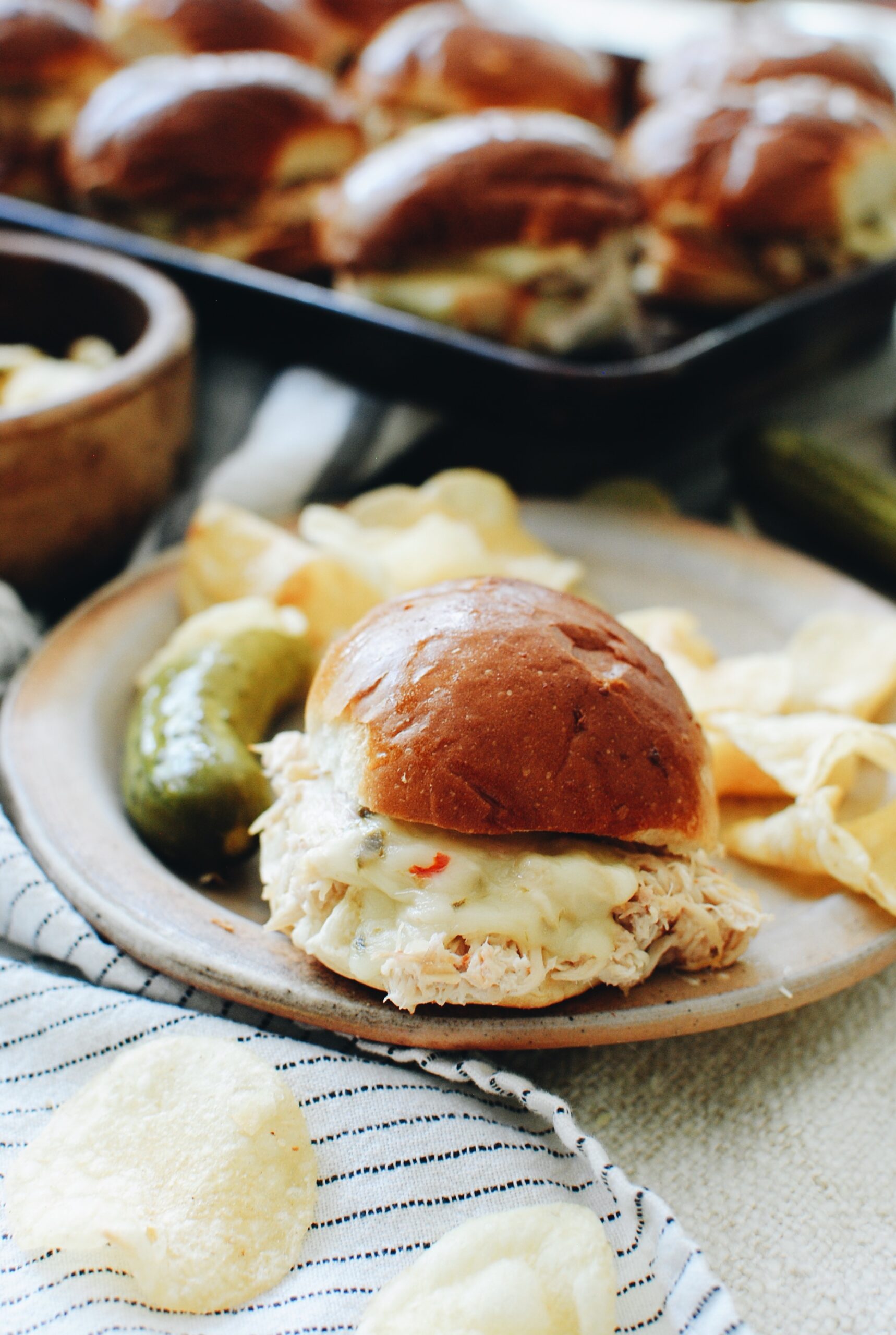 Not that I'm in a bad mood. I'm in a great mood! Because of these.
Solely these.
And YES you're probably thinking, "Slow cooker, Bev? Really? In the summer? Off with her head!"
Simmer down, chili cheese fries. Slow cooking in the summer is all the brilliant because it lets off zero heat. Who's in charge NOW, stink eye?
JustkiddingIloveyou.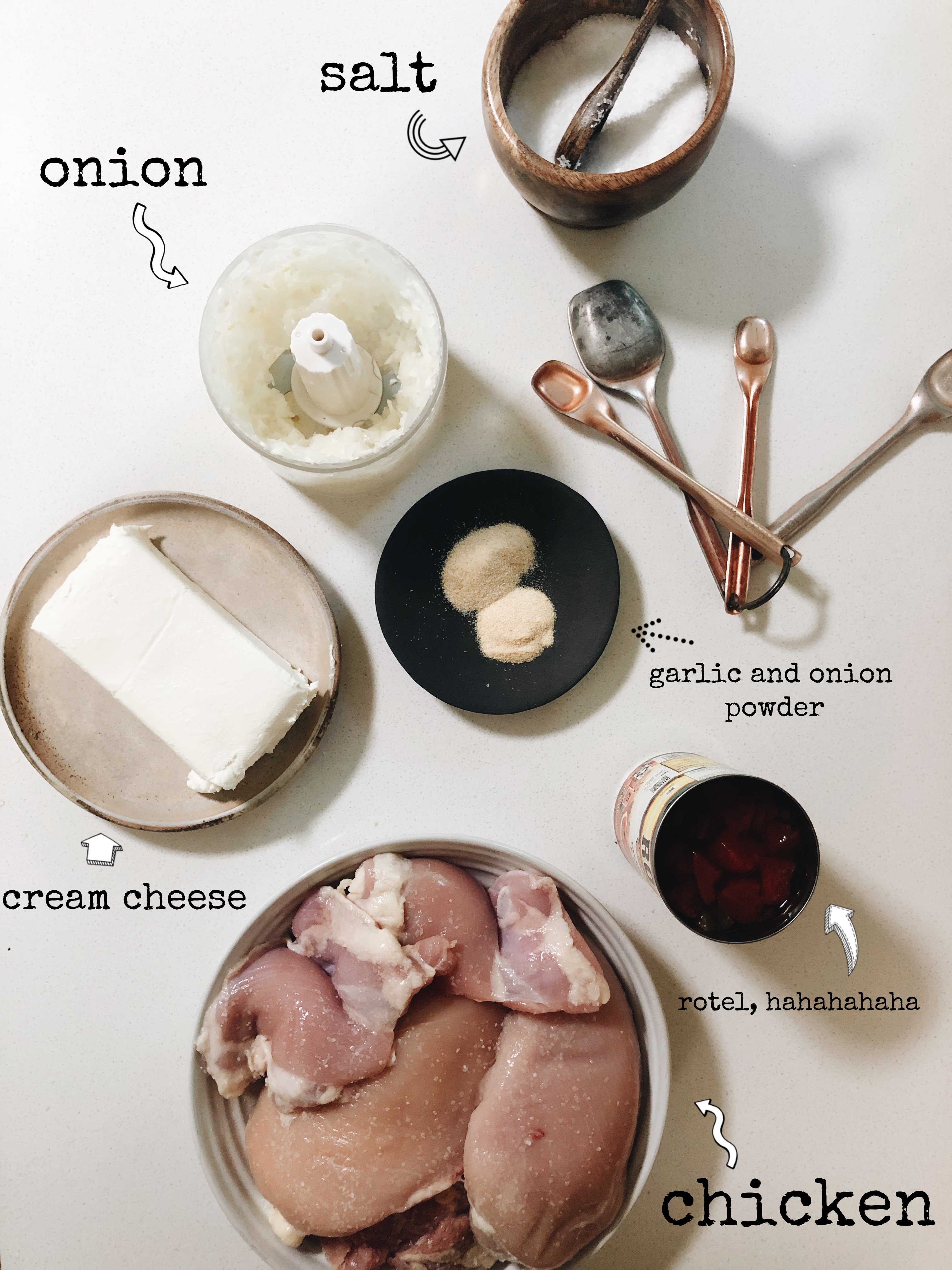 This is what goes in.
And yes, this photo looks a little different because it's on my kitchen counter, as opposed to next to the living room window. I know you definitely positively noticed the casting of shadows in a slightly different direction than normal with light coming from above and to the left as opposed to back light.
Oh, you didn't notice?
Oh.
. . . okay.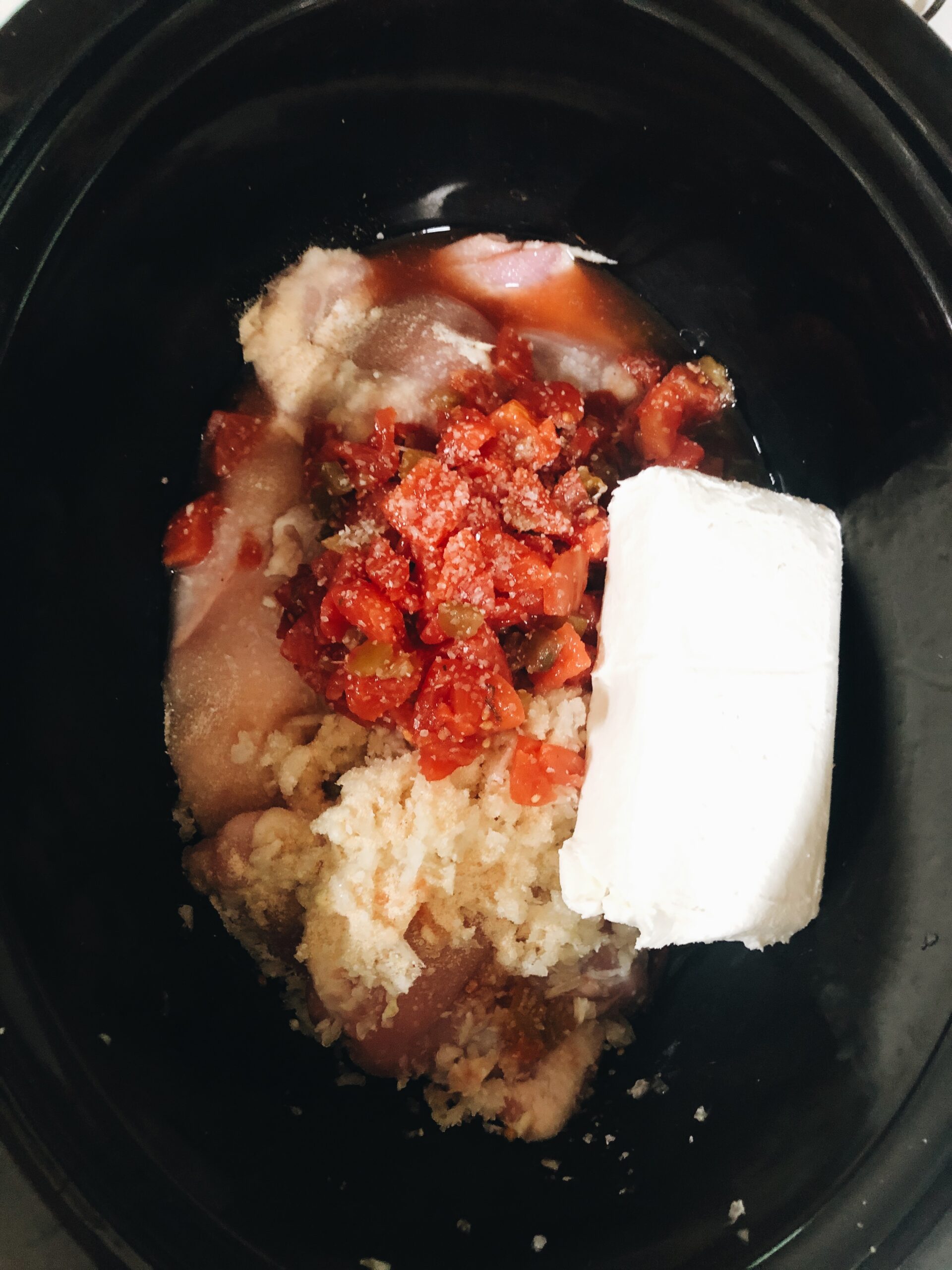 Chicken breasts, thighs, cream cheese, minced onion, some garlic and onion powder and Rotel. You don't have to use Rotel if you're like, "what is Rotel?" It's diced tomatoes with peppers in it. But it's only 10 oz in a can vs. a can of regular diced tomatoes. And I swear it tastes different. Like childhood. I'm here for it. Throw a dang can in, already.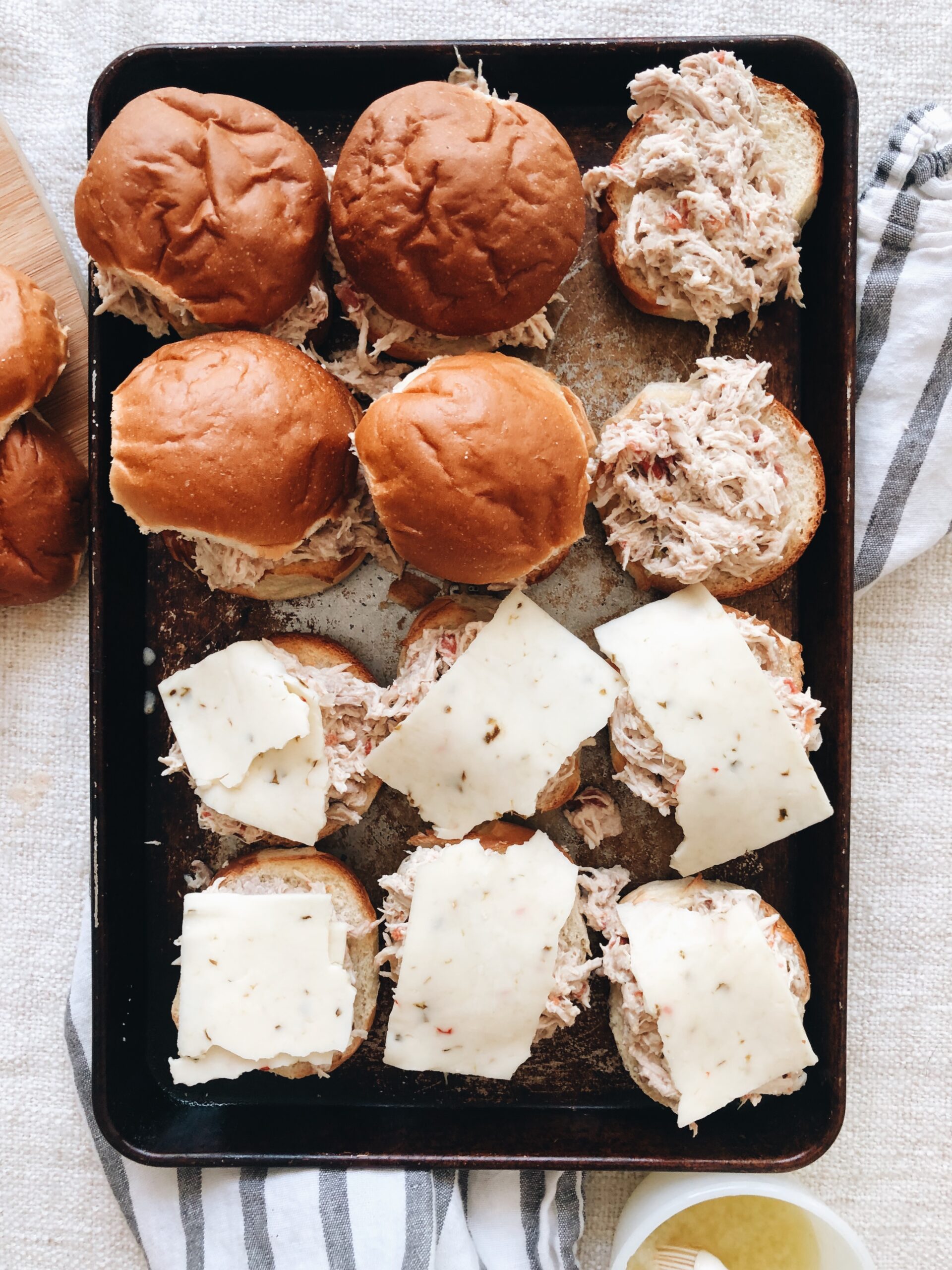 After four hours on high, or eight on low, whatever works for your life that day, shred the chicken really well and let it sit for about five minutes in the slow cooker. That'll help soak up some of the juices. I mean, I know you already know this. ("They don't know that we know they know we know.")
Then, using tongs (not thongs) just grab up some shredded chicken (letting excess juice drip off) and place them on the bottom toasted slider buns.
Oh! You've toasted the bottom buns for five minutes, just to crisp them up a tad before placing mounds of wet chicken on top. The buns won't sog up this way! Isn't life fun?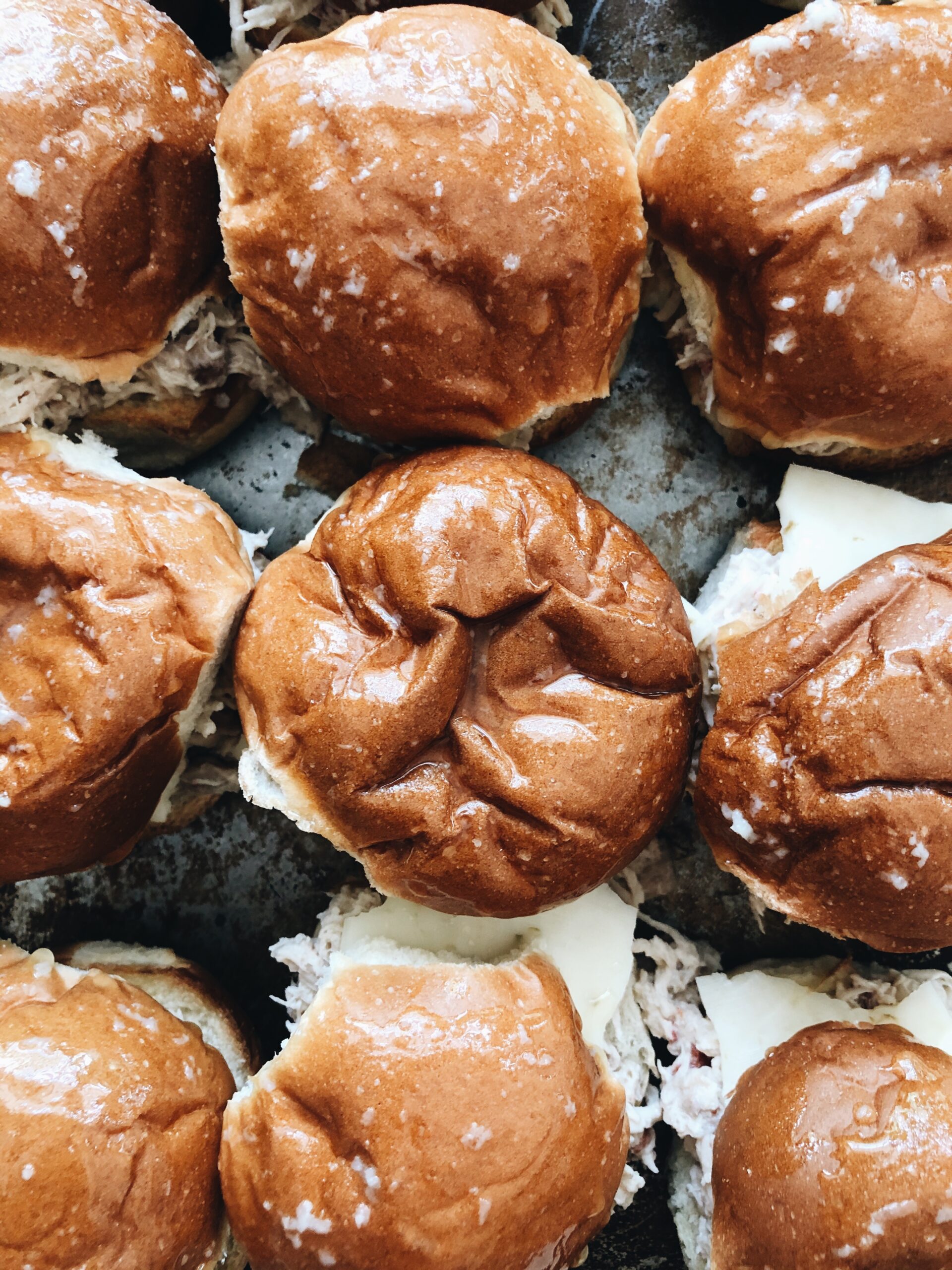 Then top each mound of chicken with pepper jack cheese (or whatever your raging inner soul fairies demand), the top buns and give it all a violently huge brush of garlic butter. Don't skip this part. I beg of you, if you know the difference between right and wrong, you'll never be more sure of it than now. BRUSH WITH GARLIC BUTTER.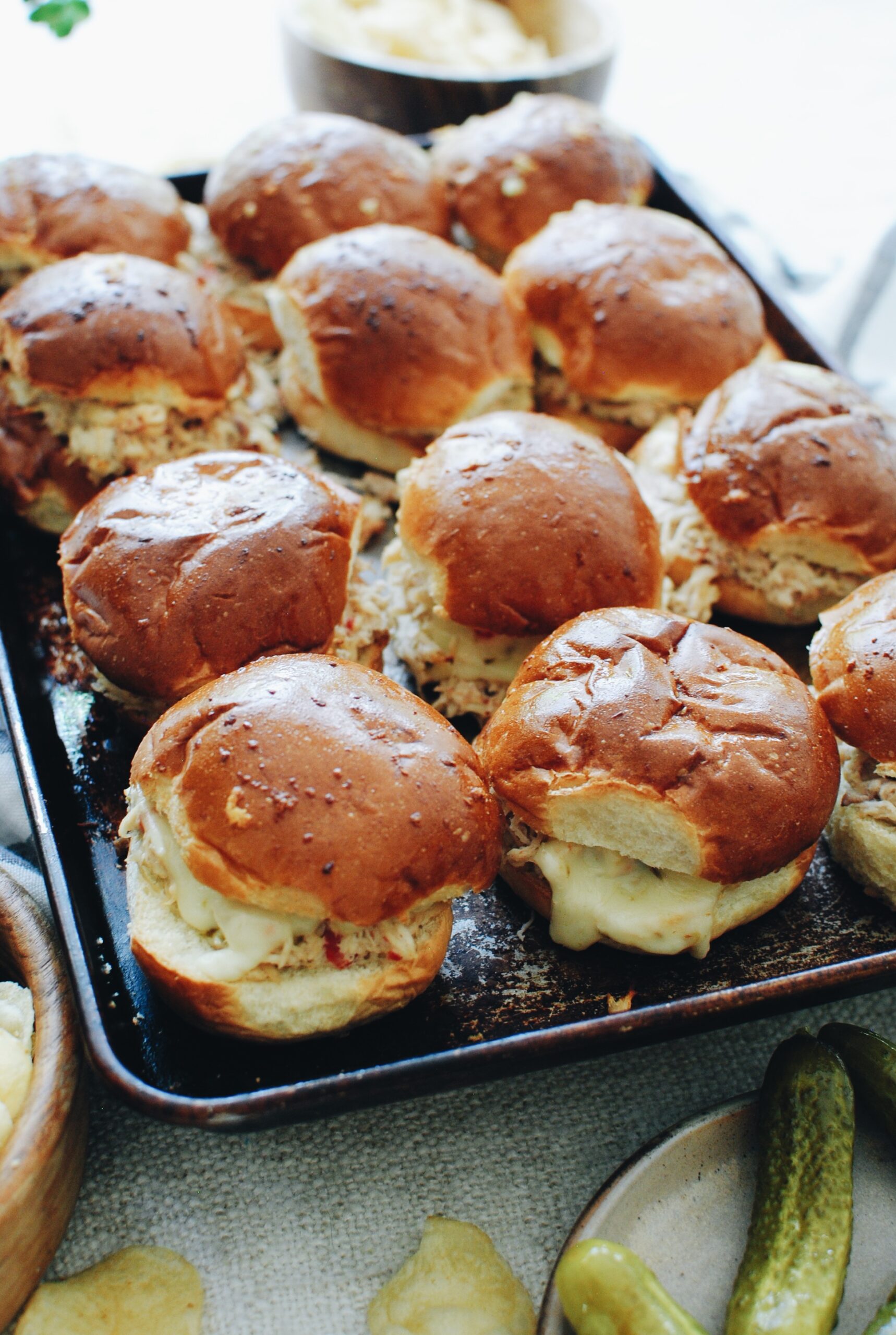 Ten minutes in a 400 degree oven and those tops will be toasty and slightly crunchy and that cheese will be melty and oozy and you should feel the earth move under your feet about now.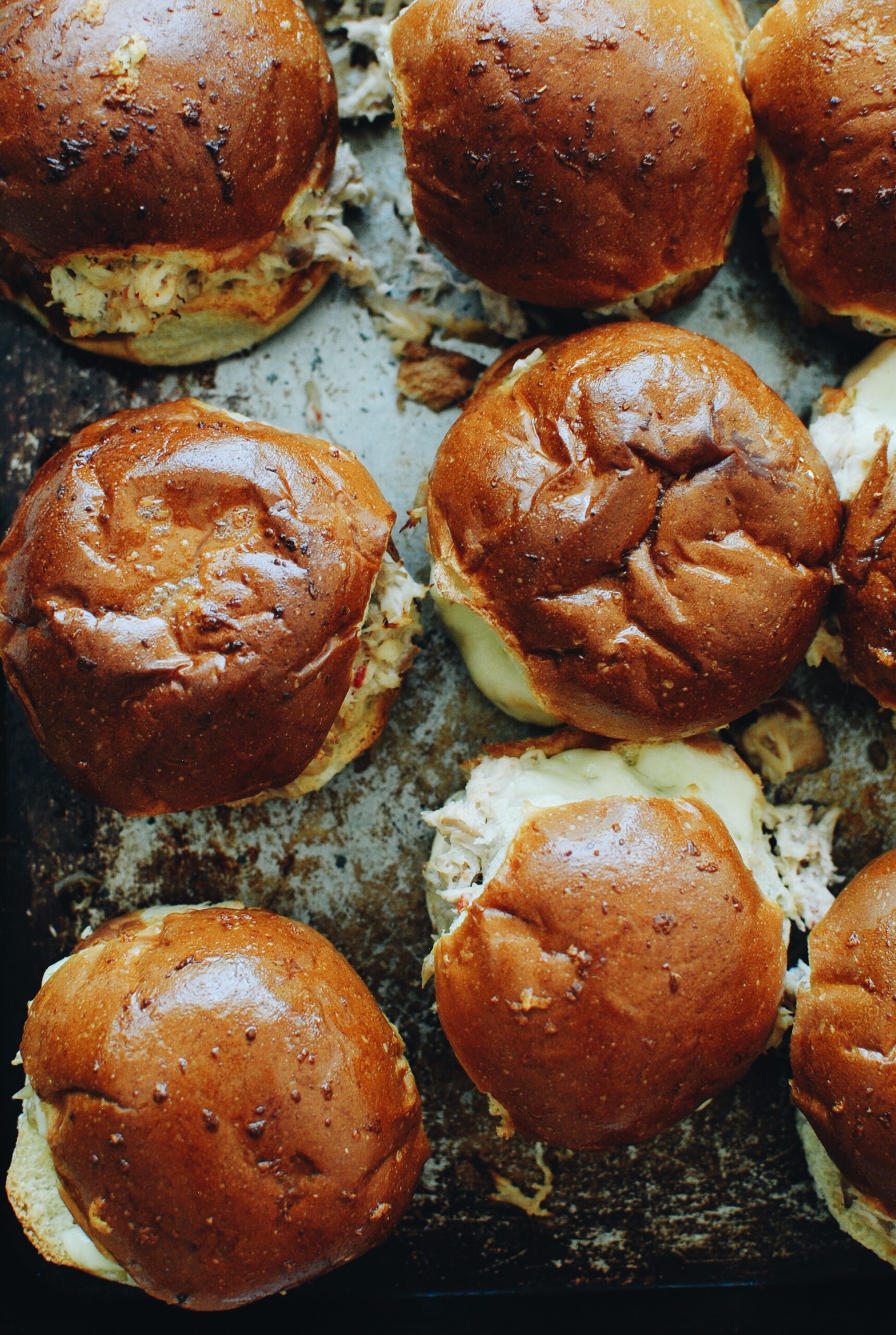 Just a little top view of those toasted buttery buns because I'm not quite sure you're getting the full impact of what's being thrown at you right now.
Kid friendly? Okay, beyond.
Scrumptious and satisfying in the middle of the summer? Well, definitely.
Hands off for the most part? Boom boom biggidy boom.
Creamy, tangy chicken speckled with tomatoes and nostalgic flavors that will arrest your withered soul? Uh HUH.
(Also, little next-day tip: once you run out of slider buns but still have chicken filling – toast a flour tortilla and tuck some warmed chicken in it. Creamy tacos. Face-punchingly delicious and I ate leftovers this way more than thrice.)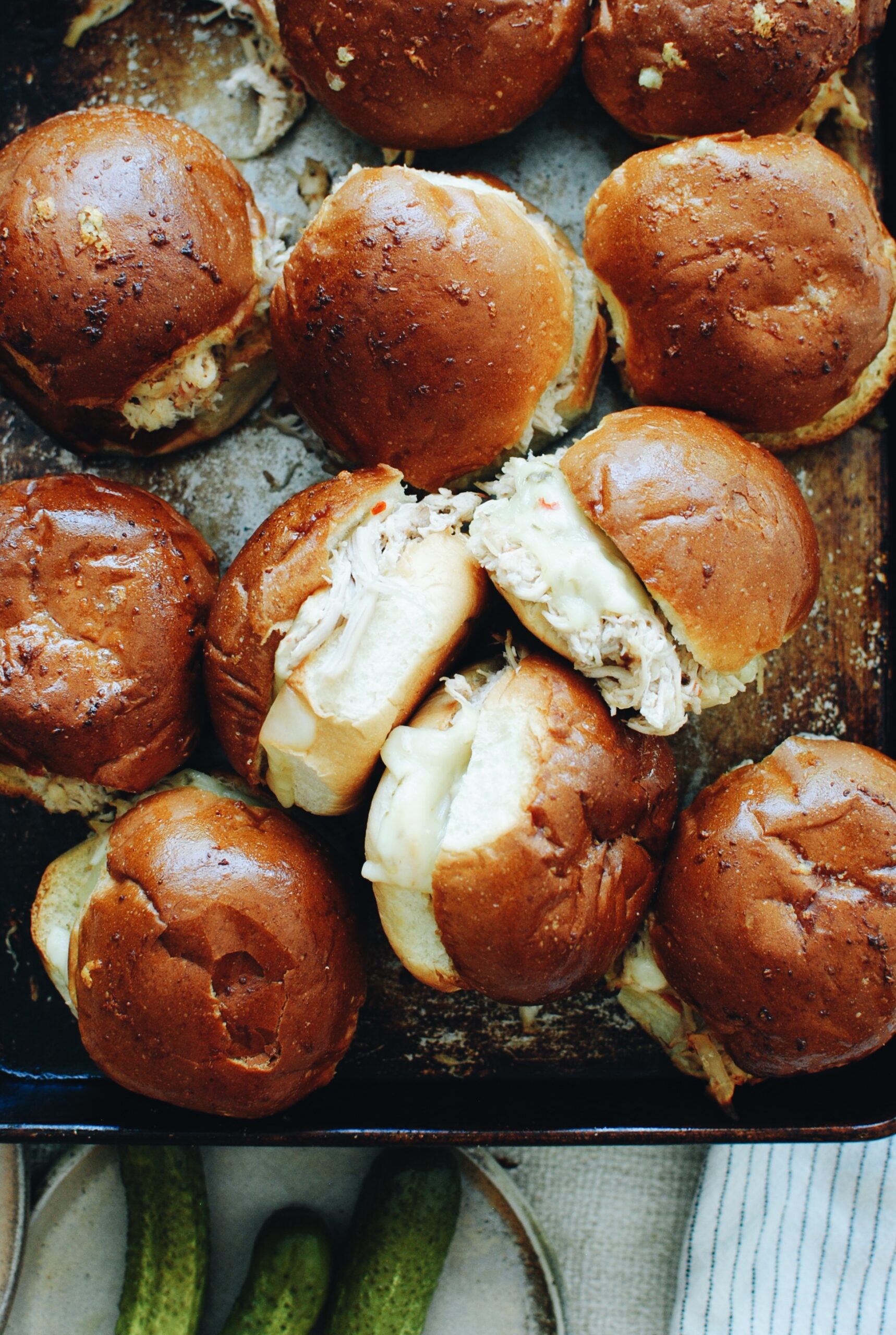 It's almost the weekend and I just made your dinner plans.
Slow Cooker Creamy Chicken Sliders
Ingredients
1 pound chicken breast
1 pound chicken thighs
1 (8 oz) block cream cheese
1 (10 oz) can Rotel
1 small onion, minced
1 tsp each garlic powder and onion powder
2-3 cloves garlic, grated
3 Tbs. butter, melted
Slider buns (12)
12 slices pepper jack cheese
Coarse salt
Instructions
To a slow cooker, add the chicken breasts, thighs, cream cheese, minced onion, garlic powder, onion powder, Rotel and a large pinch of salt. Cook on high for 4 hours, or low for 6-8 hours, depending on the time you have. Once it's cooked, shred the chicken (right in the slow cooker) with two forks, until really shredded. Let this sit about five minutes while you do the next part.
Combine the melted butter and grated garlic in a small bowl.
Preheat your oven to 400.
Place the bottom buns on a baking sheet and slide them into the oven for five minutes. This pre-toasting will help keep the bottom buns from getting soggy. Using tongs, top each bottom bun with a mound of shredded chicken (letting excess juices drip back into the pot). Top with pepper jack cheese (you may have to break the slices to fit) and place the top buns on. Brush all the buns with the melted garlic butter.
Back in the oven for 10 minutes (maybe 15) or until that cheese is melted and the buns are toasted and browned and glossy. Perfection.
Serve with chips, pickles, whatever you want!
Makes 12 sliders.
(You'll probably have leftover chicken filling - stuff toasted flour tortillas with the warmed chicken and you're set for leftovers next day.)
7.8.1.2
442
https://bevcooks.com/2020/07/slow-cooker-creamy-chicken-sliders/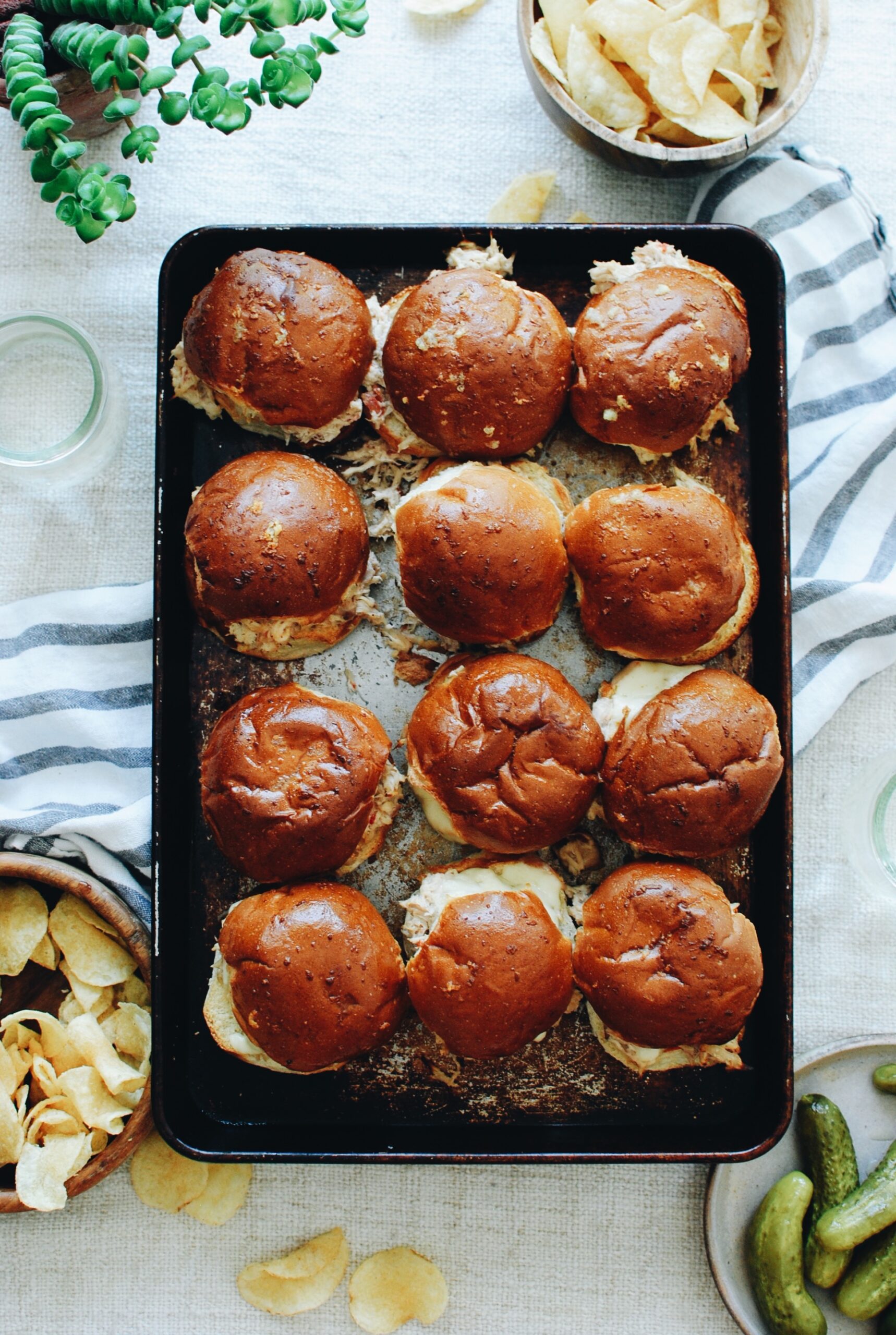 Save me 3/4ths of this tray.