Salad on a Sunday! Sunday Salads, Sister! I'm still working on the name.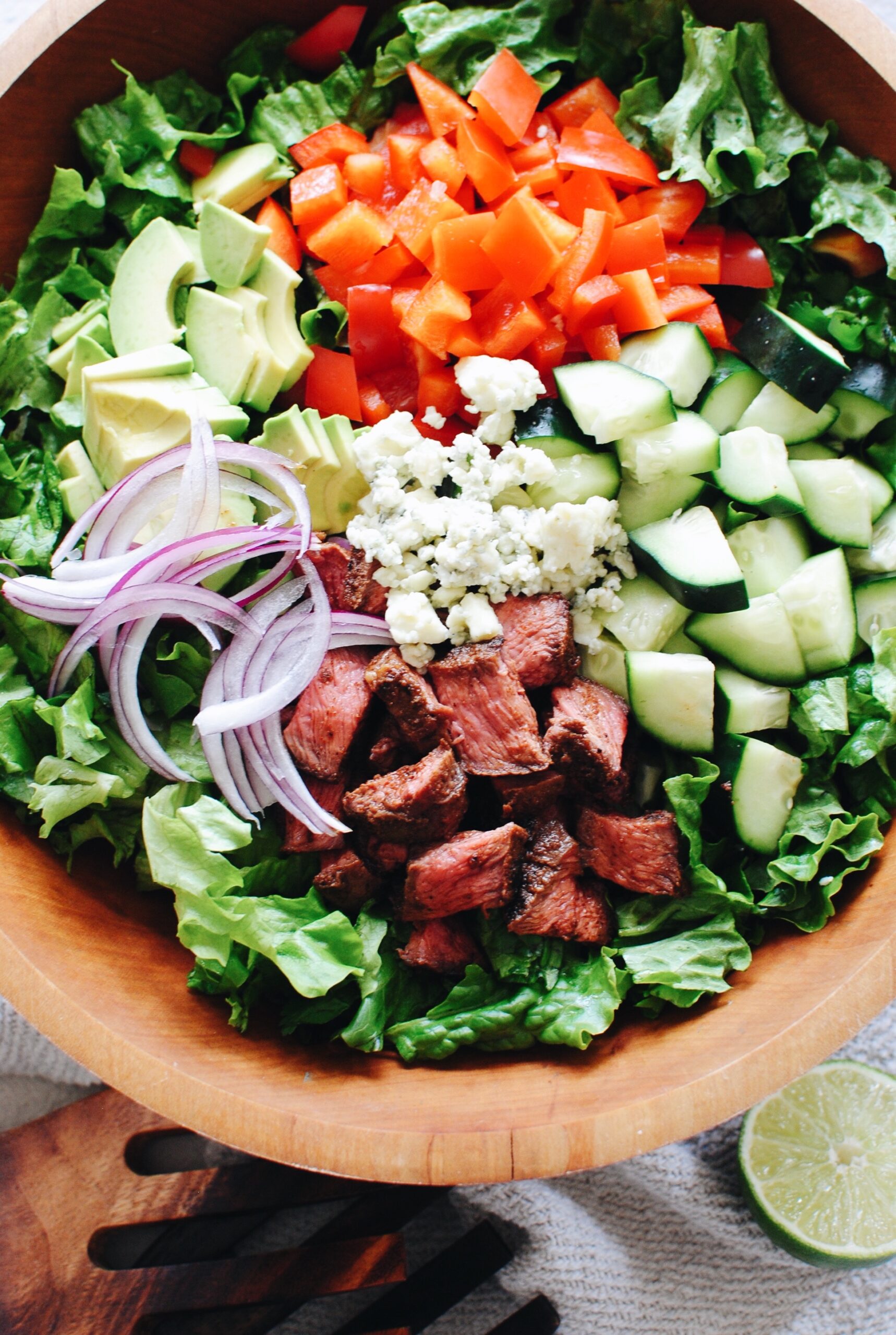 I've been debating on whether or not to post this salad (for about three weeks now), because everyone's fridge situation is vastly different. So much baking these days. So many pantry-focused dinners. Lots of slow cooker. SO MUCH PORRIDGE, you guys.
Buuuuuuut then I got to thinking, you might have a head of lettuce pouting in the crisper that needs attention. Or maybe you're ordering groceries from a well-stocked produce section. Or maybe you're sick of sloppy beans and want something fresh and vibrant. Or maybe you're so distracted by the fact that the lettuce below is in fact not romaine but green leaf lettuce. Hey, man I get it!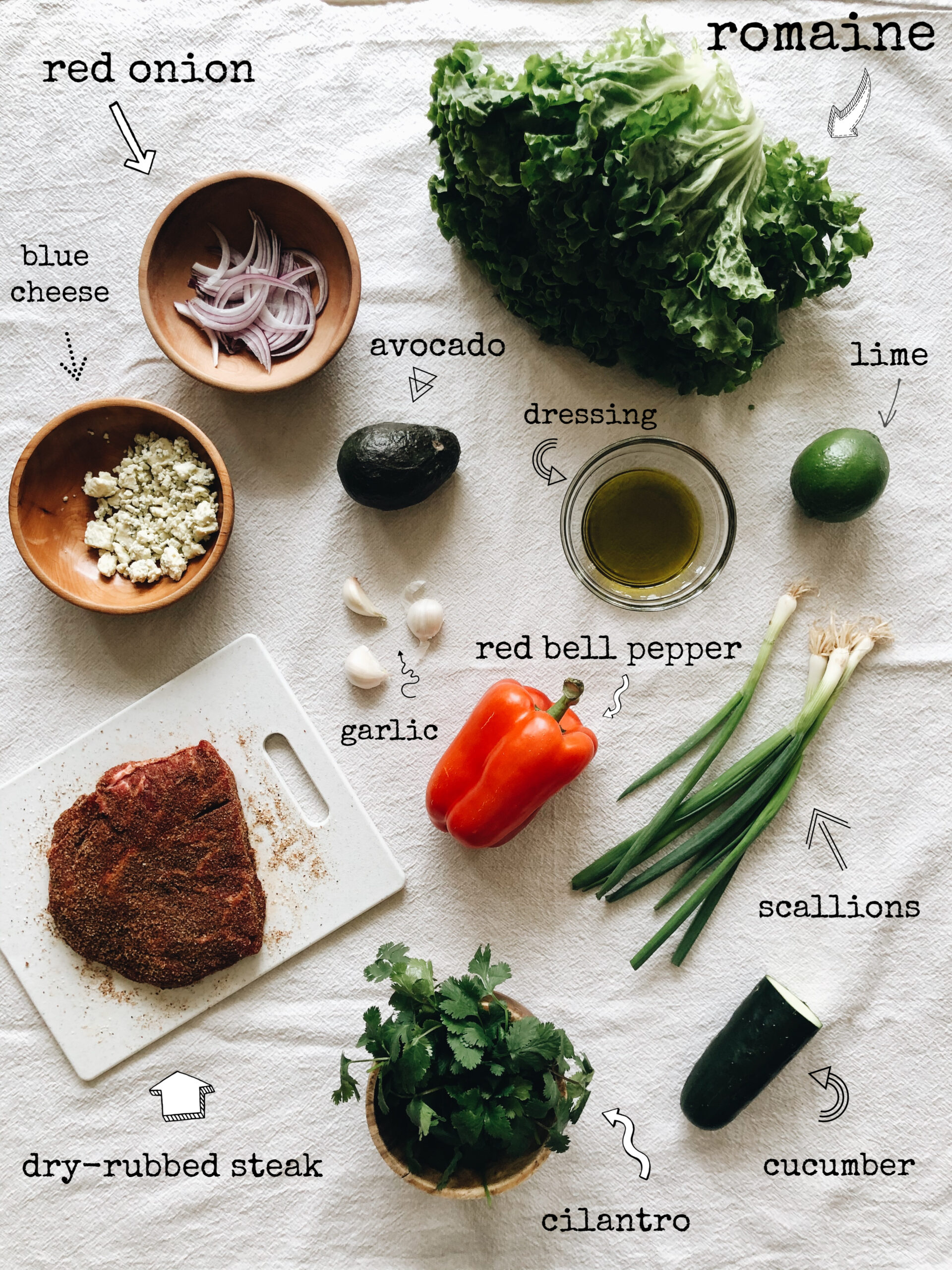 I was, uh, editing this yesterday with two six-year olds running around me like helicopters and spaced on what lettuces are, apparently. Forgivezy? (<–ew)
So this is what we have. I used to make this salad every other Monday night, before the world broke. You can absolutely scale back based on what you have. And even if it's just steak and lettuce and dressing, you're FINE. It is fine. It will work. Everything else is texture, color, bling.
And see, some of you might be already growing some of this in your garden! I dunno, I just work here.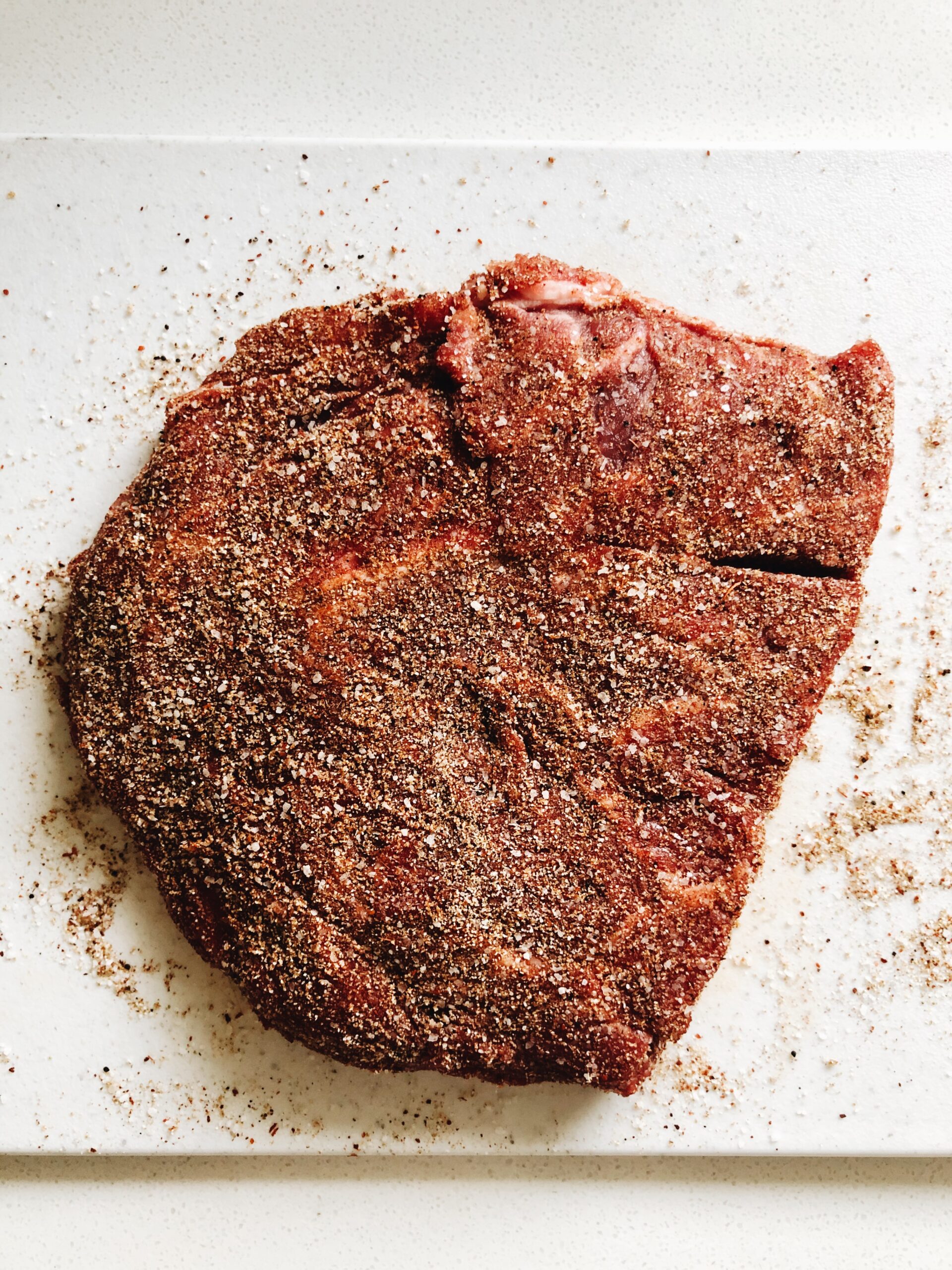 Let's discuss this steak. It's Frank. I mean flank. But you can use skirt, a thin sirloin, whatever you can find. Something not too thick, though. Unless that gives you giddy pants, then it's fine. IT IS ALL FINE. We're just giving it a dry rub. Cumin, chili powder, garlic powder, onion powder and salt. And a tiny dusting of your blistered soul.
Let that sit in the fridge as laaaawng as you want. I mean what else do you have going on?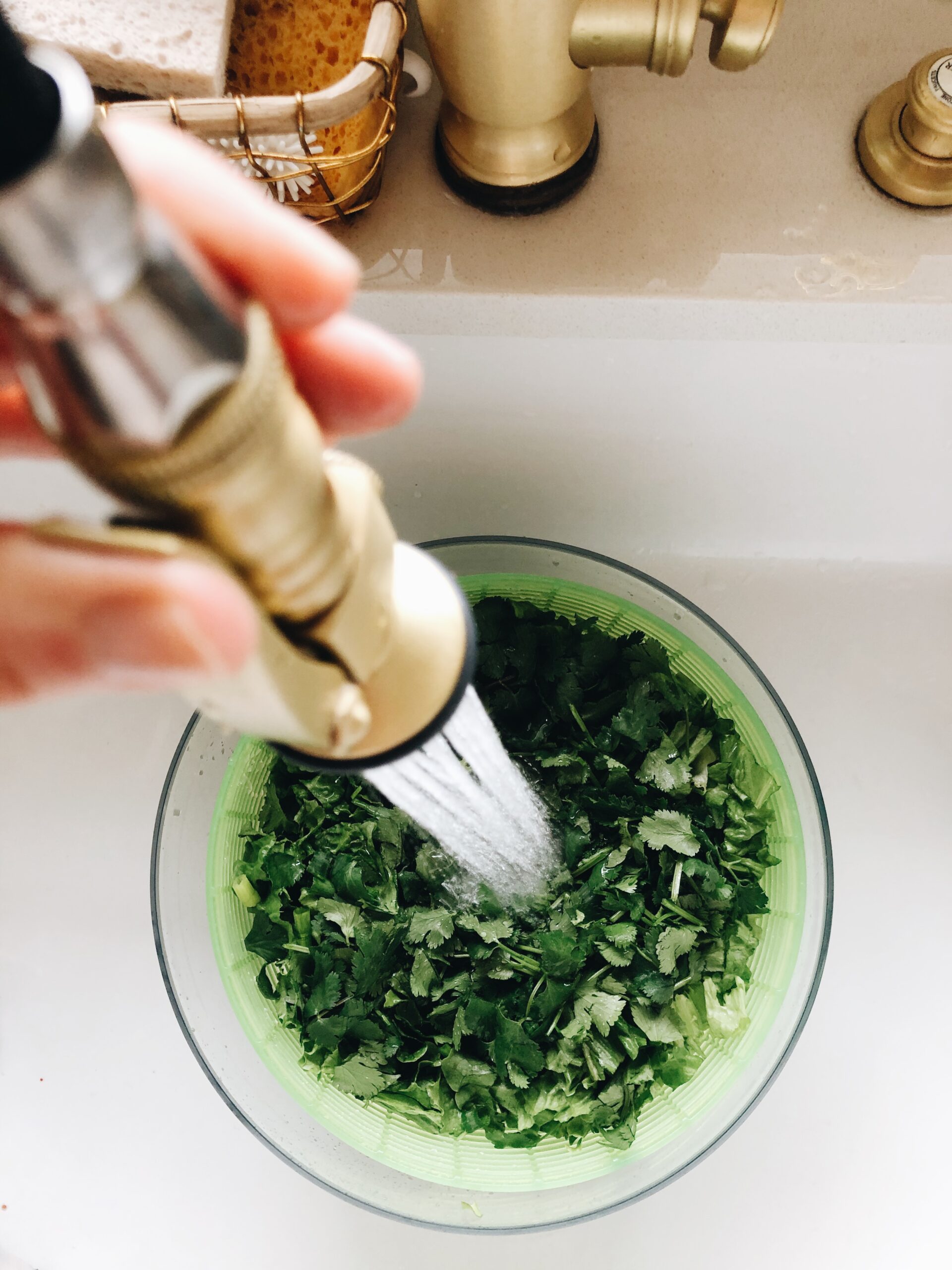 The greens! I used chopped green leaf lettuce, cilantro leaves and chopped scallions. Feel free to mix and match with anything you have already. Spinach, chopped kale, even iceberg if you're feeling Titanic-y.
Or the romaine, which my brain was so clearly focused on earlier.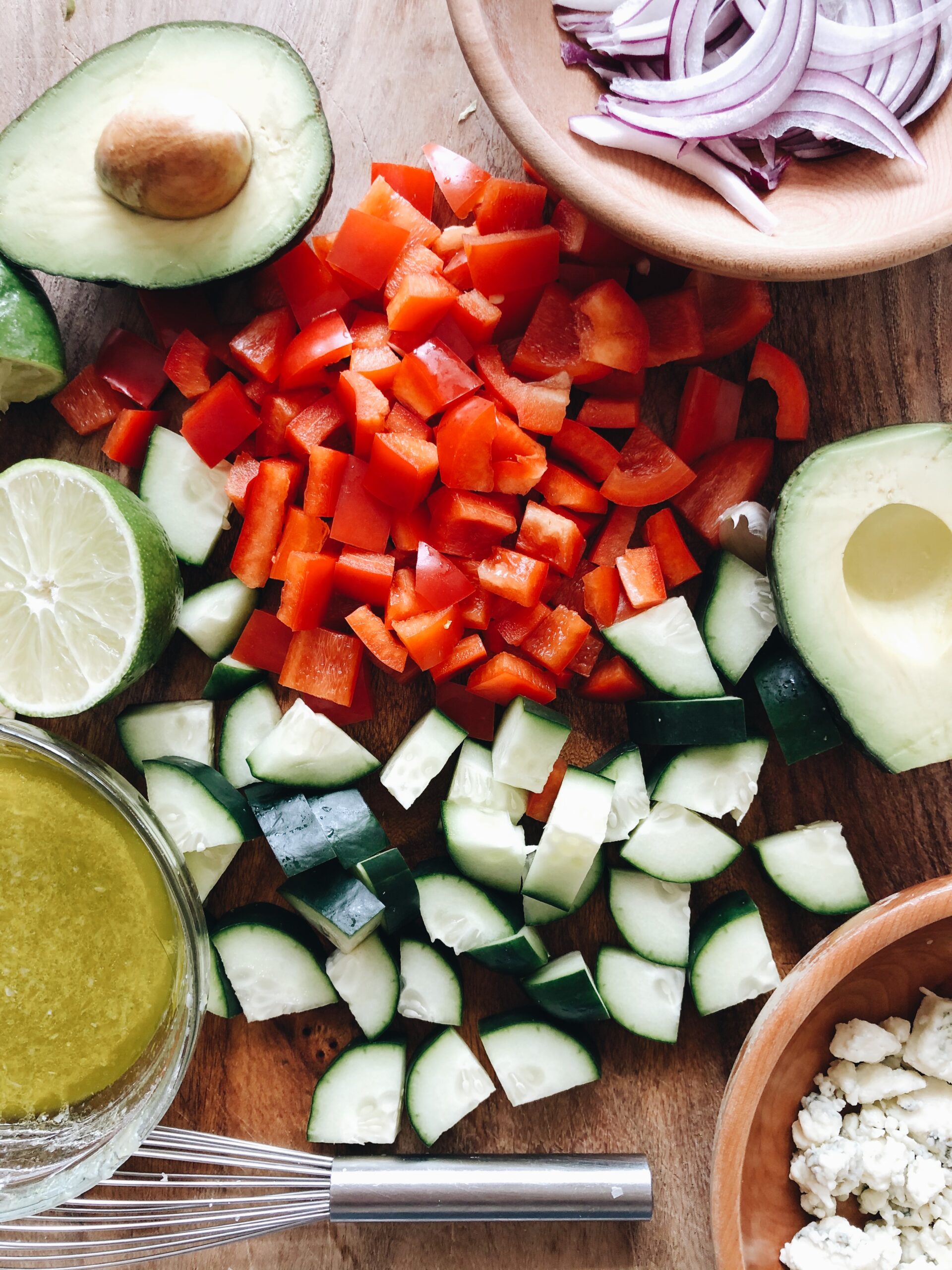 And as far as the salad guts (it's a thing), we've got diced cucumber, diced red bell pepper, creamy avocado, tangy blue cheese, and thinly sliced pungent red onion. These ingredients make my soul tick. All that crunch, man!
Oh, and the dressing is crazy simple, I make it constantly: extra virgin olive oil + lime juice + grated garlic + salt. Insane. So delish. Your new favorite.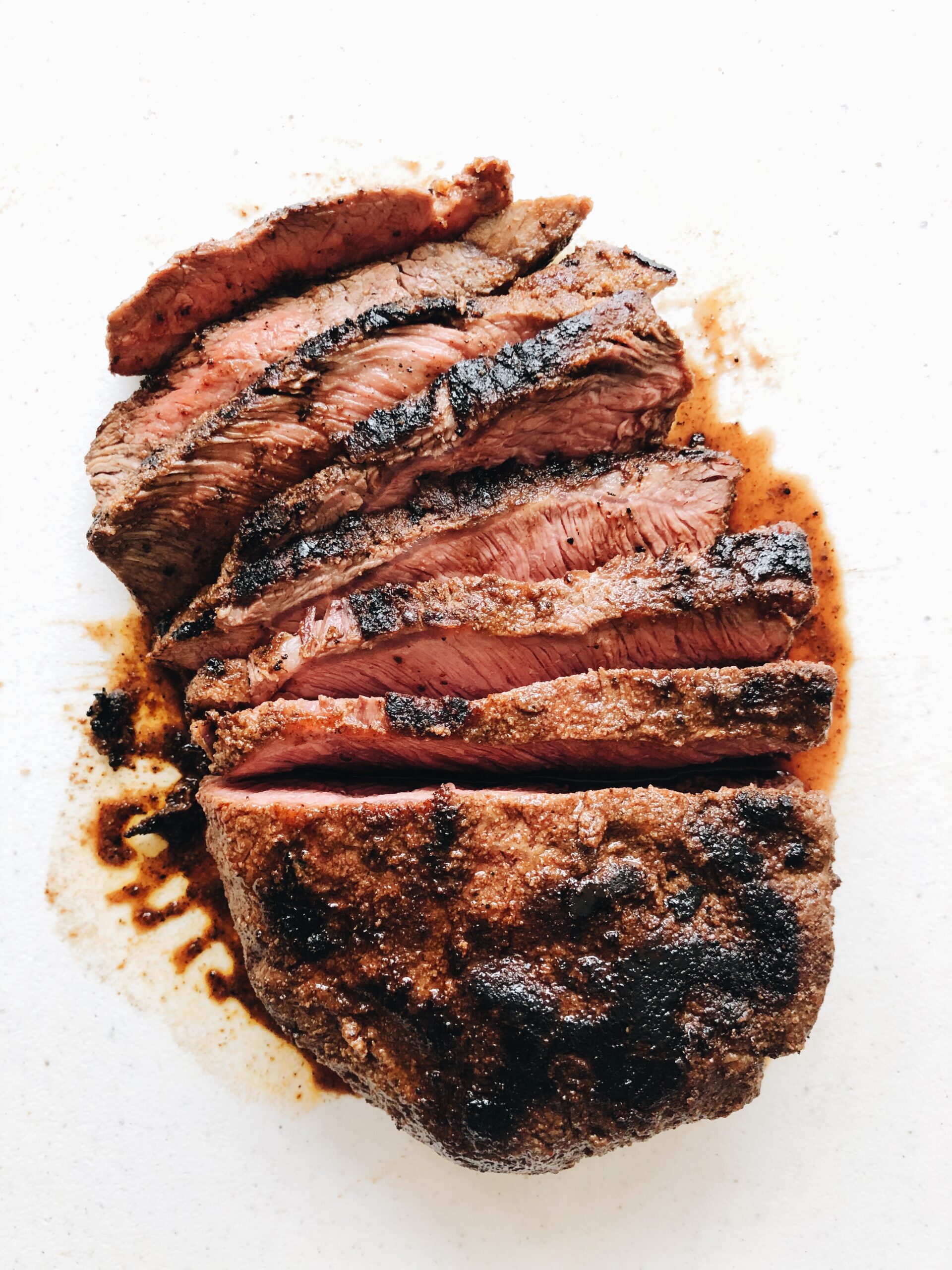 Come. to. mama.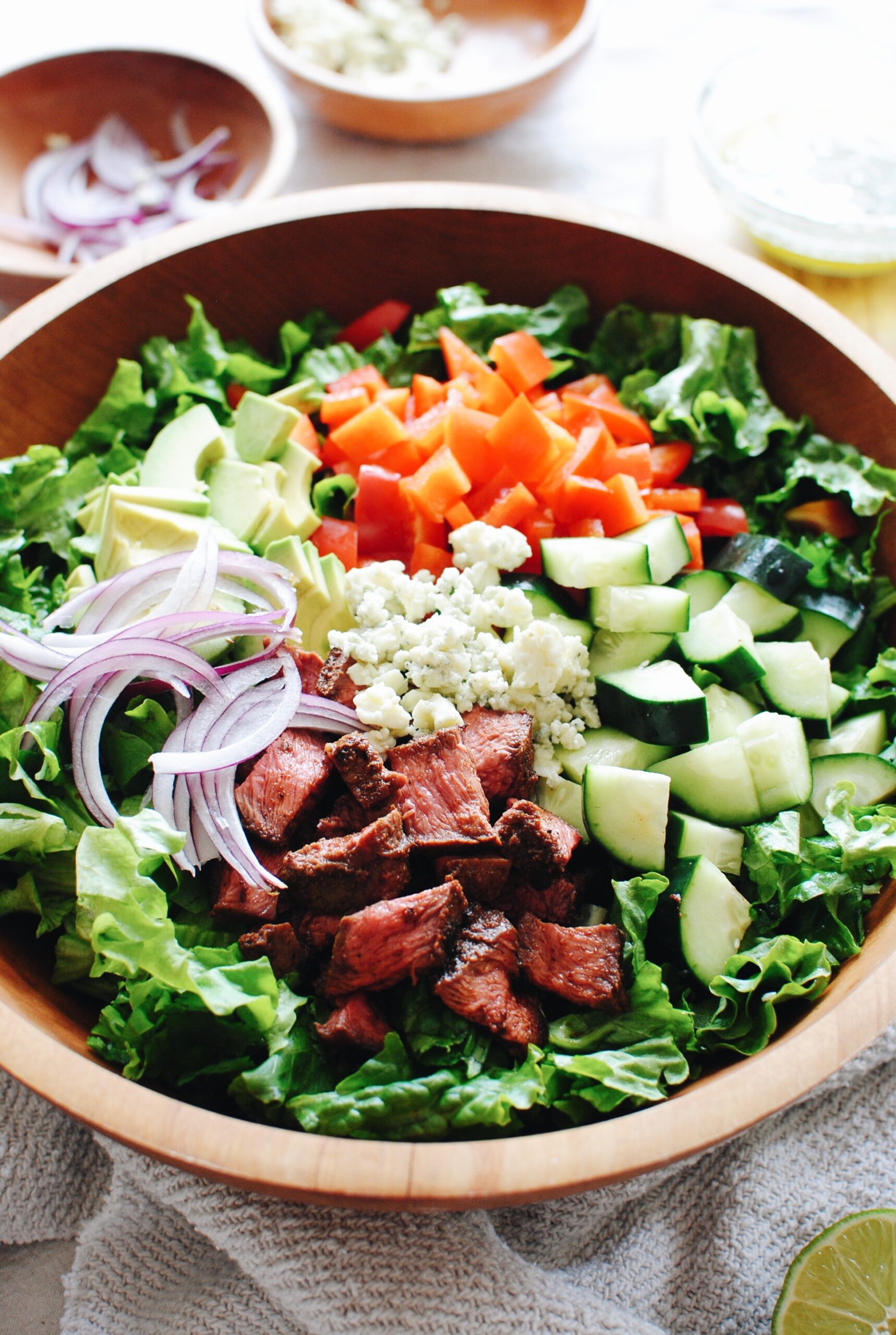 And really, once that steak is seared and diced, you're set! There's no other cooking you'll do. It's basically a pile sesh. Just slop it together like a savage you are. (I mean that in the most endearing way, pigeons.)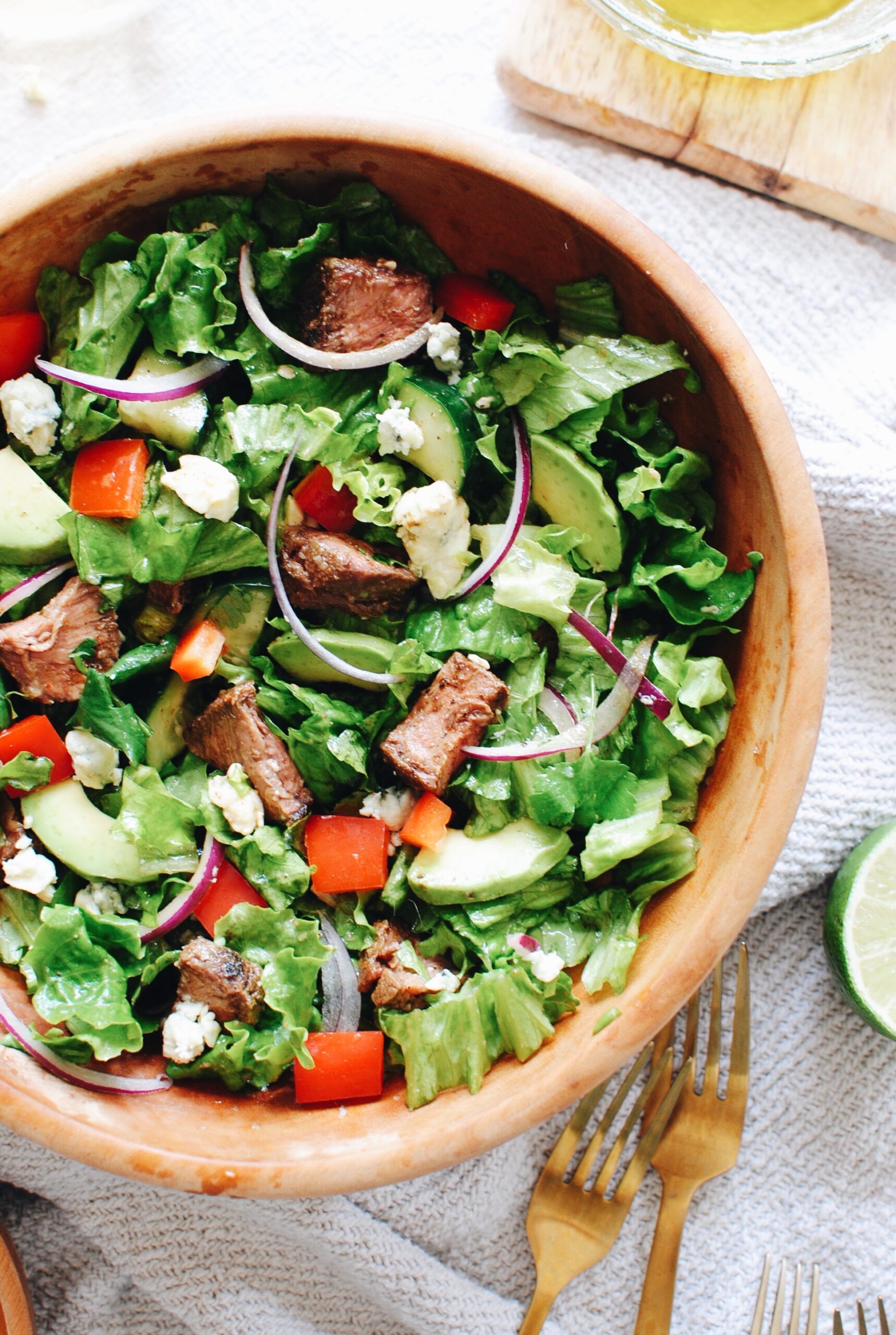 Here it is all tossed up in my own little bowl. You want dressing to coat errrrrry leaf and veggie. That garlic is MAGIC. Yes it's raw, but it adds so much punch and depth and essence. You know me and depthy essence. We a thang.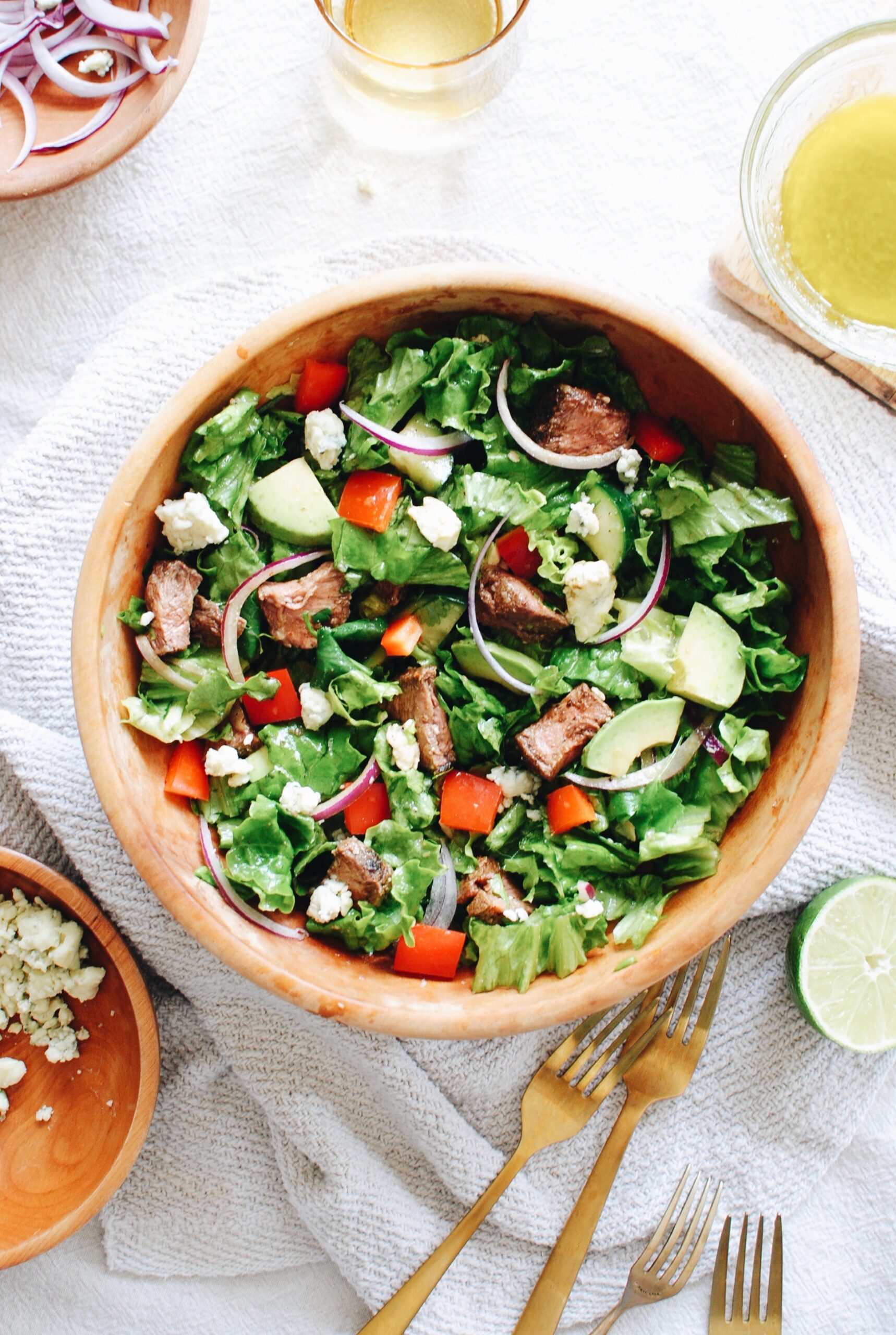 And seriously, it's such a nice change from all the soups and casseroles and chilis in this blasted 33-year quarantine.
Oh and bunny, I've got more pantry-style meals up my quarter length linen sleeve. TRURST.
But a fresh salad? I just feel like you might be craving a Sunday salad. Heck, I'm craving a Sunday salad. I'm having a Sunday salad, dang it!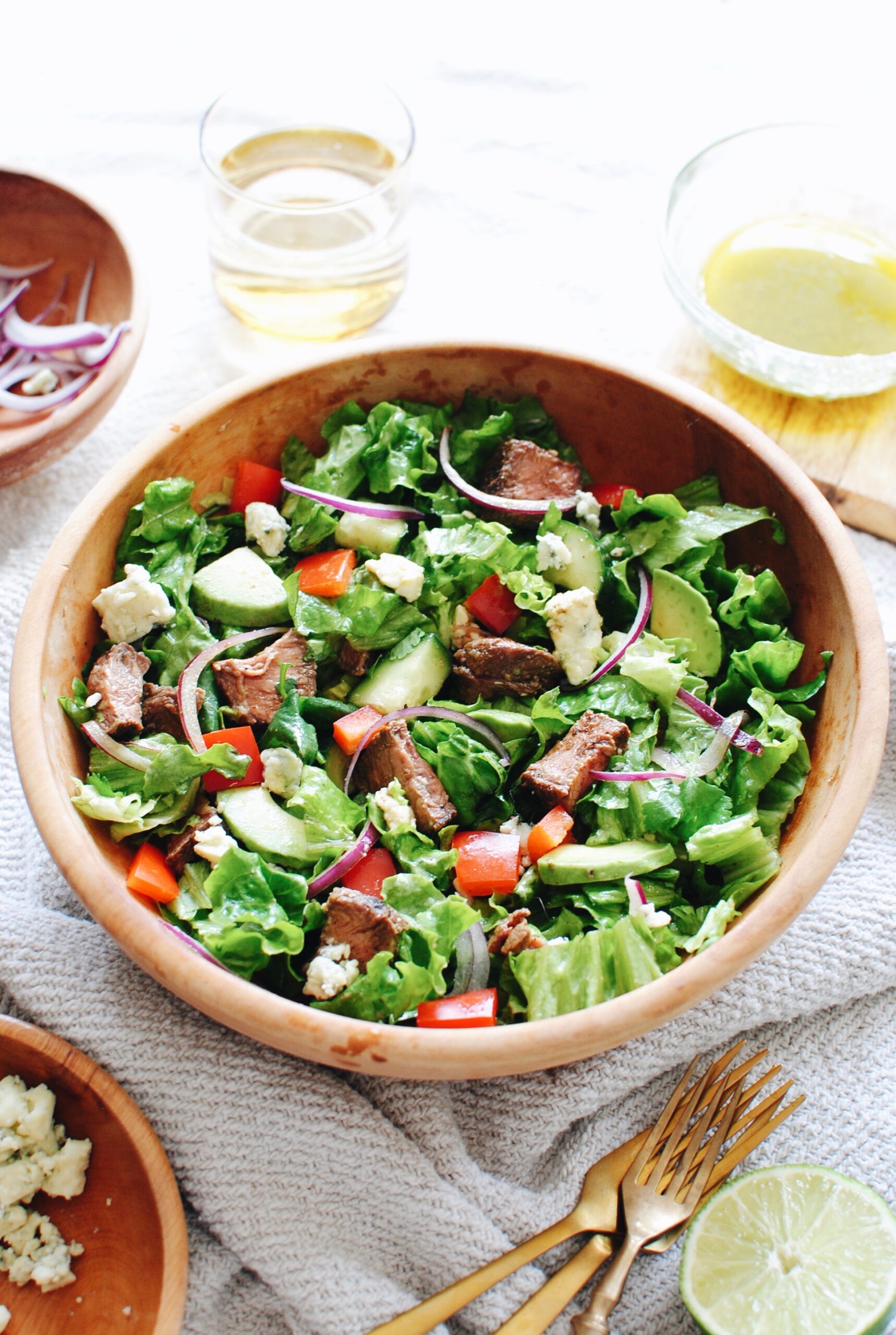 I'm fine, why do you ask?
Ingredients
1 pound flank steak (or skirt, sirloin, anything you can find that's kind of thin)
1/2 tsp each: cumin, chili powder, onion powder, garlic powder, coarse salt
1 bunch green leaf lettuce (or romaine, red leaf, anything!), chopped and rinsed
4 scallions, sliced
1/2 bunch cilantro, chopped
1 red bell pepper, seeded and diced
1/2 cucumber, diced
1 avocado, diced
1/3 cup thinly sliced red onion (or less here if it's not your favorite)
1/3 cup blue cheese crumbles
6 Tbs. extra virgin olive oil, divided
3 cloves garlic, grated
Juice of half a lime
Coarse salt
Instructions
Mix the spices together and rub them all over the steak. Let it sit in the fridge for at least an hour, up to a full day. Bring the steak out and set the plate on the counter for an hour before you sear it. This will bring it back to room temp. Heat a Tbs. of oil in skillet and sear the steak over medium heat on both sides for 5 minutes. This will be a medium rare, so go longer if you want it less pink in the center. Let the steak rest for five minutes, then dice it up.
In a small bowl, whisk together the 5 Tbs. oil, juice from half a lime, the grated garlic and a pinch of coarse salt. Taste that. Need more lime? Another tiny bit of salt? Adjust it for taste. There! Perfect.
In a large serving bowl place the chopped lettuce, cilantro, scallions, steak, cucumber, red bell, blue cheese, red onion and avocado. Drizzle the dressing over the whole bowl and toss it aaaaaaall together. It's just absolutely delicious. You won't believe it.
Serve immediately!
Serves 4.
7.8.1.2
414
https://bevcooks.com/2020/04/my-go-to-steak-salad/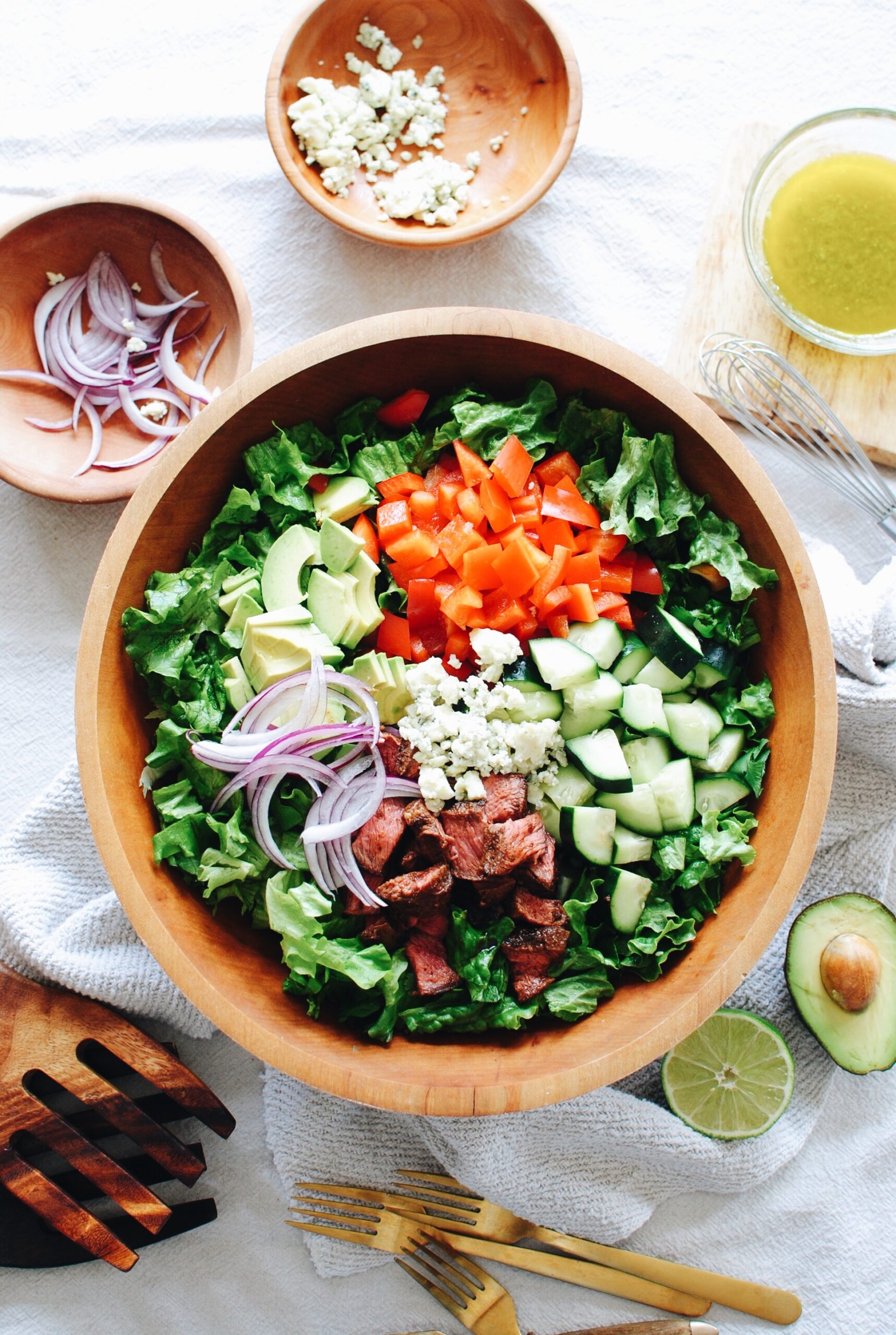 Give me all the fresh, please.