YES IT'S MORE PIZZA. You're not . . . mad, are you?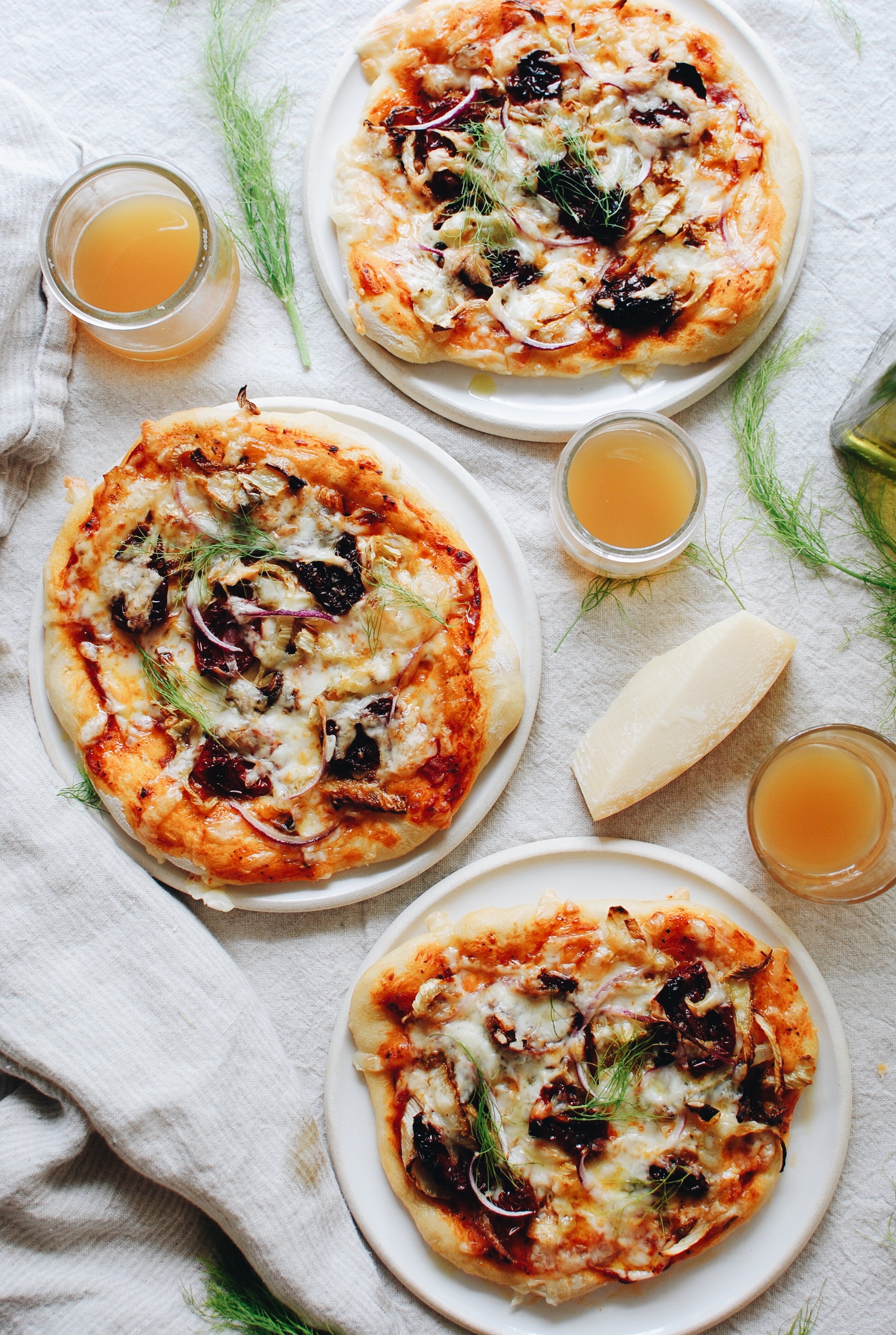 So guess what.
I hate black licorice. (liquorice. lickurish? just kidding.)
HATE IT.
Heeeeeeeet.eeeeeeet.
I'm pretty positive this is the food that Satan munches on for his afternoon snack. Well, that and murders' souls.
ANYWAY. Can't stand black licorice. Bleck! Bleck! Bleck!
H O W E V E R – I can totally get on board with fennel. Which, yes, has that strong anise flavor going on, like fresh basil and Italian sauce, both of which I irrationally obsess over. I know. I'm a walking contradiction. But when you roast the fennel, you'll never be able to imagine what happens. So I'll tell you right now. It totally mellows. And it is completely delicious in your mouth.
Let's look at this pizza before I start punching something.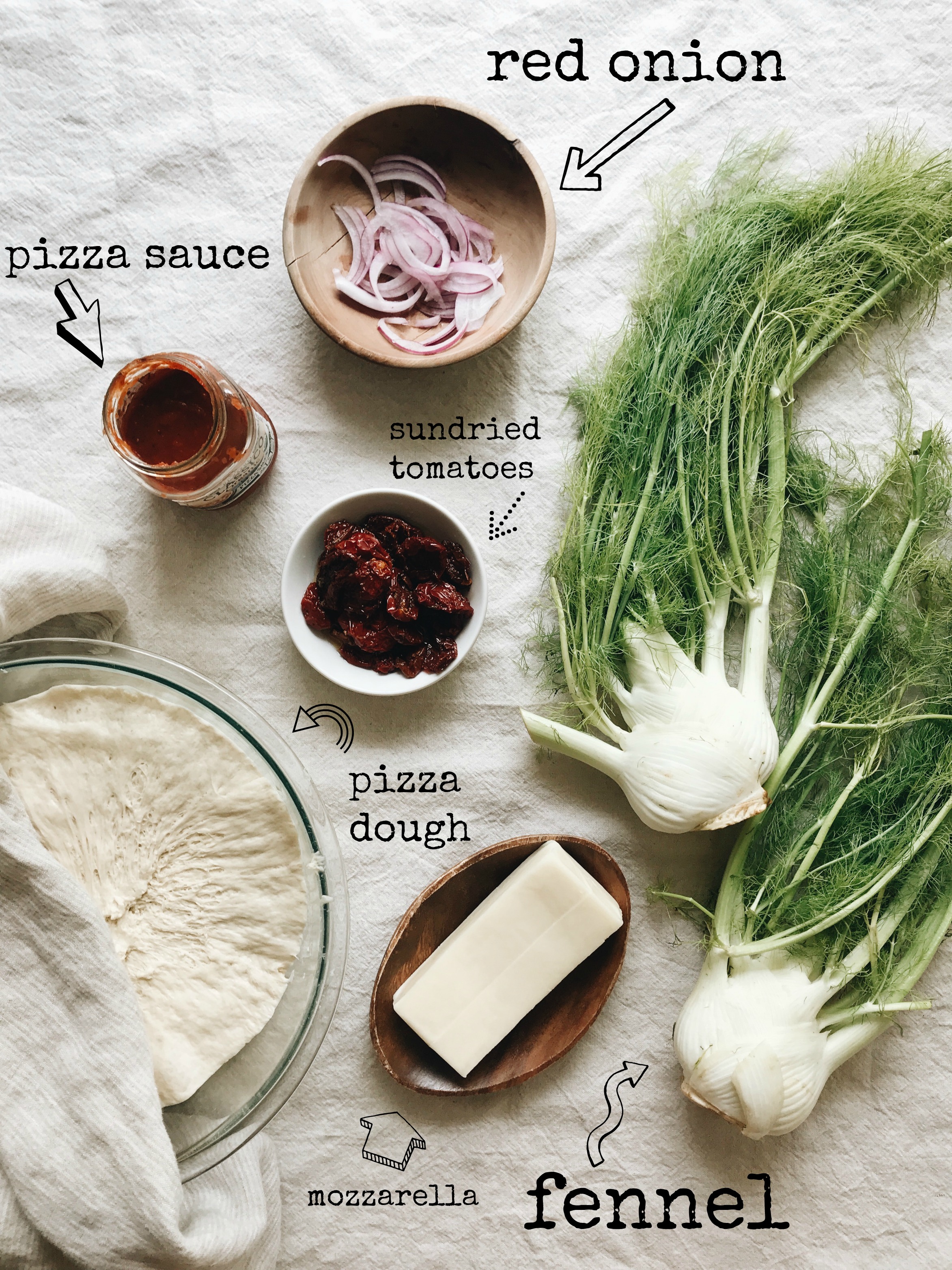 Fresh pizza dough! Nothing like it. I start making it when I wake up, so that it's just DONE when it's time to throw together the 'zas, brah.
Two bulbs of fennel + sundried tomatoes (the kind in oil!) + a bit of thinly sliced red onion  + sauce + cheese. That is all. You're going to freakin' freak. Your freak.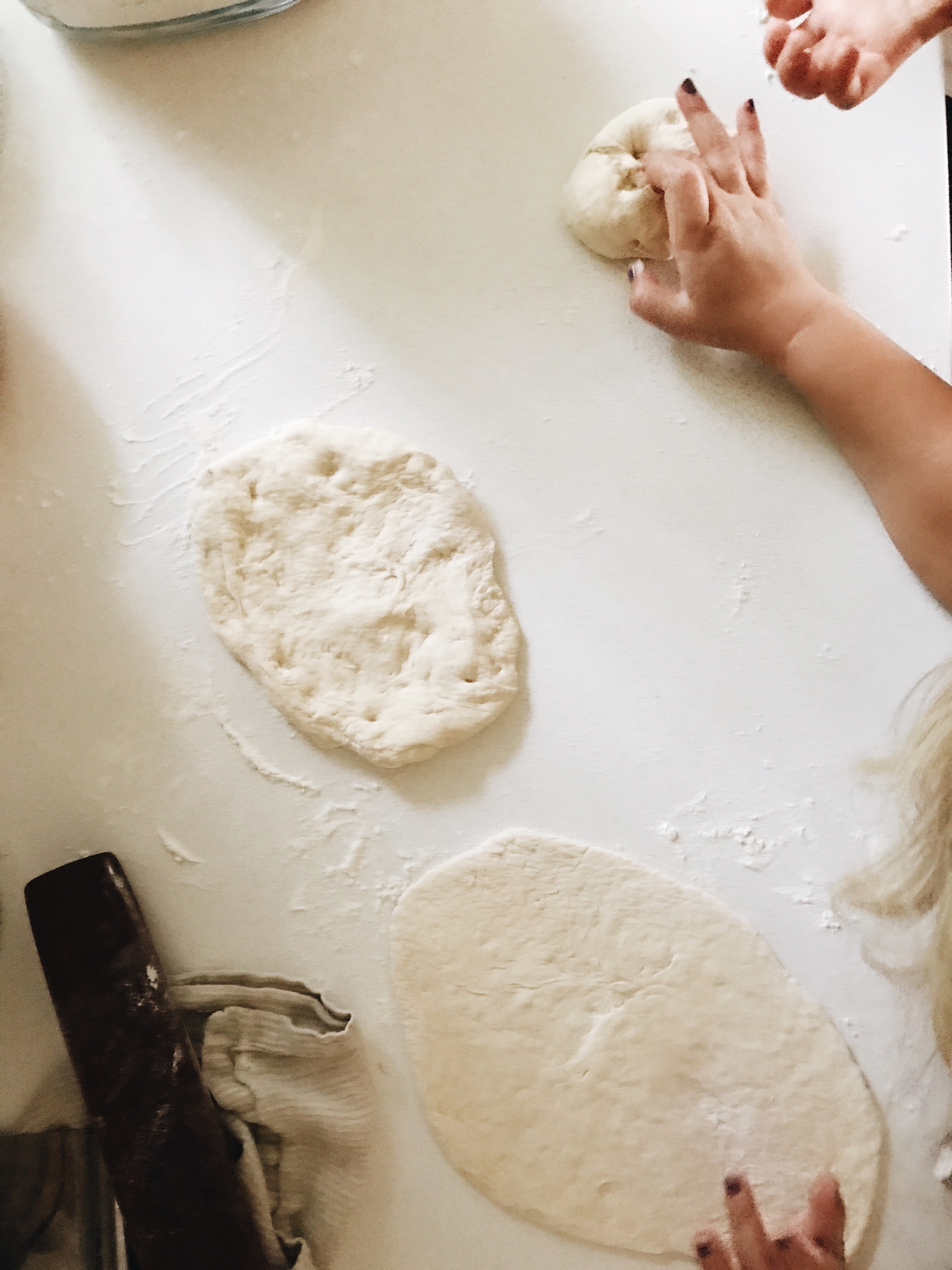 Pro-tip: have two small children botch their pizza dough rounds. It will make you feel pretty solid about your own skills.
Just don't let them flat iron your hair.
It's fine.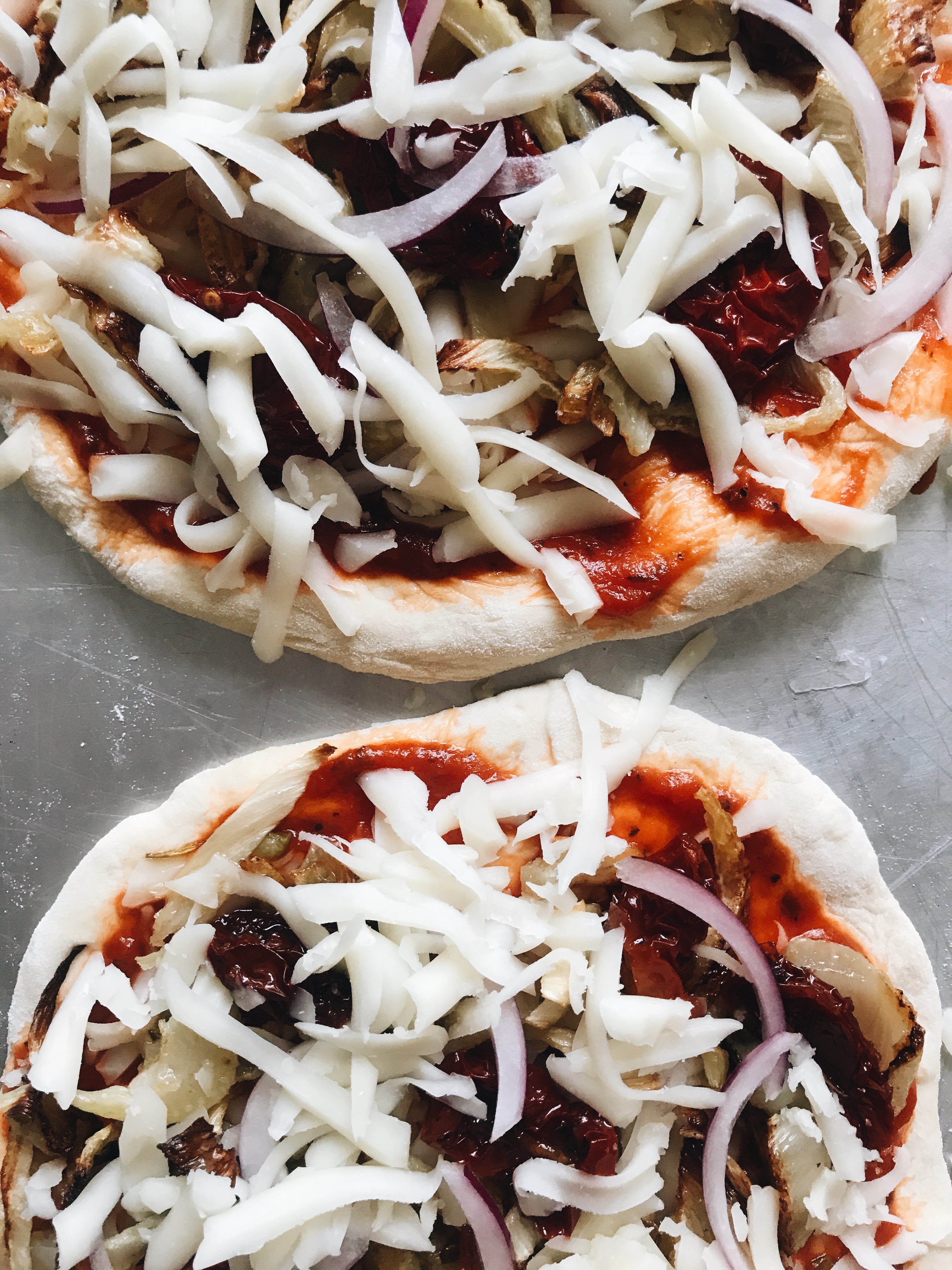 Also, I COMPLETELY forgot to get a photo of the roasted fennel which is the whole dern POINT. The reason is, though, and you'll forgive me, right at the moment that the glorious roasted fennel came out of the oven, a wild turkey eagle ostrich FLEW through my kitchen sink window, shattering glass everywhere and causing a complete ruckus in the kitchen. Feathers were flying, children were crying, I was losing my ish.
You know.
You believe me, right?
Of course do you.
Throw the pizzas in.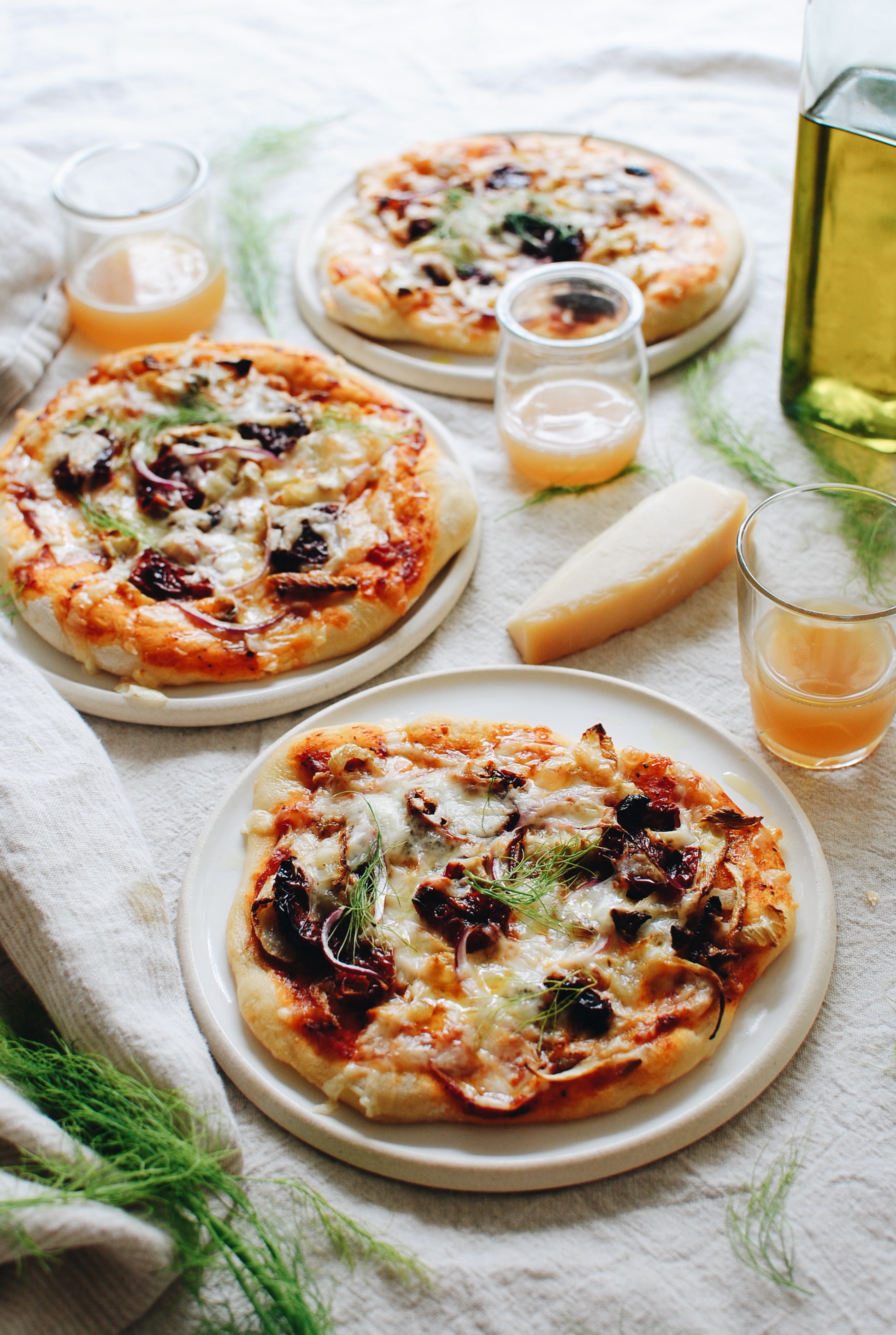 YES.
Yes yes yes.
I so dig lil' pizzas like this. I made them smaller with the full intention of serving them with a pretty green salad, for balance and portion control. And then nixed the salad and ate six pizzas.
Obviously.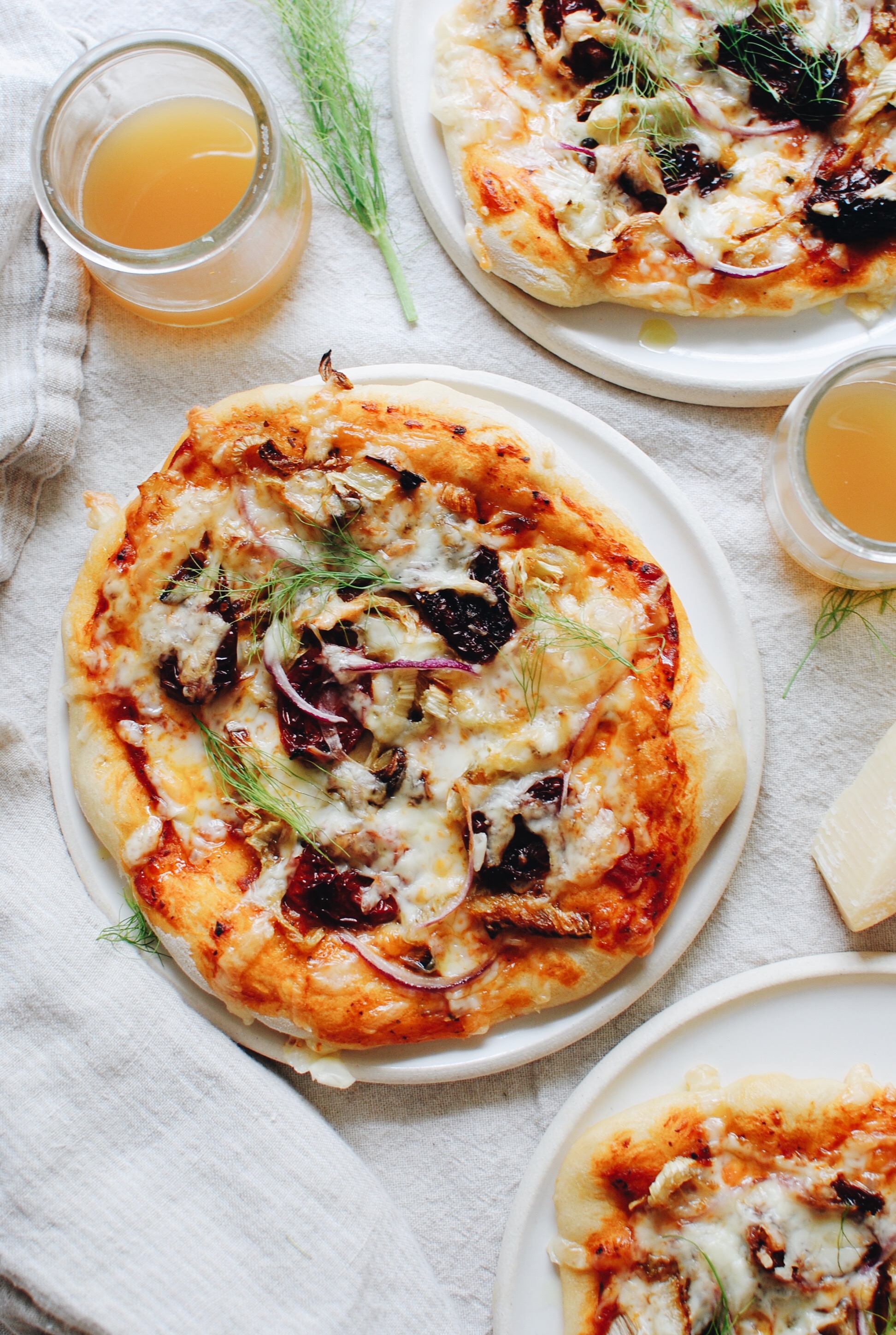 And the thing IS, you can personalize each one, if your kid doesn't like the good things in life, like roasted fennel and sundried tomatoes. But those two flavors together, my laaaaands. Depth meets zing.
We should start a band called Depth Meets Zing. We're pretty bad.
Make theeeese! If you buy pizza dough, you're still a good person. My mound made six personal pizzas, so maybe buy two little mounds at the store. But I'm telling you, making your own is AY-SAY and super flavorful, so try it!
Just don't let any turkey eagle ostriches near it.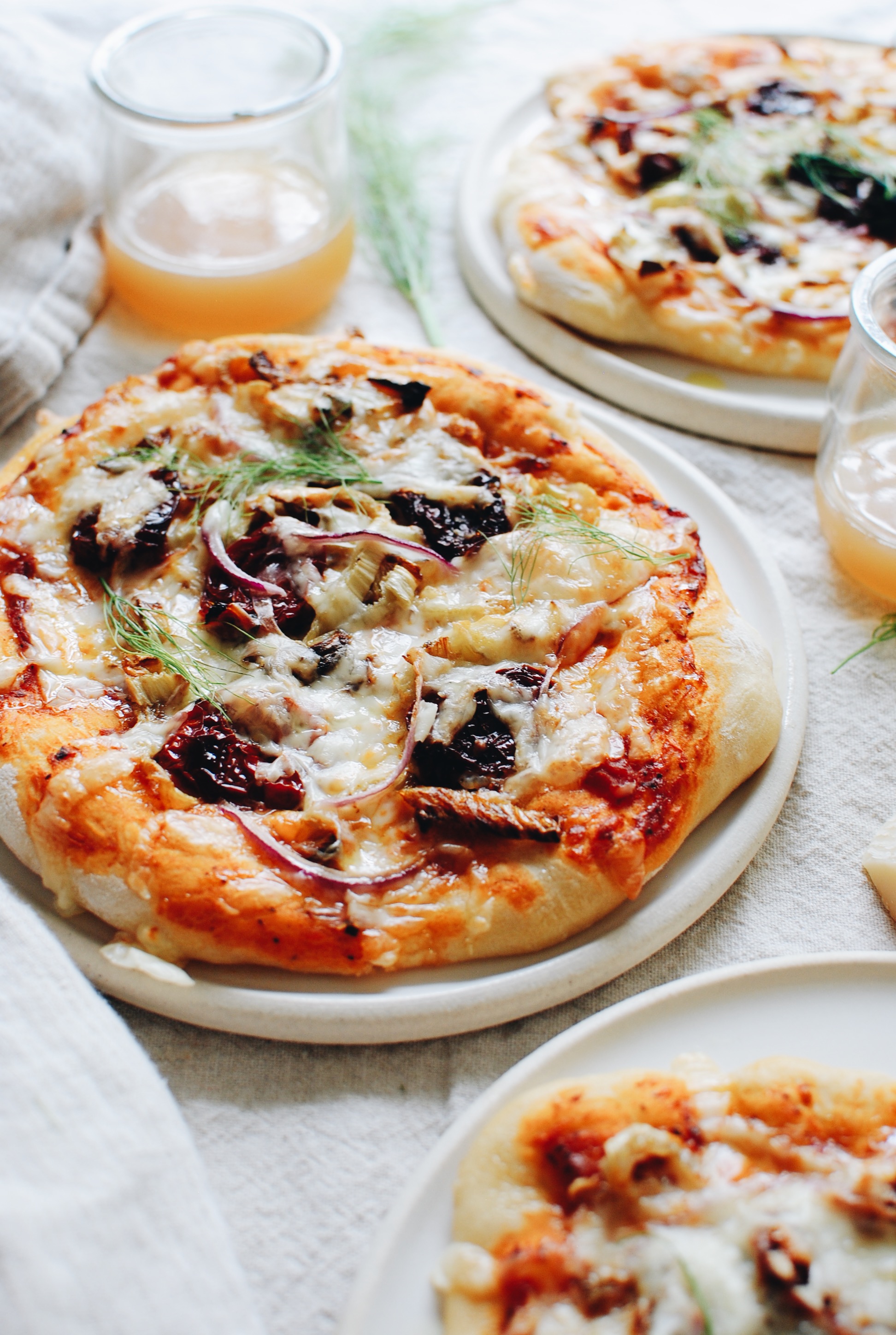 NAH-OM.
Roasted Fennel and Sundried Tomato Pizza
Ingredients
For the dough:
1 1/4 cup warm water
2 1/2 tsp instant yeast
1/4 tsp sugar
3 cups all purpose flour
1/2 tsp salt
For the toppings:
2 bulbs fresh fennel, stems cut off, cored and thinly sliced
About a cup or so of sun-dried tomatoes (in their oil)
Thinly sliced red onion
Jarred pizza sauce
1 (8 oz) block mozzarella cheese, shredded
Instructions
In a small bowl, pour the yeast and sugar over the warm water. Let it sit until the yeast is bubbly and foamy, about 10 minutes.
In a large bowl, combine the flour and salt. Pour the yeast water into the flour and stir to mix. Turn onto a lightly floured work surface and knead a few times, until it becomes a ball of sticky dough. Place back in a cleaned bowl, cover and let rise for about 3 hours. Punch it down, knead a few more times (it will be much smoother and more elastic by now), and let it rise again for another 2 to 3 hours.
Divide dough into six small mounds. Cover with a kitchen towel until you're ready to roll out and top.
Preheat oven to 400.
Place the sliced fennel on a baking sheet and drizzle with a Tbs. of extra-virgin olive oil and season with a good pinch of salt. Roast for 45 minutes, until nice and browned all over.
Roll out each pizza mound to make a 7-inch pizza. Spoon each one with pizza sauce, and follow with a scattering of roasted fennel, a few sun-dried tomatoes, and a few slices of red onion. Sprinkle with the cheese and bake for 30 minutes, until the cheese is browning and bubbly.
Drizzle with a little bit of oil, garnish with the fennel fronds and serve immediately!
Also, parmesan cheese. Always.
Makes six personal pizzas.
7.8.1.2
171
https://bevcooks.com/2018/07/roasted-fennel-and-sundried-tomato-pizza/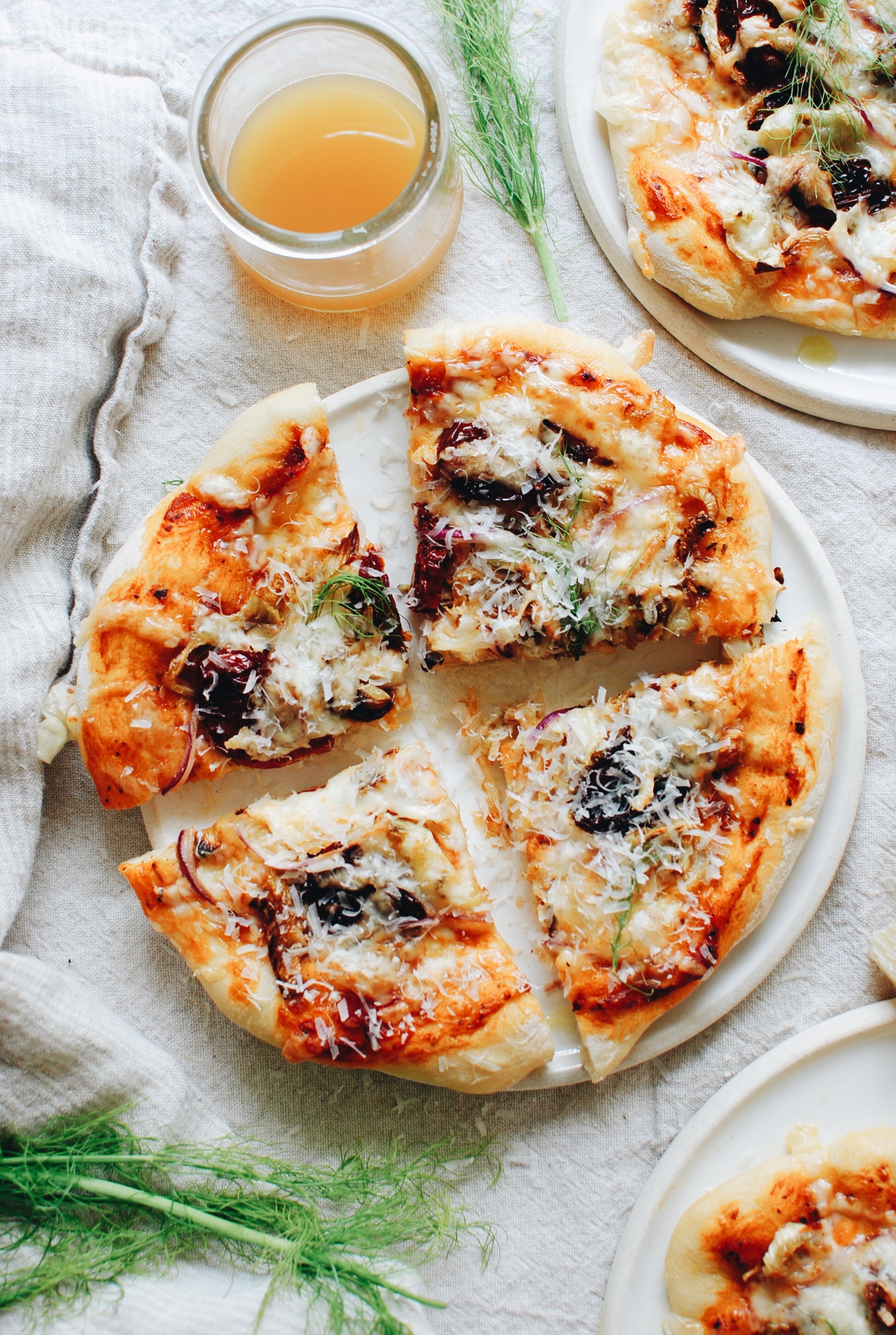 Face plant.