As in, this is yours and yours alone, my friend. Unless you want to share. But you won't because that's silly talk.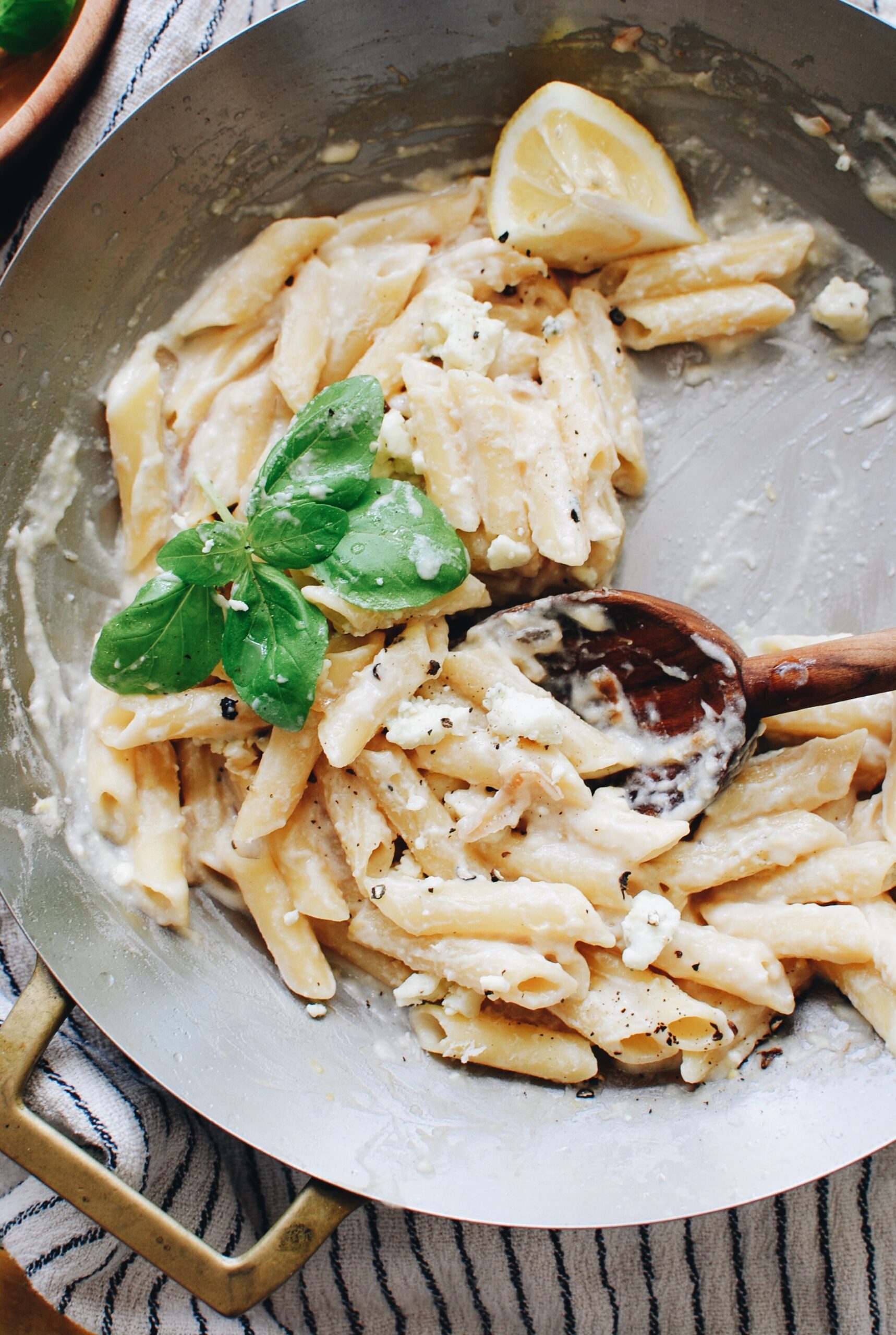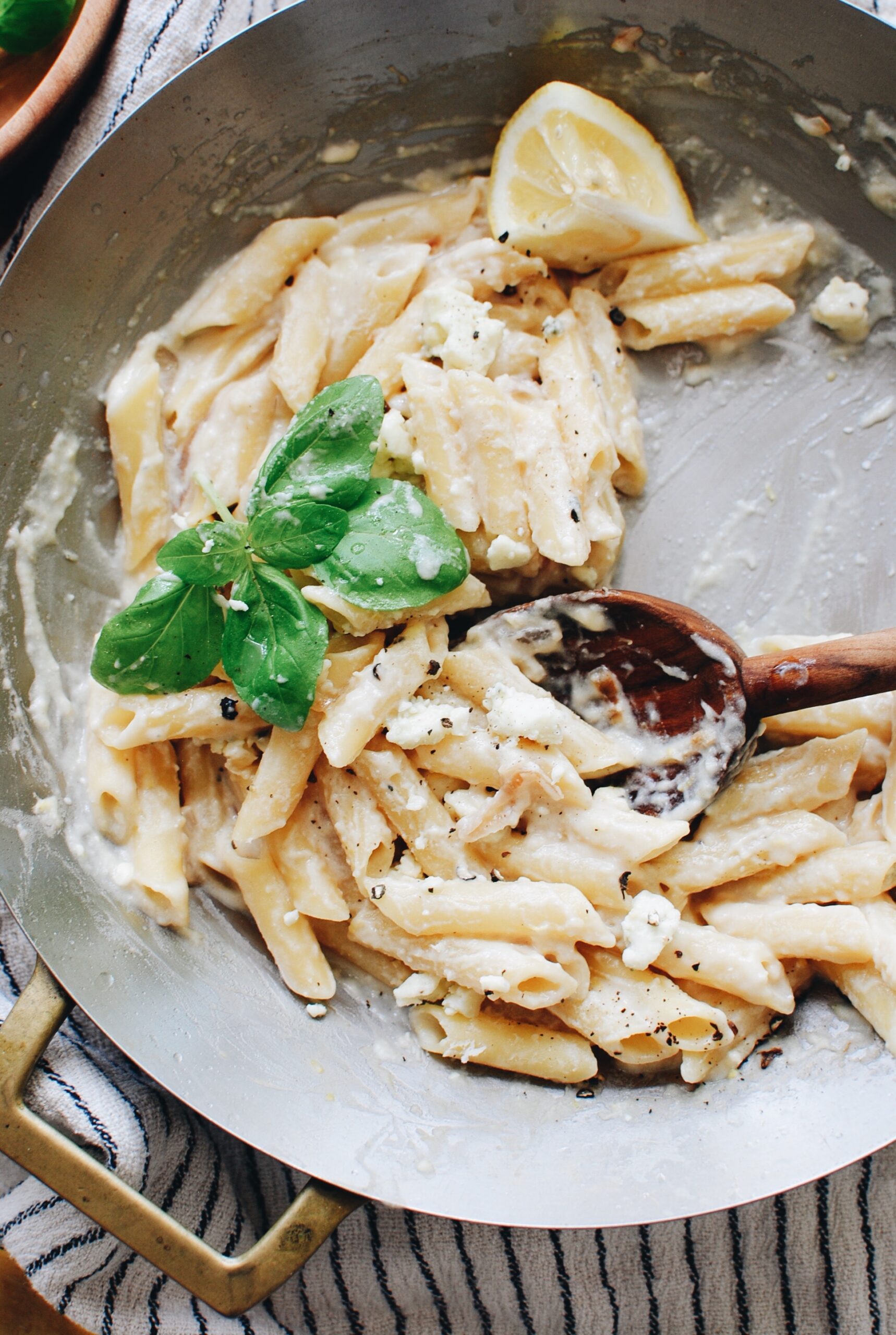 What we have here are two pieces are good news. At least two pieces of good news. A few pieces of good news.
First of all, this here dish is FOR ONE. Meaning, when you're starving, but the huzby is out of town or working late and the kids are somehow magically in bed early or have already eaten and and you want something cozy and carby for yourself and only yourself and you don't want massive leftovers or little faces asking for any? This is IT. Solution meal, babe!
Second of all, it has just the right amount of work involved to satisfy you. And by that I mean barely any. It's nothing laborious, but still feels fancy once you put it in your face. Pour the wine, turn on the music, take the 15 minutes to make this. Solo girl food for the soul.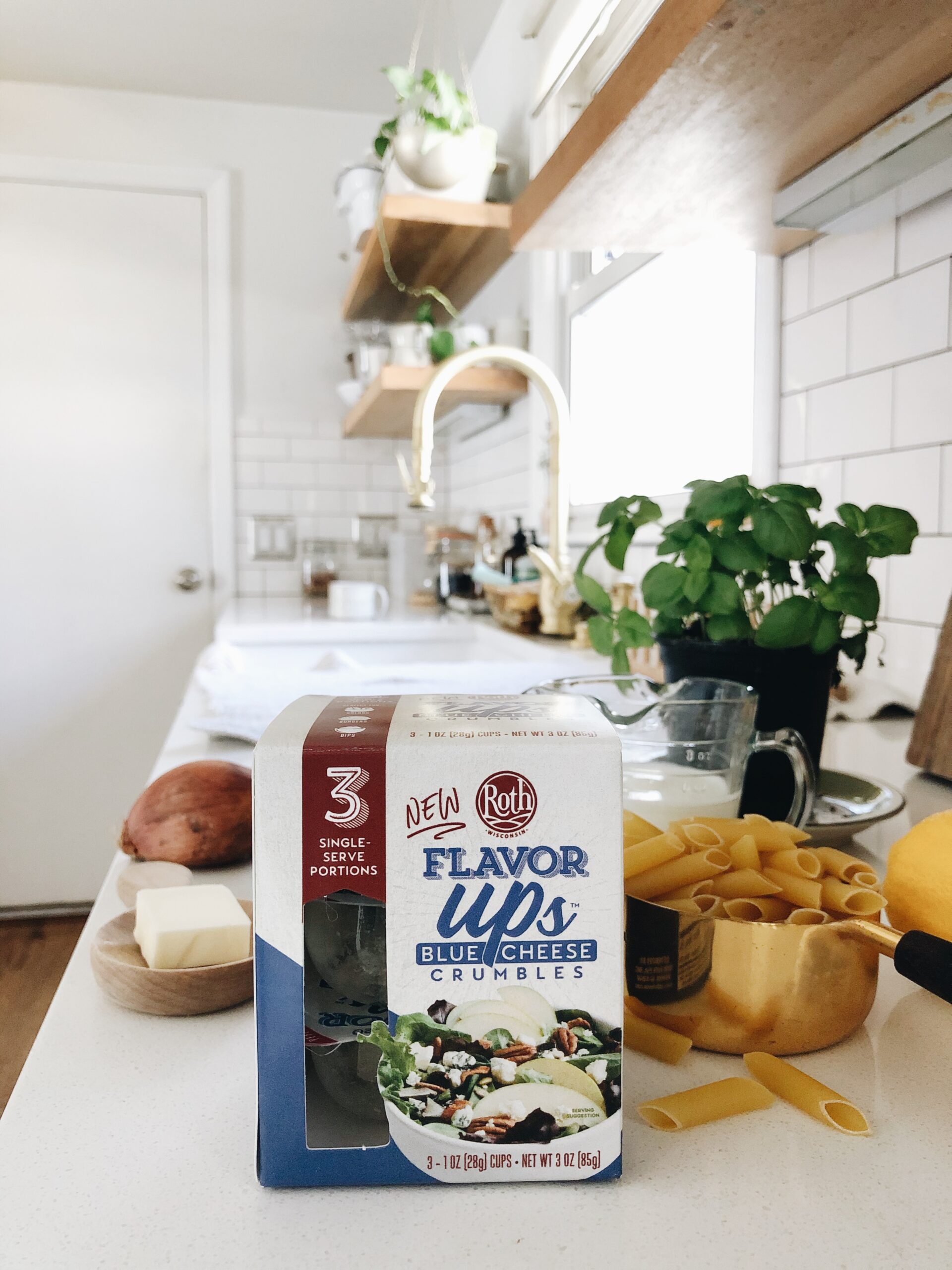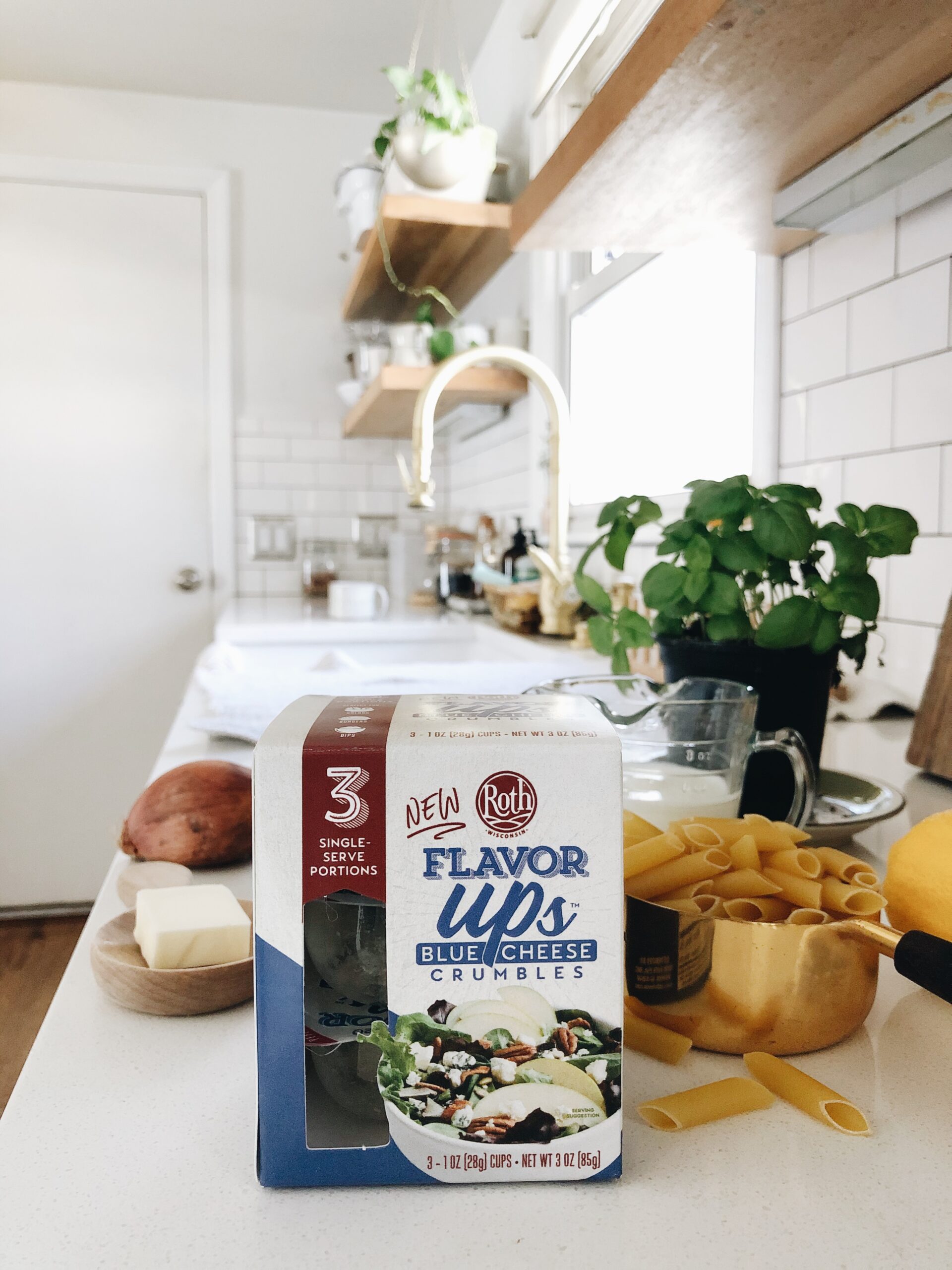 And the last bit of good news, is that my lover Roth Cheese just released this smarty pants idea of SINGLE SERVE blue cheese crumbles! Flavor Ups, you guys. They're little one ounce tubs of blue cheese, already crumbled, ready to add to anything you want. And you don't have to hack into a giant wedge of blue cheese for this. Instant flavor, already prepped. I can't even deal with it I love it so much.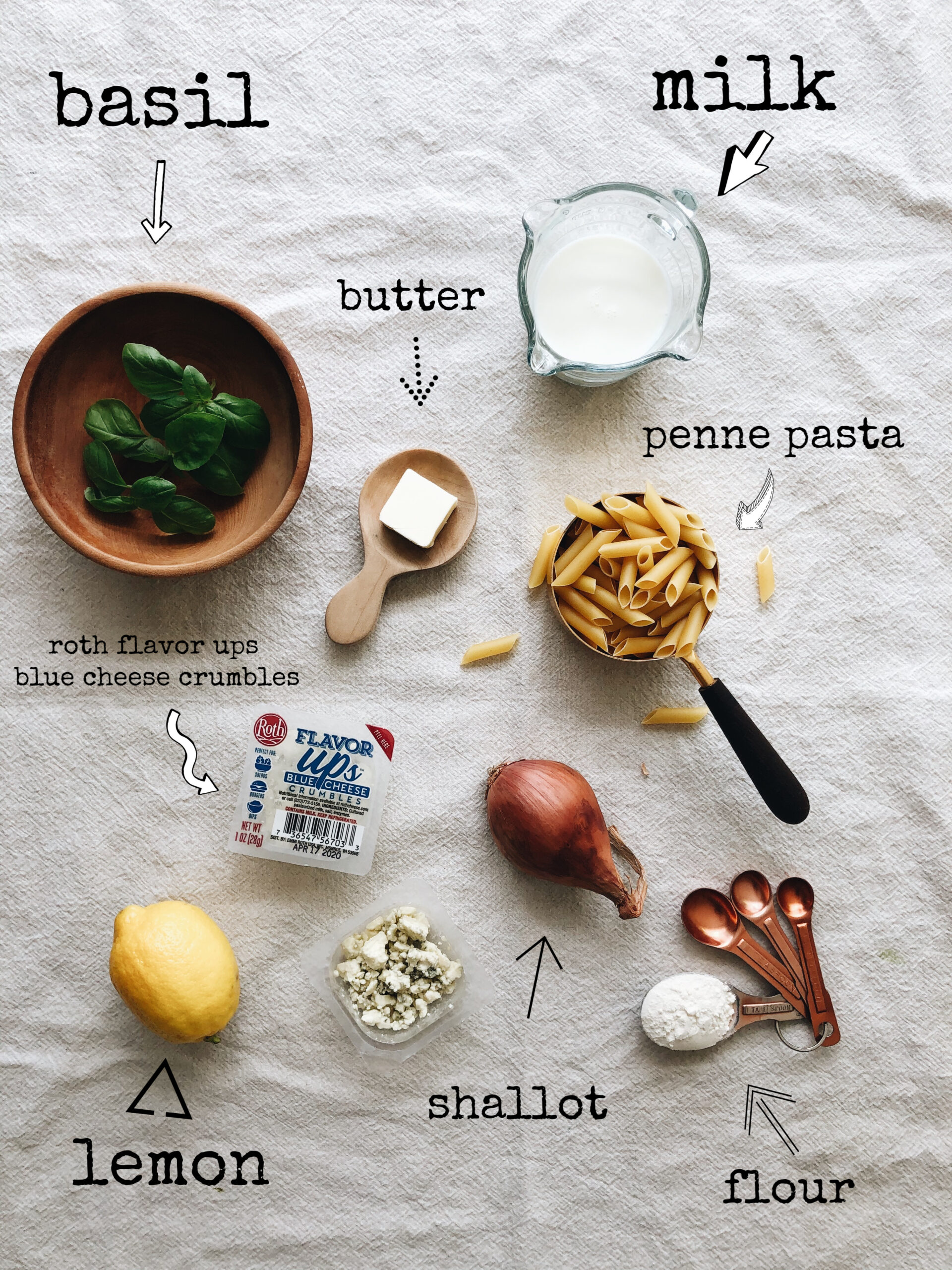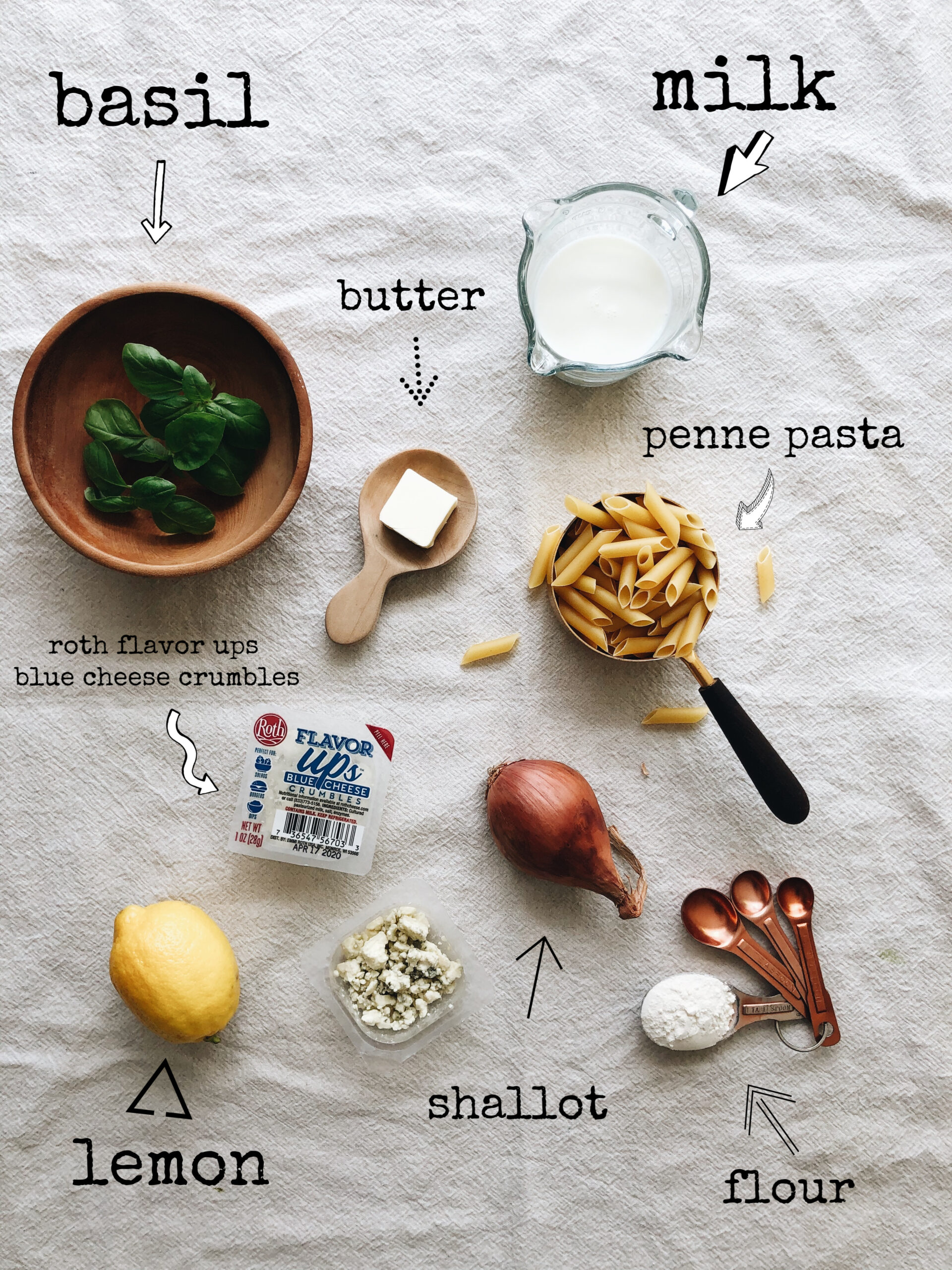 So this is what we have going on for your solo-gal dinner that you'll fall in love with forever. It's like, a stripped back version of a giant pasta casserole. But mini portions, all in a skillet. Should we fist bump right now because I feel like it might need to be happening.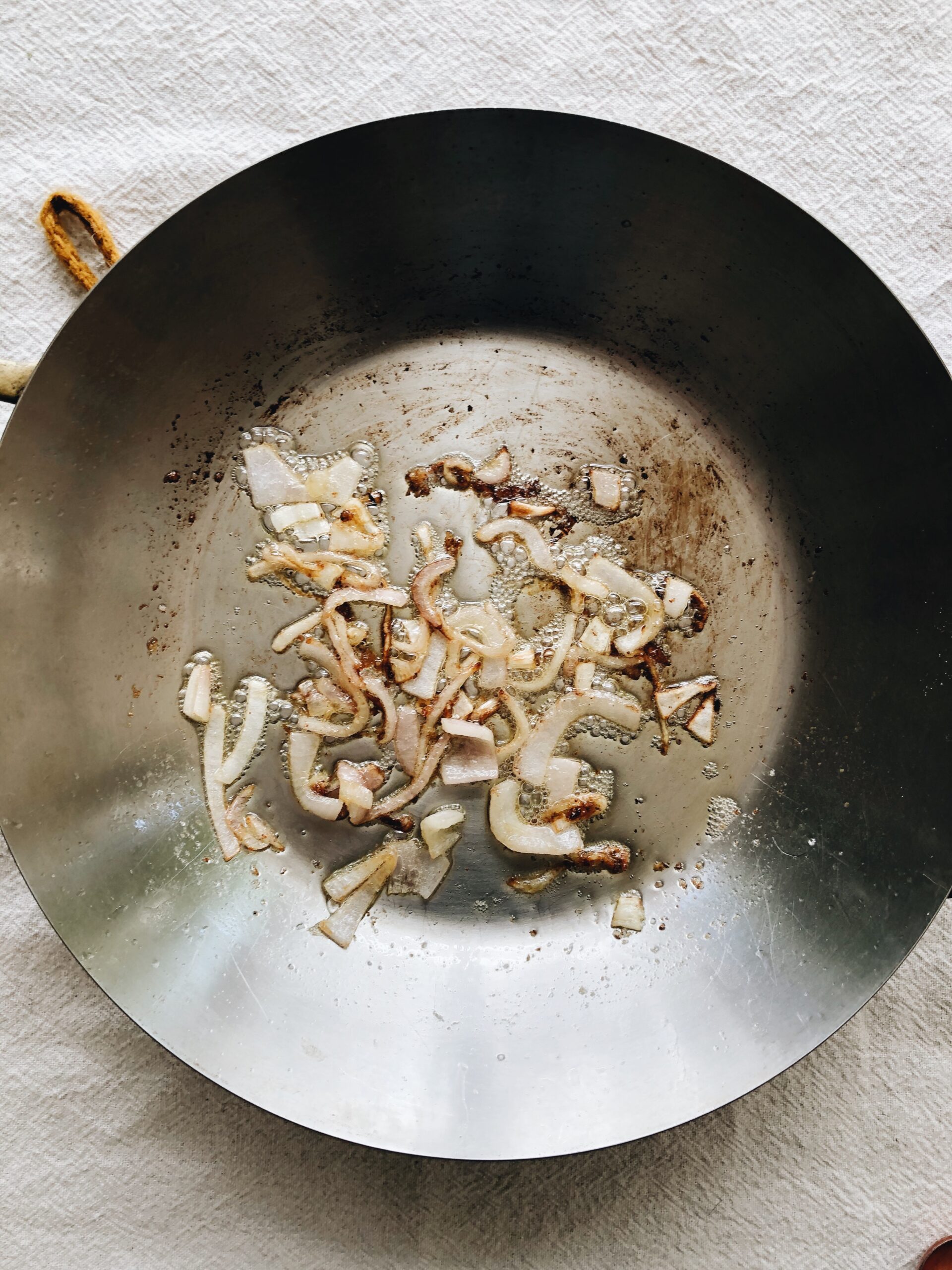 You'll just slice that shallot (hi, fancy) and sauté it in butter with a pinch of salt. Just like five minutes. Maybe pour a crisp white wine? Yeah. Do that.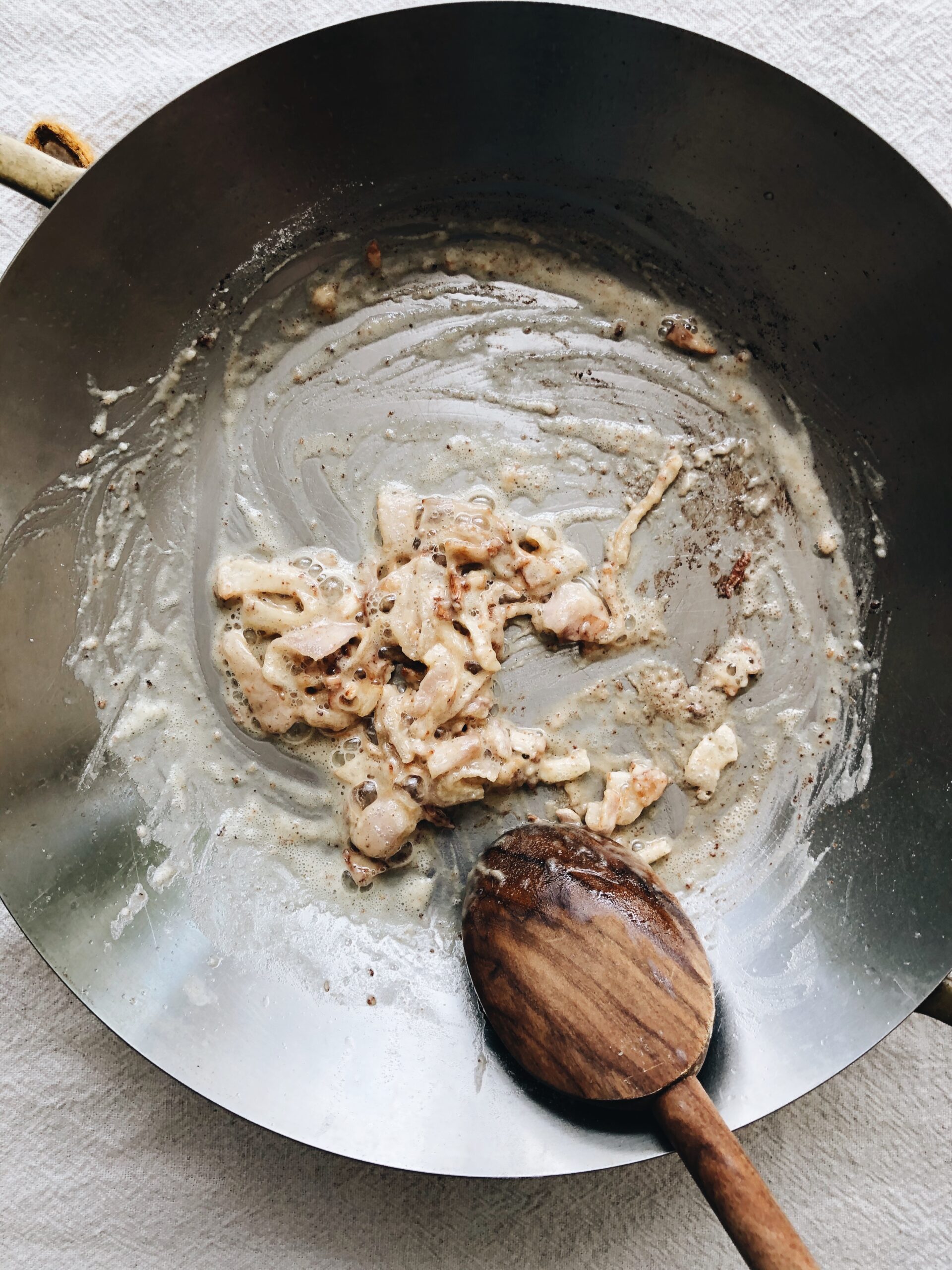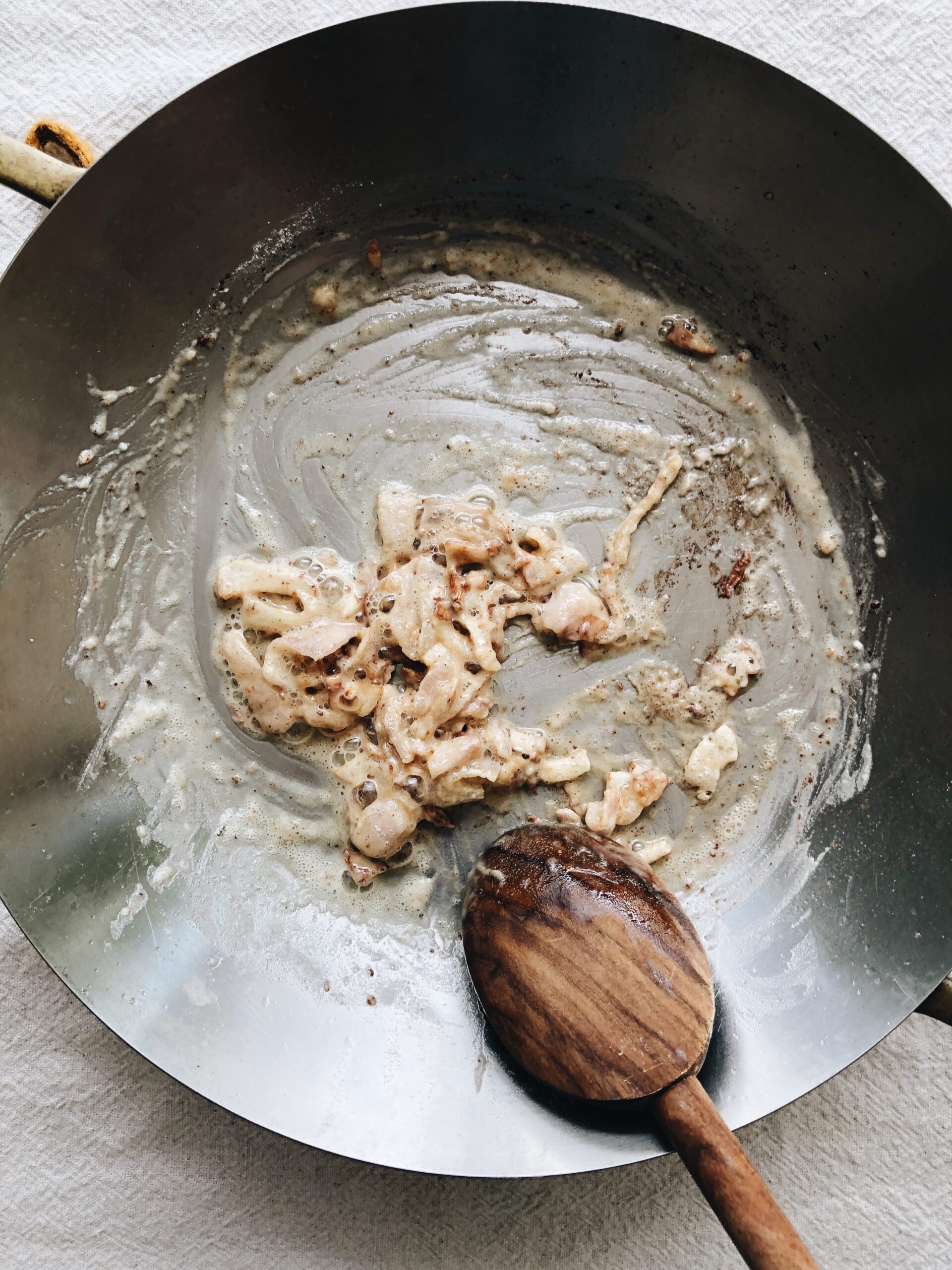 Once it's tender and starting to brown in places, sprinkle the flour on top and just let it bubble into the butter and shallot, long enough to mellow the raw flour taste, about a minute. This will also help thicken our sauce. Basic! But beautiful.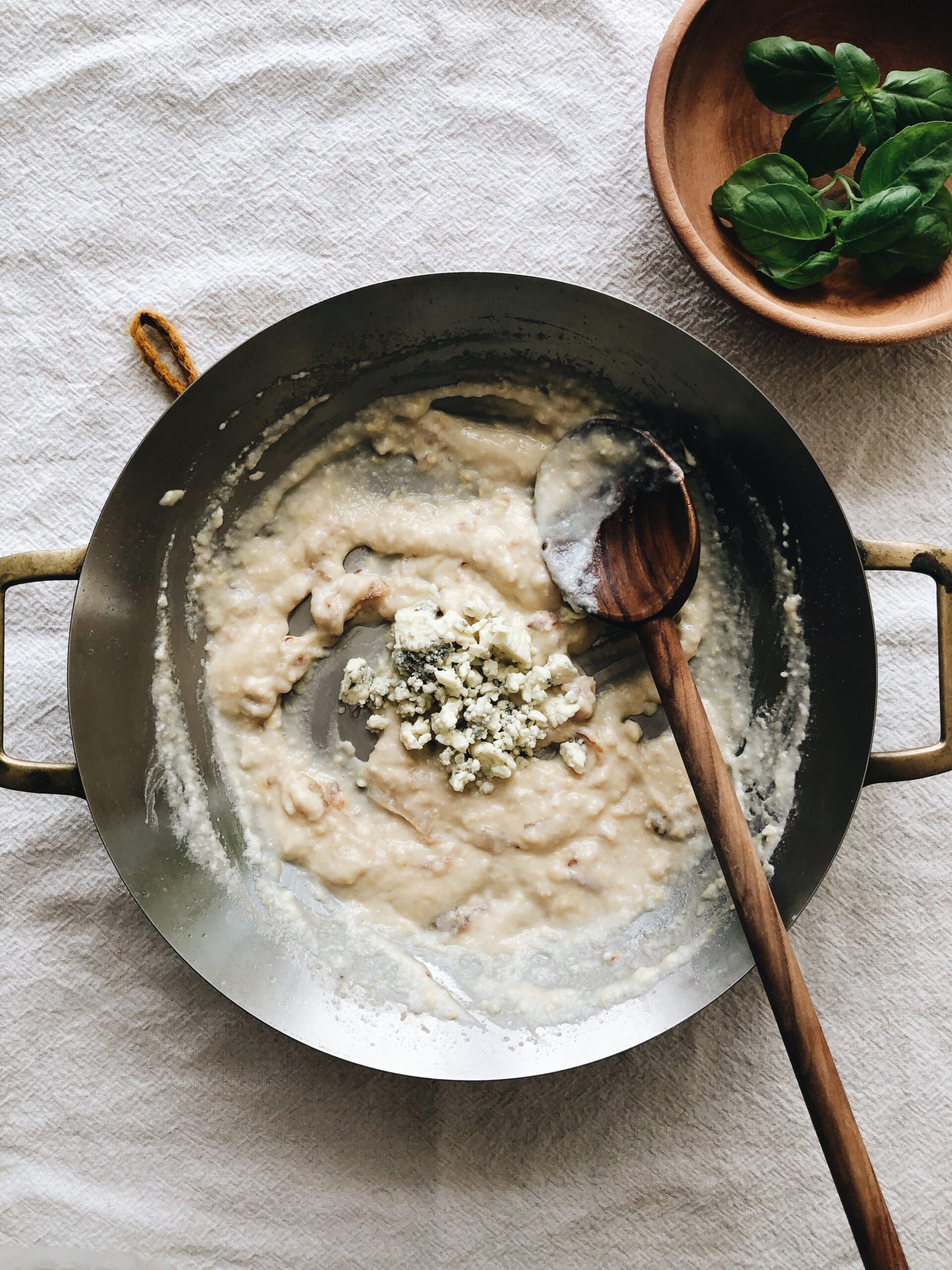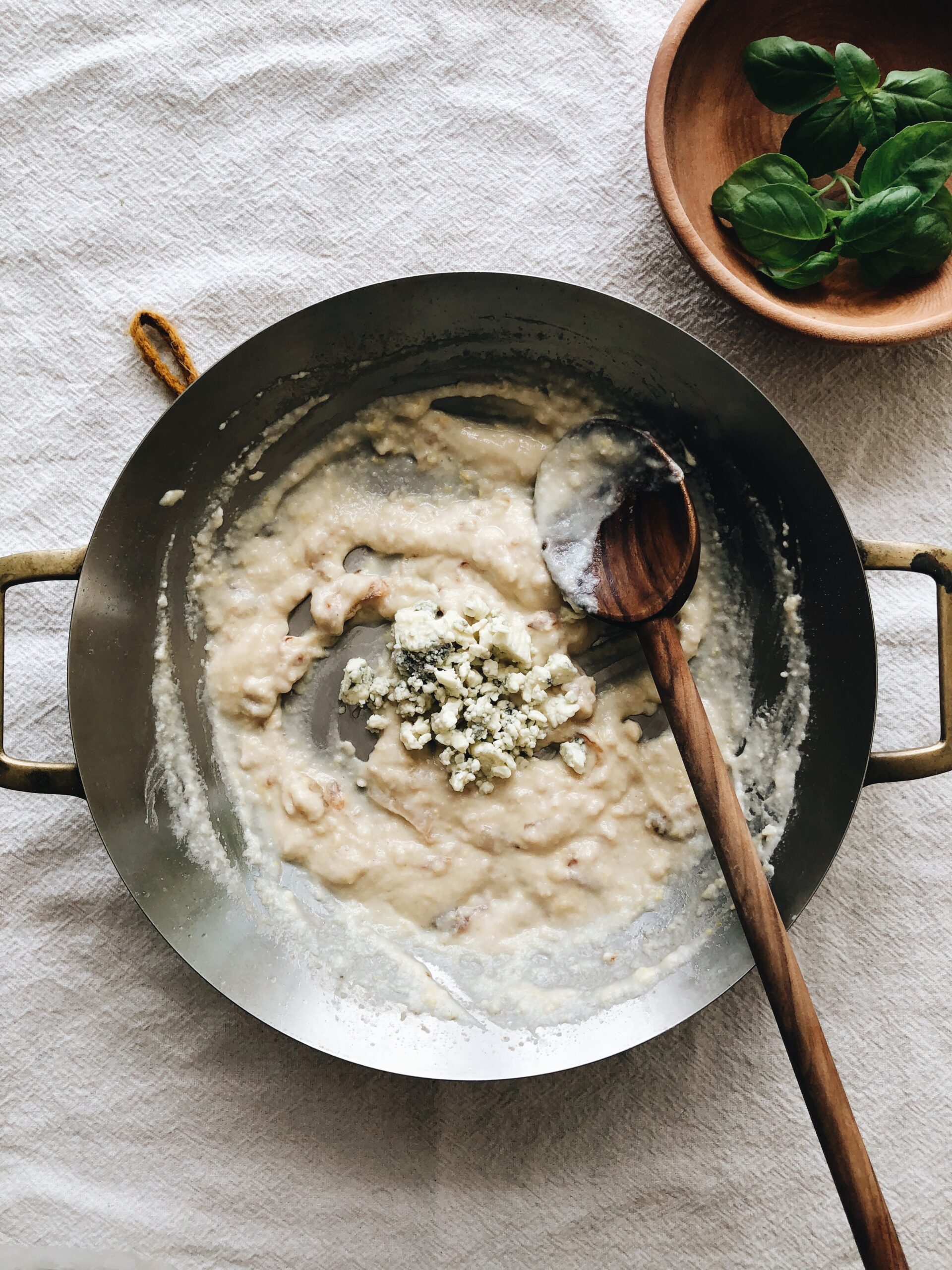 Now, you'll add that milk (like 3/4th of a cup. Nothing major.) to the skillet in a thin stream and stir or whisk it until it's niiiiiice and creamy. And half the lemon! Add that juice in, girl. It may look a tad clumpy now, but in a minute when we put the pasta over, you can definitely add some pasta water to thin and loosen the sauce. This is really all to your liking. You're not sharing it, remember, so make it so good.
Add that Roth Flavor Ups blue cheese crumbles tub! Just one. We'll top with another at the end, but I like to amp up the blue cheese flavor in the sauce and let it sort of melt into everything.
Let me also add, Roth blue cheese? UM, it's creamy, perfectly tangy, not dry at ALL like other pre-crumbled blue cheese you've probably encountered. It's definitely in a luscious league of its own.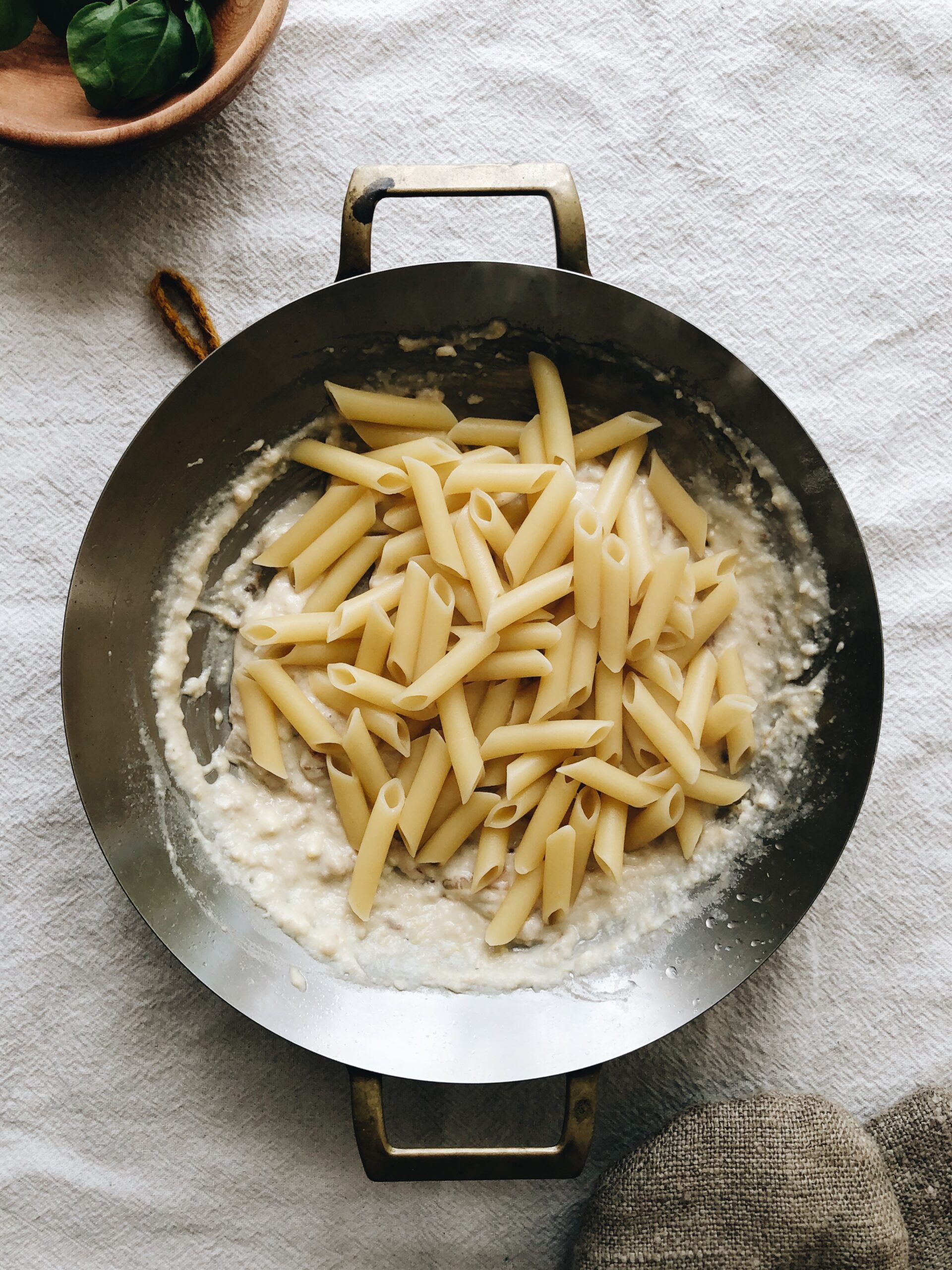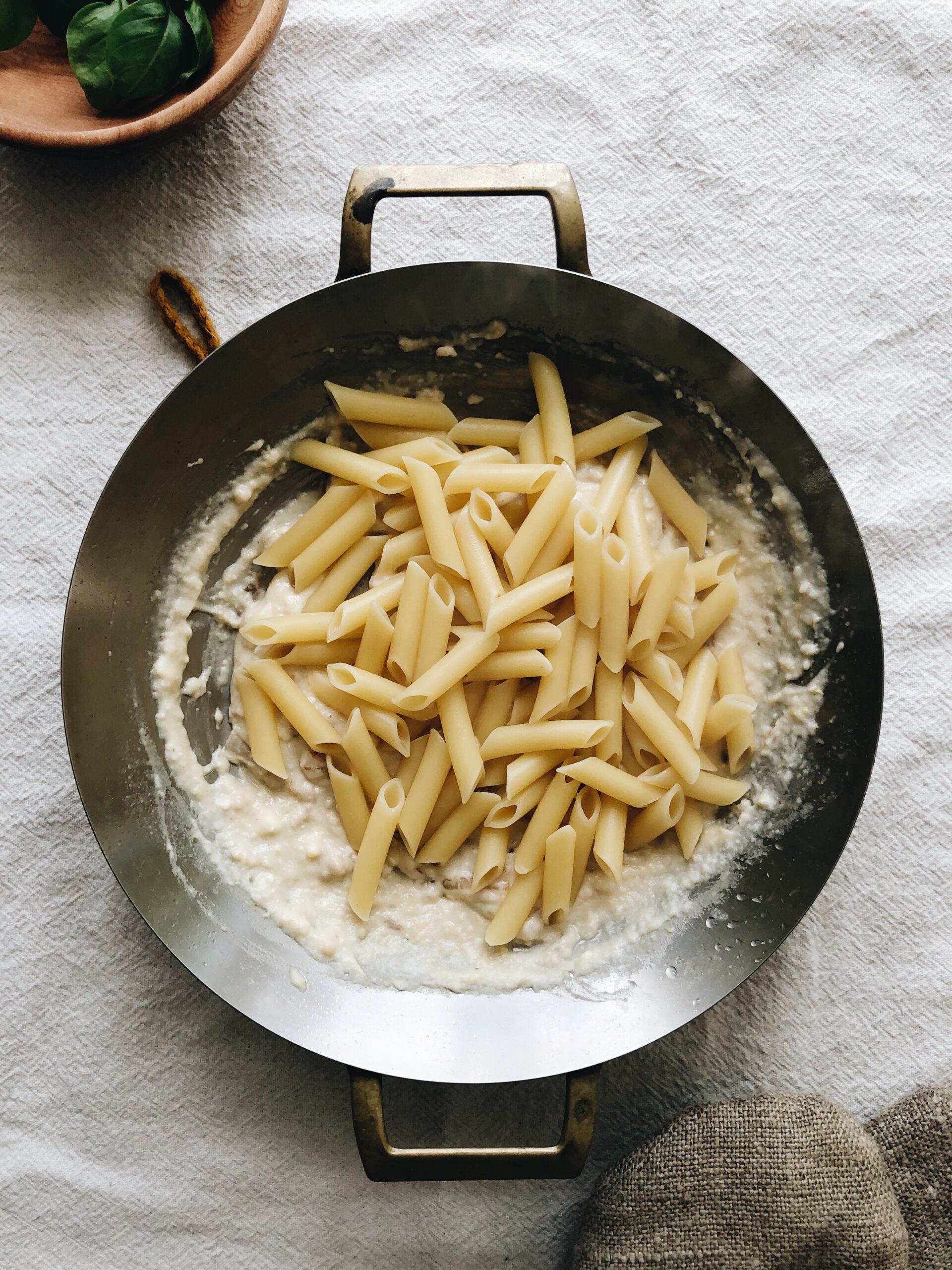 Penne is al dente, drag it on over! Toss toss toss. Sip that wine maybe?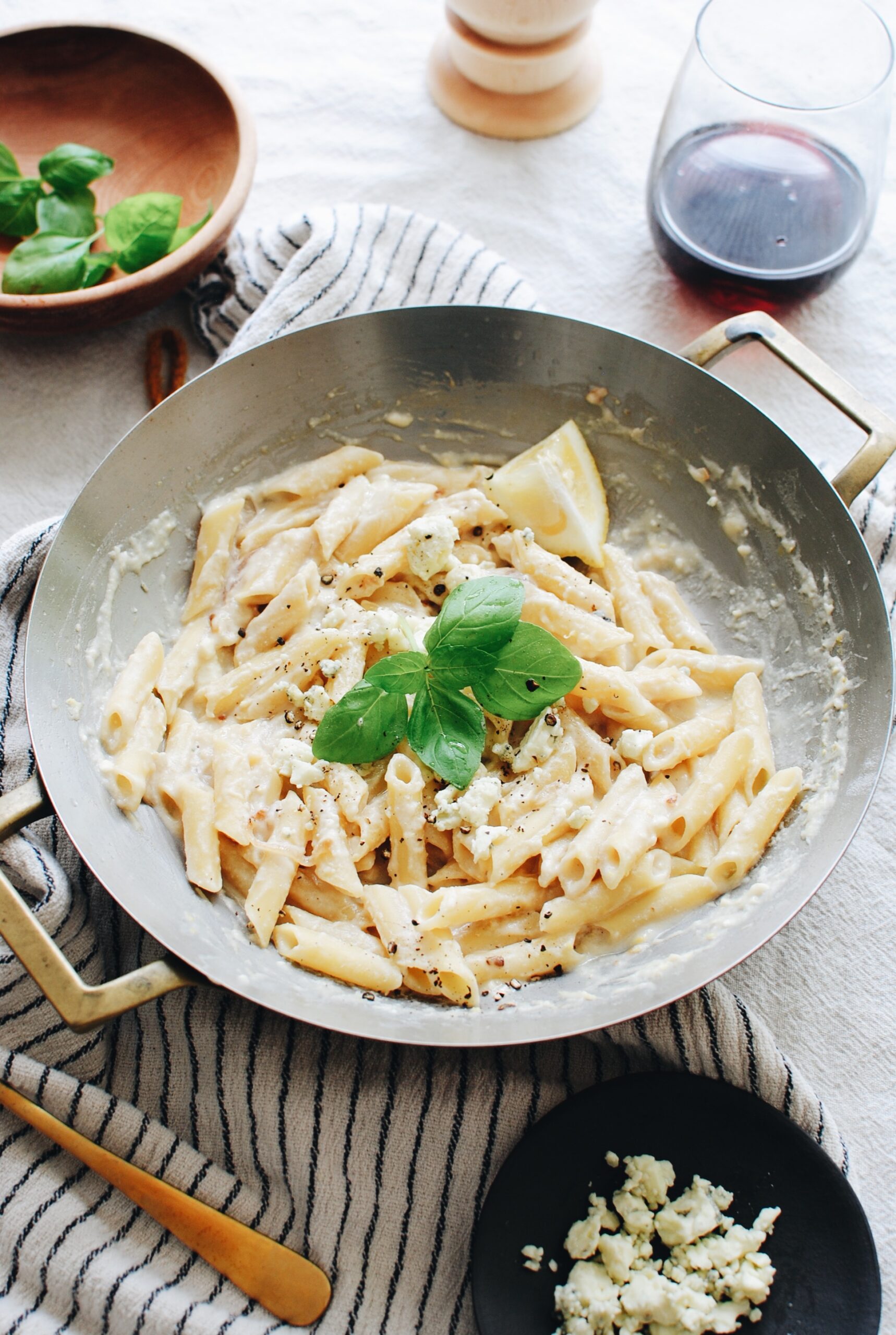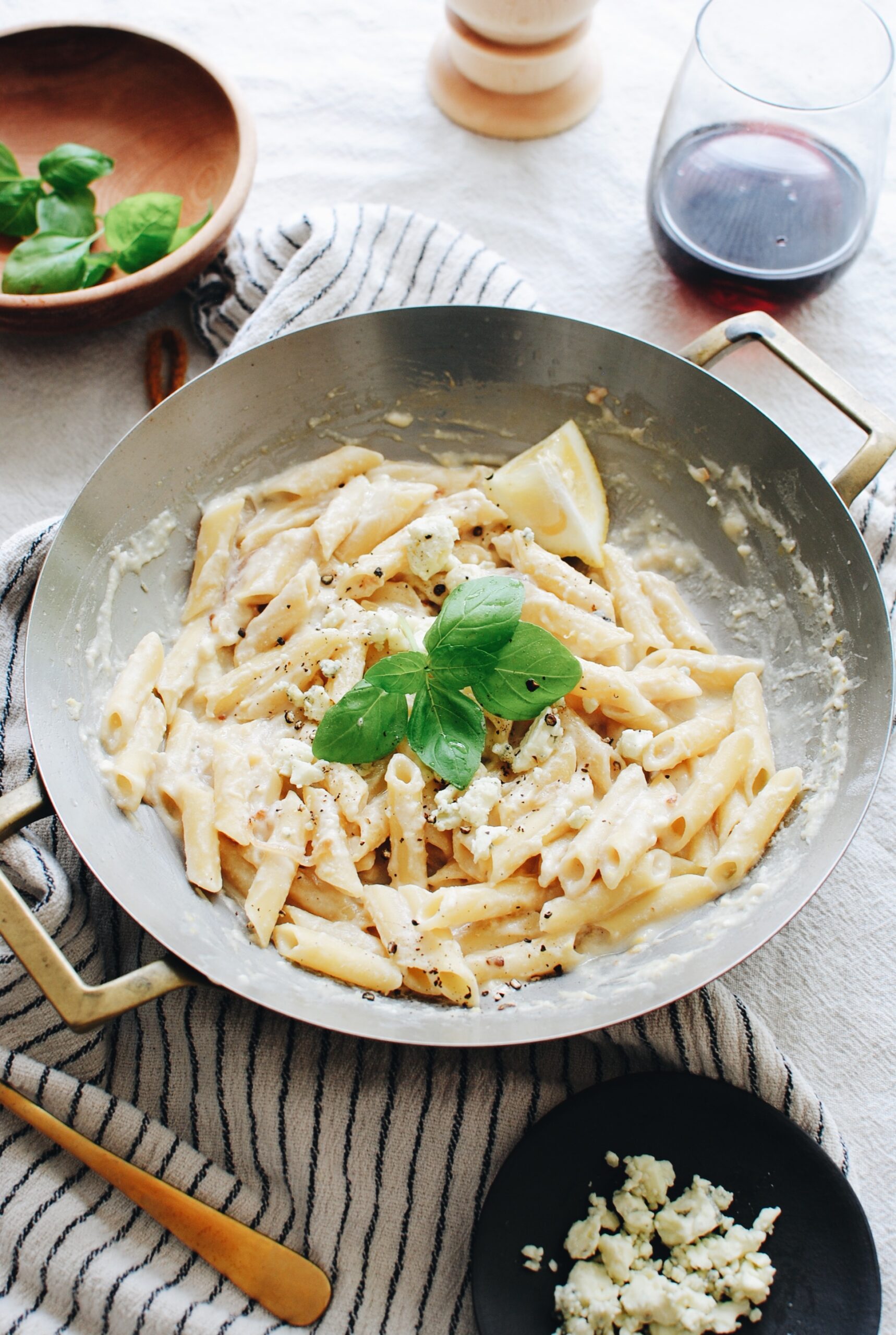 And your fantastic solo-gal dinner is dunzo. (<–that's for you, Sarah and Laura.) Top it with the other blue cheese crumbles tub, some fresh basil leaves, and a grind or two of black pepper. Dinner for one! How can it be! But it is. And it's delicious and all yours and refill that wine maybe?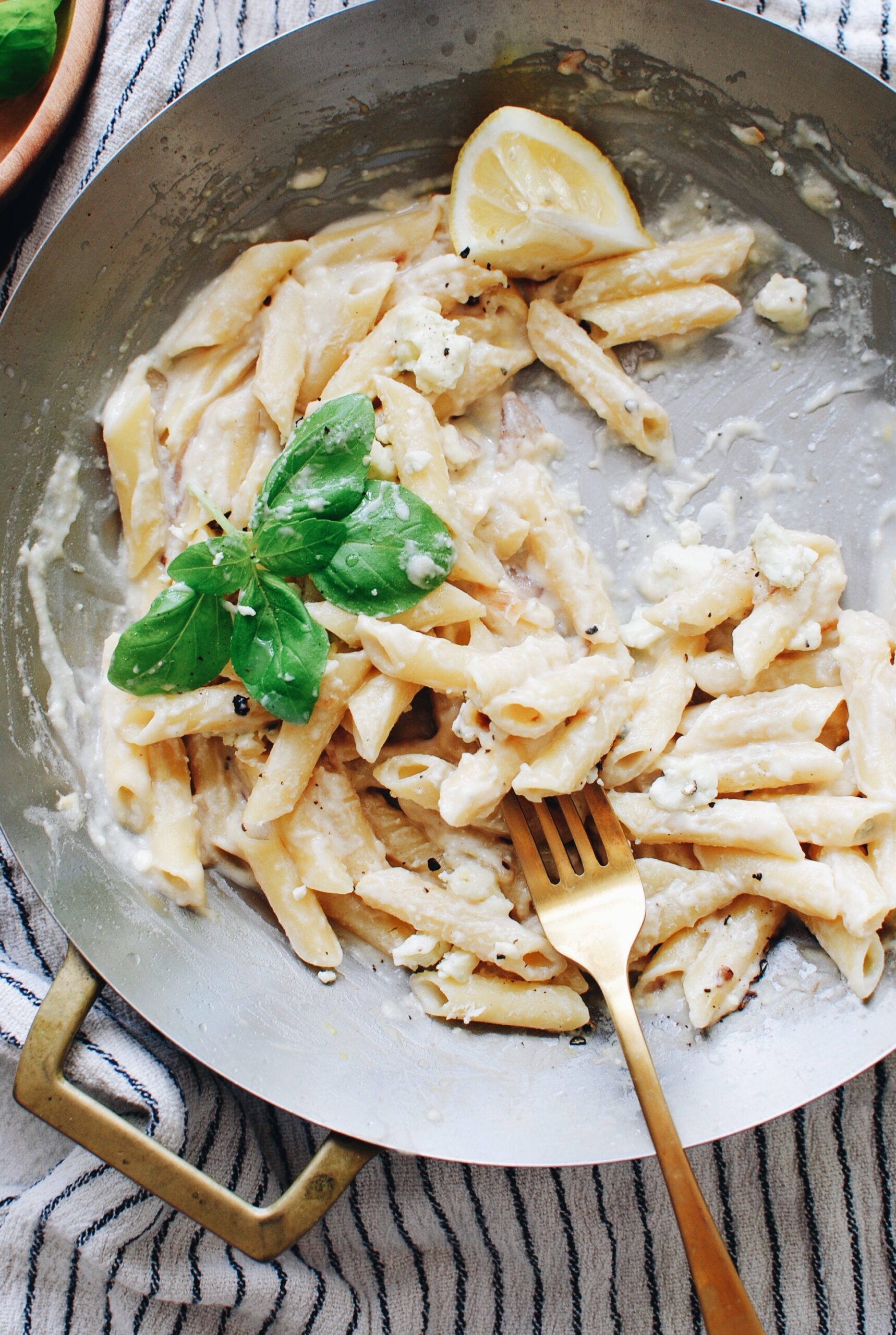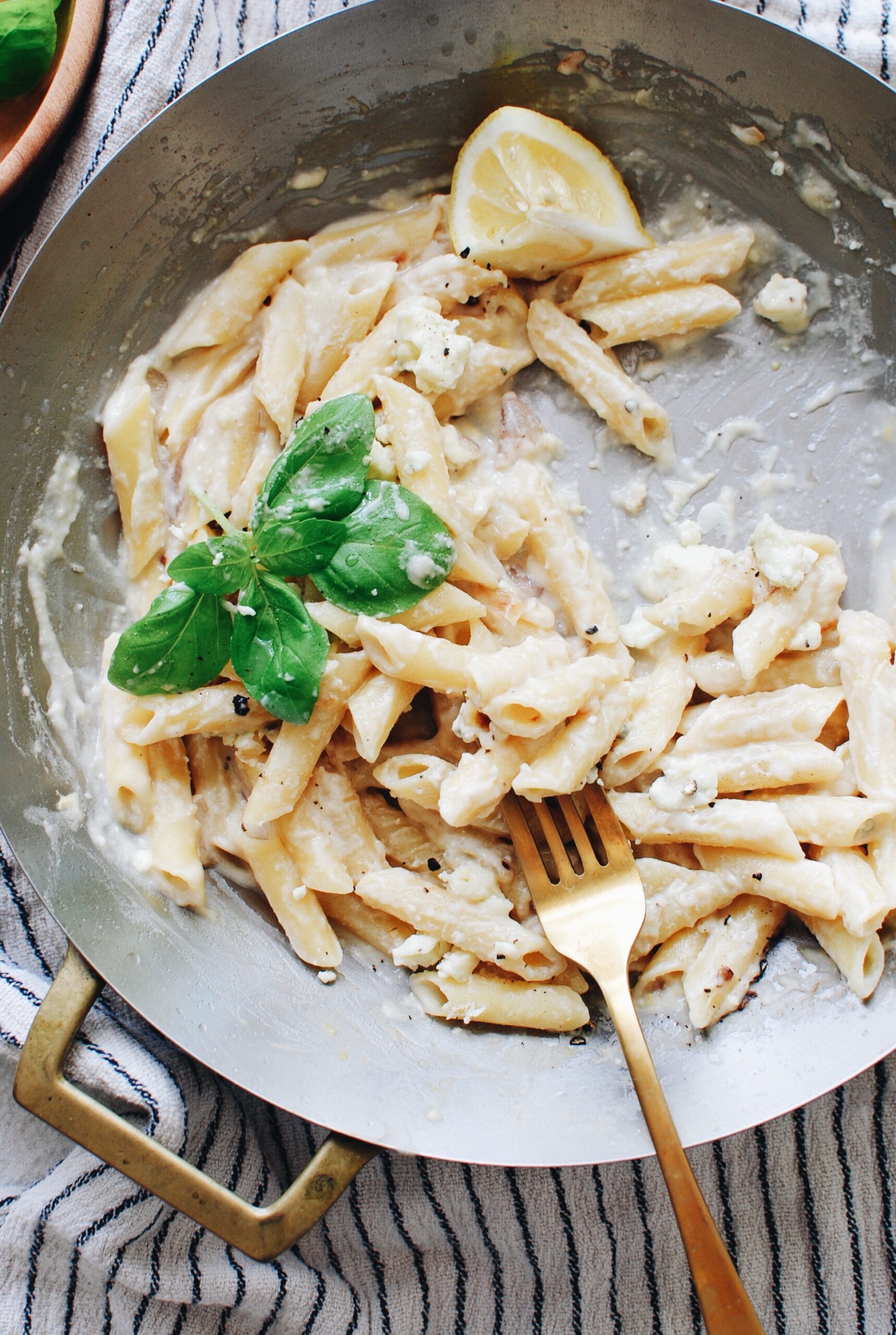 What I love about this is that it's a refined flavor, but stupid simple to make. I know you can get on board with this.
And what I love about the little single serve crumbles, is that you can add them to salads, sandwiches, wraps, top your eggs with them, anything goes. It's just the right amount of blue cheese to amp up all the things. Hashtag obsessed.
And you know what, lady, eat straight from the pan if you want. No one's judging. Out loud, anyway.
And yes yes yes, you can always double or triple this for a crowd, absolutely!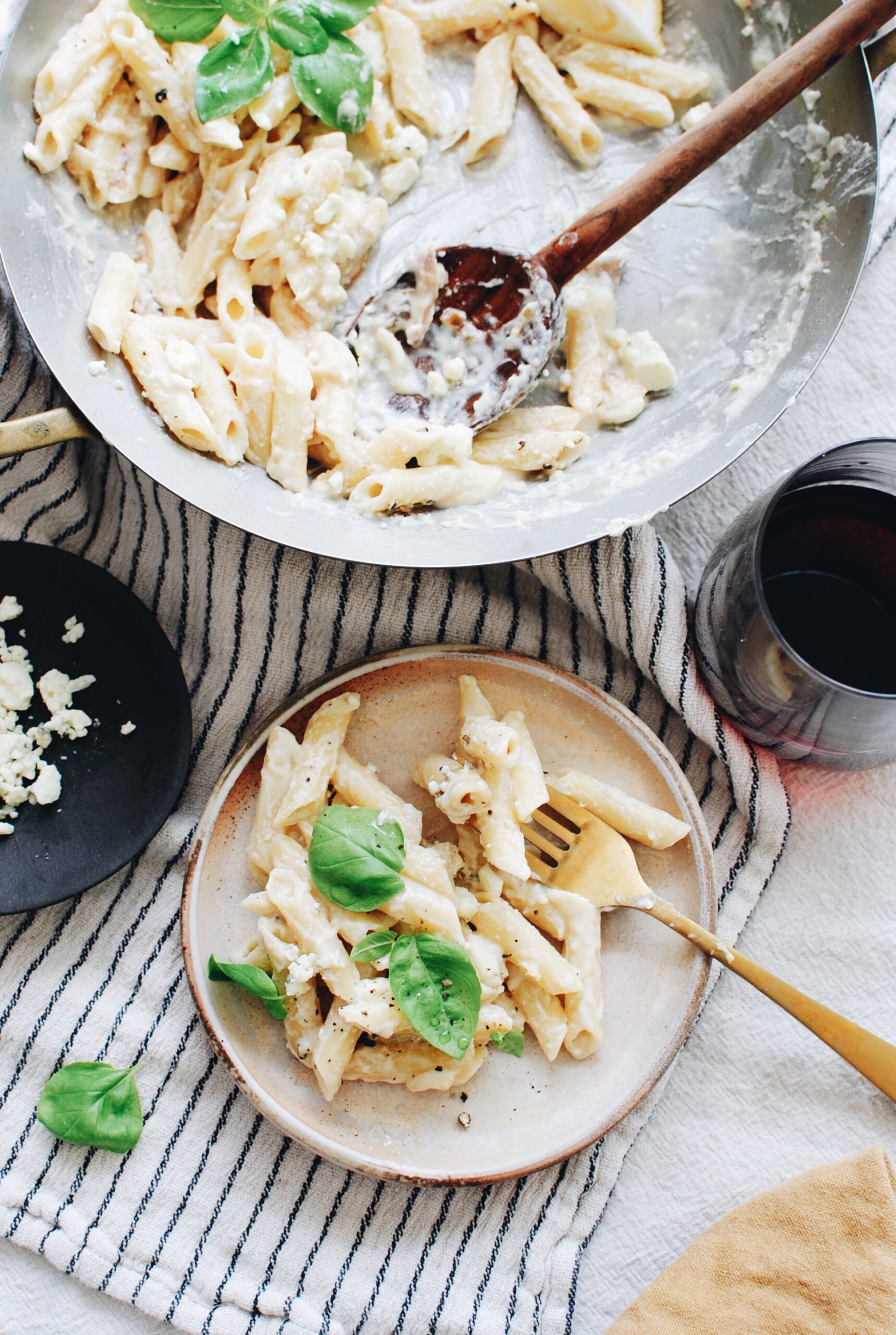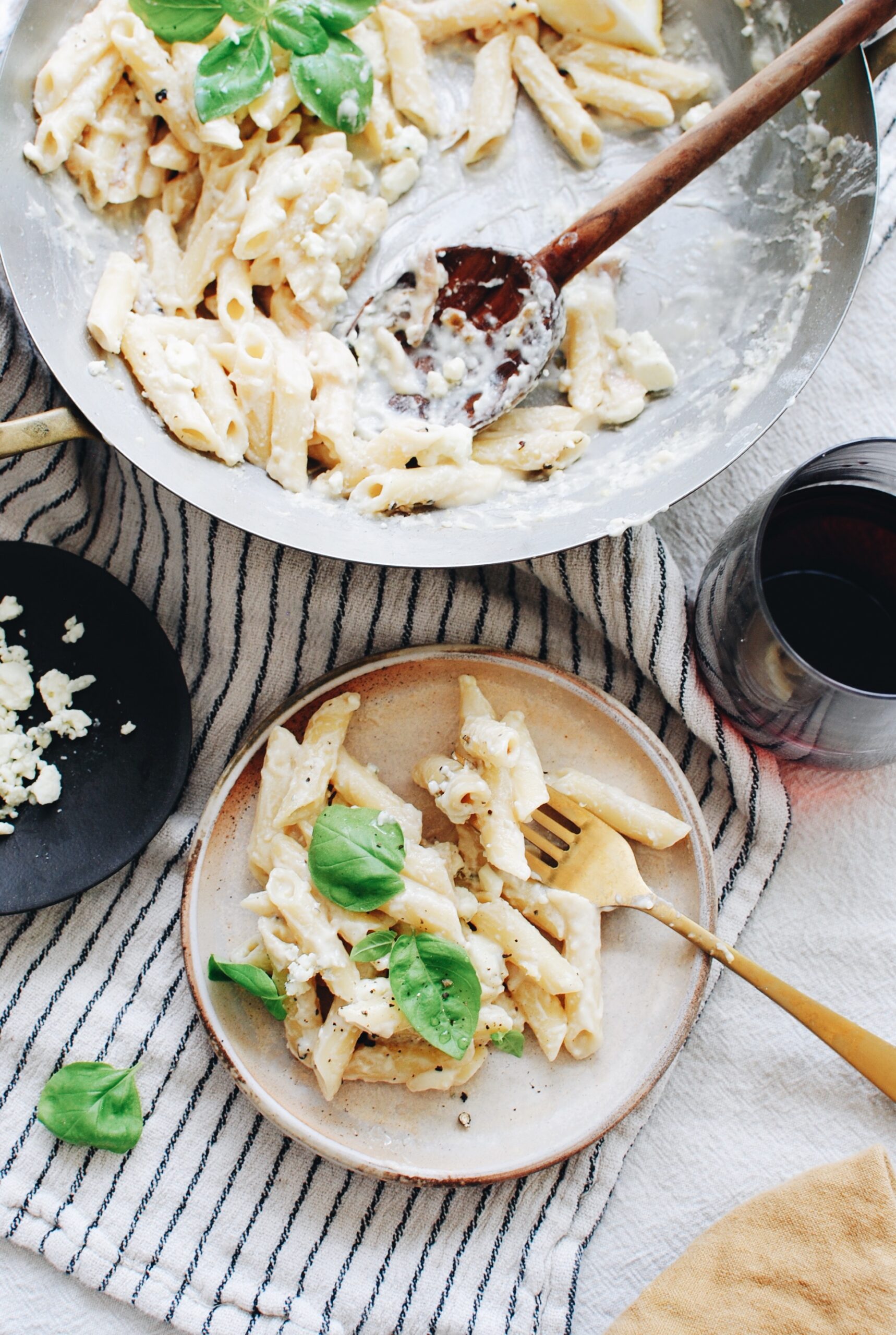 But let's just keep this one for ourselves, 'mkay?
Creamy Penne Pasta with Shallots and Blue Cheese – For One!
Ingredients
1 cup penne paasta
1 small shallot, thinly sliced
1 Tbs. all purpose flour
1 lemon
1 Tbs. butter
2 (1 oz) Roth Flavor Ups blue cheese crumbles
3/4 cup milk
Basil, for garnish
Coarse salt
Freshly ground pepper
Instructions
Melt the butter in a small to medium skillet over medium heat. Add the sliced shallot with a pinch of salt, and sauté until the shallots are tender and browning in places, about five minutes. Sprinkle the flour over the shallots and sauté another 30 seconds, just so the flour flavor mellows. Then add the milk, juice from half the lemon and another small pinch of salt; stir or whisk the sauce until it thickens and becomes creamy. Add one of the Flavor Ups blue cheese crumble packages into the sauce and stir until the cheese melts evenly into it.
In the meantime, bring a small pot of salted water to a boil. Cook the penne until it reaches al dente, according to package directions. Using a sieve, transfer the pasta to the sauce (with any residual pasta water) and stir the pasta into the sauce.
Serve it to YOURSELF with the remaining blue cheese crumble package, along with fresh basil and a grind or two of black pepper. Oh! And the extra lemon, because that acid at the end is gawgeous.
Serves 1! (Or two, if you're into tiny portions.)
7.8.1.2
402
https://bevcooks.com/2020/02/creamy-penne-pasta-with-shallots-and-blue-cheese-for-one/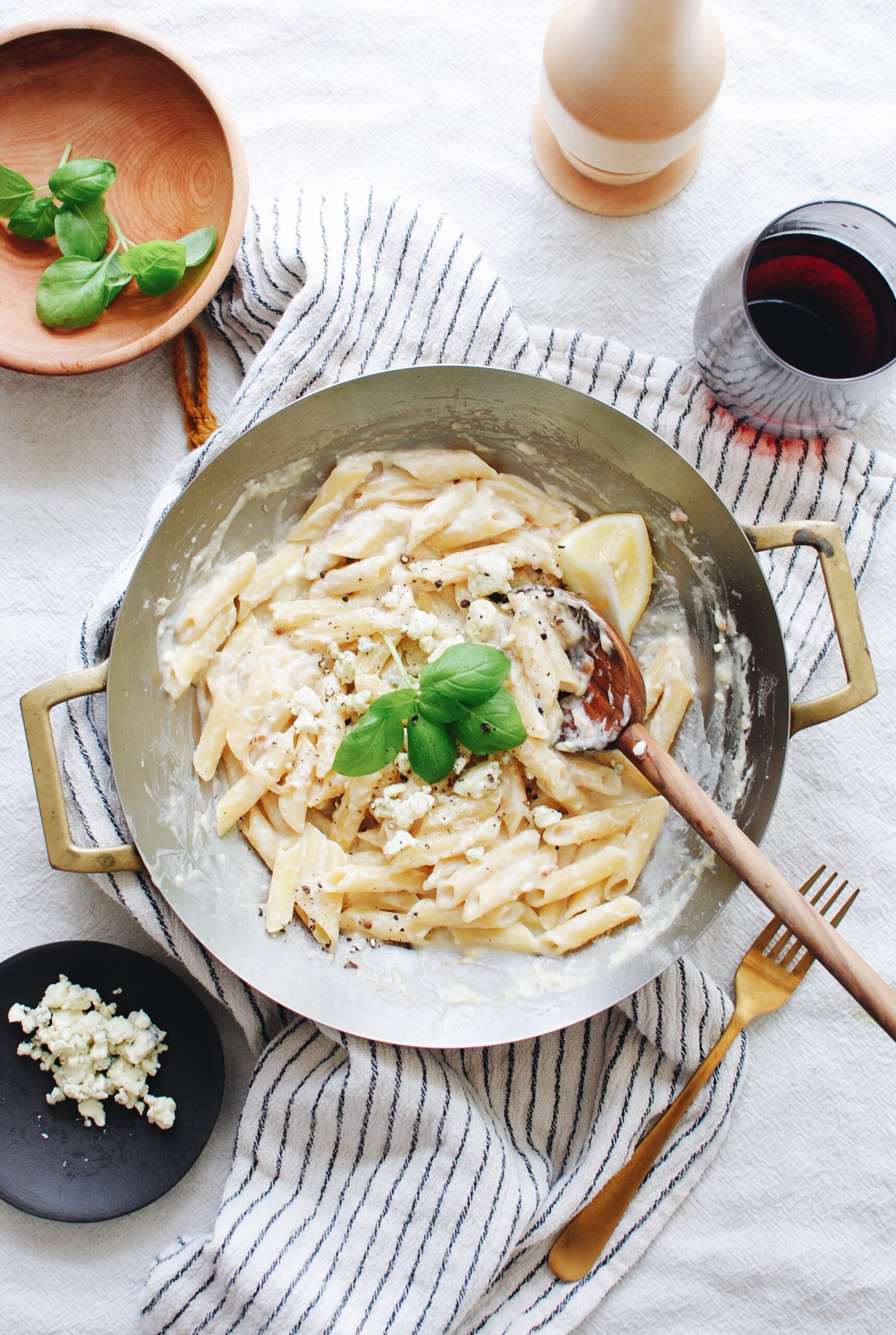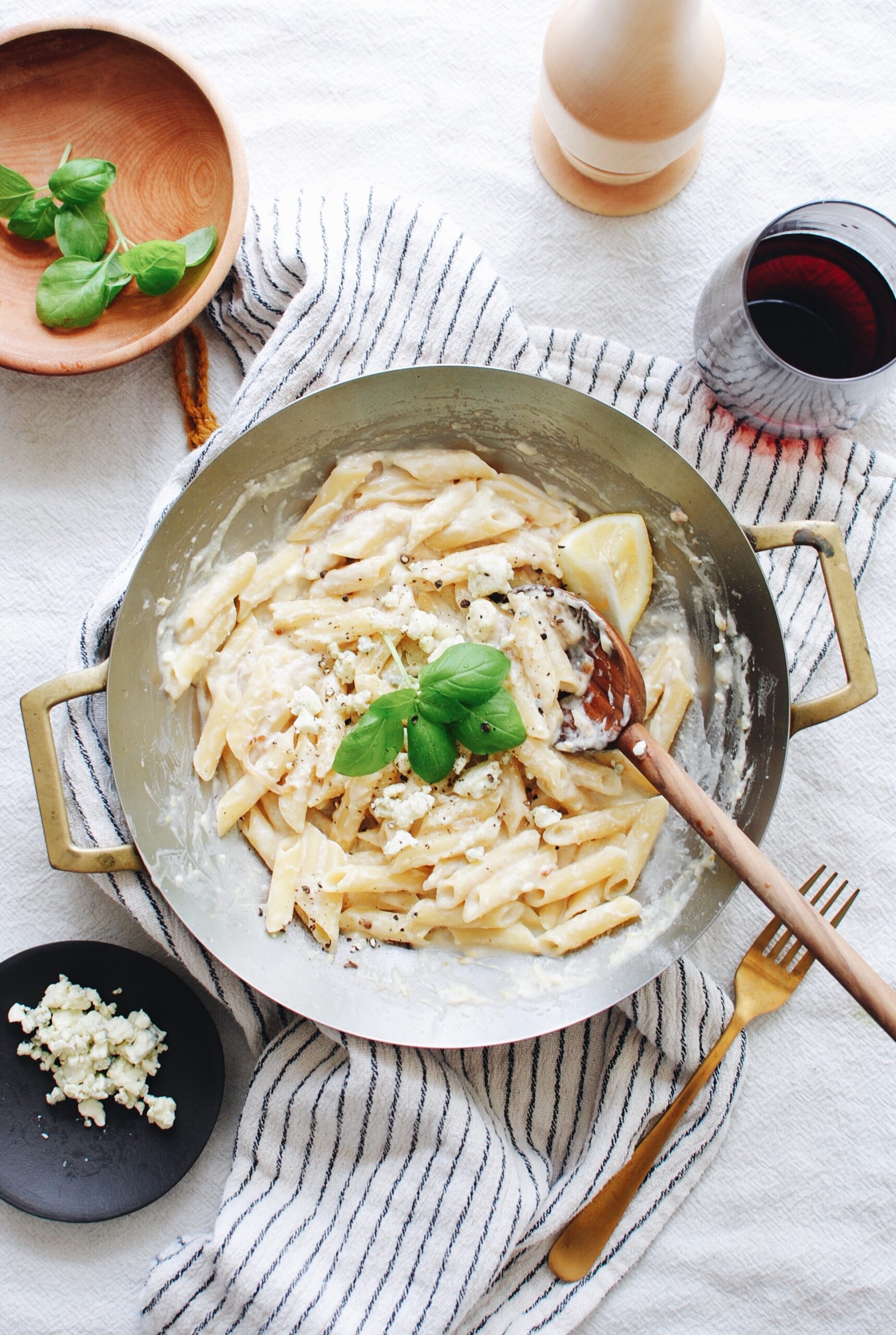 I plan on hibernating in that until early April.
(This post is definitely in partnership with my lover, Roth Cheese. But all ramblings and cheese crumble inhalings are totally my own. We coo?)