I went to Wisconsin! And ate so much cheese. And have so much to show you. And I ate so much cheese. Also, there was cheese.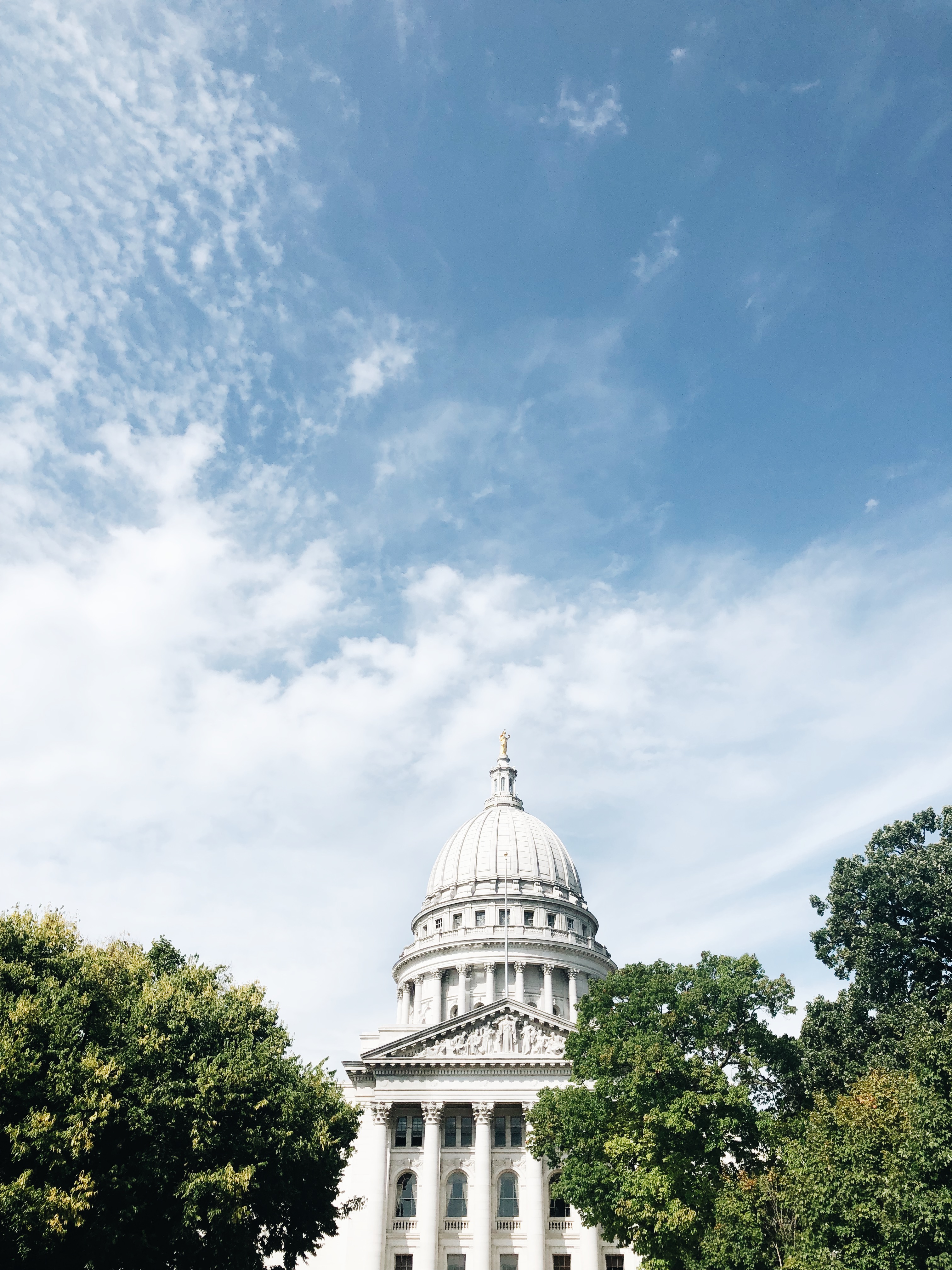 First of all, Madison is just a little treat and a half. This is the second time I've been to visit my lover Roth Cheese, and much like last time, I spent the whole first afternoon meandering the Capital square and State Street, popping into all the hippie shops and inhaling oils and incense and bohemian ponchos.
(probably maybe definitely bought one.)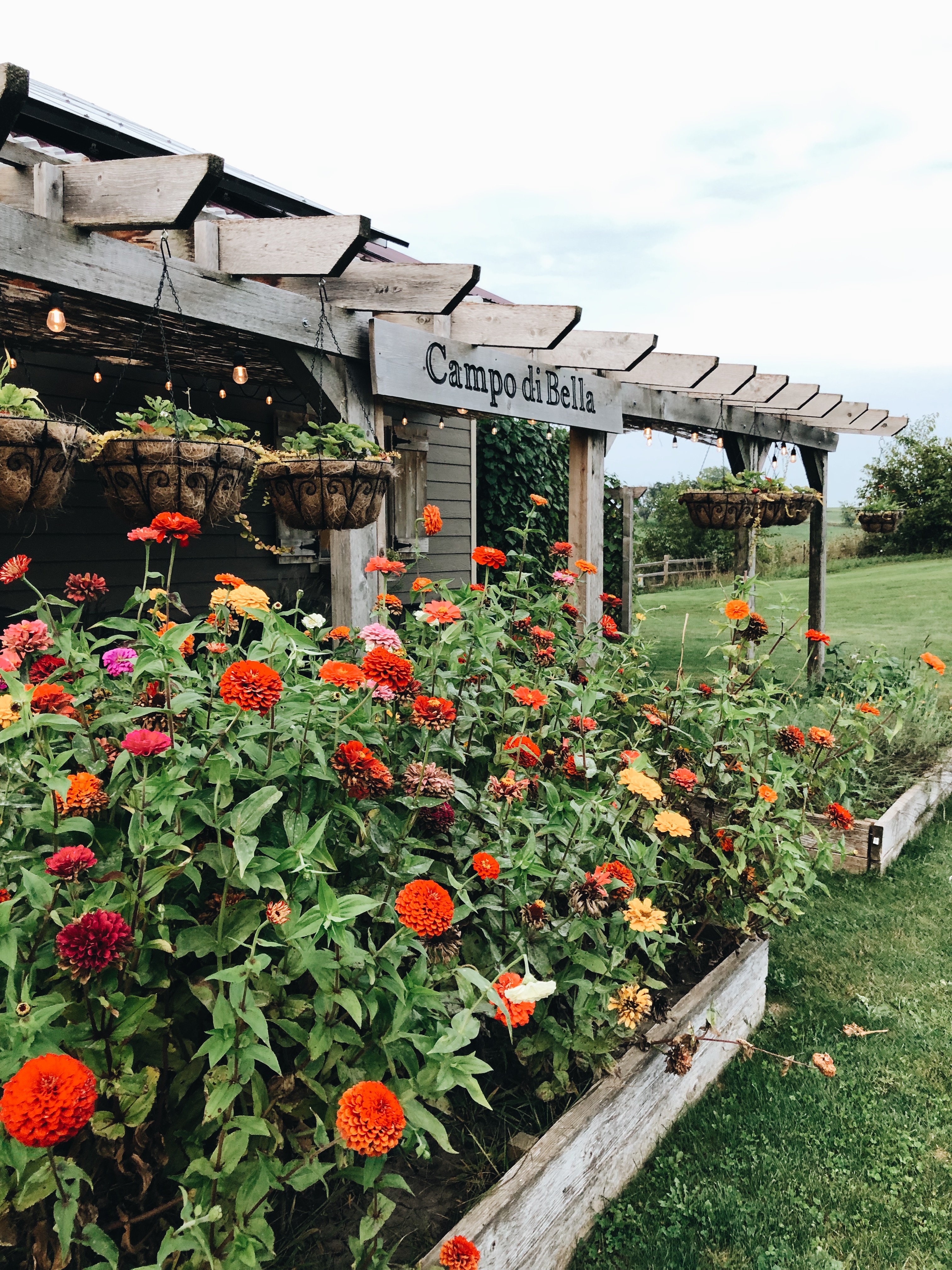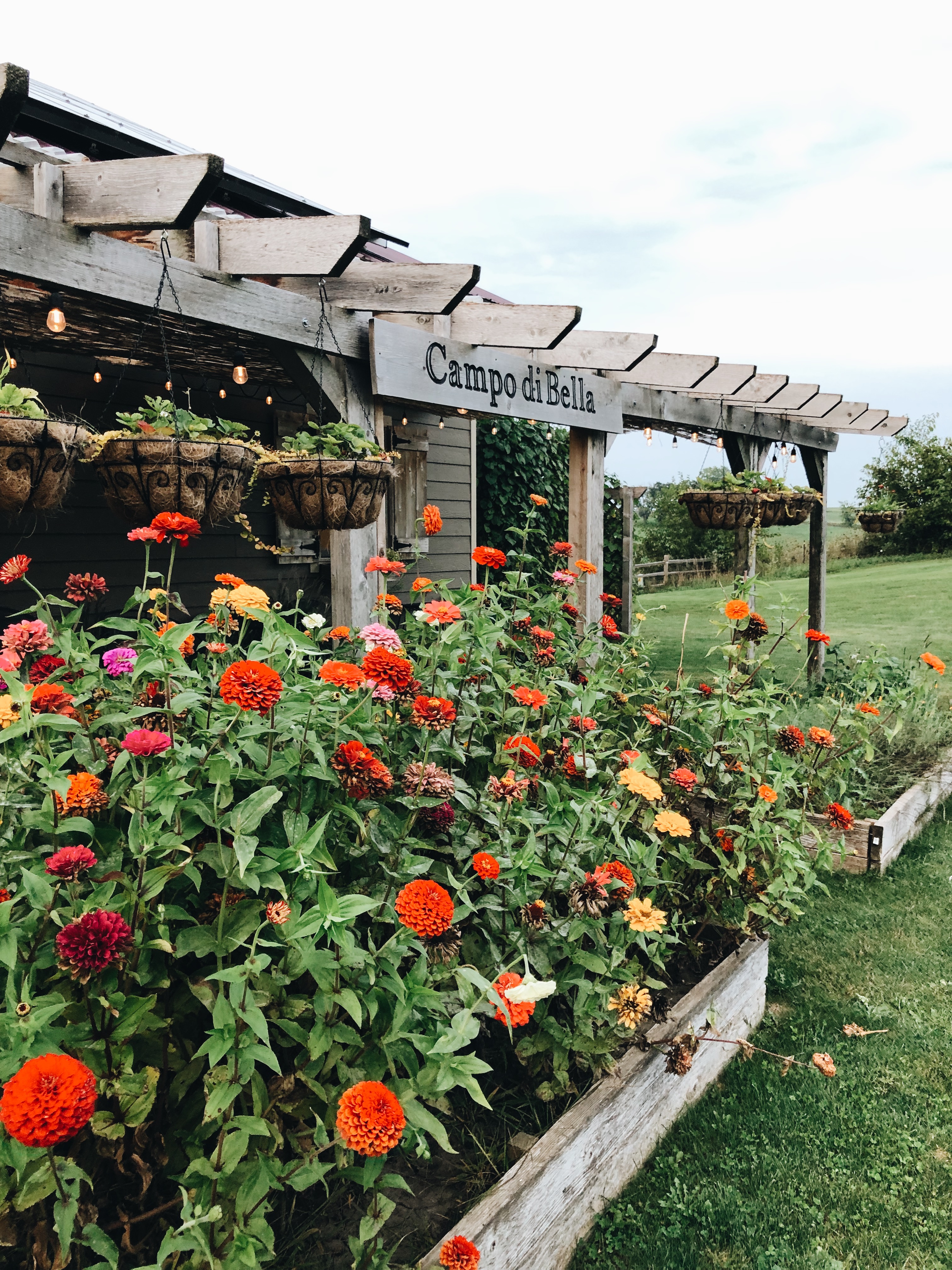 But this time around the tour was a bit different! So obviously I'm going to show you snippets. And by show you snippets I mean blab for the next 45 minutes to an hour. We coo?
The first night after a quick beer/wine/cheese pairing happy hour on a chic outdoor terrace at the hotel, we took a PARTY BUS (and I'm not joking, like neon lights lining the inside of a huge limo bus with a bar in the back. I was dying.) to a quaint Italian farm dinner about 30 minutes away.
But first! On the bus we went over some interesting cheese facts and current trends. QUIZ – what cheese is suffering these days? Answer: Swiss! Weird, huh? That's all.
The dinner was PHENOM. The recipe that I'm actually sharing with you today is completely inspired by what we ate that night. But I'll get back to that.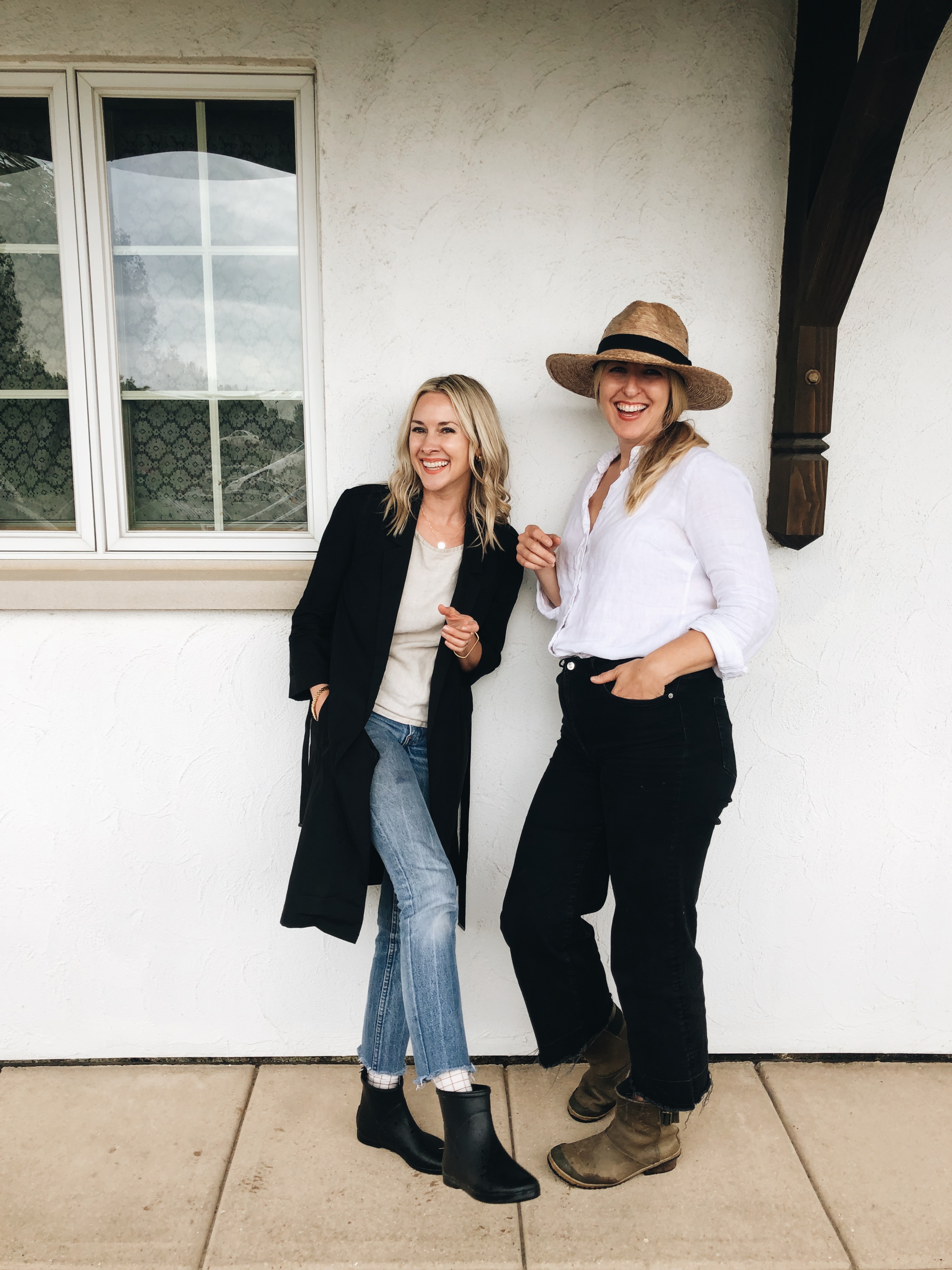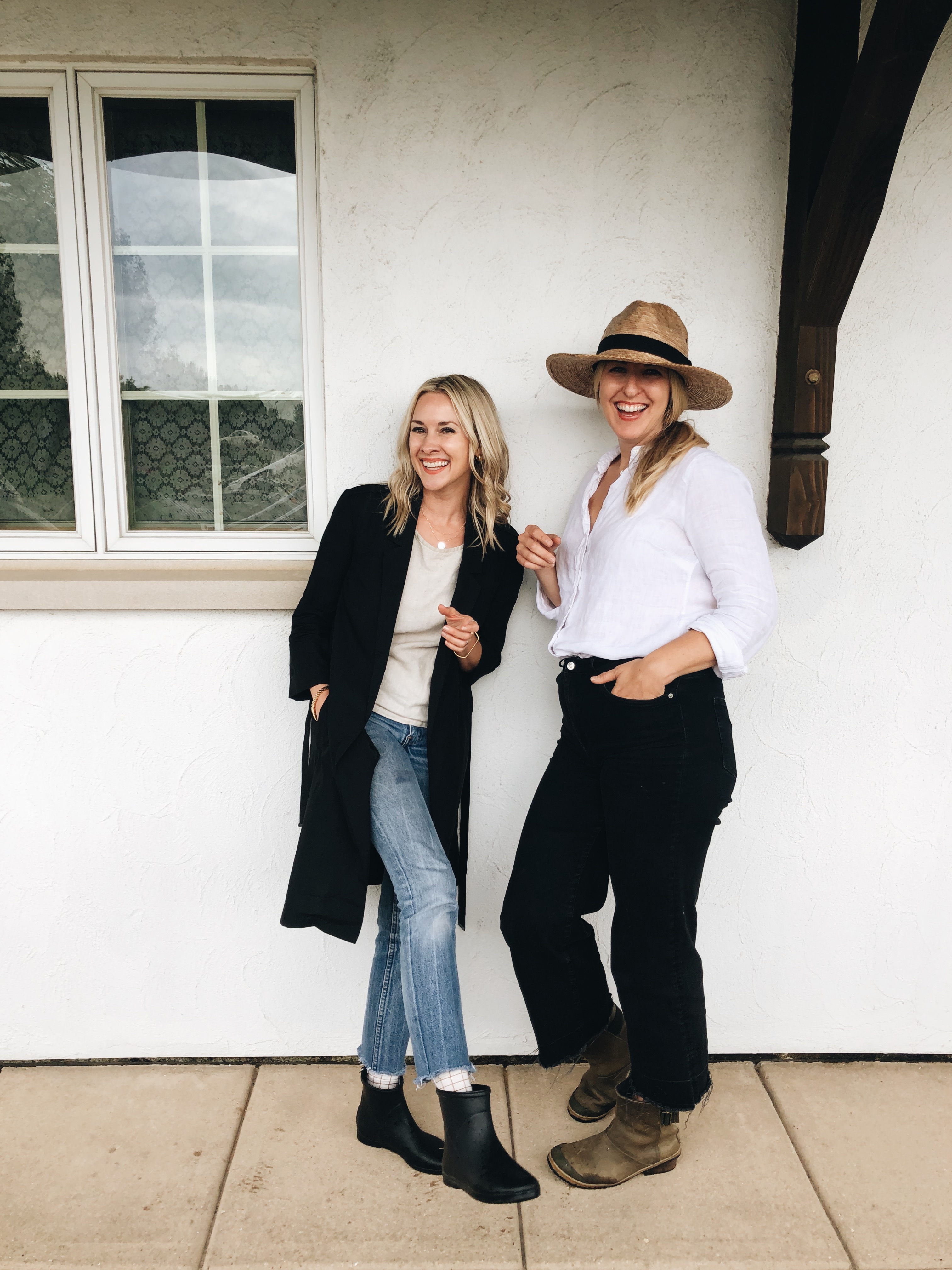 I made a new bestie! This is Sarah Copeland. But you already know her. Everyone does. We both share a love for white oxfords and the '90s. Match made in heaven.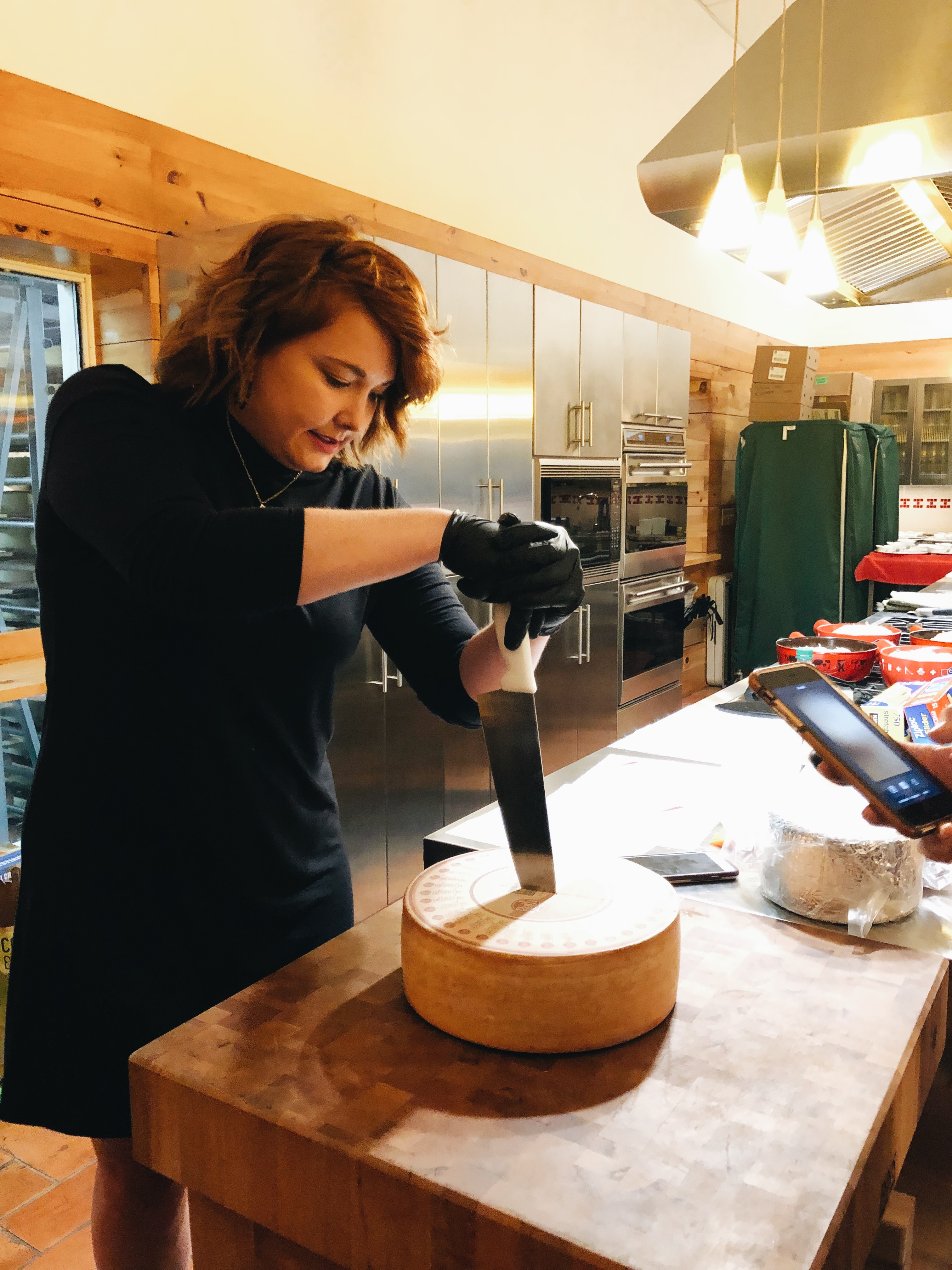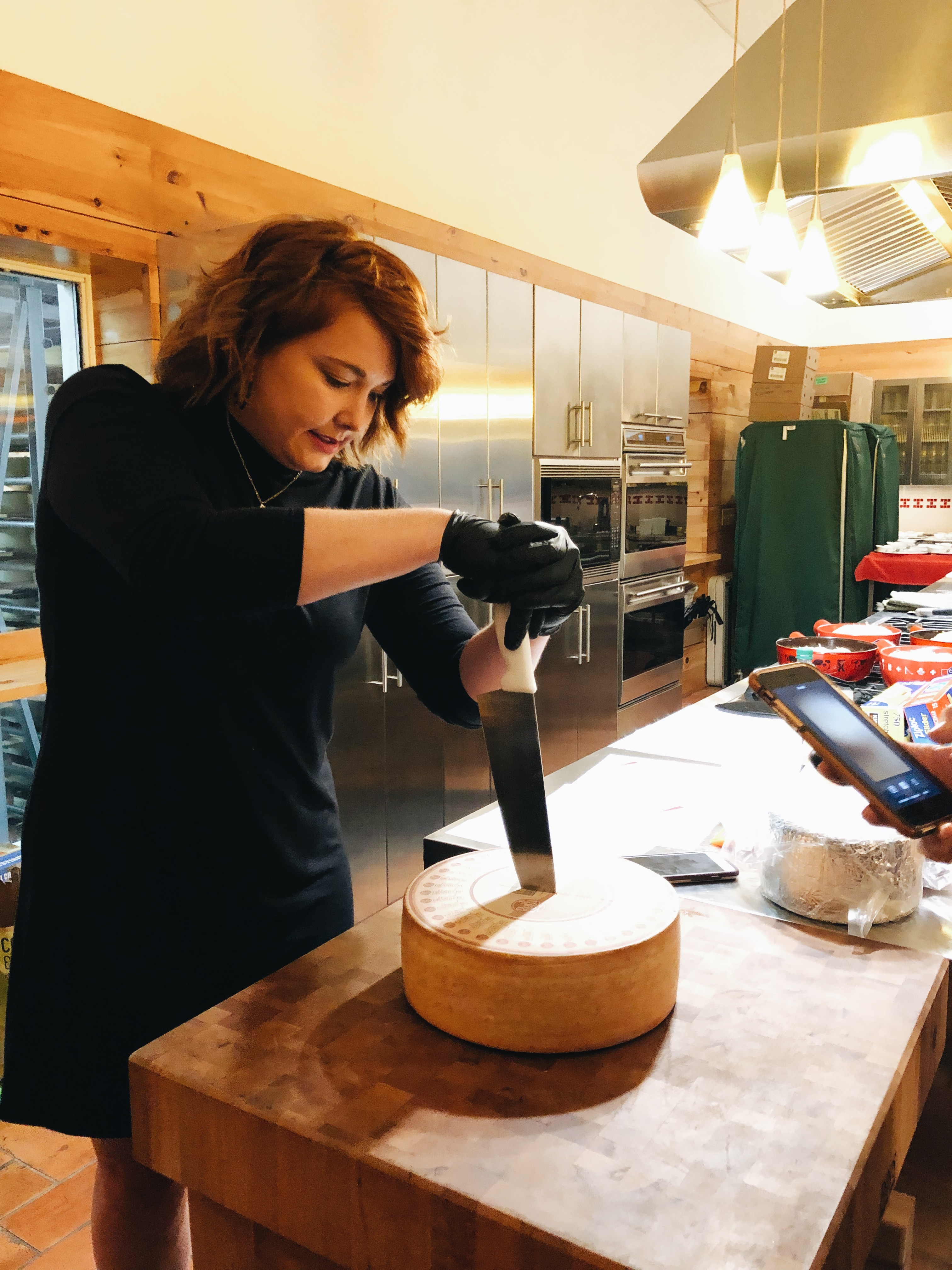 At the Roth factory we learned how to get super Dextery when cutting our cheese. There's actually a correct way, you guys. And different knives for different cheeses. But I know you already know this. I didn't!
We had to stand way back. I didn't.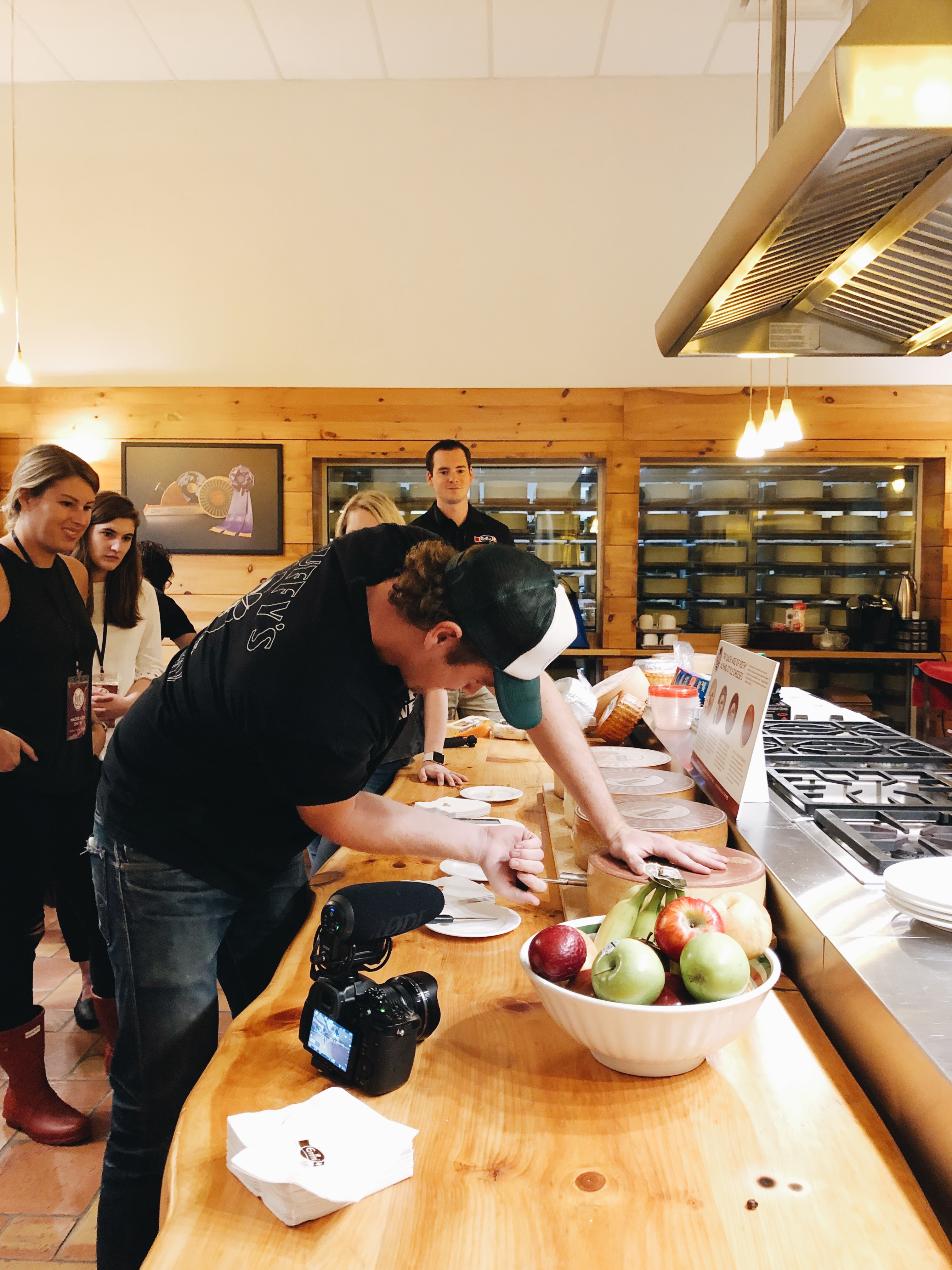 Then we learned how to test the cheese at different months/stages. You stick a long tube thingy in there and push it all the way to the center, then yank it out with all your might. It was intense!
I didn't try it because I forgot to do my arm exercises that morning.
Of course each cheese has a different flavor based on how long it's aged. Just like humans. Wait, no.
Never mind.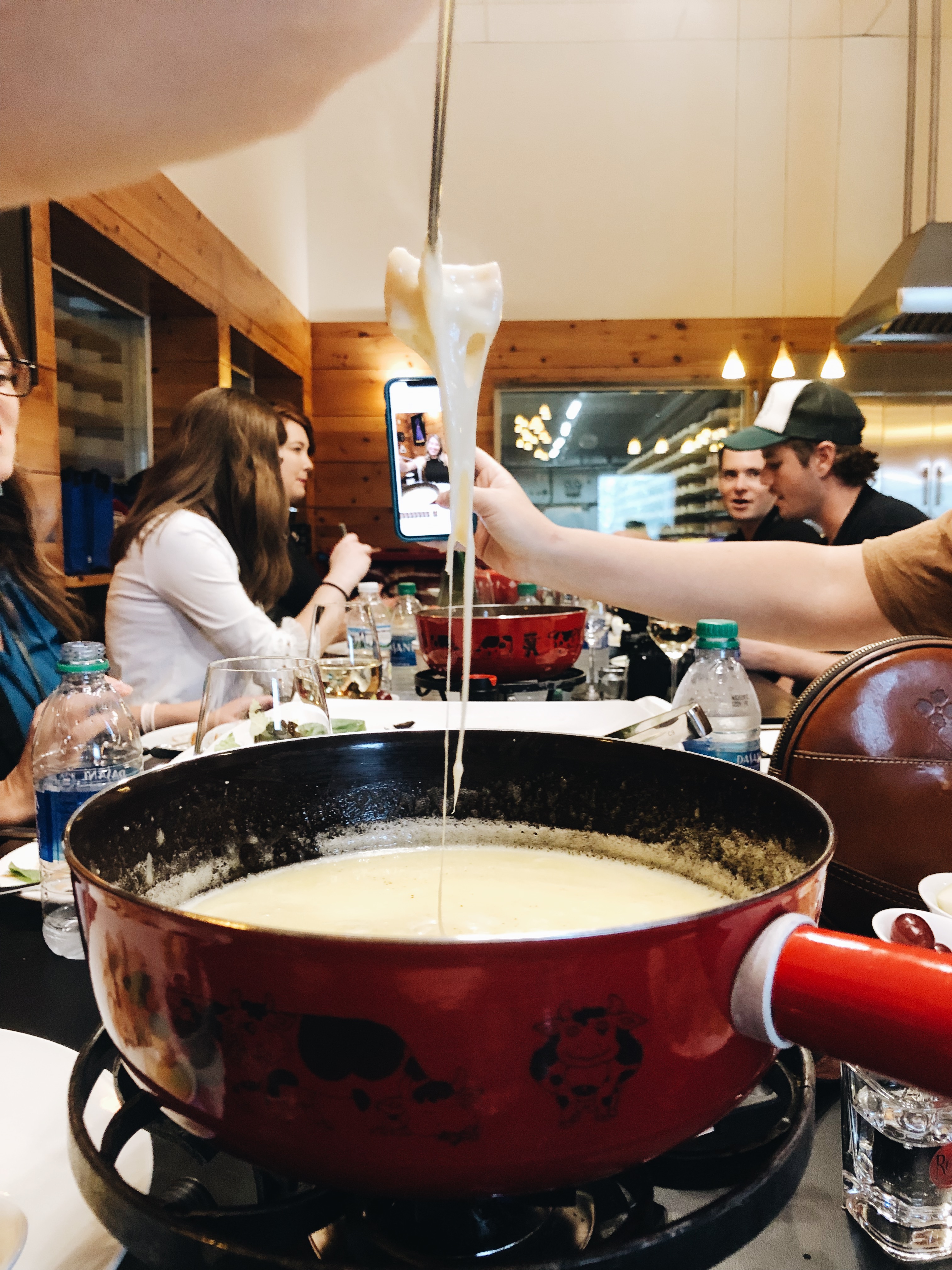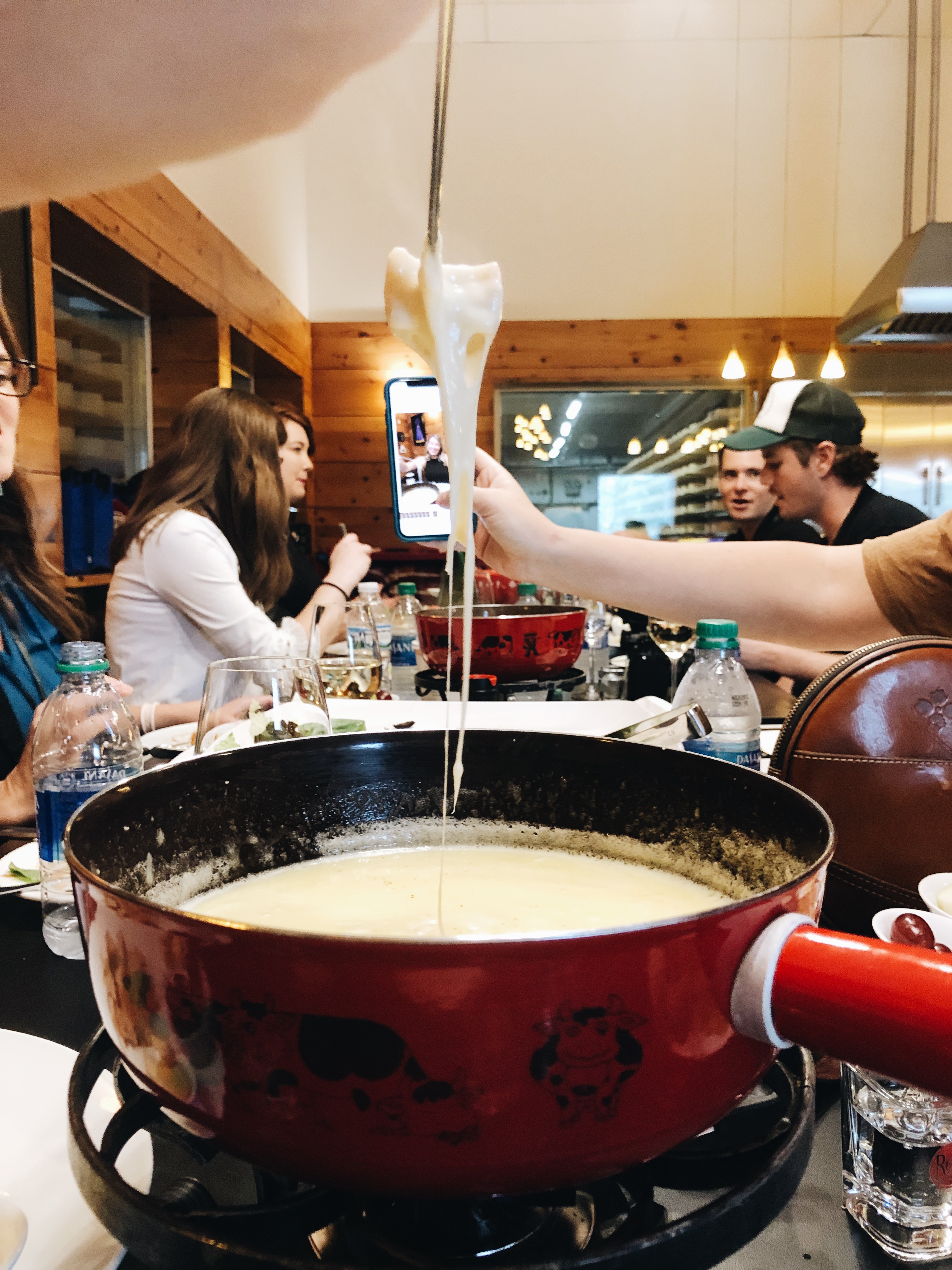 At Roth they always treat their guests with their legendary fondue lunch! And it's just absolutely beyond. Winey and almost soupy at first, then stringy and cheesy and smooth, then in your face forevermore. I love it so much I can't stand it.
See that Kirsch shot to the right? I didn't take it because I'm a sissy. That's all.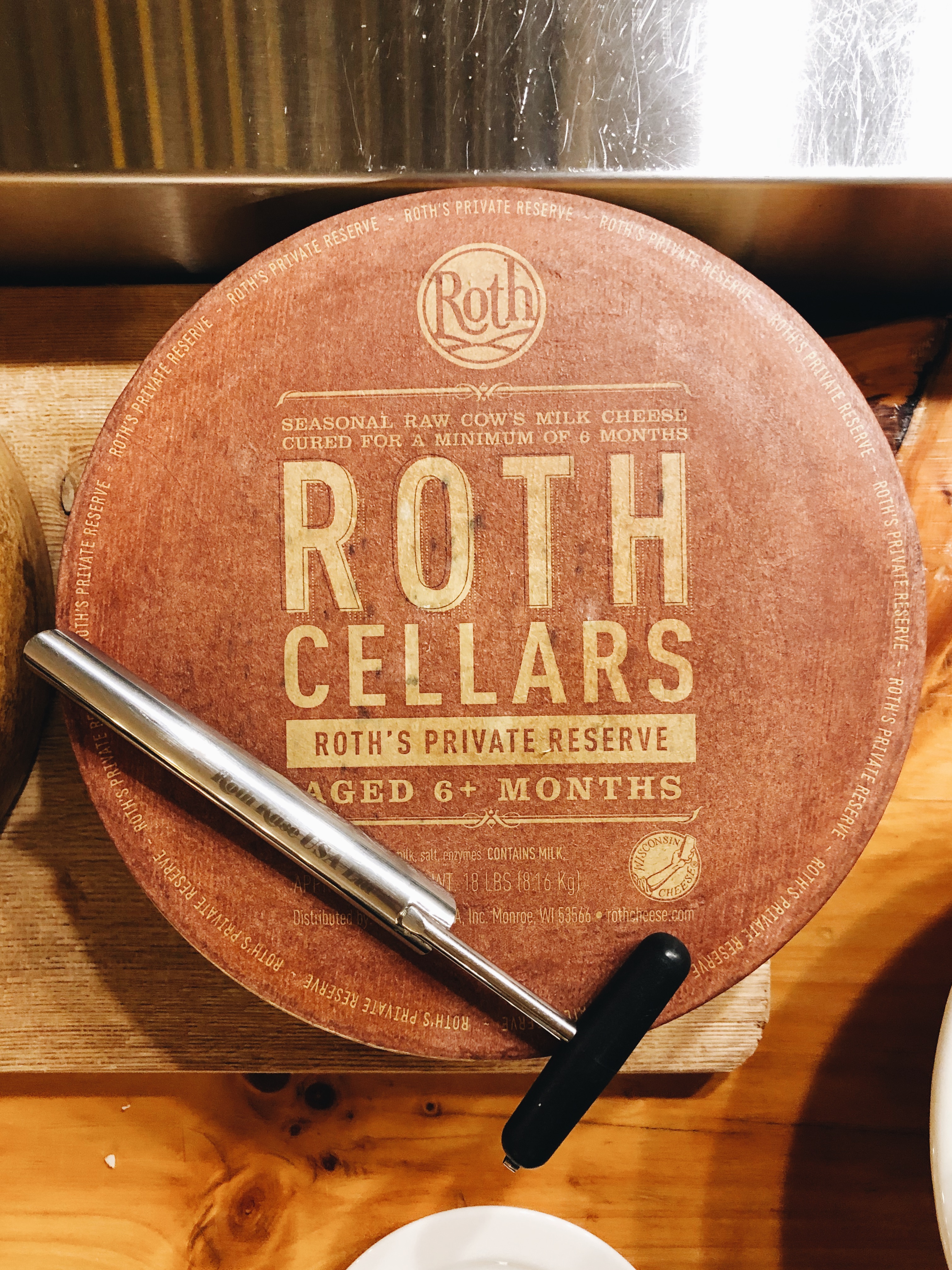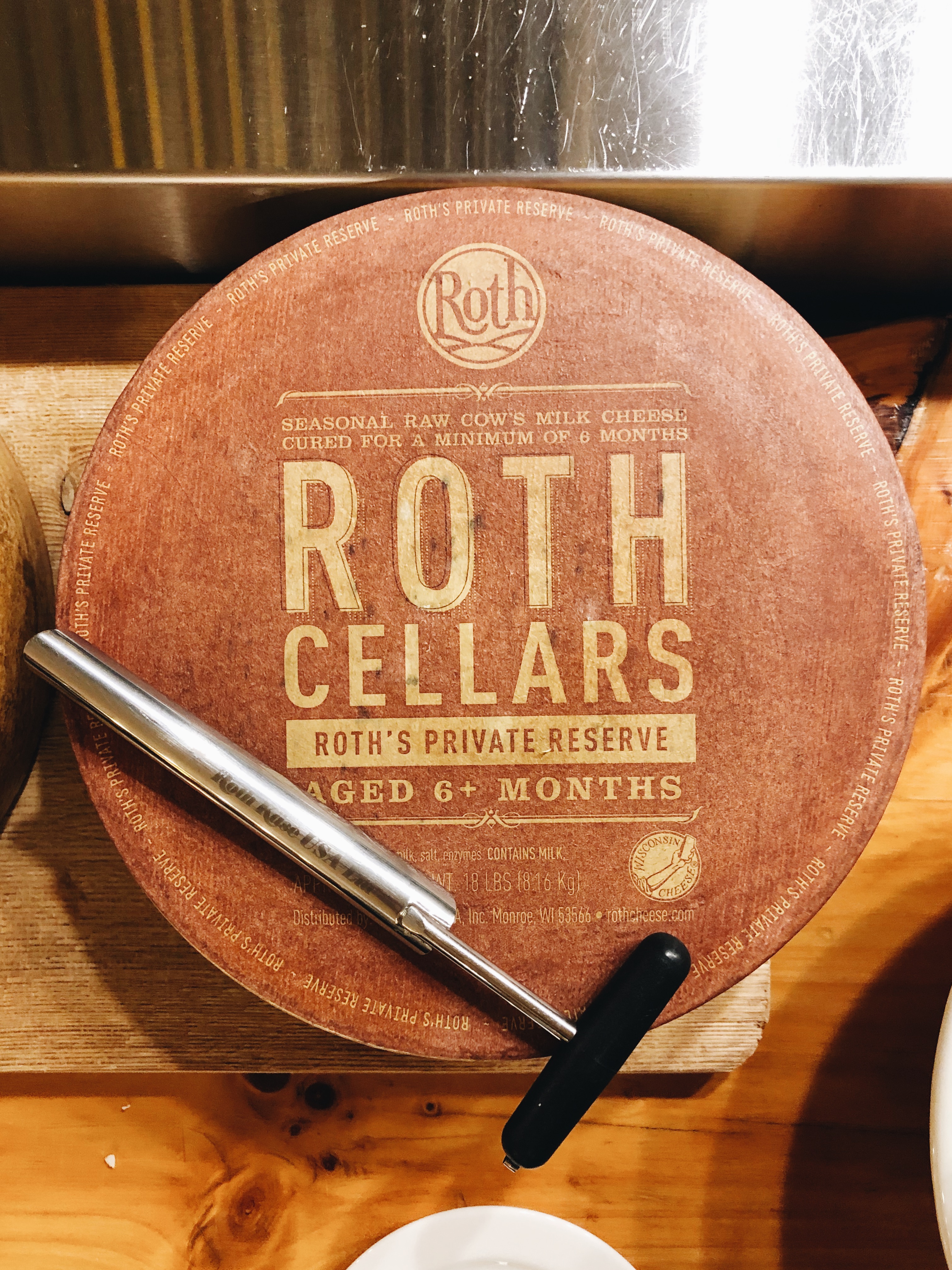 Oh, Roth. Good gracious. This private reserve wheel is what dreams are made of. I tried to stick it in my bra but that got shut down FAST.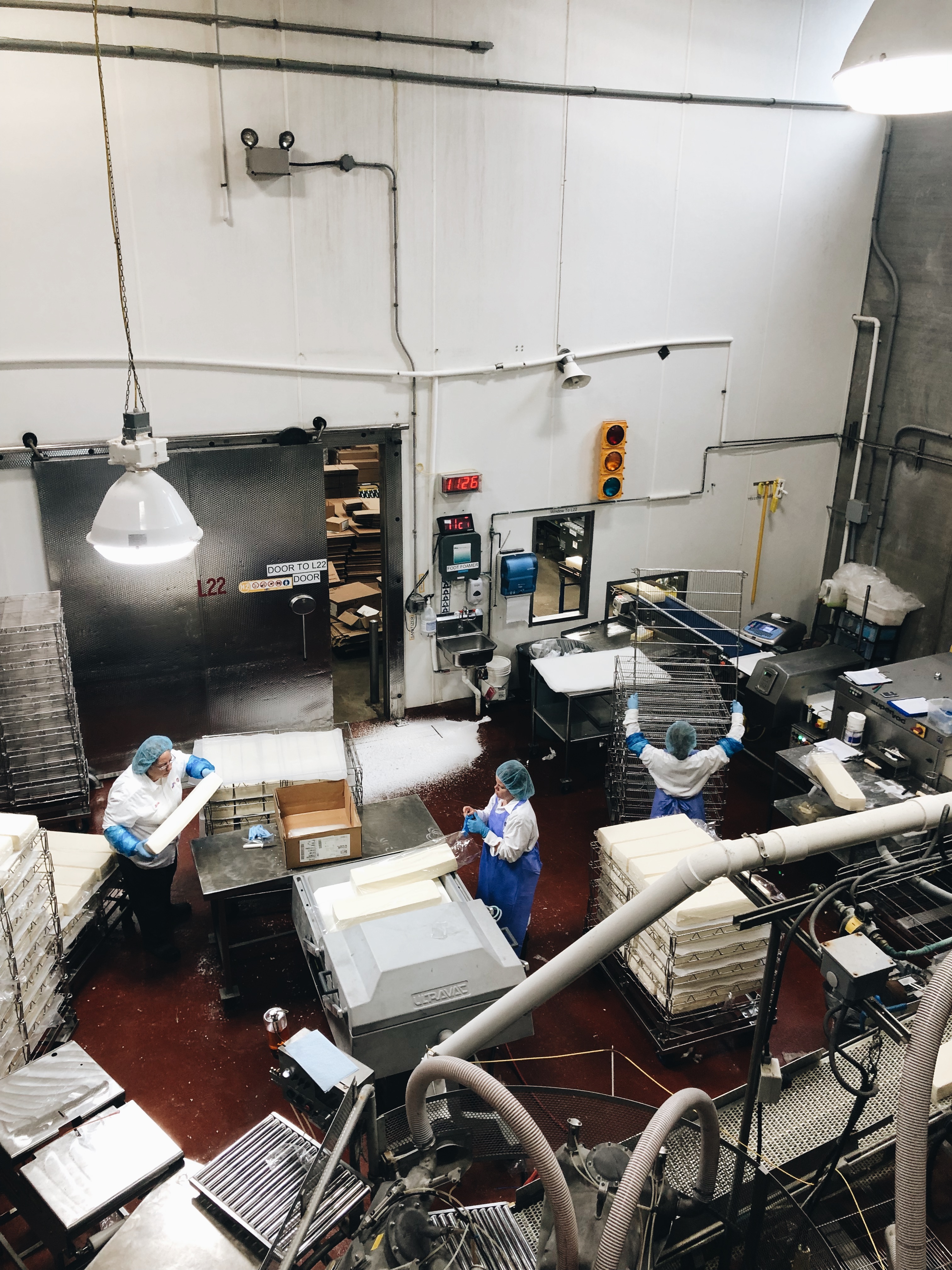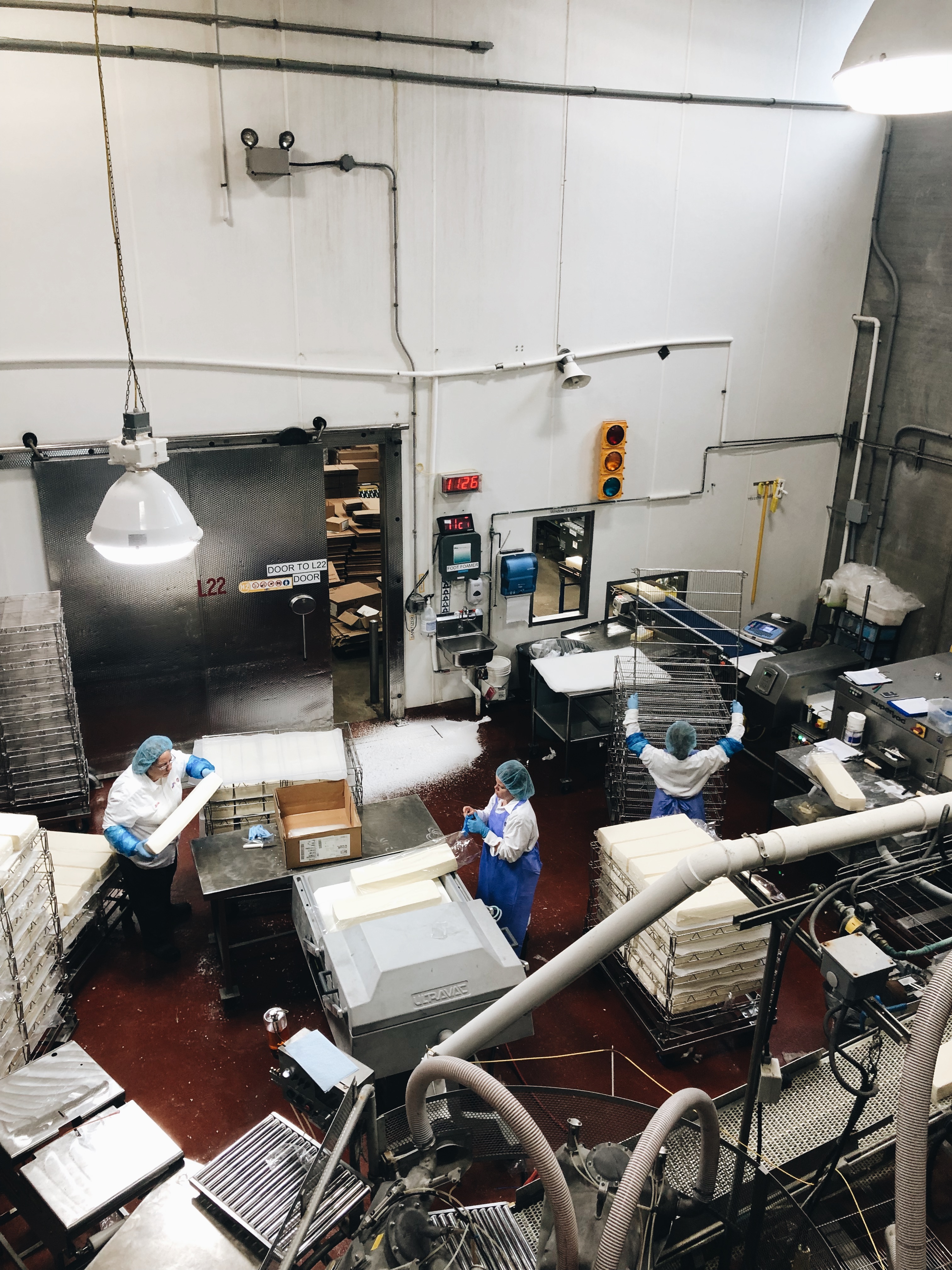 "Give us any chance we'll take iiiiit. Give us any ruuuule we'll break iiiiiit."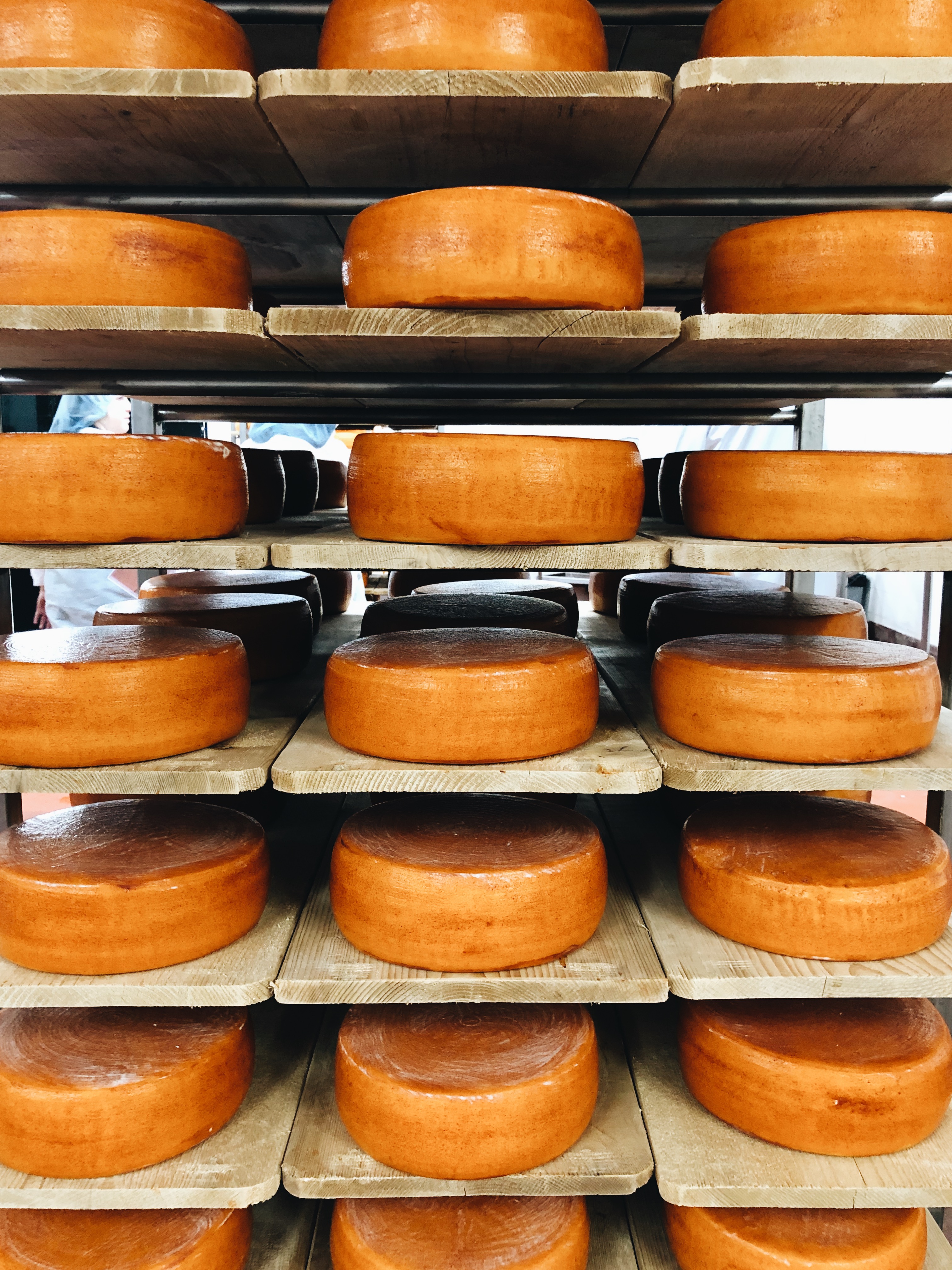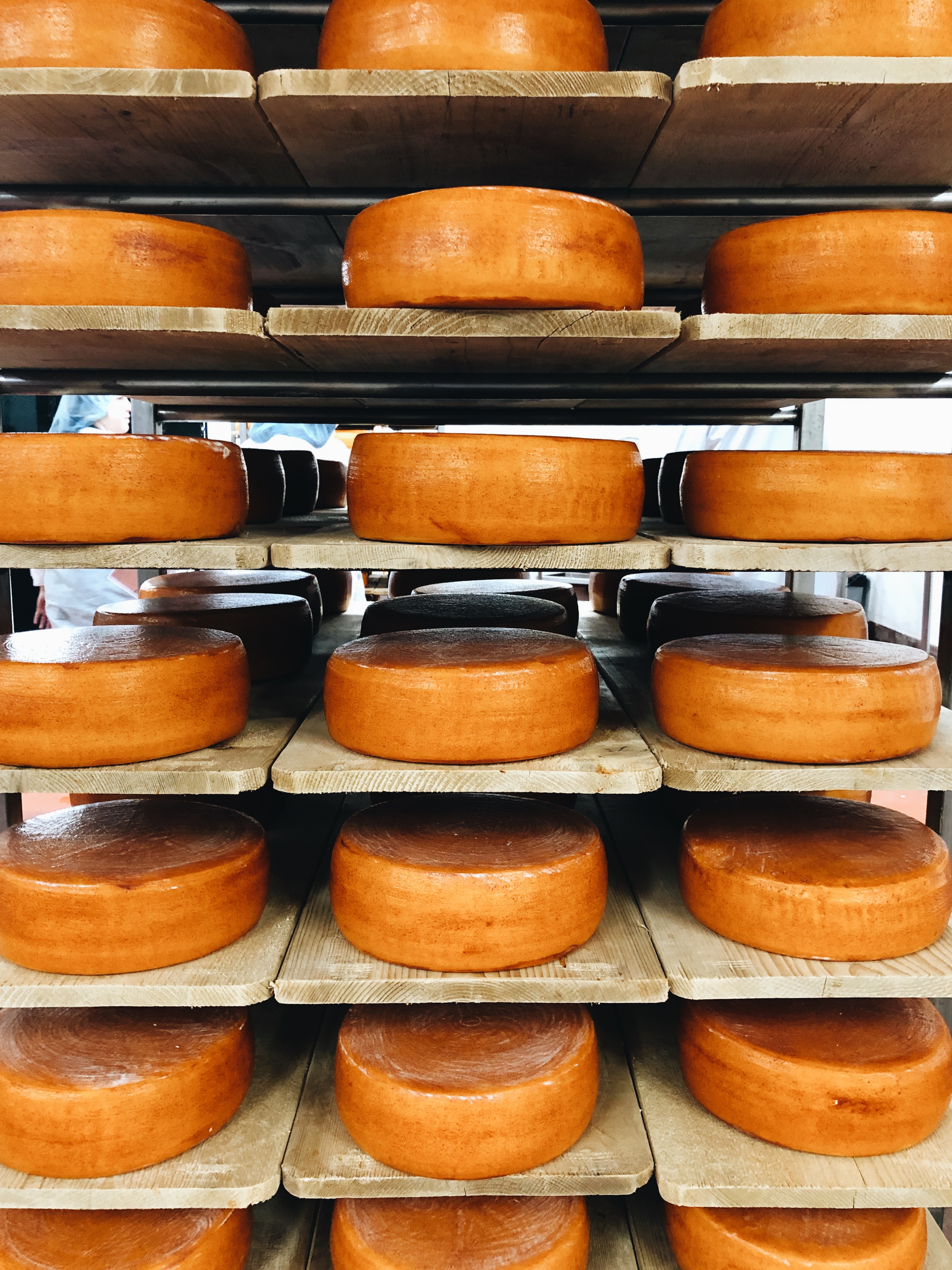 Wheels for days. There is nothing more beautiful to thine eye. Not Aaron's eye. That's another story all together.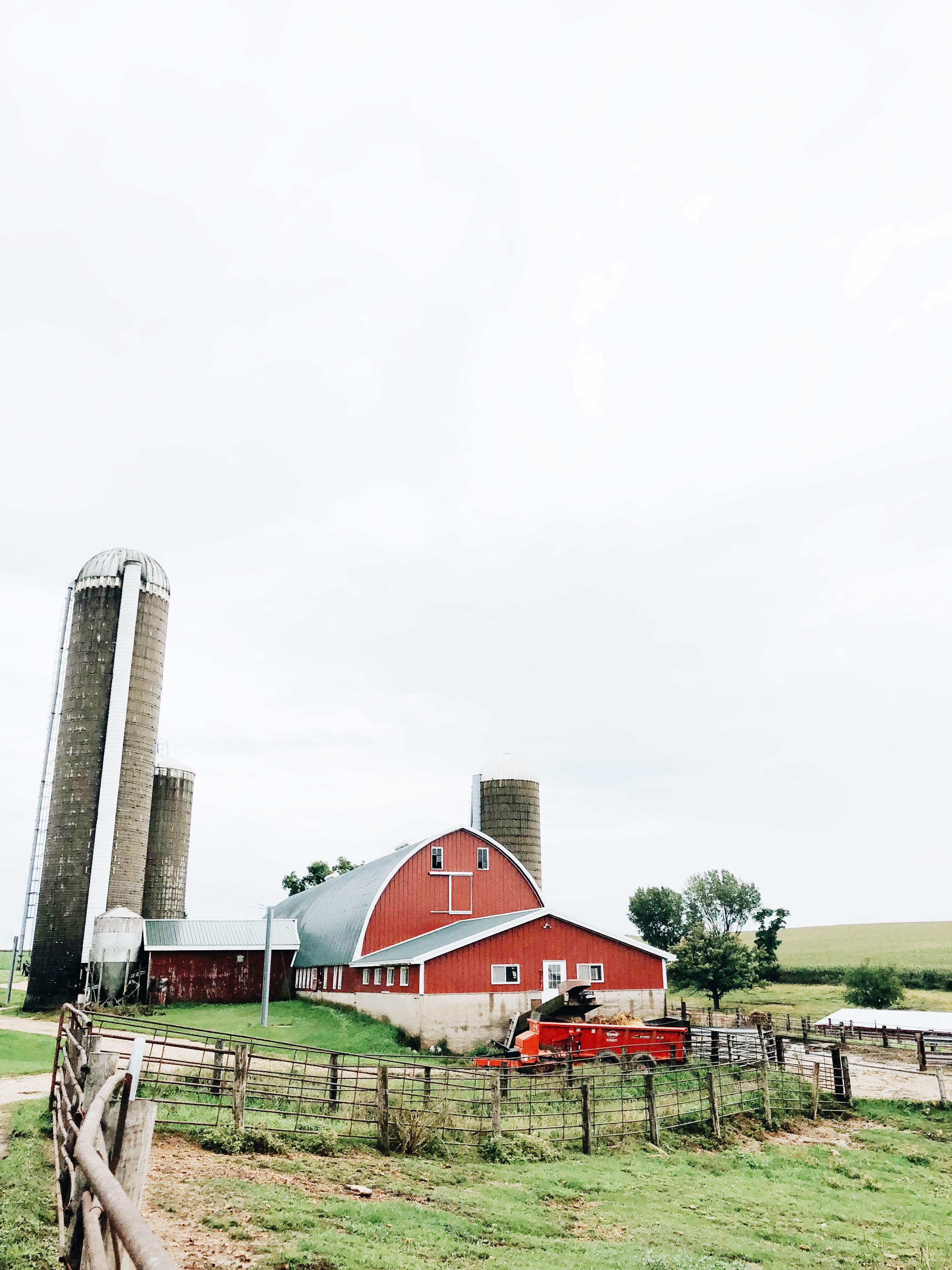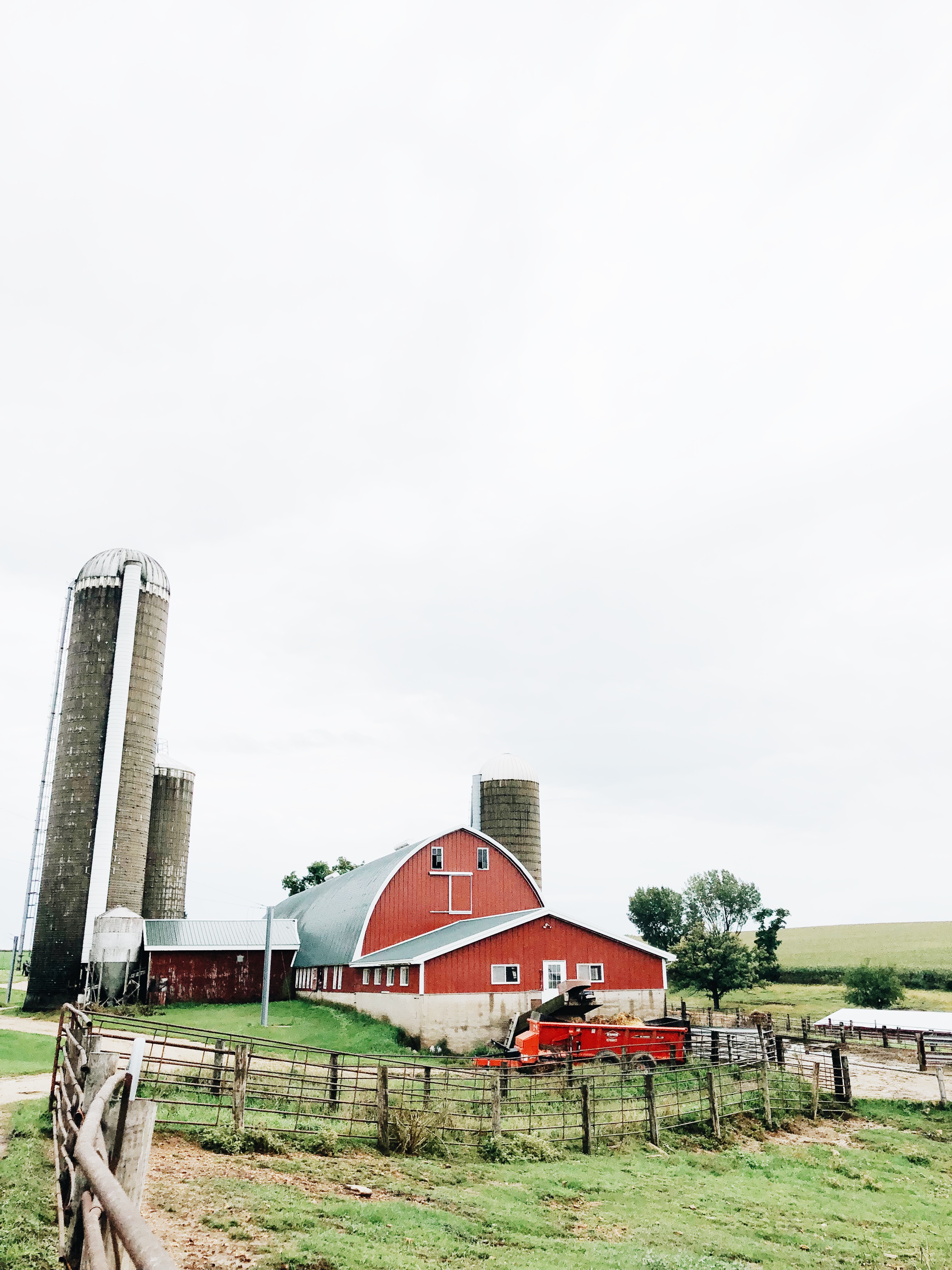 We also visited the cutest farm! There was a corn field to the left, so Sarah and I obviously had to have a photo sesh and pretend we were about to get murdered in the movie Signs.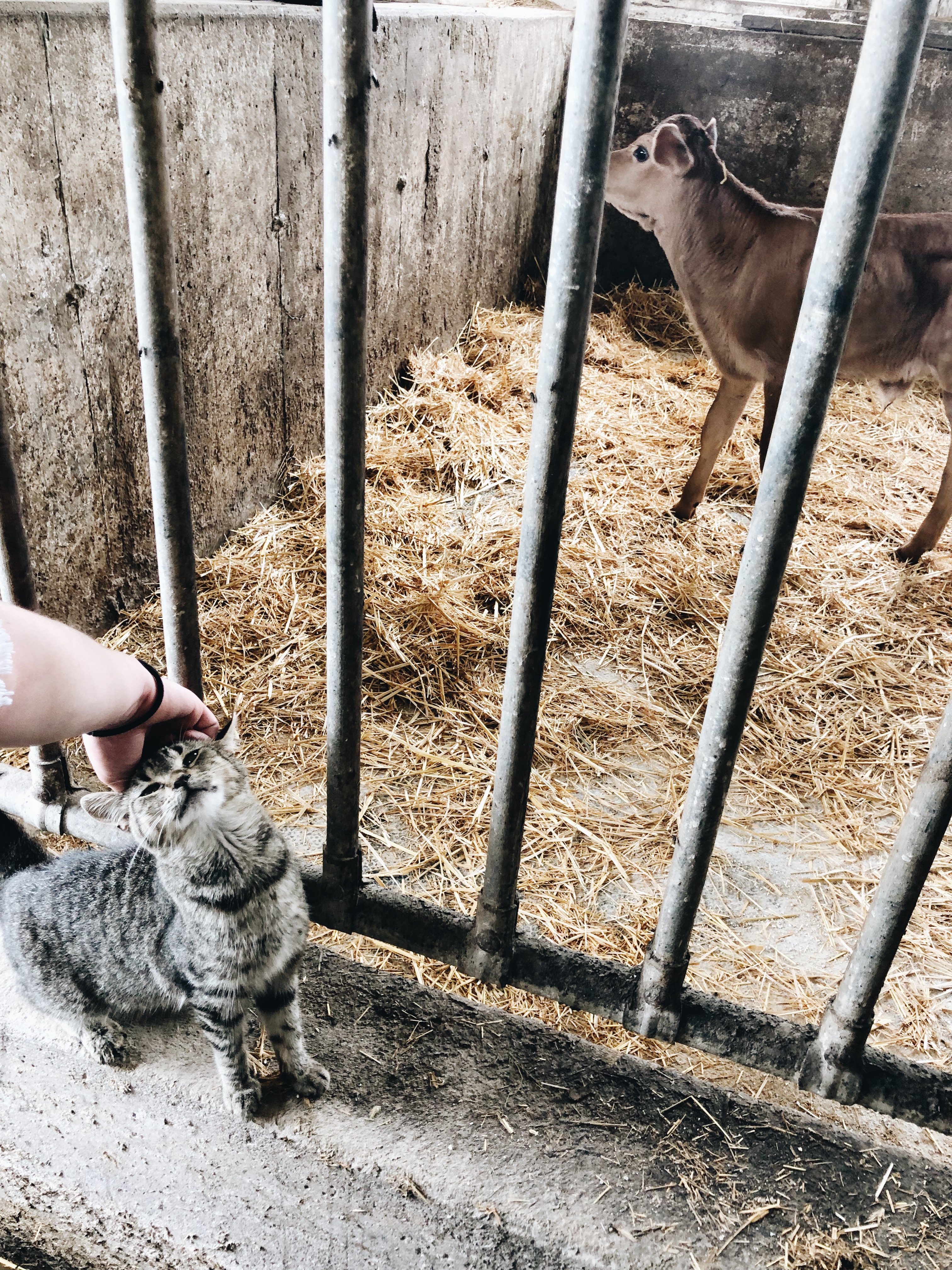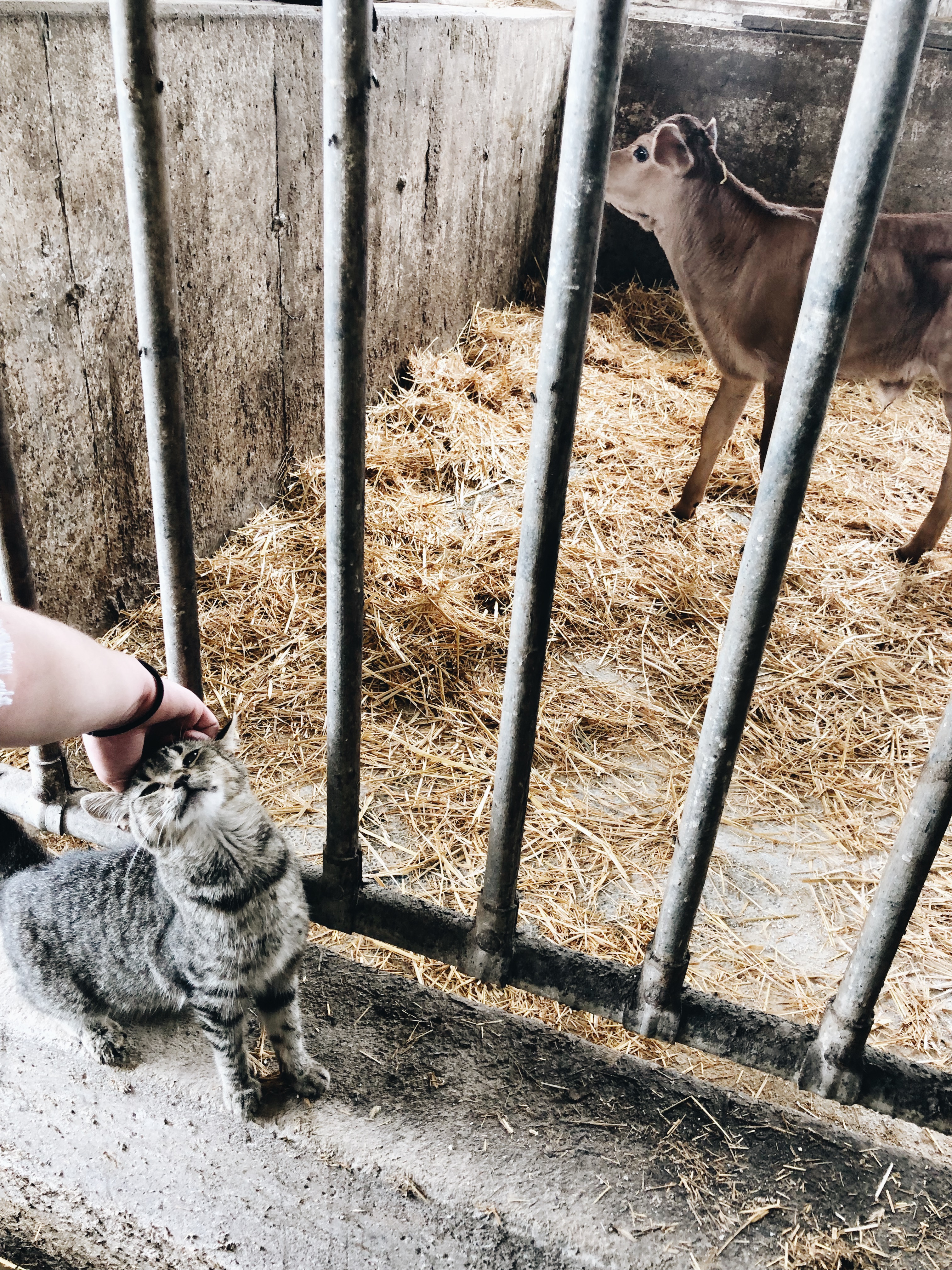 We pet kitties. (I didn't, I'm allergic. And I feel like cats just hate me. It's fine.) We took photos of cows and baby calves and pumpkins and beautiful landscapes.
Then we drank a local beer (What did you call it?! Something COW?! So many of you were pumped I was drinking a something cow. Yay for something cows! It was delish.) on the bus on our long drive back in the rain and it was so cozy and perfect.
Rainy days on farmland in Wisconsin with a something cow – nothing better.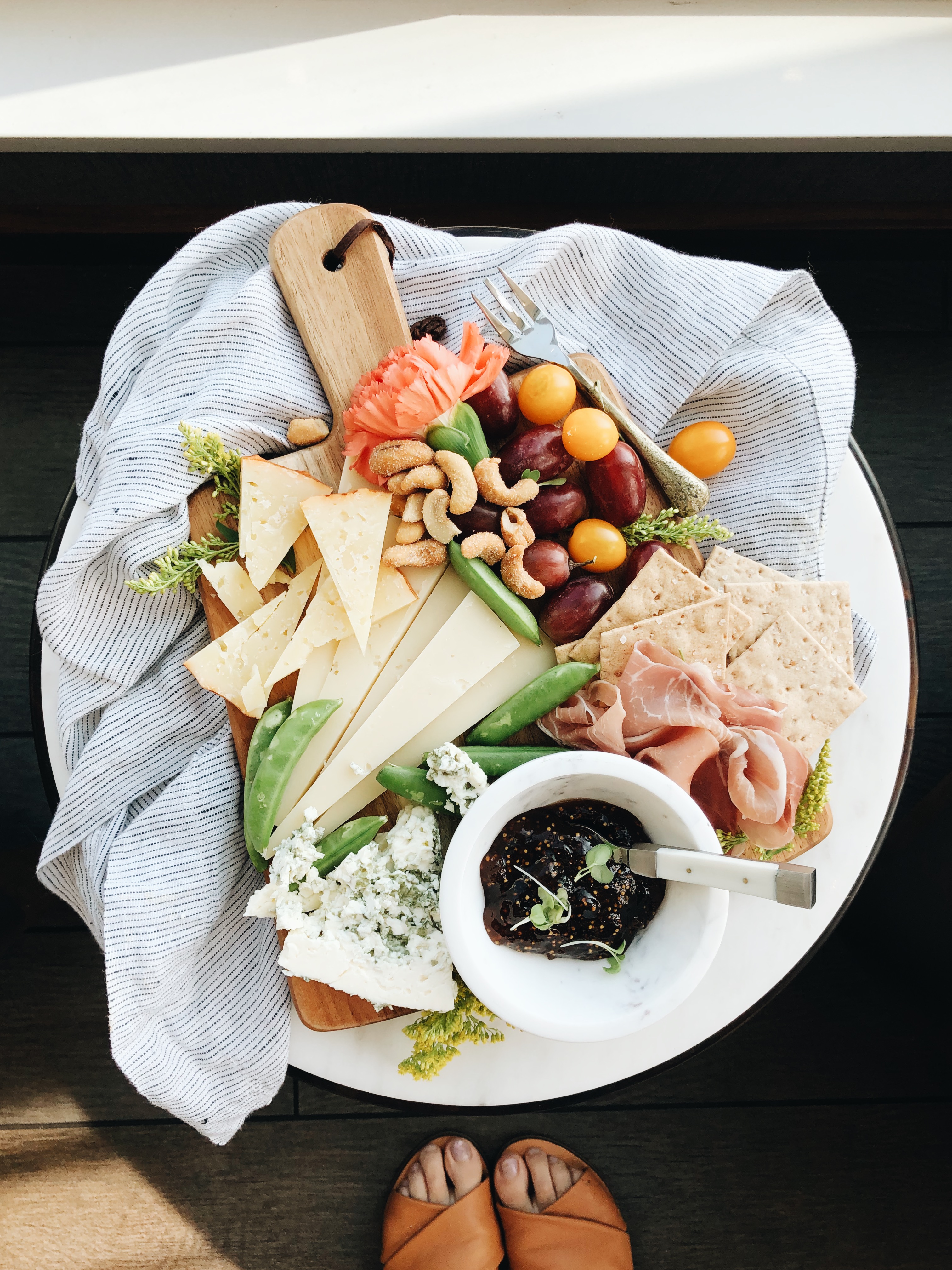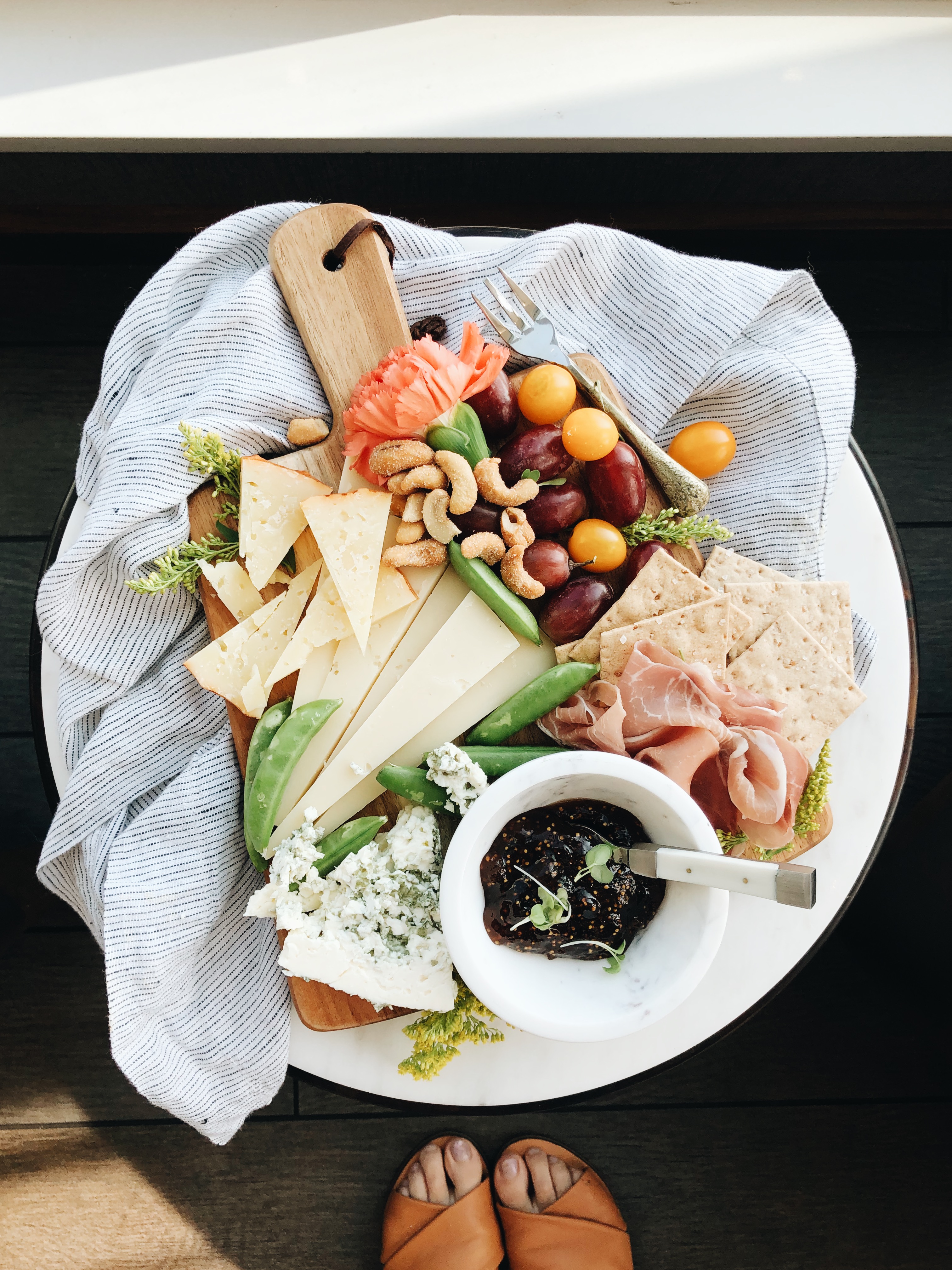 The final morning we got a super fun lesson in styling and photographing cheese. Which is what we all do anyway, but it was freshly inspiring to watch others work and go to town with slicing and styling and plating.
This is mine! Toes sold separately.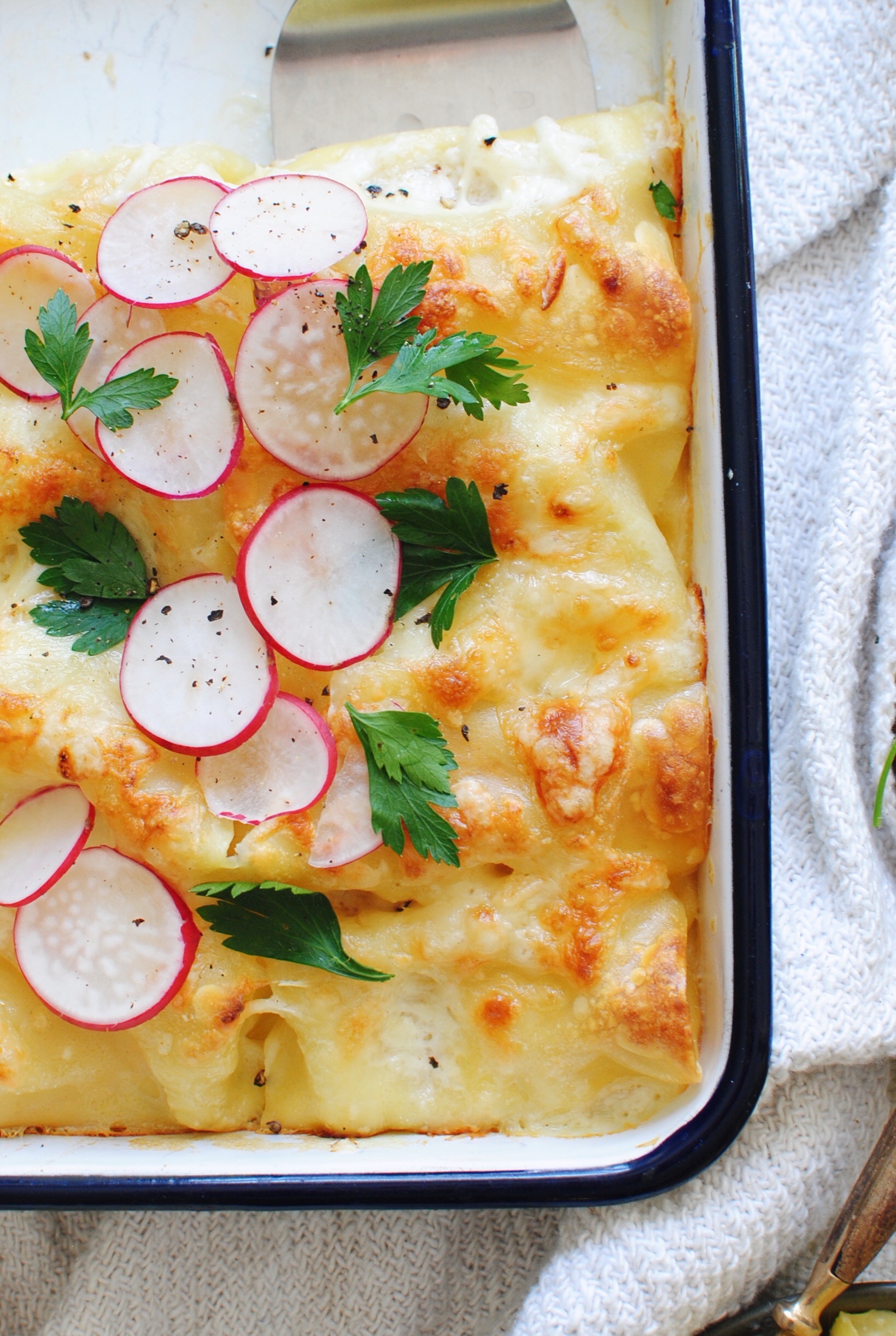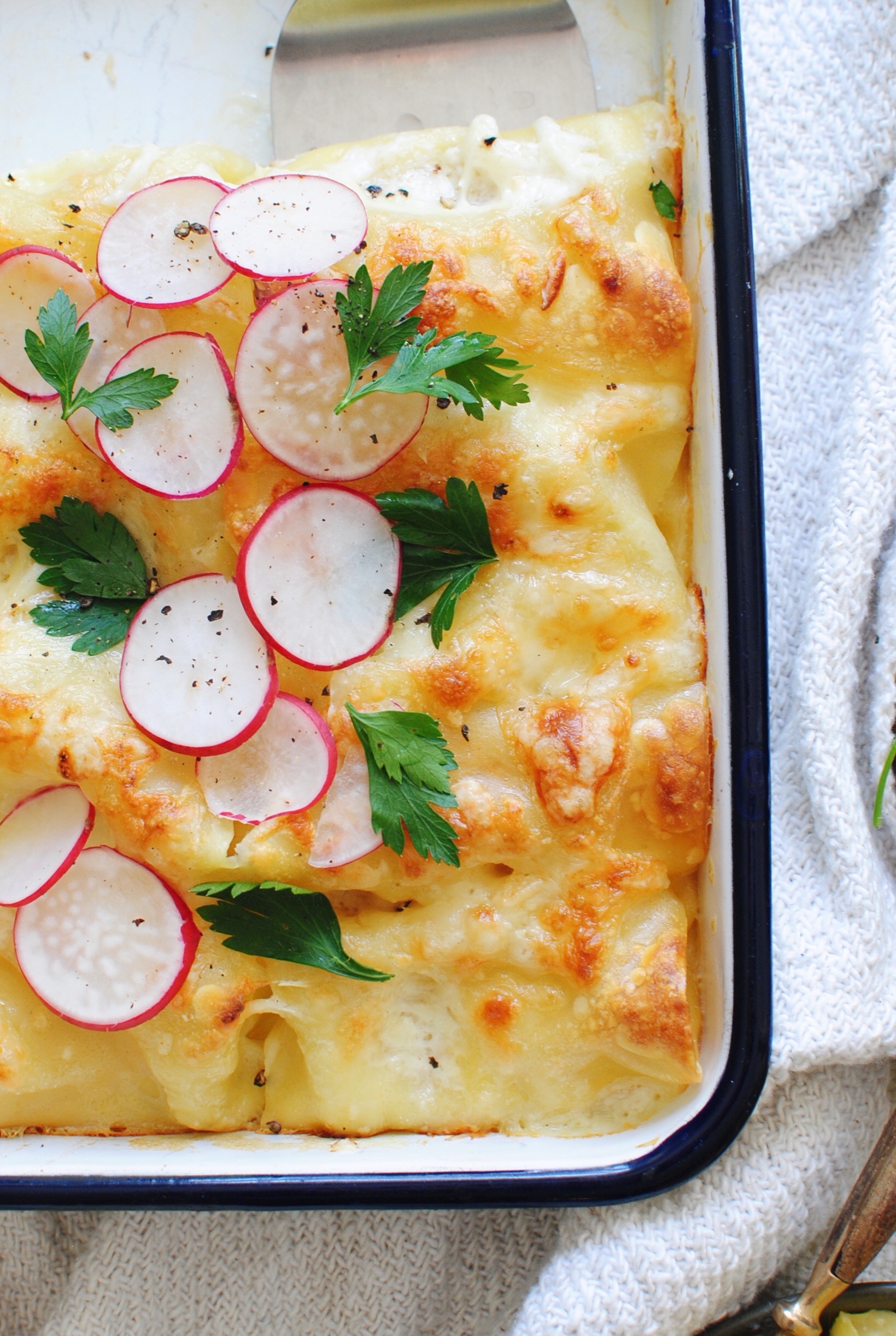 So, the RECIPE. Frankly, this is stupid good. And it's based on one of the 87 courses served to us at the lovely farm dinner the very first night. (I would have gotten photos but the room was yellow and dark. You know.)
She served us a homemade crepe with prosciutto and Roth cheeses all tucked and smothered and baked in some sort of a cream sauce. And it was so painfully good we all collectively sobbed a river right there at the table.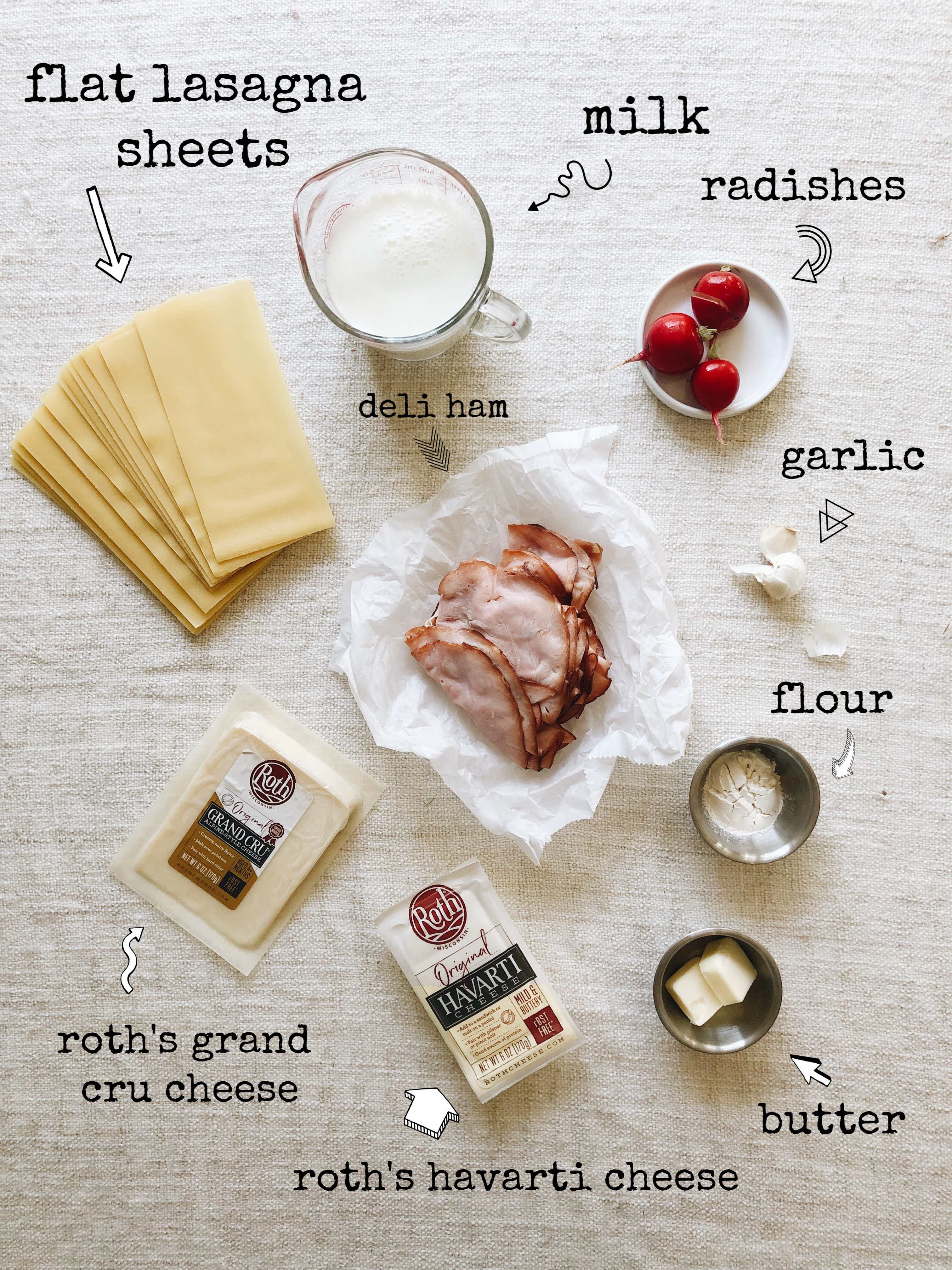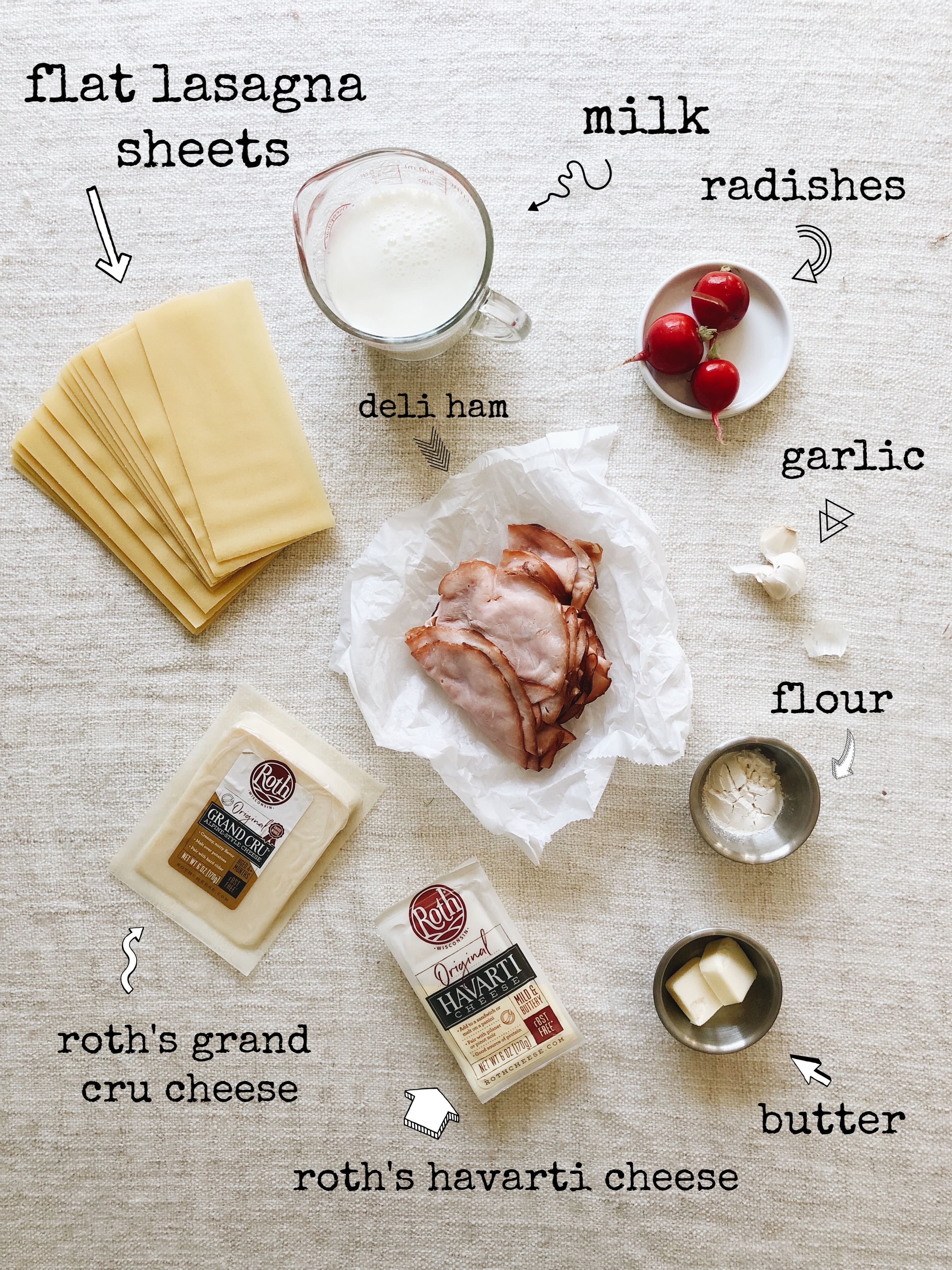 So I made you an at-home version!
We'll use no-boil lasagna sheets (that we actually parboil) in place of the crepes, and deli Virginia ham in place of the proscuitto. And for the cheese? Well obviously I couldn't stop at one. We're combining Roth's nutty salty Grand Cru with their creamy mellow Havarti for this explosive mix of insane flavor and ooey gooey-ness. Just watch.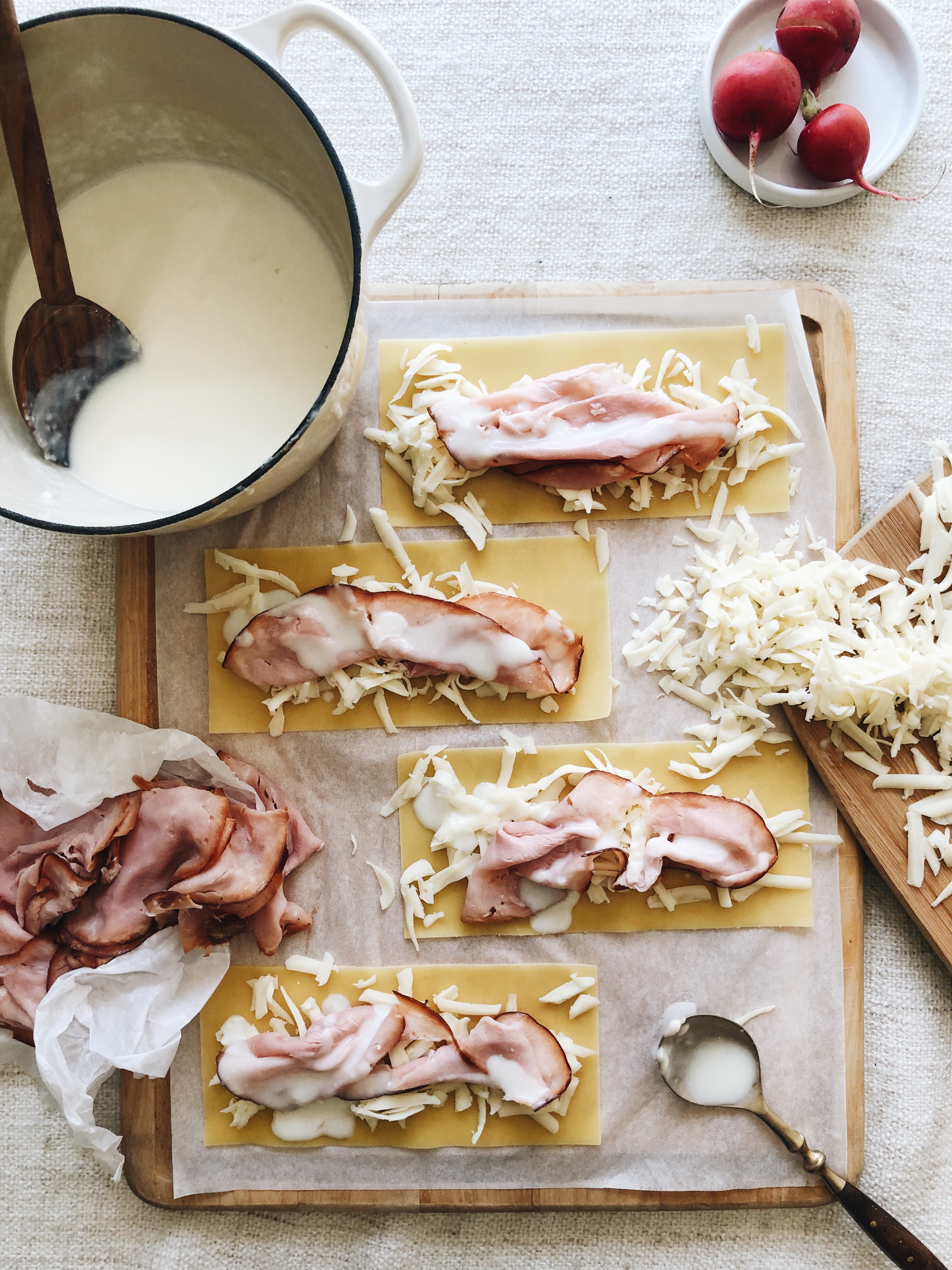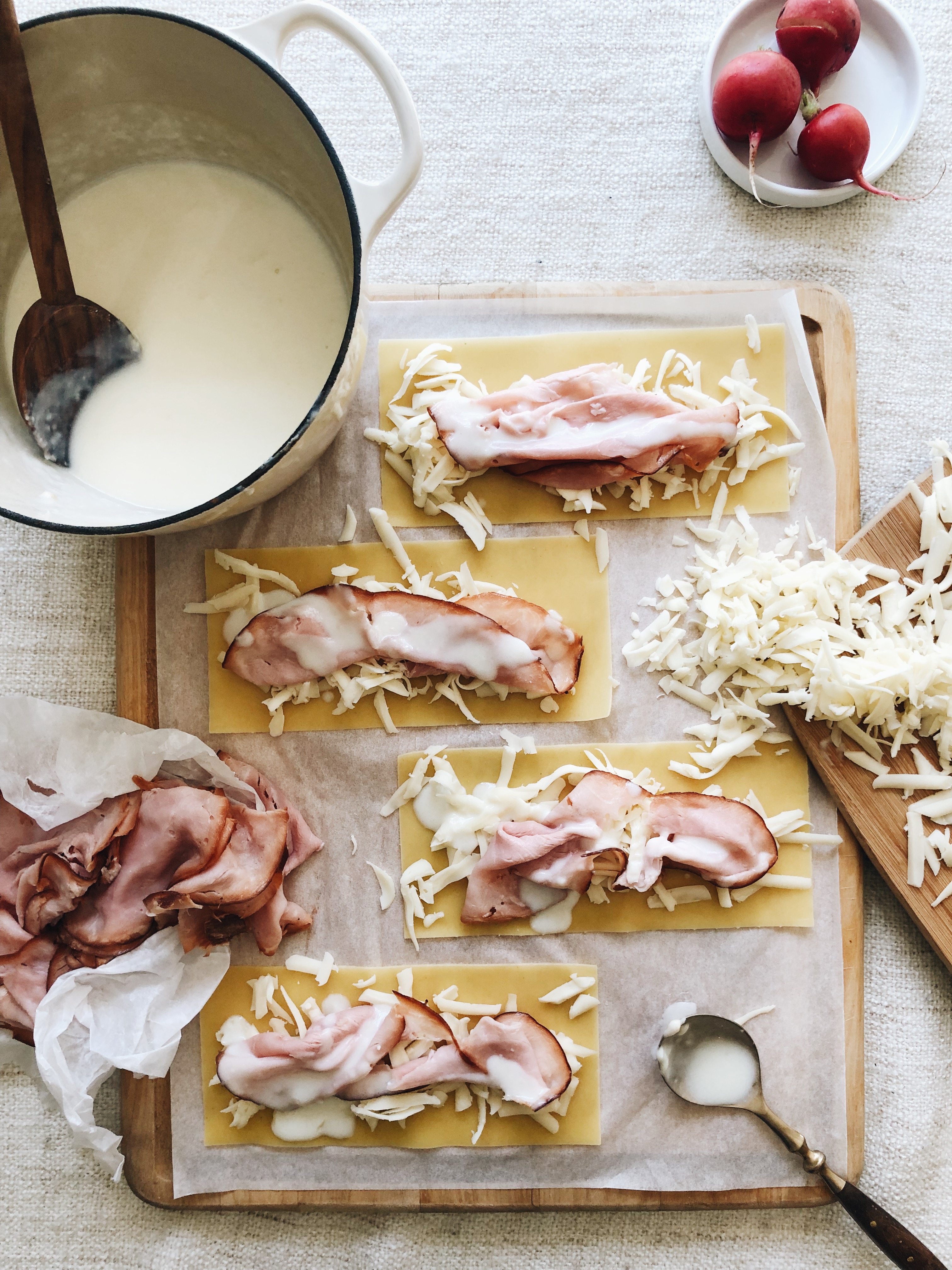 So yes, you'll drop the lasagna sheets (a few at a time) into some boiling water for a minute or two, juuuust long enough for them to soften and become pliable, so that we can roll them. And once that's done, you're set. You'll layer with both Roth cheeses, a slice of ham and a drizzle of sauce.
Oh! The sauce. Like any cream sauce, you'll melt some butter, add the flour, whisky whisk, add some garlic, then the milk, and once it thickens you've got the most luscious velvety blanket evarrrr.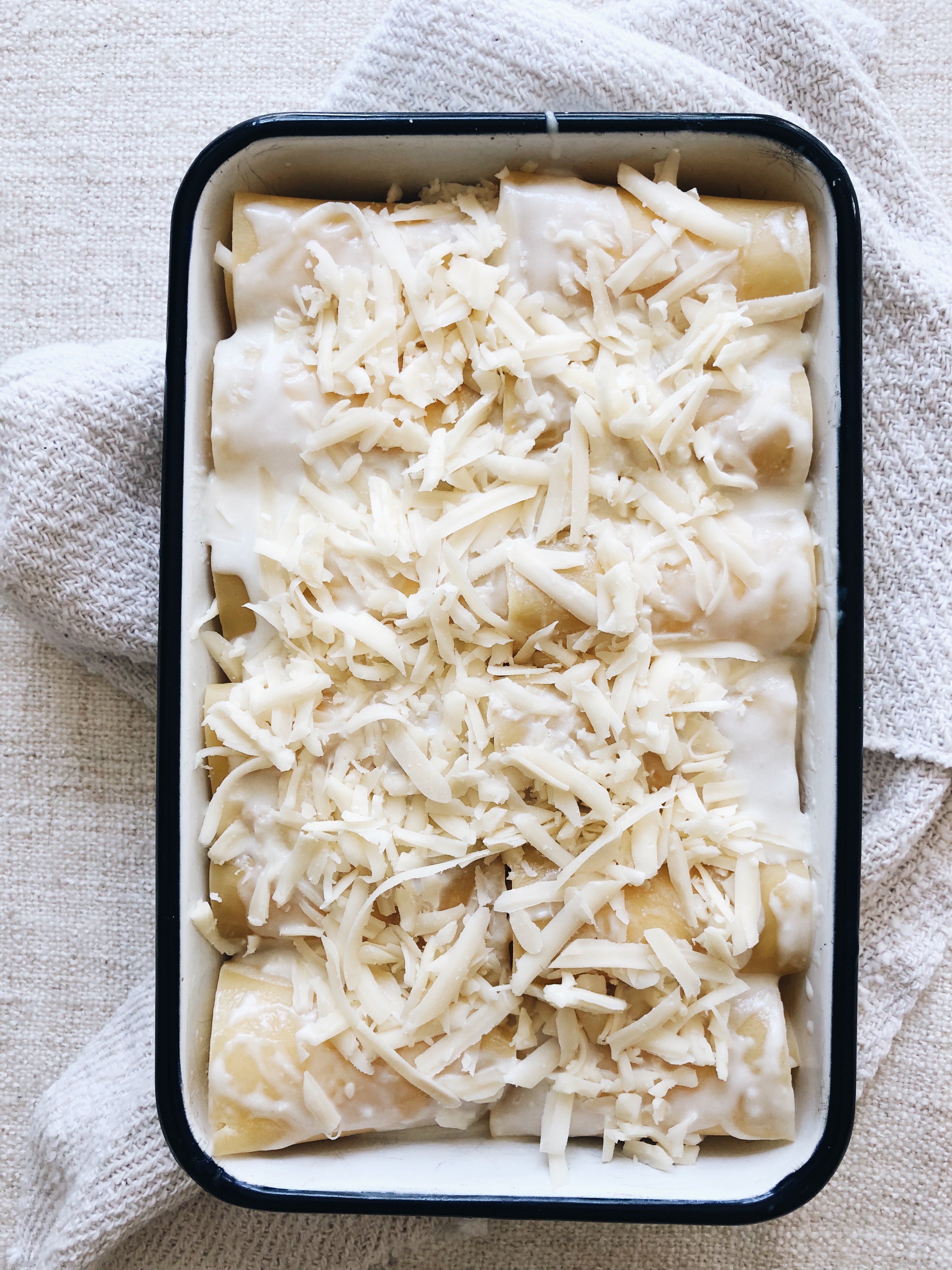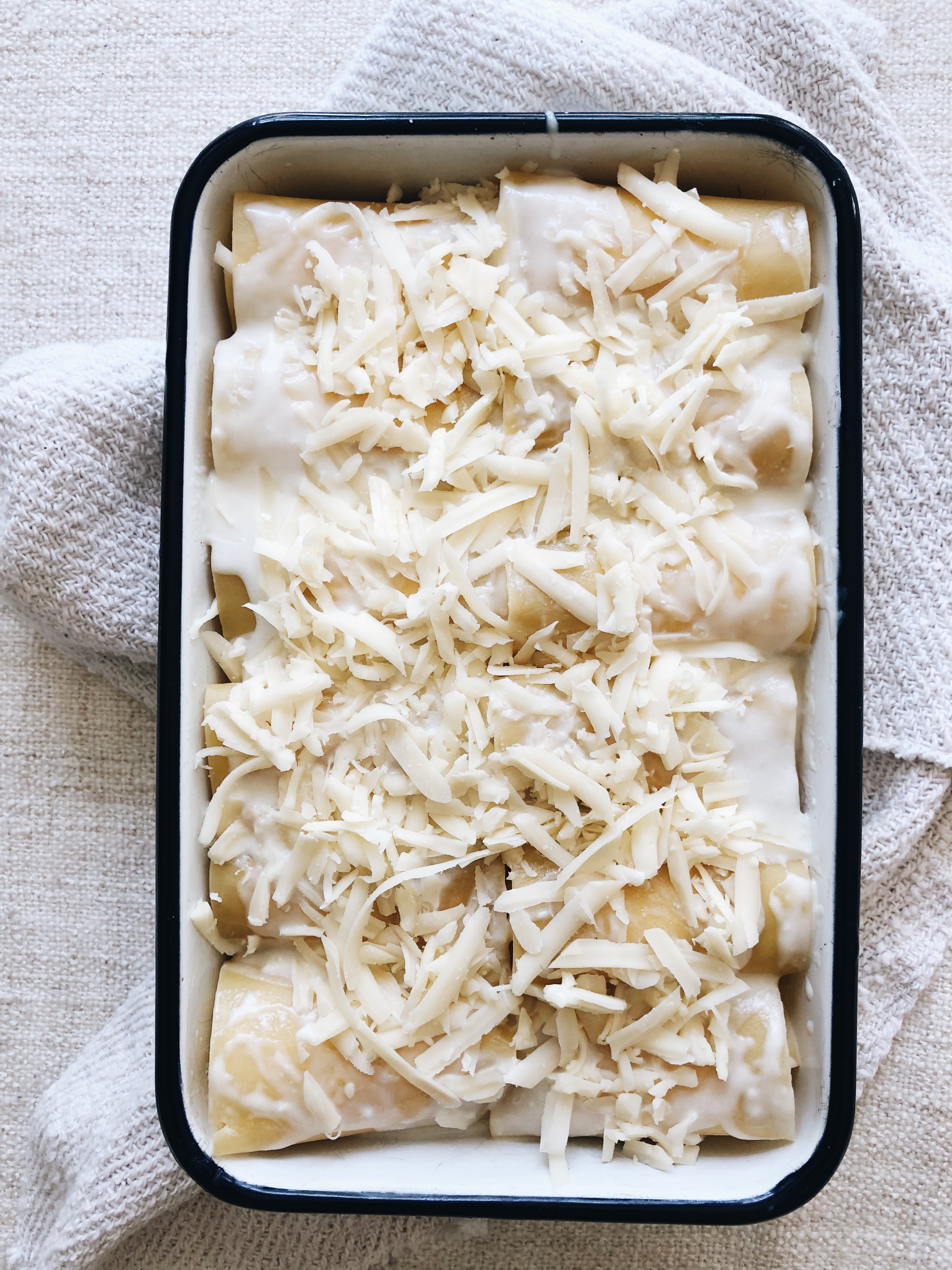 You'll pile them into a casserole dish seam side down, pour the remaining sauce over it, along with the cheese, and await your new life.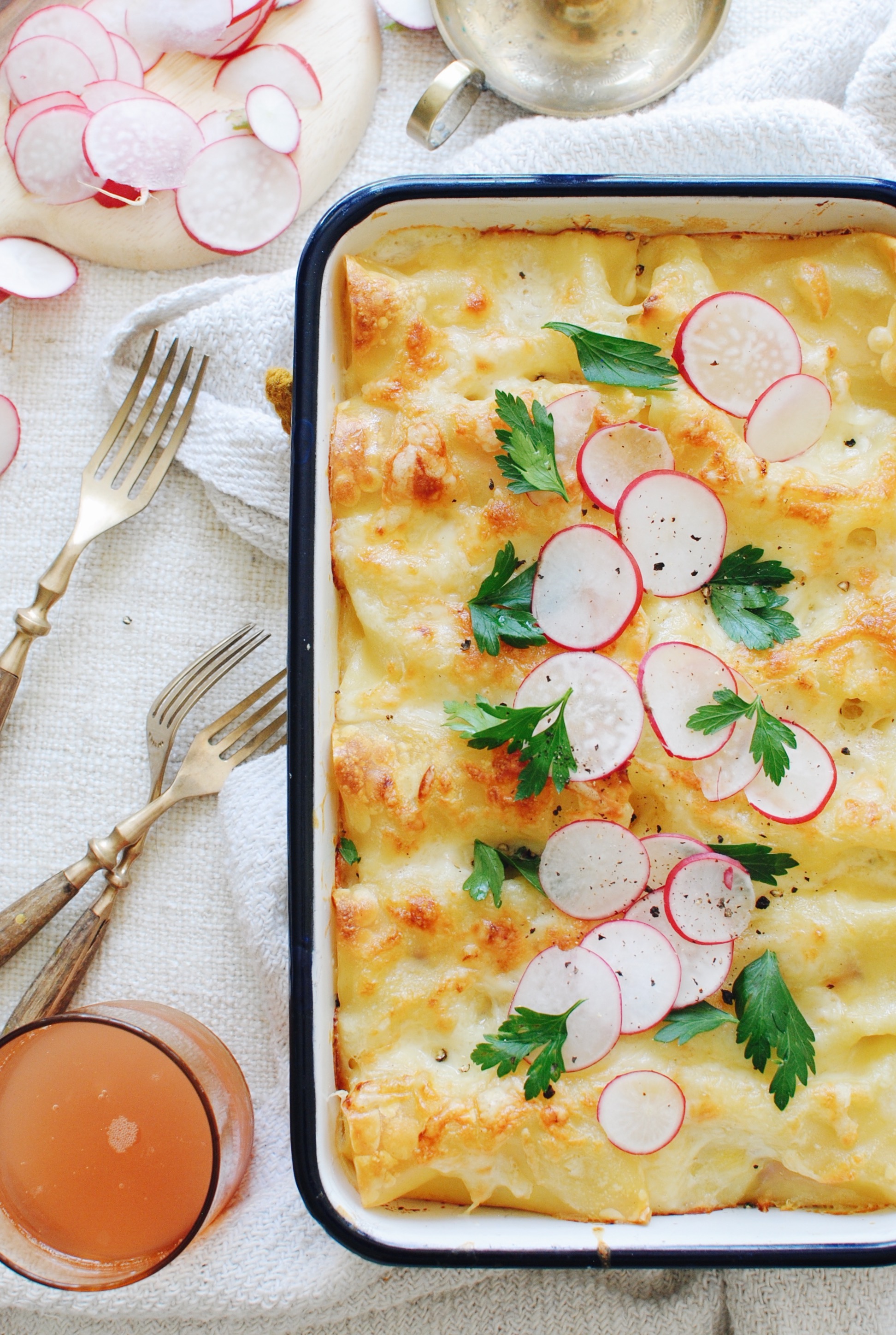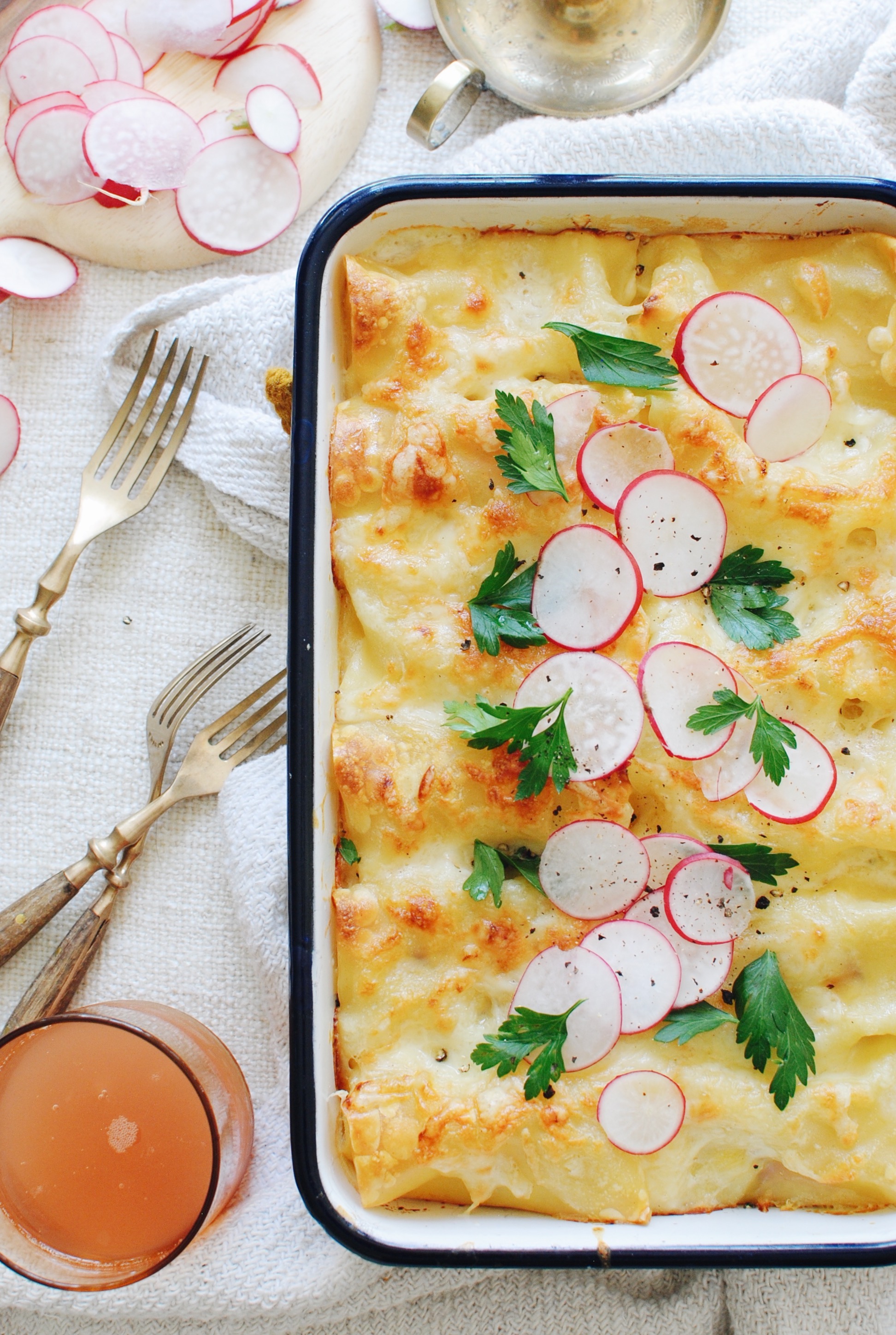 Hello, hi, goodbye, see you never.
IT IS SO GOOD. Yes I'm screaming at you.
The lasagna sheets deliciously bubble and brown in the oven and under all that cream and cheese, you'll hardly be able to stand it.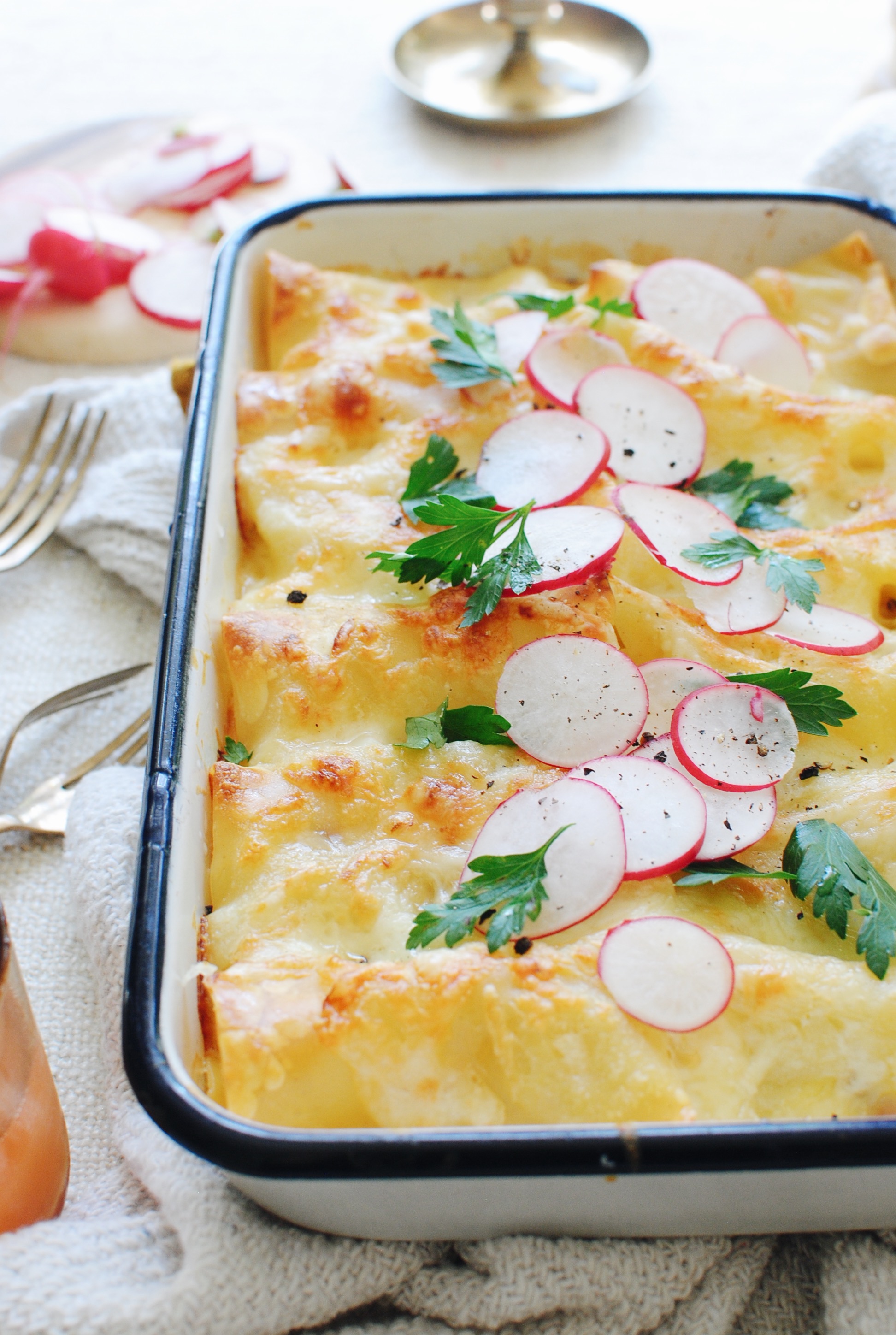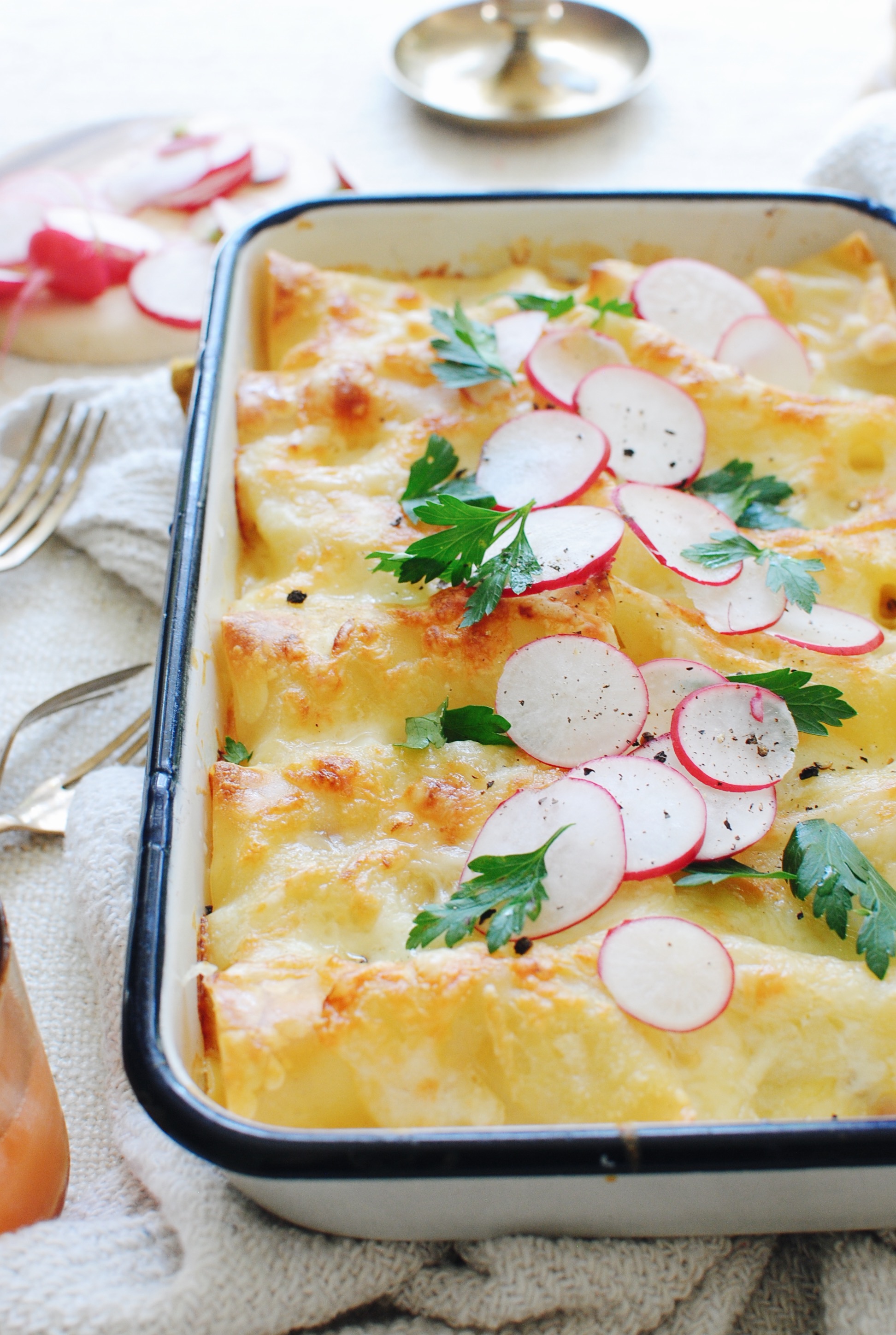 The radishes? Well, for crunch! They add a slight peppery essence to the whole deal, and I just love that texture right on top.
So yeah, it's like a fancy ham and cheese sandwich. In casserole form. Covered in a cream sauce.
Dainty but filling.
Elegant but comforting.
Interesting yet nostalgic.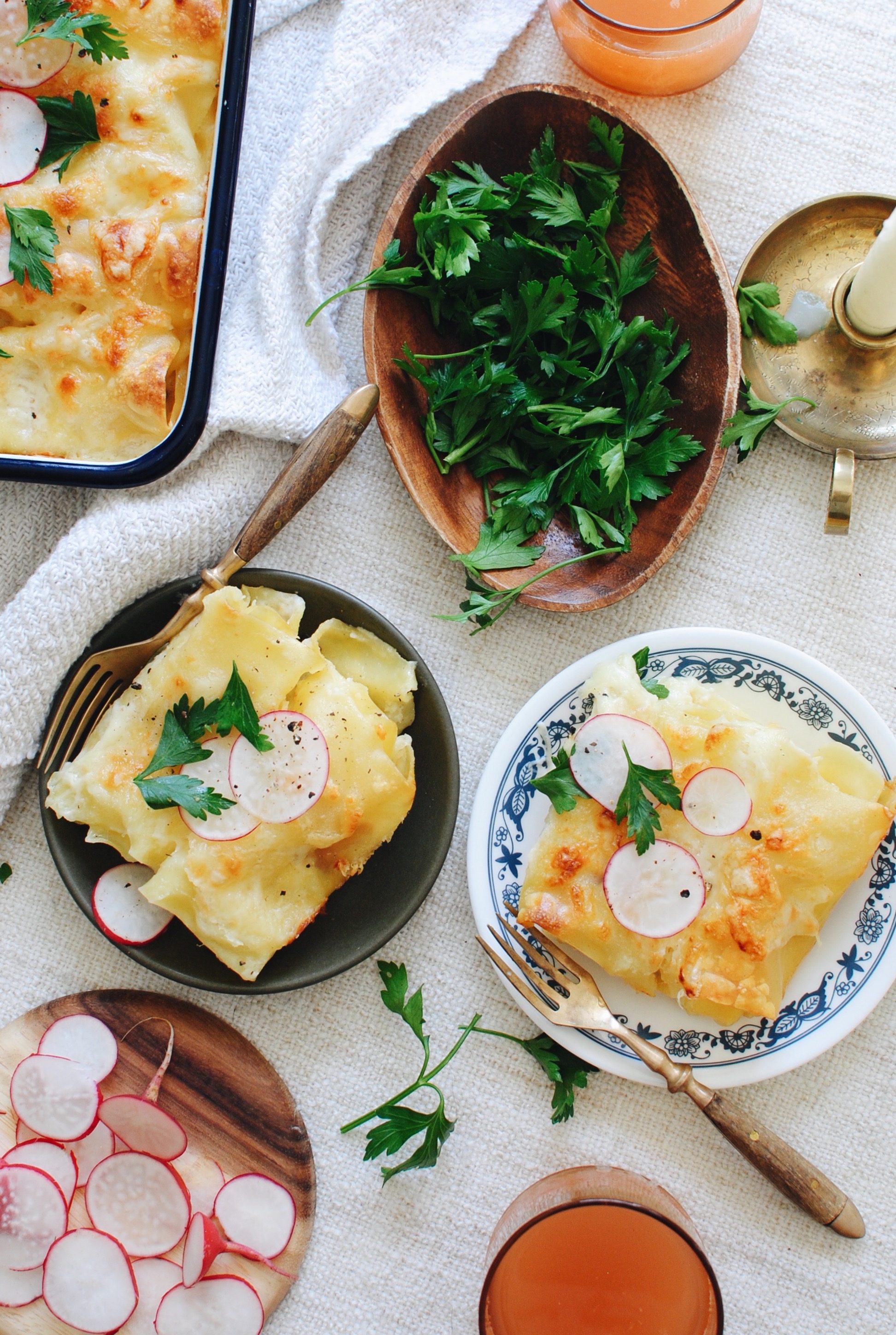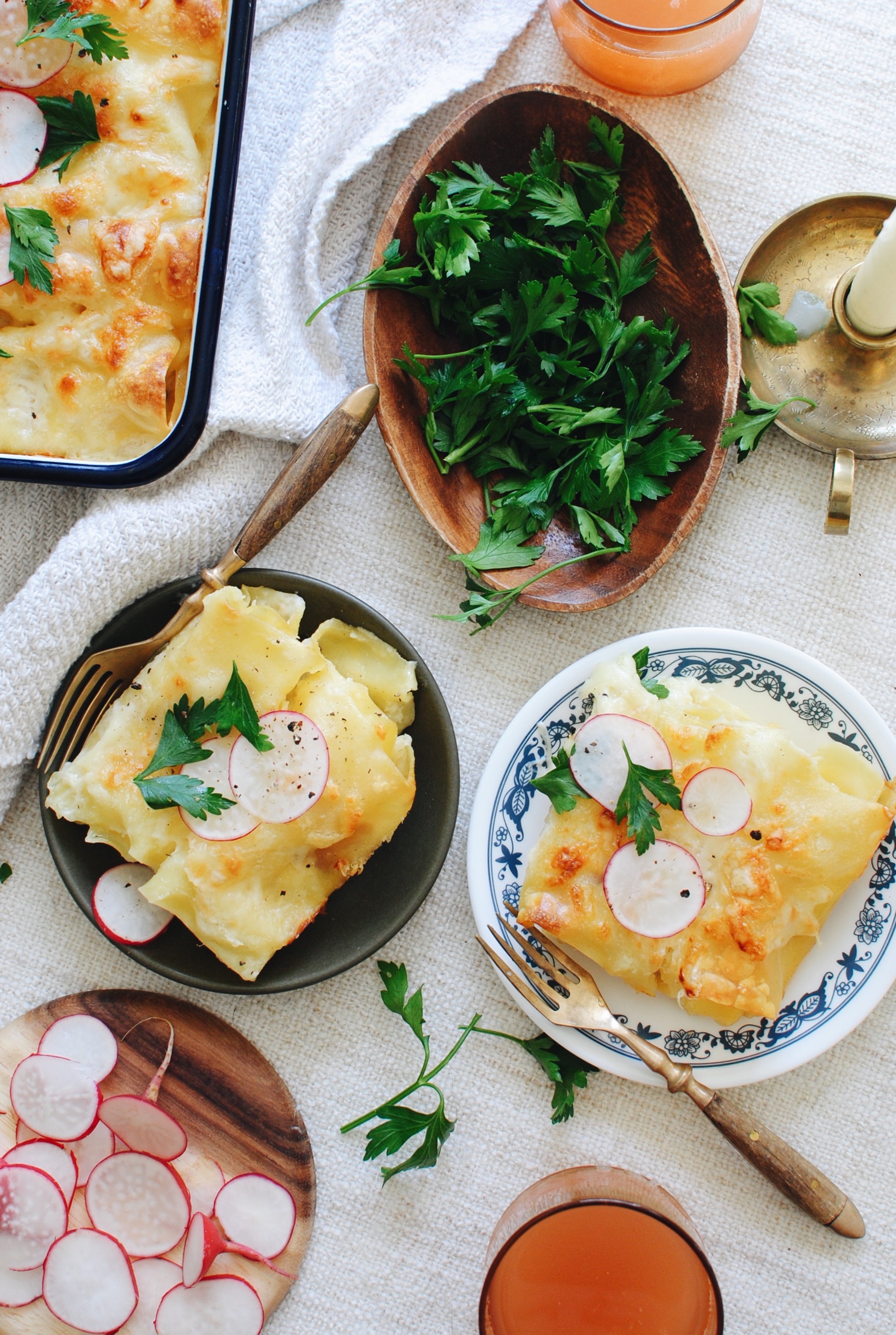 Must I go on?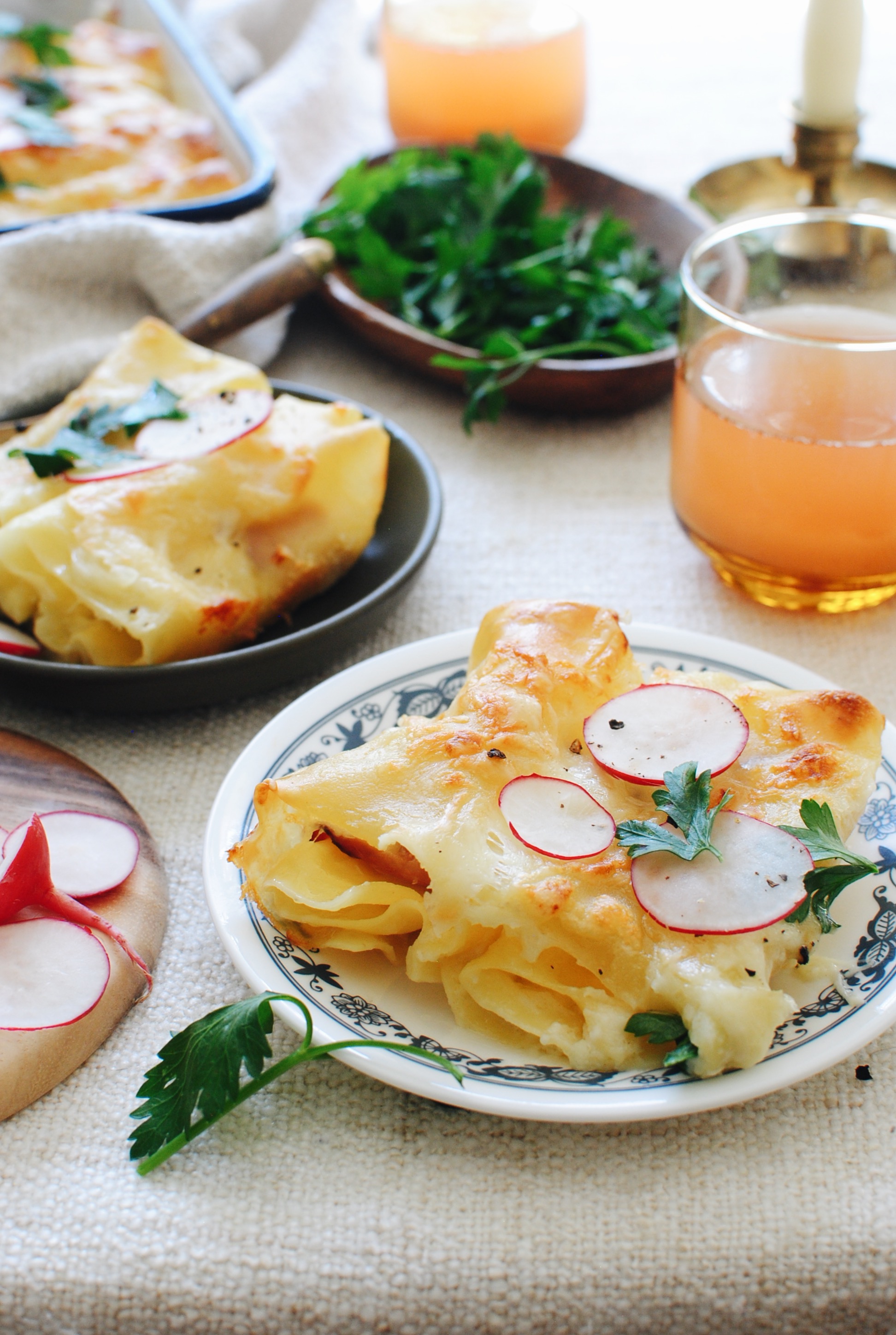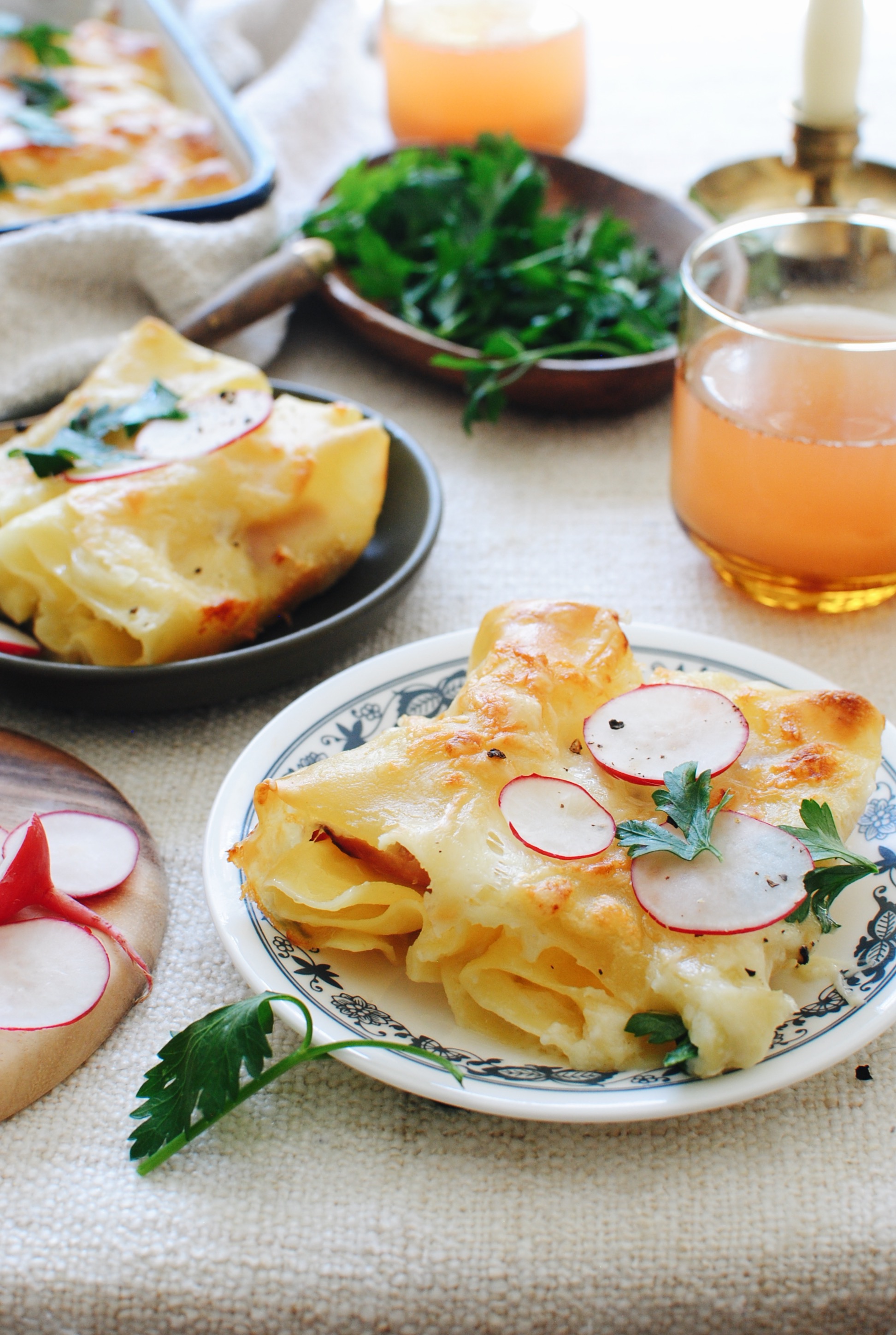 Didn't think so.
Baked Ham and Cheese Rollups
Ingredients
1 (8 oz) box flat lasagna sheets (no-boil)
2 Tbs. butter
2 Tbs. all-purpose flour
2 cloves garlic, minced or grated
1 1/2 cups milk
1/2 pound sliced deli Virginia ham
1 (6 oz) block Roth Grand Cru cheese, grated
1 (6 oz) block Roth original Havarti cheese, grated
2 or 3 radishes, thinly sliced (for garnish. Totally optional)
Parsley leaves, for garnish
Coarse salt
Instructions
Preheat your oven to 375.
In a medium saucepan, melt the butter. Once foaming, add the flour and whisk until it becomes a light golden brown. Add the minced garlic and whisk another few seconds to incorporate. Slowly add the milk, a half cup at a time until the sauce is slightly thickened and luscious. Season with a good pinch of salt. Keep the heat on a very low while you prep the rest, stirring it every few minutes to make sure nothing is sticking.
Bring a large pot of water to a boil. I know these are no-boil sheets, but we need them soft and pliable! Drop 3 sheets in at a time and boil about a minute, maybe two. Use a pair of tongs to keep them separate and not sticking to each other. Once the sheets bend enough to roll up, remove them and place on paper towels. Keep boiling the sheets, 3 or 4 at a time until they're all tender and easy to roll.
Pour half a cup of the creamy sauce along the bottom of a small casserole dish (8x10). Mix the two grated cheeses together and place a small pinch down the center of each tender lasagna sheet. Lay one piece of ham on top of the cheese, then spoon a little bit of sauce over the ham. Gently roll up each sheet and place it in the pan seam side down. Continue rolling and filling the casserole dish. Top with the last bit of sauce drizzled over the top and the remaining grated cheeses.
Bake, uncovered for 30 minutes, or until the cheese is browning and bubbly. Garnish the dish with thinly sliced radishes and parsley leaves. Serve immediately!
Serve 4. (Maybe 5.)
7.8.1.2
379
https://bevcooks.com/2019/10/baked-ham-and-cheese-rollups/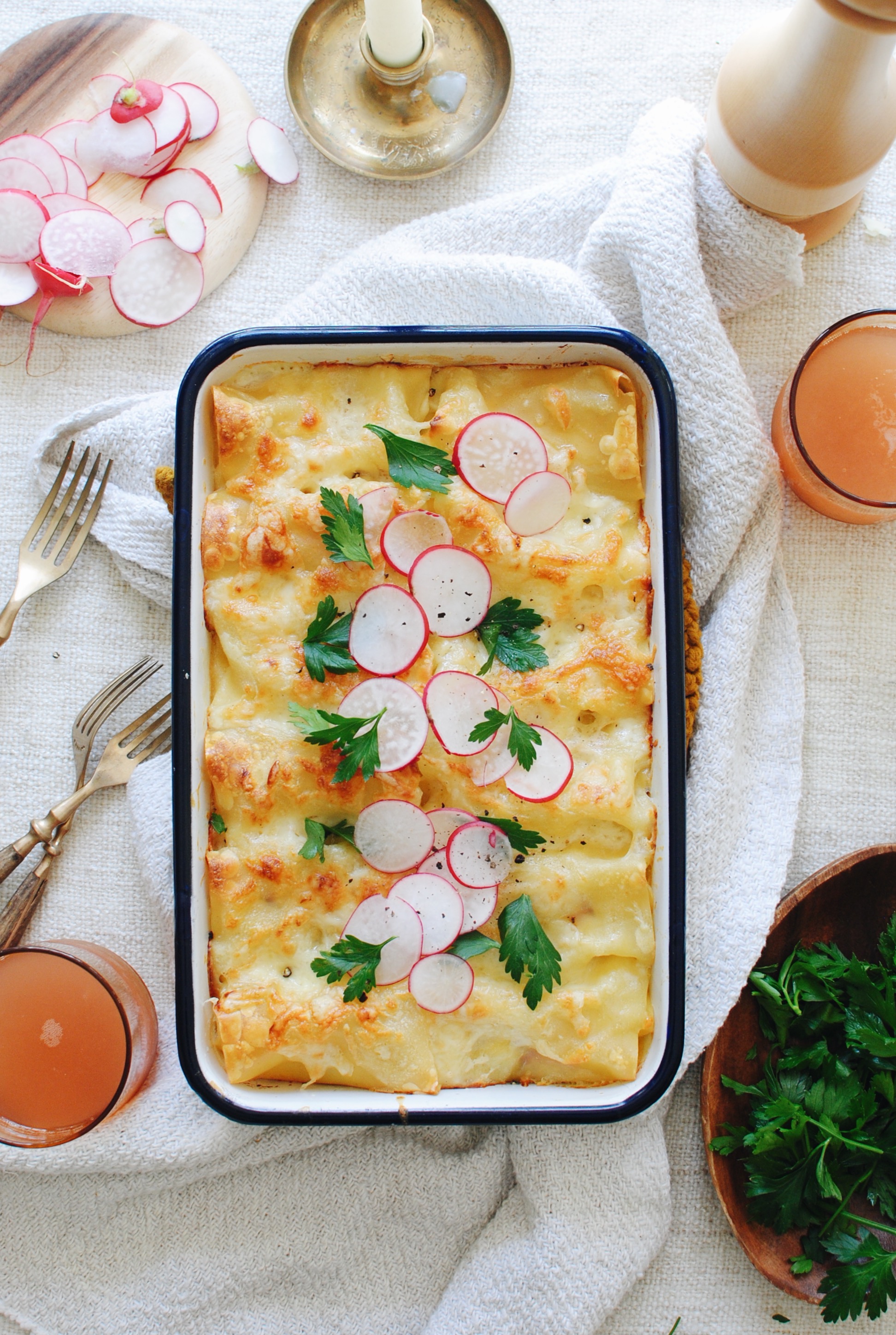 Make. it. tonight. or. else.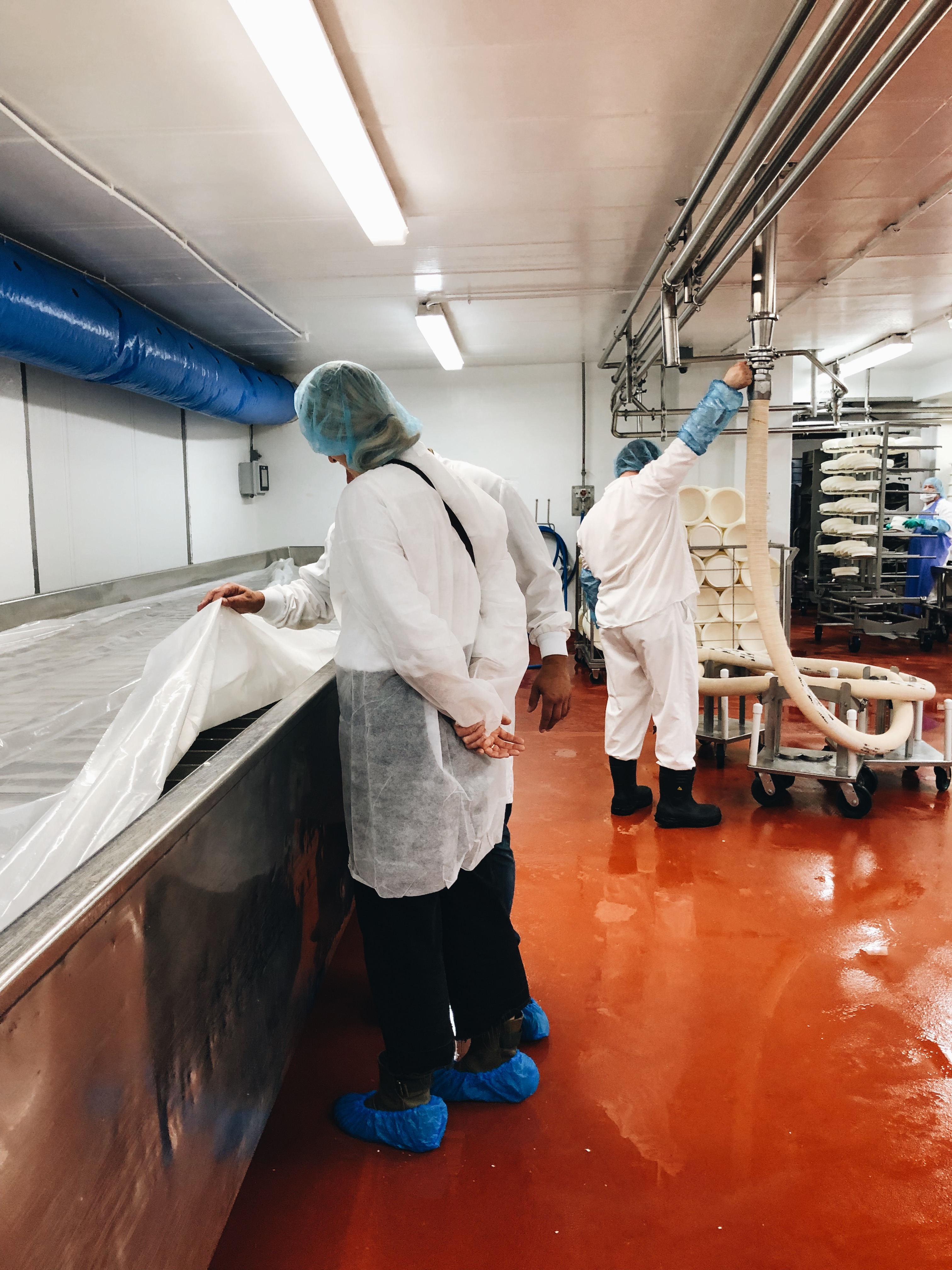 Is it a boy or girl? Ha! Just kidding.
(This post is definitely in partnership with my lover Roth Cheese. But all ramblings and cheese snarfings are definitely my own. We coo?)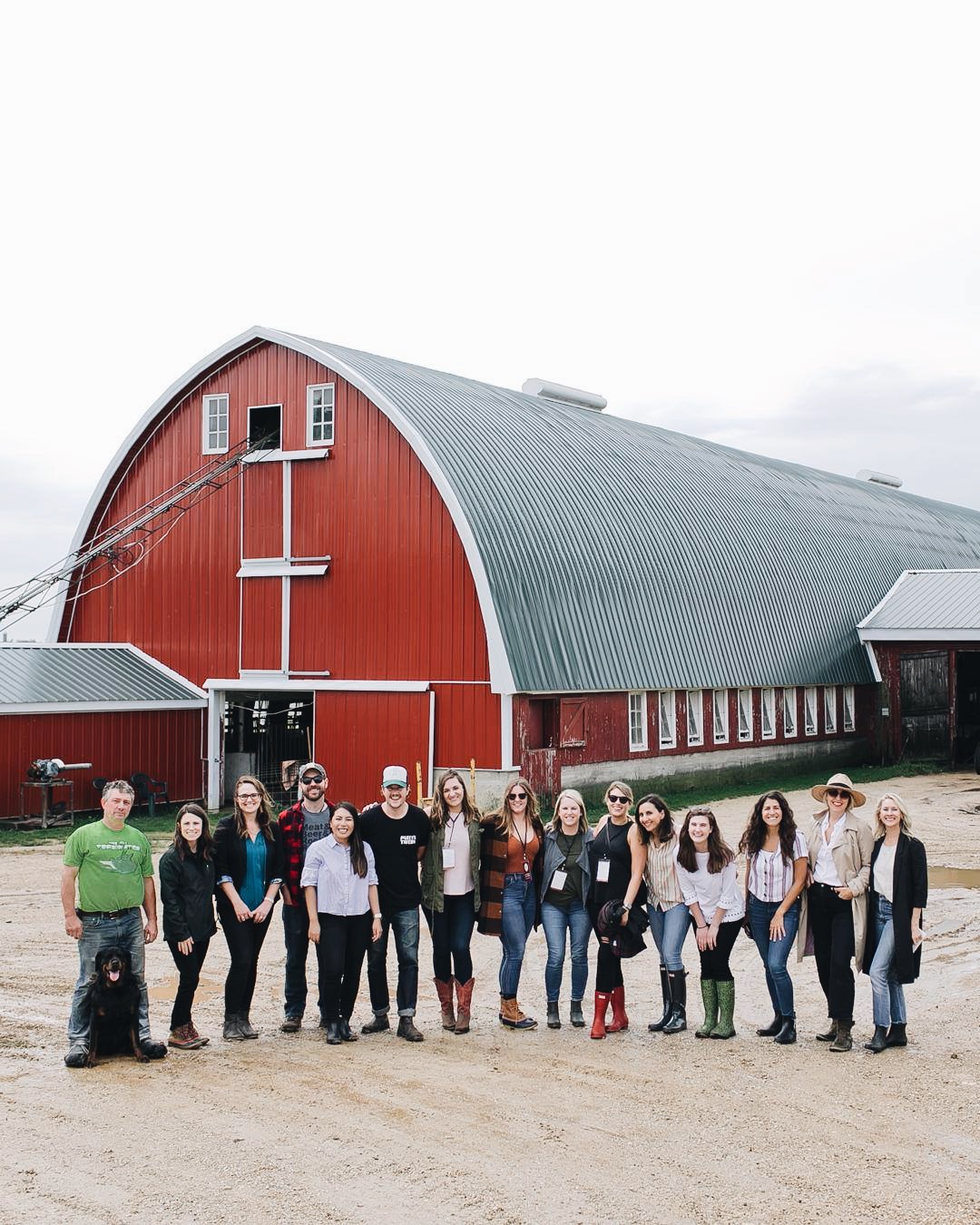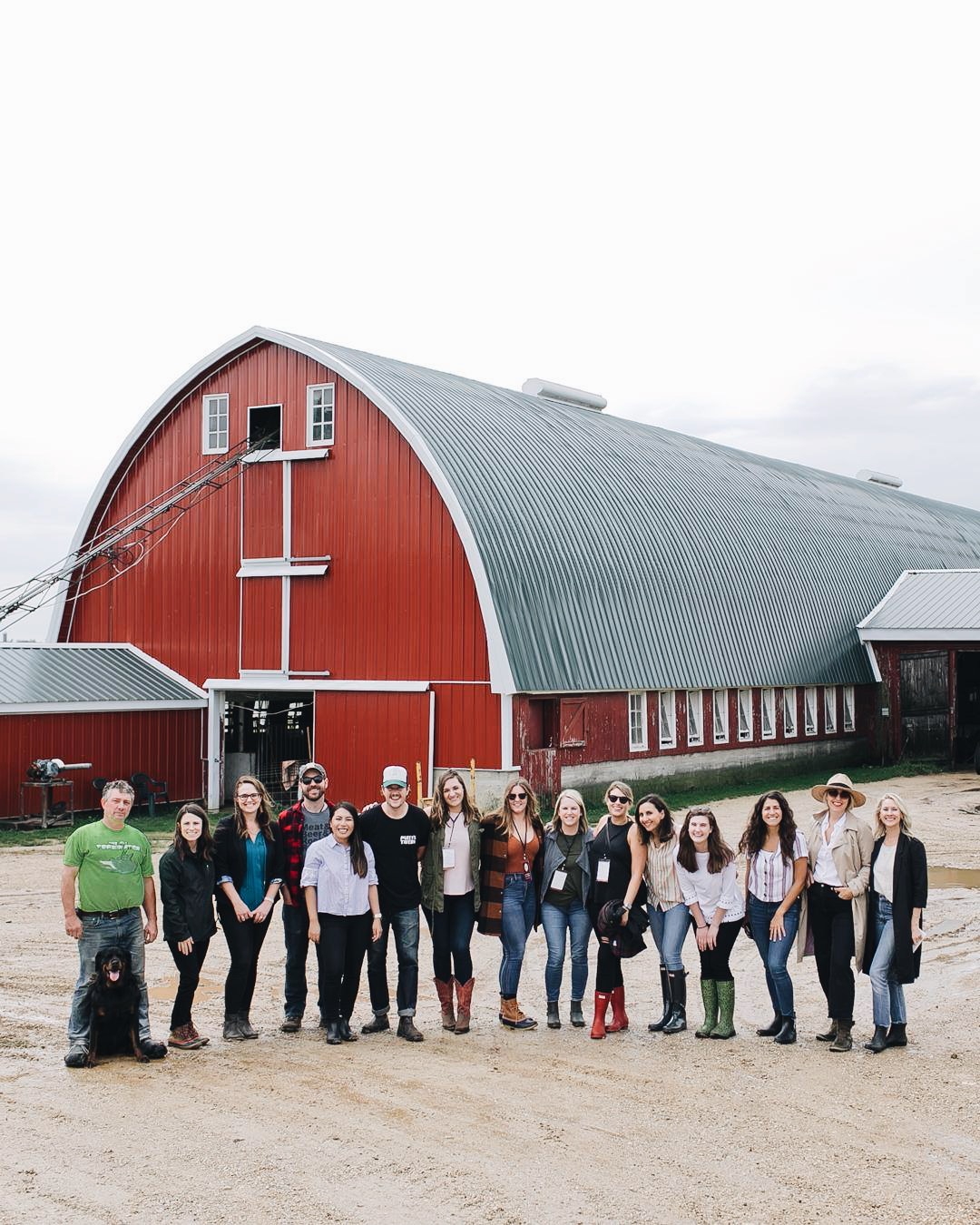 One more because I rightly can't help myself.