I tried to include all the words in the English language, basically.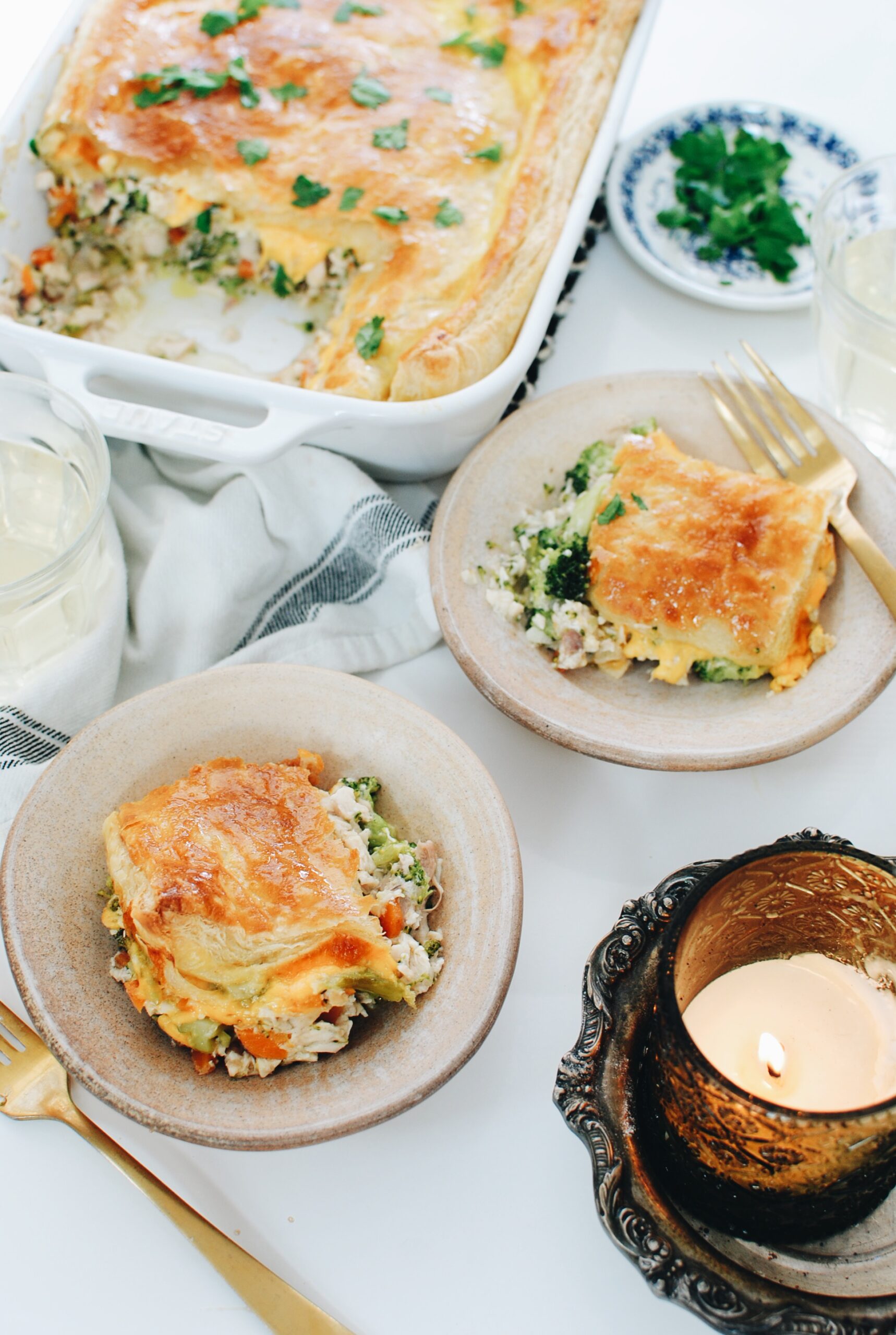 Is it a pot pie? Is it a casserole? Is it in your face t-minus eight hours? (this is where you select C for all of the above.)
Thing is, I've had a puff pastry sheet in my freezer since Watergate, and have been eying it every time I grab something from that shelf. I need to use the puff pastry sheet, I need to use the puff pastry sheet. I need to use the puss paffry sheet. (<–just seeing if you're awake.)
And I landed on THIS. A hybrid between broccoli cheddar casserole and chicken pot pie. And it is a heavenly day for all.
Let us peepeth.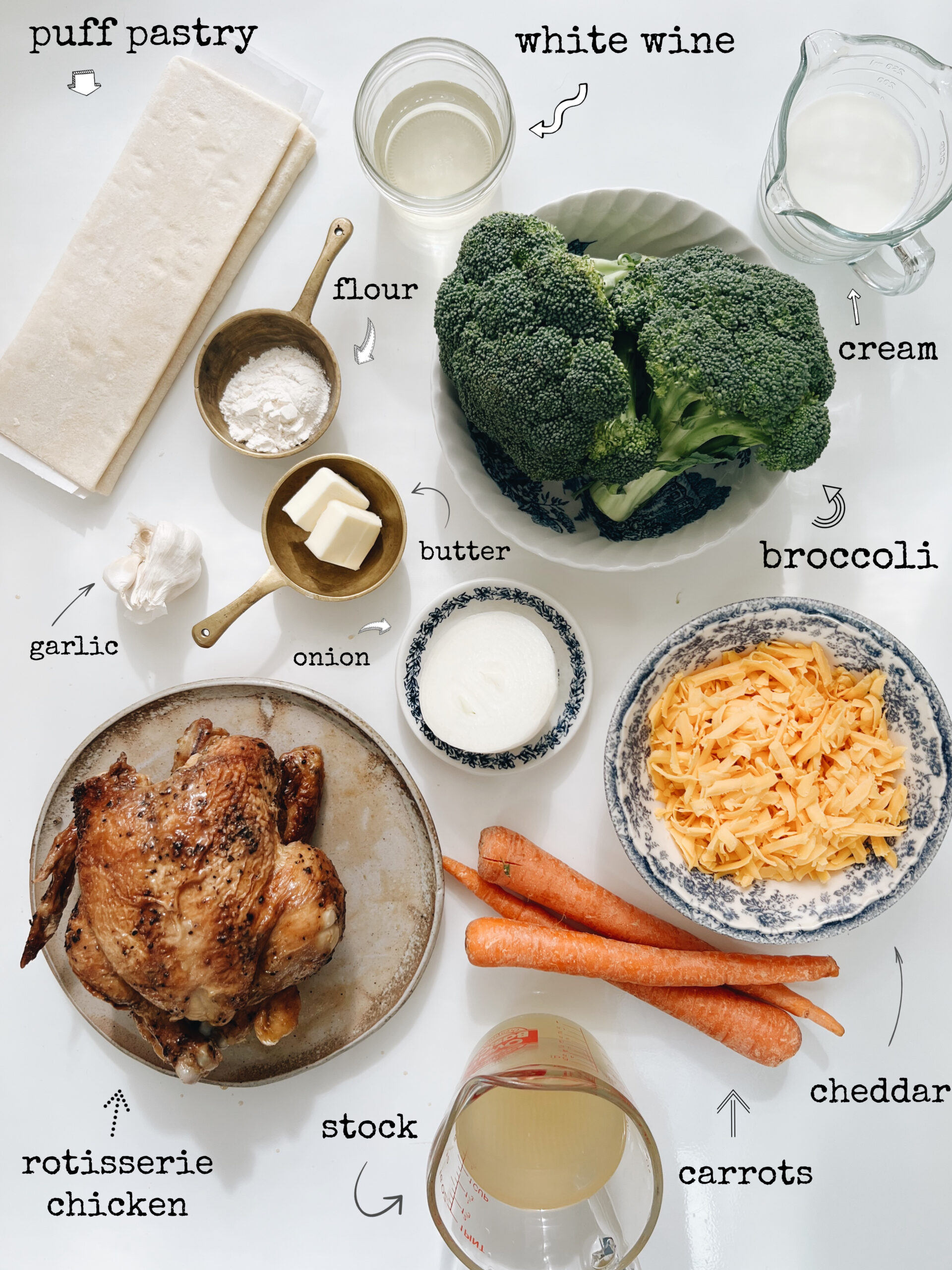 The short cut? A rotis! Of course roast your own if you're feeling it, but don't have any beef (er, chicken?) with those who snag a rotis. It's a scrumptious lifesaver and will shave off a tern of time.
The rest is classic! A bit of wine, a bit of butter, a bit of milk or cream, some veggies. Everything comes together in a skillet first, then transferred over to a casserole dish with a blanket of cheese (well, half of it for my weirdos) the puffed pastry and boom: dinner. You'll see it in the reel!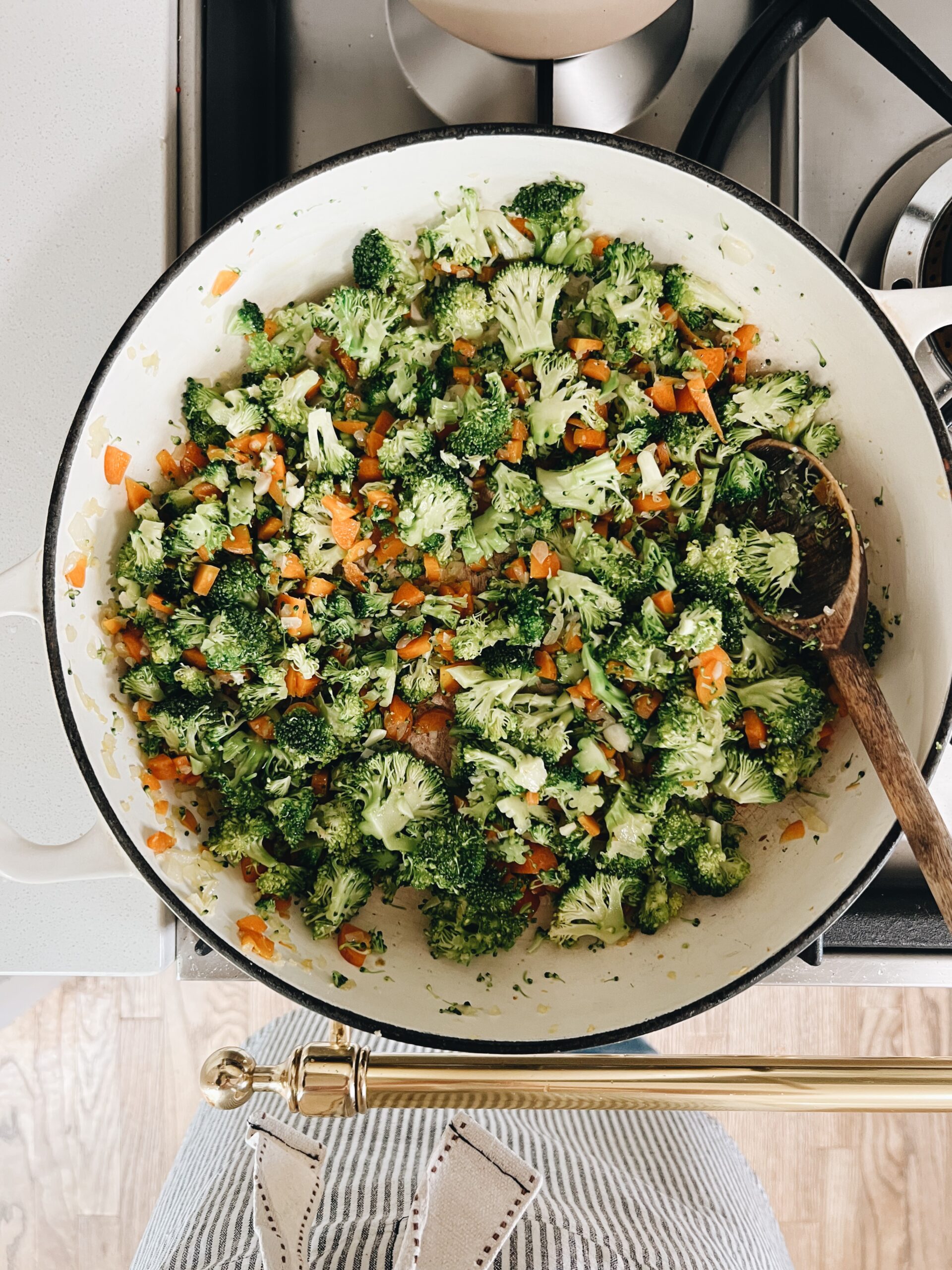 Into a skillet goes diced carrots and onions and garlic and the broccoli. I trimmed the stems (save them for later!) and cut the florets WAY down so you don't big obnoxious chunks in your dish. Or don't! Do it however you like it, bruh. Remove all the veggies and set aside in a bowl while you make your quick cream sauce.
I didn't get a photo but I can describe it. Butter + flour + wine + stock + milk + salt. Whisk whisk. You got it.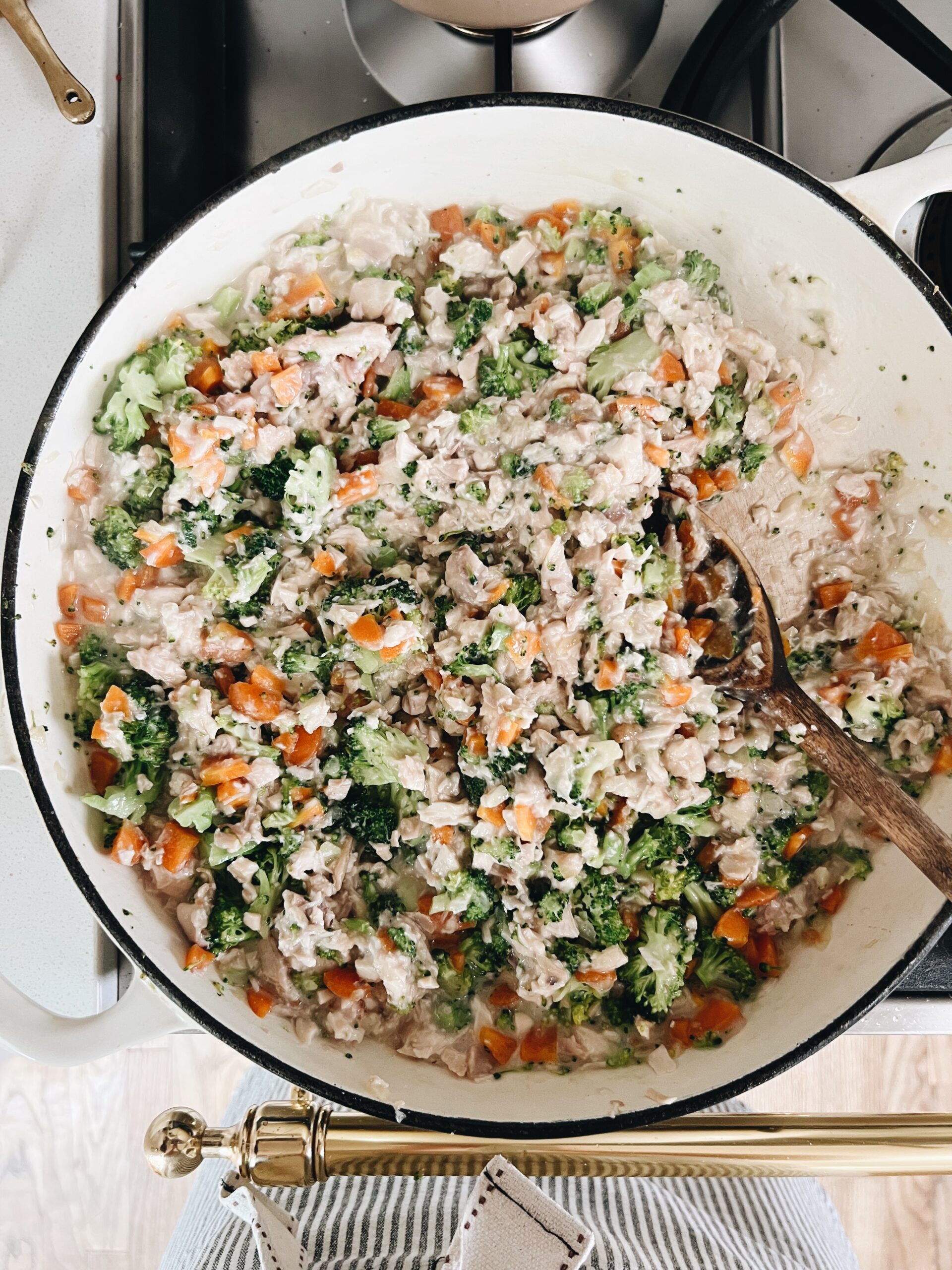 Then we'll add the chopped chicken and the veggies back to the skillet with the sauce and toss to coat. That's it! Give it a taste right now to see if we need anything. Pinch of salt? Get it in there.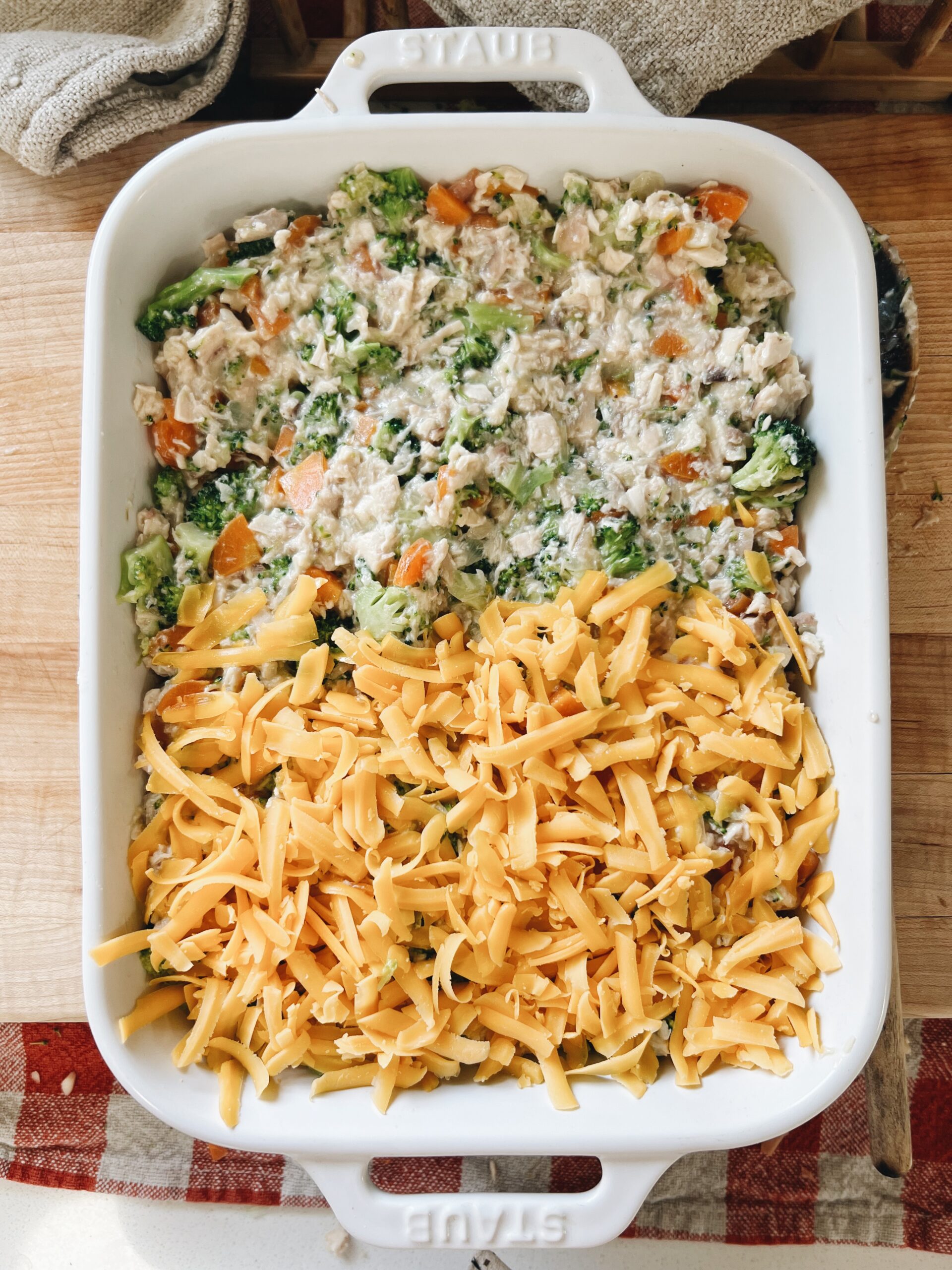 So now: into a casserole dish of choice, get it all evenly spread. You'll cover the whole thing with cheddar cheese (or only half it for the sane humans in our house). We're not finished yet. Hold up.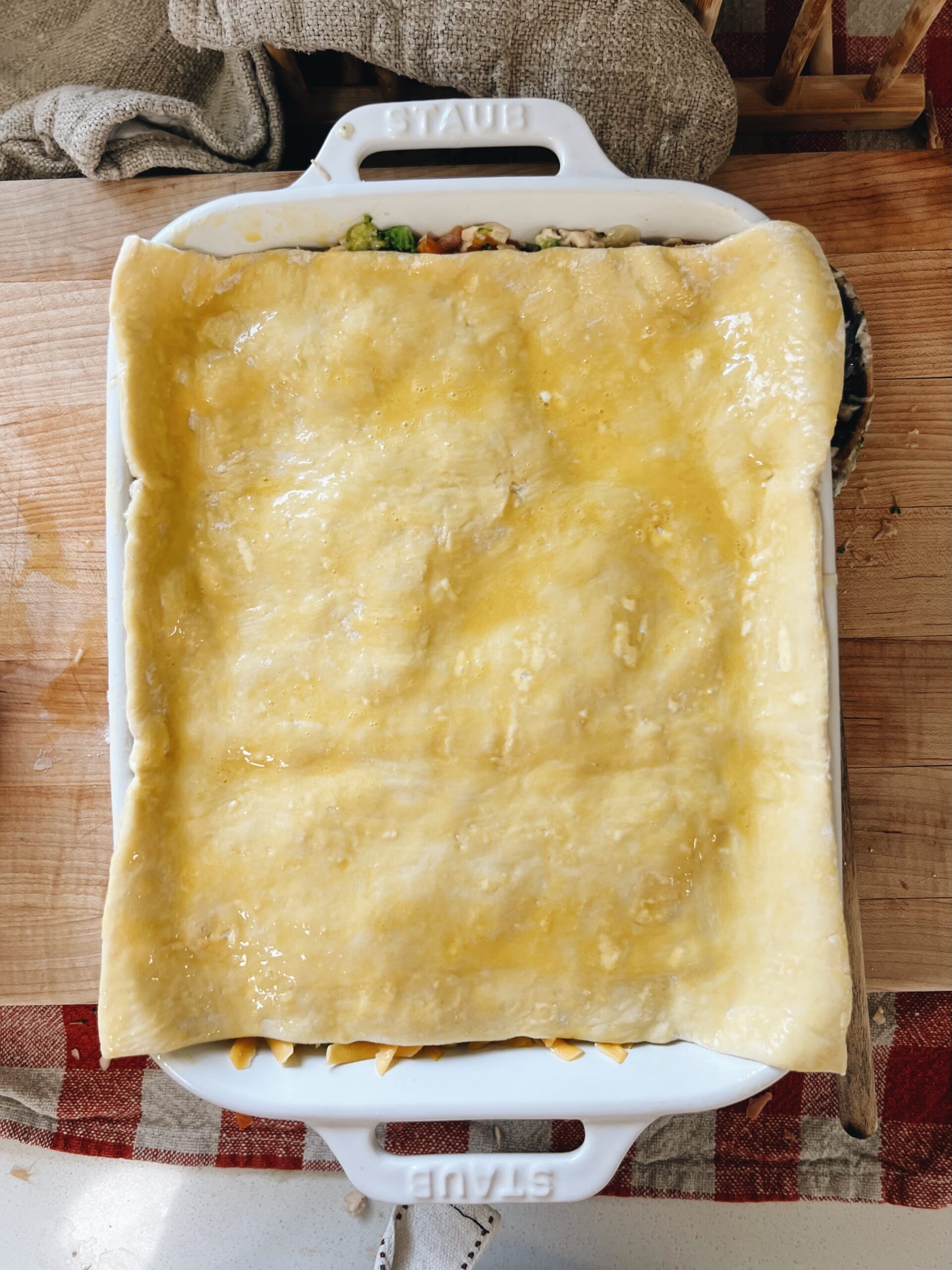 Hiiiiiiii. Puff pastry sheet plus an egg wash. Beautiful. Into the oven it goes for a bit and watch…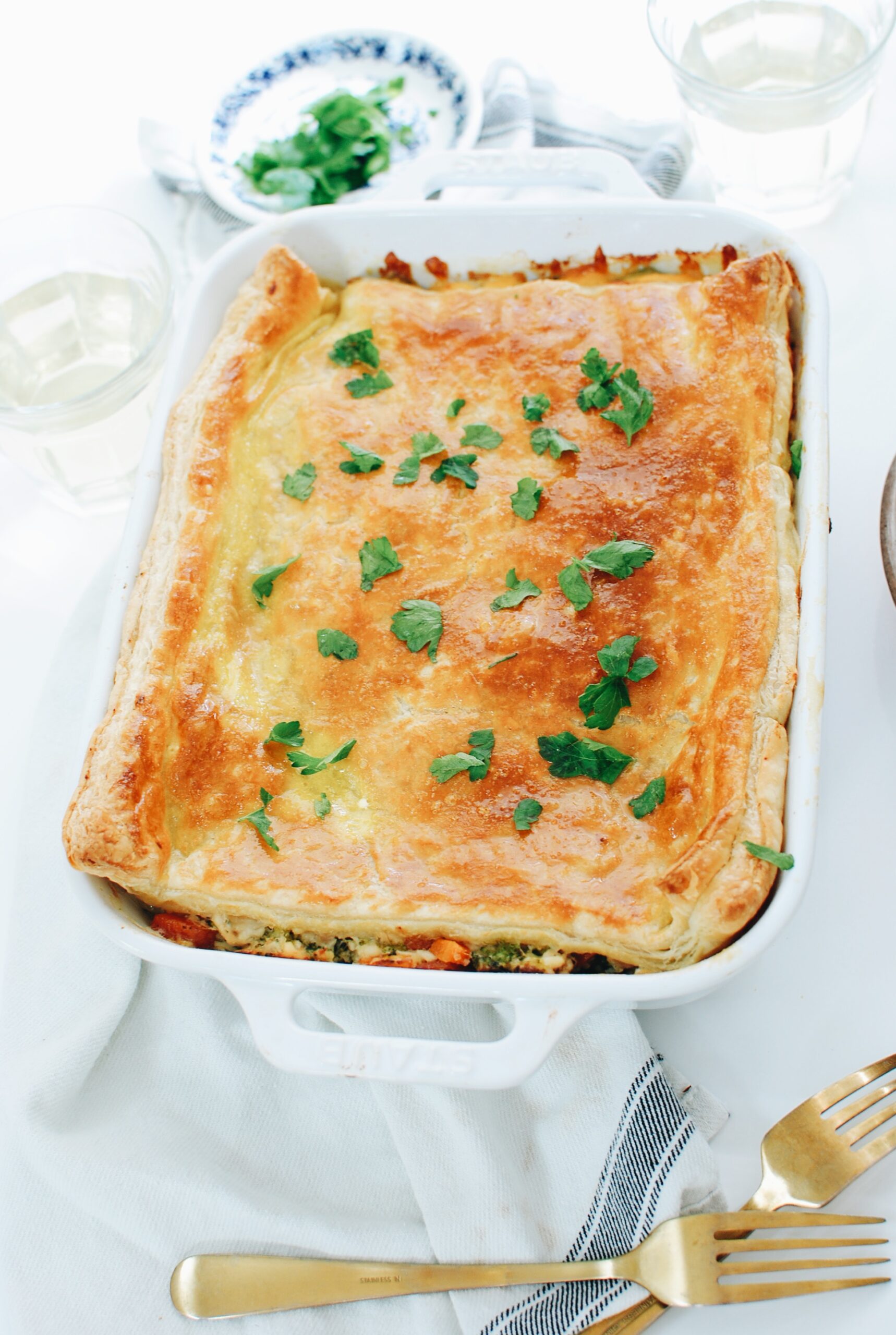 Stunner. That pastry is puffed and golden. Everything underneath is casseroled up and the melty cheese is all you need in life.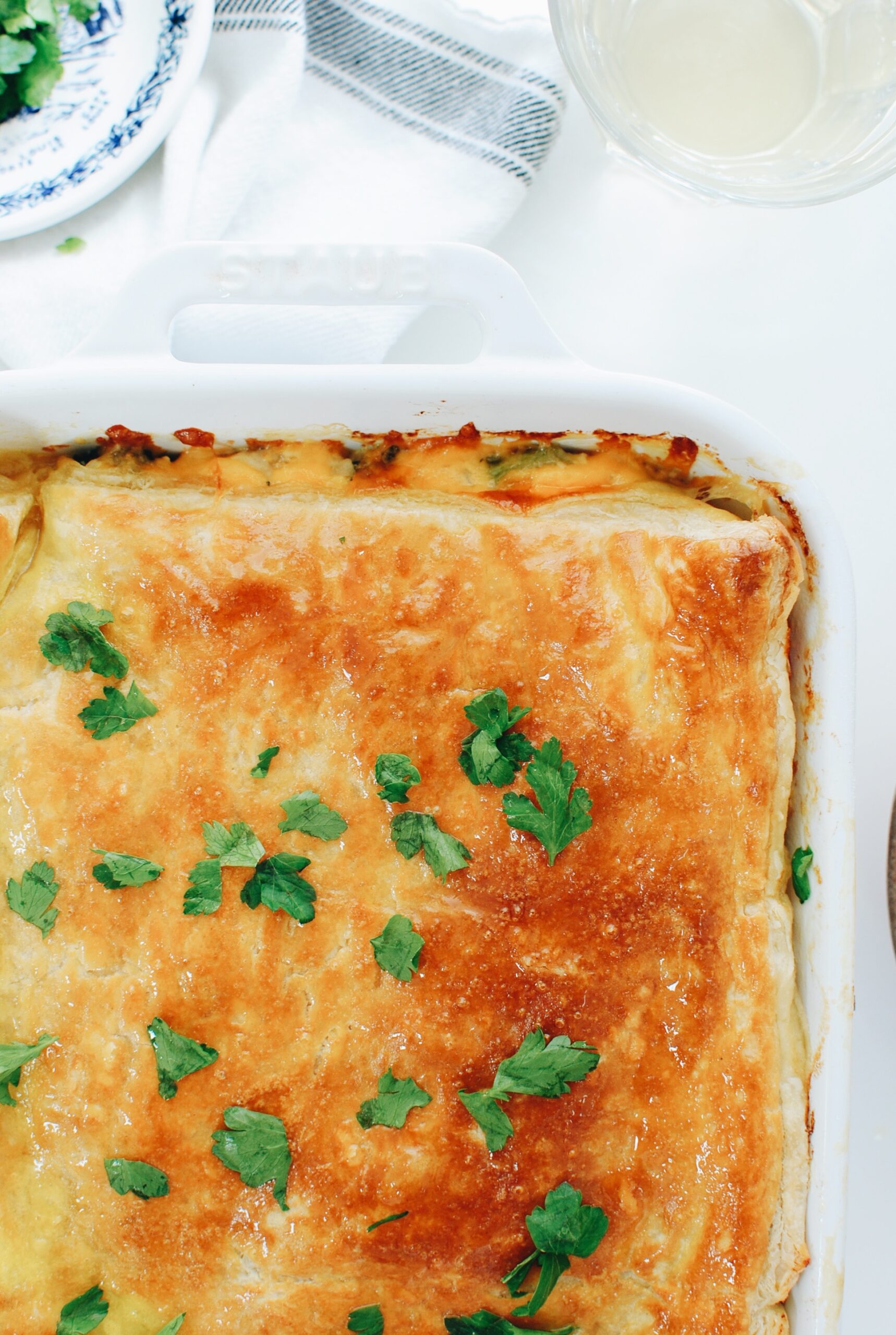 You can garnish with a little parsley if you want, or your entire face works as well.
Look at that gloss! Look at that cheese.
There's a lot of homey (not to be confused with homie) flavor in this, I'm sure you can wrap your head around. It's a total love child of pot pie meets broccoli cheese casserole. I've already said that, I know. I just feel like you need it hammered in. So if you're craving one or the other or both, boom. This is it. This is all you need.
Please get in that immediately.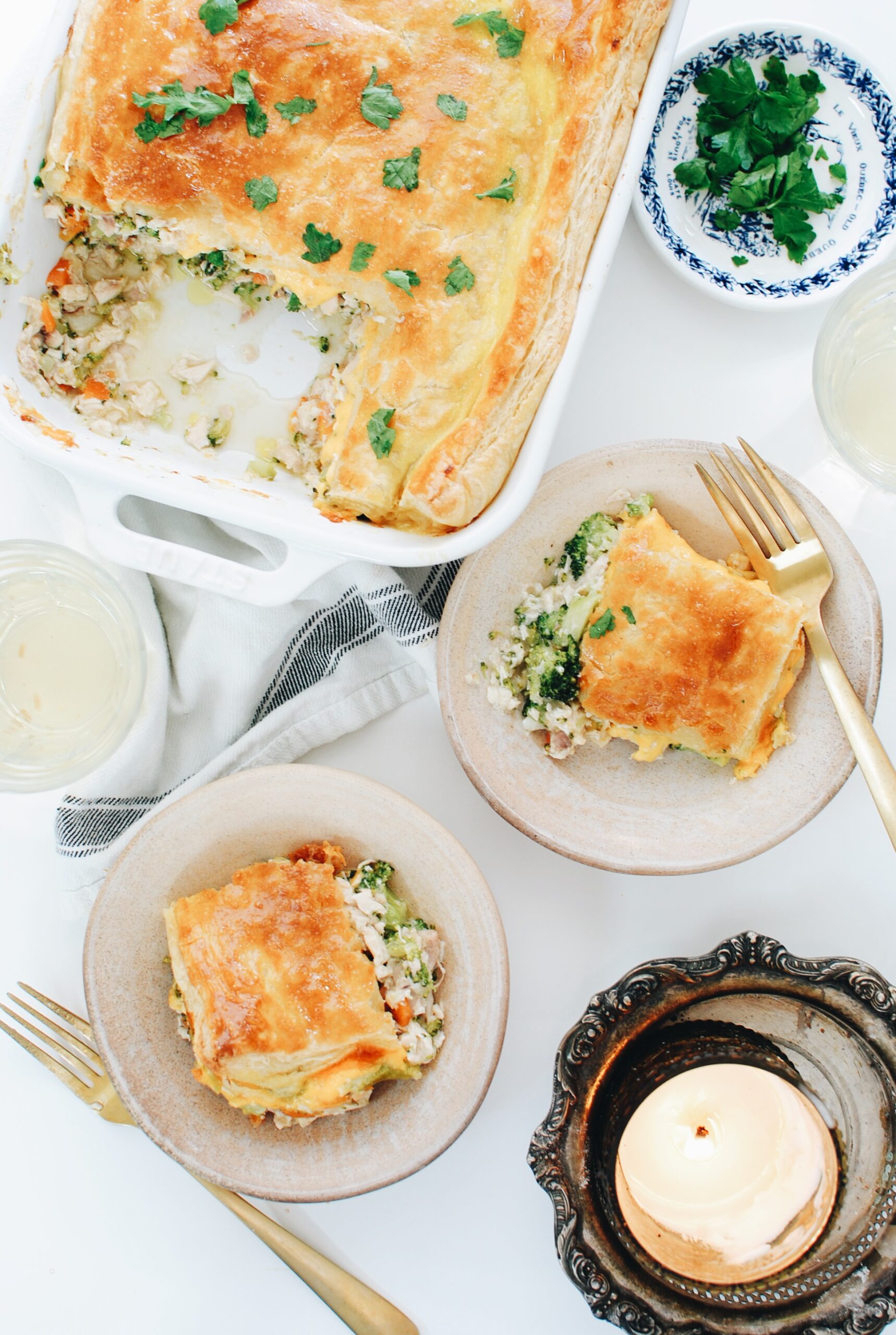 I'll see you at the bottom.
Broccoli Cheddar Chicken Puff Pastry Pie
Ingredients
1 rotisserie chicken, shredded and chopped
2 small heads of broccoli, cut into florets and chopped
3 carrots, finely diced
1/2 white onion, finely diced
5 cloves garlic, minced
2 Tbs. Butter
2 Tbs. All purpose flour
1/4 cup wine
1/2 cup milk
1 cup chicken stock
1 8 oz block cheddar (if you're covering the entire dish like a sane human)
1 sheet puff pastry, thawed
1 egg, lightly beaten
Coarse salt
Instructions
Preheat your oven to 375.
In a large skillet, add 2 Tbs. Extra virgin olive oil over a medium high heat. Add the onions and carrots, along with a pinch of salt. Sauté roughly five minutes, until the veggies start to get tender. Add the garlic, broccoli, another pinch of salt; sauté another two minutes, until the broccoli turns bright green. Add a splash of water if needed.
Remove the veggies from the pan and set aside while you make the sauce.
Back in the skillet, melt the butter over a medium heat. Add the flour and whisk until smooth, just a few seconds. Add the wine and whisk for a few more seconds, then the stock and milk, slowly. Keep whisking until it becomes a silky sauce, about a minute. Add a pinch of salt.
Add the chopped chicken to the sauce, along with the reserved veggies. Toss to coat everything together.
Transfer to a casserole dish, then sprinkle the cheese over the top. Place the thawed puff pastry over the casserole dish, brushing with the egg wash. Place into the oven for about 20-25 minutes, or until the pastry is puffed and golden brown.
Let it rest for a few minutes to set, then garnish with parsley (if desired). Slice and serve!
Serves four.
7.8.1.2
627
https://bevcooks.com/2023/02/broccoli-cheddar-chicken-puff-pastry-pie/
If you need eyes to bug out tonight, this is the route. ^^^