Mama. Mia. Sakes. Alive. Yes. Another. Cream. Sauce. Love it.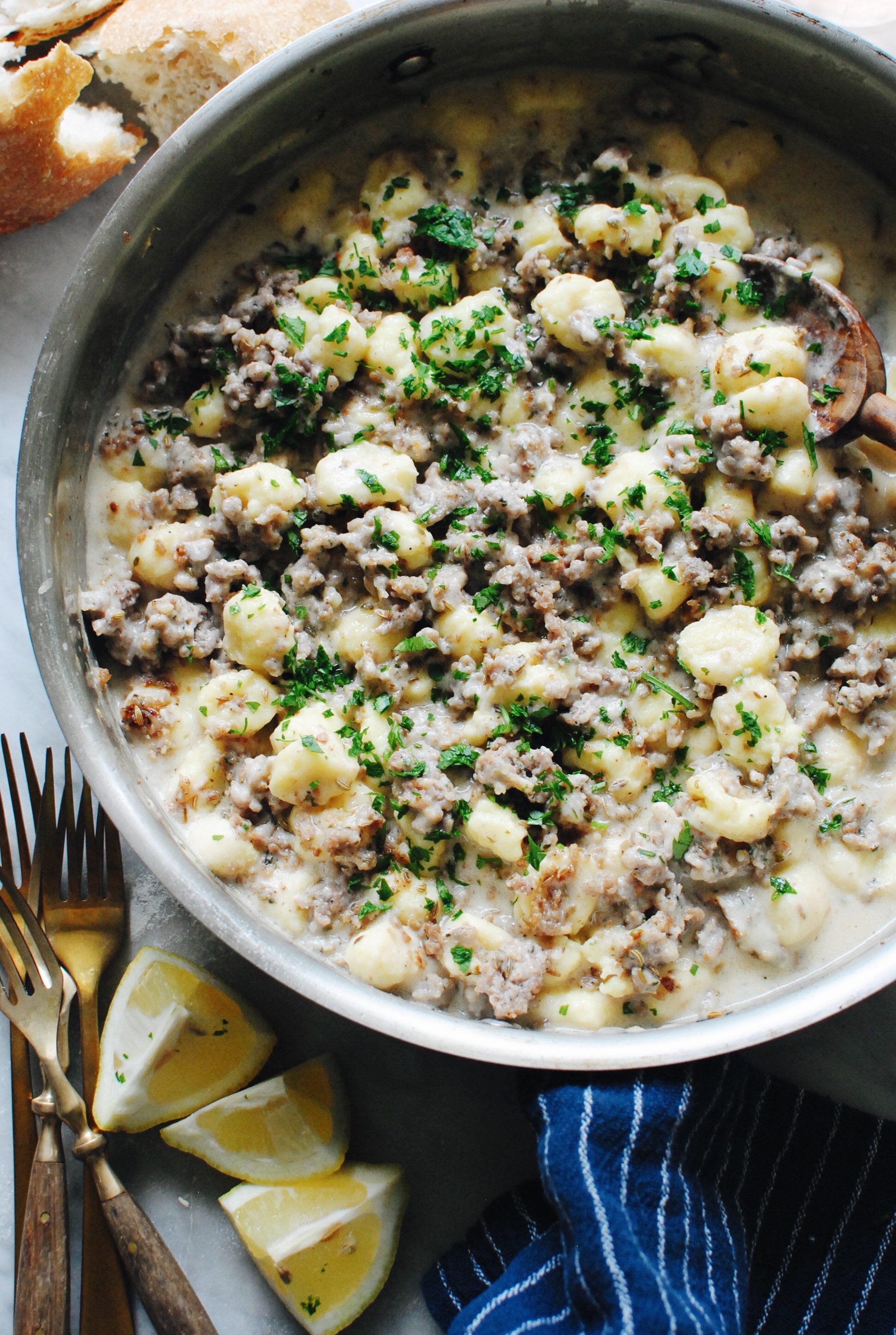 If this isn't so fall right now, I have no idea what we're even doing here.
Because this is the thing: you've probably been putting off making gnocchi for 47 years now. All the potato boiliiiiing, the cooliiiiiiing, the pushing through a riceeeeeeer, the adding of the flouuuuuuuuuur no.
Nope.
Nuh uh.
I get it, sister.
But here's the other thing – DeLallo made us a gnocchi kit that is BEYOND simple to make and all you do is add water!
Seriously!
Really!
For real!
I can chill.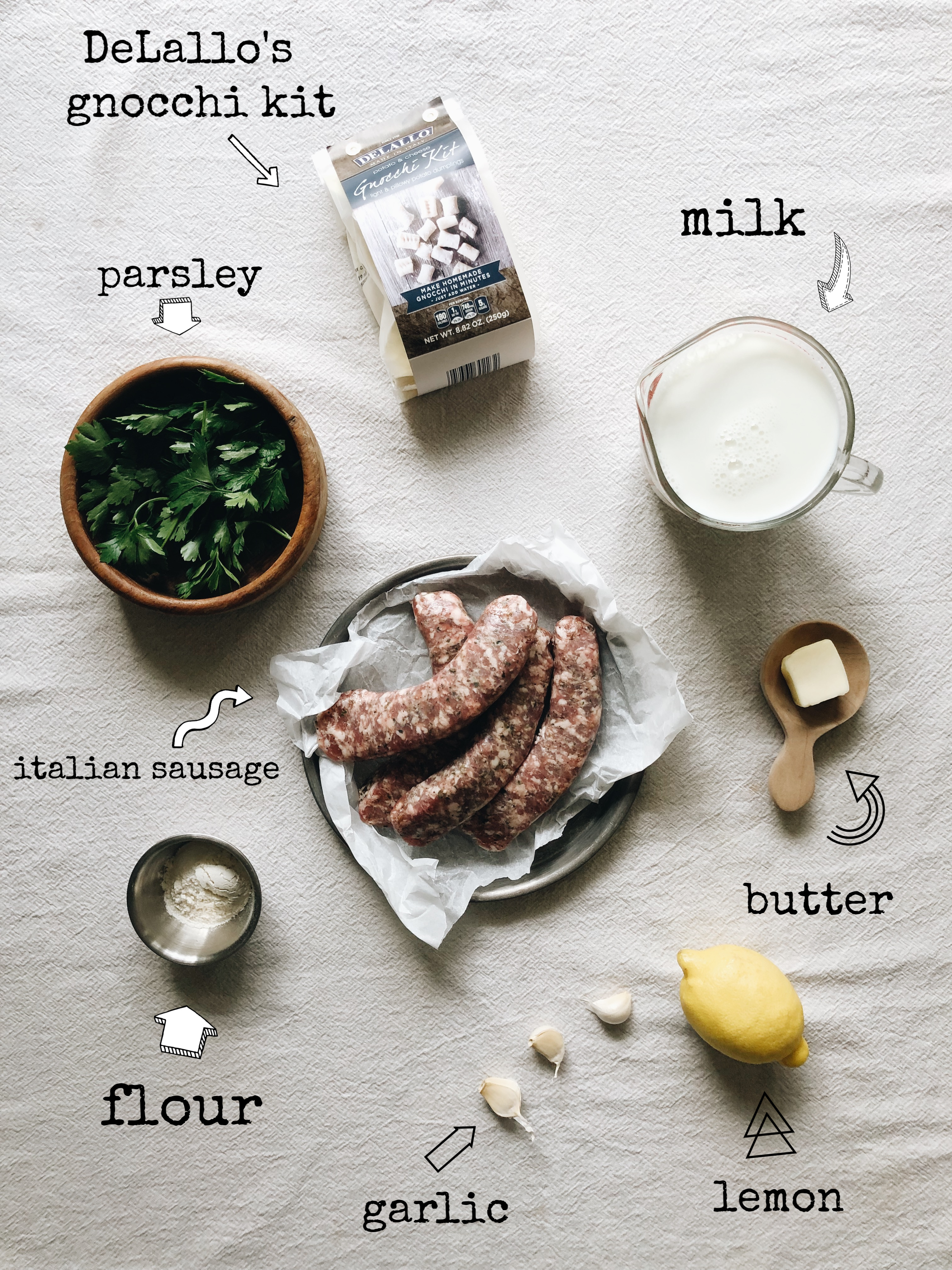 So this is what we're making. DeLallo's fluffy, parmesan-flavored pillowy gnocchi in a lemony garlic cream sauce with Italian sausage. Already hurts so good.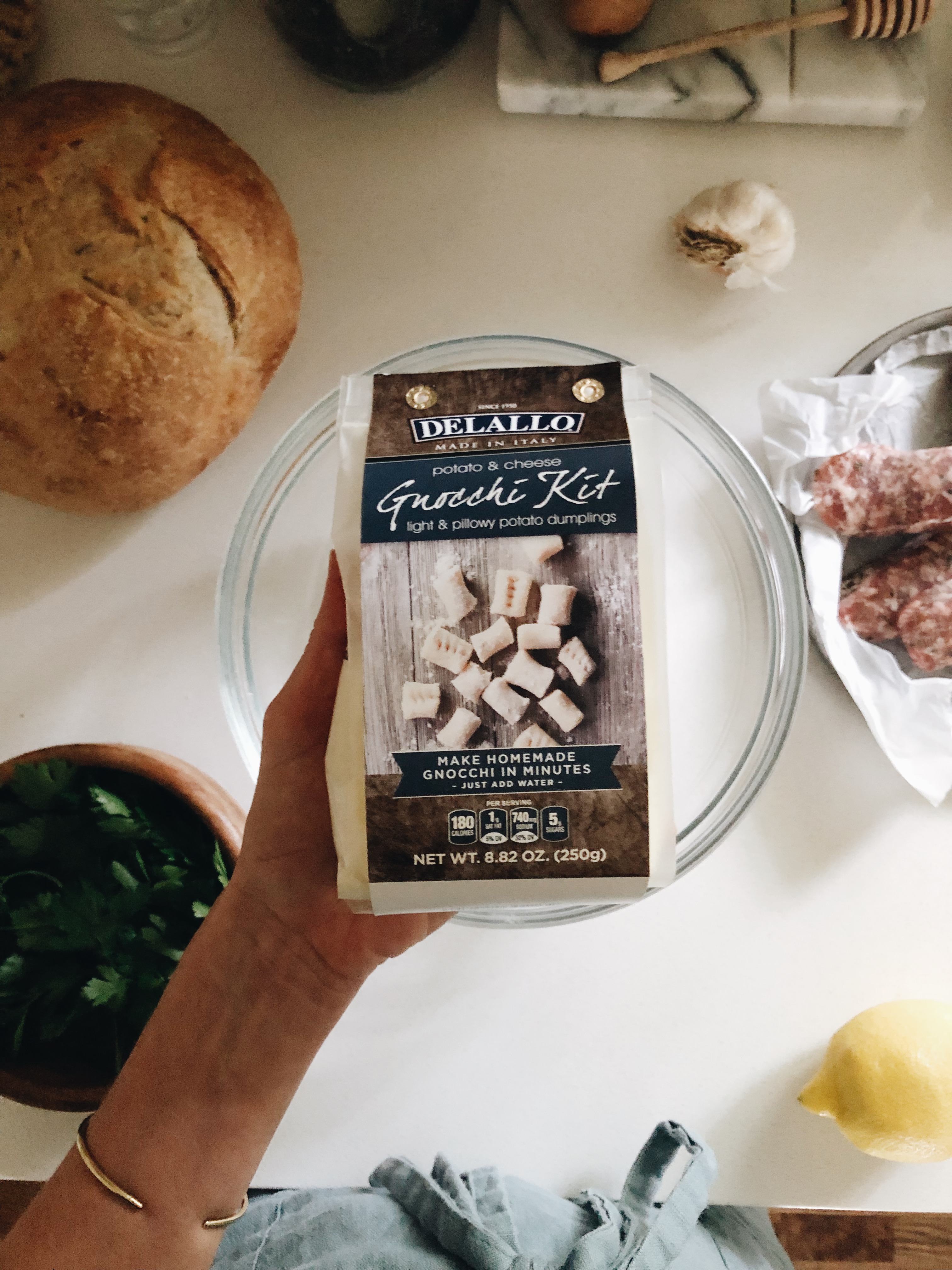 Let me show you how to make this. So pimpin' easy you won't believe.
First thing you do is put on some jazz. Or ominous piano music. Or Seinfeld reruns, whatever keeps you ticking in this life.
Then just follow the instructions on the back and look at the illustrations because if you're like me, YOU'RE GOVERNED BY A VISUAL. But I need a lot of guidance in this world, so.
You dump out the package contents and add warm water. Mix her up, knead it a nano, then roll it out into that cute loaf shape. Then create the little logs and slice them into tiny pillows of happy.
I will say! Don't skip the water boiling. You might think to yourself, like I did, "I'm going to skip that step and slide them straight to the sauce." Don't. Don't skip it. The quick boil in the water cooks them and keeps them solid. If they get added to the sauce uncooked (like I did) they'll mush up over time and won't stay in that nice little fluffy bundle. And I can't have you cursing my name. I already have to wash my hair today, so.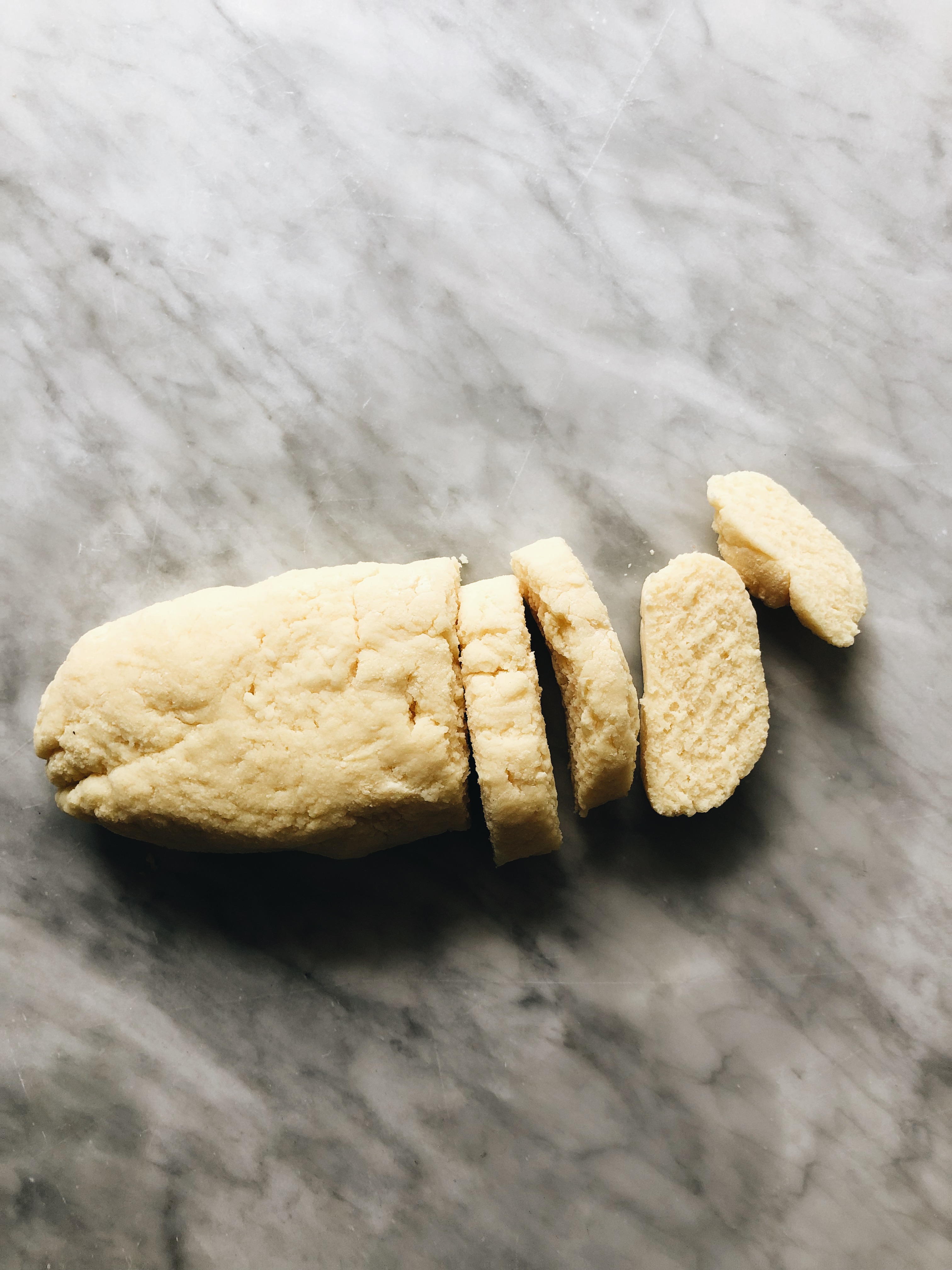 Look at that texture already. I have a high appreciation that you can actually SEE THE FLUFF LAYERS inside which will become the most insane mouth treat later on.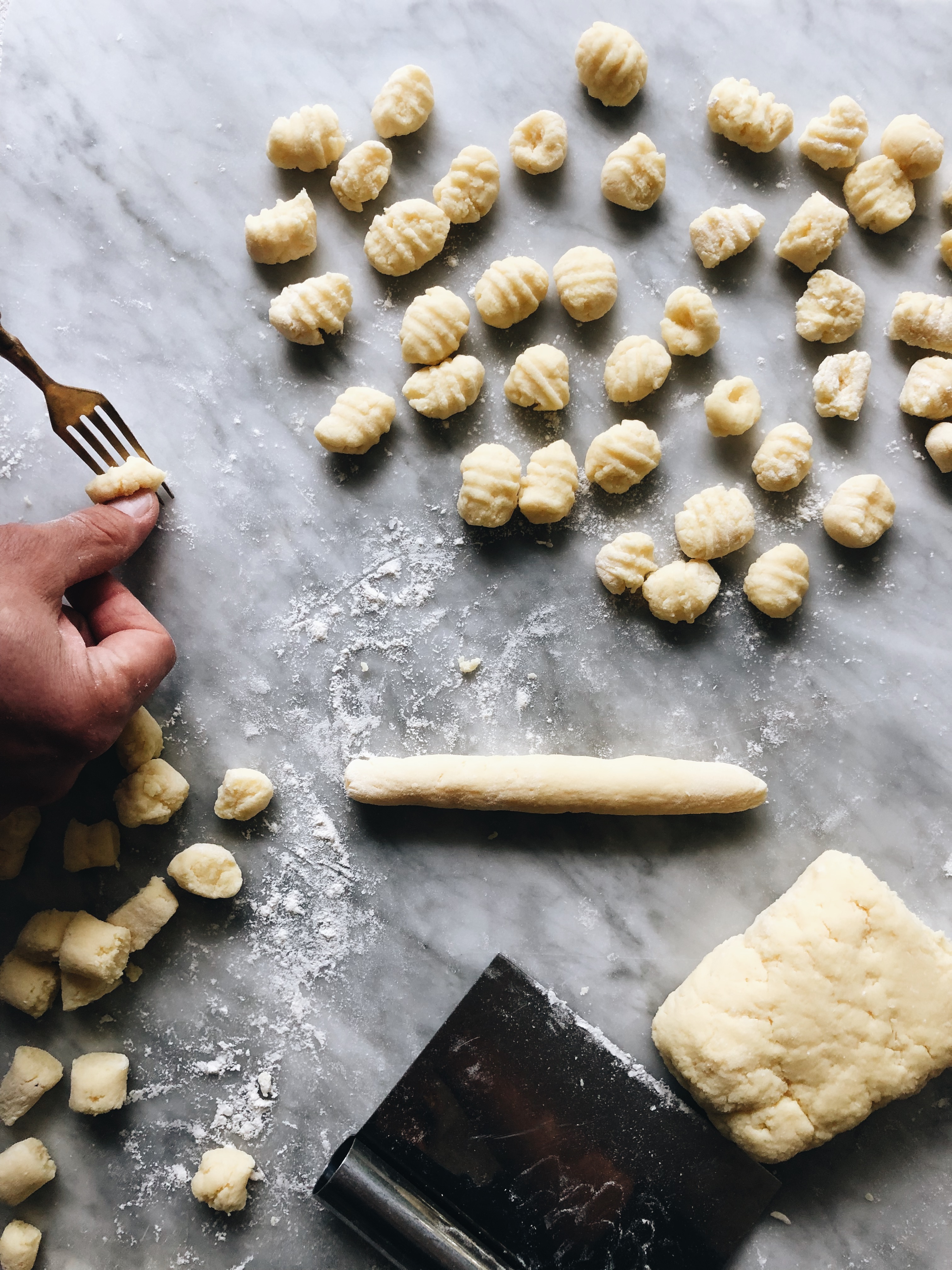 So you can do one of two things: Leave the gnocchi in the tiny little pillow shapes. Which is great! You'll love it, and you're still a good person.
OR, you can gently roll each gnocchi against the tines of a fork to create the little texture.
Also, that would be Aaron's hand. Not mine. Just wanted to be clear. "She had MAN HANDS." – name that show.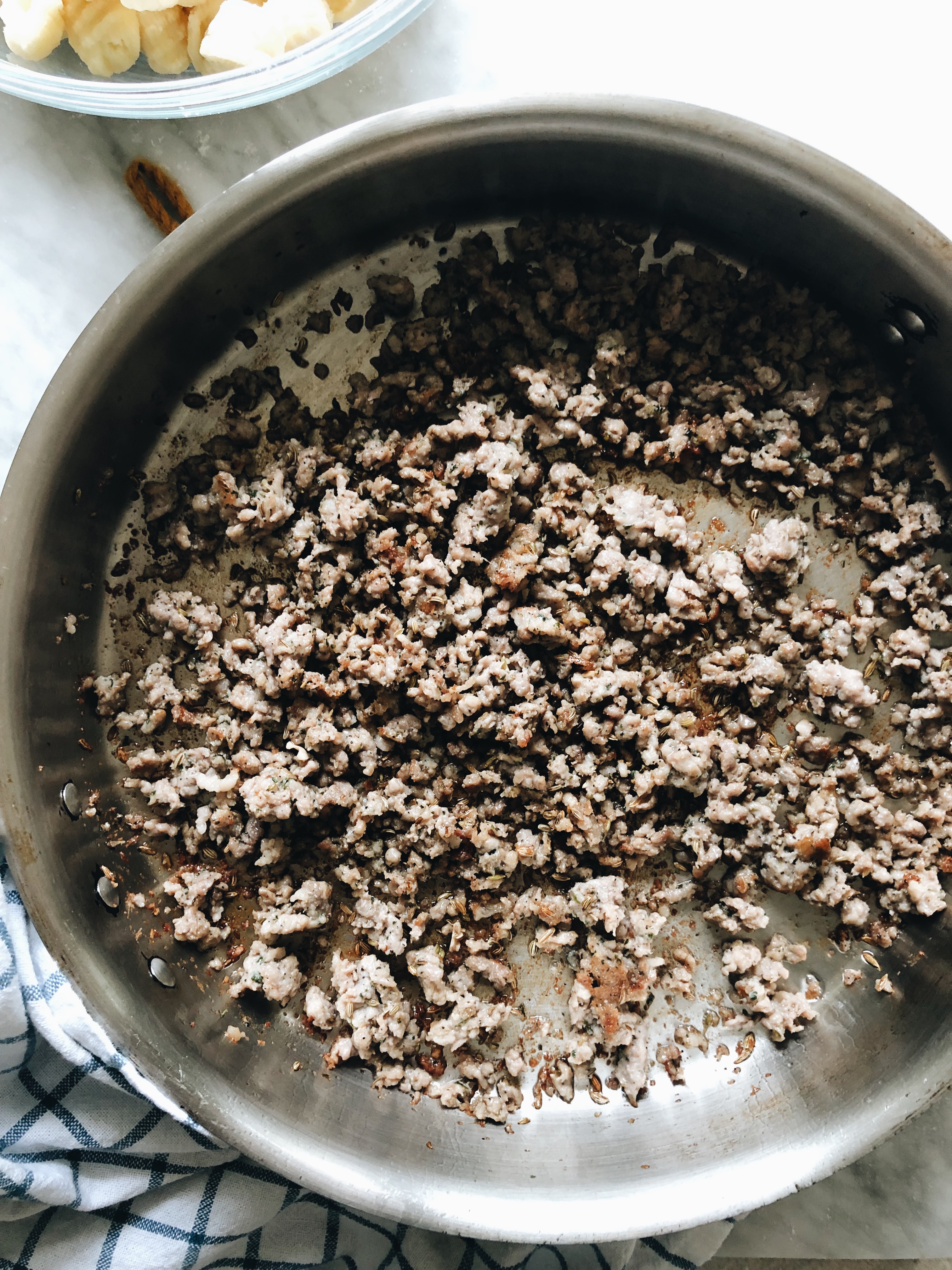 Once you're done forming the gnocchi, get that sauce going, man.
Just brown some sausage. Normal life stuff. You can even get away with three sausages if you fancy. Three to four. Anything goes. We're breezy.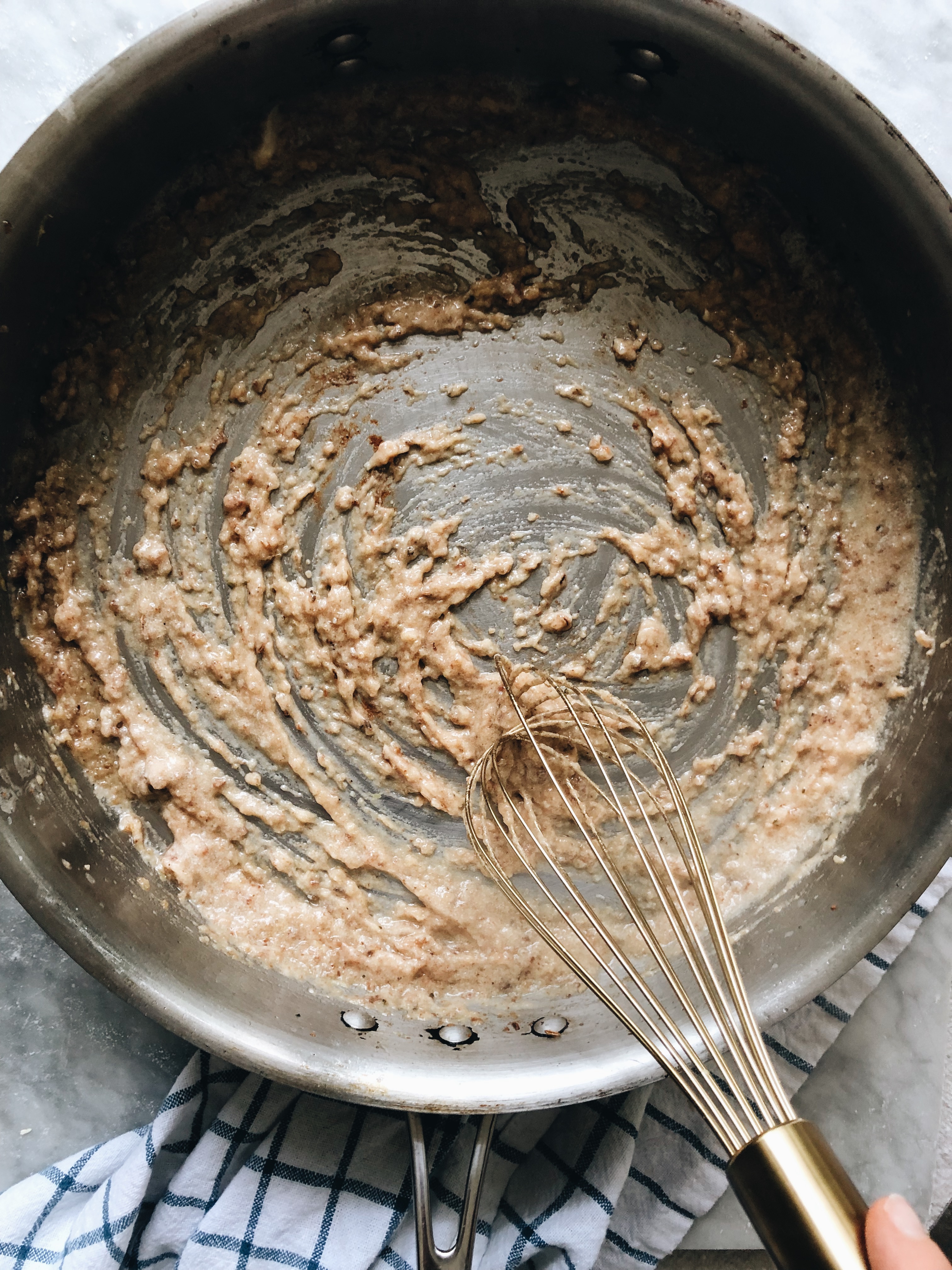 After you've removed the sausage, melt some buttah. Just two Tbs. Then you'll add a tiny bit of flour and whisk it until it starts to lightly brown. Let me give you a little tip – in a wide pan it's HARD to whisk flour into butter, so you can tilt the pan a few seconds while you whisk. That'll save you some curse words.
Add in the minced garlic, lemon ZEST YES WE DID, and juice. It smells like bliss right now and this is just the beginning.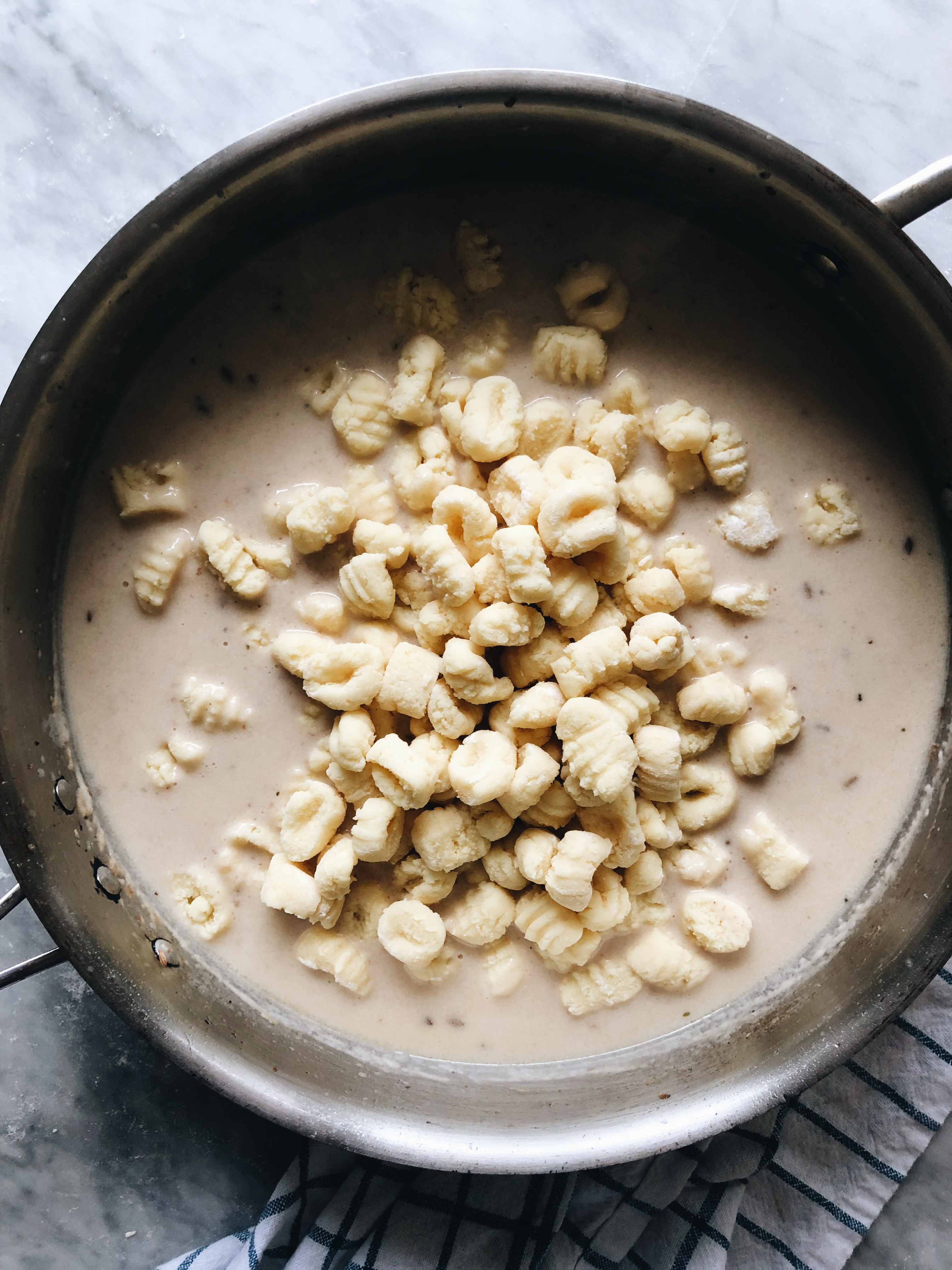 You'll slowly add in the milk, little by little until it's all mixed and thickened and saucy and glorious. Then add in your (boiled! boil them!) gnocchi to the pan and just lightly toss to coat. Just takes a few flippy flops and you're finished.
Oh – add the sausage back! Glad we had this talk.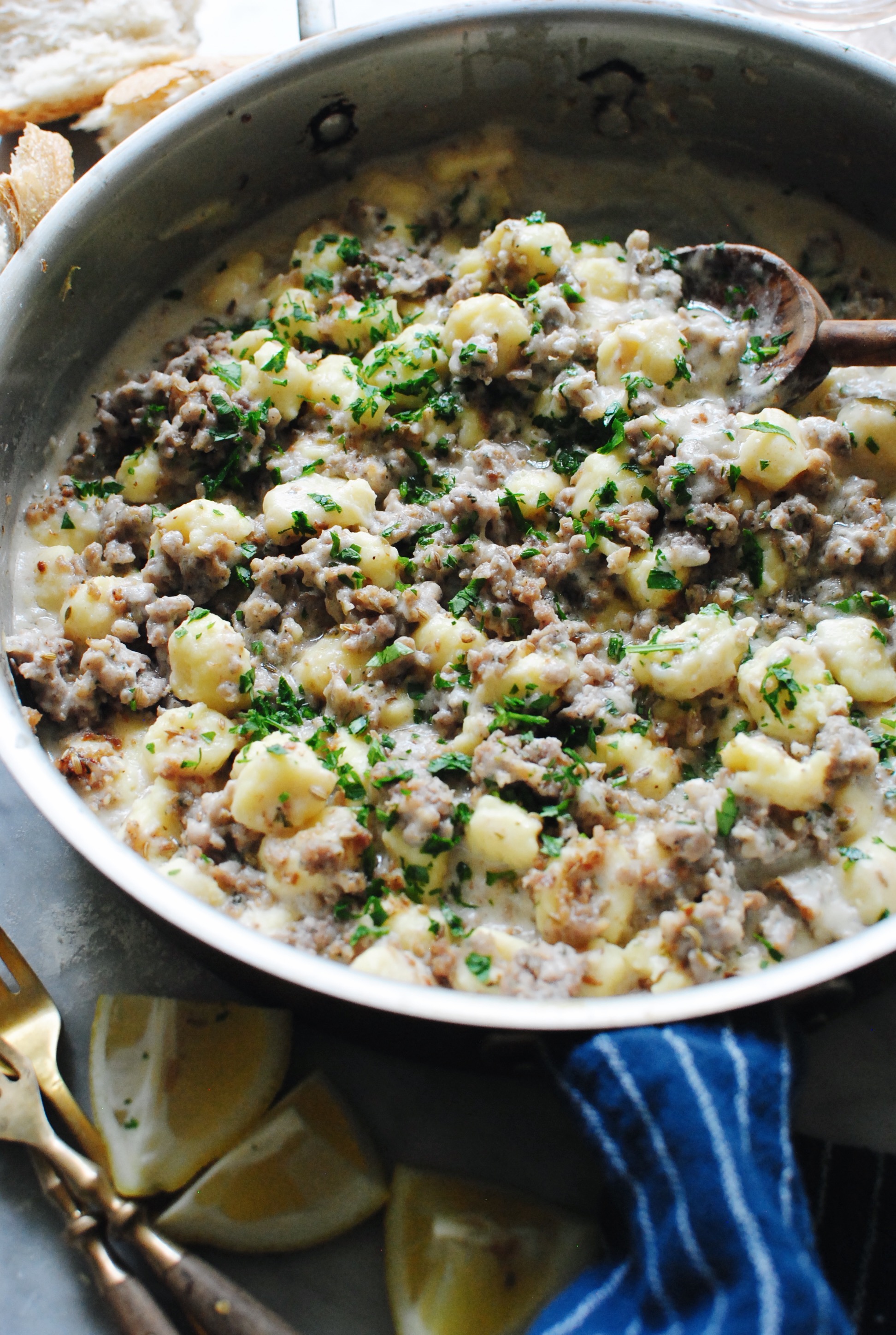 And it's just sublime, you guys. Minced parsley on top, extra lemon squeezes because you love your life.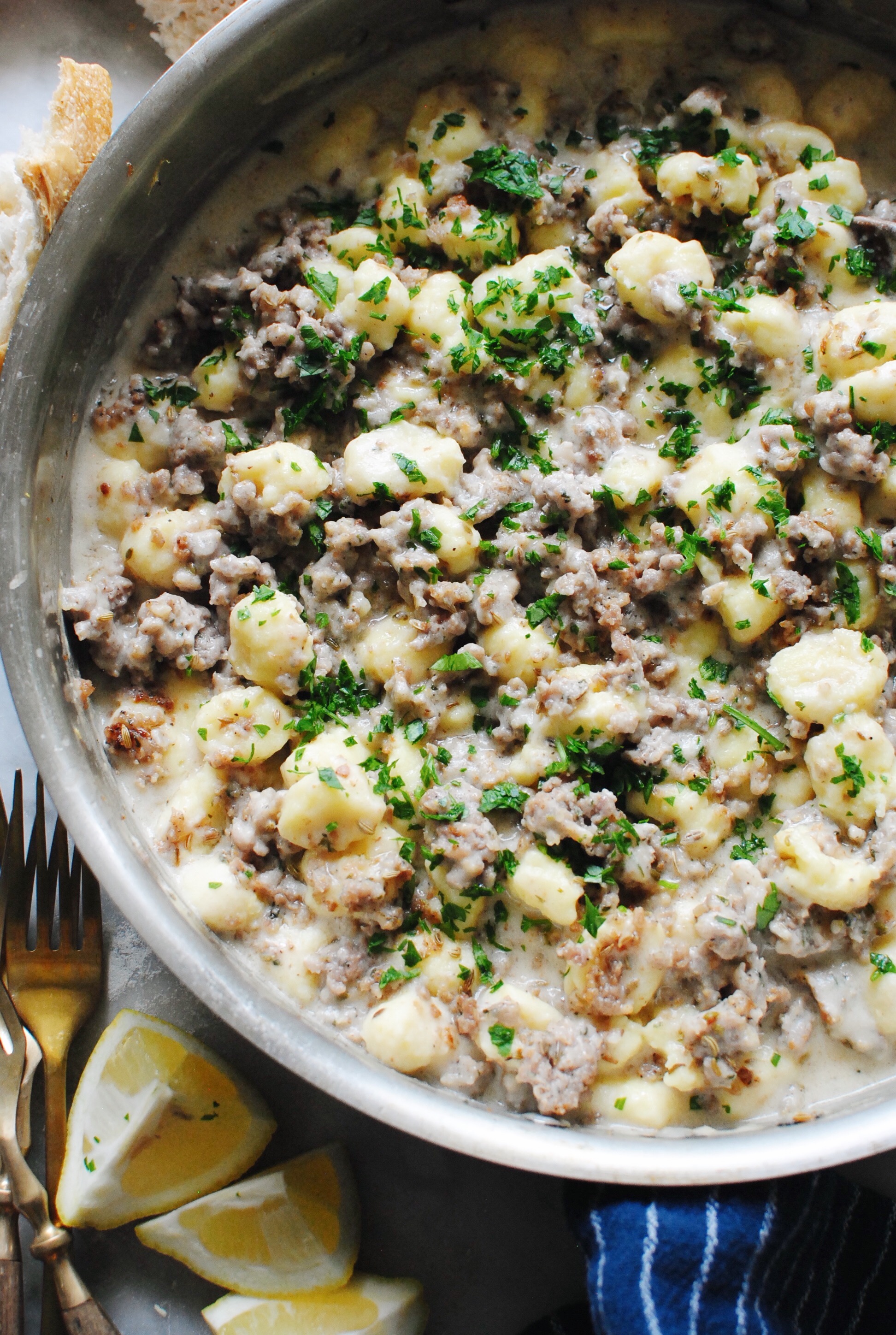 THEEE most comforting textures, out-of-this-world savory flavor (that garlic lemon cream sauce? stop it.), and those perfect, light and fluffy gnocchi bites for days. It's all just so much. So much happy. So much greatness. So much fall.
And it was SO EASY. DeLallo, why you gotta do me like this?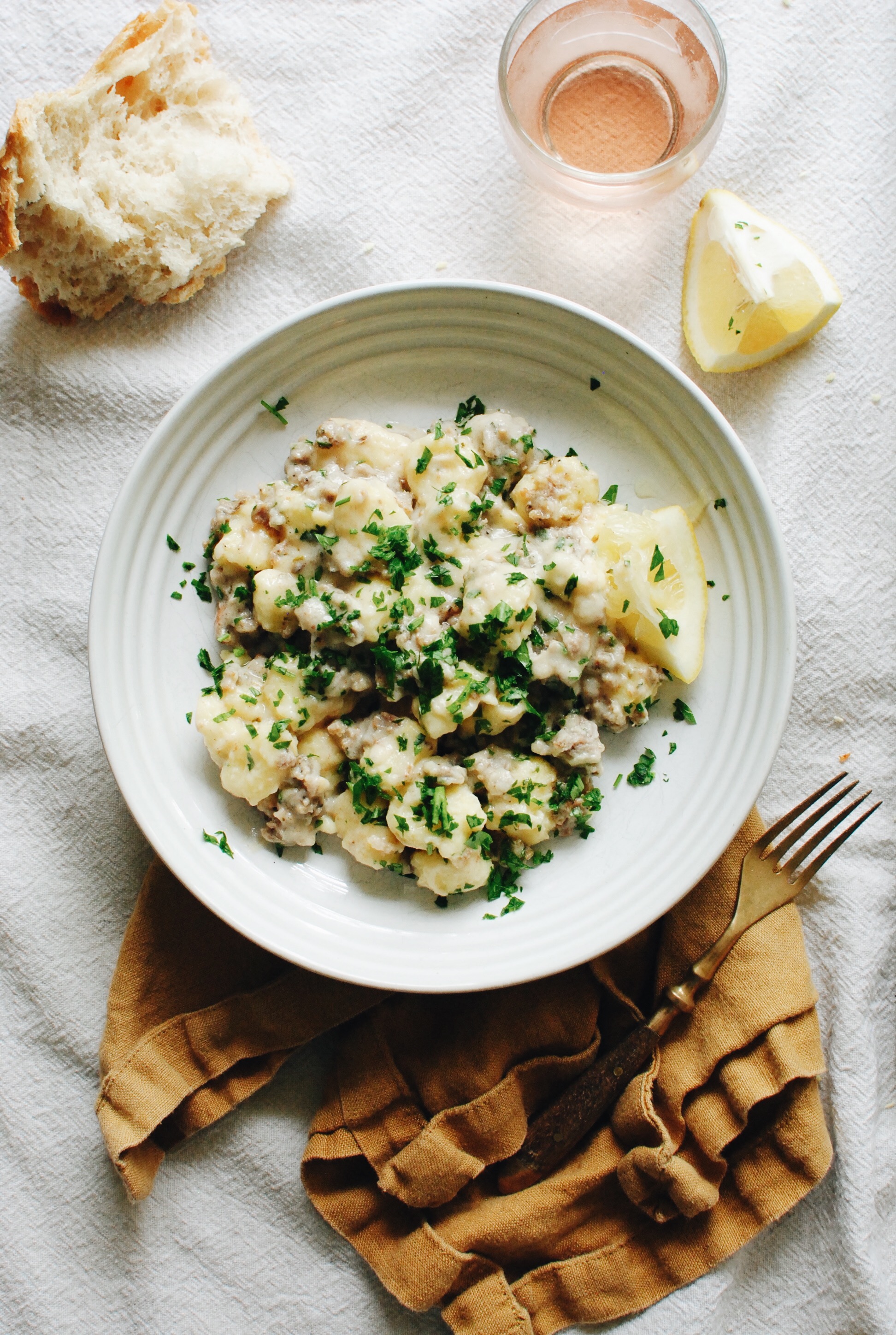 Never stop, 'mkay?
Homemade Gnocchi in a Lemony Cream Sauce with Italian Sausage
Ingredients
1 DeLallo gnocchi kit
3-4 links of Italian sausage, casings removed
2 Tbs. butter
2 Tbs. all-purpose flour
3 cloves garlic, minced or grated
1 lemon, zested and juiced
2 cups milk
1 handful minced parsley, for garnish
Coarse salt
Instructions
Following the DeLallo gnocchi kit instructions, you'll combine the contents of the package with 1 & 1/2 cups warm water. Knead the dough until no longer sticky. On a floured work surface, you'll form a small "loaf" shape, and then cut the mass into 1-inch sticks, rolling each one out to a skinny log. Then cut the logs into 1-inch pieces. You can leave the gnocchi shape just like this, which is fluffy and perfect. OR, take a fork and gently roll the gnocchi against the tines to create the little lines. You can let the gnocchi sit on a cutting board while you prep your sauce.
Bring a medium pot of salted water to a boil, and gently cook the gnocchi for about three minutes until they rise to the top. Transfer straight to the sauce. But let's make it!
In the meantime, brown the Italian sausage in a large skillet over medium heat, until no longer pink. Remove the sausage from the skillet and set aside.
Back in the skillet, melt the butter. Once foaming, add the flour and whisk until it begins to darken, just a couple of minutes. Because the skillet is so wide, it might be a little hard to whisk the flour into the butter, so I like to tilt the skillet and whisk on one side. Add the minced garlic, lemon zest and juice and whisk until a sauce starts to form. Slowly, add the milk, a half cup at a time and keeping whisking as it thickens. Season with a good pinch of salt right here, once all the milk is added.
Add the boiled gnocchi to the cream sauce and gently toss to coat. Add the sausage back to the skillet and stir to combine. Garnish with plenty of chopped parsley, along with more lemon wedges! Always with the lemon, I know.
Serve immediately!
Serves 4.
7.8.1.2
378
https://bevcooks.com/2019/10/homemade-gnocchi-in-a-lemony-cream-sauce-with-italian-sausage/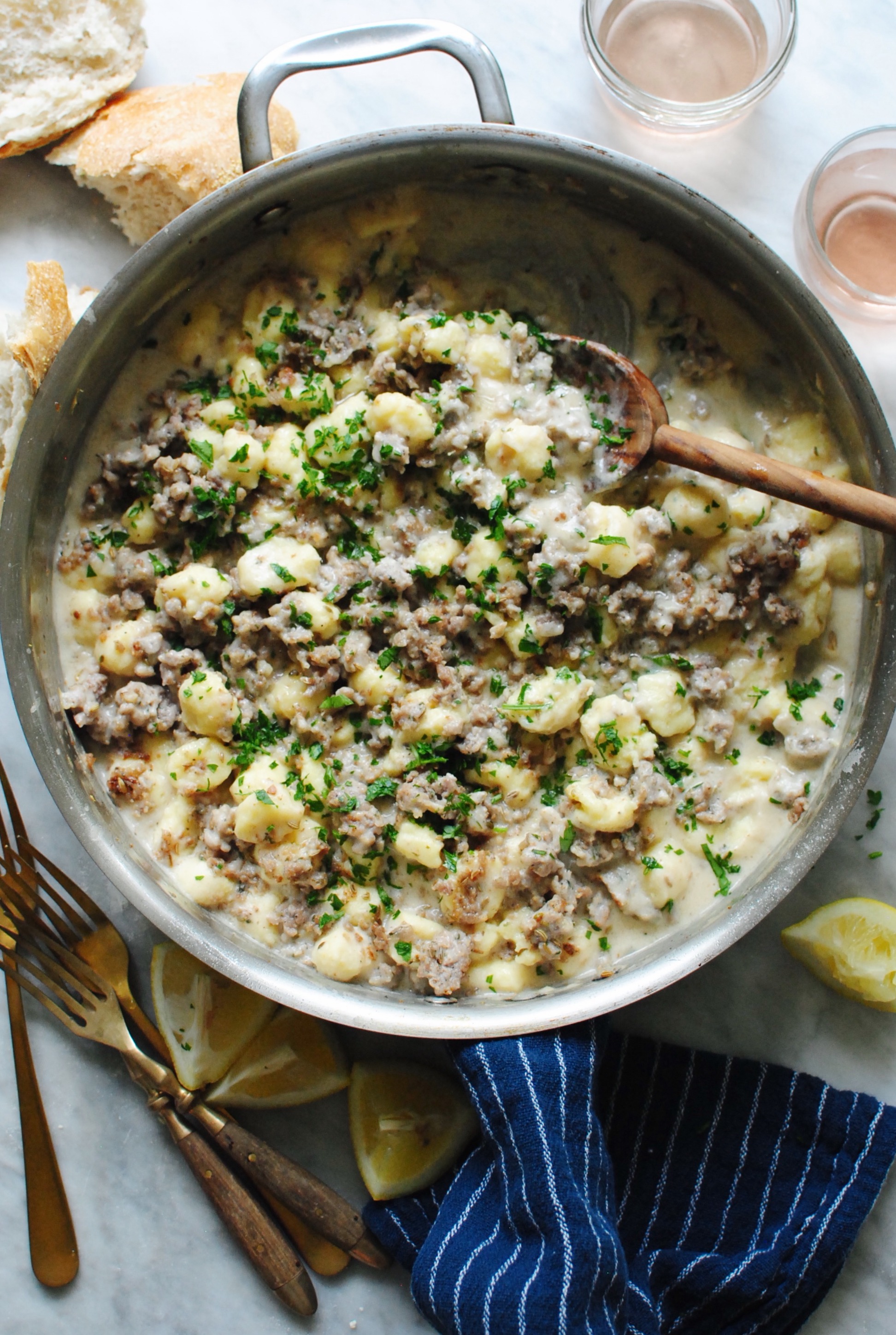 My mouth is moving in.
(This post is definitely in partnership with my lover DeLallo. But all ramblings and gnocchi inhalings are totally my own. We coo?)