Tacos! But let's do something a little different. And throw-together. (Hey, I listened.)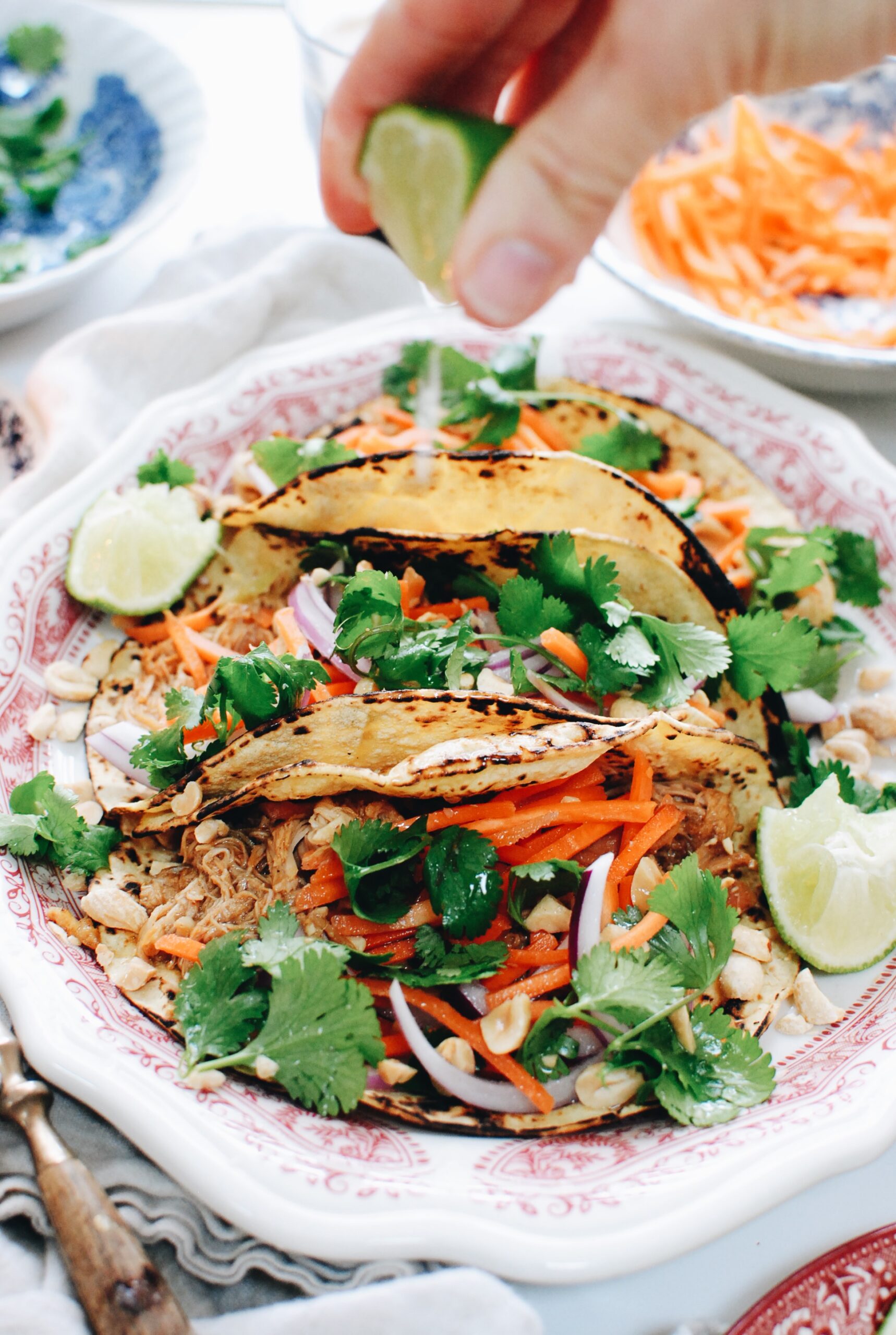 Let me say something upfront, if you don't want to use the slow cooker for this recipe, absolutely fine. It's just as easy to brush the (bottled!) peanut sauce over the chicken thighs and give them a hard sear + chop. This day though? I was feeling the slow cooker. So this is our route. We'll keep it simple.
Laaaa-het us peepeth.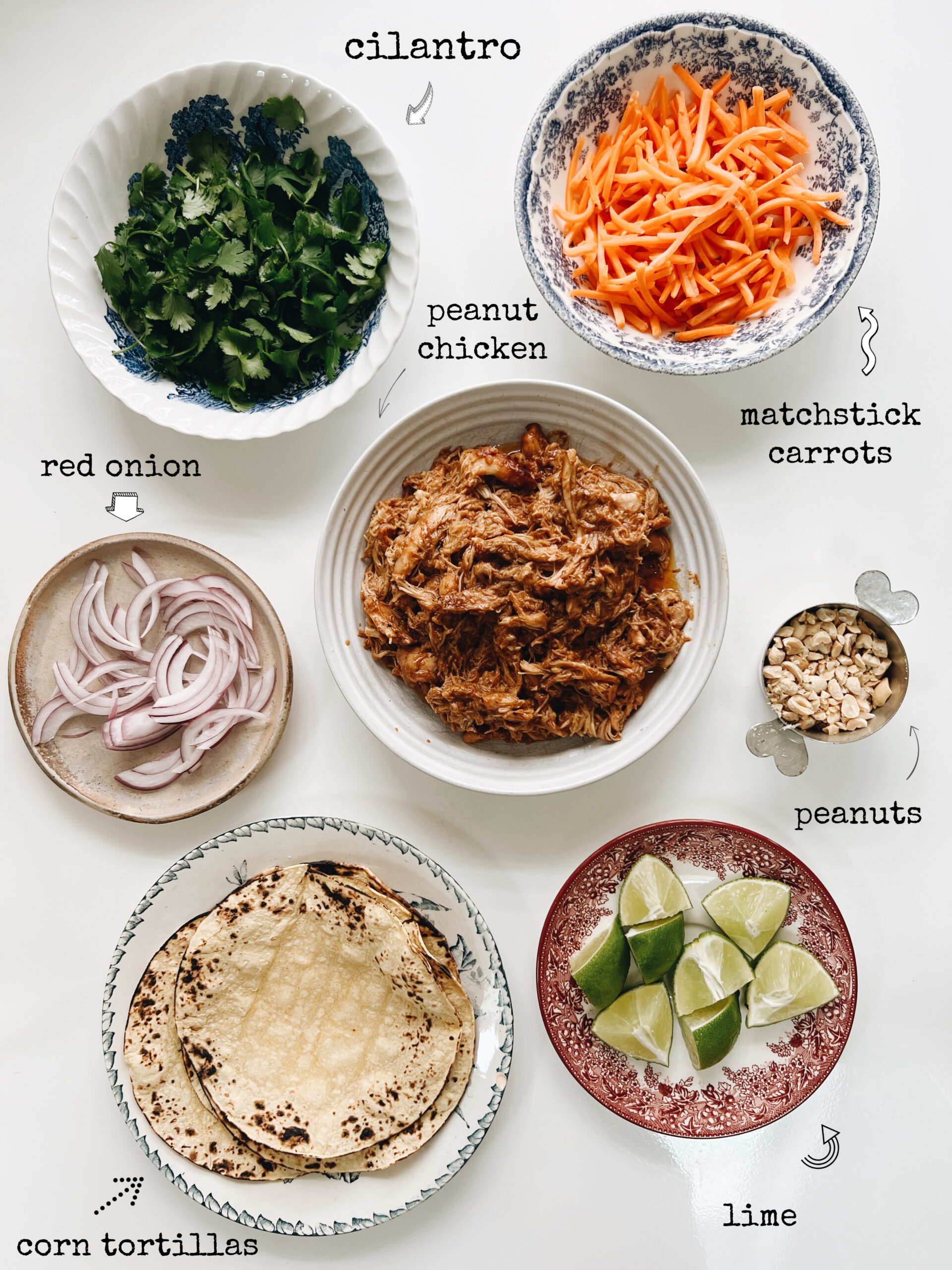 As fresh as this all this, it has still has a mega mama pantry staple vibe. Matchstick carrots (like, bagged, ya know), corn tortillas that we'll char up slightly, peanuts, thinly sliced red onion, a bit of cilantro and our slow cooker shredded chicken. And lime. Lots of lime.
What I won't allow this morning is a diss to using the bottled sauce. It's just fine. You can make your own sauce, if you're feeling it. I have lots of recipes that use a homemade peanut sauce, and it would be completely delicious. This one however is a Tuesday night short-cut operation and we will not feel guilty. We good? We good.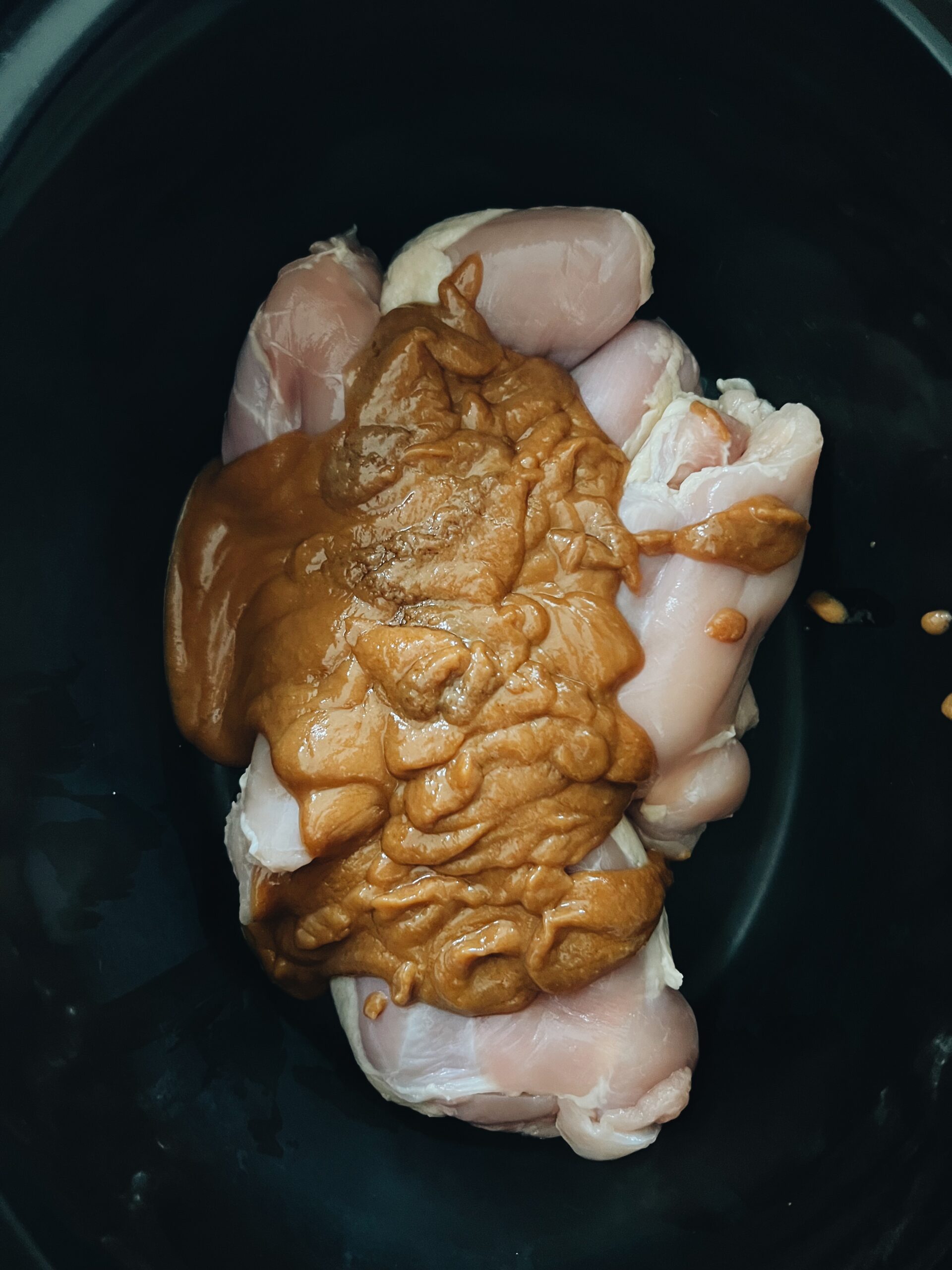 Look, we're going to get through these chicken photos as quickly as we can. Just glance at it. Okay, moving on.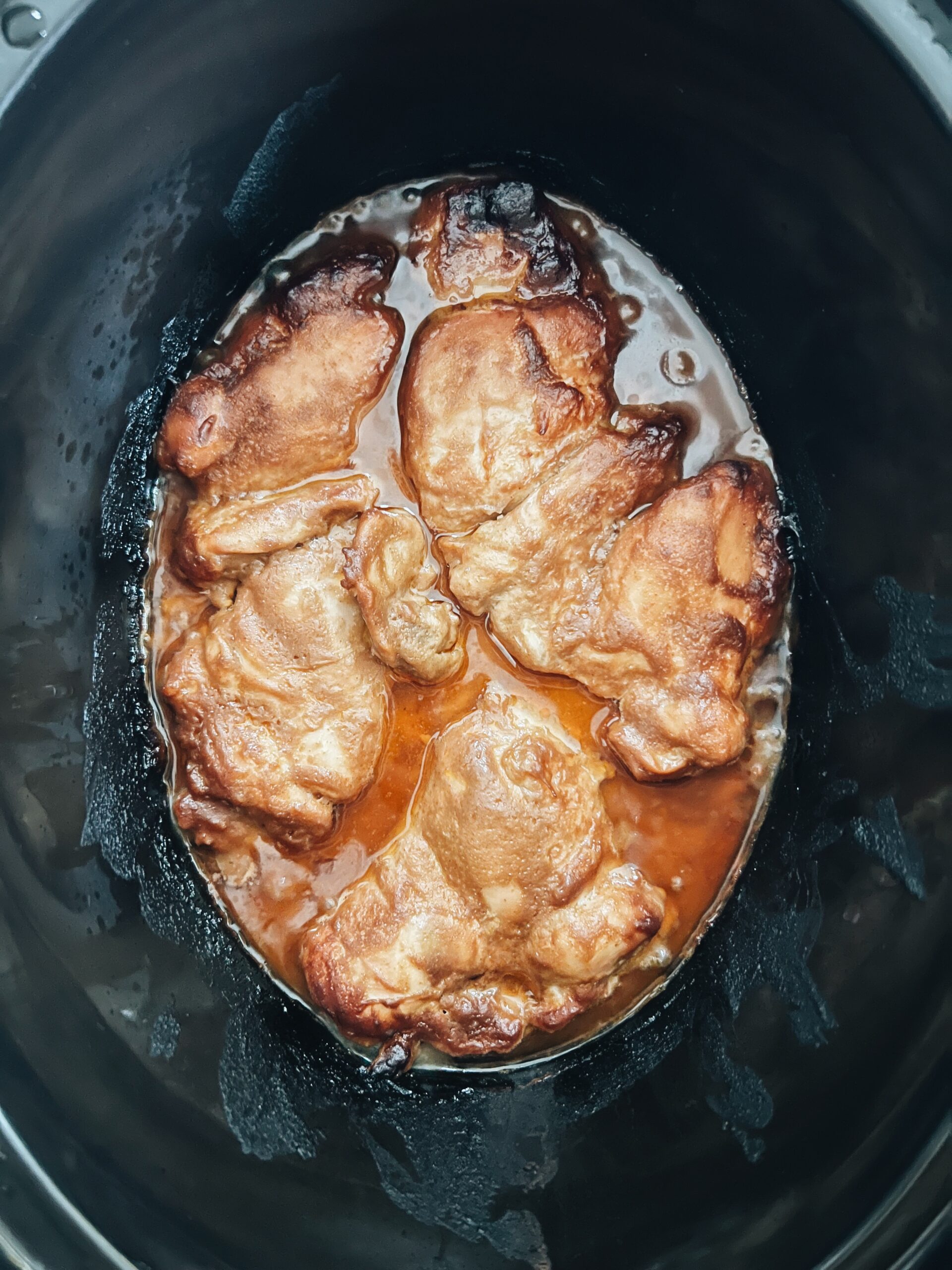 One more glance. We're fine. This is pre-shredded of course. Just giving you an idea of what it'll look like after a few hours in the sauce. See those browned edges? That's good stuff, man.
Use a couple of forks to shred, then build your tacos! You'll see it all in the reel.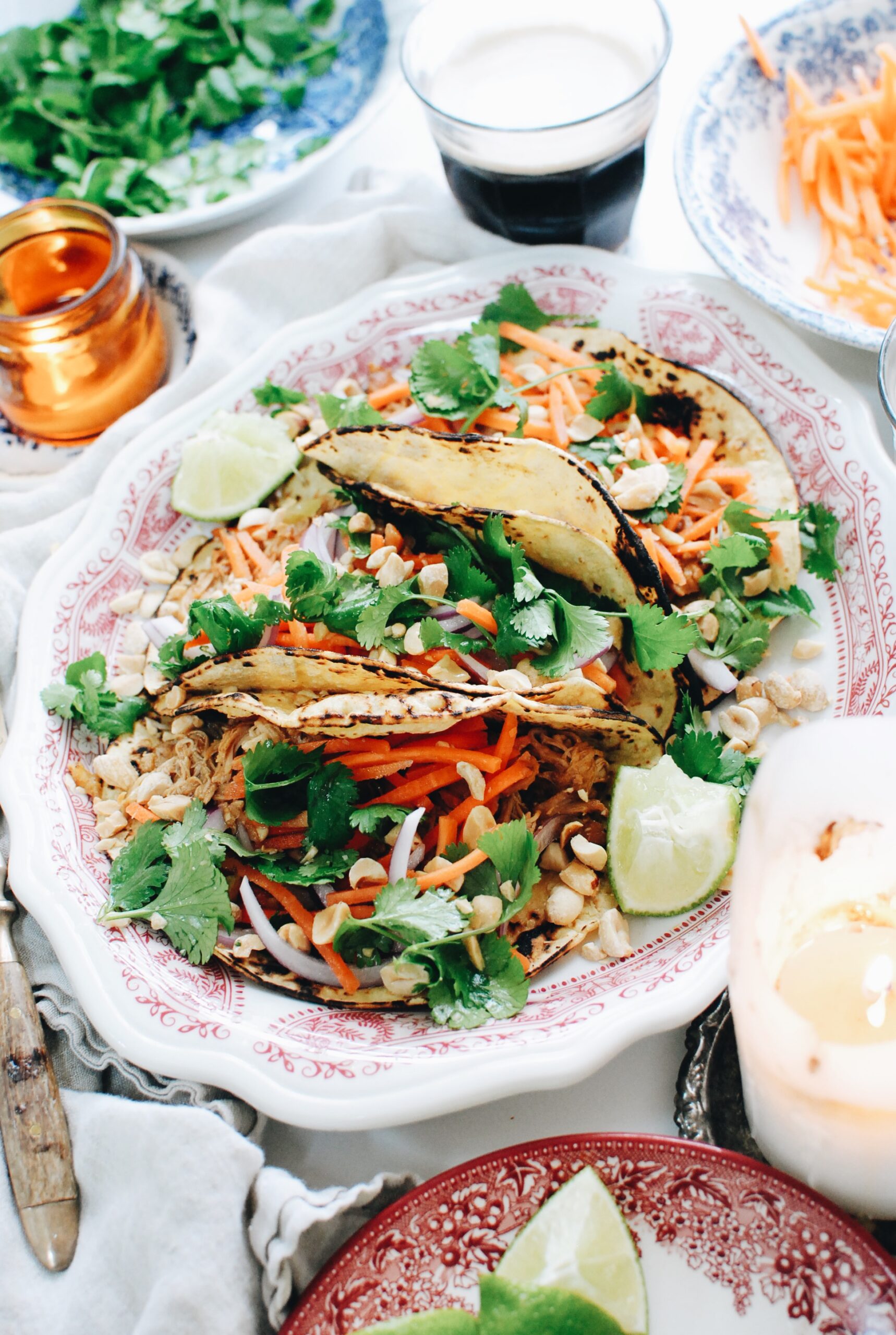 It's as simple as that. Charred tortillas (I used corn for this, but flour are fantastic, too.), shredded peanut chicken (has incredible flavor!), the carrots, the thinly sliced onion, lots of cilantro, a scattering of peanuts and plenty of fresh lime juice. Boom. So, so good.
And that's the whole thing – most of the work is done while you're doing other things in your life. The taco building takes a minute or two, then you're sitting down to a fresh and flavorful peanut chicken taco platter. It's crunchy, it's vibrant, it has depth from the sauce, it's so good!
This is your answer for those nights when you just cannot.
But see, now you can.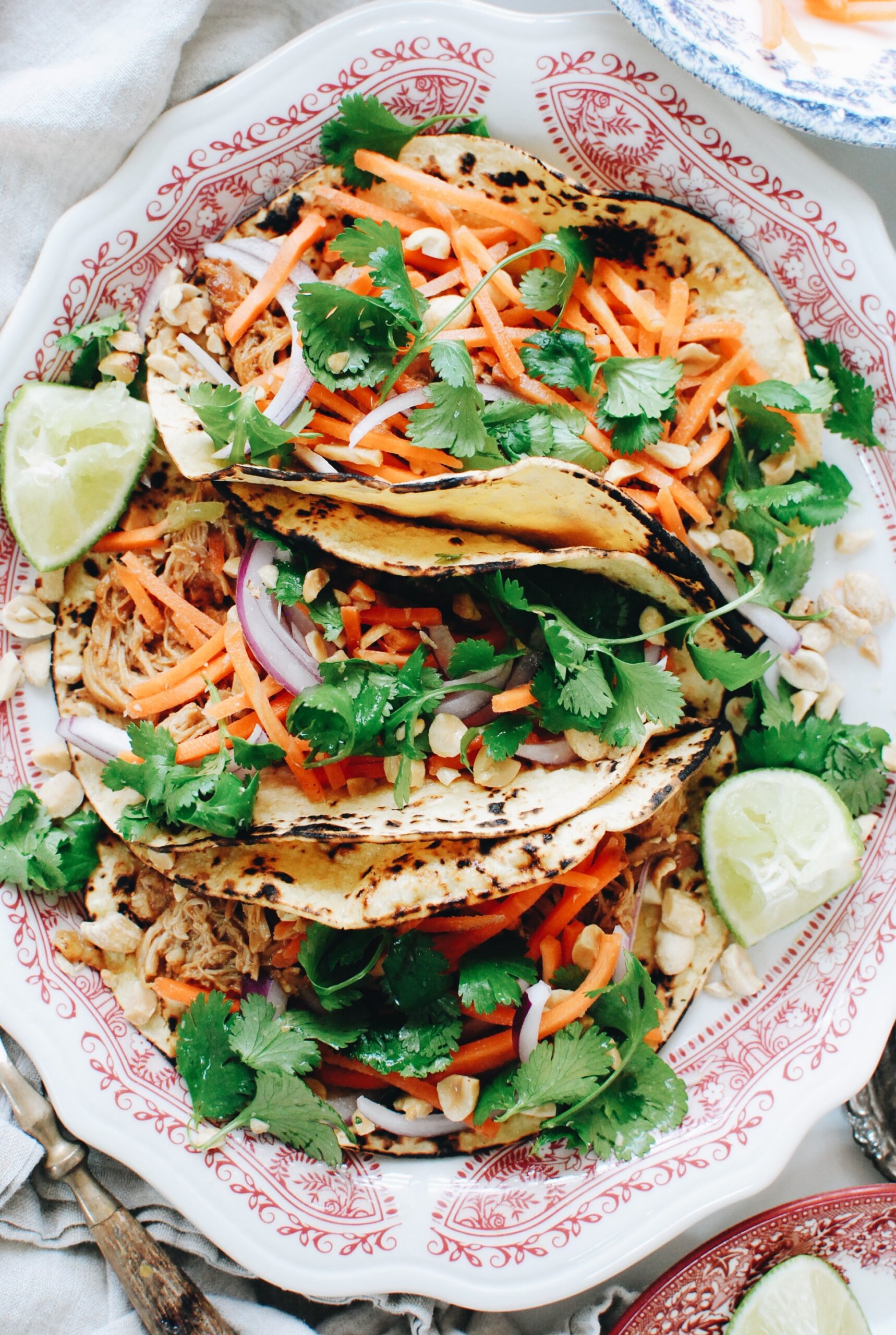 The crunch will slay you.
Slow Cooker Peanut Chicken Tacos
Ingredients
1.5 lb chicken thighs
1 cup Thai peanut sauce (bottled is fine!)
8 corn (or flour) tortillas, lightly charred or toasted
1 cup matchstick carrots
1/3 cup thinly sliced red onion
1 cup torn cilantro
1/2 cup chopped peanuts
1 lime, quartered
Instructions
In a slow cooker, combine the chicken thighs and peanut sauce. Lightly toss to coat. Cook on low for six hours. Shred with two forks, then build!
To lightly toasted or charred tortillas, pile in the shredded chicken, carrots, red onion, cilantro sprigs, peanuts and freshly squeezed lime. Serve immediately!
Serve 4-6.
7.8.1.2
624
https://bevcooks.com/2023/01/slow-cooker-peanut-chicken-tacos/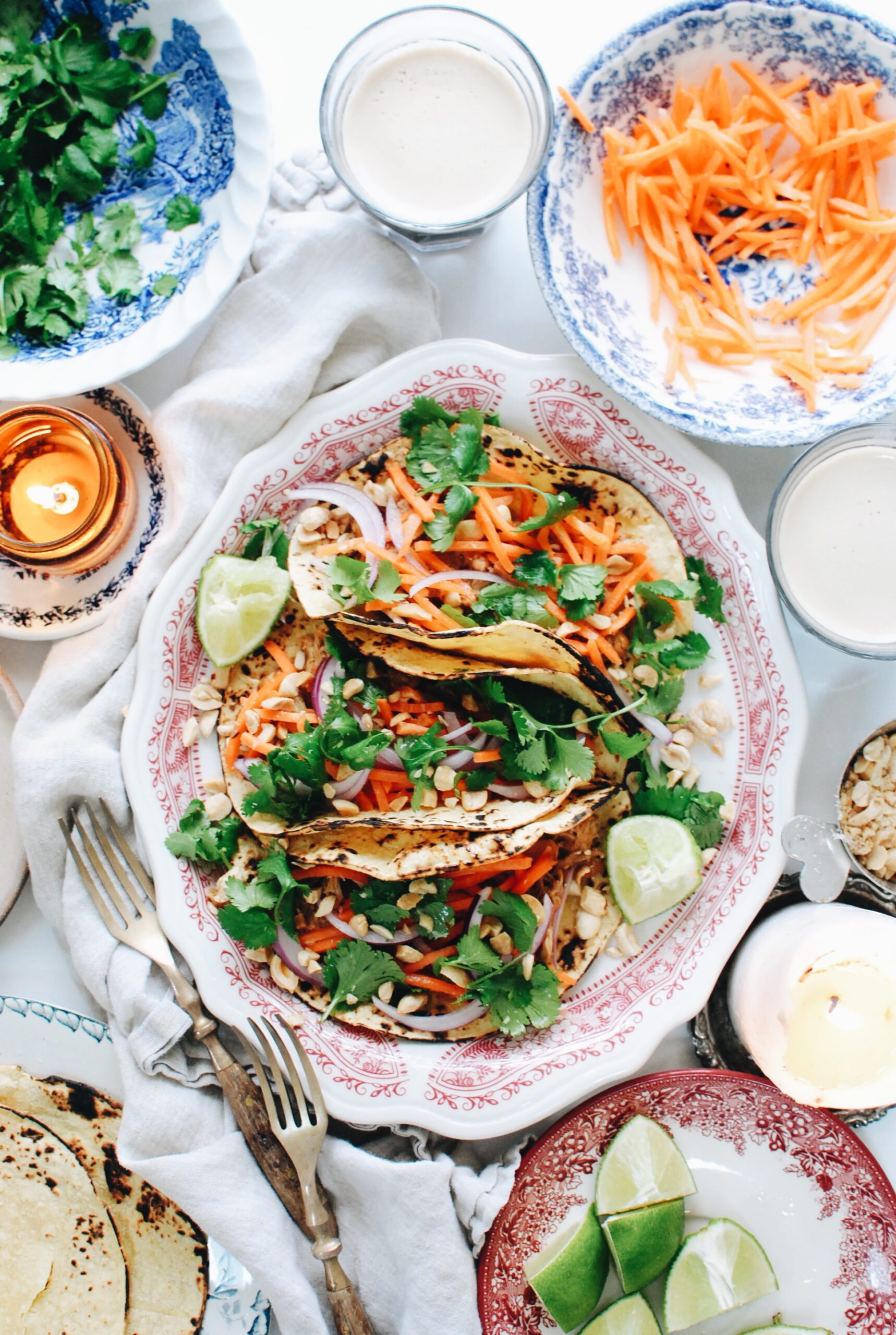 I definitely think you need these this week.