Taco Thursday! (don't argue)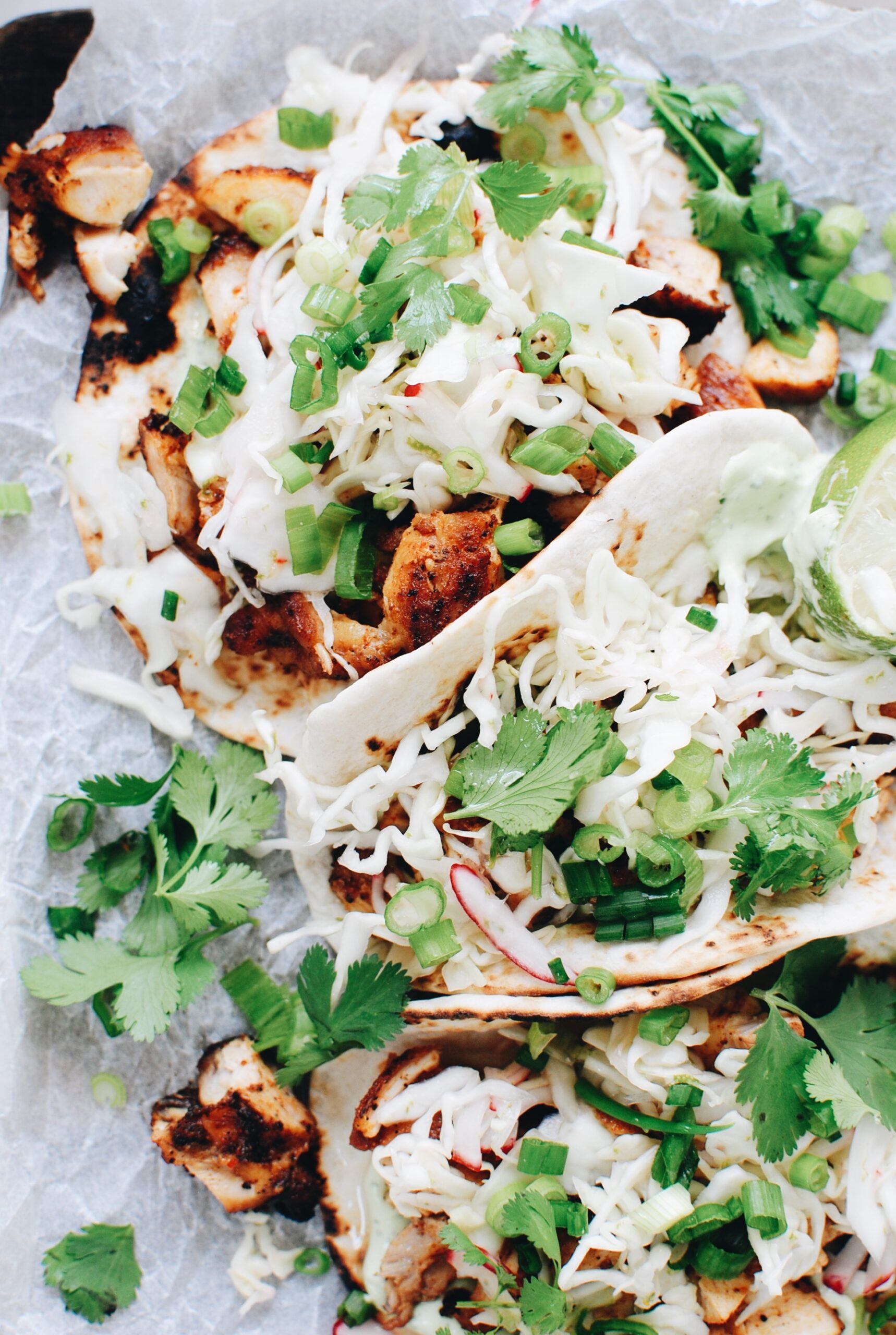 I'm always on a mission to make my tacos as close to Chipotle as I possibly can. Not that these are that, but we're close. The chicken is VERA close.
Because, as I always preach, buy thighs. Thighs are where it's at. More flavor, a better shred, a better chop. Thighs are supreme. Always will be.
Let us peepeth.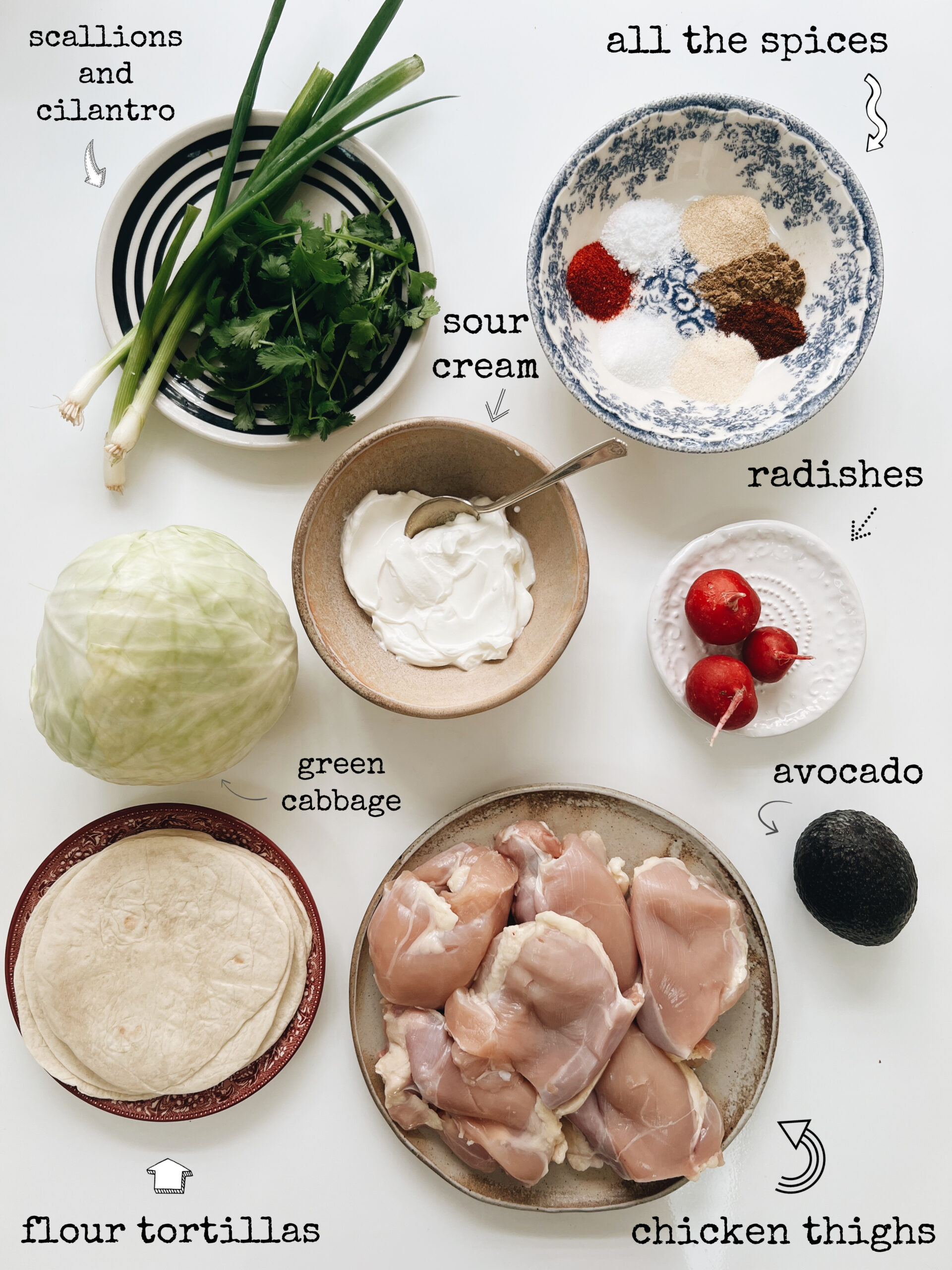 The different textures of these tacos are the whole party. We've got a crunchy slaw, we've got a creamy sour cream and avocado sauce, we've got seared, seasoned, tender chicken. And loads of herbs and aromatics for garnish. It's gonna have you dancing.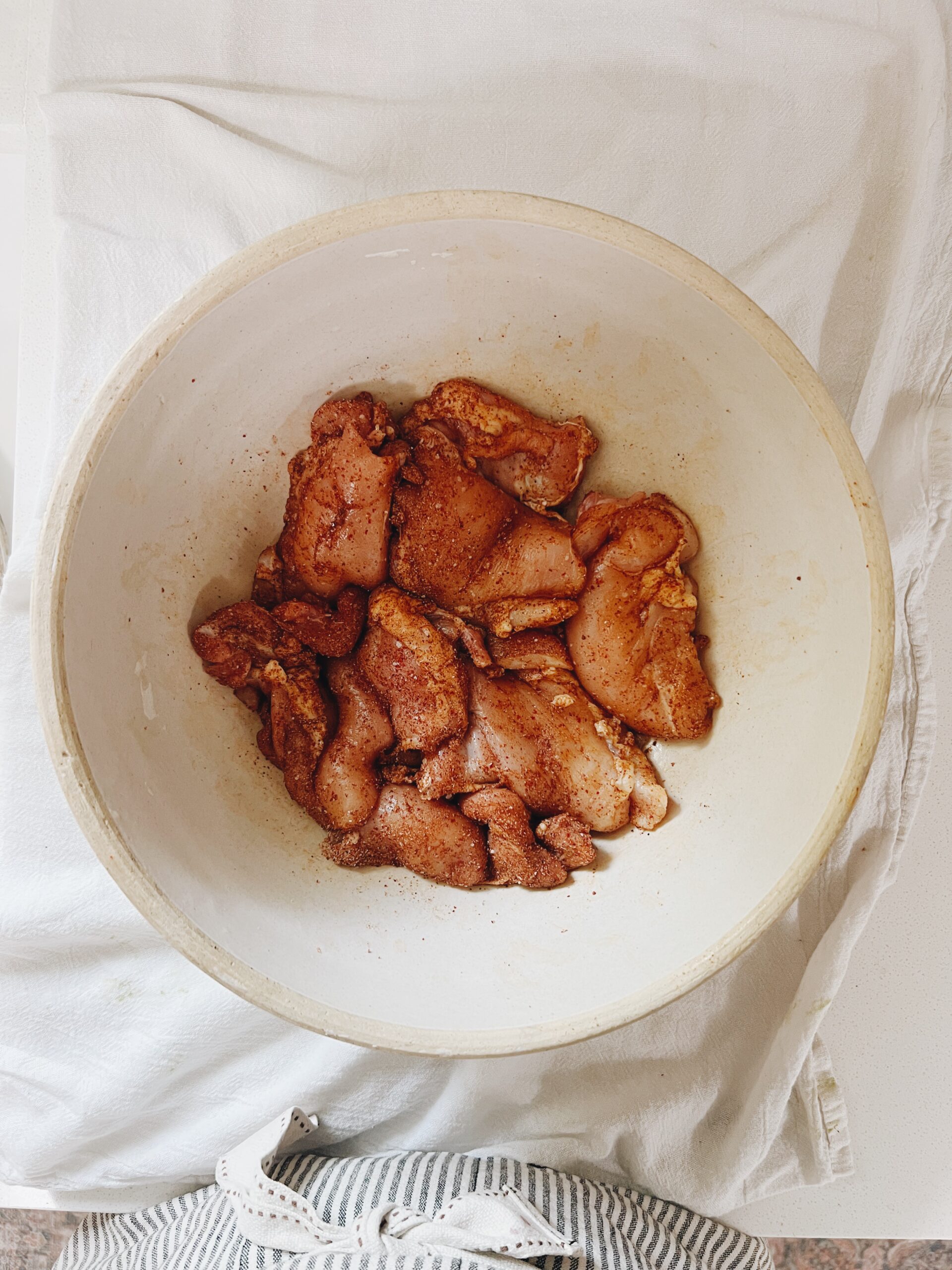 The chicken – let's violently add it to a bowl and toss it with all our spices. Nothing is overly spicy (said like Stefon from SNL), it's just seasoned. So flavorful. You'll love it forever.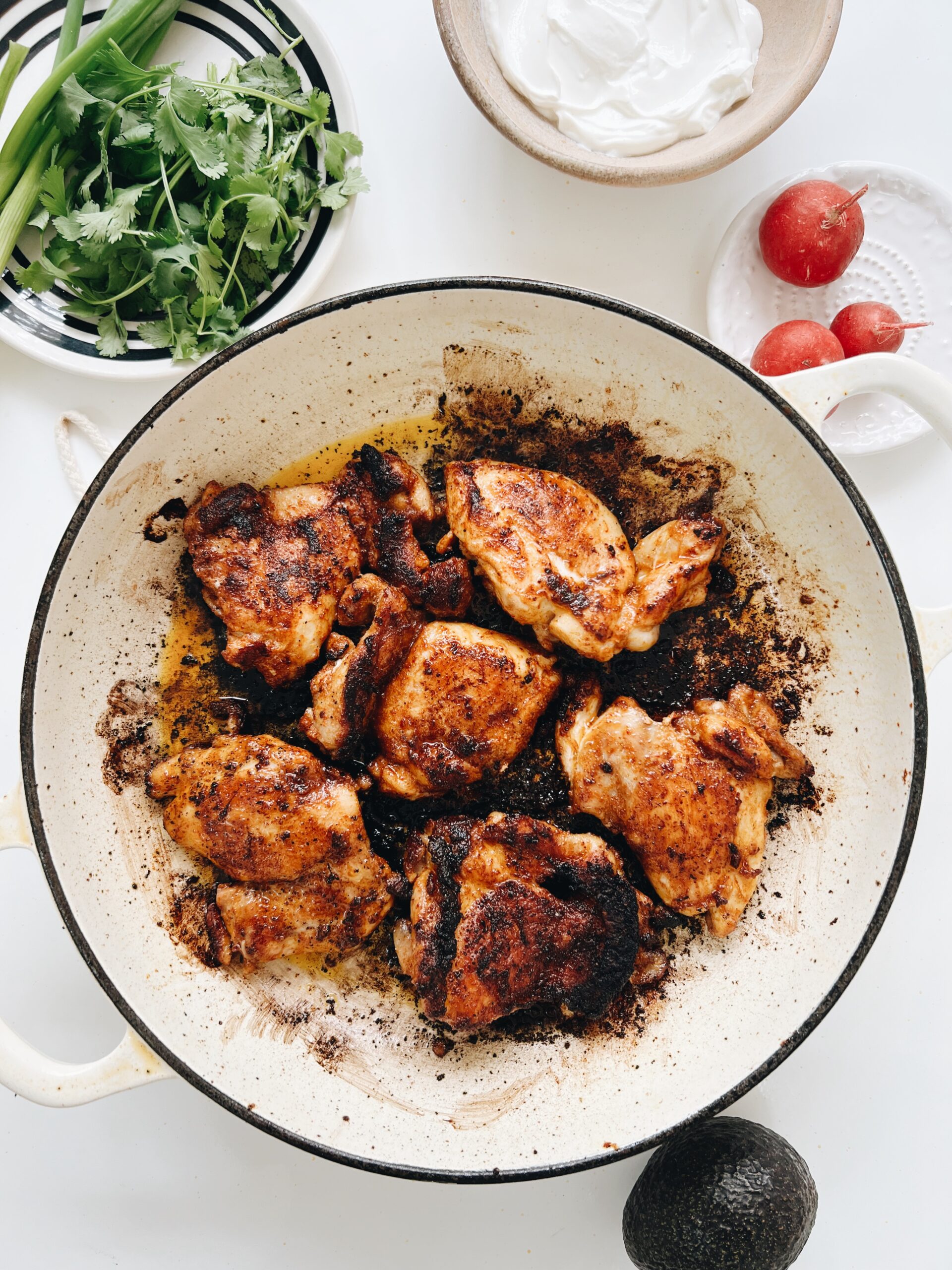 We'll sear her up so so good. Six minutes per side and this is what you get.
Then let it rest for a few minutes while you prepare the slaw, and give it a rough chop. Taste a bite. See how it's like Chipotle? AH KNOW.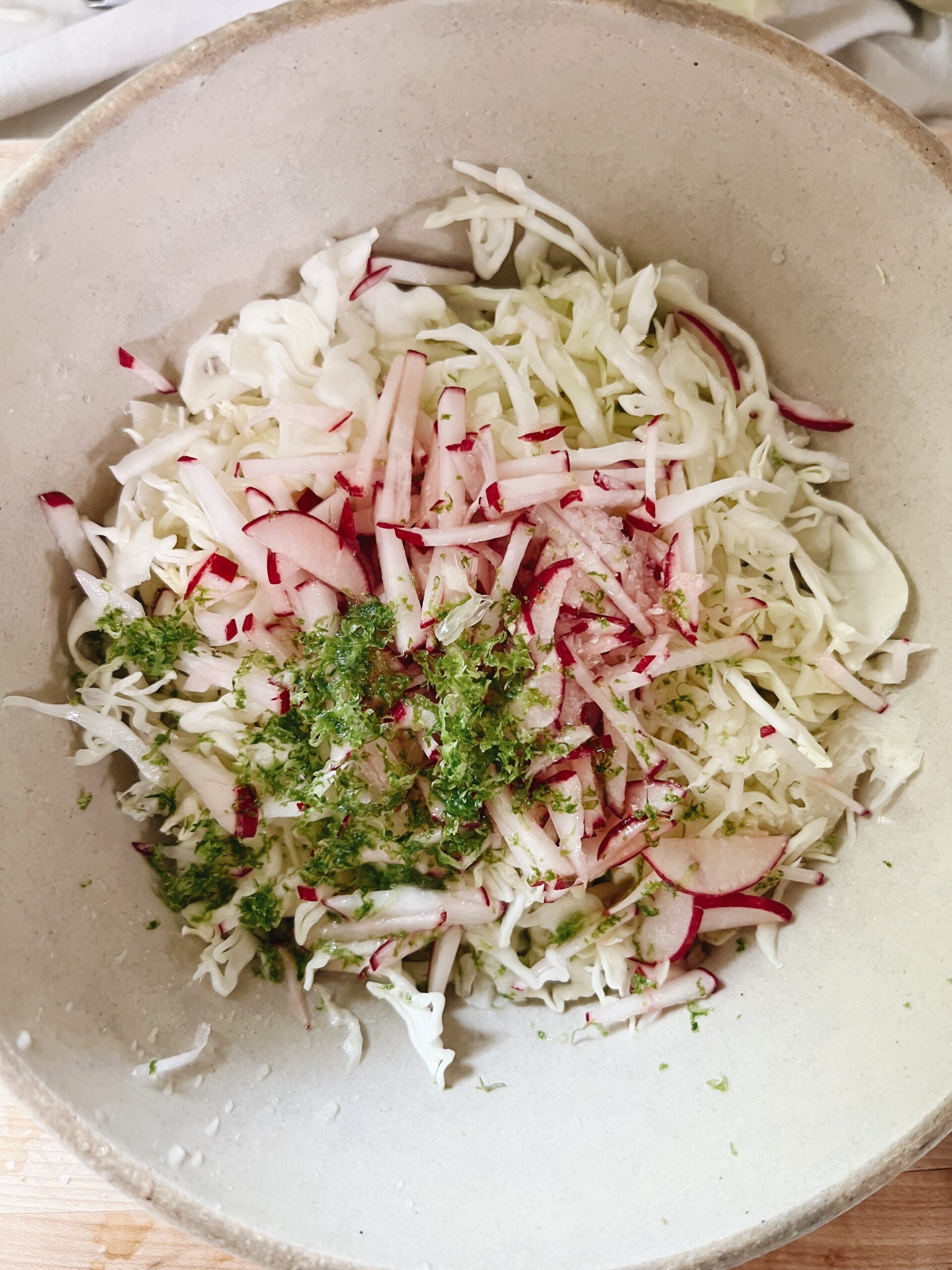 The slaw: cabbage + lime zest and juice + radishes + sugar + salt. Simple. It might turn a little pink from the radishes, but that's completely okay. We're just living here.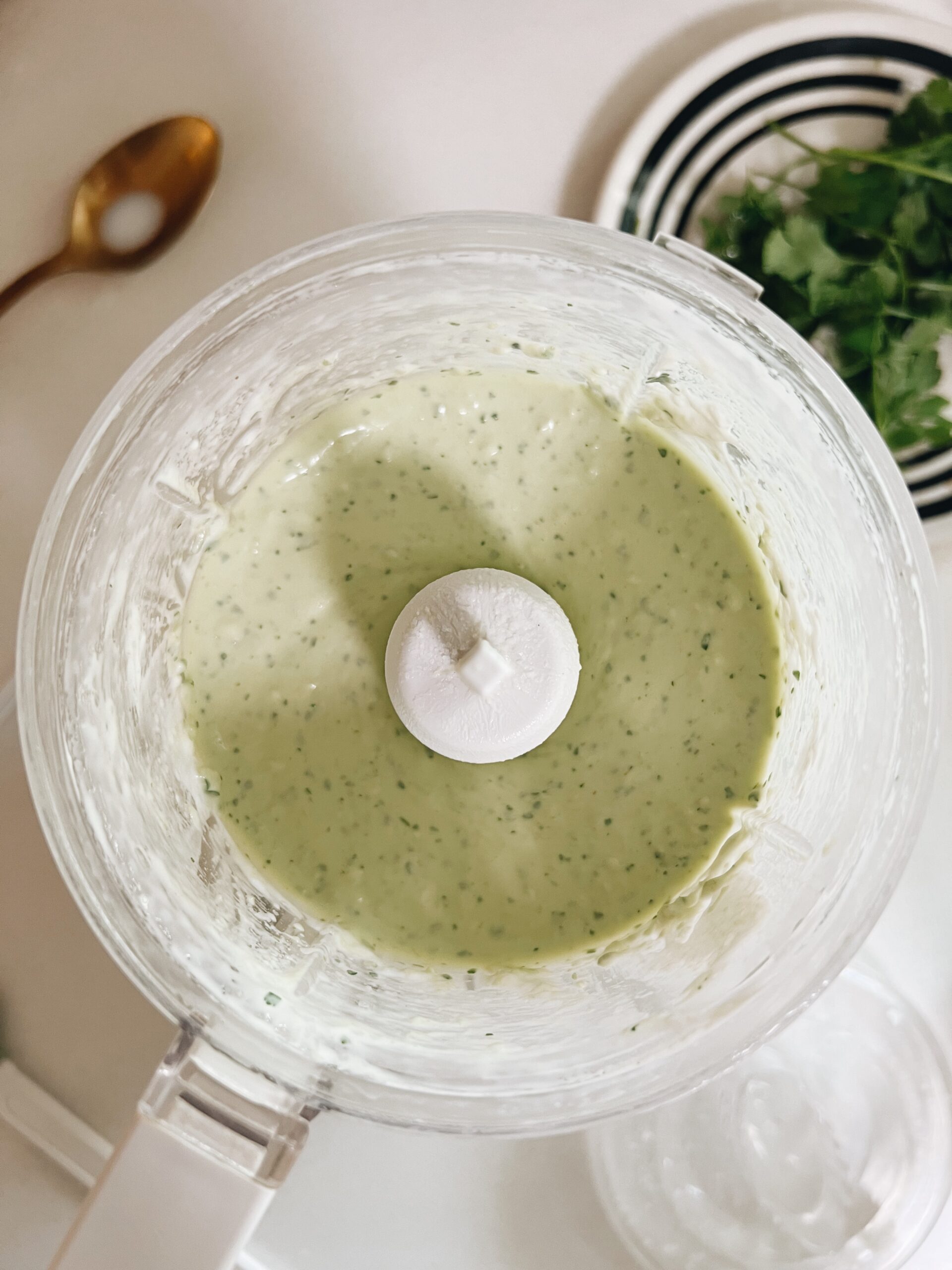 The sauce: sour cream + avocado + lime juice + pinch of salt. We like it easy.
Looks like I added cilantro to this. Throw a small handful in.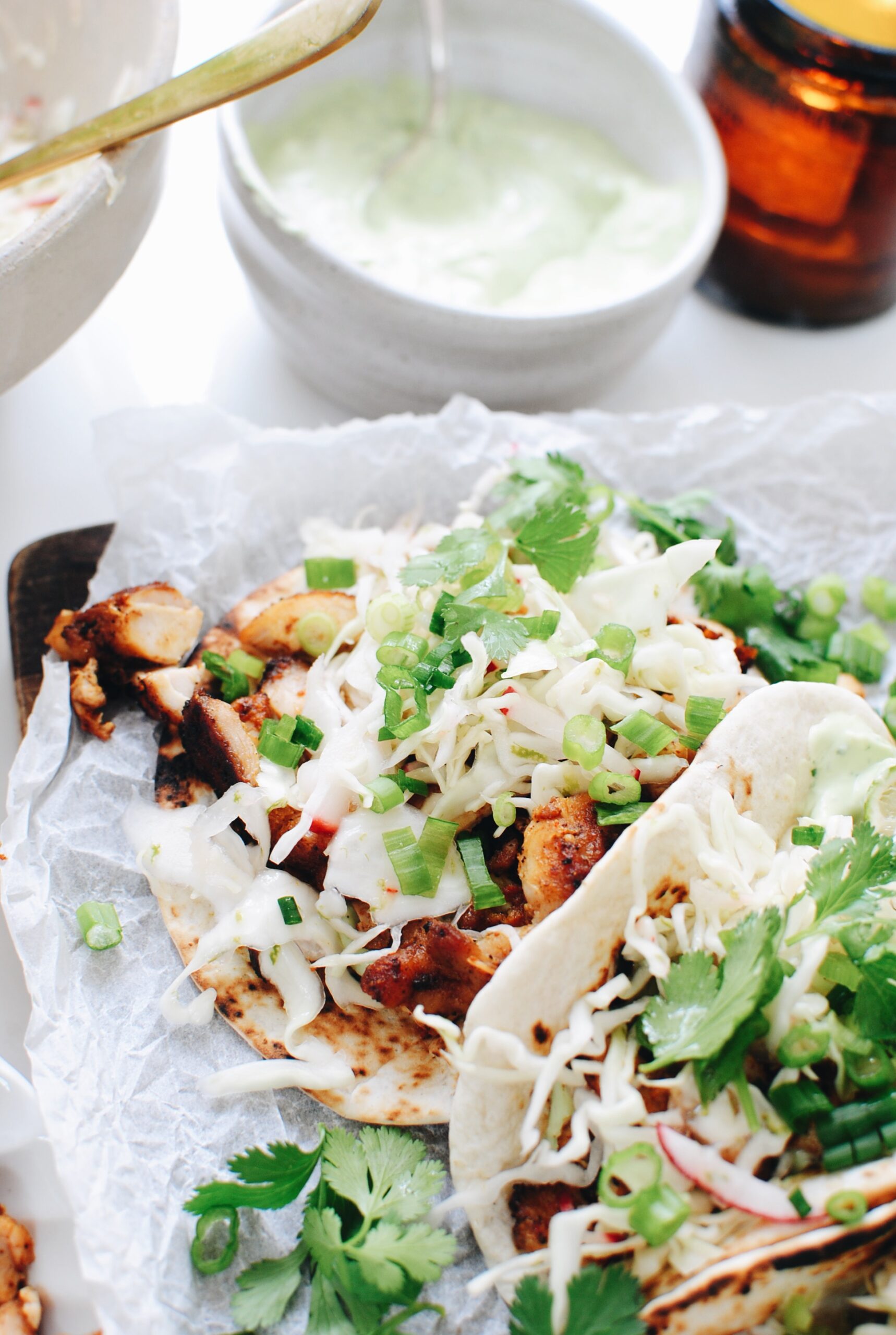 And that's that! I spooned the sauce along the bottom of each toasted tortilla, then piled the rest on. Chicken, the slaw, loads of cilantro and scallions right at the end. Another squirt of lime juice.
I'm just in love with this recipe. The chicken is perfectly seasoned, the slaw is ca-runchy, the sauce acidic and deliciously creamy.
You'll fall in love.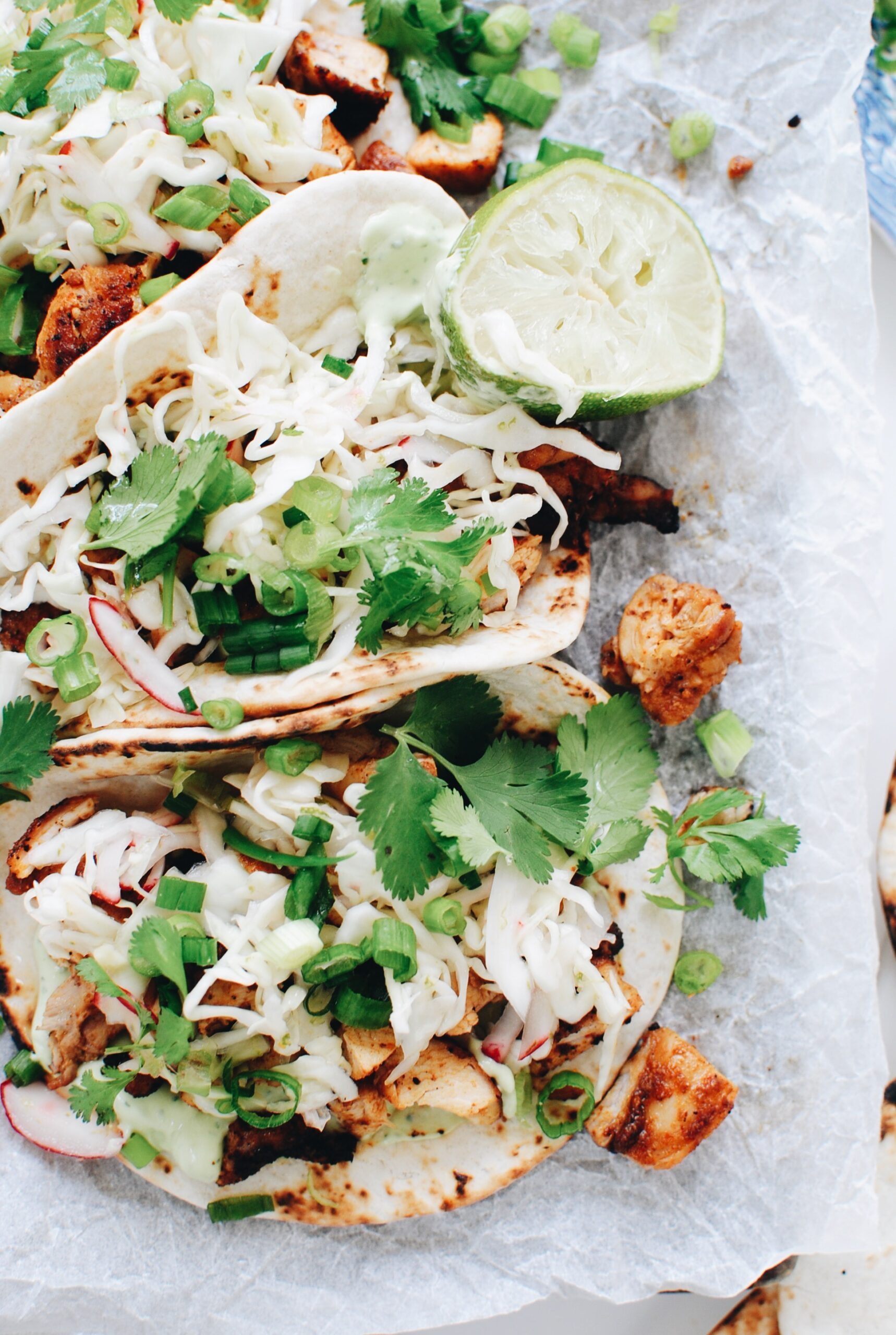 This weekend! Bump it up, switch things around. Make it happen.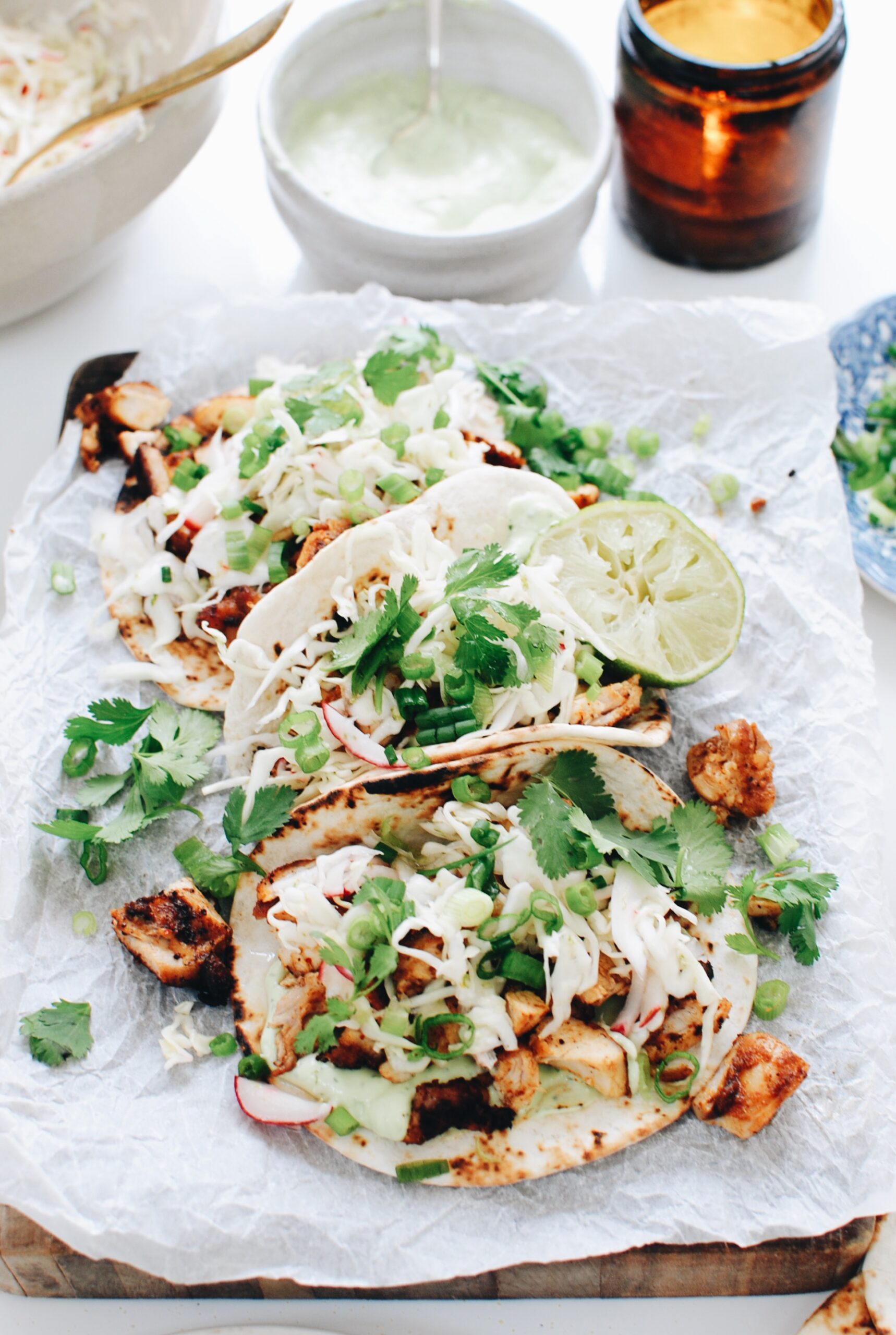 ALSO I have no idea why my recipe card isn't working. I'll post it like this but let me work on it. No hate comments, thanks.
1.5 pounds chicken thighs, excess fat trimmed
1 tsp each: cumin, onion powder, garlic powder, chili powder, sugar, paprika, coarse salt
2 cups thinly sliced green cabbage
Zest and Juice from half a lime (save the other half)
1 tsp sugar
Pinch of salt
3 radishes, thinly sliced
1/2 cup sour cream
1/2 avocado, cubed
Small flour tortillas, lightly charred on an open flame
Thinly sliced scallions and torn cilantro, for garnish
In a medium bowl, combine the chicken and all the spices. Gently toss to coat the chicken.
In a large skillet, heat 2 Tbs. Extra-virgin olive oil over a medium high heat. Add the chicken in a single layer and sear on one side for six minutes. Flip and sear another six. Set aside to rest a few minutes, then roughly chop.
In a medium bowl, combine the thinly sliced cabbage, zest and juice from the lime, the sugar, the sliced radishes and a pinch of salt. Toss to combine. You made slaw!
In a small food processor, add the sour cream and cubed avocado, along with a pinch of salt. Squeeze the other half of lime into the processor and blend until smooth. Add a tiny splash of water or milk if needed.
Spread the sour cream mixture along the bottoms of each toasted tortilla, then pile in the chopped chicken. Top with slaw and thinly sliced scallions and cilantro for garnish. Dive in!
Makes about 8 tacos.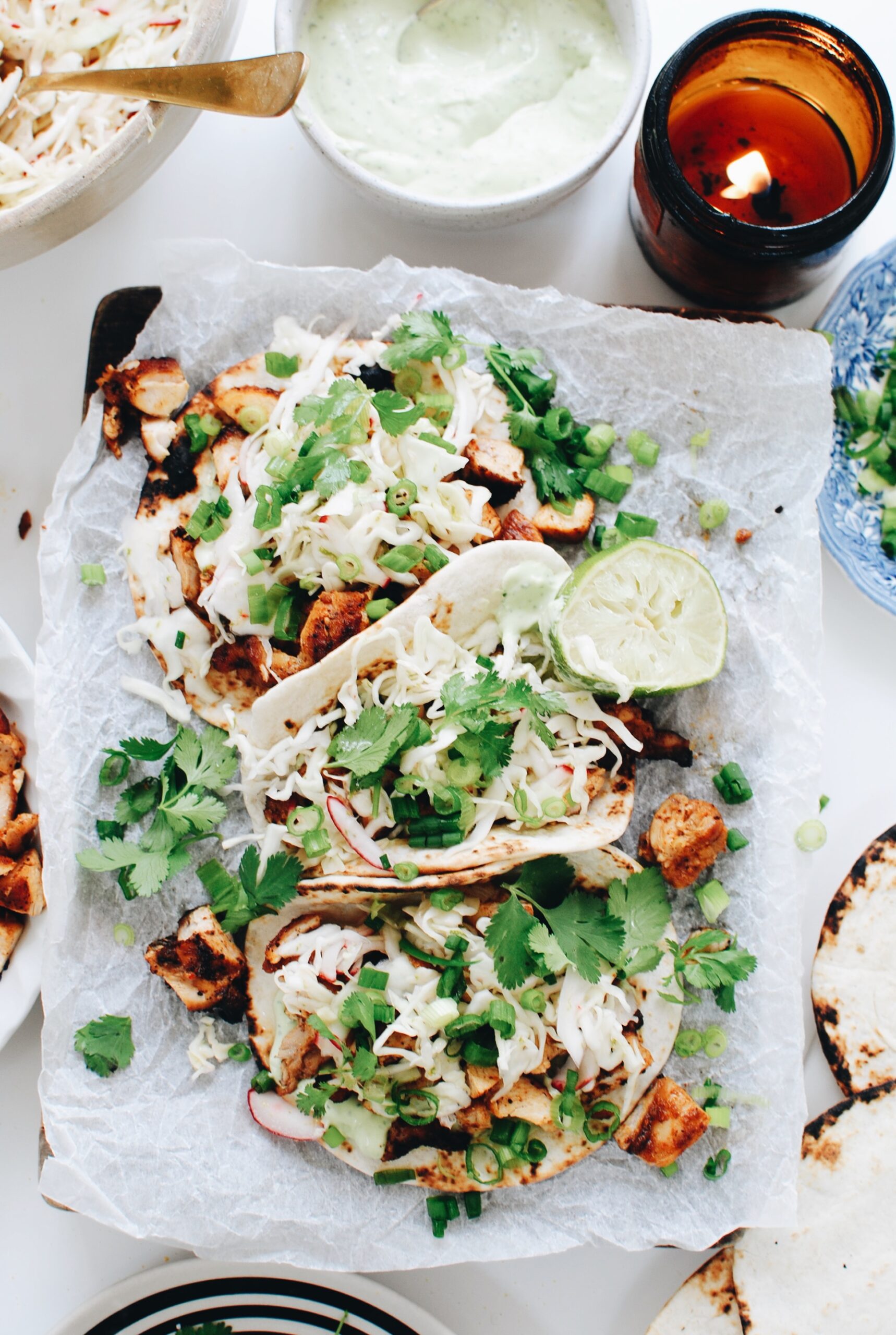 Can you dig it?