Your new favorite way to inhale the spaghetti! Don't x out.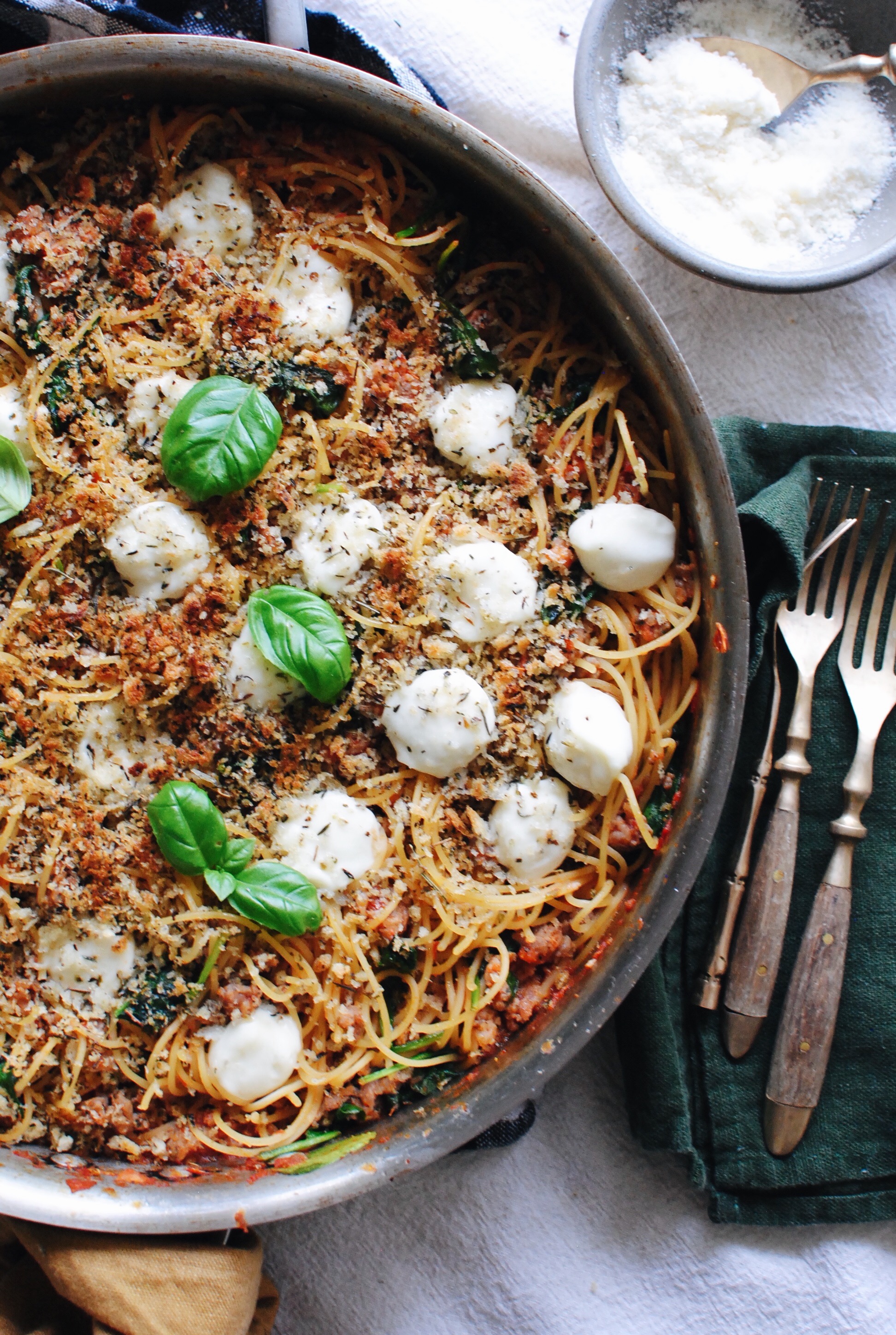 You're probably like, "Spaghetti? Okay, we eat this once a week and I've got it down. How is this different? And you look radiant by the way."
Just kidding about that last part.
Let me TELL you what makes this version better. Because it ain't just any ol' spaghetti blah blah. This is LEGIT.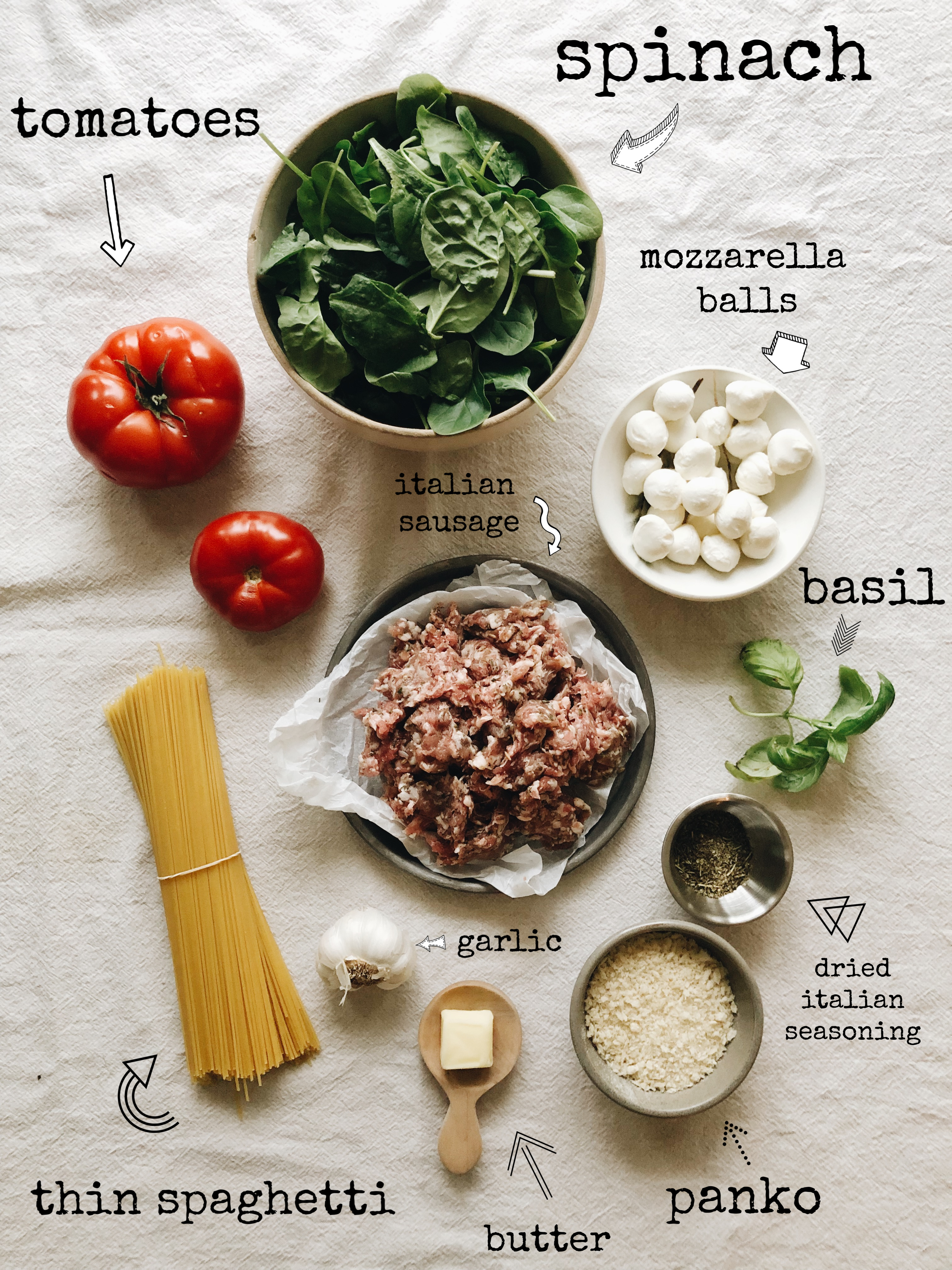 First of all, it's thin spaghetti! And you know what, I actually prefer thin over regular spaghetti. It's not quiiiiiite angel hair, but still thin enough to twirl around just right on your tongue without feeling like the pasta mafia just took you down.
Secondly, and this is important: farmer's market tomatoes. Go get you some, dude! They're just now everywhere, and they make such an unbelievable difference in the sauce. Bright and acidic. Man, do it. You'll make your own sauce for this, but it's beyond simple. So don't go chopping off heads yet.
Lastly, the topping! We'll finish it off with sumpin' spesh. (<–my friend Lacy just rolled her eyes at "spesh." SPESH SPESH SPESH. Ha! Never mind.)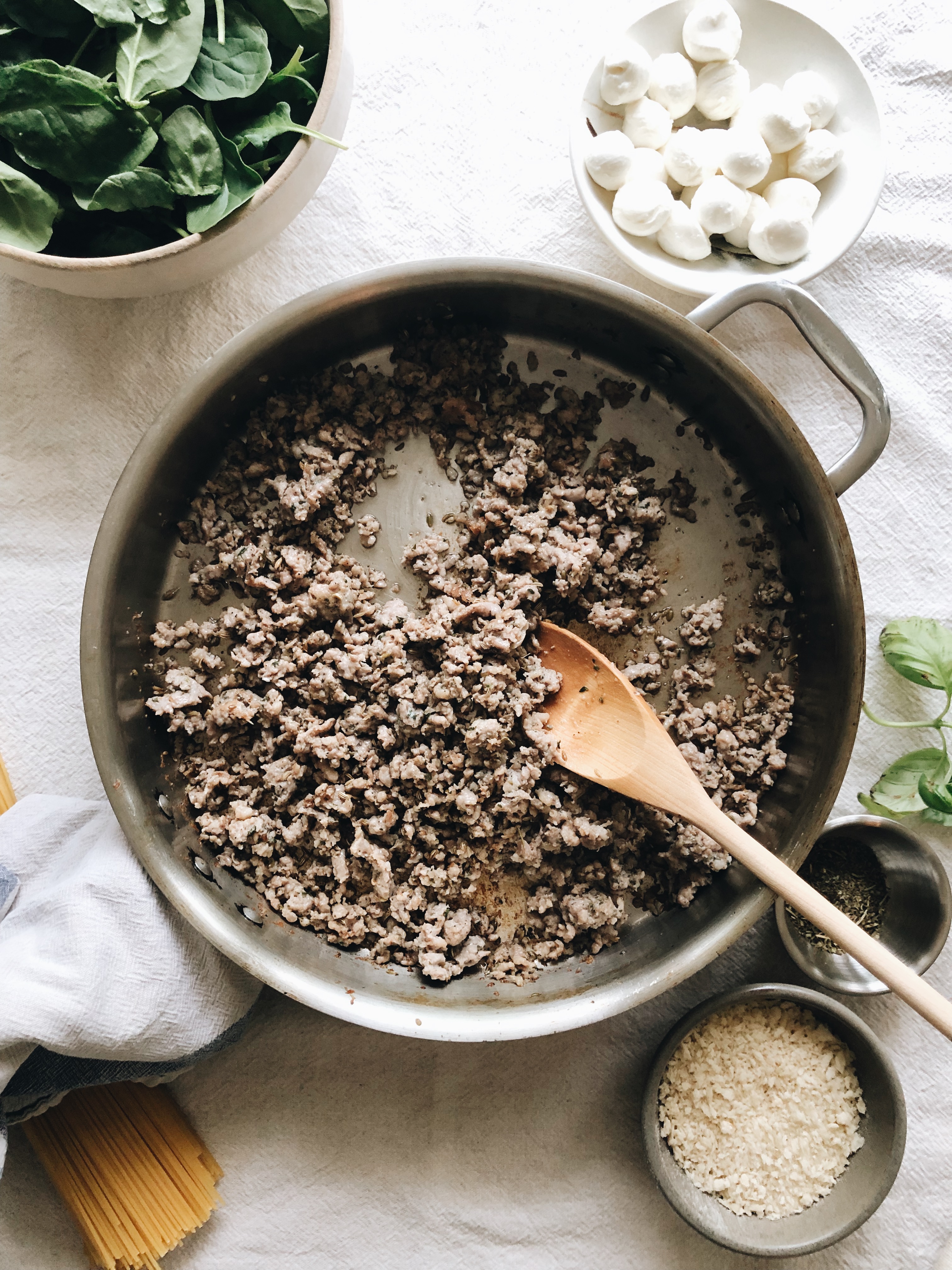 Let's brown some Italian sausage. I chose sausage instead of a traditional ground beef because I'm OVER IT. (<–said like Meegan of Key and Peele.)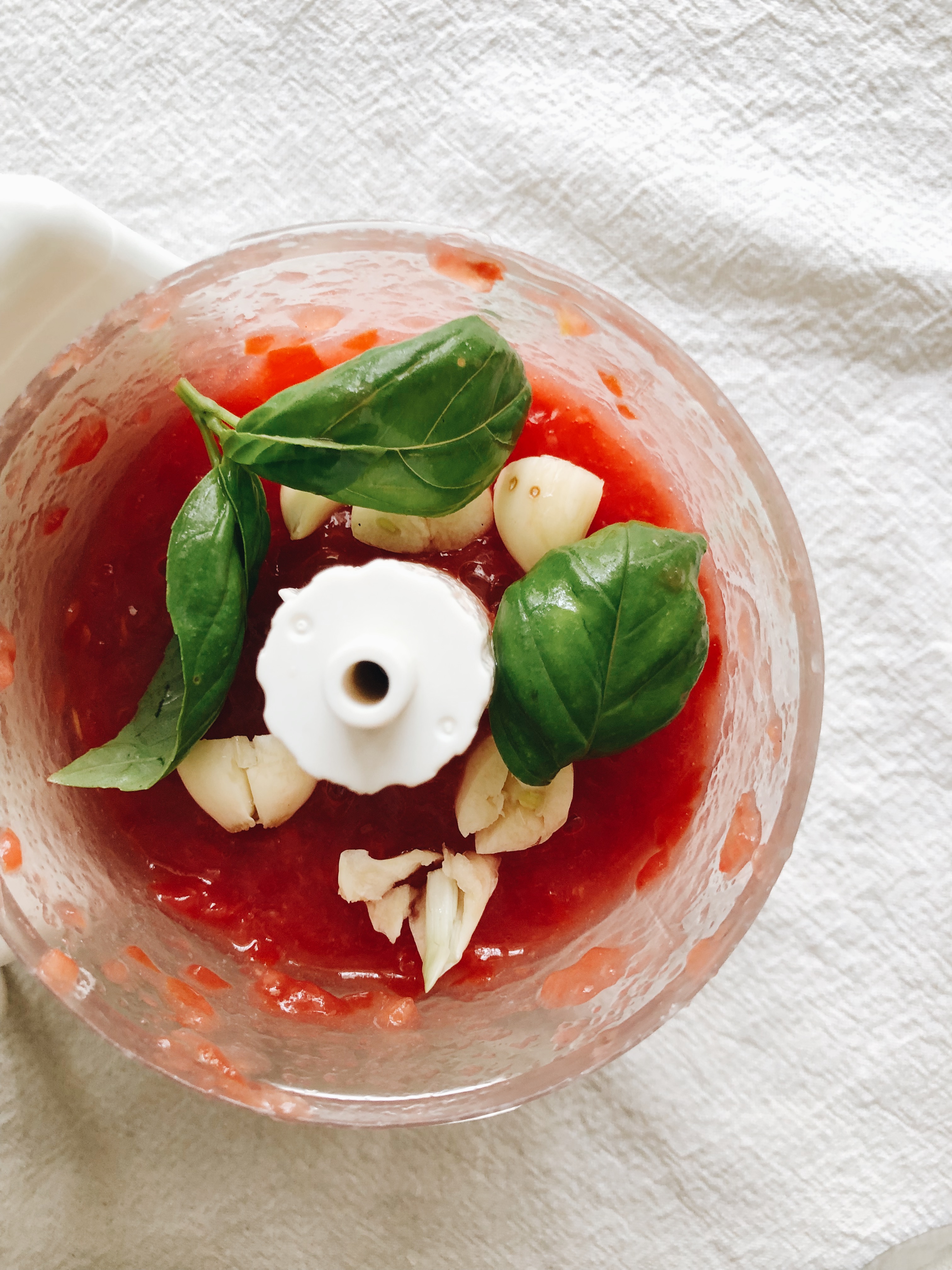 Now for our perfect sauce: take those tomatoes and blitz them up real smooth-like in a food processor with fresh garlic and basil. BOOM. There's your sauce, hon. So simple. I did mine in batches in a small processor, but if you have a big one, do it all at once! Fly, little bird.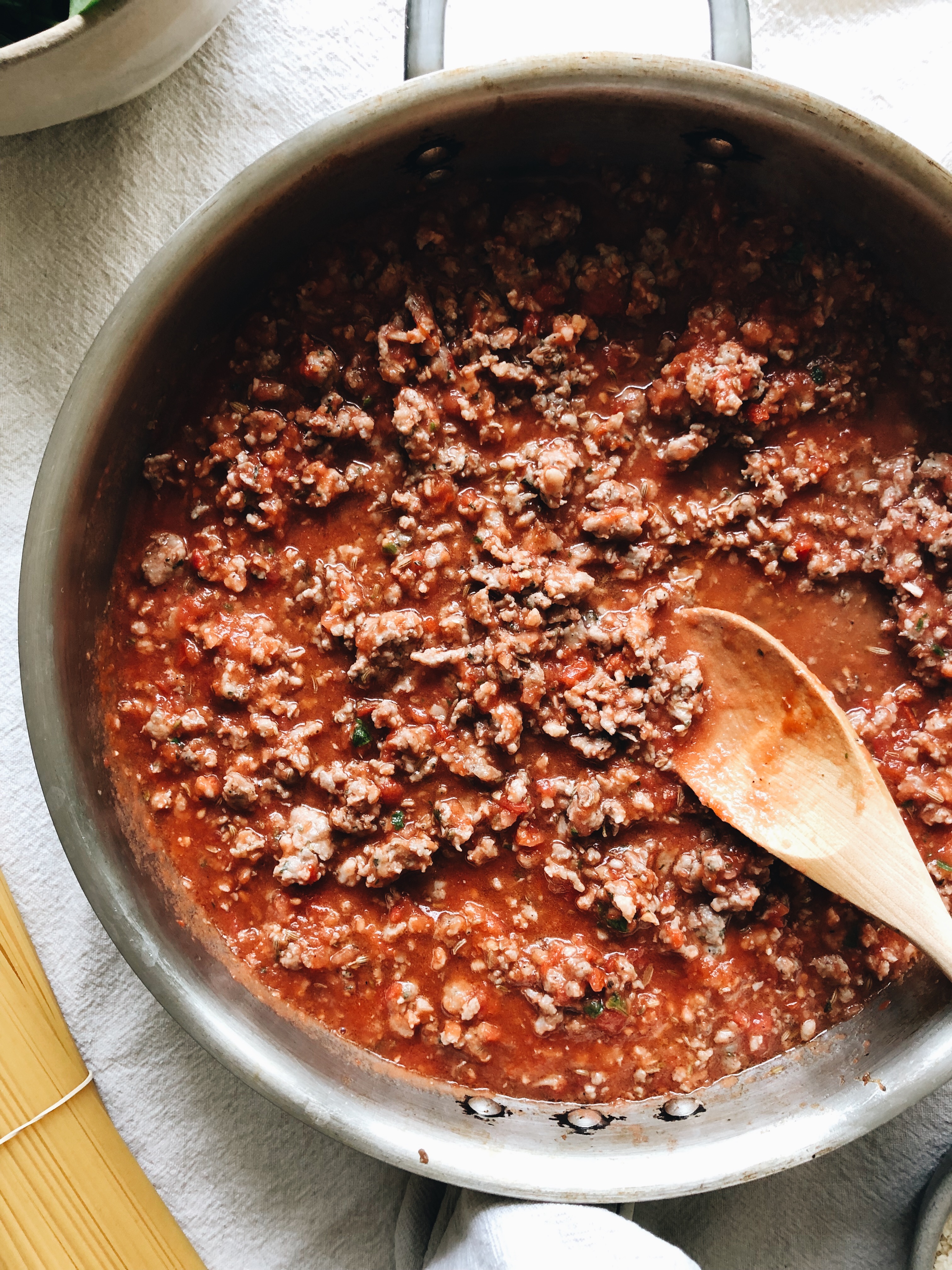 Let it simmer for just a few minutes with the sausage. It is MAGICAL. Worlds better than a jarred sauce. You really won't need much salt beyond a pinch, because the sausage has so much flavor.
Taste how bright that is right now. Just taste it. Like, stick your head over it and inhale. SEE?
I know.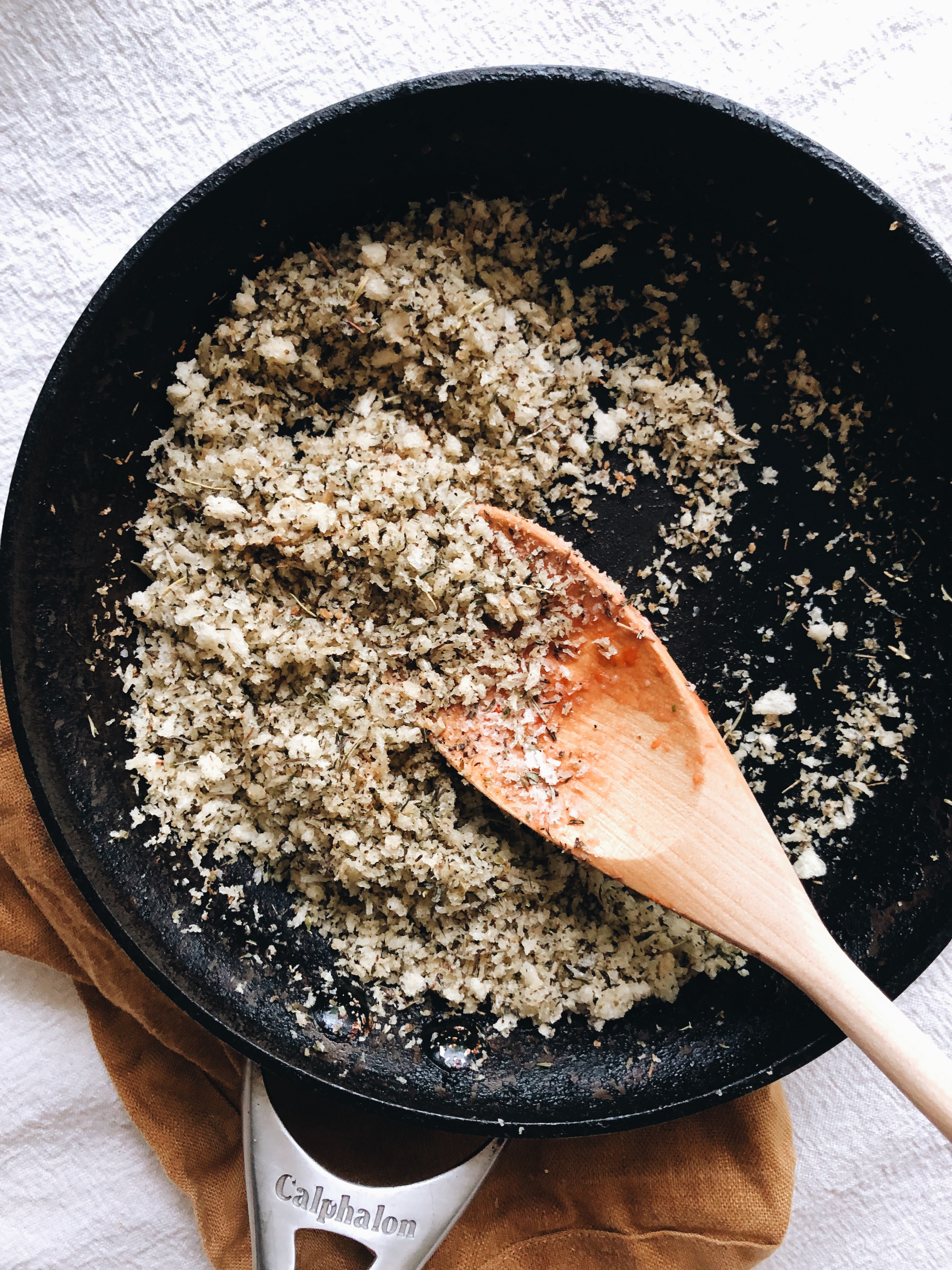 While it's simmering, you're boiling the spaghetti in salted water, and toasting up your panko. Just butter, panko and dried Italian seasoning. Pinch of salt. Toast it. Toast it good.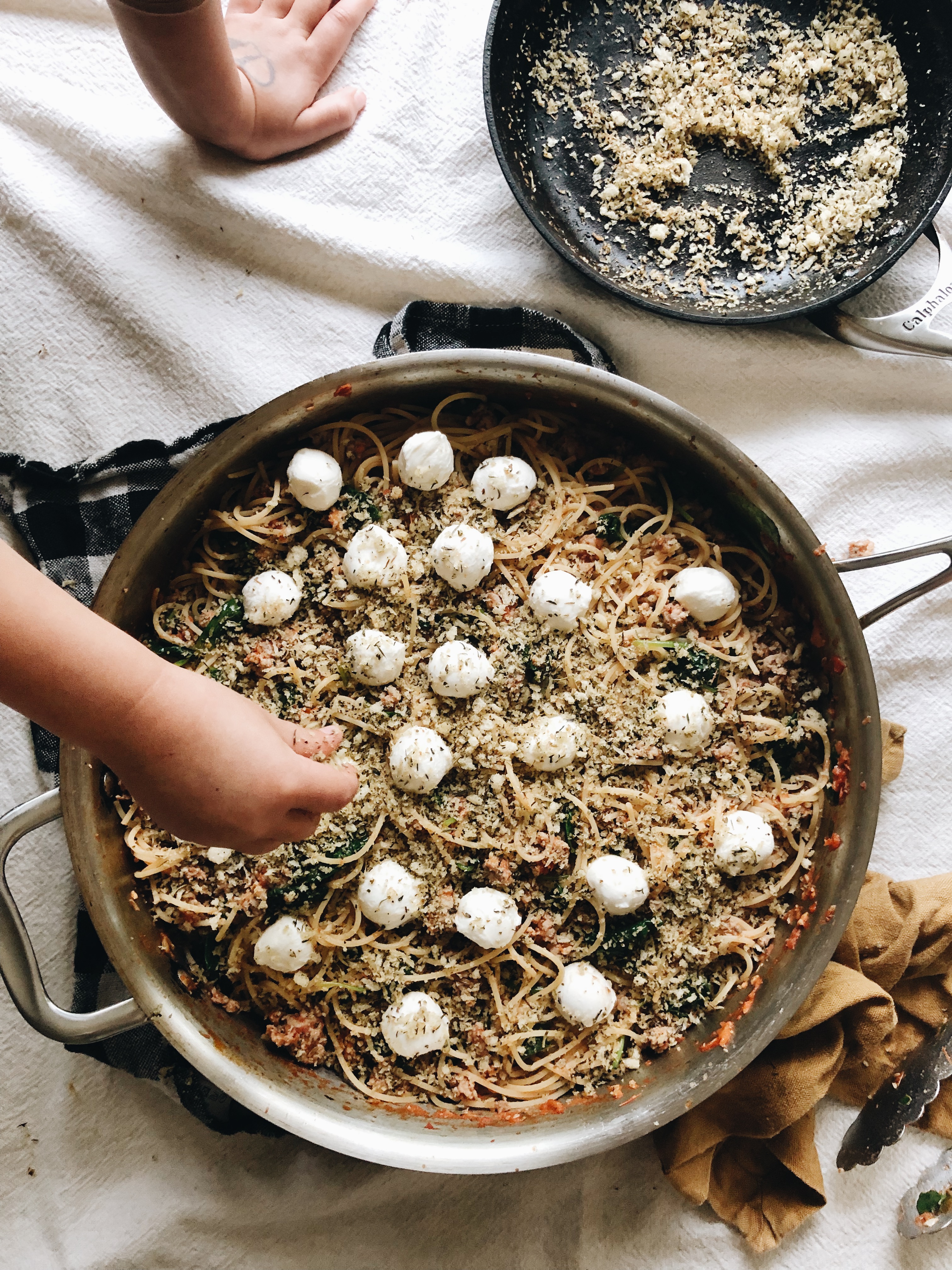 Oh also! You've added a bit of baby spinach to the sauce, let it wilt all in, then transferred the pasta to the sauce and toss toss toss. Get it all coated and luscious. Nestle in the mozzarella balls over the top and sprinkle that seasoned crunchy bliss all up on over it.
But make SURE you enlist a tiny hand with no bulging veins to be your hand model. This is extremely vital to the success of this recipe.
Under the broiler it goes for SERIOUSLY about a minute (don't go away!), and . . .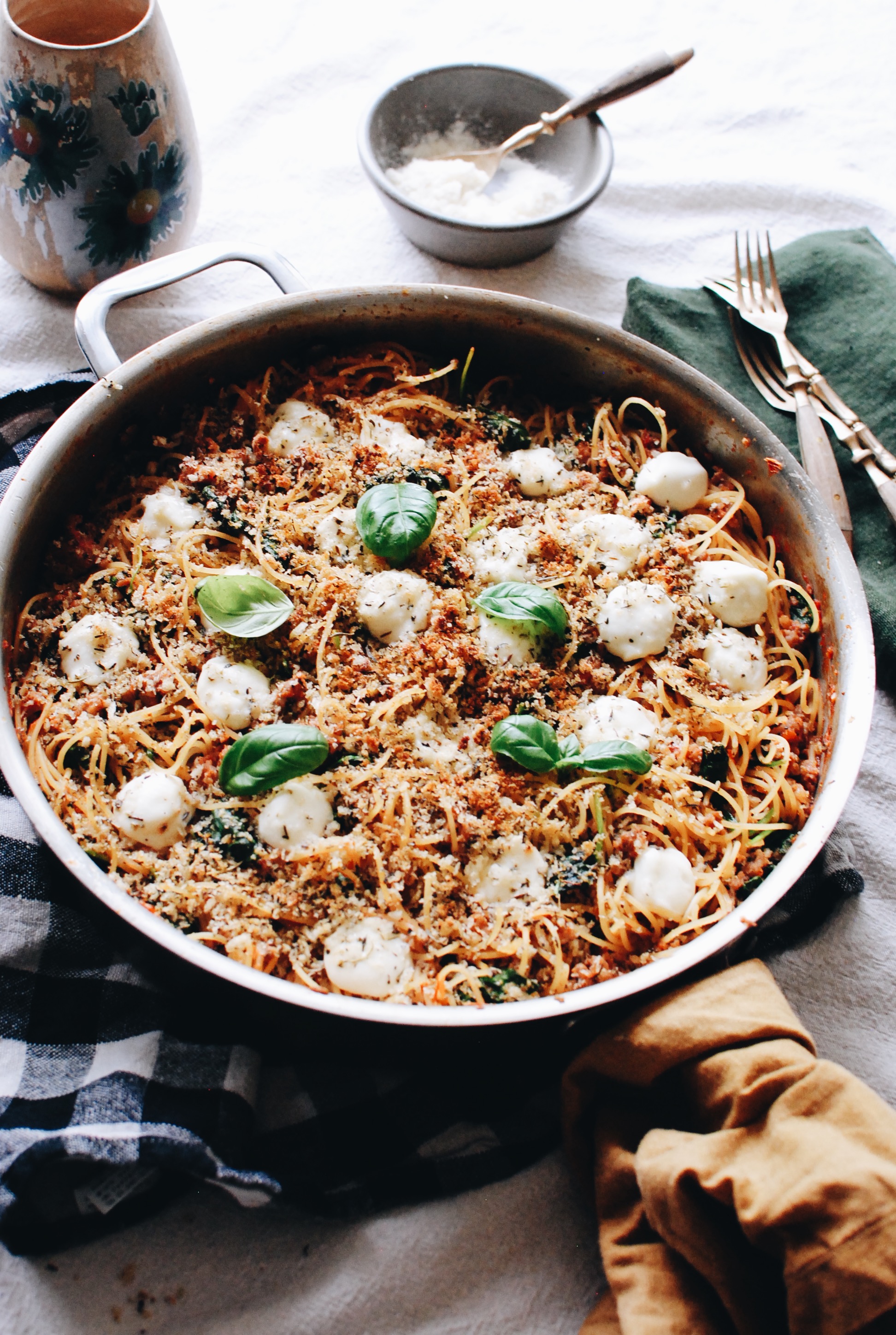 Hello, gorgeous. (<–said like Barbra Streisand with her Oscar statue in 1968.)
I MEAN, it's crunchy. And the mozzarella balls start to gloss up and slightly melt into the pasta and it's straight up divine. Like little treats every few bites.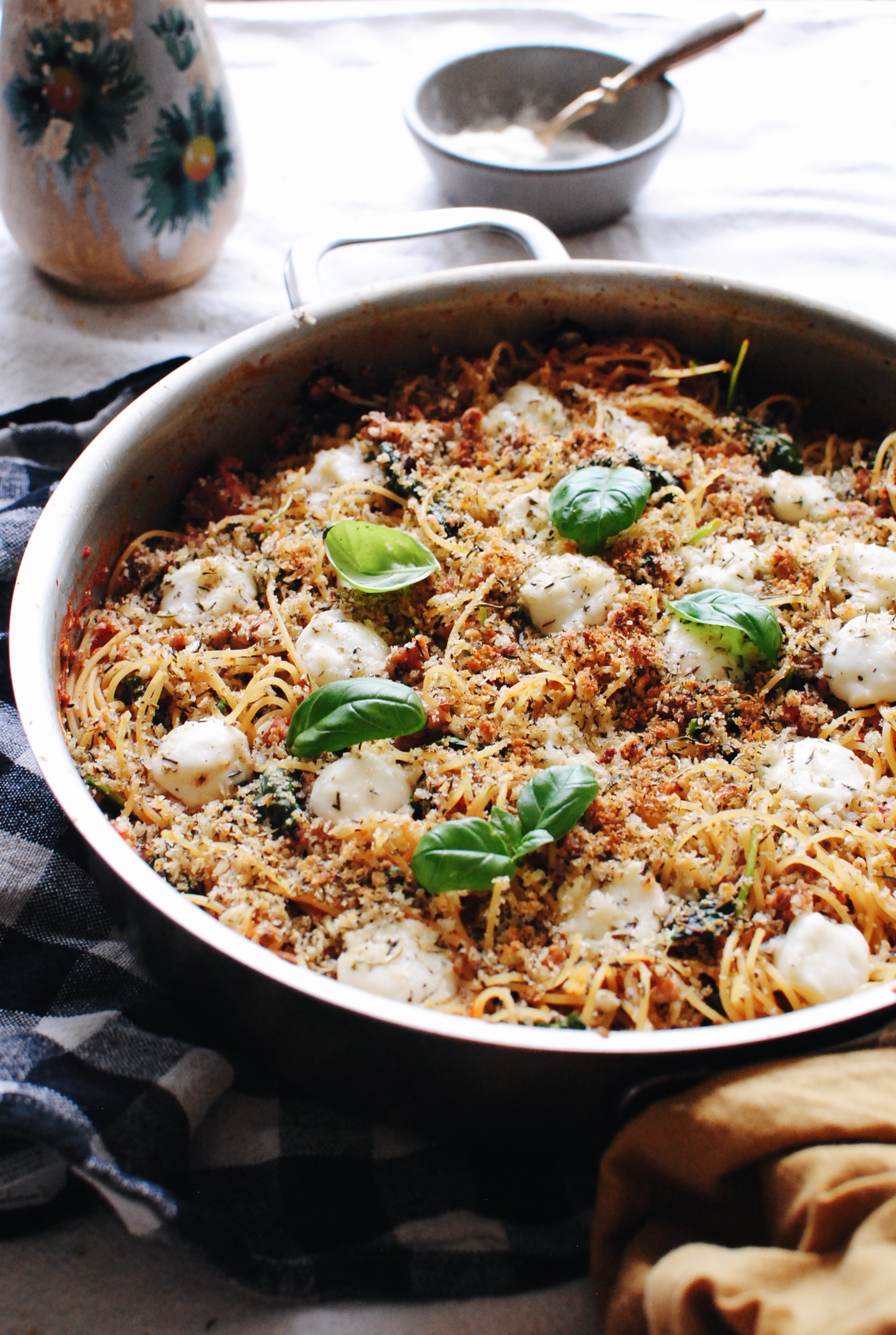 And let's not forget the sausage crumbles swimming around in that fresh basil-y tomato sauce under that blanket of crispy utopia.
It's just GREAT. This whole thing. No other way to put it. It's something that would be in your regular weeknight rotation, but with a fresh, crunchy boom diggidy spin on it.
Plus it has spinach in it, so it's totally diet food.
Shhhhh.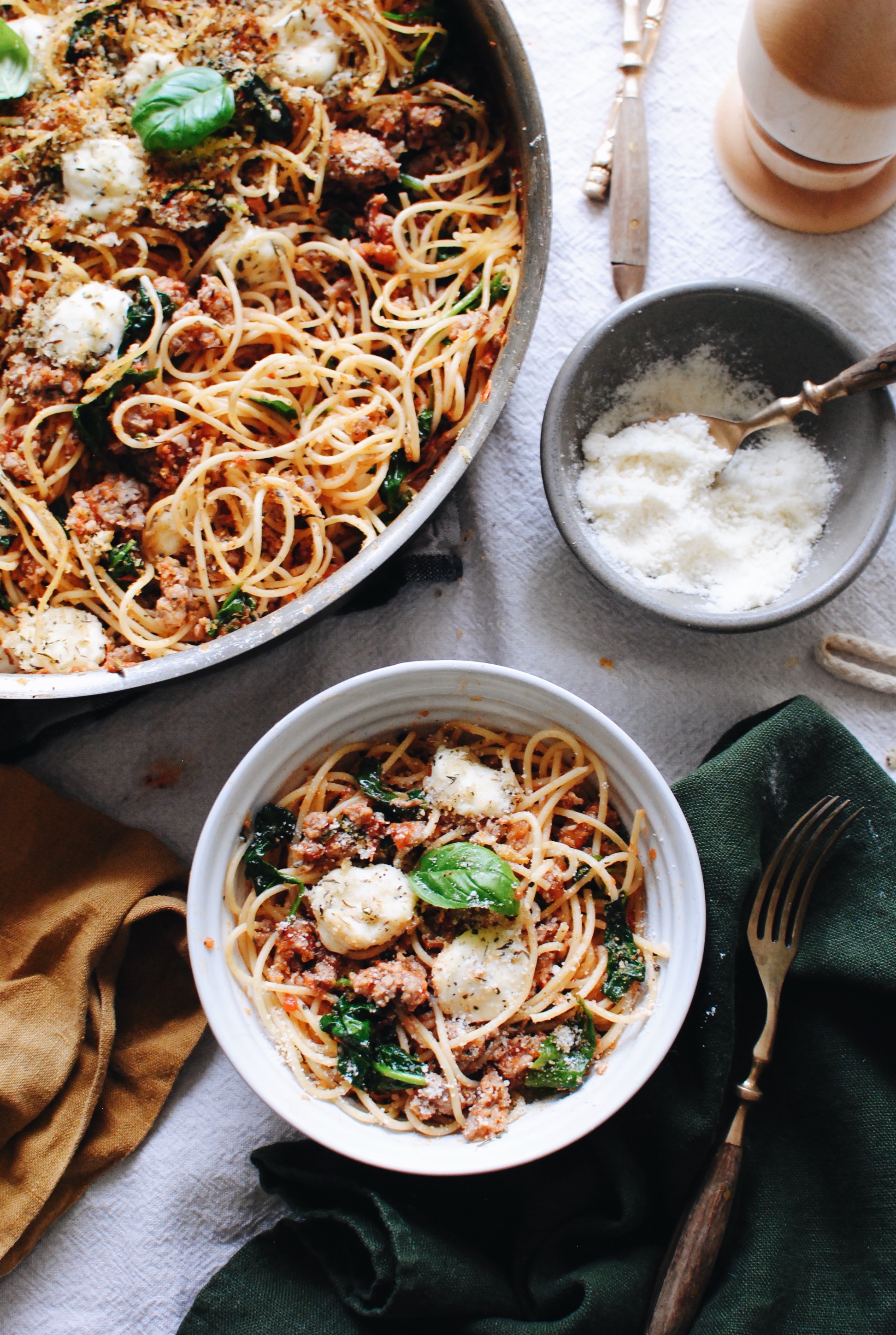 Tonight? YUP.
Spaghetti with Sausage, Spinach and Panko
Ingredients
12 oz thin spaghetti
1 1/4th pound Italian sausage (mild or medium, anything works)
2 pounds fresh tomatoes
3-4 garlic cloves
10 basil leaves, divided
5 oz baby spinach
1 Tbs. butter
1/2 cup panko
1 Tbs. dried Italian seasoning
8 oz small mozzarella balls
Pinch of salt
Instructions
Using a wooden spoon, brown the sausage in a large skillet over medium high heat until cooked through.
In a food processor, blend the tomatoes (quarter them first) along with the garlic cloves and 5 of the basil leaves, until smooth. Pour the sauce into the skillet with the sausage and let simmer on medium low while you cook the pasta. Add the spinach leaves in batches to wilt down. Taste it here. Throw in a pinch of salt if needed.
In the meantime, bring a large pot of salted water to a boil. Cook the pasta until just al dente, then transfer the pasta to the sauce, tossing to coat.
In a small skillet, melt the butter, then add the panko, Italian seasoning and a pinch of salt. Toast the mix until light golden brown, just a minute or two.
Nestle the mozzarella balls on top of the spaghetti, then evenly sprinkle the panko over the dish. Broil for about a minute (don't leave it!), until the panko has darkened, and the cheese starts to gloss and soften. This seriously doesn't take long at all because you don't want the panko to burn. So just watch it with your eagle eye.
Garnish with the remaining basil and serve it up!
Serves 4.
7.8.1.2
351
https://bevcooks.com/2019/05/spaghetti-with-sausage-spinach-and-panko/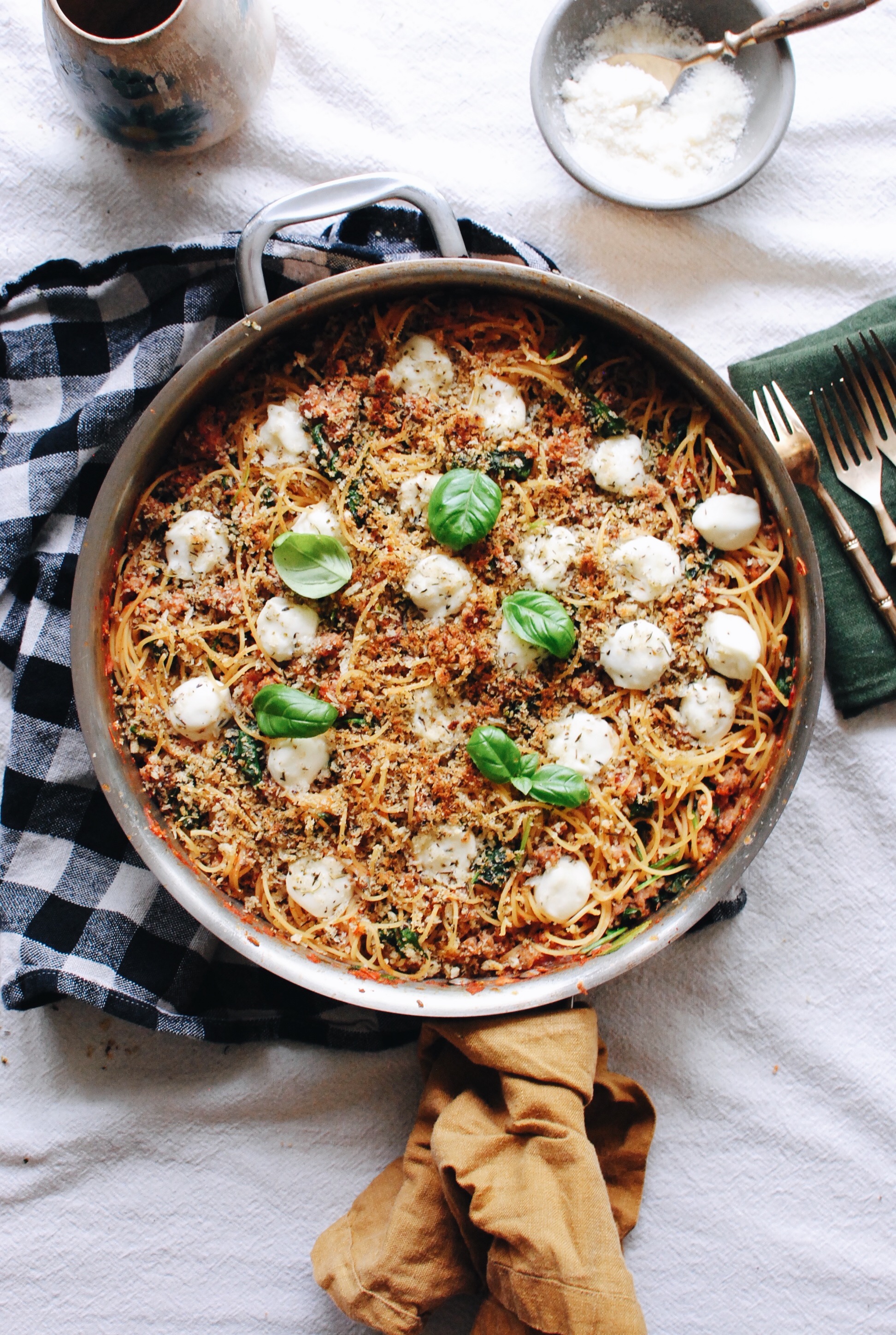 I'm not crying, you're crying.