"THIS ONE GOES OUT TOOOO THE HERBIVOOORES." (<–sang like R.E.M.)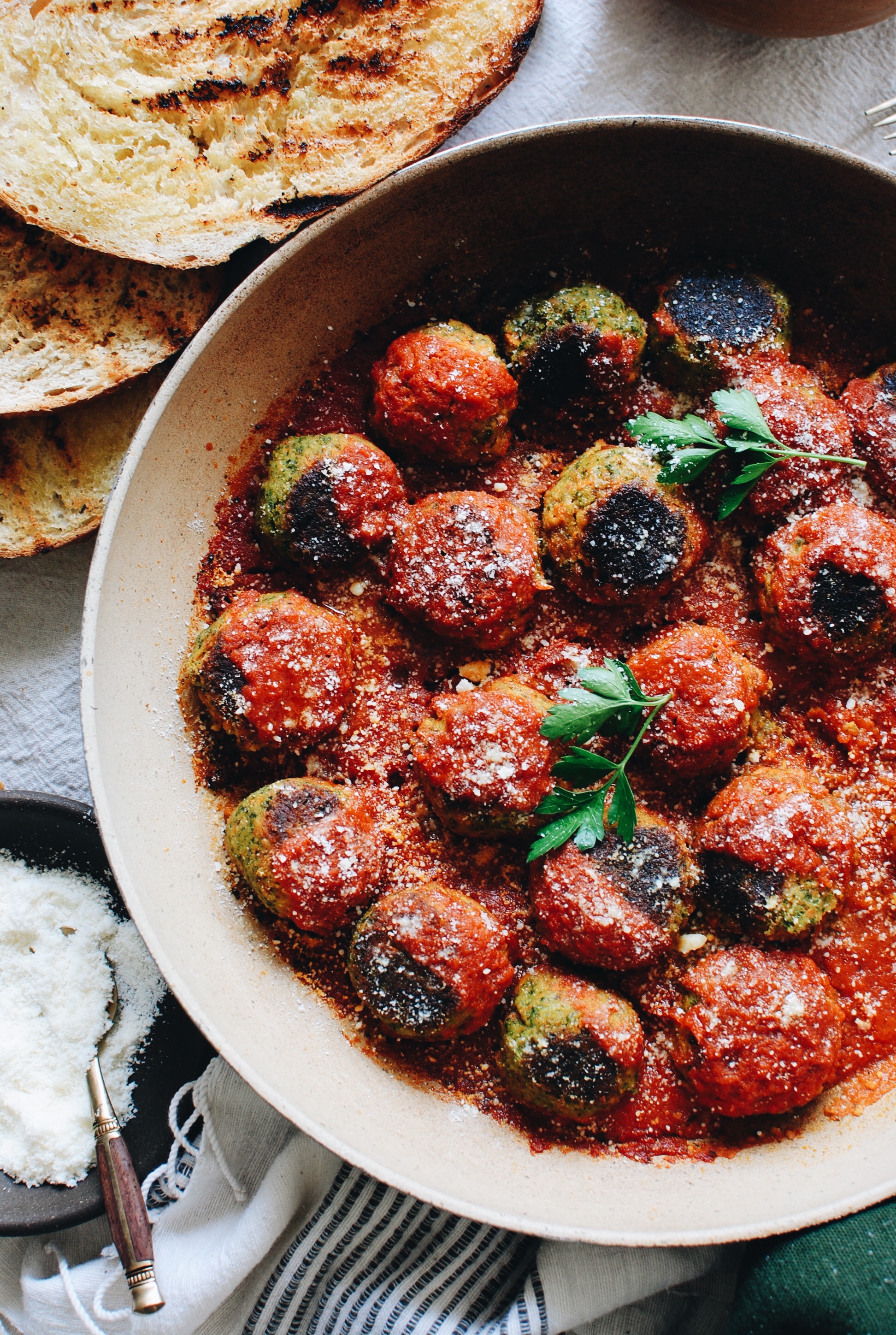 "THIS ONE GOES OUT TOOOO THE ONE WHO HATES THE MEAAAAAT."
I can chill.
Like, there's not even parmesan in them. Only on top of the sauce, so if you left that out, they're even vegan! (minus the egg. forgot about the egg.) Not that I'm turning vegan. Dairy is like a left leg for me. I'll never quit it.
But!
These are guuuud, guys. Ril good. (<–hate that I just said ril.)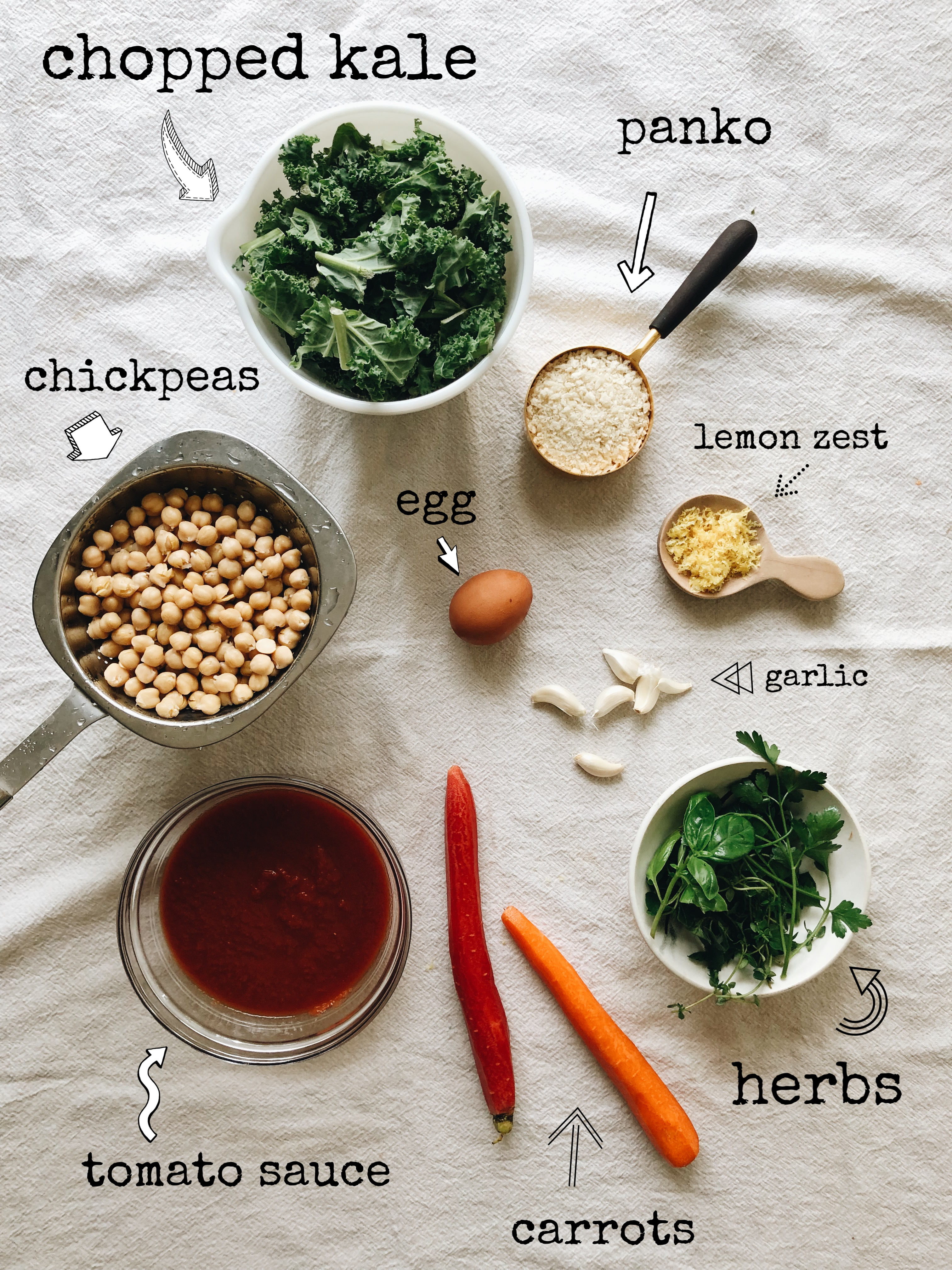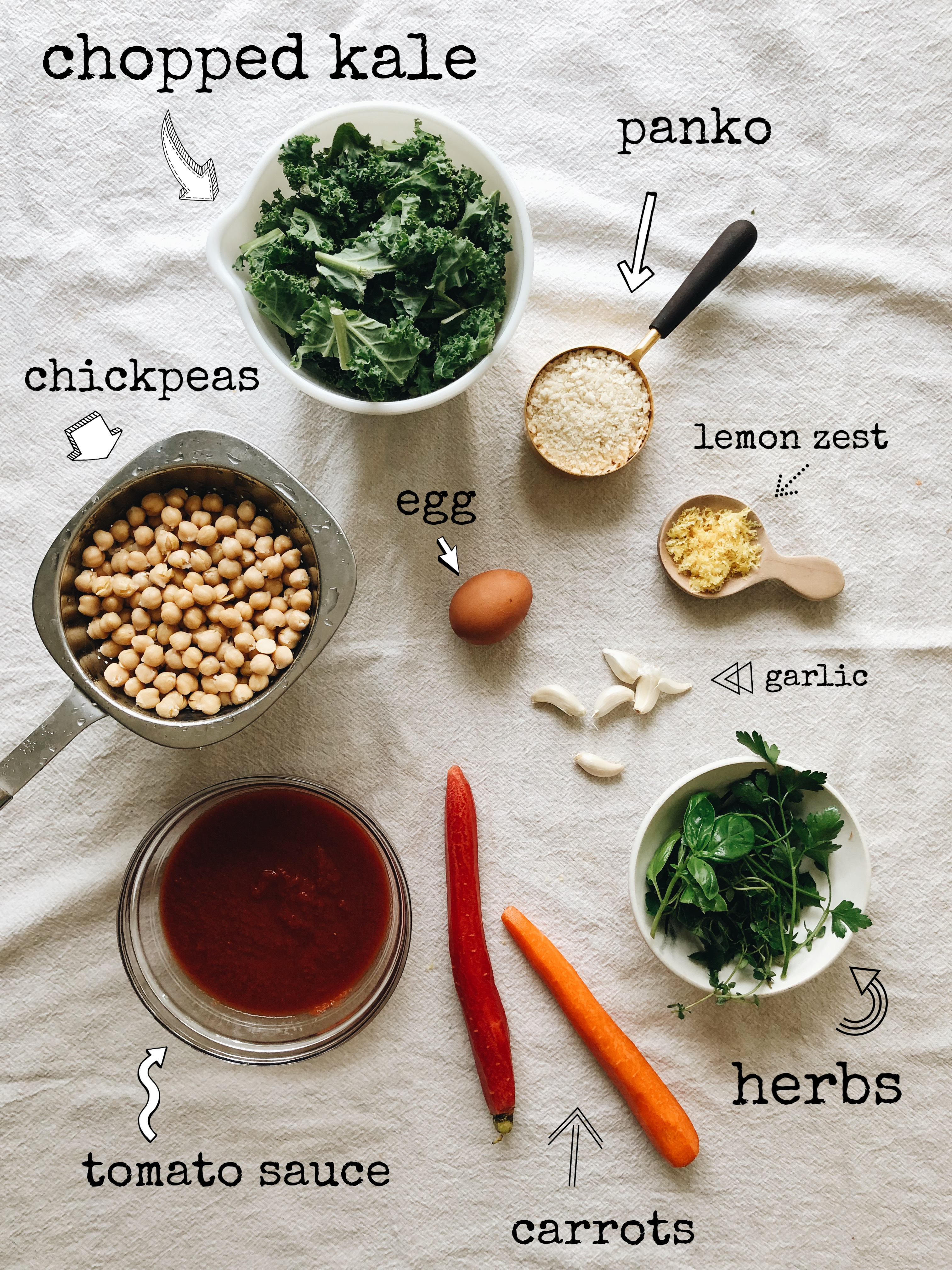 It's as simple as it gets. And you know what, you can totally add spices to these if you want! I'd love your take on veggie meatballs. AND if you have top-secret James Bond secrets on how to get them to stay together. Mine do, but not as well as I'd hoped.
I'm still a good person.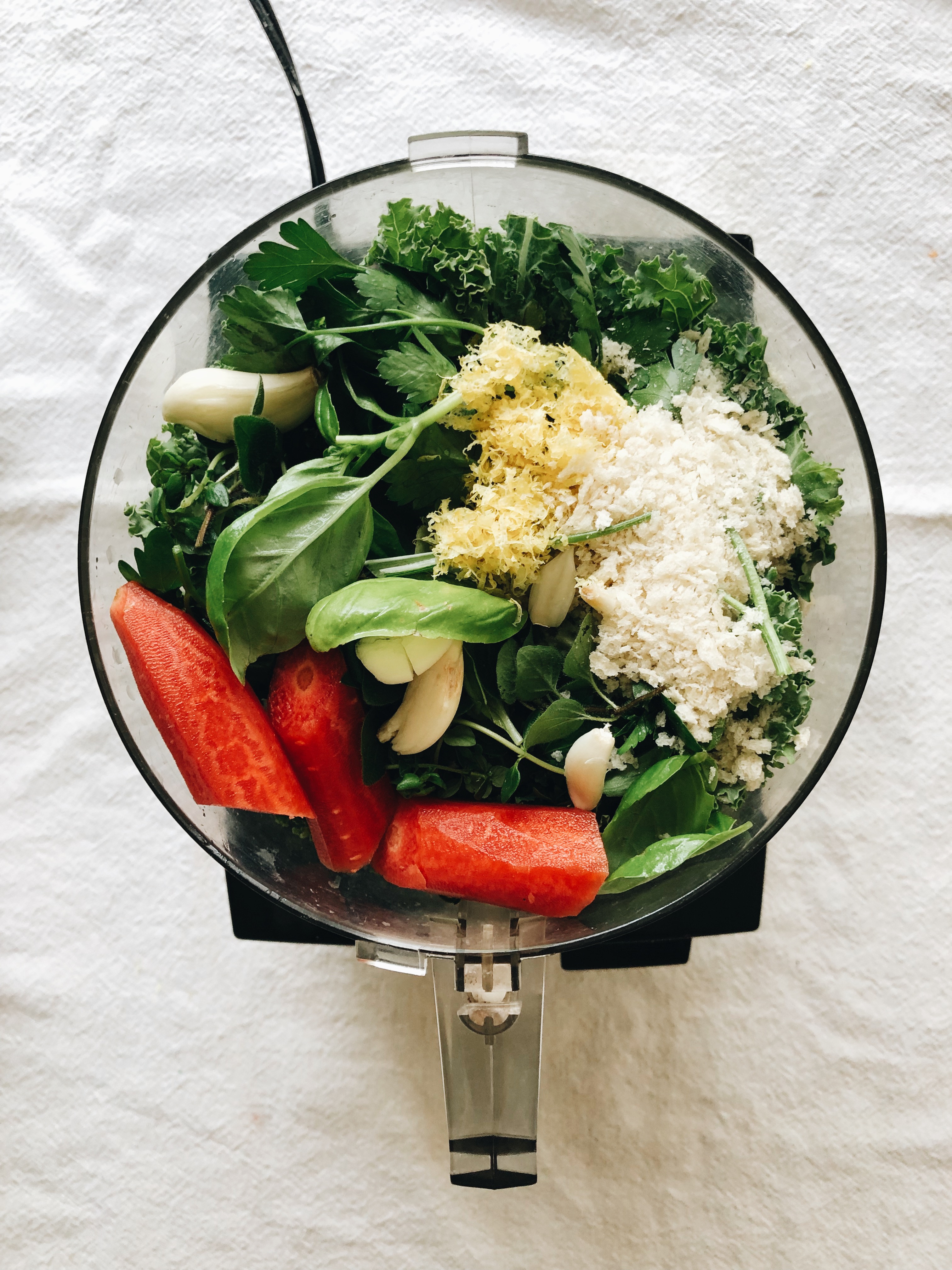 So everything goes in a food processor. Actually, pulse up the carrots and chickpeas first. Give those carrots a chance to really really break down and grind up. Which I feel like should be a James Brown song. "Break down and grind up! Ow! Break down and grind up! Oh!"
Never mind.
Then add the kale, herbs, panko, garlic, EGG (that's your binder, boo), lemon zest and a good pinch of salt. Pulse it good and scrape down the sides until it looks like this.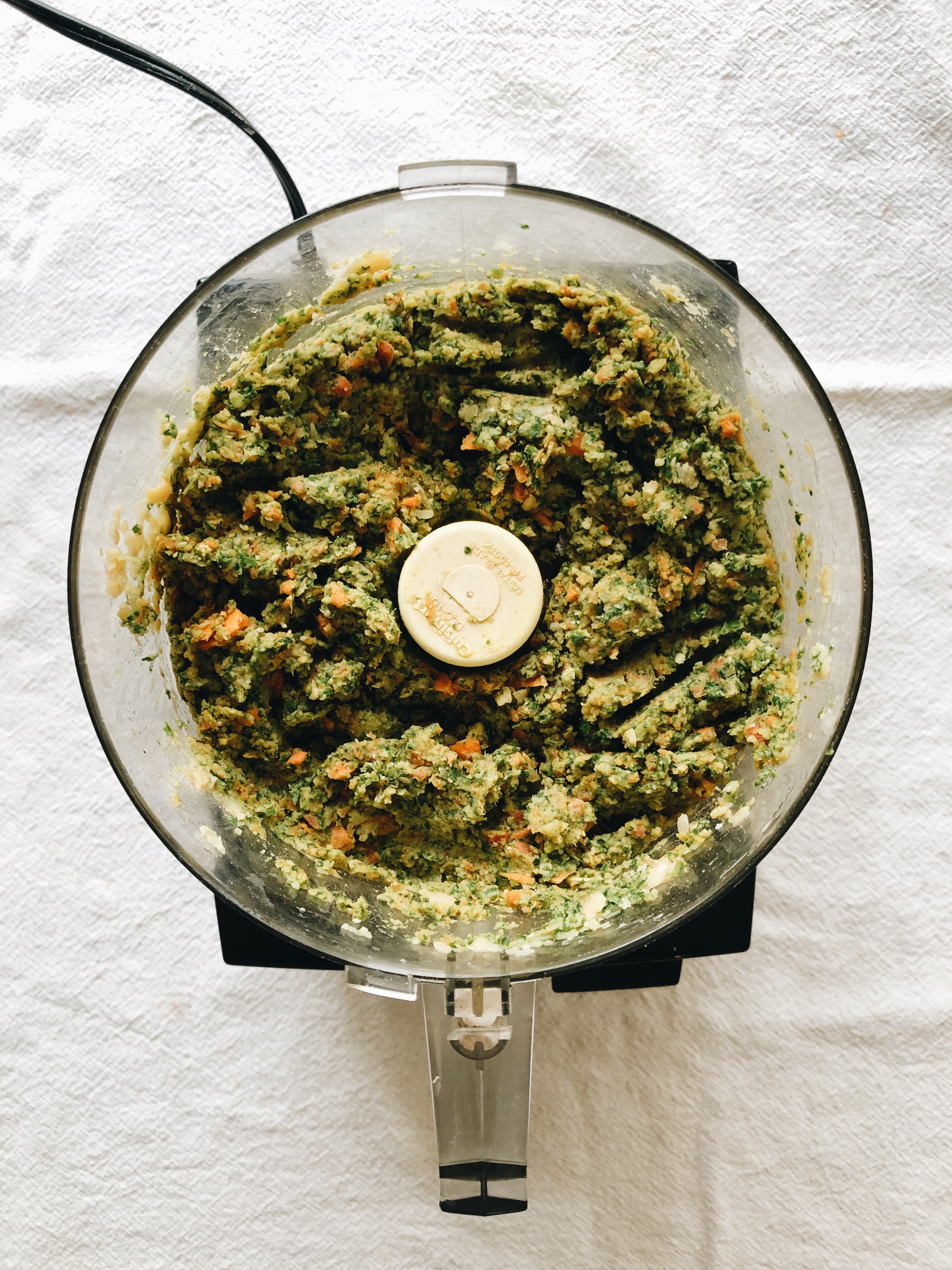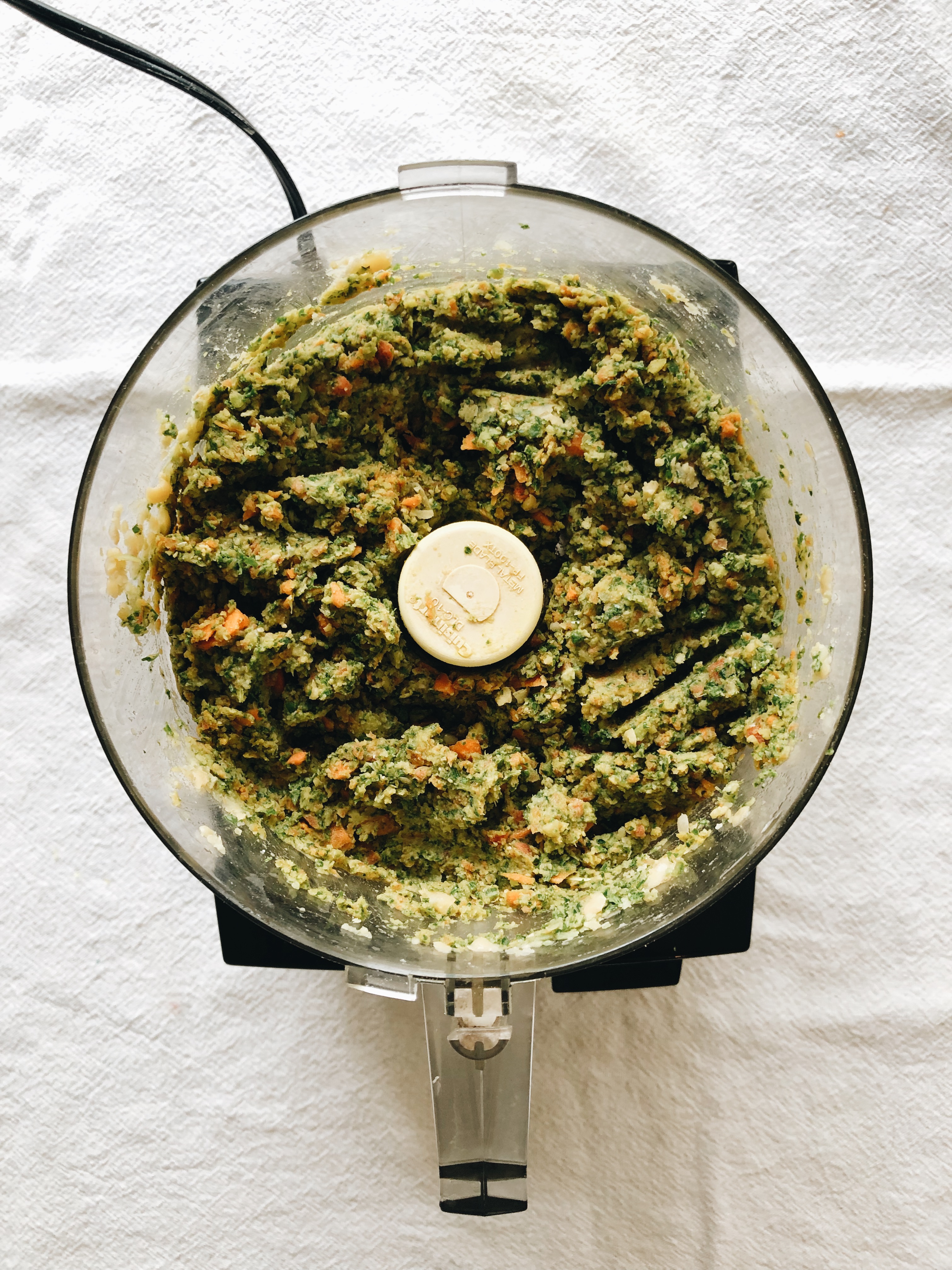 Okay. It looks like cat food.
WE'RE TRYING TO SAVE THE PLANET, GUYS, JUST LEAN IN ALREADY.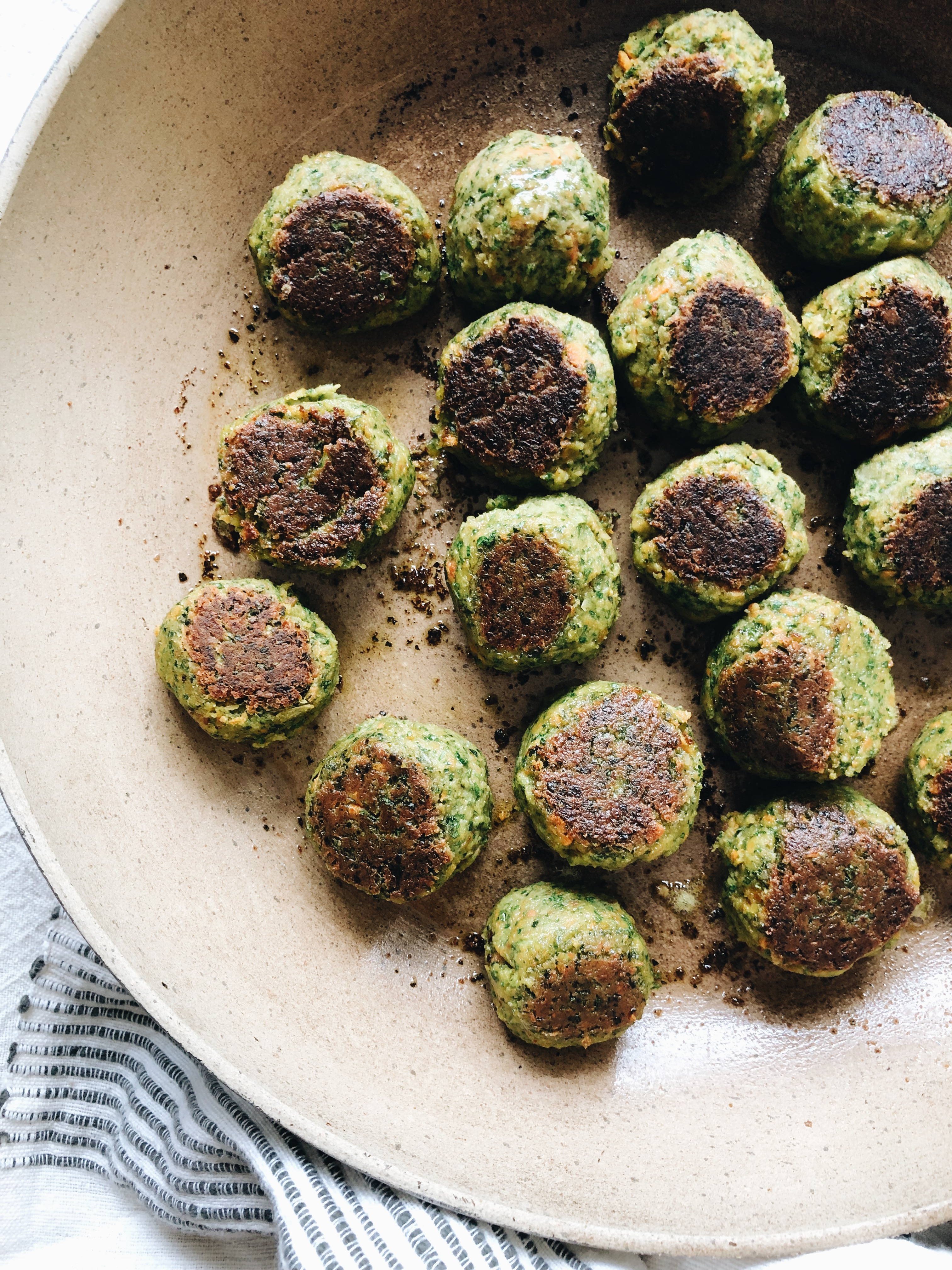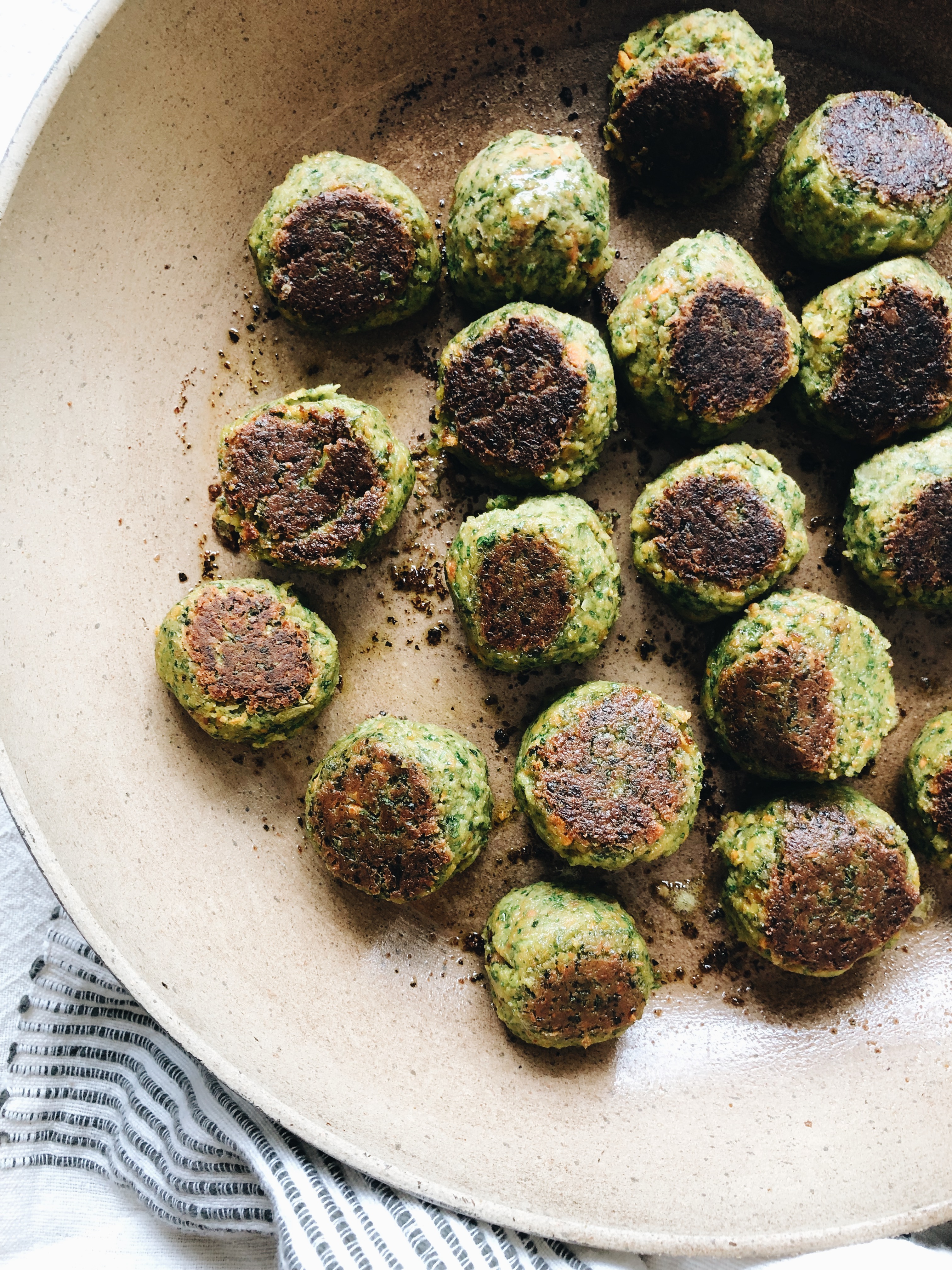 This is better.
Ball 'em with with your hands and carefully sear them in an oiled skillet. You have to be gentle about the flippage, dudes. These pups are delicate. Not like actual meat. But you can do it. I have confidence in sunshine. I have confidence in rain. I have confidence that you can flip you some dern vegetaBALLS. Hahahahah!
Oh.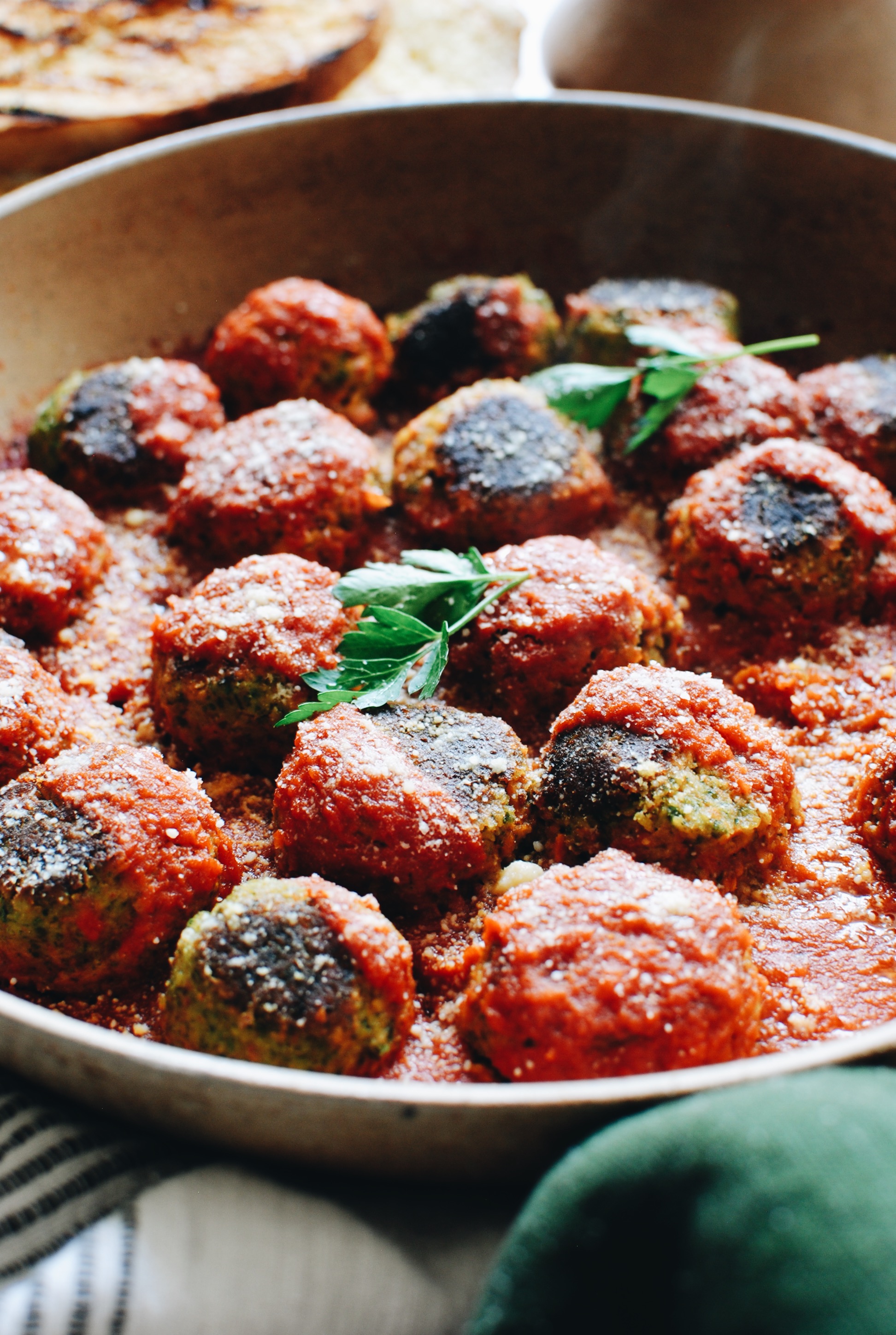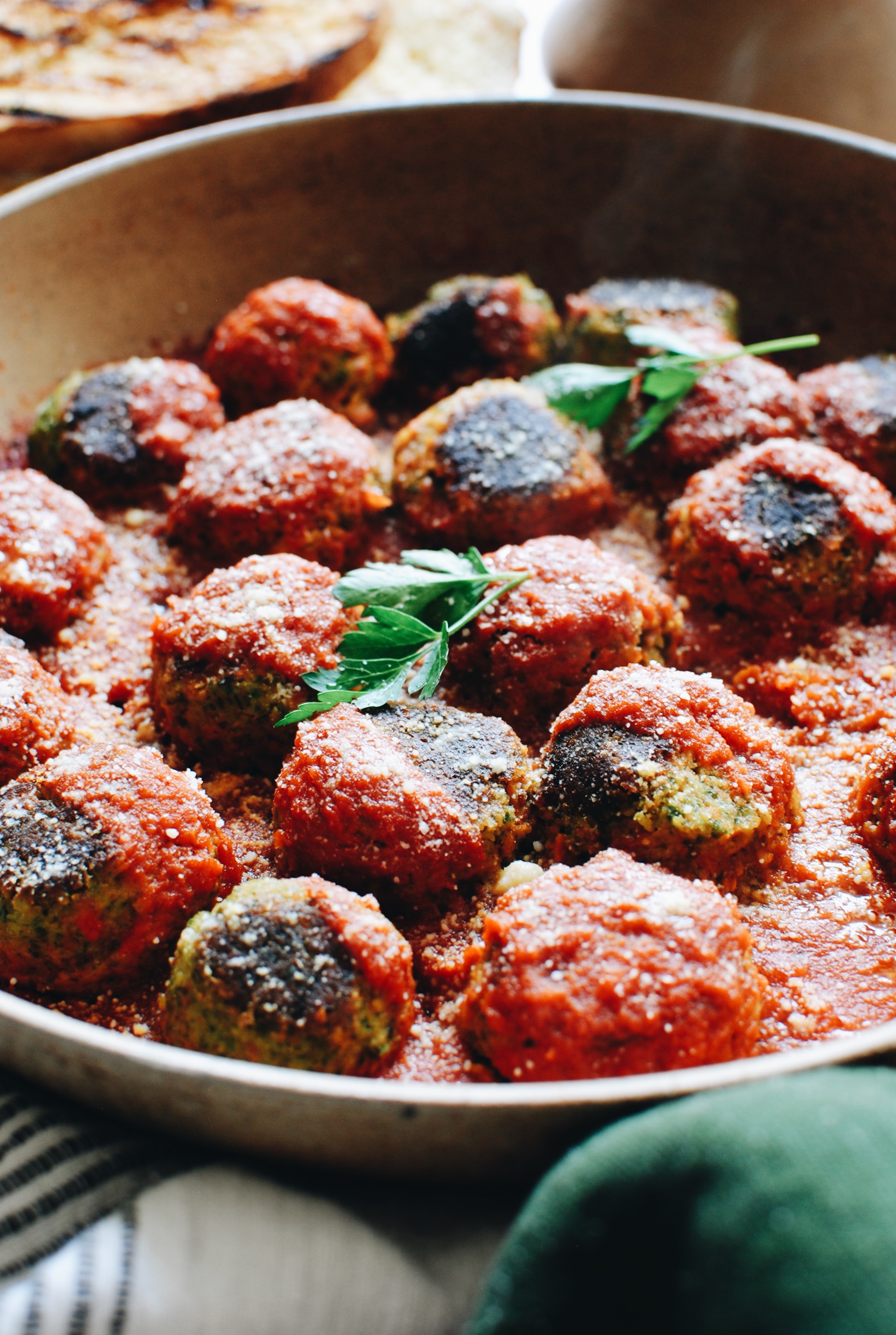 You've poured marinara in. Something bright and tangy. Or use my sauce from Tuesday! Look at you go!
Then you'll just dust an ish-load of cheese rain (that's what I call parm. I have five year olds.) over the finished dish, and serve it with grilled bread!
And for that, I just bought a mound of bread, sliced it and brushed the slices with a mix of olive oil, garlic powder and salt. (rub a cut garlic clove over the bread if y'awnt!) Grilled it on an indoor pan (while the balls simmer), and served it like a cot for the balls. I don't like how any of that sounded.
And it's fab! The veggie balls DID start to break up as I ate them, so I ended up sort of spreading the mix over the bread and eating it like that. And I'll never regret it. But listen, if you have tips on how to keep that mess SUPER stuck, dude, tell me. We'd all love to know.
The flavors are OUTSTANDING. Super herby, bright, but with a garlic undertone. Flipping good, man.
Do it.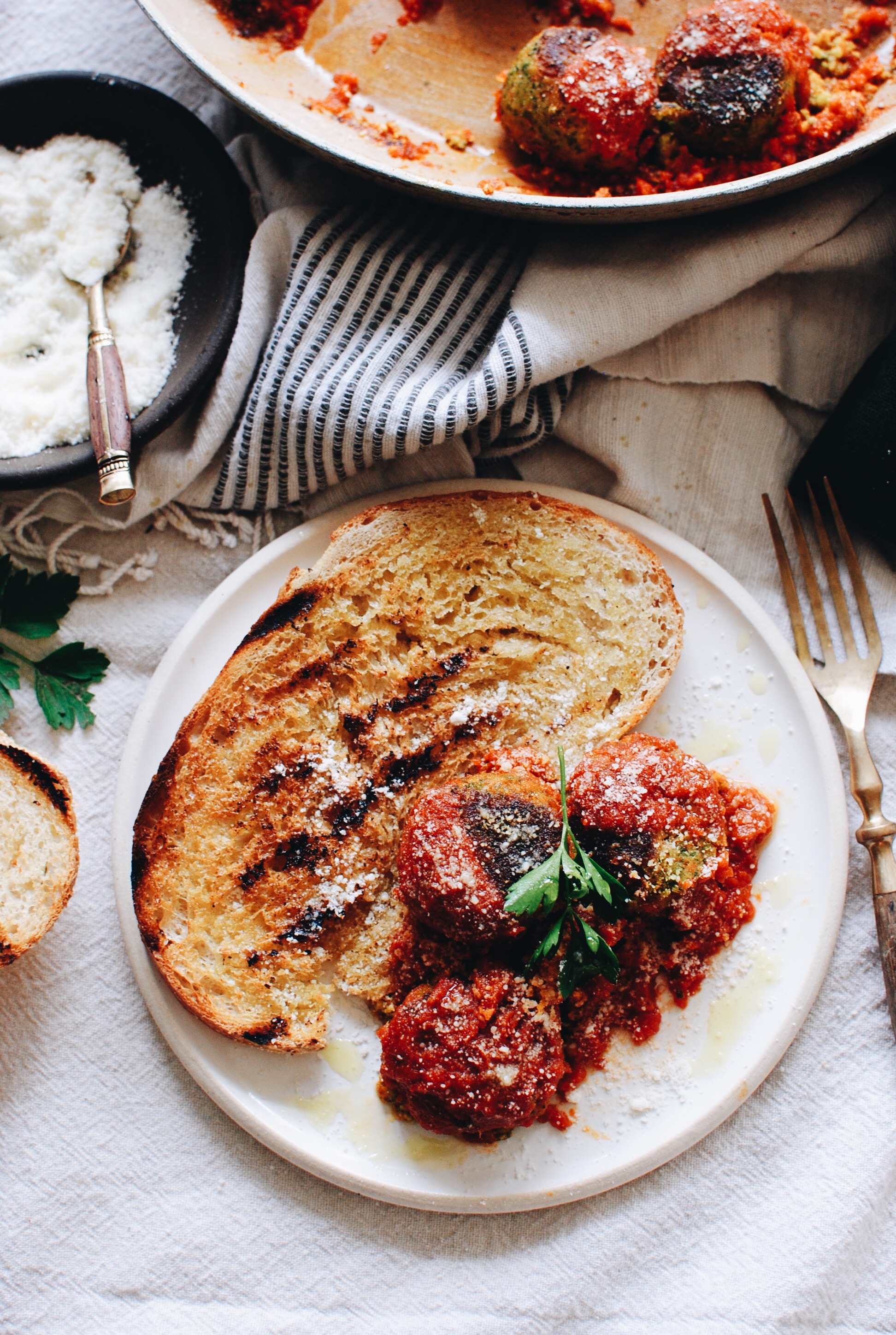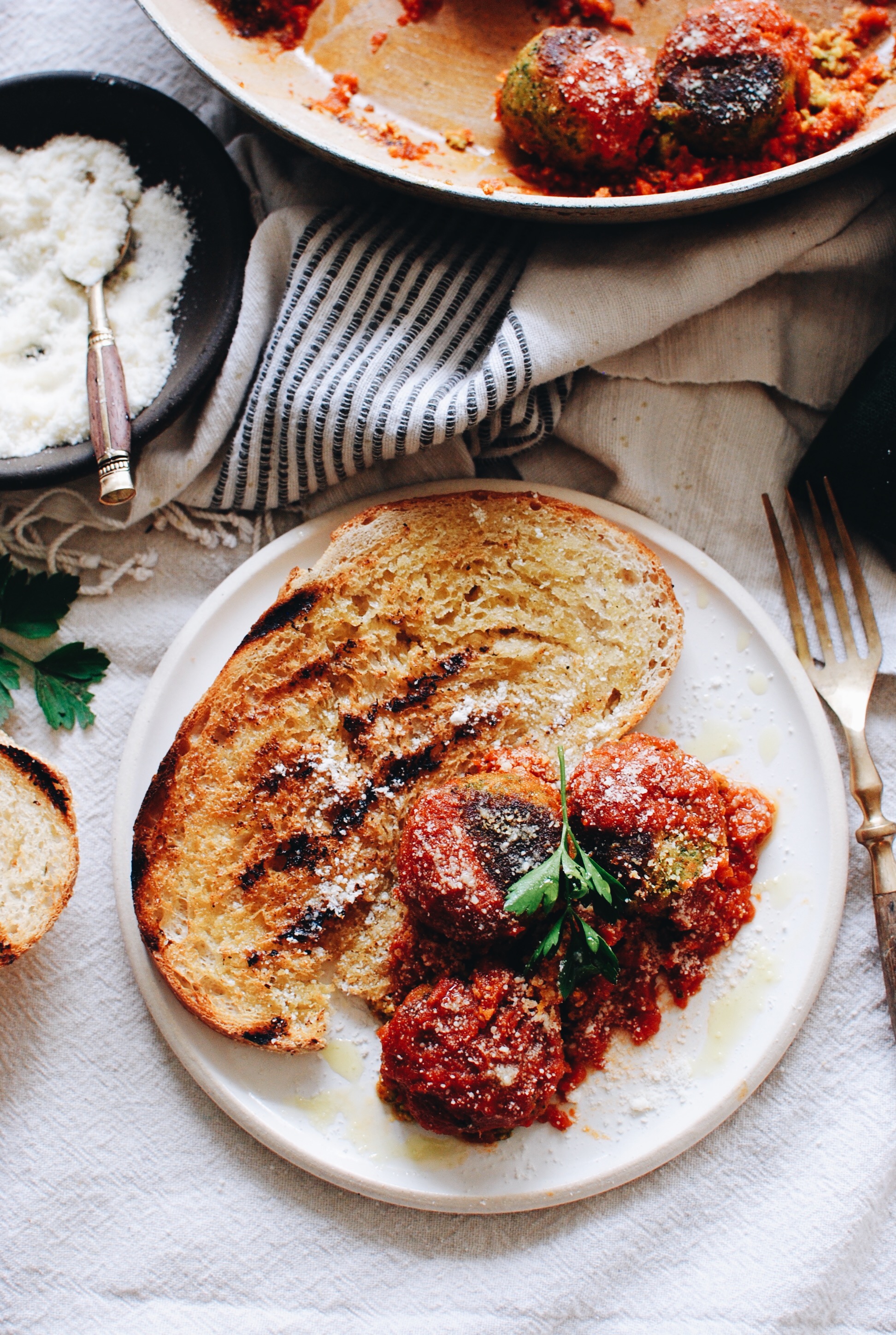 See? And the leftovers make the perfect light vegetarian lunch if you're trying to do that more. Which I bet you are. But I'm not being bossy.

Vegetarian Meatballs with Grilled Bread
Ingredients
1 (15 oz) can chickpeas, drained and rinsed
4-5 cups chopped kale
2 medium carrots
4 -5 garlic cloves
1/2 cup panko
1 egg
1 Tbs. lemon zest
About a cup of fresh herbs (anything works here - I used parsley, basil, thyme and oregano)
2 cups favorite marinara (something bright and tangy)
2 Tbs. extra-virgin olive oil
Pinch of salt
Crusty bread slices (brushed with olive oil, garlic powder and salt), grilled or toasted
Instructions
In a large food processor, pulse the carrots and chickpeas together. Then add the kale, garlic, herbs, panko, lemon zest and a pinch of salt. Keep pulsing (and scraping down the sides when needed) until smooth and combined. Using your fingers, roll the mix into smallish veggie balls.
Heat the oil in a large skillet, and gently place the veggie balls in to sear. Let sit about two minutes, on medium-high heat, then carefully flip to sear the other side. Pour the marinara into the skillet and let the veggie balls simmer about 10-15 minutes, while you grill or toast your bread slices.
They'll definitely soften and begin to fall apart after a few stabs, but you're (I'm?) still a good person. Smear it on the grilled bread and devour.
Serves 4!
7.8.1.2
352
https://bevcooks.com/2019/05/vegetarian-meatballs-with-grilled-bread/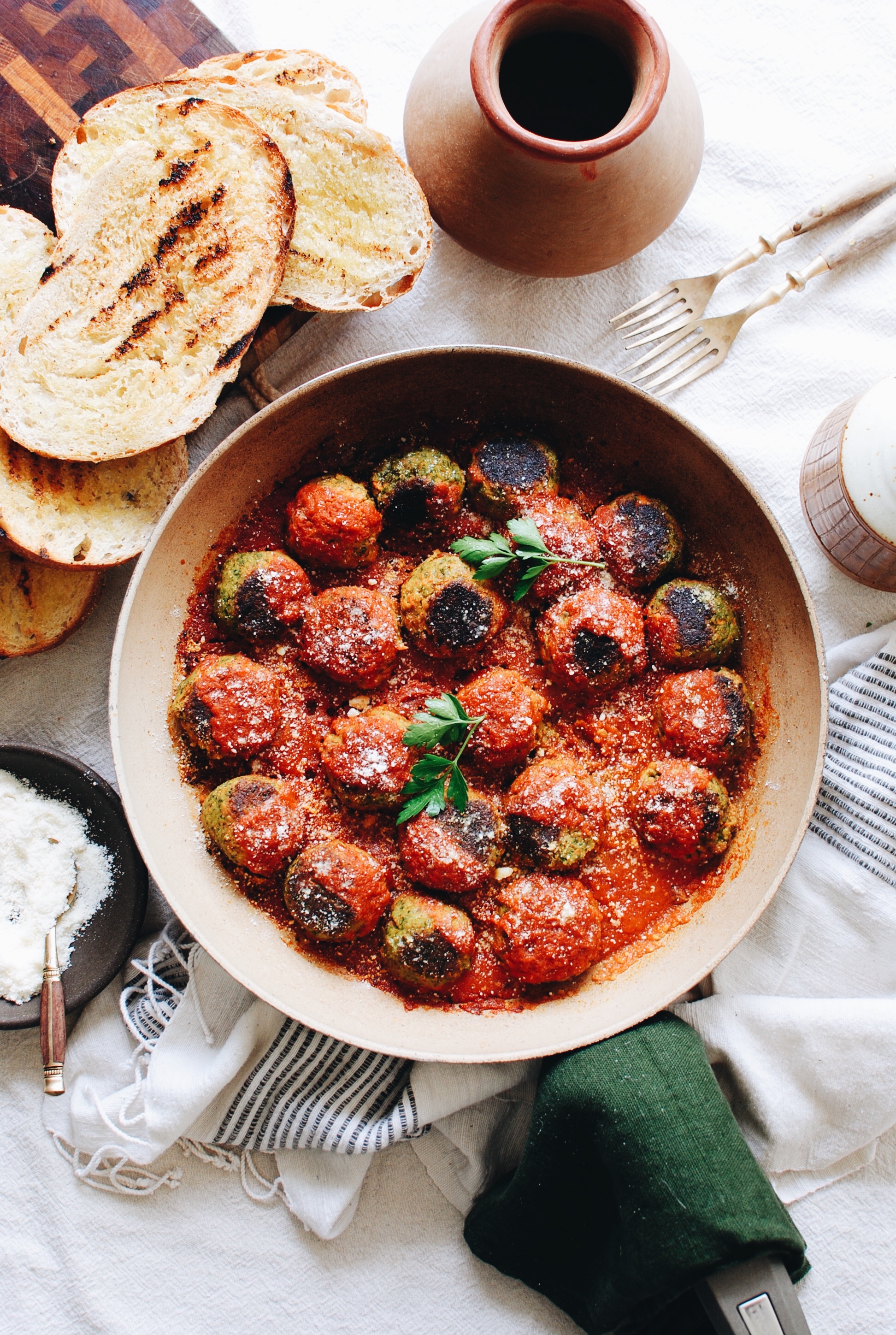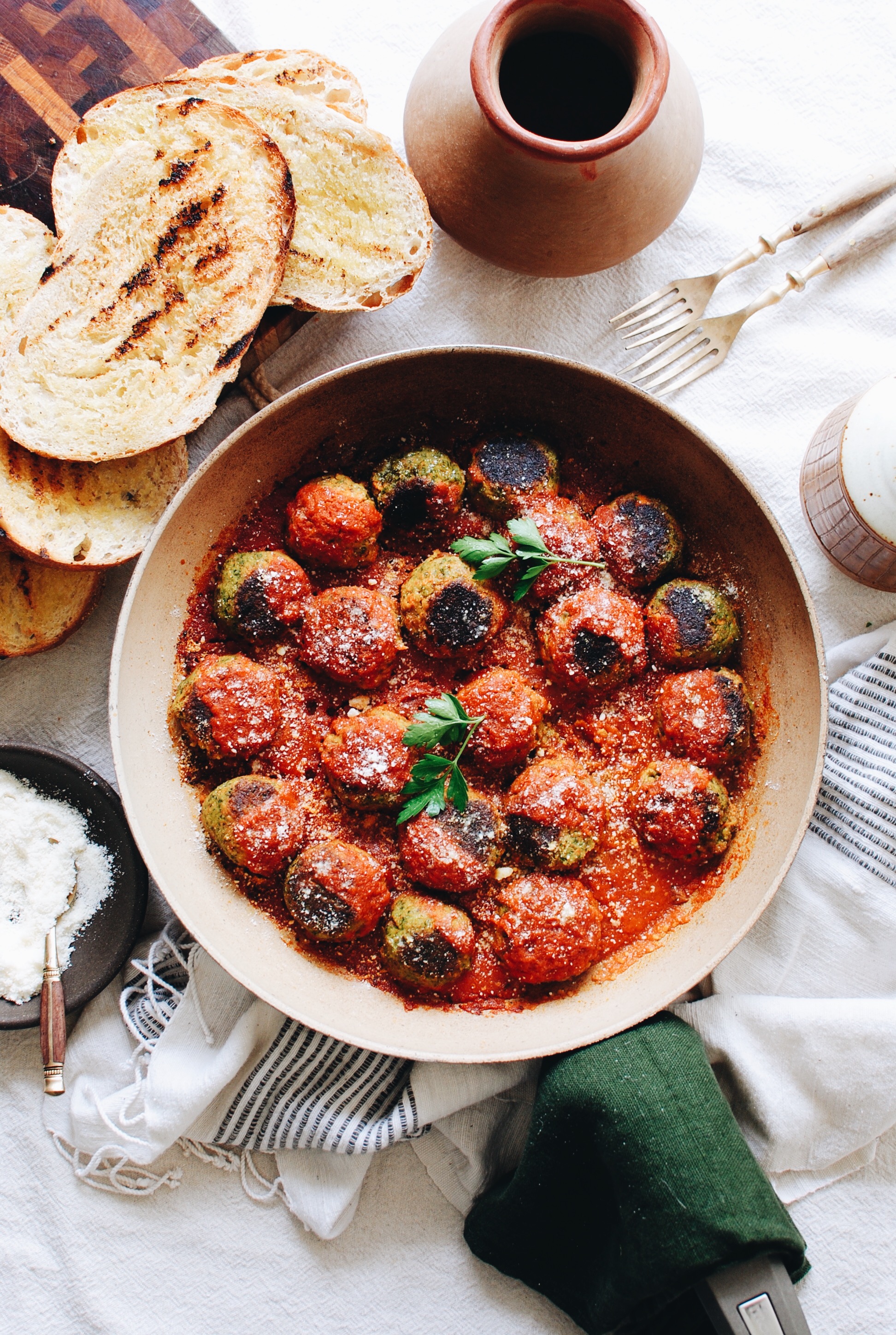 I mean . . .