Laaaawd have mercy.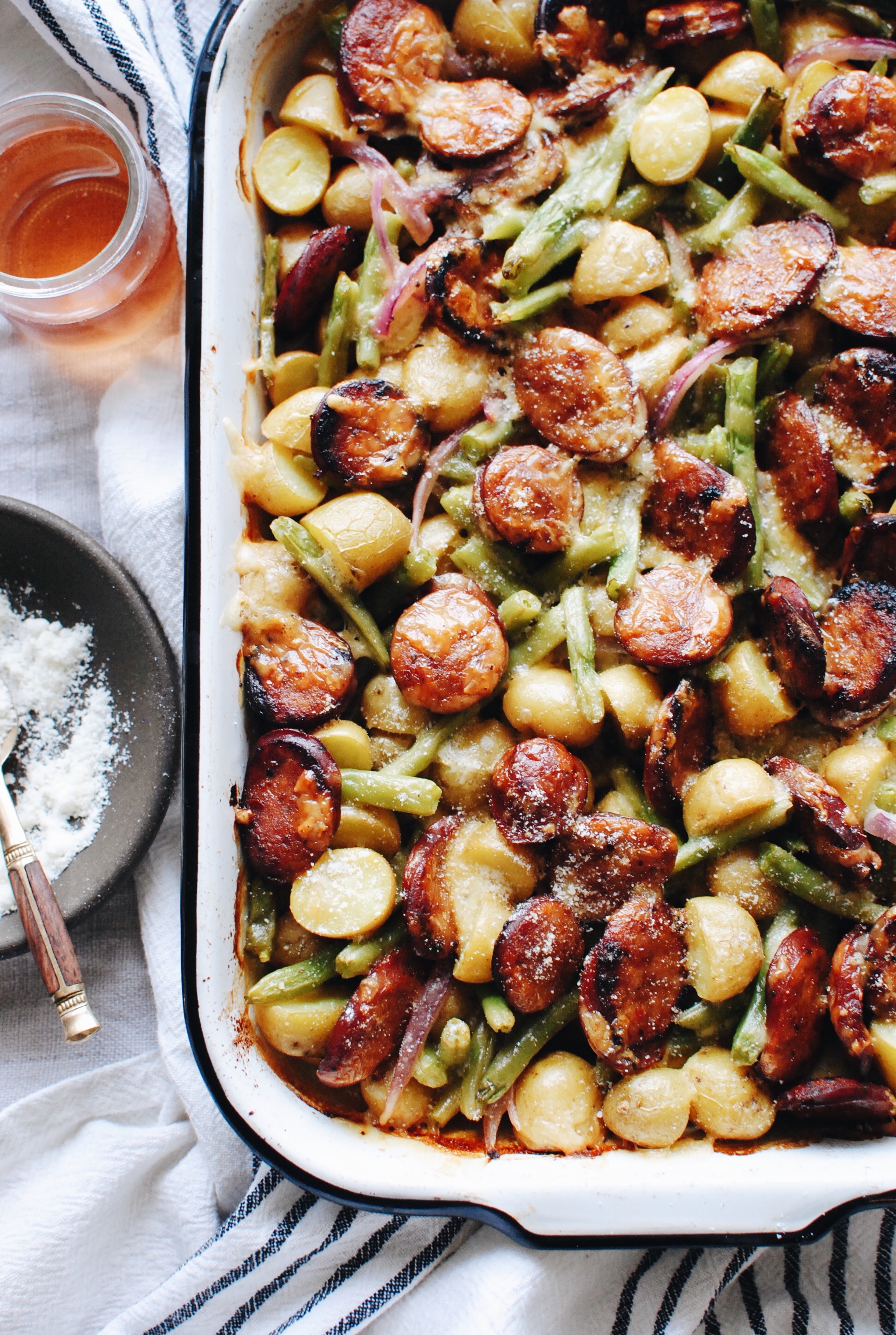 Because this is absolute heaven and I know it's so going to be your jam. I just know it! Know it.
Hi, it's *almost* a one-pan bake. Basically is. Completely weeknight friendly, has EVERYTHING you want in it, and is blanketed with Roth's creamy dreamy Original Gouda cheese whaaaaat.
Remember this Cheesy Chicken and Veggie Bake thingy? It's like that! But totally different. I already can't wait for you.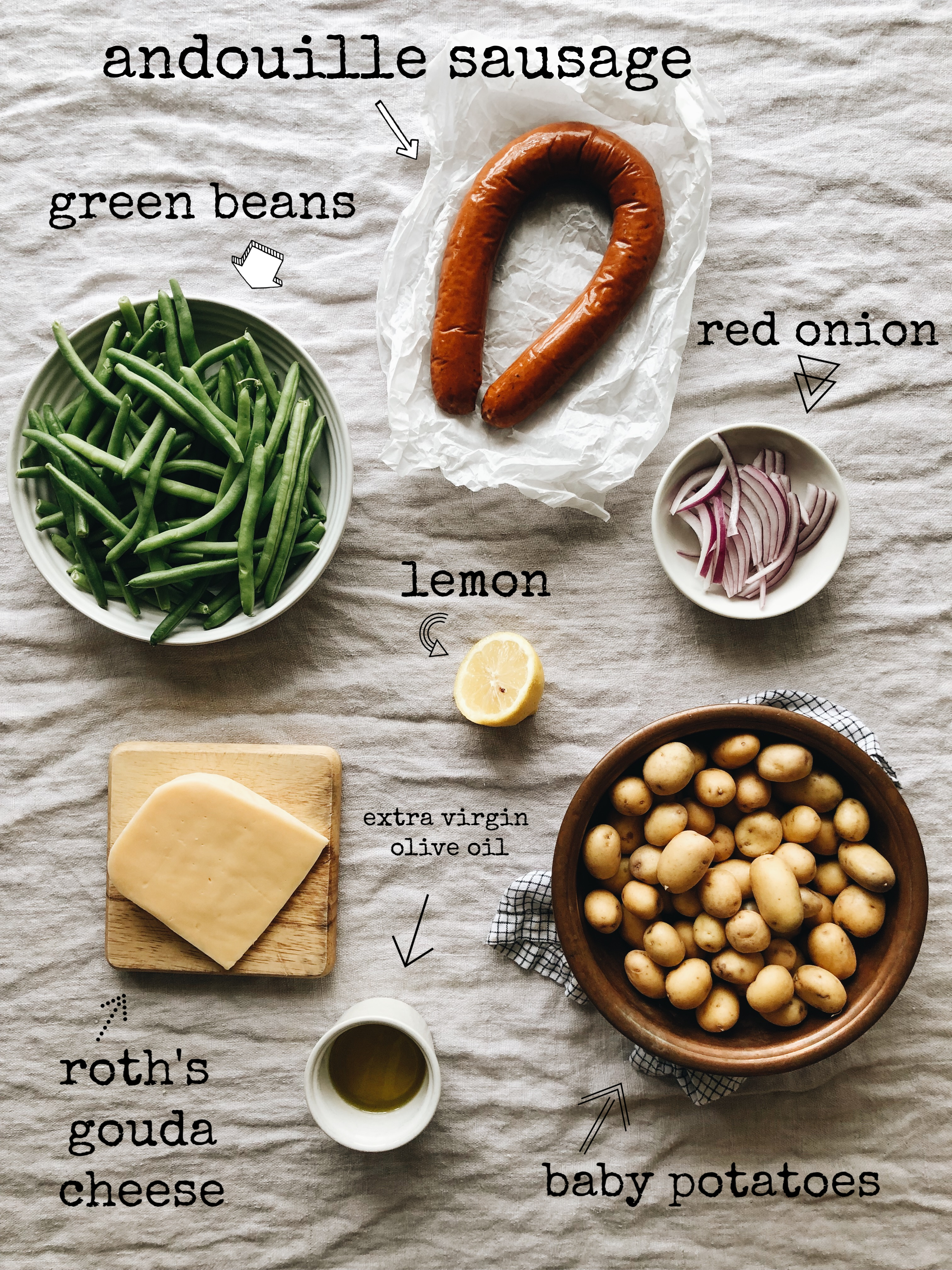 Peep that. Super easy stuff. And you know what – I went with those little peewee potatoes because the word peewee. But get what you want! IF you buy bigger potatoes, just remember to cut them down to peewee bites because the word peewee.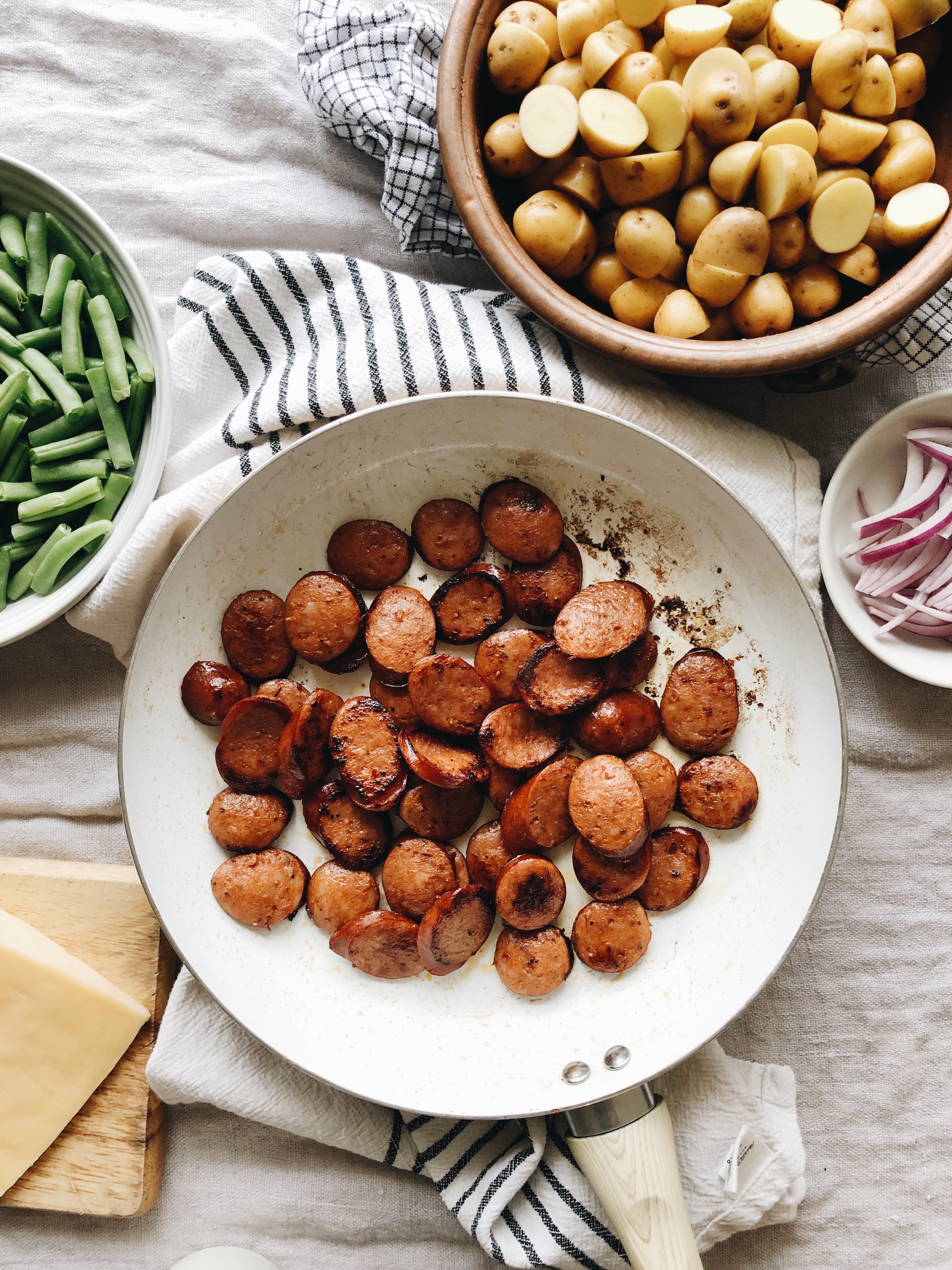 The only real prep step is to sear the sausage. Slice and sear. In a pan. Just get 'em charred and plump. OH HEY, let's start a band called Charred and Plump and get tomatoes thrown at our heads.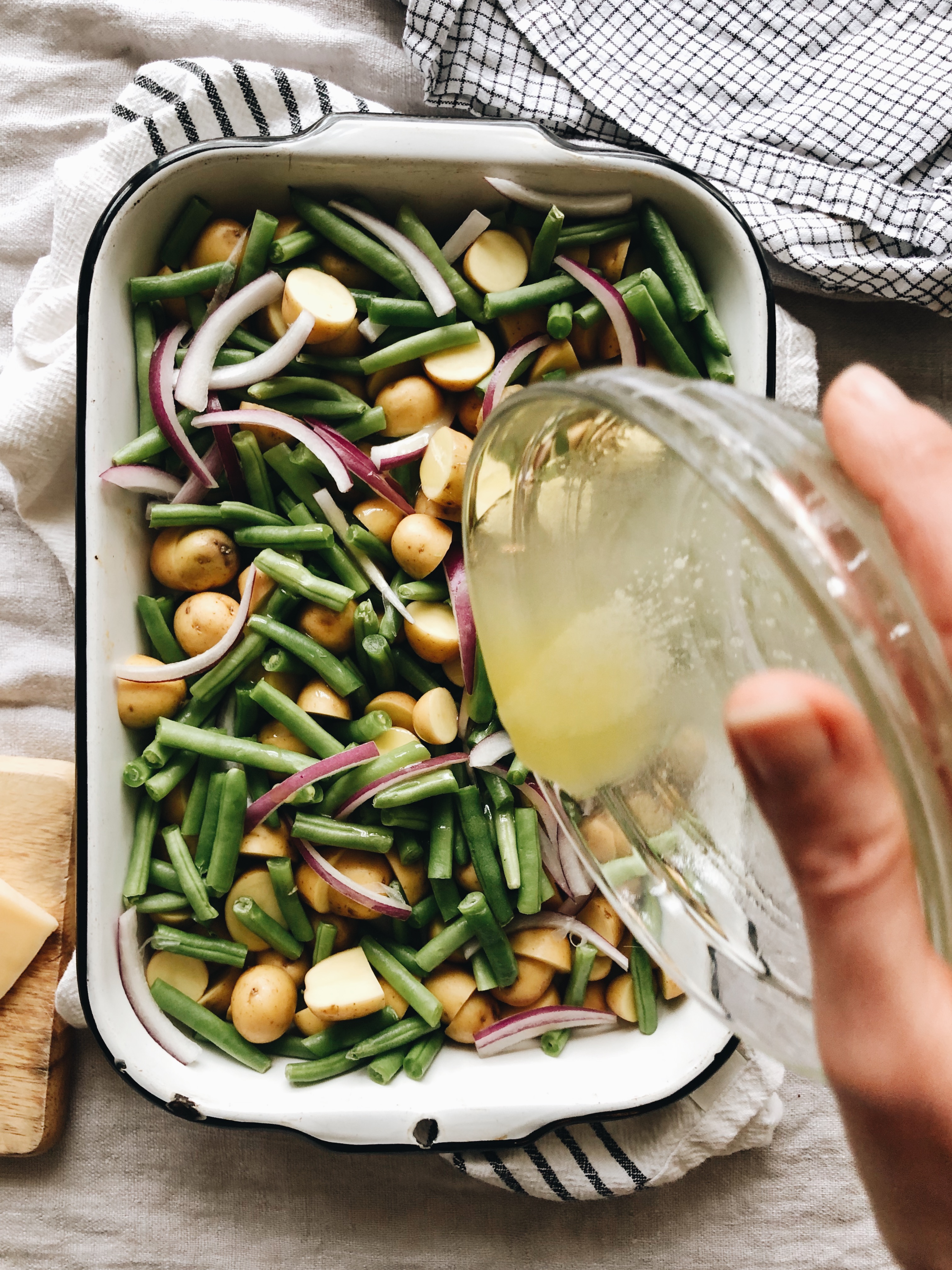 In a small bowl you'll whisk together a few Tbs. of extra-virgin olive oil with lemon juice and salt. That's your dressing! Which once baked under all that gouda cheese and succulent sausage and veggies and peewee pots, is so completely beyond ridiculous good.
Cut the beans up so they're manageable in your mouth. Layer the potatoes, beans and onions all up in a baking dish (this is a 9×13!) and evenly pour that lemon dressing on top. Look at you ruling the whole world right now.
But wait, it gets so crazy.
NOW, nestle your seared andouille sausage here and there, all in the veggies, just however you want. Then grate Roth's Gouda cheese and evenly sprinkle it over the top of the dish. You're probably like, "gouda and andouille, huh?"
YES.
YES GOUDA AND ANDOUILLE OBVIOUSLY YES DO NOT ARGUE WITH ME ON THIS.
OF COURSE YES.
I can relax.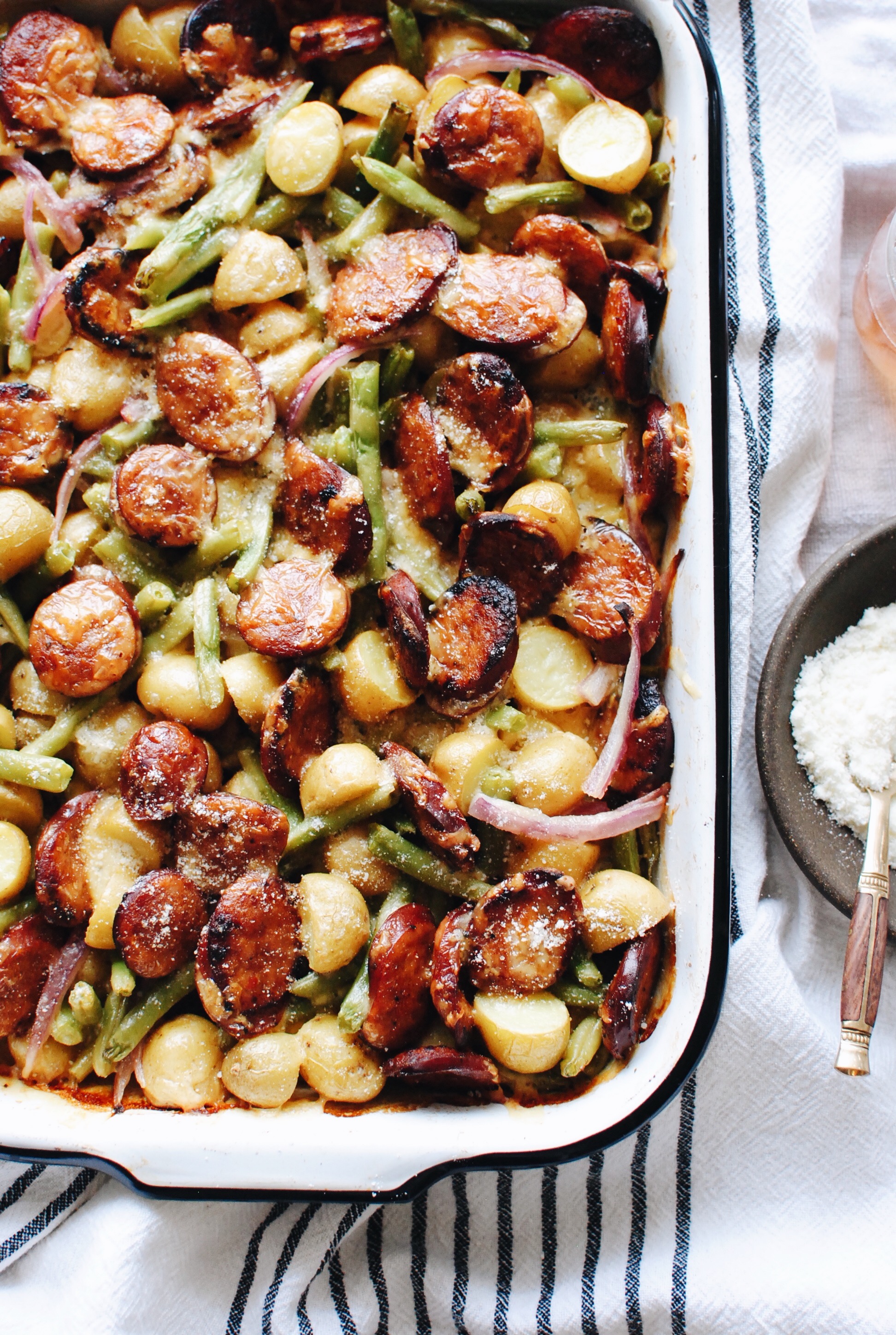 Are you seeing that? You may punch it if you want. The trick is to first cover the dish with foil for the first 30 minutes, so that the potatoes have a chance in life to steam and get tender. THEN, the foil comes off, and the cheese keeps melting and everything has another chance in life to crisp up, brown up, bubble up, char up, level up, all the up.
Listen to me when I tell you this – the flavors are STELLAR, the textures are stupid satisfying and the whole dang thing is crazy simple to pull together.
You have no excuses. I expect to see this in your Stories in approximateeeeeeeeeeeely 20 seconds.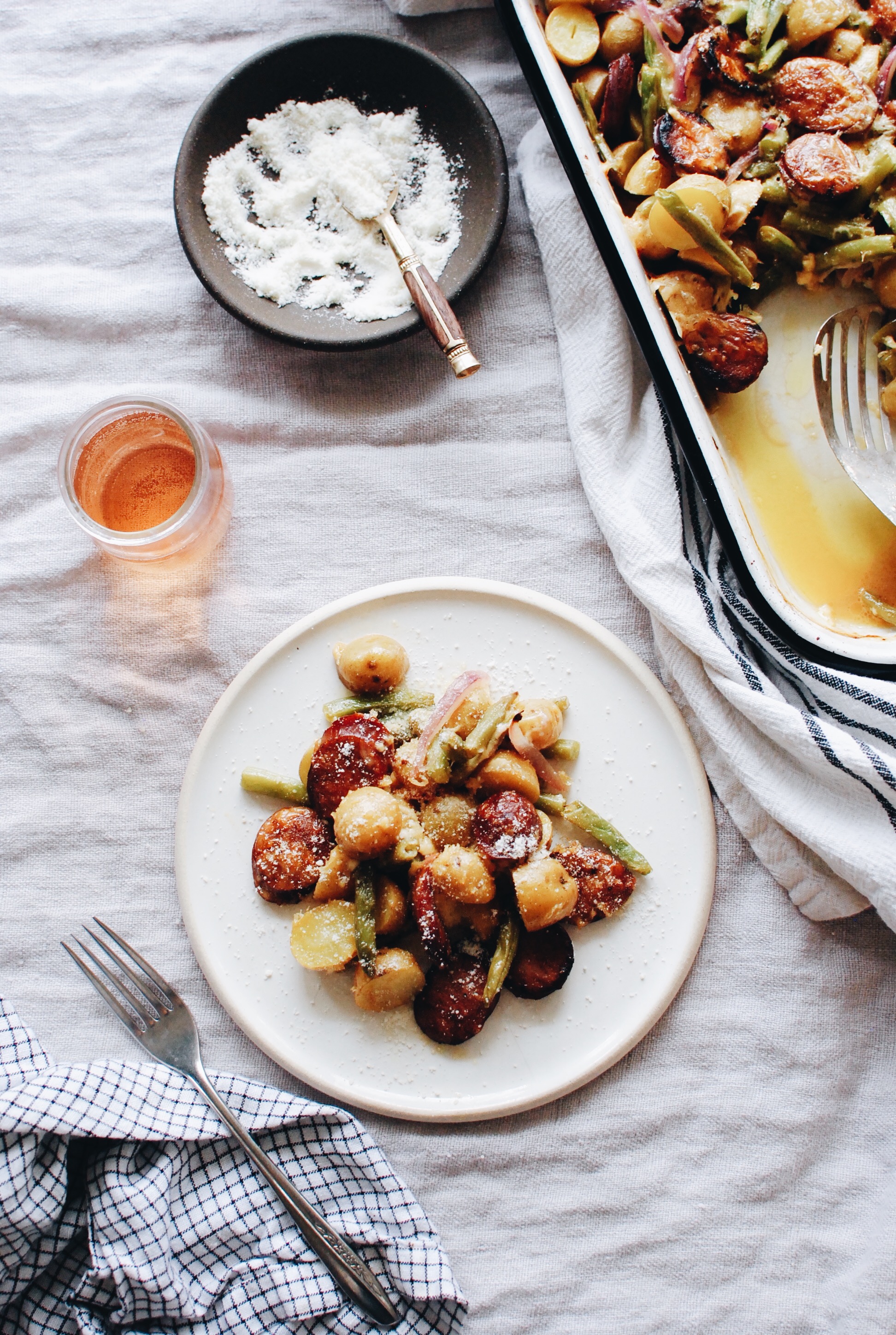 You think I'm kidding?
Cheesy Sausage, Green Bean and Potato Bake
Ingredients
1 (13 oz) package andouille sausage, sliced into 1/2-inch pieces
12 oz green beans, cut into 2-inch pieces
24 oz baby golden potatoes, cut in half (or quartered, depending on the size)
1/4 cup thinly sliced red onion
4 Tbs. extra-virgin olive oil
1 lemon
1 (6 oz) package Roth's Original Gouda Cheese, grated
Coarse salt
Parmesan cheese for garnish
Instructions
Preheat the oven to 400.
Sear the sliced sausage in a pan until charred on both sides, about three minutes.
In a small bowl, whisk together the olive oil, juice from half the lemon and a good pinch of salt.
In a 9x13 baking dish, nestle the potatoes, green beans and red onion. Pour the dressing over the veggies and potatoes, then arrange the sausage on top, pushing a few down in the mix here and there. Sprinkle the cheese on top, cover and bake for 30 minutes. Remove the foil and bake another 30 minutes, keeping an eye on the cheese as it will start to brown and bubble.
Serve with the extra lemon wedges and parmesan cheese, if desired! (You should desire.)
Serves 4-6!
7.8.1.2
212
https://bevcooks.com/2019/03/cheesy-sausage-green-bean-and-potato-bake/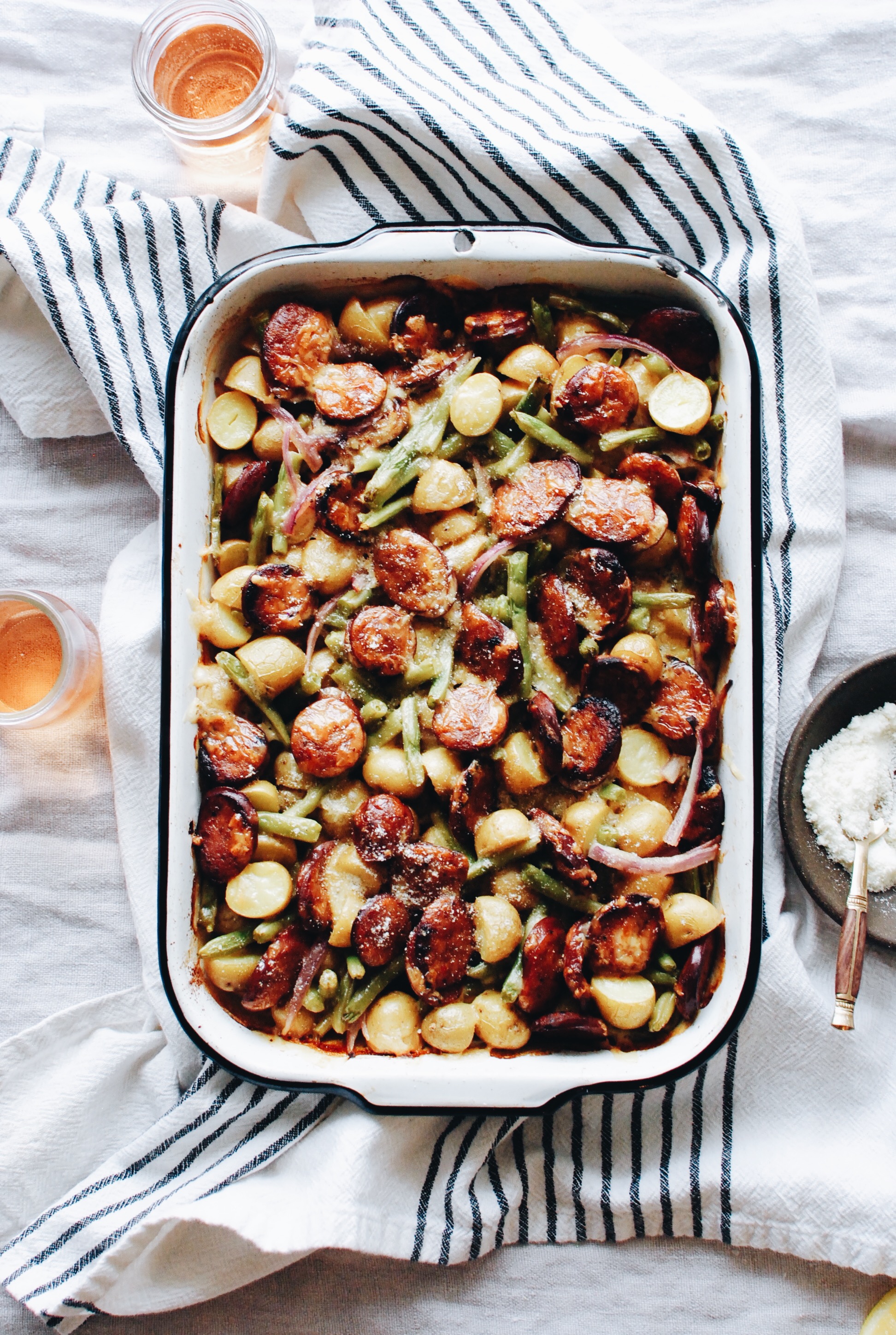 That gouda blanket is going to gorgeously destroy you forever.
(This post is totally in partnership with my lover, Roth Cheese. But all ramblings and gouda snarfings are my own. We coo?)