Or your new lover. Whatever.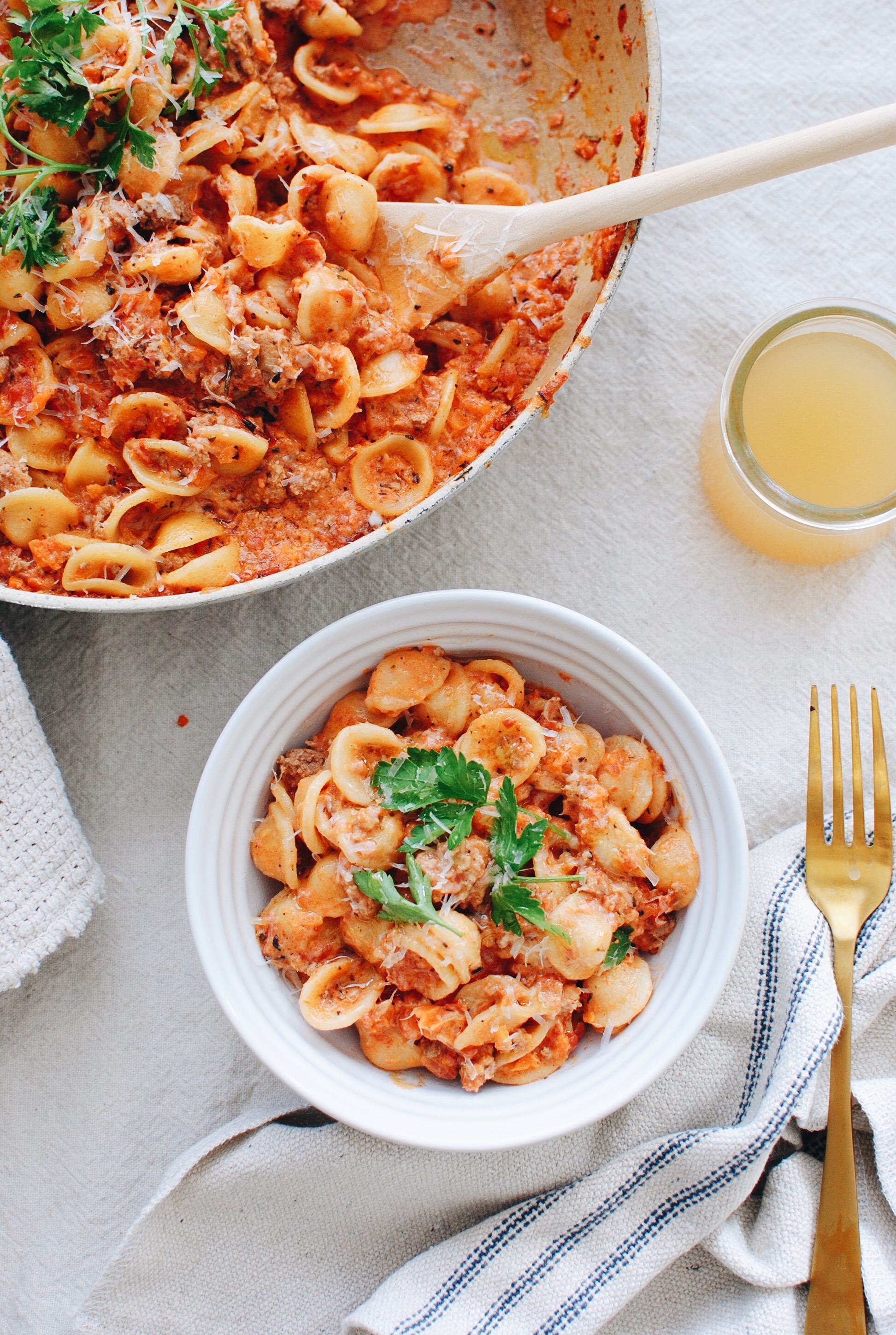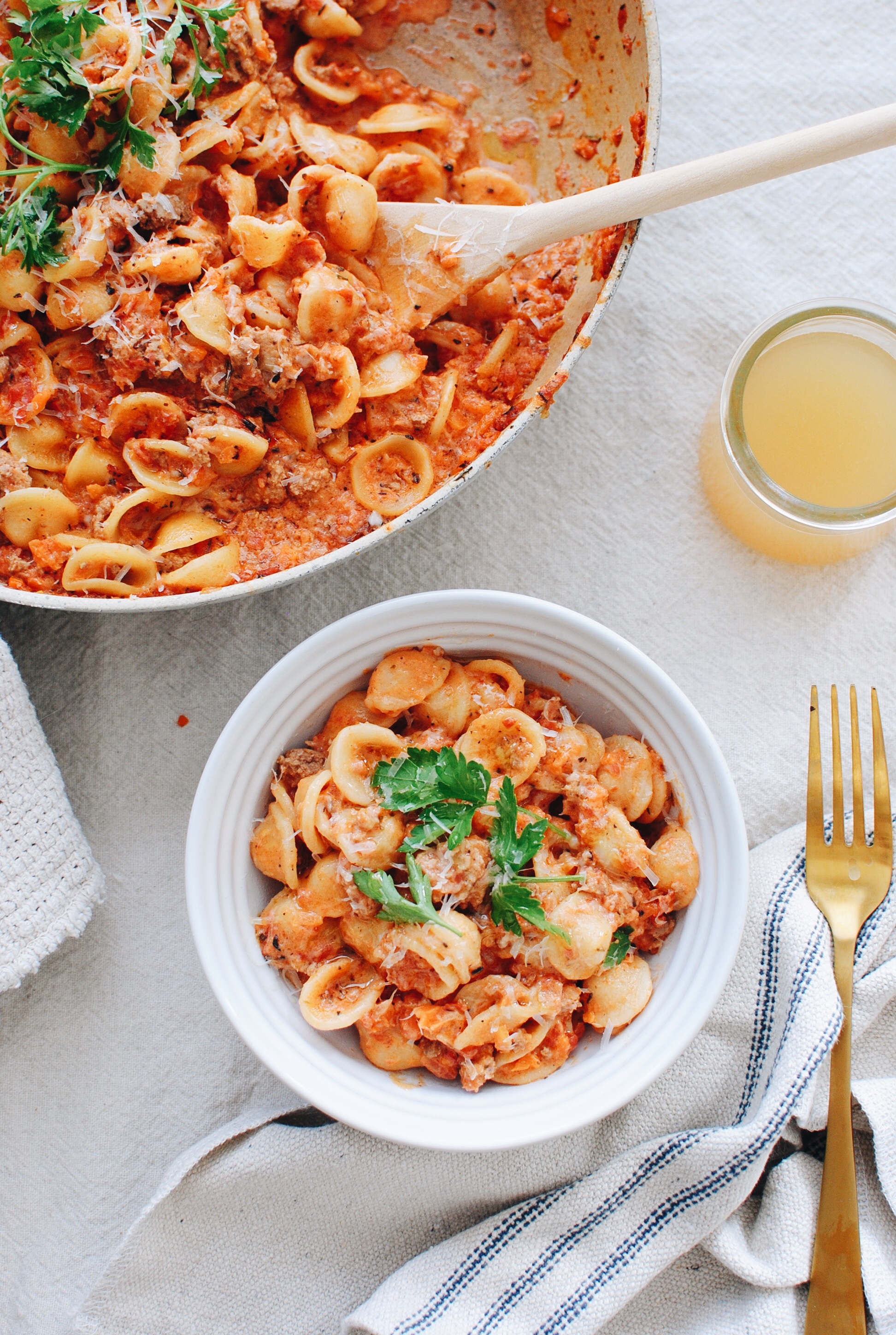 I know what you're thinking. TURKEY? Why turkey? It's so blah. So lifeless! Why WOULD YOU FORCE THIS ON HUMANITY???
And I know this is what you're thinking because when I posted a teaser for this in my IG Stories, a number of you said those exact words. Minus the screaming humanity part.
But you could have.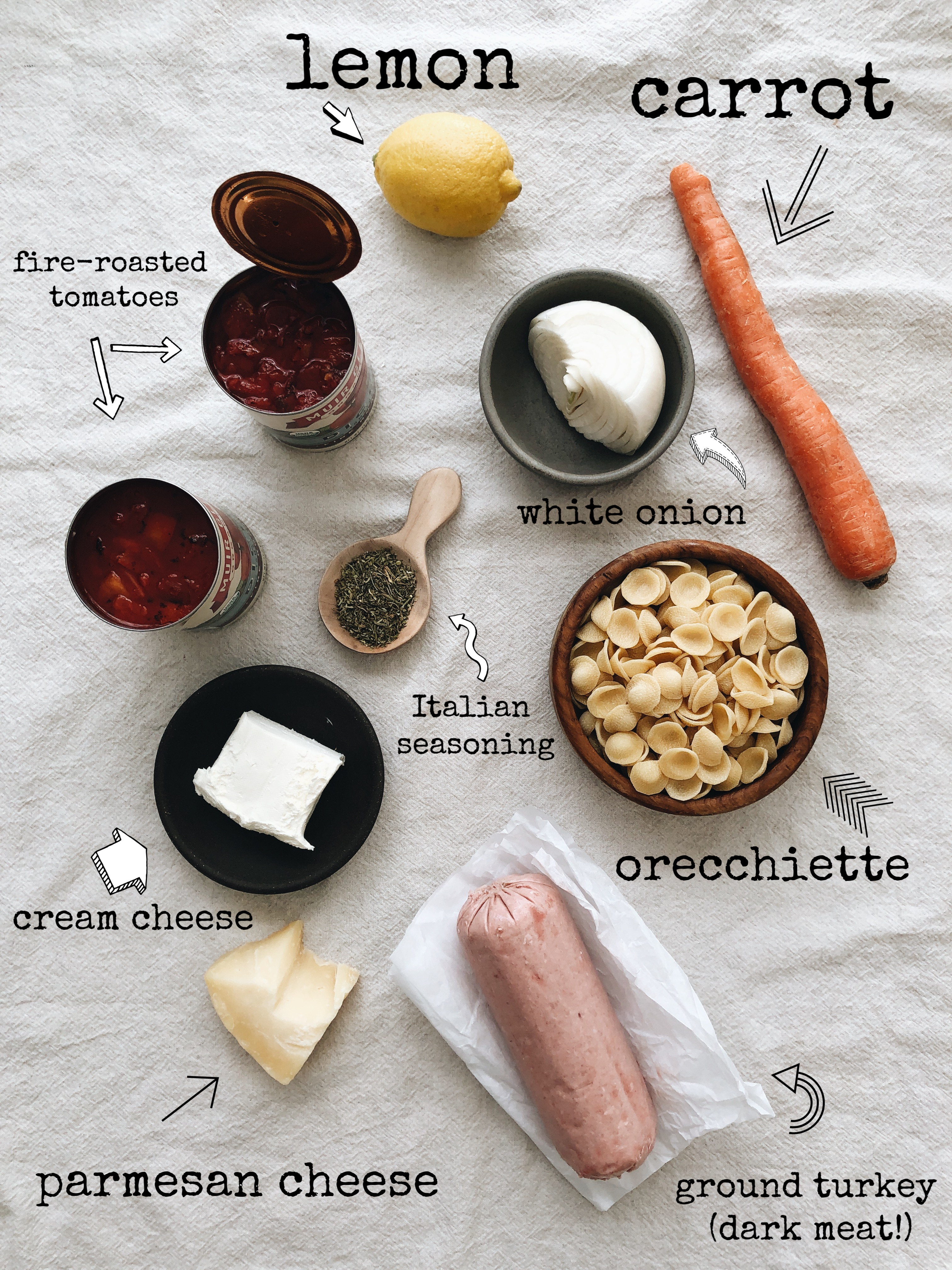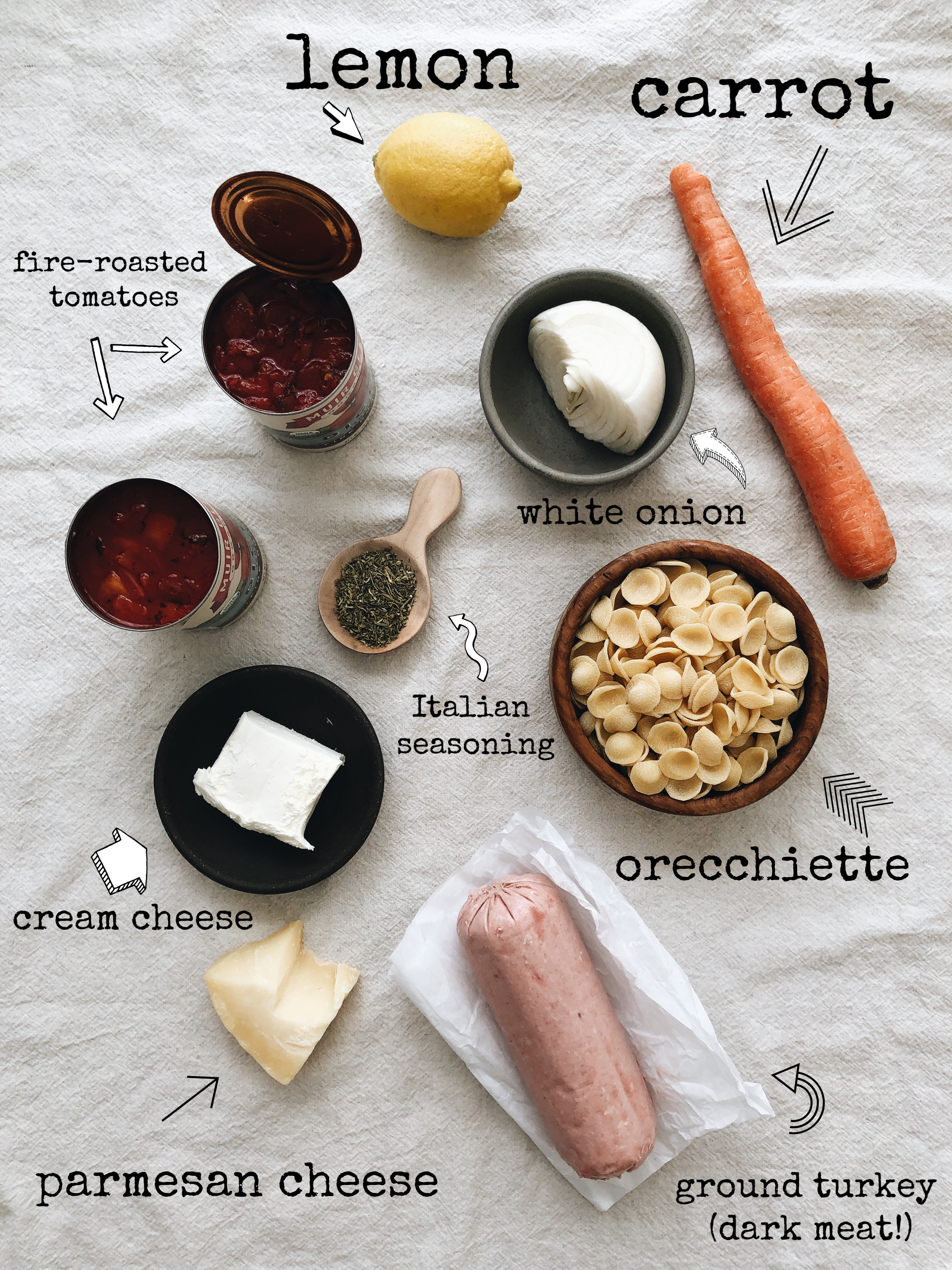 It's because you're not using the right kind of turkey meat! (I'm not scolding you. I get just excited about things.)
Like chicken, turkey has white meat, and dark meat. (I know you know this. I'm not trying to be a know-it-all d-bag.)
But! In the store, when you're searching for turkey, you probably see it in those tubs that say "ground turkey breast." And while – OKAY, that's probably a little healthier in the long run, my only experience with ground turkey breast is regret and deep internal sadness. Stringy, empty, hard-to-break-up, R.E.M.'s Everybody Hurts-inducing depression.
(I feel I must interject here and tell you that R.E.M's Everybody Hurts is actually a favorite song of mine. Upon reflection, I probably should have chosen a song more along the lines of, well – anything PANTERA.)
See that log of meat up thar? First of all, sorry about the photo of that log of meat, but that's what you want! Dark meat. Ground, delicious dark turkey meat. Goodbye forever.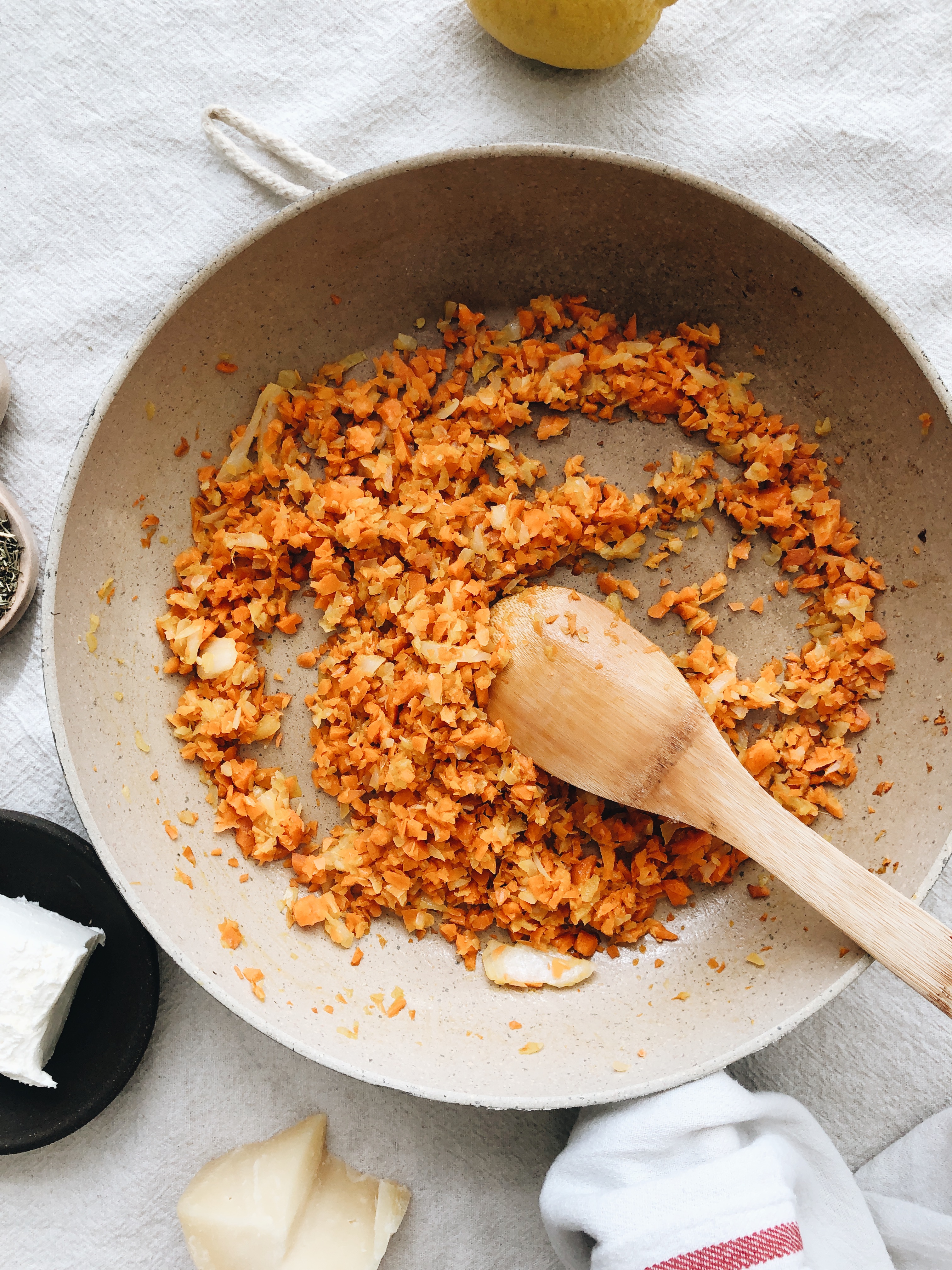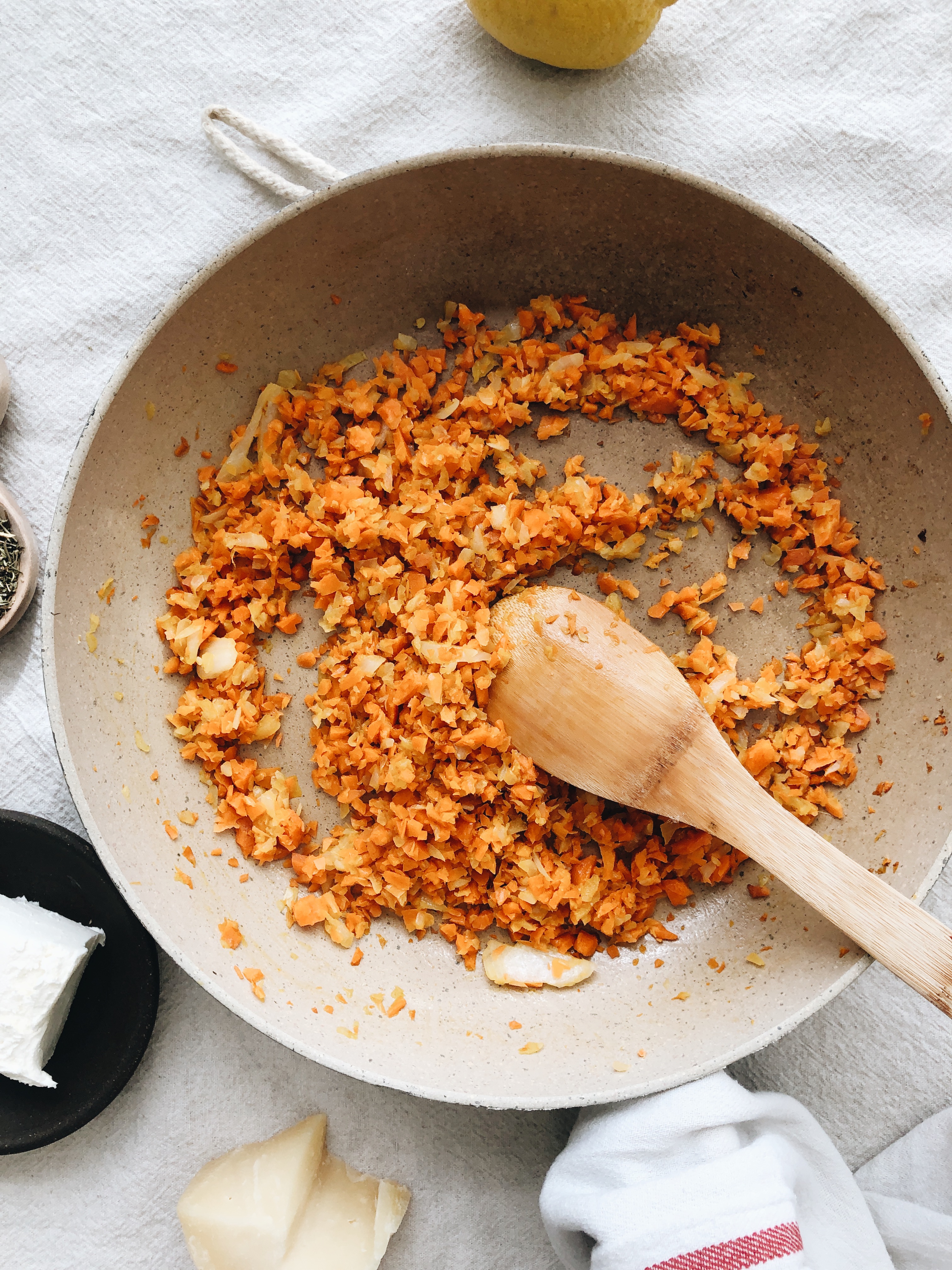 I have another trick of my sleeve lately that I want to share with you, which will probably end up negating my worth in the food blog world, as it's totally a lazy-dazy shortcut. But you do know me by now, right?
That finely minced carrot? Mini food processor! The half of a white onion? Mini food processor! (Get yourself an expensive mini one so you don't have to lug out the massive mama.)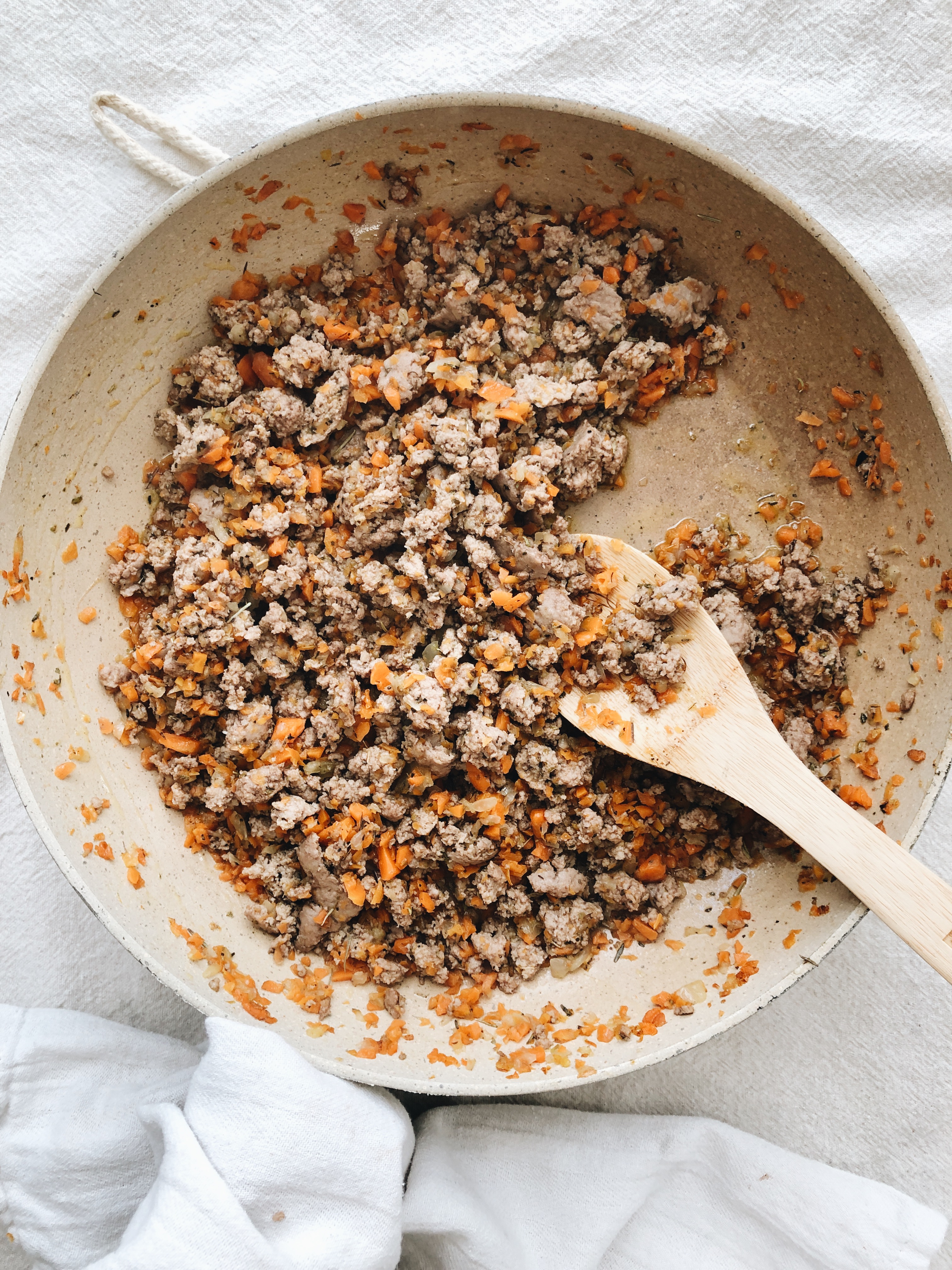 So the turkey goes in, and you'll break it all up with a wooden spoon. Season it with a GOOD pinch of salt (turkey needs it), and a Tablespoon of Italian seasoning (turkey needs it).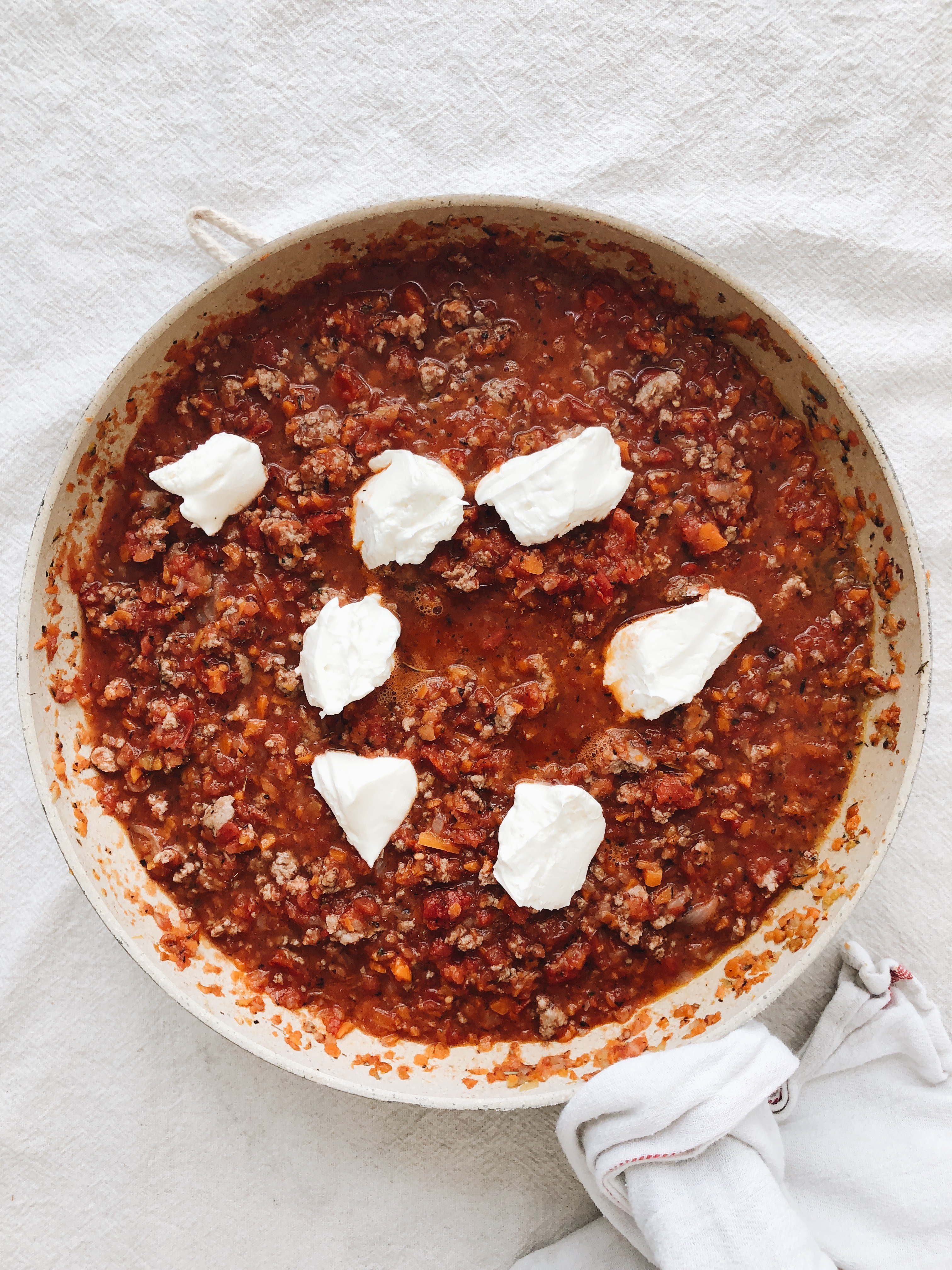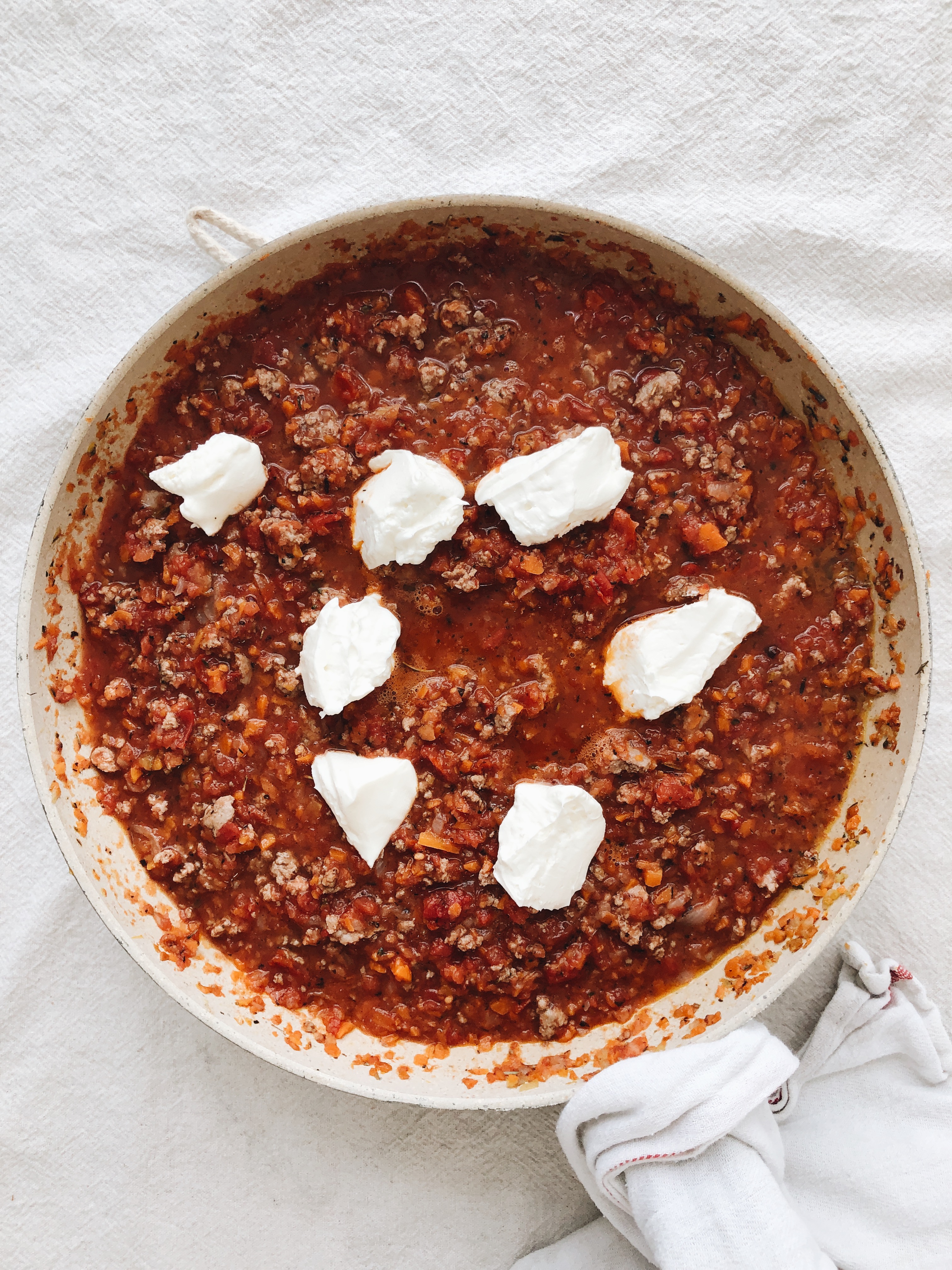 And – okay. While I had my mini processor out, I decided to velvet up the sauce and blitz up the two cans of fire-roasted diced tomatoes. And I LOVED how it changed the sauce! Sure it's not chunky and rustic, but the smooth operato- I mean tomatoes really classed up the sauce in a silky way.
AND NOW. Add half a block of room-temp cream cheese. Hiiiiii, tang. It's so perfect in here! An unexpected twist on creamy.
Of COURSE if you prefer a straight-tomato sauce, stop at this point. But I double dog dare you to violently throw in that cream cheese and scream it from the mountaintops. YOU ARE LIVING.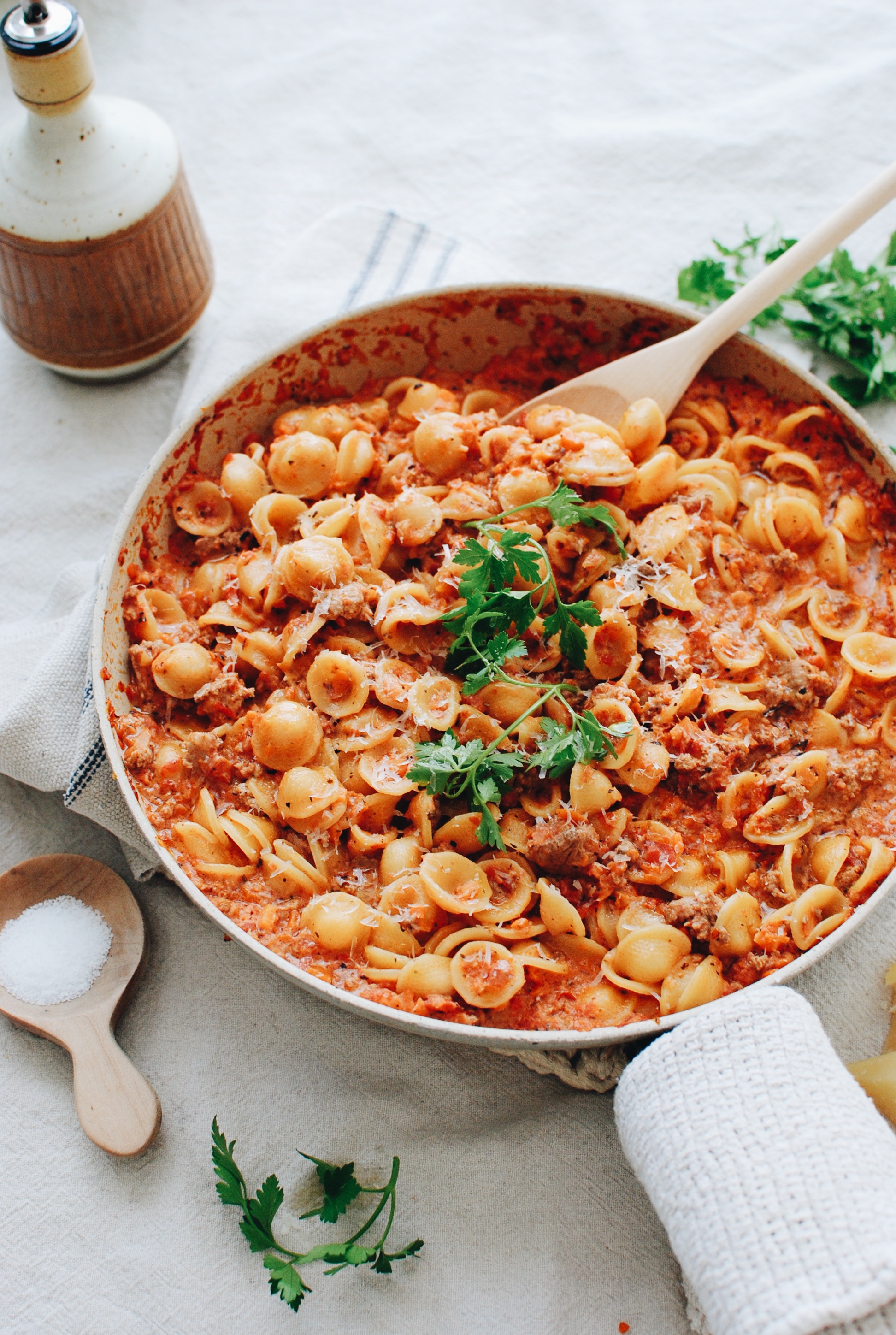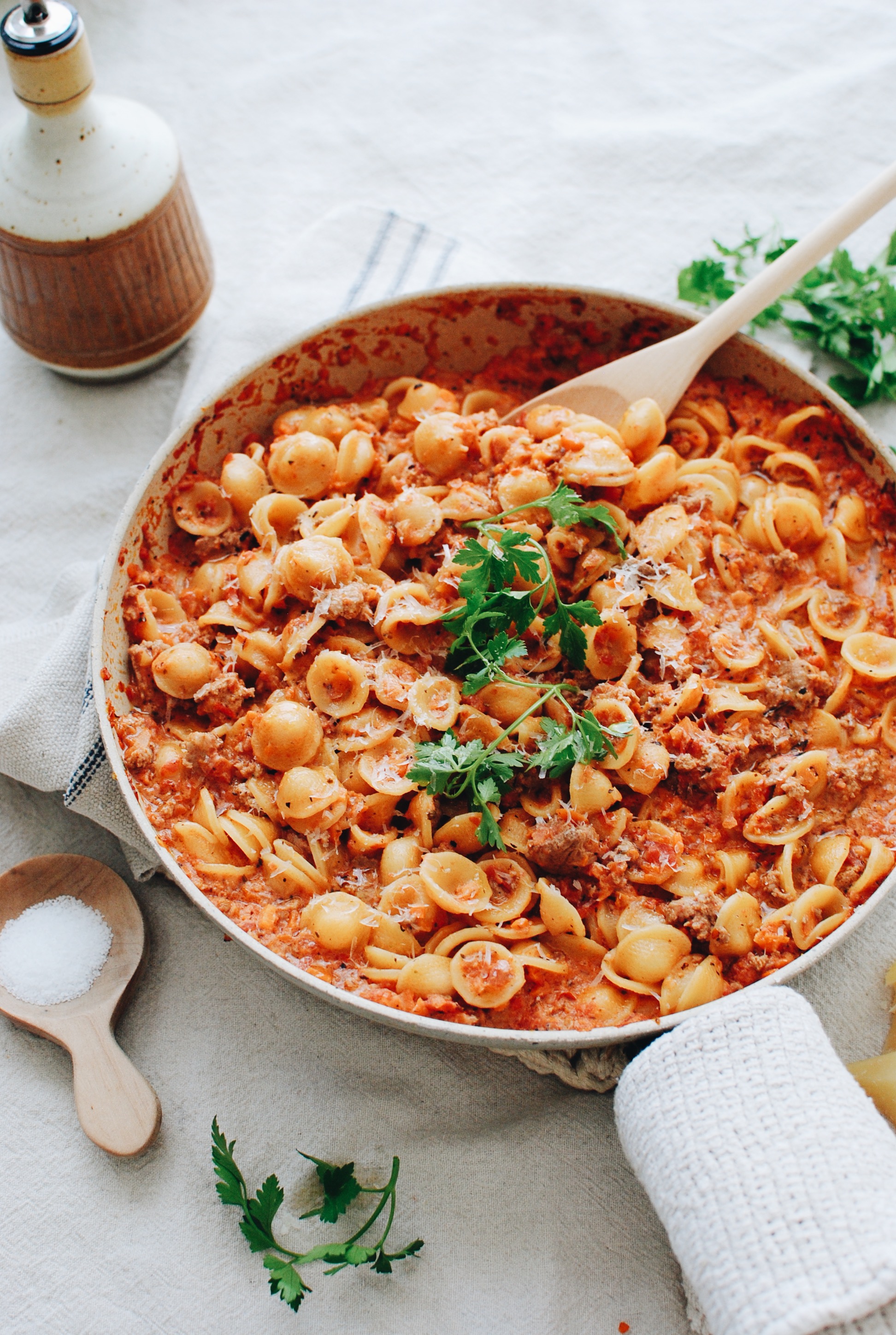 Boiled orecchiette goes in. A bit of parmesan cheese. A squeeze of lemon. Another pinch of salt. At this point you're tweaking to your liking.
We should start a band called Tweaking to Your Liking!
Maybe not.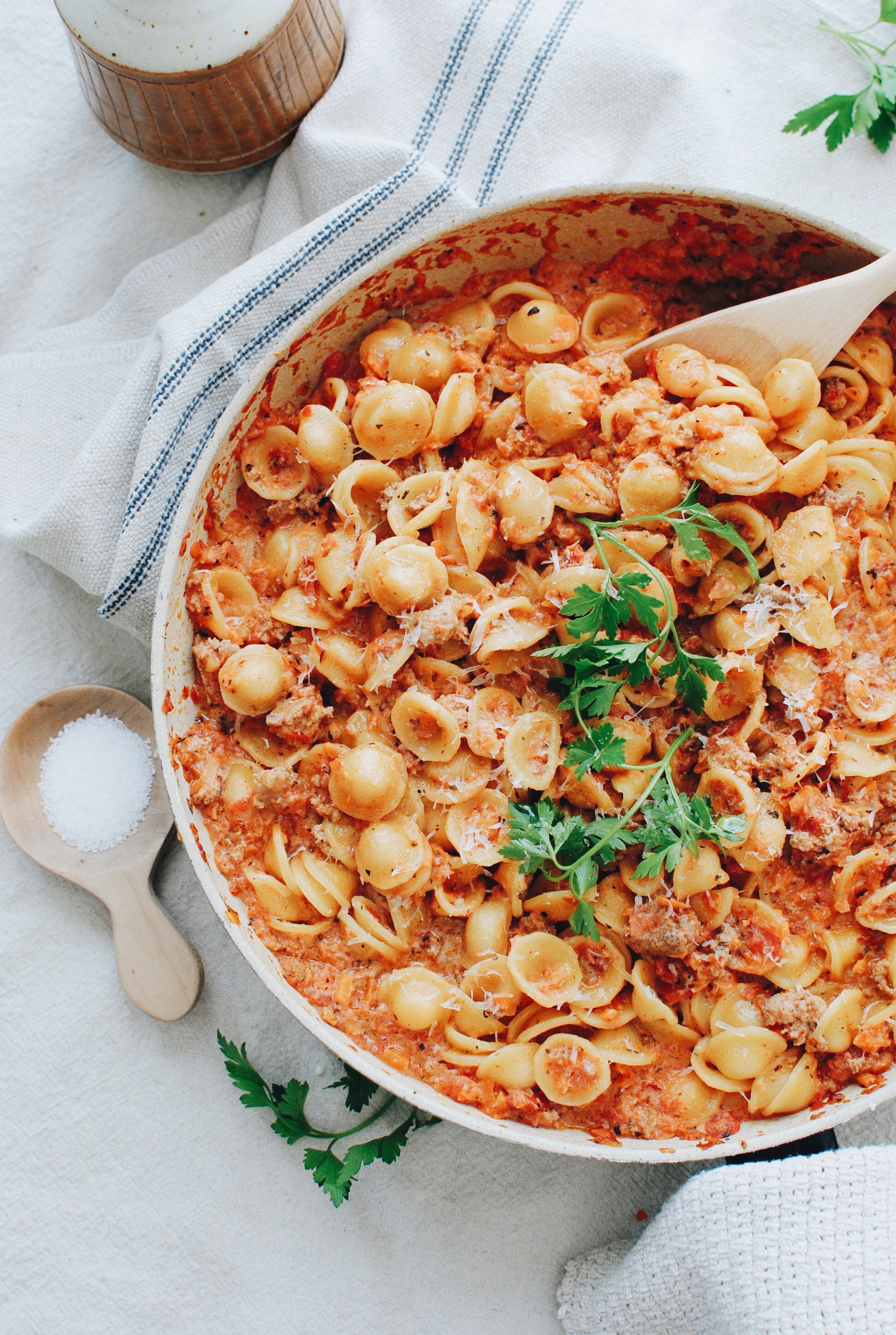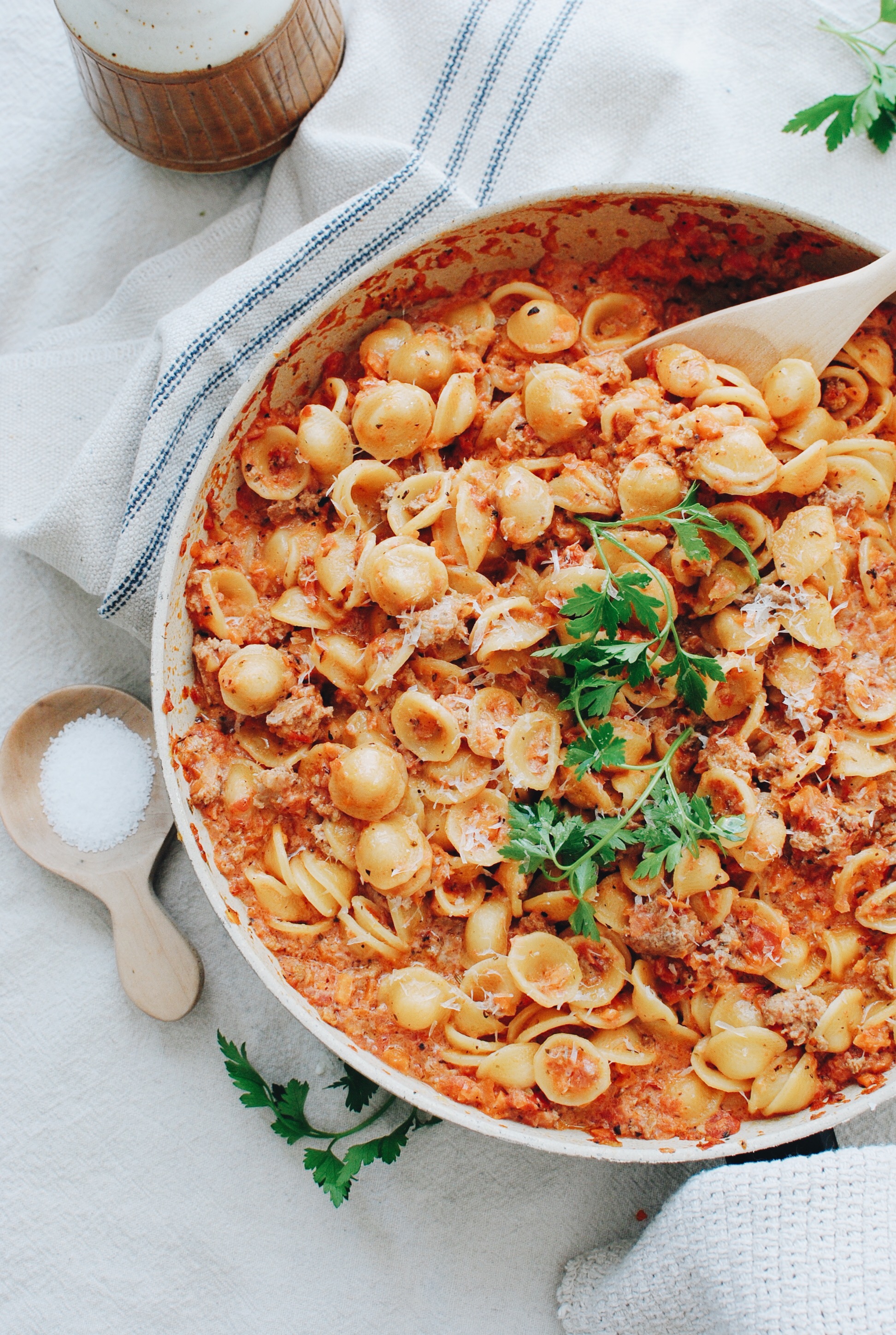 Valentine's Day. Weeknight ease. Weekend indulgence.
And there's a carrot in there so it's clearly diet food.
Don't quote me on that.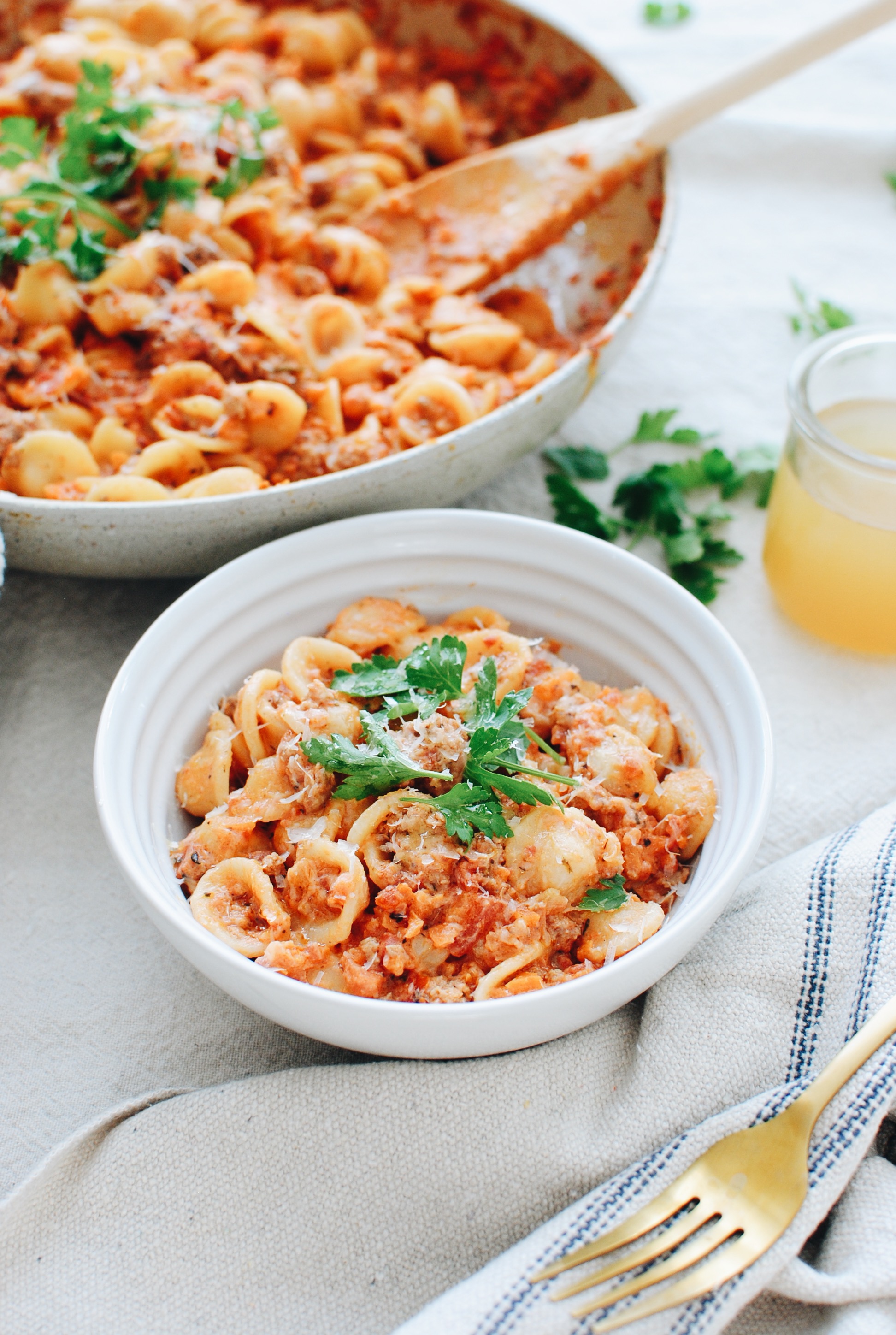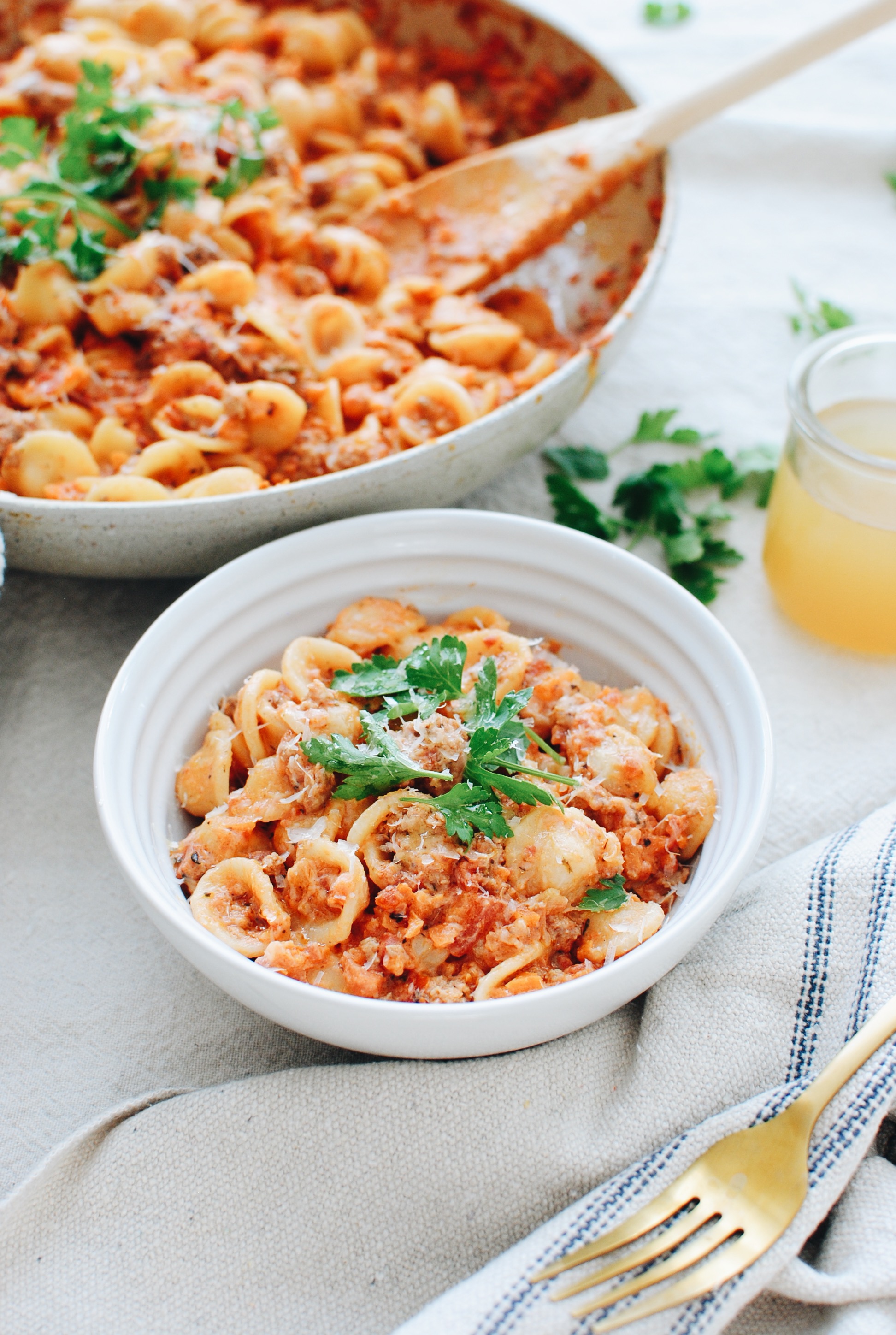 Marry me?
Creamy Orecchiette Turkey Bolognese
Ingredients
1 pound orecchiette
3 Tbs. extra-virgin olive oil, divided
1 large carrot, finely chopped
1/2 medium white onion, finely chopped
2 garlic cloves, minced
1 pound ground turkey (dark meat all the way!)
1 Tbs. Italian seasoning
2 (15 oz) cans diced fire-roasted tomatoes, pulsed in a food processor until smooth (that part is optional)
1/2 block (4 oz) cream cheese at room temperature
Parmesan cheese
One lemon, for the juice
Coarse salt
Fresh parsley for garnish
Instructions
Heat two Tbs. oil in a large sauté pan over medium-high heat. Add the minced carrot and onion; sauté about six minutes, until the veggies start to soften, and you get a little color on the onion. Add the minced garlic and sauté another 30 seconds, until fragrant. Add the ground turkey to the pan with the veggies, and break it up with a wooden spoon, cooking until browned all over, 5-8 minutes. Add a good pinch of salt and the Italian seasoning and cook another 30 seconds. Add the pureed tomatoes to the pan and simmer a minute or two. Add the cream cheese in dollops, and stir it into the sauce until smooth and creamy. Let this simmer on medium low while the pasta cooks, about five minutes.
In the meantime, bring a large pot of salted water to a boil. Cook the orecchiette until al dente. Using a large sieve, transfer the pasta to the pan, and toss to coat with the sauce. Turn the heat off and add a Tbs. of fresh lemon juice (to brighten it up!), and some grated parmesan cheese. Taste it at this point - need more salt? Add another pinch! Just get it to the point where you want to sob.
Garnish with fresh parsley and extra parmesan. Drizzle that last Tbs. of oil over the top, just to gloss it up. SERVE.
Serves four to six.
7.8.1.2
204
https://bevcooks.com/2019/01/creamy-orecchiette-turkey-bolognese/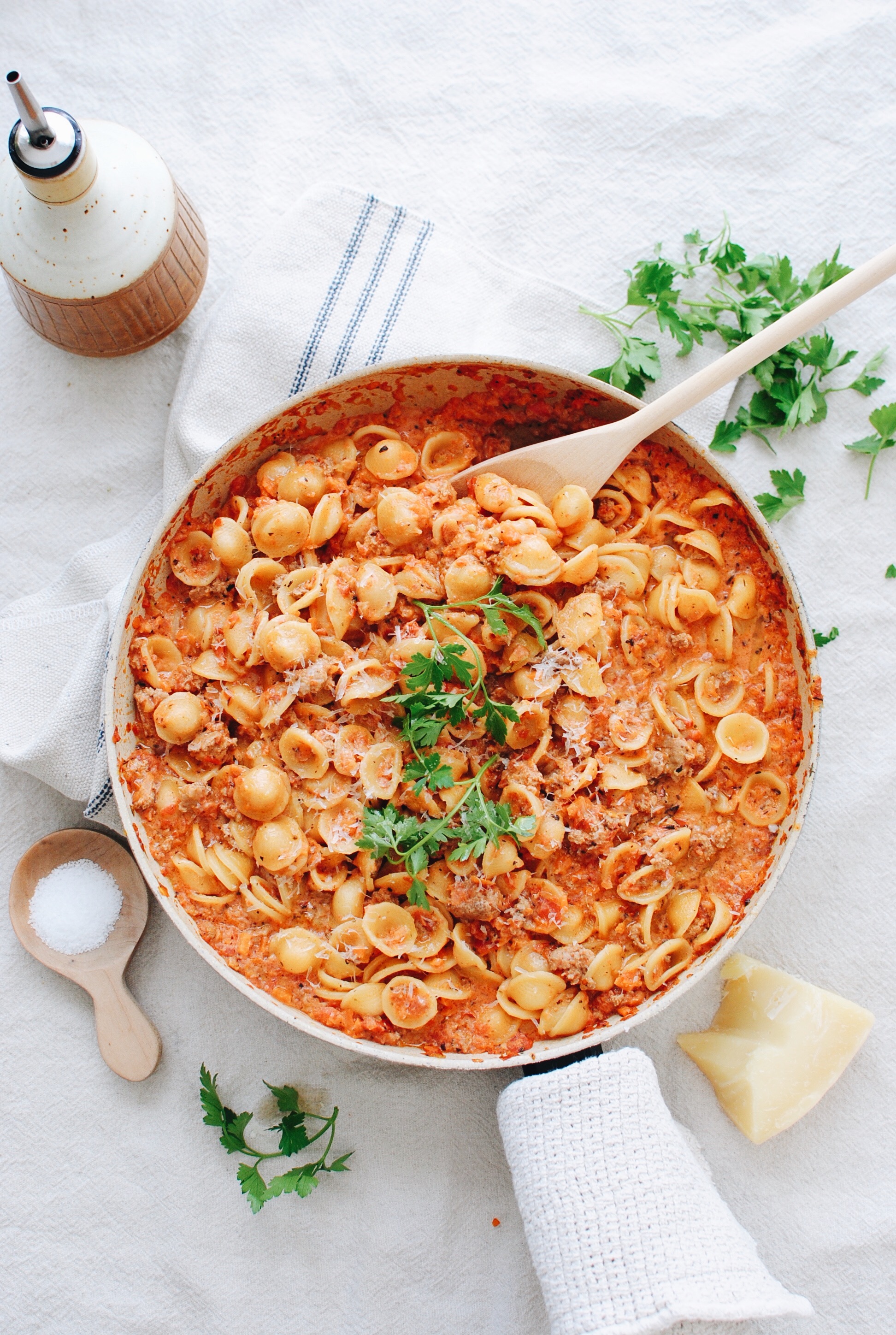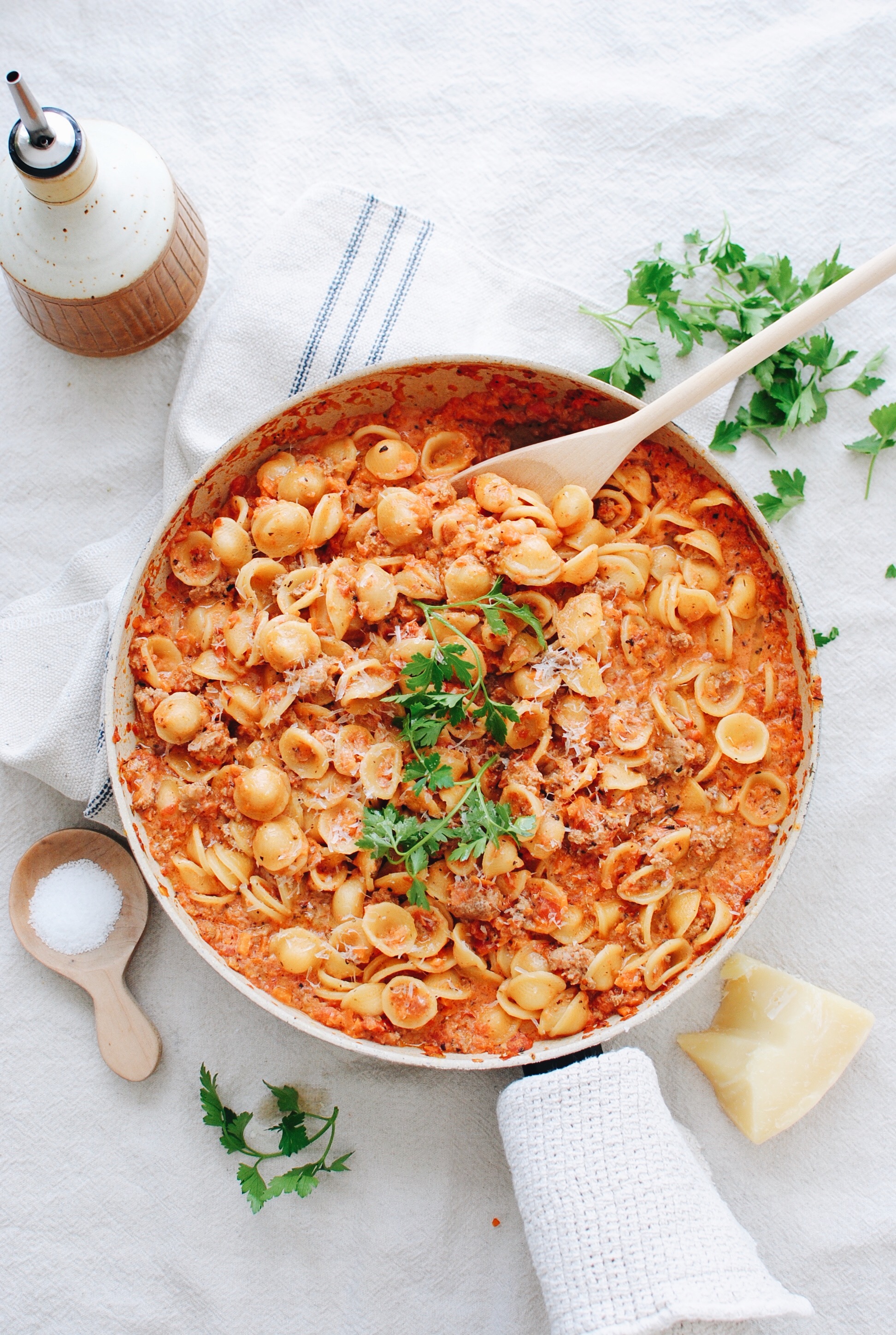 See you never.