I feel like I need to just apologize now.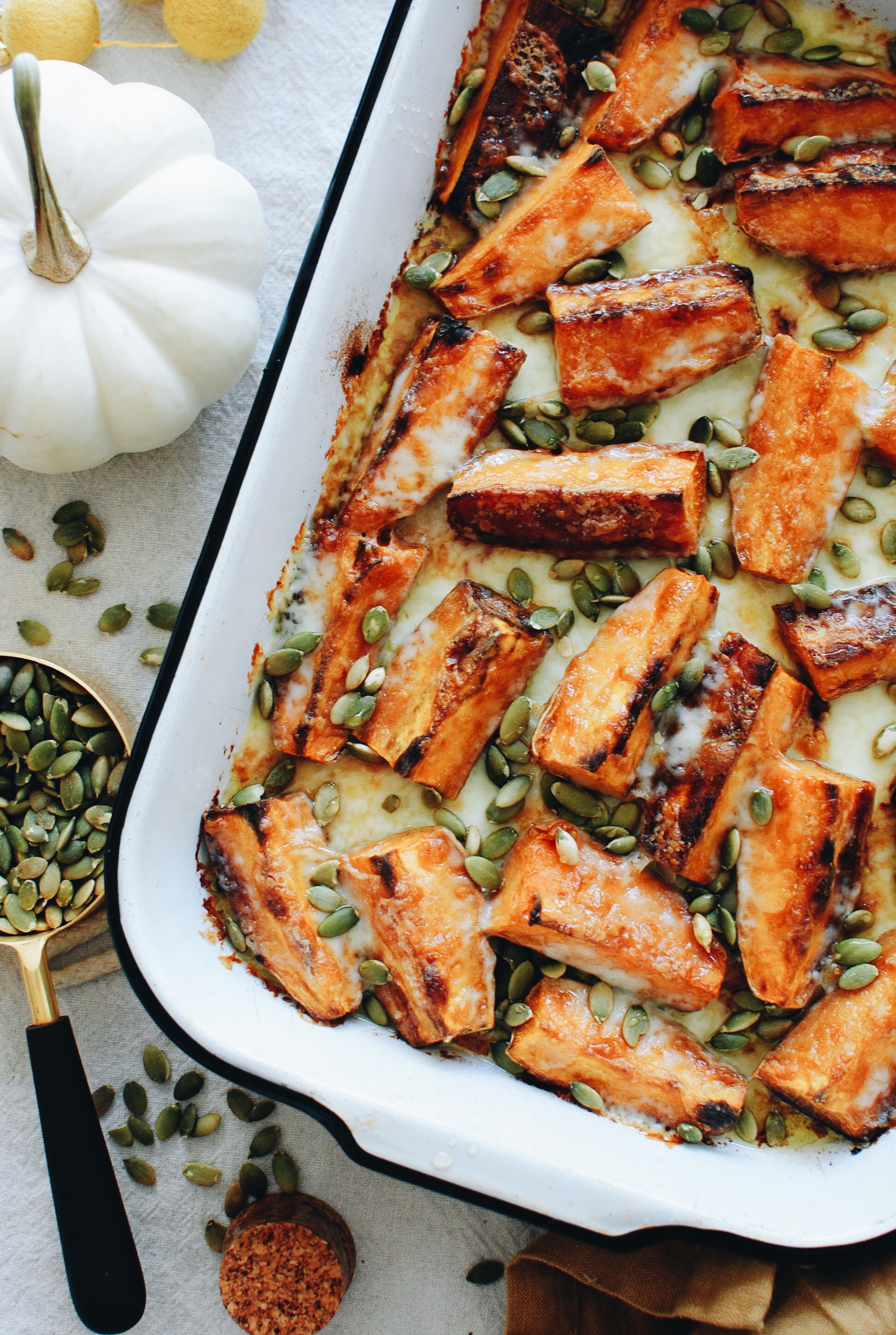 Because.
This.
Is.
Everything.
And your Thanksgiving table won't even see it coming. Poor thing.
And it's only four ingredients! FOUR INGREDIENTS.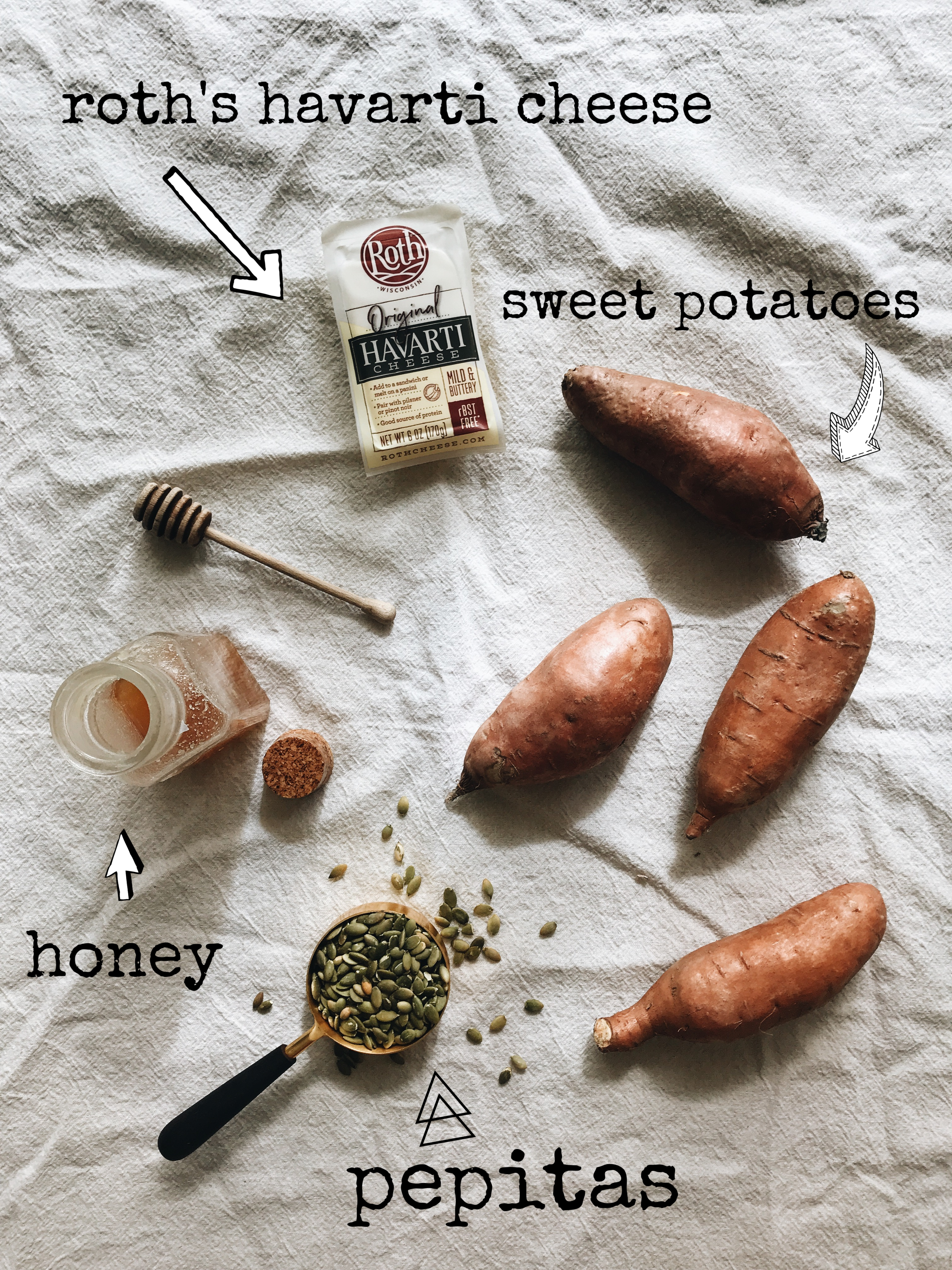 Did I mention it's only four ingredients?
So this is the thing. I wanted to twist up the classic sweet potato casserole and savorify it! Don't try and look up savorify, by the way. It's a real word. Swear it. STOP DOUBLE CHECKING ME.
We've got sweet potatoes, Roth's original Havarti (and it SINGS in this. just you wait.), salted pepitas, and honey!
That is it, bunnies. Let's look.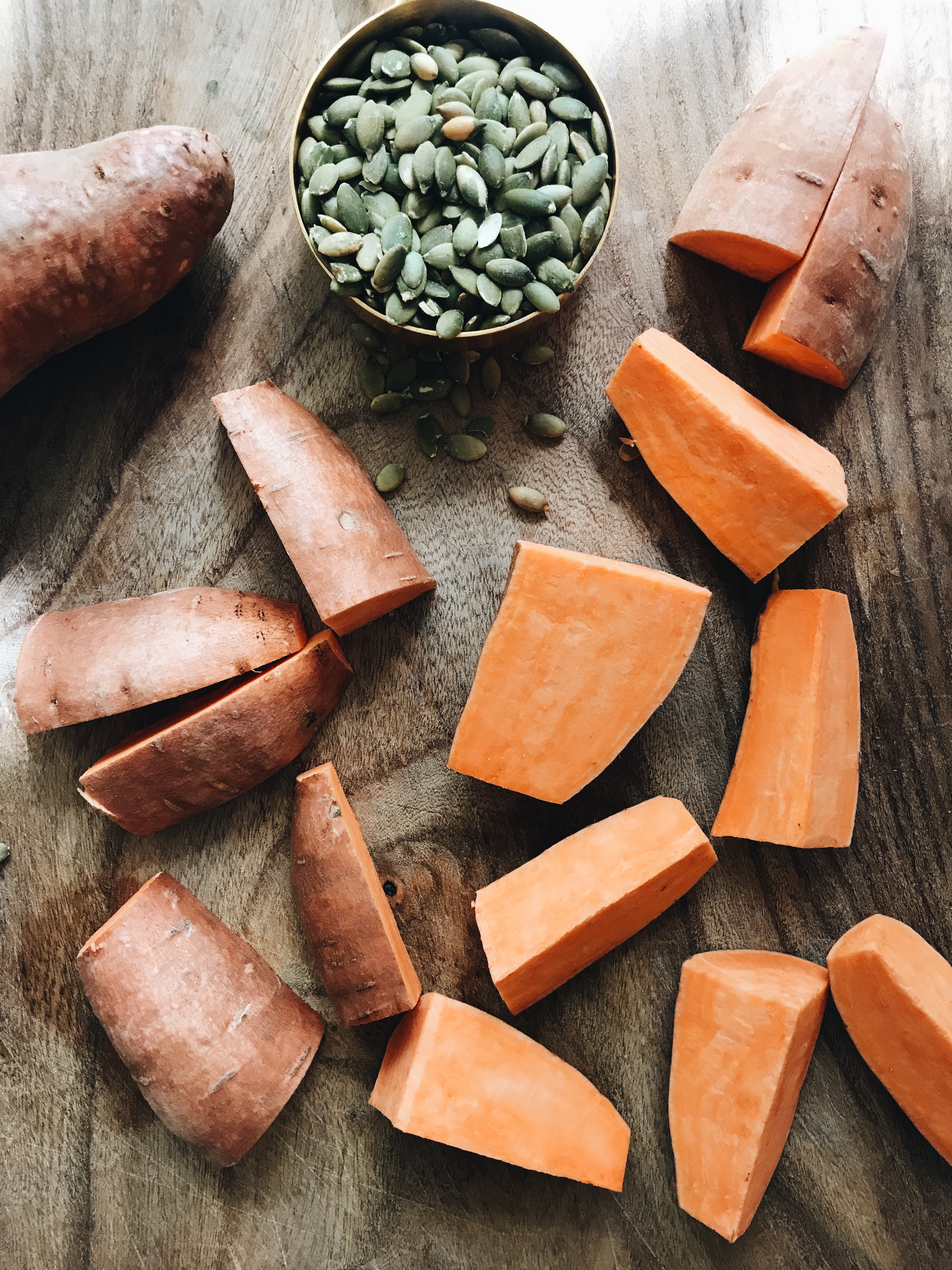 We're roasting sweet potato WEDGES. Not fries, and not whole. So you'll snip off the ends, cut them in half crosswise, then again once more lengthwise. Until you get wedges! You know. Wedges.
Wedges.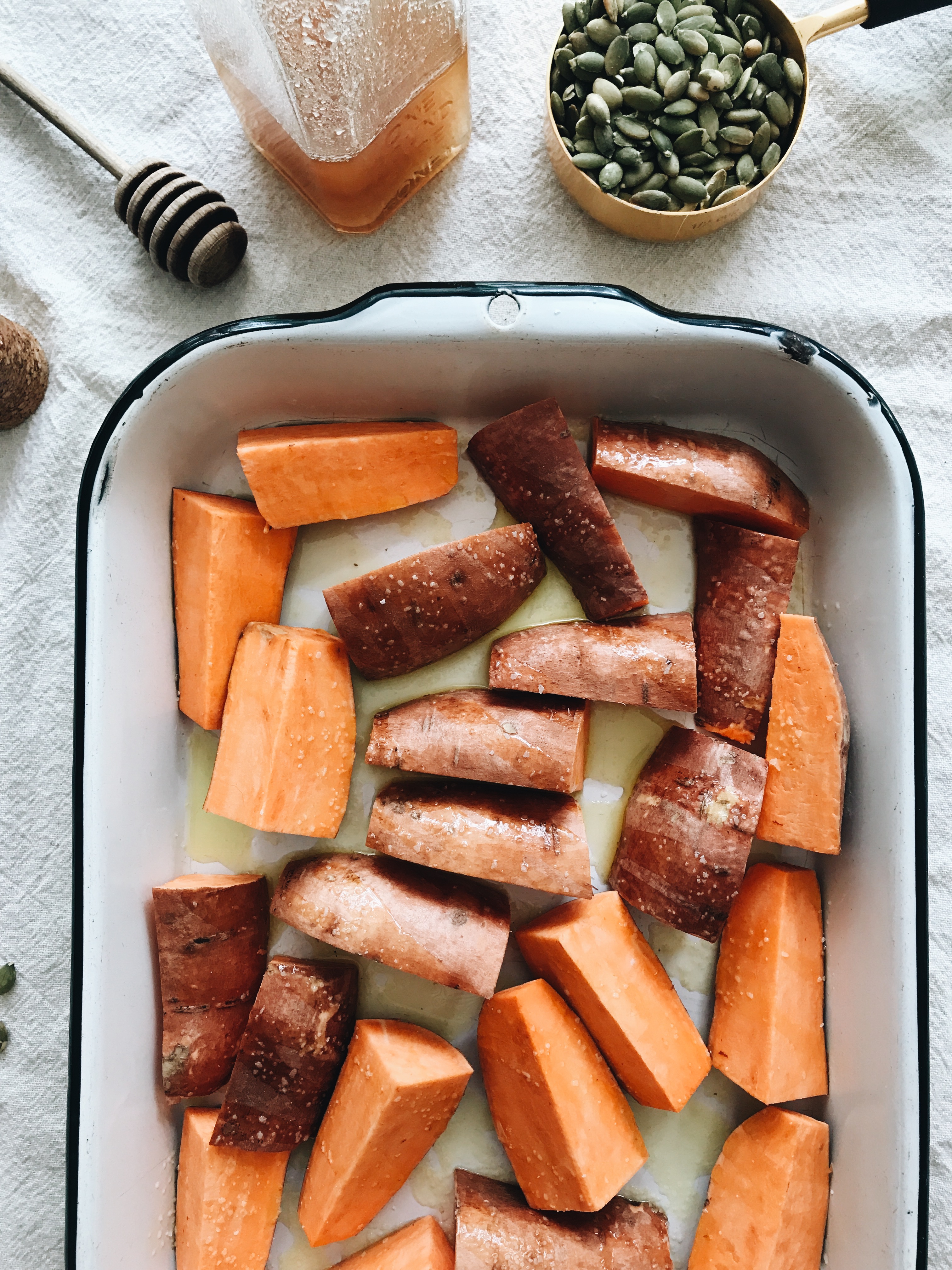 Then arrange them in a baking dish with a drizzle of extra virgin olive oil and a good pinch of salt. Get it all coated and glossy and seasoned. Atta girl.
This will go into a 400 degree oven for a full hour. GO THE FULL HOUR. You want browning and char marks and tenderness and peace and understanding.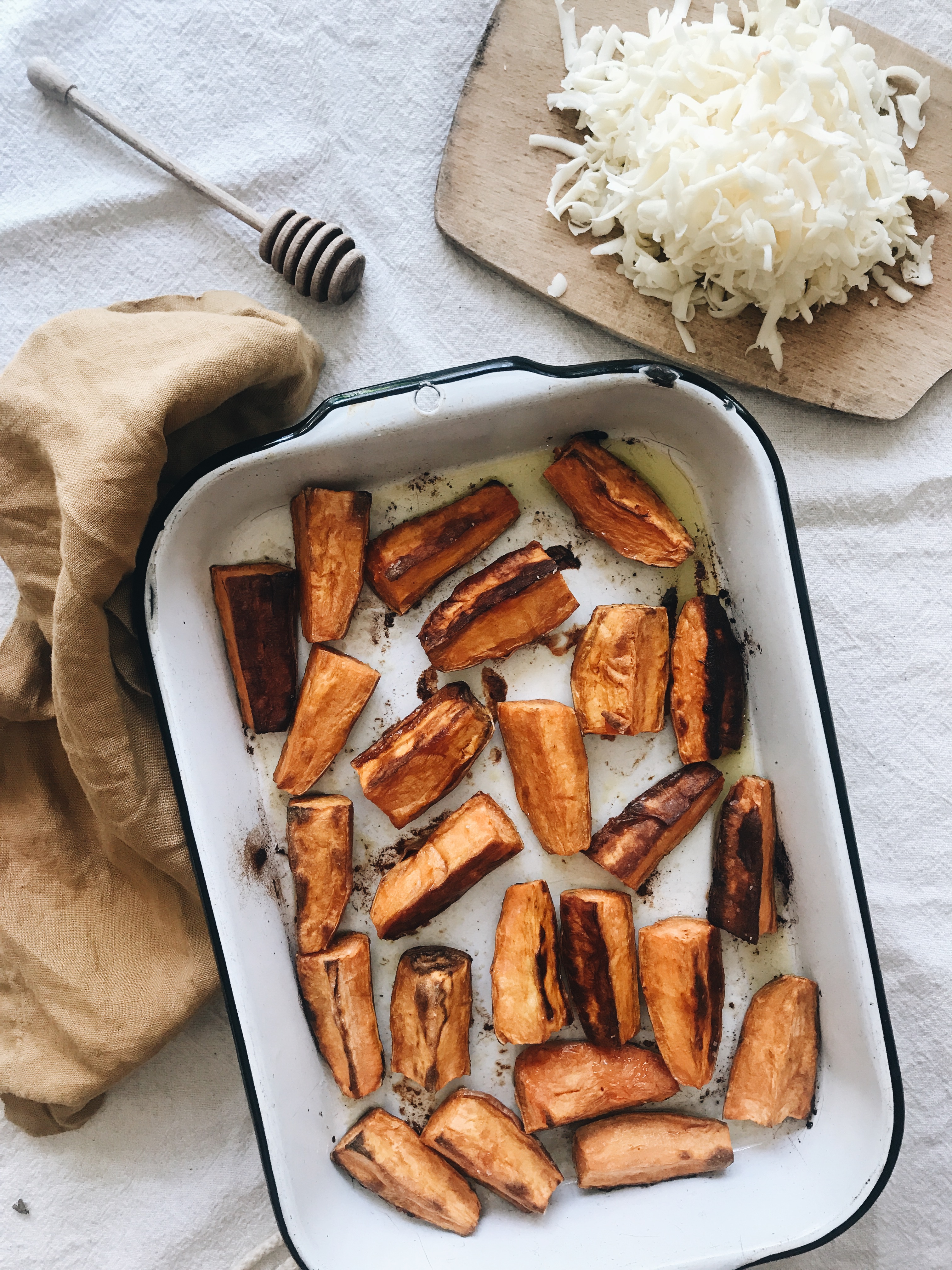 But you're not done, Chachi. This is when the party starts. GO PUT YOUR TOGA ON.
Just kidding you don't have to.
Actually, please don't.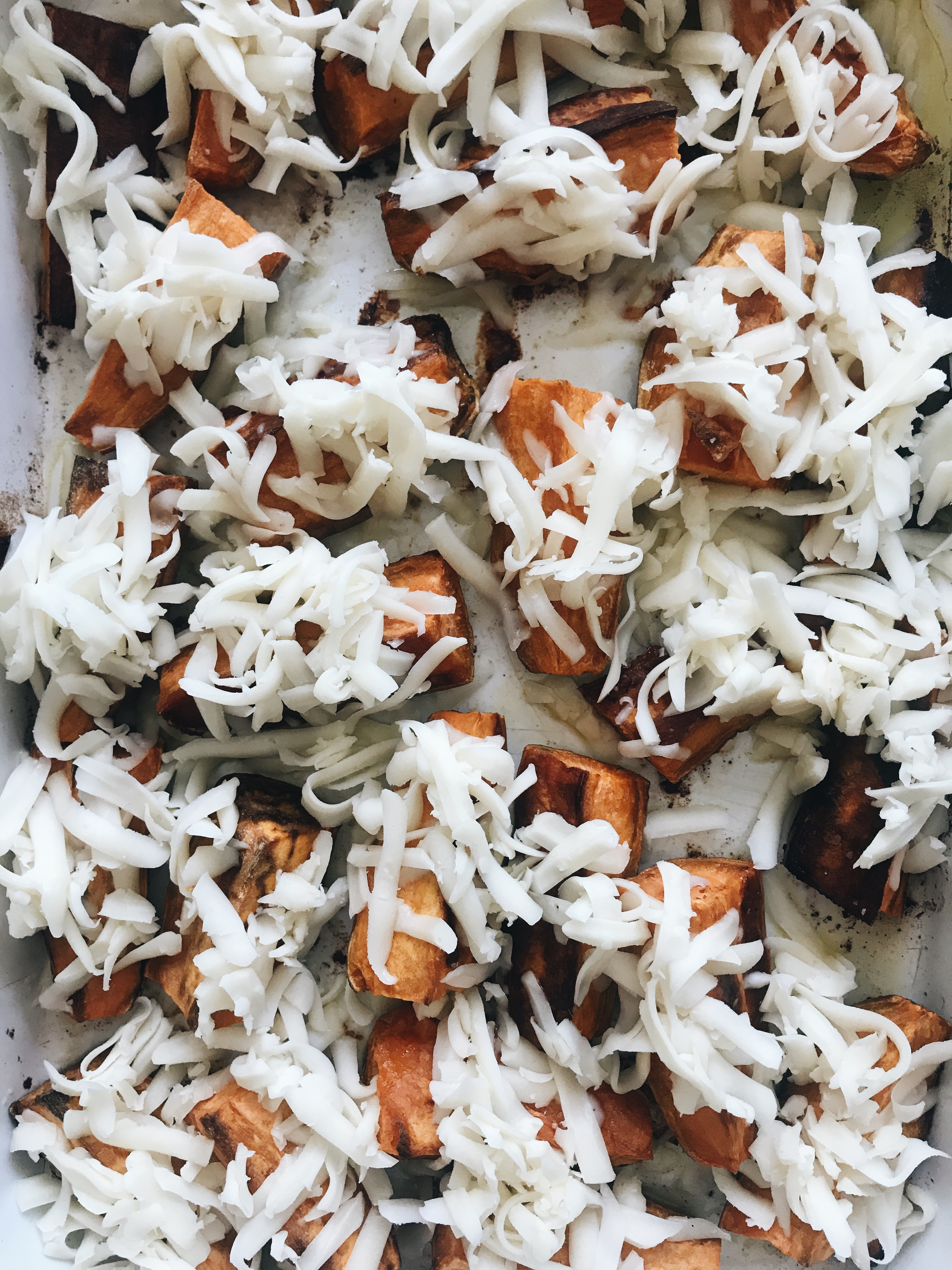 Now, sprinkle the grated Havarti cheese over each sweet potato. Why Havarti? SO GLAD YOU ASKED. Well, first – it's just straight divine. Its creamy texture melts glooooriously over these 'taters. It's not sharp like a cheddar, so the potatoes still shine, whilst underneath a mellow blanket of oozy bliss.
Get that dish back under the broiler for SERIOUSLY only like two minutes. Three minutes. One minute. Whatever kind of blast your oven whips out. Don't take your eagle eye off it!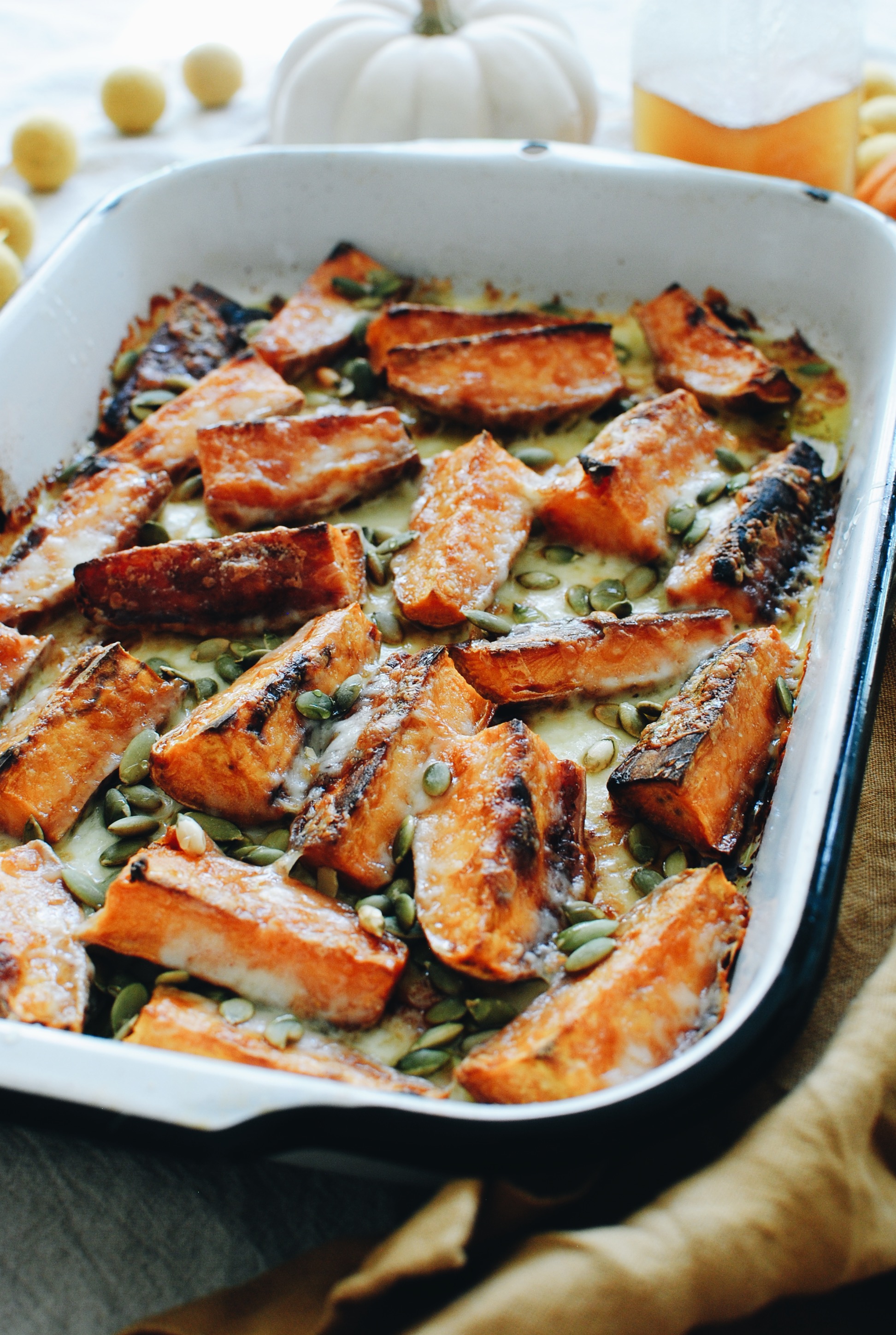 And that's what I'm talking about.
The garnish is a simple sprinkle of salted pepitas for crunch, color and festivity. And then the tiniest drizzle of honey brings back that sweet from underneath and tiiiiiiies it all together in your mouth hole, LAWDY LOU.
You can see why I started with an apology.
Beautifully simple.
Painfully delicious.
Stupid perfect.
Your Thanksgiving table has been warned.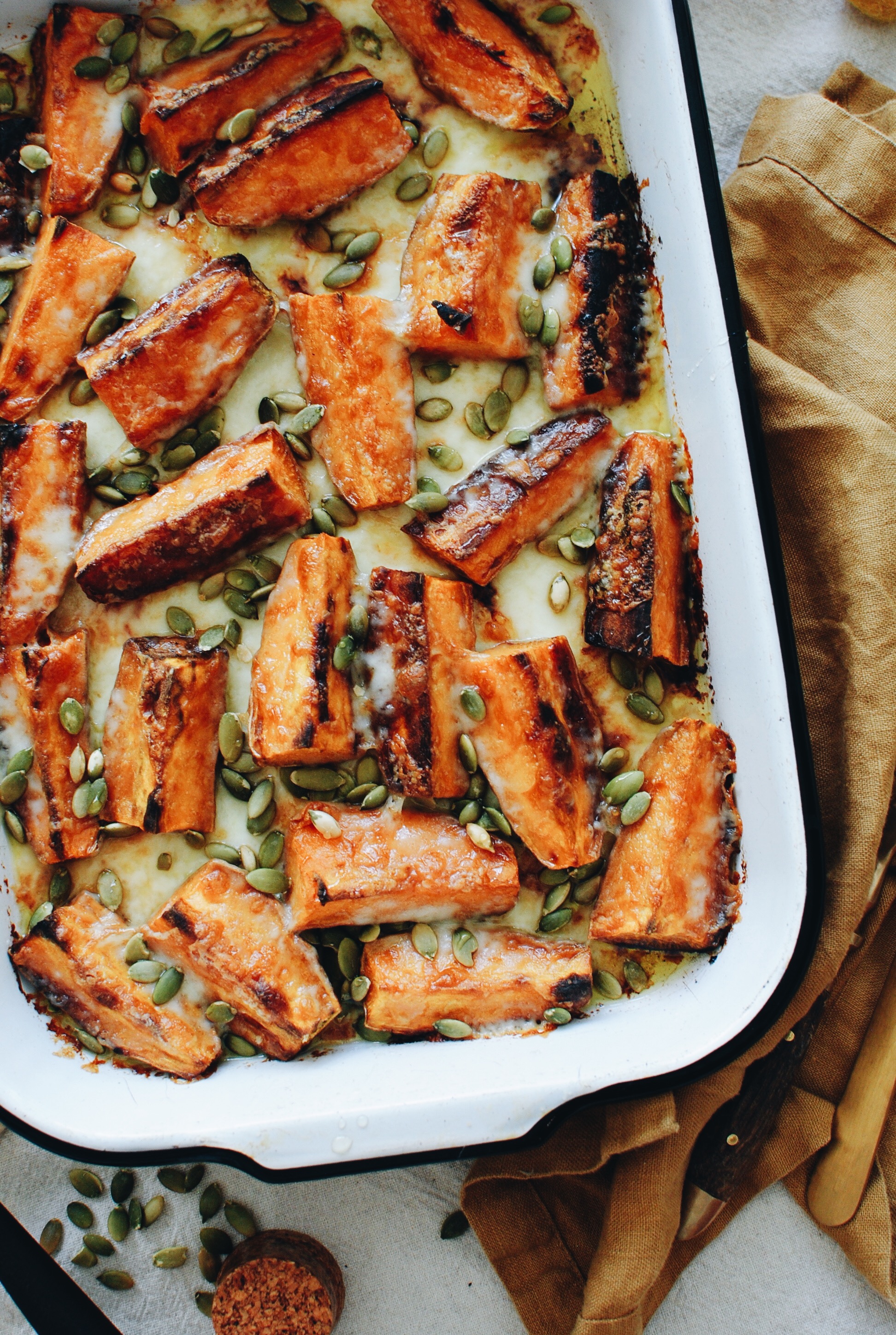 Sweet potatoes savorified! I did it. (don't look up that word.)
Baked Cheesy Sweet Potato Wedges
Ingredients
3 - 4 sweet potatoes
1 (6-oz) block Roth's original Havarti cheese, grated
About half a cup salted pepitas
Honey, to drizzle
Extra virgin olive oil (about a Tbs.)
Coarse salt
Instructions
Preheat your oven to 400.
Snip the ends off the sweet potatoes, then cut in half crosswise, then once more lengthwise, until you get good sized wedges. Arrange them in a baking sheet and drizzle with the oil and a sprinkle of coarse salt. Get it all coated and seasoned with your hands. Roast the potatoes for an hour.
Now flip the oven to broil and sprinkle the Havarti cheese over the roasted potatoes. Stick it under the broiler from 1-3 minutes, until the cheese is melted, browned and bubbly.
Garnish with a sprinkle of salted pepitas, along with a drizzle of honey and serve immediately!
Serves 4-6.
(I ended up using only 3 potatoes, but if you can cram in 4, go for it!)
7.8.1.2
184
https://bevcooks.com/2018/10/baked-cheesy-sweet-potato-wedges/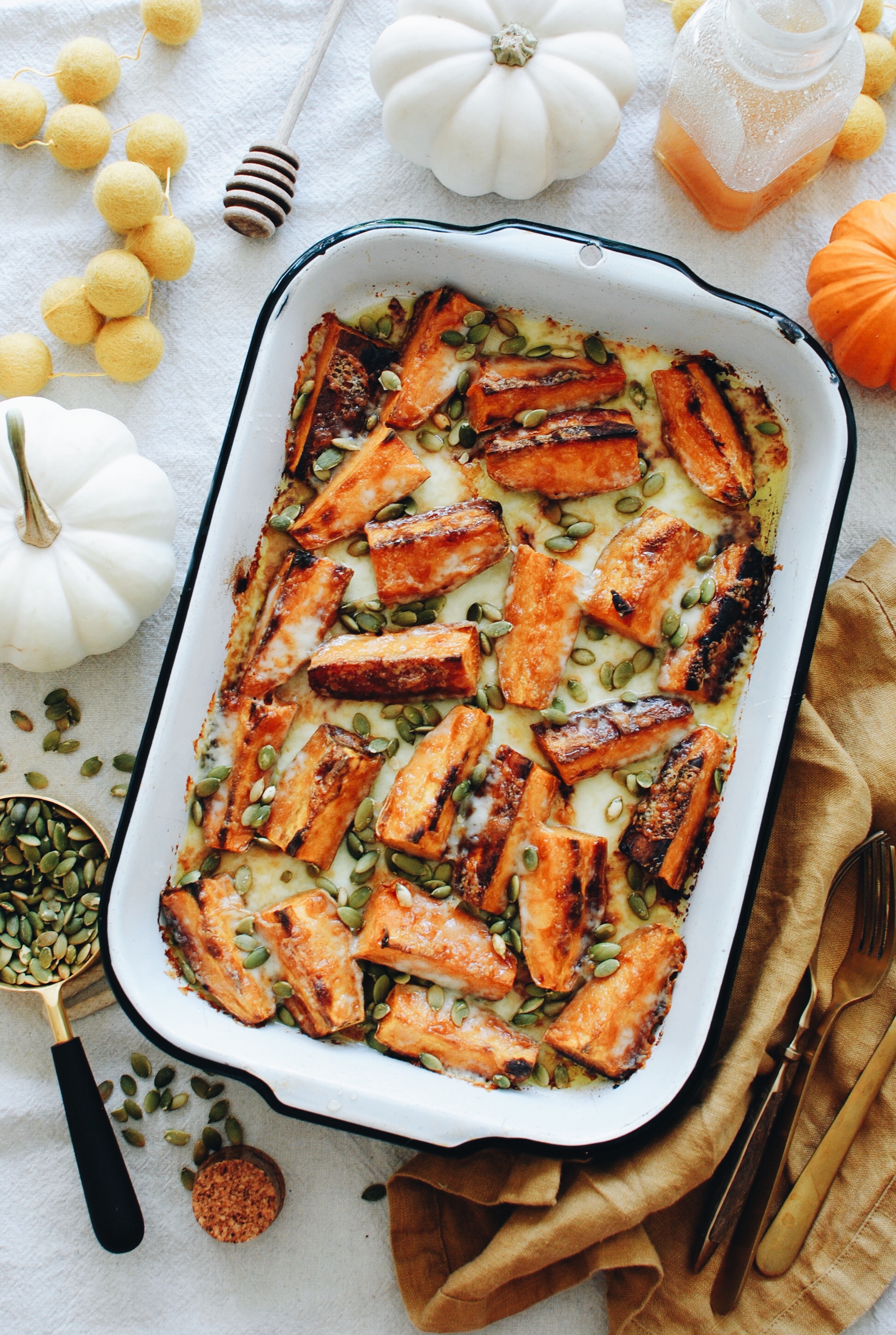 You can't not get in that.
(This post is definitely in partnership with my lover, Roth Cheese. But all ramblings and cheese meltage and inhalings are totally my own. We coo?)