Let's eat some fish!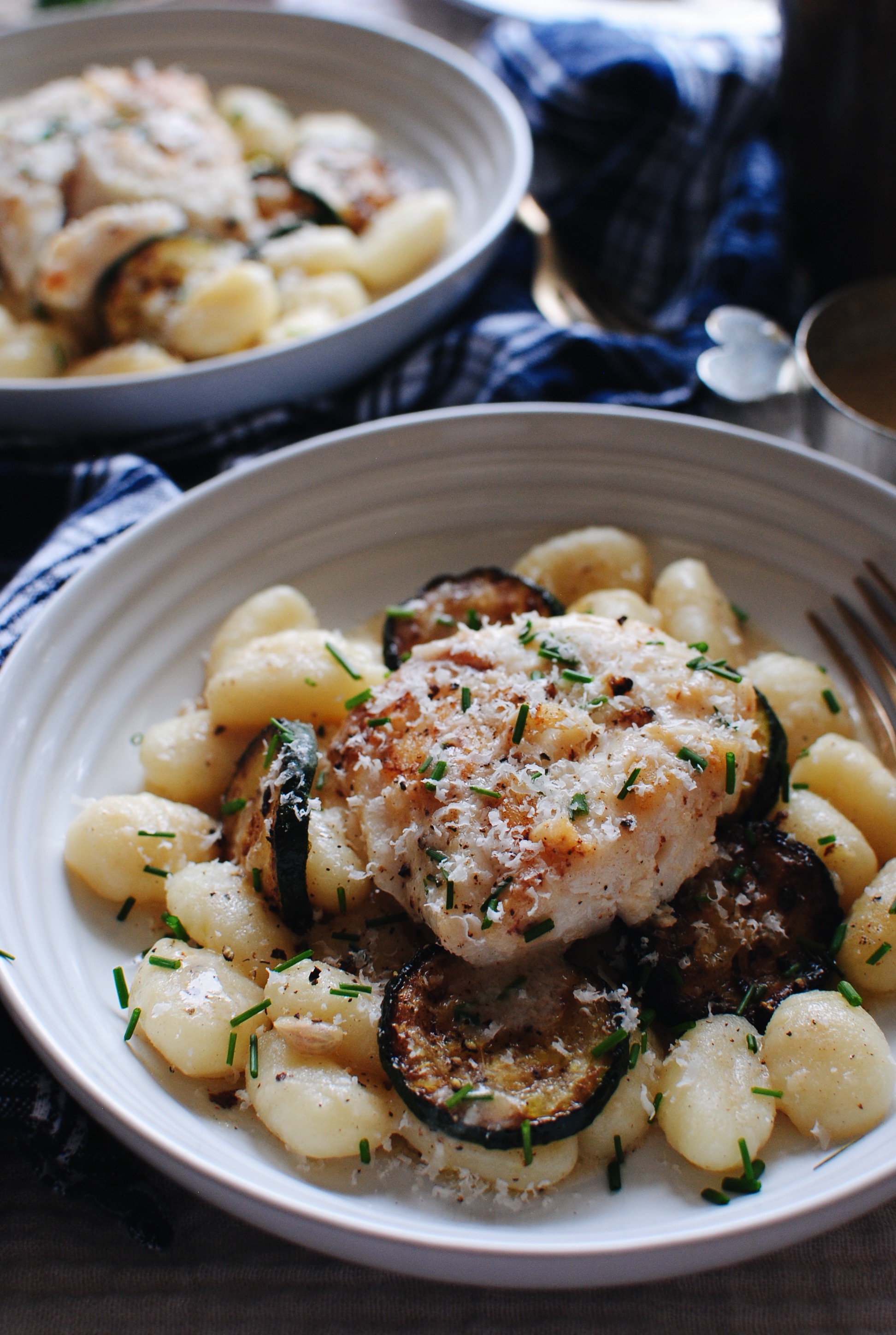 I hardly ever eat fish. And then I see people eating fish in the world and I'm like, "Oh yeah, fish. I want some fish."
So, I made you fish! And it's wild-caught, so delete that hate email you started, 'MKAY.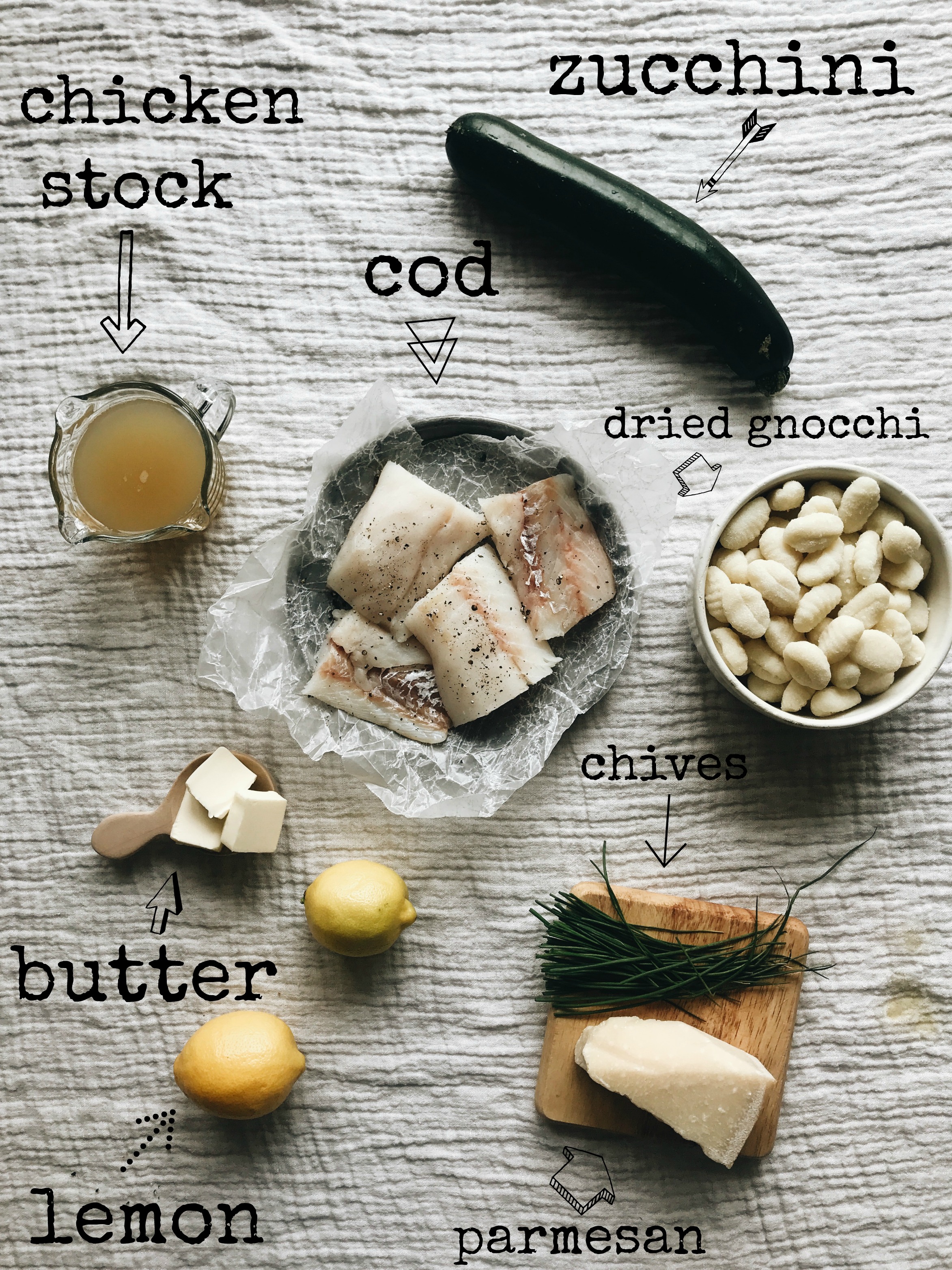 This is a total weeknight recipe. But the funny thing IS, recently Aaron and I were out on a date night at a lovely French restaurant (when my face was still healing and I looked like a spotted leopard meets Garbage Pail Kid), and we ordered their special that night. And it was this! Sort of. It was a version of this. Theirs had cabbage in it, and mine has zucchini, BUT THE SOULS ARE THE SAME.
So of course once I sat back up after fainting in my chair from flavor euphoria at the restaurant, I knew I had to recreate it for yewz.
Sear that fish! And if your fish breaks just outside frame to the right and you don't want to include it because you're a food blogger and your ego is also broken, you're still a good person.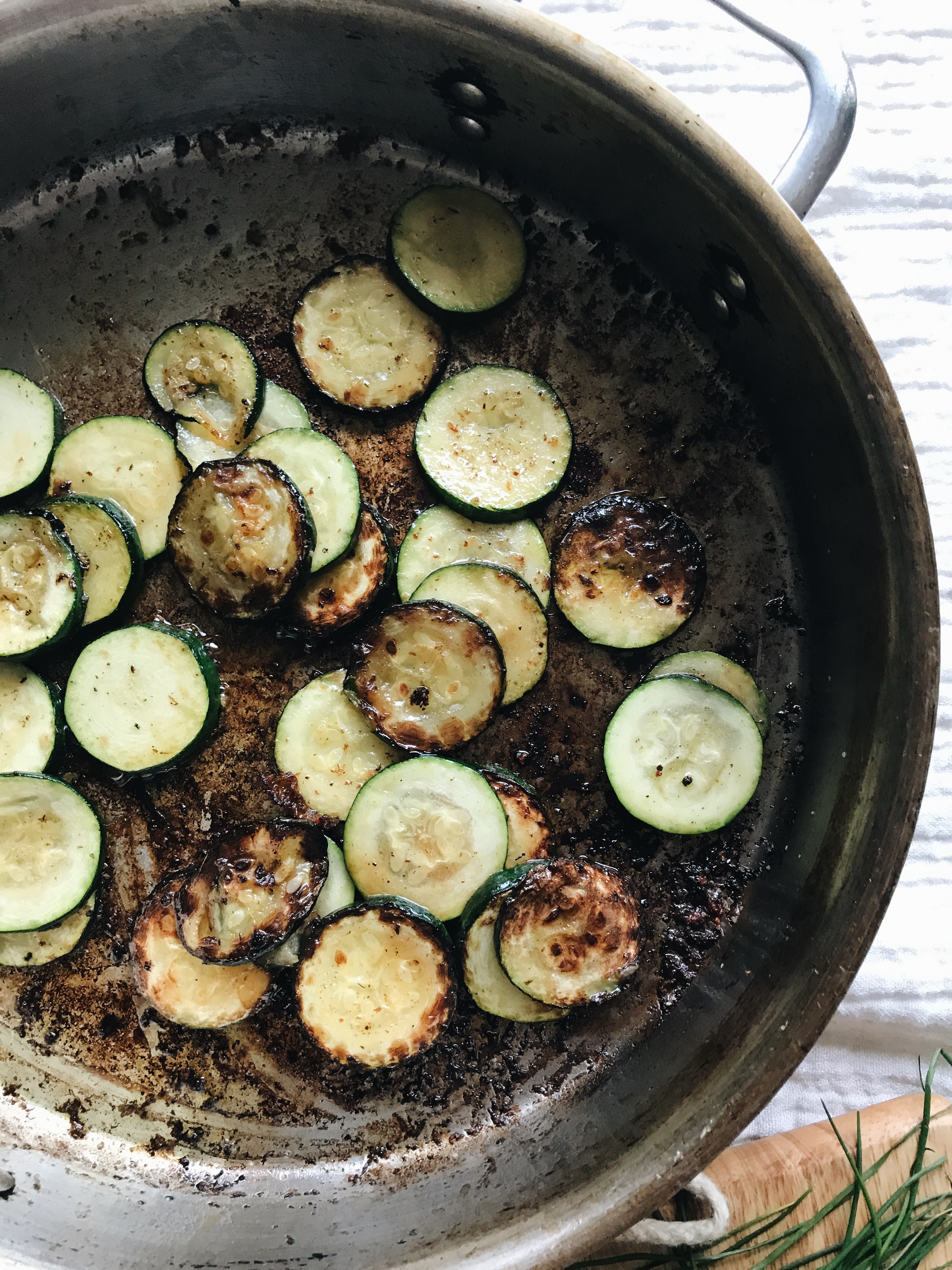 While the fish rests, get some good searing and browning on a stick (log? branch? twig?) of sliced zucchini.
Then this is the good part. You don't even have to boil your gnocchi! Nope, you just dump it into the pan, dried, straight from the bag, and get a little toast going on. Just toss it around in the butter and browned bits. Then you'll add stock and lemon juice. And seriously, in less than three minutes, it's softened and luscious and ready for your mouth hole.
ONE PAN MEAAAAAL! (<–I get excited about things.)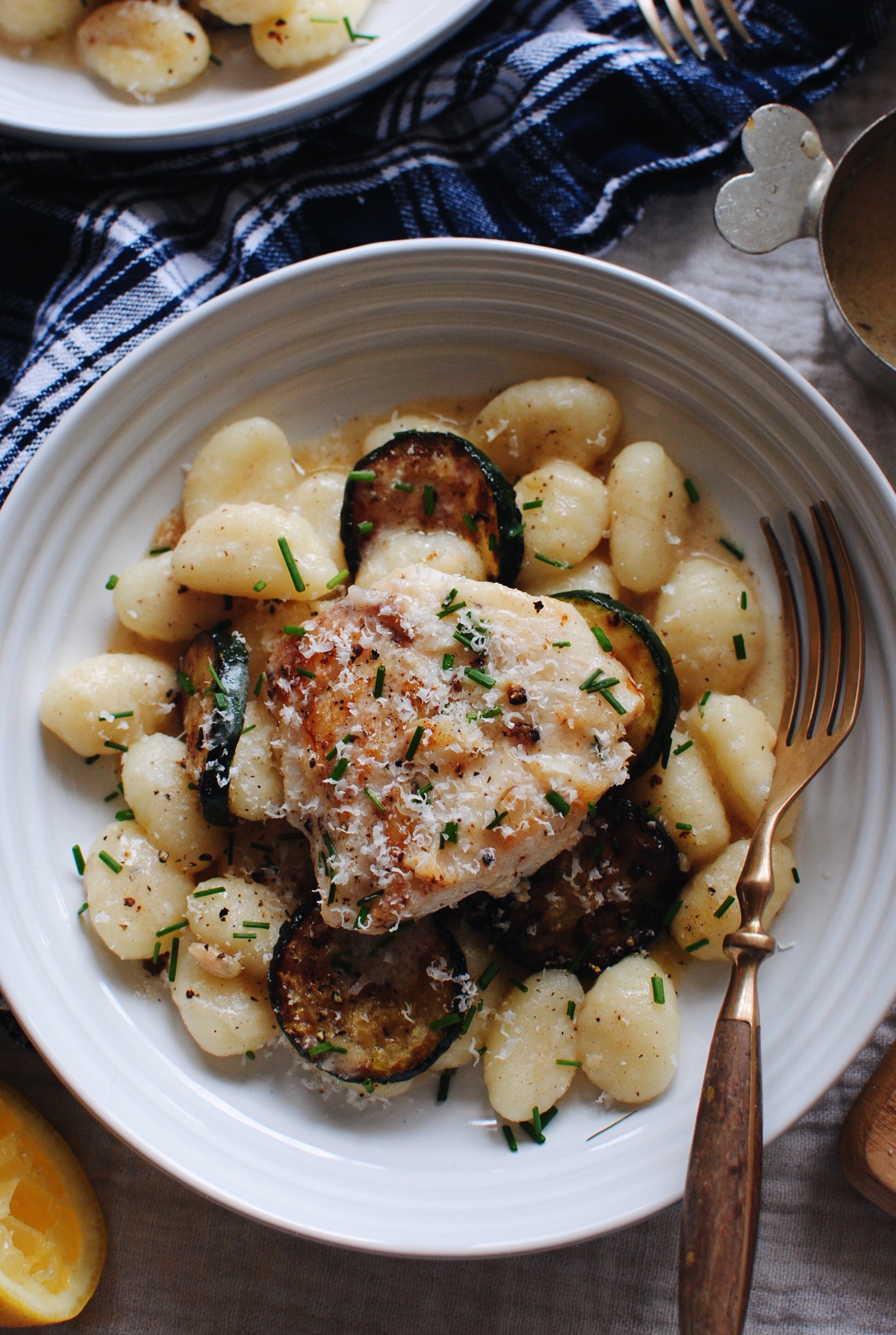 And biggidy bam, you're done! The gnocchi will soak up most of the glorious lemony sauce, your seared zucchini gets nestled back in, and the fish gets placed on top. FANCY PANTS IN YOUR FACE ON A MONDAY.
Not sure what that was supposed to mean.
Other than, this is fabulous and elegant and simple and perfect for a dinner party or anytime and I'm dyyyying for you to add it to your spring rotation!
Or else.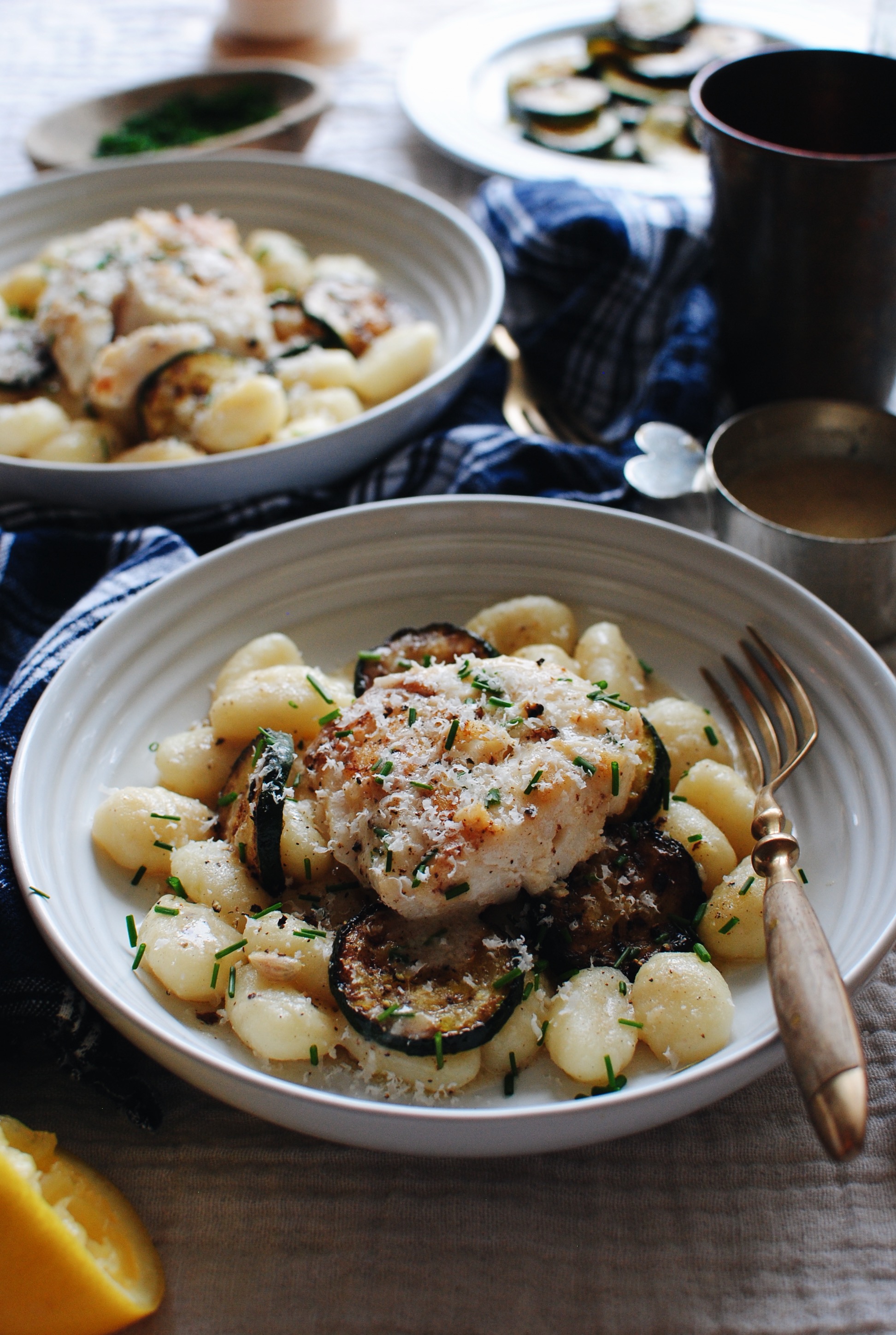 I already miss it.
Seared Cod with Skillet Gnocchi
Ingredients
4 wild-caught cod fillets
3-4 Tbs. butter
1 Tbs. extra-virgin olive oil
1 zucchini, thinly sliced
1 pound dried gnocchi
1 cup chicken stock
2 lemons
1/3 cup freshly grated parmesan, plus more for garnish
Salt and pepper
Chives for garnish
Instructions
Heat 2 Tbs. butter and 1 Tbs. oil in a large pan. Season the cod on both sides with salt and pepper. Once the butter foams, place the fish in the pan and sear on medium high, for three minutes. Gently flip (it's okay if the fish begins to flake here), and sear on the other side another three minutes, until you get some browning. Remove the fish from the pan.
If you need to add a splash to water to the pan to deglaze the browned bits, go ahead! And then add a little more oil to the pan if needed. Add the sliced zucchini to the pan and season with a pinch of salt. Sauté the zucchini on both sides until you get some good charring, about six minutes total. Remove the zucchini from the pan.
Add the gnocchi straight to pan, and another pat of butter if needed. Gently toss the gnocchi over a medium-high heat, coating with the butter and browned bits in the pan. Now add the chicken stock and the juice from one lemon. Let it simmer for two minutes. Then turn the heat off, add the last Tbs. of butter, the grated cheese and stir it together. Let sit for another two minutes, until the sauce begins to thicken.
Now you plate! Spoon a portion of the gnocchi into a wide dinner bowl, followed by a scattering of zucchini, and a seared fish fillet on top. (If you want to add the zucchini to the pan with the gnocchi, that works, too!)
Garnish with chives, extra parmesan, and serve with lemon wedges.
Serves 4! UGH, I want a plate.
7.8.1.2
152
https://bevcooks.com/2018/04/seared-cod-with-skillet-gnocchi/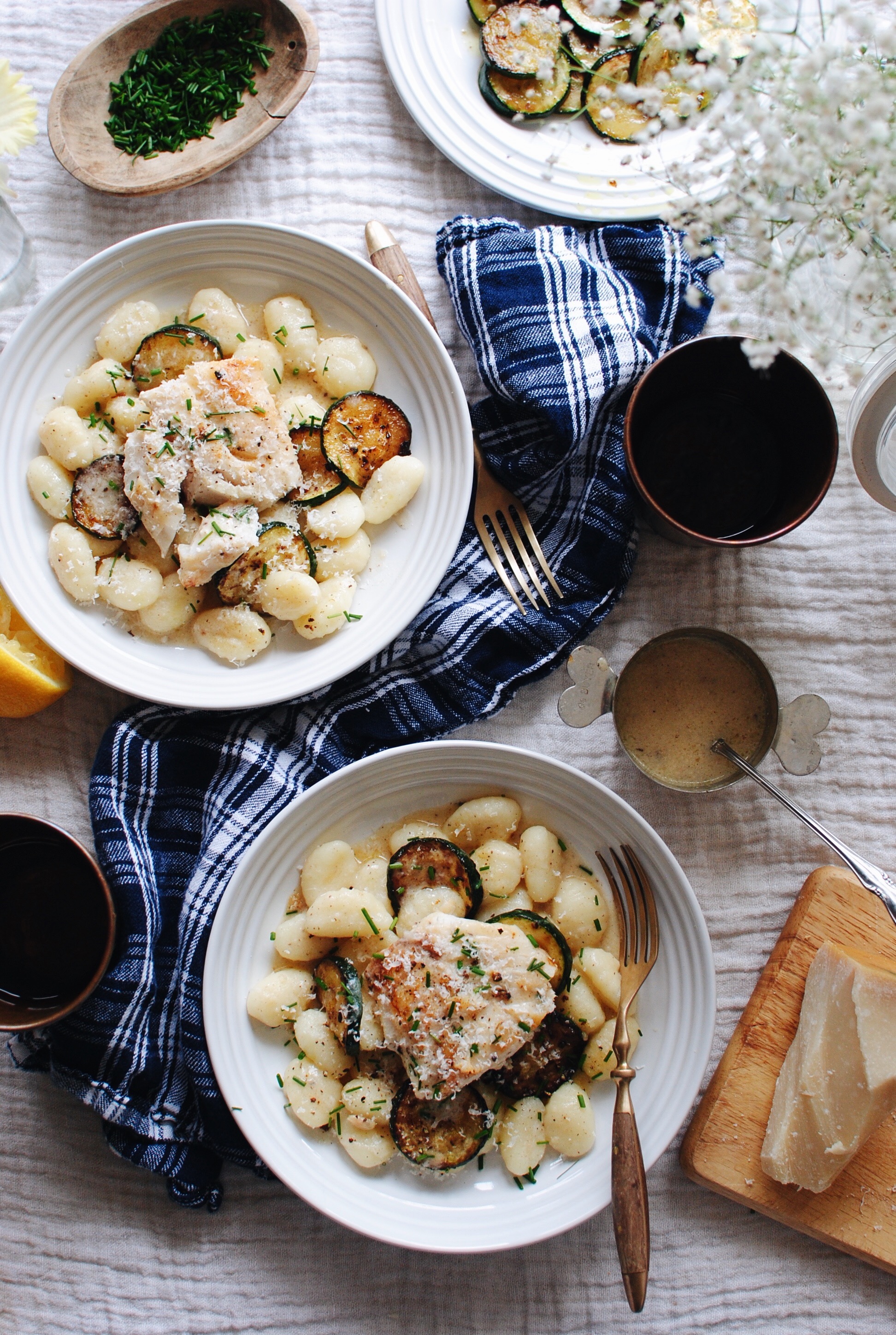 Make it your new best friend.