THEY WORKED.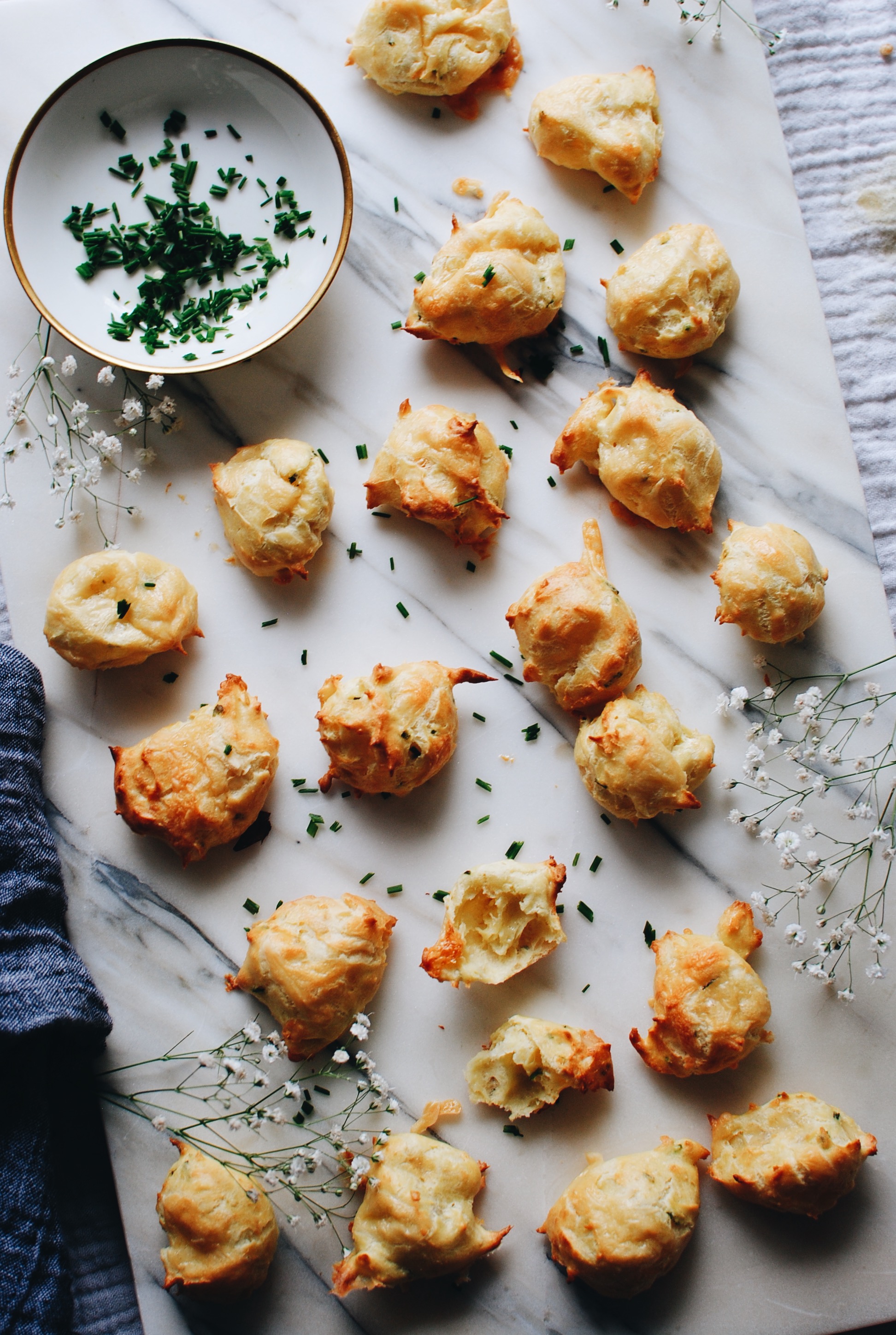 The gougères that I was having a mammoth anxiety attack over before I even started making them. THEY WORKED!
What's a gougère? It's a French cheese puff! A pastry of sorts. Savory. Life giving.
And you know, I don't know why I was so sissified to make them. They're actually quite easy. You just need focus (aka: don't drink rosé whilst making), elbow grease (unless you have a paddle attachment thingy on a bawdaw standing mixer, which I don't), and a positive attitude about where your life is headed (aka: it's okay if they're rustic and knobby because you don't have a piping bag and you didn't want to snip your VERY LAST large plastic baggie.)
You got this.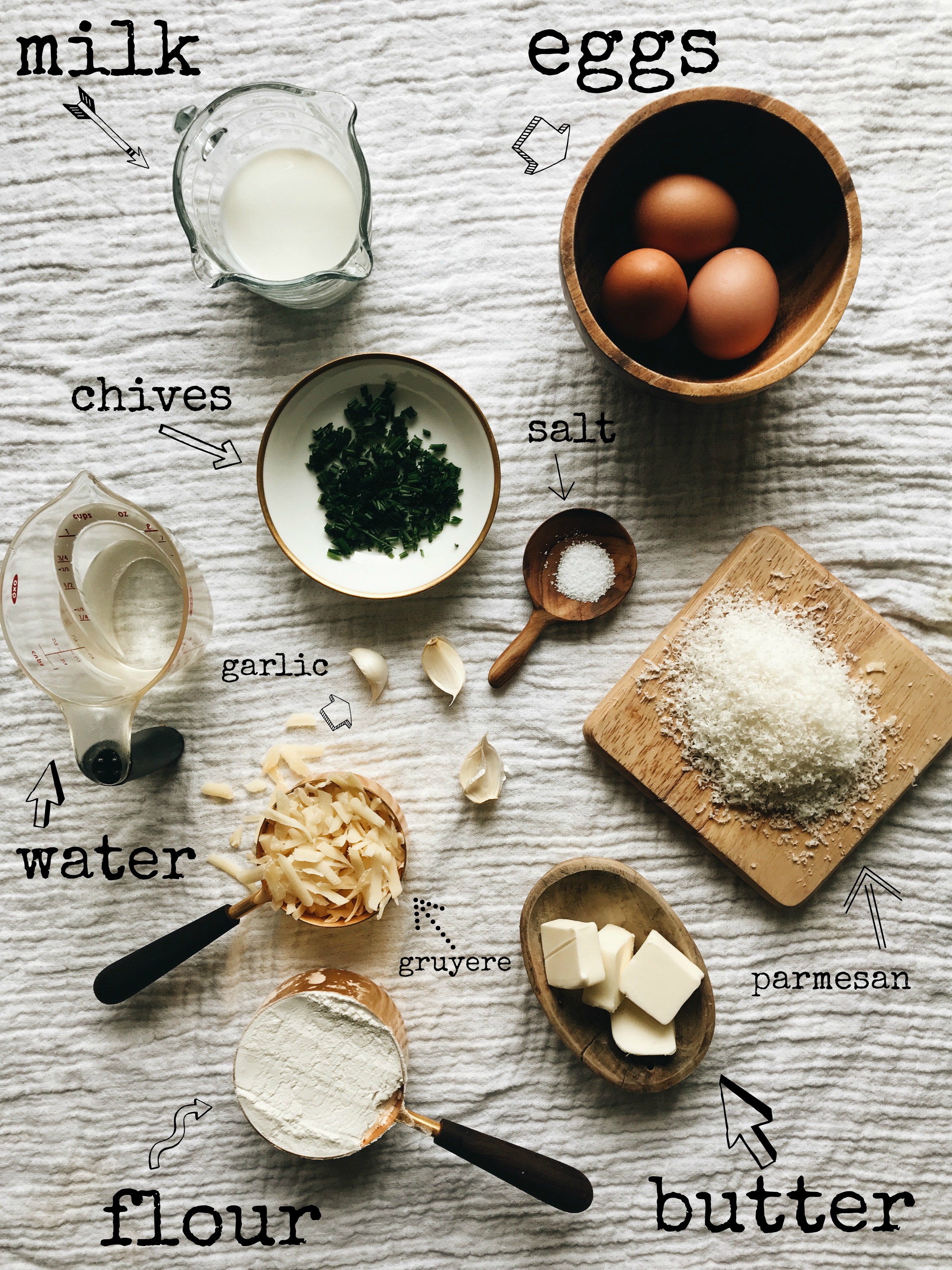 So, the veeeeery first (and only!) time I've eaten a gougère, it was on my trip last fall to Washington wine country. Remember that? When I slept in a yurt and drank all the wine with the coyotes in the middle of the night on a vineyard and almost died? Right.
We'd moved from the country to the city of Walla Walla, and the morning that we were headed home, we had just enough to time to pop into this quaint, but popular bakery/coffee shop. The gal that I was with was a food writer in NYC (I was like WHATEVER NO BIG DEAL I'm a food blogger, so there.), and as we approached the shiny glass pastry counter, she chirped, "Oh! Gougères! We've got to get one." It was this puffy, golden brown blob of crispy cheese bliss. We sat down to this tiny puff on a plate between us, and she began to pull it apart, revealing perfect cheese-scented steam, surprising pockets of air, and glossy cheese creating tiny peaks inside the pastry. HI, DEAD.
I remember she said to me, "These take a little bit of skill, but you should give them a go on your blog!"
I said, "Your face takes a little bit of skill."
I didn't say that.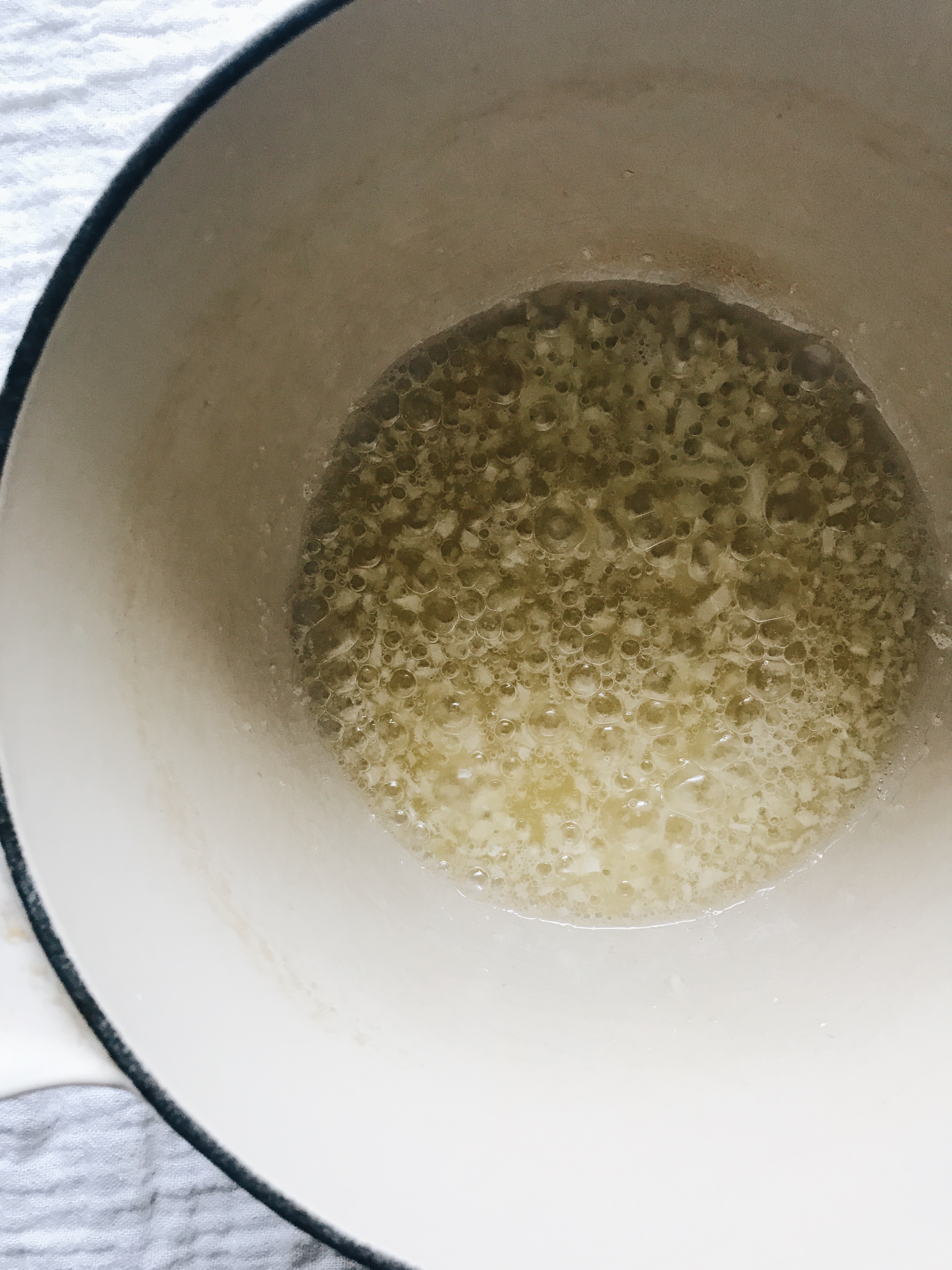 But I did! AND THEY WORKED. Even with my risky tweak, they worked.
I studied two different recipes, and met them somewhere in the middle, with a splash of Bev. (<–not sure why I said it like that.)
My tweak? Sautéed garlic in butter. But, REAL butter. No fake, alien tubby stuff that tastes like motor oil. This is a FRENCH RECIPE, for crying out loud. Get the real stuff. Or else I'll come after you.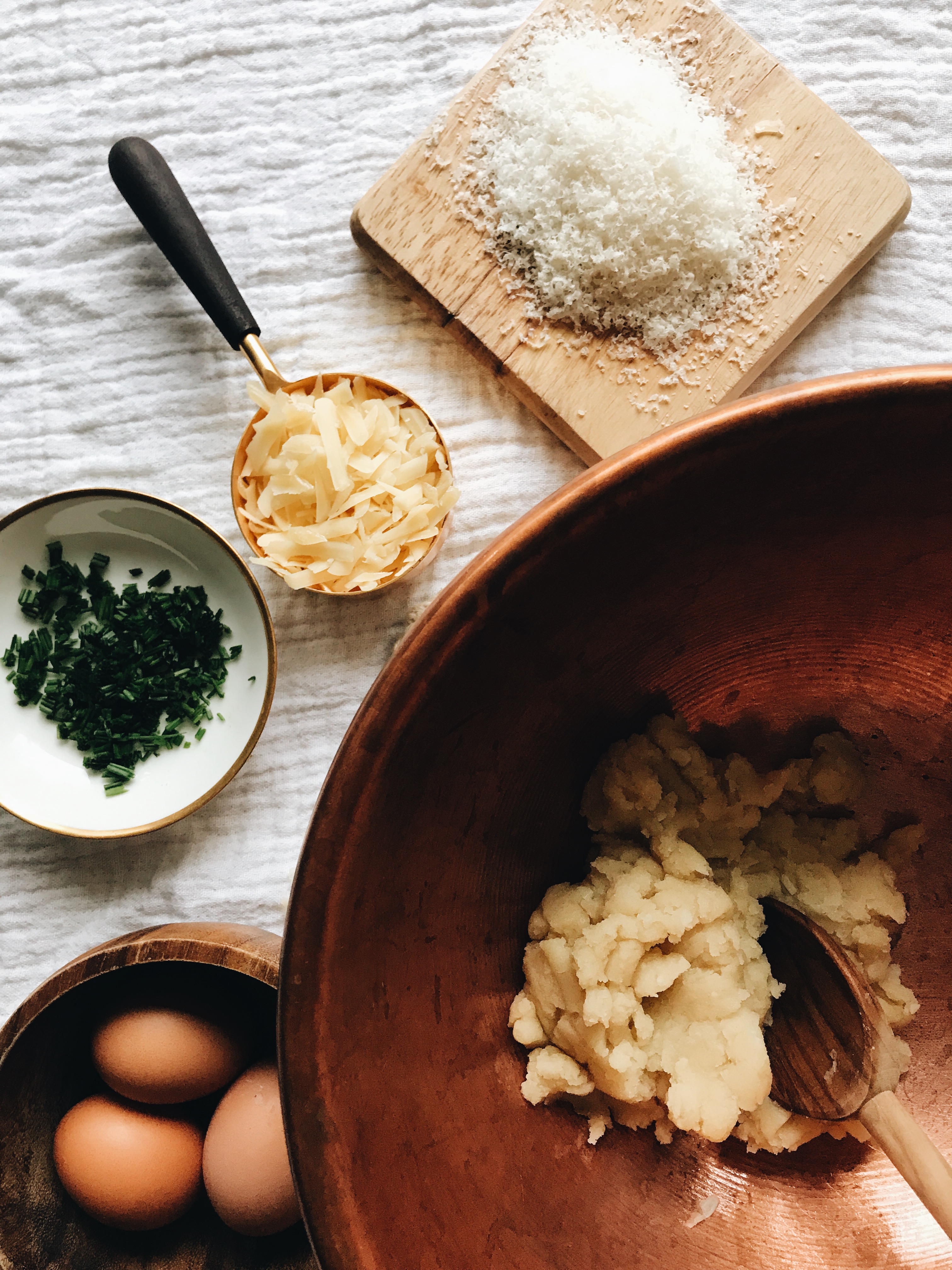 So you basically make a dough. A French dough. It's a mix of milk, water, flour, and the sautéed garlic in butter.
THEEEEN you let it cool, because once you add those eggs (one at a time!), you don't want them to scramble, yo. You want a silky, luscious shiny dough that you'll pet and call Frank. Or, Franceaux.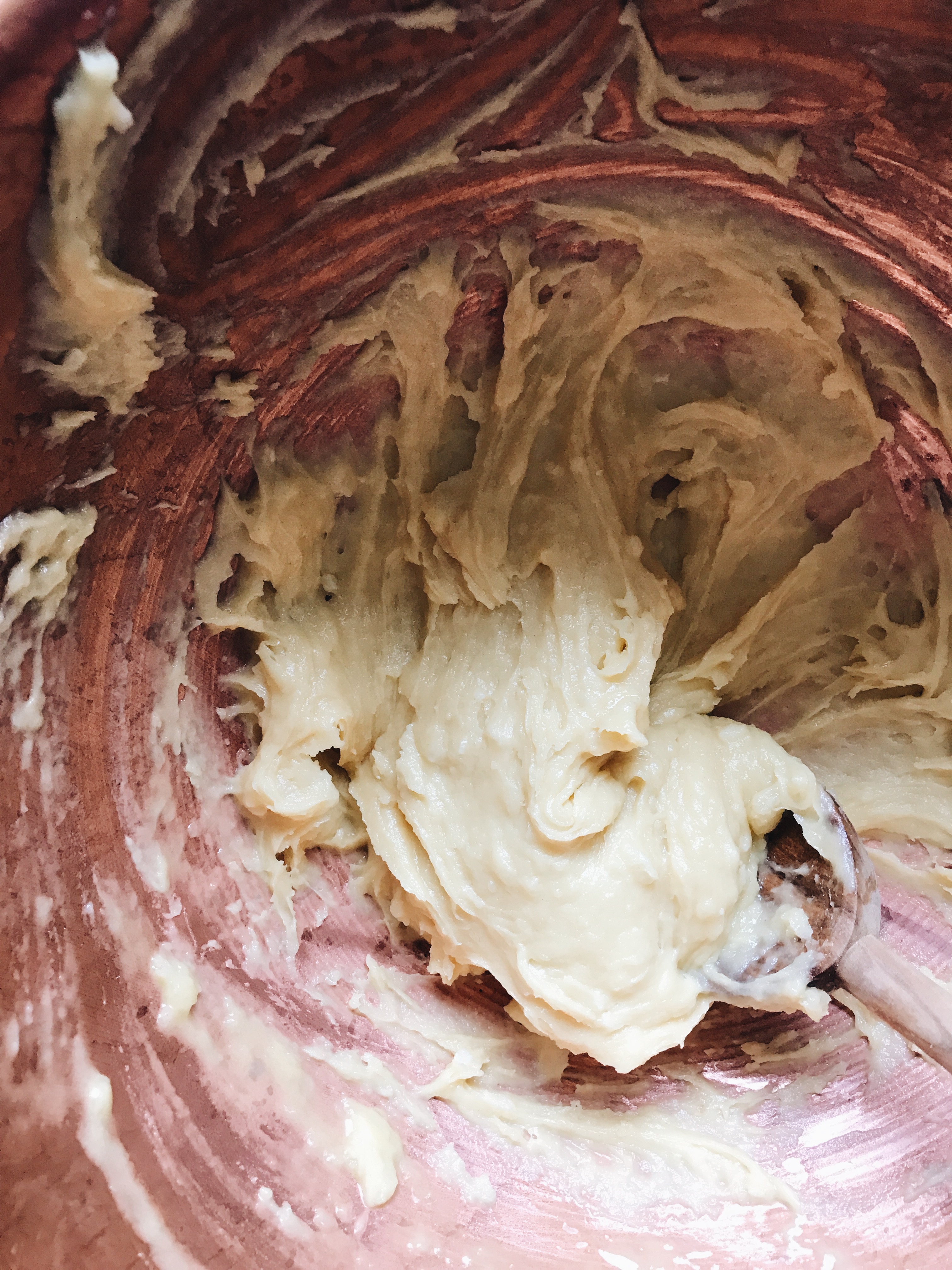 Look at that! I was sobbing at this point.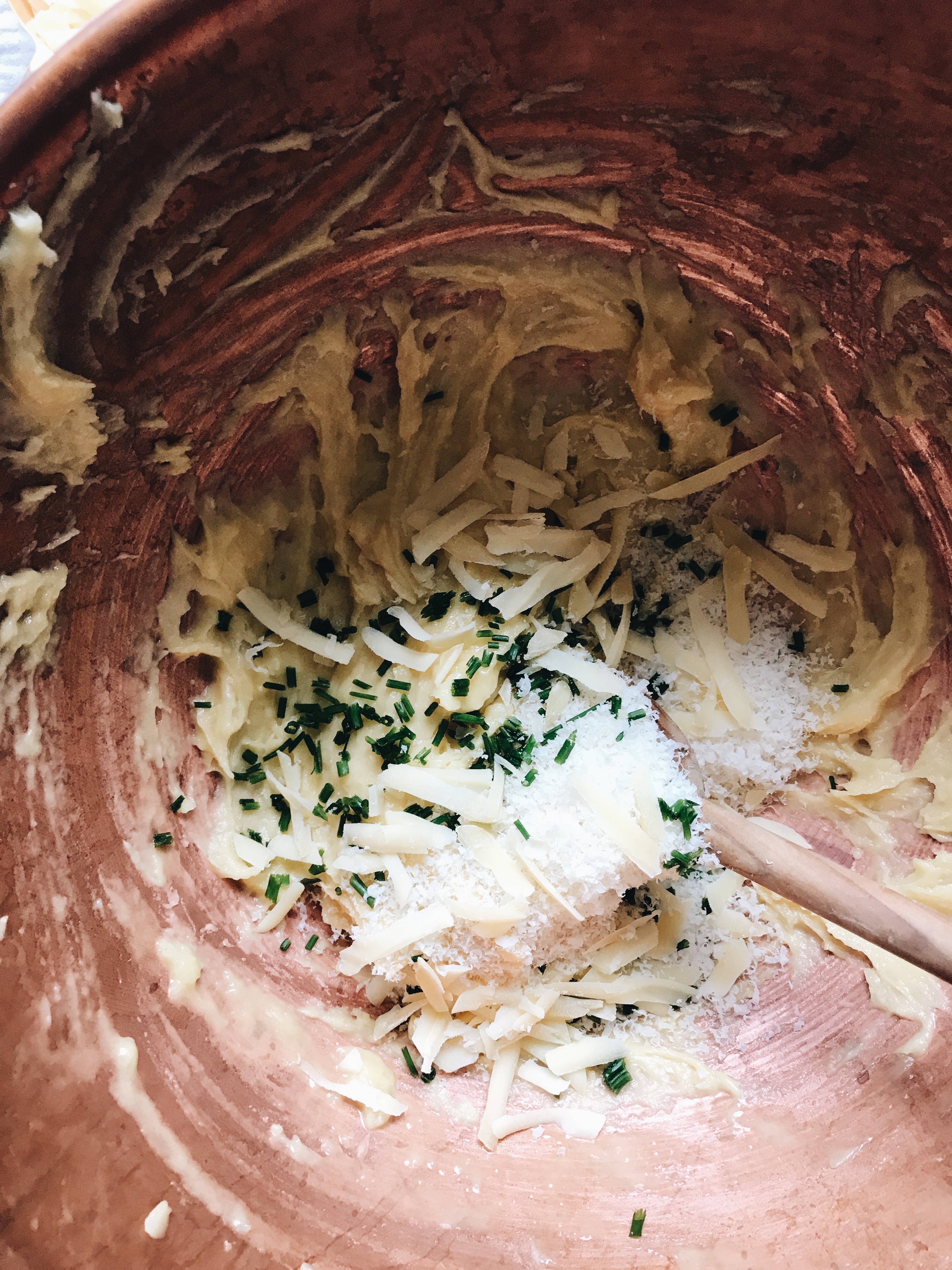 Then you viciously throw in the cheeses and the chives.
There are A.LOT. of variations and recipes out there. But I felt like the most common cheese used was gruyère, so in it went. Along with parmesan because I live on the edge.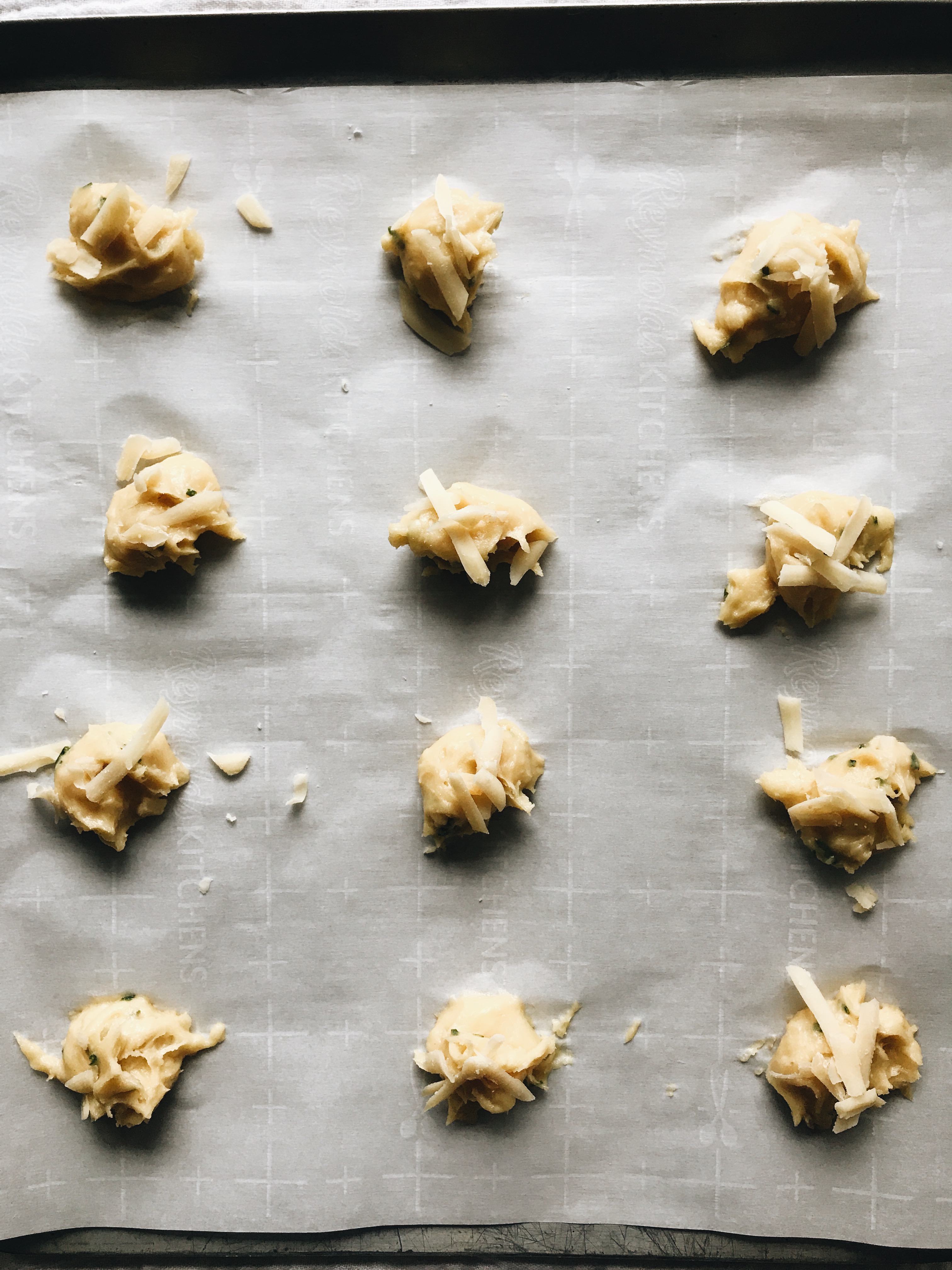 NOW, you can either pipe them, or dollop! I watched David Lebovitz dollop them in his Stories a couple of weeks ago, which gave me dolloping strength and confidence. "I HAVE CONFIDENCE IN SUNSHIIIINE. I HAVE CONFIDENCE IN RAAAAIN. I HAVE CONFIDENCE THAT THESE DOLLOPS WILL TURN OUT OKAY AND NOT LOOK TOO HORRIBLY JANK." I think that's the way the song goes.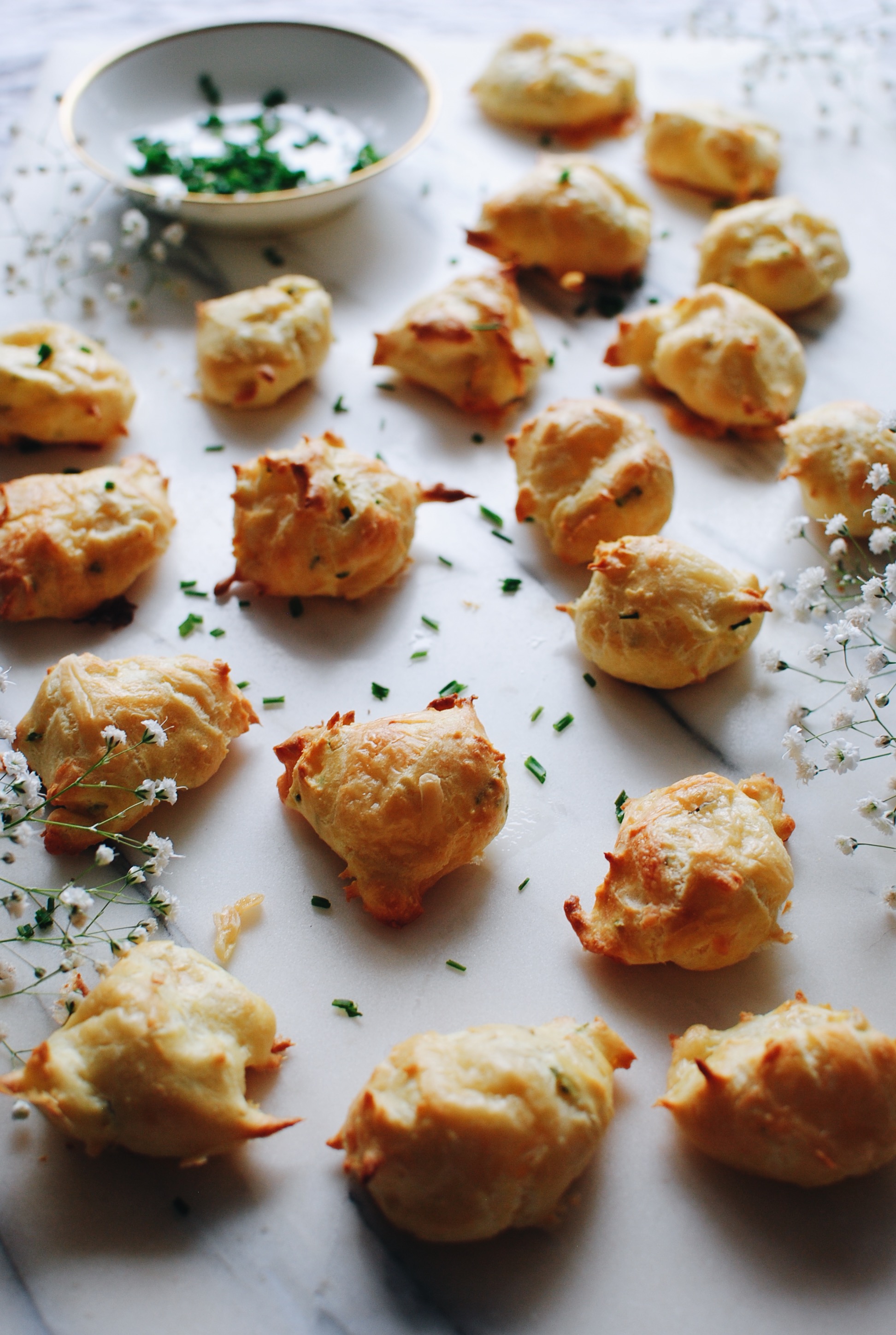 Ha-BOOM.
Puffed. Crispy. Airy. Cheesy. Golden Brown.
And then there are the gougères!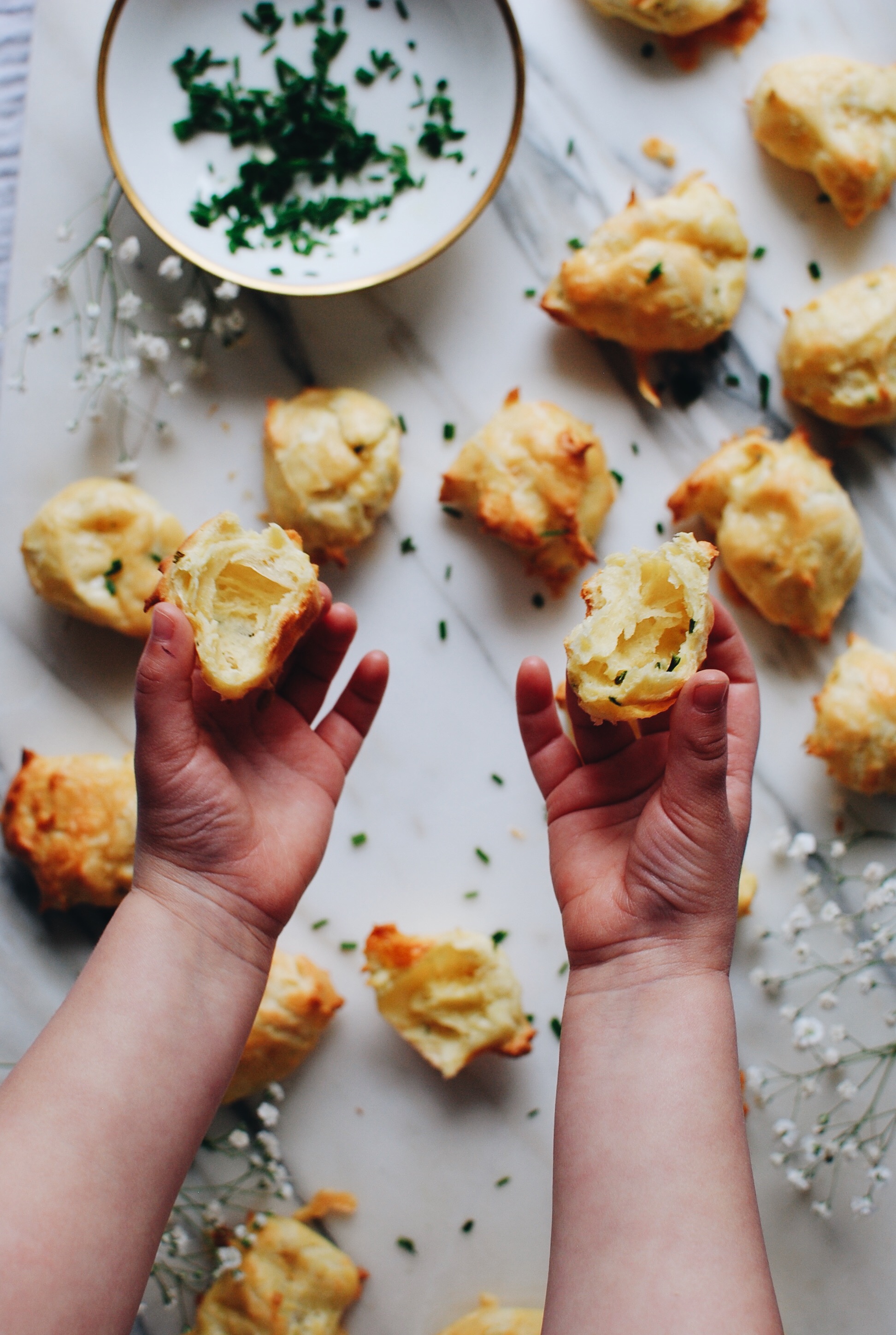 The craziest thing happened. As soon as I picked them up, my hands and arms shrank and reverted to those of a four year old!
Just kidding these are Nat's hands.
You must absolutely make these! My version is pretty straight forward, but with the added tweak of sautéed garlic, two cheeses, and chives.
AND YOU KNOW WHAT, there is a tip in a lot of recipes that says to pock them close to the end of baking time, so I tried that with about five of them. And they deflated! Maybe I don't have the touch just yet. But I'll say, not poking worked for me. But you do you. Poke them if you want. First on Facebook, then with a toothpick.
Also, I think next time I'll pipe them! Just to experience both kinds. I really dig the look of knobby rustic, but I'm curious to know what piping would do. What Peter Piper with his pickled peppers would do.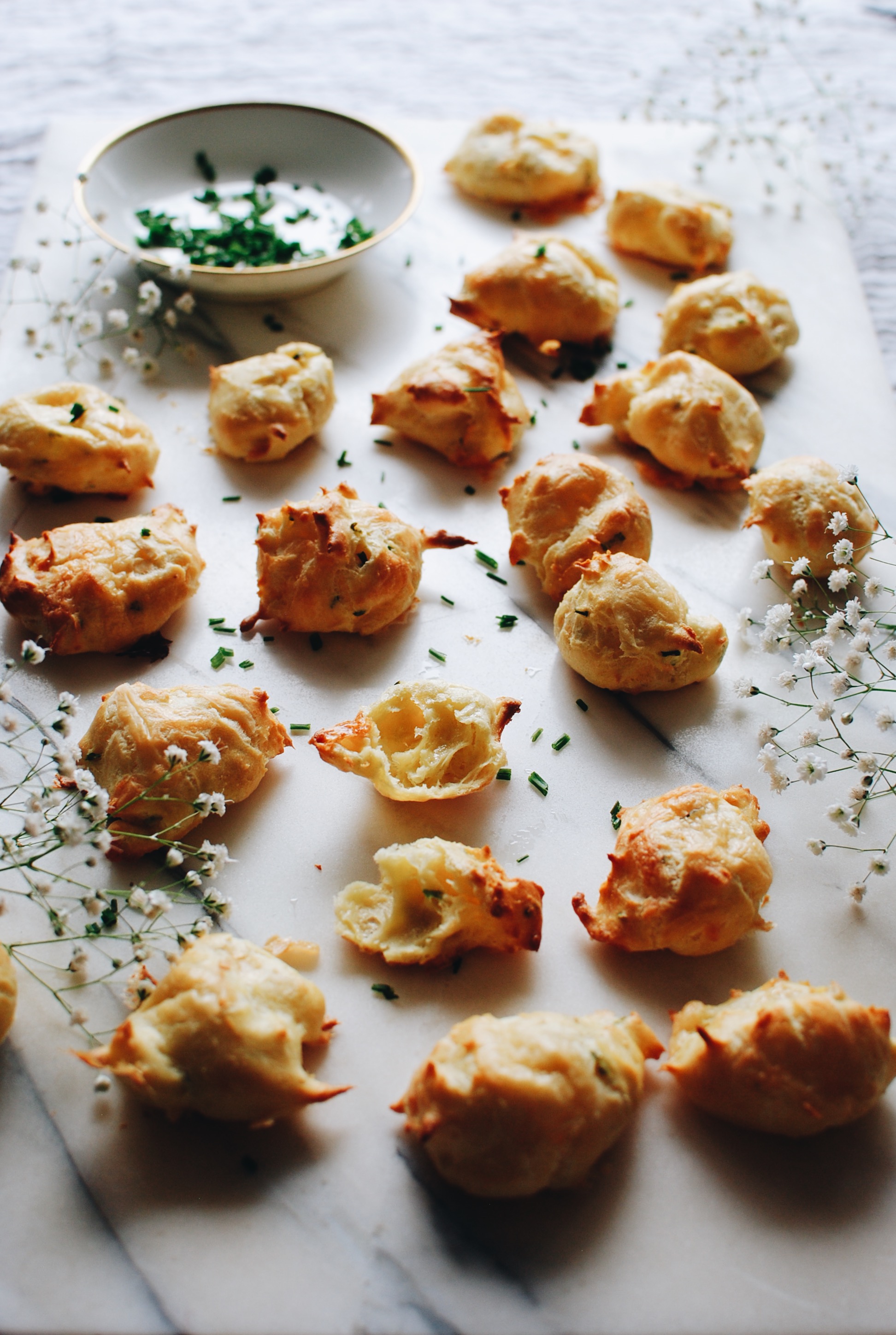 Seriously, your new go-to life snack.
Garlic and Chive Gougères
Ingredients
4 Tbs. real butter
3 garlic cloves, minced
1/2 cup milk
1/2 cup water
1 tsp salt
1 cup all-purpose flour
3 eggs
1/2 cup grated gruyere
1/2 cup grated parmesan
1 Tbs. chives
Instructions
Preheat oven to 425. Line two large baking sheets with parchment paper.
In a medium pot, melt the butter over medium heat. Once the butter is foaming, add the minced garlic and sauté for about 30 seconds, until the garlic is fragrant. Add the milk, water and salt. Bring to a light boil. Turn off the heat and add flour at once, vigorously stirring with a wooden spoon, until it forms a ball of dough. The dough might form a light crust on the bottom, and that's fine! Keep stirring until it's a smooth ball.
Transfer the dough to a large mixing bowl, and let cool a few minutes. Then, add each egg, one at a time, stirring again with a strong arm until the egg is completely incorporated into the dough. It might look lumpy at first, but the more you stir, the glossier the dough will get.
Add the chives, along with the parmesan, and half of the gruyere. Stir again, incorporating the cheese into the shiny dough.
Take a spoon and dollop about a Tbs. of dough on the parchment paper. Spacing each one two inches apart, keep dolloping until you have two pans of little puffs. Sprinkle the remaining gruyere over each puff.
Slide each pan into an oven, and immediately turn the heat down to 375. Bake for 12 minutes, then flip the pans (if they're on upper and lower racks), and bake another 12 minutes, or until puffed and golden brown.
Serve immediately!
Makes around 30 gougères!
7.8.1.2
151
https://bevcooks.com/2018/04/garlic-and-chive-gougeres/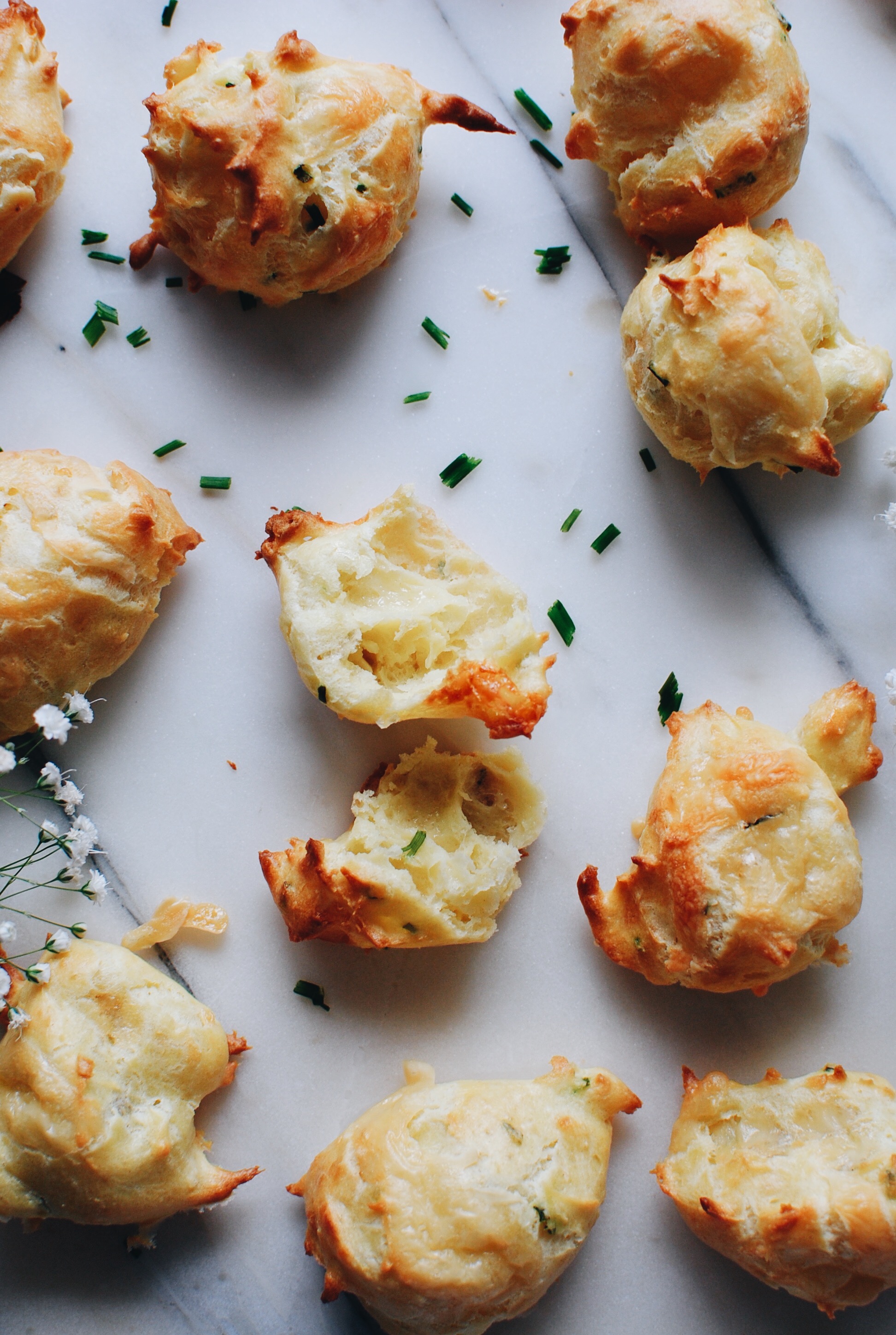 THEY WORKED.
(This post is definitely in partnership with Real Butter. But as always, all ramblings and butter slurpings are totally my own. We coo?)