Almost April and this is my first sausage pasta recipe for you? WHAT IS THIS RIFF RAFF.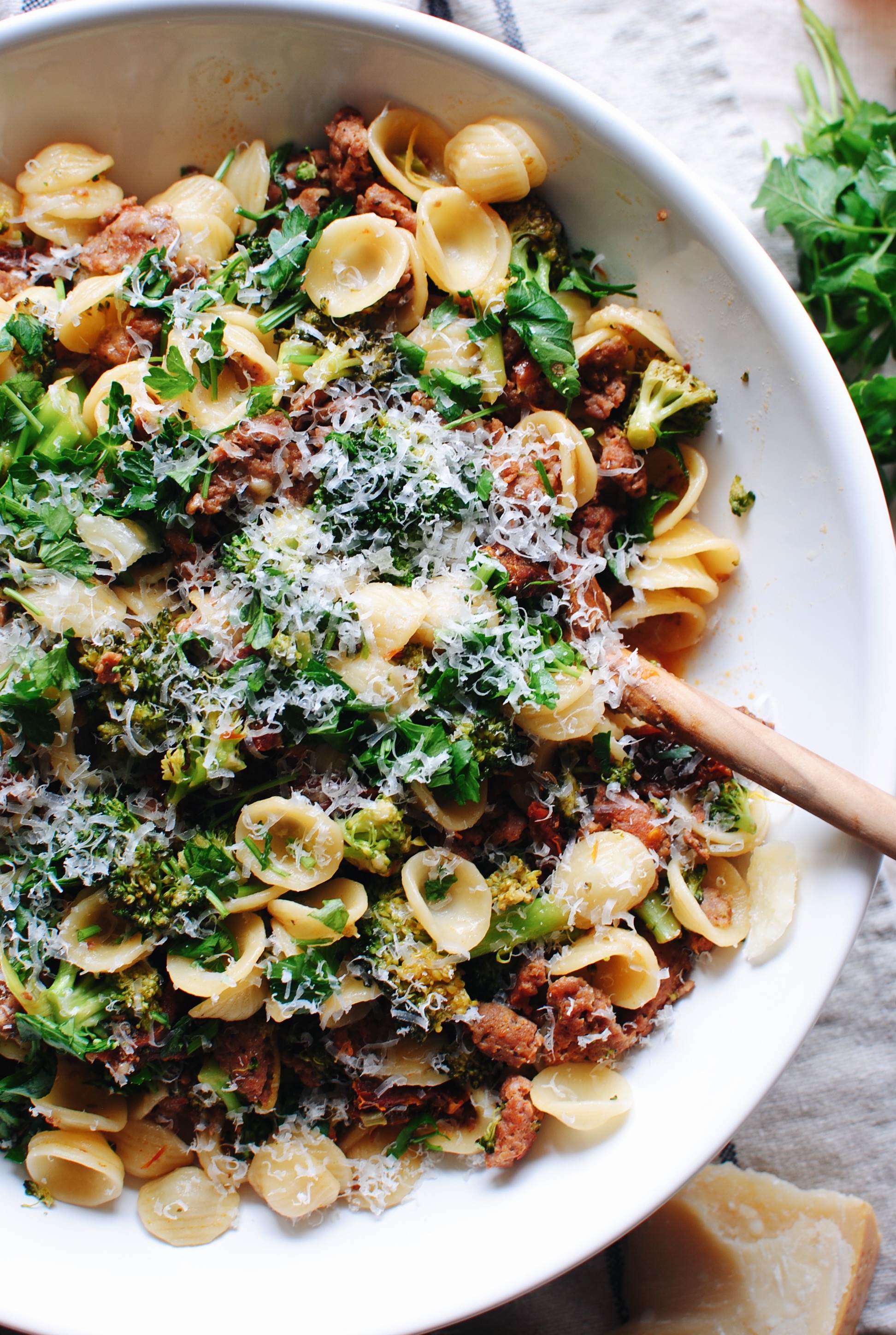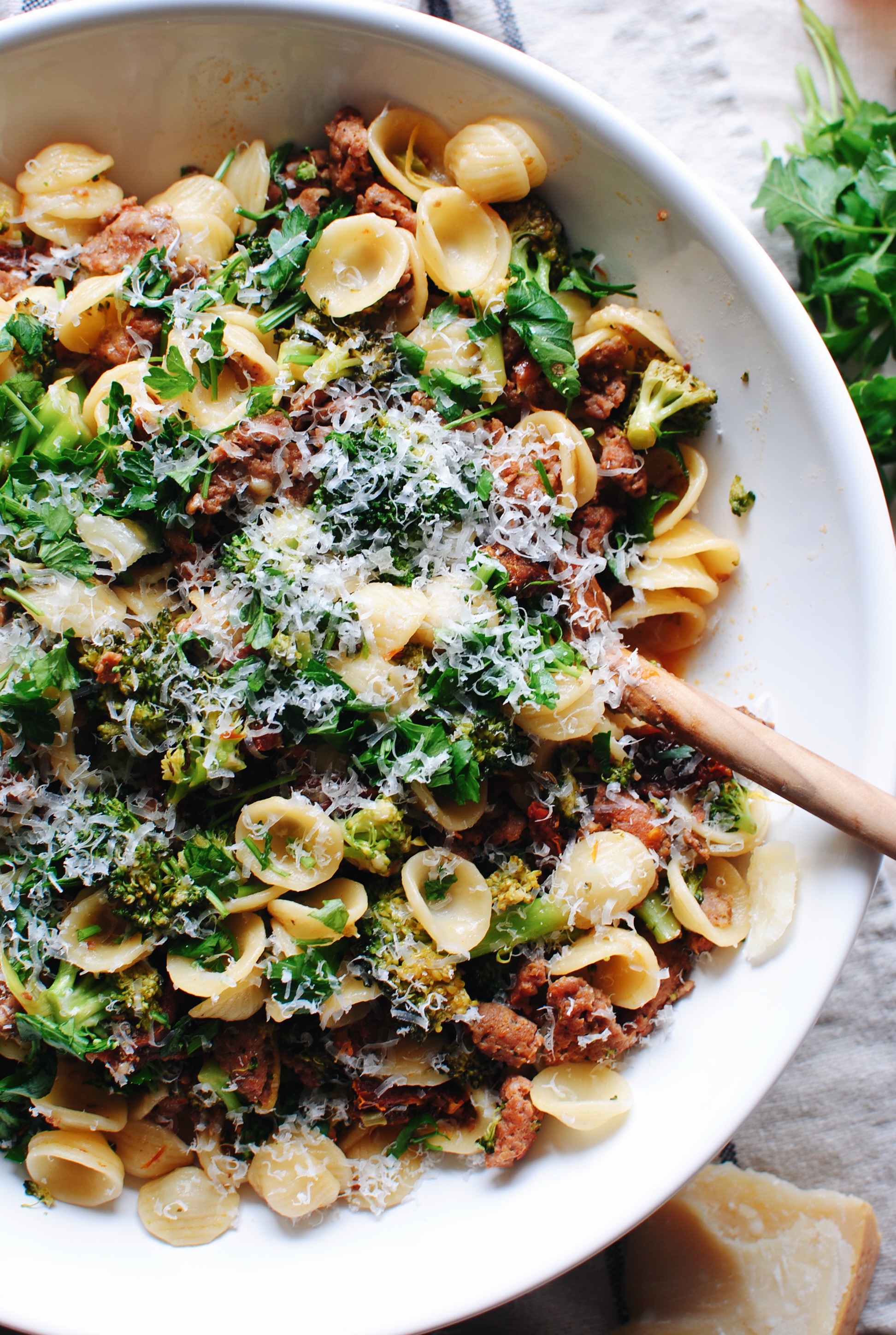 I have a feeling you'll forgive me.
Because broccoli.
And sun-dried tomatoes.
And lemon.
And cheese.
(and the whole sausage and pasta thing I mentioned up there about eight seconds ago.)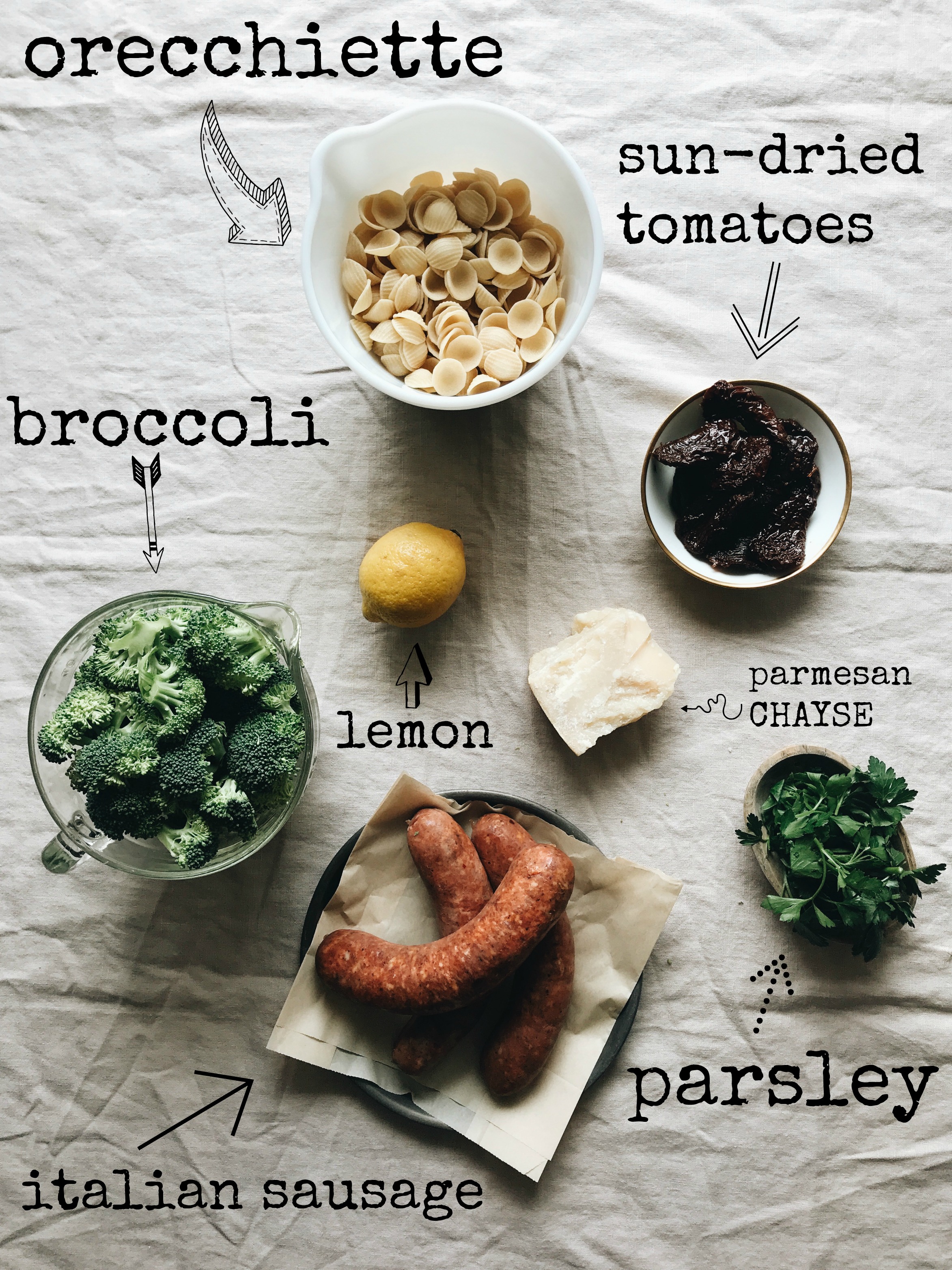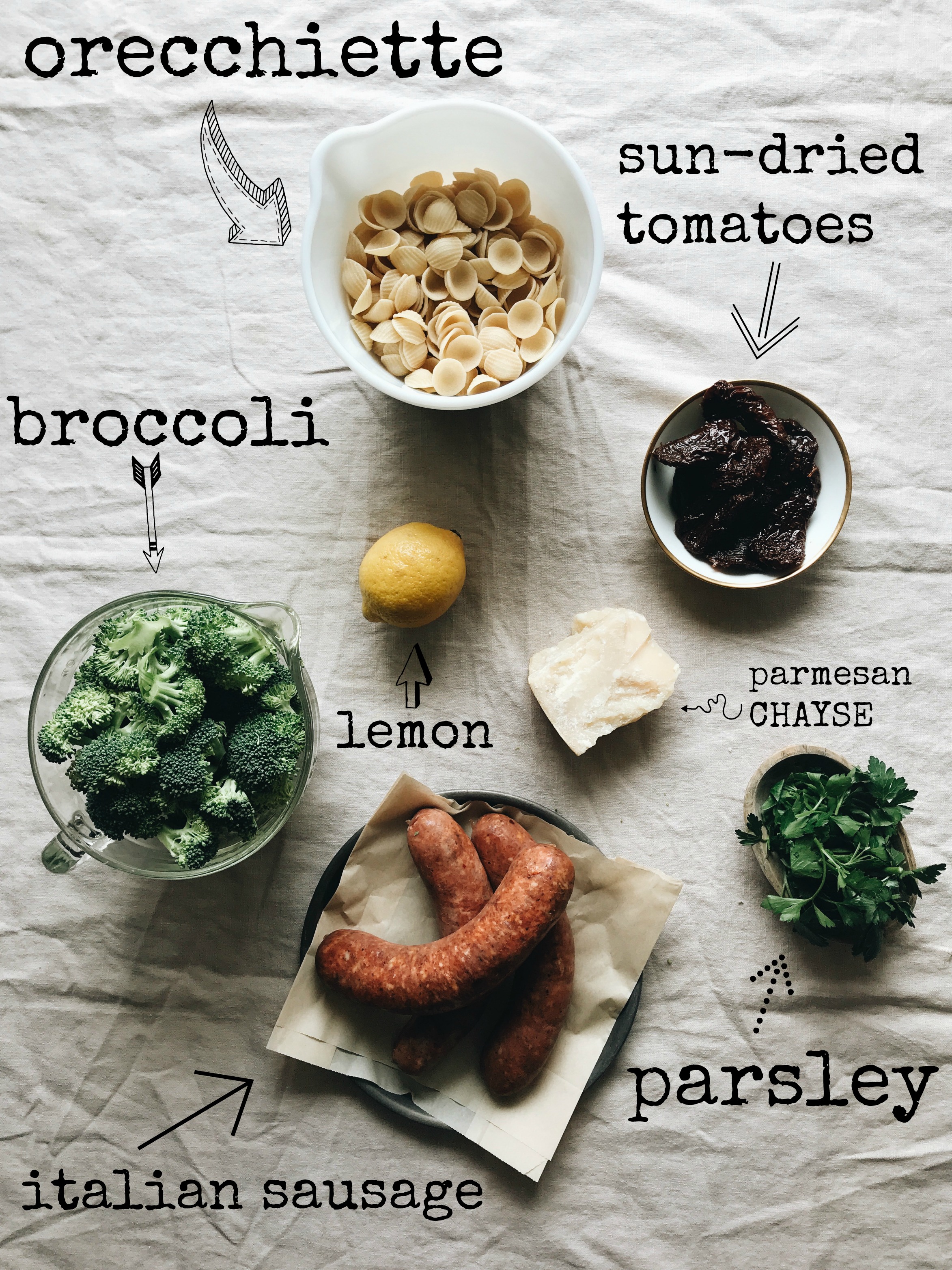 This is one of those recipes that takes little to zero brain work. You've done it all before. There's no real mystery, except maybe the sun-dried tomatoes + broccoli. Have you tried that? Oh, honey child.
Also, I'm only 80% sure I spelled orechliwerlweihtet right. I can't ever remember! That word always stumps me. And even when I look it up to double check I'm like ARE YOU SURE, INTERFLEX?
It doesn't seem right. Two r's? Two cc's? Two hh's? I DON'T KNOW.
It doesn't feel right. Never does.
You're like, you don't feel right. In the head.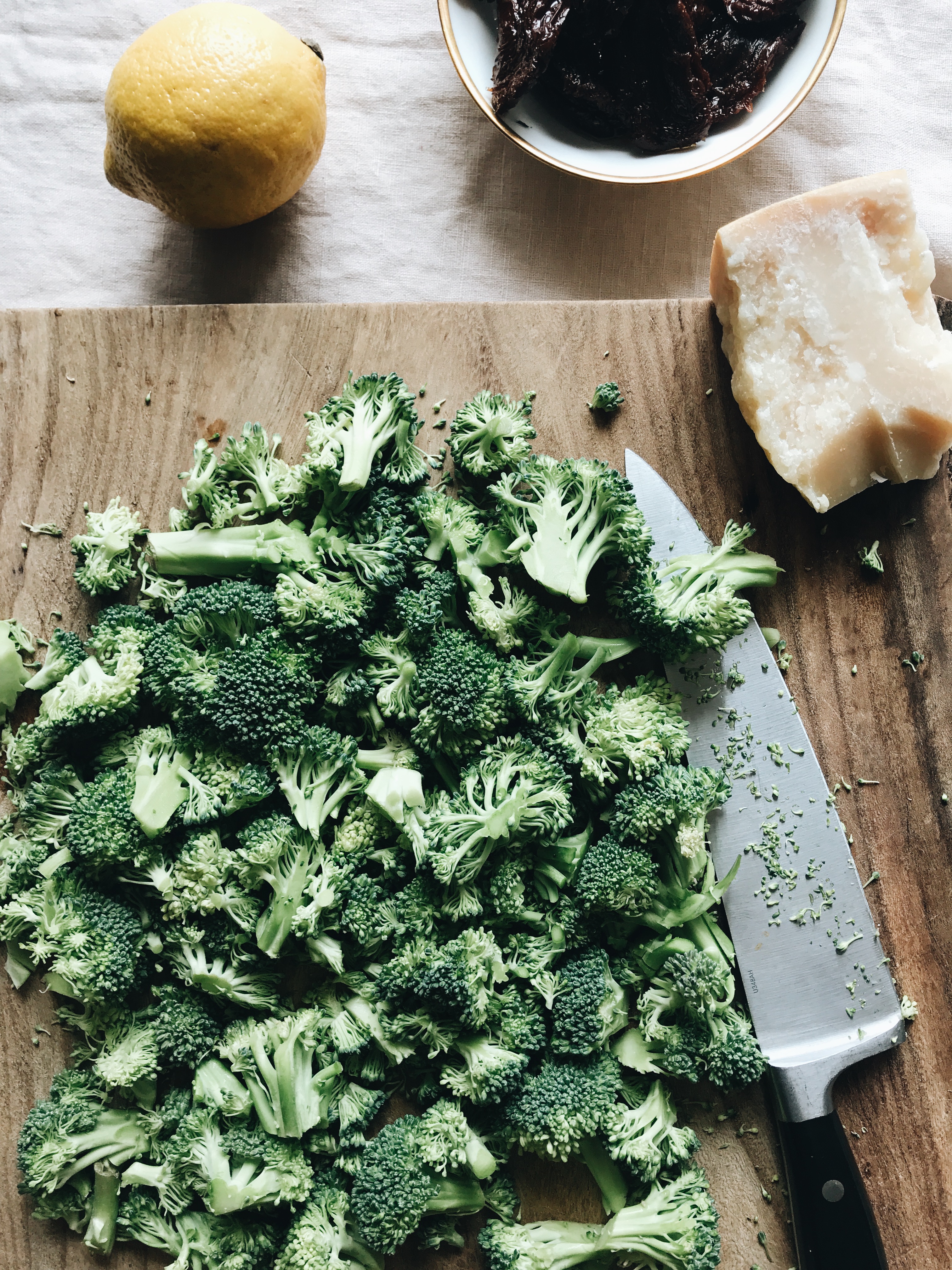 Oh hey, chop that broccoli. You don't have to get all Halloween on it, just a light chop. Gentle and friendly. It's okay.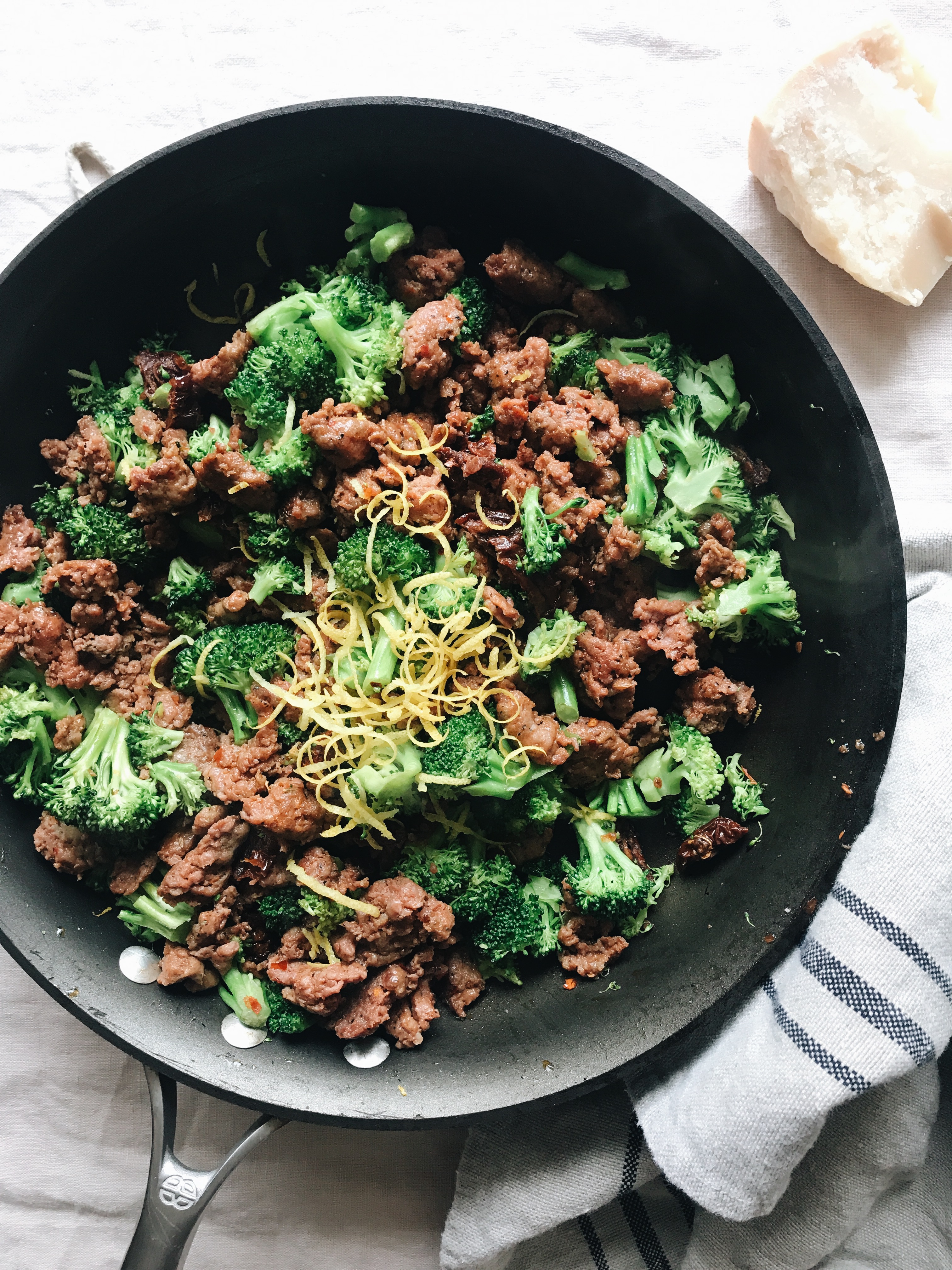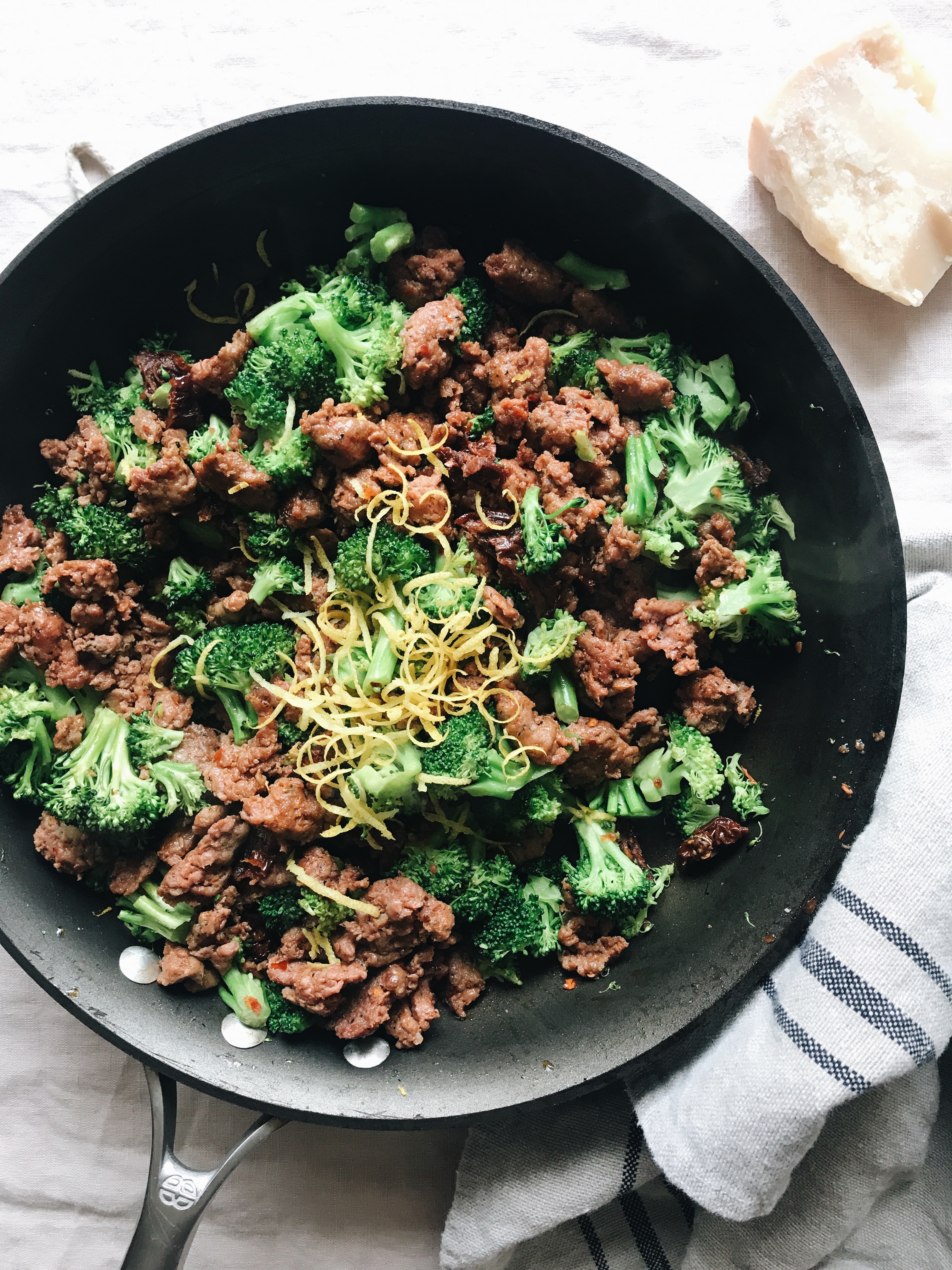 You'll basically brown your sausage (hot, medium, mild – this is YOUR DAY), and get the broccoli and tomatoes lightly sautéed in der.
In the meantime you've boiled the oreworiusdjxchverwtwei, and will just transfer it over with about a cupish of pasta water, to make the sauce. The water + lemon juice + existing pan flavorings extravaganza = you doing the Macarena. I do not lie about this.
Add some parm, a bit of lemon zest, lots of parsley, pinch of salt and…..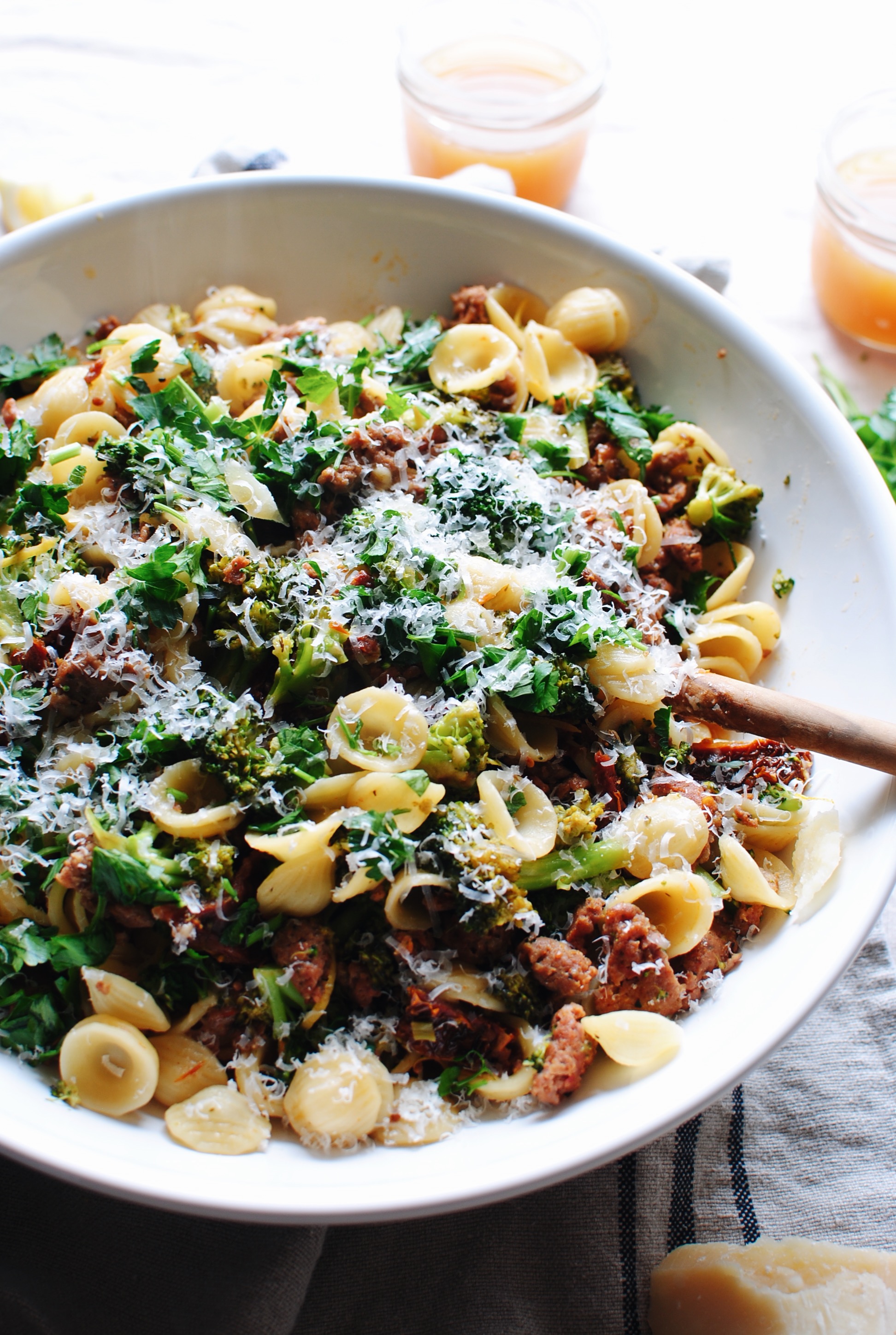 Heeeey-oh!
Ridic. It's so perfect. So much flavor. So much pizzazz.
Ohhh you know what, there used to be a little clothing store in my teenage hometown of Hobbs, New Mexico called PIZZAZZ. I never went.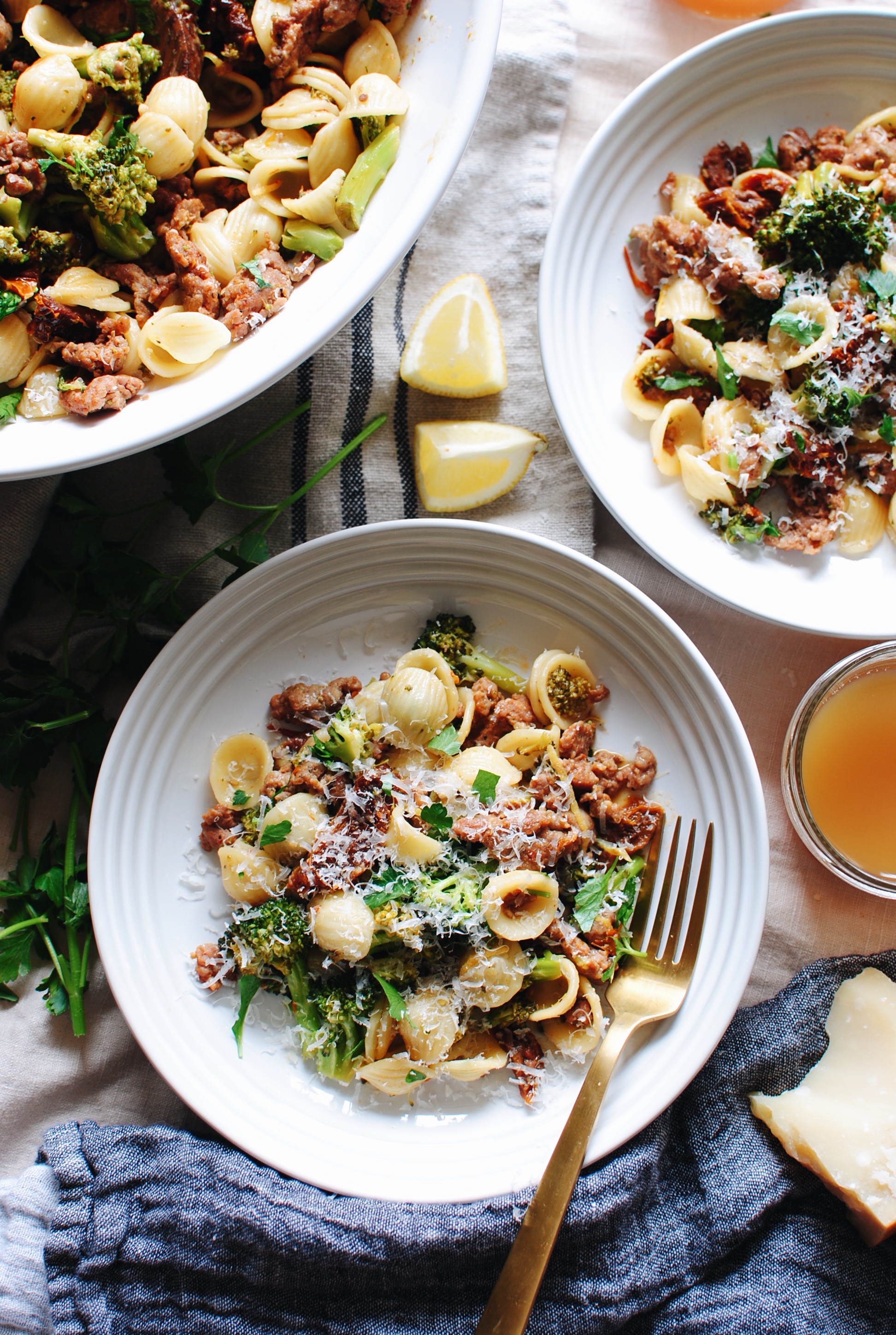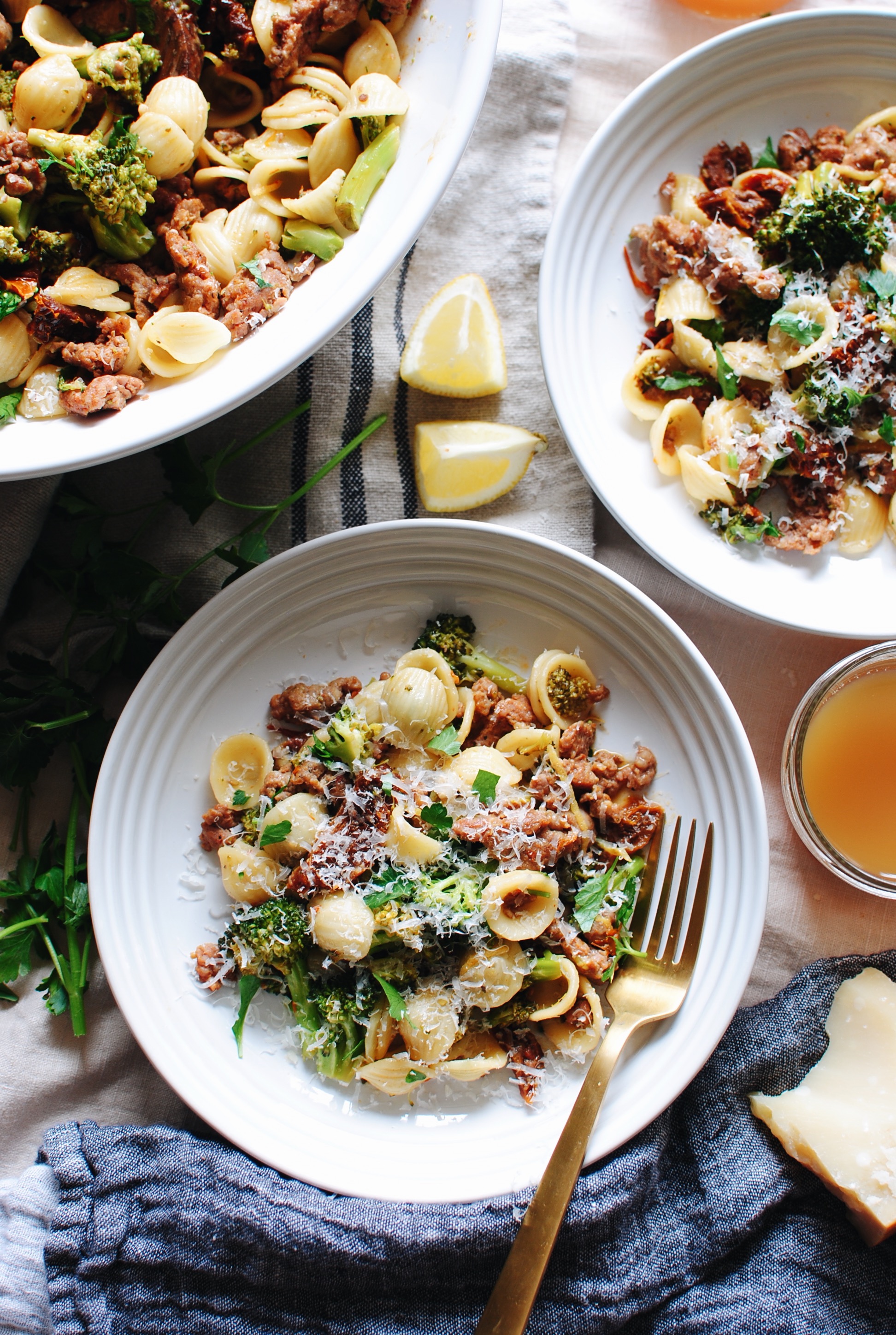 You need to make this. I don't want to get bossy, but I'm prepared to.
Comforting, well balanced, all the citrus and cheese. GET IN THAT ALREADY.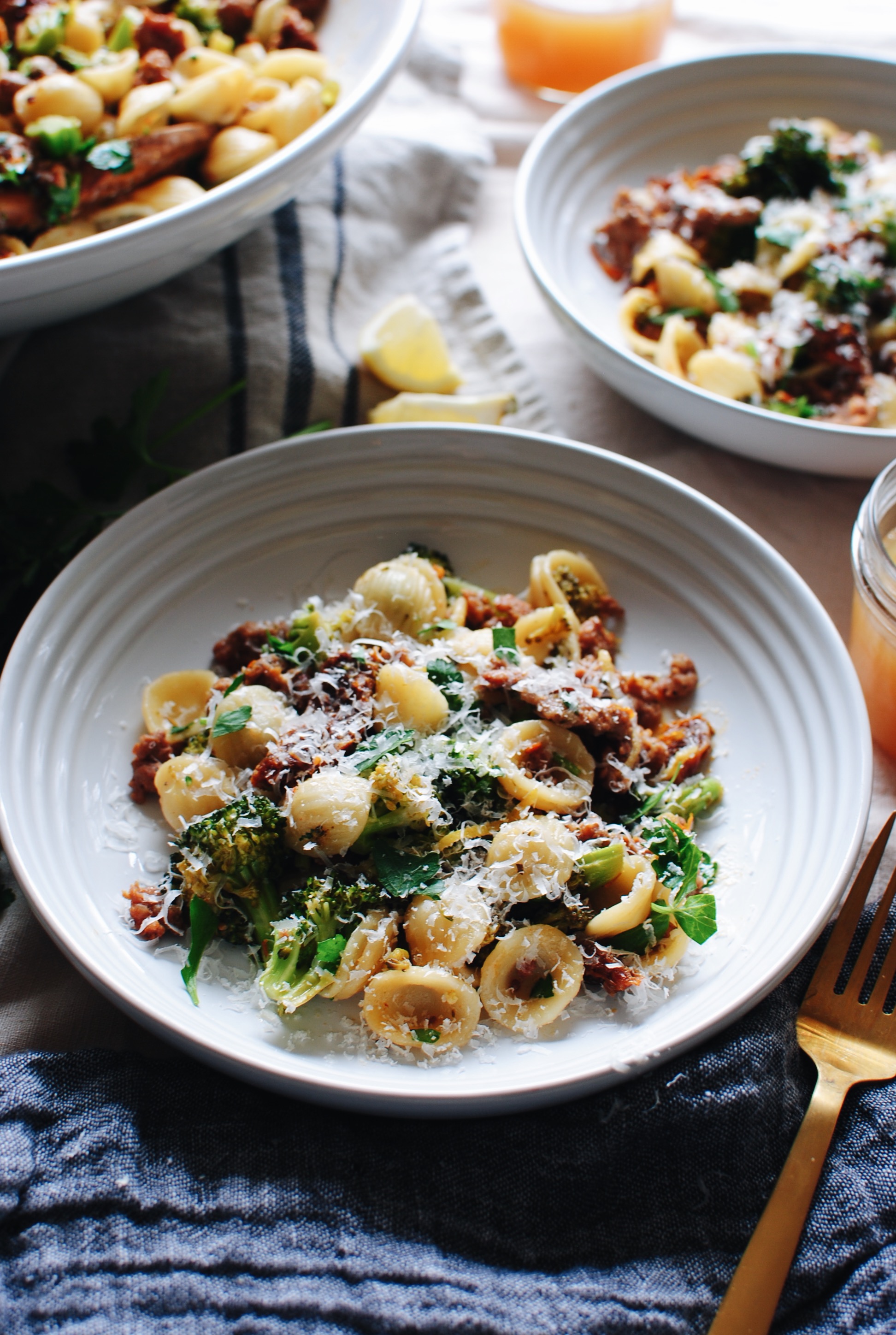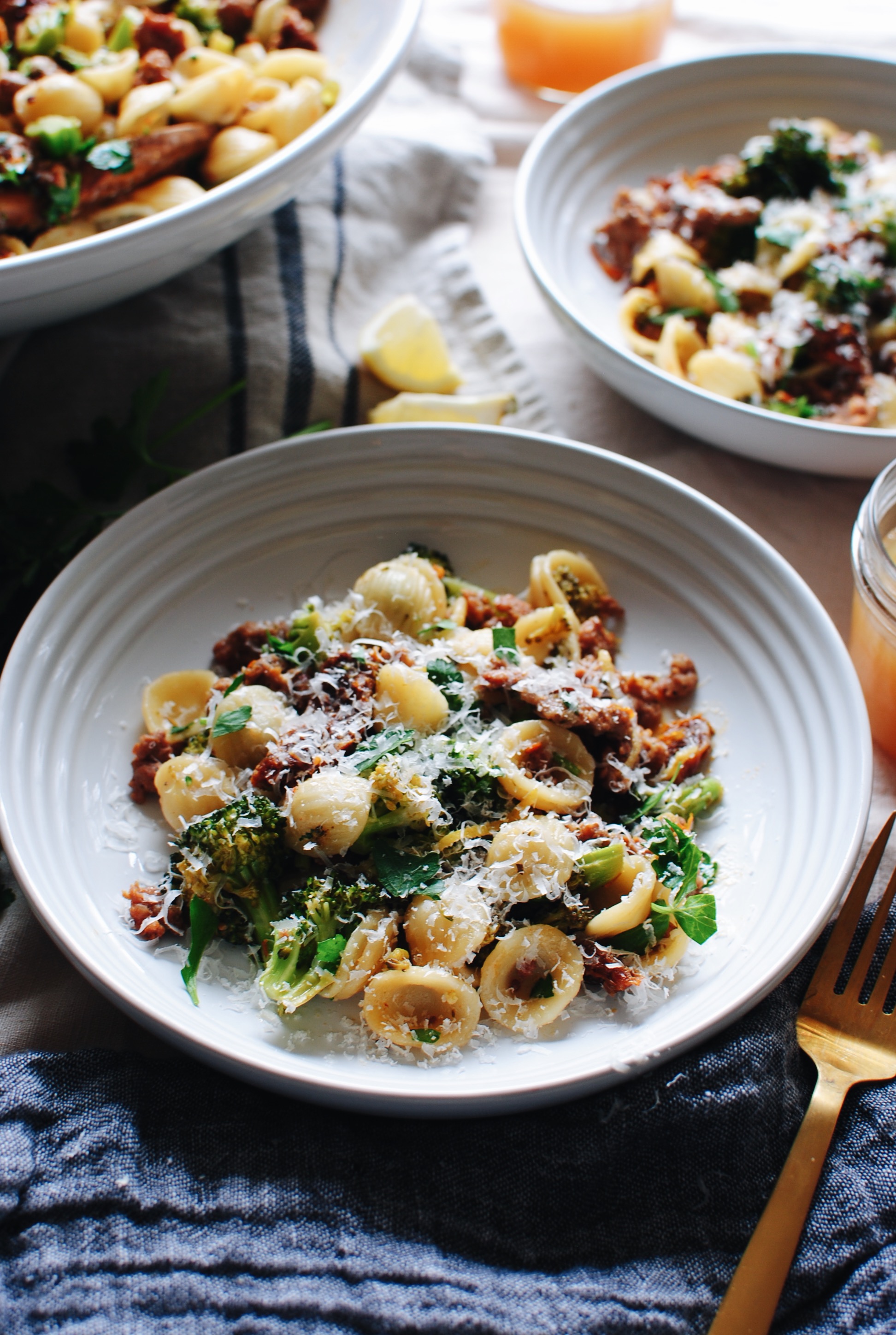 Pizzazz.
Orecchiette with Sausage, Sun-Dried Tomatoes and Broccoli
Ingredients
12 oz oriecchette pasta, cooked until al dente
3 links Italian sausage, casings removed and sausage torn into pieces
3 cups broccoli florets, lightly chopped
About a cup of sun-dried tomatoes (in oil), cut into strips (if they're not already)
A cup of parsley leaves, chopped
About 1/3 cup of freshly grated parmesan cheese, plus more for garnish
One lemon, zested and juiced
Coarse salt and pepper
Instructions
Brown the sausage in a large skillet, breaking it up with a wooden spoon, until no longer pink.
Remove the sausage from the pan and set it aside, while you add the chopped broccoli and a pinch of salt. Sauté about 3 minutes, until the color starts to pop. Add the sausage back to the skillet, along with the sun-dried tomatoes and lemon zest. At this point the pasta has reached al dente, so transfer it to the skillet using a sieve. Add about a cup of pasta water to the skillet, along with the juice from the lemon. Let it simmer a minute or so more, then turn off the heat and add the parmesan cheese. Set the lid on it and let it soak up some of the liquid and because saucy! (<—I get excited about things.)
Take the lid off, give it all a good stir, taste and adjust with a little salt if needed. Then garnish with chopped parsley and more cheese. Serve to your face immediately!
Serves 4.
7.8.1.2
146
https://bevcooks.com/2018/03/orecchiette-with-sausage-sun-dried-tomatoes-and-broccoli/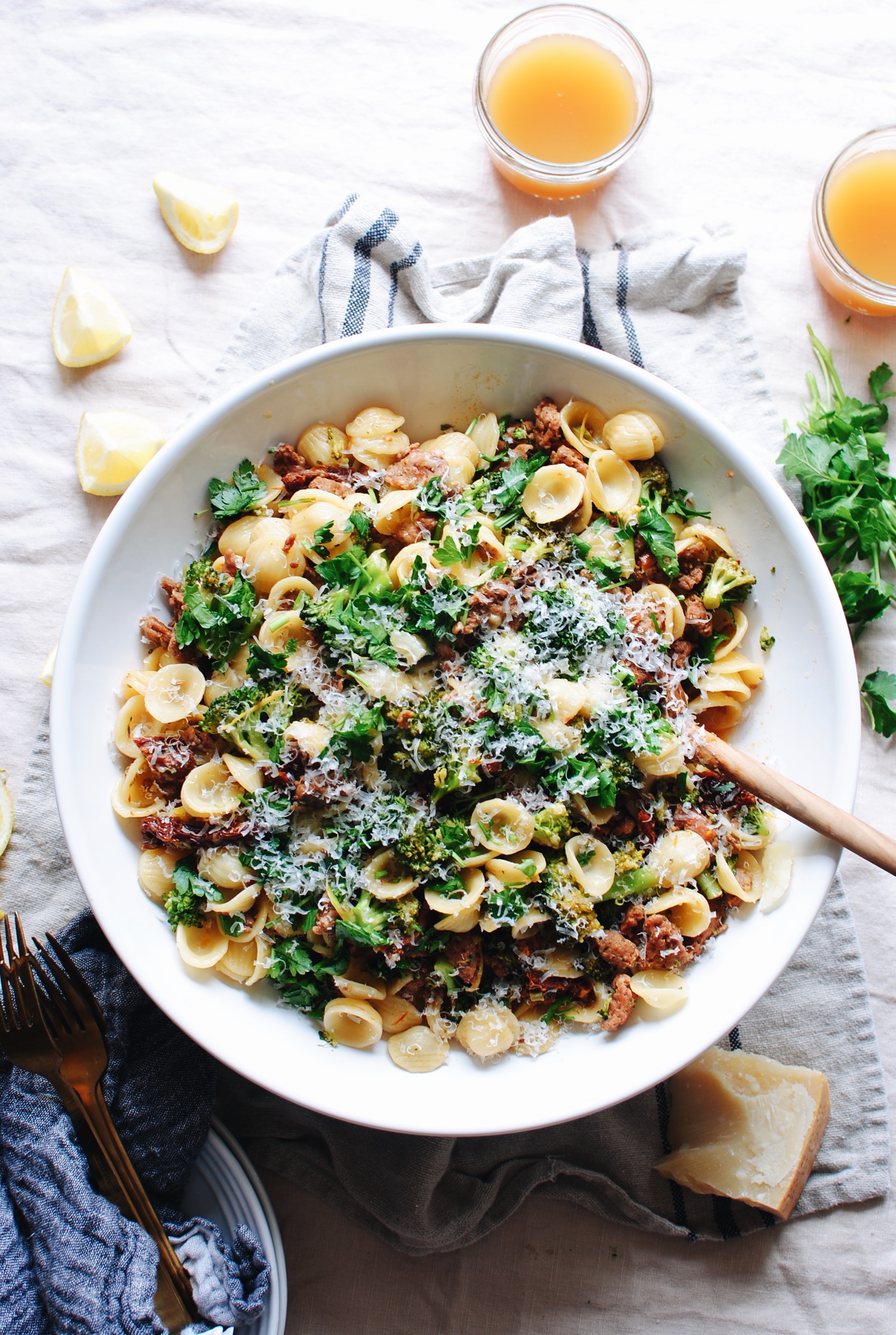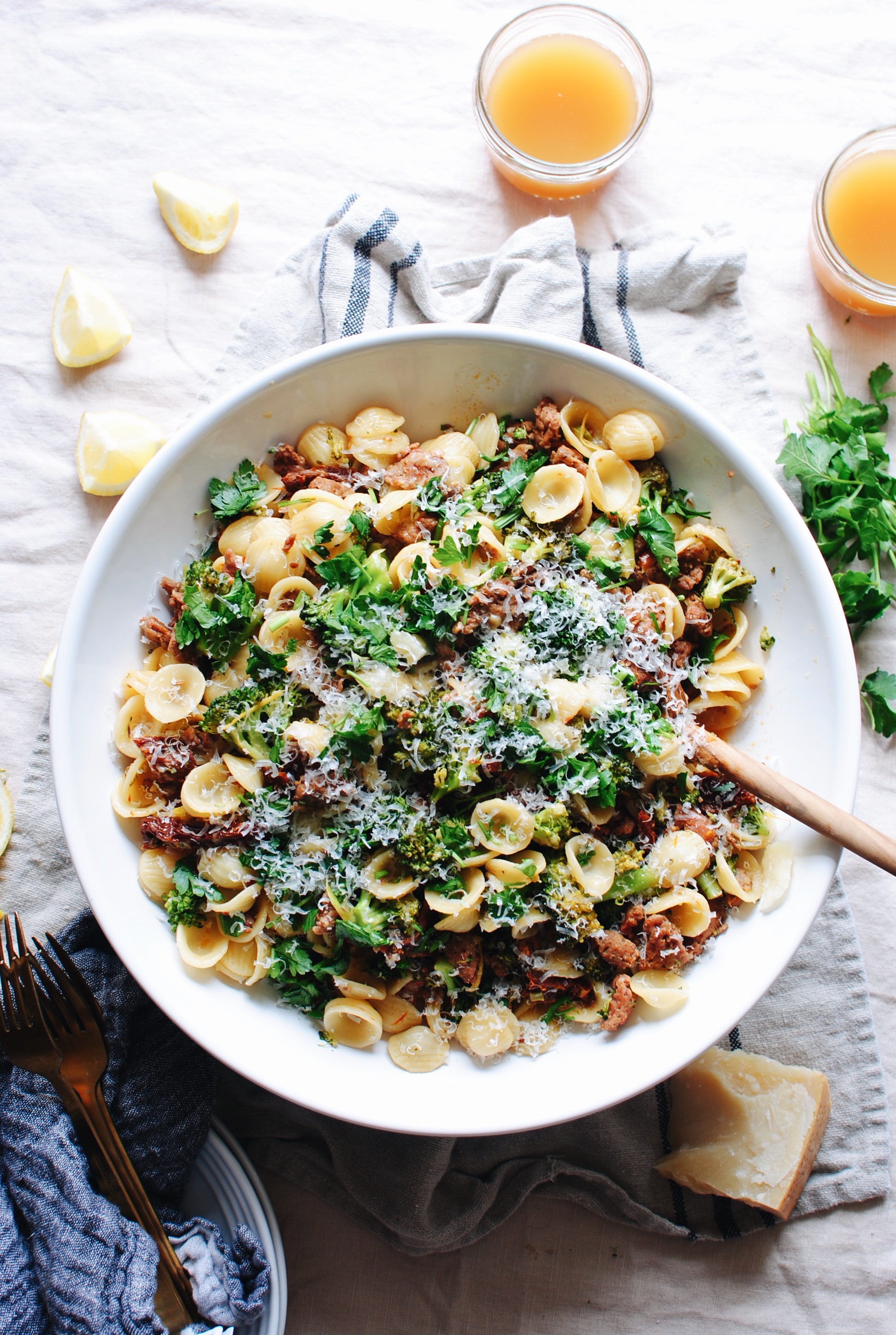 Like, tonight. ^