Four ingredients. FOUR. Four! f o u r.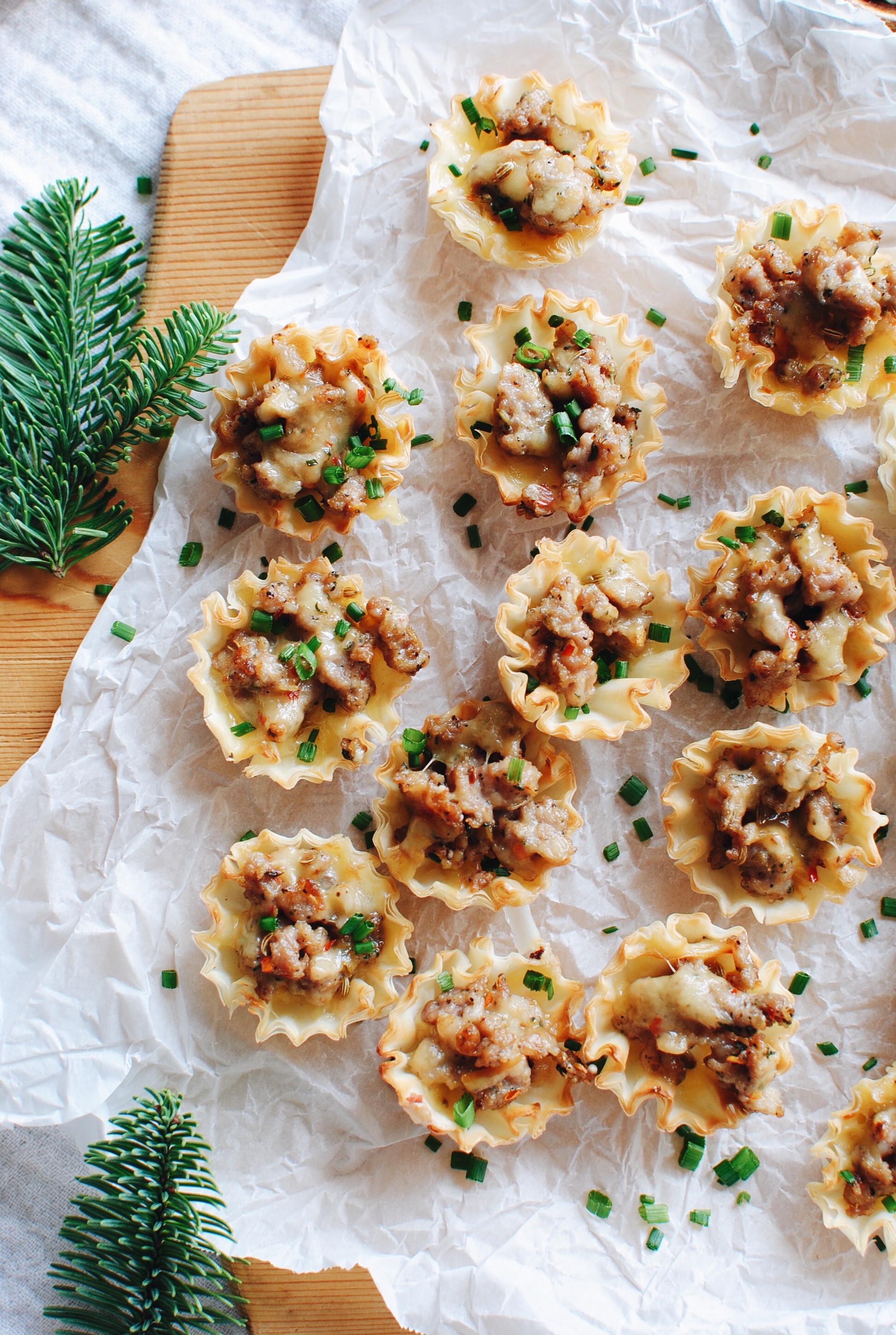 And one of them is cheese, so you're clearly already ahead in life.
Let's talk Christmas appetizers!
My goal here for you is ease. You know those old-school sausage cheese balls that we all made in the '80s and '90s for the church potlucks? OKAY, it's that, but simple, with a twist of elegance, and in a phyllo cup. You in? (just say yes.)
Simplicity to the max, but still like a massive down comforter of mouth cozy.
Let's break it down.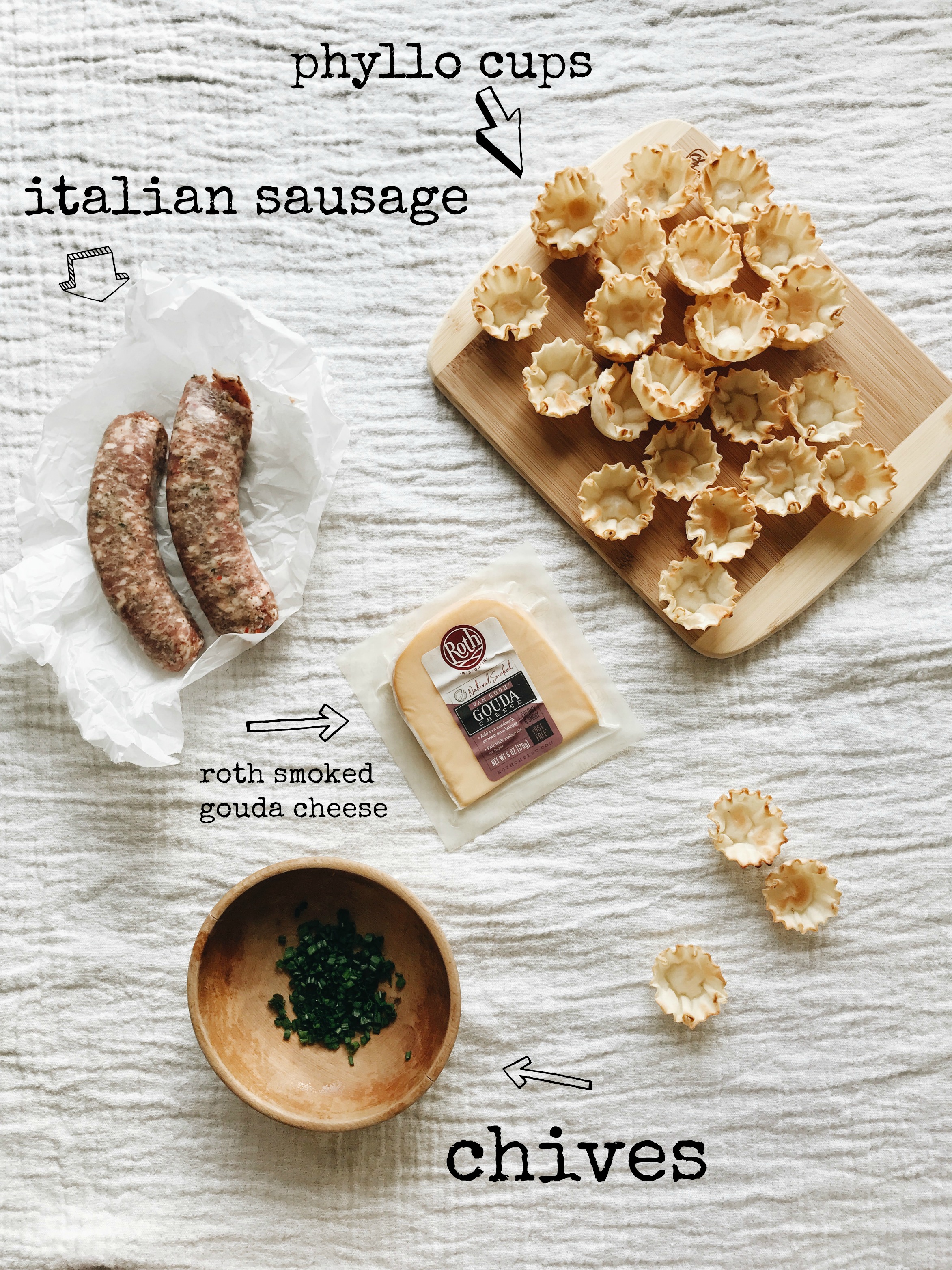 We've got frozen mini phyllo cups! Or filo. Do you say filo or phyllo? I know they both work, yet of course I feel wrong both ways.
We've got a couple of links of Italian sausage, which you'll just remove the casings, crumble with your fingers (the sausage, not the casings), and brown all over in a pan.
We've also got Roth's deeeeelicately Smoked Gouda Cheese. Omg. You know how when some foods are smoked, they're OVERLY smoked and the flavor takes over your whole face and body and life and you hate everything? Not this! Roth hit it right with this gouda cheese. That creamy essence of the gouda meets the kiss of smoke? Ugh. Santa will freak.
And chives! We've got chives. Because chives.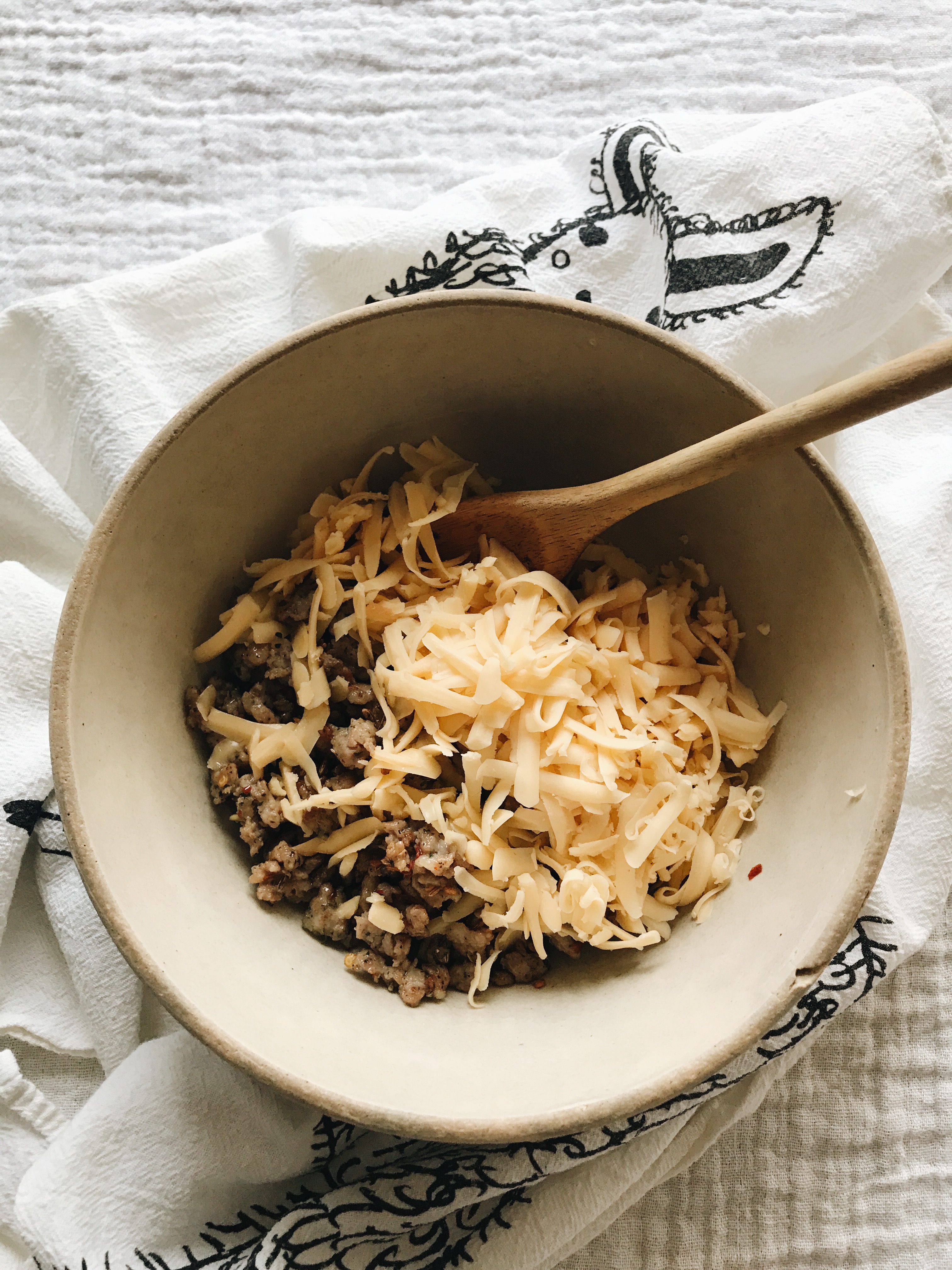 After you brown the sausage and grate a six-ounce wedge of Roth's Smoked Gouda, just mix 'em together! Mix, mix, mix. And maybe stick your fingers in and taste it. No one's watching. IT'S CHRISTMAS, FOR CRYING OUT LOUD.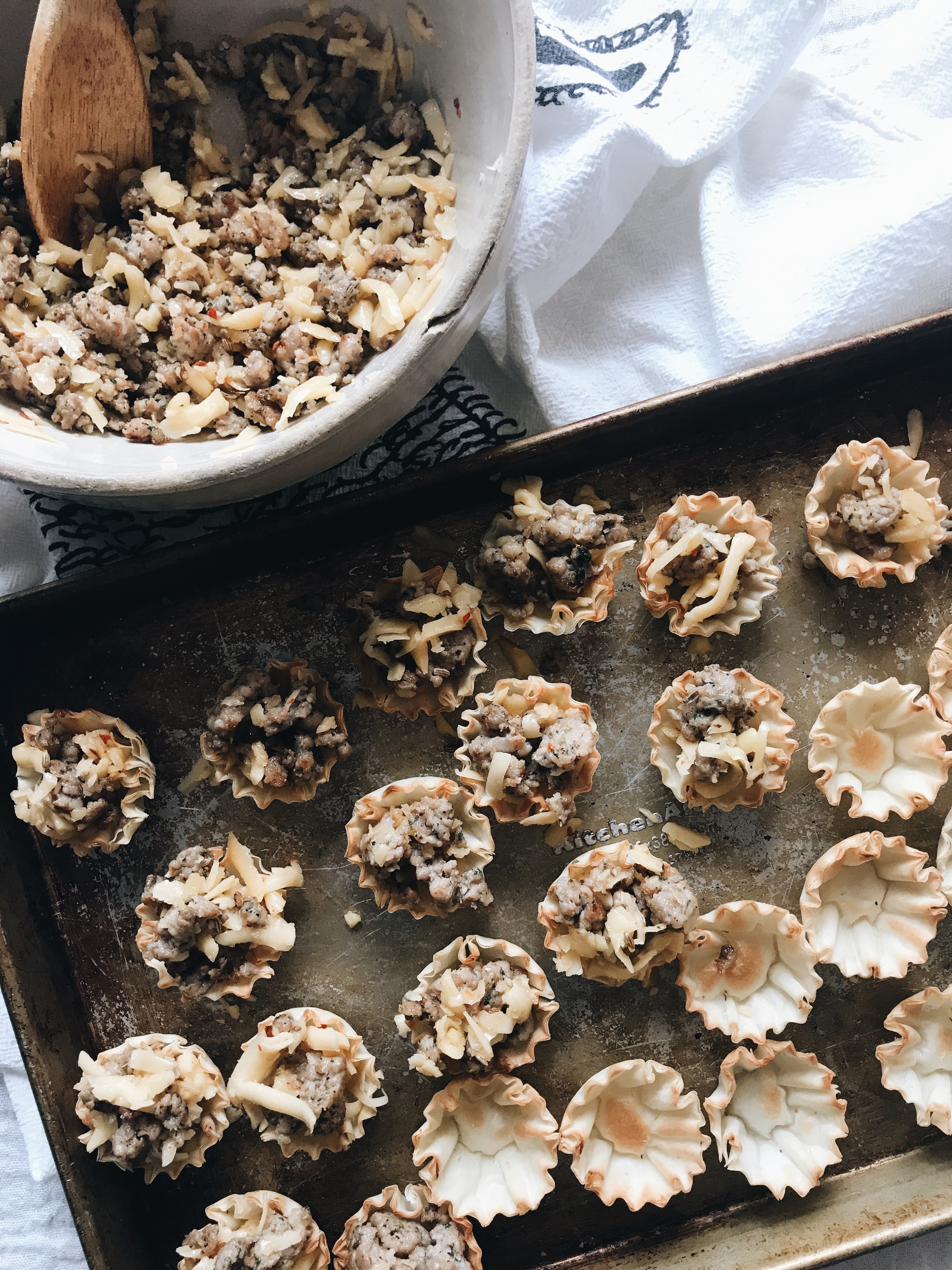 Now, with all your might, shove the mix into each of the delicate, crackery phyfilllo cups. (just kidding about the all-your-might thing I said one and a half seconds ago.) If you have any cheese leftover in the bottom of your bowl, top each filling mound with it. Ugh. The reindeers will freak.
Can you believe how simple this is? You've barely done a thing, you Christmas stud.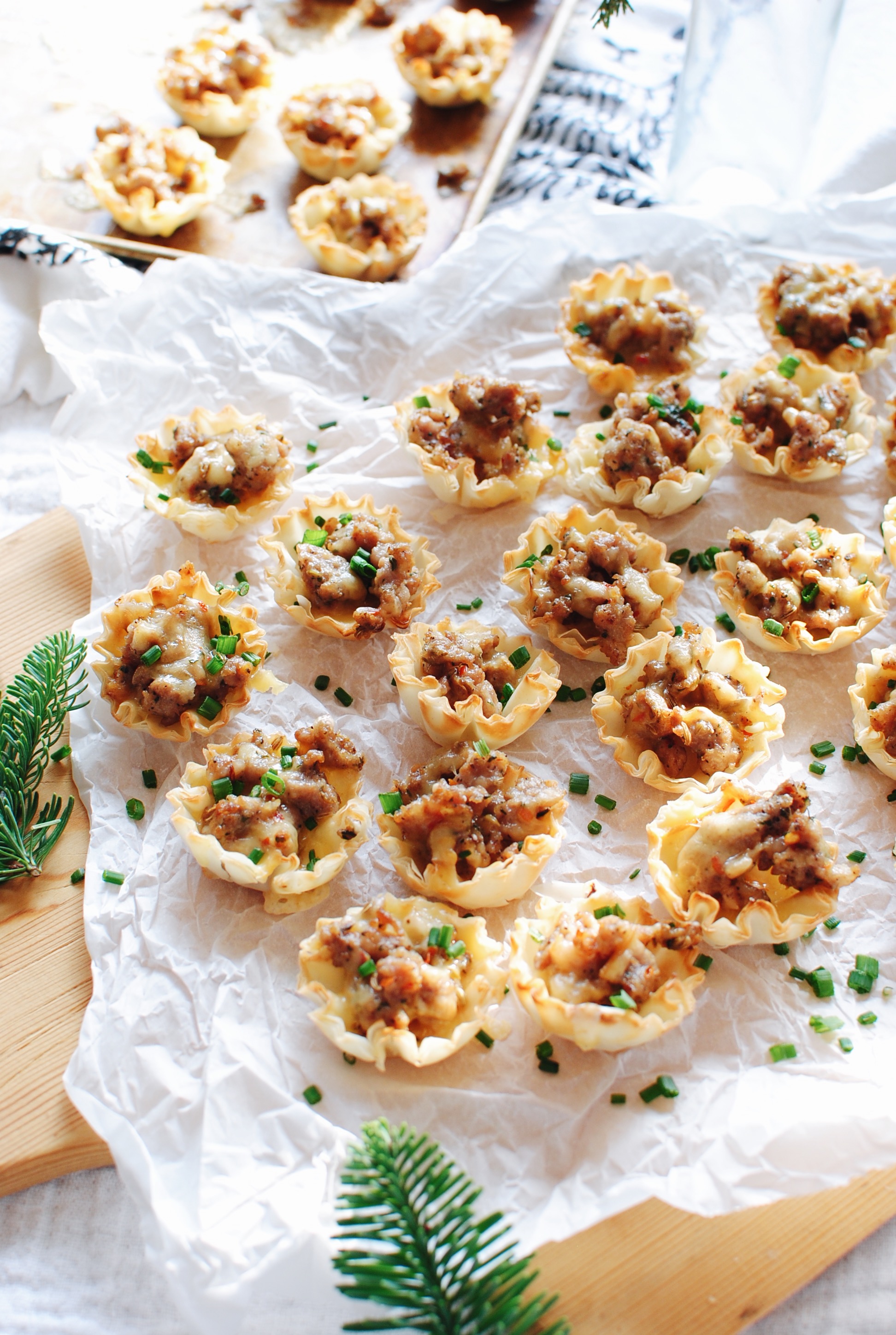 Aaaand baked. Give it a jolly sprinkling of finely chopped chives and watch your guests' mouths fall to the floor next to the dust bunnies.
Guys, these are SO.GOOD. Not over-the-top pretentious, but oozing with classic flavors that win 100% of the time.
I basically want to punch them.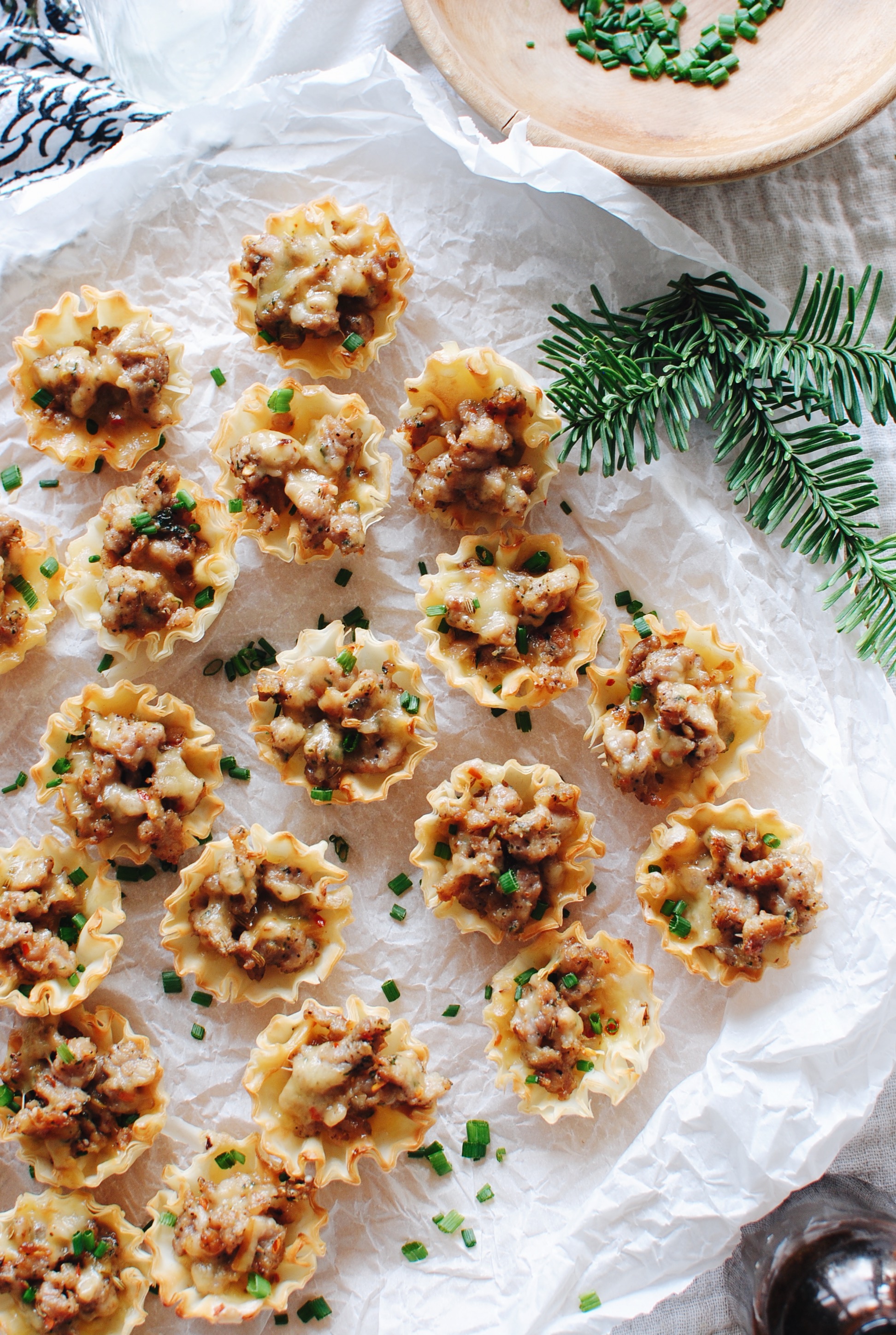 With my mouth.
Sausage and Smoked Gouda Phyllo Cups
Ingredients
2 packages (of 15) frozen phyllo cups (30 total)
2 links Italian sausage
1 (6 oz) wedge Roth Smoked Gouda cheese
2 Tbs. finely chopped chives
Instructions
Preheat oven according to phyllo package directions.
Remove the casings from the sausage links and crumble with your fingers. Brown the sausage in pan until no longer pink, about five minutes.
In a bowl, combine the browned sausage and Roth Smoked Gouda cheese; stir until incorporated.
Fill each phyllo cup with the sausage and cheese filling, and bake for about 12 minutes. (Or whatever the time frame the phyllo packaging says!)
Garnish with chopped chives and serve immediately.
Makes 30 cups.
7.8.1.2
125
https://bevcooks.com/2017/12/sausage-gouda-phyllo-cups/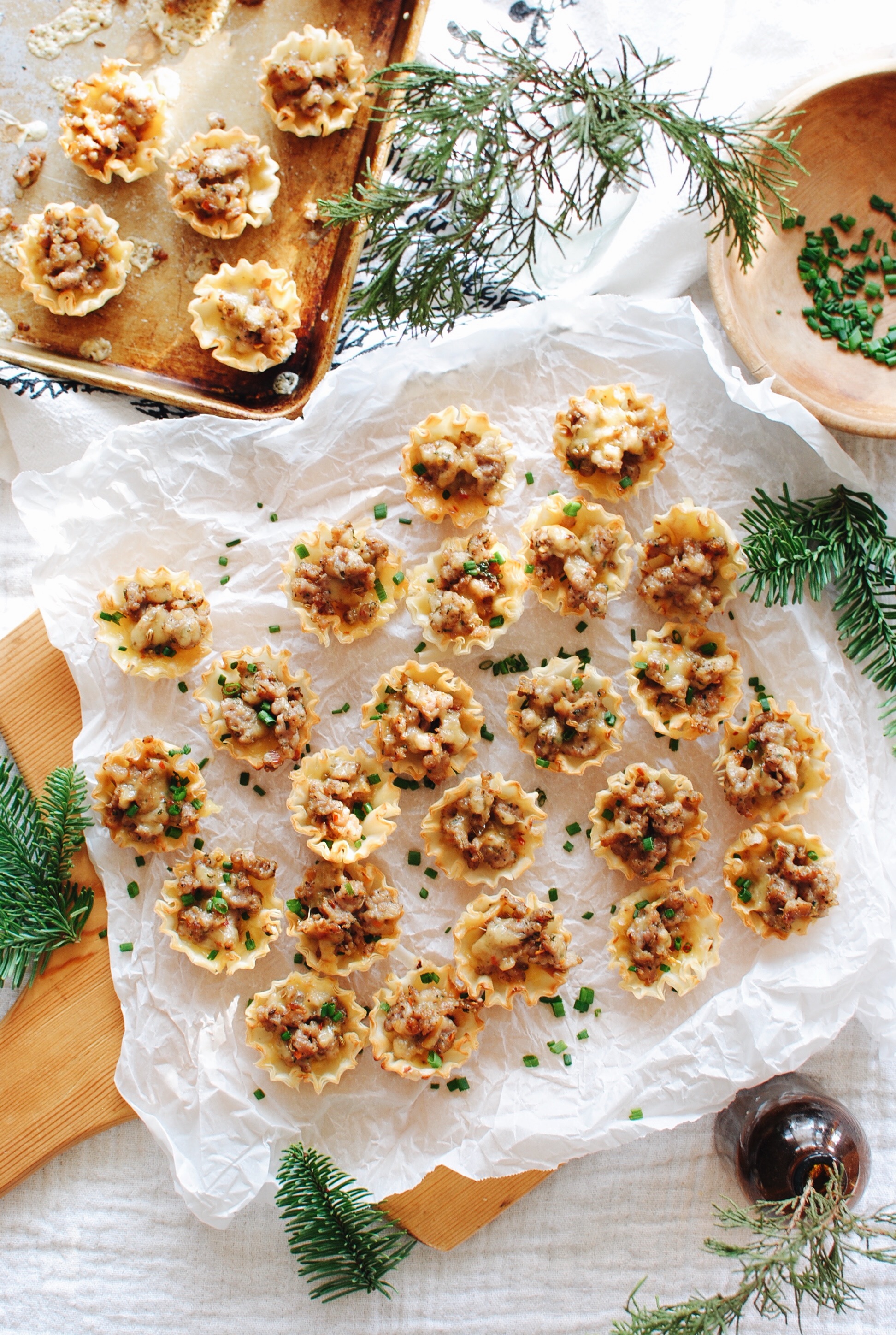 Christmas appetizer! Get in that.
(This post is definitely in partnership with Roth Cheese. But all ramblings and smoked gouda snarfings are totally my own. We coo?)