YES I'M THAT PERSON WHO PUT SHEPHERD'S PIE ON WAFFLE FRIES. (sorry to scream.)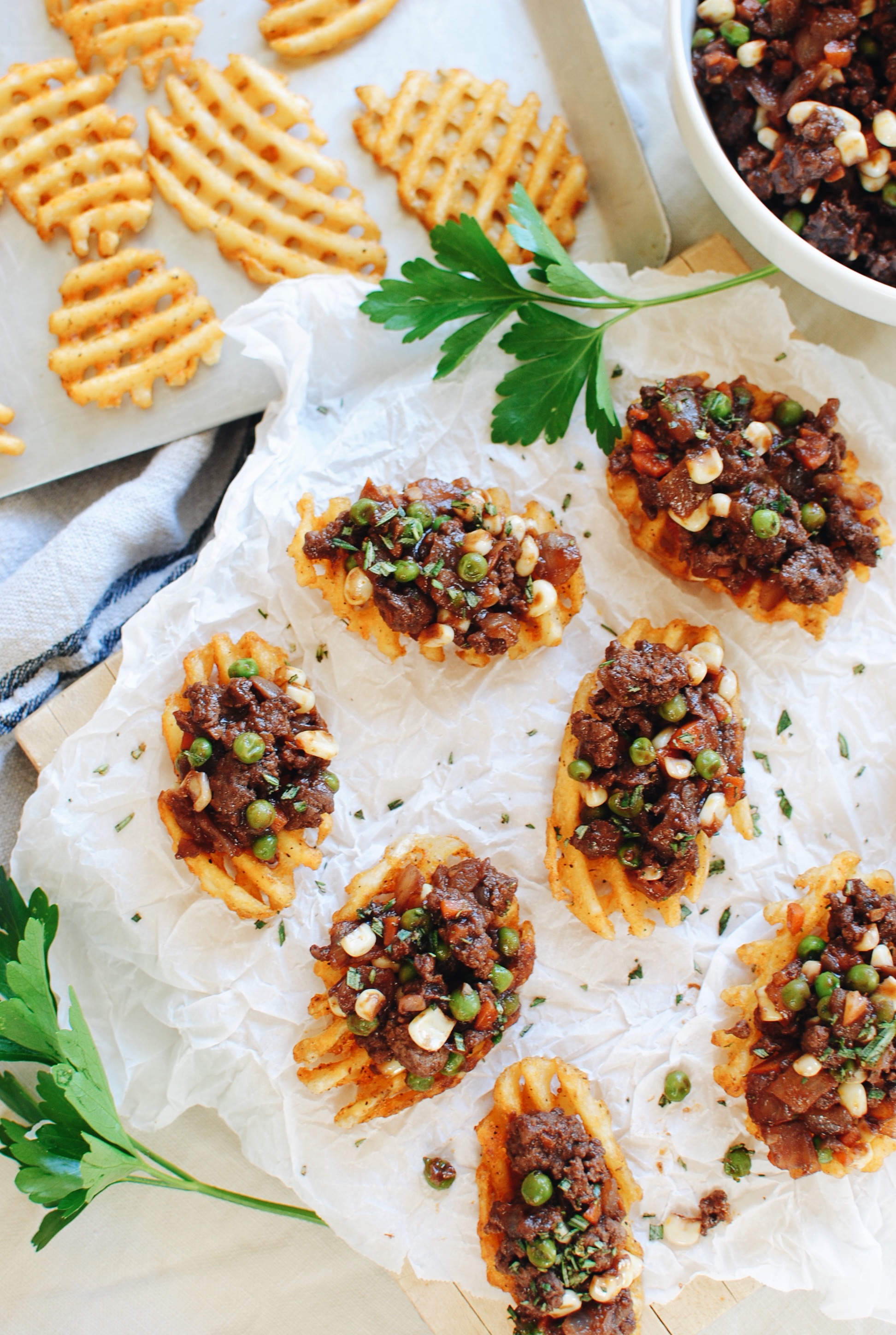 I think the question is, why wouldn't we?
Plus it's been forever since I've had a good ol' waffle cut fry, so the idea of a crunchy, baked carby canoe o' bliss shoveling all that beefy shepherd's pie filling straight into my face? Girl, please.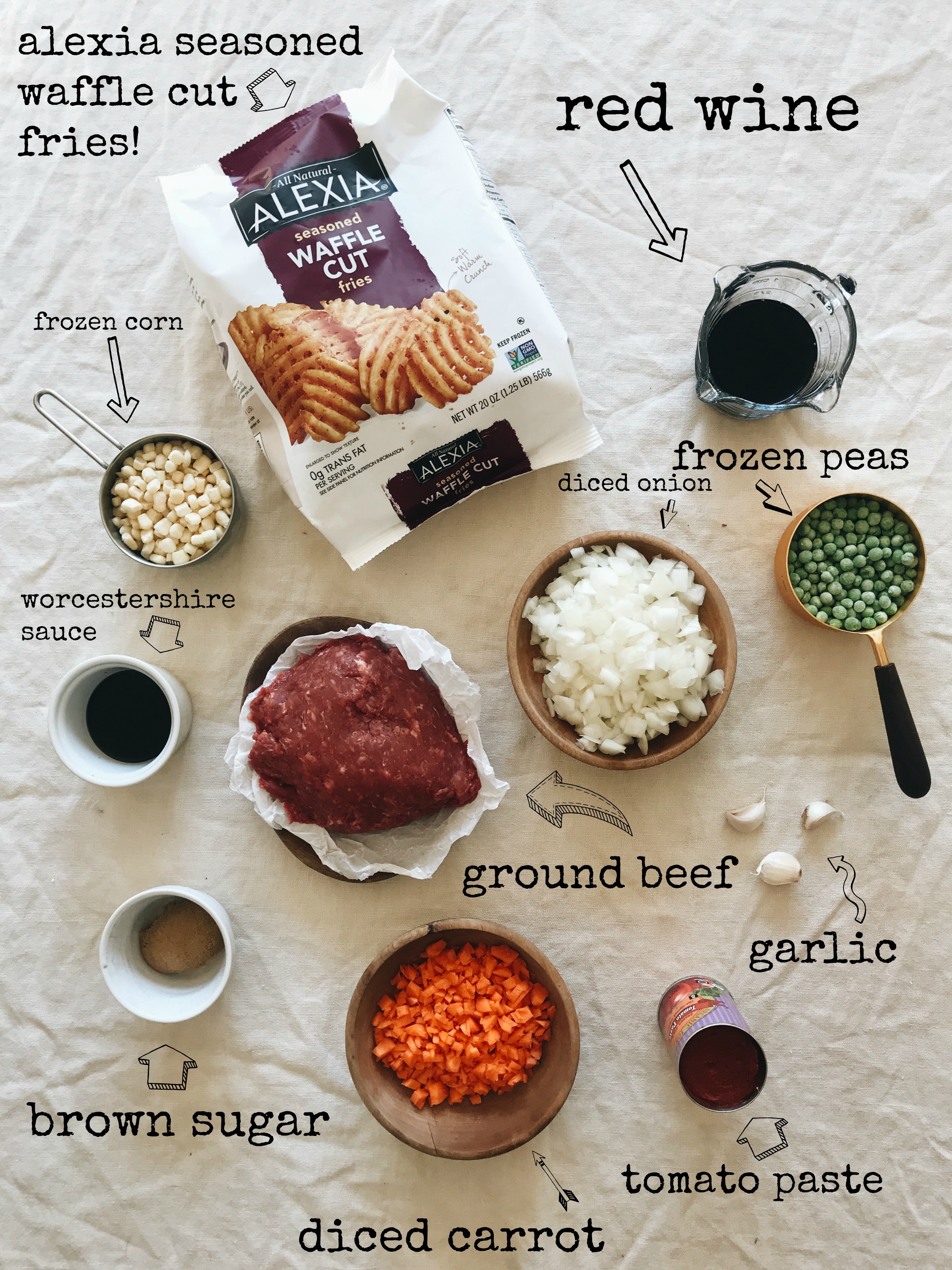 And guess what, these seasoned waffle cut fries come straight from a bag! And they're PHENOM. Alexia Foods has a ton of frozen baked yummies like regular fries, truffle fries, waffle cut fries, onion rings, etc. They even have an organic line! But for this particular post, my soul fairies viciously commanded the waffle fries. And I don't dare argue with the soul fairies. Guys, I don't.
So I was thinking this would be a fun appetizer for ya! Something to kick start your Christmas fare. And it's fairly simple to pull together, too. You do two things.
Okay three things.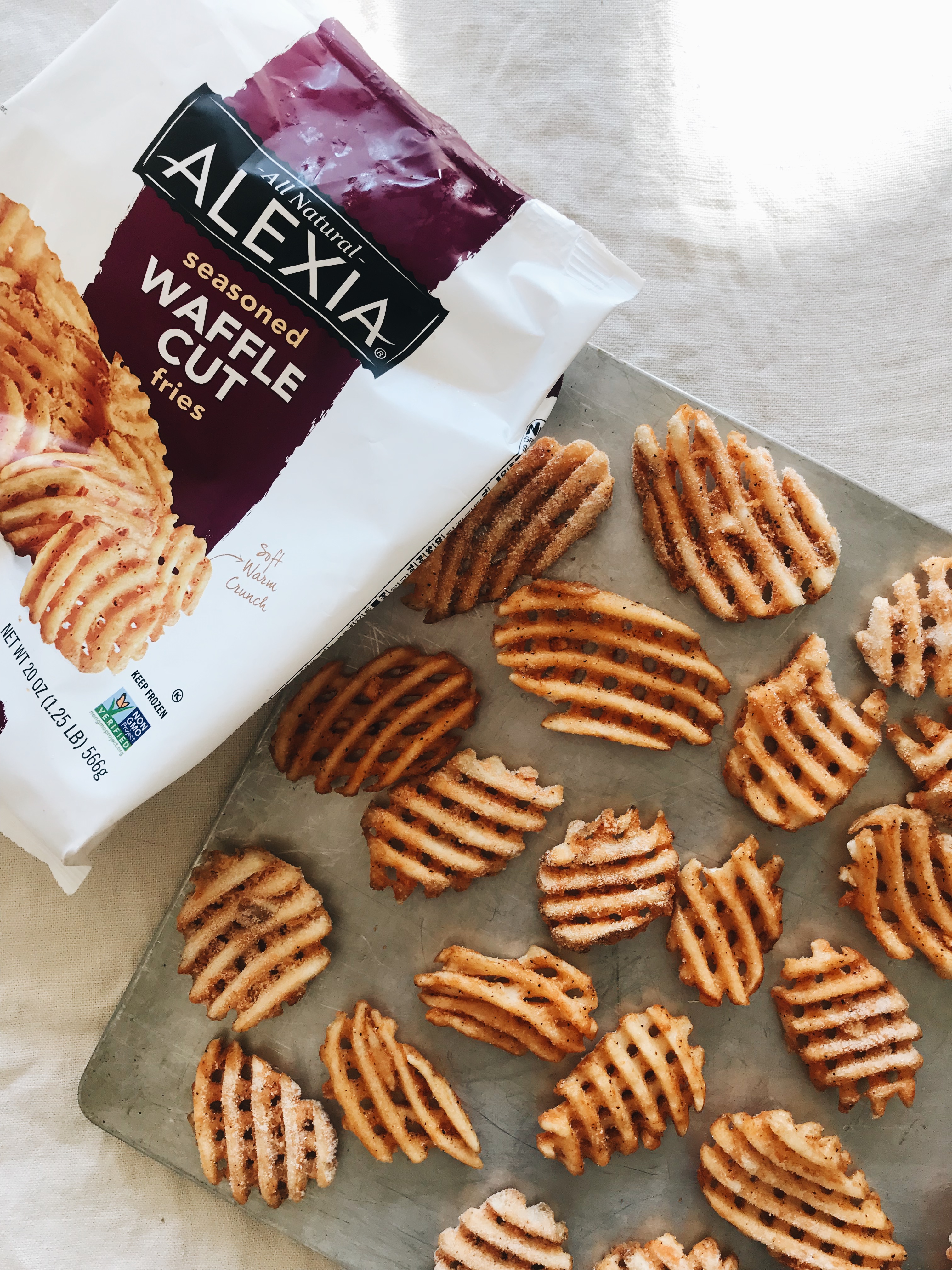 1) Bake those Alexia Seasoned Waffle Cut Fries! Out of the bag and onto a baking sheet. Boom. (Also, these are seasoned, but not overly seasoned. Like, perfectly seasoned. Save a few to the side to dip in some ranch dressing while no one is looking. Yeah, I feel those head nods.)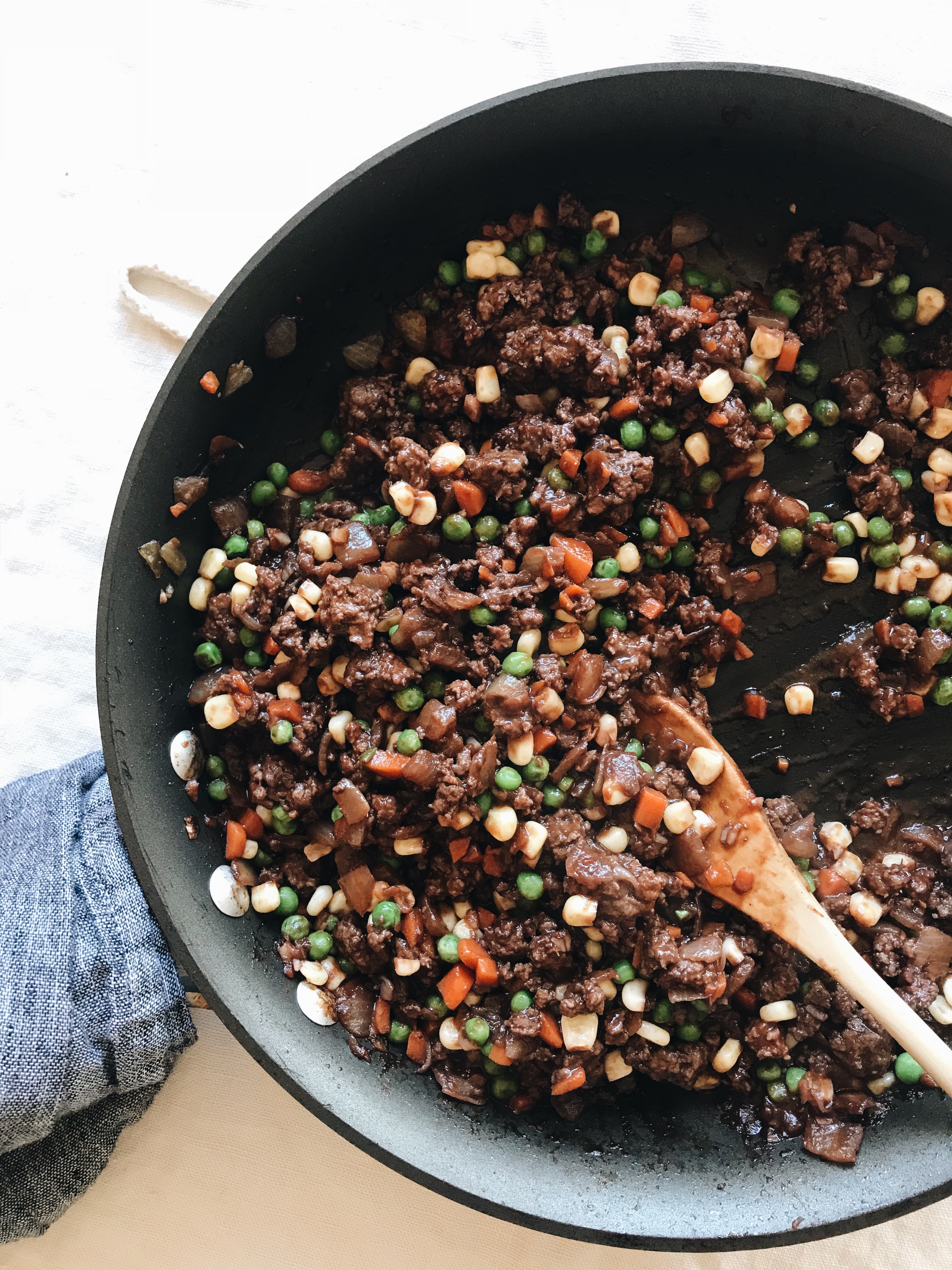 2) Prepare your shepherd's pie filling. I WILL SAY, this has red wine in it. Because you know how I love red wine with beef. It's depth! I dig depth. But you can absolutely swap in beef stock or beer if you fancy.
Get the filling nice and reduced and luscious and glorious and marvelous and spectacular and I'll chill.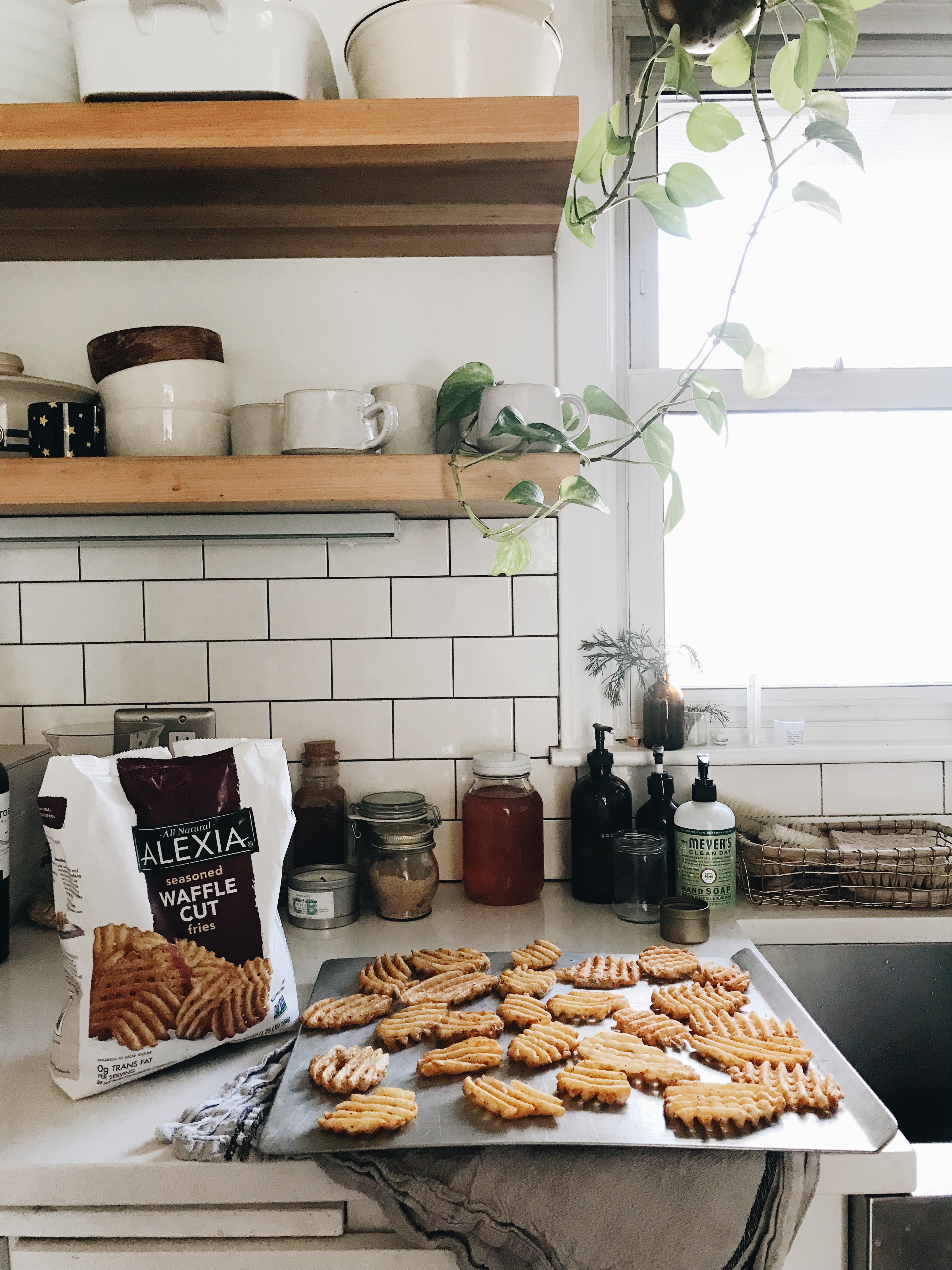 3) Wistfully stare at the baked Alexia Seasoned Waffle Cut Fries while you pour a glass of the red wine that you opened for the beef mixture. Because it's the holidays and you're smart.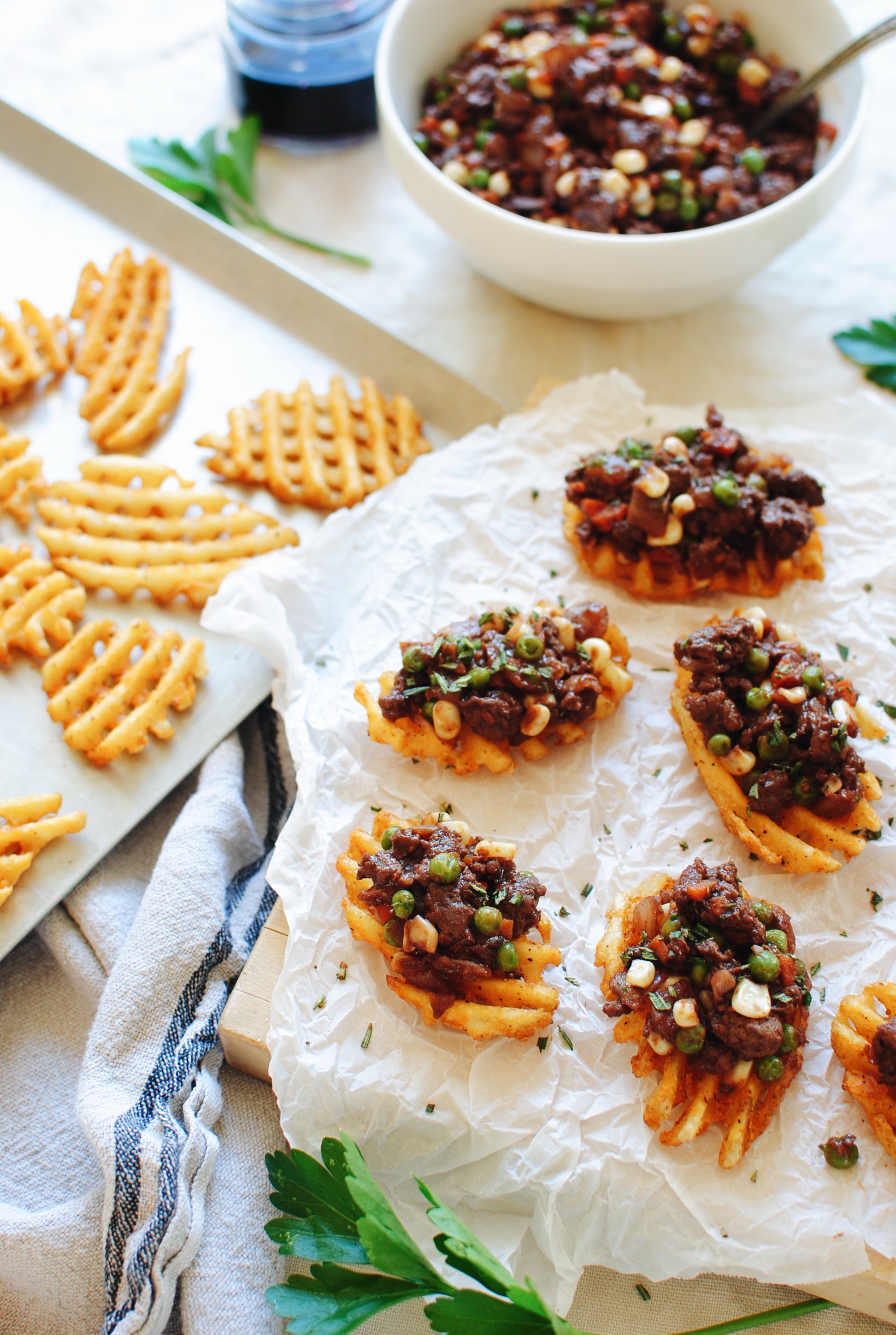 Stack it up! Waffle fry, beef mix, little bit of herby garnish. Into your mouth. Done.
What's even better is that these will completely trick your kids into thinking it's kid food. BITE SIZE? WAFFLE FRY? Look at them eating one after another. BAHAHA, swindled! (<–said like Vizzini from The Princess Bride.)
Another thing, these waffle fries really hold up well under all that beefy filling. Bravo, Alexia! You may move into my mouth.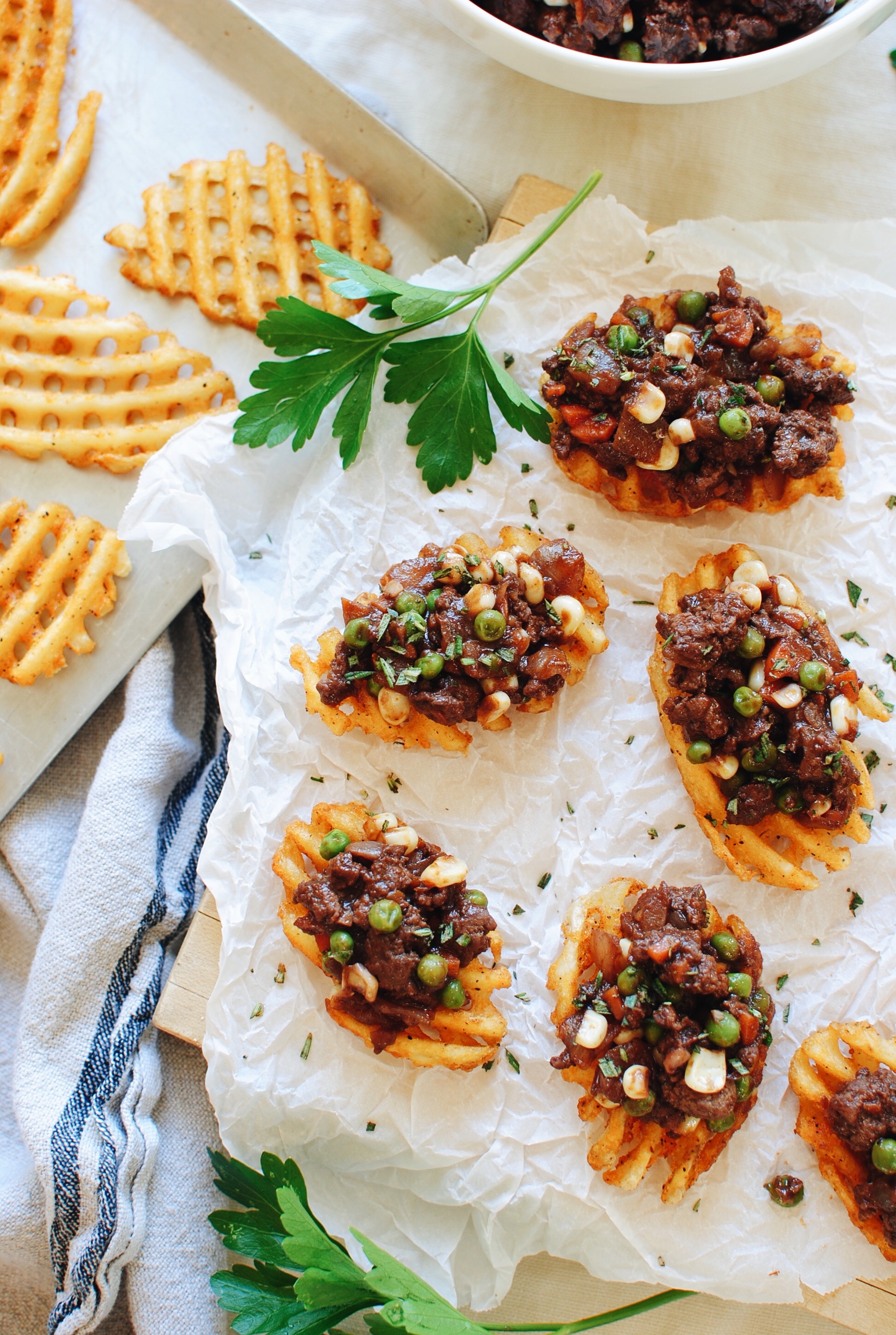 Christmas appetizer? Me thinks obviously.
Shepherd's Pie Waffle Fry Stackers
Ingredients
1 (1.25 pound) bag Alexia Seasoned Waffle Cut Fries
1 Tbs. extra-virgin olive oil
1 cup diced white onion
1 cup chopped carrots
3 cloves garlic
1 pound lean ground beef
2 Tbs. tomato paste
3 Tbs. Worcestershire sauce
1 Tbs. brown sugar
1/2 cup red wine (or beef stock or beer)
1 cup frozen corn, thawed
1 cup frozen peas, thawed
Salt and pepper
chopped parsley for garnish
Instructions
Preheat oven according to package directions. Arrange the Alexia Seasoned Waffle Cut Fries on a large baking sheet and bake anywhere from 18 to 25 minutes.
In the meantime, heat the olive oil in a large skillet over medium high. Add the onions and carrots; sauté until they begin to soften, about six minutes. Season with a a pinch of salt and pepper. Add the garlic and sauté another 30 seconds or so, until fragrant. Add the beef to skillet and brown all over, another five minutes. Season with another pinch of salt.
Make a little space in the skillet for the tomato paste. Add it and press the paste into the skillet, allowing the oils to release and flavors to intensify. Now add in the Worcestershire sauce, brown sugar and red wine. Stir about a minute, letting the liquid reduce a tad. Then add in the thawed corn and peas, and continue to cook another two or three minutes. Taste it here. Season generously with salt until everything pops in flavor.
Place a tablespoon or two of the shepherd's pie filling on top of each waffle cut fry, and arrange them on a large plate or platter. Garnish with parsley and serve immediately!
Makes about 20 stacks. (With a little bit of beefy mix leftover)
7.8.1.2
126
https://bevcooks.com/2017/12/shepherds-pie-waffle-fry-stackers/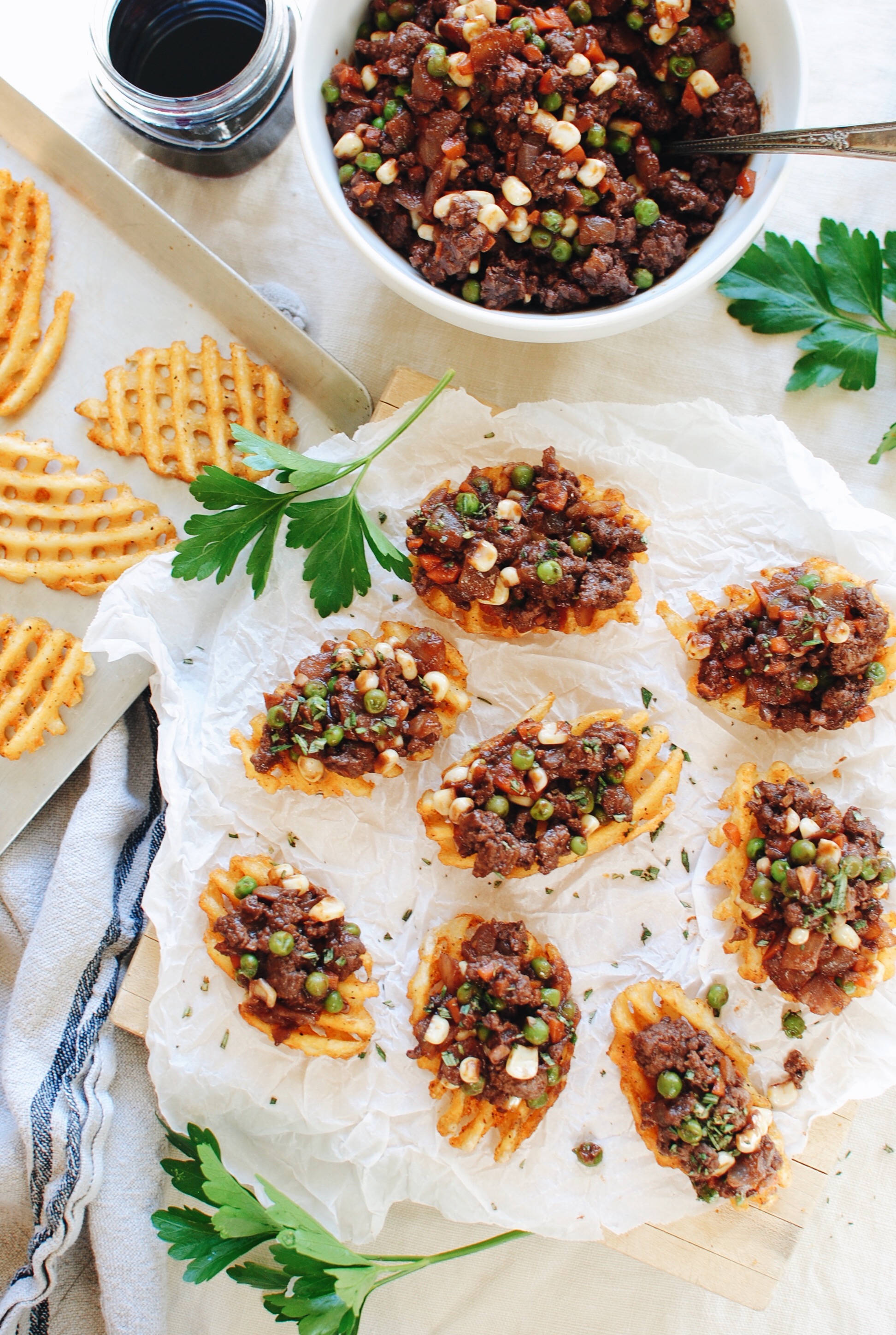 And yes I called them stackers. Don't punch me.
(This post is definitely in partnership with Alexia Foods, but all ramblings and waffle cut fry inhalings are totally my own. We coo?)
(You can also follow along on Alexia's Facebook and Instagram, or check out their website to see their chef-inspired flavors, real ingredients, and recipes. Boom.)