It's heeeere! The official 2017 HOLIDAY GIFT GUIDE THAT'S PROBABLY TOO LATE FOR MOST.
Let me also say that zero of this is sponsored. Not one single letter or comma or period or space. Just crazy love for ish I have, or ish I want. RING THOSE BELLS, Y'ALL.
Let's go.
For you. I mean her. (you.):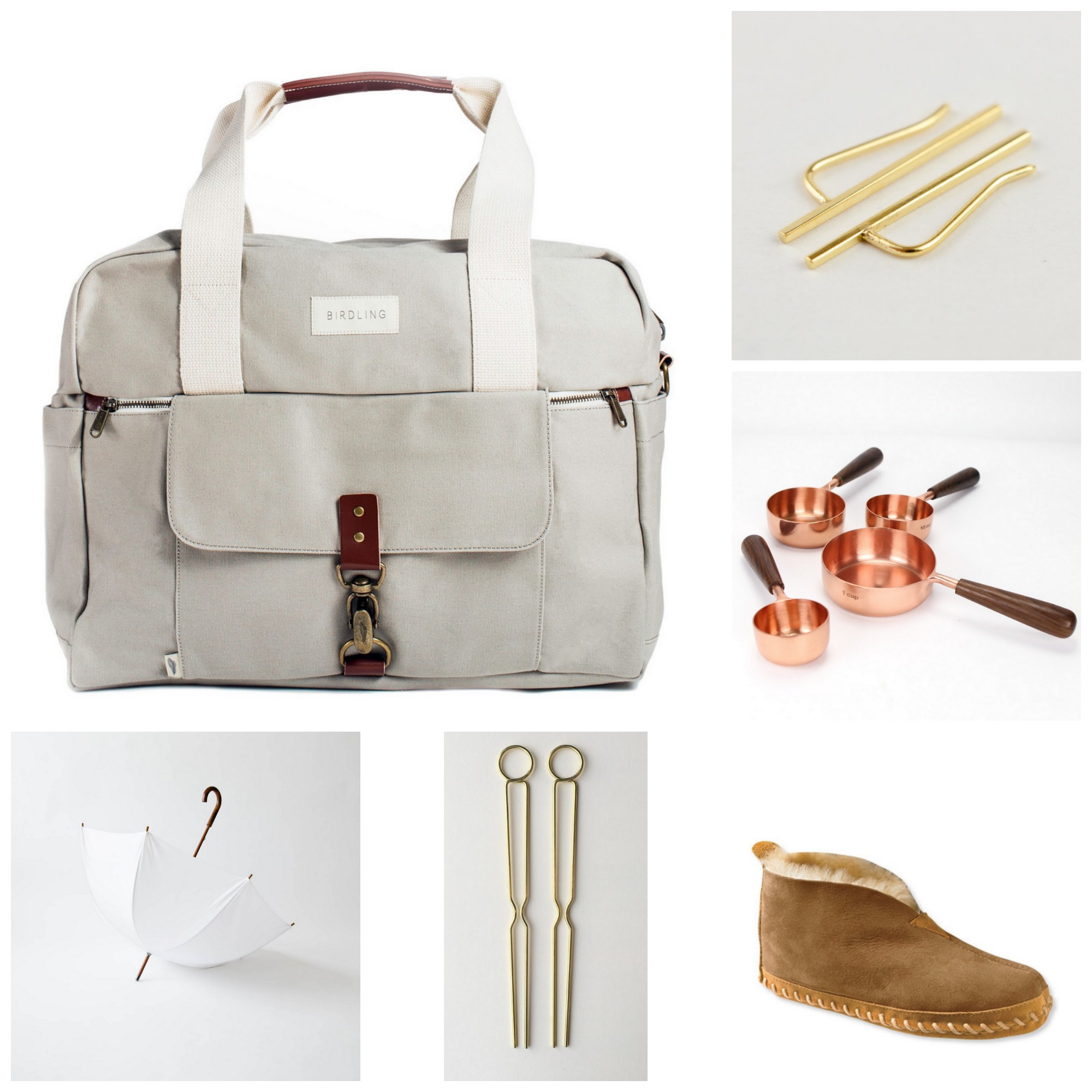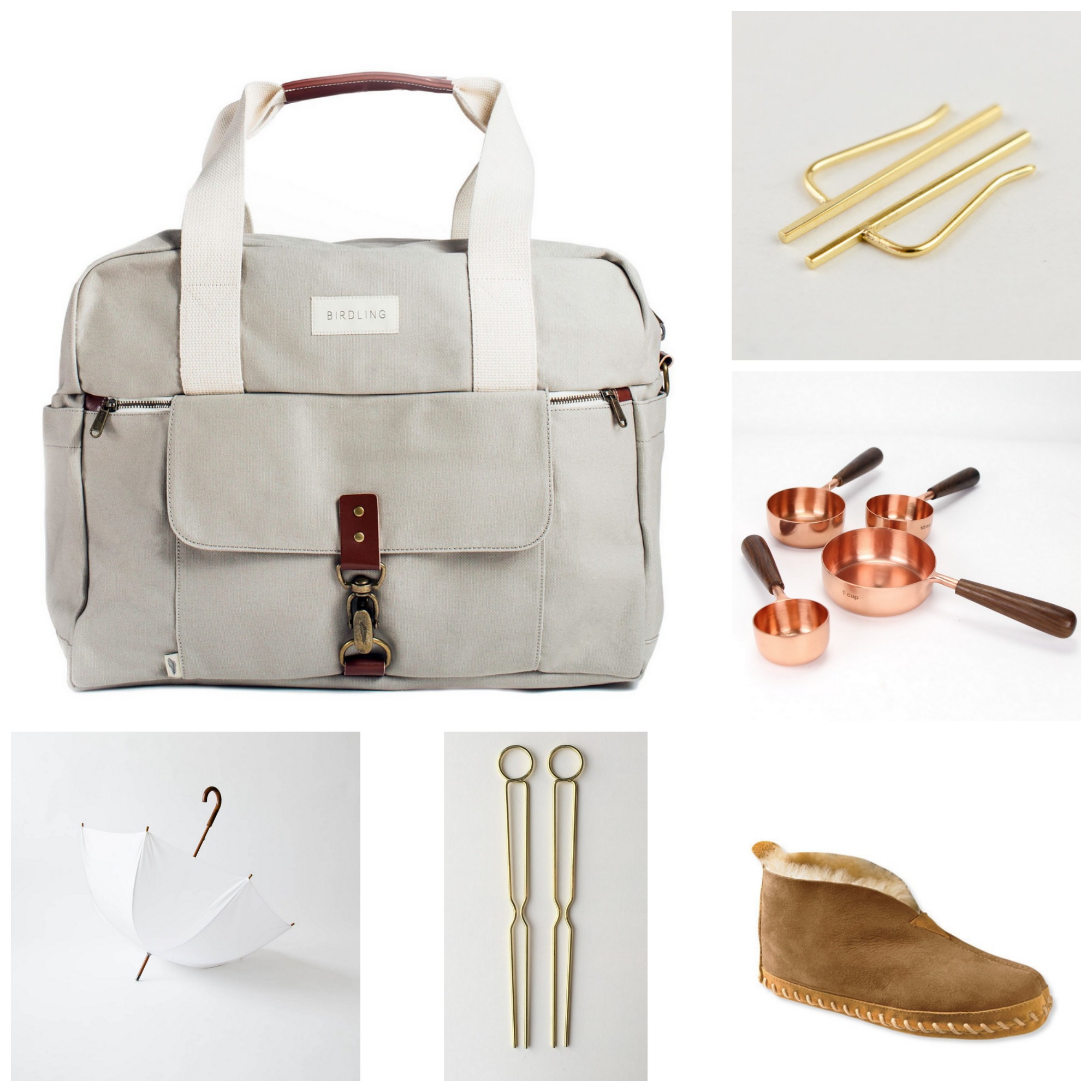 1) The Birdling weekender. I've had mine for nearly a year and it's PERFECT. Neutral and stylish, tons of compartments, a cinch to lug around. Obsessed.
2) Gold climber earrings: Perfectly minimal, but with a smooch of drama. I love these so much. I wear 'em everyday!
3) White Cotton Umbrella: I KNOW, I know. It's an umbrella. But it's stunning. And real wood! And 100% cotton. And the original classic design straight from Vancouver. I have this, and feel like a movie star from the '50s when I carry it around.
4) Gold hair pins: These fantastic hair accents are something I get asked about ALL.THE.TIME. They take a topknot on laundry day and make it glamo! (don't tell anyone I just said glamo.)
5) Wicked Good Slipper: My besties gave this slipper to me on my 40th (I almost typed 450th birthday), and I've never loved anything more. Ridiculously cozy, and cute as hay. They have them in men's, too!
6) Copper (or gold!) measuring cups: I have the gold (which I bought locally at Golden and Pine), and they sure are gorgeous to look at. They've got that rustic, France-in-the-1960s feel. Know what I mean, Vern?
For the dude:  (I tried to stay away from the popular gifts like booze, ties, pens, beard oil or slippers. This list is sort of based on what Aaron would like. But he's a freak, so.)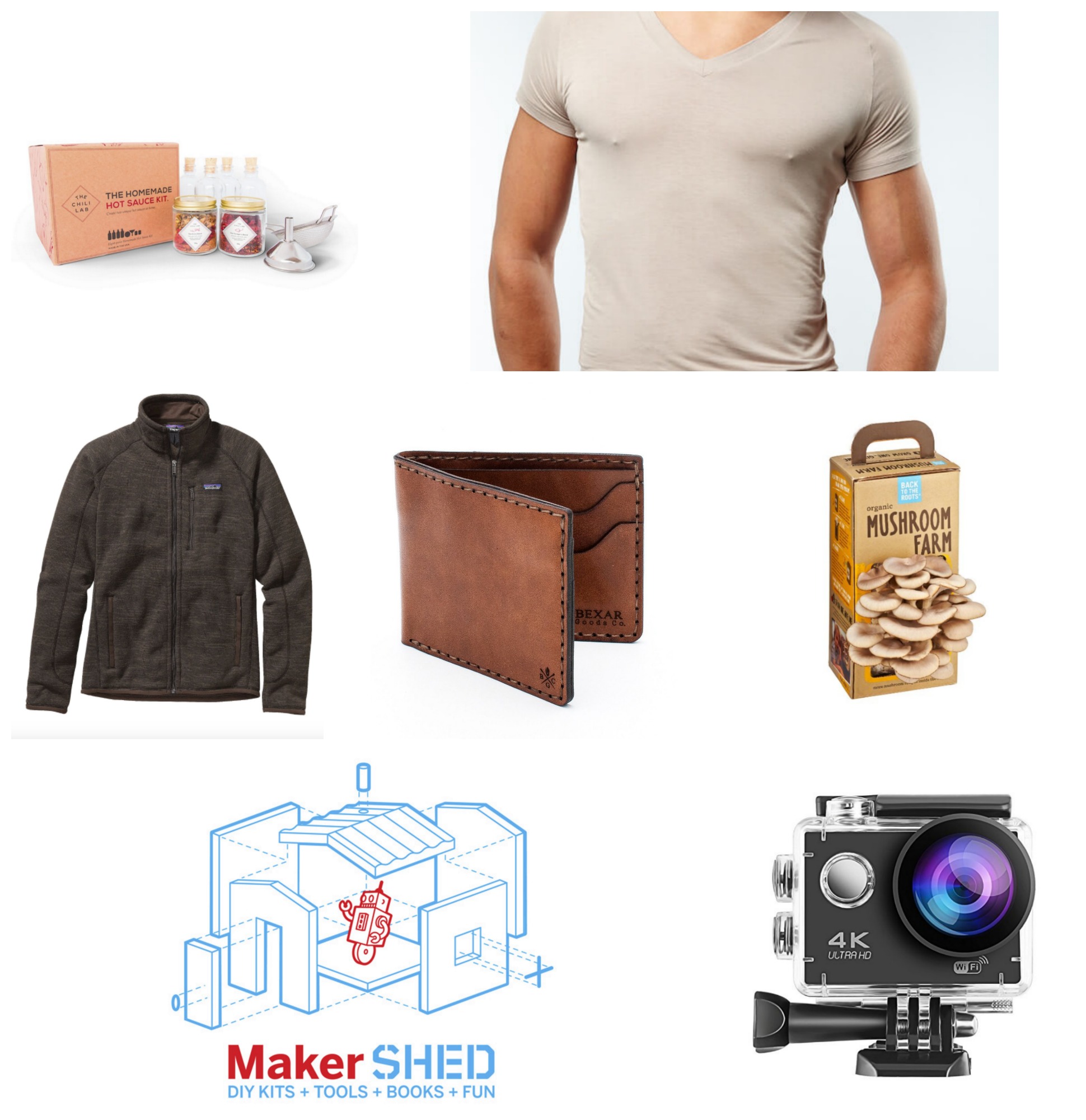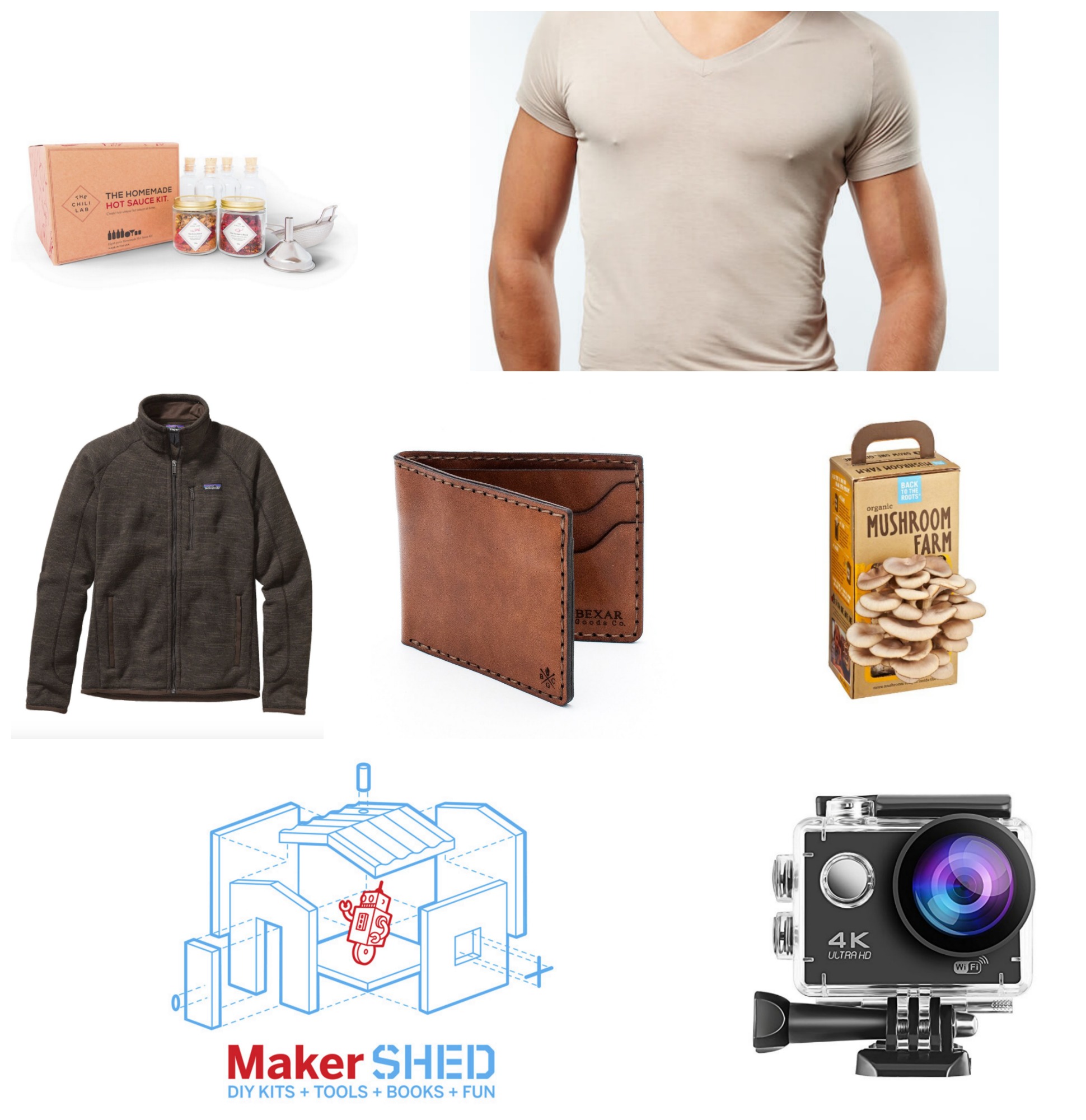 1) A hot sauce making kit: Aaron's tried making hot sauce before (not with this kit), and it was a royal, hilarious disaster. I think this would be totally fun for dudes (read: Aaron) to tackle!
2) Mr. Davis ANYTHING: The undershirts are unparalleled. The boxers are great, the weekender is fab. Anything from Mr. Davis, and your man is hap hap happy.
3) Something cozy from Patagonia: I love this zip-up sweater. Fitted, warm, great color. Win.
4) Leather wallet: ALWAYS a good option. Always.
5) A Mushroom making kit: Aaron seriously asked for this for Christmas. HELLO, mushrooms in your back yard? Yes. And not the funky ones that you mow over in a panic hoping your kid or dog didn't already munch on.
6) A Maker Shed: A bit nerdy, yes. But if your dude's into DIY electronics (which I realize those words are terrifying), or any sort of kit that MAKES – this is for him. Aaron's obsessed with his. But he's a different breed, guys.
7) Underwater camera: For the beach, for the pool, heck – the tub! I want one.
For the home, part un: (this could also fall the her category, or the in-law category, or the him category, or the whatever category.)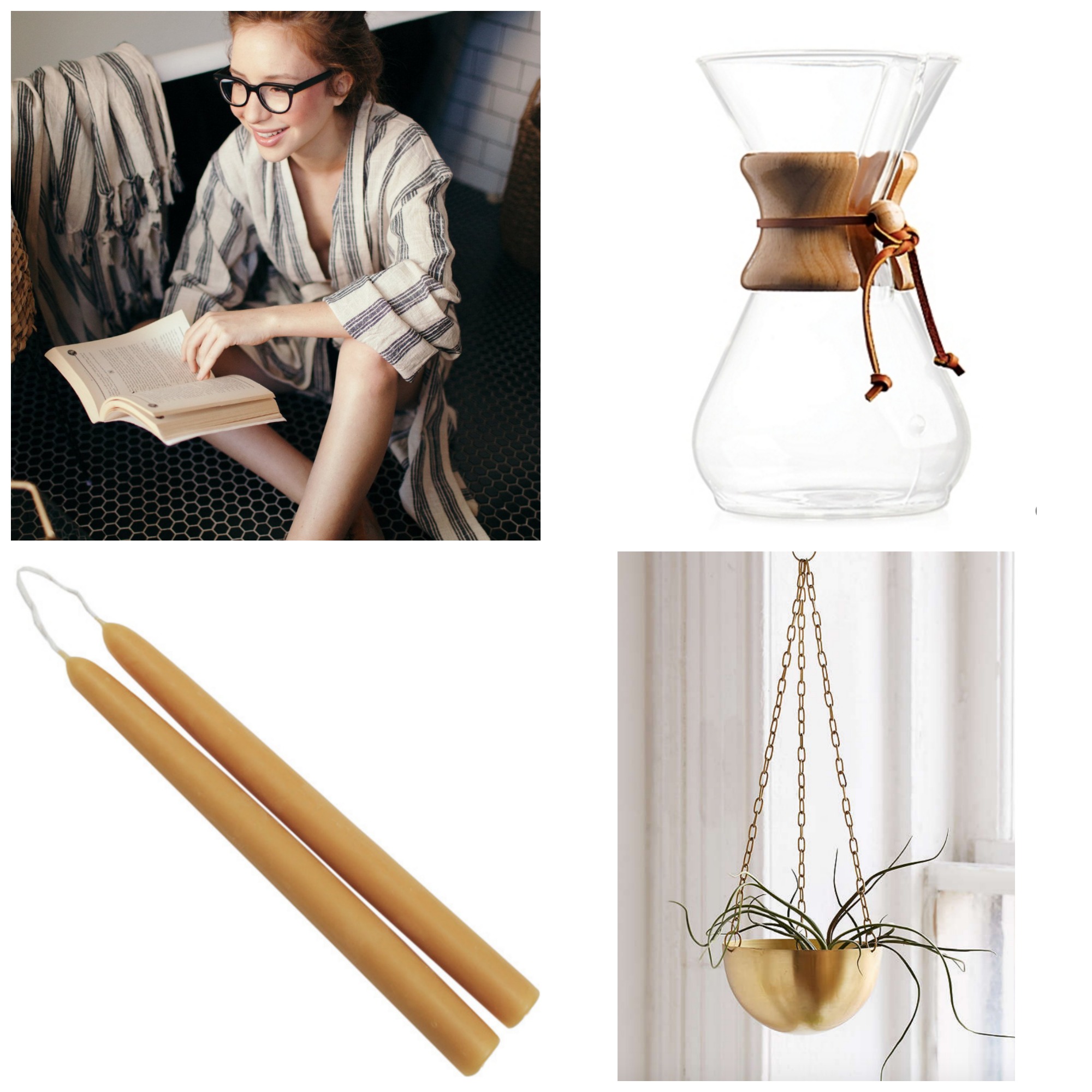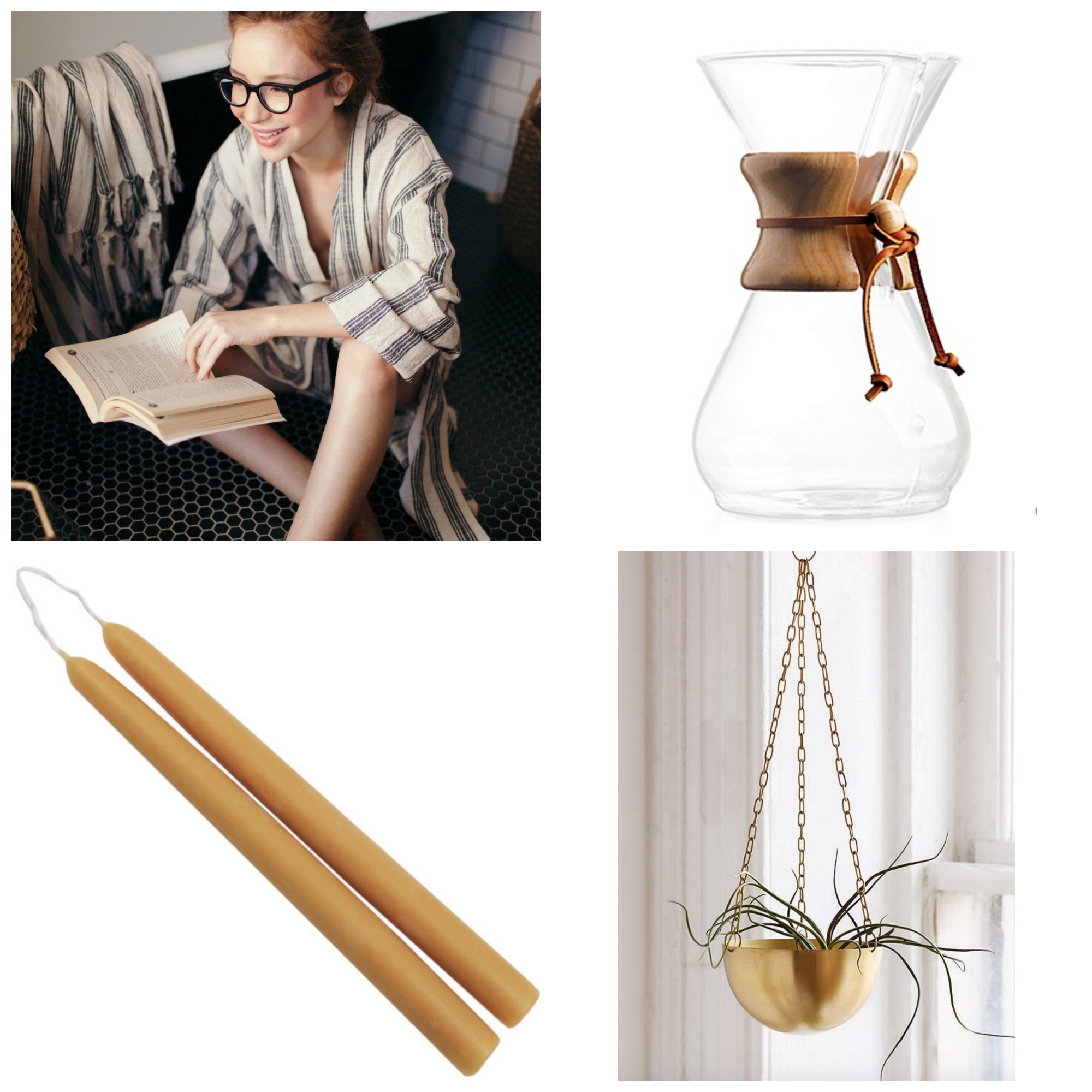 1) An Oddbird robe: These robes are just wonderful. And they're unisex, so if your dude likes robes, boom! Really, anything from Oddbird is amazing. Pillows, blankets, even clothing! Ugh.
2) The Chemex pour over: I still get asked about this a lot, so I figured I'd include it here for newbies! It's old school, with zero visual clunkyness. And the coffee? Girl, please. (you can find these anywhere! even Amazon.)
3) Beeswax candles: Not only stunning during the holidays, they're beautiful year round. That muted mustard is my very faaavorite color in the home. Make them, buy them. You can find them anywhere! (I found this teardrop-y shape at a hardware store. Holla!)
4) A bronze hanging planter: We have this exact one hanging in our kitchen window, and that muted bronze gives me giddy soul elves on the regs. (<–you hated that entire sentence, didn't you.)
For the home, part deux: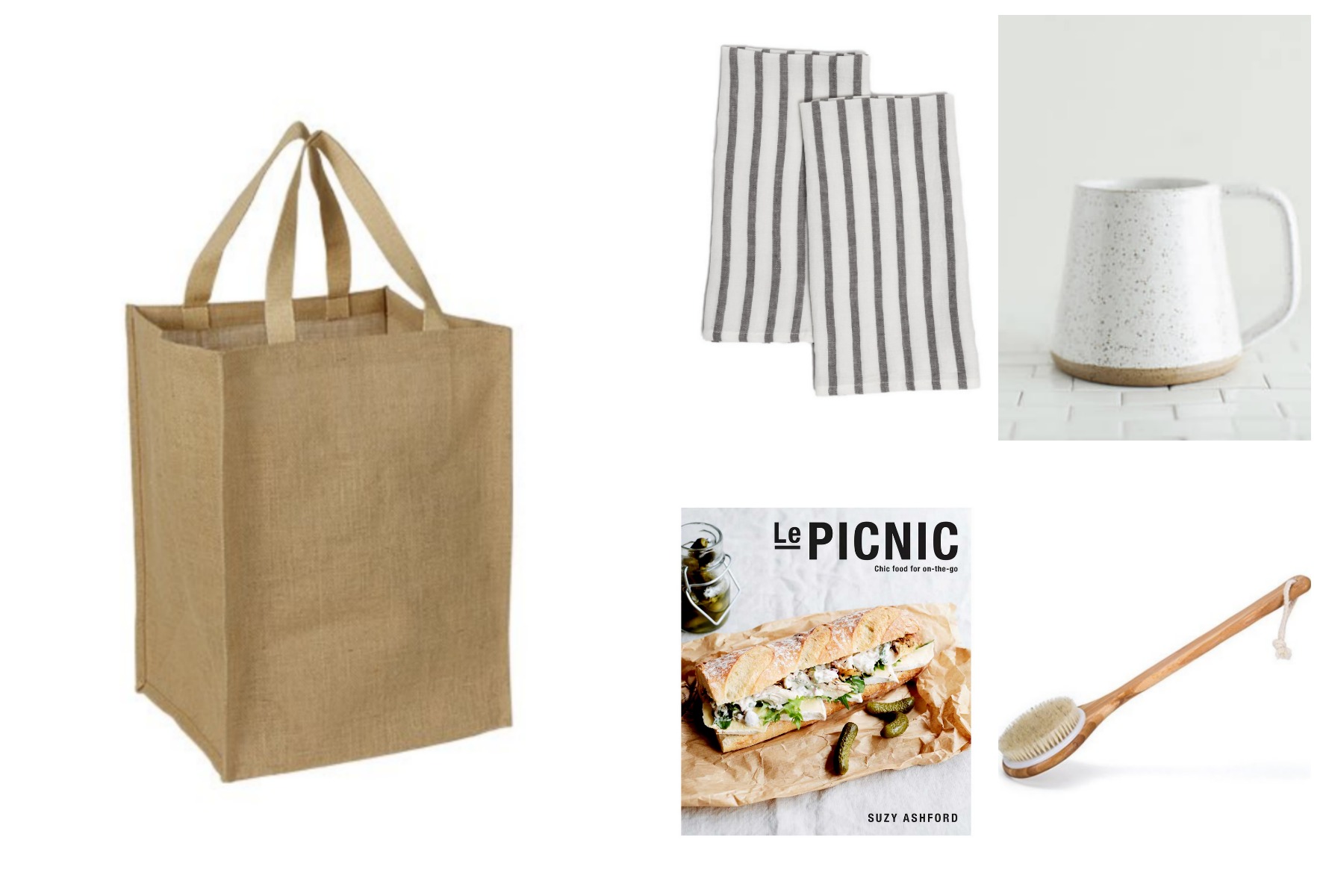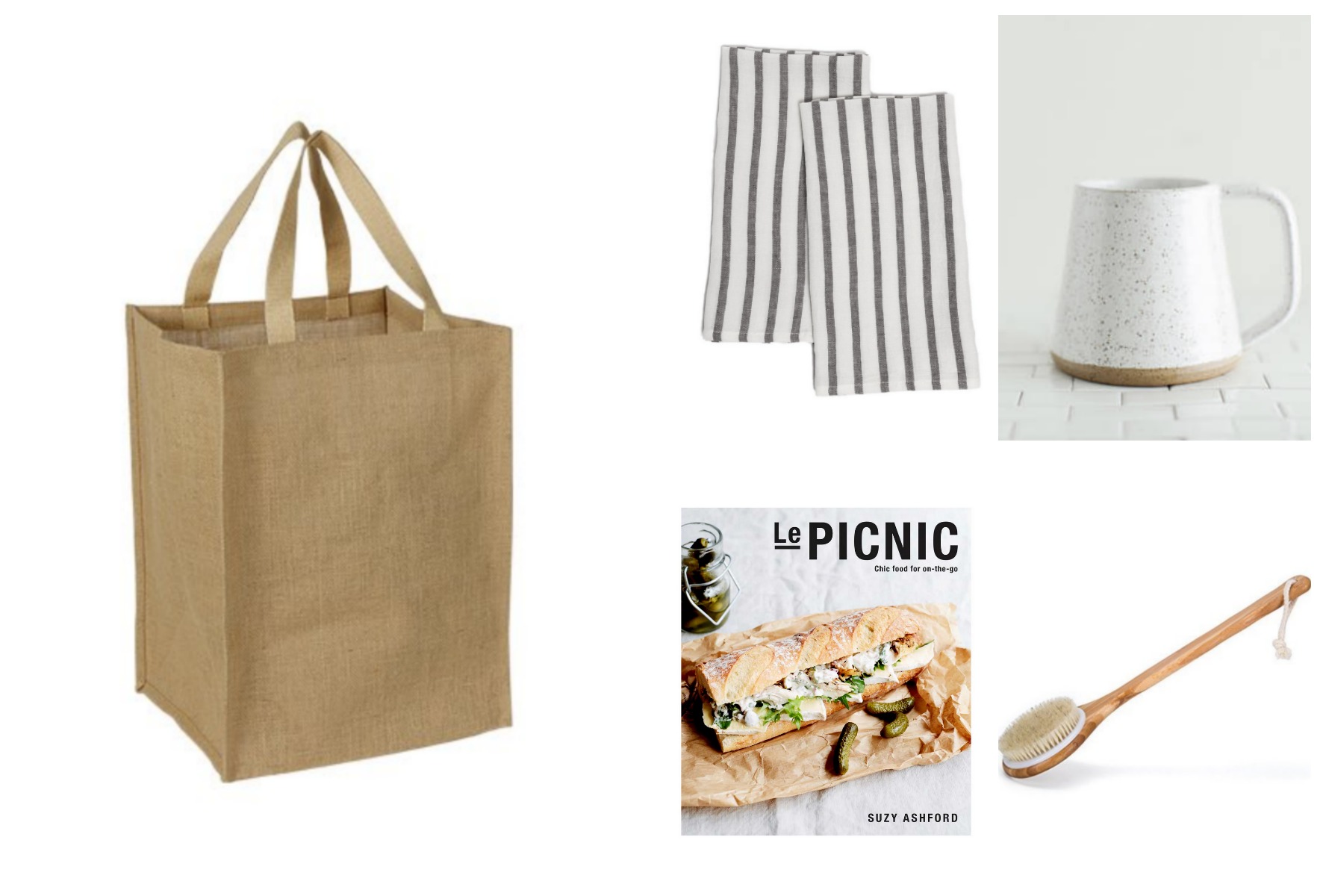 1) Burlap grocery bags: THESE ARE LIFE. I've had six of them for three years now, and I'll never use anything else. Wax lined so if you have any spills, it's a cinch of wipe. Incredibly sturdy, handles that are the perfect carrying size, and easy on the eyes. I get asked about them every.single.time. I shop. Get you some!
2) Tea Towels from Parachute: Really, anything from Parachute. We have their bedding, the kitchen linens, a cashmere blanket, and it's all total perfection. Go take a look and cry for the rest of this year. They even have a holiday guide!
3) A handmade coffee mug: This one from Sam Nichols is among my very favorites. I actually have a whole post on my handmade mug collection, and all are worth gifting!
4) Le Picnic cookbook: Aaron gave me this French-inspired picnic cookbook for my birthday, and it's just so much fun. Indoor picnics during the winter, or even a simple dinner, it's all beautiful picnic food, with a French twist. J'adore!
5) A dry brush: This is on my Christmas list! I SWEAR I'm getting into this, gosh darnit.
For the gremlins: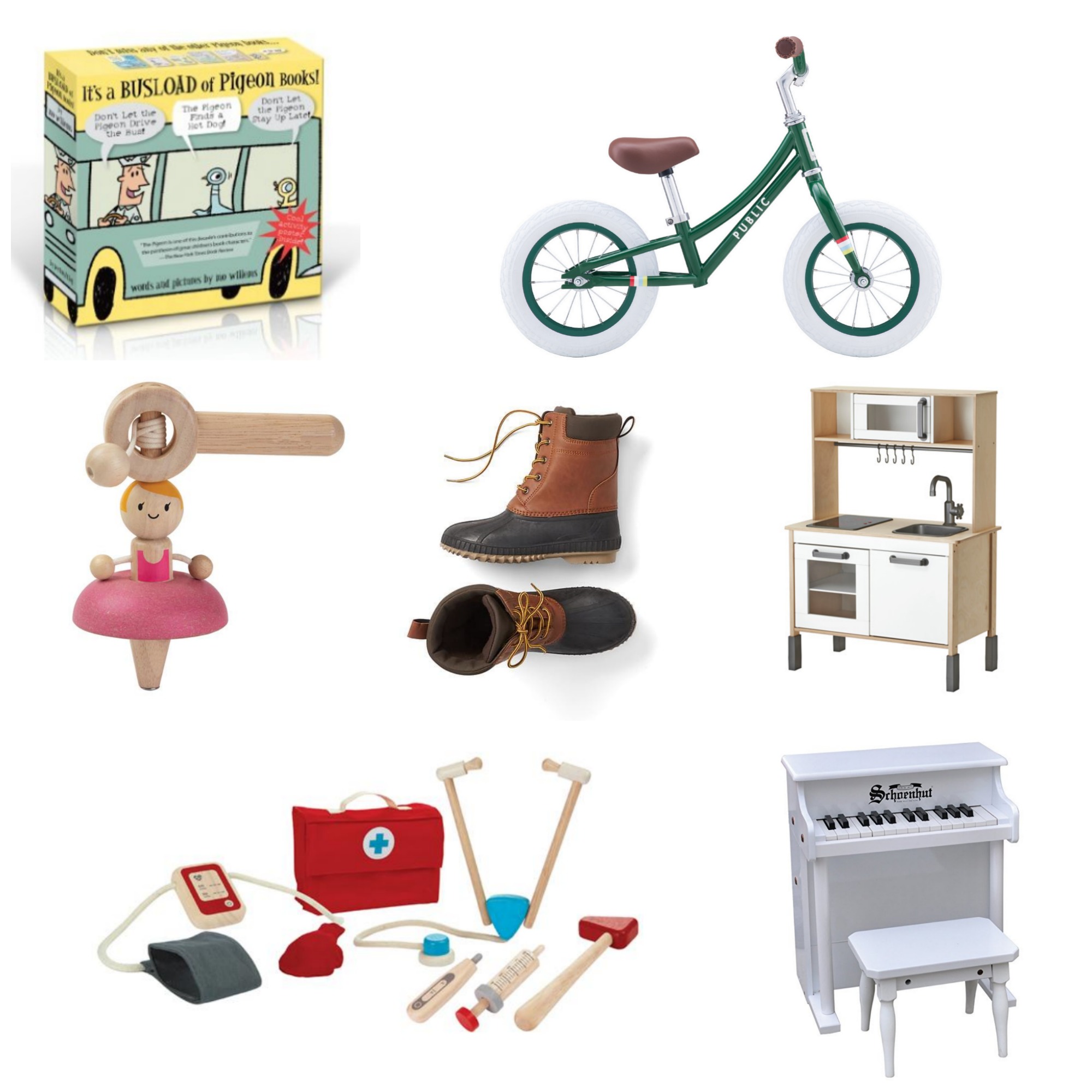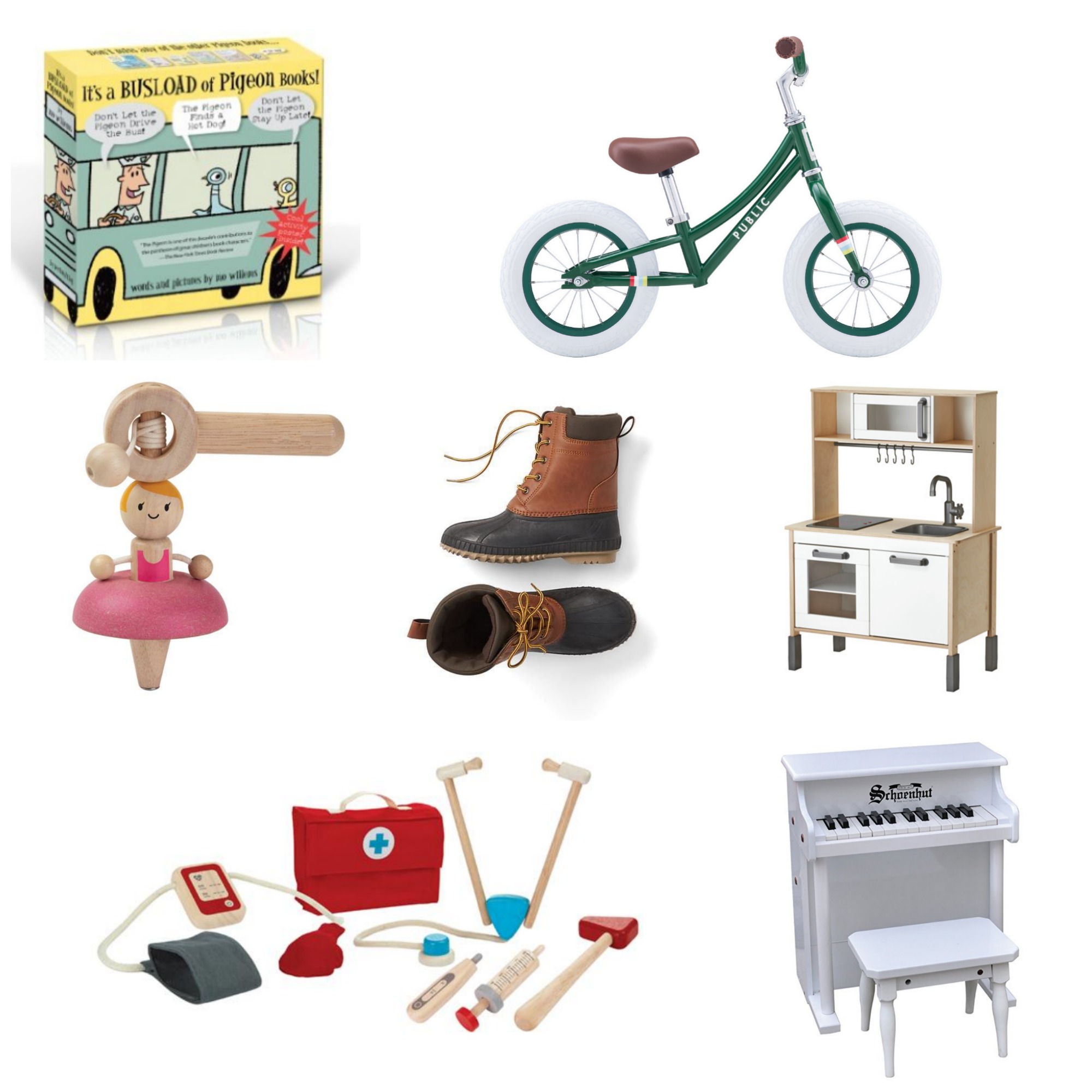 1) Busload of Pigeon Books: Will and Nat are waaaay into this series by Mo Willems. They've actually only read the one about the duck who gets the cookie. So this boxset's gonna completely flip their lives out.
2) A balance bike: Aaron was DEAD SET on balance bikes when they turned three last January. We found these super cute bikes from Public for their birthday, and over the year, they've really fallen in love and gotten pretty good at riding. No training wheels!
3) A ballerina top: Because four year old girl.
4) Duck Boots: We got the the kids this toddler version from Gap two years ago, and they're still, still wearing them. I just need to order more laces because they're destroyed. An investment, yes. But you'll get years out of them!
5) A play kitchen: You know who I am, right?
6) A doctor play set: At this age, Will's and Nat's imagination is on TOUR. They play mommy and daddy (awkward), they play "going on holiday," and they play "doctor." But they use my phone charger as a stethoscope. (and lose it.) This is on their list, so I get my charger back!
7) A toy piano: They've had this exact one for two years now, and it still gets played (read: banged on) daily. Add a toy guitar and a harmonica and CARNEGIE HALL, HERE WE COME.
For stockings! (also known as, the best part.)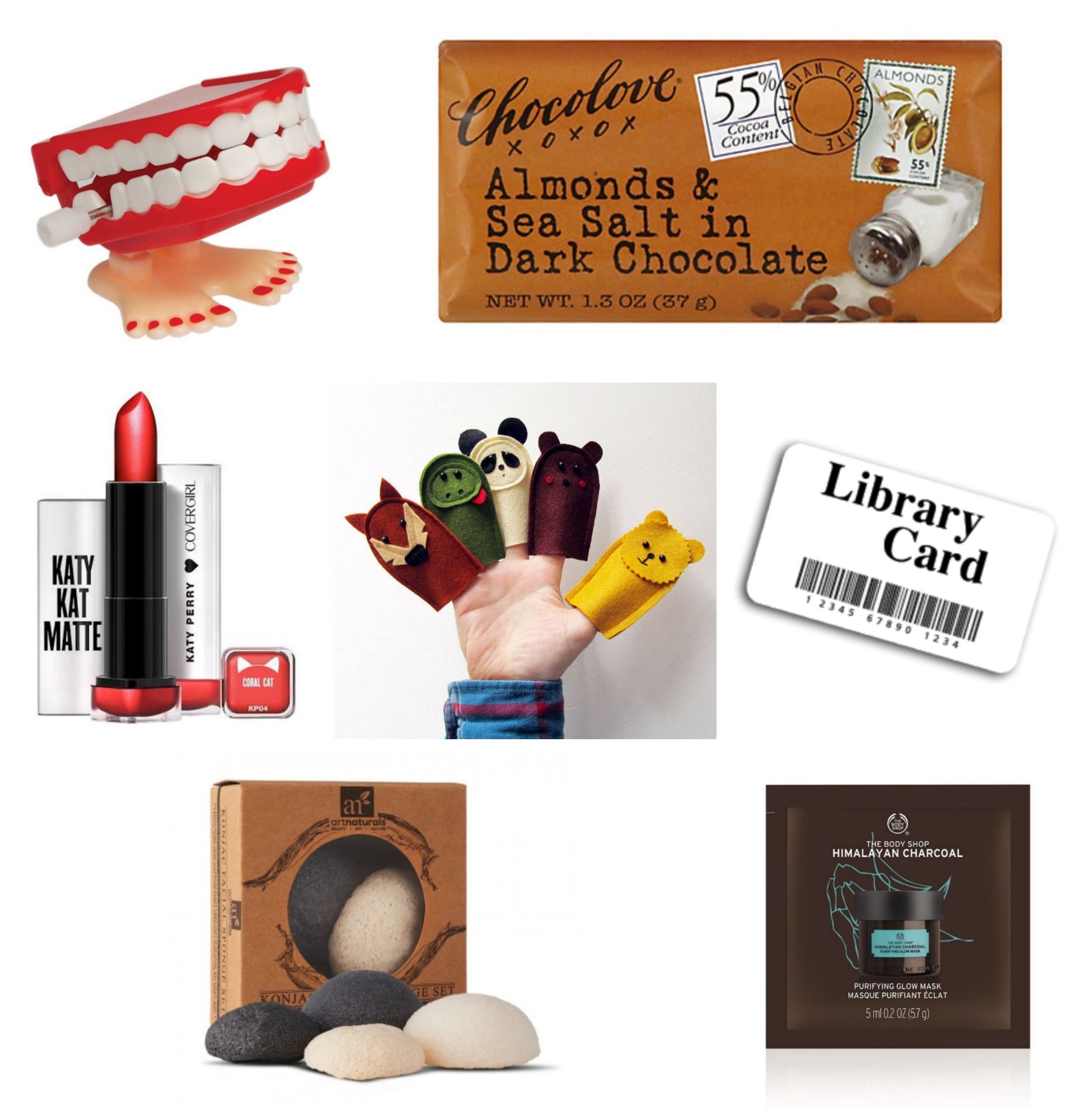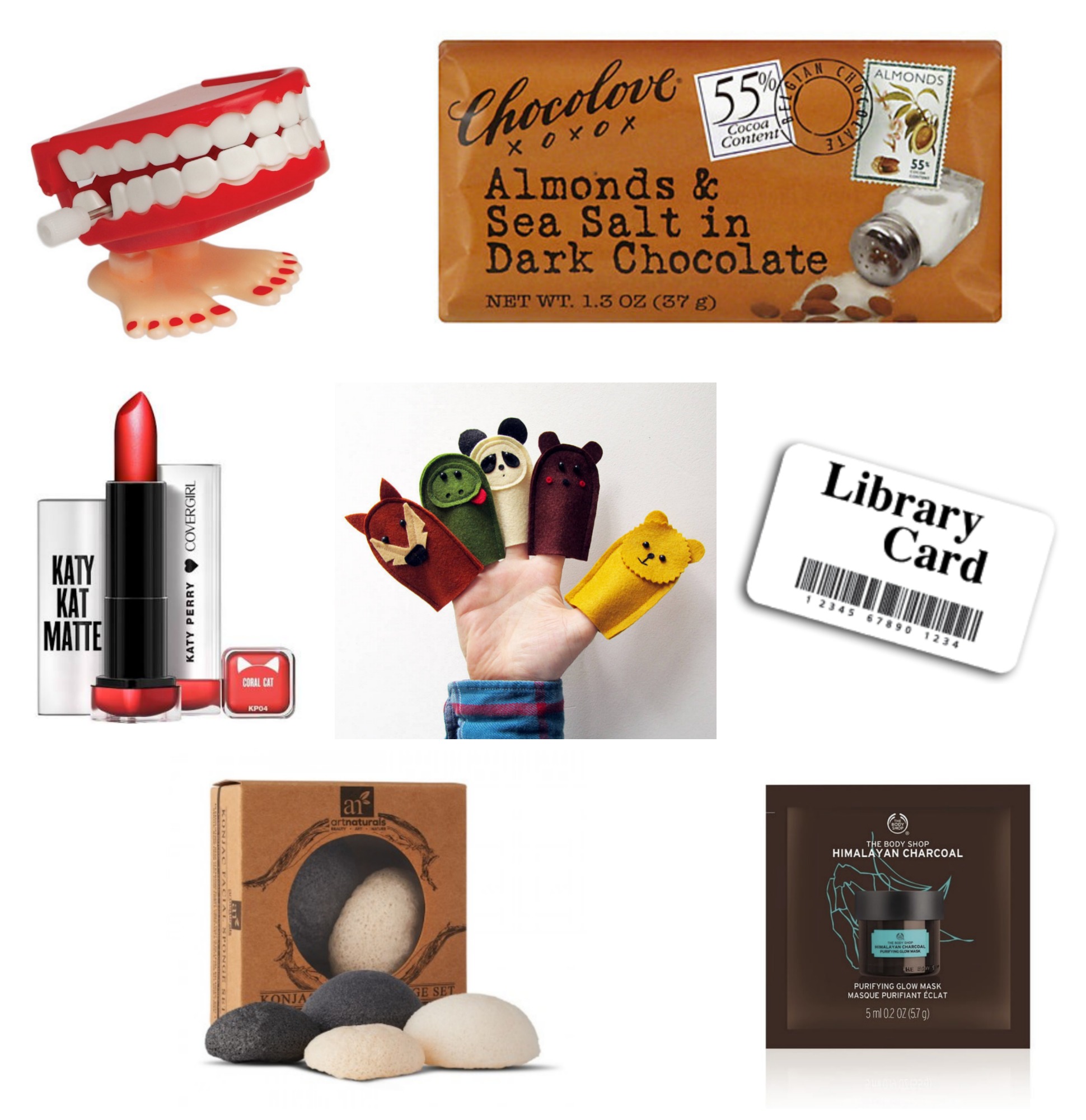 1) Chatter teeth: Never gets old! Classic and fun.
2) Chocolate: The mini bars. Or the big ones. Hey, YOU DO YOU. (the almonds and sea salt bar gives me reason to live.) (also, you can find these anywhere.)
3) Lipstick: This Katy Perry (don't judge) Coral Cat is my go-to right now. Perfectly coral and bright, but not too IN YOUR FACE.
4) Finger puppets: You can find these anywhere. Everywhere. Or make some!
5) A library card: Perfect for those winter afternoons with your gremlins when you want to pull your last hair out.
6) A konjac sponge: Inexpensive, but effective! I've used one for a year now, and it's the perfect buffer for my face. If you don't cleanse with one of these yet, welcome to your new life.
7) A face mask: One of my very favorites, and the packet version is cheap! I find mine at Ulta for like, $2. Smells increeeedible and gives you an instant glow. Get 20. 30. 55.
And there we have it! Hope you found something that might work for someone. Or at least gives you inspiration for something that might work for someone. Or at least gives you an idea for the inspiration for something that might work for someone. Or at least gives you the springboard for an idea for the inspiration for something that might work for someone.
Never mind.