But it's in the slow cooker! So it's like, short cut but long time. Never mind.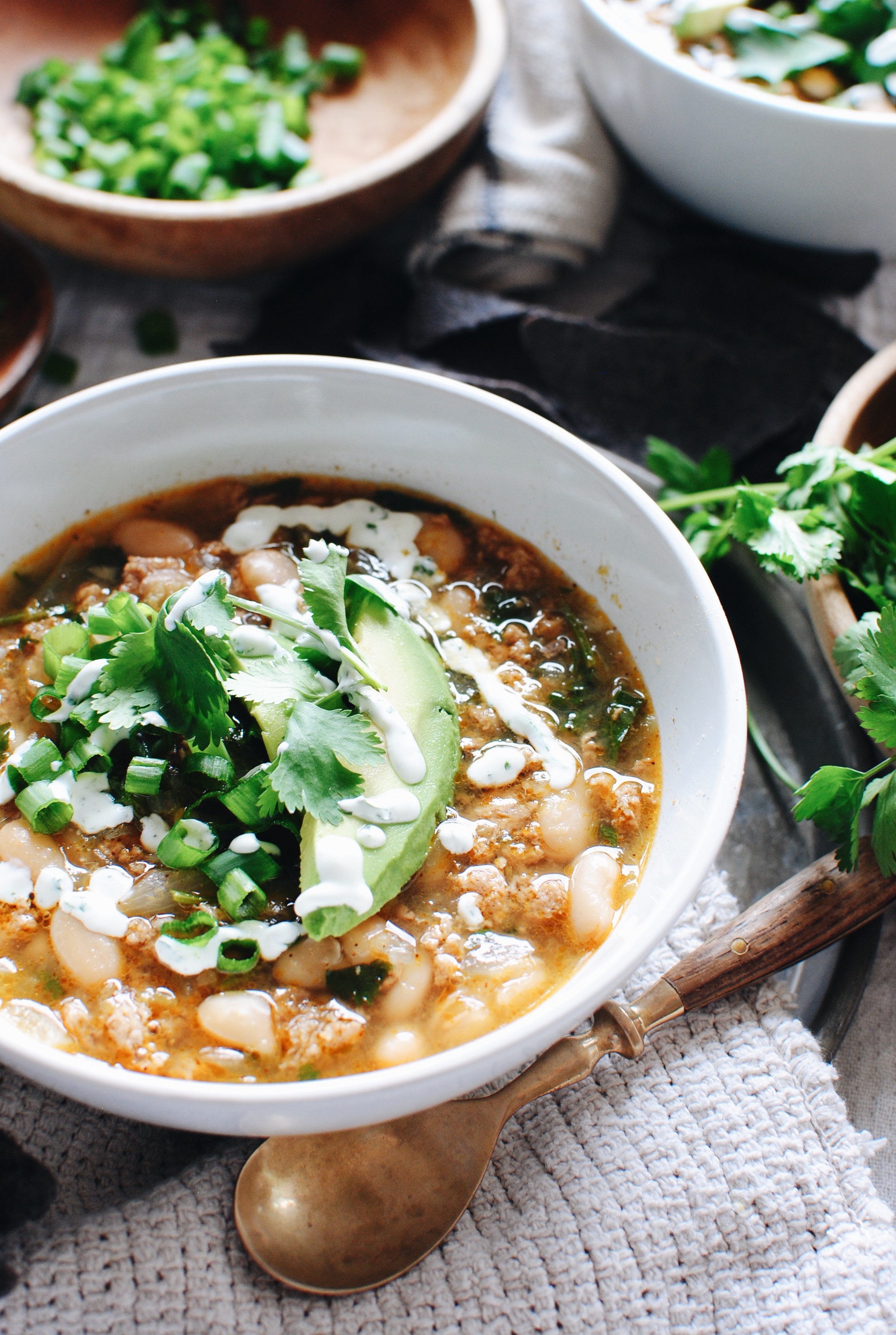 I'm all but completely flipping out over this soup. I've made it twice in the last month and I pretty much want to replace the inside of my mouth with it.
A) It's short cut! Meaning – instead of making the salsa verde, I bought it. Don't get mad. It's the holidays, MAN. Short cuts = the only way.
B) It's slow cooker! But you can totally make it in a pot if you want. I just like the idea of slapping it together in the morning and letting your house be swallowed up in the magic of Mexican scents for hours and hours. And hours.
And hours.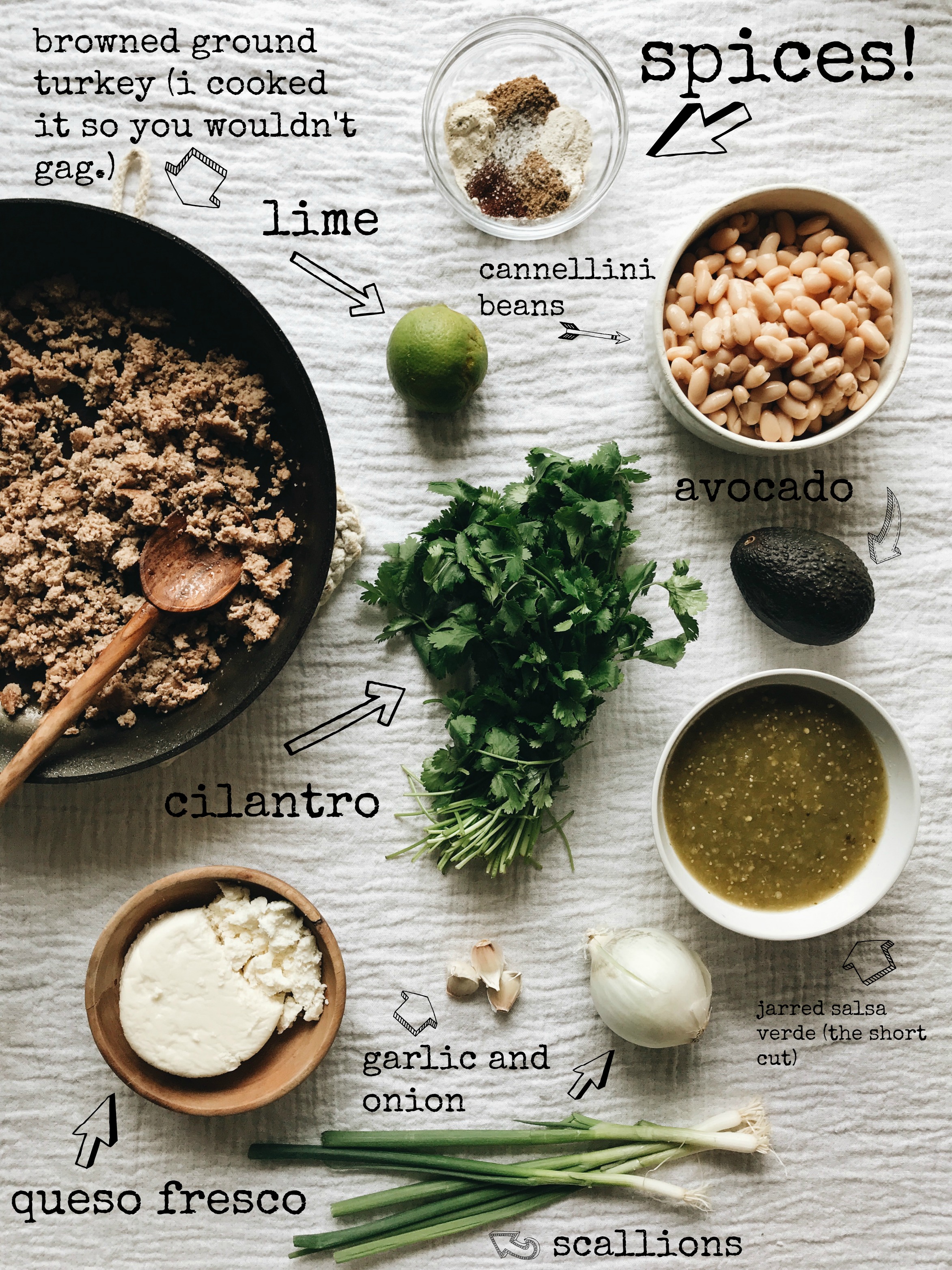 But. We all know a soup is only as good as its broth and its garnishes. So let's have a LITTLE CHITTER, SHALL WE. (<–not so sure about the word chitter just now.)
Actually, I change my mind. Let's start with the turkey. It's ground. (dark meat has more flavor!) And browned. (you'll do this before the slow cooker part.) And you'll season it with a lil' mix of salt, pepper, cumin, ground coriander, chili powder, onion and garlic powder. Throw that in the slow cooker, along with a couple cans of dreamy, creamy cannellini beans, a few cups of chicken stock, that jarred salsa verde (wait, are you kissing that jar?), a diced onion, and a few cloves of minced garlic. She'll bubble, simmer and stew for as loooong as you want. Low for 6 to 8 hours? High for 4? Your call, pigeon.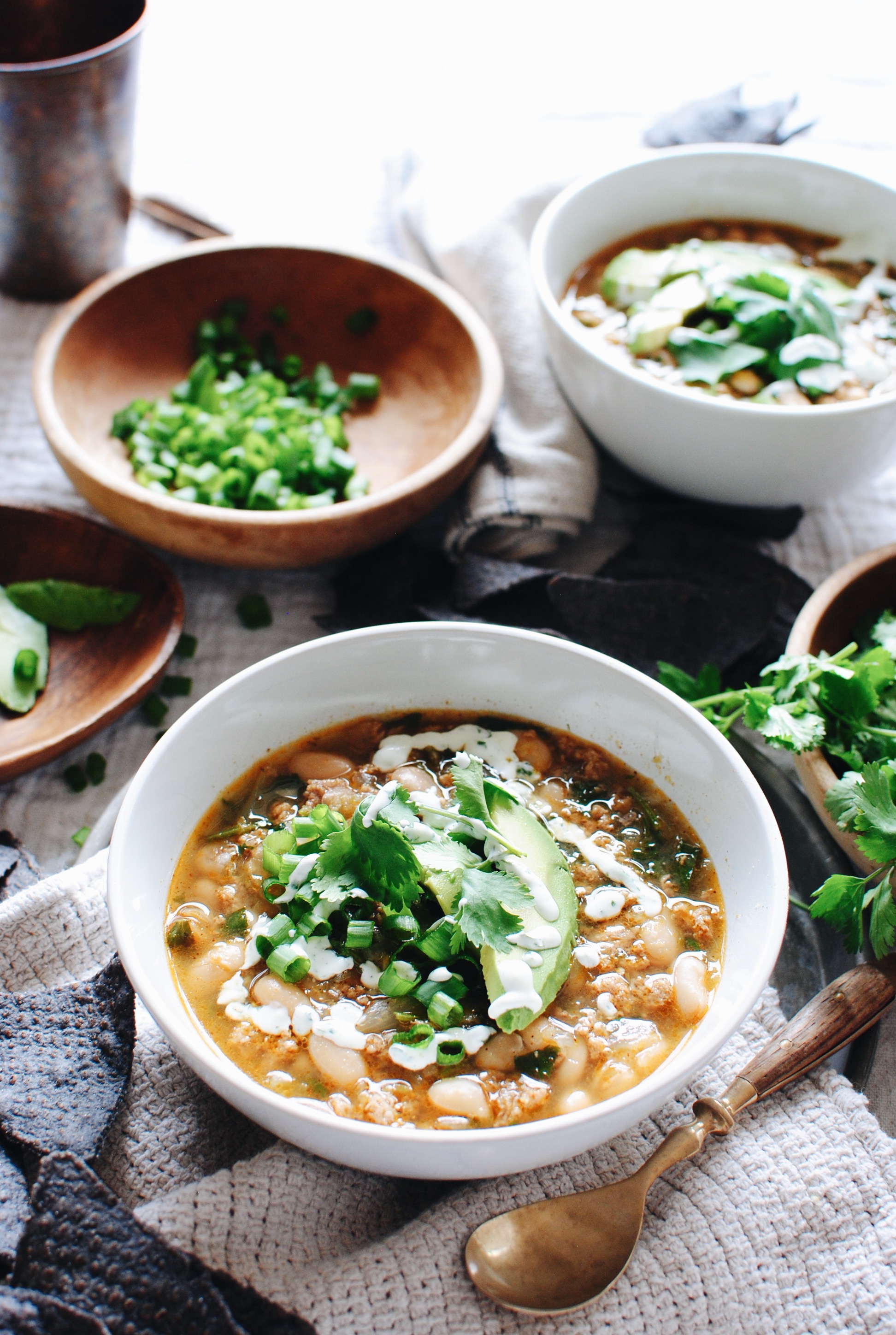 Now we can talk about the magic. Right before you serve, give a loose chop to half a bunch of cilantro and throw that in. Squeeze a whole lime in. That will wake it up, and smooch all the complexity that's been building all day. Oh! Let's start a band called Smooching Complexity. We suck.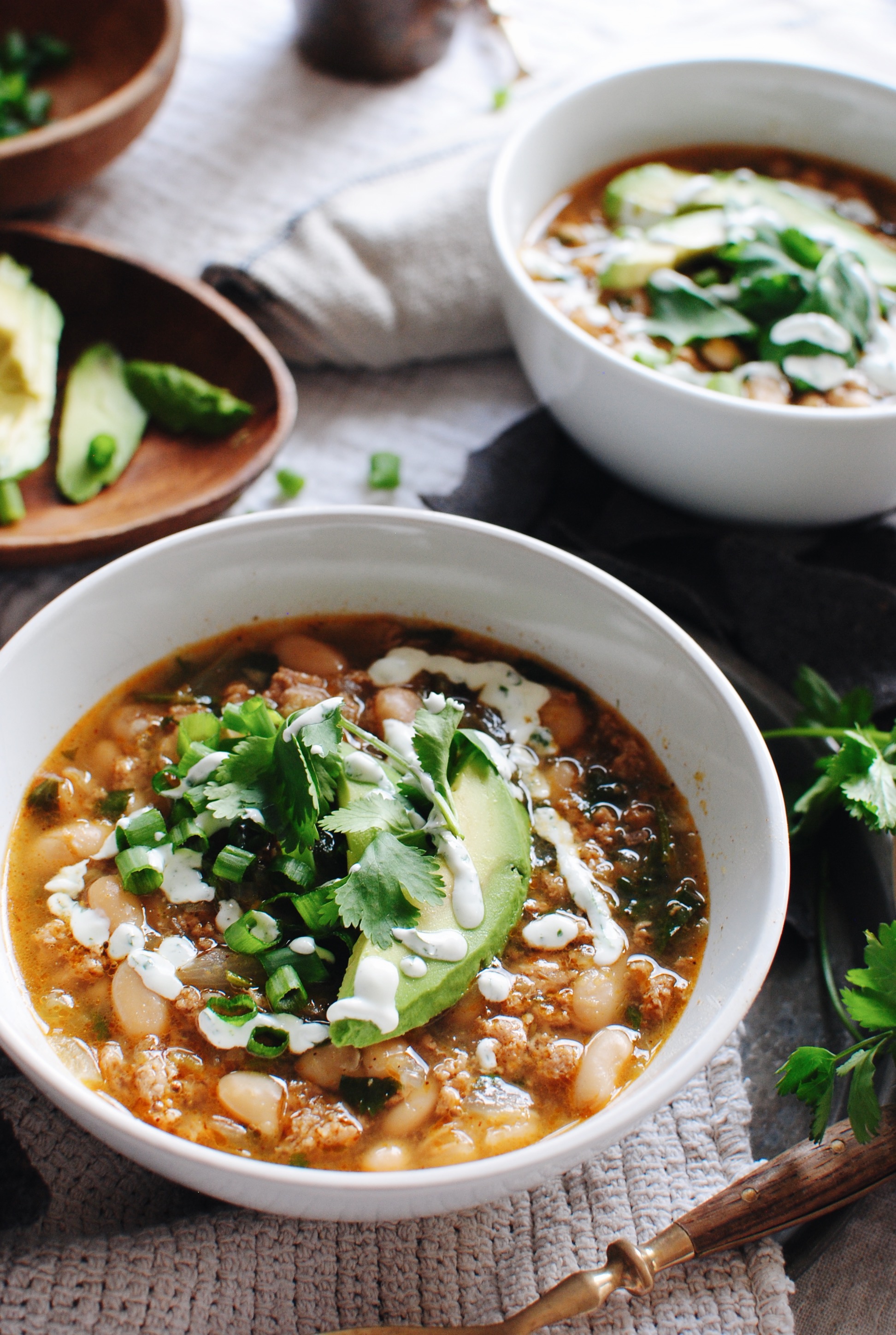 The garnishes are where it's AT. (two turntables and a microphone sold separately.)
I didn't include this in the ingredient photo above, because I'm a raging dingbat, but! Do this: a few tablespoons of sour cream + a few squirts of lime + a little bit of cilantro leaves. It makes this glorious, bright creamy drizzle that sort of melts into the soup and YOU WILL FALL OVER.
Scallions, more cilantro, creamy avocado, and crumbled queso fresco. (which I also forgot to photograph because holiday brain.) Do it all. Even more lime juice if you want. Lime juice = life happiness. You know this.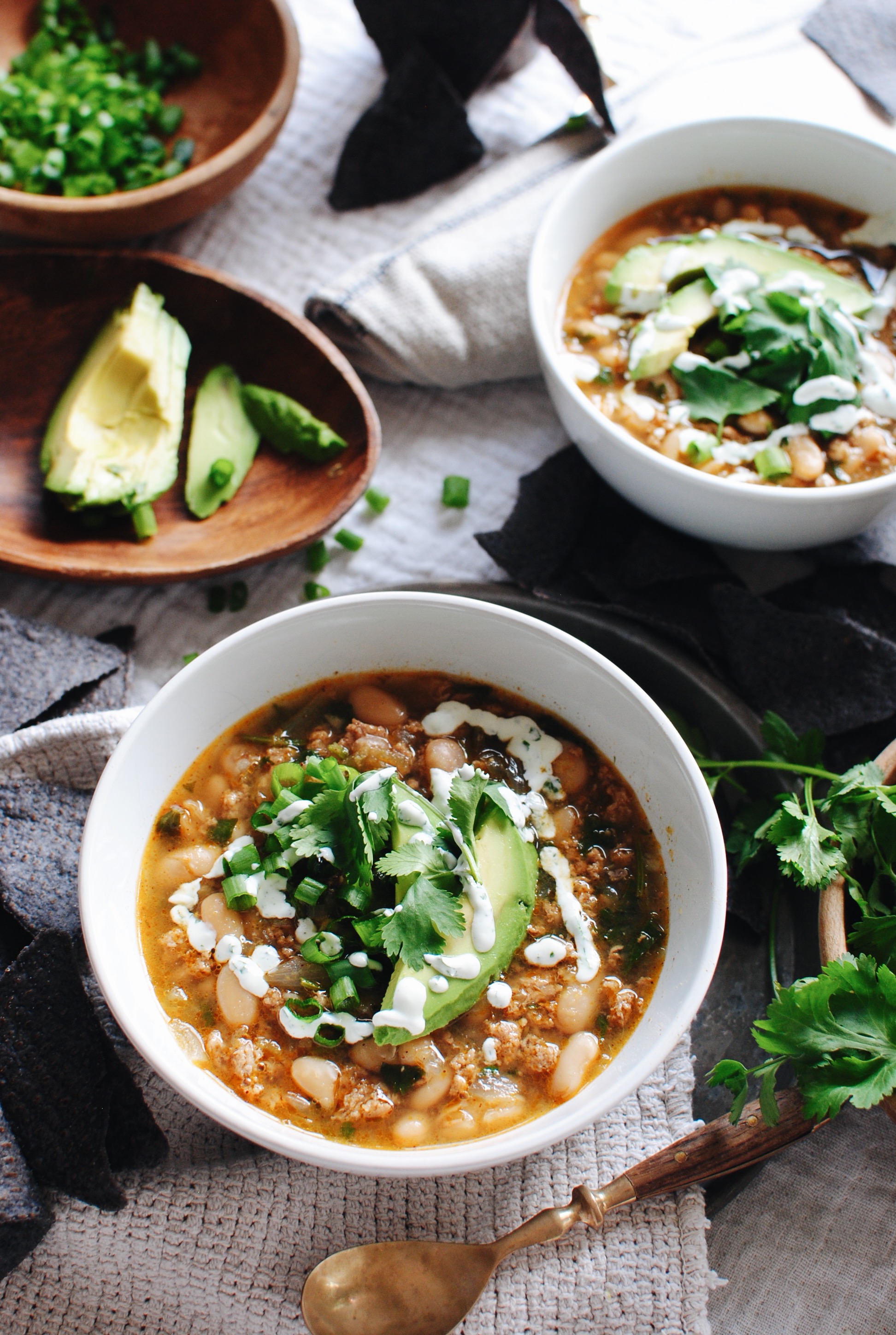 Dinner tomorrow? DUH.
Short Cut Salsa Verde Turkey Soup
Ingredients
1 pound ground turkey
2 tsp ground cumin
1 tsp chili powder
1 tsp ground coriander
1 tsp garlic powder
1 tsp onion powder
1 tsp coarse salt (more to taste)
1/4 tsp freshly ground pepper
1 (1 pound) jar salsa verde
1 white onion, diced
3 garlic cloves, minced
2 (15 oz) cans cannellini beans, drained and rinsed
4 cups chicken stock (less if you'd like it more chili like)
1 bunch cilantro, chopped
1-2 limes
Diced scallions
Crumbed queso fresco
3 Tbs. sour cream
Cubed or sliced avocado
Instructions
In a large skillet, brown the ground turkey. Season it with the cumin, chili powder, coriander, garlic powder, onion powder, the salt and pepper, and let it brown a minute more.
To a slow cooker, add the seasoned turkey, salsa verde, diced onion, minced garlic, cannellini beans, and chicken stock. Let it cook on low for 6-8 hours, or on high for 4. Whatever you have time for!
Before serving, add half the bunch of chopped cilantro to the pot, along with the juice of a lime.
In a small food processor, pulse the sour cream, juice from half a lime and a little bit of chopped cilantro. (All this is optional!)
Garnish with scallions, avocado, more cilantro, crumbed queso fresco and the sour cream drizzle. HEAVEN I TELL YOU.
Serves 4.
7.8.1.2
124
https://bevcooks.com/2017/12/short-cut-salsa-verde-turkey-soup/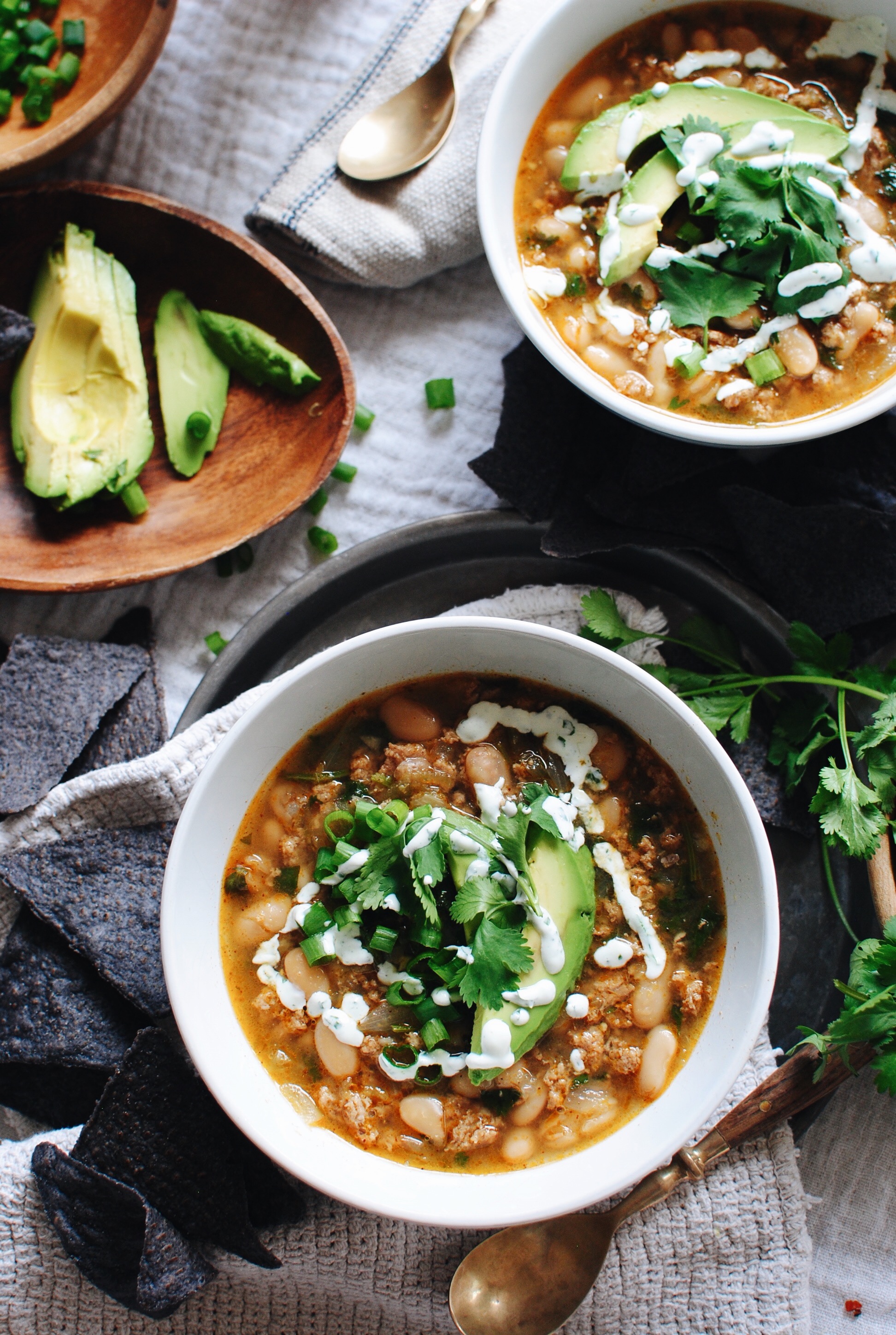 And I want 18 more bowls.