I can't believe it's taken me EIGHT YEARS to finally post about exercise.
You're like, "WAIT, WHERE'S THE WINE?"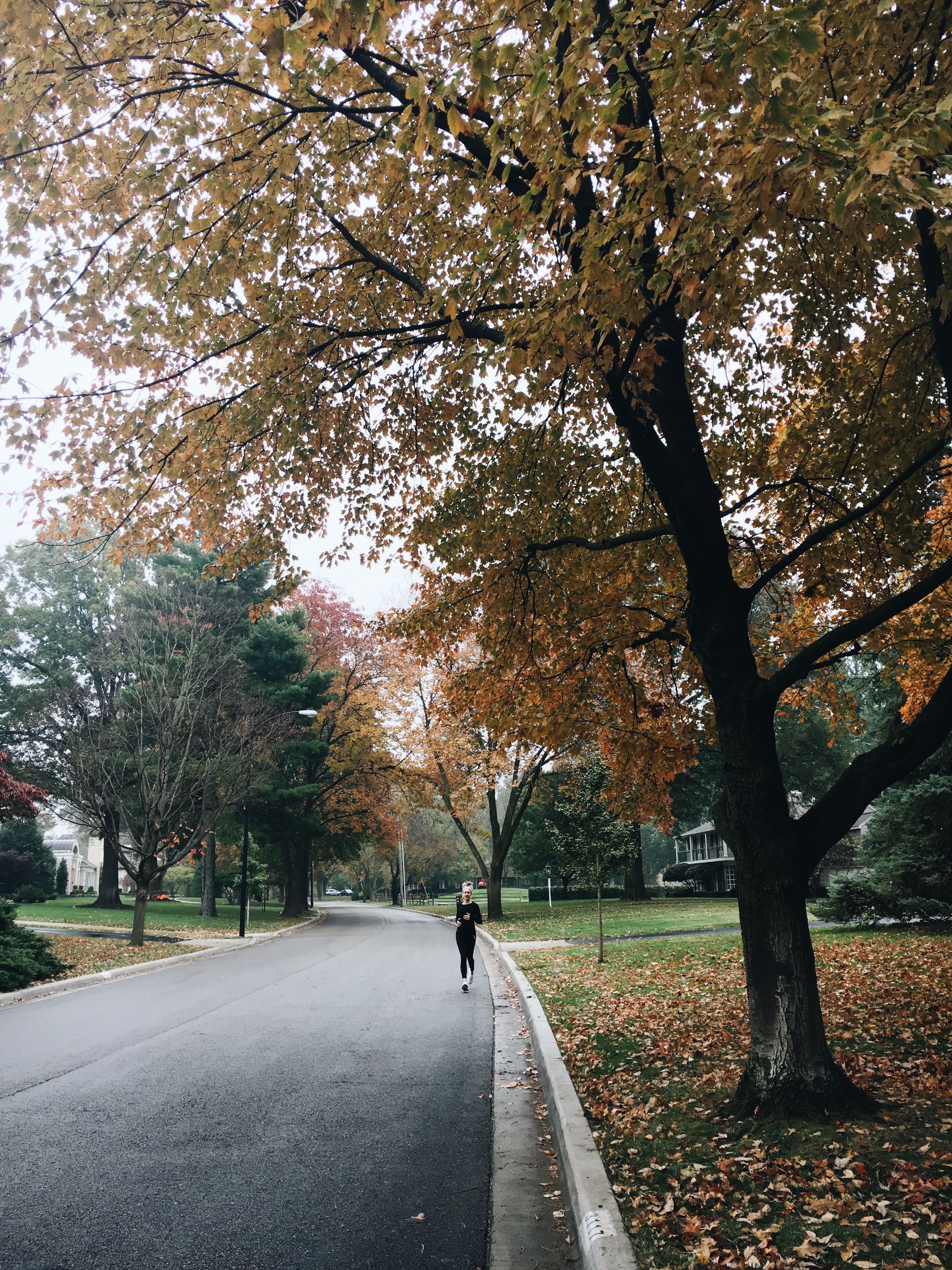 Did you know I love running? No seriously, I actually love to run. Really, RUNNING. Not pulling your leg. (haha! oh.)
I've actually been obsessed with running for about 10 years now. I remember this one time, at band camp, right when we bought our house, I was on a morning walk with our brand new pup. An eager little bia, she pulled and yanked on the leash this way and that, forcing me to begrudgingly pick up my speed to keep up with her. So, I decided to jog a little bit. Just to see IF I HATED LIFE.
And . . . I didn't! I didn't hate everything. Matter of fact, I kept going. And going. And I never stopped for 10 full years! Just kidding, that sounds awful.
But LISTEN – my running game has recently changed, and I mean mammothly advanced to the max, thanks to a brand new, bawd-aw fitness app called Aaptiv. And you guys know I'm not appy. I get anxious and turn into a huge sissy with apps, but Aaptiv is: a) AESTHETICALLY SOOTHING (you know I need this), and b) bonkers easy to use.
And it's not just running! Hold up, let me show you.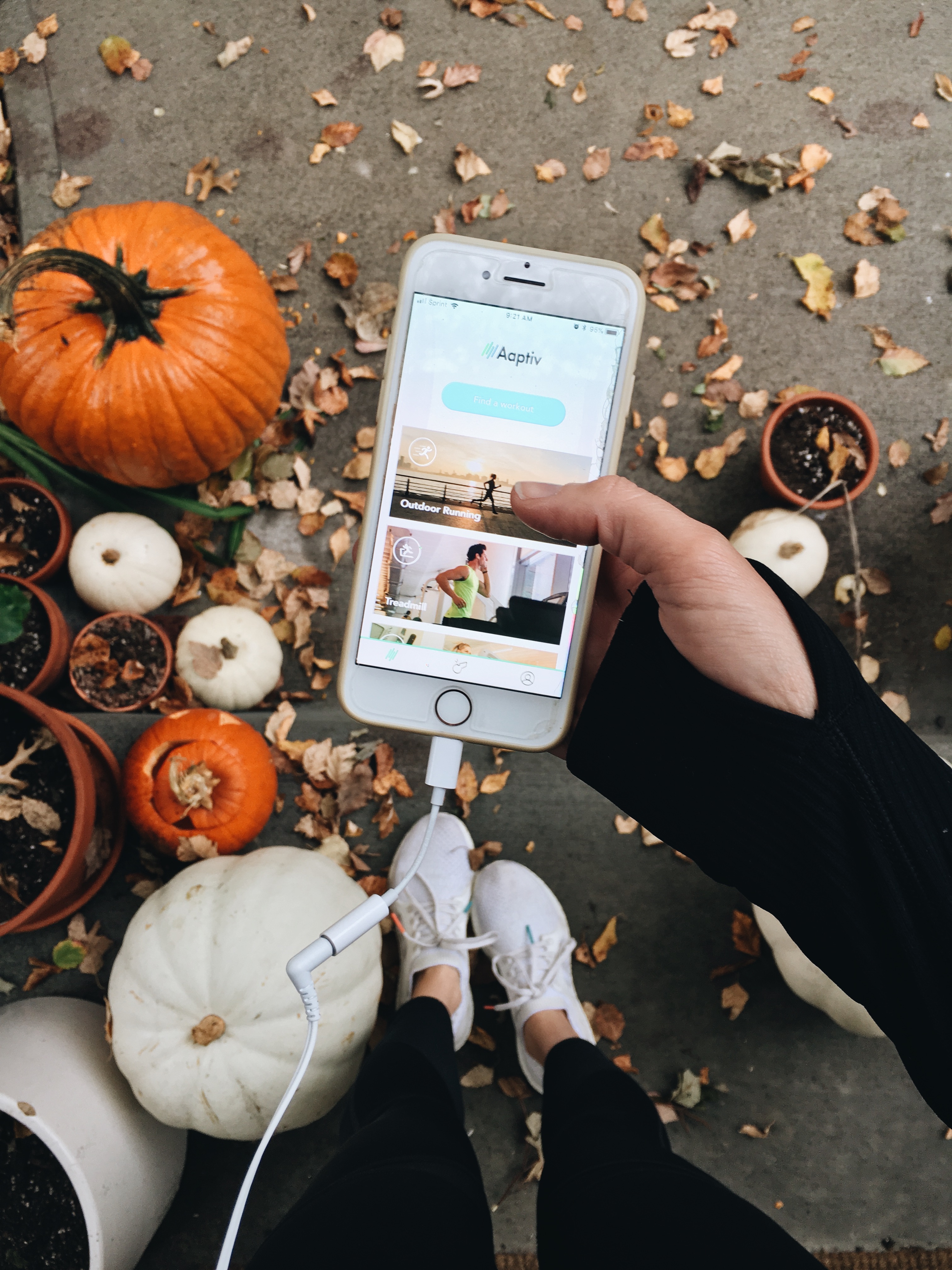 This is the thing – Aaptiv has a whole slew of fitness categories, like running, TREADMILL (hello, my new winter life), yoga, stretching, elliptical, indoor cycling, stairclimber (<—if you're a gym nut, these are perrrrrfect for you), strength training, on and on and on. They're multi-certified trainers from all over that go into a studio, pick some JAMZ (<–sorry), and create a workout for you. AND I AM LOONEY TUNES FOR THIS.
On top of that, they add something like, 30-50 new workouts (that's a lot) every single Monday, so there's always a ton of fresh routines to try out.
(Yesss there's a discount, HOLD YOUR FACES.)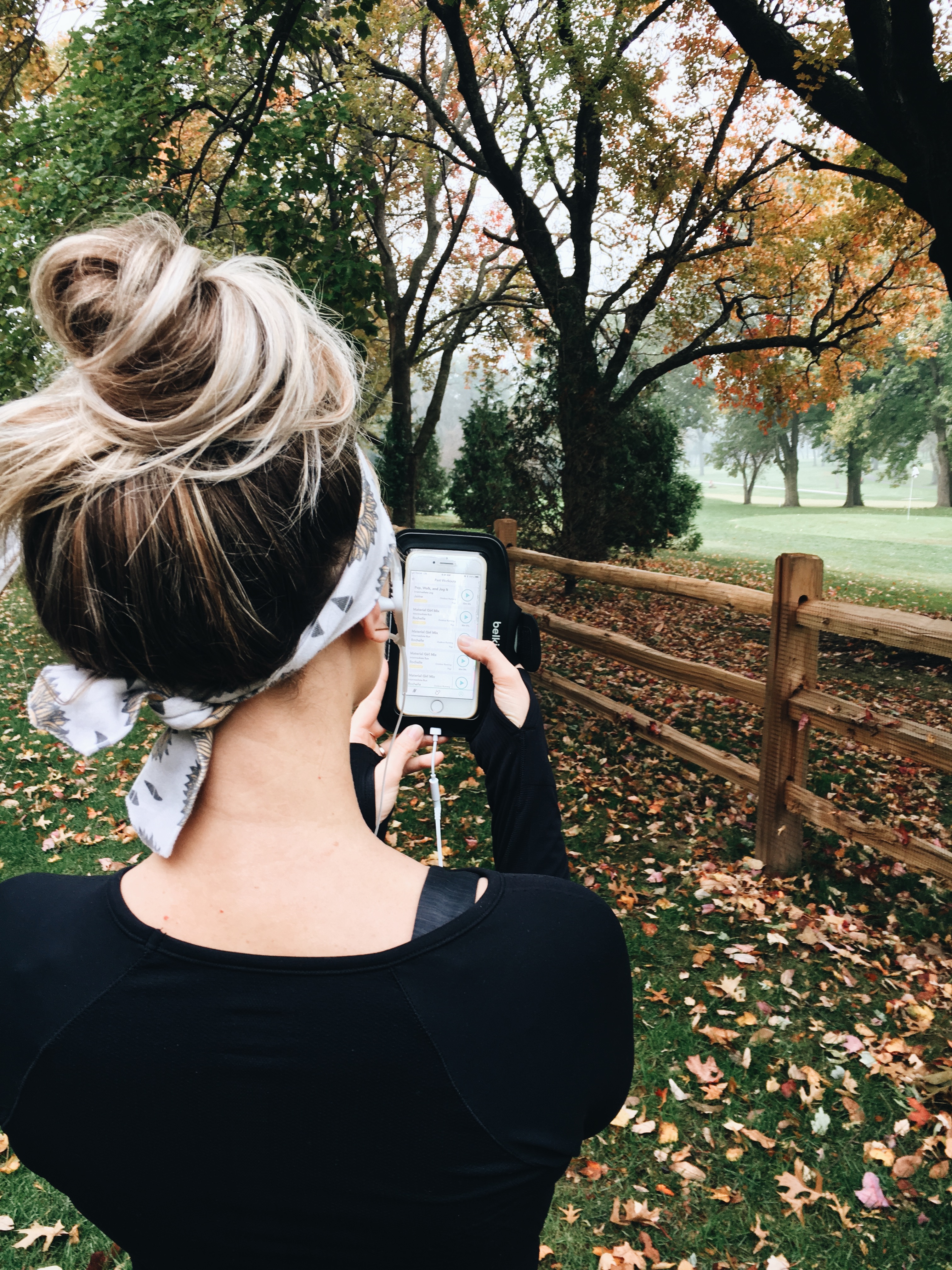 Also, ignore my insane nest.
So what I do is, pull it up on my phone and click "outdoor running."
From here you'll see alllllll these different runs. Beginner levels (green), intermediate (yellow), and advanced (HOT MAMA RED) (I ignore those.)
Each "class" will give you the theme, music type, run time, mileage, and how many calories you'll mostly likely burn. Ha-boom. I mean ha-burn.
Ha-burn.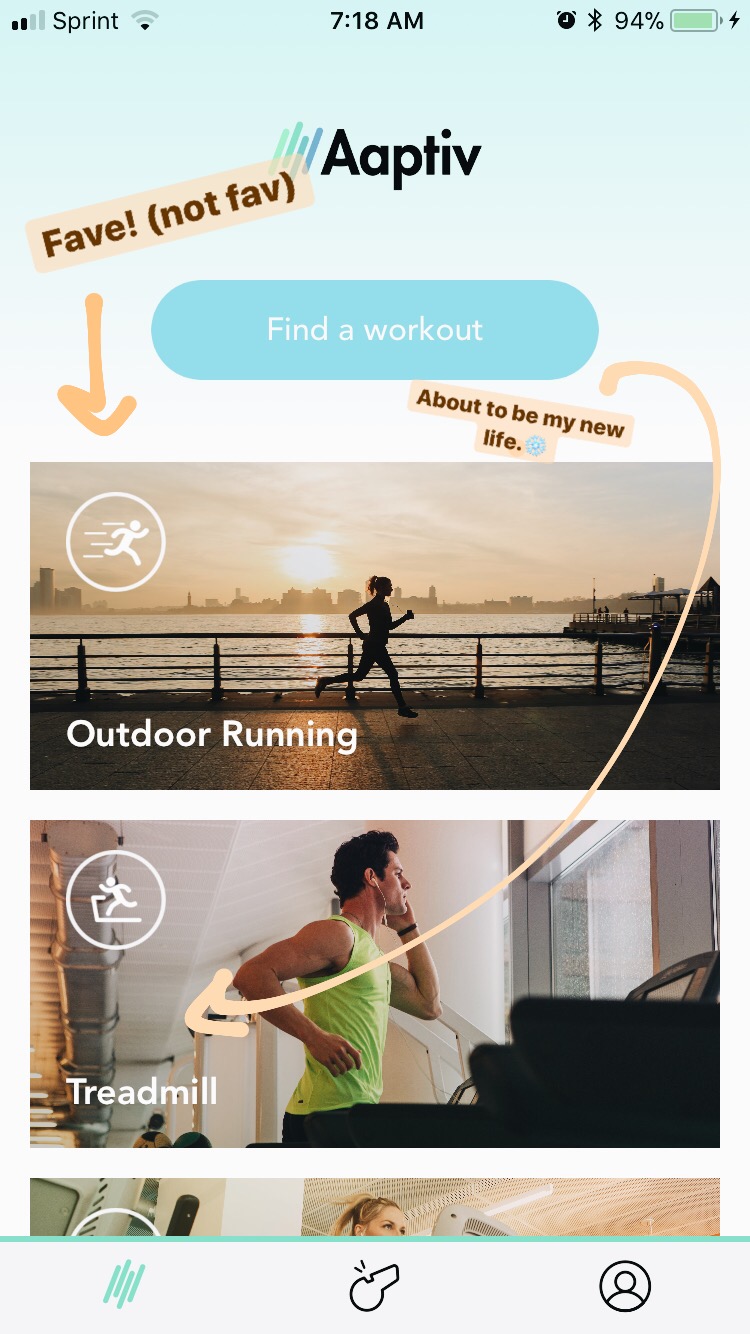 YEW BETTER NOT roll your eyes at this until you try it, but this Madonna run I'm about to show you is the best thing on earth. It has changed my life. CHANGED WHO I AM AS A PERSON.
But I'm not dramatic about it or anything.
It's right at 30 minutes, old and new Madonna, burns about 360 calories, and you're not A COMPLETE ZOMBIE PSYCHO at the end. You keep a steady pace the entire time. The very last song in the run that carries you over the finish line is Frozen from Ray of Light, and omg. It is the most magical end of run you could ever experience. STOP LAUGHING AT ME.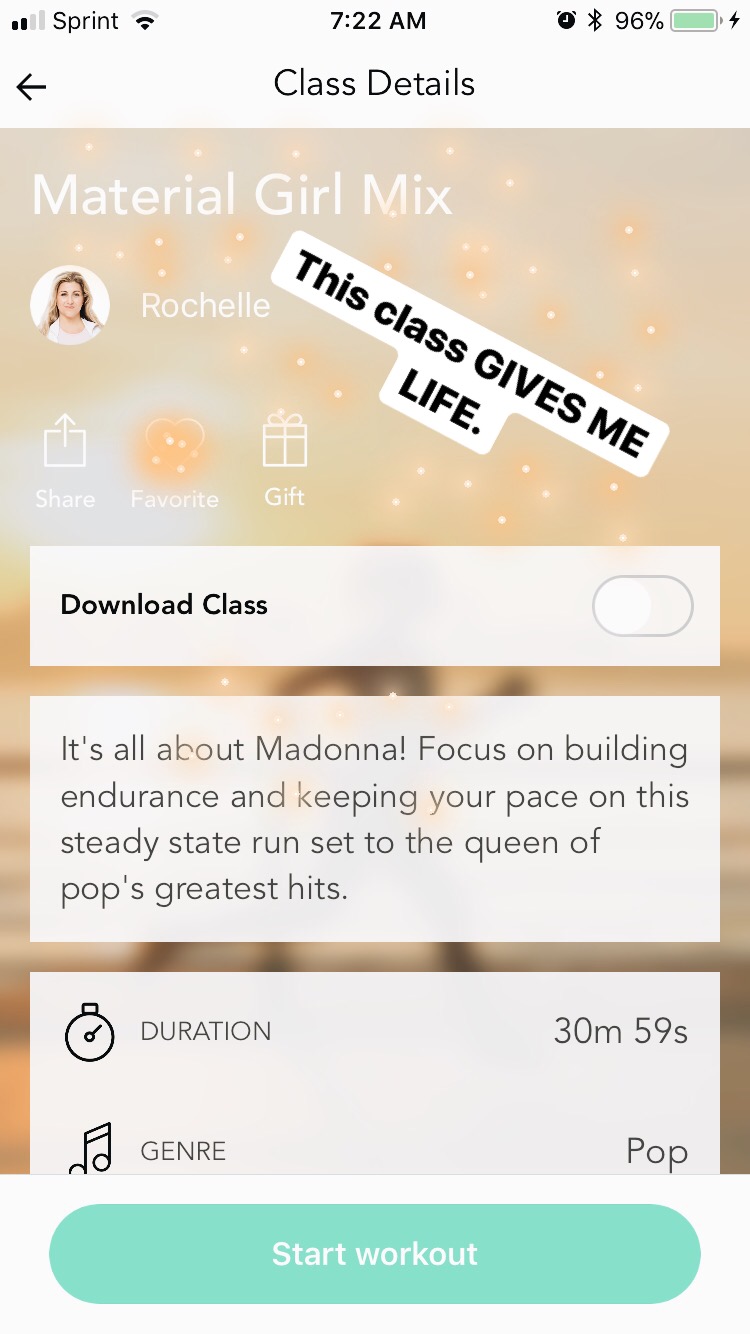 I've had Aaptiv for two months now, and the things that keep me obsessed with it are:
1) Having that subtle pulse of encouragement in your ear. And trust me, it's not obnoxious or constant or cheesy. I had no idea that a mini earhole cheerleader would make such a DIFFERENCE in the way I run. There's a whole new mindfulness that wasn't there before. (cue Beauty and the Beast love song)
2) The muuuusic. Can you believe I've never run with music in my headphones until now? Never even wore headphones! Just obeyed the self pity alien voices in my head like normal.
3) THE PRICE. Are you ready? Sit down for this. $9.99 a month. NINE NINETY FRICKIN' NINE a month. How is there not a hot air balloon of cascading glittery fist bumps floating above us right now?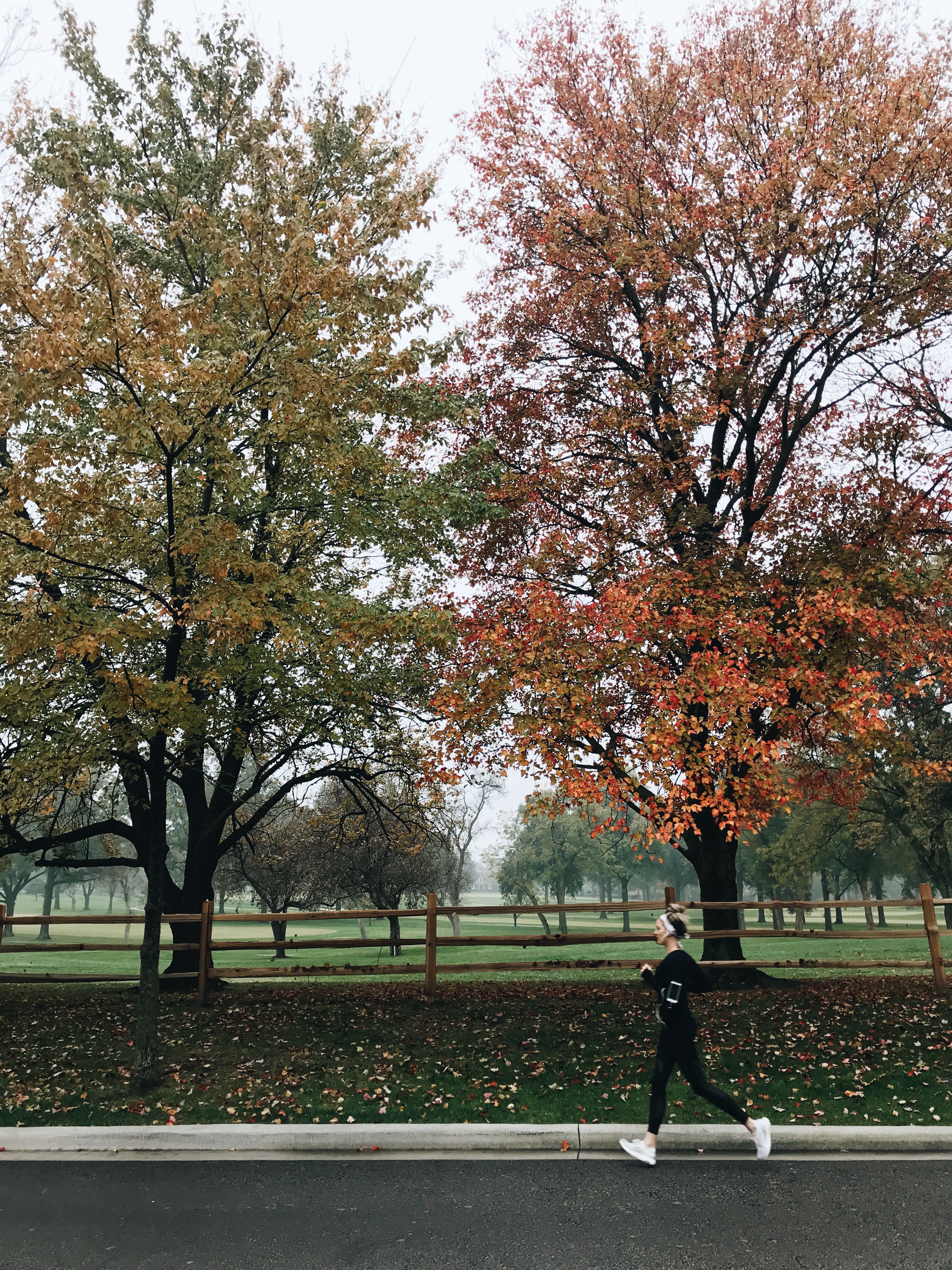 This is me running in my back yard!
Just kidding, it's a country club in our neighborhood that will never ever let us join.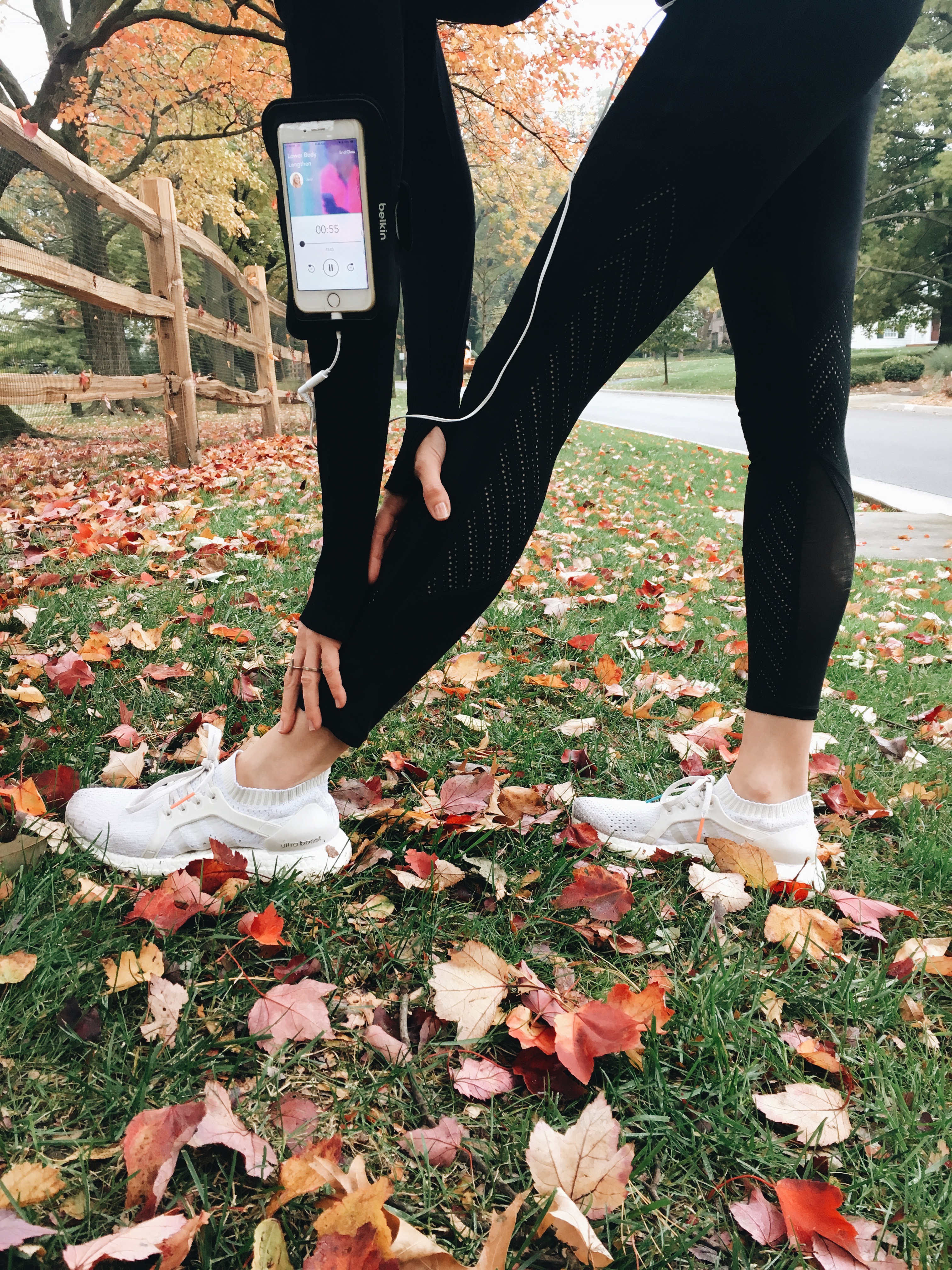 We're getting closer to the discount, relax.
Or stretch? There are stretching programs, too!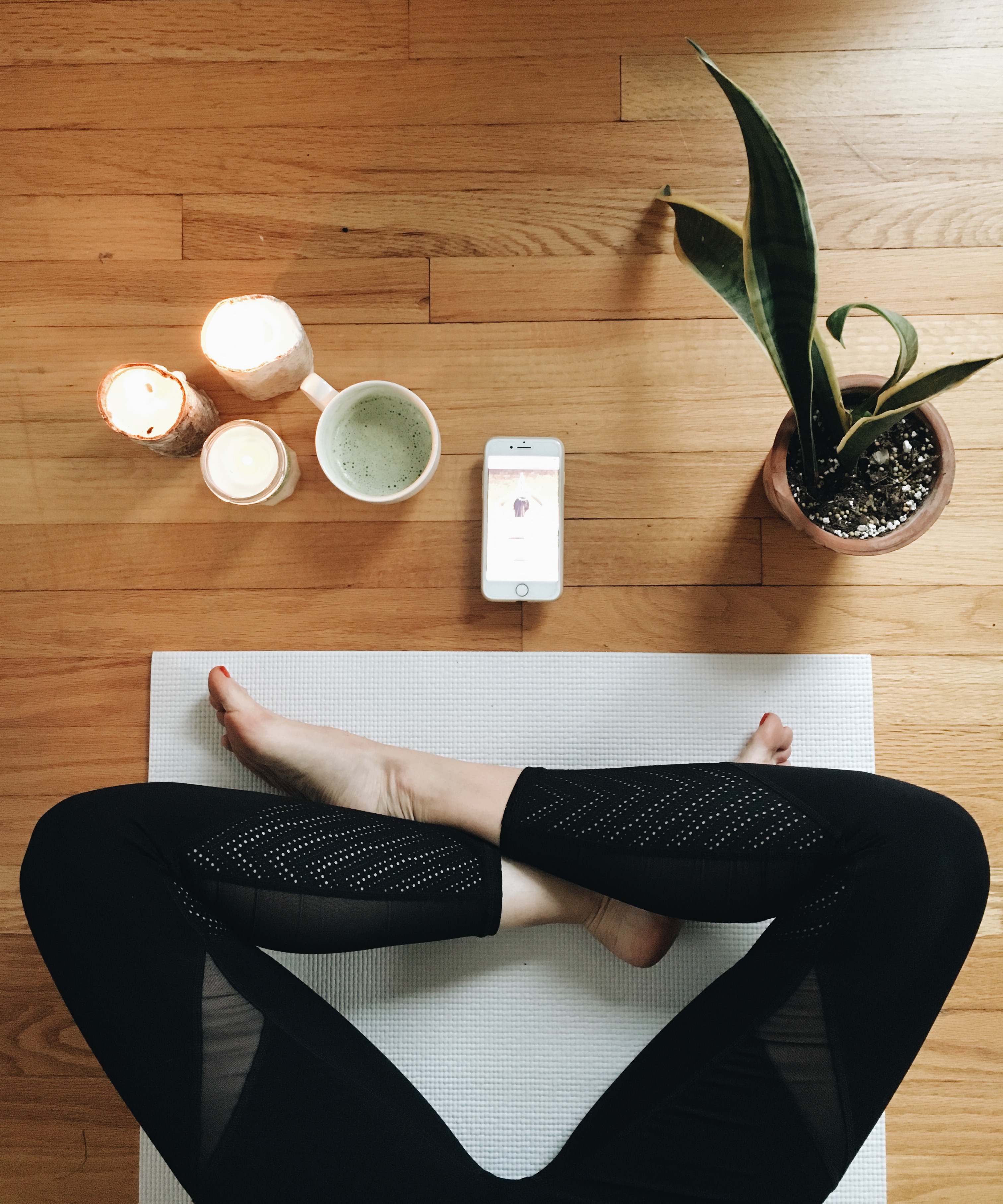 AND YOGA. Before you get super uncomfortable looking at this photo, I'll distract you with . . . the discount!
Aaptiv and I want to give ALL OF YOU, every last one of you, a super pimp 30-day discount code that lets you try the app out for freeeeeee! And believe me, 30 days is a sexy chunk of time to try out all of the programs and playlists. And right smack during the holidays! YOUR LOVE HANDLES THANK YOU. I mean me. They thank me. And Aaptiv.
(quick note, you do have to enter in your credit card number during the sign up, but you can cancel anytime, no questions.)
Also, when you sign up, you'll find a specially-curated workout made by yours truly! (With the help of Aaptiv. I'm not that technically savvy. Girlfriend, please.)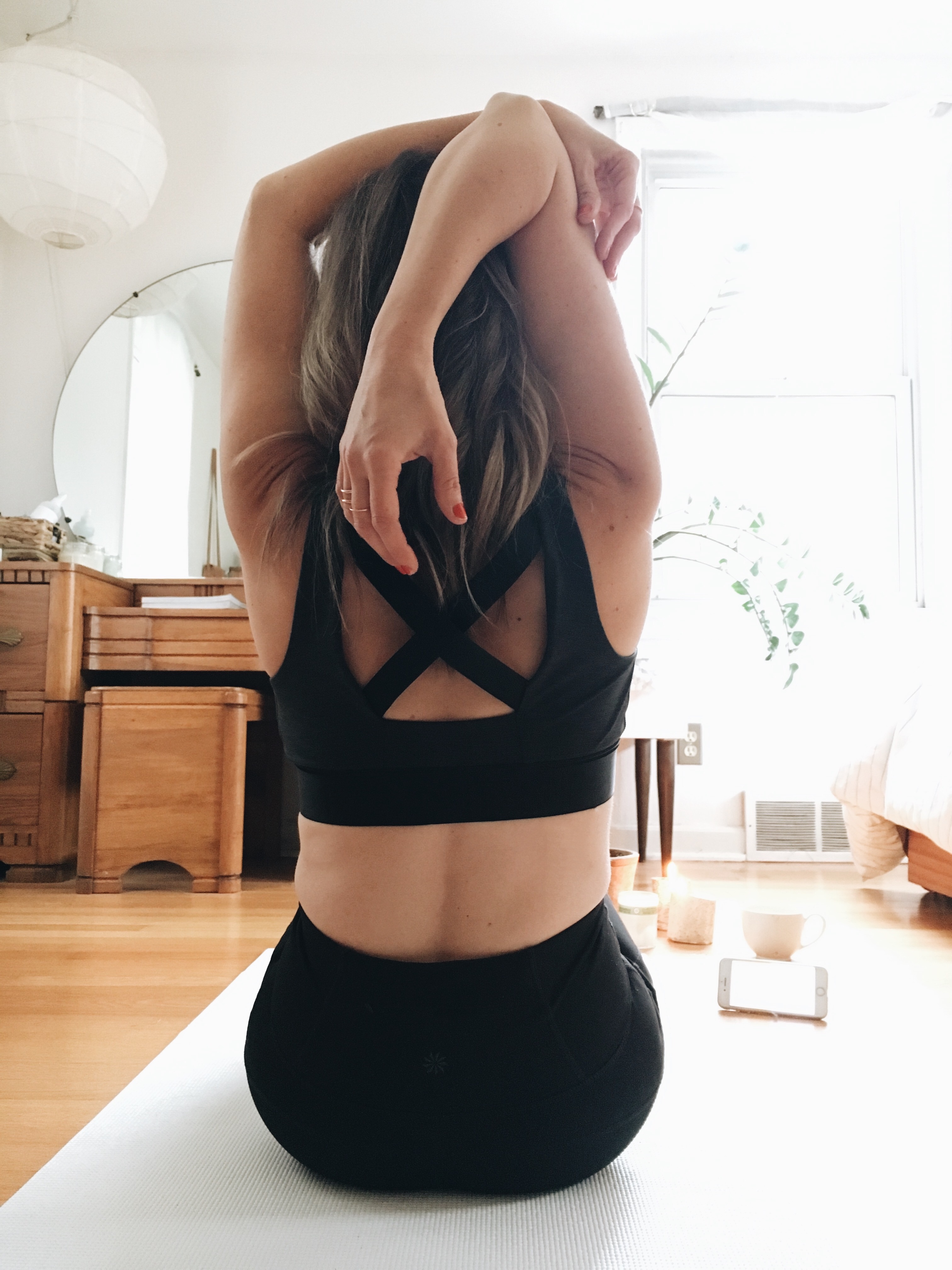 The clothes: would you believe I got completely outfitted by Athleta! Remember when I asked you all about workout gear, and soooo many of you recommended them? WELL, the stars aligned for this project, and they were gracious enough to hold my hand through the store, the decision process, and all of my uncontrollable weeping. And I love them.
Plus that running shirt has thumbholes, so naturally I'm already obsessed.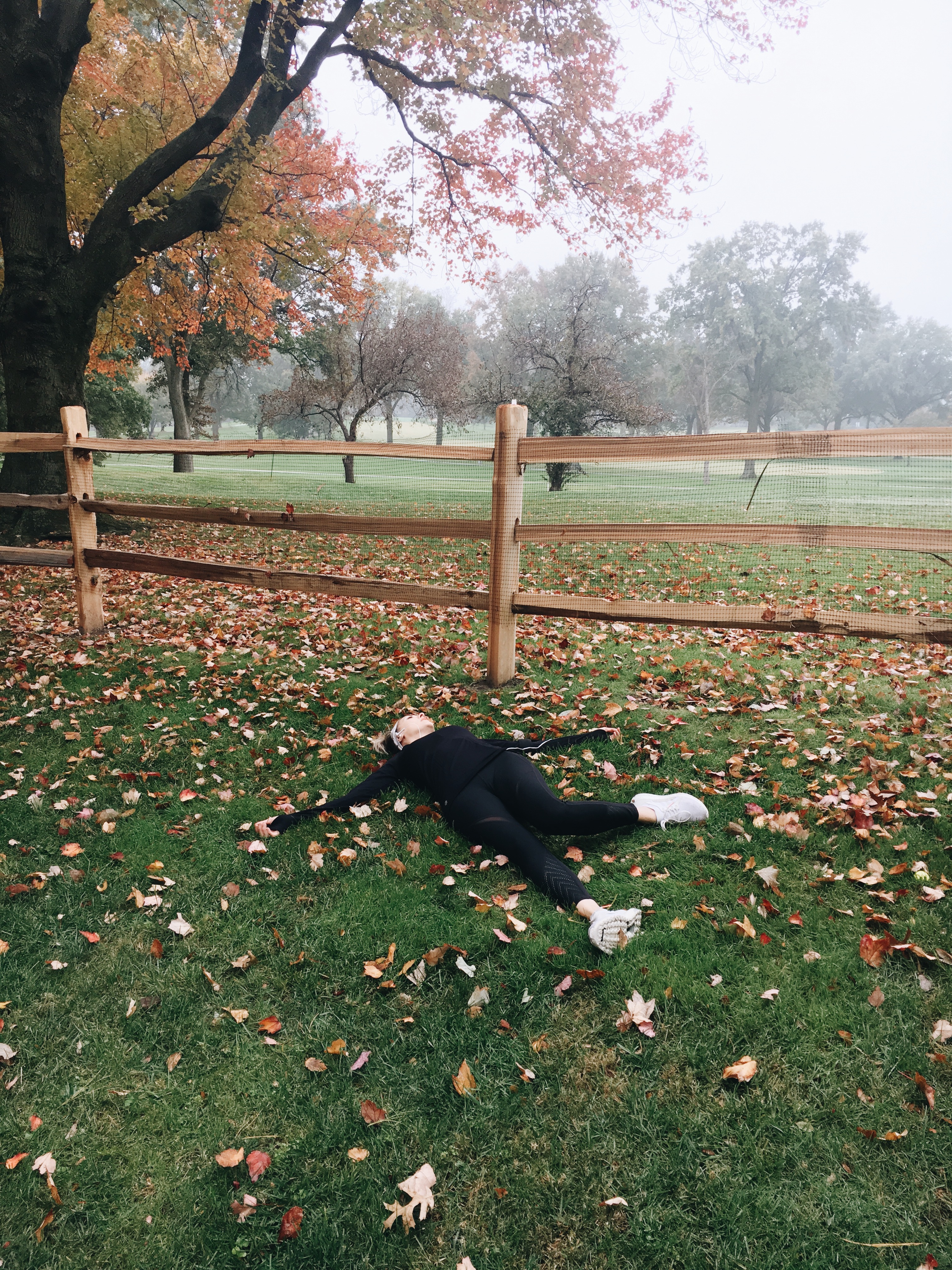 In a nutshell, Aaptiv is the freaking best. I can't say it enough. I really, really hope you try it out, because it has truly enlightened my workout experience, and changed the way I look at running.
And the way I look!
Haha!
Oh.
(This post is definitely in partnership with Aaptiv, but all runnings and faintings are totally my own. We coo?)