The turkey's leftover! Not the soup. The soup is fresh. Not the turkey. The turkey's leftover. Never mind.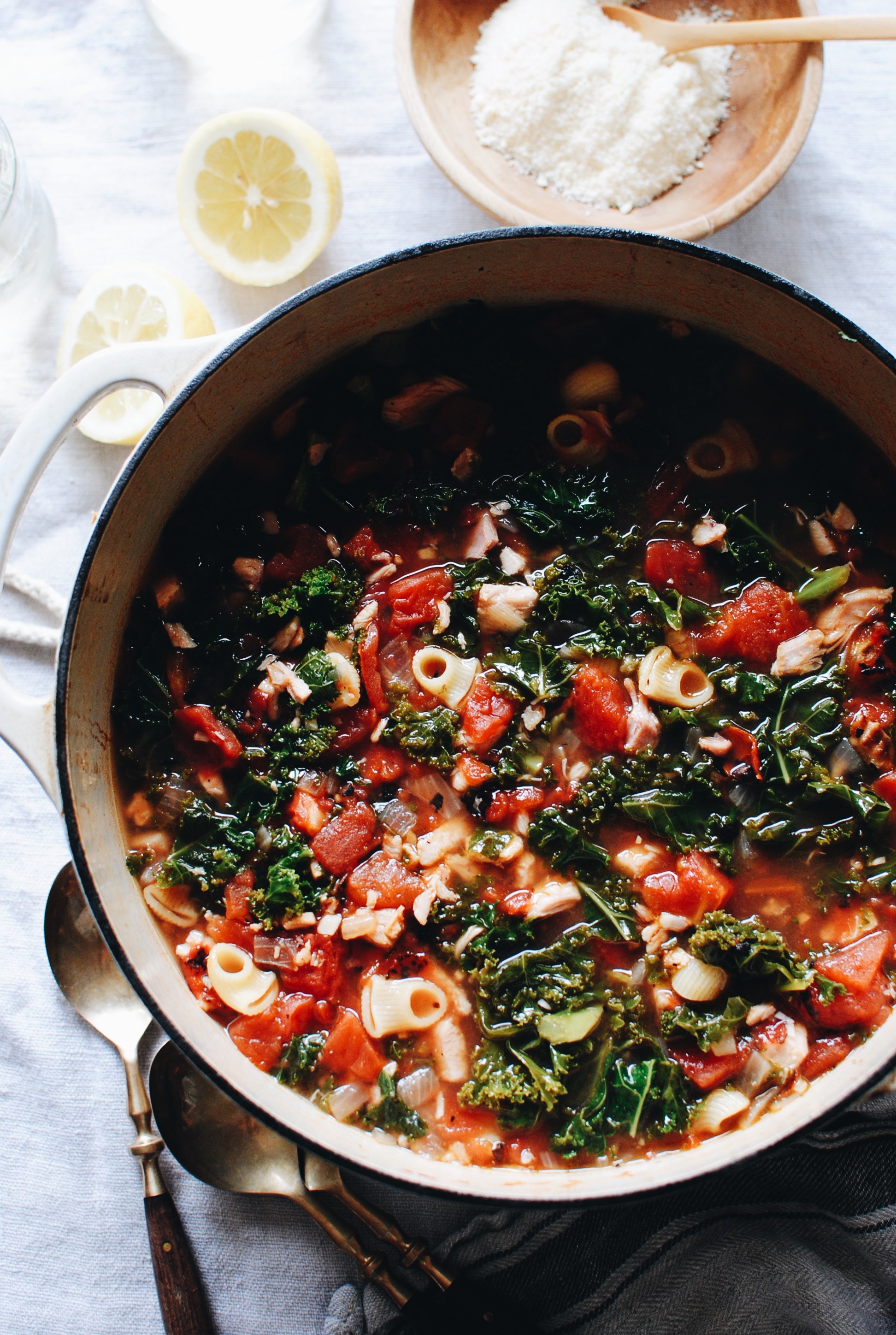 This is the most non recipe of all recipes. Because listen, the day or two after Thanksgiving, you won't need a recipe. You won't WANT a recipe. All recipes shall be banned to the pit of DESPAAAAIR. (<—name that movie.)
But you'll have this. And you will be gleeful. And probably sing or weep. Or both.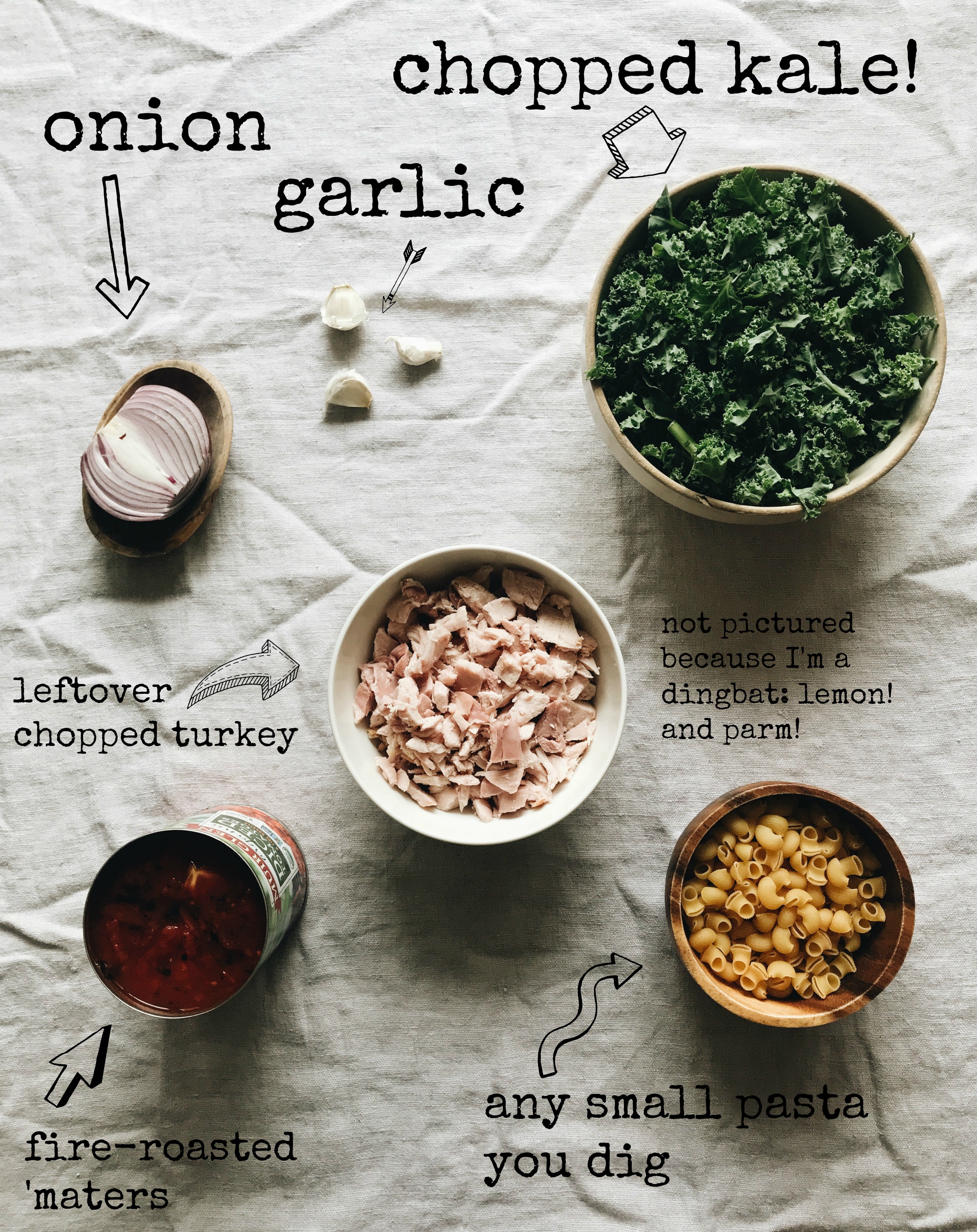 The thing about this non-recipe-recipe is that it's totally boasting Italian flavors. Because let's be honest, no one actually likes cranberry sauce. You don't. You don't like it. So we're not having it in our leftovers! See how I take care of you?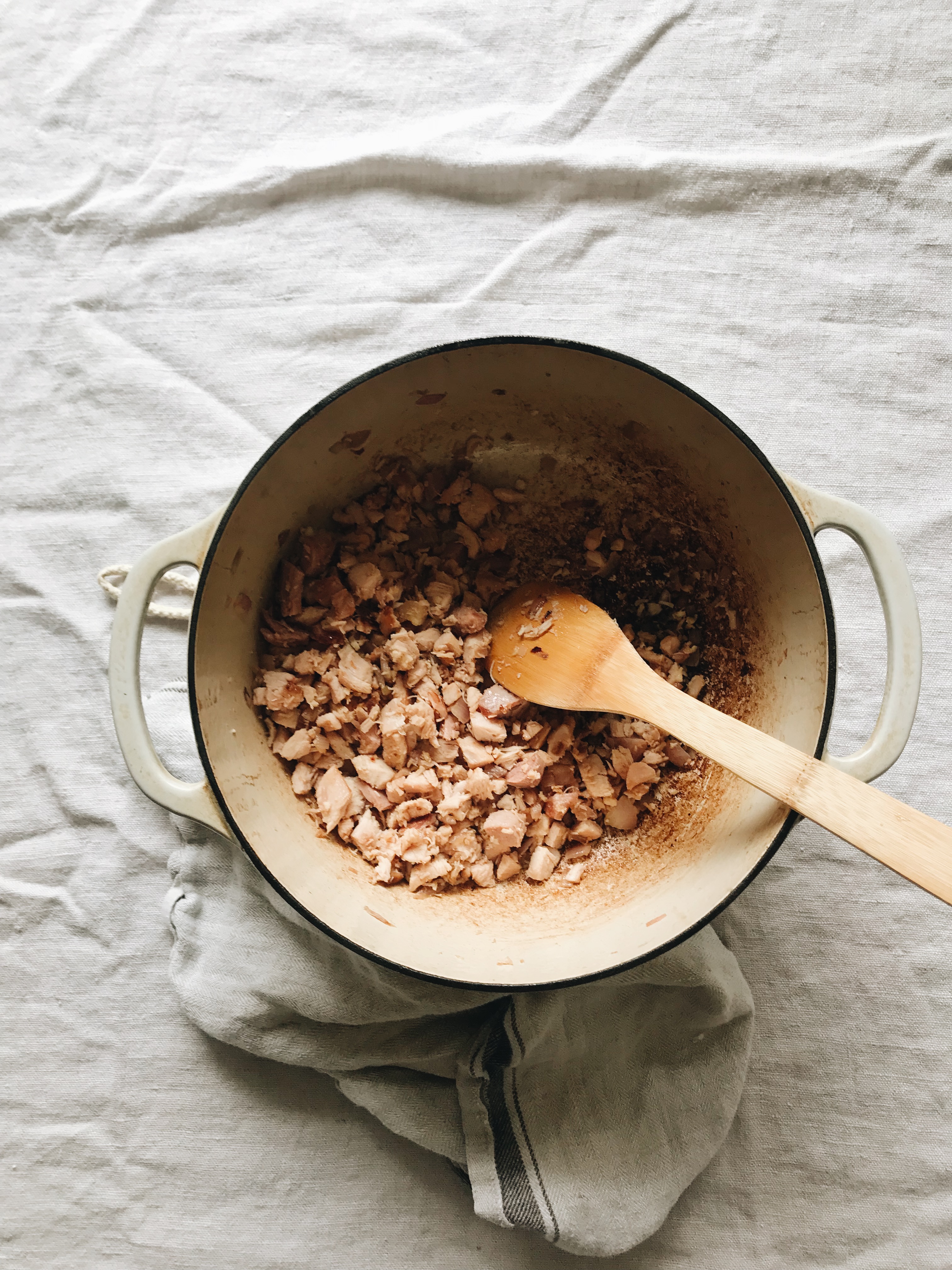 Just sauté some chopped red onion (or any onion!) in a big ol' pot. Add the garlic and go a hot sec more. Then stir in the chopped leftover turkey. Just however much you want. I think this was around three cups?
The KEY here is to get a little color on your turkey. So let it sit in the pot and get slightly seared all over. Seriously, takes the soup to 11.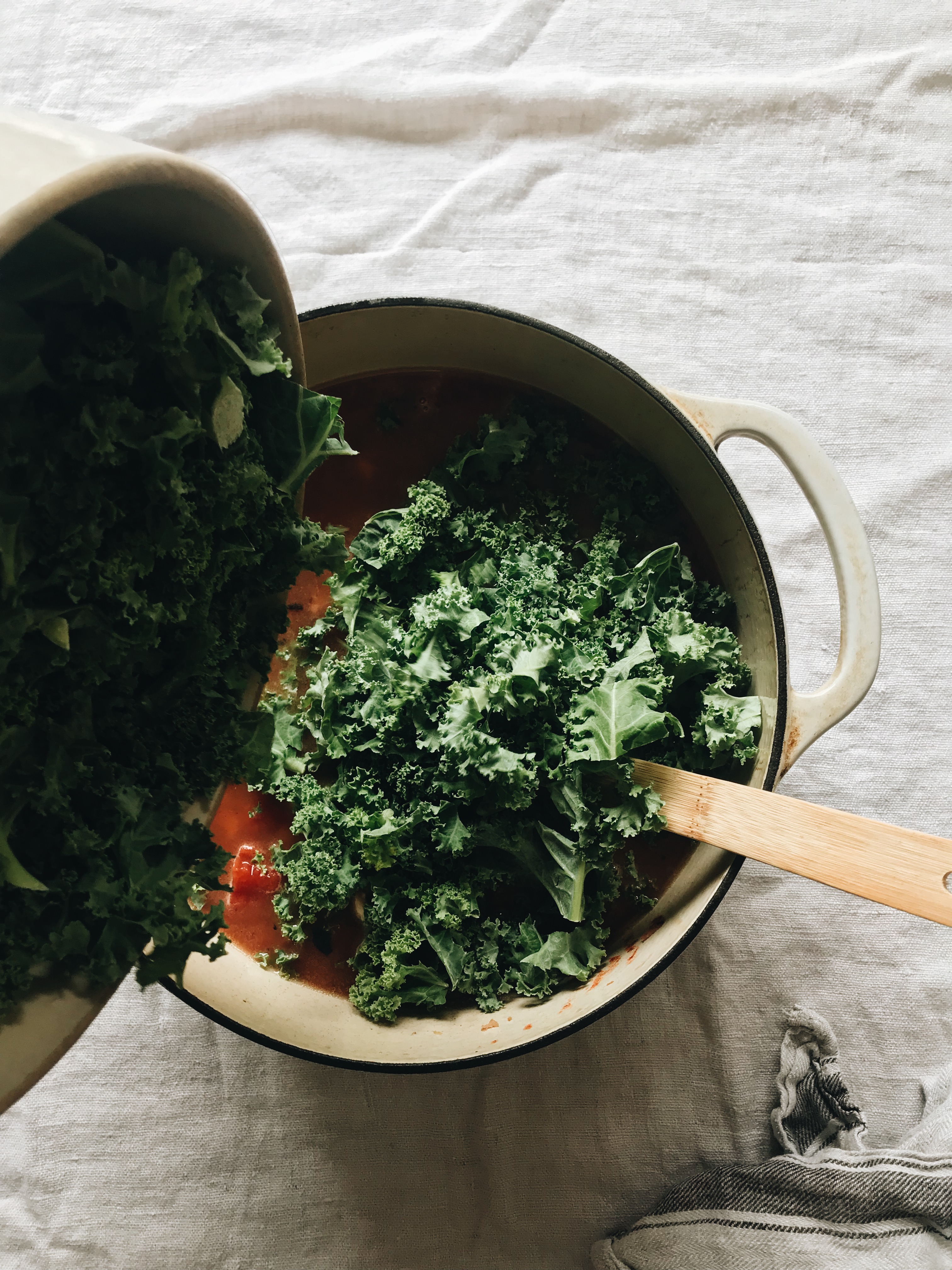 Then add in some fire-roasted tomatoes (Regs diced 'maters work like boom, too. Did you hate that sentence just now? I know.), about four cups of stock (more if you need!), any small pasta you have on hand, and as much chopped kale as you can fit in there. It'll wilt down, so go maniacal.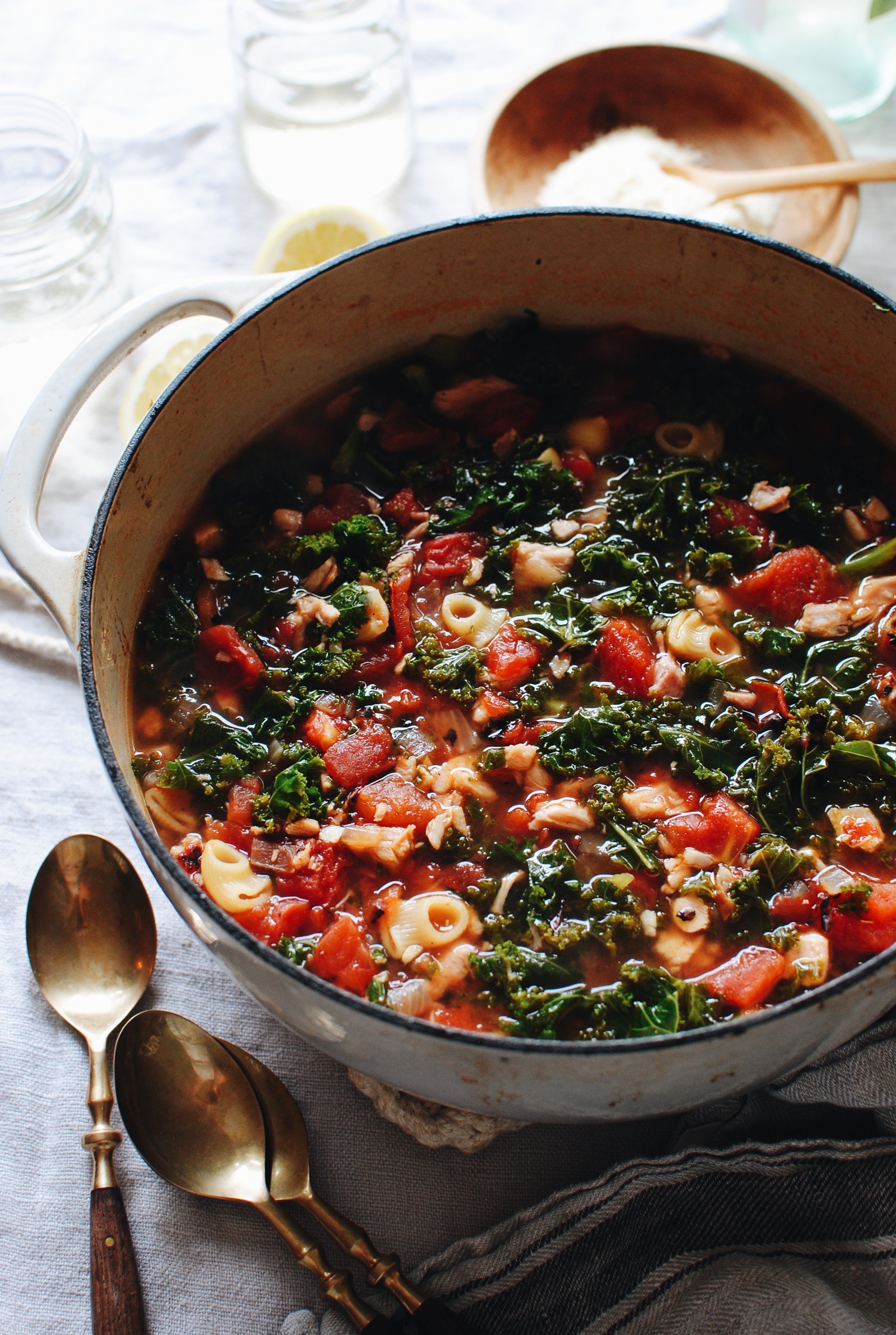 After about 15 minutes (well, depending on what kind of pasta your soul fairies guided you to throw in), you'll get a simple but festive-ish soup! Season it well with salt and pepper, and squirt in a bit of lemon juice. You know my rule: citrus at the end. Wakes it up! Wake that ish up.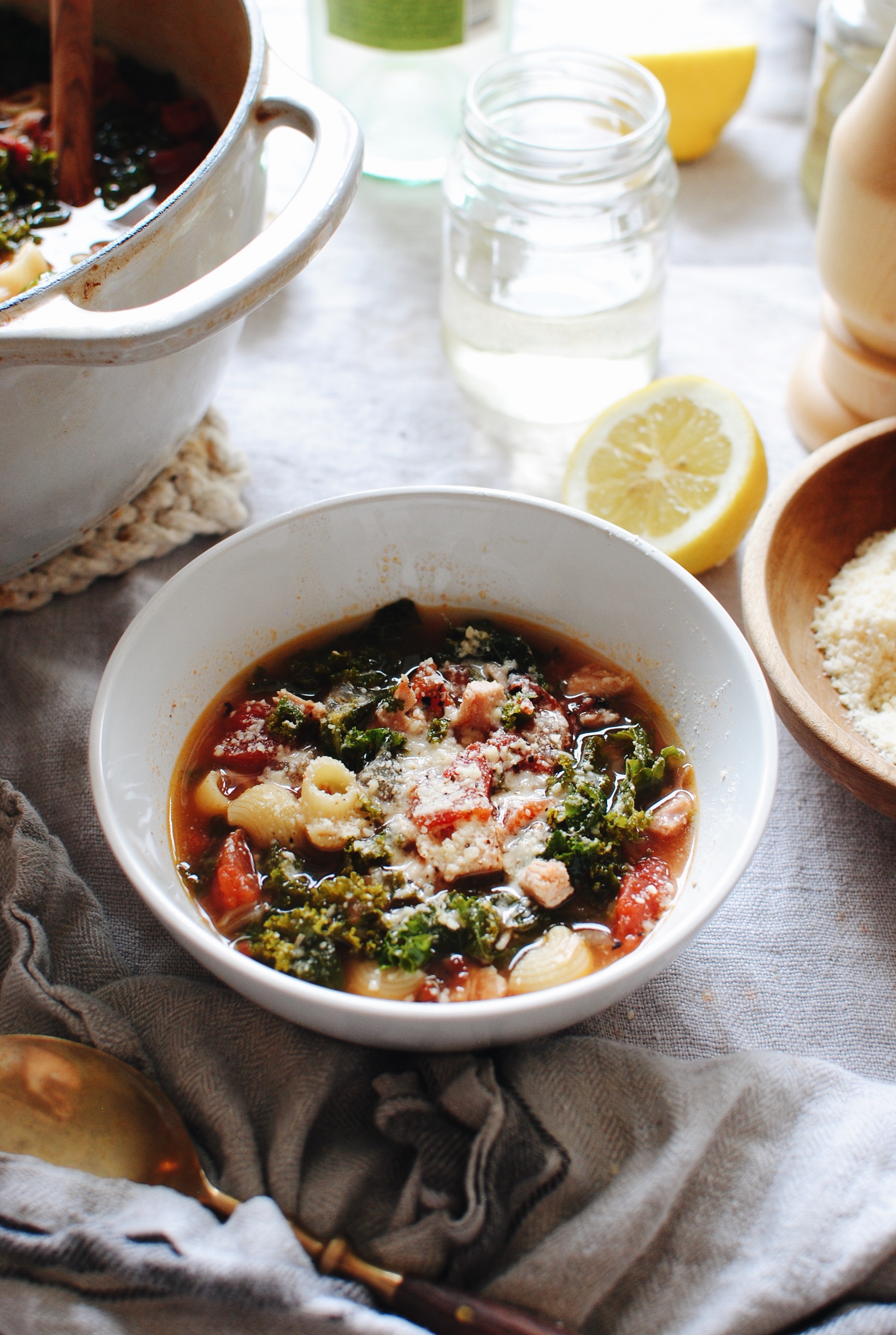 And of course freshly grated parmesan. And parsley if you have it! I forgot to garnish mine because holidays.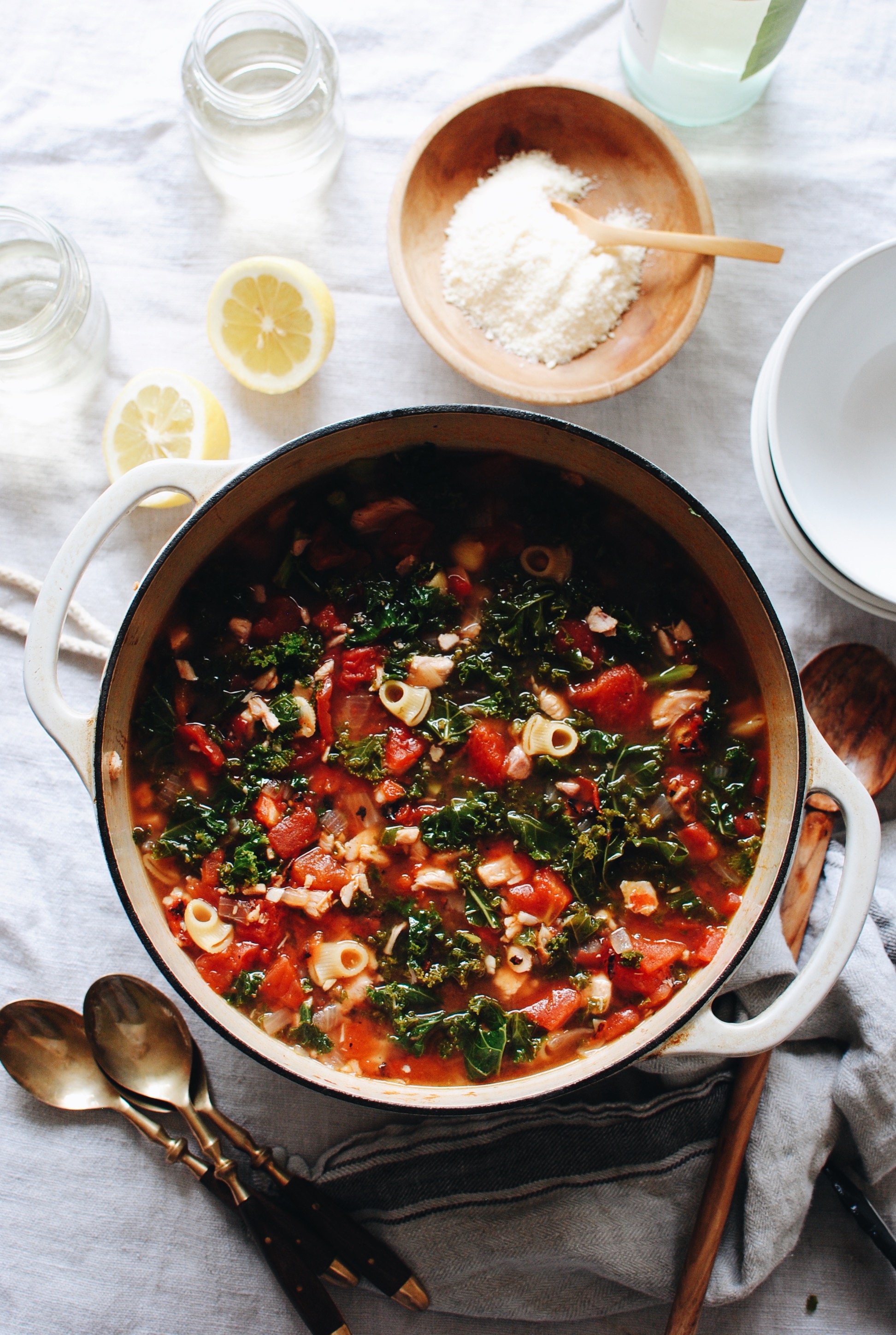 Simple and comforting and fresh and slurpy and uses up dat turkey, yo. Gobble gobble.
Ingredients
1 Tbs. Extra-virgin olive oil
1/2 red onion, chopped
3 or 4 garlic cloves, minced
About 3 cups leftover chopped turkey
1 (28 oz) can fire-roasted diced tomatoes
4-5 cups chicken stock
1 1/2 cup small pasta (whatever you have on hand)
6 cups chopped kale (more or less)
1 lemon
Salt and pepper
Parmesan and parsley for garnish
Instructions
Heat the oil in a large pot. Add the chopped onion and sauté for about six minutes, or until the onion starts to brown in places and become tender. Add the garlic and sauté another 30 seconds. Add in the chopped turkey and sauté about five minutes, getting color all over the turkey. A little browning = flavor!
Add in the tomatoes, stock, pasta and kale. Bring to a boil, then reduce the heat and let simmer about 15 minutes, or until the pasta is al dente. Don't overcook the pasta as it will continue to absorb the liquid and thicken.
Season well with salt and pepper, and add the juice of a lemon.
Ladle into bowls, and garnish with freshly grated parmesan and parsley!
(TIP: since the pasta will continue to absorb the liquid, add a little water in your soup leftovers, to keep it soupy.)
Serves 6 to 8!
p.s. gobble.
7.8.1.2
121
https://bevcooks.com/2017/11/leftover-turkey-soup/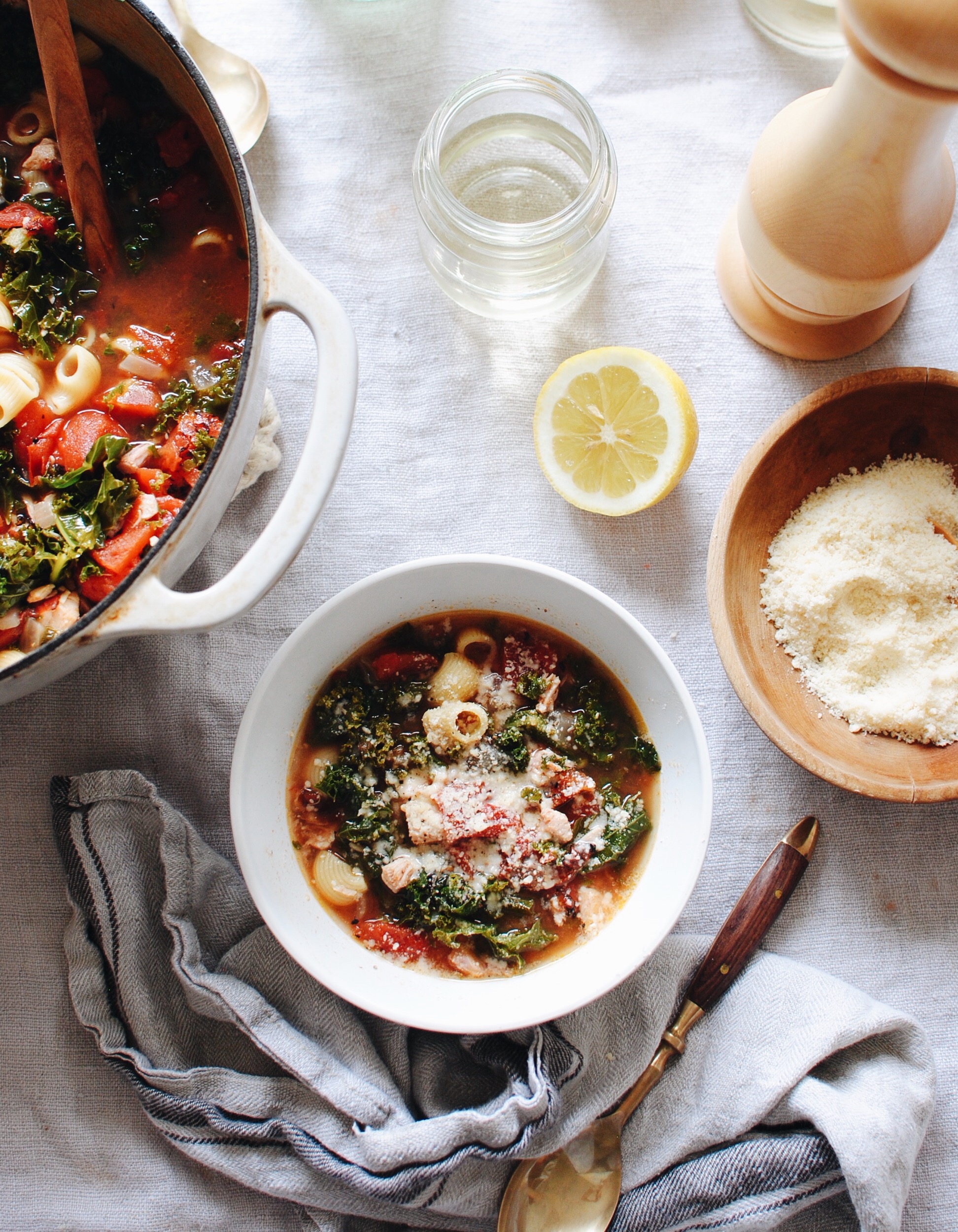 Also, I'll be posting your CHRISTMAS MIXTAPE this Friday! Way earlier than I planned, but you're all so flippin' excited about it which makes me flippin' excited about it so it's coming to town. I mean to this website. In the meantime, your Thanksgiving playlist!
Aaaand putting fat pants on now.