First slurp fest of the season!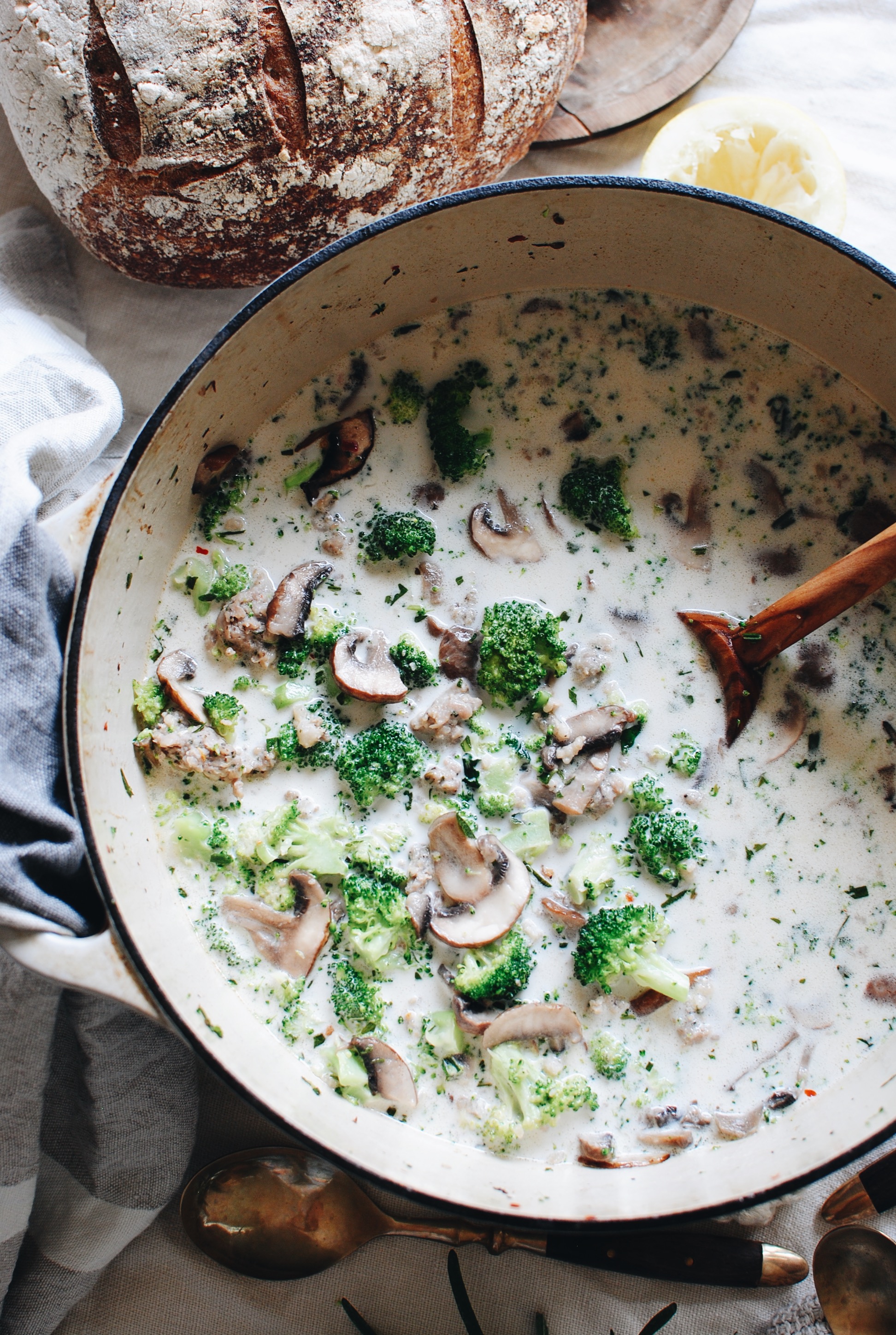 And this one's pretty dern stellar.
Okay, tell me if you do what I do. First of all, obsessed with soups. You know this. I post soups all fall and winter long. Even in the summertime because slurping is a primal way of life.
But!
Do you look at the forecast 10 days out, spot the cool days and plan a soup around it? As in, your whole entire week is governed by the temperature dip or plunge, and the various ingredients that may or may not go into your soup? Do you do this? I do this. I spot a cooler day, then think of a color, and go from there.
So like, for this soup, I found the cool(ish) day in the forecast, and thought about green and brown. Then white found its way into the color scheme, so I knew it had to be creamy. A little bit of yellow. A little bit country. A little bit rock and roll.
Do you do this?! Only me?
Oh.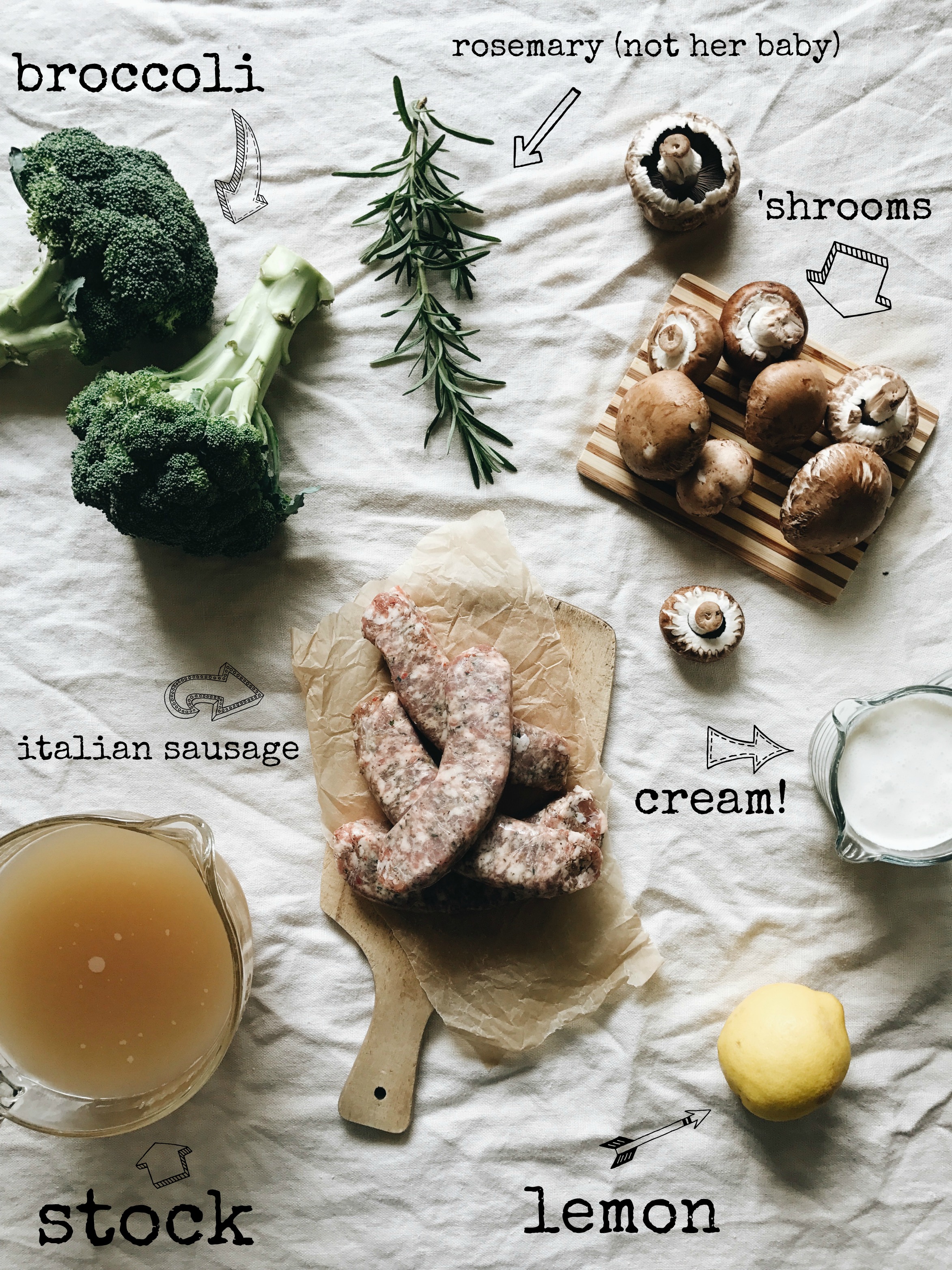 Let's talk about this sitch.
There's ZERO FRILL to this soup, but somehow in the end, it is super elegant in your face cavity.
I wanted to change up the green from my go-to ingredient of kale. I put kale IN AND ON everything. So guess what – broccoli! Chop chop chop it up and throw it in there.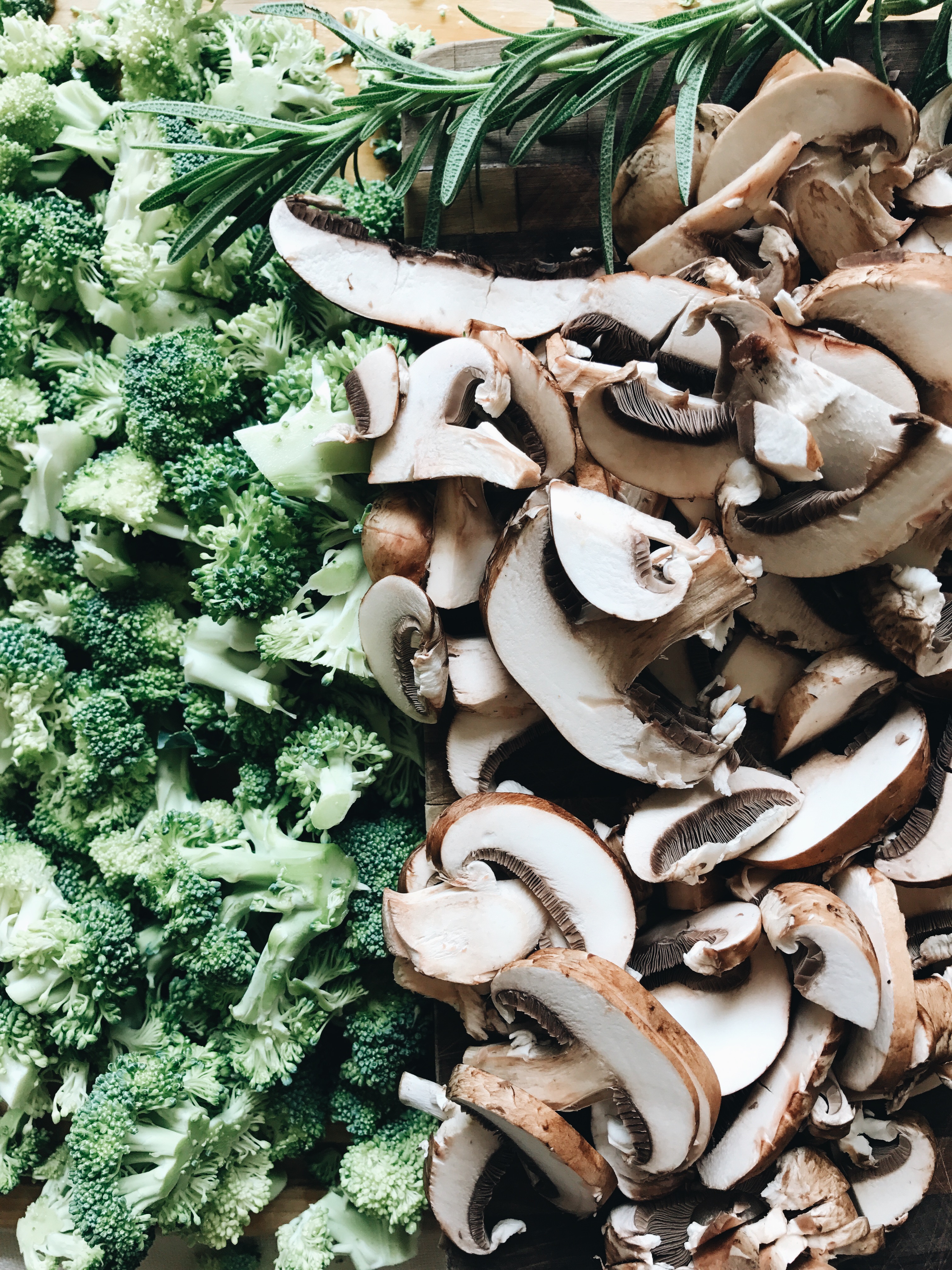 Also, mushrooms. You can buy them pre-sliced, or slice them yourself! Either way, you're still a good person.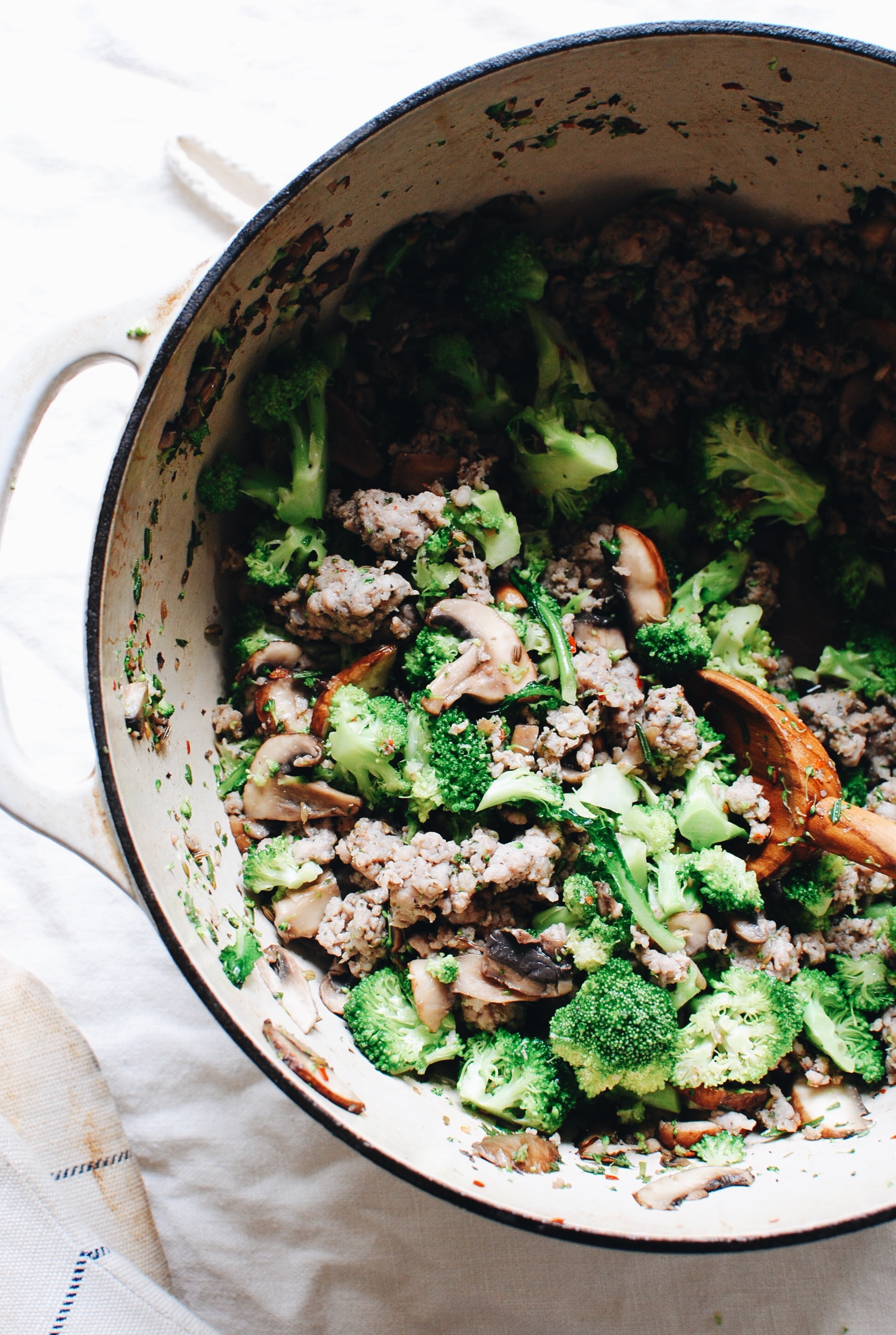 You start by browning some Italian sausage. You know Italian sausage is my reason for living, but feel free to swap in chicken sausage here if you want!
Take out the sausage. Add in the mushrooms. Add in the broccoli. Season with salt. Get some nice browning and sass all over. Add the sausage back. Sprinkle in the chopped Rosemary. Put on your giddy pants.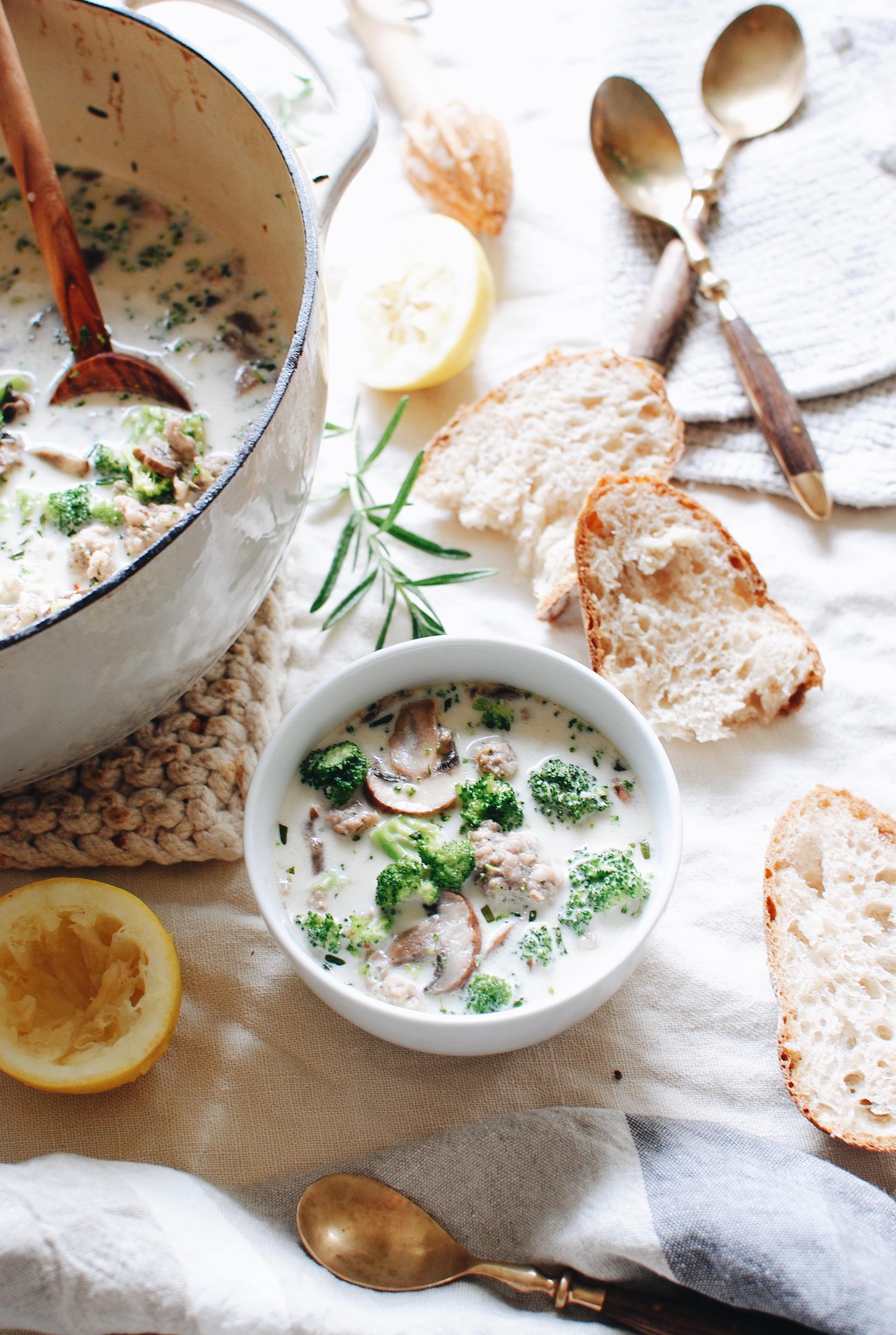 After that it's cake! And by cake I mean chicken stock and cream and lemon juice. That's all. And you don't even need to let it simmer too long. 15 minutes maybe. Just long enough for the broccoli to pop in color and soften a little. You want broccoli GUTSY bites, but not crunchy. And not mush. Right in the middle. Sexy texture.
Oh! Let's start a band called Sexy Texture. Yeah this is awkward.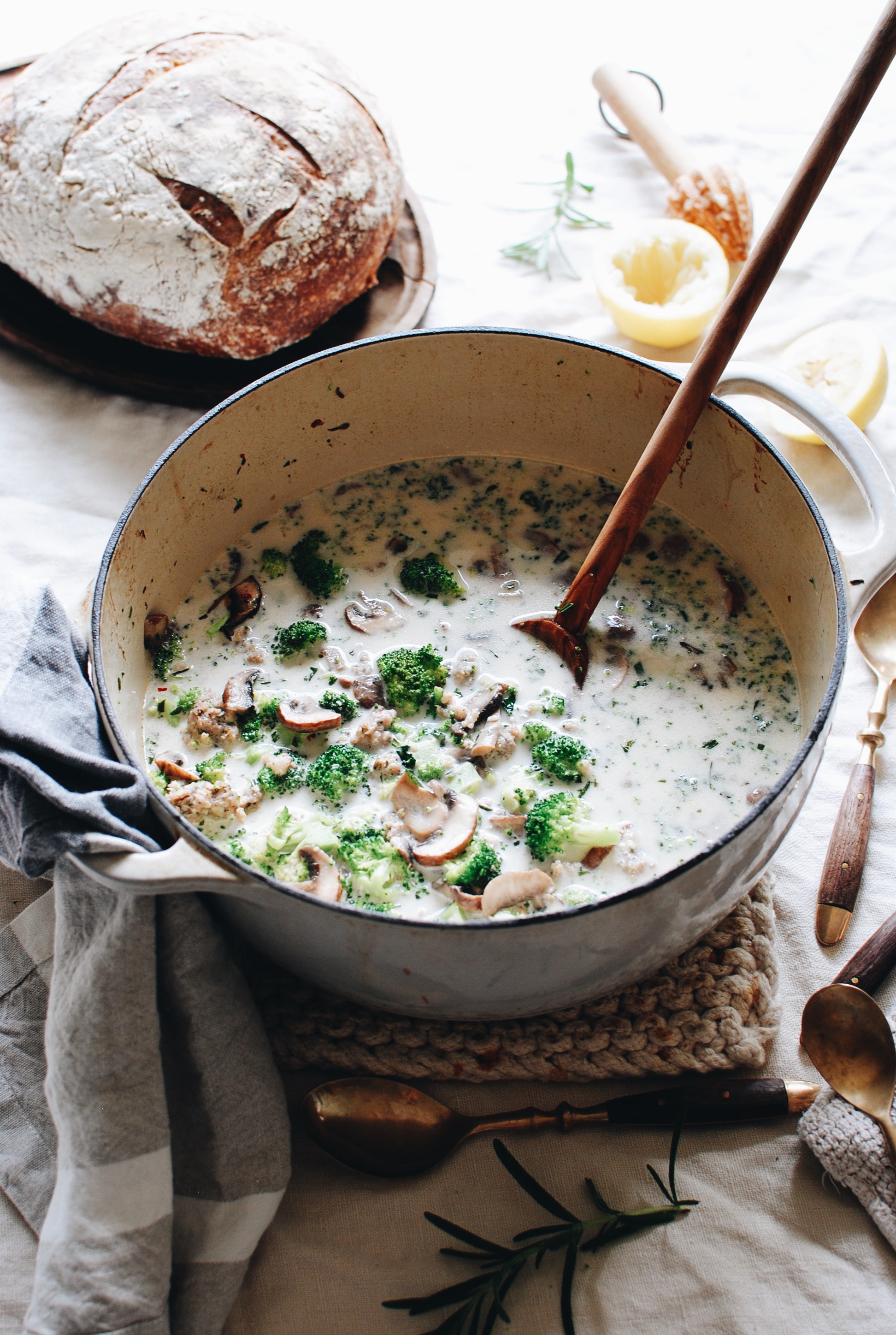 The cream and lemon are MAGIC. (said like Meg Ryan and Tom Hanks.)
The broccoli and mushrooms paired with the Italian sausage is just stupid delicious.
And that Rosemary? No. Yes. Nes. Yo.
Do you have a chilly day this weekend?? THIS IS YOUR LIFE.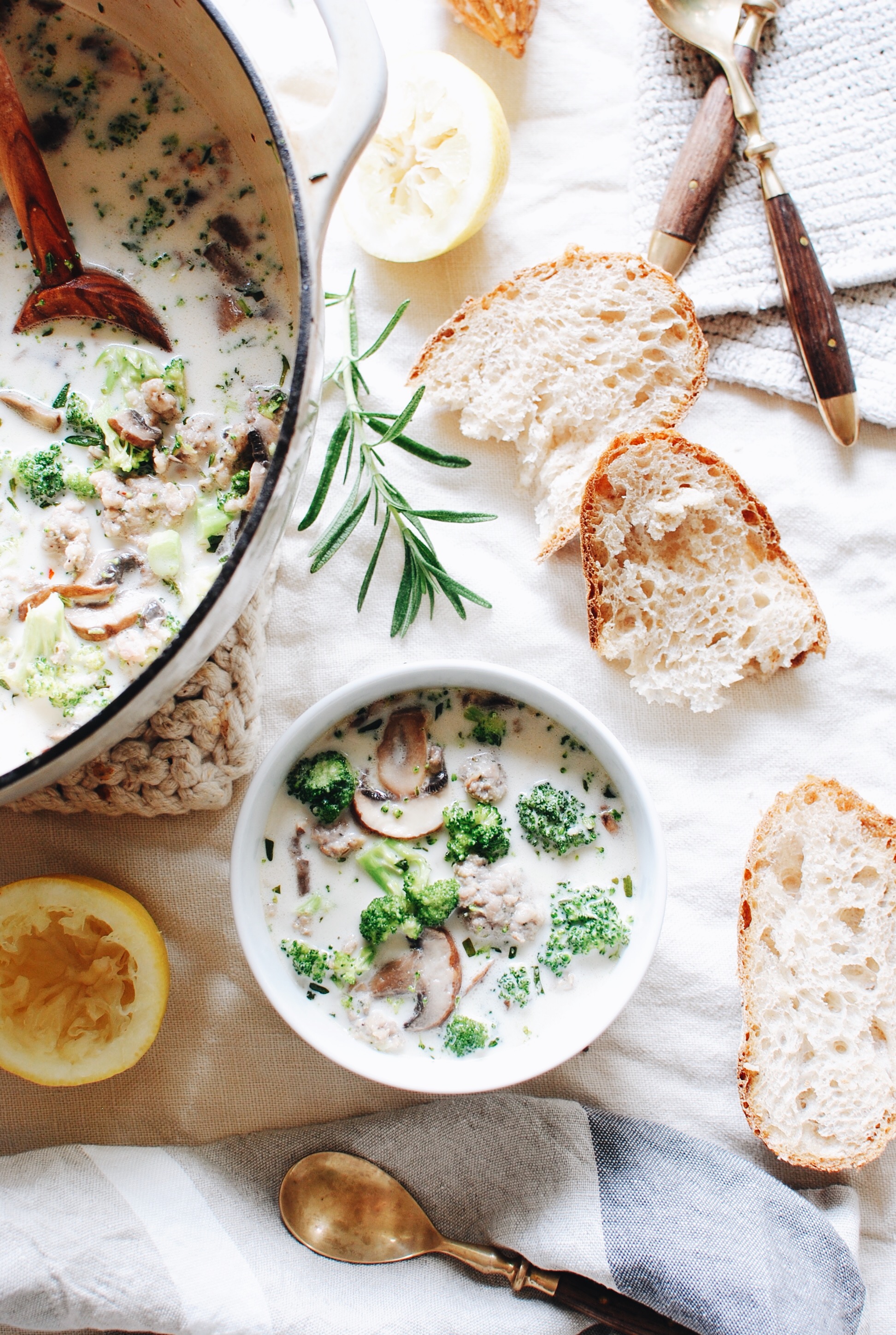 Also, crusty bread and parmesan for days. Natch.
Creamy Sausage Soup with Broccoli and Mushrooms
Ingredients
4 Italian sausage links, casings removed and sausage torn apart with fingers
1 Tbs. extra-virgin olive oil
2 heads of broccoli, chopped into small pieces (stems discarded if you like)
1 (8 oz) package baby bella mushrooms, lightly rinsed and sliced
1 Tbs. chopped fresh rosemary
4 cups chicken stock
1 cup heavy cream
1 lemon
Salt and pepper
Instructions
In a large pot or dutch oven, brown the Italian sausage. Remove from the pot and set aside. Add the oil to the pot, along with the sliced mushrooms. Sauté the mushrooms for about a minute, until they begin to lightly brown and soften. Add the chopped broccoli to the pot and sauté another minute. Throw the rosemary in, along with a small pinch of salt. Add the sausage back to the pot and give it all a good toss.
Add the chicken stock and heavy cream; let simmer on medium for about 15 minutes, or until the broccoli pops in color and softens a tad. Stir in the juice from the lemon and give it a taste. Need anything? A grind of pepper? Tiny pinch of salt? Go for it.
Serve with crusty bread and parmesan cheese!
Makes 4-6 dinner servings.
7.8.1.2
113
https://bevcooks.com/2017/09/creamy-sausage-soup-broccoli-mushrooms/
Slurping positively mandatory.