And jalapeno! Can't forget the jalapeno. Because jalapeno.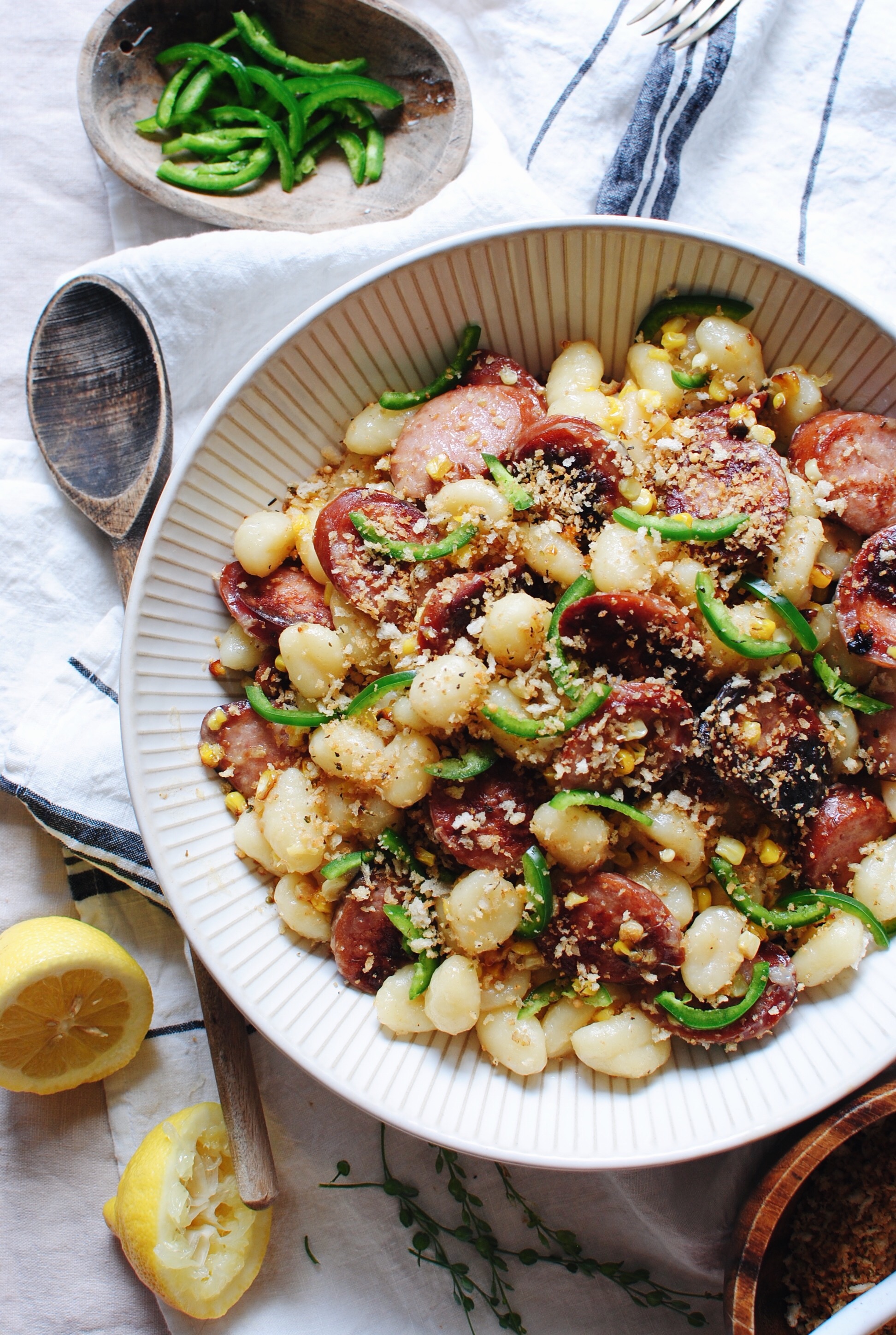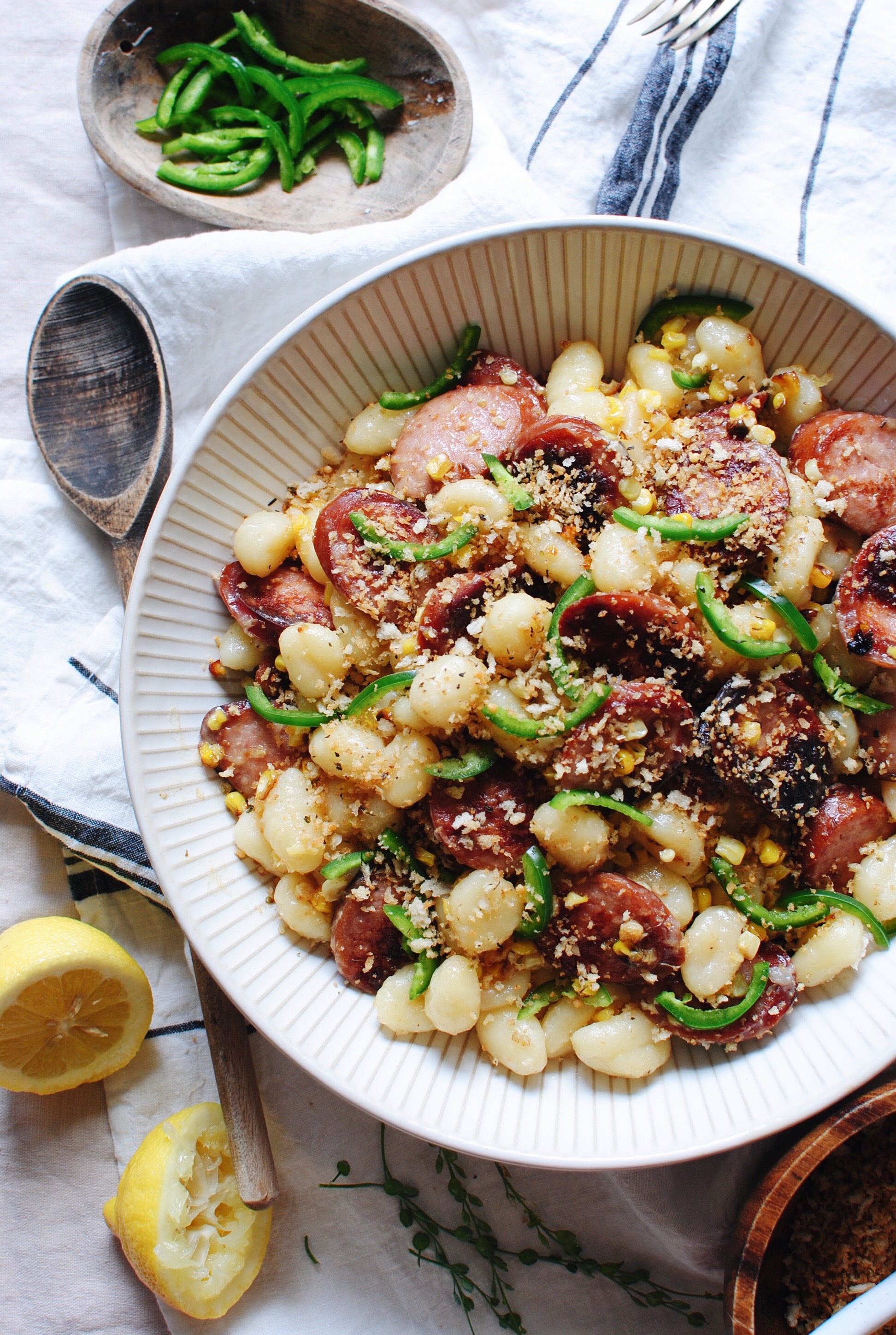 So the story behind theez har recipay: I have a winter version. Actually, it's not so much a winter version, but an all-the-time-in-my-face version. Kale, Italian sausage, GUH. You know my love for those two words back to back.
The other week I made the kale/sausage version for dinner, when it struck me – I NEED A HAIR CUT.
Oh sorry. That's something else.
I NEED A SUMMER VERSION. With corn!
And smoked sausage!
And jalapeno!
(oh my?)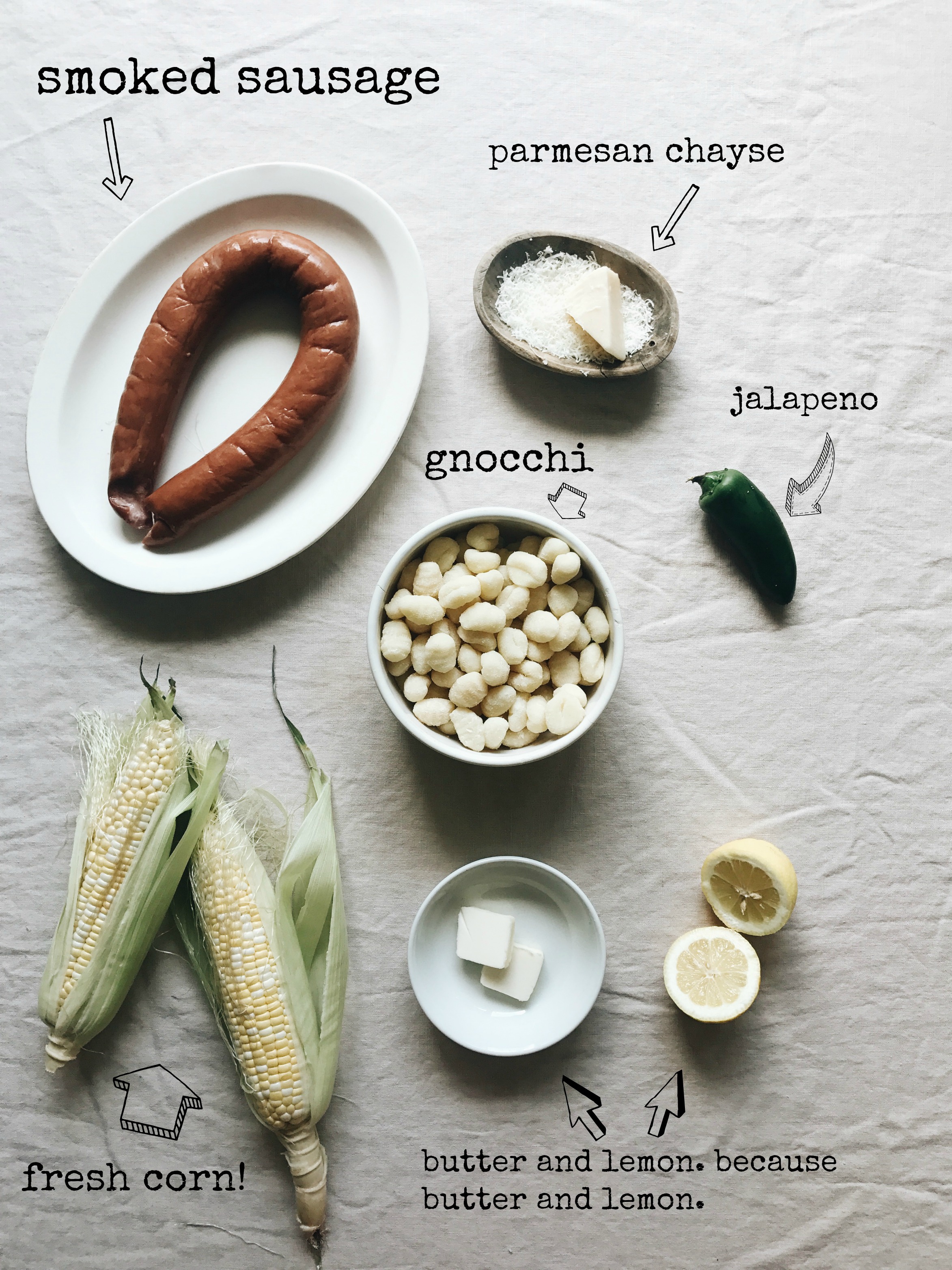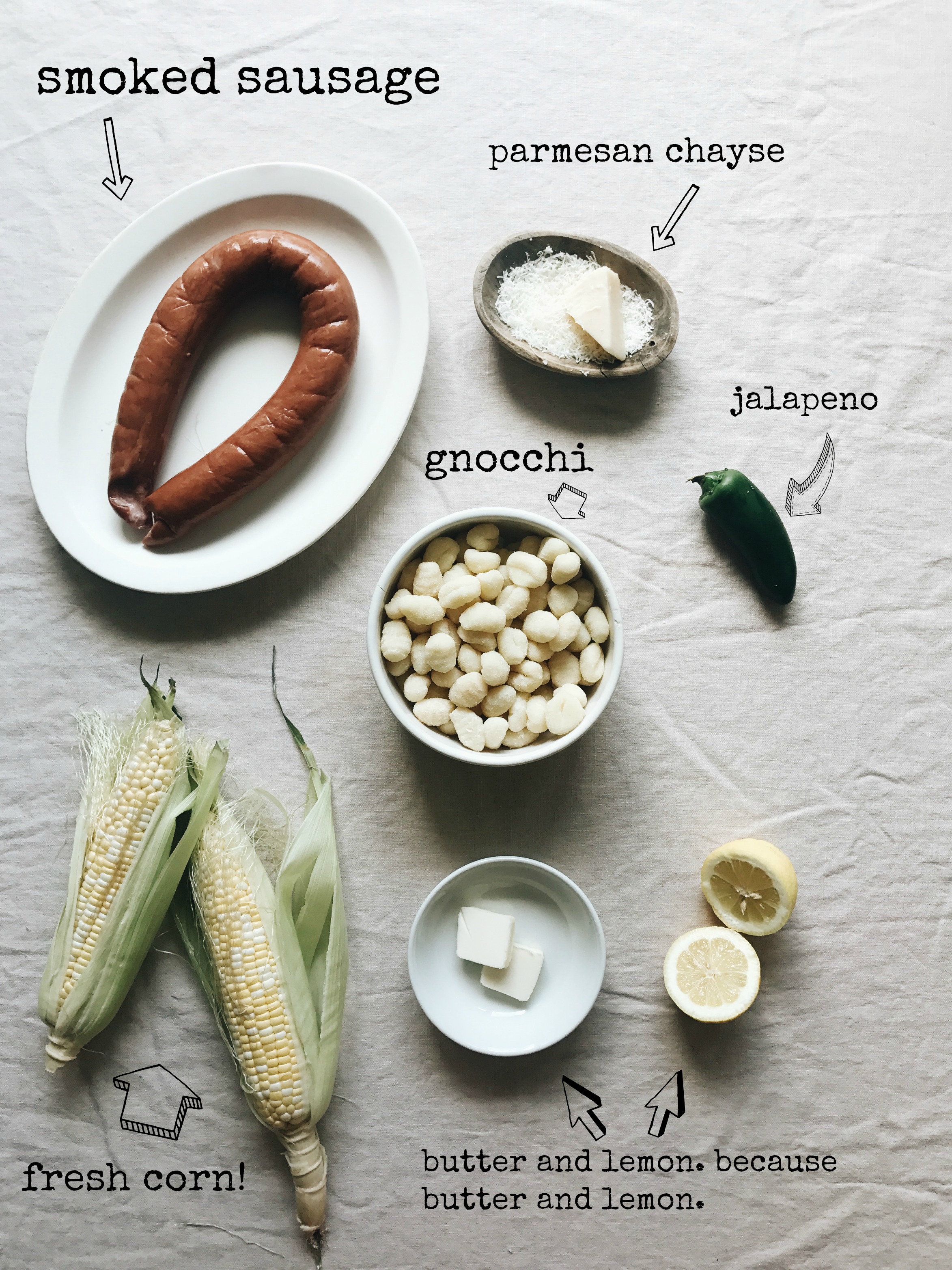 But it had to stay simple. Because it's summer. And you wing things in the summer.
But it also had to be comforting. Because it's life. Comfort is non-negotiable.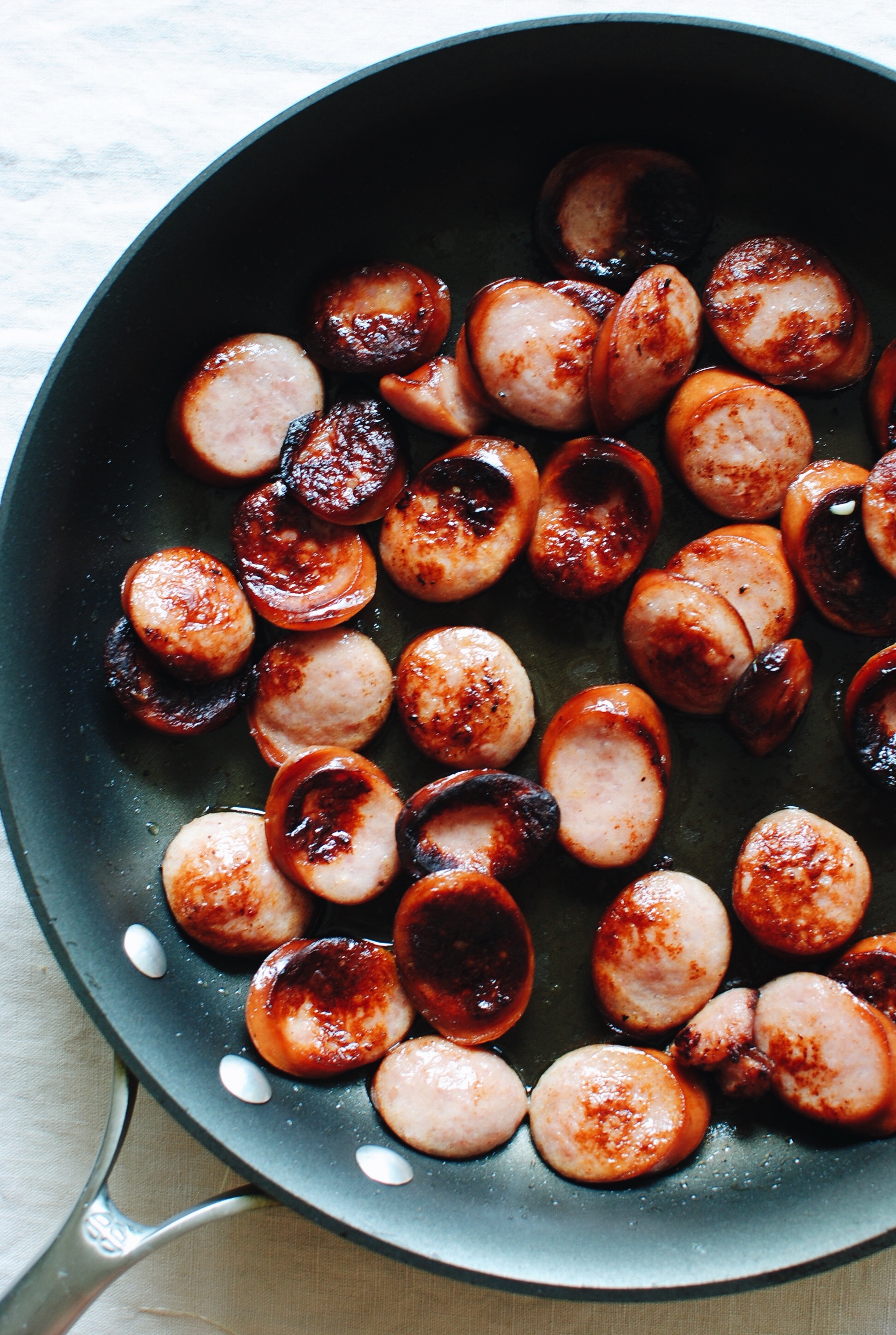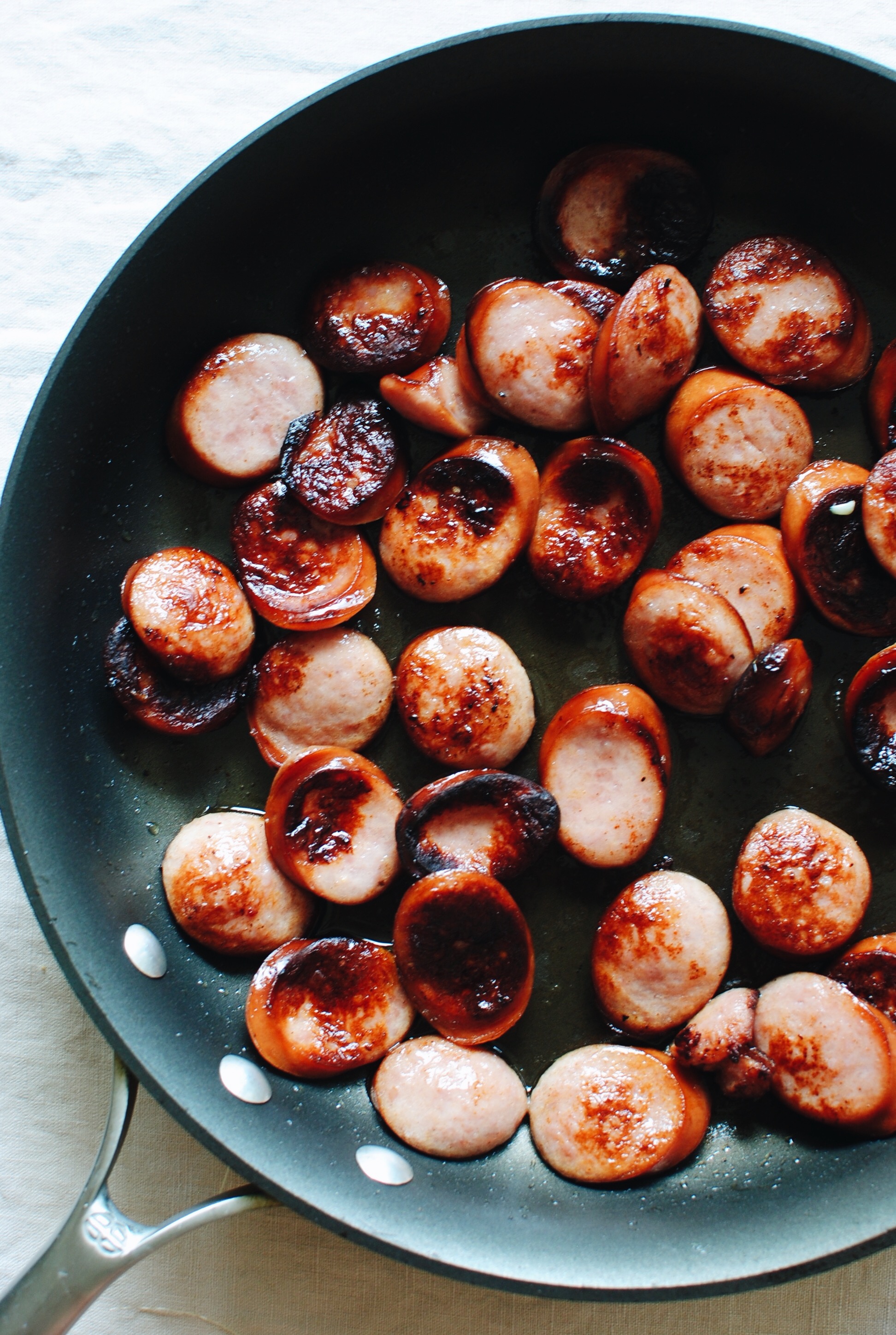 Slice up some smoked sausage and sear it up. Boom.
This next part with the corn can totally be tweaked if you want. What I do, if I don't want to go through all the rigmarole of heating up of the griiiiiill, with all the charcoaaaaals, blah blah blaaaah. I broil the corn! Just slice the kernels off, drizzle with a tiny bit of oil, salt and pepper, and stick that ish under the broiler for about 8 minutes. Which SEEMS like a long long time. But it's not. You want the corn to char and caramelize and actually pop under the heat. Turn that mess to candy, yo.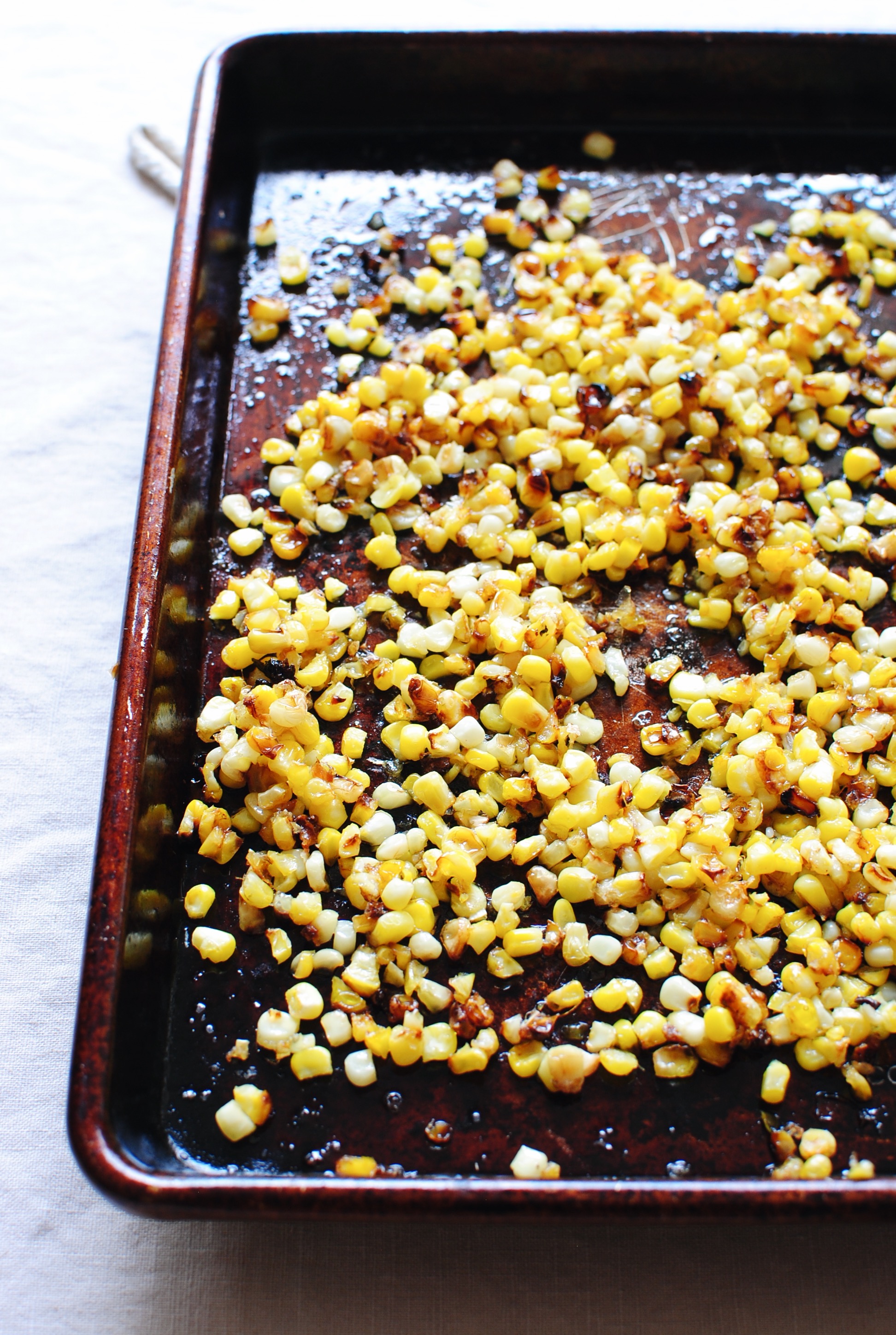 At the same time, bawl yer gnocchi. But don't drain the gnocchi water! That starchy pot of gold is what will take your gnocchi dish to an 11.
In the skillet that you seared the sausage, add the broiled corn. Then using a large sieve, transfer the cooked gnocchi over to the skillet. Add about a cup of the gnocchi water. Give it all a little loving stir. Sing some Tony Bennett if you feel it. You do you.
Then pop that heat off and throw in a pat or two of butter, some lemon juice and a handful of parmesan cheese. NOW WE'RE GROOVIN'. (<–sorry I said it like that just now.)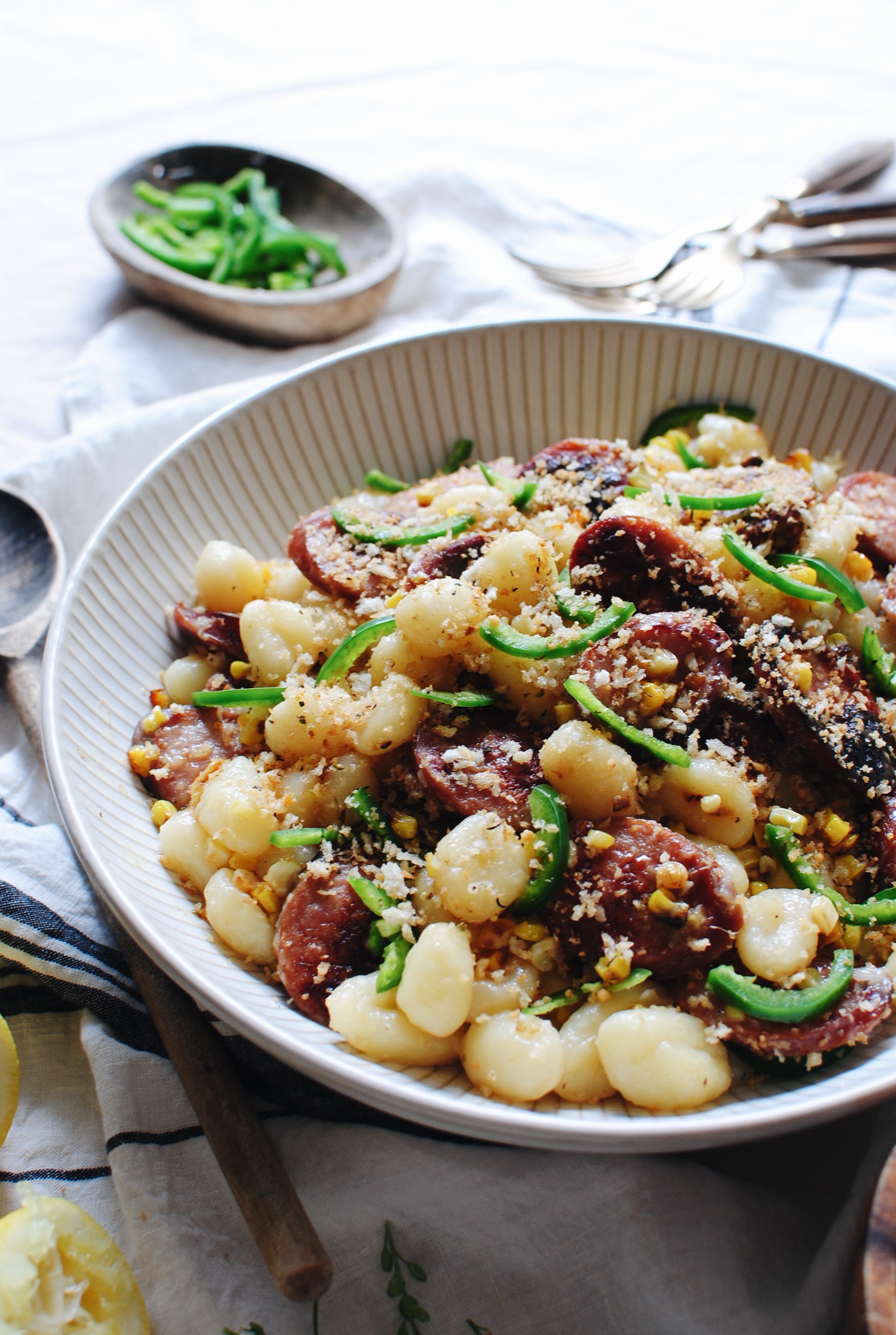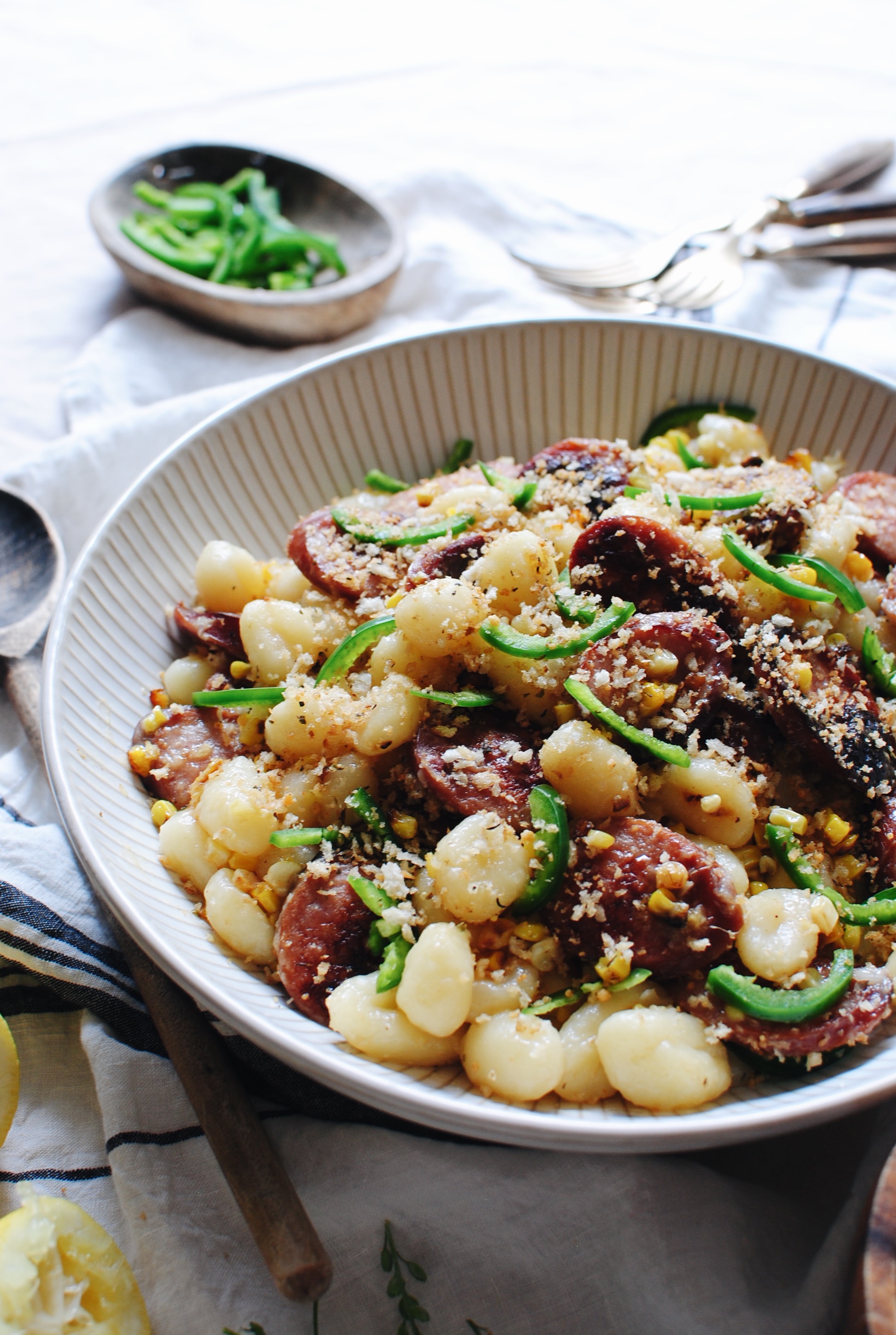 This next part is up to you! I garnished the dish with sliced jalapeno, so to save the children. But if you want, go ahead and stir that pepper right in with everything. For the love, do that.
AND – the panko topping was a last second idea (I have those a lot, but is doesn't drive Aaron crazy at all.), because I decided that I desperately needed CRUNCH on top of my mountain o' gnocchi. So panko, melted butter, parm and Italian seasoning, all together and lightly toasted in a tiny skillet.
If you need to be held right now, I get it.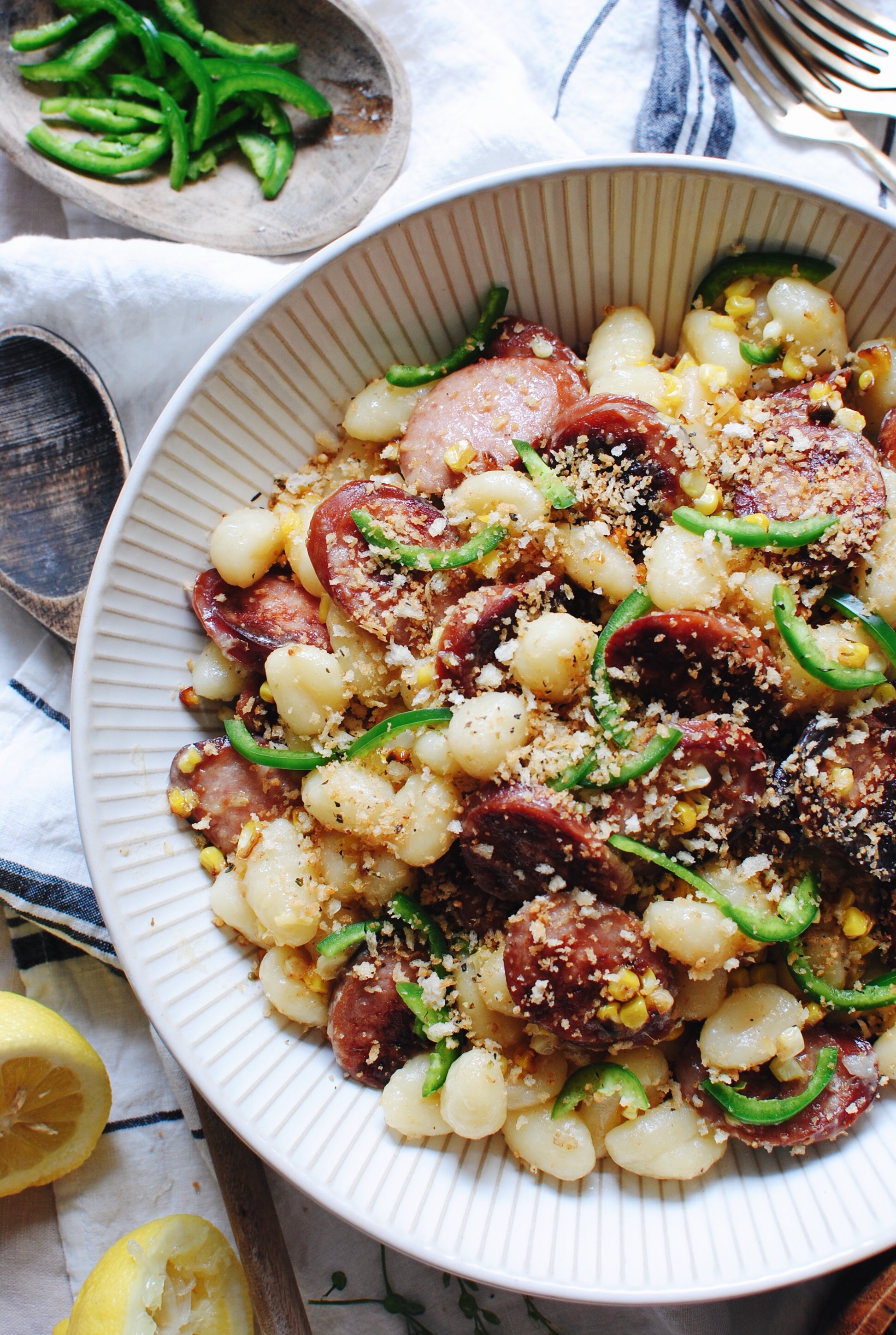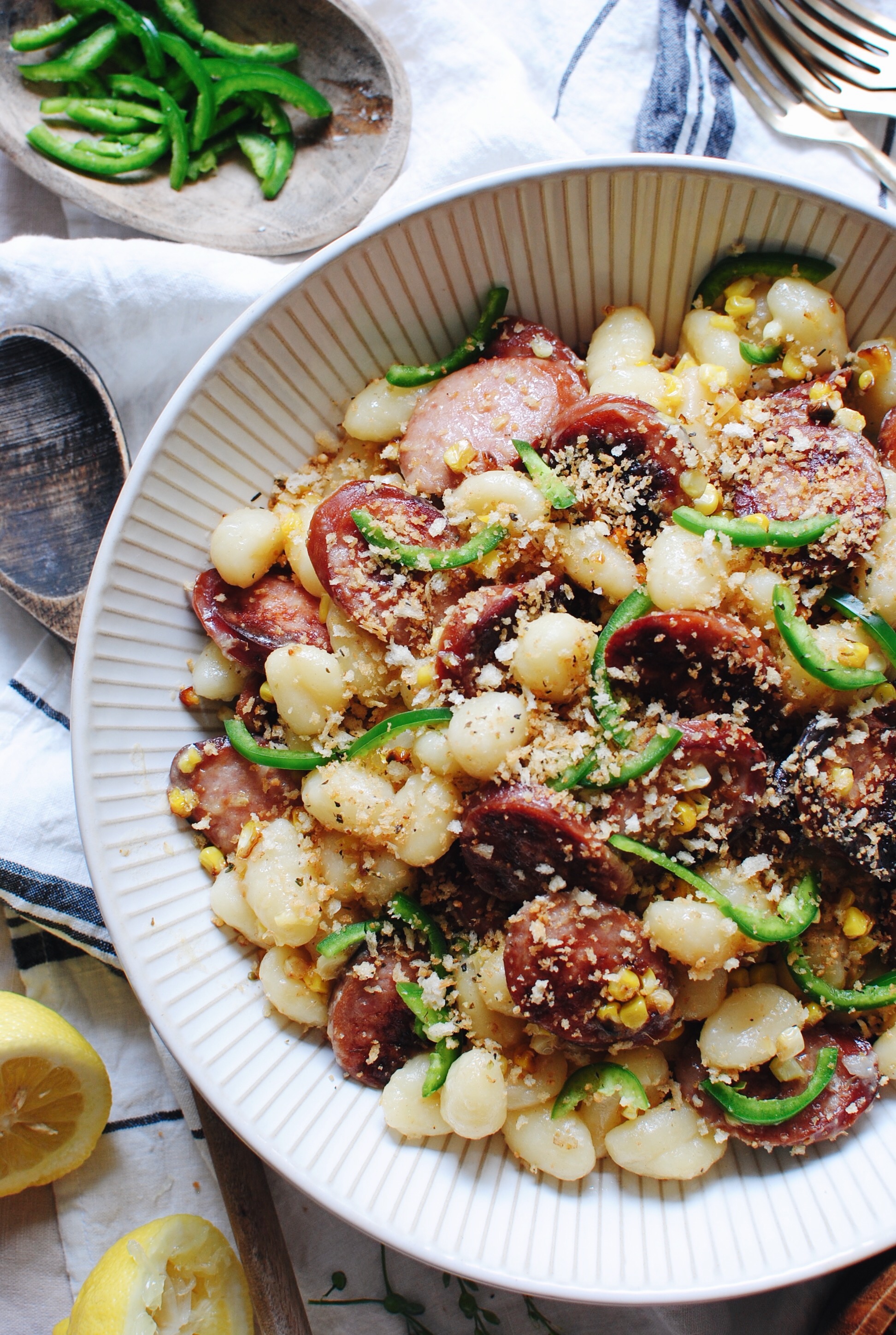 I can't wait for your mouth's new life.
Summer Gnocchi with Corn and Smoked Sausage
Ingredients
2 pounds dried gnocchi
13 oz smoked sausage, sliced into 1/2-inch slices, on the diagonal
2 ears of corn, kernels removed
2 Tbs. extra-virgin olive oil, divided
2 Tbs. butter
2 lemons
1/4 cup freshly grated parmesan cheese
1 jalapeño, seeded and finely sliced
1 cup panko breadcrumbs
1 Tbs. parmesan cheese
1 Tbs. butter
1 tsp dried Italian seasoning
Salt and pepper
Instructions
Preheat oven to broil. Place the corn on a rimmed baking sheet, and drizzle with a Tbs. of extra-virgin olive oil. Season with salt and pepper, and broil for 8 minutes, or until the corn is charred and almost popping around on the sheet. Set aside.
In a large skillet, heat a Tbs. of olive oil. Add the sliced sausage to the pan, and sear on both sides, until charred. About 6 minutes total. Add the corn to the pan.
In the meantime, bring a large pot of salted water to a boil. Cook the gnocchi until al dente, about 2 minutes. It's fast! Using a large sieve, transfer the gnocchi to the skillet with the sausage and corn. Stir in about a cup of the gnocchi water, and give it all a light toss. With the heat off, stir in the butter, 1/4 cup parmesan, and the juice from one lemon.
At this point if you want to add the jalapeño for non sissy mouths, go ahead! Otherwise save for garnish.
In a small bowl, combine the panko, parmesan cheese, Italian seasoning, and a pinch of salt. Lightly toast in a small skillet until golden brown.
Sprinkle the panko mix over the finished gnocchi dish. YOU WILL FREAK OUT. Serve with extra lemon wedges.
Serves 4-6!
7.8.1.2
96
https://bevcooks.com/2017/07/summer-gnocchi-corn-smoked-sausage/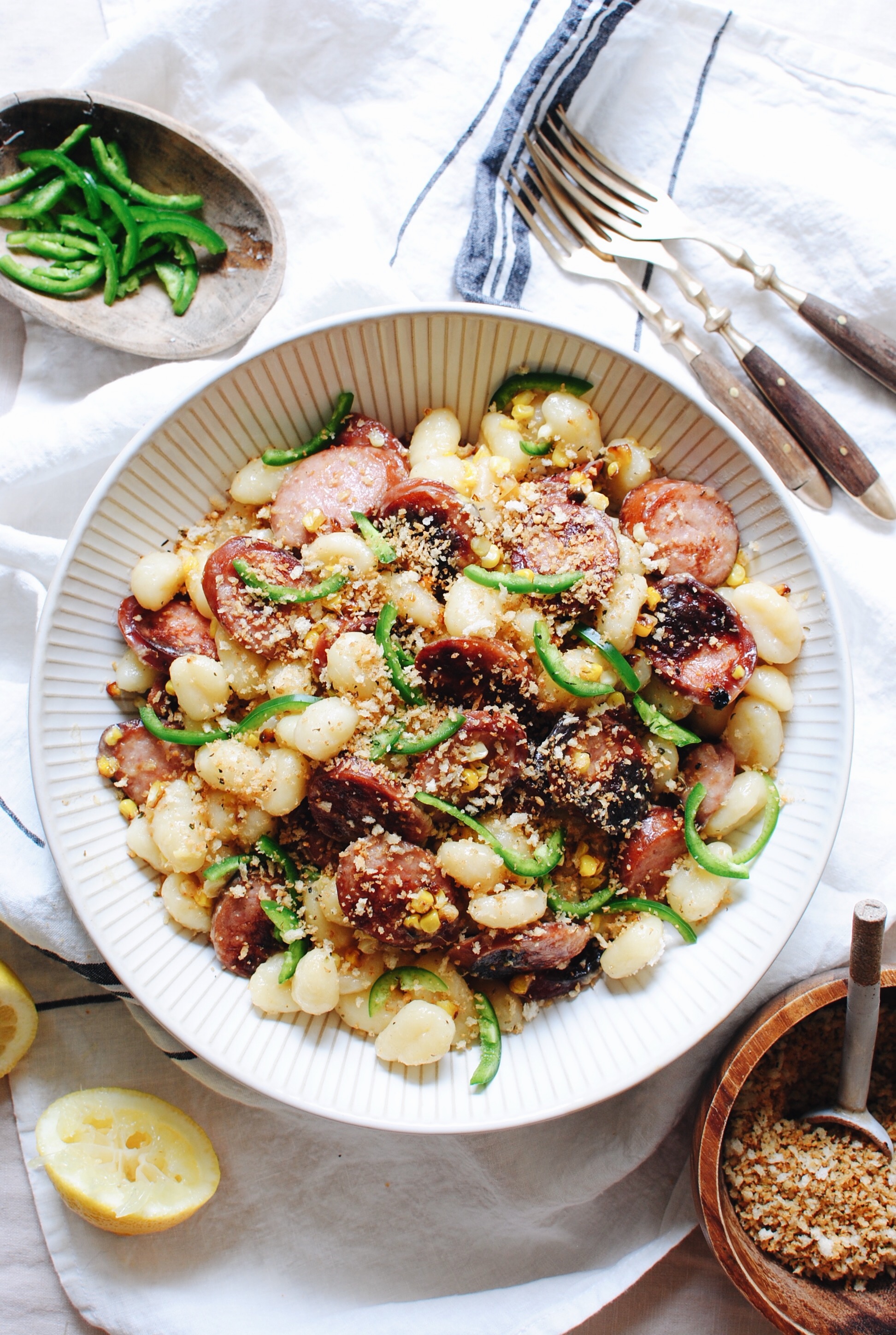 This is how I summer.