One skillet! This is how we weeknight.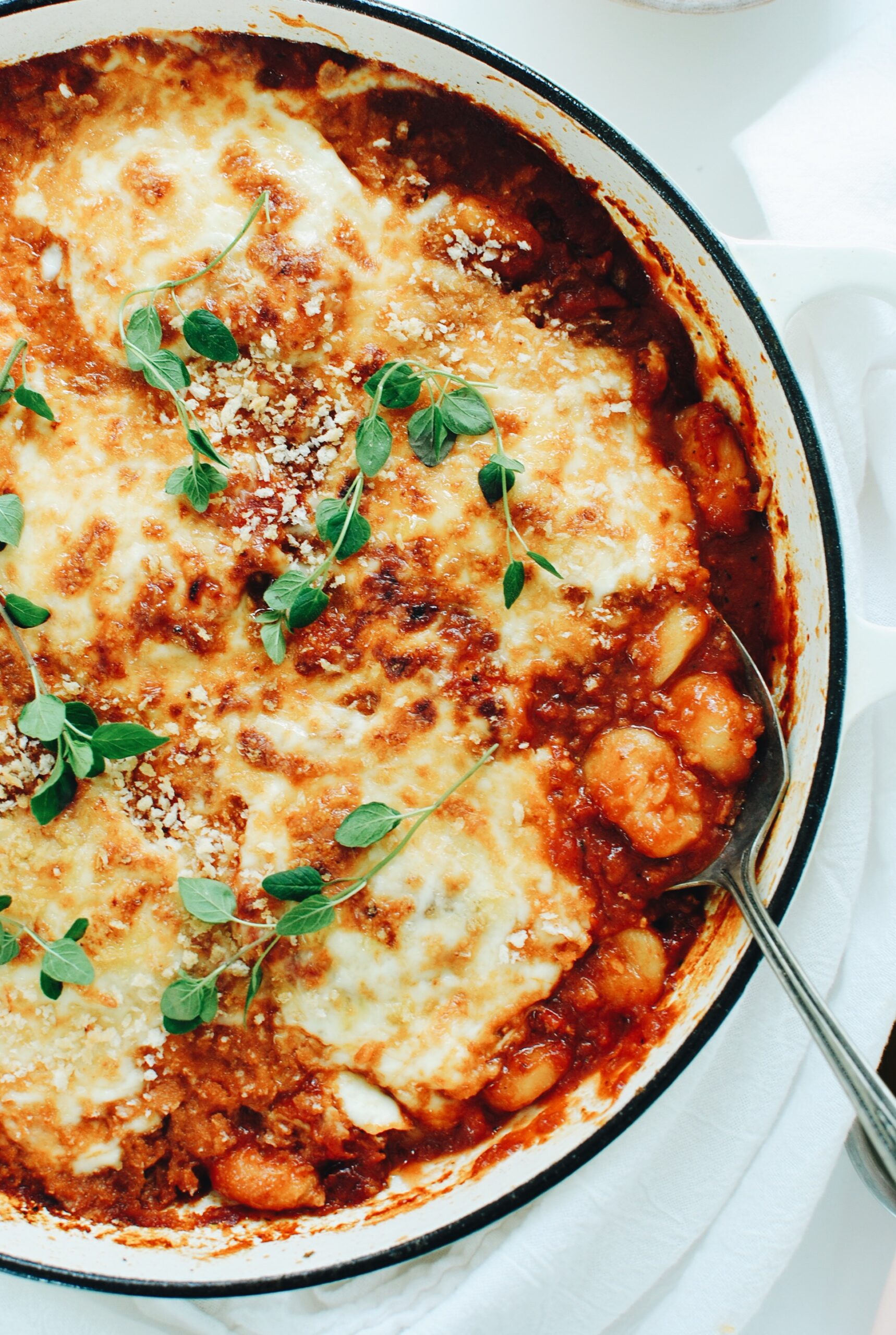 You guys tend to really dig the dump-it-in-and-let-it-simmer meals, and this one is the WOWZA version of that. Because it's cheesy and carby and saucy and all the things fit for complete and utter stomach utopia.
That and it's distressingly simple. You ready?
Let us peepeth.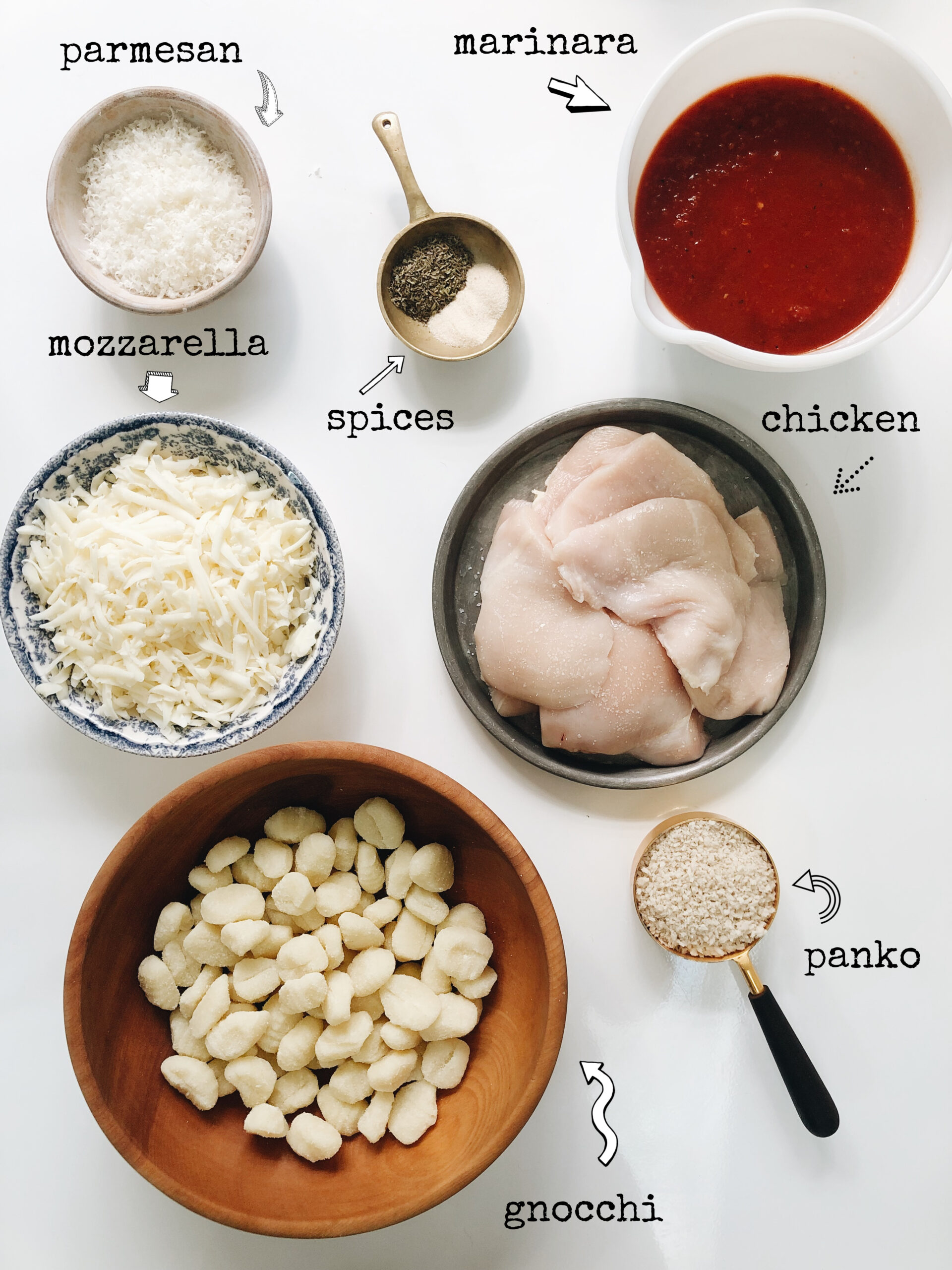 Total pantry meal. Like, every one of those ingredients is screaming at you with its unhinged jaw to be inhaled at this time of year. Really anytime of year. But espeeeeecially this time of year.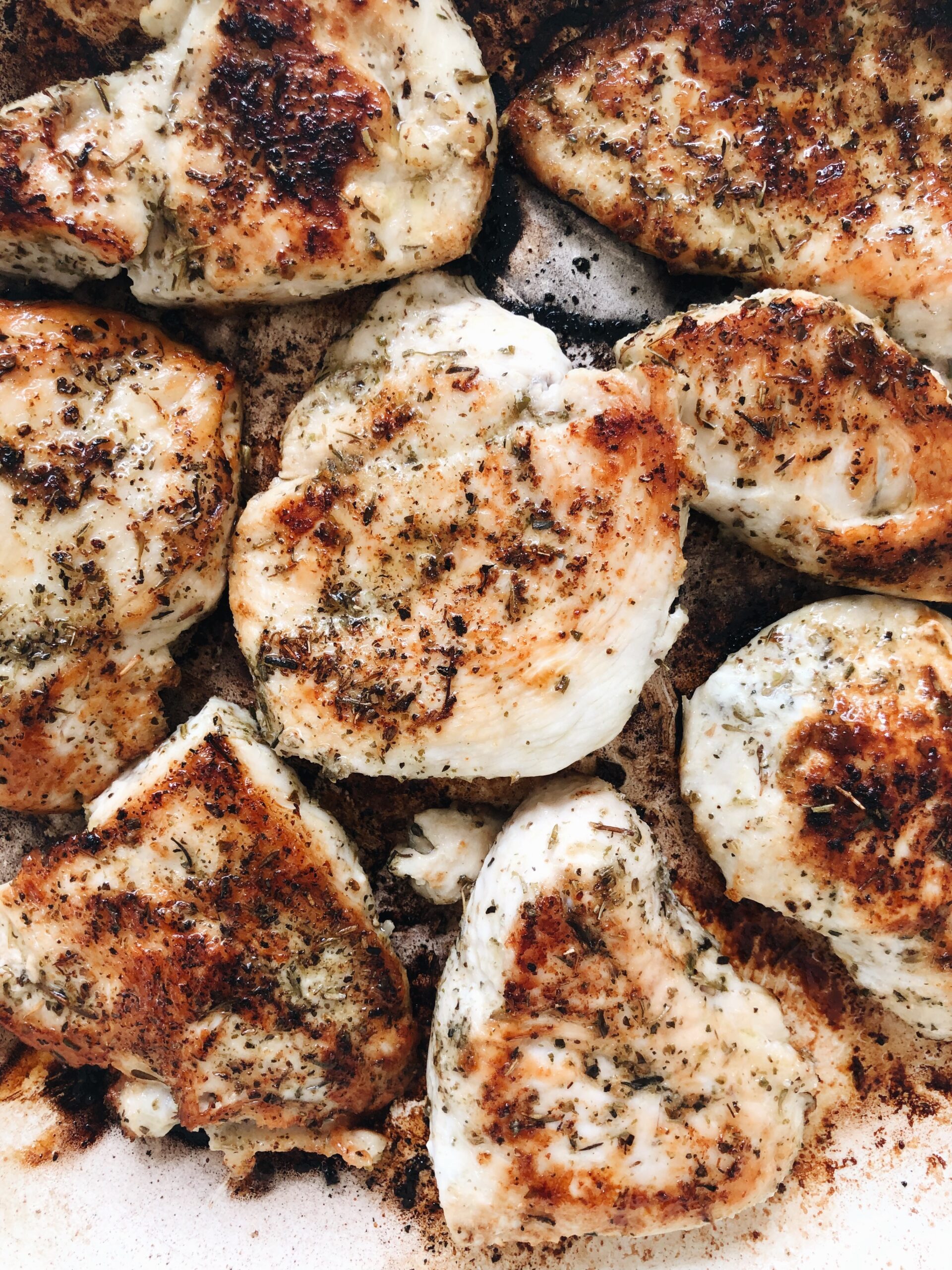 Would you believe we'll start with only two chicken breasts? You'll slice them down the center lengthwise, lightly pound them out, then cut them once more crosswise. Getting you snuggly little cutlets like these.
Season them with salt, garlic powder and Italian seasoning, then sear them in that skillet you love so much.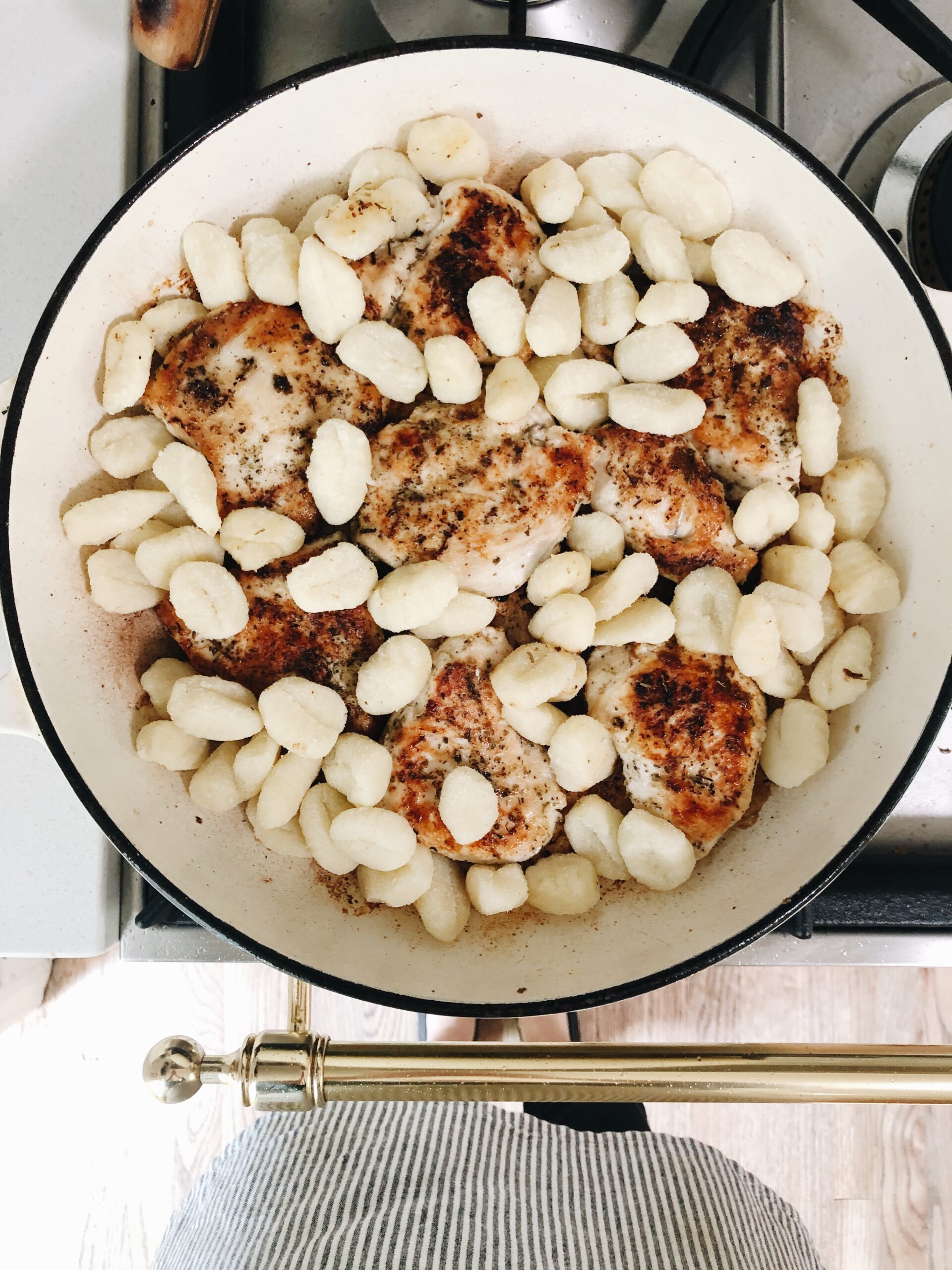 Then we'll toss in the gnocchi. Dried gnocchi! Uncooked gnocchi. And listen, if all you can find is frozen gnocchi, you're still a good person. Just thaw it before you add it to the skillet, 'mkay?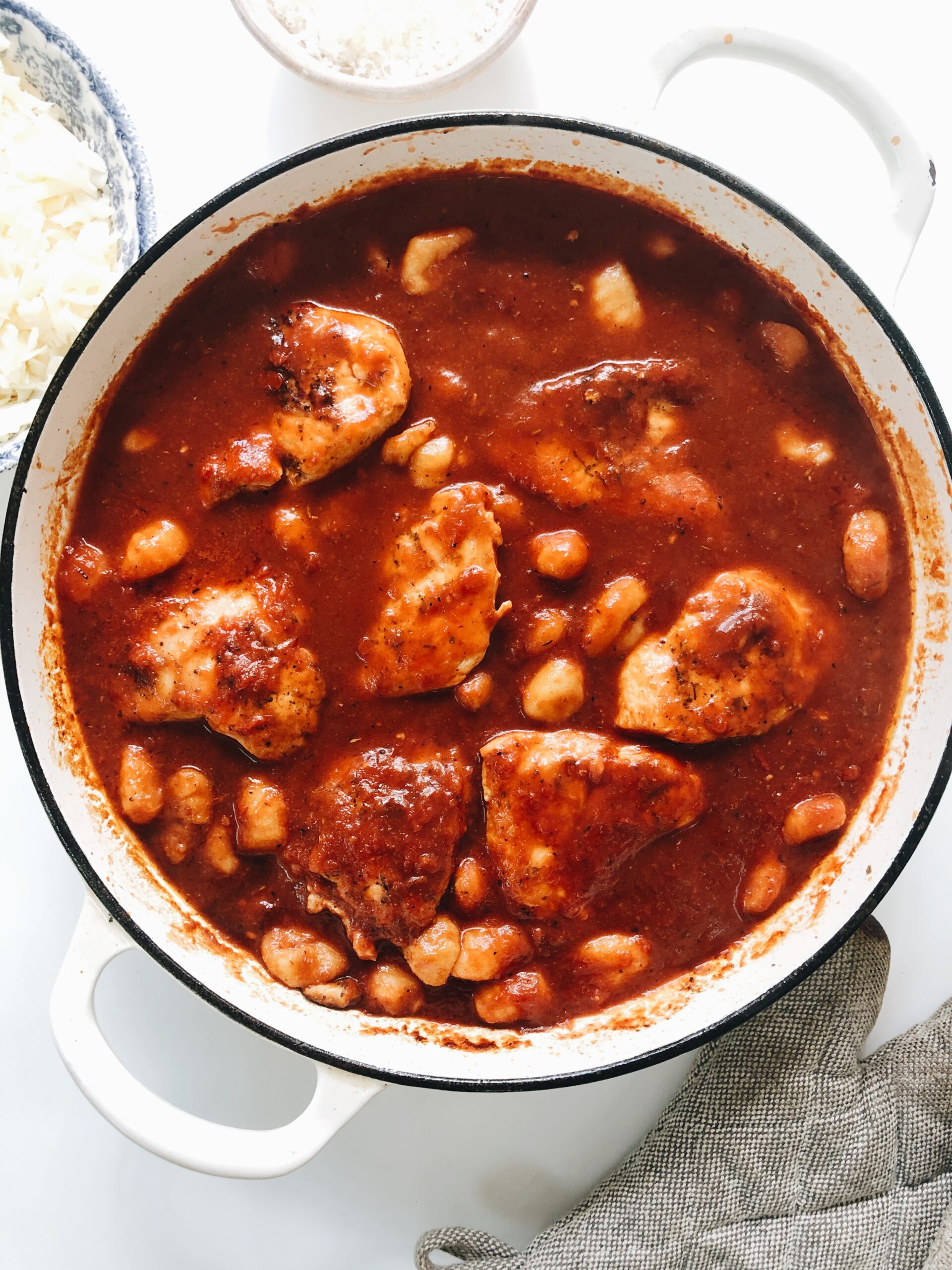 Next we'll add our marinara. From a jar. Your favorite brand – it matters not. We'll basically nestle the gnocchi in that sauce so that it's all covered, and then flip off the heat. The stove heat. We have the oven heat on, too! This is where the meeeeeagic heeeeeappens.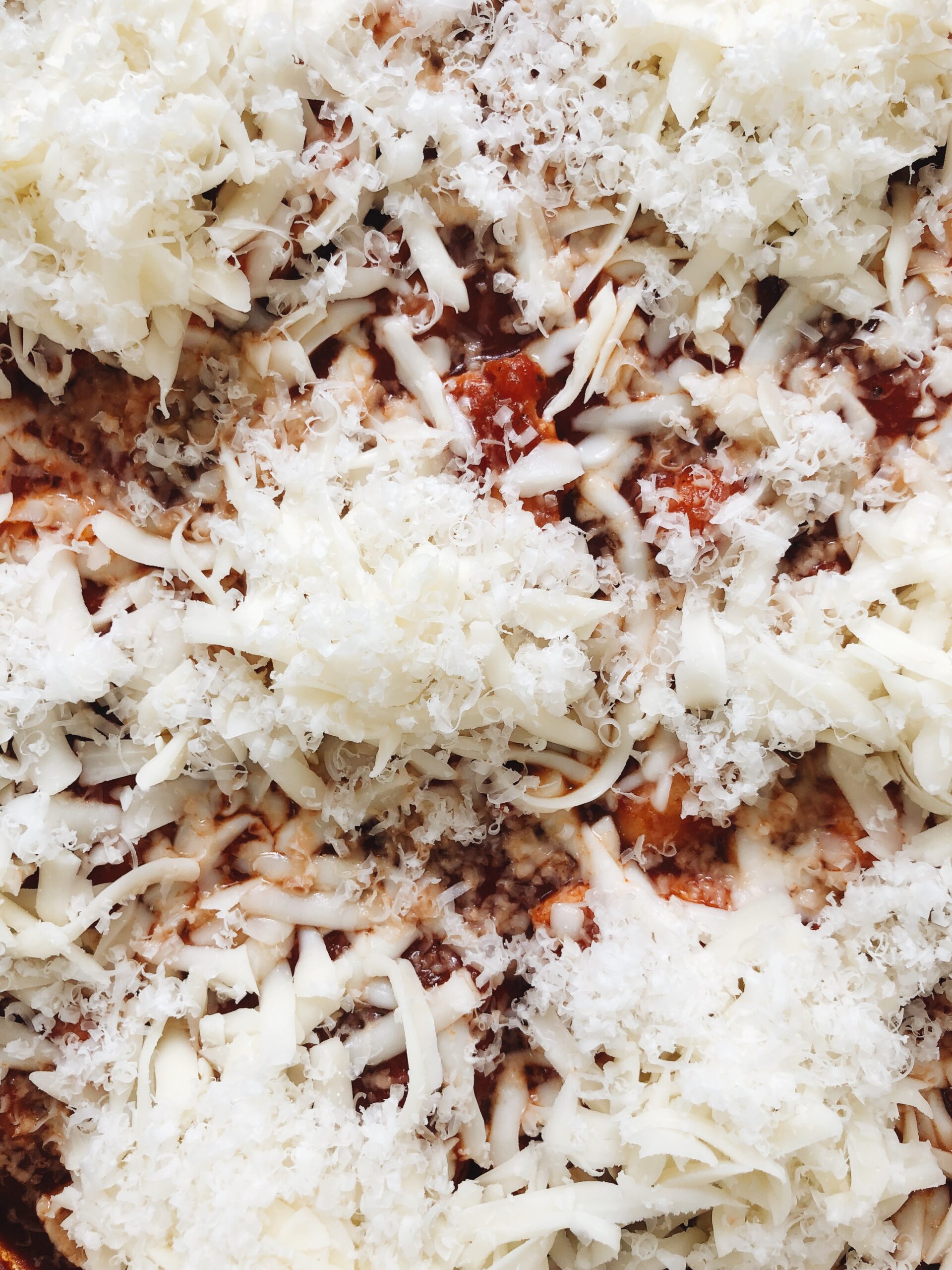 Add so much cheese you cannot see straight. 'Atta goil.
Go ahead and sprinkle on some panko. It's not TOTALLY necessary, but I liked the crunch. So if you like a little crunch, add it. If not, live your life.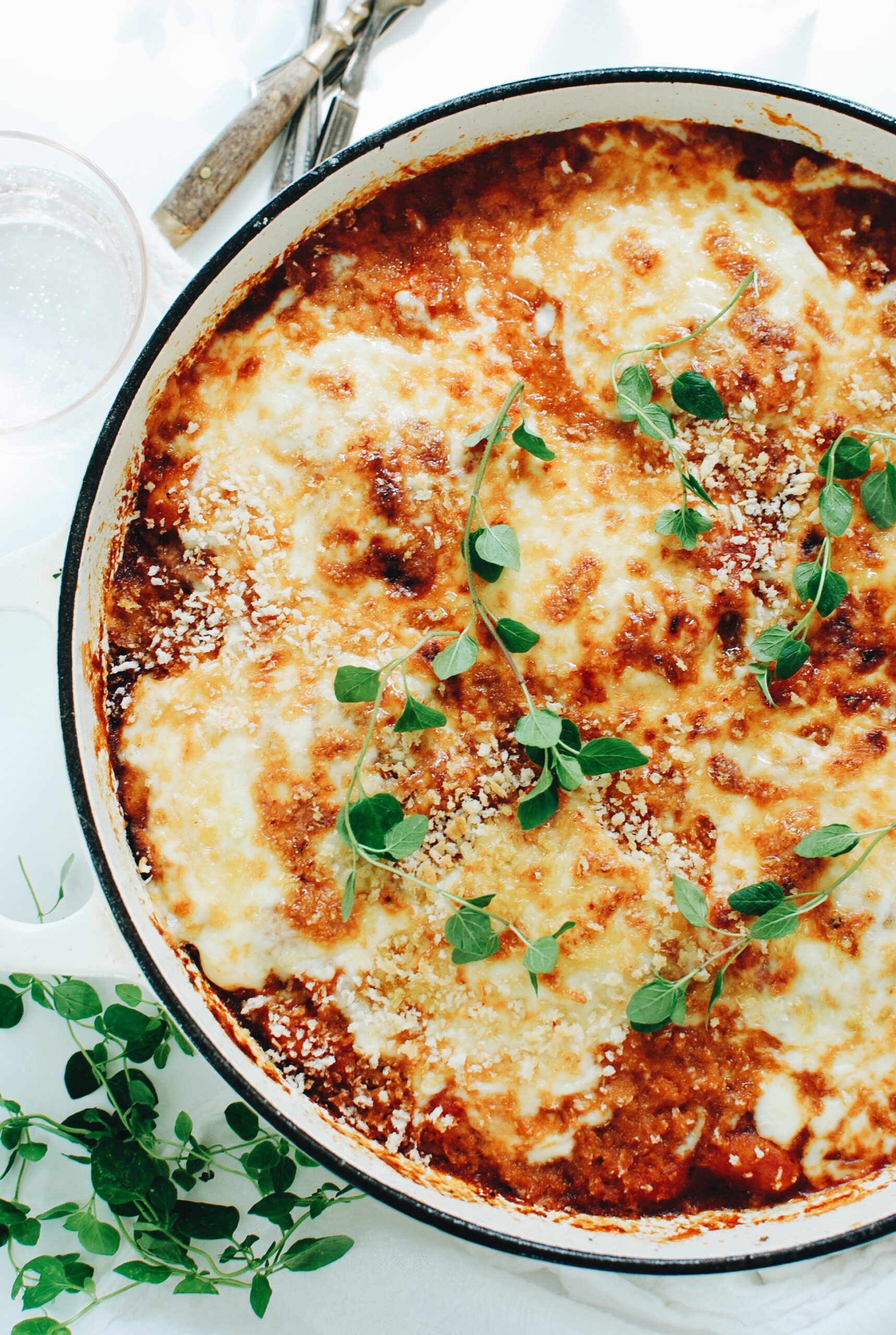 Girl, please. It is SO good. The gnocchi softens and plumps in a FLASH, and the cheese gets melted and bubbly within ten minutes. Honestly, you could broil this and it would absolutely work. Takes no time at all!
There is nothing better than a blanket of melted bubbly cheese on top of a shreddy protein and pillowy carbs.
Don't even try to argue with this.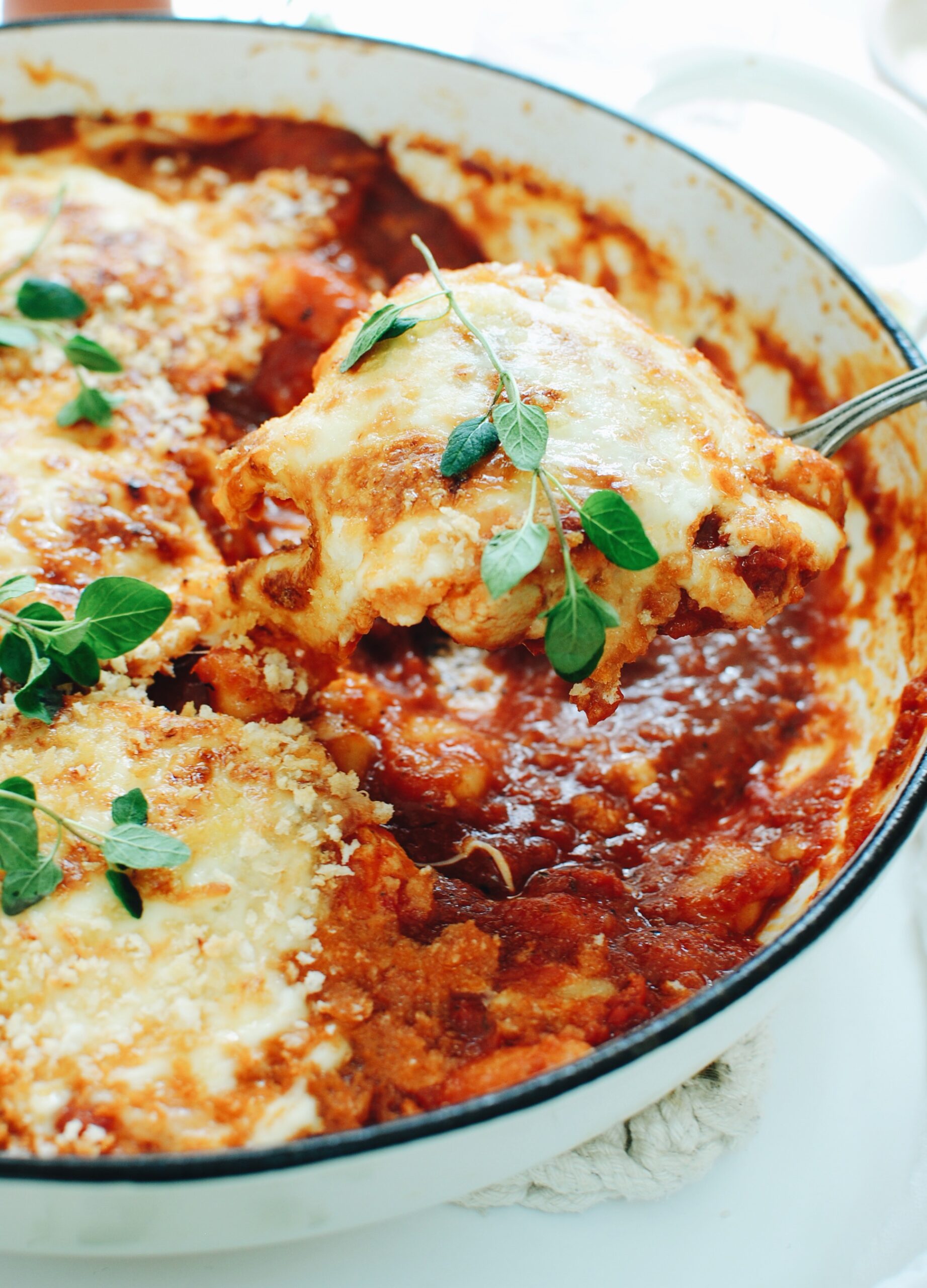 Let's get in there and see how it looks underneath.
Oh my word. Get me a bowl. I mean a trough. A boat. ANYTHING.
This is so simple, so comforting, so any-night friendly, family friendly, all the friendly.
Add it to your rotation AND/OR bump it up for tonight!
Prepare thy mouths.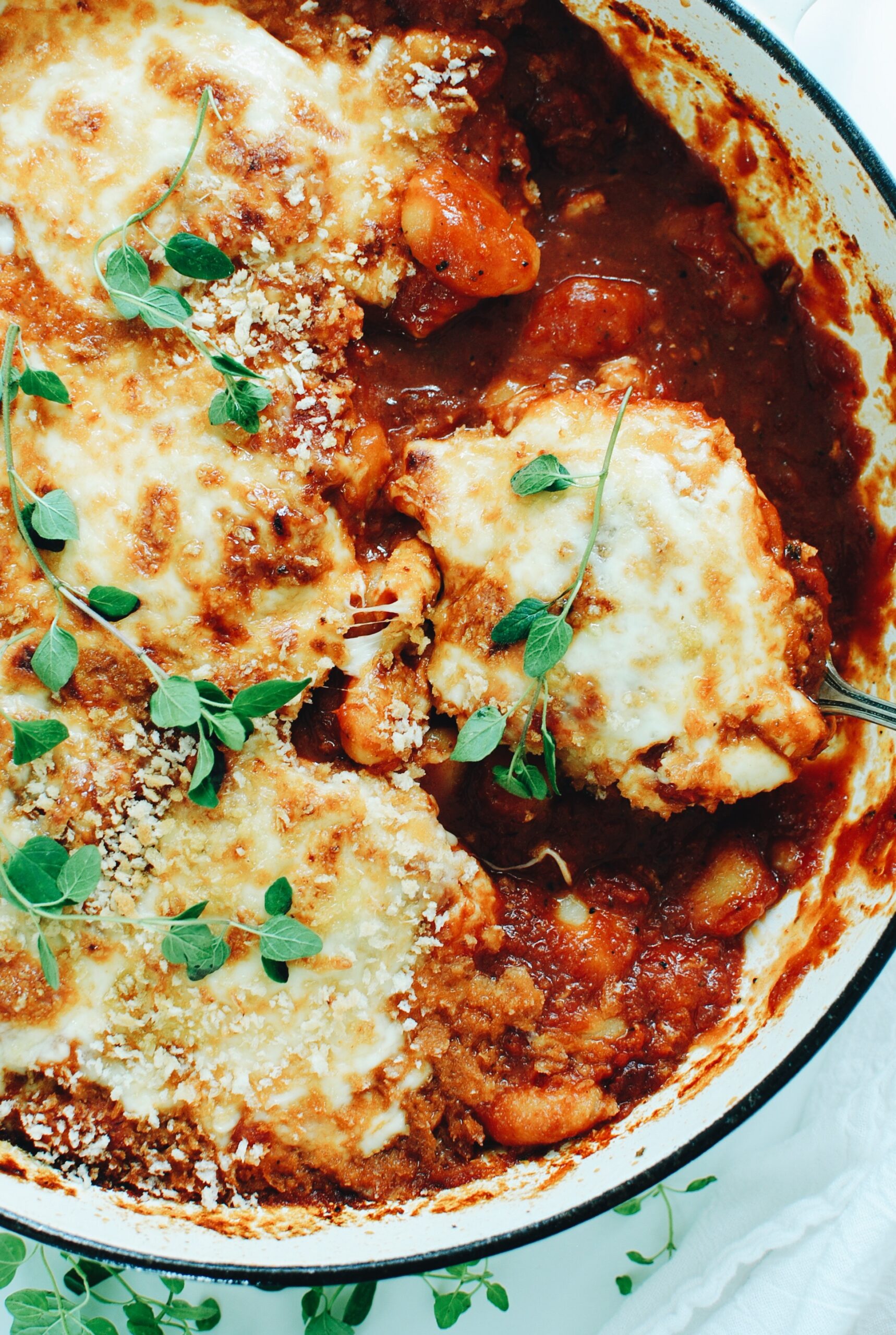 And then maybe invite me over.
Skillet Chicken Parmesan Gnocchi
Ingredients
2 chicken breasts, lightly pounded and cut into cutlets
1 Tbs. dried Italian seasoning
1 tsp garlic powder
16 oz dried gnocchi
26 oz jar marinara
8 oz block mozzarella, grated
1/2 cup panko
1/2 cup parmesan cheese
Coarse salt
Extra-virgin olive oil
Instructions
Preheat your oven to 400.
Heat a Tbs. or two of extra-virgin olive oil in a large skillet over medium high heat. Season the chicken cutlets with salt, garlic powder and dried Italian seasoning all over. Sear in the pan about three minutes per side, just to get some color on it.
Add the uncooked gnocchi to the skillet, along with the marinara. Nestle everything to where the gnocchi covered by the sauce. Top each chicken breast with a mound of grated mozzarella, panko and a sprinkling of parmesan cheese. Throw this in your hot oven and cook until the cheese is melted and starting to bubble, just about five minutes. The gnocchi cooks very fast, and we're really just heating up the marinara.
Look at that! So delish. Garnish with any green herb you like, more parmesan cheese and serve immediately.
Serves four.
7.8.1.2
533
https://bevcooks.com/2021/10/skillet-chicken-parmesan-gnocchi/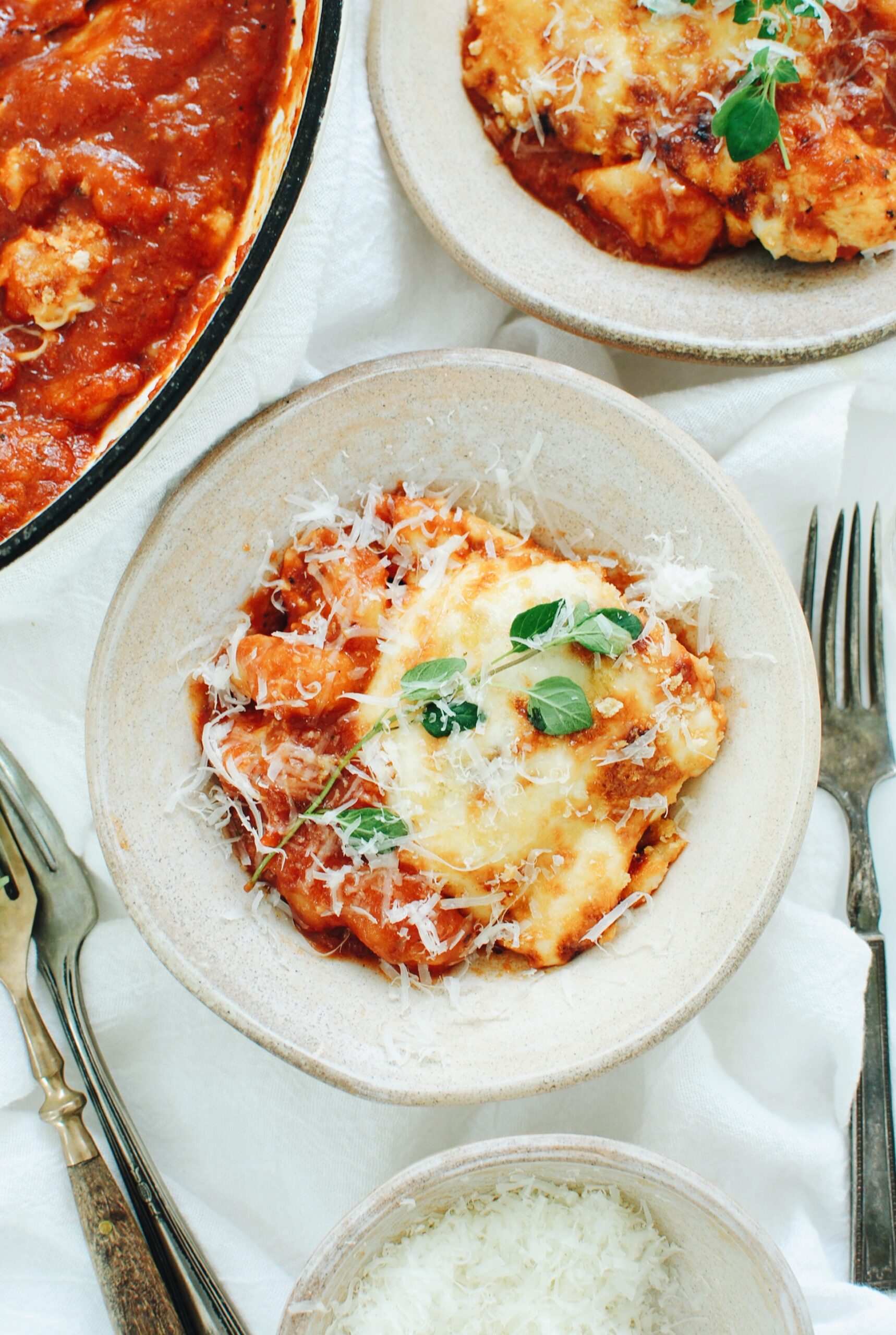 Yeah, I'm expecting an invite.