It's not what you think.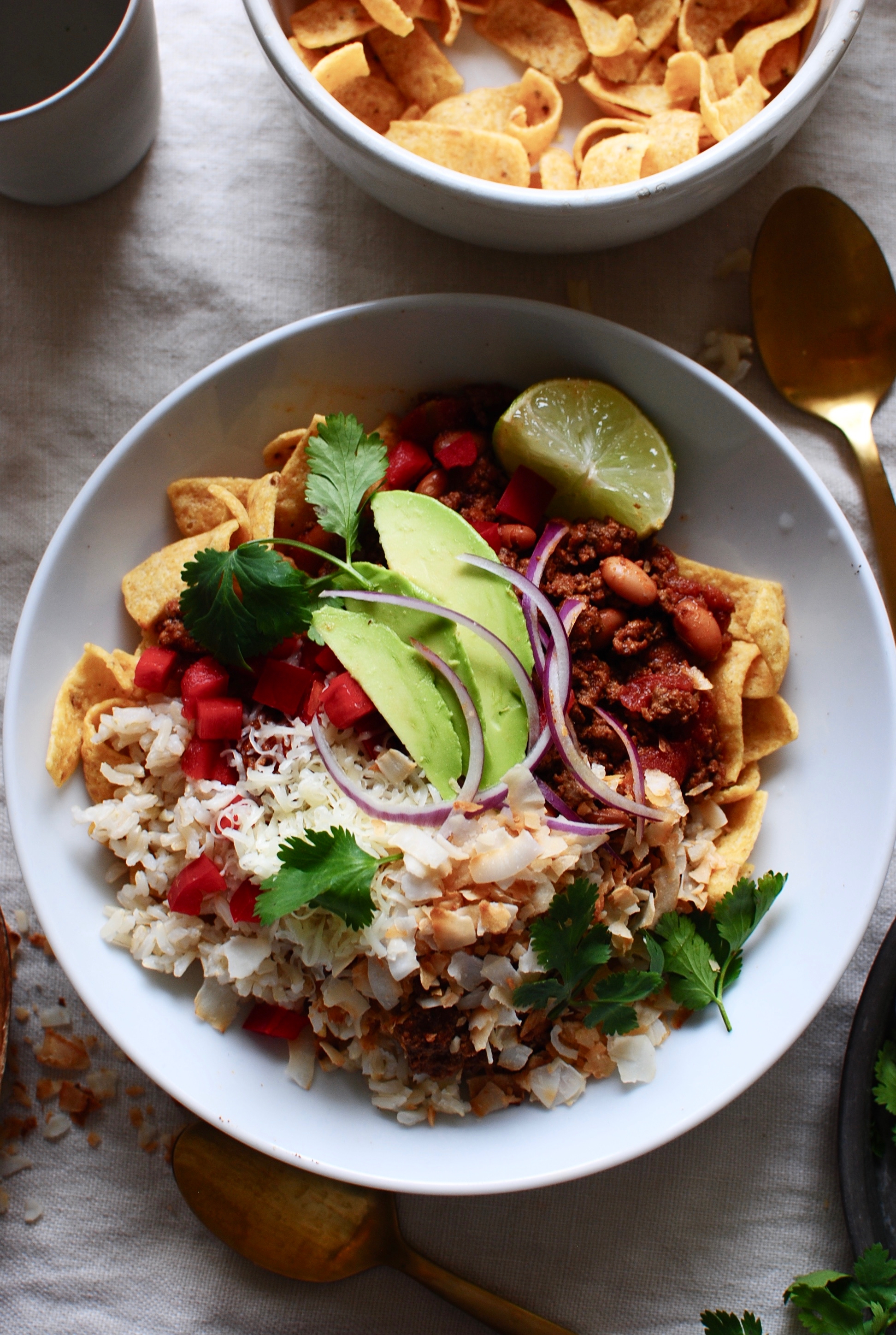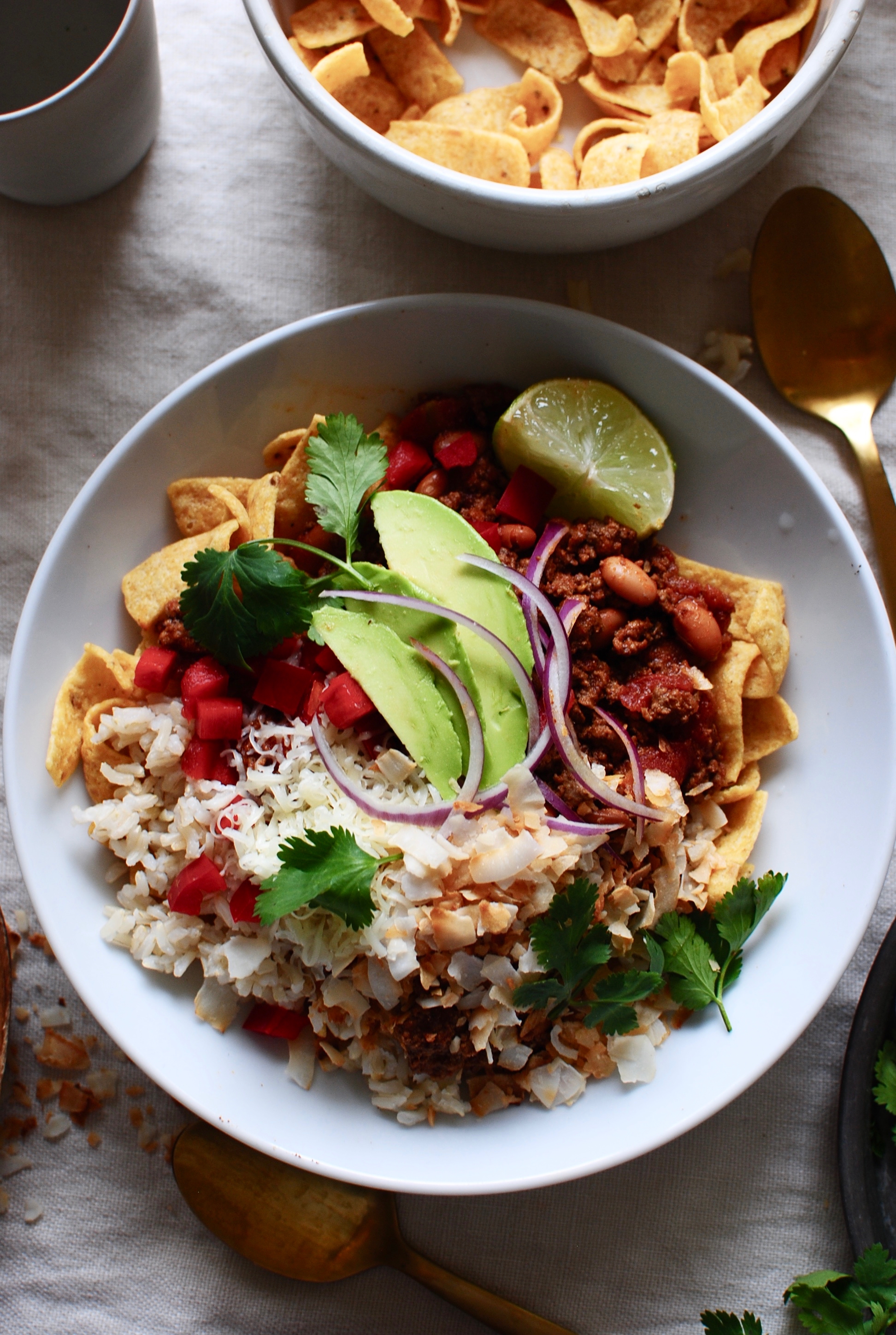 This isn't a taco salad bowl. Or a burrito bowl. Not really even a Straw Hats bowl. (even though it has fritos in it so don't get all loco on me.)
It's a MEXICAN FIESTA BOWL – a) because that's what my mom calls it, and b) apparently I used to eat this all the time as I kid but I barely remember and this is a huge problem for me because I remember everything and I mean EVERYTHING including what I wore the day I first discovered nostril hair.
But listen. It goes beyond Mexican Fiesta – because there's COCONUT ON TOP.
C O C O N U T.
T O A S T E D C O C O N U T.
I think the dish should be called Mexiconfusing Bowl.
But the thing is, it's wonderful! It's not confusing because the taste is insane with that coconut on top. It's not confused at all. So we're going back to Mexican Fiesta bowls. Never mind.
What?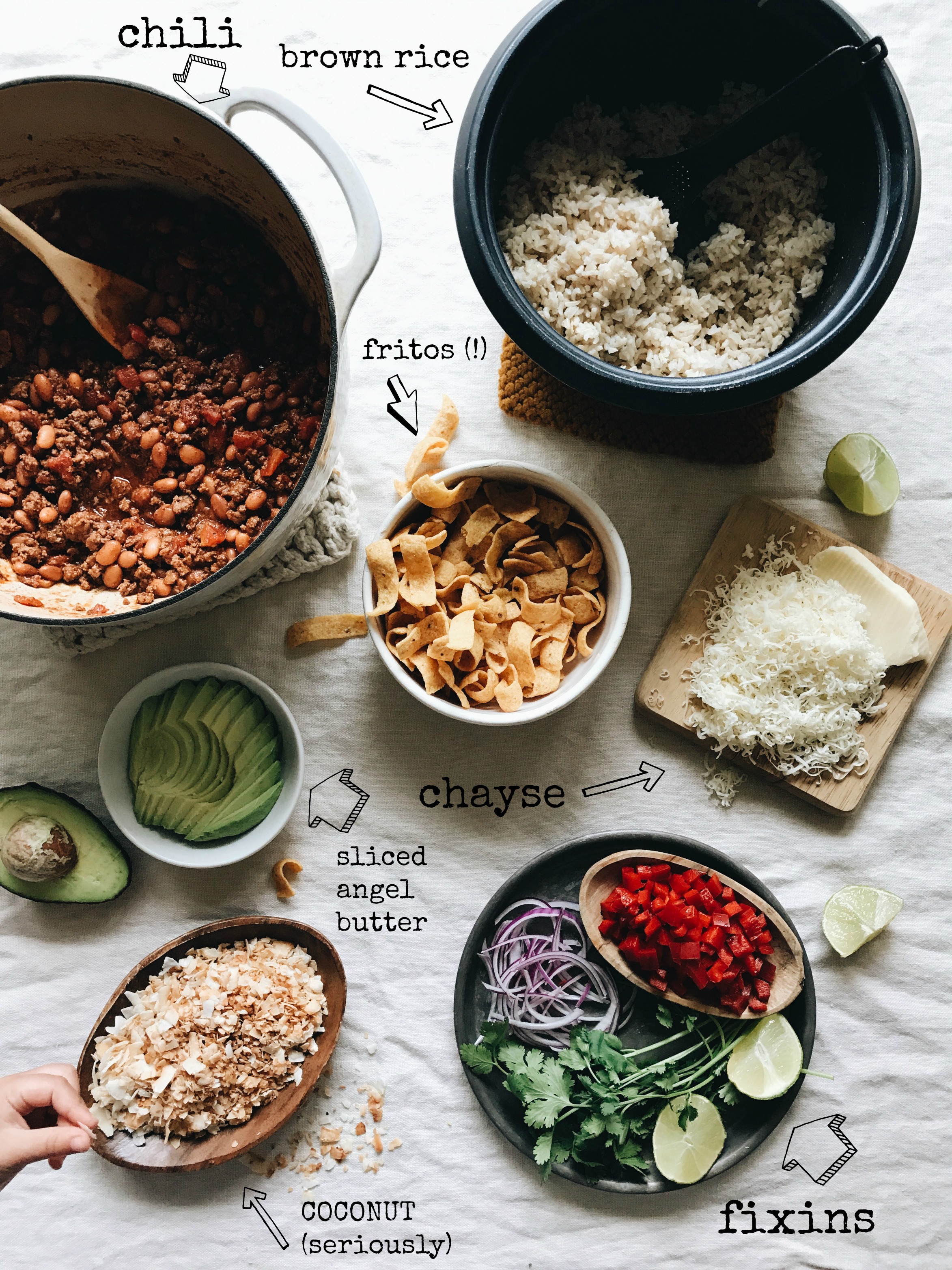 This what you've got going on.
And it's crazy because, for years I've set out to make the most RIDICULOUS CHILIS. Like this. And this. And THIS. But I found yesterday, that stripping it back to the bones and going with some classic seasonings, plus a couple of flavor tricks, gets in the job done. At least in this case, since there's so much going on on top. LIKE C O C O N U T.
You'll cook your brown rice and chili at the same time. My rice cooker takes two (2!) hours (HOURS) to cook brown rice, so I plan ahead and do it mid afternoon, so I'm not flinging a machete around at dinnertime waiting for the stupid brown rice to cook.
While the chili simmers, you can prep your toppings. And bottomings. Bottomings is definitely a word, but don't try to look it up because I think Merriam and Webster took a vacation together.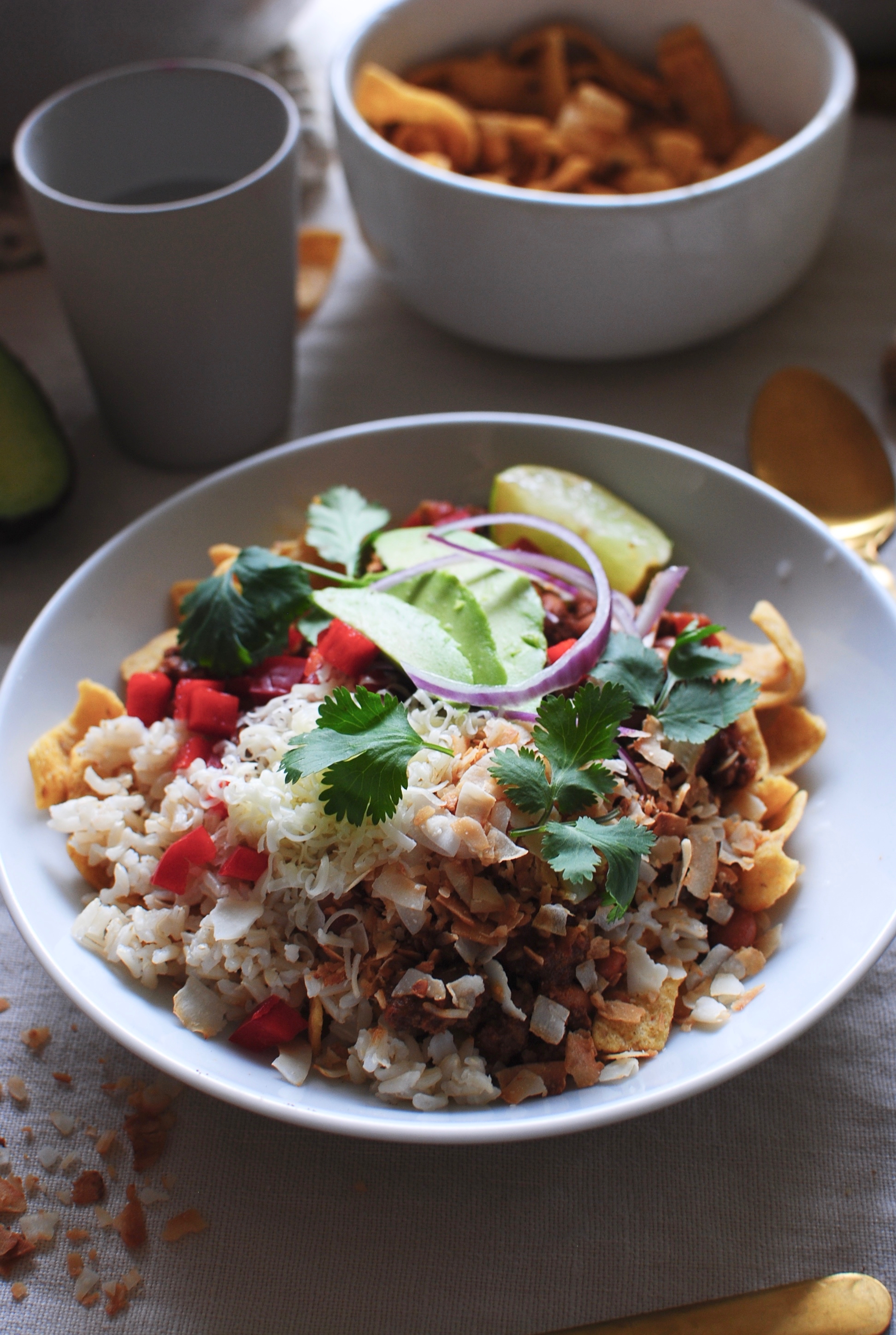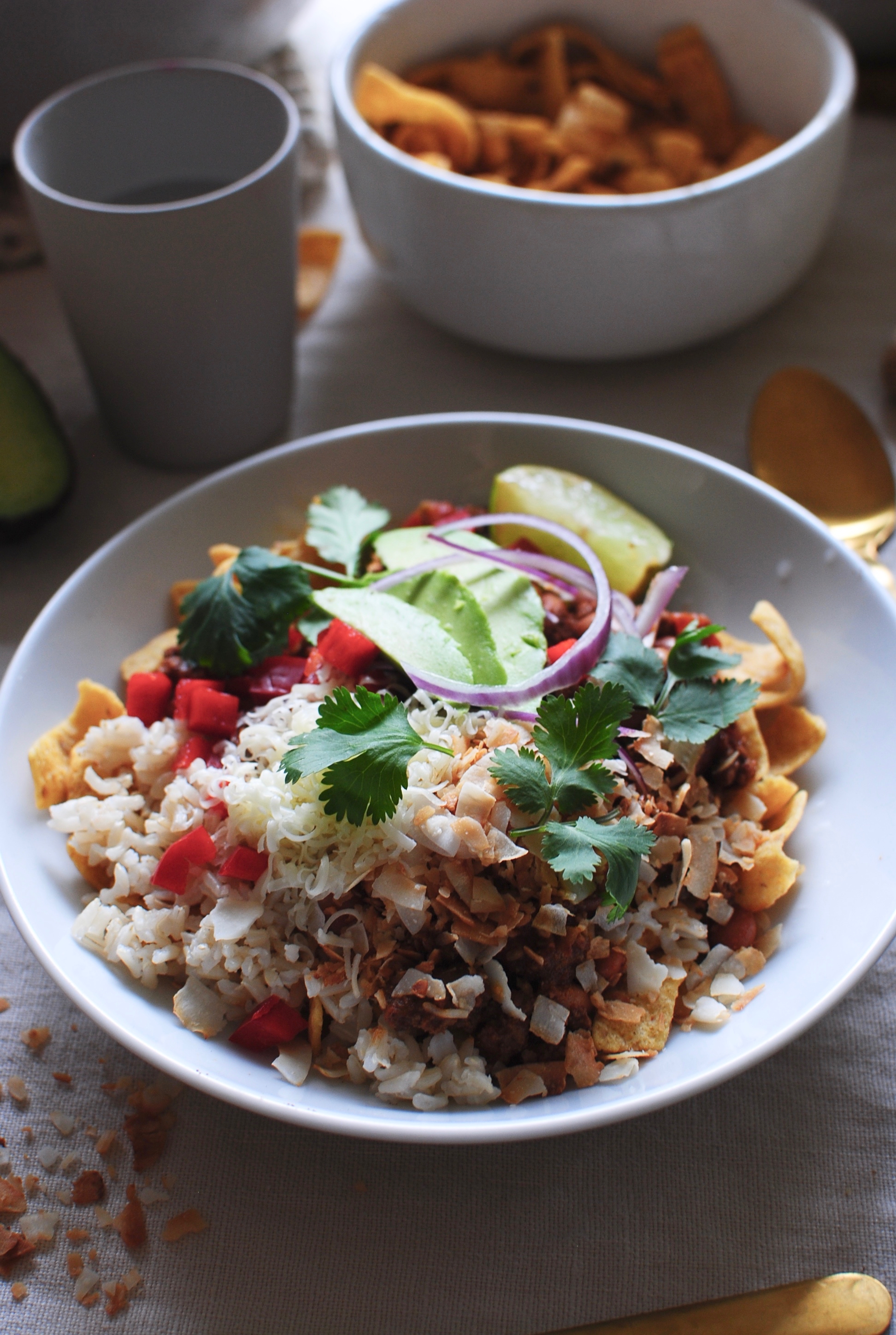 And there she is. Just waiting for your mouth.
Goes like this: Fritos on the bottom. Then the rice. Then the chili. THEN it gets exciting. Finely diced red bell pepper (instead of in the chili it goes on top to add crunch and maj color), thiiiiinly sliced red onion (not in the chili. on top, babe. sorry I called you babe.) (you're like, no onion in the chili? nope because I dumped onion and garlic powder all up in it! powders are game changers. the end forever.), sliced avocado, torn cilantro sprigs, lots of shredded white cheddar, and THE TOASTED C O C O N U T.
Buy it toasted. Toast it yourself in a small skillet. Either way. But don't leave it out! This is a pivotal life move for you.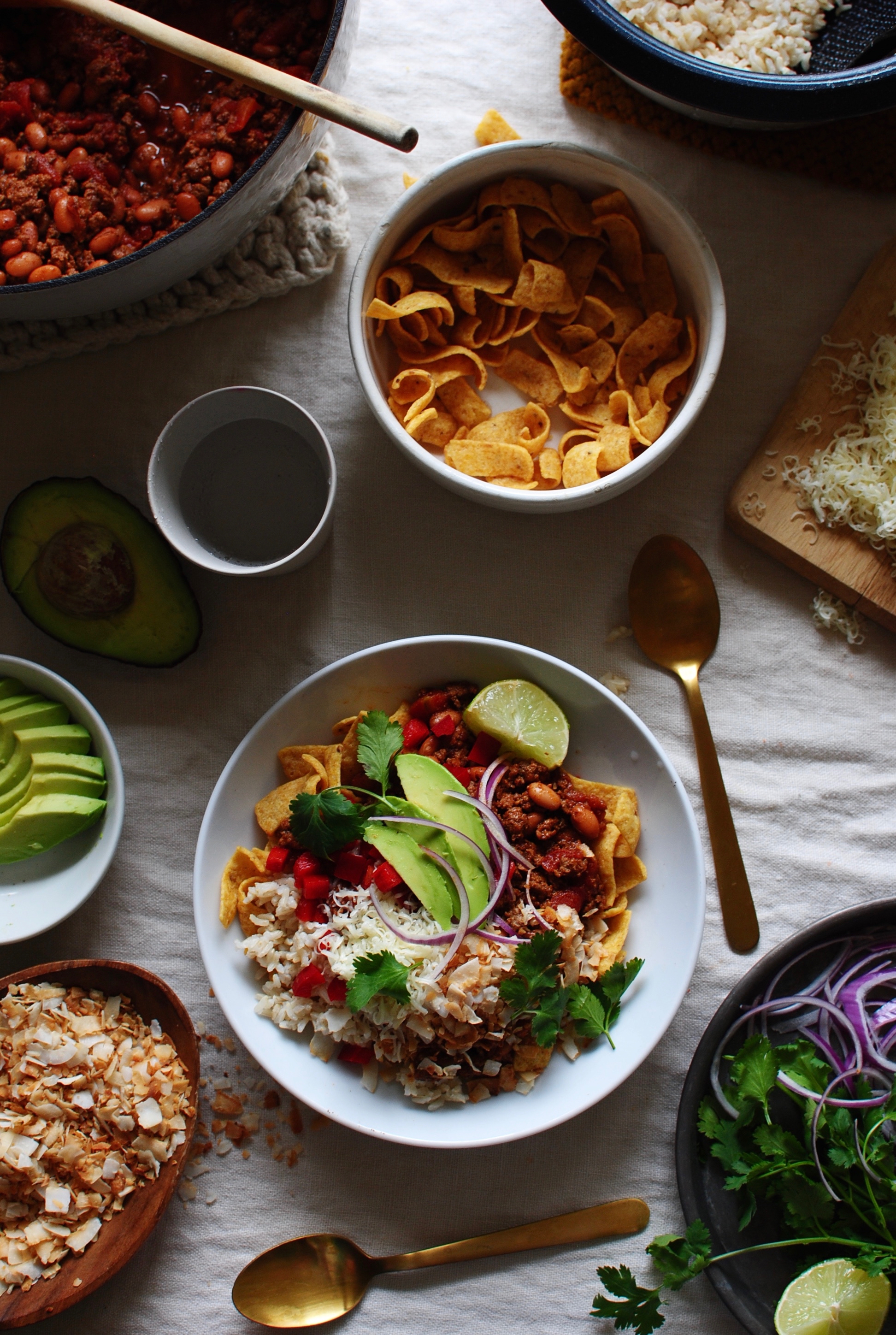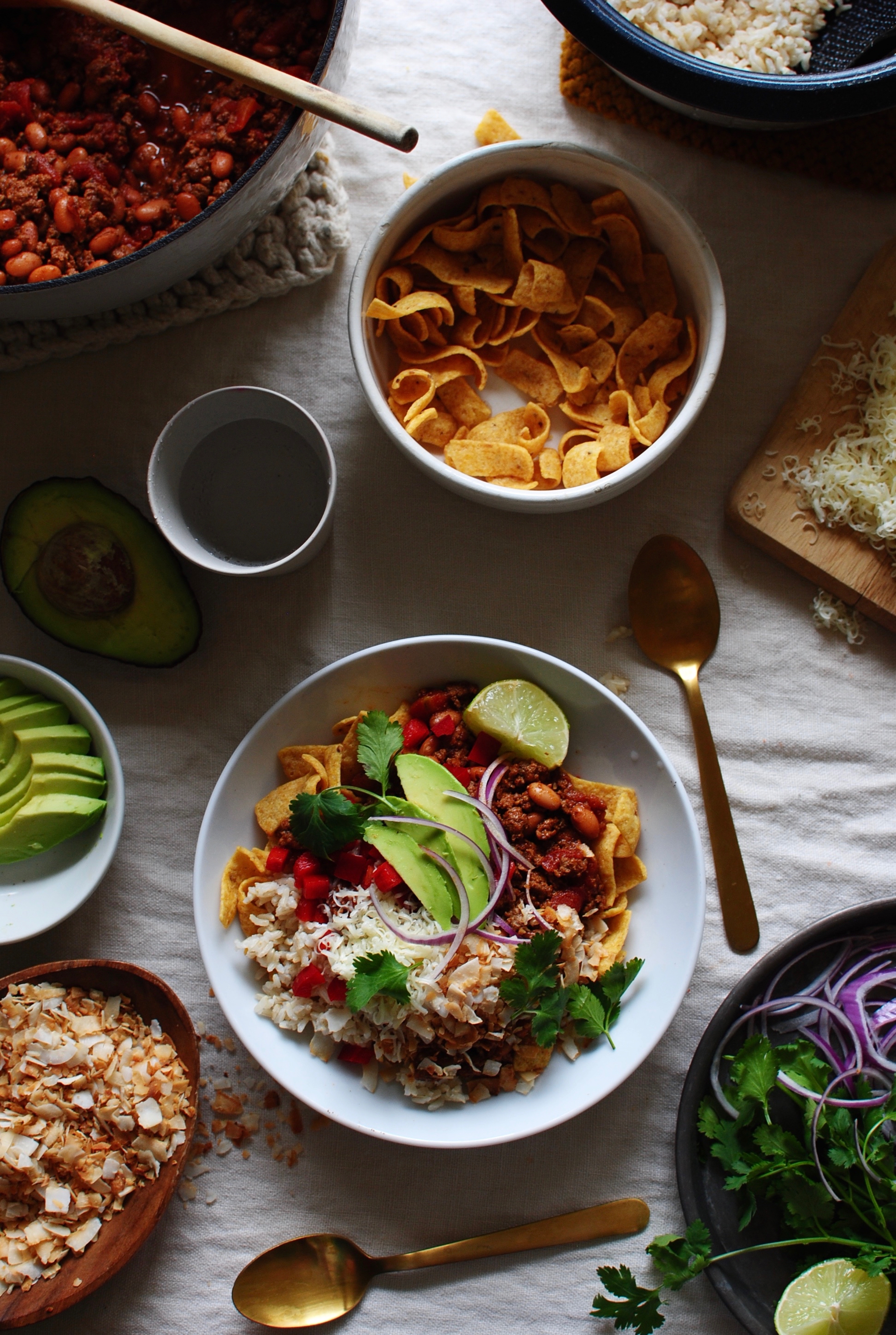 I can't explain it. Besides my whole rambling sesh just now. But it's fantastic! Perfect for a chilly spring evening. The coconut is such a lovely flavor complement paired with the salty fritos, the savory chili and the creamy cheddar. And lime juice! Always with the lime juice.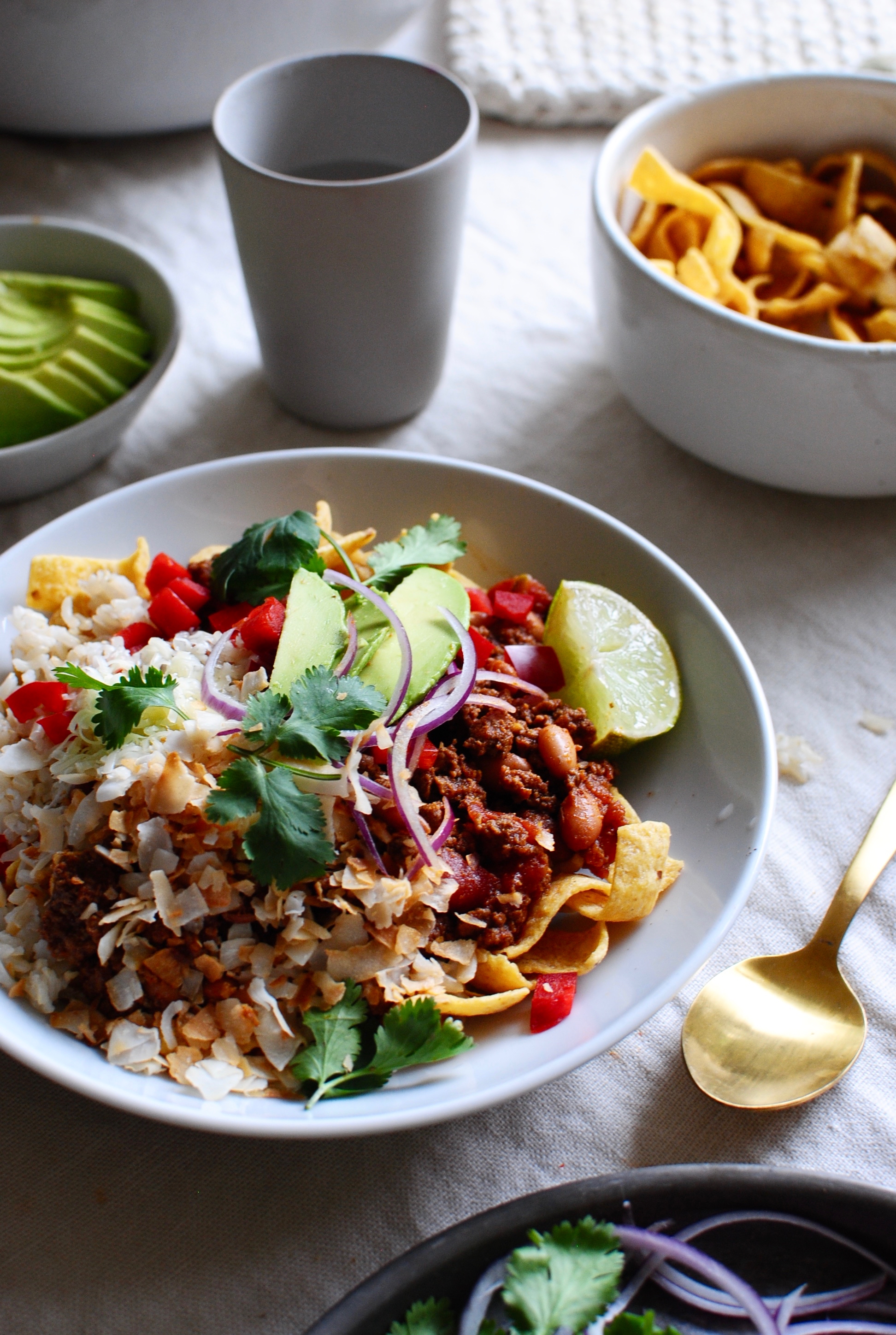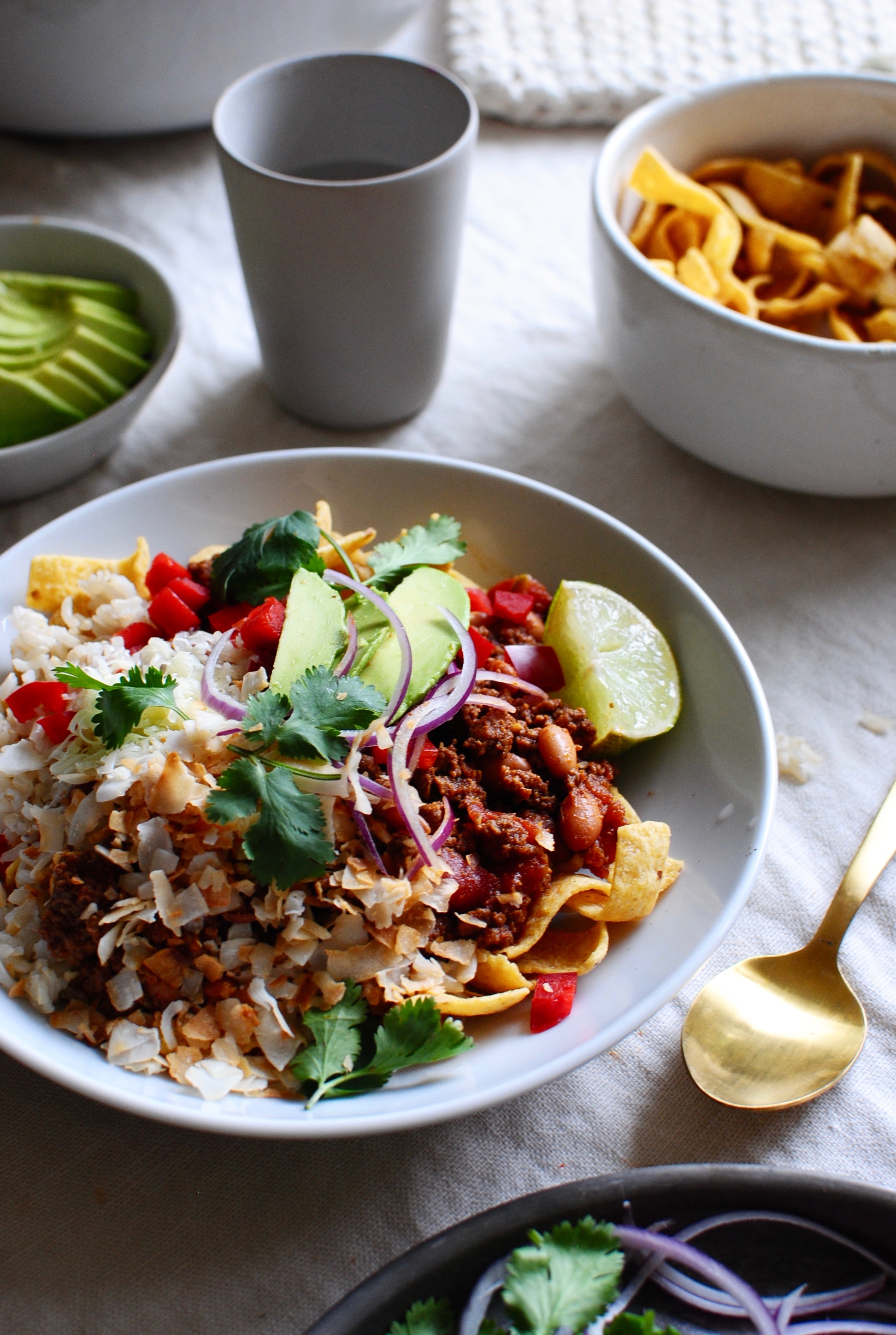 I mentioned the coconut, right?
Ingredients
1 cup brown rice
1 pound ground grass-fed beef
2 tsp cumin
2 tsp chili powder
2 tsp garlic powder
2 tsp onion powder
1 Tbs. tomato paste
1 (15 oz) can pinto beans, drained and rinsed
1 (14.5 oz) can diced tomatoes
1 Tbs. apple cider vinegar
1 Tbs. brown sugar
Salt and pepper
2-3 cups Fritos
1/2 red bell pepper, finely diced
1 cup shredded cheddar cheese
1 cup toasted coconut flakes
Thinly sliced red onion
Cilantro sprigs
Sliced avocado
Lime wedges
Instructions
Cook your rice in a rice cooker, or stovetop method - whatever you prefer!
In a large pot, brown the beef. Once there's no more pink, add in the cumin, chili powder, garlic powder, onion powder, and a good pinch of salt and pepper. Stir until the beef is coated with seasoning. Scoot a little of the beef to the side and add the tomato paste. Press the paste into the bottom of the pot, sort of "blooming" it, so the flavors release. Then mix it all together.
Add in the beans, diced tomatoes, vinegar and brown sugar. Stir together, reduce heat to medium low and simmer (partially covered) anywhere from 30 minutes to an hour. Taste it and add a little more salt if needed.
Then you build! First the Fritos, then the brown rice, followed by a helping of chili. On top goes the red bell pepper, toasted coconut (!), thinly sliced red onion, cilantro, cheese, avocado and a good spritz of lime juice.
GET IN THAT RIGHT NOW.
Serves 4.
7.8.1.2
86
https://bevcooks.com/2017/04/mexican-fiesta-bowls/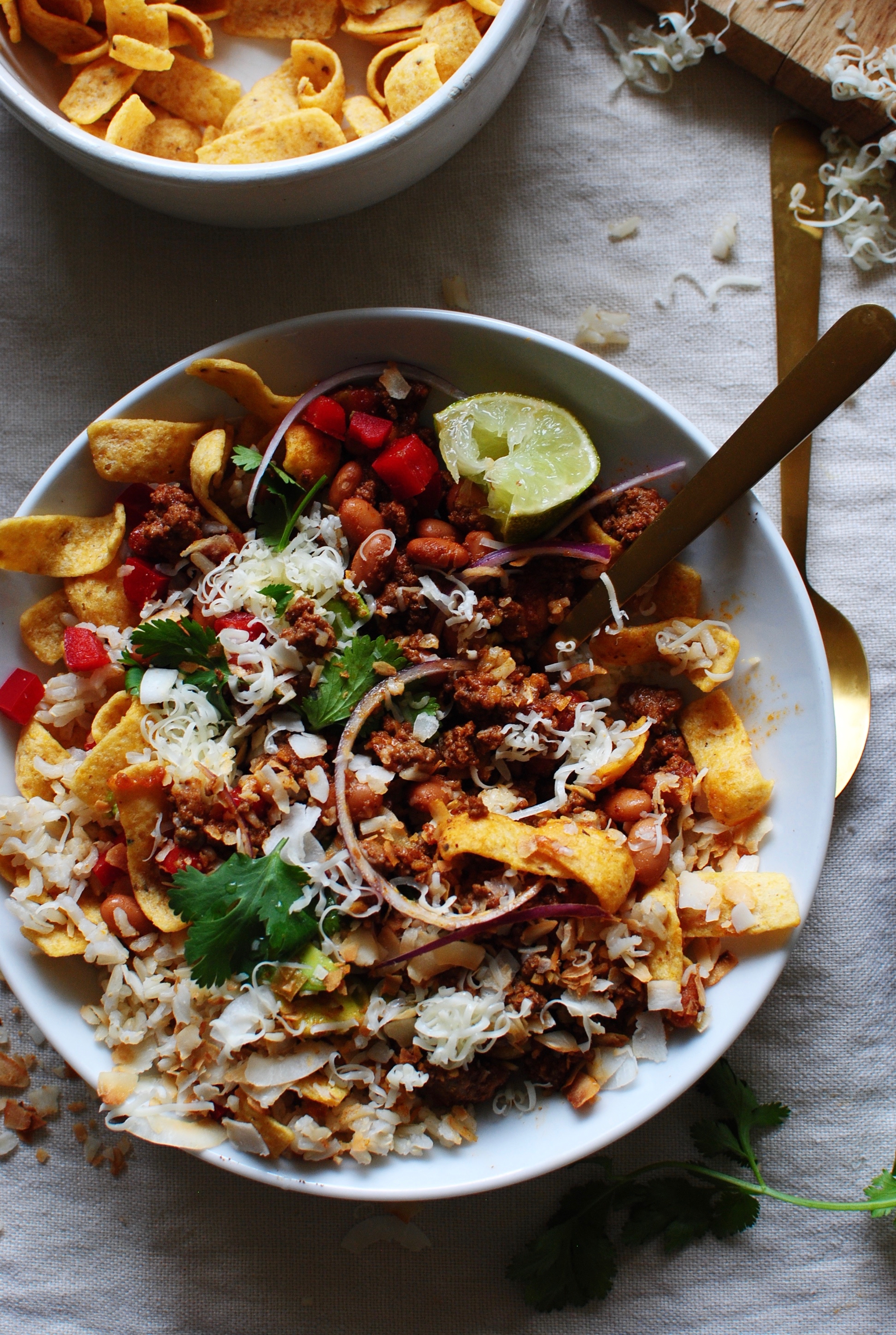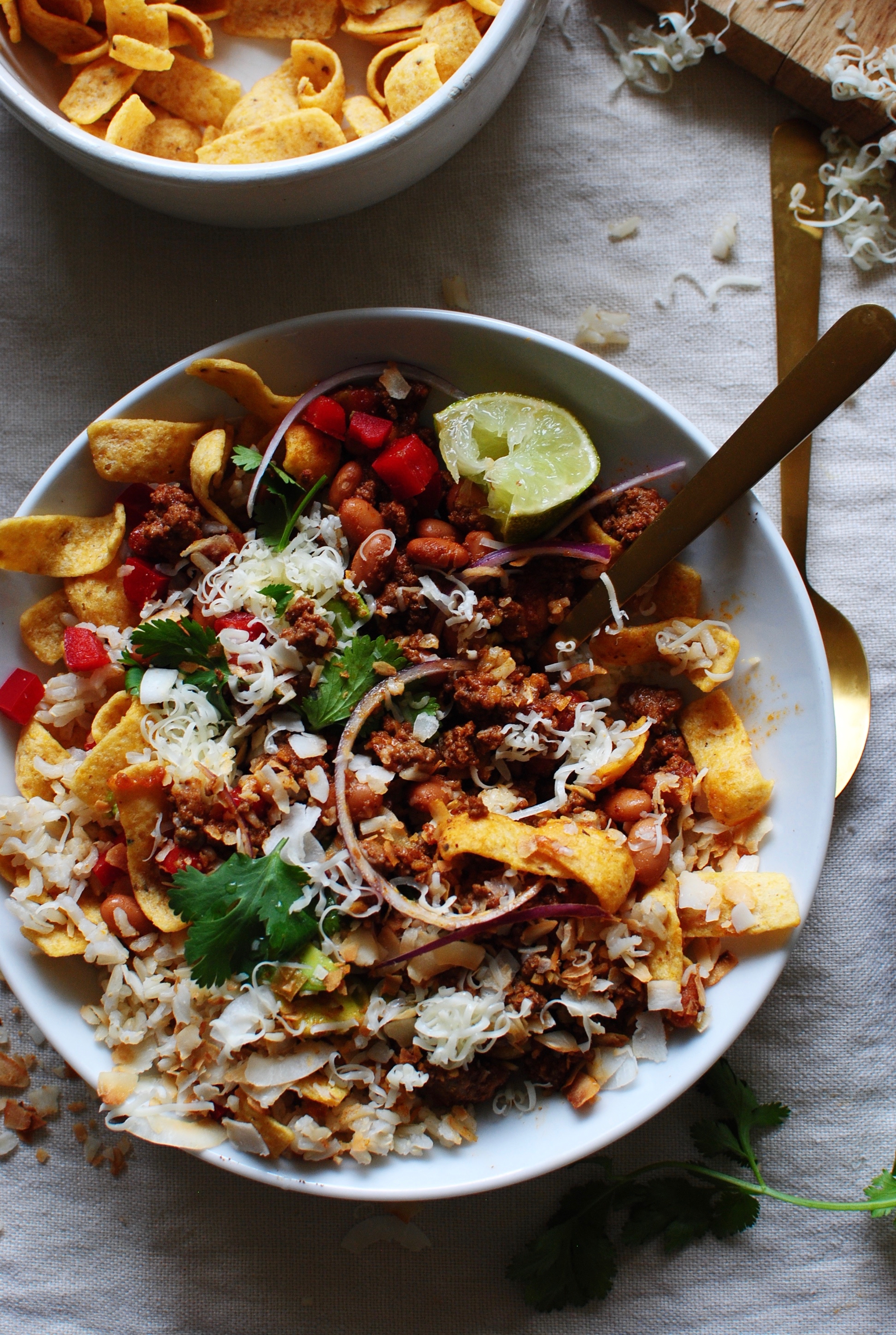 This is what it looks like after your mouth viciously attacks it. Because it will.