Apparently my mouth thinks it's still winter.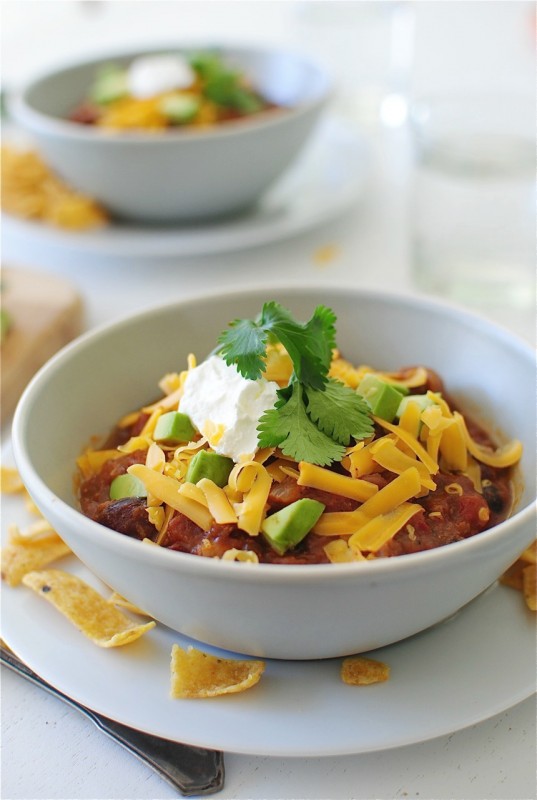 Isn't it wonderful?
So, have you ever had Five-Alarm Chili? Da-hudes. It's HOT. But I like my face to rain, so I don't mind.
Thing is, Aaron keeps buying bags of corn chips. Like Fritos, ya know. The ones that you plunge into bean dip. He won't stop. And I want to not be okay with this. But I'm not. I'm not NOT okay with this. I'm the opposite of not okay with the Frito chip purchases. I'd be okay with him stopping, on opposite day. But I'm not. I'm not okay with the opposite of being okay with him not buying the Frito corn chips.
So glad we're clear on this.
So I said to him, "If you're going to keep buying the corn chips (and the bean dip), we need to make a big batch of chili or something, so that I have more of a legit excuse to keep shoveling the corn chips (and the bean dip) into my headhole. Kapeesh?"
He looked at me and said, "Don't ever say kapeesh again." And then he handed me the corn chips (and the bean dip).
So we made Five-Alarm Chili! And we ran out of chips half-way through so we had to buy more. SO SAD ABOUT THAT.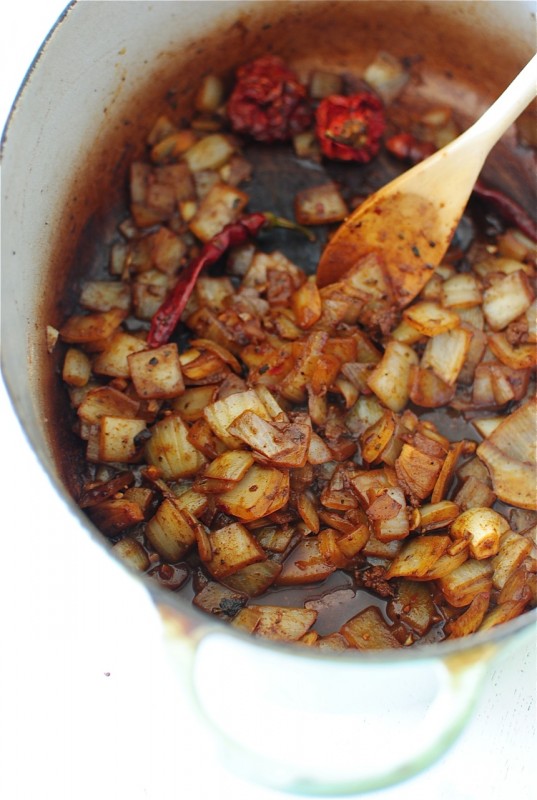 By the way, ignore the dried red chiles you see in the above oniony picture. I mean, if you HAVE dried chiles on hand, feel free to use them! But they're not actually in the recipe. They were a last minute addition, making this a Seven-Alarm Chili. And we all know that a Seven-Alarm Chili would straight up turn your face into a volcano.
hashtag sprinkler system.
Bottom line, this is a somewhat of a project recipe, with the rendering and the broiling and the peeling and the pulsing and the browning and the sautéing and the deglazing and the simmering and the pole dancing and the strippi – OH NOW YOU'RE LISTENING.
But it's super duper worth it. Because it's ridiculously tasty and you need the corn chips. (and the bean dip)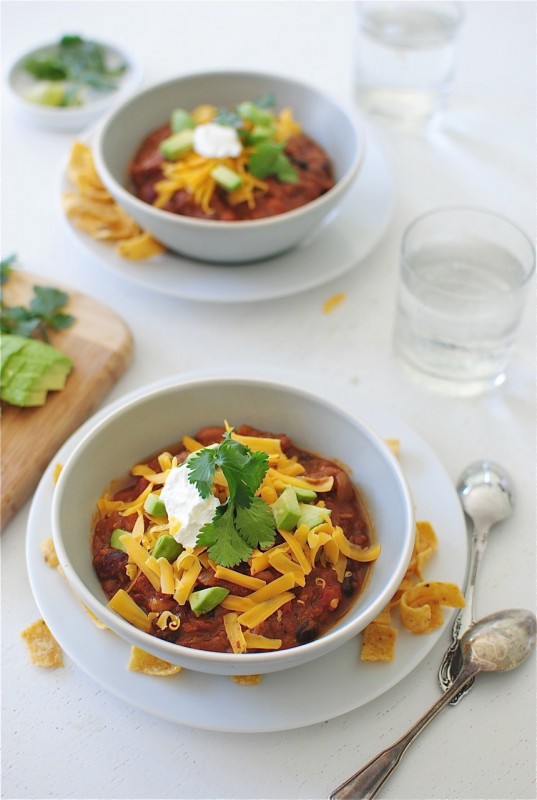 Ding ding ding!
Five-Alarm Chili:
What it took for 4 – 6:
* 2 slices bacon, chopped and rendered
* 1 anaheim pepper
* 1 jalapeno pepper
* 1 poblano pepper
* 2 cups blue corn tortilla chips
* 2 or 3 chipotle peppers, plus a Tbs. adobo sauce
* 1 (14.5 oz) can diced tomatoes, juices separated
* 1 (4.5 oz) tube tomato paste
* 1 pound ground beef
* 1 medium white onion, diced
* 3 cloves garlic, minced
* 1 Tbs. chili powder
* 1 tsp white pepper
* 1 Tbs. sugar
* 1 Tbs. apple cider vinegar
* 1 tsp dried oregano
* 1 pinch crushed red pepper
* 1 tsp cumin
* 1 tsp smoked paprika
* 1/2 cup leftover coffee
* coarse salt, to taste
* 1 (14.5 oz) can black beans, drained and rinsed
* 1 (14.5 oz) can kidney beans, drained and rinsed
* 1 (14.5 oz) can pinto beans, drained and rinsed
* diced avocado, shredded cheddar, cilantro, sour cream and corn chips for garnish
Place the anaheim, jalapeno and poblano peppers on a baking sheet. Slide under the broiler and char all over. Immediately place the peppers in a large ziplock bag and steam for 10 minutes, loosening the skins. Peel the skins away and discard, along with the stems and seeds.
In a food processor, place the roasted peppers, chips, chipotle peppers with the adobo sauce, and the juice from the diced tomatoes. Pulse until smooth.
In the meantime, you've rendered the bacon in a large pot or dutch oven and have set the crumbles aside. Pour the grease out of the pot and add the beef to brown. Once browned, remove from the pot and set aside.
Add the onions and garlic and sauté until tender, 4 minutes. Add the coffee and tomato paste and cook until the coffee cooks down and thickens, just a few minutes.
To the pot, add the beef, all the spices, vinegar, diced tomatoes, beans and the pureed mix. Simmer for at least an hour, and up to 5 million. Taste it. Go ahead and add some salt! If it's too spicy, add some honey or a little more sugar. Keep simmering until your head wants to cut itself off and jump in.
Finally, stir the bacon crumbles back in, because glory be.
Garnish with cheese, sour cream, cilantro, avocado and corn chips!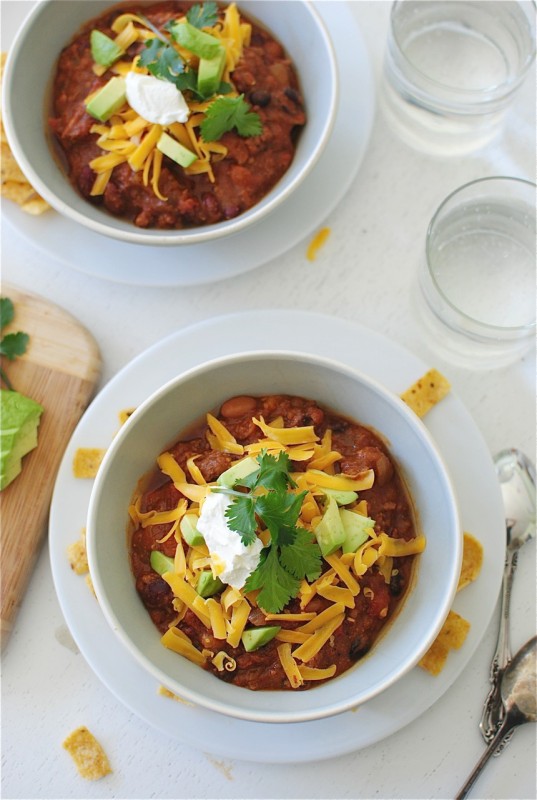 Snooze button sold separately.