Thiiiiiiiiiiis.
I'm almost speechless.
I said almost, don't get too giddy.
This kale caesar salad is straight up madness. First of all, it's kale. Dark, earthy Tuscan kale, sliced into the tiniest ribbons and fist bumped for good measure.
Then we have brioche croutons. An idea that comes from a Saturday morning PBS/Martha-thon.
Then we have our own, homemade caesar dressing. I'm telling you, there is NUTHIN' LAWK homemade caesar dressing. Nothin' in the world. I use anchovy paste in mine, because to me it makes more sense than buying a little tin of anchovies, using two or three, then tossing the rest. You can find anchovy paste right next to the tubes of tomato paste! Or maybe in the Asian aisle. Shoot now I don't even know. Maybe ask someone? But don't ask that sketchy man in the muscle shirt giving you a creeper eye. Crap now he's walking toward you. Just walk away. Don't look at him!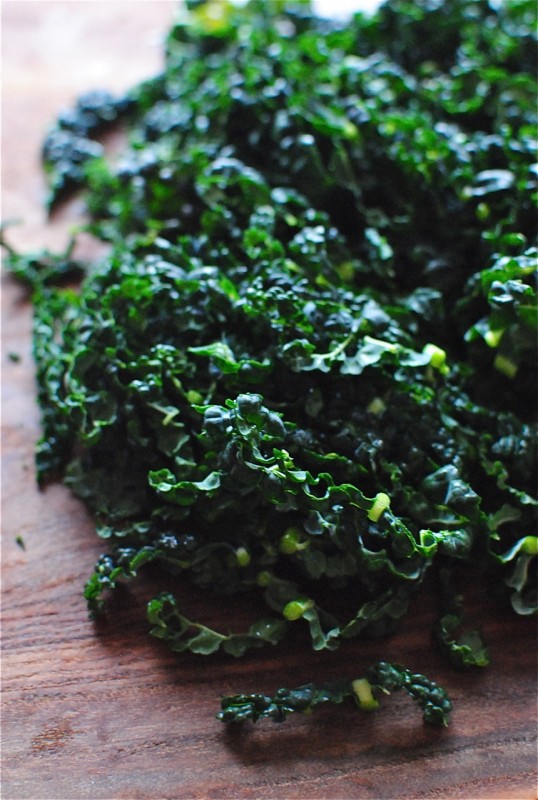 Where was I?
You'd think that the kale would be a bit tough in raw salad form. But hark, once you slice it super thin, it surprisingly softens ever so slightly in obedience to the dressing. You seriously won't believe your face when you eat this.
And the brioche croutons, talk about buttery bites of bomb, bae bae.
And the dressing! Have we talked about the dressing? You're like, "Uhhh yeah I wonder if she knows the Danish meaning of bae."
Of course I do! Hold on let me make sure.
. . . Oh.
Seriously though, if you wanna jazz up salad night, I beeeeg you to do this. That grilled chicken just seals the deal. Kiss of life. Rubber stamp. Ties the knot. Return to sender.
Ignore me.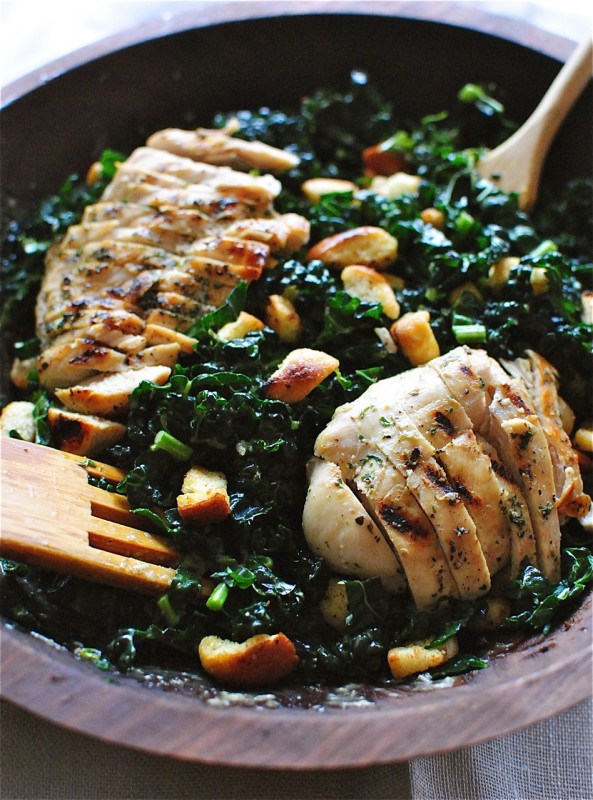 But eat this.
Kale Caesar Salad with Grilled Chicken:
What it took for two dinner salads:
* 1 bunch lacinato kale, sliced into very thin ribbons, then give it a rough chop
* 1 Tbs. extra-virgin olive oil
* 1 cup cubed brioche bread (or any croutons you dig)
* 1 pinch of salt
* 1 egg yolk
* 2 tsp Dijon mustard (even stoneground is fabulous)
* 2 tsp anchovy paste (or 3 anchovy fillets + 2 cloves minced garlic)
* 1 tsp worcestershire sauce
* 1/3 cup olive oil
* 1/3 cup freshly grated parmesan cheese
* 2 grilled chicken breasts, sliced (seasoning totally up to you!)
Start with your croutons. Heat the Tbs. of oil in a small sauté pan. Add the cubed brioche and a pinch of salt; sauté until it starts to brown and crisp up. It happens fast! Don't leave it.
In a large mixing bowl (or right in your wooden salad serving bowl), add the egg yolk, mustard, anchovy paste and worcestershire sauce. Whisk it until nice and smooth. Then add the olive oil and whisk it all again. Looking good, right? Now add the cheese. Whisk it all up. Holy face. Taste it. But prepare to glory faint.
The rest is super easy. Add the kale and croutons. Toss toss toss until the silky, salty, fabulous dressing coats every last thing. Top with sliced grill chicken and faint again.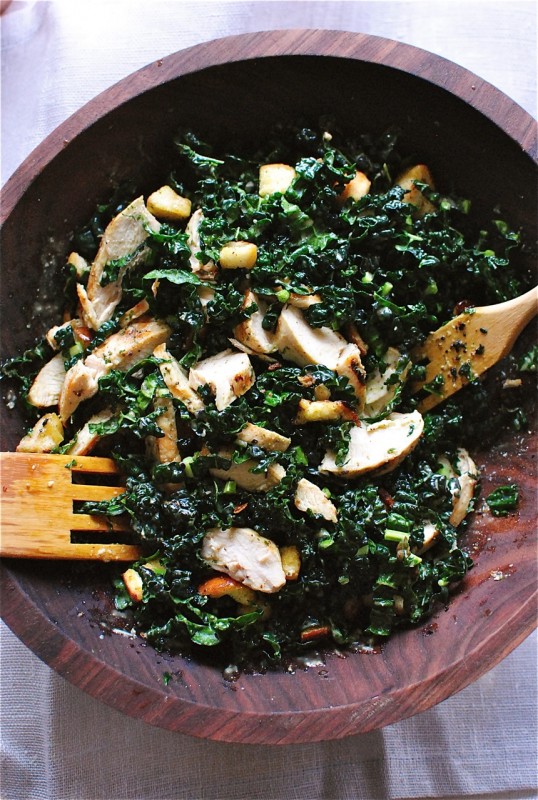 Honey CHILD.