…Covered in cheese. I forgot to mention that. They're covered in a fat snuggle blanket of bubbly cheese.
I'm completely dying over these stuffed peppers. Dying. If I could dance around in a circle and howl at the moon in a fit of BANANAS BEGGING, I'd so do it. They deserve it.
However! I will warn you – and you probably already know and do this, but I never do because I'm an idiot – wear gloves when you seed the peppers. I spent three hours with one hand in a glass of cold milk and the other one hailing a taxi cab. (<–name that song)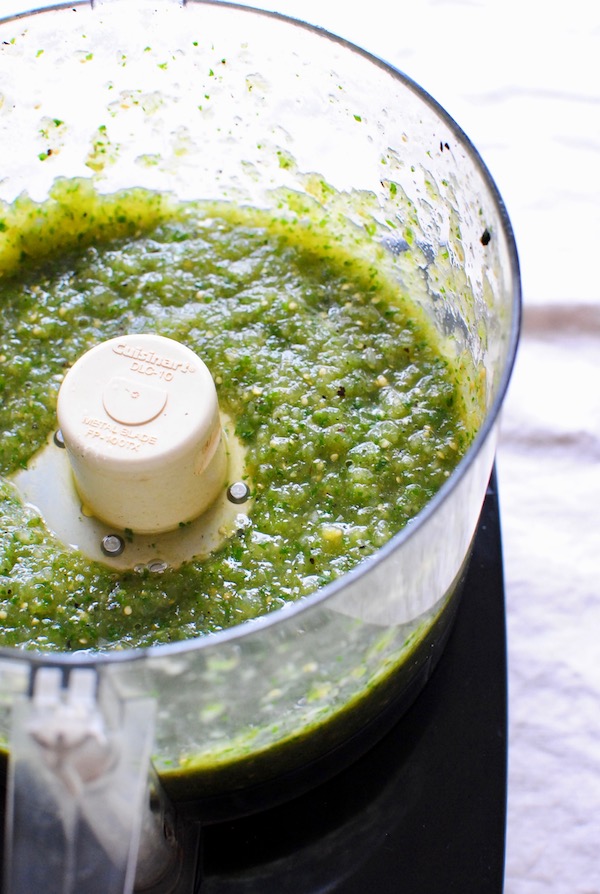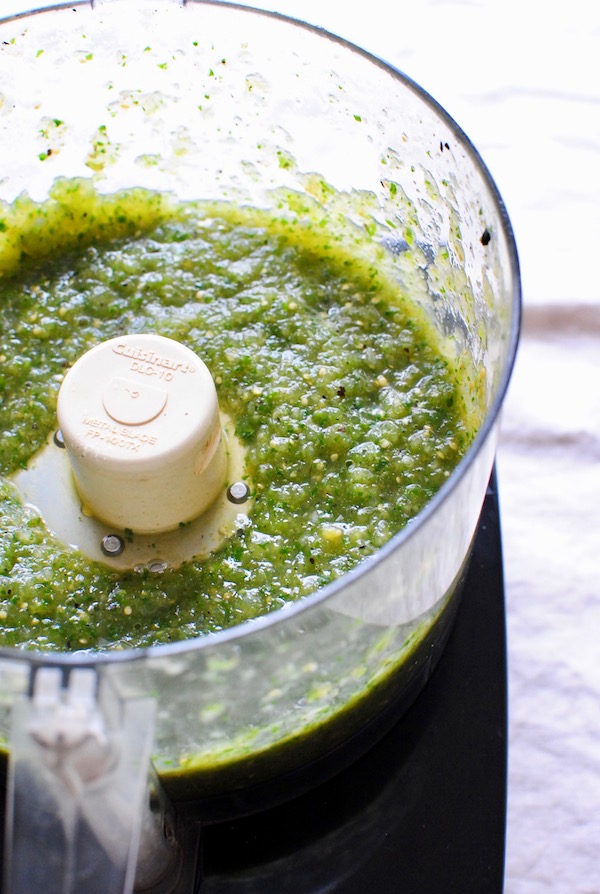 It all starts with the salsa verde. The mama-said-knock-you-out of this recipe. Now, you can totally buy a jar of salsa verde if you're short on time or you hate life. But I seriously recommend trying my super quick version! It will take your dish from here (my hand is at my waist) to HERE (my hand is above my topknot.)
I'm hysterically obsessed with this liquid green. Remember a long time ago when I put it in a slow cooker chicken posole? Uh huh. And then that one time when I threw it on some pulled pork enchiladas? Yep. And my crazy skillet chicken Suiza? YAS. And those other chicken enchiladas? Right. And the chicken soup! And the chicken burritos!
I'll never quit you, s.v.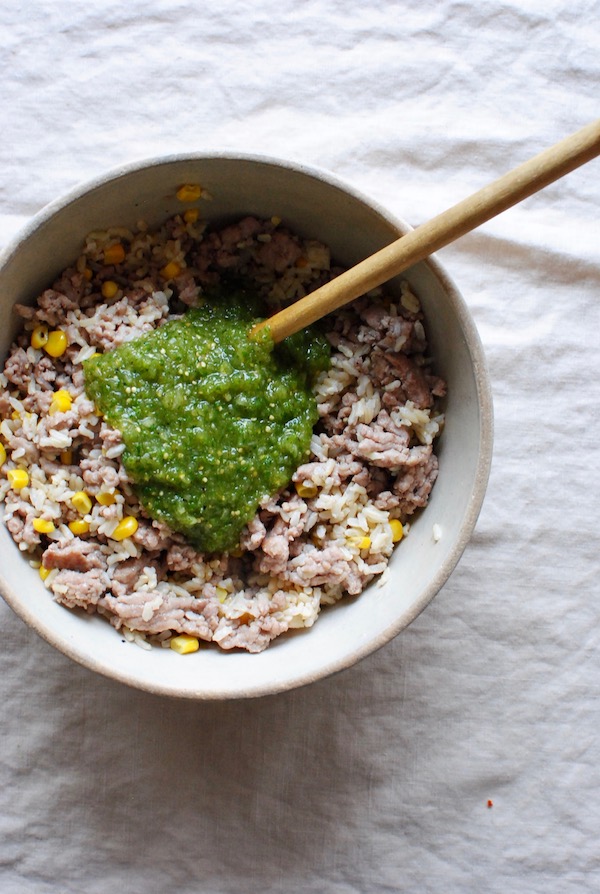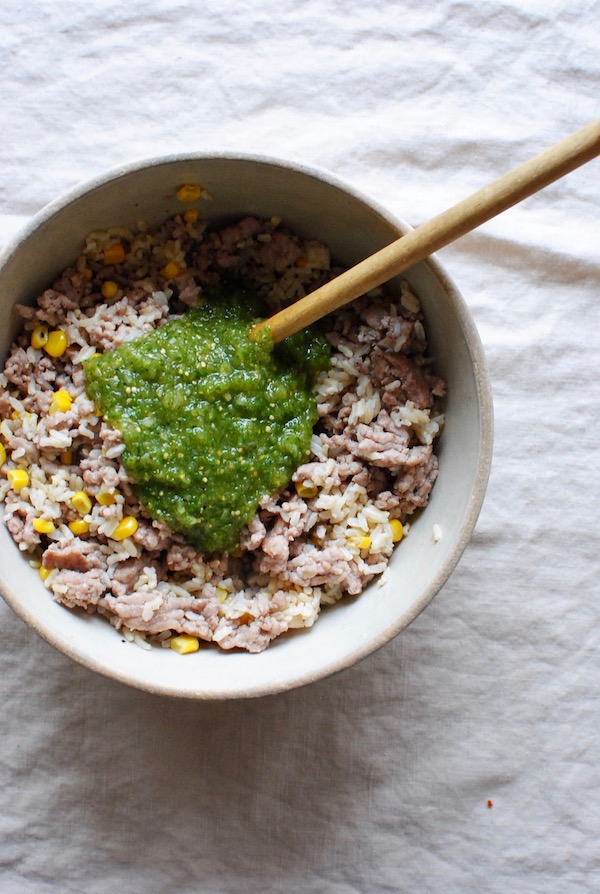 So it's the salsa verde + cooked brown rice + browned ground pork + frozen corn. That's the filling. And you think to yourself, "What a wonderful wo-" wait, that's not it.
You think to yourself, "I bet it's pretty good, la la la la la."
CHEELAH – it is STUPID GOOD. The nuttiness of the rice meets the sweetness of the corn meets the tangy of the verde meets the savory ground pork meets the bubbly Monterey Jack? No. Yes. No. No. Yes.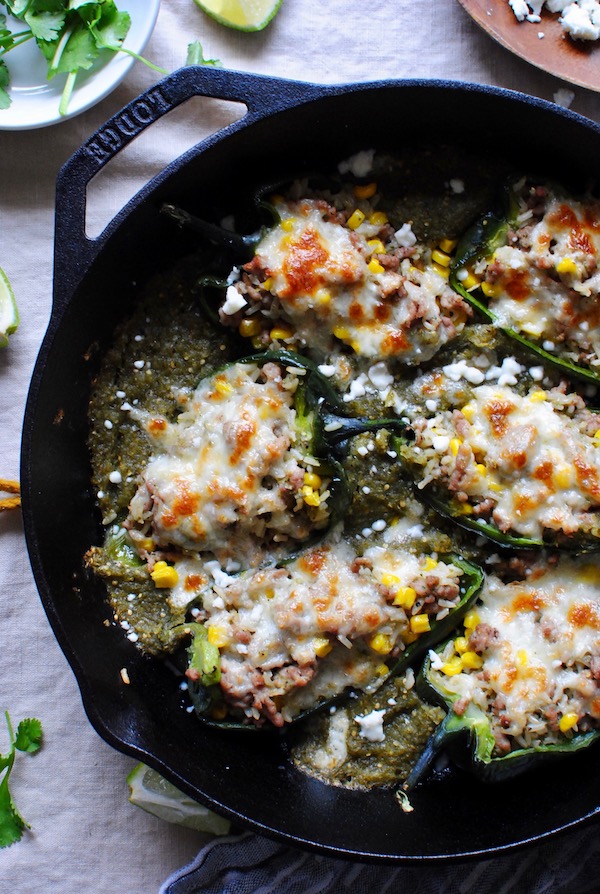 You've sliced your poblano pepps in half (USING GLOVES I BEG OF YOU), given them a quick dunk in boiling water to start the softening, then arranged them in a skillet with the insano pork stuffing. Are you feeling good about this so far? I knew you would be.
Then just let them warm through in the oven about 20 minutes. Flip on the broiler and let it finish off the cheese. Just like that. Are you dying? I knew you would be.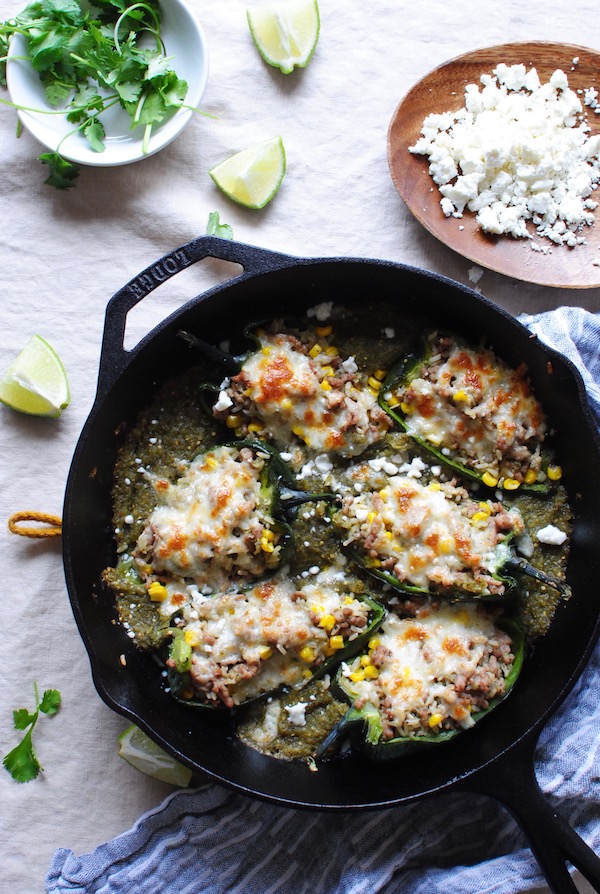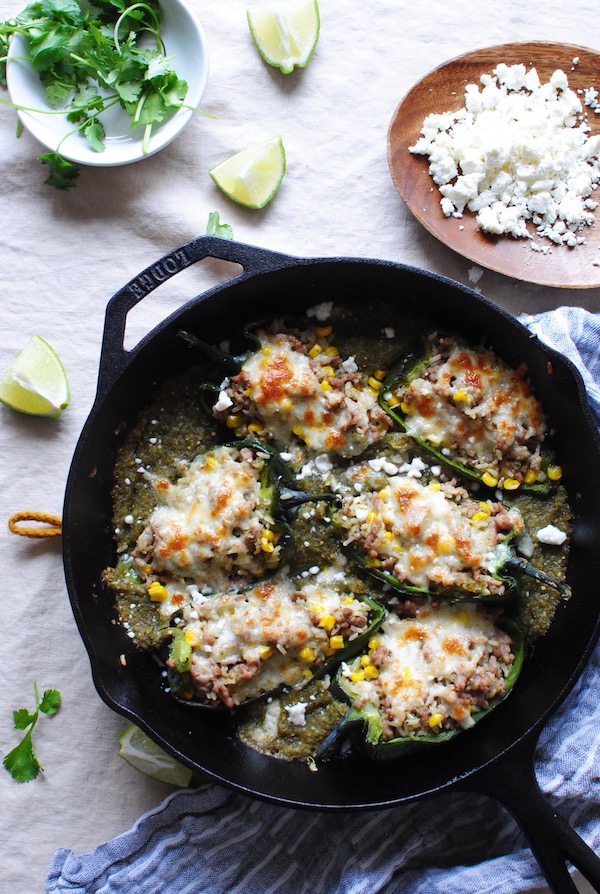 You want me to howl? I'll howl. I WILL HOWL.
Salsa Verde Pork-Stuffed Poblano Peppers
Ingredients
4 poblano peppers, cut in half lengthwise, seeded (wear gloves!)
1 medium white onion, halved
1 jalapeno pepper, halved and seeded
1 (11 oz) can tomatillos, drained
1 cup cilantro leaves, plus extra for garnish
Juice from half a lime, plus wedges for garnish
1 cup cooked brown rice
1 pound ground pork
1/2 cup frozen corn
1 cup of shredded Monterey Jack cheese
Salt and pepper
Crumbled queso fresco (optional garnish)
Instructions
Preheat oven to 350.
In a large pot of water, boil the peppers about 10 minutes, to start the softening. Remove from the pan and pat dry.
Light a gas burner over medium heat, and place the onion and jalapeño halves right over the flame, until you get a little bit of charring all over. I spend maybe 3-5 minutes doing this. Then transfer to a food processor. To the processor, add the tomatillos, cilantro and lime juice. Season with a pinch of salt and whiz until combined and no longer chunky.
Brown the pork in a large skillet over medium-high. Season with salt and pepper, then stir in the corn and cooked brown rice. To this, add half a cup of the salsa verde. Stir to combine. This is your pepper filling! Yay.
Pour the rest of the salsa verde in a large skillet and nestle the pepper halves on top. Stuff each pepper half with as much filling as you can, then top with a sprinkling of shredded Monterey Jack cheese.
Bake about 20 minutes, or until the cheese has melted. Flip on the broiler to get the cheese browned and bubbly.
Serve with crumbled queso fresco (optional), more cilantro leaves and a few good squirts of lime!
UGH.
Makes 8 halves.
7.8.1.2
63
https://bevcooks.com/2017/01/salsa-verde-pork-stuffed-poblano-peppers/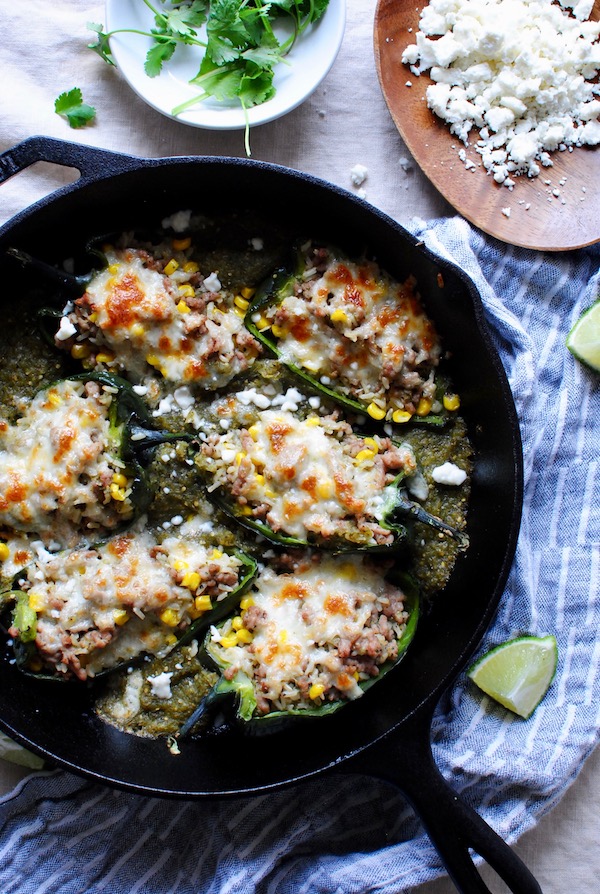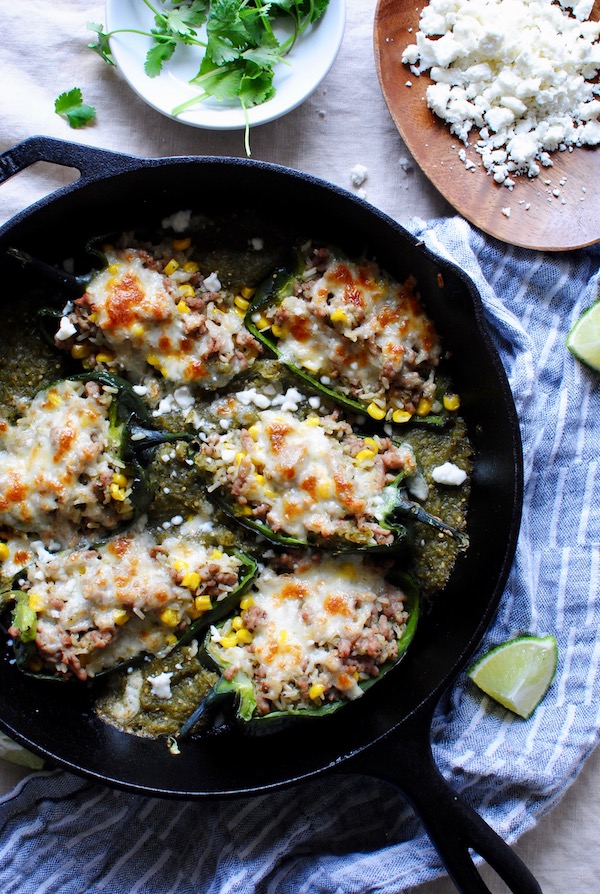 I won't howl.