I know it's hip to talk about the temperatures right now, but I just can't do it.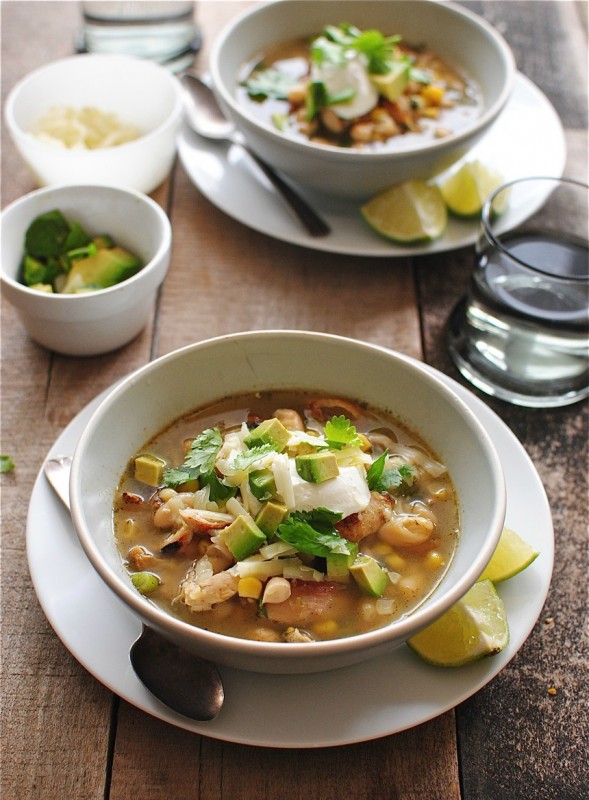 I just can't. Especially because it's going to be 96 freaking degrees this weekend and I want to punch it in the groin. But I'm not going to talk about it.
I'm also not going to mention that it's not even going to LEAVE the 90s until next Wednesday. Ain't even going to utter a peep about it. But after that we should be good to go with lower to mid 80s. But you didn't hear it from me.
In the meantime, I feel like slurping soup. I don't care how hot or cold or lukewarm or room temp or chilly or toasty or nilly or foasty it is, I'm always in for some maj slurpage, foo.
I'd also like to apologize for just now saying "maj slurpage, foo." I blame hormones. And belly bands.
But listen!
I'm kind of freaking out over this soup because of two things. Three things. Okay, a handful of things:
1) It's EASY. Like, really, really easy.
2) You get texture! Seared and seasoned chicken thighs, oooooooo-eeeeeeeeeeee.
3) You get more  . . . texture! Because you shred the chicken once it's seared, boooooyyyy-eeeeeeeeeee.
4) A lot of the bangin' flavor comes straight from the . . . salsa verde! Biggidy bam. I picked up a wonderful premade jar at the grocery store and a bald eagle flew through my uterus.
5) It's limey. It's cilantro-y. It's corny and beany and chickeny. I mean chickenyyyy-eeeeeeeeeeeeee.
6) And it takes like, one Laverne and Shirley, if that.
And because you are an insanely talented and intelligent person, you dollop it with a little sour cream, along with 14 buckets of cubed avocado, some good grated hatch pepper cheese, more cilantro, and a bright squiggidy squeeze of lime juice.
Doesn't that feel so right?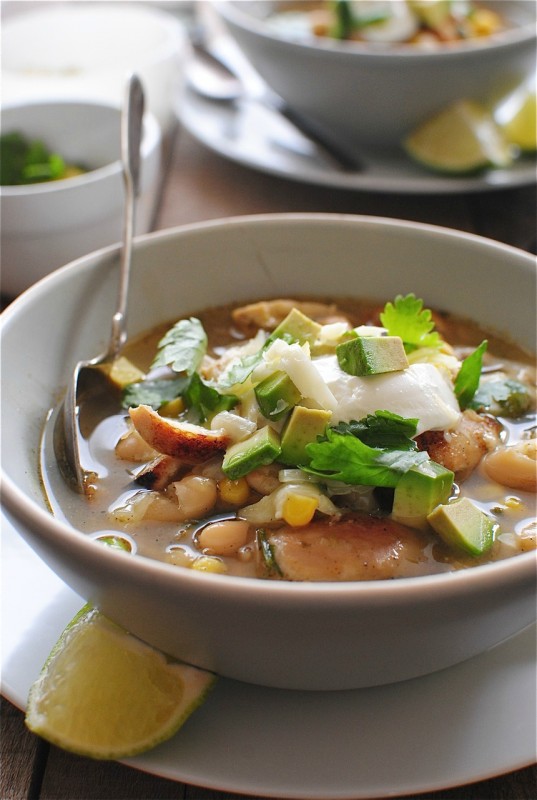 Maj slurpage, foo.
Salsa Verde Chicken Soup:
What it took for 4 servings:
* 1 Tbs. extra-virgin olive oil
* 1 pound (boneless, skinless) chicken thighs, trimmed of any excess fat
* 2 tsp ground cumin
* 2 tsp chili powder
* 1 cup salsa verde (jarred, canned or homemade, whatevs!)
* 3 cups chicken stock
* 1 (14.5 oz) can cannellini beans, drained and rinsed
* 1 (11 oz) can Mexicorn, drained
* 1/2 cup chopped cilantro, plus more for garnish
* 2 scallions, finely sliced
* grated hatch pepper cheese (or cheddar), for garnish
* cubed avocado
* sour cream
* lime juice
* coarse salt and pepper, to taste
Heat the oil in a cast iron skillet, or medium sauté pan over medium-high. Add the chicken to the pan; season with a pinch of salt and pepper, along with half of the cumin and chili powder. Sear for 4 minutes. Flip and sear another 4 to 5 minutes, seasoning with the remaining cumin and chili powder, and another small pinch of salt and pepper.
Transfer meat to a cutting and let rest for about 5 minutes, then shred with two forks.
In a medium to large pot, add the salsa verde. Bring to a medium heat. Add the chicken stock and bring to a simmer. Add the corn, beans and chicken. Let simmer 5 to 10 minutes. Taste it. Yeah, let's add the cilantro, scallions and a good squeeze of lime juice. If you'd like to add a little more salt, go rawt ahead. Simmer another two minutes. Taste it now. UM YES.
Serve soup garnished with avocado, grated hatch cheese, a dollop of sour cream, more cilantro and fresh lime wedges.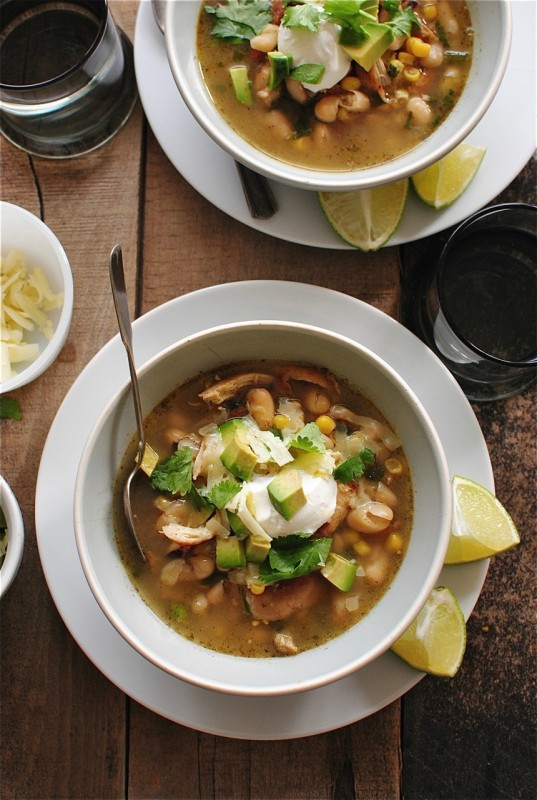 You should crumble some tortilla chips up in der. omg.