*This post is definitely in partnership with J.R. Watkins, but all honesty and total ramblings are my own. We coo?*
YES. J.R. Watkins. As in, the hand soaps.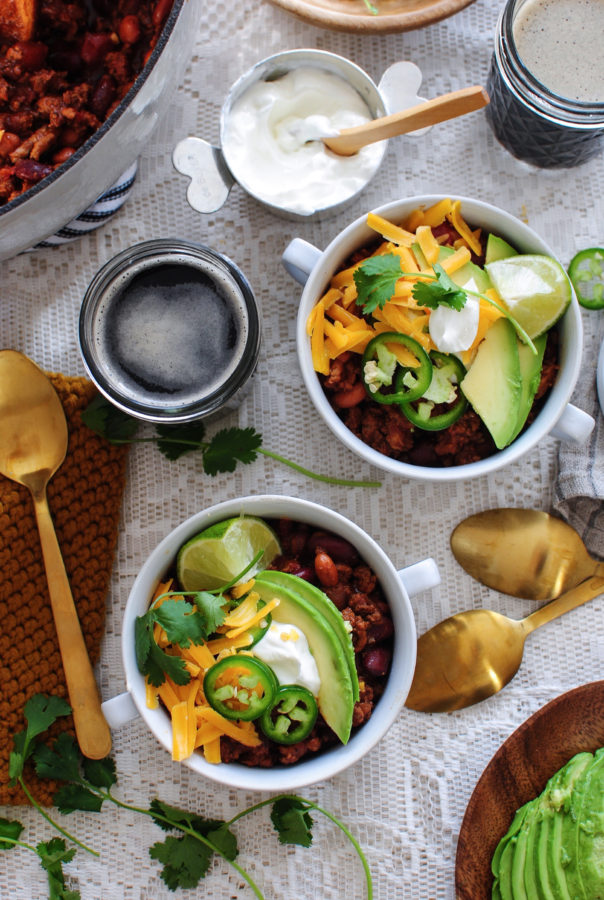 (I'm not cooking with hand soap, by the way. Ha! Wait, am I?)
Did you know that J.R. Watkins has a whole new line of gourmet seasonings and extracts? They sure do! So I made you a chili. With their chili seasoning packet! I like the word packet.
They have a whole slew of different flavored seasonings, so it was mighty hard to narrow down. But it basically came down to this.
Chili + beer + beans + beef  = WINTER EATING WINNING.
Let's make some dang chili.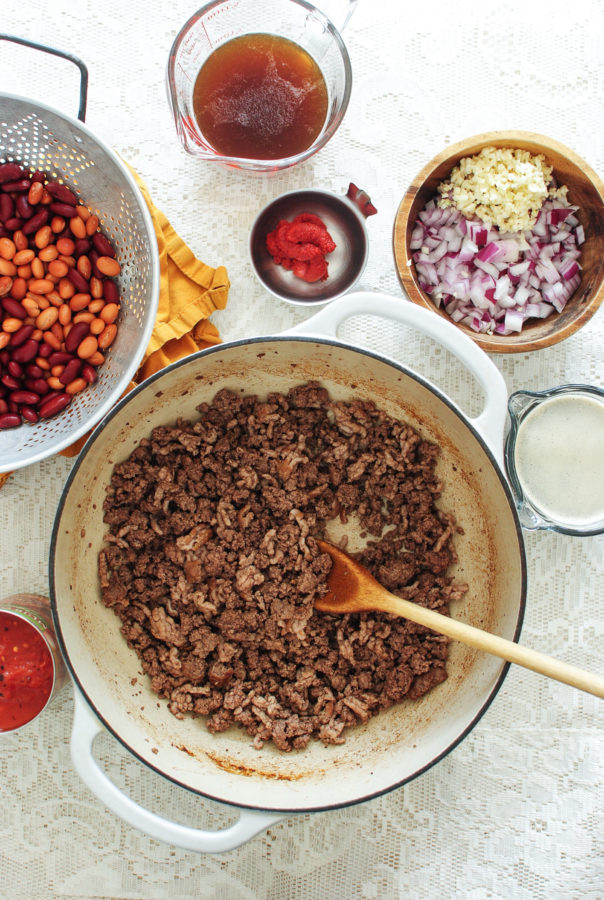 I wanted to keep it classic, but with a twist! This is where the beer comes in. I used Guinness, but you can you use aaaany light or dark or medium beer you want.
I also added tomato paste and fire-roasted tomatoes, because I'm a raging lunatic like that.
But the seasoning! Look how easy this is.
Just watch.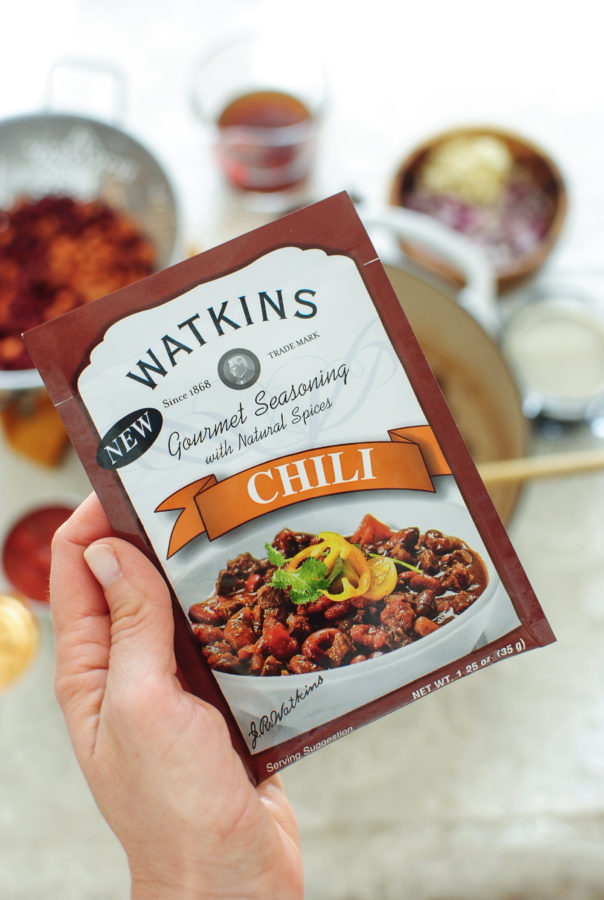 This! Ugh, it's so good. (Ignore how jank my hand looks. Apparently my wrist got eaten by an alligator.) The seasoning has those good ol' strong, classic scents. Nothing weird, nothing too sweet. It's just dead on. This is good in life.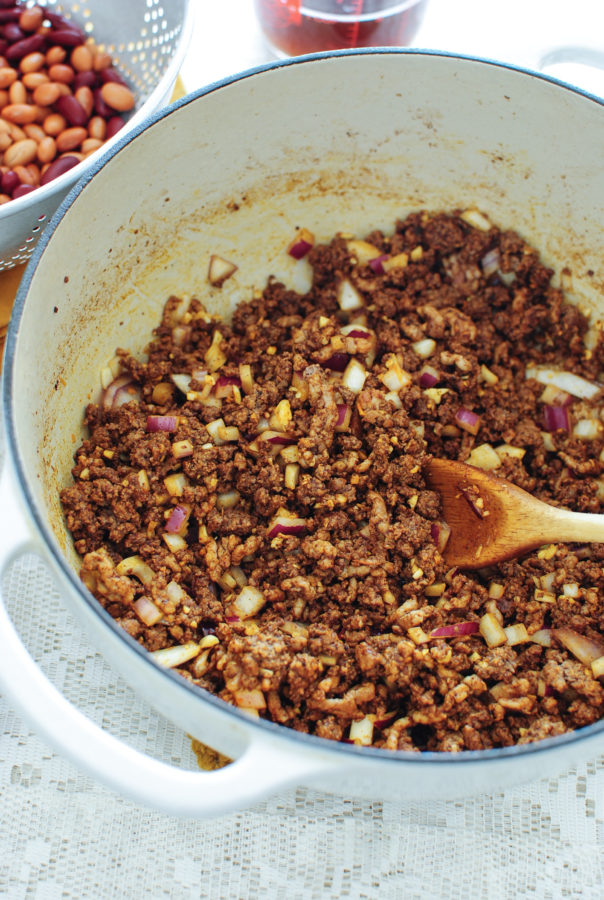 So the chili seasonings go in, and a bit of chopped red onion and a few cloves of minced garlic.
Oh! Would you believe I added zero salt to this? The packet had plenty enough. That NEVER happens to me. I always end up having to add more salt because I have issues.
No salt!
I still can't believe it. And I still keep talking about it.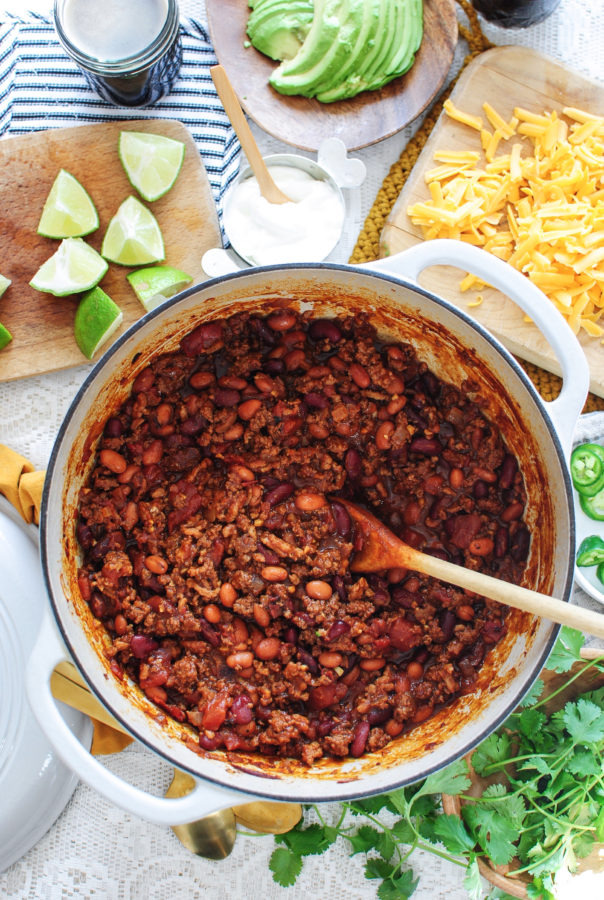 Also, for the meats – I went with grass-fed ground beef, aaaaaaand ground pork. I like mixin' meats, man. Makes it more gutsy. That, plus the beer and tomato paste, two kinds of beans, the fire-roasted 'maters, some beef stock, and a partridge in a pear tree.
That was IT. I let it simmer and fall in love and marry and have babies on the stove for about an hour. But really, 30 minutes is all it really needs.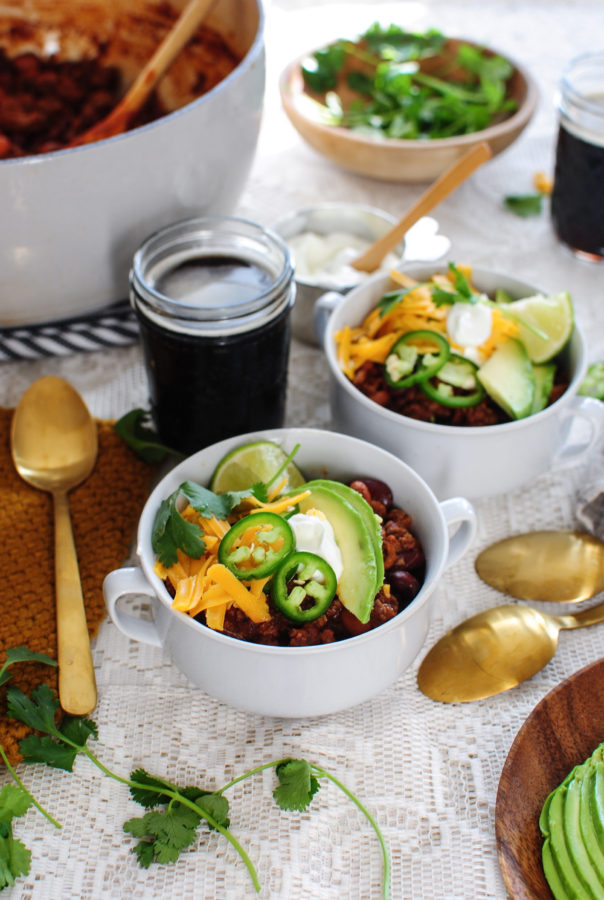 But we all know it's the garnishes that slap it silly and call it Frank.
We got cilantroooo, avocadoooo, shredded cheddaaaaar, sour creaaaaam and lime wedges! You know me and lime juice. We go way back. (<–no idea.)
You must make this! It's super simple, but with so much flavor and depth. I don't mess around with depths, you know.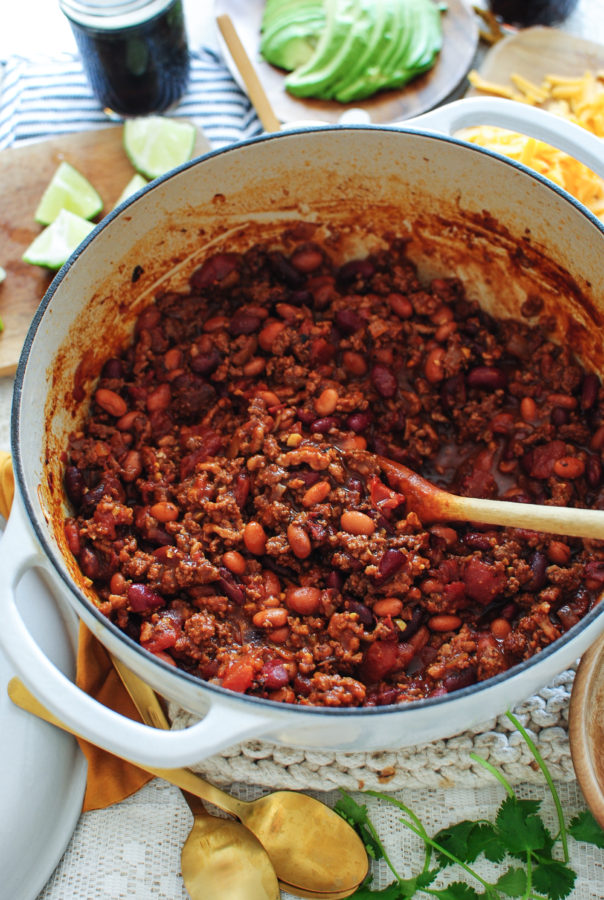 Christmas chili? I'm thinking yeah.
Classic Beef and Bean Chili with J.R. Watkins
Ingredients
1 pound ground grass fed beef
1/2 ground ground pork
1 cup diced red onion
4 cloves garlic, minced
1 (1.25 oz) packet J.R. Watkins gourmet chili seasoning
1 Tbs. tomato paste
1 cup Guinness beer
1 (15 oz) can fire-roasted tomatoes
1 (15 oz) can dark kidney beans, drained and rinsed
1 (15 oz) can pinto beans, drained and rinsed
2 cups beef stock
sliced avocado, cilantro sprigs, dollops of sour cream, shredded cheddar and lime wedges for garnish
Instructions
Heat a large pot over medium-high. Add the ground meat and brown all over, until cooked through. Add the red onion, garlic, and the J.R. Watkins chili seasoning to the meat and stir to combine. Let it cook about five minutes, letting the onions and garlic soften and bloom. Add the tomato paste, and stir it into the meat. Then add the beer. Stir a minute or so more, to incorporate all the flavors.
Add the tomatoes, beans, and beef stock, stirring to combine. Reduce the heat to medium-low, and simmer for about an hour, stirring once in a while. Taste it. SO GOOD. Doesn't even need salt!
Ladle the chili into bowls, and garnish with avocado slices, cilantro, dollops of sour cream, shredded cheese, and lime wedges. Perrrrfection.
Serves 4-6.
7.8.1.2
59
https://bevcooks.com/2016/12/classic-beef-bean-chili-j-r-watkins/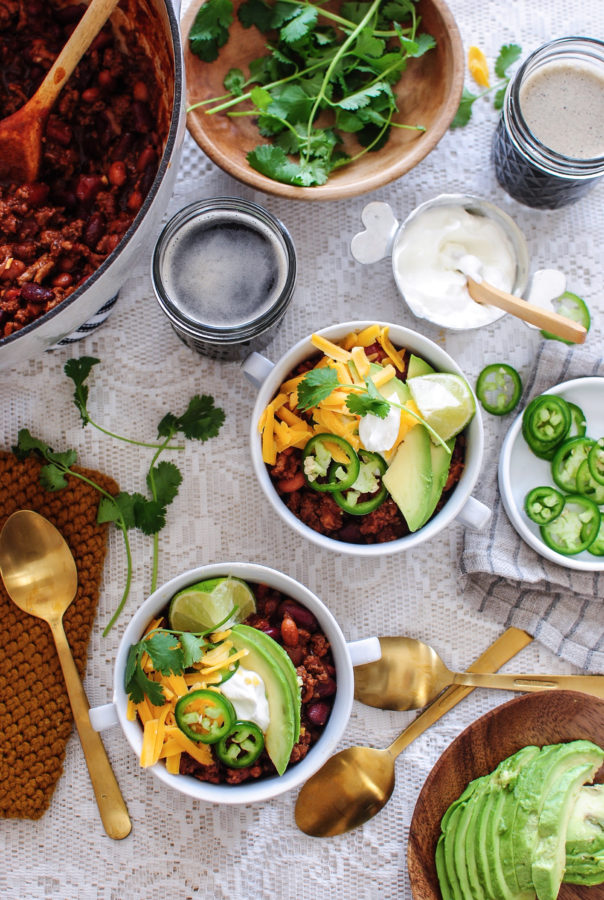 Guess I'll have my sixteenth bowl now. Oops?
Save
Save
Save
Save
Save
Save