Last recipe of the year! You bet your face it's pizza.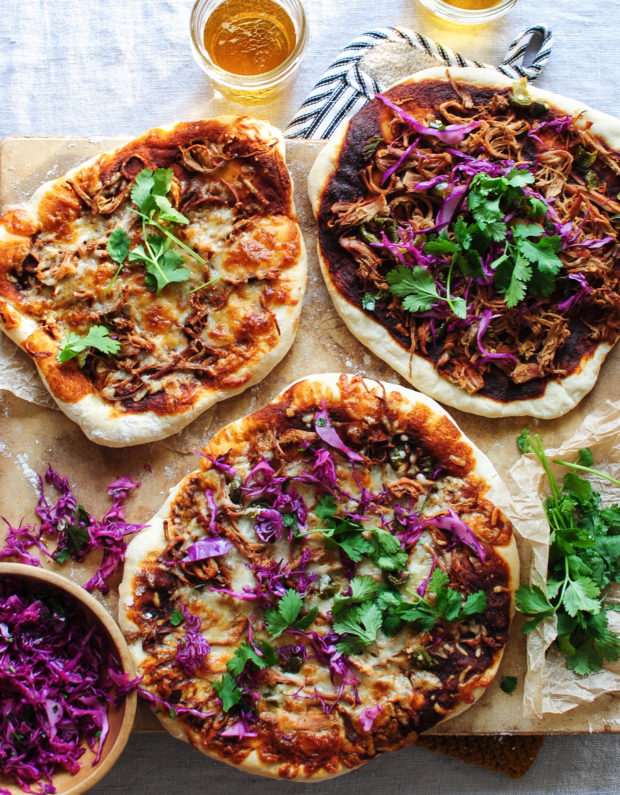 But it's not normal. The pizza isn't, I am.
Wait.
Also, look at that slaw! Let's talk about this.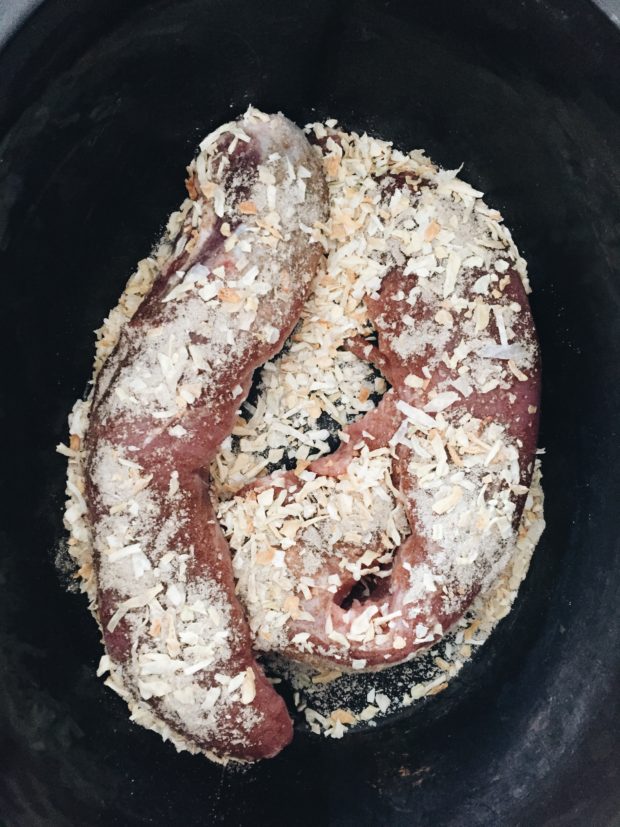 There are two things that make this pizza straight magical.
One – it's slow cooker pulled pork tenderloin. With a packet of dried onion soup mix on it. UM, yes. I'm showing you waaaay more pork than what will be used for the pizza, so you can do one of two things. 1) Cook all the pork like I'm doing, and save the shredded pork for either sandwiches or a Mexican posole a couple of nights later (like I'm doing tomorrow), or 2) Just cut the pork tenderloin in half, freeze the rest, and only use half the onion packet! My pork package came with two skinny tenderloins, so I went ahead and cooked it all. Whatever you do, you're still a good person.
Let's start a band called Pork Package.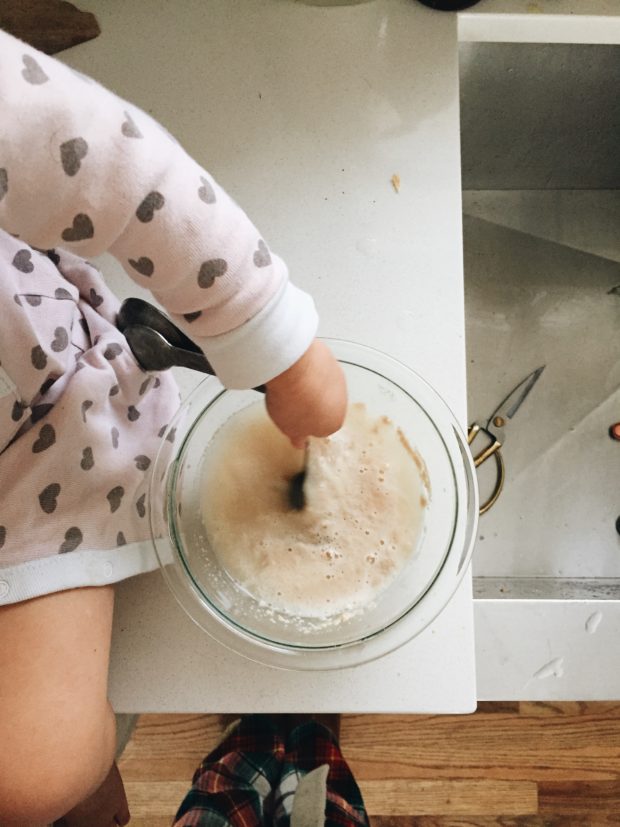 Two – the pizza dough has beer in it! This is my very very favorite pizza dough recipe. I've been making it for about a year now, and it's seriously fool proof. Elastic and forgiving like whoa. You can keep it thick and chewy, or keep rolling it out for a perfect thin crust. Or somewhere in between! Also, if you don't want to use the beer, just go all water. No bigs. Also also, make sure you have a dirty counter and a pair of scissors in your sink. Otherwise the pizza might not turn out as tasty.
Three (my bad! three magical things. WAIT, four.) – the pizza sauce is your favorite BBQ sauce + sour cream. Hi.
Four – SLAW. You'll scatter patter a red cabbage slaw on top after baking. It's incredibly worth it, too. That cool crunch on top of the cheesy pork bbq madness, guuuuh. Can't.
Wait! FIVE THINGS. Five things that make this pizza straight voodoo.
Five – jarred jalapeno peppers! (don't freak. they're not on the kids' 'za.) But I am telling you, those little transcendent bursts of heat will have you achy. The good kind.
You have to make this pizza! Most of it is hands off, so boom.
And oh! One last tip about the pork. If your pork shreds are too long, just take some scissors and go postal in the slow cooker. I did, and it just felt right.
Are you eating it yet?
Ingredients
for the dough:
1 cup warm water
1/4 cup beer
2 1/2 tsp instant yeast
1/4 tsp sugar
3 cups all purpose flour
1/2 tsp salt
for the toppings:
1 pork tenderloin (about a pound)
1 packet dried onion soup mix
1 cup favorite BBQ sauce
1 Tbs. sour cream (more for a creamier sauce!)
1/4 cup jarred jalapeño peppers, torn into chunks
1 (8 oz ) block of mozzarella cheese, shredded
1 cup shredded purple cabbage
juice from half a lime
1/4 cup chopped cilantro, plus more for garnish
a pinch of salt
Instructions
In a small bowl, pour the yeast and sugar over the warm water and beer. Let it sit until the yeast is bubbly and foamy, about 10 minutes.
In a large bowl, combine the flour and salt. Pour the yeast water into the flour and stir to mix. Turn onto a lightly floured work surface and knead a few times, until it becomes a ball of sticky dough. Place back in a cleaned bowl, cover and let rise for about 3 hours. Punch it down, knead a few more times (it will be much smoother and more elastic by now), and let it rise again for another 2 to 3 hours. Divide dough into two or three mounds. Cover with a kitchen towel until you're ready to roll out and top.
Place the pork in a slow cooker and sprinkle with the onion mix and 1/2 cup of water. Let it cook on low for 6 hours, or high for 4, until the pork is cooked all the way through. Shred the pork with two forks (cut with scissors if the shreds are too long!).
Once the pork is cooked, preheat the oven to 400.
Mix the BBQ sauce and sour cream together. Roll out the pizza mounds to your desired thick or thin-ness. Spread the BBQ sauce over each crust, and top with shredded pork, jalapeño peppers, and the shredded cheese. Bake for 20-30 minutes, or until the cheese is browning and bubbly.
In the meantime, combine the cabbage with the lime, cilantro and a tiny pinch of salt. Top each pizza with the slaw before serving!
This pizza is ridiculous. You will lose your mind.
Makes two to three pizzas, based on how you roll out the dough!
7.8.1.2
60
https://bevcooks.com/2016/12/bbq-pulled-pork-pizza/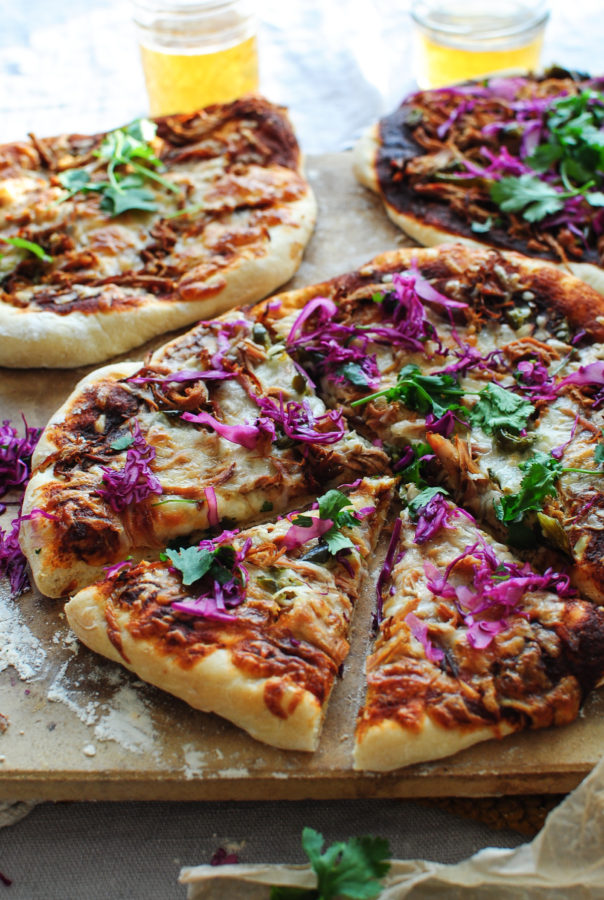 YOU MUST.
Save
Save