It's roasted pork tenderloin on a pizza. Shall we start a sob circle?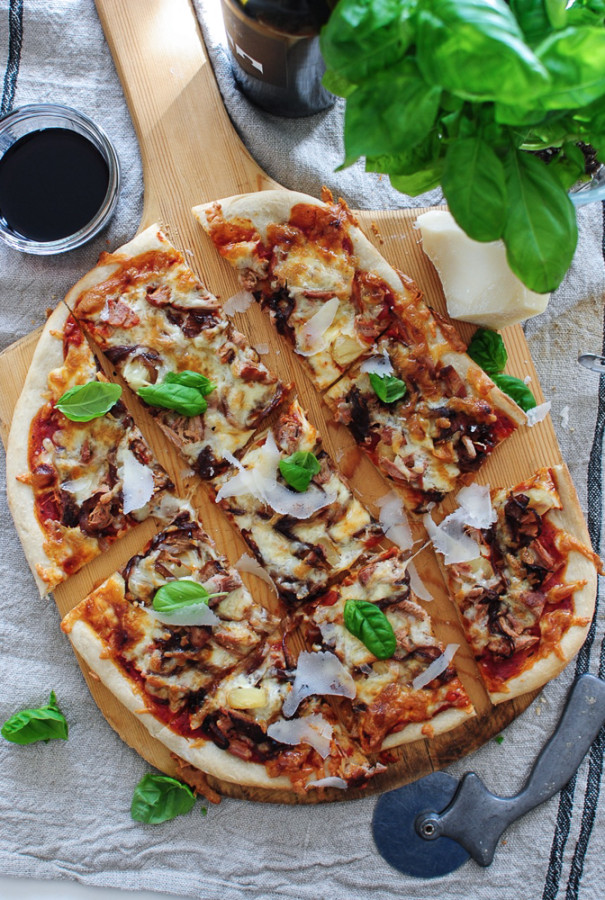 ON A PIZZA, you guys.
I've been roasting this pork tenderloin for a while now, trying to think of how I could put it in a recipe for you. Well, not this EXACT pork tenderloin, but this cooking method. How grody would it be if I've been cooking this exact same pork tenderloin for weeks. Ha! Never mind.
(talk about forever chewing, right?)
(like, achy jaw chewing.)
(I'm done.)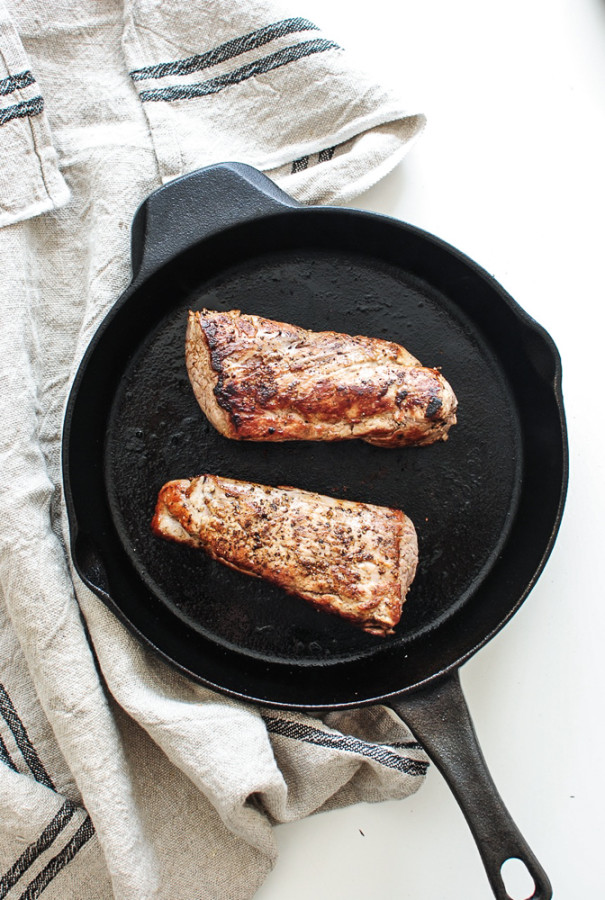 So let's talk about this pork. My obsession with pork tenderloin began when I made this crazy pulled pork gnocchi a while back. Of course that recipe calls for a pork shoulder, but a lot of you have had the question of replacing it with a pork tenderloin. Some have found it works, and others would rather have stuck to the butt shoulder thingy.
WAYELL, why don't we do this: stick to the booty for the gnocchi, and go with this lovely pan-seared and roasted loiny loin (<–like, why?) for this pizza.
This pork is unbelievable, and you can roast it early in the day if you want, shred and chop it up, then come back later when it's pizza-making time! But I don't want to tell you what to do.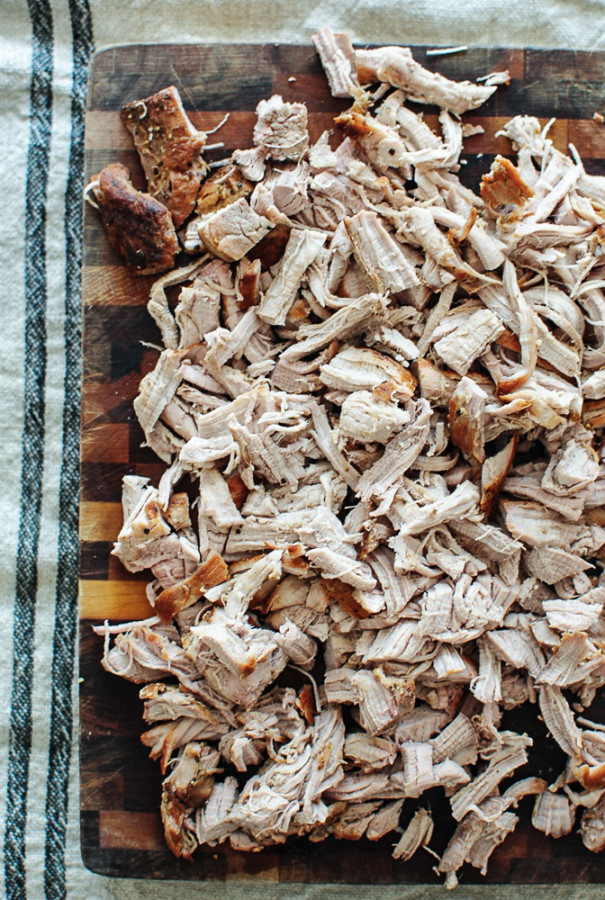 It's stupid easy. You'll cut the tenderloin in half (because my cast iron pan is too small to leave it whole), and sear it all over until your nose is about to fly off your face and into the succulent pork scents. Then slide it into a hot oven and roast it juuuust a smooch longer.
Once it's cooled, simply shred the meat with two forks, followed by a rough chop, making the shreds more bite friendly. And that's it for the meat!
Like I said, early in the day is just fine, in case you have some Friday Night Lights to binge watch. GAH. (I'll get to this on Friday.)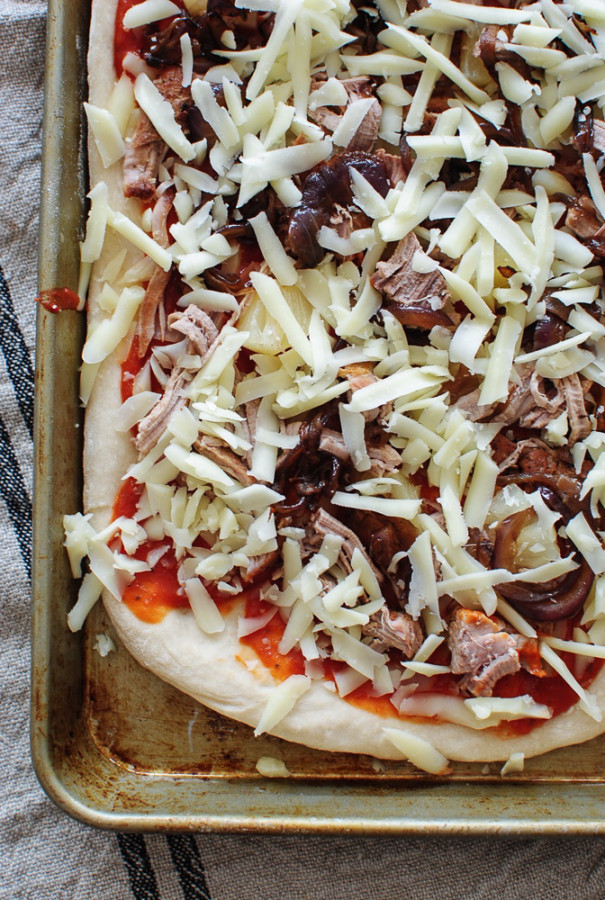 As for the dough, this time we used Mark Bittman's recipe. LOVED it. It yields enough dough for two medium baking sheets. Also known as, one pizza with cheese for my face hole, and the other depressed and lonely cheeseless pizza for my husband's weird life.
But I'm not bitter or anything.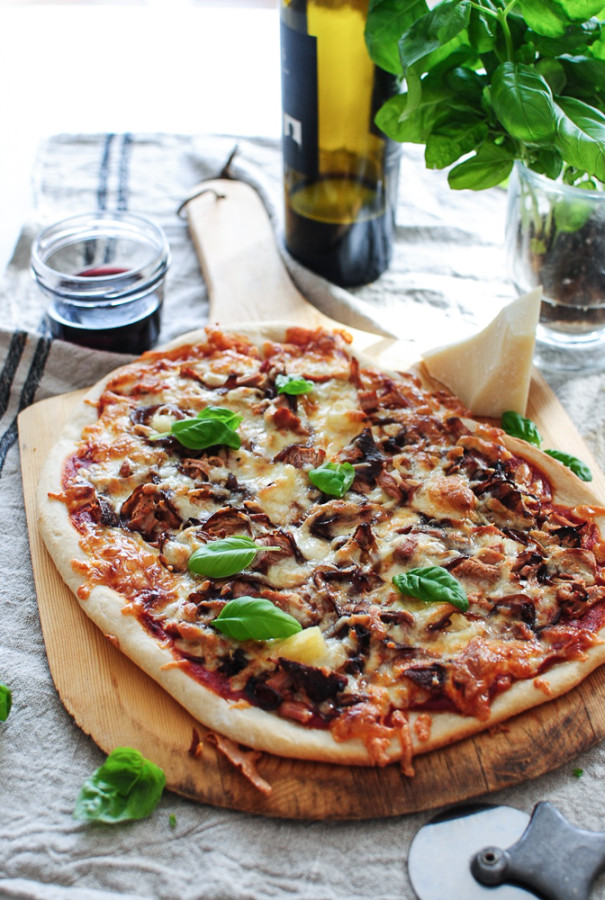 GUD LAWD.
Add some caramelized onions and pineapple to the mix and you will see the frickin' light.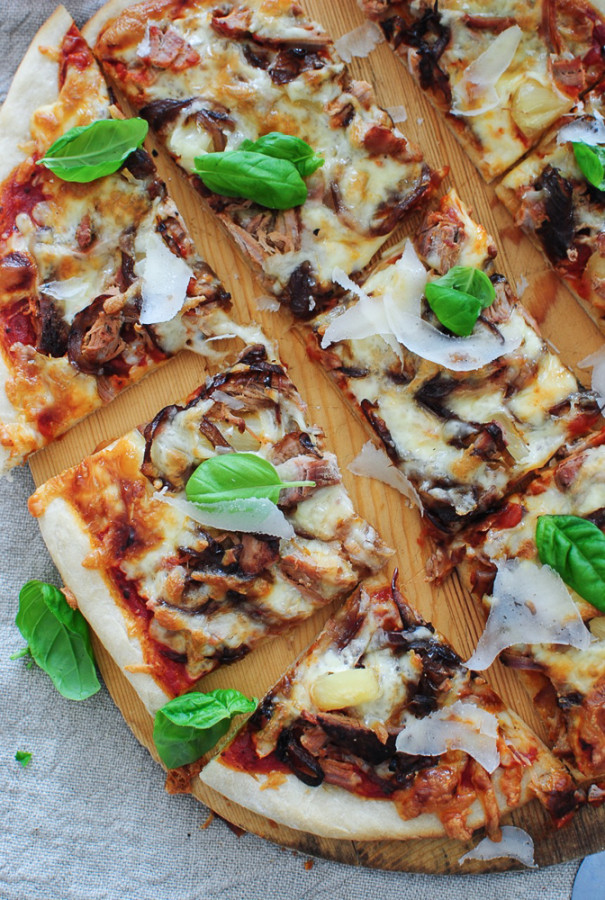 A little word about the caramelized onions! I want to let you in on a life hack slash Bev's impatient moves.
I don't properly caramelize onions. Oh no. Can't rightly deal with how long it takes. SO, I just thinly slice a red onion with a mandolin, and sauté the onions in a cast iron for a few minutes, until they're soft, sweet and wormy.
I do realize a food blogger should never, ever use the word "wormy" to describe food, but you do realize who you're dealing with here, right?
Plus, the onions seriously taste the exact same. HA-boom.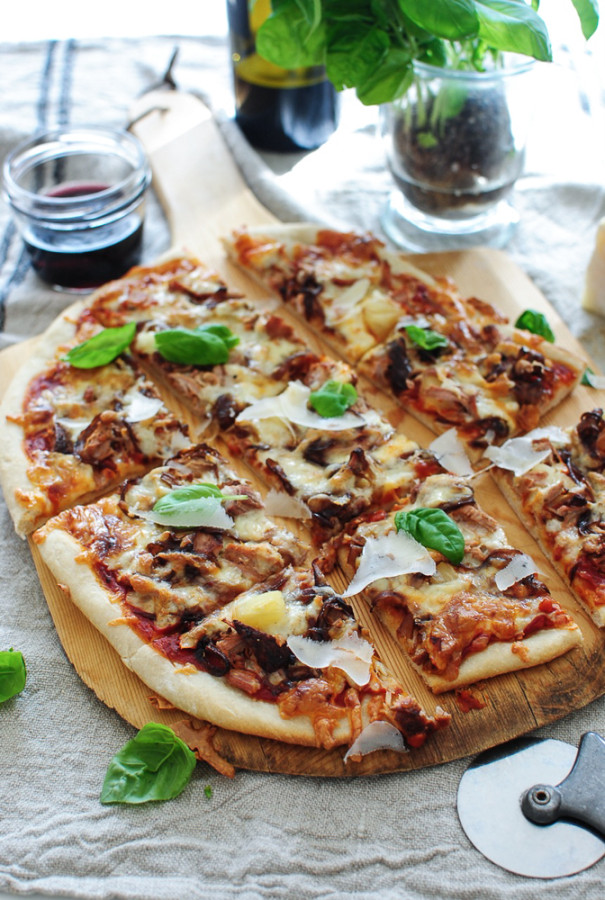 Make make make!
Pizza with Roasted Pork Tenderloin, Caramelized Onions and Pineapple
Ingredients
1 1/2 pound pork tenderloin
1/2 large red onion, thinly sliced with a mandolin and sautéed in a pan until soft and sweet, about 8 minutes
1 (8 oz) can pineapple chunks, drained
1 (15 oz) can or jar pizza sauce (your favorite brand!)
Mark Bittman's pizza dough recipe
1 (8 oz) block mozzarella cheese, shredded (more if you prefer!)
salt and pepper
Instructions
Preheat an oven to 450.
Cut the pork tenderloin in half and pat dry. Season all over with salt and pepper.
Bring a Tbs. of olive oil to a medium-high heat in a cast iron pan. Sear the pork all over until browned, about two minutes per side.
Slide the pan into the oven and roast for about 15 more minutes, flipping at the halfway mark. Let rest for five minutes, then shred the meat with two forks. Now chop it! Wasn't that fun?
Increase the oven temp to 500.
You're going to follow Bittman's instructions up to the point of rolling the dough out on the baking sheets. (It's super easy. Don't be nervous.) Now, I popped the pans in the oven for two minutes, just to par-bake a tad.
Evenly spread the pizza sauce over each crust, and sprinkle a good amount of the chopped pork, onions and pineapple chunks. Sprinkle with cheese and slide it back into the oven for at least 10 minutes. I think mine took nearly 15, to get the cheese just right. Just keep an eye on it.
Garnish with fresh basil and some good parmesan cheese! You'll freak out with this.
7.8.1.2
3
https://bevcooks.com/2016/02/pizza-with-roasted-pork-tenderloin-caramelized-onions-and-pineapples/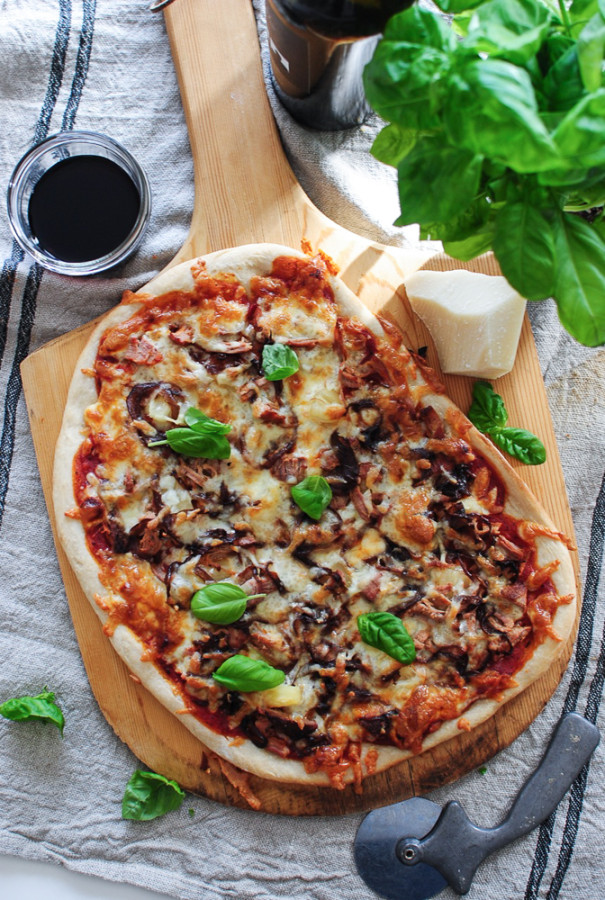 Right?